Today I packed up our living room and brought a carload over to the new house. I'm nervous about tearing the place apart since once upon a time, a deal fell through and I had to UNPACK boxes and style our home again to sell it. And so it begins! The living room in the new house is much smaller so I'm not sure if our large scale furniture pieces will work…keeping my fingers crossed. Rustic Yet Elegant French Inspired Living Room Finds follows up inspiring furniture and decor glimpsed in stories like those HERE and HERE. Also find a new mood board with cozy neutral finds.
I independently selected products in this post—if you buy from one of my links, I may earn a commission.
Rustic Yet Elegant French Inspired Living Room Finds
You'll find pretty decor, paint colors, furniture, and shopping resources with friendly price tags.
Even though I have yet to move into the coveted French farmhouse of which I dream, I can still capture the spirit.
Even better? Its unfussy elegance doesn't require a chateau-sized budget. Vintage pieces can often be picked up for next to nothing on FB Marketplace.
And while authentic antiques are always preferable, hunting down the right ones can take time. So reproductions and inferior yet pleasing finds can stand in until you score the perfect piece.
If rustic elegance, tone on tone, neutral colors, and European sensibilities appeal to you…you'll love this collection.
You'll also be able to see there are plenty of ways to interpret a French inspired look in the living room.
Limestone, rustic textures, crystal chandeliers, distressed wood, and linen upholstery tend to be a common denominator.
My own personal preference at home is modern French or French inspired California cool…
So there are plenty of ways to run and riff with country French decorating.
Bonus: French Lesson
Just for fun…we'll get fancy and throw in a French lesson for kicks…je vous en prie!
This post contains affiliate links which I hope you will use since they won't cost you a penny extra yet may earn this blog a small commission.
But first…
Tour this Property in Southwest France
Ever dreamed of moving to France? We previously toured a luxurious vacation rental in Carcassonne ('the other South of France') HERE, and for a sense of the cost and potential in Southwest France, see this:
Need a French Grey Paint Color Possibility?
Farrow & Ball's Pavilion Gray is a very French sort of grey which closely resembles the custom grey paint hue the Giannettis used on trim at Patina Farm (see glimpses RIGHT HERE).
If you prefer a Sherwin-Williams paint, Pavilion Gray is quite similar to SW Repose Gray. (You could always snag a sample pot of the F&B from with the link above.)
Need more pretty paint colors? Visit my BEST PAINT COLORS board on Pinterest and pin away, please!
No. 1: Sofa…Le canapé
Does it all start with this piece for the living room? Also SEE THIS POST FOR SOFA IDEAS.
It tends to be the investment piece for sure. Isn't this grain stripe upholstery wonderful?
No. 2: Lamp…La Lampe
Romantic lighting is so key to striking the right mood for a French inspired living room.
I found my table lamp many years ago at the mall. It is very tall for such a wonky little handmade industrial table, yet it's the sort of playful combination I love.
Here are some ideas for inexpensive pale toned table lamps.
Don't be afraid to tweak the finish of a lamp that is almost the right color.
This one is similar to the lamps in my bedroom: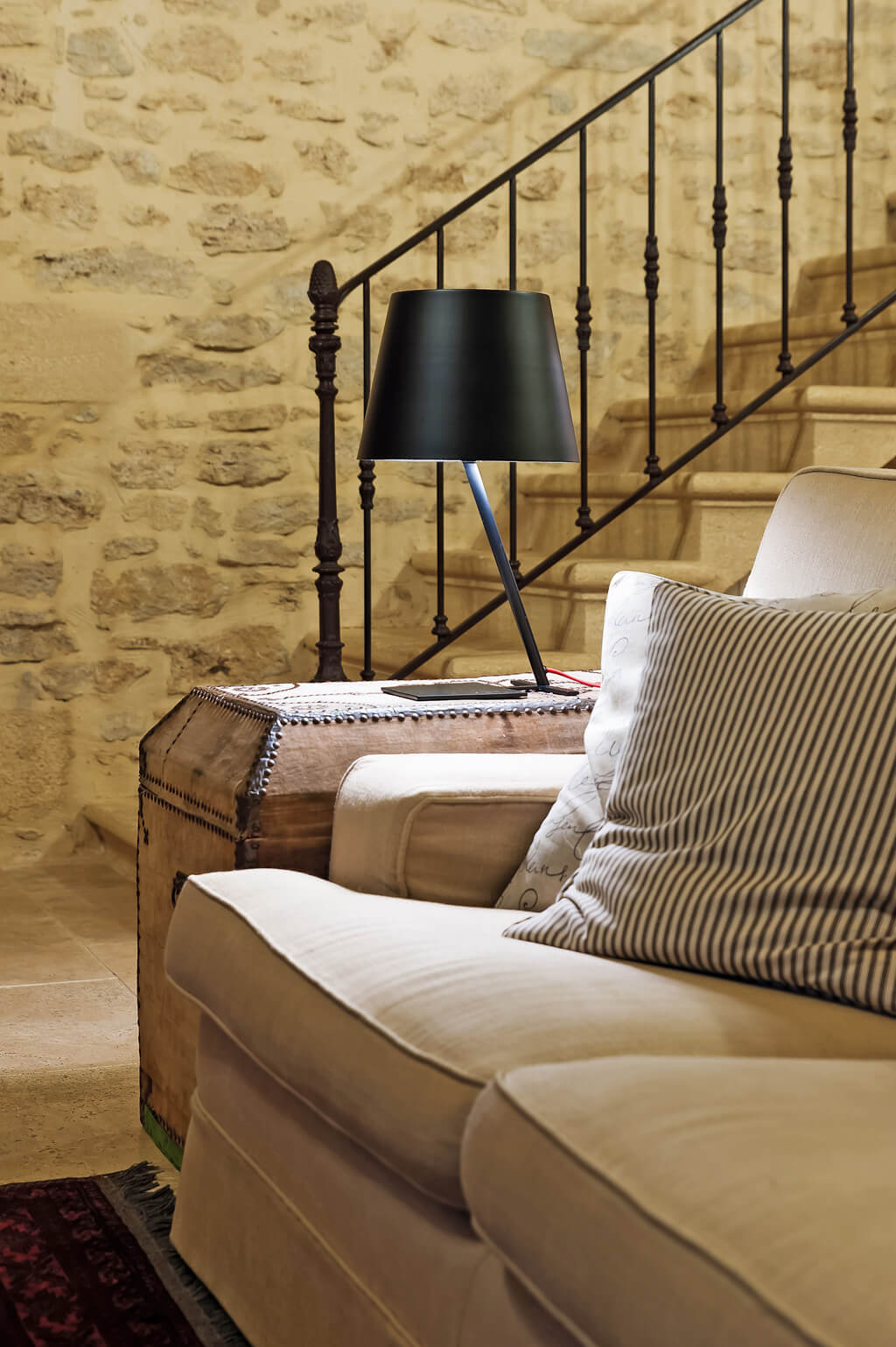 No. 3: Accent Chair…la chaise d'appoint
I feel like my followers must be tired of seeing my Belgian linen slipcovered dining chairs…
But I love them just as much now as when we bought them in the early 2000s!
When you find timeless pieces you like, it can often lead to "buy once, cry once." Hahahahaha.
No. 4: Pillow Cover…La taie D'oreiller
These covers are an inexpensive way to try the look without investing too much.
Such a simple design that won't fall from favor.
No. 5: Chandelier…Le Lustre
What is it about chandeliers that instantly bring Old World romance to a space?
They are welcome in living rooms, but I have used them in pantries, closets, hallways, bathrooms, and everywhere in between.
I'm also not afraid to paint a second hand one I pick up at the thrift store or FB Marketplace.
Paint? Reminds me of the fact I have noticed this particular color pop up when you're after the look of plaster walls.
I trust the choices of designer Sherry Hart (Design Indulgence), and she has used this color in high end projects with stunning results.
So often it's those aged whites that impart sophistication and a timelessness you can't achieve with a bright cool white without undertones.
Would you, could you, build a French country style home with white brick painted China White?
Swoon!
No. 6: Wicker Trunk…Le Coffre En Osier
I have a thing for these wicker trunk baskets. While it took years to find them, I have three in different sizes just perfect for stacking. They look great and can store any number of things.
Mine are full of collected fabrics and art supplies.
No. 7: Settee…Le Canapé
For years, I lived with French country settees in my living room and because we raised two rowdy kids, we did a good job of wearing out the upholstery.
What's wonderful about French country style is its reverence for the threadbare, the tumbledown, and the faded.
Does it show signs of wear and distress? All the better since it reflects life being lived at home!
No. 8: Cremone Bolt…La Crémone
I'm still learning about hardware such as these bolts…
Do you have any at home?
Keep your eyes peeled for cremone bolts on doors, windows or cabinets at the flea market.
No. 9: Console Table…La console
They are so underrated for entries, living rooms, great rooms and beyond.
Typically, they aren't very deep which means they often work well in small spaces and apartments.
No. 10: Stripe Chair…La Chaise à Rayures
Ever see a photo of a chair like this and wonder 'but is it really attractive in person?'
Well, here's a perfect example of a piece that exceeds itself in person! I saw this chair in a beautiful Arizona home I visited, and it looks far more expensive than the price tag.
I love a French ticking too!
And I'm still enamored with Belgian linen for its durable, nubby, honest style.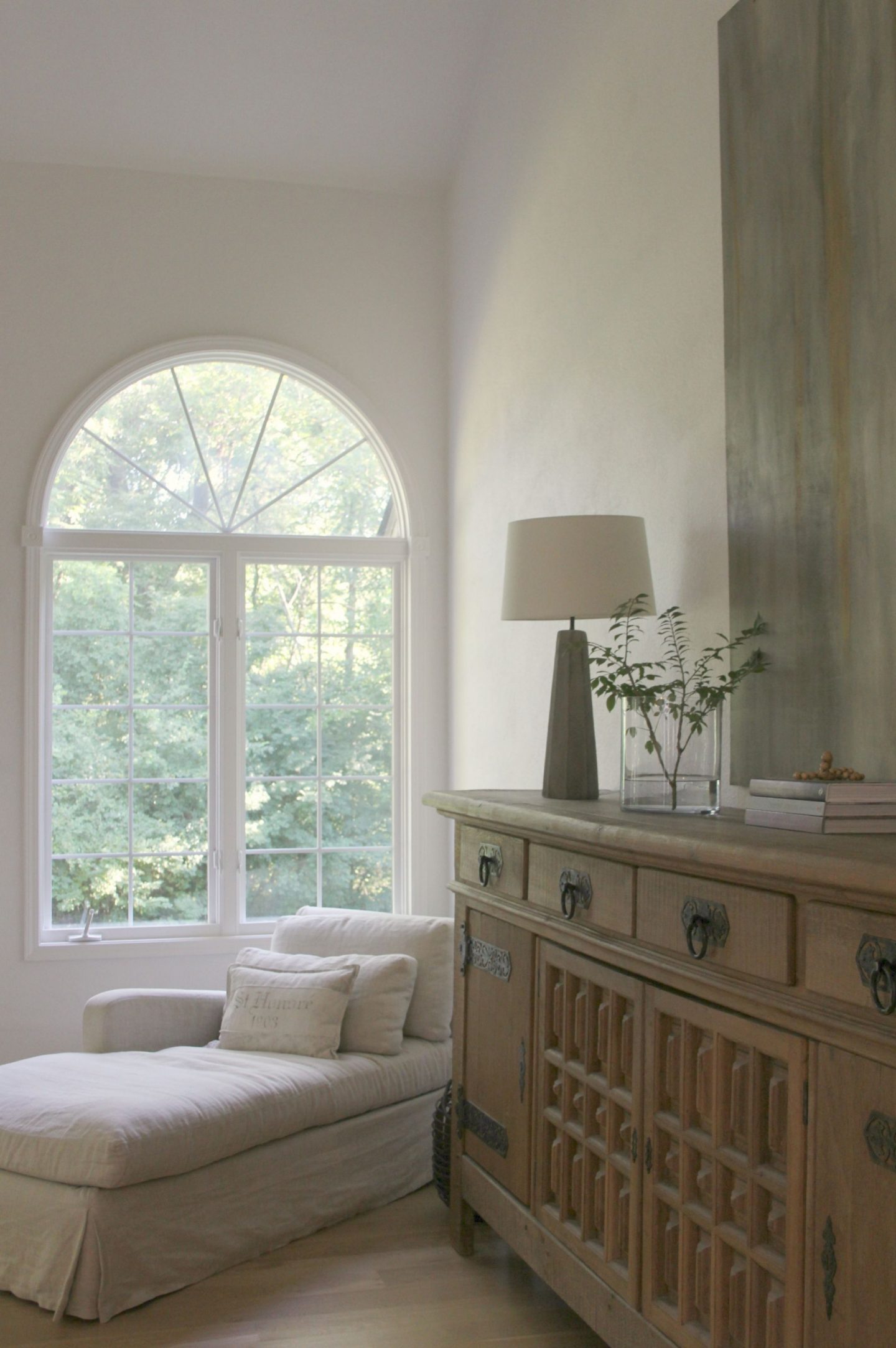 No. 11: Fireplace Mantel…Le Manteau de la Cheminée
If budget is no object, you will definitely want to turn to a source such as Chateau Domingue for the most beautiful surrounds found in Europe.
I was lucky enough to buy the surround for our last fixer upper from a neighbor who was a contractor. We wheeled it down the street! 🙂
What a find since it fit perfectly over the existing black granite surround! The old surround was a very classic Colonial wood mantel. Once the French one moved in, it transformed the room's identity.
No. 12: Seagrass Basket…Le Panier d'Herbiers
A fireplace is a broad stroke for adding French style, but there are plenty of smaller ones.
The French are such great models of decorating with only useful things that can be pulled into service for various uses. Things that aren't disposable or trendy.
No. 13: Chalk Paint…La Peinture à La Craie
Chalky finishes are so perfect for accessories or furniture in a living room.
Shop your basement with an eye for something just waiting for its new color.
No. 14: Farm Style Coffee Table…La Table de Ferme
I rarely see coffee tables I like, and at the moment, I'm using a skinny reclaimed wood farm bench in front of the sofa. Here's a reclaimed pine, simple table that could work in a small space:
As far as styling the table, don't forget you don't have to be an influencer to use your camera for your styling. Snap a photo when you think you've got it right. When you view the vignette on your phone, you may get an idea for how to improve it, sense whether the scale is off, or what to add for greater impact.
No. 15: Olive Tree Topiary…La Topiaire de L'olivier
I'm not sure what the French would think about all of our everlasting arrangements!
But so many of them look more real than real ones!
I'm not going to judge!
No. 16: Wood Candle Holder…Le Bougeoir en Bois
These turned wood candlesticks looked so great in our former fixer.
I used them everywhere and even brought them outside:
No. 17: Confit Pot…Le Pot Confit
The real thing costs a pretty penny so I'm always keeping an eye open for pieces that look old but maybe aren't from Europe.
Is that green color speaking to you?
No. 18: Chandelier…Le lustre
At the moment, I don't have any ceiling lighting in my wee living room…
but these would definitely add a layer of ambiance.
No. 19: Dough Bowl…Le Bol de Pâte
These look great on coffee tables, side tables, or console tables.
They can hold any number of seasonal things, collectibles, or even photos.
No. 20: Rustic Candle Holder…Le Chandelier Rustique
No. 21: Jute Rug…Le Tapis de Jute
No. 22: Door Stop…La Porte Arrêt
No. 23: Milagro Heart…Le coeur de milagro
I love mine – it's a sweet piece to use for Christmas decor, to give as a gift (tuck a sweet message or photo inside), or for decor all year round.
No. 24: Club Chair…Le Fauteuil Club
No. 25: Curio Cabinet…Le Cabinet de Curiosité
No. 26: Gold Leaf Mirror…Le Miroir Feuille D'or
No. 27: Terra Cotta Jug…La Cruche en Terre Cuite
No. 28: Striped Bench…Le banc rayé
No. 29: Distressed Vase…Le Vase en Détresse
No. 30: Vintage Style Chandelier…Le Lustre de Style Vintage
No. 31: Crackled Vase…Le Vase Craquelé
Daily Transformation Inspiration
My gratitude and thoughts this day turn to our four-legged furry friends who offer us so much unconditional love and point us to the divine. I love visiting Arizona where so many family members live, all of whom have rescued dogs.
Have a sweet kitty or pup in whose eyes you find divine presence?
TAP TO PIN THIS POST FOR FUTURE REFERENCE & SHOPPING HELP!
Peace to you right where you are.
-michele
Shop for items you already intended to buy on Amazon RIGHT HERE, and also find home decor here to keep decor inspiration flowing on Hello Lovely!
Hello Lovely is a participant in the Amazon Services LLC Associates Program, an affiliate advertising program designed to provide a means for sites to earn fees by linking to Amazon.com and affiliated sites.