Green seems to be having a moment for interiors everywhere (based on traffic to posts like this one) but blue can certainly hold its own! Today's topic spotlights accents in cool blue. If you're feeling blue about world events as so many of do, maybe a diversion from the gloom is good medicine. Indigo Blue Paint Colors, Decor & Interiors revisits: the rich, the dramatic, the cool and the deep.
I independently selected products in this post—if you buy from one of my links, I may earn a commission.
Indigo Blue Paint Colors, Interiors & Accents
What is the Psychological Meaning of Indigo Blue?
Where Does Indigo Pigment Come From?
Indigo is from the leaves of the plant Indigofera tinctoria and grows best in the tropics.
What is the origin of Indigo Blue?
While indigo may be an India import, it was used as a pigment for paint by the Romans who also used it for cosmetic purposes and medicine.
Is Indigo Still Used For Medicine?
Yes. It is used for medicines to treat scorpion bites as well as diseases such as stomach and ovarian cancers.
Was Indigo Expensive?
Yes indeed. Arab merchants brought this luxurious pigment to the Mediterranean from India, and it remained a rarity in Europe though the Middle Ages.
Indigo Blue Paint Colors
Would you, could you, go big and bold on an accent wall or a whole room? Here are some indigo blue paint color sample ideas for a place to start.
Always Indigo – BEHR
By the way, I sort of know the difference between indigo blue and navy blue, and it does seem easier to find navy for apparel.
Here's what my eye is spying as I: sit at my desk shivering (even wrapped in a French terry Hatha jacket), watch the leaves fly from trees outside the window, and plan my trip to the flea market tomorrow…
Here's a lovely something I wouldn't automatically pair with the vest but find brilliant:
Right? I love a puff at the shoulder, but can I pull it off as chicly as this foxy model?
It will take magic, a few prayers, and perhaps these indigo-galoshies:
Where were we!?!
Oh yeah. Only the dopest paint color name of the whole bunch:
Indi Go-Go – BENJAMIN MOORE
Yeah, baby yeah! Don't forget it is tough to discern the nuances of each of these indigo blues with photography and varying screens. Sample these options at home and have fun with them.
Daring Indigo – BEHR
Indigo Batik – SHERWIN-WILLIAMS
This is getting more dramatic, and wait til you see the "stair runner" with it!!!
Easiest way to see if a paint color will work? Order samples with Samplize and have them delivered straight to your door.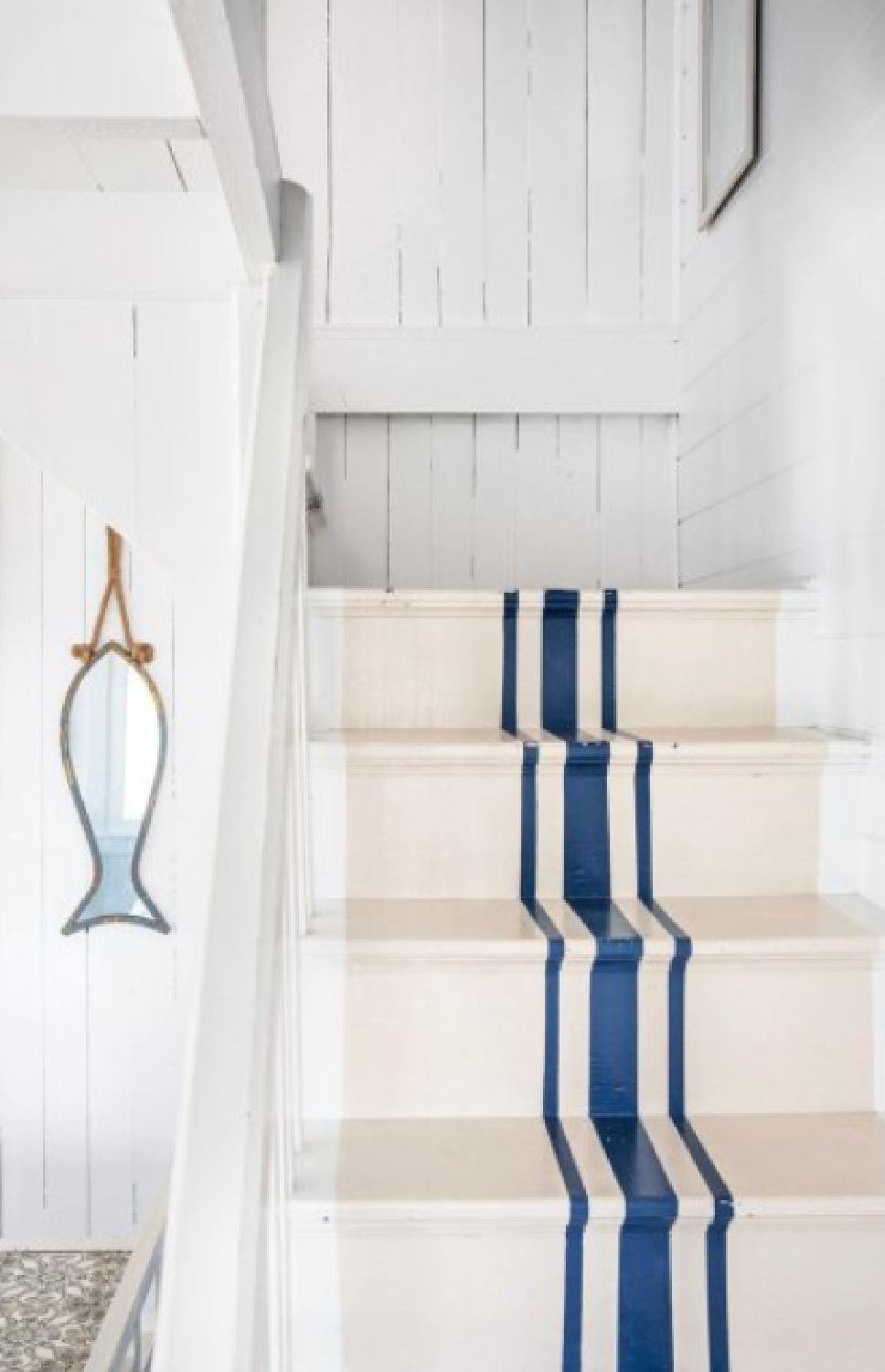 Cognac and indigo? Yum.
I bet fans of coastal style will love this look for an exterior:
Have an old wood cabinet that may need refreshing? This next inspiration may be the nudge you need.
Mood Indigo – BEHR
If you're drawn to periwinkles and meadow-like blues, I wonder if you'll favor this option:
Waterloo – Sherwin-Williams
I feel like Waterloo is sophisticated and just moody enough (but not too moody) to work in a range of different spaces. I'lll show you what I mean.
It's so elegant in a very tonal, bedroom…
Yet also feels very classic and unfussy in a mudroom area here:
For a shiplap accent wall in an executive's home office, it strikes this handsome balance between comfortable and chic:
And below we see how the hue can read much darker depending on the light a room receives:
Here is Waterloo on an exterior, and you can see how the natural light's yellow brings the blue over into the teal range.
Interiors & Exteriors With Purply-Blue Indigo Hues to Inspire
Indigo Interior
Blue Decor
I'm crazy about the barefoot elegance in the room above with its ginger jars and barrel chairs!
Did you know? The word indigo comes from the Latin for "Indian."
Though my passion is for white interiors, I'm inspired by beautiful color in daily life every single day. Blue is so gorgeous in nature, and how can you not fall for the indigo blue on a butterfly with whom I spent time in a conservatory?
One of her pretty blue friends followed me too.
Make sure to tap HERE TO PIN THIS POST for future reference!
A Favorite Blue & White Decor Find
I have a crush on this classic blue and white table lamp and think it could work in so many interiors!
Indigo May Be Named Something Else
When you're shopping for indigo blue decor accents, you are bound to run into a host of names describing this color running the gamut from navy blues to royal blues to peacock blues to denim.
I love the look of the deep blue upholstery:
More Indigo Blue Paint Color Tips
Here's a smart tip I have learned along the way to decorating many spaces: when you're out in the marketplace shopping and find a small object whose color speaks to you in a powerful way, BUY IT (unless we're talkin' a blue diamond!) as a reference point for paint colors and decor. You can use it to color match the ingredients for your design.
Even though there are a million shades of blue out there, the "just right" one that pleases your eye is not always easy to find.
When you find it, seize the moment.
Which orange do you suppose for the door?
Anchor it With Indigo
Find wonderful options for area rugs in this magical hue RIGHT HERE.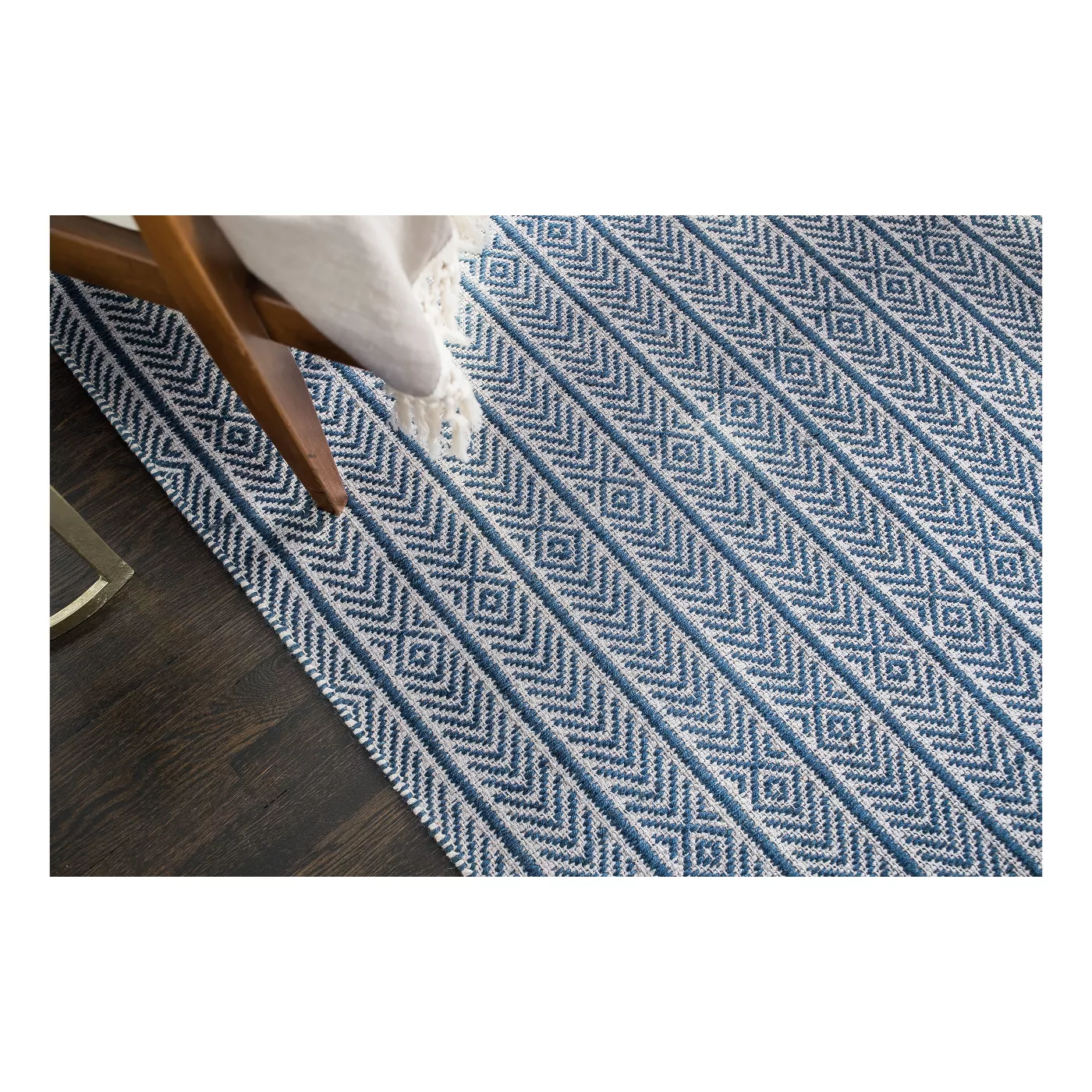 Kitchen & Dining Blue Decor Ideas
I have these in the stone color, and they are fabulous!
Artwork Graced With Deep Blue
Charming Blue Gingham Pillow
Blue Decor Ideas for the Bath
Cozy Beautiful Blue for Fall
Bedrooms Blooming With Blue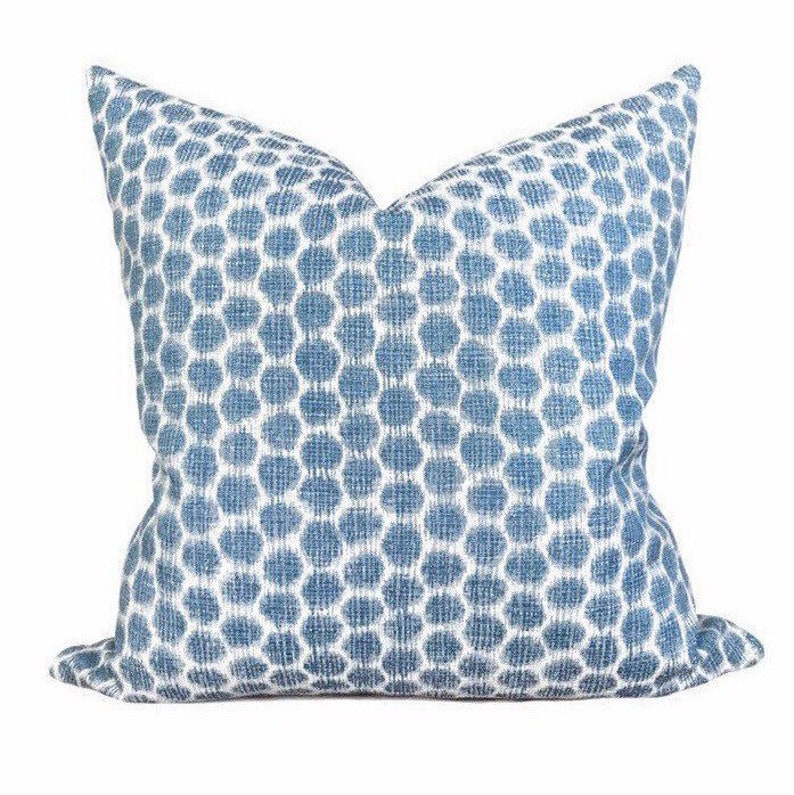 Find shopping resources for my bedroom RIGHT HERE.
Pretty Blue Bedding in My Room
When I feel like changing it up and living with blue in our bedroom at home, here's how easy it is: a blue moon quilt (vintage Garnet Hill no longer available I'm afraid) and shams on top of the white!
I adore how Lisa Furey used indigo blue as an accent in her coastal South Carolina great room HERE.
Please someone tell me why we needed reassurance with this color in 2018? (I'm thinking every frackin color pick 2020-2022 should have a synonym of "reassuring" or "consoling" in the name!
Enjoy a Minute of Peaceful Blue
Nobody sings it like Linda, but since I have posted that one a million times, enjoy Allison and do not miss her last totally on fleek note!
I independently selected products in this post—if you buy from one of my links, I may earn a commission.
Peace to you right where you are.
-michele
Shop for items you already intended to buy on Amazon RIGHT HERE, and also find home decor here to keep decor inspiration flowing on Hello Lovely!
Hello Lovely is a participant in the Amazon Services LLC Associates Program, an affiliate advertising program designed to provide a means for sites to earn fees by linking to Amazon.com and affiliated sites.