So here's the thing about choosing a quiet blue or grey-blue paint color: you really need to forget about those paint swatches with the word 'blue' in the name. Stick with the grey range to avoid 'nursery baby blue' factor and cloying, too bright blues that read unsophisticated and give you a headache. 111 Grey-Blue Paint Color Ideas: Timeless Grays for Interiors provides paint color ideas to get you started on your quest to choose samples!
I independently selected products in this post—if you buy from one of my links, I may earn a commission.
10 Grey-Blue Paint Color Ideas: Quiet, Timeless Grays for Walls & Furniture
I shared the calm blue-grey color I used to paint the kitchen cabinets in the Arizona kitchen we gave a serene makeover, and today we'll explore more possibilities for furniture, cabinets, walls, trim, and decor.
There is nothing like old, peeling, fading, vintage Frenchy looking blue-grey colors like we see on DreamyWhites' glorious cupboard…
The quest to find the perfect blue-grey paint color for your project is not necessarily going to be quick and easy.
This time last year, I experimented with paint color after paint color on the walls of my little pass through, builders grade laundry room here at the fixer upper.
I hope these paint color ideas save you time and sanity!
Let's face it, finding a just right gray that works well with your room's unique lighting is not always easy. I loved how finding the right grey for our Arizona getaway kitchen transformed and softened that space.
Paint Color Tip
I can't stress enough how important it is to try samples before buying a whole gallon. Home Depot ships them for FREE so I have included links throughout!!!
The amount of light in your room affects how the paint color presents in a specific space. Behr's Classic Silver in my Arizona kitchen with intense yellow sunlight appears to be a soft, blue-grey. In another home, it reads cooler:
When I tried Classic Silver in my window-less laundry area in Chicagoland, it read too dark and not nearly as blue.
But you know what they say about failure, right?
Timeless Tranquil Classic Silver on a Front Door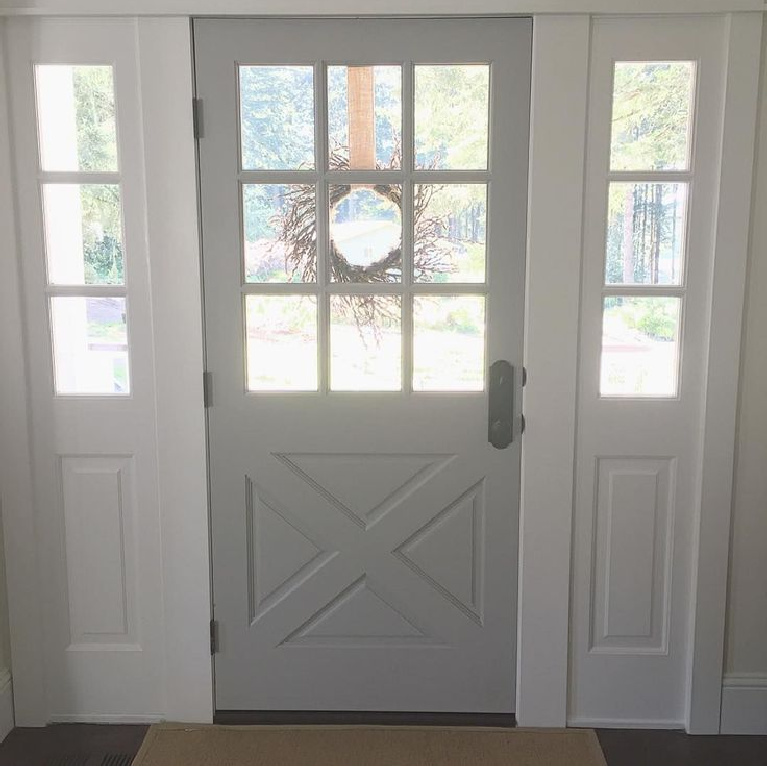 Here's a pretty gray chalk paint to transform decor or furniture when you're after a romantic, European inspired hue.
Here's another testimonial for the joy of chalk paint:
This is the color I chose for our little laundry room pass through. It looks great with beadboard panels installed horizontally and painted Benjamin Moore White OC-151.
Don't you appreciate seeing images of interior doors painted a color?
I love this color so much that I devoted an entire post to it HERE! F&B says this classic shade of grey with subtle blue undertones is reminiscent of an elegant 18th century Swedish hue and adds "a sense of spaciousness."
I say…come to mama, gorgeous.
When I imagine a just right, subdued, quiet, pale grey blue paint color for trim, Brooke and Steve Giannetti's Patina Farm project springs to mind. Only trouble is they mixed a custom color for the project!
Fortunately, I devoured every single post blogged by Brooke during the construction of Patina Farm, and she shared that their custom trim color is close to Pavilion Gray by Farrow & Ball!
We pause for this timeless tour!
I HAD TO SHARE THIS Timeless and Tranquil RENOVATED HOUSE TOUR WITH YOU because I know you will just melt and drift away from all the blissfulness…
Easiest way to see if a paint color will work? Order samples with Samplize and have them delivered straight to your door.
You'll note a paint color can look vastly different depending on the context and light!
You could always build a miniature model of your kitchen to try out Blue Gray on kitchen cabinets!
Farrow & Ball Blue Gray 91
"With its subtle mix of blue, green and black pigments, Blue Gray creates the most relaxed of rooms that feel as if they have always been there. It is a cooler, more weathered version of French Gray and has the same almost magical quality of gently shifting between blue and grey depending on the light and time of day."
Blue Gray by FARROW & BALL…look at those tranquil hued steps!
Farrow & Ball Manor House Gray: "A cool architectural grey named after the houses traditionally inhabited by the local lord, Manor House Gray is a definite grey which retains its colour in all lights, especially when contrasted with Wevet. Cooler and cleaner in feel than Charleston Gray, this Architectural Neutral is very popular in hard-edged contemporary homes that are conducive to minimal living and is often used alongside the more dramatic Railings."
8. BENJAMIN MOORE Silver Gray 2131-60
9. BENJAMIN MOORE Silver Lake 1598
Benjamin Moore Silver Lake 1598 is such a dreamy, peaceful, uplifting shade of calm!
Here's a pretty blue-grey with which I have experience, and I almost chose it for cabinetry I painted. Unfortunately, the room's lighting was awful, so purple undertones in the color made it too bright. This would certainly not be a problem with warm yellow sunlight streaming upon this hue!
It often helps to see the same room painted in different shades of a similar color. In the room above, walls are painted BEHR Silver Screen, and in the same room below, the color is Silver Bullet.
They may look similar (and they are!), but when you expand the photos, you'll see how Silver Bullet has more depth and less blue undertones.
Just a Bit More Blue Grey Inspiration
Wallcoverings and custom blue-greys will inspire our color palette dreaming and scheming too!
The homeowner's favorite color was blue in 2017's Southeastern Designer Showhouse, and while the walls in this bedroom are not painted, we can still be inspired the color story.
Appealing Warm Gray Paint Colors
Here are some ideas for warm gray paint colors.
Silvery Blue Grey Wallcovering
Beautiful White Paint Color Ideas
Pretty Blue & Grey Things
Can't write enough pretty adjectives for these, my new favorite pajamas…the color is to die for, and the price can be beat.
For more stories with paint color ideas, see: Choosing the Perfect White Paint Color and Best Serene Paint Colors.
I independently selected products in this post—if you buy from one of my links, I may earn a commission.
Peace to you right where you are.
-michele
Shop for items you already intended to buy on Amazon RIGHT HERE, and also find home decor here to keep decor inspiration flowing on Hello Lovely!
Hello Lovely is a participant in the Amazon Services LLC Associates Program, an affiliate advertising program designed to provide a means for sites to earn fees by linking to Amazon.com and affiliated sites.