After considering so many gorgeous rustic French baskets and glancing back at the simplicity and beauty of the laundry room designed by the Giannettis for Patina Farm, I clearly have laundry rooms on my mind. My own lil' laundry room is not blogworthy in the slightest (even after a mini makeover in 2019). Dreamy Laundry Room Inspiration With Timeless Tranquil Design shares ideas for us to apply to our own spaces.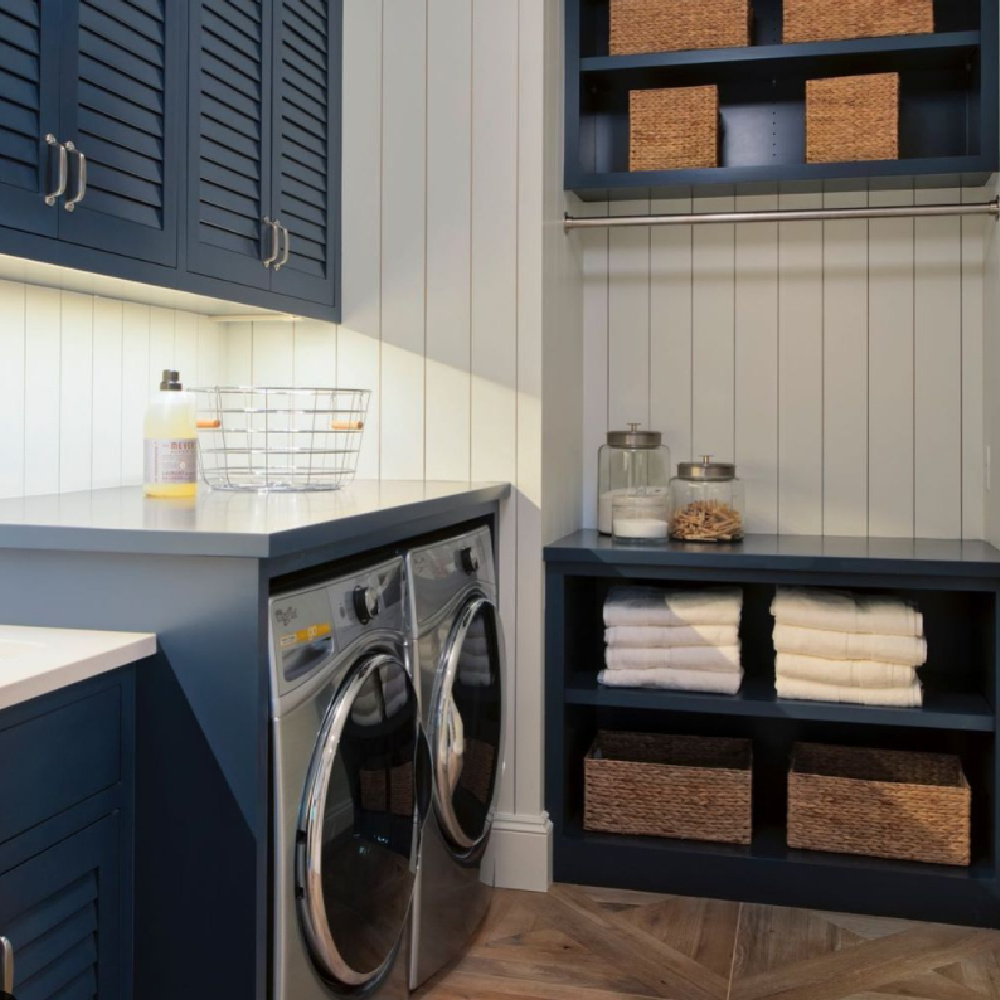 Dreamy Laundry Room Inspiration With Timeless Tranquil Design
Let's start with lovely laundry room design inspiration before I begin to share with you the details of why our pitiful pass through laundry needed to be reimagined and tweaked without demo.
BTW…do you also have a laundry room/mudroom board on Pinterest? Find killer inspo and repin pins from mine HERE!
Lovely Green Splendor in an Architecturally Magnificent Laundry Room!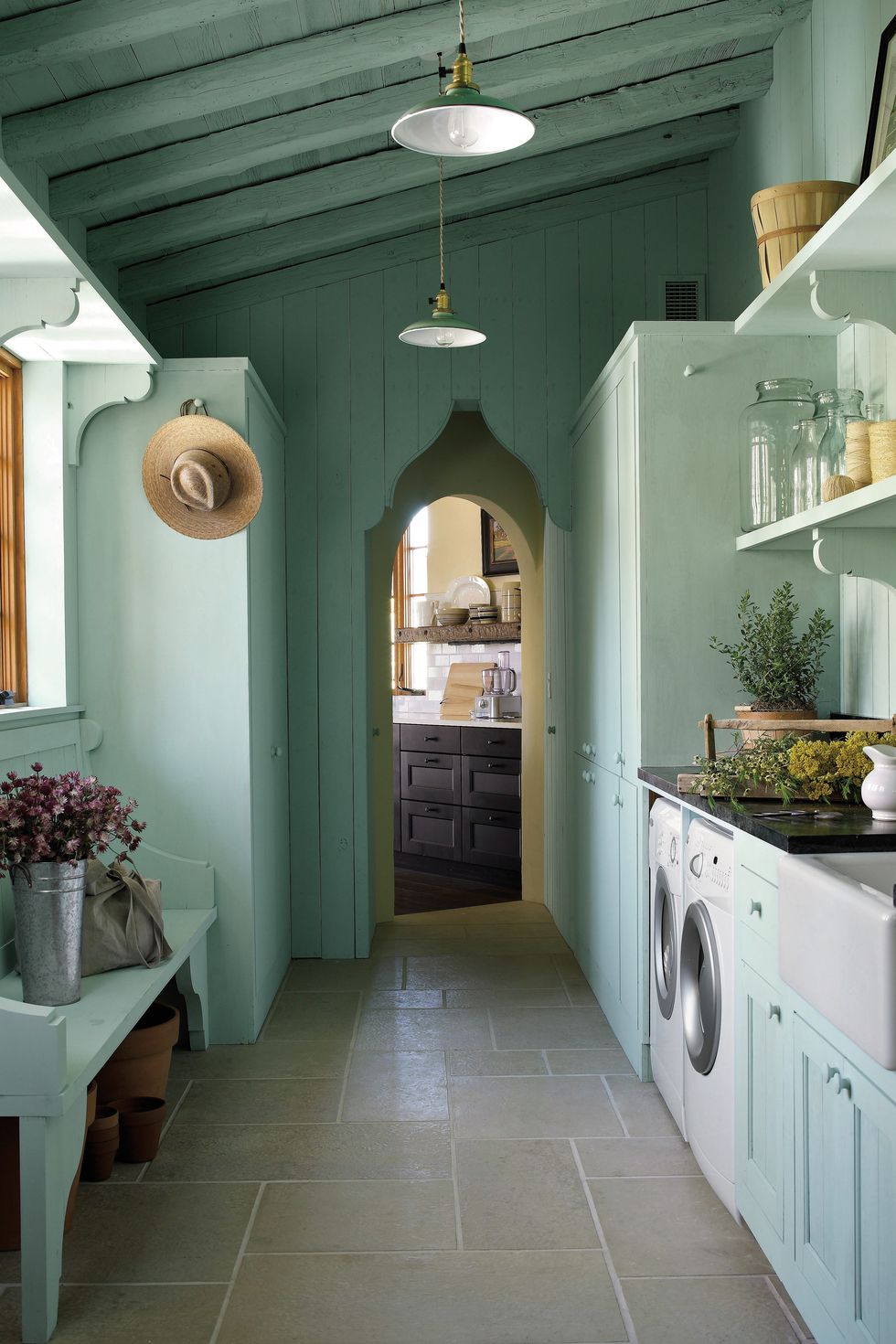 Sophisticated Simplicity in a French Farmhouse Near Bordeaux
Tennessee Farmhouse Chic in a Classic Laundry Room With Dutch Door
Sarah Richardson's Turquoise Modern Farmhouse Laundry Room Design
Hello, Lovely Laundry Paradise in Provence!
Chicago Brick Looks Stunning on You, Texas Laundry Room
Windows in Laundry Rooms & Butler Pantries
Quiet & Romantic Loveliness in a Country French Laundry Room
It Always Helps to Look at Before & After Laundry Rooms!
I love Jenna Sue's style, and you will be inspired by how she transformed a very forgettable "before" laundry room into a lovely country vision!
I independently selected products that follow—if you buy from one of my links, you won't pay anything extra yet this blog may earn a commission…yay!
It's not just an aesthetic problem with the space where I do laundry.
The little room is one of those pass-through laundry areas adjacent to the garage, and I have despised it from Day One.
The thing is, when we bought the fixer upper, we planned to demo the laundry room and give the space to the kitchen.
The washer and dryer were supposed to go in the master bath which had plenty of space to accommodate them.
For a variety of reasons, it couldn't be easily be done. (And trust me, I was more than willing to sock a chunk of change into making the change happen). As a result, the laundry situation has remained the same.
One More Inspiring Laundry Room to Study
Here's a peek at one of my all-time favorite laundry rooms…the timelessly tranquil one at Patina Farm by Giannetti Home.
Isn't the little old door amazing!?!
Don't you love a beadboard drying rack?
Easier to order one of those than ask my beloved to design and somehow engineer a groined vault ceiling to the laundry's entrance!!!
My own wee laundry space won't accommodate a sink…but if it did, wouldn't a wall mounted fixture like this be divine!?!
Mini Makeover For My Own Laundry Space
There is just enough space for a washer, dryer, original old cabinets above them and a 6.5′ long closet. I removed the bifold doors then added curtain panels and a tower of cubbies…
What was the room lacking, function-wise? A place to properly store clothes to be laundered, an area to fold laundry, and proper storage for cleaning supplies. What is the room lacking, design-wise?
Heavens to Betsy. It can't boast a lick of loveliness beyond white oak hardwood flooring.
My Humble Laundry Room
Design challenges? No room for expansion, no natural light, an ugly exterior garage door opening into the room, and doors everywhere!
What do I mean by doors everywhere? There's the garage door opening right into it, a pocket door at the other end, and bifold doors stretching between them.
Another challenge is since we don't have a front load washer/dryer (I love my top load washer!), I cannot design a shelf to install over top as seen in so many smart designs. Hence, it is time to get brainstorming and designing, and I will be keeping you posted on my progress, even if that means confessing that it's all a hopeless pipe dream!
Is It Time to Refresh Your Laundry Room?
I independently selected products in this post—if you buy from one of my links, I may earn a commission.
Peace to you right where you are.
-michele
Shop for items you already intended to buy on Amazon RIGHT HERE, and also find home decor here to keep decor inspiration flowing on Hello Lovely!
Hello Lovely is a participant in the Amazon Services LLC Associates Program, an affiliate advertising program designed to provide a means for sites to earn fees by linking to Amazon.com and affiliated sites.