Oui, oui, the writing is on the wall, y'all…and if these walls could talk, they would whisper in a French accent. DIY French Script Stenciled Wall shares the how-to and photos of a timeless stenciled accent wall in a guest bedroom. I'm also sharing an update on my personal life at the end.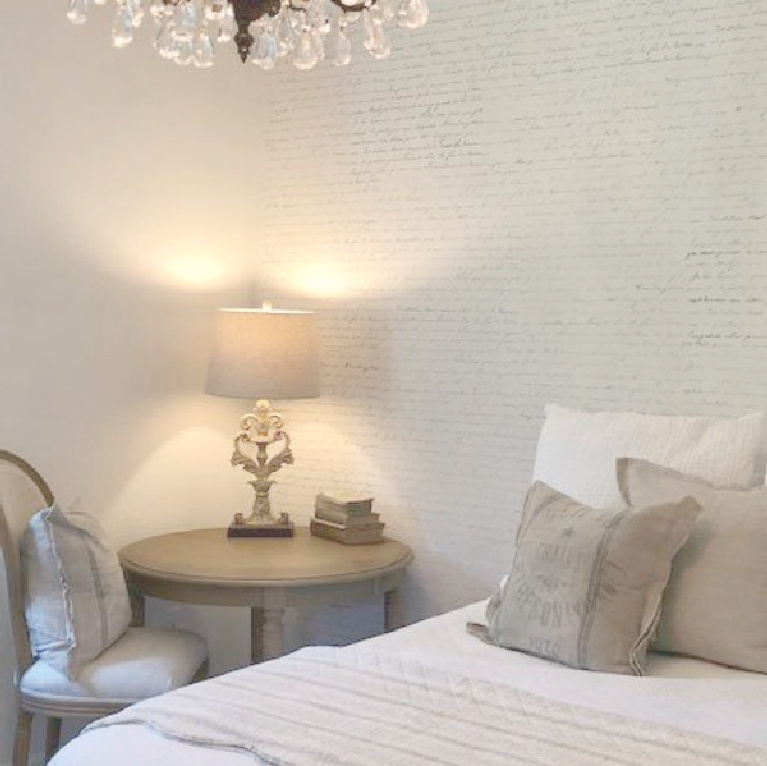 The French script is nearly illegible so the artfulness is about character and dramatic scale. Admire the look of old French letters and documents? Try this inexpensive and easy DIY with grey chalk paint you can make yourself!
I independently selected products in this post—if you buy from one of my links, I may earn a commission.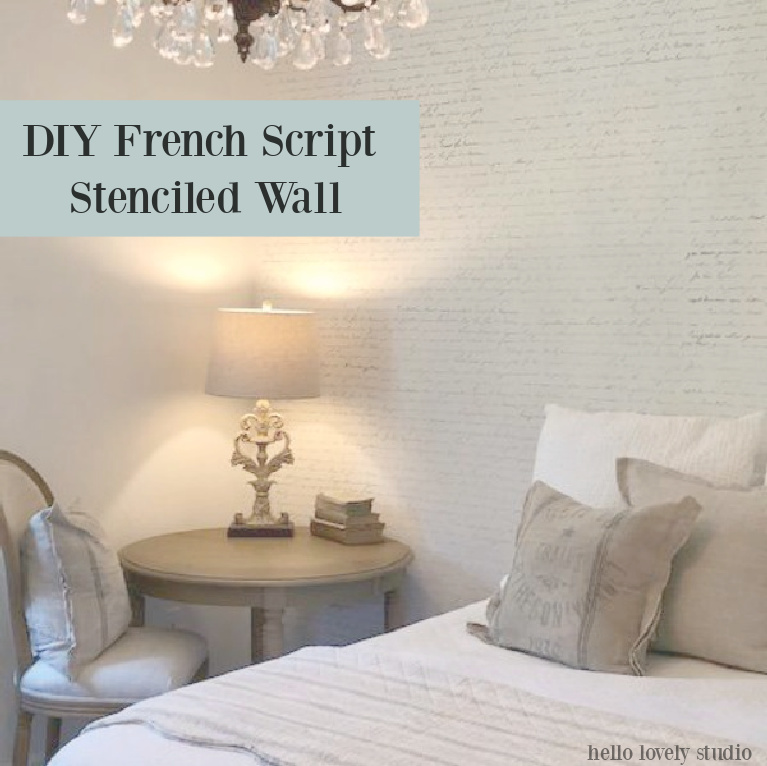 How to Create a Chic French Script Stenciled Accent Wall!
If you have stenciled before, then you know. It's easy peasy, madame. However, the beauty of this stencil project is how I customized the look to appear hand-lettered.
I'm sharing the secrets!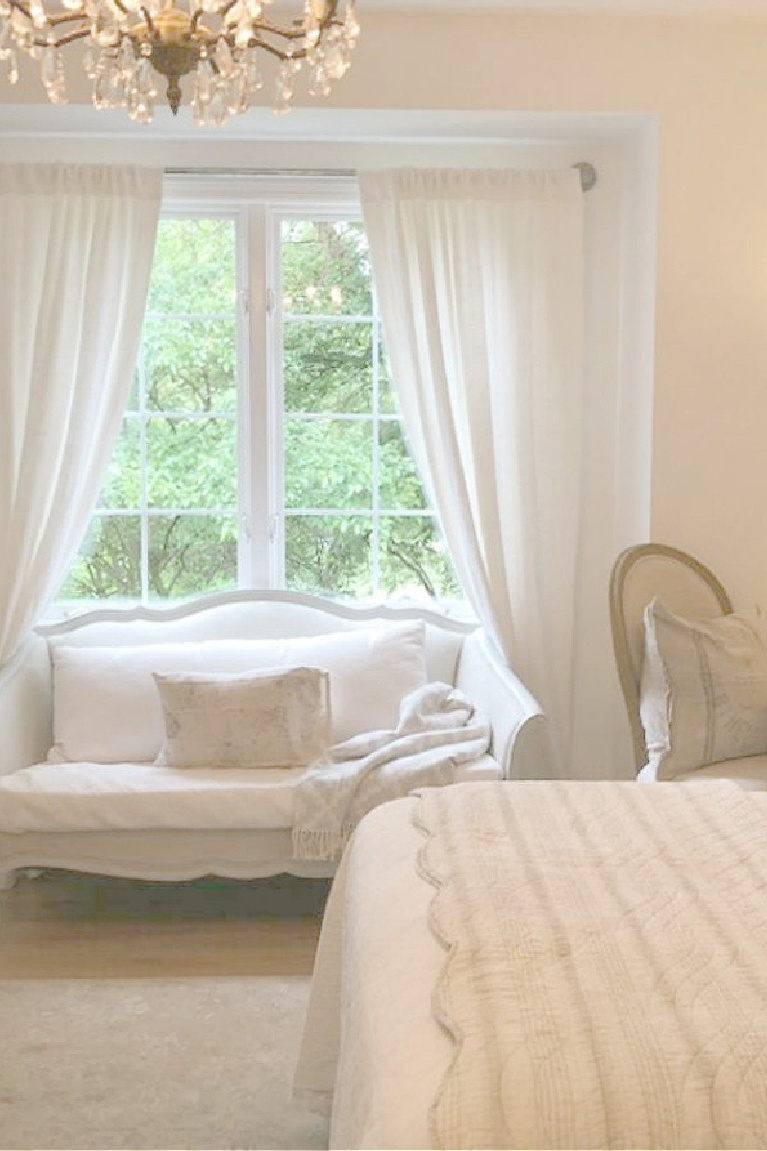 Is stenciling a wall sooooo 5 minutes ago? Someone disparaged my French script wall on FB, informing me French Script is totally passé. To that, I say NOPE. It's timeless, and I'm unconcerned with small-mindedness and trends.
Supplies include: 21″ x 10.75″ stencil, pouncer style natural bristle paintbrush, blue painter's tape, and grey chalk paint.
I started the project with Annie Sloan Paris Grey but underestimated the amount of paint required! Since I didn't want to stop stenciling, I successfully mixed my own. It matched beautifully! (I have made chalk paint many times, so if you have ever wanted to learn how to make chalk paint, read on!)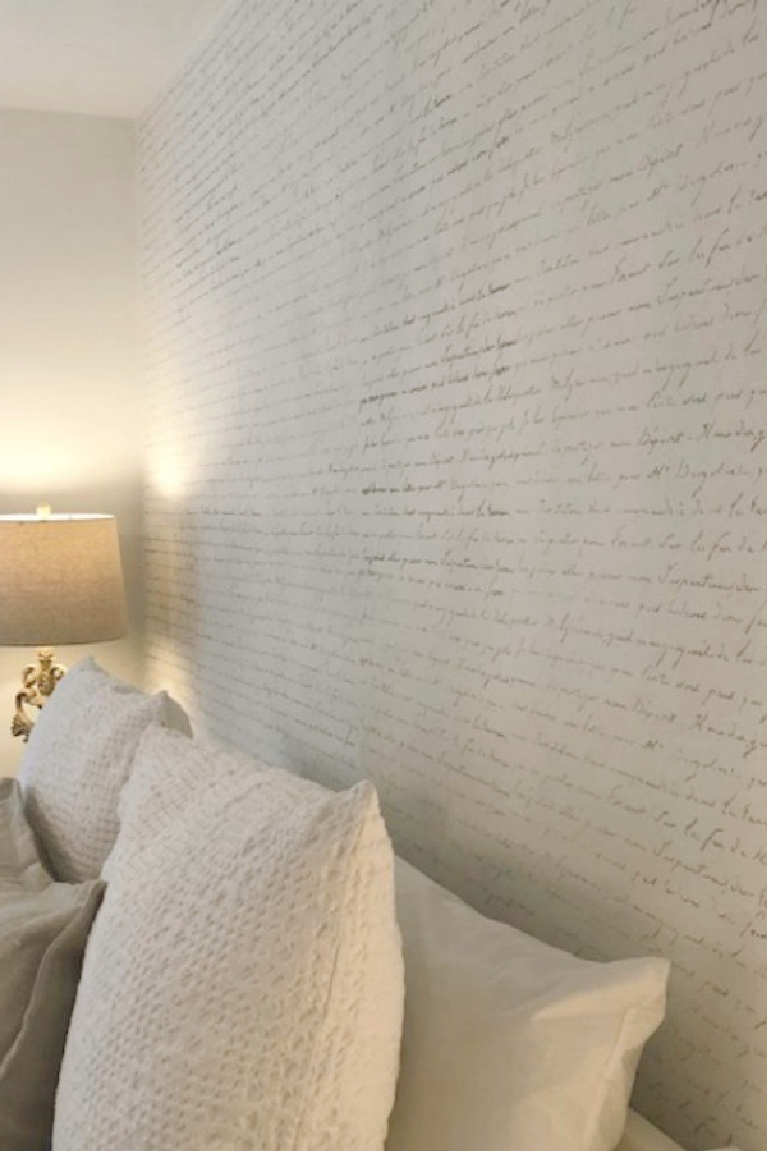 Supplies: French Script Stenciled Wall
The stencil's description from Stencil Stash notes: "Taken from an old letter between friends, the text is only partially legible to add an evocative feel to your projects. Perfect for furniture, fabric, crafts and home decor."
Repeating the stencil on a large expanse meant reusing the stencil many times and paint build up on the stencil. While this mylar stencil cleans up easily with soap and water, it's helpful to buy multiples of the stencil to minimize the labor and pauses to clean the stencil.
The size of the XL size stencil I used is 21″ by 10.75″.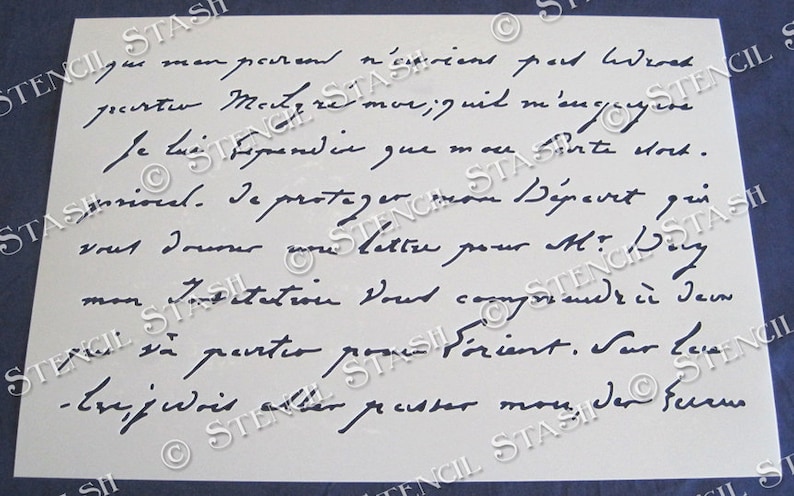 Stencil Brush
I used a pouncer paintbrush like this one for the project, and I liked being able to vary the pressure as I pounced. This helped me achieve a script look: faded in some areas, darker in others. This look also allowed me to stencil imperfectly since I was going for authentic, aged, hand lettering.
I have used stencil brushes like the ones below as well, and they work well. However, for a project like my wall which took many hours, a more ergonomic paintbrush with good hand-feel came in handy.
Painter's Tape
This is the tape used to hold my stencil in place.
Chalk Paint: 2 Alternatives
1. Inexpensive & Easy to Make Chalk Paint
To make one quart of chalk paint: Mix 8 Tbsp. calcium carbonate + 4 Tbsp water in a clean paint can or container which will hold a quart. Add more water if necessary a little at a time, to get a paste consistency. Stir in 32 oz. (4 sample pots) of flat or satin latex paint until smooth. Pour some of the paint into a clean container to use for stenciling (eases things a little), then cover and store the rest until refills are needed.
A couple of years ago, I discovered that the paint color I chose for our kitchen cabinets in the Arizona vacation house is very similar to Annie Sloan's Paris Grey. It's called Behr Classic Silver, and I had some on hand to make chalk paint.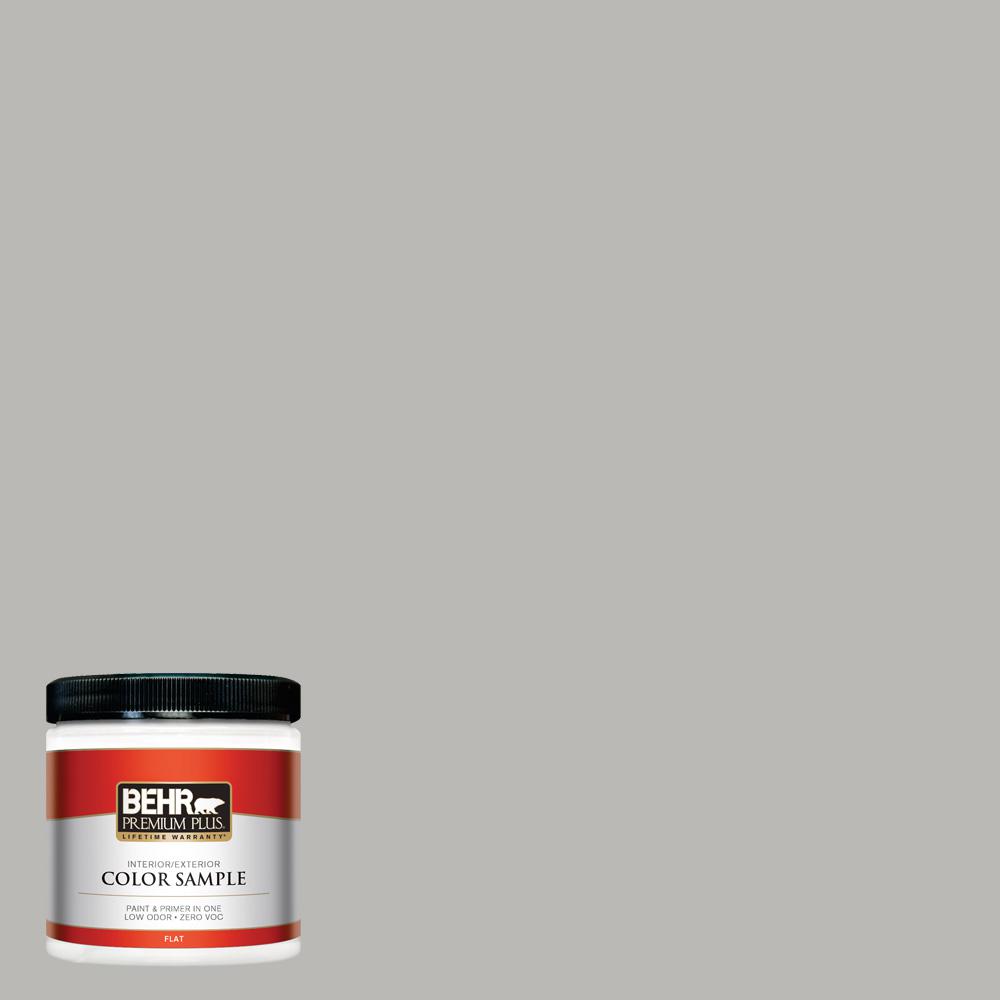 You can use any container to make the chalk paint, and I suggest having 2 containers available. Mix the paint recipe in one, then pour some into a second container for stenciling, refilling as necessary.
Homemade Chalk Paint Tutorial
2. Ready-made Chalk Paint in French Grey Tones
Here's the chalk paint I started with – Annie Sloan Paris Grey. When I ran out about 1/3 of the way through and didn't want to put the project on hold, I came up with a homemade solution that matched beautifully.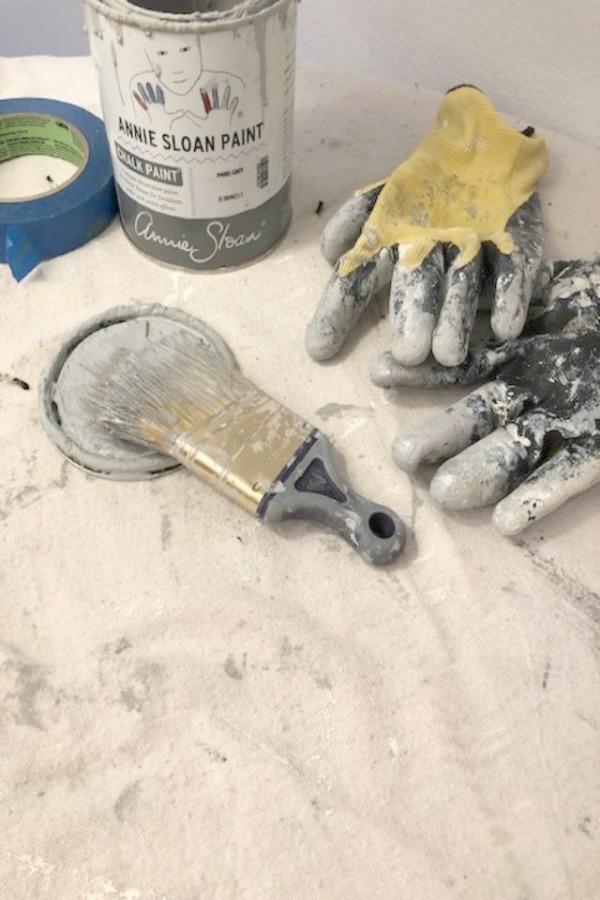 Optional: Folding 3 Step Stool With Project Tray
The project tray on this folding ladder makes a great perch for paint.
Instructions for French Script Stencil Wall
Paint the Wall With Desired Base Color
Make sure to have that base color on hand for any touchups you may have at the end of the stencil project. My base color is Benjamin Moore White OC-151.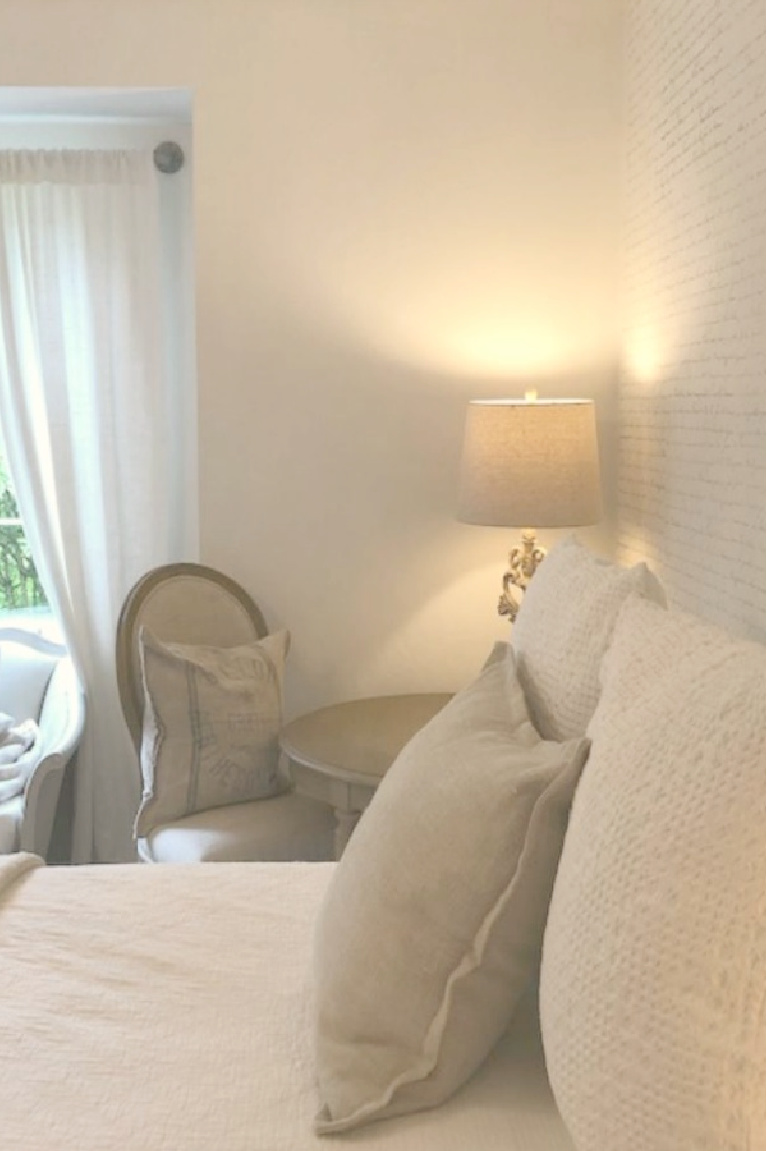 Place the Stencil for First Section
I began stenciling in the top left corner of the wall, securing the stencil at the ceiling with blue painter's tape. No measuring…it went directly in the corner.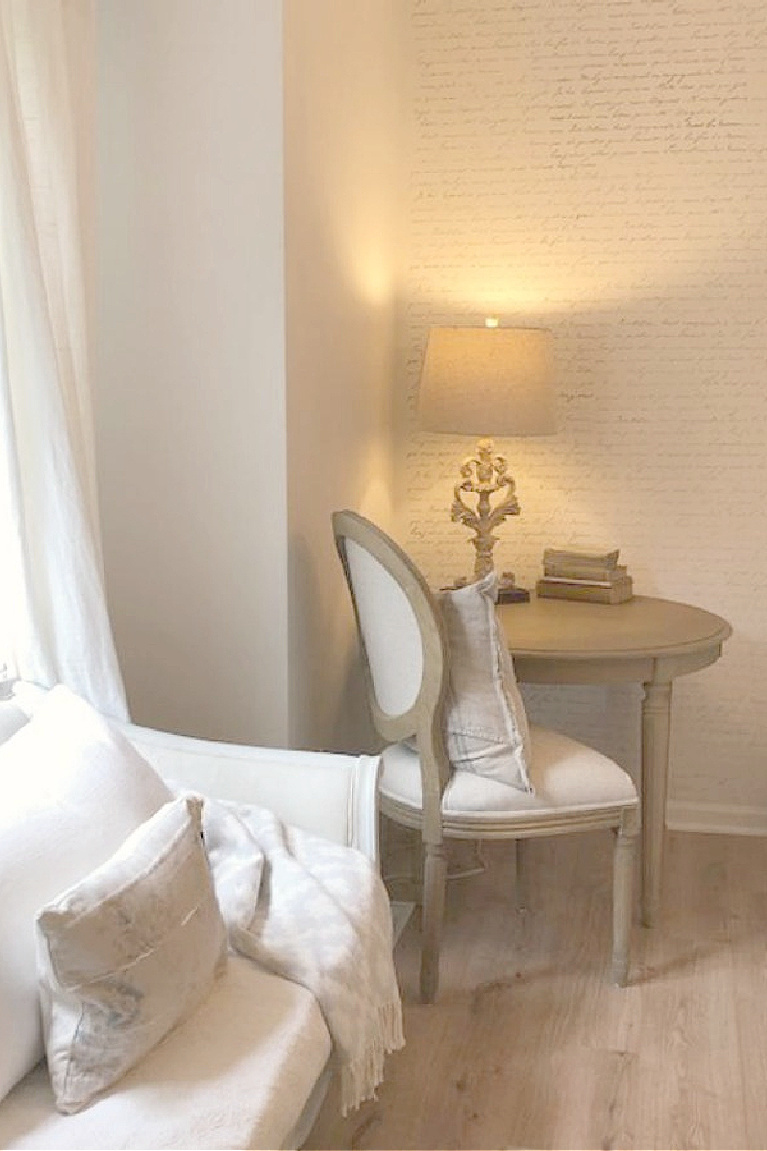 Pounce & Stamp with Brush
With a small amount of paint on the brush (use a paper towel to pounce off the excess), I pounced it over each letter of the stencil with one hand, moving left to right, while holding the stencil flush with the wall with the other hand.
I applied a fair amount of pressure to ensure that enough paint penetrated the delicately cut script of the stencil. As a result, it was a noisy process, and our son studying for the bar exam was not blessed by resident mama woodpecker.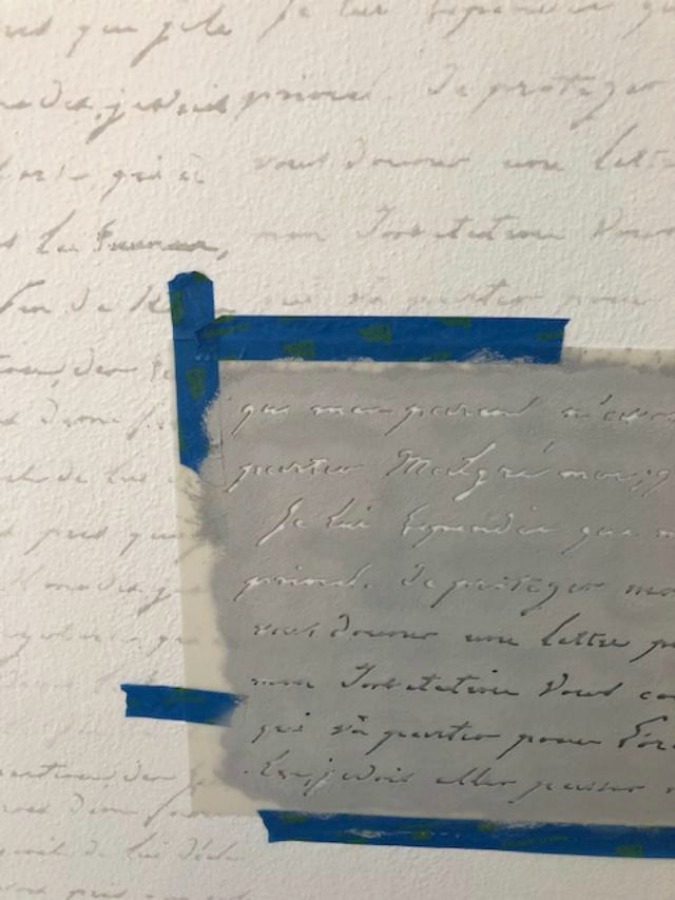 What About a Paint Roller?
Why take time to pounce rather than roll over stencil? First, the script is very fine so it's tricky to get the paint through through the stencil with a roller. Second, I wanted an imperfect, faded, authentically hand-written look.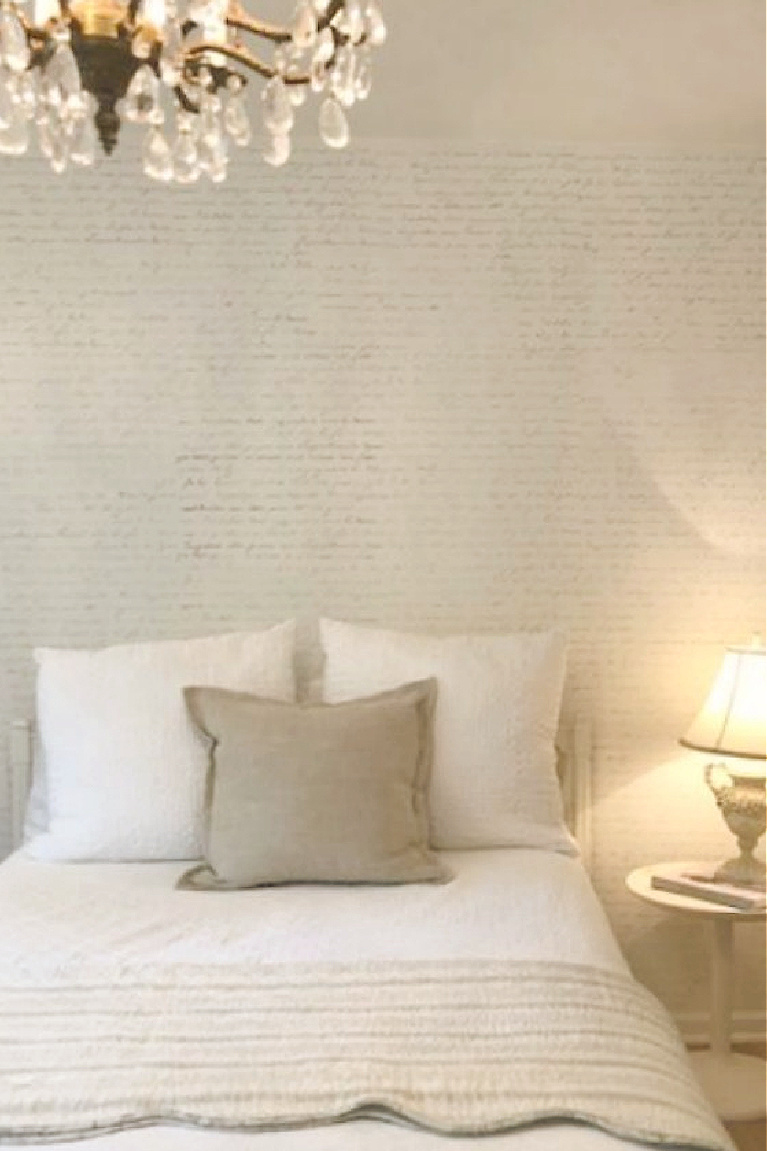 Achieve a Varied, Aged Look
By varying the pressure (as well as amount of paint), you can achieve a lovely imperfect quality. If you aim for a more uniform wallpaper-like look, you could take more time to evenly apply paint and pressure. With my method, you can certainly relax! Even if parts of the script look smudged, globby, or barely there, it's the look we're going for!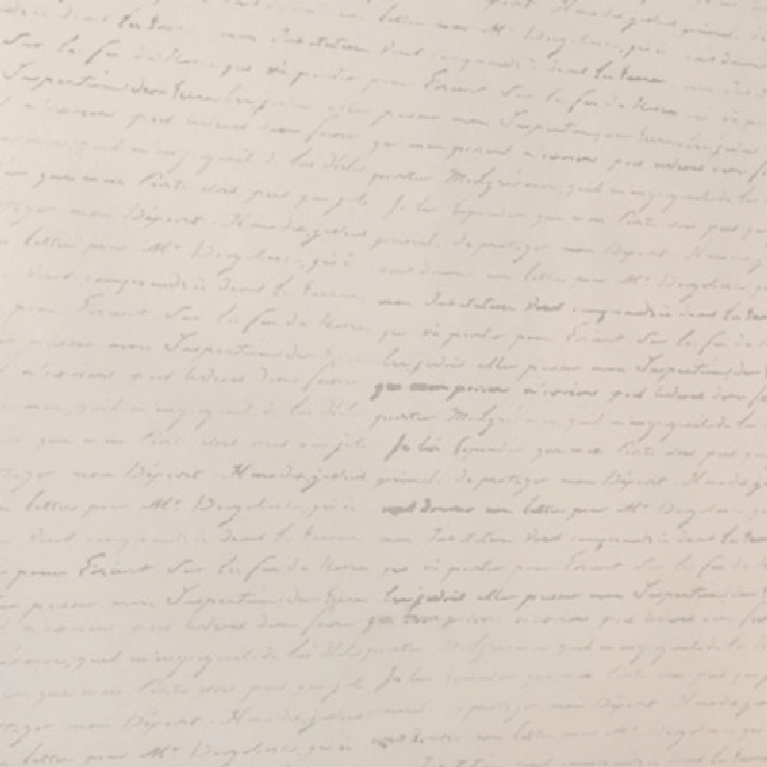 Reposition Stencil for Next Section
To reposition the stencil for the next section, I carefully lifted the stencil and tape and placed it to the right of the first section. I chose not to use registration marks or a level, but rather eyeballed it, using the ceiling as a guide. sliding it to the right with each section, and for the last section at the corner, I bent the stencil to hold it in place.
Don't worry about perfectly ending a line of text since you can always paint over it with base color at the end! After the first row, you can choose to stencil sections horizontally or vertically. You can also use a level or laser lines for more precision, but my walls are imperfect anyway, so using the ceiling as a guide for the first row and working off of it worked best.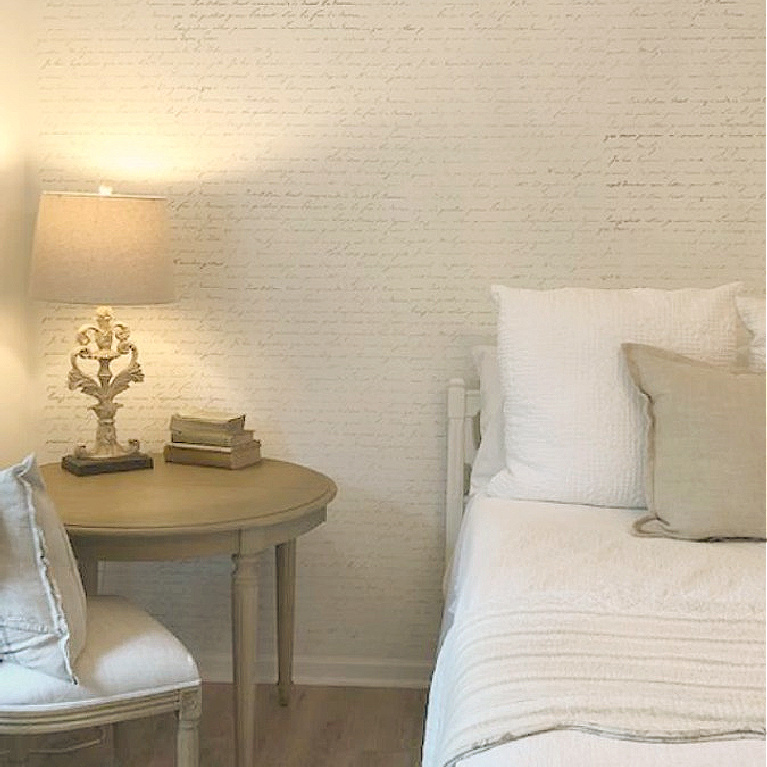 Clean the Stencil
In case you decide to stencil a large wall as I did (mine is more than 15 feet), after a number of sections, the paint will become too thick on the stencil to continue. As a result, it's smart to have multiples of this same stencil on hand so you always have a clean one!
If you are working with a single stencil, it's a pain yet necessary to stop and clean paint from the stencil before continuing. I cleaned mine in a large laundry tub sink, allowing the water run to over the stencil and with circular motions, removed paint with a rag. Then I dried it with an old beach towel…well worth the effort!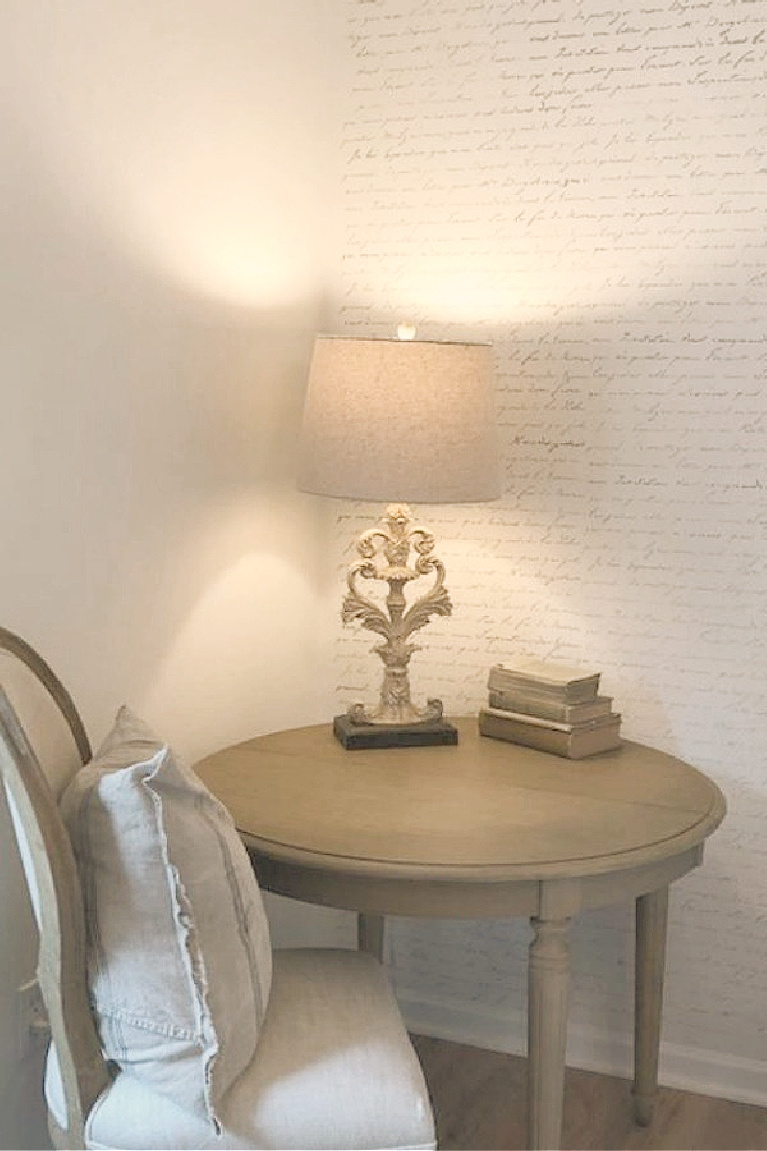 Stencil the Bottom Row
When I got to the bottom of the wall where there is baseboard, I wanted to leave the same amount of space as the sides and top. It was easy to eyeball it, and after placing the stencil, I placed painter's tape over the stencil above the baseboard…consequently, I knew at which line to stop.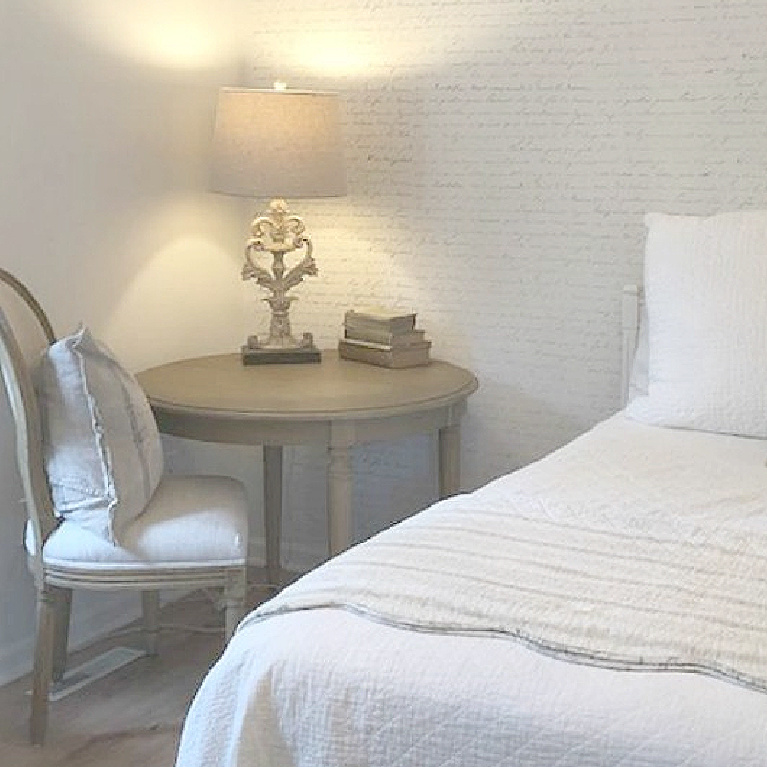 Where Can You Use French Script?
The beauty of French script (especially when it's only partially legible like this stencil) is that it is neutral enough to be at home anywhere. You can certainly stencil a bathroom wall, a wall in the dining room, the back of a bookcase, the inside of a cupboard, a tote bag, a canvas, a seat cushion and even a mirror. In case you had not noticed…I have stenciled many mirrors!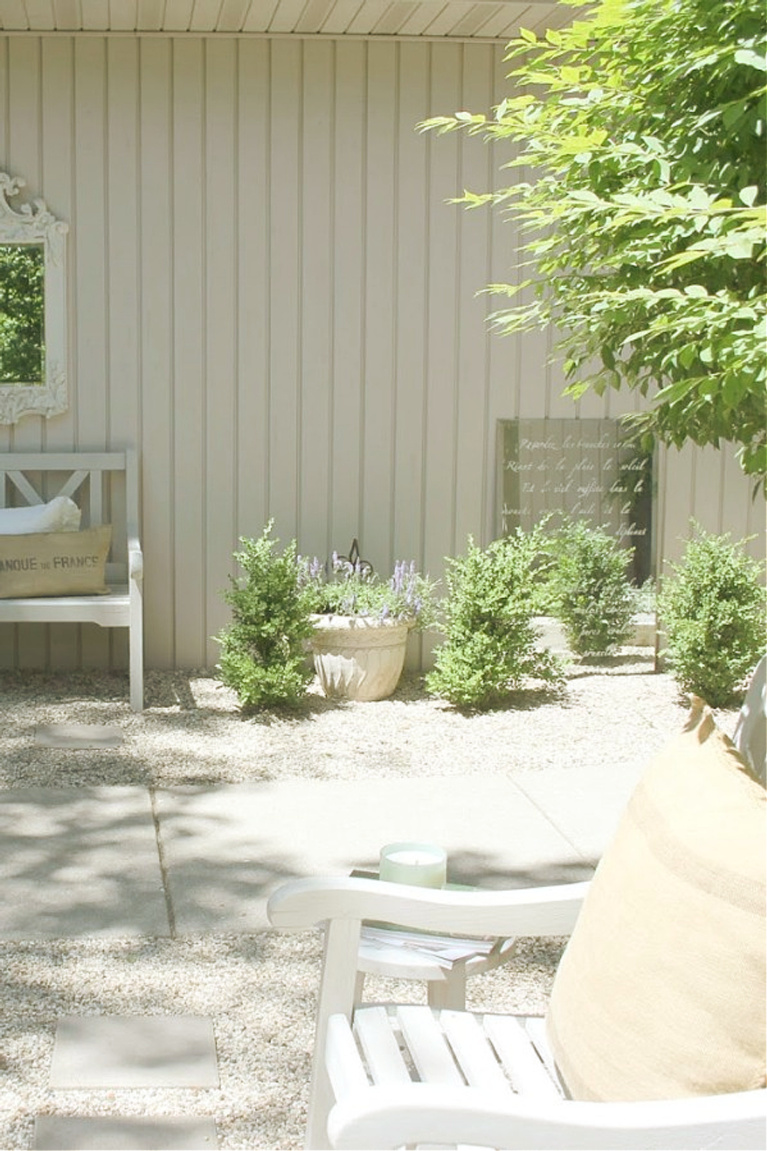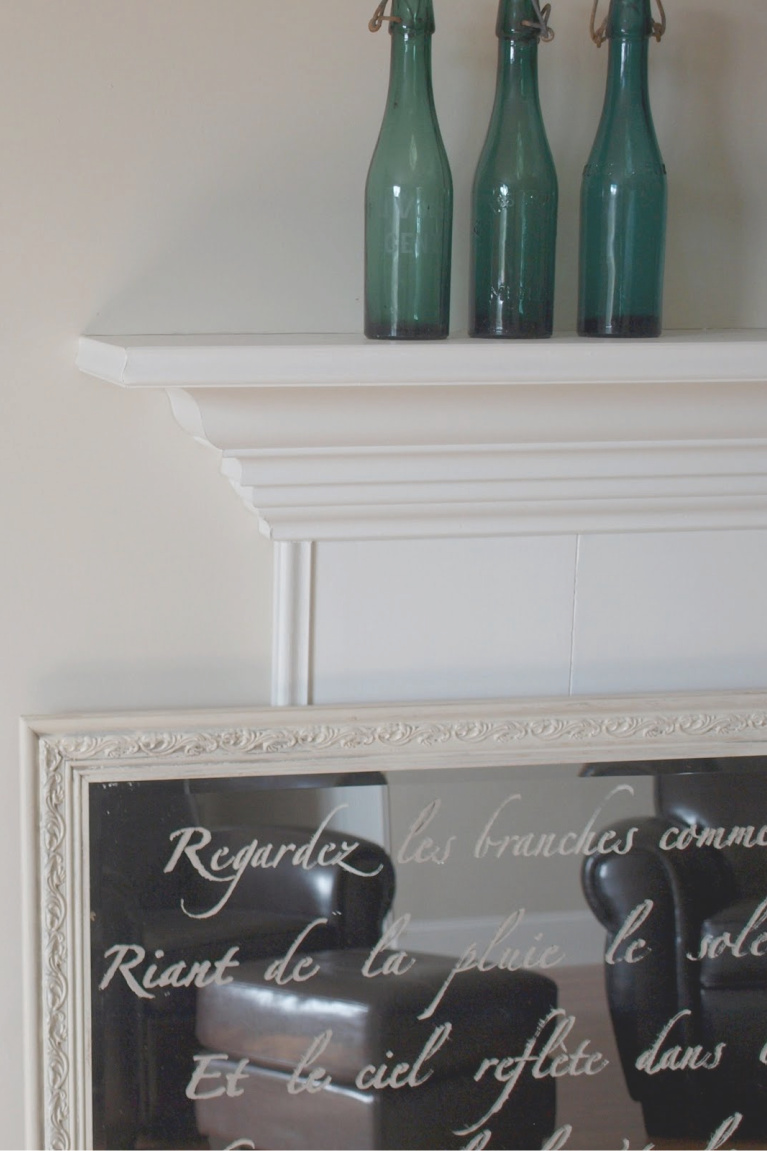 Remember the French script stenciled canvas I made for a bathroom in our Arizona house? I painted the canvas Behr Classic Silver (very similar to Annie Sloan Paris Grey) and stenciled on a creamy white (Valspar Salute).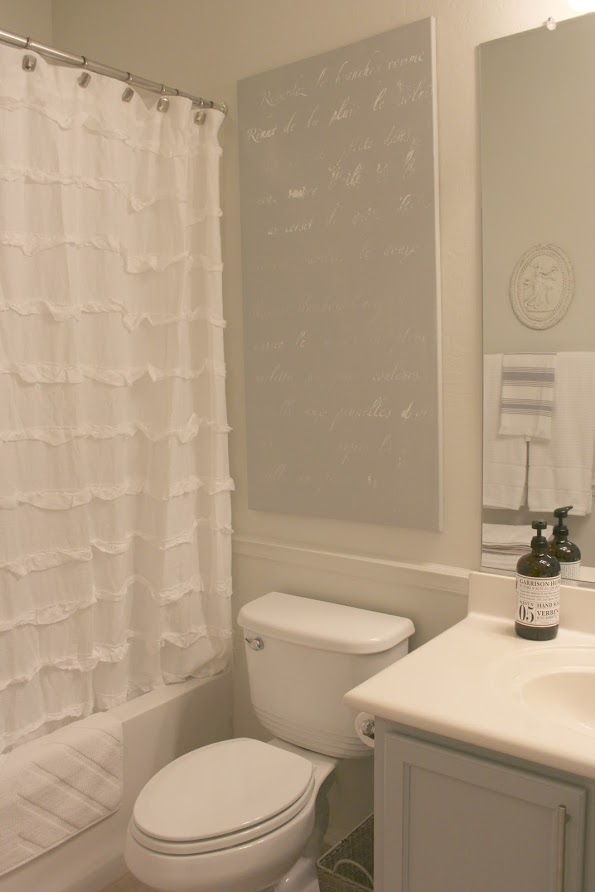 In fact, just to make sure I wanted to tackle the whole wall, I used this stencil on a recycled vintage framed canvas. That way, I could hold it up and see if the scale of the lettering was pleasing. Here it is: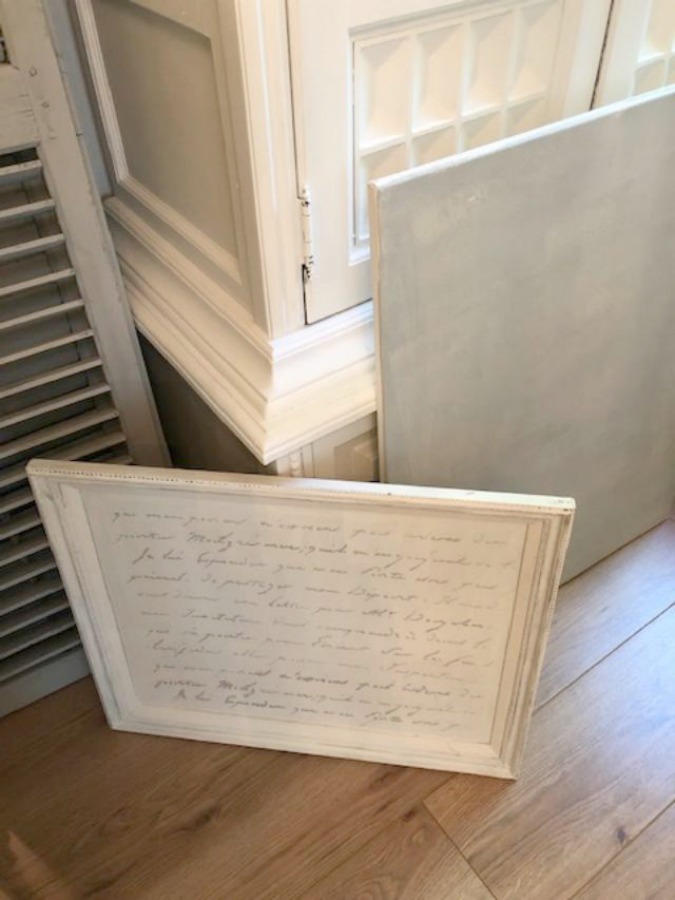 Stencil Project In Process
You can see I decided to work from top to bottom after the first two rows…however, it's your call.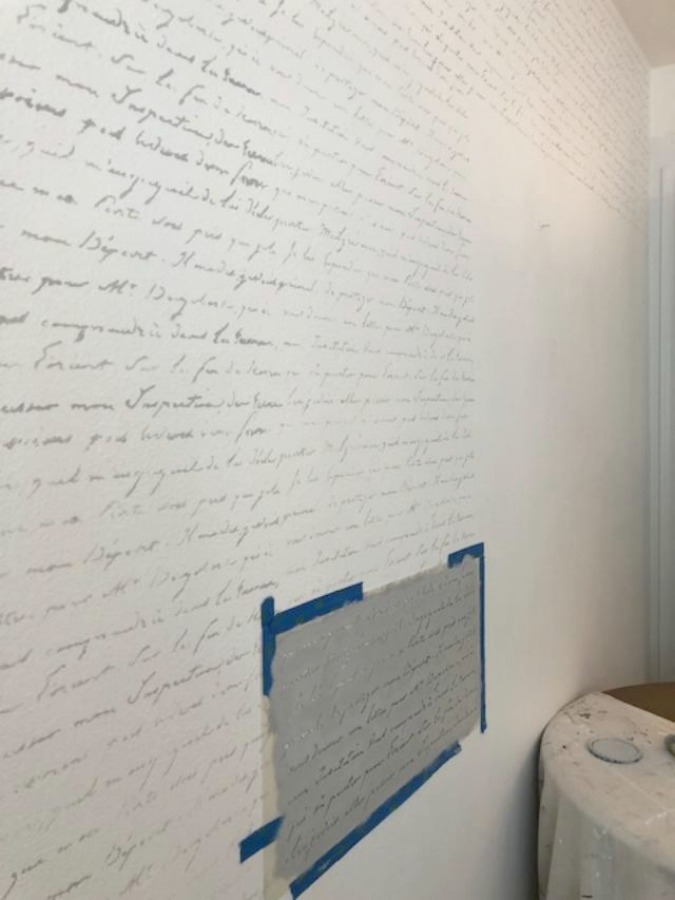 The French script wall certainly reinforces the room's identity as a European country inspired space which includes a full size bed, desk, piano, reading chair, and French settee.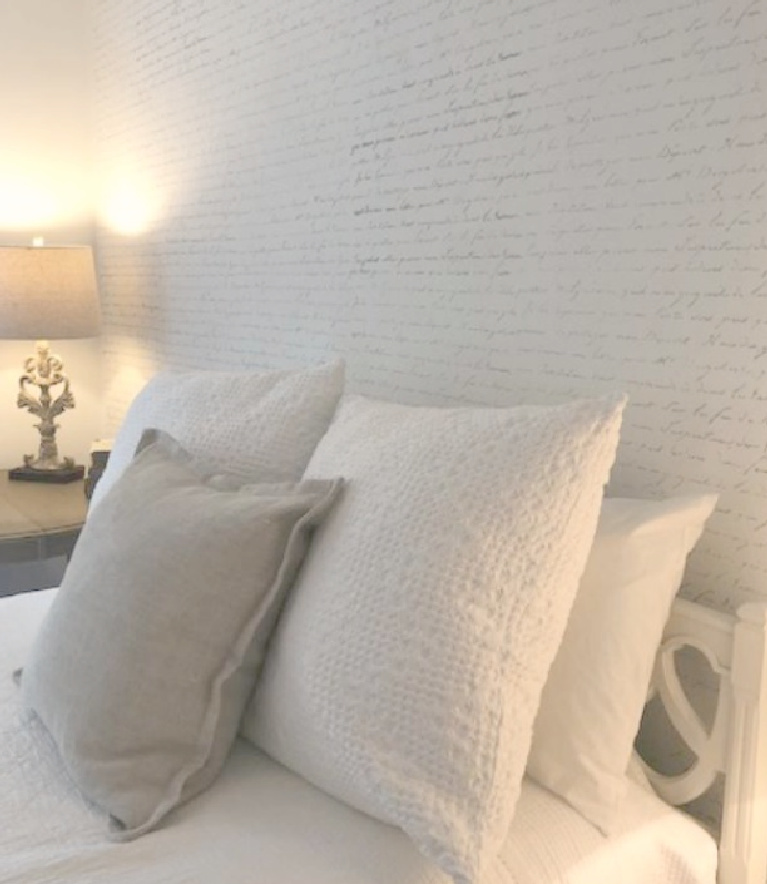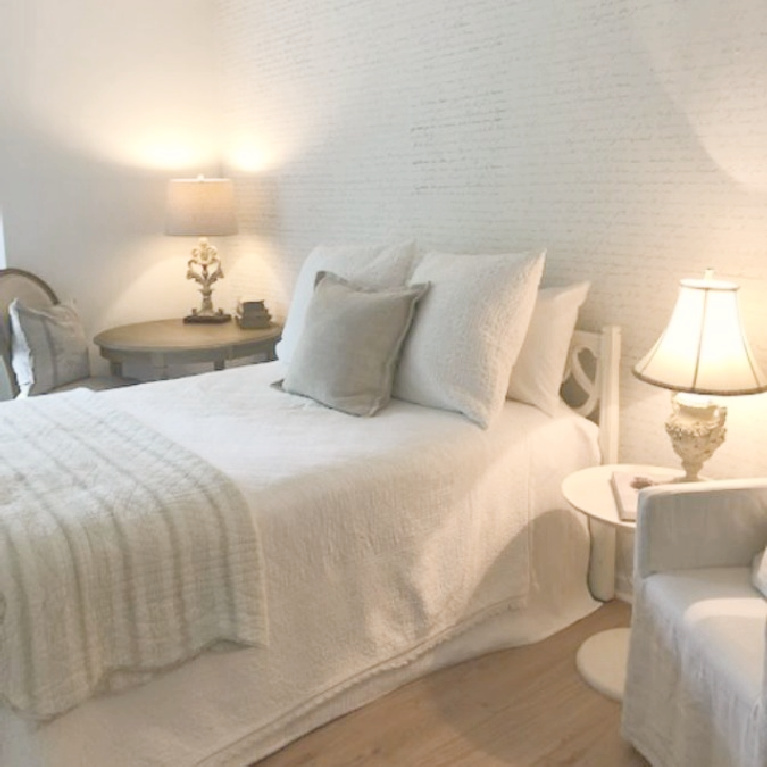 Achieving a Collected, Evolved Look
I am indeed taking my sweet time decorating this bedroom and hasten to even call what I do decorating. What I enjoy is a collected, evolved, unfussy, non-contrived, effortless French inspired look…a look arising from time, creativity, and treasure hunting.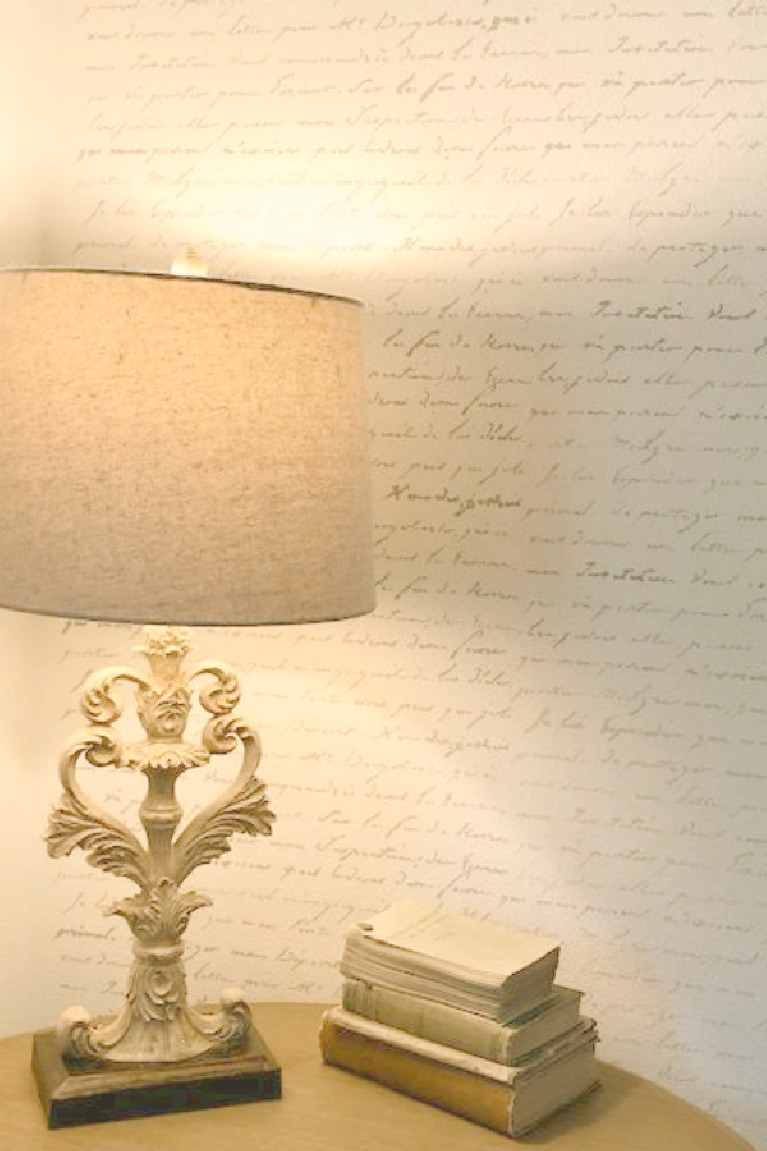 The settee is a $10 find from Goodwill I transformed with Benjamin Moore Revere Pewter paint (even the fabric), an old French boutis quilt, and also linen pillows.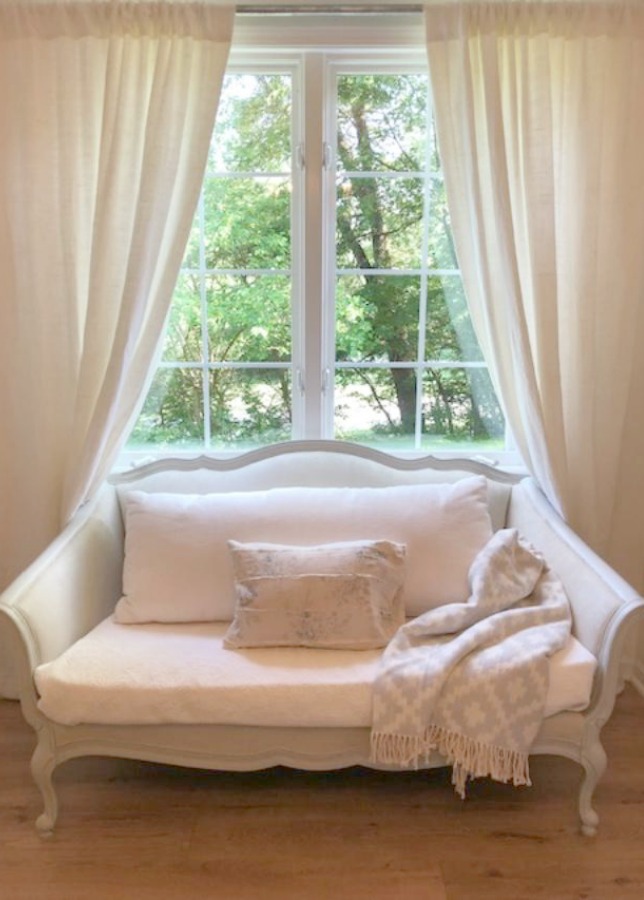 Since I also use the bedroom as a studio, the space is frequently in disarray! Indeed, dropcloths, art table, paints, giftwrap, half-painted thrift store finds, fabric, and paints are staples in here.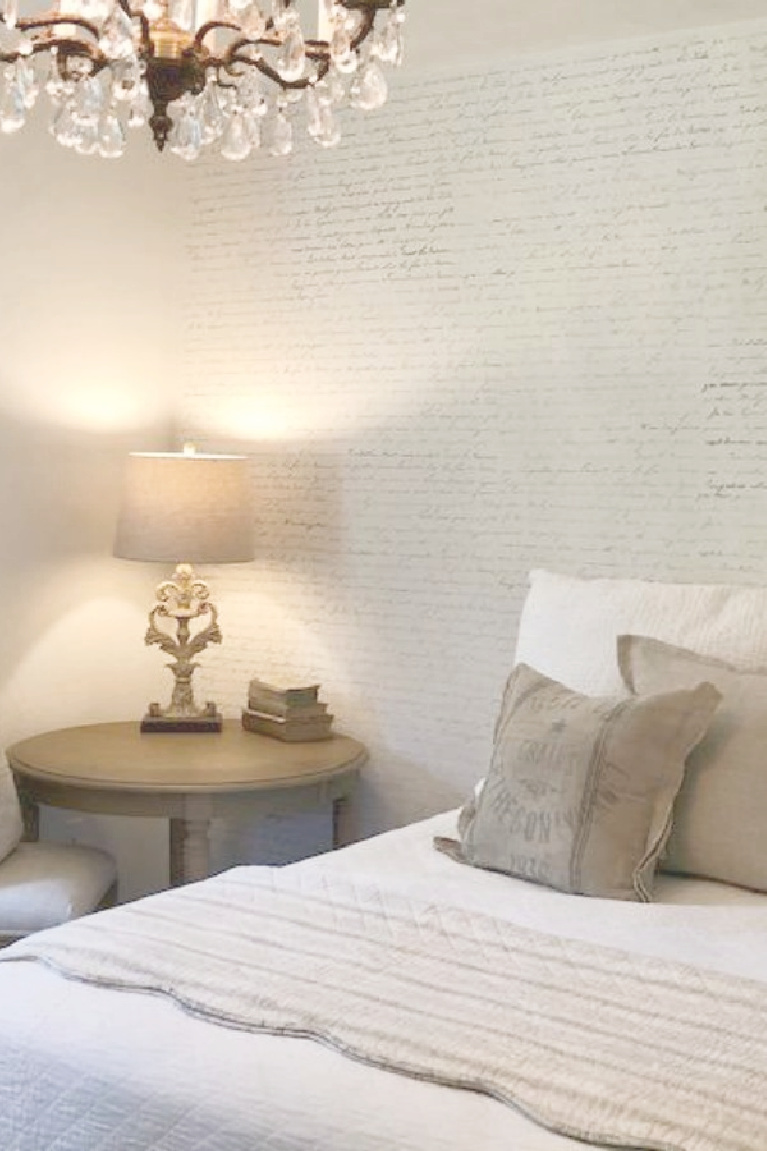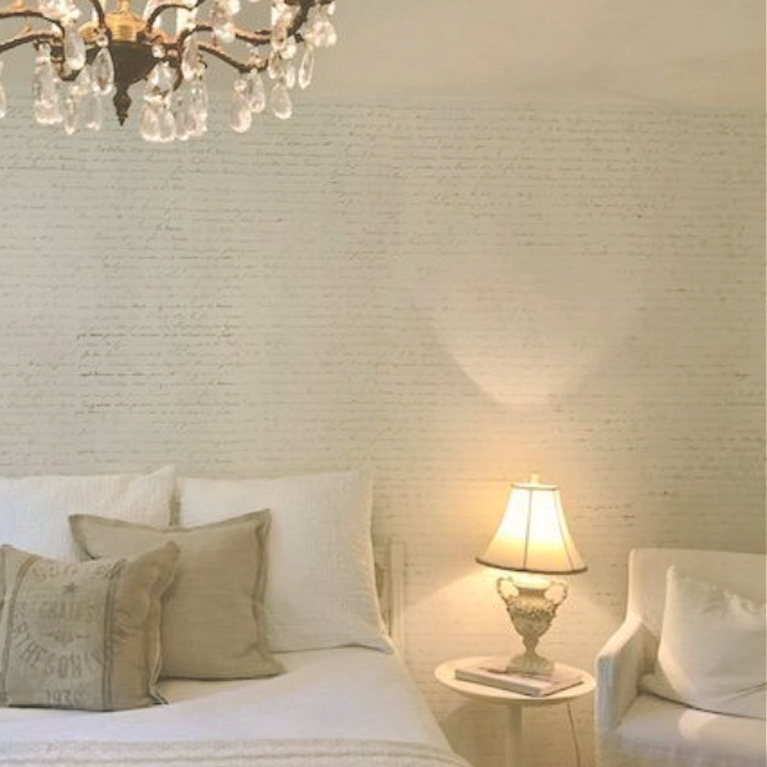 It is definitely still evolving, and I'm glad at least one wall is finished!
Prayers Urgently Needed
We are living moment to moment as our son remains in critical condition and receives plasma treatments to raise platelet level. He is very brave and strong, and we are praying for a full recovery. I am in constant prayer and often sing to pray. Here is one called Psalm 94 that I wrote in 2014. The chorus is an old hymn.
https://www.facebook.com/762245650/videos/vb.762245650/10154386601760651/?type=3
If you would like to pray specifically, we need his hemoglobin number to be better and his kidneys, heart, and brain to be spared damage from toxins.
Please pray for my family in Arizona as we are all grieving and heartbroken from the loss of one of our own to Covid. Several family members (including my sister in the video below with my nieces and me harmonizing) are recovering at home from this vicious virus, and the continued separation during a time we would normally be holding each other…it's just awful.
Peace to you right where you are.
-michele
Shop for items you already intended to buy on Amazon RIGHT HERE, and also find home decor here to keep decor inspiration flowing on Hello Lovely!
Hello Lovely is a participant in the Amazon Services LLC Associates Program, an affiliate advertising program designed to provide a means for sites to earn fees by linking to Amazon.com and affiliated sites.