It's high time I chose a Christmas card to send, and with a plethora of gorgeous ones at Minted, it's soooo challenging to choose. 7 Christmas Card Photo Hacks & Which Personalized Card is Your Favorite is a joy ride exploring beautiful artist-designed possibilities as well as smart tips.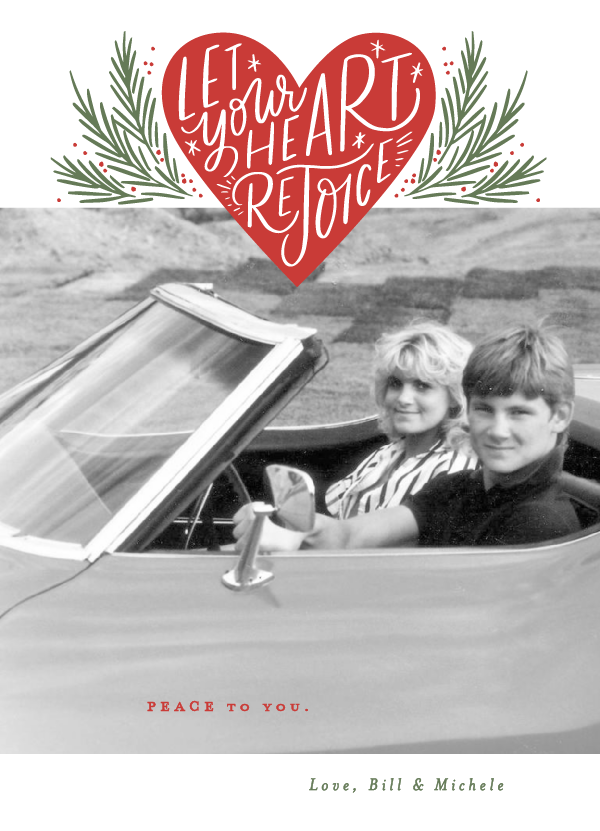 7 Christmas Card Photo Hacks & Which Personalized Card is Your Favorite?
Are you a last-minute-seat-of-yer-pants type who rushes to the post office the week of Christmas to mail cards and gifts?
There are plenty of years, that is me!
Yesterday, on a country drive through a nature preserve, we spotted a happy family scoring their Christmas card photo in a magical woodsy setting with soaring pines.
If a perfect family photo eludes you this time around, no worries since there are wonderful artists whose work can reflect your unique taste and style.
First…This Sweet Glimpse of Gratitude
Enjoy perusing these tips and personalized possibilities for Christmas cards from Minted then do let me know if you smart tips of your own.
This post contains affiliate links, and I will be compensated if you make a purchase after clicking on my links.
French Vintage Bicycle Motif
Personalized Card for Minimalists
Sometimes just hearing "personalized" can seem stressful if you don't happen to have a killer vacation photo of you and yours with savage tans posing perfectly on a beach in the tropics.
But fear not. You don't even need a photo to customize an artfully designed card which will reflect your personal style and convey the unique message you long to deliver.
Watercolor & Soft Greens
Let's face it.
Sometimes a Christmas card or holiday card is the only correspondence you'll receive all year from even very close friends and family. So why not put some thoughtfulness into the process by sending a beautiful card with or without a photo?
Last year, I initially planned to send a Christmas card incorporating a photo of me and my husband from our London trip. However, the photo's resolution wasn't cutting it.
My creative solution? I used a favorite photo of the two of us, and it sure aint a current one (it's the first photo above). Hailing from the 80's, it's us as teen dreams when we just started dating.
I look at that picture of those clueless kids and try to remember our naive selves and all the future blessings to come from our union.
Speaking of gifts, did you catch my eclectic gift guide with suggestions under $25?
Do you send a Christmas letter?
Many folks skip Christmas letters now since they feel their social media feeds contain enough info.
Yet not everyone uses social media, and if pressed, I think most would agree they love receiving such letters to feel a sense of closeness across the miles.
This year, consider stealing my mom's idea of displaying holiday cards that arrive in the mail. She has a designated Christmas tree with white lights solely for the Christmas cards she receives to rest in its branches.
I hope to spend the day after Thanksgiving composing a letter to tuck into our joyful Christmas cards from Minted.
7 Christmas Card Photo Hacks
1. Let Your Past be Their Present
Firstly, use a favorite old photo (or three!) like I did for Christmas 2018 if you're not sold on a recent one. (Oh mercy, there we are in a 1966 Corvette!)
I adore the hand lettering and festive pines of this card's design.
Through the magic of Minted, you can also customize a beautiful coordinating stamp for your chosen card. I could not resist these lovely ones which I personalized with an R.
2. Dig Into Your Social Media Archive
Secondly, check your photos and albums on Facebook to see if there isn't one that would fit the bill…you may discover you have more photos saved than you think! Don't forget a casual, silly, or humorous photo or one that doesn't shout "It's the most wonderful time of the year" may be just right for your choice. Exhibit A:
3. Think Furry Babies or Front Door
Thirdly, if a recent photo of the whole family just can't happen, choose a photo of your pet, your home, or your front door.
While we don't yet have a pet to celebrate on a card, if I had this Great Pyrenees beauty peeping out the windows like Tracie of My Petite Maison, I would have to design a white card around the sweet thing!
Who is inside my own front door?
See if these beauties usher you into the wonder of winter and holiday magic.
4. Don't sweat it, skip it
Send a thoughtfully customized card without a photo! I sent a beautiful Christmas card last year which did not have a photo on the front. When I was researching products on Minted for a peaceful Christmas decor post, I spotted the cutest reindeer artwork by Petra Kern and knew it was the one for us!
While that particular design is not offered this year, there are plenty of new designs which won't require a photo and will charm your pants off.
Here's another reindeer cutie.
Reindeer Love
I mean. Who can resist a peaceful reindeer in an alpine sweater?
5. Snap Your Photo at Thanksgiving or Christmas
Capture a pic at Thanksgiving or Christmas since New Year's is a holiday too. No need to send greetings before Christmas. It is more than okay to order/send holiday cards through January. Think of it as power-starting your New Year!
Your family and friends will love hearing from you and certainly won't mind a post-Christmas post!
6. Tuck a Photo Into a Beautiful Card
Sometimes there isn't time to capture a great photo and get it printed with cards before Christmas. Tuck it into a gorgeous personalized card. There are plenty of artfully gorgeous softer hued options at Minted which require no photo. If touches of PRETTY PINK suits you, ooh la la.
There's something pleasingly retro about the Winter Berries design above, yet it doesn't feel old-fashioned.
7. Take the Photo Outside
For the best lighting, there's nothing like natural lighting! Even if it's freezing outdoors, those expressions and smiles will lend an authenticity and charm. Speaking of nature…
If you are a fan of woodland creatures, Scandinavian Christmas style, and Nordic design, I bet you'll approve of this sweetly subdued and cheerful design.
Don't Forget Customized Gift Tags Are Fun Too!
No photo necessary yet all the customization you might desire…here's the vintage style tag I ordered from Minted!
CHOSEN A FAVORITE CARD YET?
Let me know which one you would choose to send!
More holiday goodness awaits right here:
Recipe for a Christmas Stovetop Simmer
White Swedish Farmhouse Christmas
Merry Christmas, Friends!
Just me at my well-dressed festive boyfriends from Trove Vintage!
Peace to you right where you are.
-michele
Shopping for items you already intended to buy on Amazon RIGHT HERE (not just items mentioned in posts) or home decor keeps decor inspiration flowing on Hello Lovely!
Hello Lovely is a participant in the Amazon Services LLC Associates Program, an affiliate advertising program designed to provide a means for sites to earn fees by linking to Amazon.com and affiliated sites.
no products