21 Luxe Patio, Pergola, & Pool Design Inspirations is especially for fantasy summer time outdoor oasis design savvy folks who dream of backyard beauty. While my own 'backyard beauty' (oooh, it aint there yet!) entails woodland forestry and a campground-like fairy wonderland, alive with fawns, foxes, and fat squirrels, a girl can get her fix here in Lovelyland!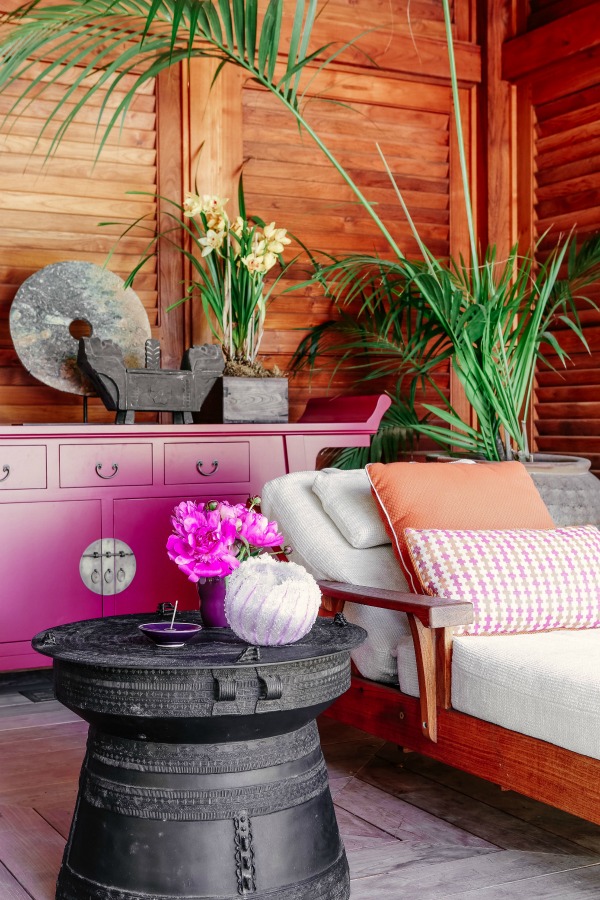 Photography courtesy of KAA, Jeffrey Dungan, Ike Kligerman Barkley, Alison Pickart, and Tom Stringer.
21 Luxe Patio, Pergola, & Pool Design Inspirations
Design Inspiration No. 1
(above) What a tropical oasis with glorious vivid pink and orange moments paired with rustic, rich woods.
Design Inspiration No. 2
If you're seeking inspiration for a rustic luxe fireside retreat for conversation and casual entertaining…maybe this is it.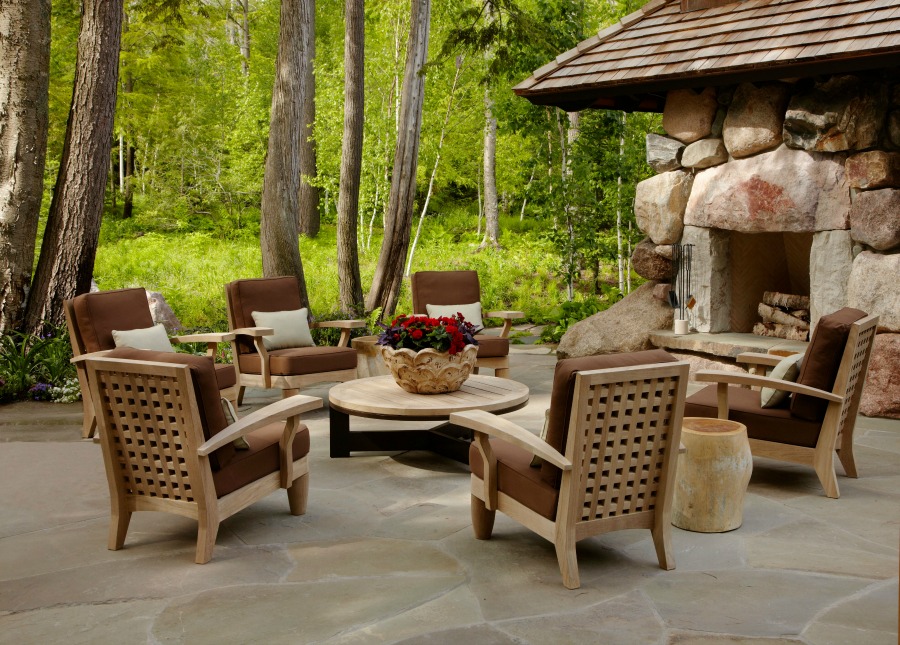 Design Inspiration No. 3
With plenty of seating in the shade or in the sun, this oceanfront paradise will welcome a crowd.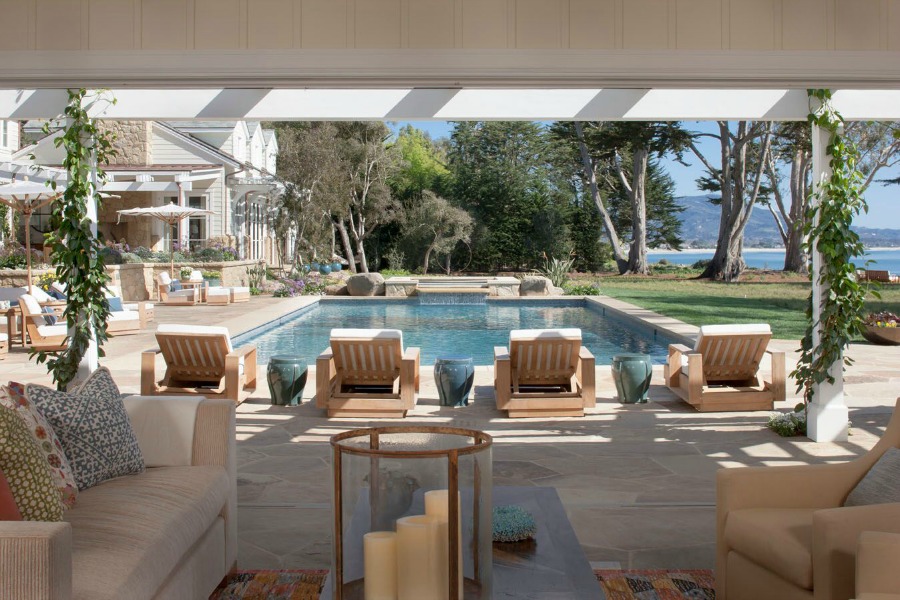 Design Inspiration No. 4
Whether you're a fan of geometric design or just relaxing under the palms, there is plenty to charm you in this calming oasis.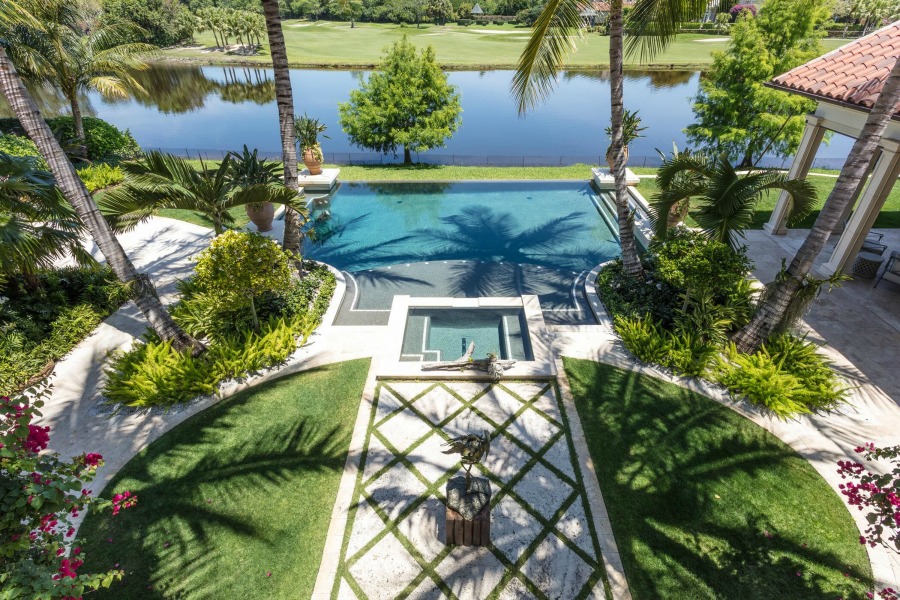 Design Inspiration No. 5
Blue water + neutrals + tall planters with tropicals = yes, please.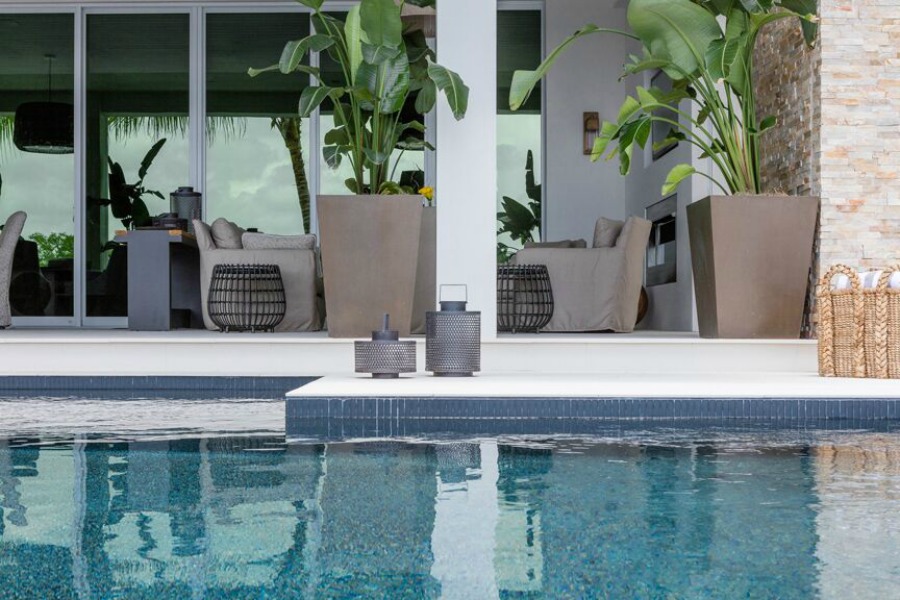 Design Inspiration No. 6
Symmetry and scale play starring roles in this breathtaking picture of backyard bliss.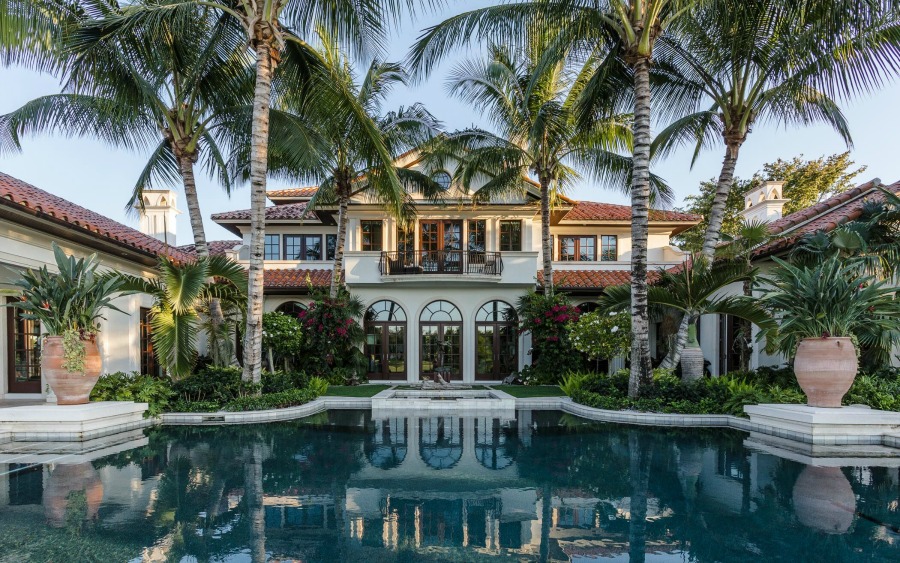 Design Inspiration No. 7
If it looks this inviting and classic in the daylight, we can only imagine the romance and ambiance at nightfall with a glowing fire!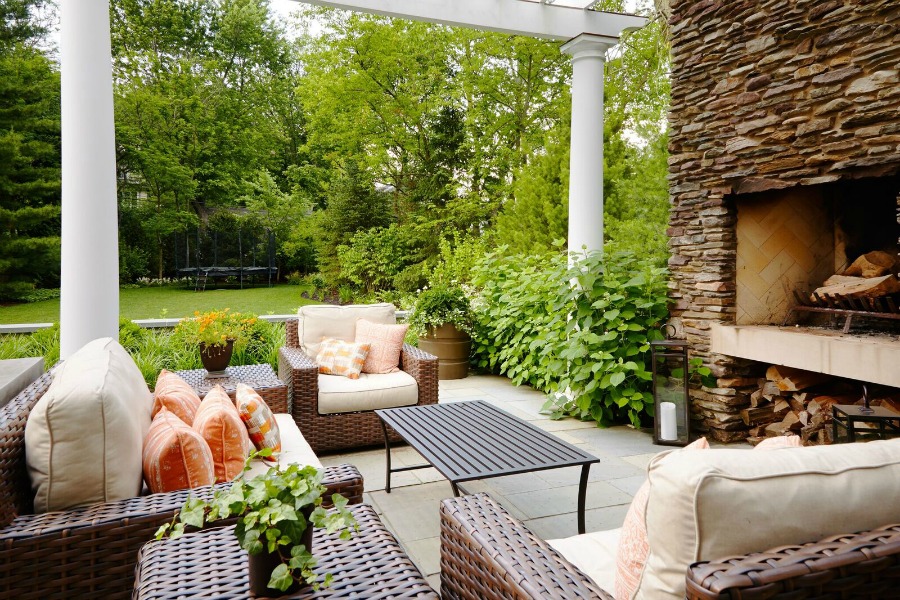 Design Inspiration No. 8
Dining outdoors under the stars is surely unforgettable in a setting such as this.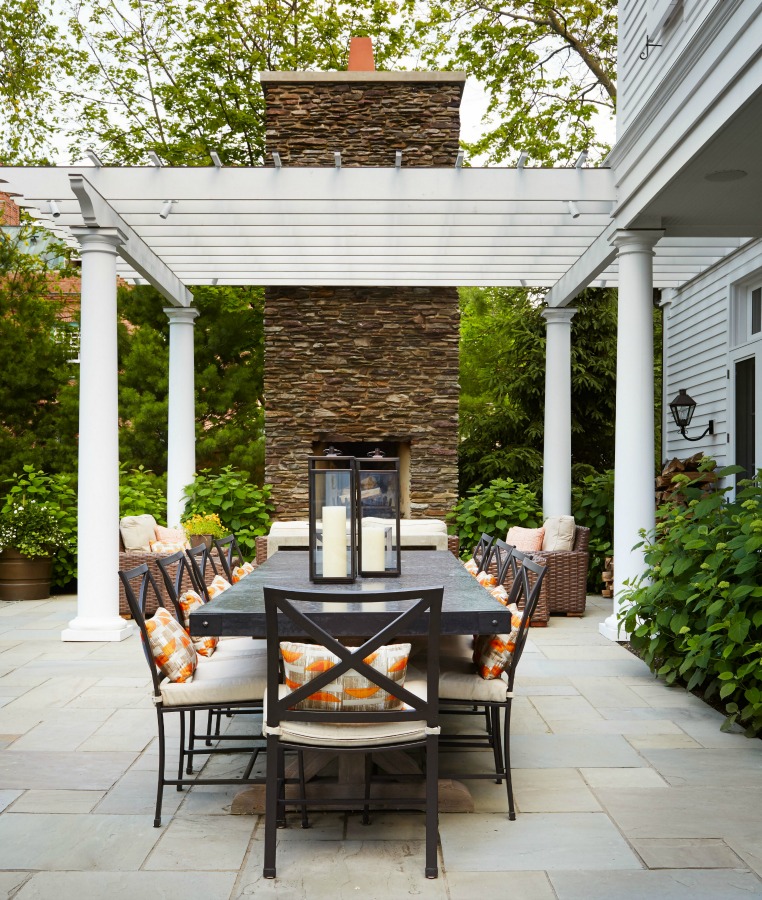 Design Inspiration No. 9
When you're thinking about creating a piece of living, breathing art which can meet your needs aesthetically and even spiritually…perhaps a sheltered oasis which will develop a gentle patina with age…is calling.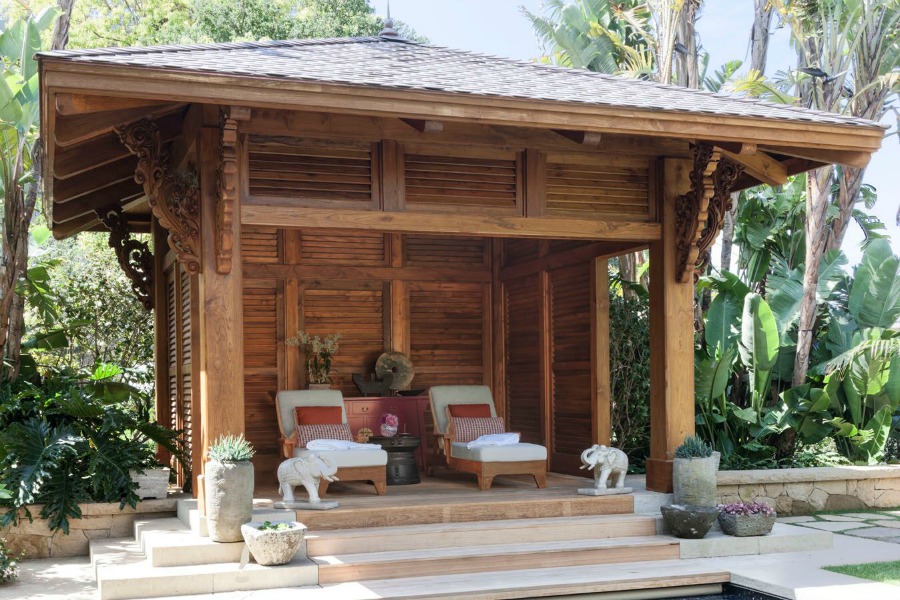 Design Inspiration No. 10
When your backyard entertaining spot rivals a high-end oceanside restaurant, it's not likely you'll ever be lonely!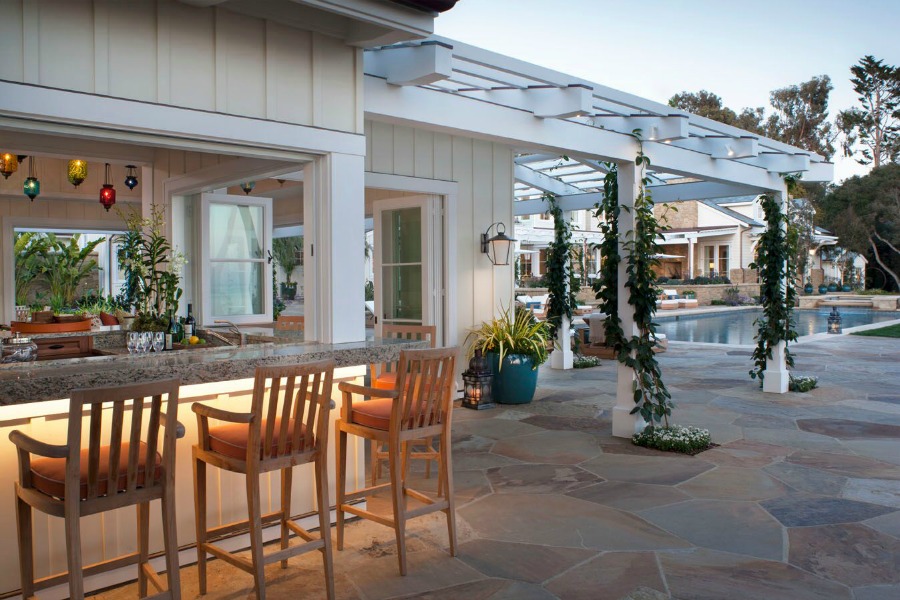 Design Inspiration No. 11
What a magnificent pool design and celestial skies to lose yourself in.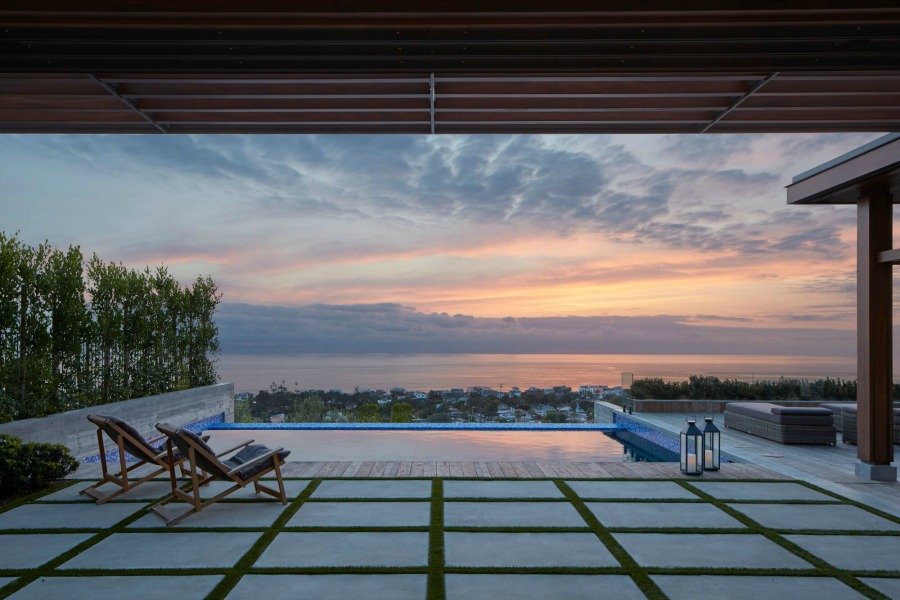 Design Inspiration No. 12
Urban oasis rooftop wonder above and…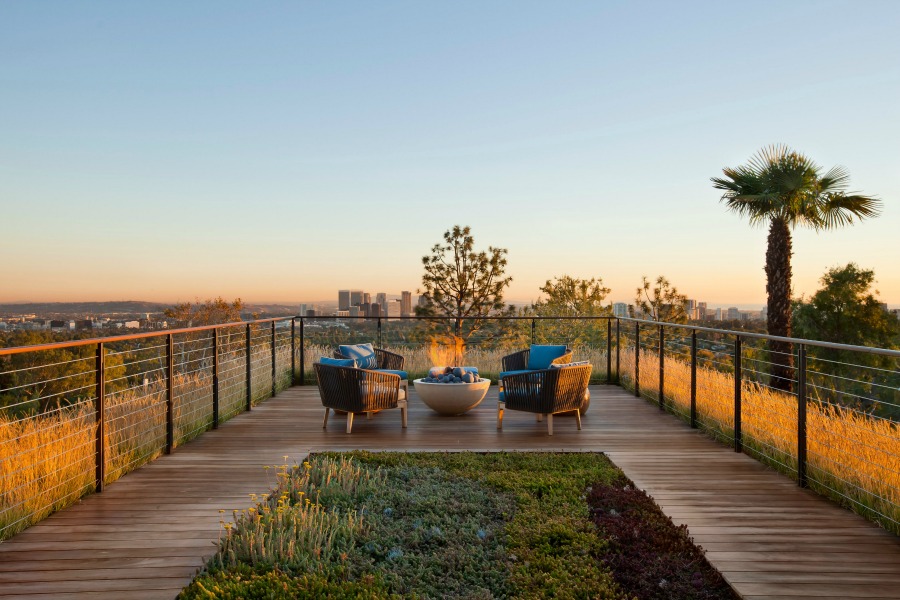 Design Inspiration No. 13
…magnificent poolside organic grandeur below.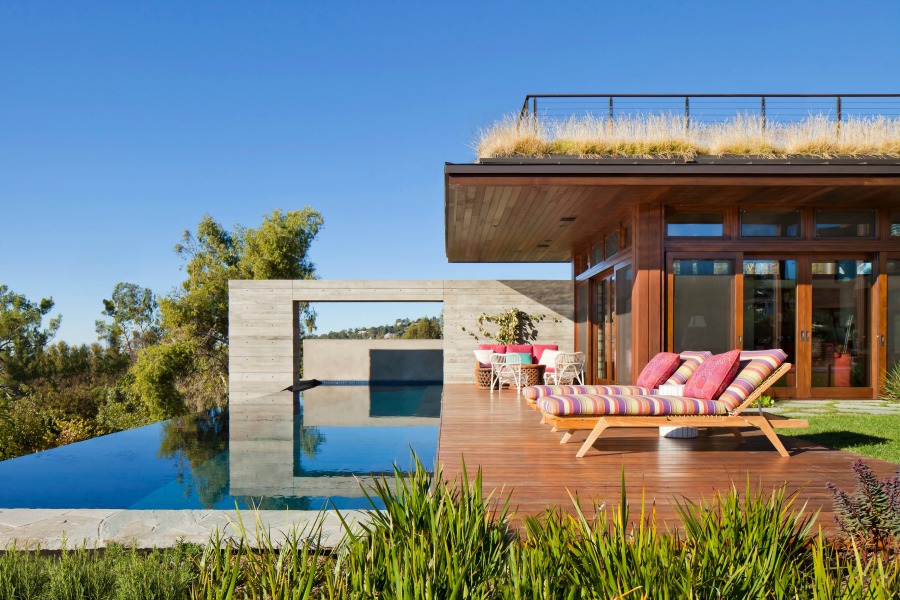 Design Inspiration No. 14
Understated, natural, and in harmony with nature, the city lights are surely a sight to behold when the sun sets!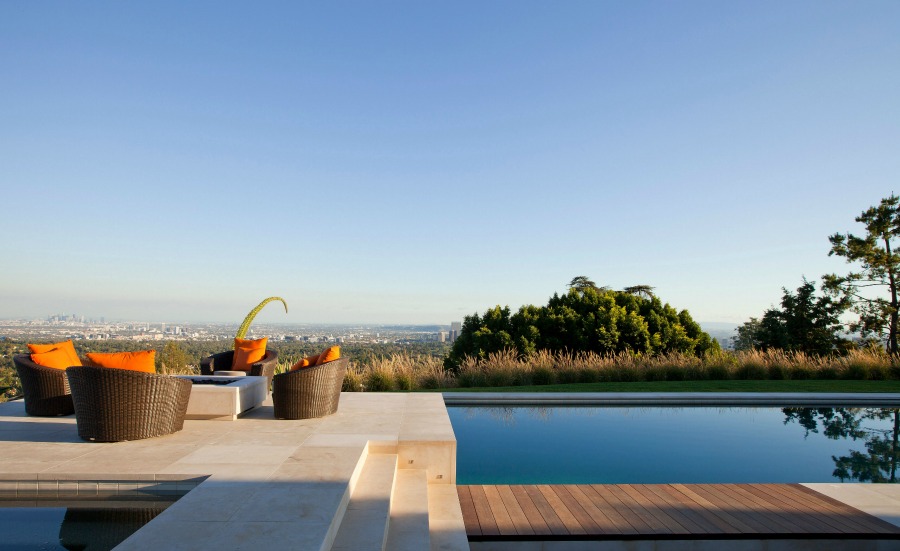 Design Inspiration No. 15
Let the sun shine in!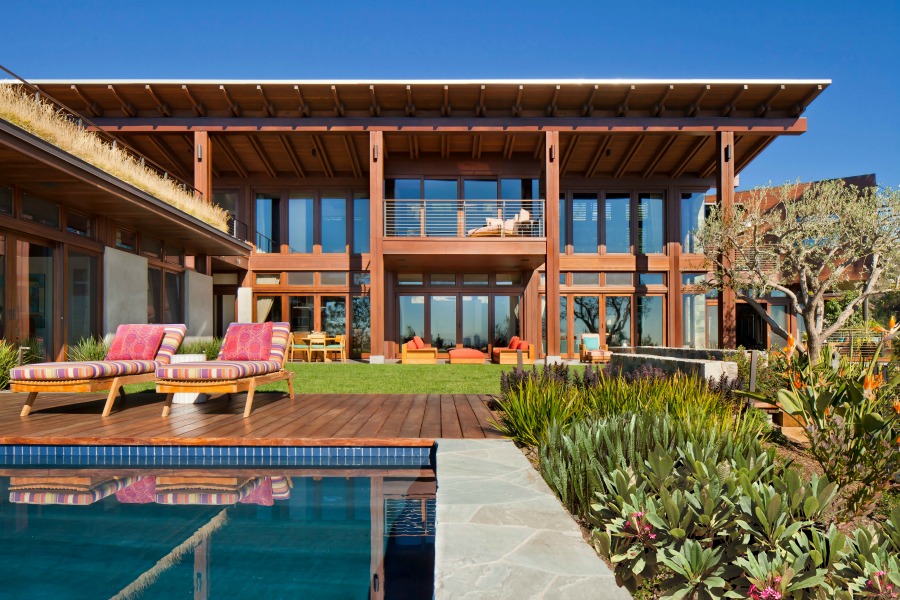 Design Inspiration No. 16
The relationship of this covered outdoor living space to the kitchen would be a dream for entertaining. (And were this my castle, those arm chairs would be swivel-types so I could easily transform the space into a dance floor!)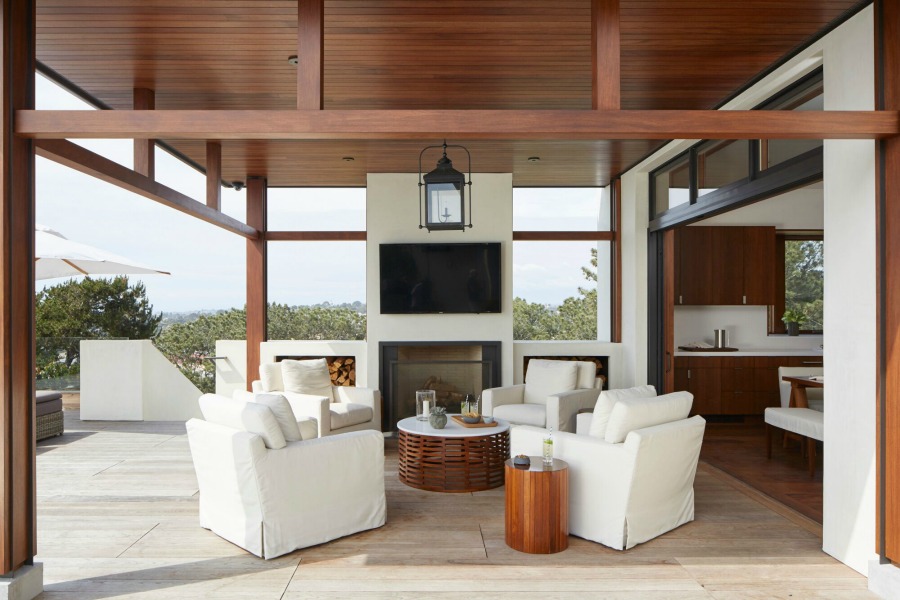 Design Inspiration No. 17
When trees, mountain view, fire table, and comfy cozy seating on wood decking are all on your list of must-haves.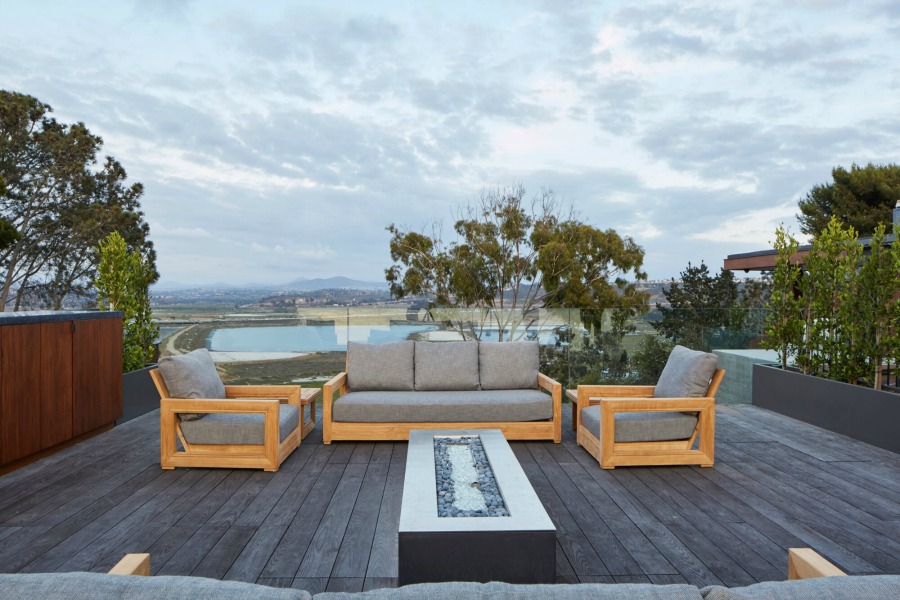 Design Inspiration No. 18
Timelessly elegant and infinitely enviable, it would be difficult to peel myself away.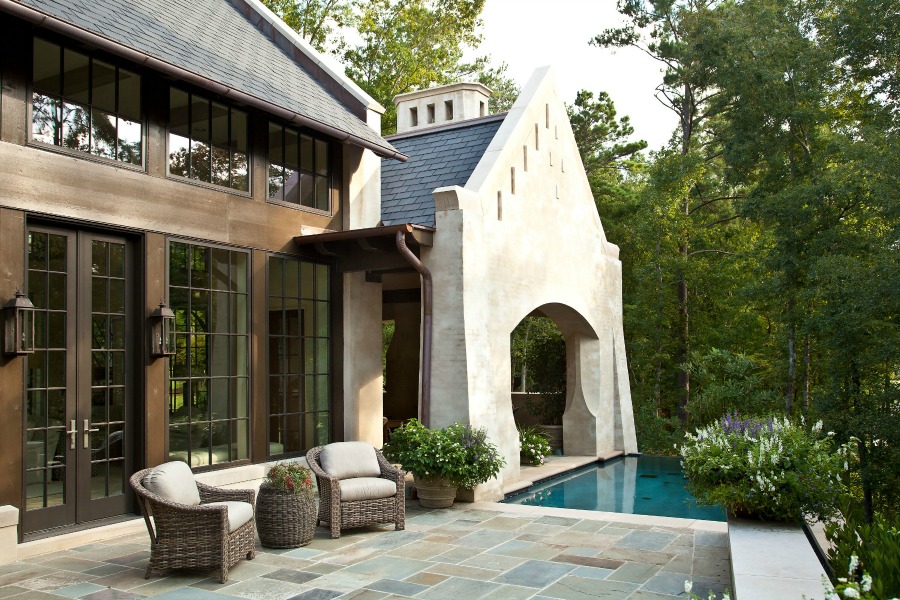 Design Inspiration No. 19
What strikes you as simple…upon further reflection is anything but! Sophisticated simplicity must certain entail a myriad of details!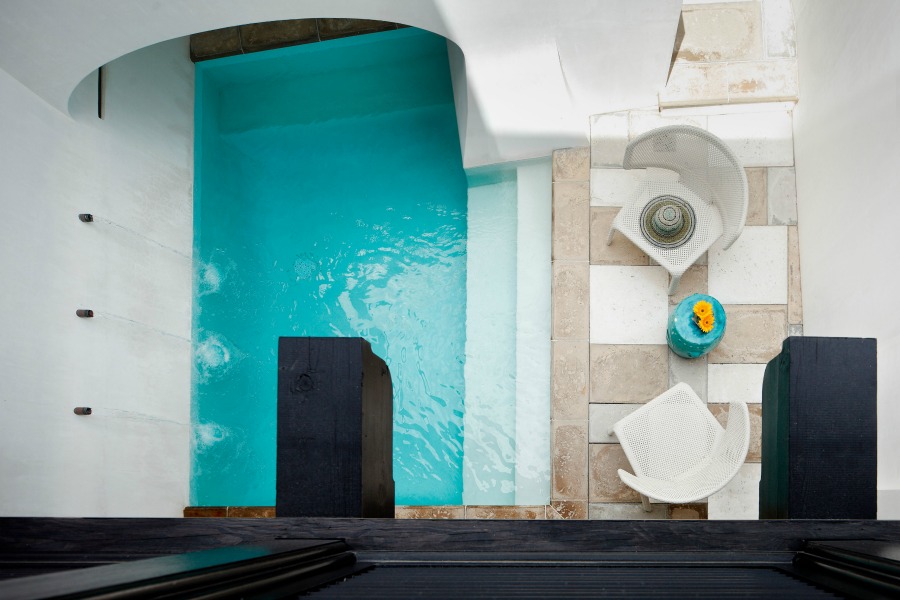 Design Inspiration No. 20
Handsome, warm, and luxurious outdoor living goals.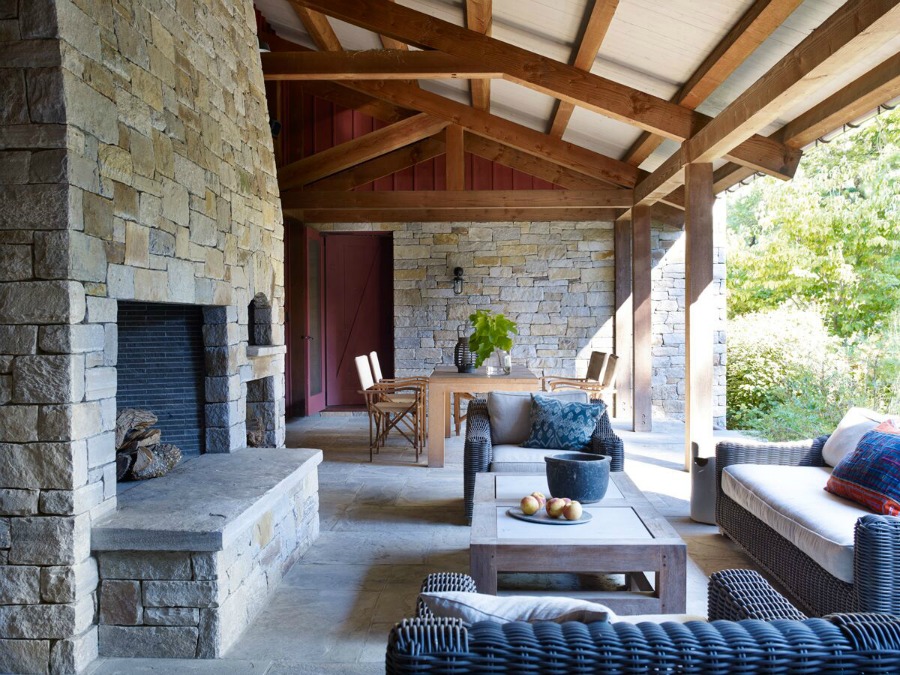 Design Inspiration No. 21
The detail on those stunning panels, amazing architecture, and so much more island-y goodness!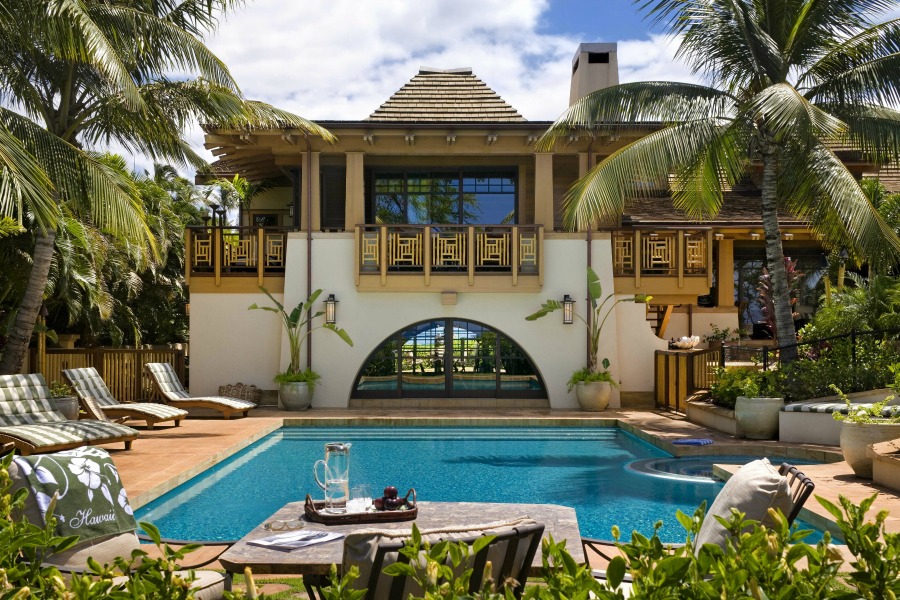 Pool Perfection
Both of my sons swam competitively, and our youngest was the most graceful diver…enjoy this quick overview of 3 incredible Olympic diving moments!
Lovely Summer Retreat Finds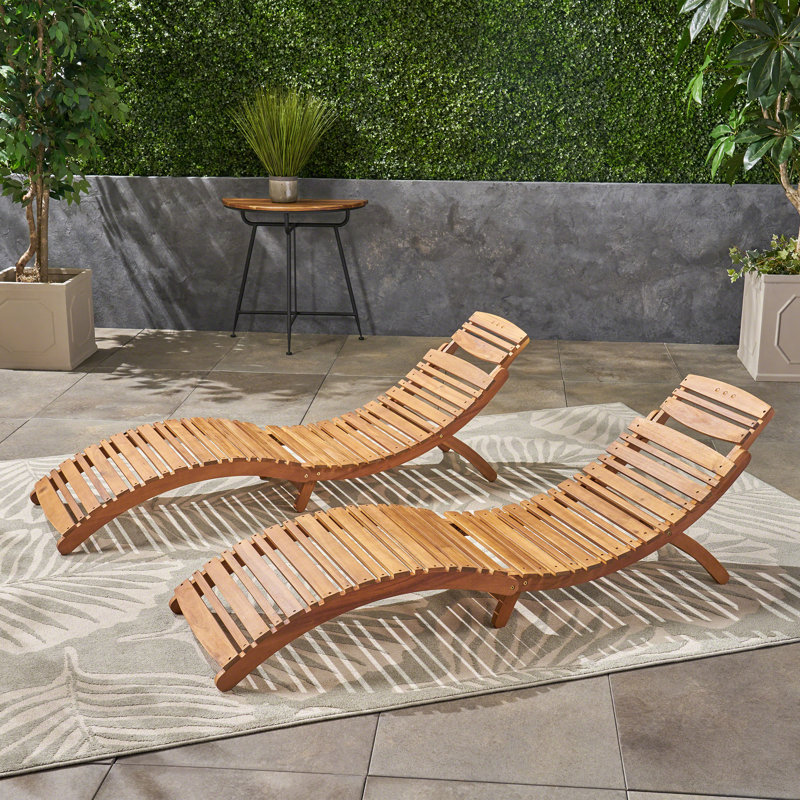 How is summer treating you so far? How about a throwback from June 1, 1978…as in, the day GREASE was released 41 years ago!!!! Can you even believe 41 years have passed?
Peace to you right where you are.
-michele
Shopping for items you already intended to buy on Amazon RIGHT HERE (not just items mentioned in posts) keeps decor inspiration flowing on Hello Lovely!
DISCLOSURE: Many of the links on this blog are affiliate links which do not cost you more yet earn Hello Lovely a small commission. Hello Lovely is a participant in the Amazon Services LLC Associates Program, an affiliate advertising program designed to provide a means for sites to earn fees by linking to Amazon.com and affiliated sites.
Click HERE to discover lovely cost conscious furniture and home decor!