Sometimes I struggle to describe my own style at home because to me it is a mix of rustic and refined lovely – not singularly formal or informal. Today's roundup of Rustic and Refined Lovely Finds celebrates contrasts. The pairings are not jarringly dissimilar. Nor are they entirely predictable. Striking that balance can take a few tries or a few misses, but when you get it right…ahhhhh, then the look can linger for awhile.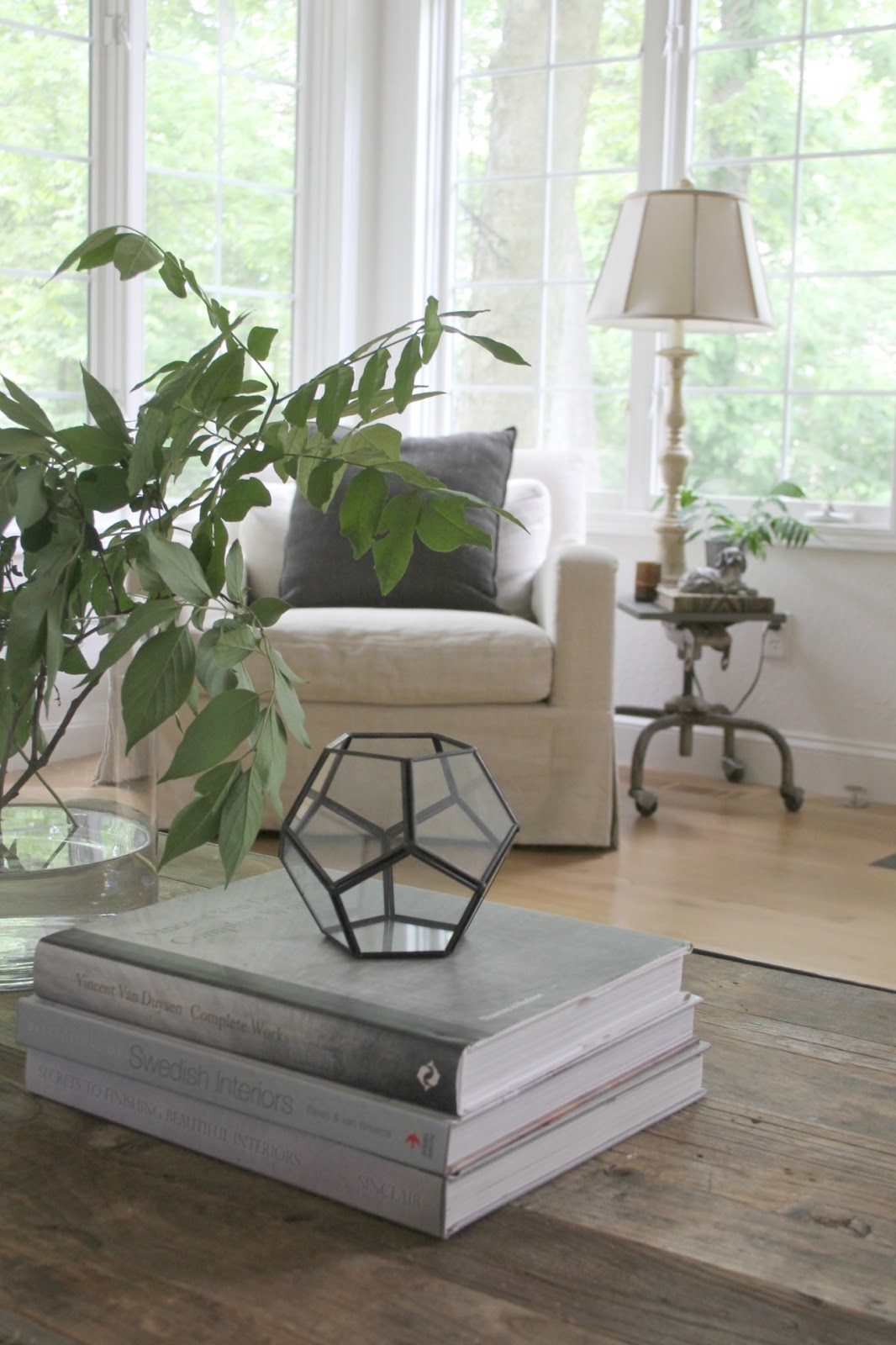 Rustic and Refined Decor Inspiration
PLEASE PIN THIS POST to save it for future reference!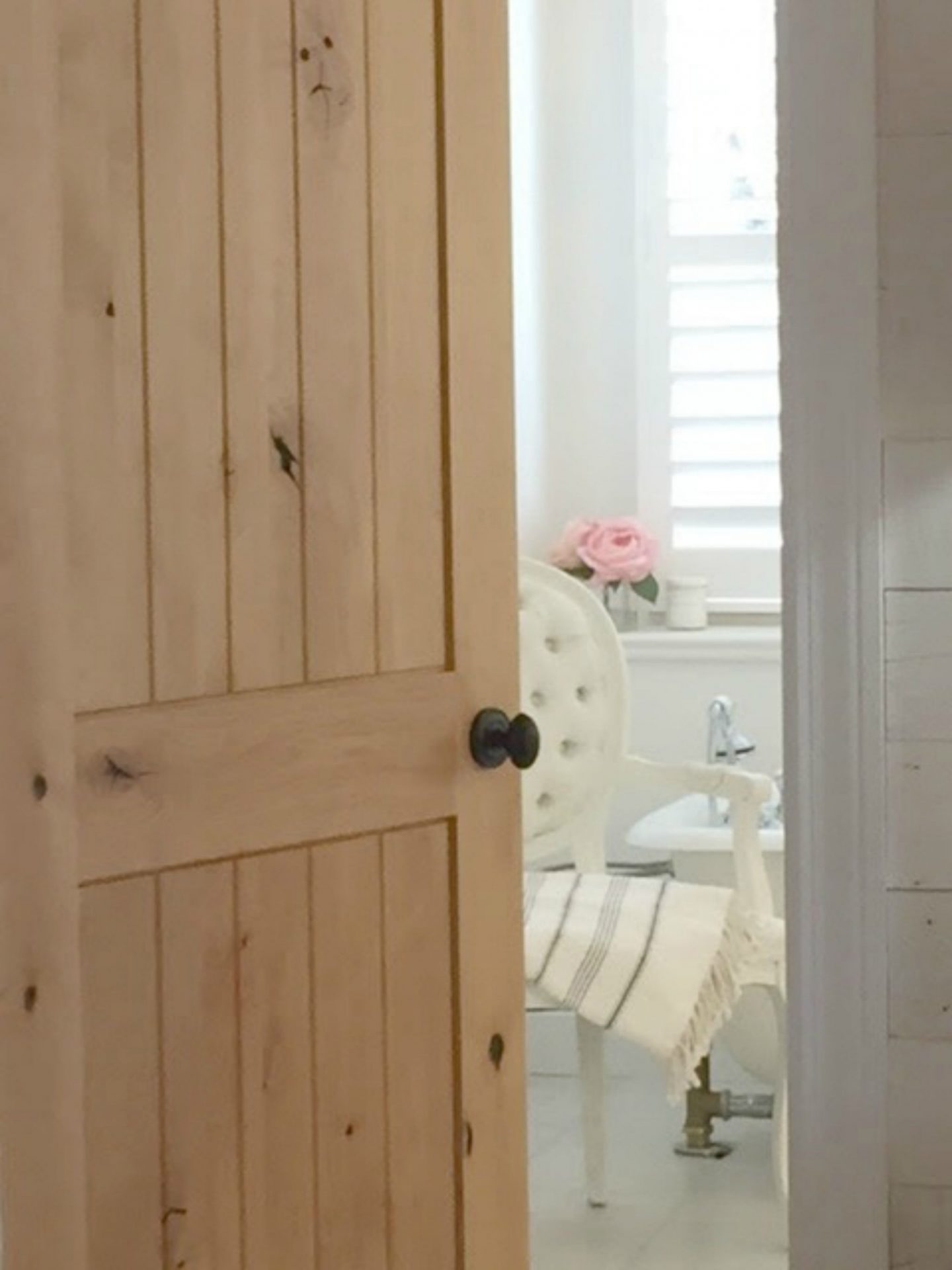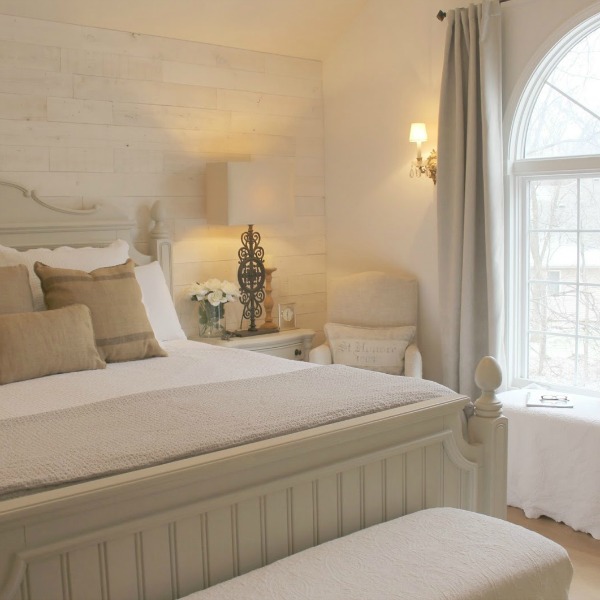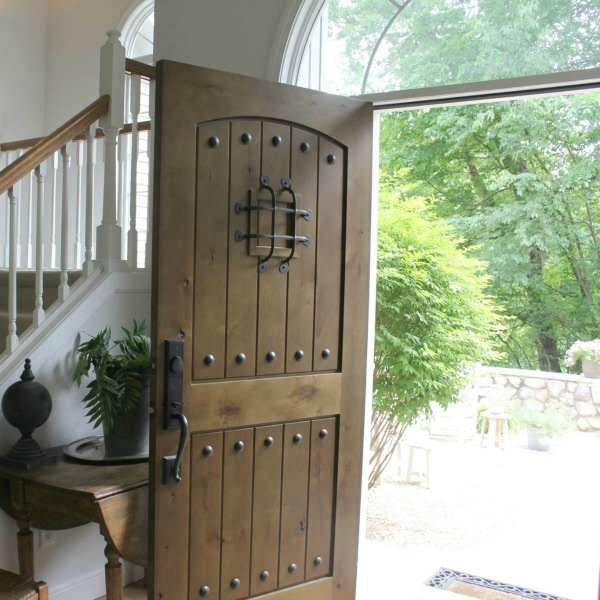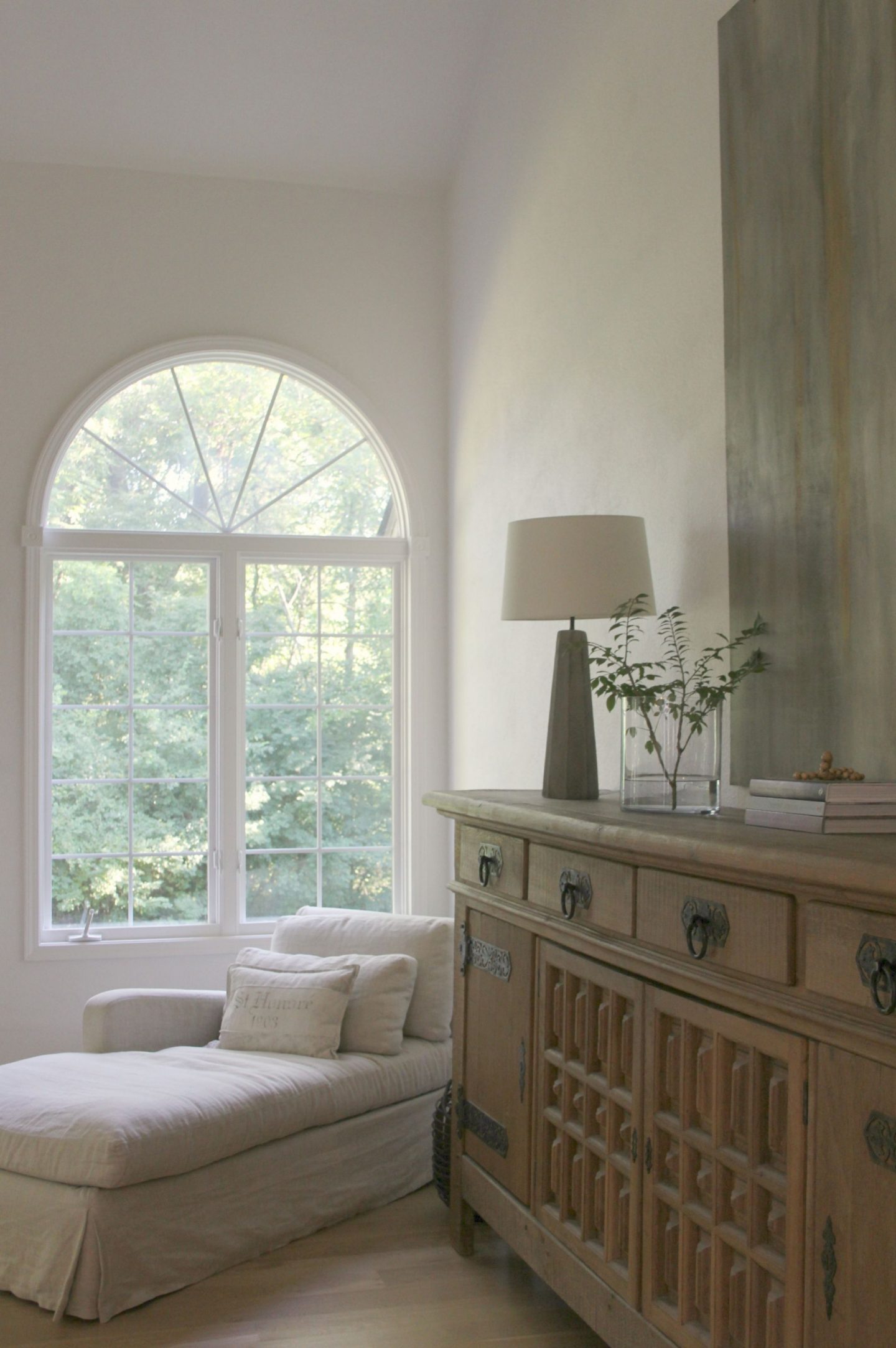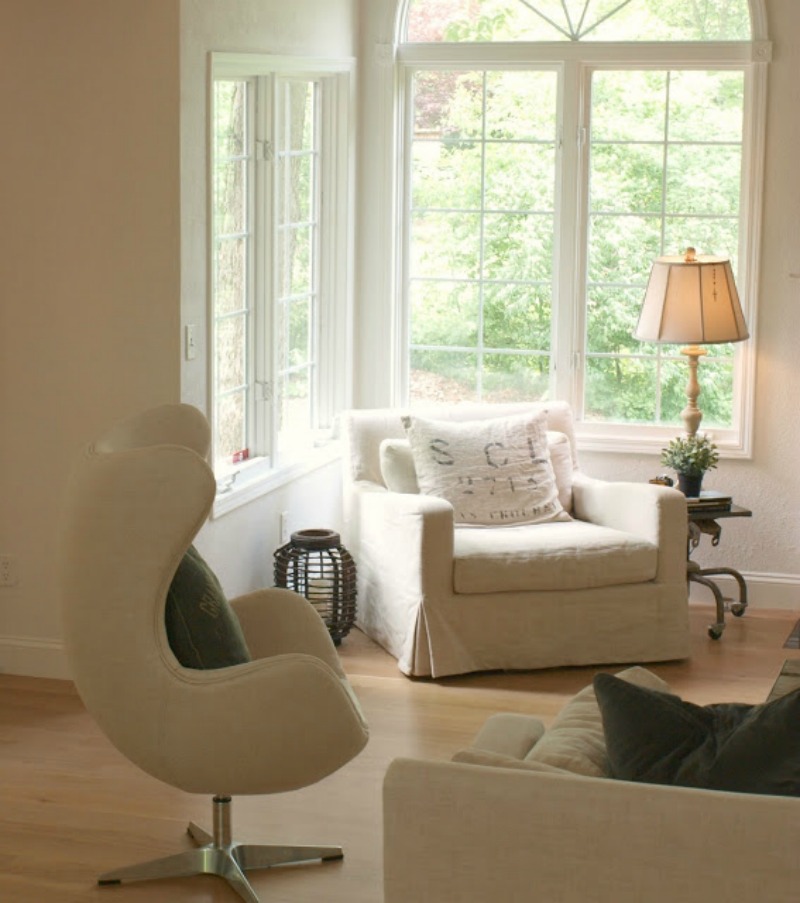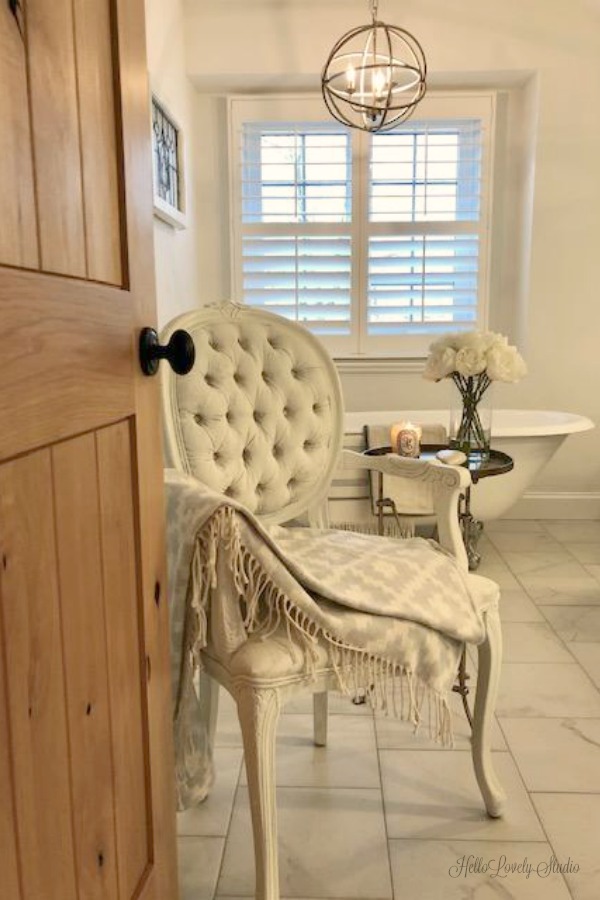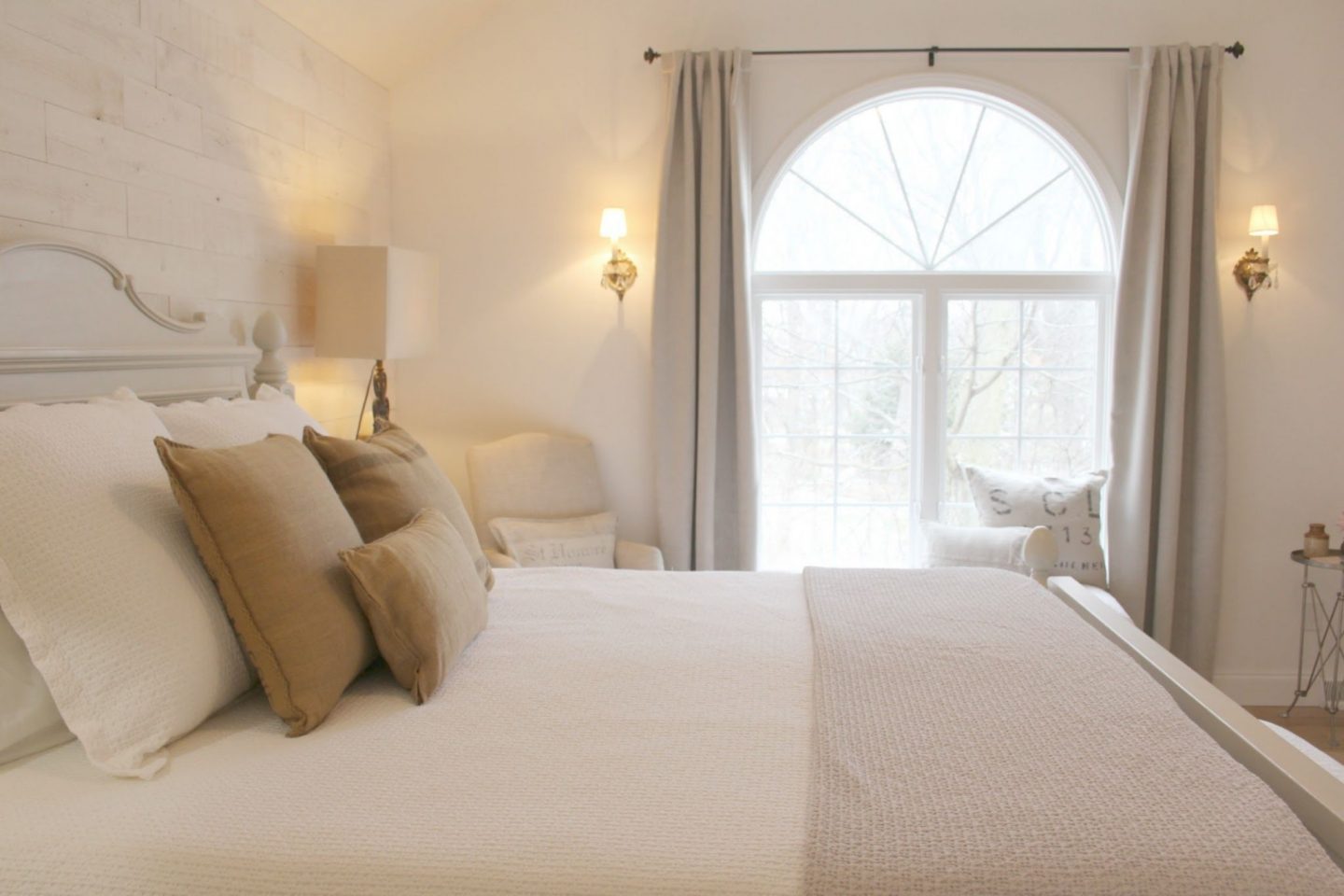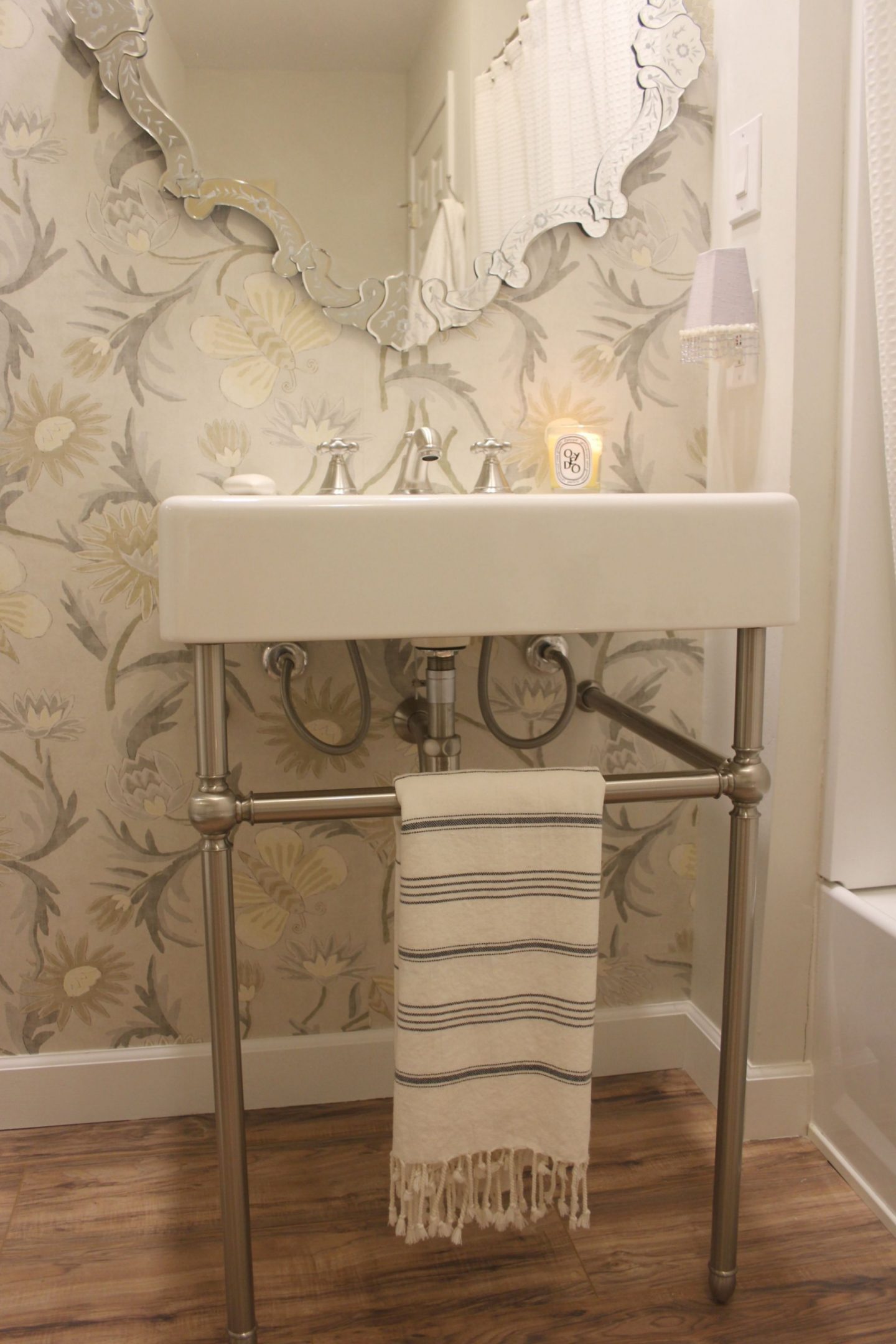 Rustic and Refined Lovely Finds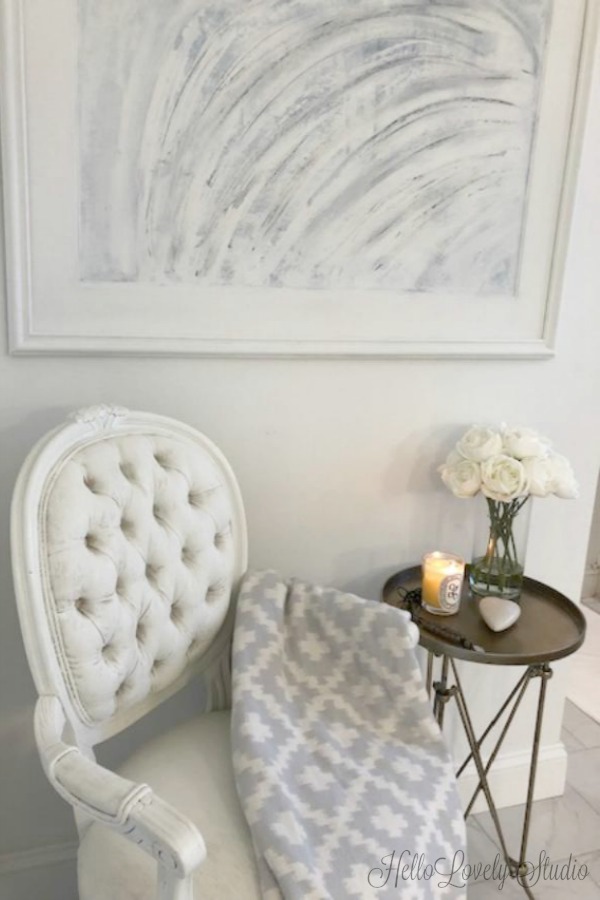 See this post for French inspired chair ideas and THIS for side tables.
Rustic Bench With Refined Mirror
In the hallway near our front door, I have a rustic oak bench (which started life as a children's art table from a church which I found in the garbage) paired with a huge silver leaf framed mirror which cost me a pretty penny. I love the combination.
Ladder With Rustic Patina With Luxe Throw
There are dozens of examples of images on Pinterest of vintage ladders leaning on the wall with blankets or towels in a bathroom. Heighten the interest factor by choosing luxurious textiles to display on the weathered piece (as opposed to shabby chic granny square quilts).
Time for Refined With Your Rustic
A rustic wall clock like this one may look rather old school country and downright boring depending on the backdrop and surrounding design elements. You might expect to see this piece on a shiplap clad wall, but there are far more charcter-filled options. An edgy or elegantly dressed wallcovering doesn't make the clock any less rustic, and the effect is less dated and one-note.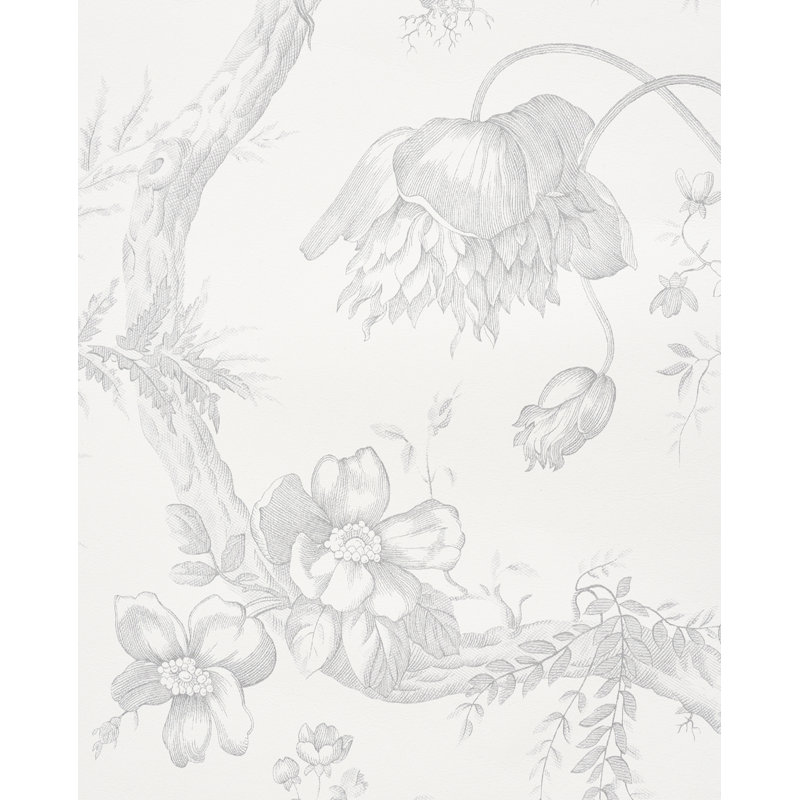 Modern Rustic Pairings
See this recent story with modern rustic inspiration. The rustic yet airy console table (below) would be right at home in an entry or any number of spaces, and here's a wallpaper which could freshen the beginnings of a chic yet laid back vignette.
Rustic Accessories Vs. Refined Decor
Shelves and tabletops are so much more interesting when they feature a mix of rustic and refined!
My Favorite Way to Capture Rustic Refinement
Don't you love it when a piece has both rustic and refined elements so there's no overthinking to do at all!?!
When Is Shabby Too Shabby?
I'm not sure there is such a thing as too shabby when it comes to a single decor object – as long as its environment includes pieces that read strictly chic.
There Are Always Tons of Exceptions
I love that there is no design rulebook we must abide by. Plenty of pieces cannot be categorized as specifically rustic or refined. And plenty of spaces are perfectly pleasant with all rustic or all refined decor.
But there's something special about rustic pieces which have been well-designed with clean lines and a more classically refined aesthetic!
Serving Pieces: Rustic or Refined?
In recent decades, it is far more common for folks to entertain informally and host events which don't require fancy and formal getups. Still, rustic serving pieces seem more suited for rustic culinary offerings while more refined serving pieces complement less rustic fare.
Rustic Wall Decor & Calm Backdrops
For pieces for the wall with a lot of texture and visual interest, a more refined backdrop will likely be a smart choice. I can imagine this piece below looking beautiful upon a creamy plaster wall rather than layered with a busy wallpaper or a strong paint color.
Refined But Not Stuffy
Don't you love it when refined design is easy to live with and does not come with 'hands off' factor? Me too.
Rustic Vs. Refined Side Table
Varying Degrees of Rustic
While both of these mirrors have rustic wood frames, one has additional refined details.
Rustic Vs. Refined Benches
I rarely meet a bench I don't like! Benches are such functional, forgiving, and fuss-free perches. The church pew reminiscent one below could be transformed to be considerably less rustic with paint and/or a cushion.
I have had my eye on this one (to go at the end of a bed) forever!
These Attracted Lots of Engagement on HL's Facebook Page…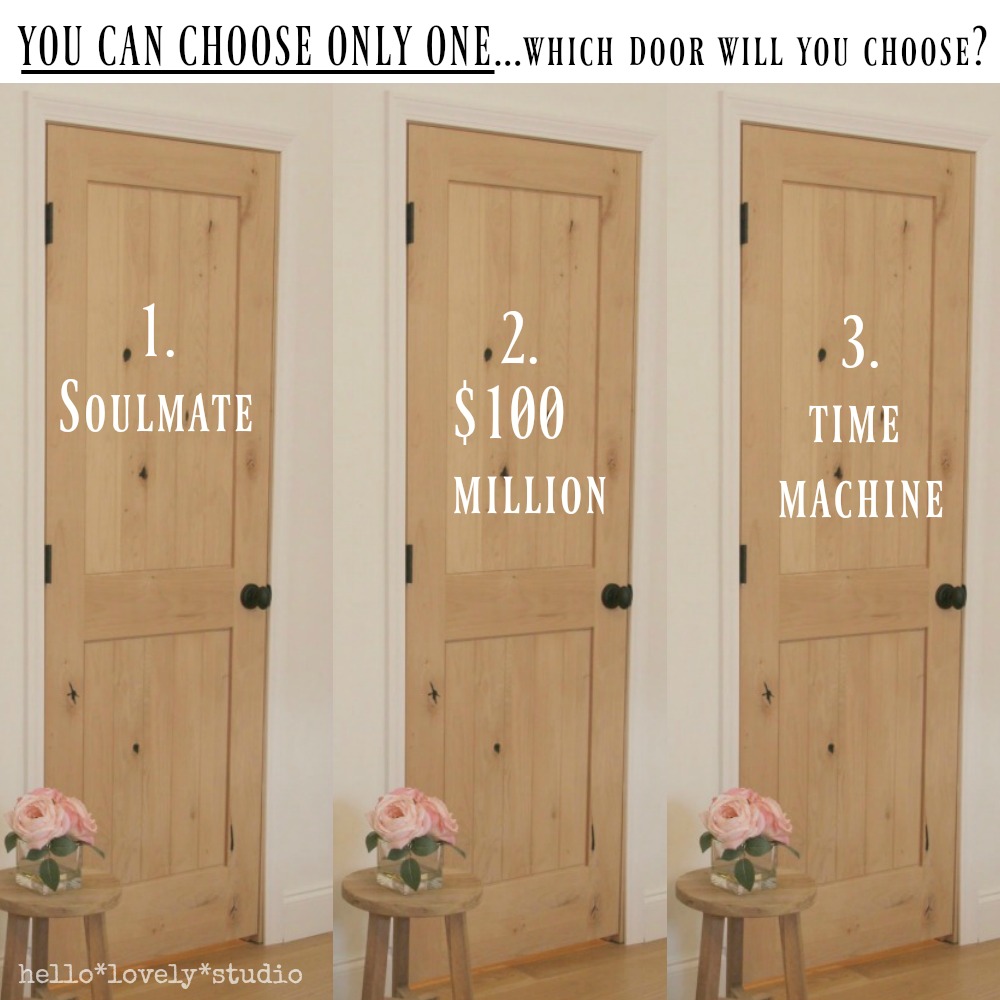 I'm still in Arizona helping my mom after her knee replacement surgery. She is making excellent progress, and we are so hopeful that she will be able to reach her goals and depend on a wheelchair less! The weather is so balmy and beautiful…just what this girl prone to winter despair needs. 🙂
I independently selected products in this post—if you buy from one of my links, I may earn a commission.
Peace to you right where you are.
-michele
Shopping for items you already intended to buy on Amazon RIGHT HERE (not just items mentioned in posts) or home decor keeps decor inspiration flowing on Hello Lovely!
Hello Lovely is a participant in the Amazon Services LLC Associates Program, an affiliate advertising program designed to provide a means for sites to earn fees by linking to Amazon.com and affiliated sites.