Today's Timeless White Kitchens: Does Traditional Style Speak to You addresses an evergreen topic of which we never seem to tire! What makes a kitchen with white cabinets and neutral colors so livable and luxurious? How can you design it to feel cozy, warm, and sophisticated, but not sterile? What design ingredients create a well-balanced mix of function and beauty?
BTW, how in the world can it be Hello Lovely's 13th year of life?
It was January 1, 2010, when me and my fluffy little shih-tzu logged on…back before Pinterest, Instagram, iPads, or 3-D printers were things.
Were you a reader back in the day? Since there was no Pinterest, blogs were THE spot to seek inspiring interior design ideas.
At that time, blogging entailed cataloguing my personal interests. But as it bloomed into a business, the focus shifted to what readers want and need.
Plenty has changed (oh, the disruptive ads, good gracious, I know), but not the emphasis on: timeless and tranquil interiors, pale color palettes, European country inspired design, and French everything. Thank you for journeying with me…we've all been through a lot.
Timeless White Kitchens: Does Traditional Style Speak to You?
Thank you for your devotion. For reading with such whole-hearted tenderness as I grow and learn. Thank you for coming here to be inspired by the work of brilliant creatives and home decorators.
The friendships and connections with you continue to enrich my daily journey. They inspire the words written here about beauty and blessing. And they fragrant the atmosphere with more peace.
Please do SUBSCRIBE HERE to not only receive the daily loveliness in your inbox but to have direct access to decorating advice. Yep. Just hit reply, and you can bet I'll respond to your questions and comments.
1. Beautiful TEXTURE from stone, millwork, and planks keeps interest high
While I know this look is Old World and probably not what comes to mind when you think "traditional kitchen," the point is "traditional" never has one look! Thankfully, there are endless variations and interpretations of a traditional white kitchen.
Here's a traditional kitchen with a few contemporary elements (like the waterfall island) and all sorts of classic details for a completely different airy mood. Aren't the paneled moldings, arch detail, and rich fixtures divine?
Traditional kitchens can have cozy cottage style and Nordic charm too.
This design by The Fox Group is one never far from my mind. While it features a mix of texture and cool tones with warm accents, I love that it feels so calm and old fashioned. The bespoke cabinetry, architectural details, and craftsmanship (notice how the paneled walls meet the panels at the ceiling) contribute to a luxurious yet understated mood.
Have you ever seen an upper cabinet designed like this one above with its lack of cabinet doors and pretty china display? I also love how this kitchen demonstrates the power of (1) checkered floors and (2) hanging art in beautiful frames in the kitchen.
2. A farmhouse sink has ageless charm
Though we see apron-front farm sinks frequently in modern farmhouse design, they are right at home in traditional spaces because of their rich history.
Here's a beautiful tonal traditional kitchen with a beautifully lit sink area:
A bridge faucet also lends traditional charm to fireclay white sinks.
3. Touches of green (or greenery) add life.
This traditional farmhouse kitchen with subway tile white backsplash and industrial accents (notice the stainless kitchen island) has two tone cabinetry in pistachio and white for a unique nod to the past.
4. Consider uniting a rainbow of whites (alabaster/putty/stone/beige/ivory, y'all).
I find it so silly to see headlines like "white kitchens are out in the 2020s." As if there was one shade of white. Timeless white kitchens are not a singular concept. Know how many different shades of white are out there?
There are snow whites, putty, ivory, alabaster, greyed-whites,
cool whites, warm whites, beige, oatmeal, and more! (I also become annoyed when I read we must always introduce a pop of color or colorful accents. Low contrast and tone on tone palettes can work with the right balance of architecture and design.)
Traditional white cabinetry can have tons of relief detail or very little; plus there are glazes that may be layered over white:
5. Not every inch of wall space need be covered with cabinets
Americans are slowly getting used to the look of a more traditional unfitted kitchen.
And I have heard from lots of folks who opted for shelves over cabinets that they love the ease of being able to see everything. It really has a lot to do with your unique organizational style.
Because of plenty of folks do not want to see their dishes outside of a box.
TAP HERE TO Pin this post for future reference!
6. Built-ins & Banquettes
I think built-ins and banquettes may be my favorite thing about kitchens in old houses or well designed breakfast nooks in new ones.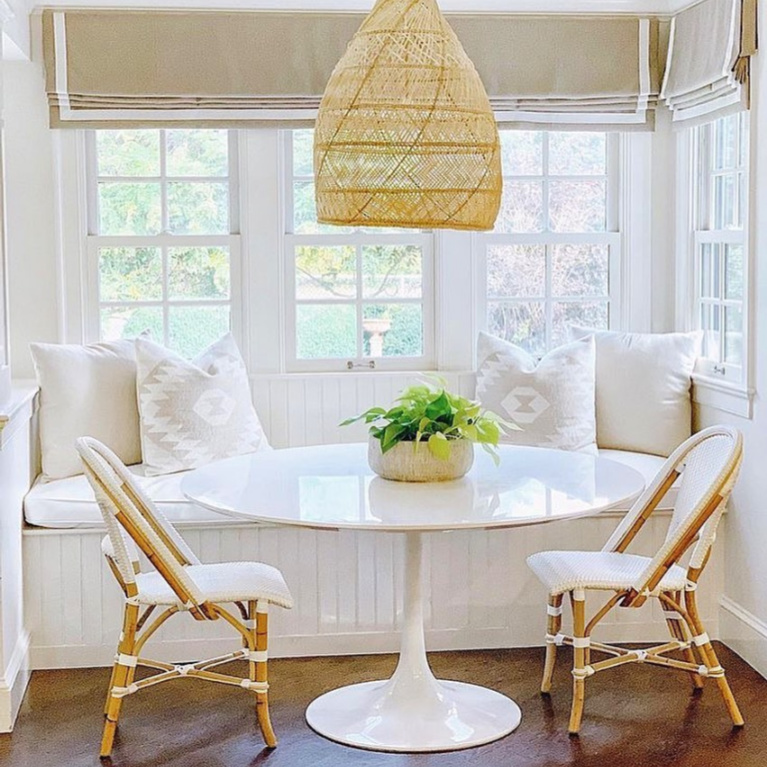 They're so much less clunky than most dining sets, and they encourage so much intimacy.
Is it just me? I imagine quieter conversation happening for homeowners in these spaces. They feel special and set apart.
7. Black contrast with white need not feel austere
While I'm not sure about the historical use of black in kitchens, many traditional kitchen designs adopt it. It adds edginess, looks brilliant with brass, and often feels chic.
Black can bring to mind aged iron and imparts strength.
8. The warmth of gold with white is rich indeed.
There's no chance I will even try to keep apprised of whether gold tones and brass are in style or not.
Sometimes a design needs the warmth of gold, and sometimes it doesn't. You get to decide.
Like the idea of the clear glass shelves above? I found THESE glass shelves as well as THESE assorted options.
9. Glass fronted cupboards can glow within
Glass fronted cabinets remind me of traditional china cabinets that feel formal and a little out of place for modern life.
Yet Grandmillennial style lovers celebrate such tradition.
10. Antiques and all white create ethereal dreams
I'm easily enchanted by European inspired traditional kitchens which incorporate antiques and collected treasures.
An ethereal kitchen might not be ideal for a young family, but that's what is wonderful about the world of design…there are options for everyone.
11. Enhance a space with low ceilings by painting it with a high gloss white.
Here's another serene, ethereal kitchen with irresistibly chalky texture from stone walls paired with glossy beams.
This post contains affiliate links which I hope you will use since they won't cost you a penny extra yet may earn this blog a small commission.
12. Who needs a second story anyway?
A modern take on tradition for sure, but ooh la la!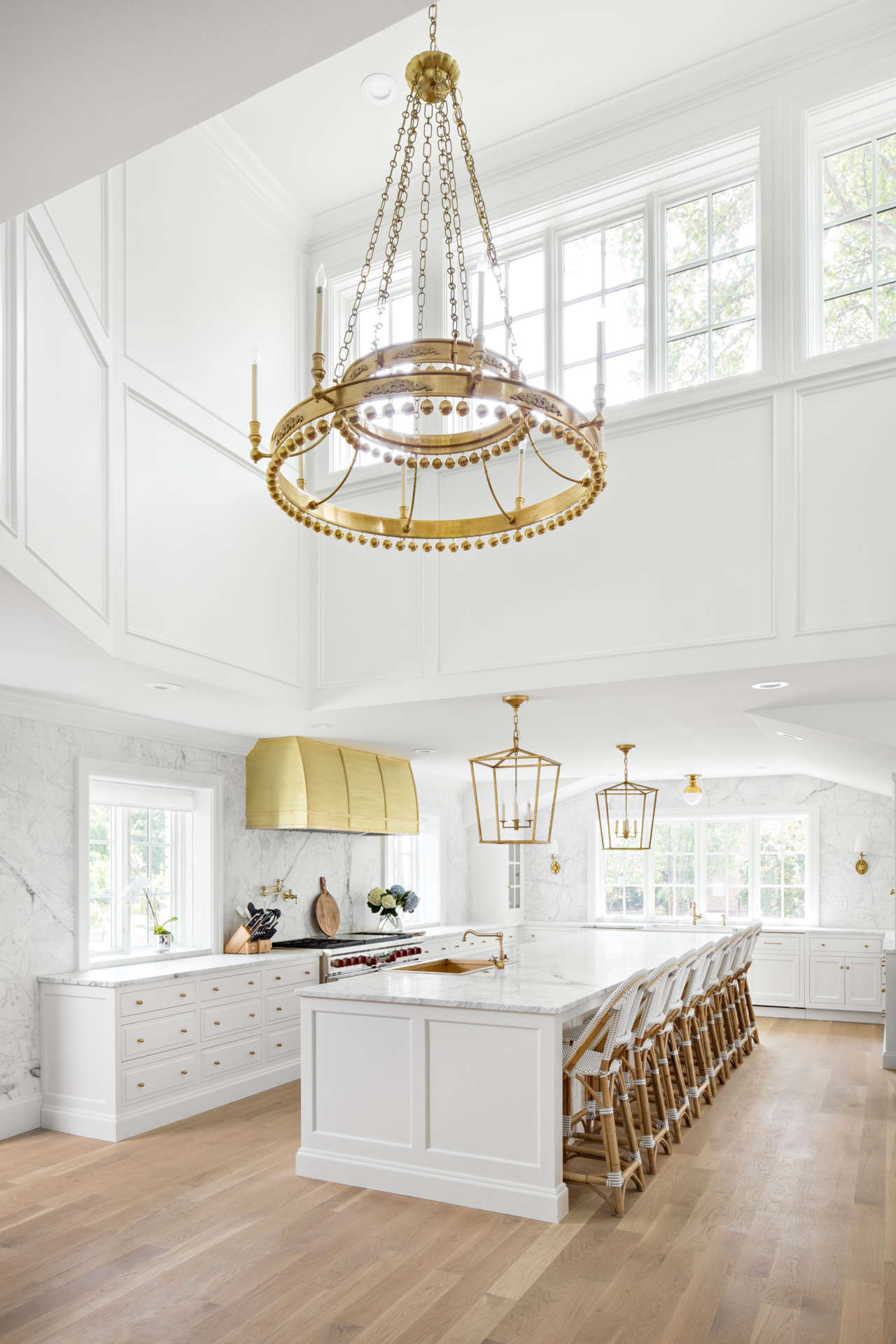 13. Wabi sabi can ignite a kitchen's design
Don't you love those kitchens with an identity all their own that feel effortlessly designed and completely non-contrived?
14. A reflective quartz can work wonders in a dim space.
It can. And it can work well in traditional kitchens.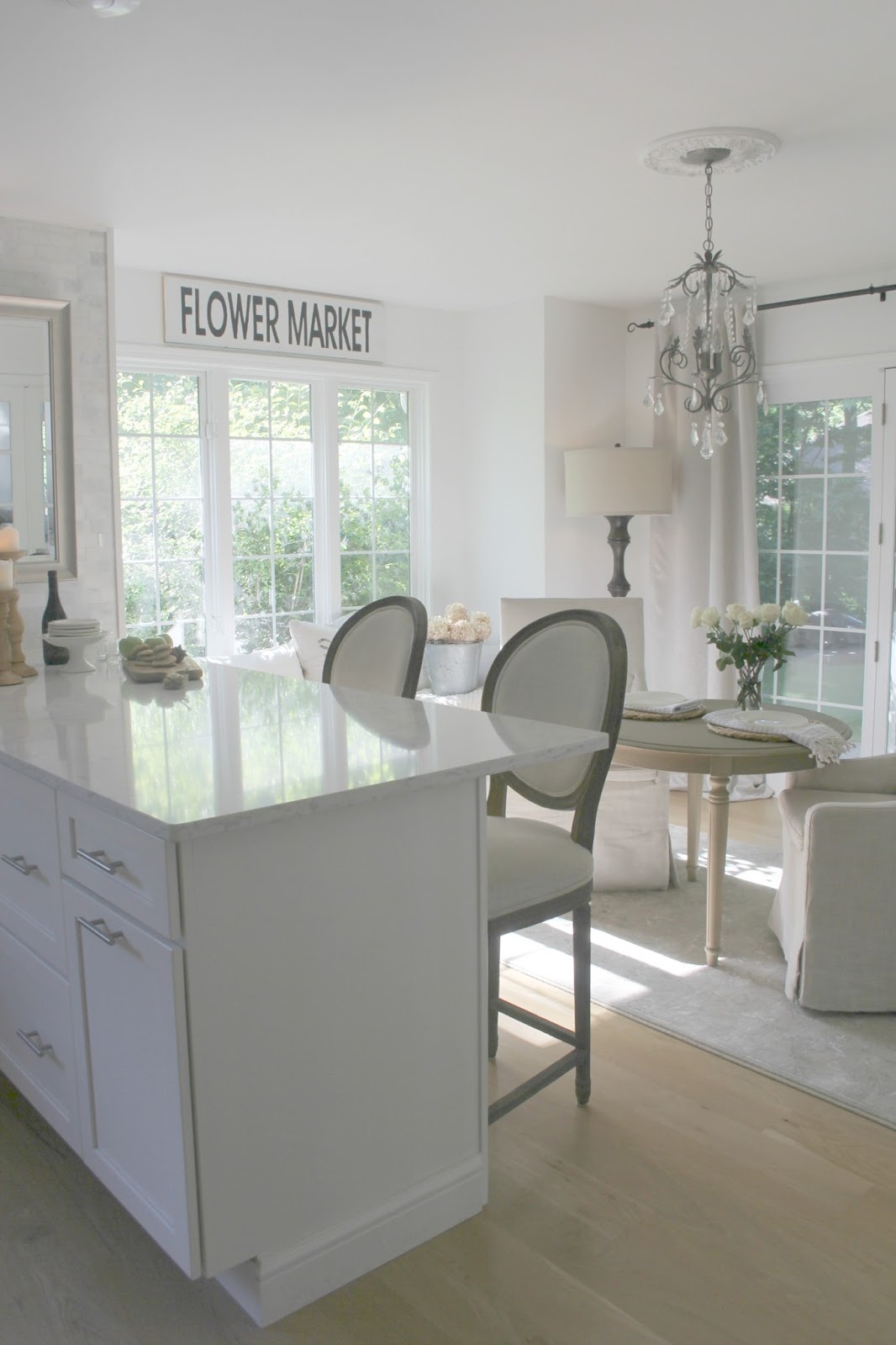 I have heard naysayers talk about quartz sporting a plastic-look, but Viatera Minuet never strikes me as plastic faux.
I think control freaks like me tend to appreciate the man-made quality for what it is and not for its ability to look like a particular stone naturally occurring in nature.
15. Because collecting more white is swell
Traditional kitchens often allow for some clutter as the season or your mood dictates.
And collections are about the only kind of clutter I can tolerate!
How would you accent this new kitchen with collected treasures?
16. Bespoke storage with an unfitted look
A rustic, informal traditional kitchen lends itself to unfitted storage which can add interest and save the budget.
17. Lanterns add an unfussy layer
Lantern-style pendant lighting works so well in traditional kitchens whether they are French farmhouse or coastal.
The paint color on walls in here is Sherwin-Williams Alabaster. Also see Farrow & Ball Wimborne White for a warm, timeless, white. Need ideas for beautiful lantern pendant lights? See options HERE.
18. Enjoy the hunt for a collection to display.
I haven't hung plates on the wall for years, but it can be a charming display.
Vintage ironstone or white pitchers are winning traditional collections to display also.
20. Is blue porcelain a timeless white kitchen's best friend?
So often it is!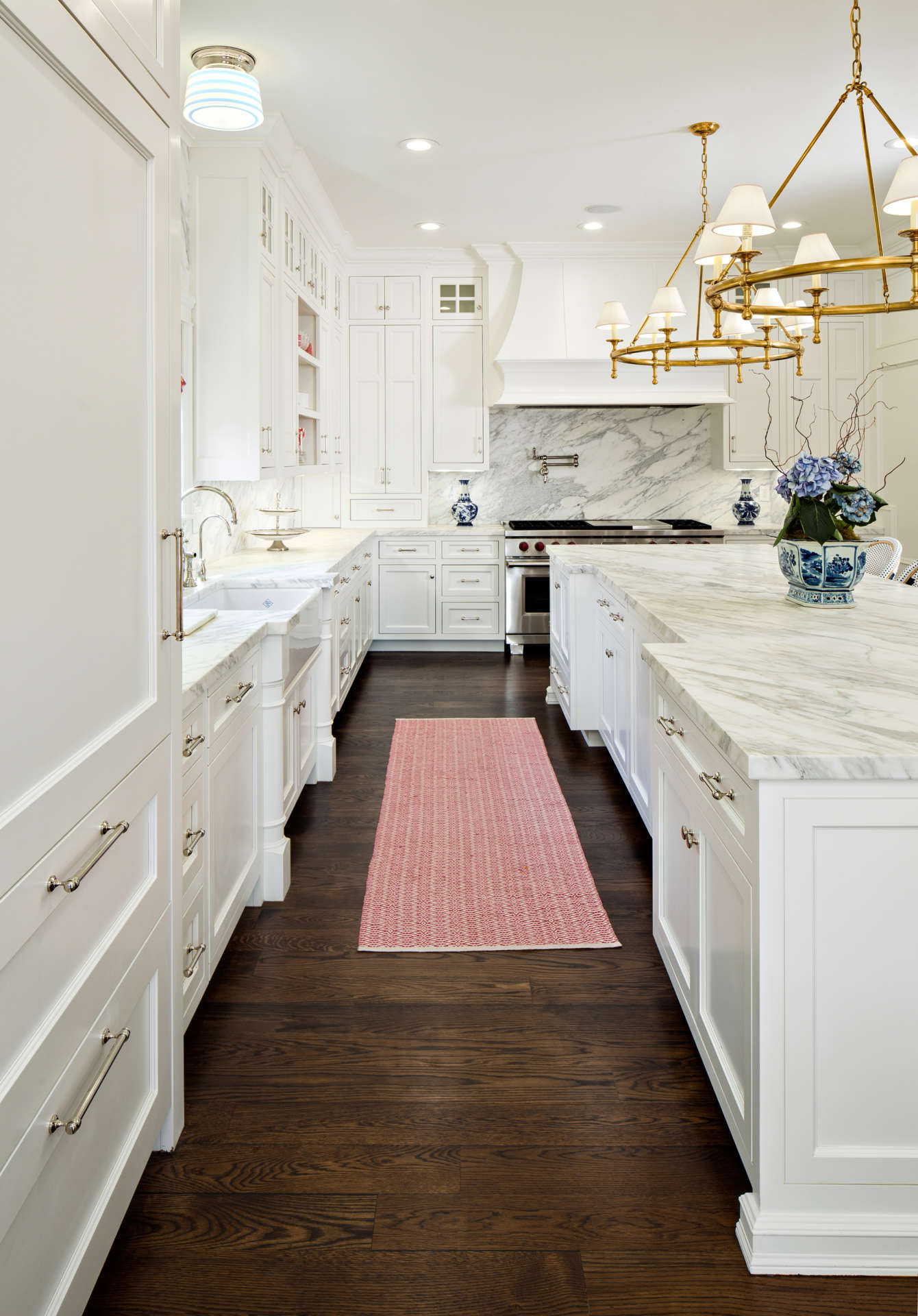 21. French, Nordic and white vintage lovefest.
Here are a few white Nordic fantasy looks for a uniquely romantic vibe.
22. All the cool cats love #cottagecore simplicity
What is termed cottage core is still just country to me. And it's easy to understand why it is trending right now when we crave more comfort from home.
Cottage core kitchens make me think of apple pies baking, and a crackling fire, and cats!
23. Tonally timeless.
I mean how could your color story in a kitchen like this ever compete with rustic wood beams so rich in character?
24. Minimal chic simplicité in Paris
Sweetly trés petite, this kitchen in a Paris apartment near Notre Dame in Paris was quite functional for our stay. Even a washer and dryer were seamlessly tucked near the cooktop!
25. Home
Are you surprised by the breadth of timeless white kitchen design options? I'm still quite happy with ours, but we will be leaving it in a few weeks. I'm in a grieving mode about that since the new kitchen is in shambles at the moment. But I'm grateful for the memories made here.
Just in case you need one more smile…
HAHAHAHAHAHA!
I independently selected products in this post—if you buy from one of my links, I may earn a commission.
Peace to you right where you are.
-michele
Shop for items you already intended to buy on Amazon RIGHT HERE, and also find home decor here to keep decor inspiration flowing on Hello Lovely!
Hello Lovely is a participant in the Amazon Services LLC Associates Program, an affiliate advertising program designed to provide a means for sites to earn fees by linking to Amazon.com and affiliated sites.