I shared glimpses of our home in my last post about tidying up in the new year and found a few more images for today's. Our home is less fancy than it is unique. I have referred to its design style with various names, and it's certainly not a pure form of French Nordic or Country Coastal style. The truth it, my style is European country inspired, undone, spare, and serene. I'm not a fan of nailing it down to one main influence, but I had to give it a title! Today's French Nordic Coastal Cottage Ingredients in Our Renovated European Country Style Home will share some of my favorite design finds chosen especially for our home.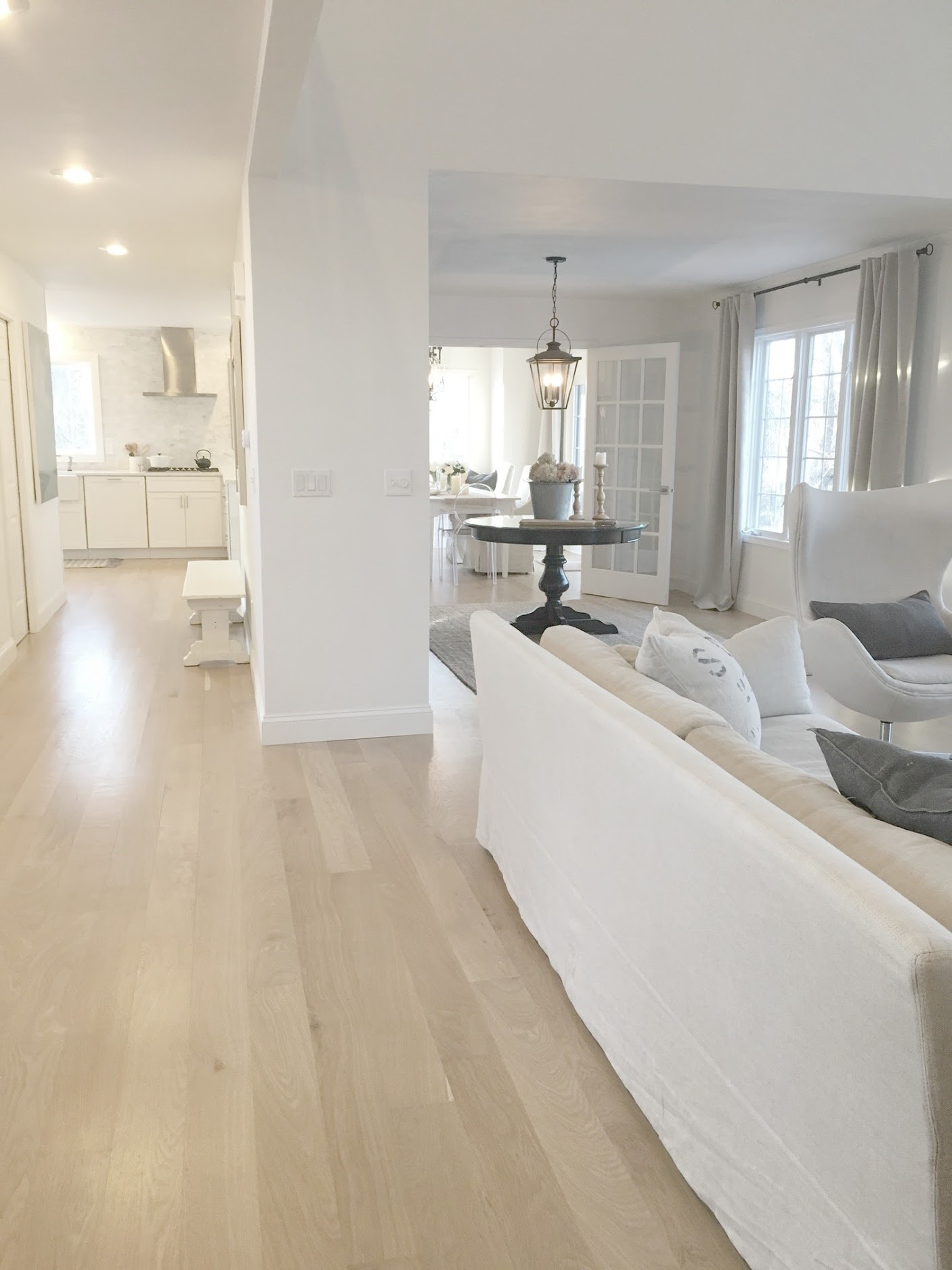 French Nordic Coastal Cottage Ingredients in Our Renovated European Country Style Home
It's tricky to accurately categorize the fixer upper we completely renovated which is now quite un-fixer upper like! Our last house was a French country manse we designed and built that felt old and established, while this one feels fresh and contemporary.
When we found it, it was a neglected custom cottage with great architecture swallowed up in weeds (invisible from the street!) and full of awful design elements. I shared our progress weekly HERE.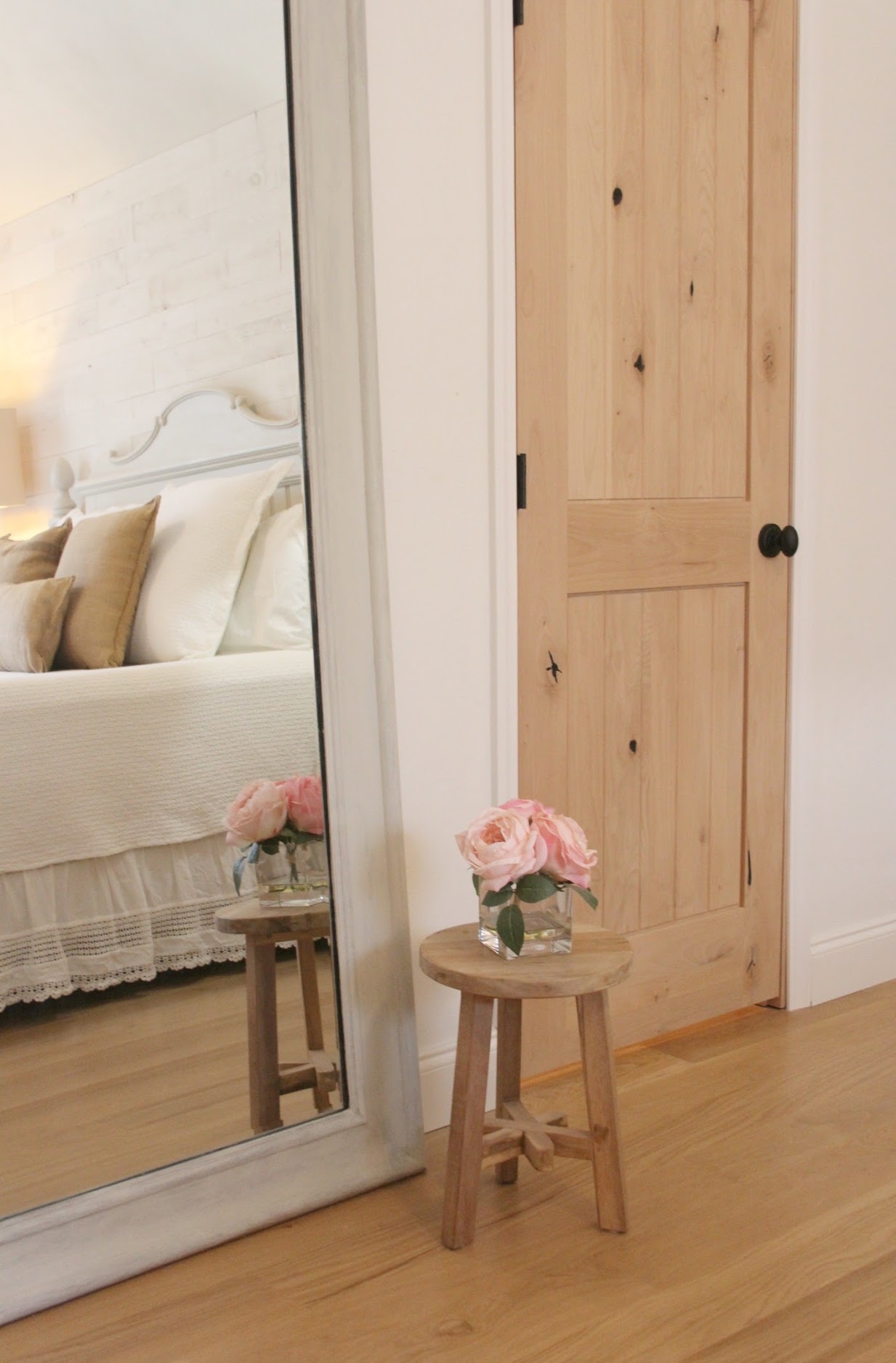 This Fixer Upper Needed Love Big Time!
Taupe carpet and yellow paint everywhere. Holes in lumpy walls. Wide woofers and tweeters in bathroom ceilings (I'm so sorry too!). Paper-thin, hollow-core doors. Critters in the crawlspaces. White spraypainted hardware everywhere. Yes, spraypainted! In marketing photos, all the faucets and hardware appeared to be white…score! Except. Nope. Just '90s brass el cheapo fixtures sprayed with white latex.
But the home's style…what was our fixer upper's style? The exterior would likely strike you as Nordic cottage, California cottage, or coastal cottage, with river rock accents and simple lines. But we're on a woodsy lot, high on a hill, so there's that.
French Nordic Coastal Cottage Design Features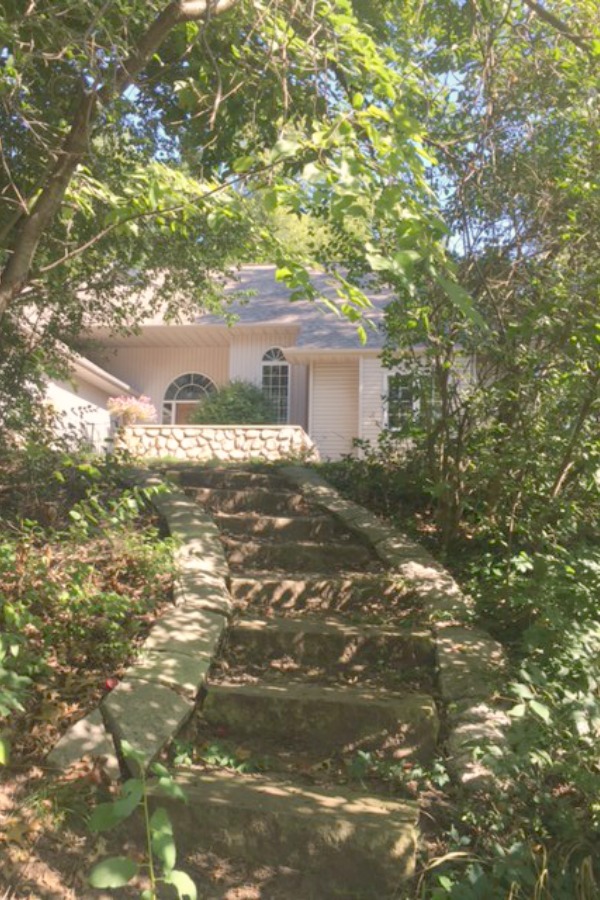 Then the fan windows. Are they consistent with a particular traditional design aesthetic or time period? They feel rather Hamptons and a little bit 'granny' to me. I have made friends with them by imagining them as chapel-like.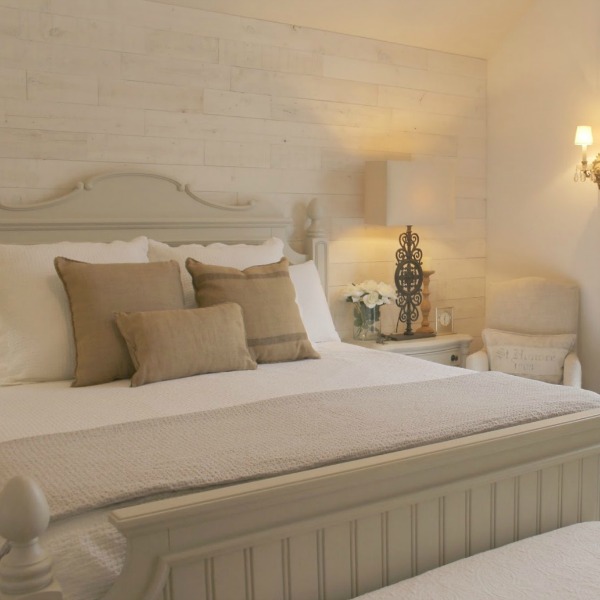 Inside, the ceiling height soars in the great room, and a cat walk floats above the center of all the main level action. The upstairs is light and airy, and (thank goodness!) the master came with a vaulted ceiling.
Lovely Nordic French Style: Statement Wall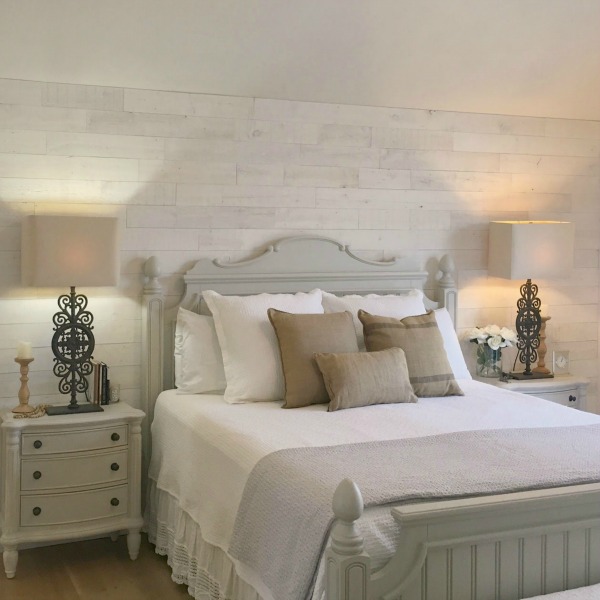 Downstairs, a family room, bedroom, bathroom, and workshop get used by our grown children who stretch out on a leather sectional and a pair of giant 5′ Love Sacs which made their teenaged friends green with envy back in the day. No, don't watch for photos of the sacs on this blog…they are purely functional!
Rustic European Country Style Entry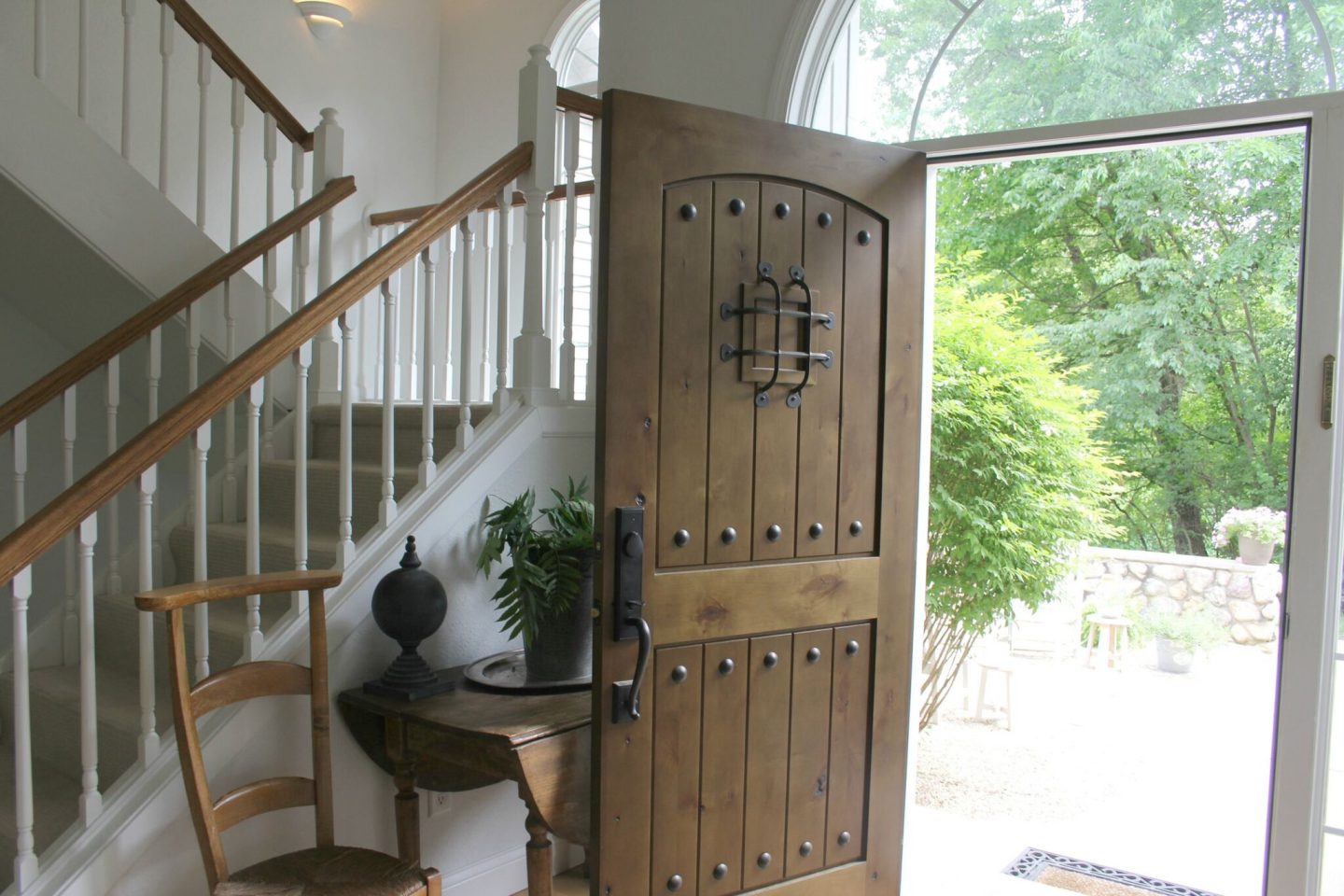 While the individual architectural elements of the home may have been disparate, we felt we could integrate them and calm things with: a quiet palette, more subtraction than addition, upgrading, and most importantly, INTRODUCING PLENTY OF NATURAL, QUALITY MATERIALS to give the interiors substance and soul.
A Favorite French Nordic Design Element: Belgian Linen
WHAT YOU ABSOLUTELY CANNOT MISS IS MY PASSION FOR Belgian linen. It's everywhere. I'm unapologetic about being obsessed with it and sprinkling it around liberally because it comforts me in the best possible ways, and I share the home with messy men who spill salsa, red wine, Bolognese sauce, and more on everything. As long as the sins don't sit too long, they all come clean.
The nubby texture of the linen is durable and something I never tire of!
Get the Look: Rustic Yet Refined, White, French Nordic Style
Hope you will find these shopping resources helpful for items found in our house! Some of these links are affiliate links and when used for purchases may earn this blog a small commission.
My Home!
Alder Front Door With Speakeasy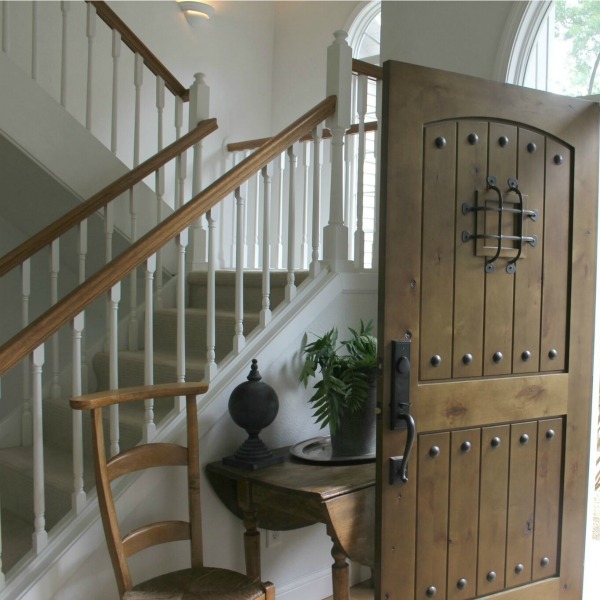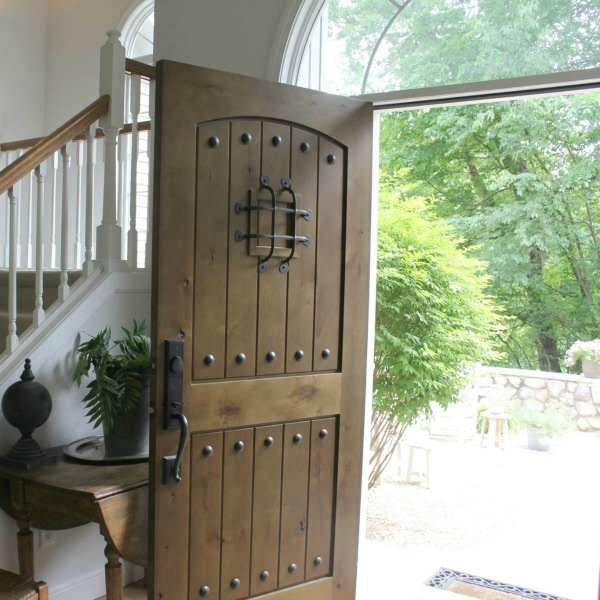 Traditional Style Handleset for Front Door
Bright White Paint Color for Walls, Trim and Ceilings
If you look at the BENJAMIN MOORE White paint swatch in my banner below, you can see how much brighter and whiter it is than the warm greys around it.
Knotty Alder Interior Doors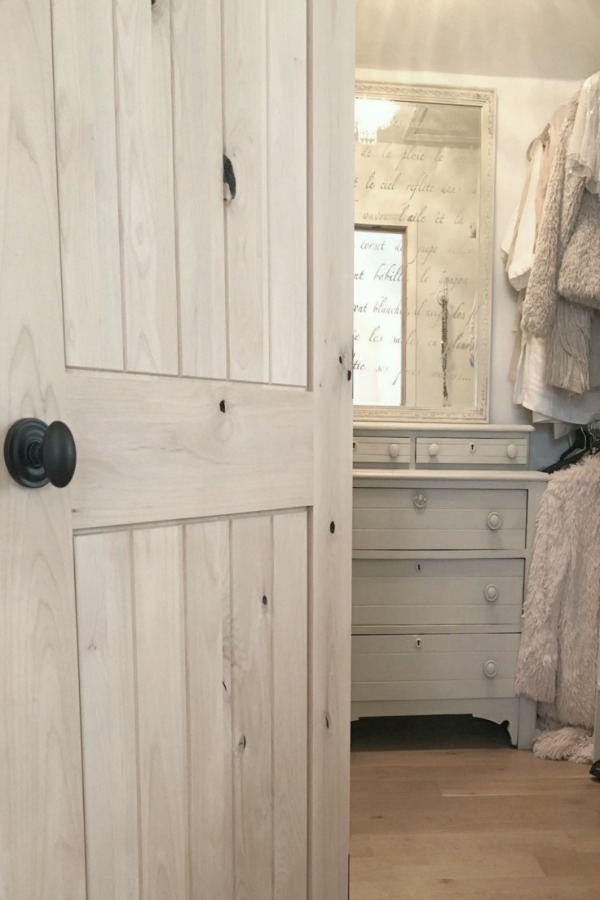 Cuckoo for Cocopuffs for These!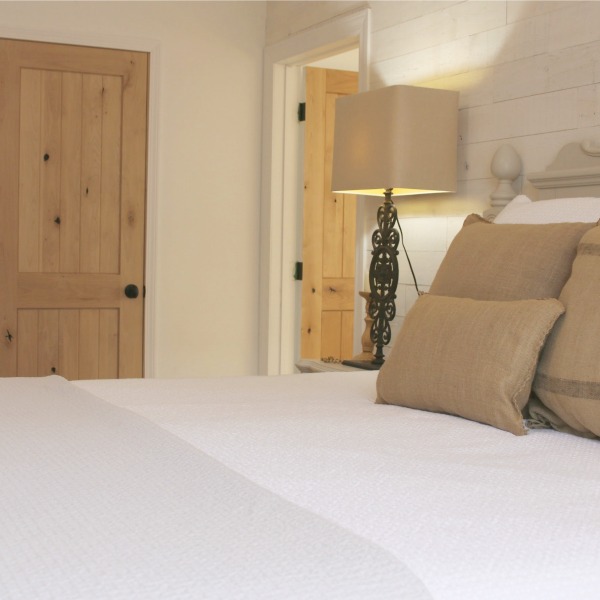 Hardwood Flooring: White Oak Left Natural With No Stain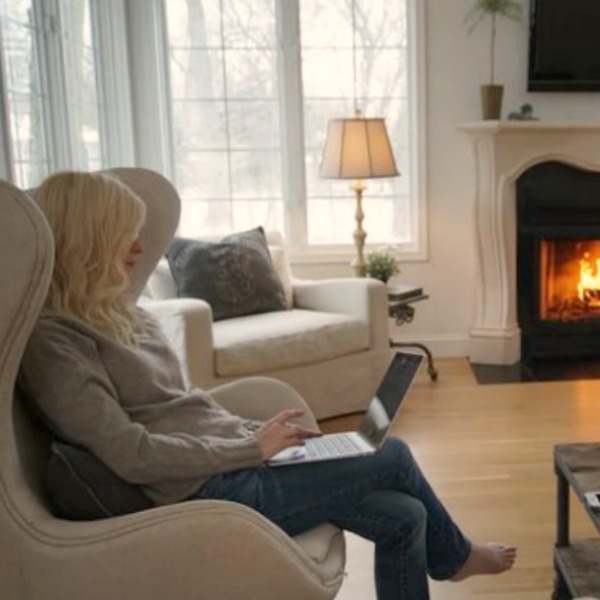 The main living areas on our first floor as well as our master bedroom have wide plank, white oak hardwoods with no stain – just a matte finish on top.
FIND WHITE OAK HARDWOOD FLOORING OPTIONS RIGHT HERE!
Wood Alternative in Secondary Bedrooms
Here is the product we installed in two first floor guest bedrooms. It is a dream to live with and fortunately was a quick and easy installation for my husband!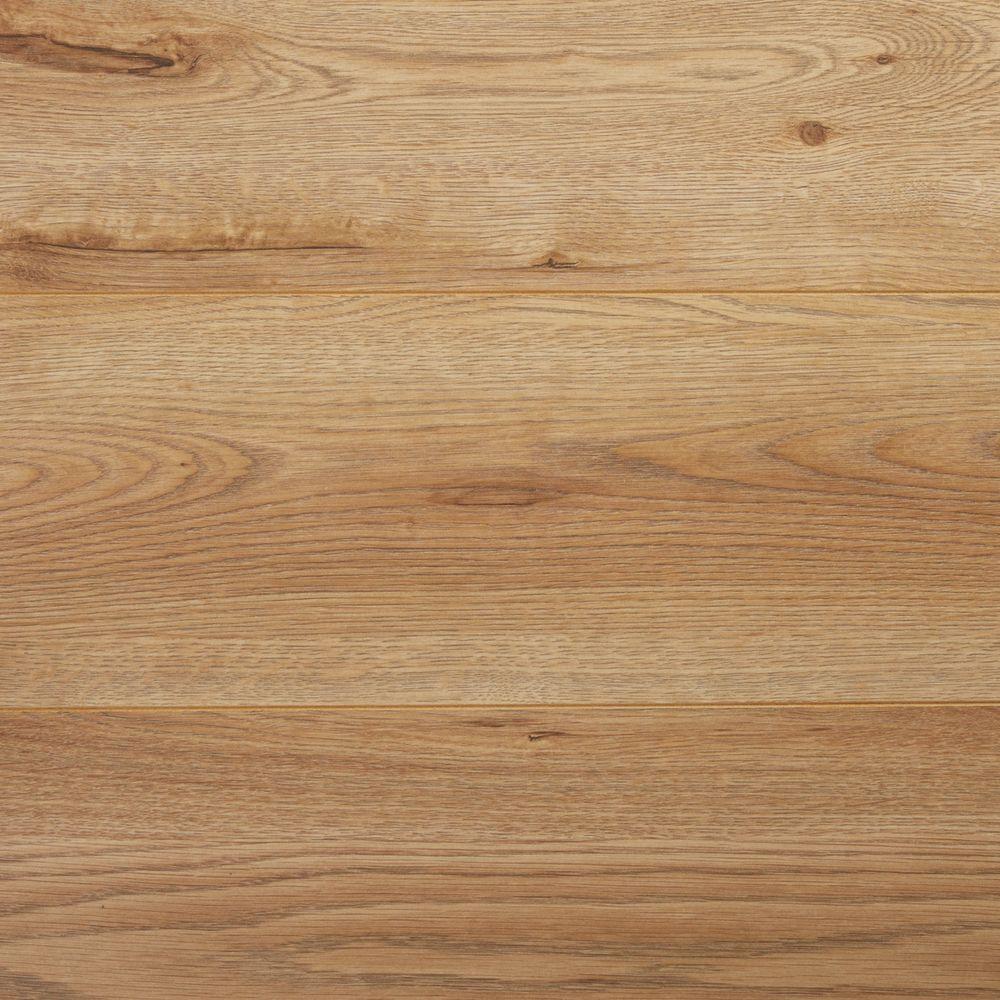 Serene, Classic & White European Inspired Kitchen
Why, Yes, a Floor Lamp for the Kitchen!
Dishwasher Hidden Behind Cabinet Panel
Cooktop & Ovens
Counter-depth Refrigerator
Apron Front Fireclay Farm Sink
White Quartz Countertop in Kitchen
Backsplash Taken to Ceiling
Kohler Purist Bridge Faucet
European Inspired Vent
Beverage Cooler in Breakfast Bar
Kitchen Essentials: Dishtowels or Cloth Napkins!
Custom Window Seat in Breakfast Nook
Dining Room With Vintage French Doors
Main Bathroom With Classic, Vintage, White Coastal Cottage Design
Classic & Coastal Vanity Sconce
This brushed nickel sconce is in our main bathroom, and I still love its coastal and classic good looks.
Brushed Nickel Bathroom Faucet
Main Bath Tile Floor
Brushed Nickel Traditional Shower Fixtures
French Nordic Cottage Style in Master Suite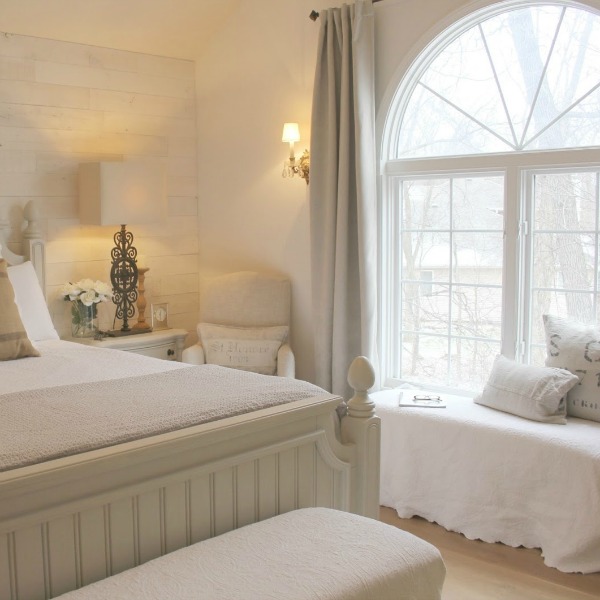 Reclaimed Pine Peel & Stick Stikwood Planks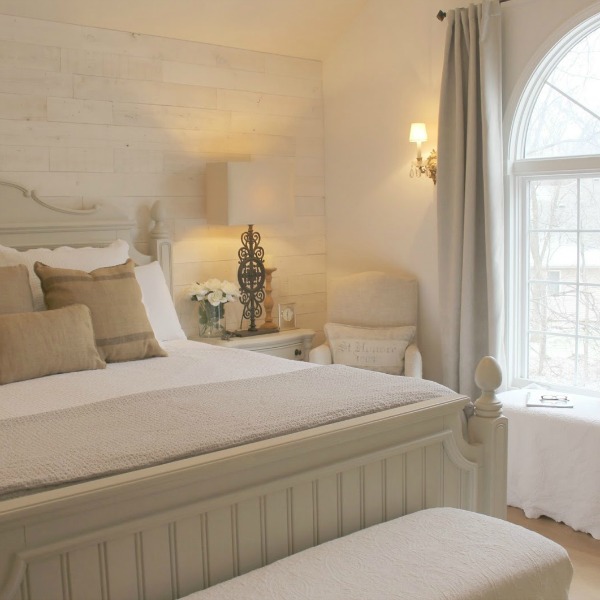 Unfussy, Simple, Rustic Yet Refined European Country Inspired Style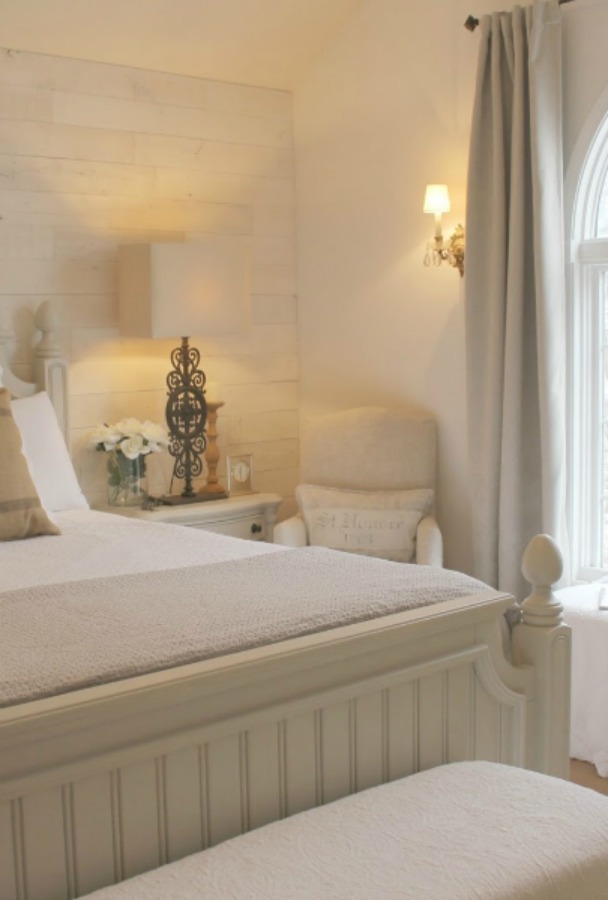 Master Bath Design Elements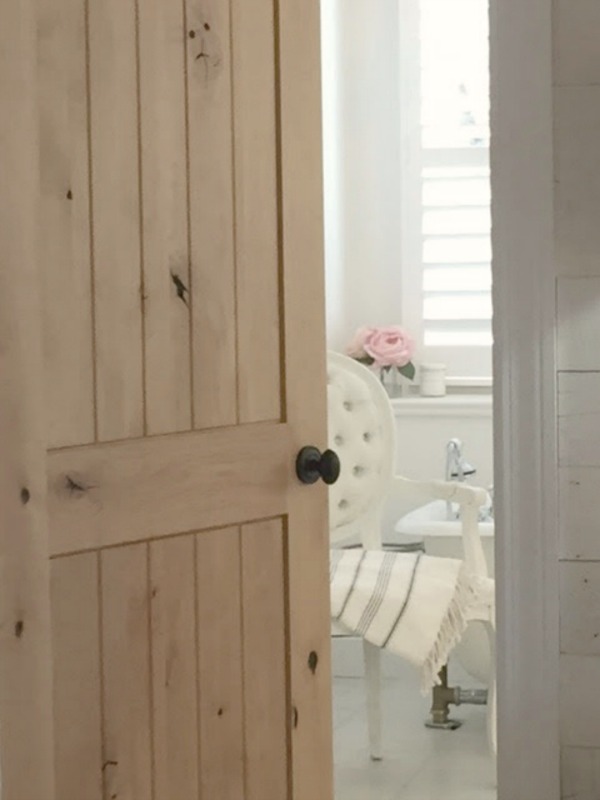 Here is the Martha Stewart sconce selected for our master bath…I needed a particular size, and this one's super affordable.
Hamptons Classic Coastal Style Bathroom Sconce
Herringbone Marble Shower Floor
Furniture & Decor Outdoors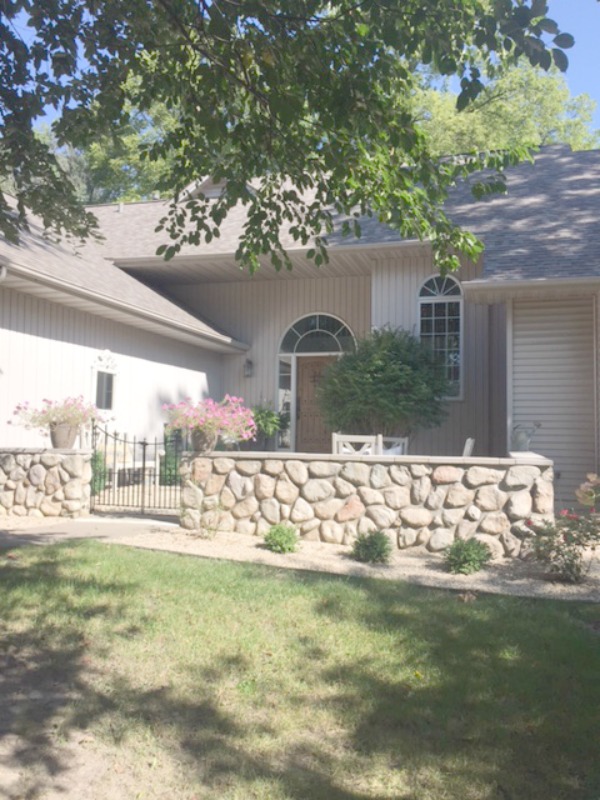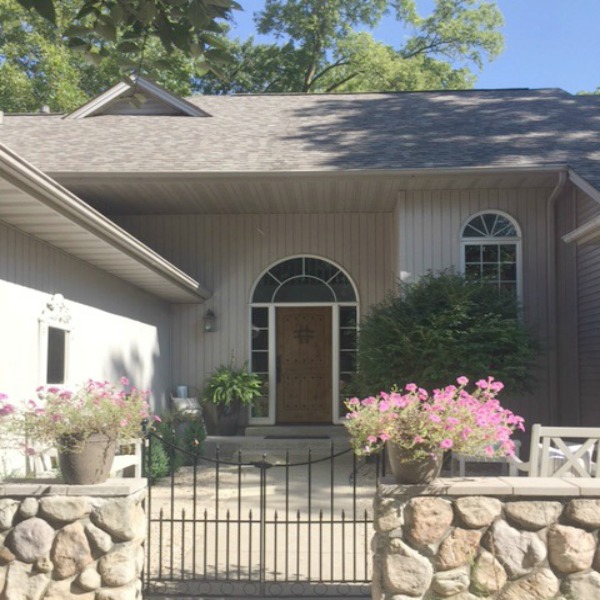 Classic Traditional Style Bathroom
Read about this bathroom we created from scratch where there was none, all DIY style HERE.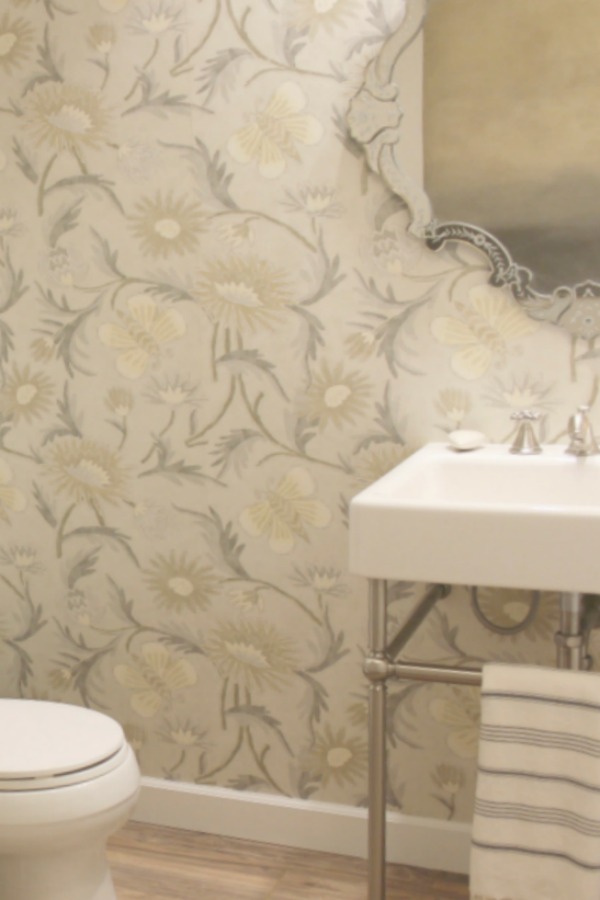 We sold our second home in Arizona, but you can still score the decor details and sources here:
Paint Colors in Arizona Home
My House!
Thanks for touring our home – see a fabulous serene Nordic cottage I admire and a fantasy French cottage RIGHT HERE!
I independently selected products in this post—if you buy from one of my links, I may earn a commission.
Peace to you right where you are.
-michele
Shopping for items you already intended to buy on Amazon RIGHT HERE (not just items mentioned in posts) or home decor keeps decor inspiration flowing on Hello Lovely!
Hello Lovely is a participant in the Amazon Services LLC Associates Program, an affiliate advertising program designed to provide a means for sites to earn fees by linking to Amazon.com and affiliated sites.