Soooooooo excited to share this closet DIY makeover project since it is one of the last renovations here at the Georgian to tackle. Woo hoo! A year ago I showed you how a small spare bedroom could become a closet, dressing room, and office space with the design help of Modular Closets. The transformation was so gorgeous that I was more than happy to collaborate again…this time to elevate and upgrade a his/her bedroom walk-in closet. Our closet wasn't the worst, but it also wasn't living up to its full potential. Ooh la la, the closet is now functional and beautiful thanks to a custom design, high quality materials, and an exceptionally skilled DIY partner. I hope seeing our custom closet DIY photos and tips help if you are also fed up with an outdated closet. (Psst. Modular Closets has an amazing sale happening!)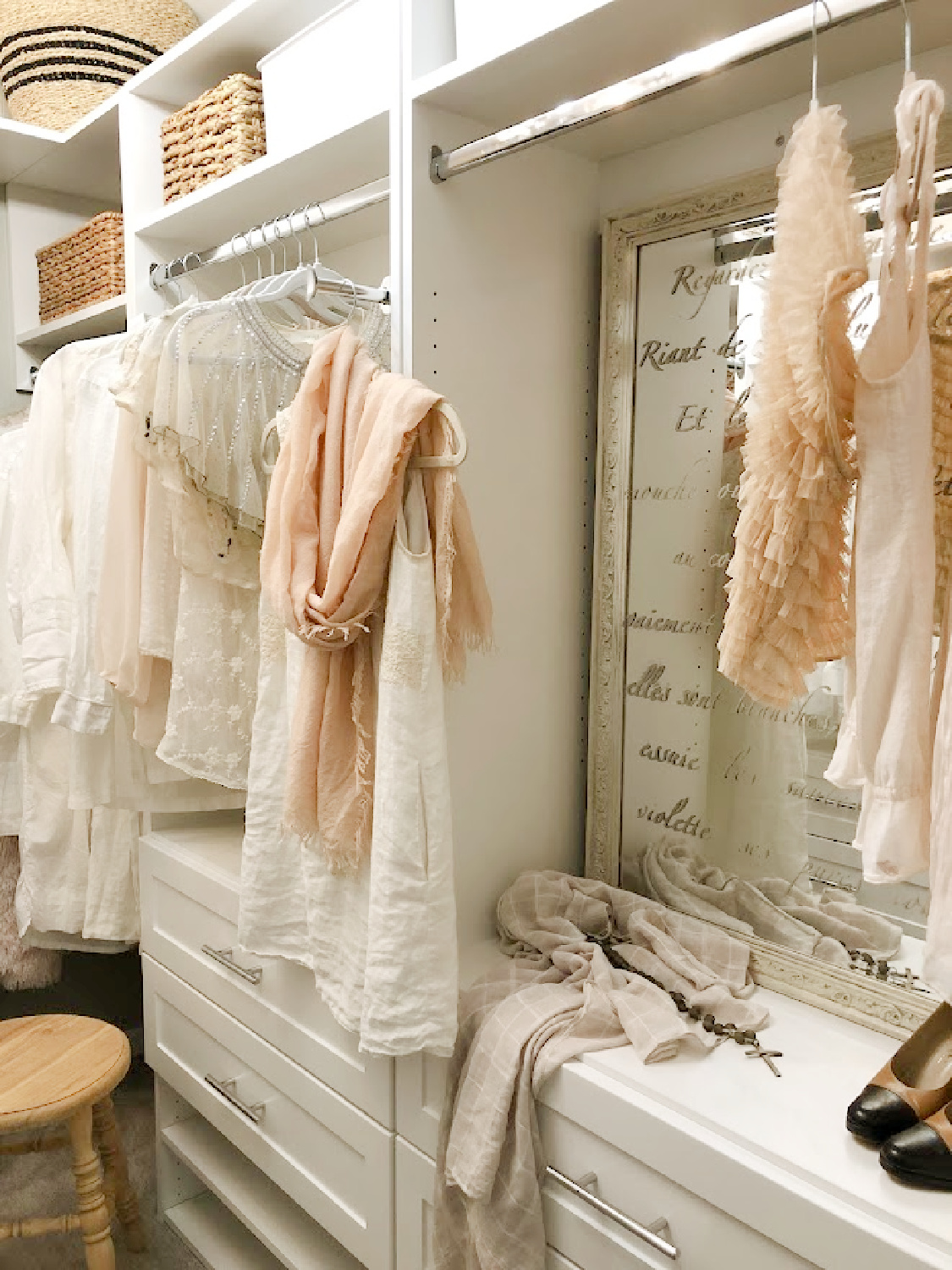 This post is sponsored by Modular Closets, and all opinions are my own. Thank you for supporting the companies that make this blog possible.
Closet DIY Makeover to Customize Hello Lovely's Walk-in Closet
Believe it or not, one week ago, our bedroom's walk-in closet looked like this: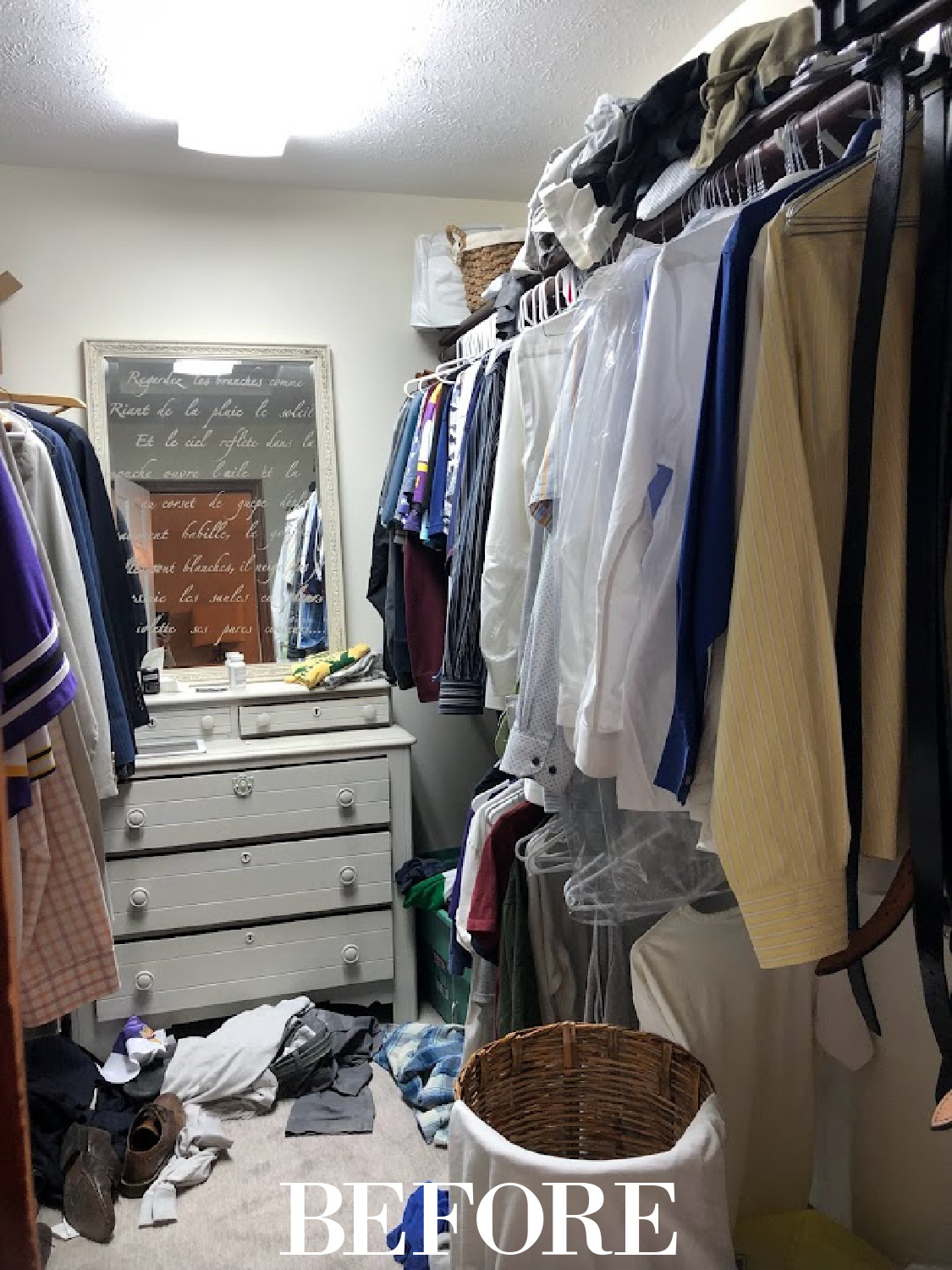 Not a bad size at all, but it needed help since it could barely hold my husband's belongings. Hanging storage, fluorescent ceiling light, vintage dresser with drawers that get stuck, and a custom wood shoe rack installed at a curious angle so shoes didn't stay put.
We were anxious to explore options for storage and to better utilize the 6 x 9.5 space.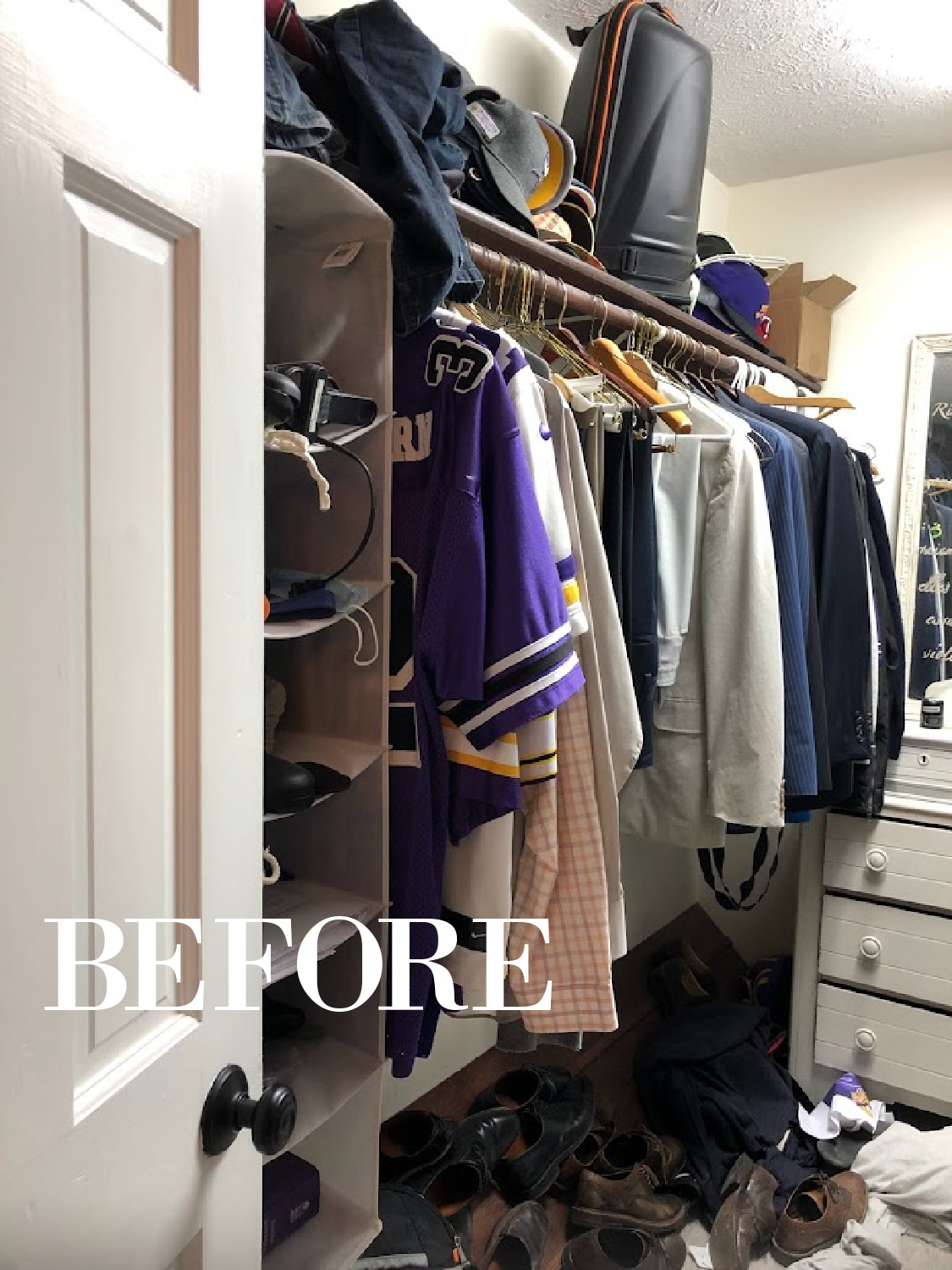 We added a vintage chandelier to coordinate with other fixtures in our bedroom, and it started to feel more cohesive with the work we did elsewhere. Then we began removing everything except the carpet from the closet: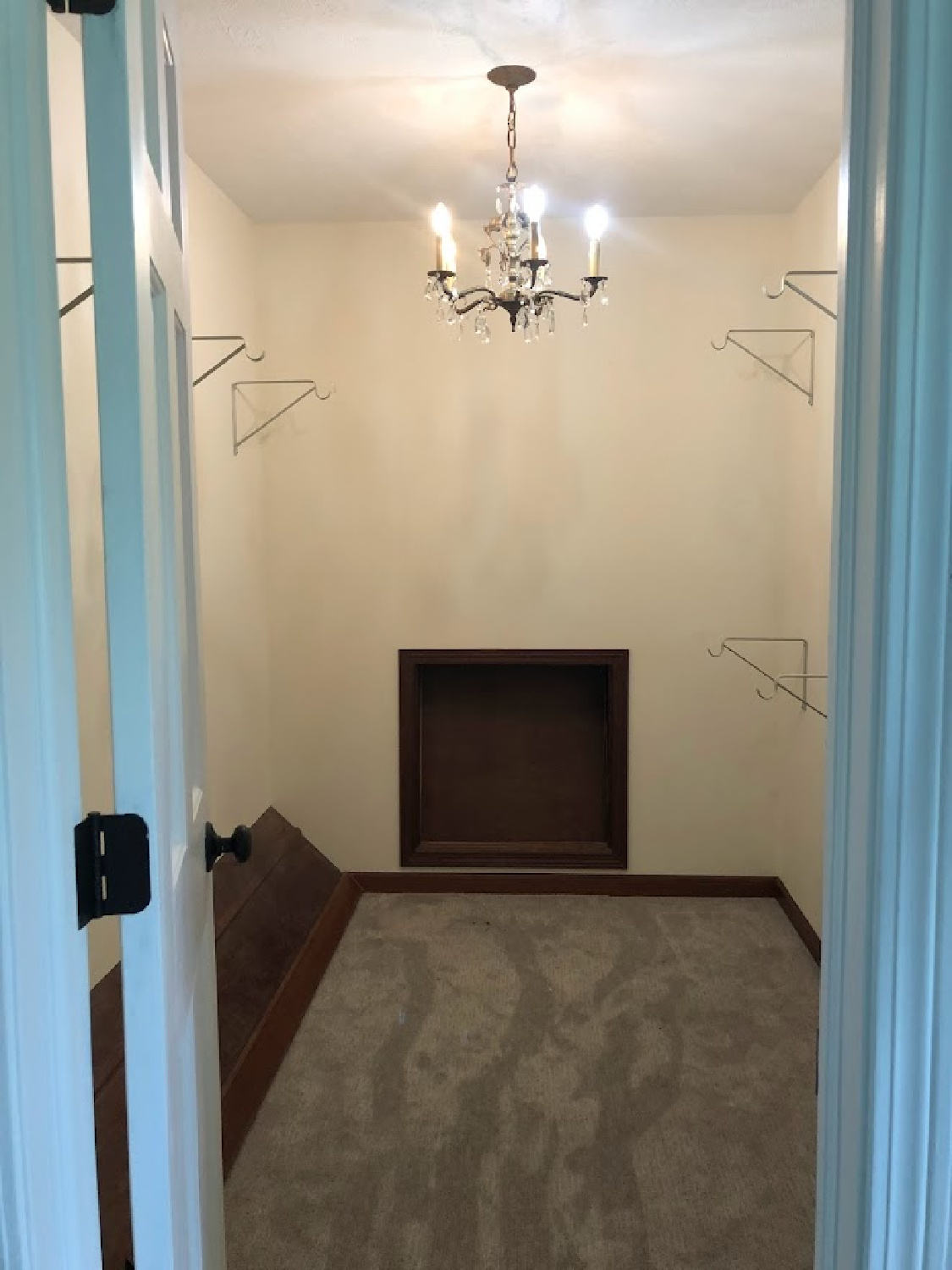 Overview of the DIY Project
Our goal was to create a his/her closet with: hanging space, plenty of drawers to store essentials, custom hampers, jewelry storage, a mirror, valet hooks, discreet shoe storage, and a tie rack that wouldn't fail.
With that wish list, Modular Closets designed this Shaker style closet for us to assemble and install ourselves: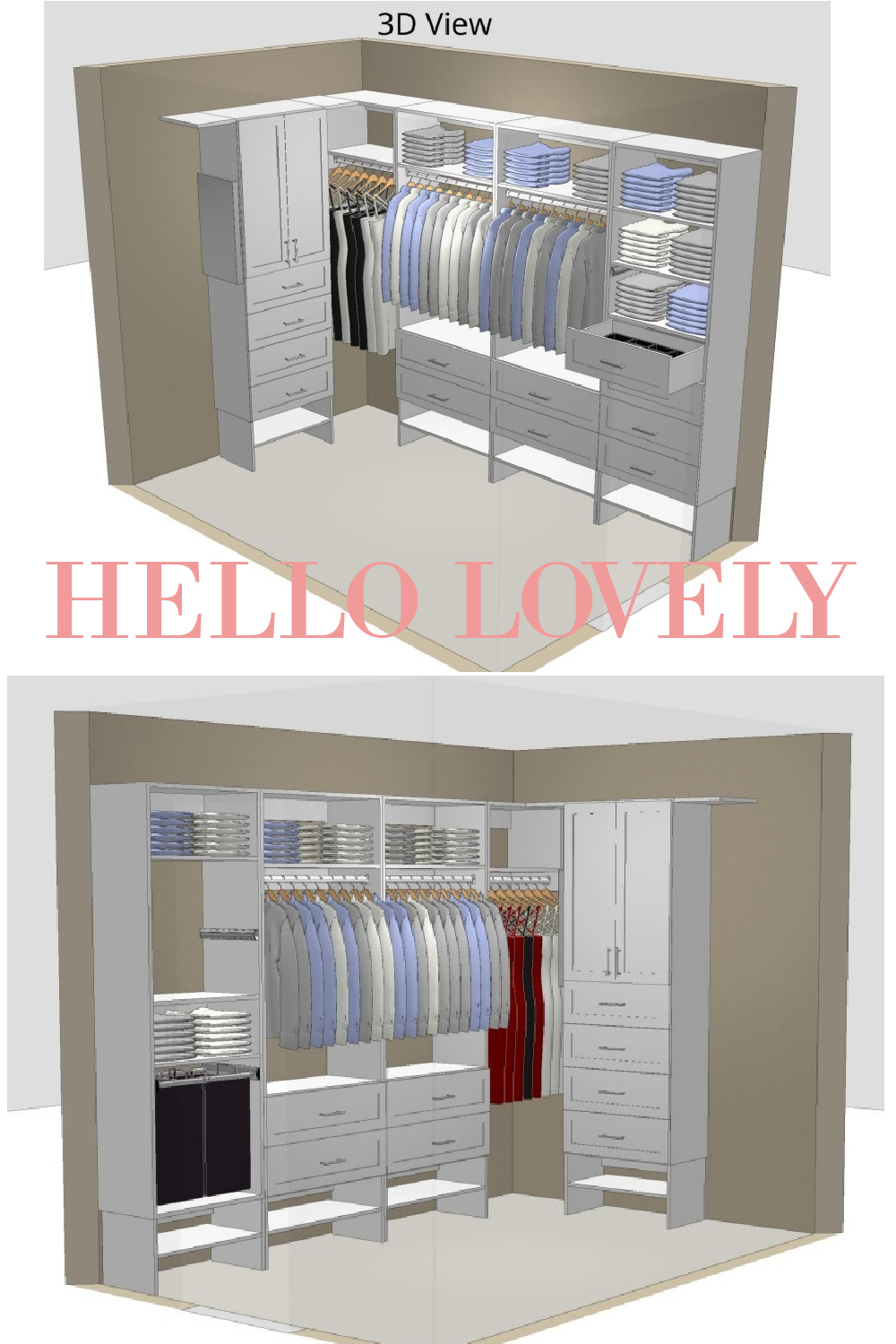 I loved the plan and asked for cabinet doors on the closet tower on the far wall, both to conceal clutter and for a calm feel since you see it immediately when you open the closet door.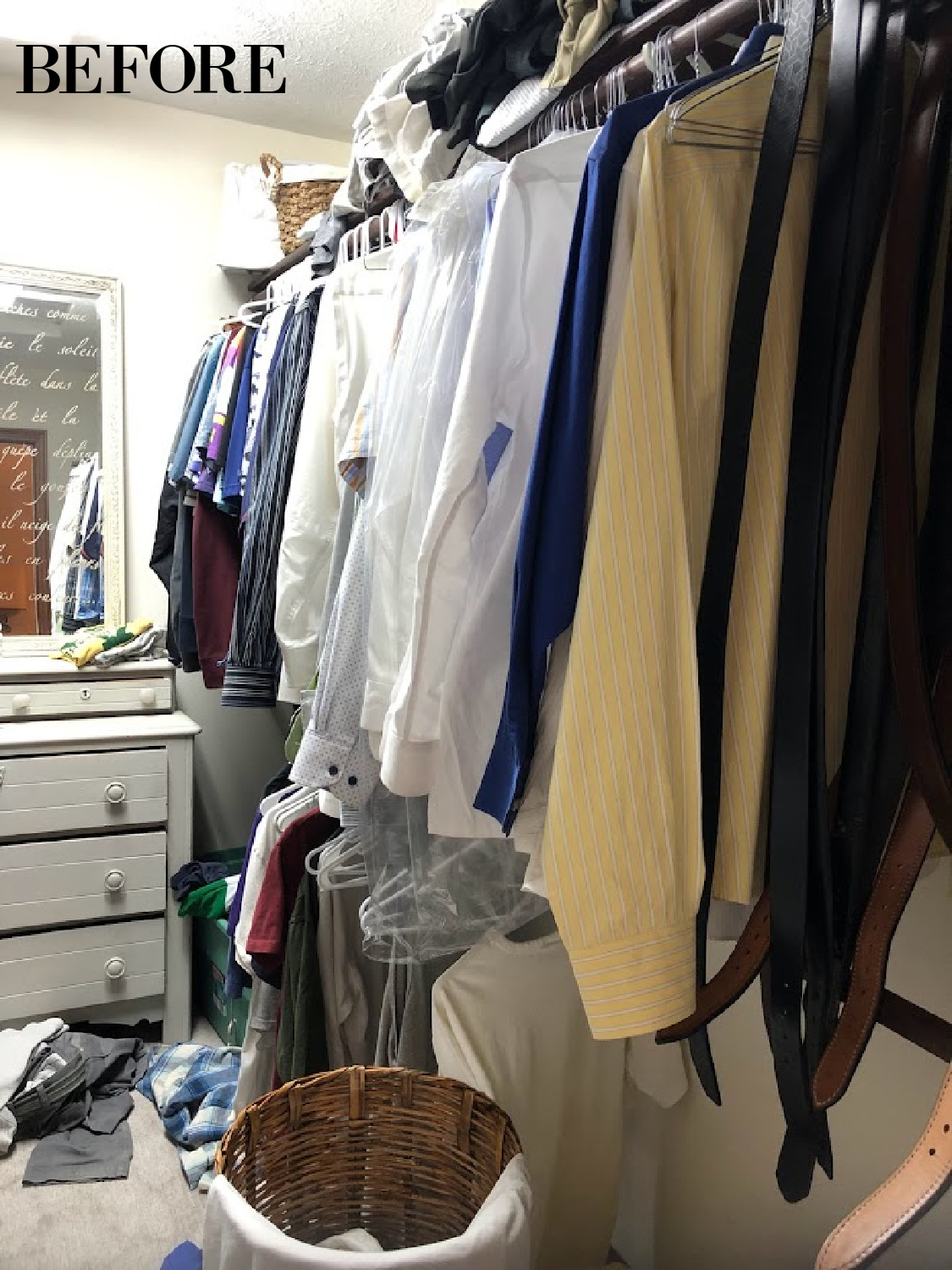 Demo and Prep for New Closet
It was light demo considering what we're used to, but before we could build the new closet, we needed to address an access panel on the back wall and paint the closet walls and trim. My solution to save time and avoid dust was to panel the back wall with beadboard.
So here's where we started just one week ago: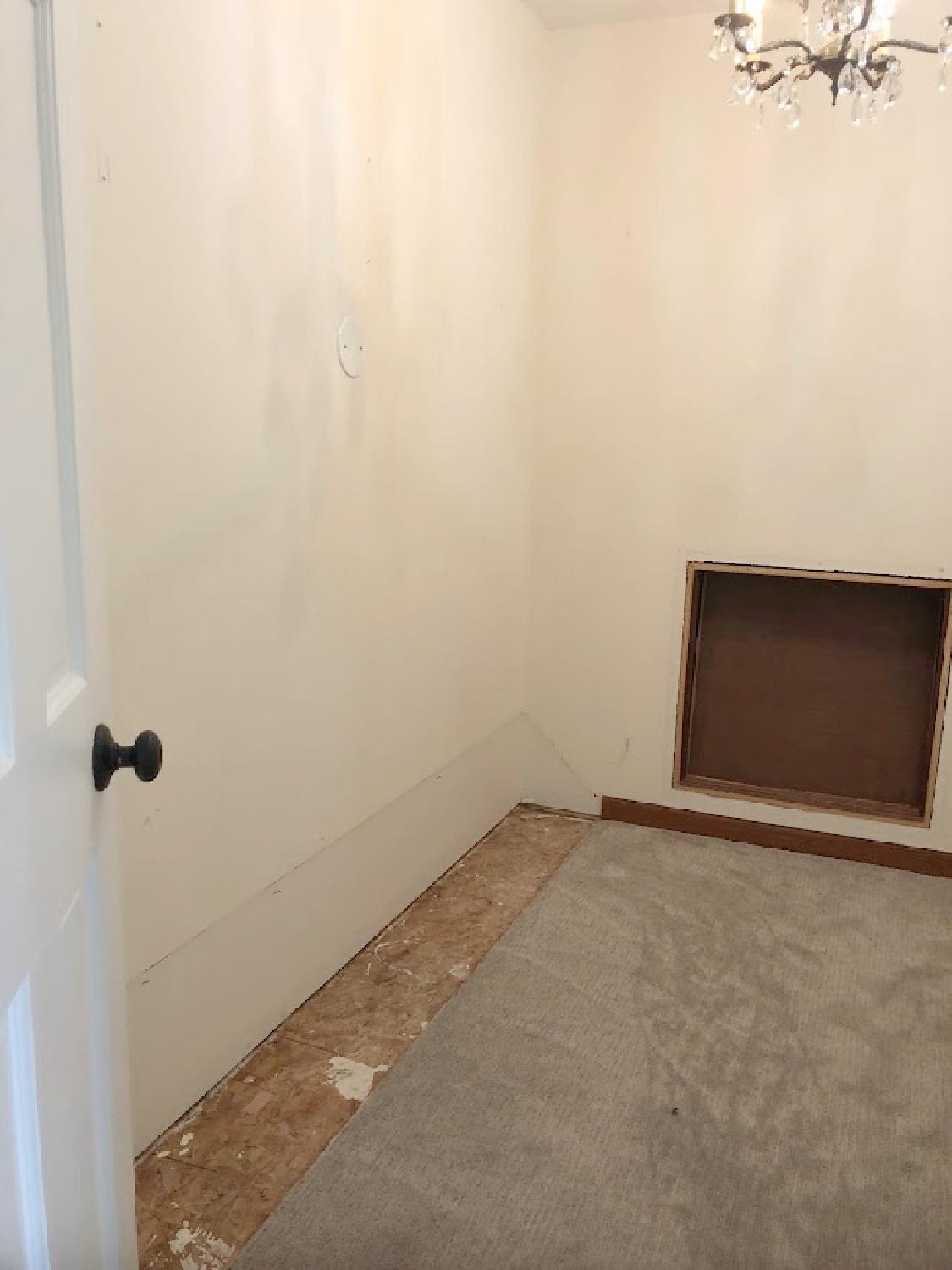 It felt so good to start with a fresh slate! We painted walls Sherwin-Williams Repose Gray to contrast with the white closet storage.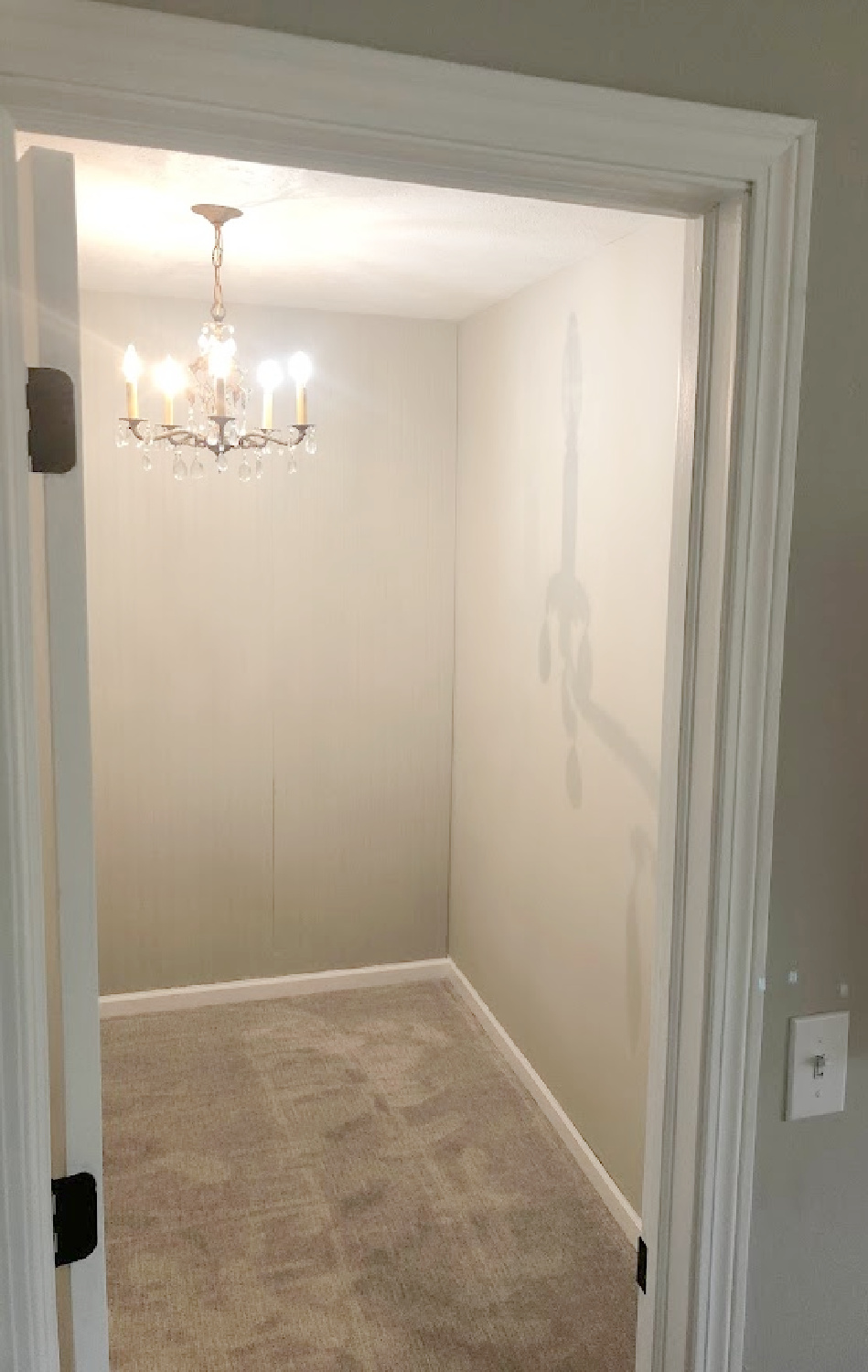 Installing Do It Yourself Modular Closet Modules
All of the Modular Closets parts and accessories for the closet arrive in boxes like this: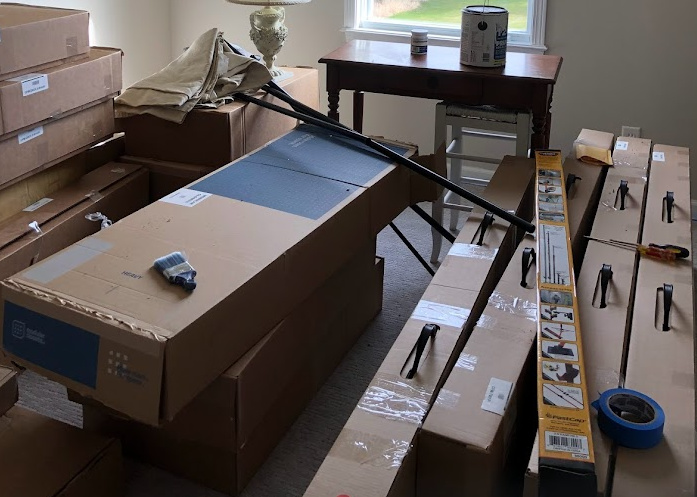 With online instructions for assembly and installation, my husband began building each tower. Our design features Vista shelf towers with drawers in two different widths (25.5″ and 31.5″).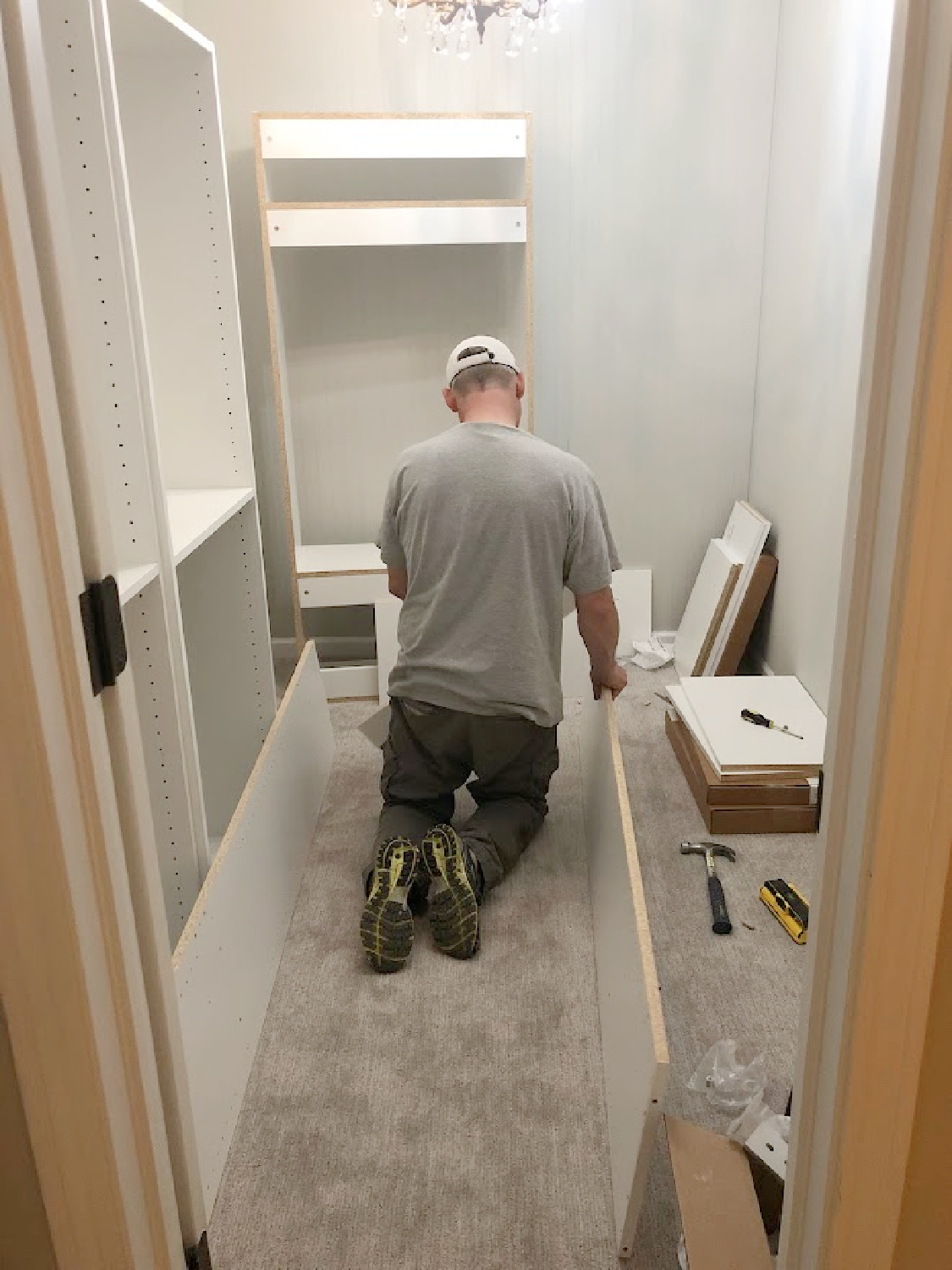 There's a learning curve, and while the assembly may be slow going at first, after a little while, things move along more easily as you repeat the process.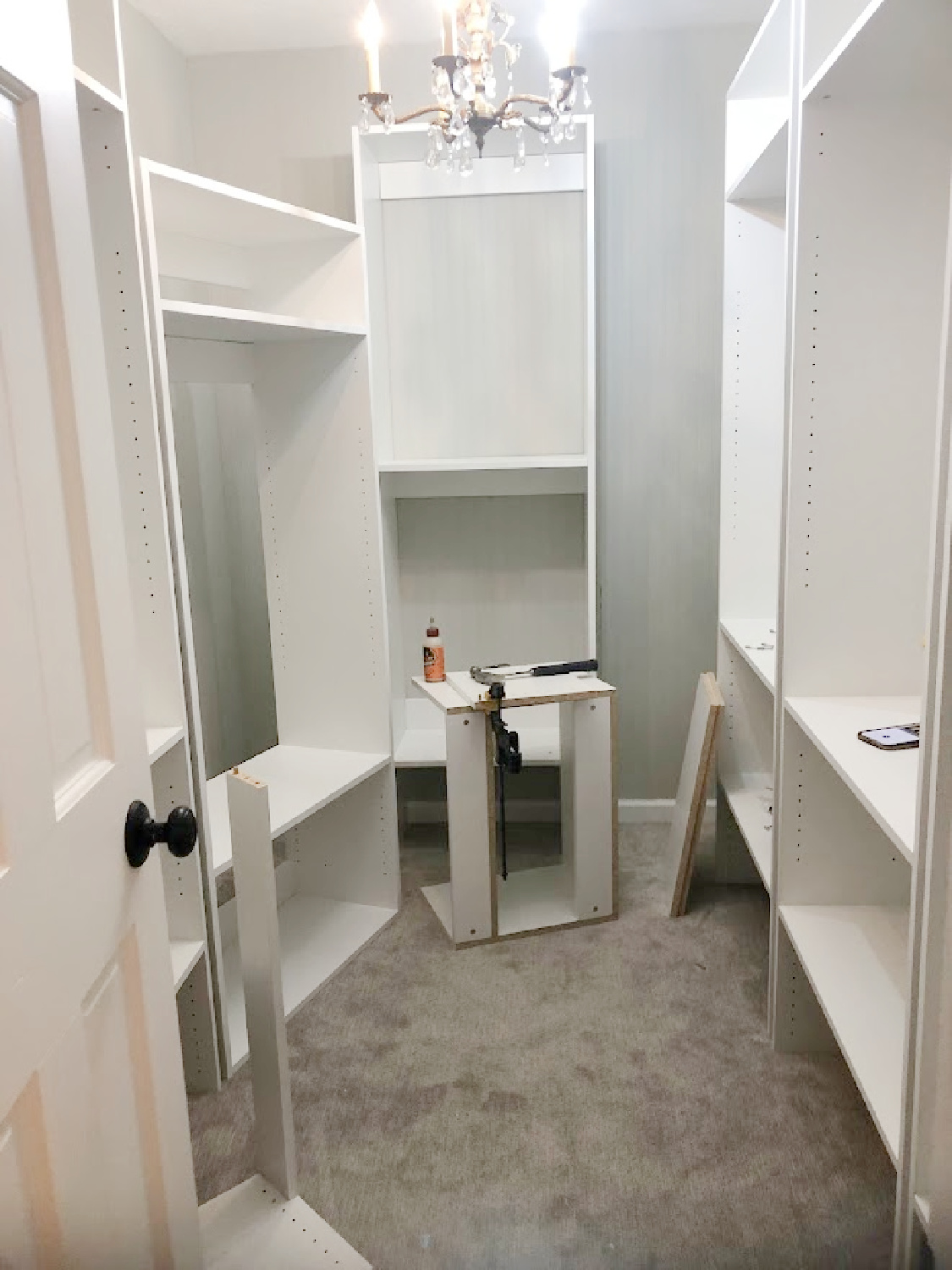 Should You Hire a Pro to Install Your Closet?
I asked Professional Organizer and Modular Closets Brand Ambassador, Christina Giaquanto about this. She says honor where your comfort level lies with DIY. A Modular closet system is designed to be DIY friendly, and the company is there to respond to questions. That said, it's fine to hire a handyman or enlist a family member if your DIY skills are more beginner level.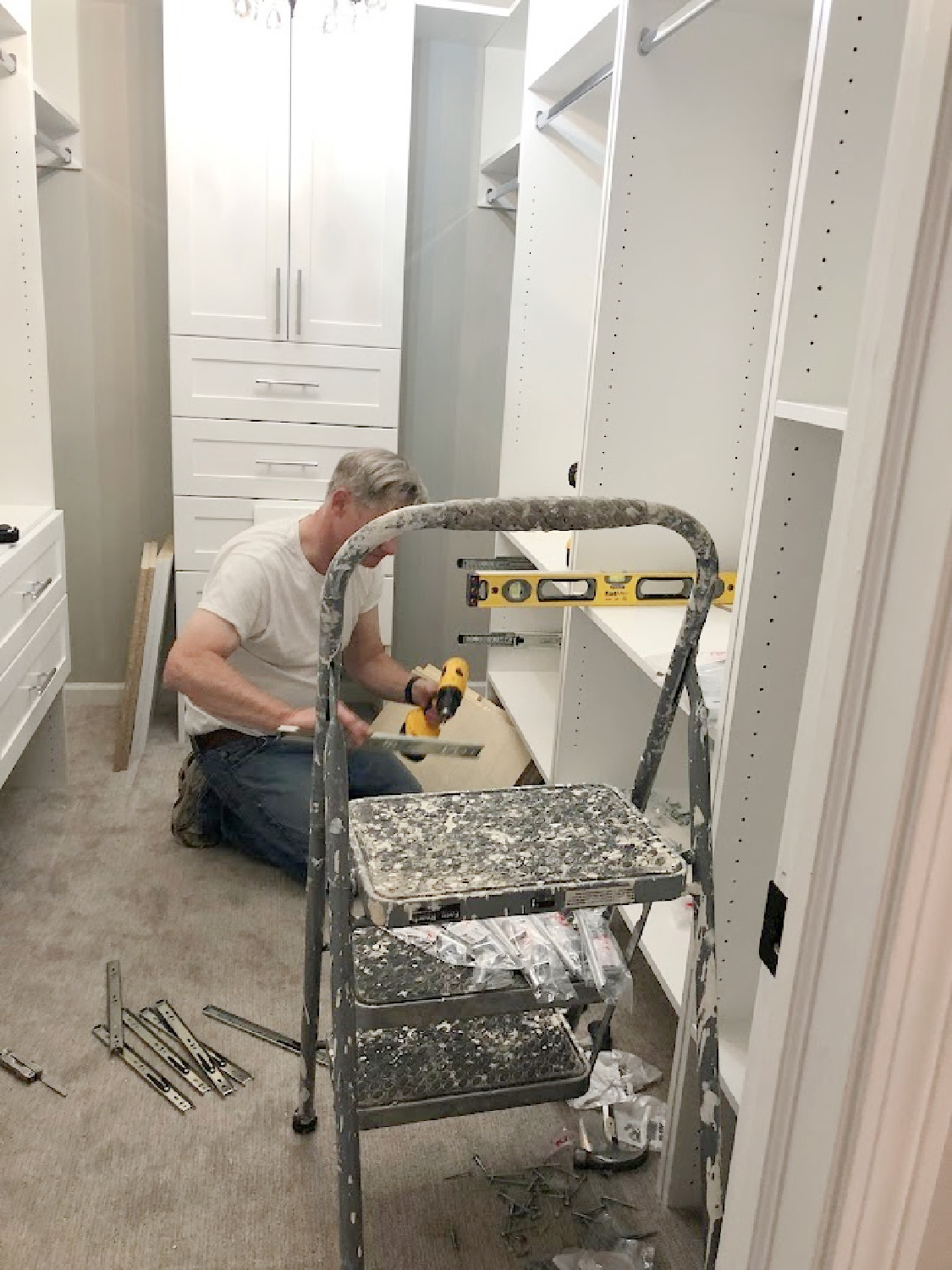 Prepping the closet took half of a day, and installing the new closet took a couple of hours after work each evening…so after 15 hours of DIY work: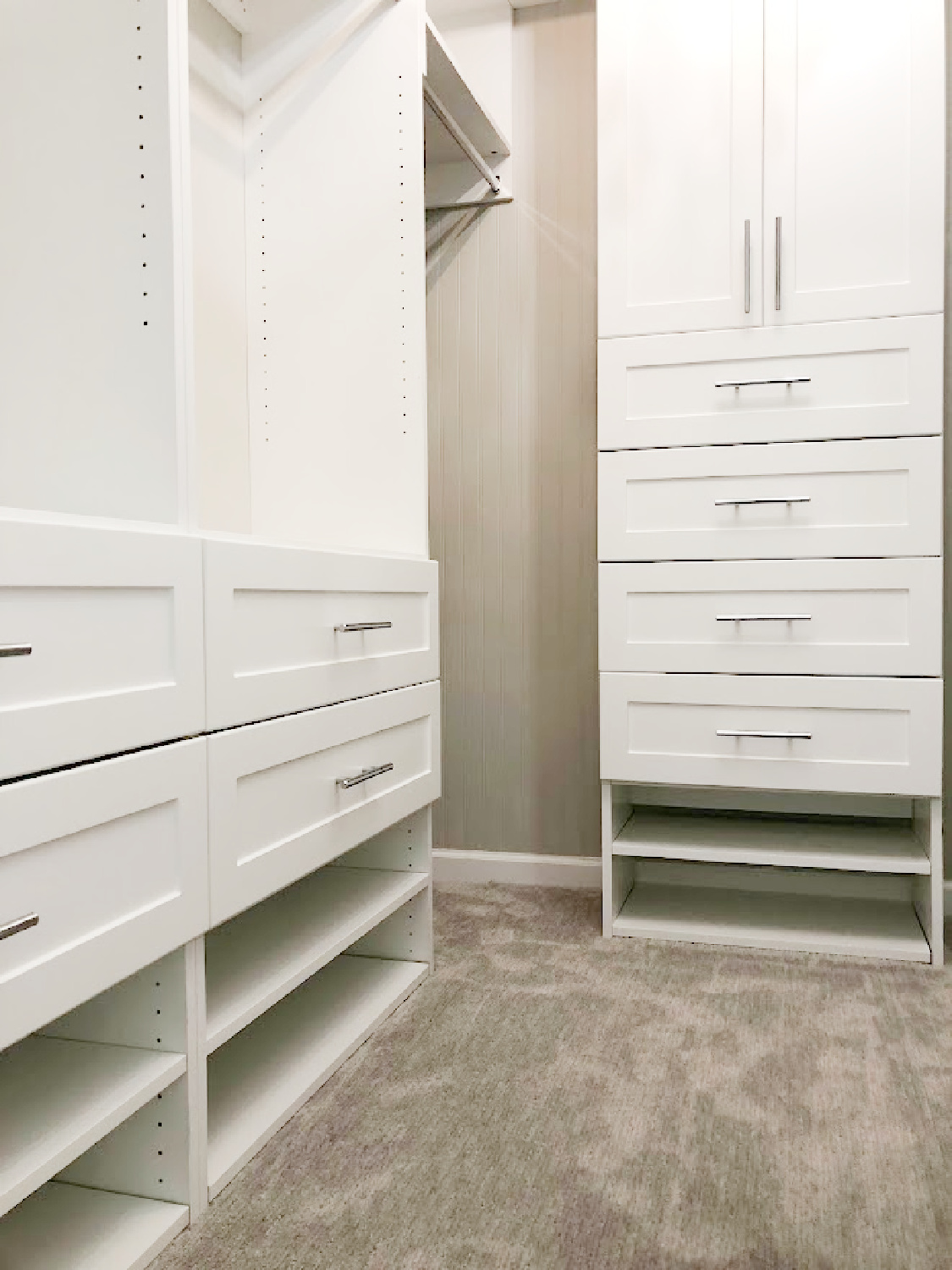 My Favorite Elements of the Closet DIY Makeover
1. Smart Custom Design Features for Each of Us
There's plenty to love, and for starters, Modular Closets came up with a wonderful design that addressed our specific needs. I felt confident right off the bat, knowing how much value the new design would add to daily life and for property value.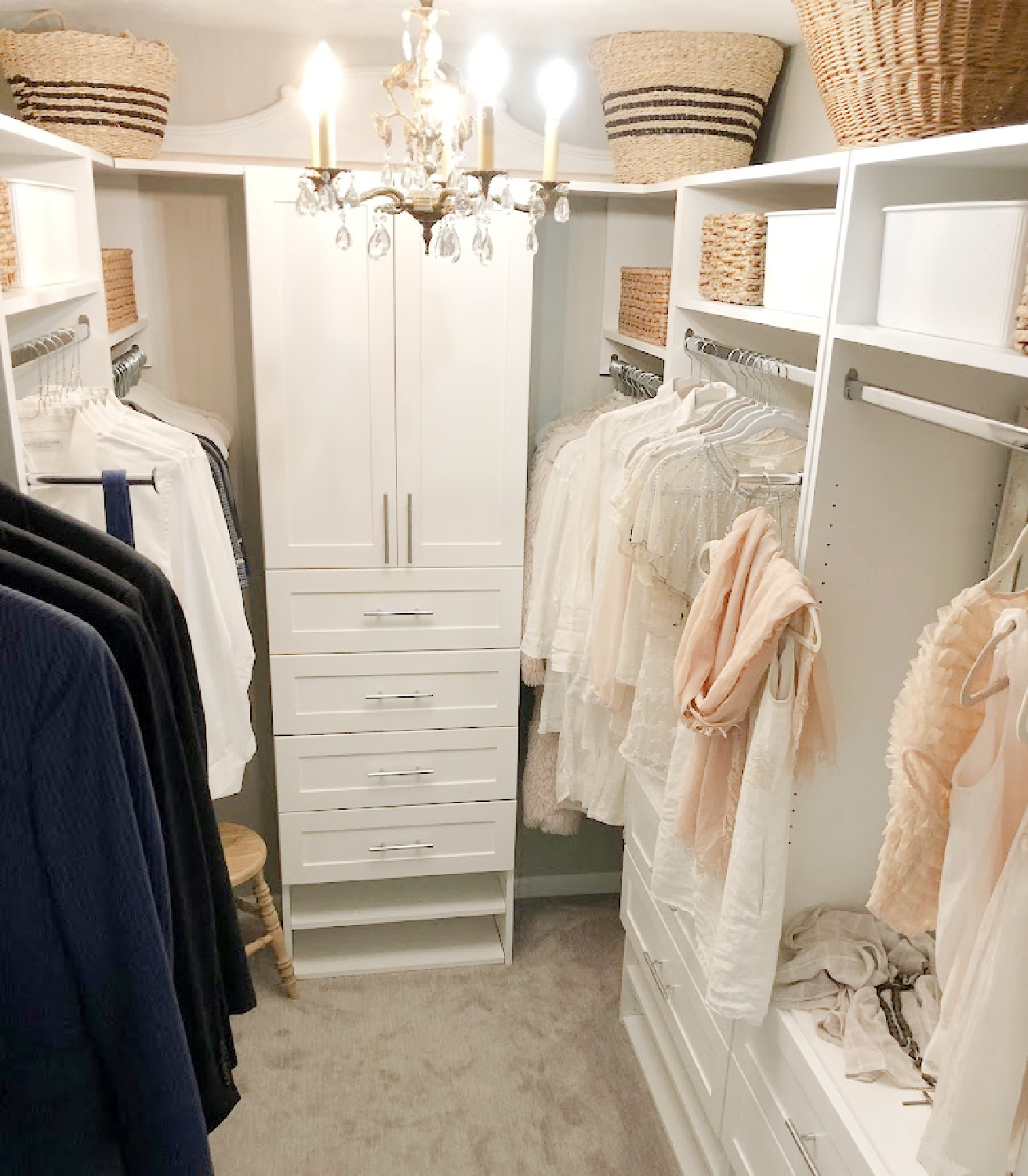 And what a difference utilizing vertical space and bringing in crisp, clean white made to the spacious feel from before: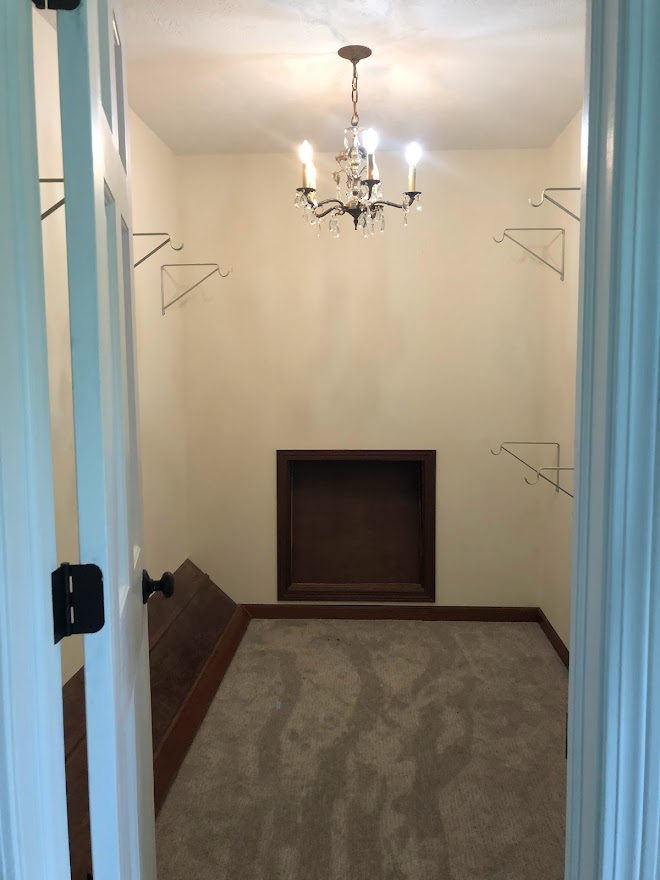 I love the symmetry of the design and how each side is customized for him and for me.
Closet Design Features on His Side
Here's his side on the left: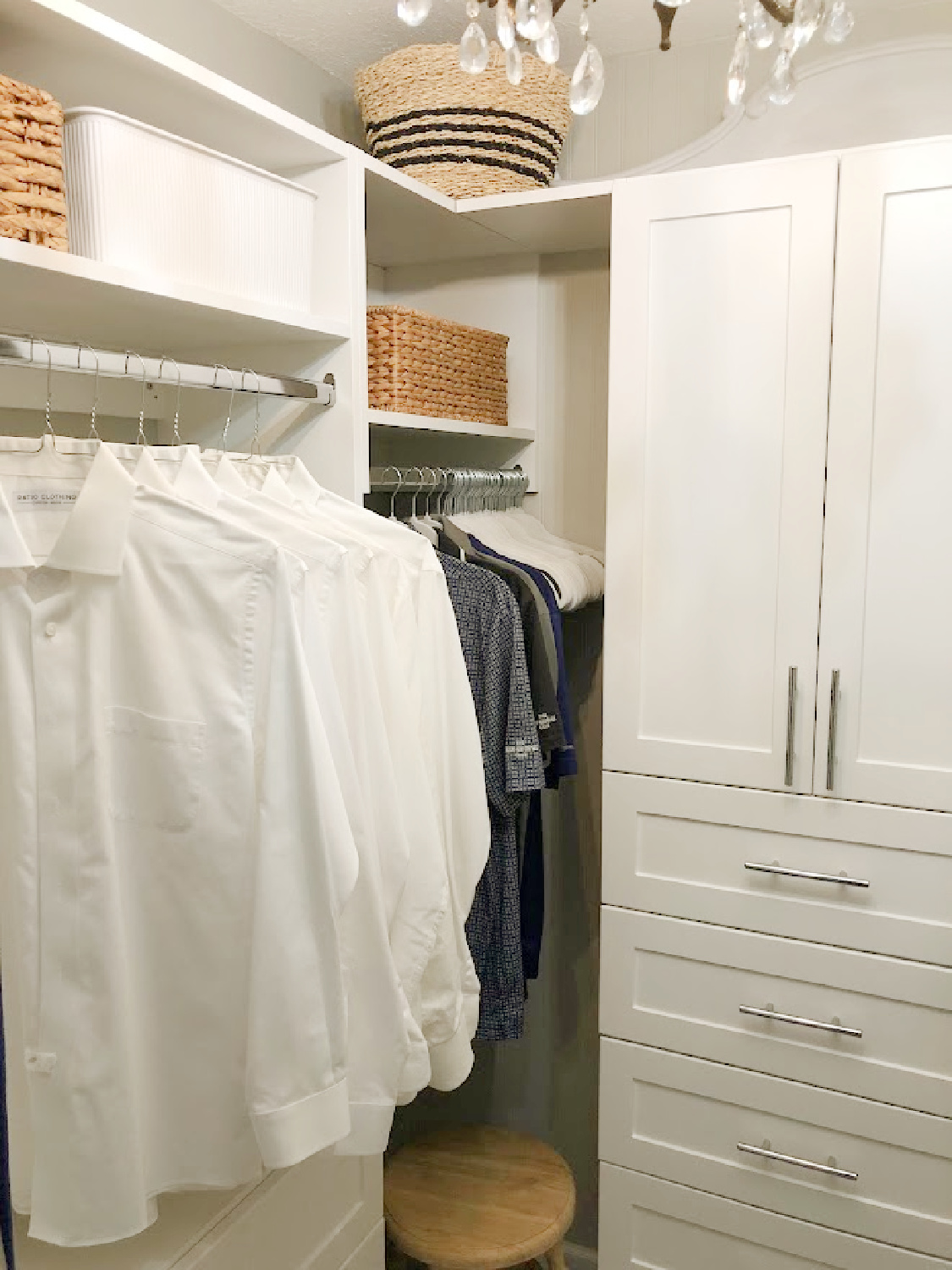 This sliding mirror pivots and is designed to fold inside the tower. It slides out like this: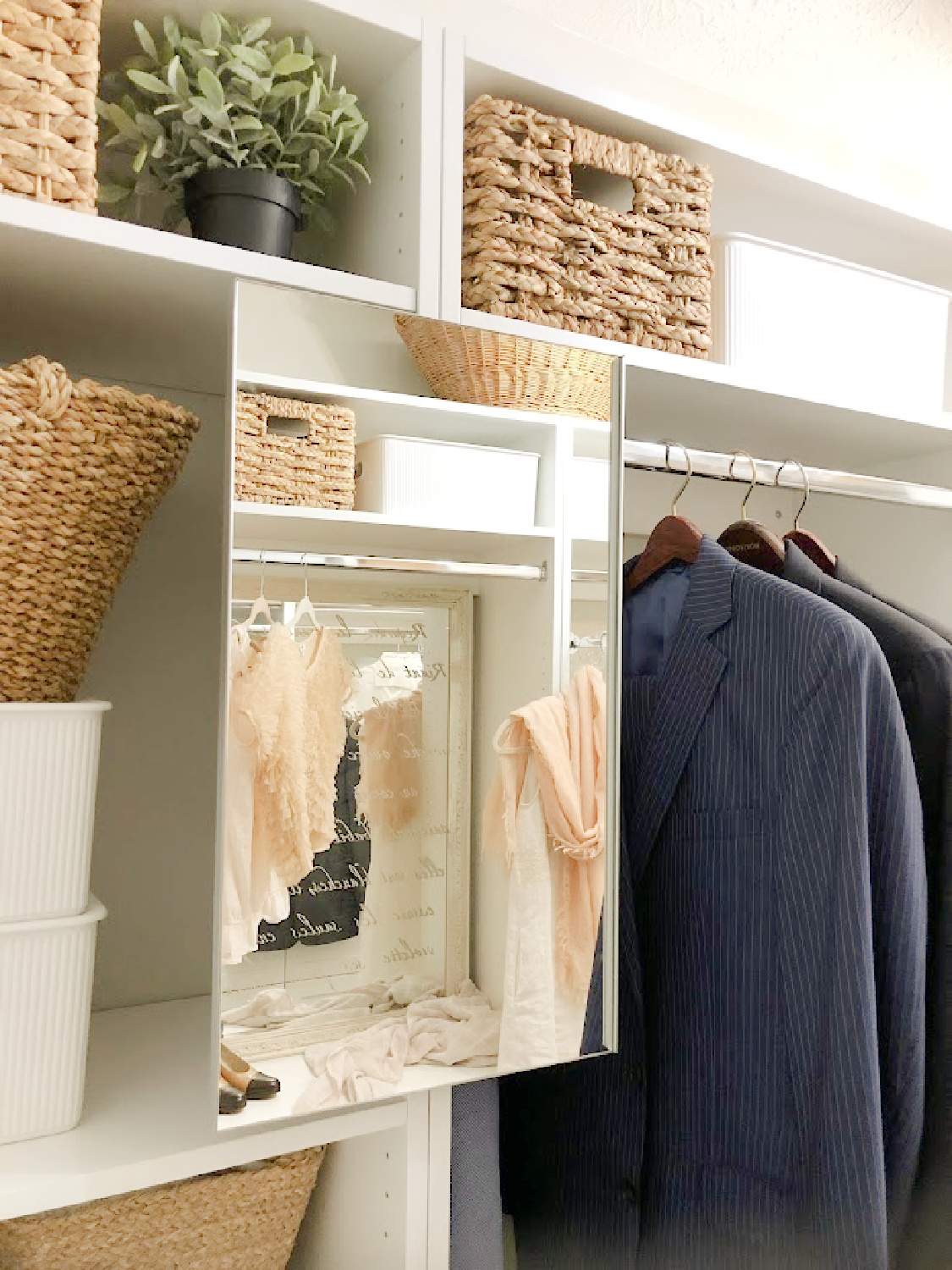 How cool is that?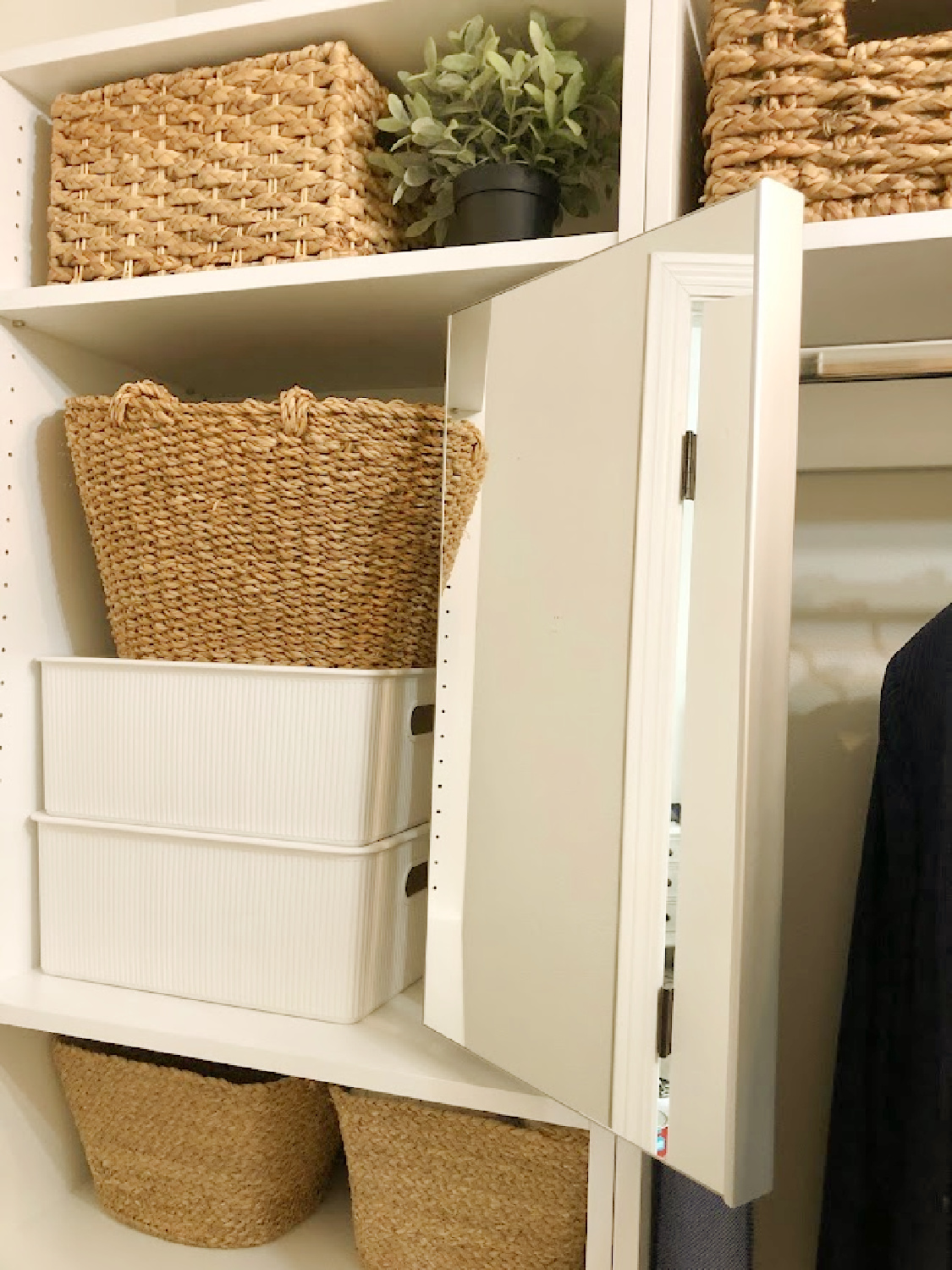 Here's how the mirror looks when it's out of the way: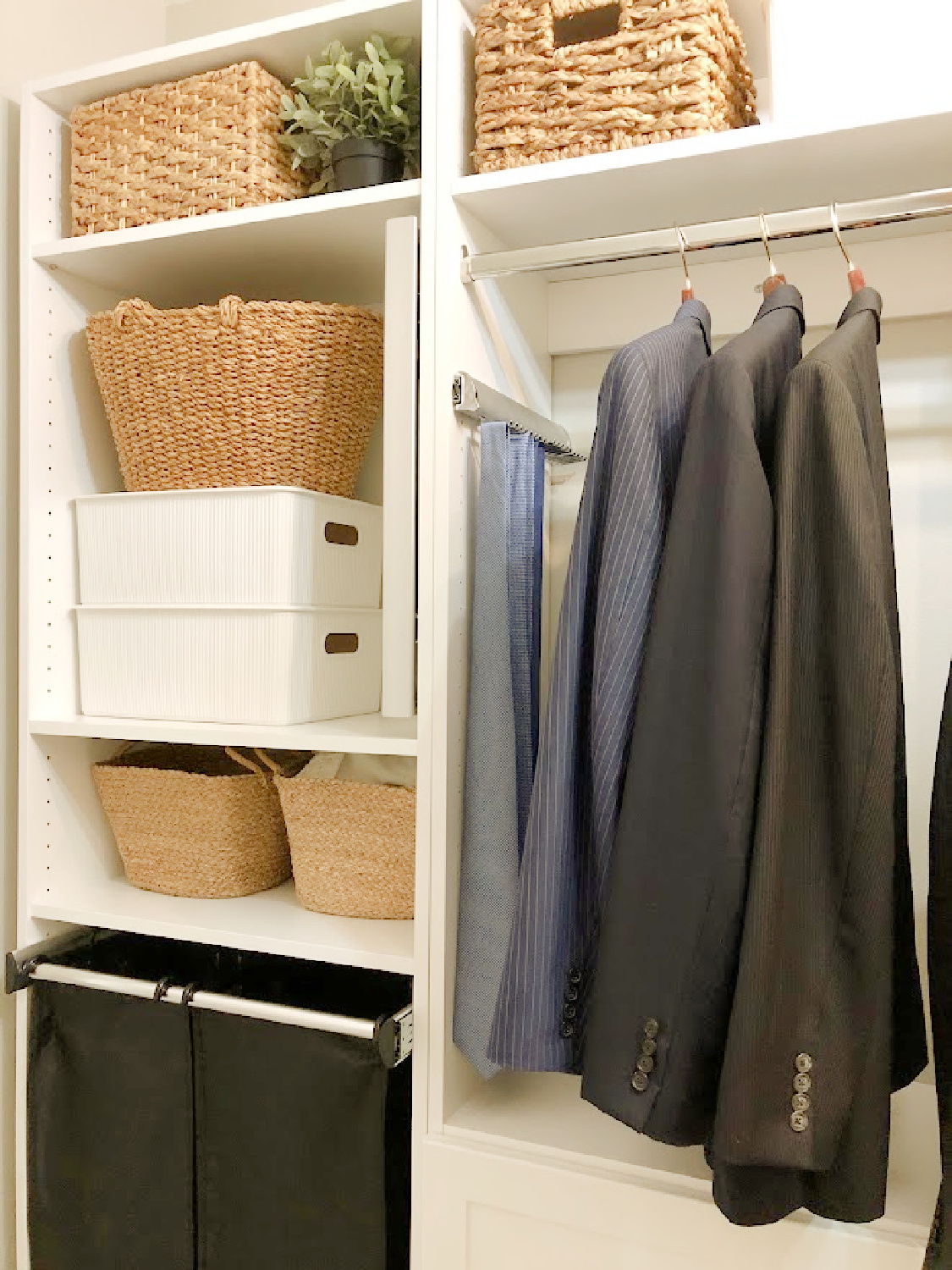 Genius! His only request for the design? A tie rack! You can see the tie rack above and then extended below: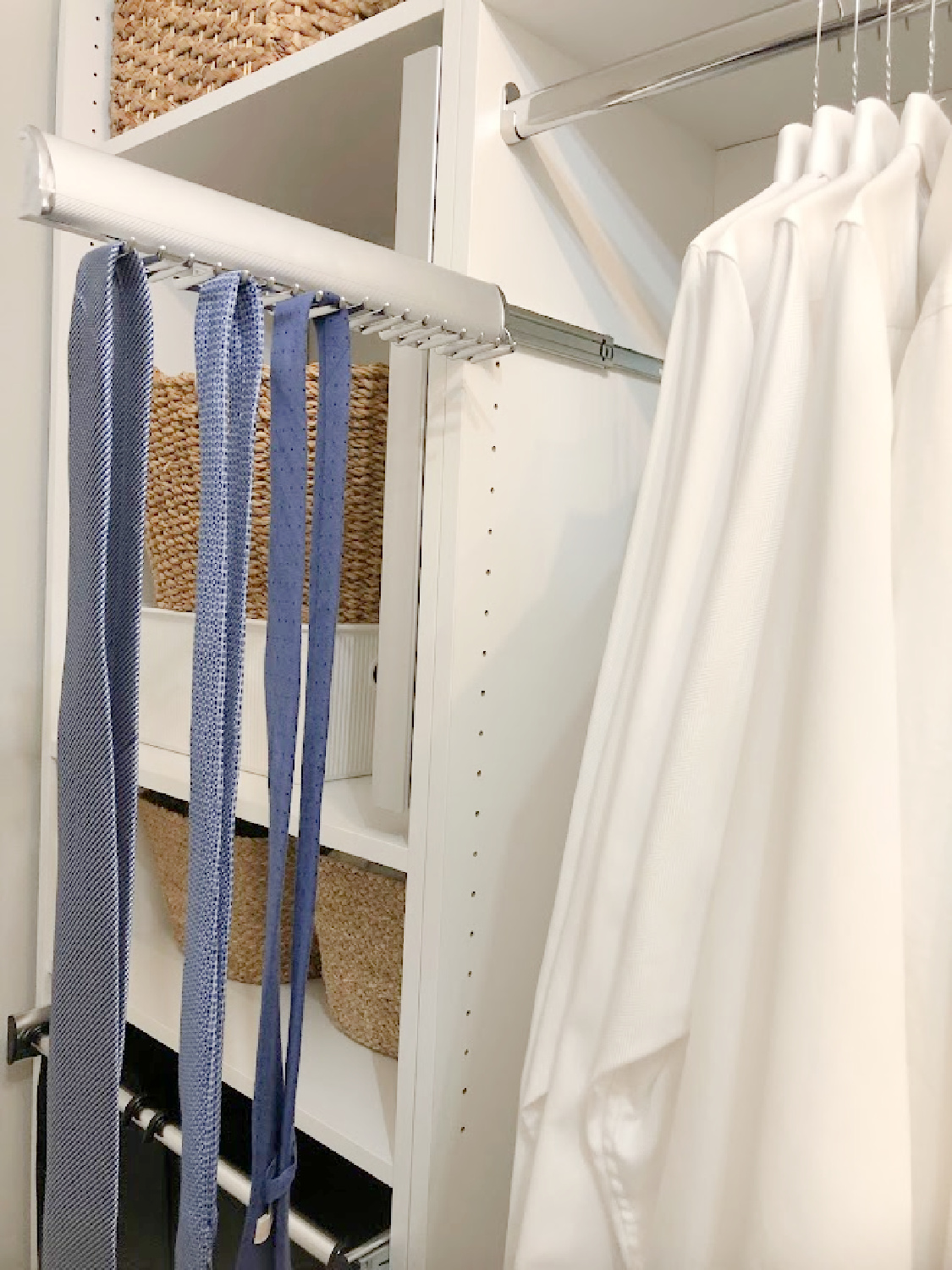 The Pullout Hamper With Removable Bags is located at the far end behind the door. The hamper slides out smoothly and is such nifty feature!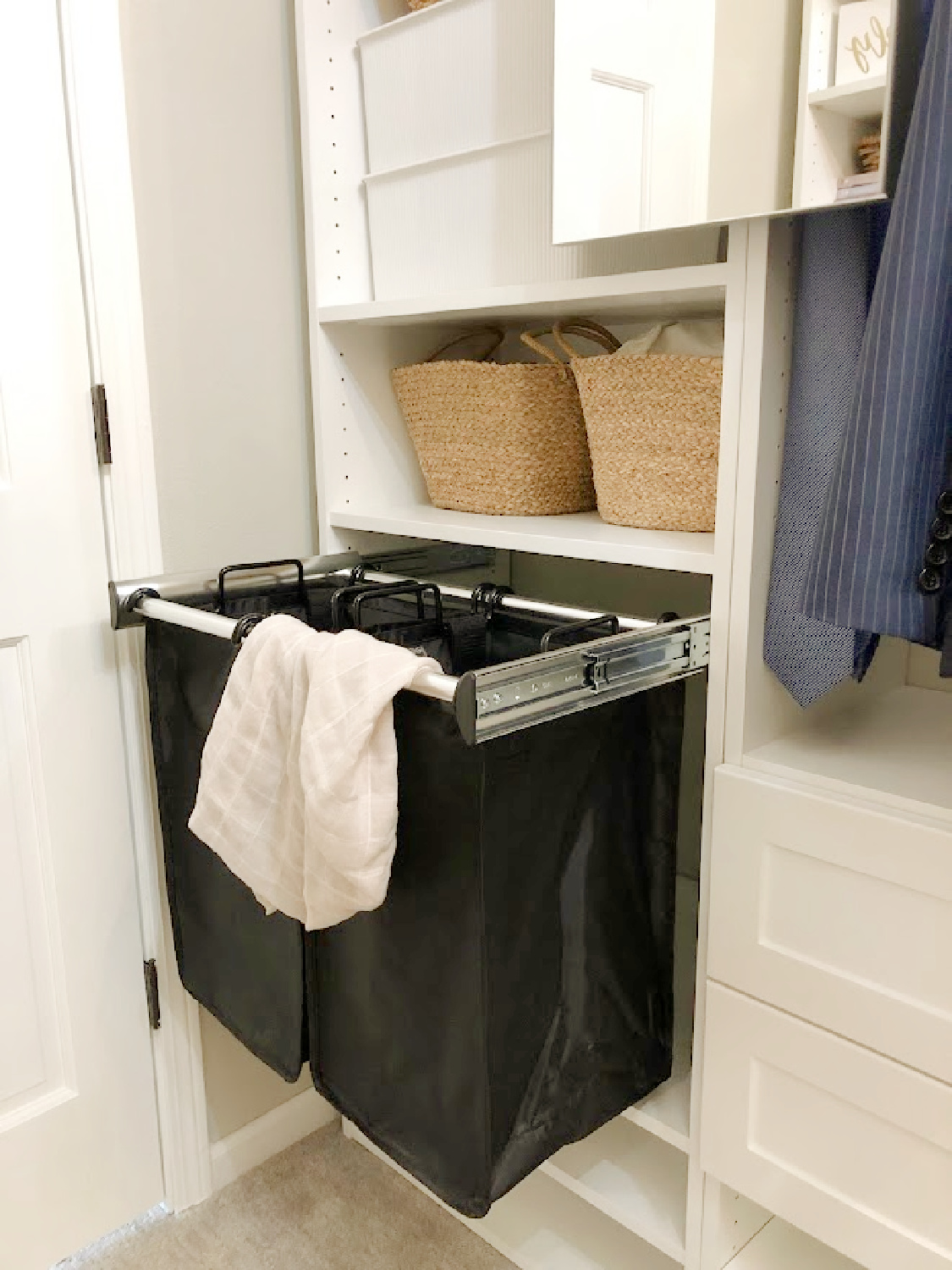 Closet Design Features on Her Side
The other side of the custom closet has the same modules so it feels very balanced. However, on the "hers" side is a tower with four drawers. I like drawers more than open shelving.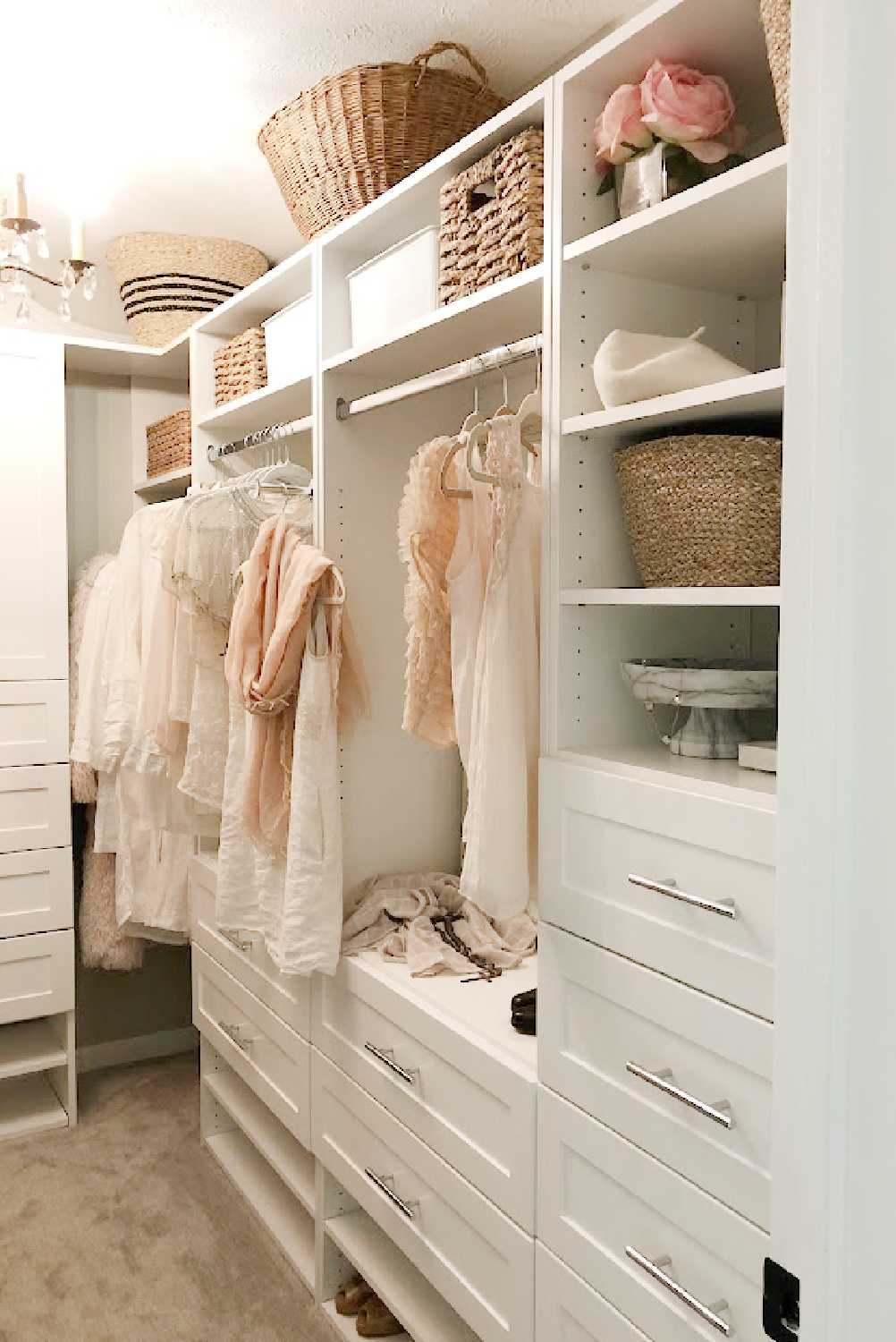 So I appreciate all of these drawers which glide silently and smoothly with soft close hinges.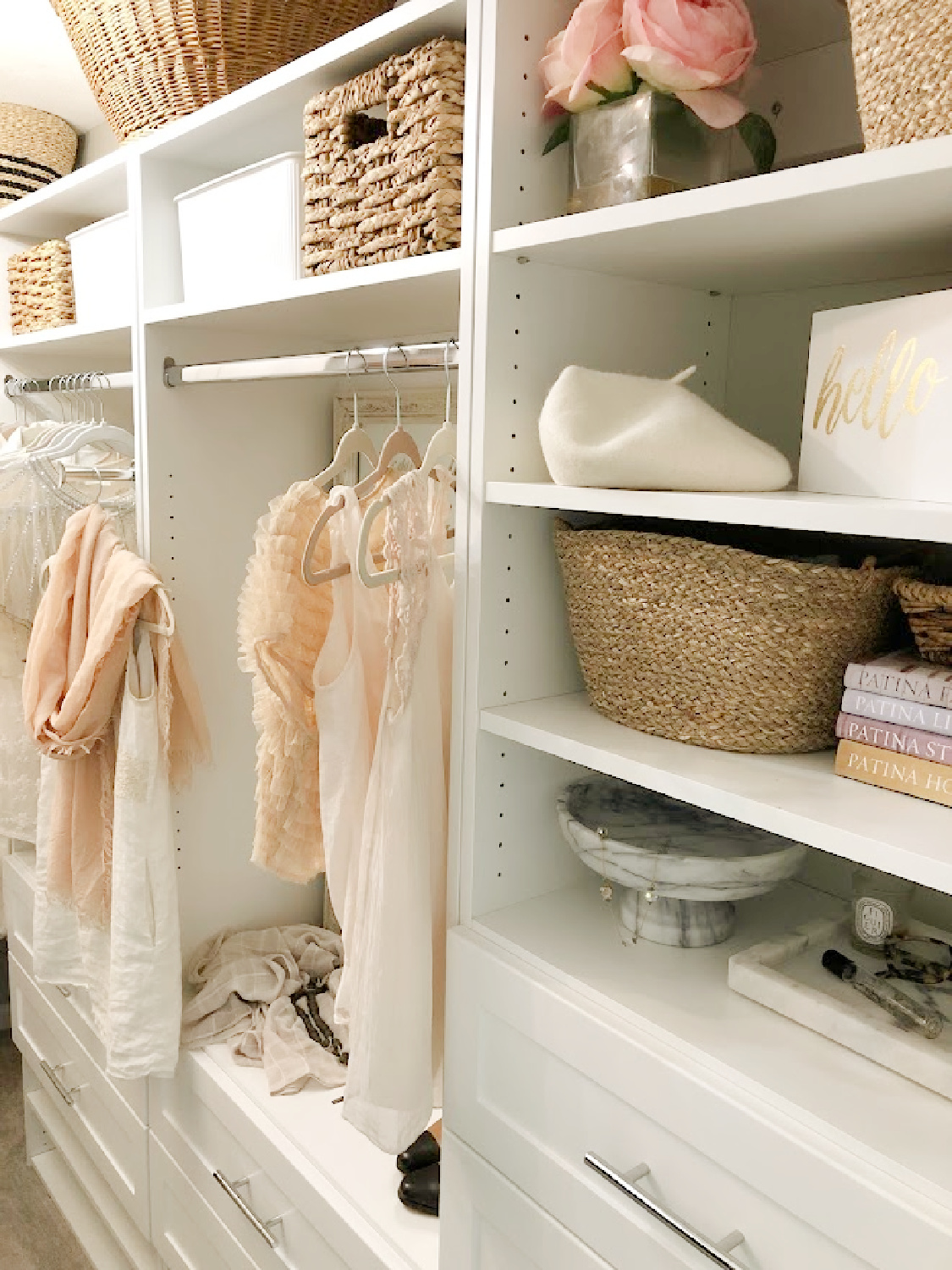 Each of us also has a closet valet which can hold up to 30 pounds of clothing on hangers. I love it because it feels like a luxurious touch and instantly turns your closet into a dressing room (or even a boutique!).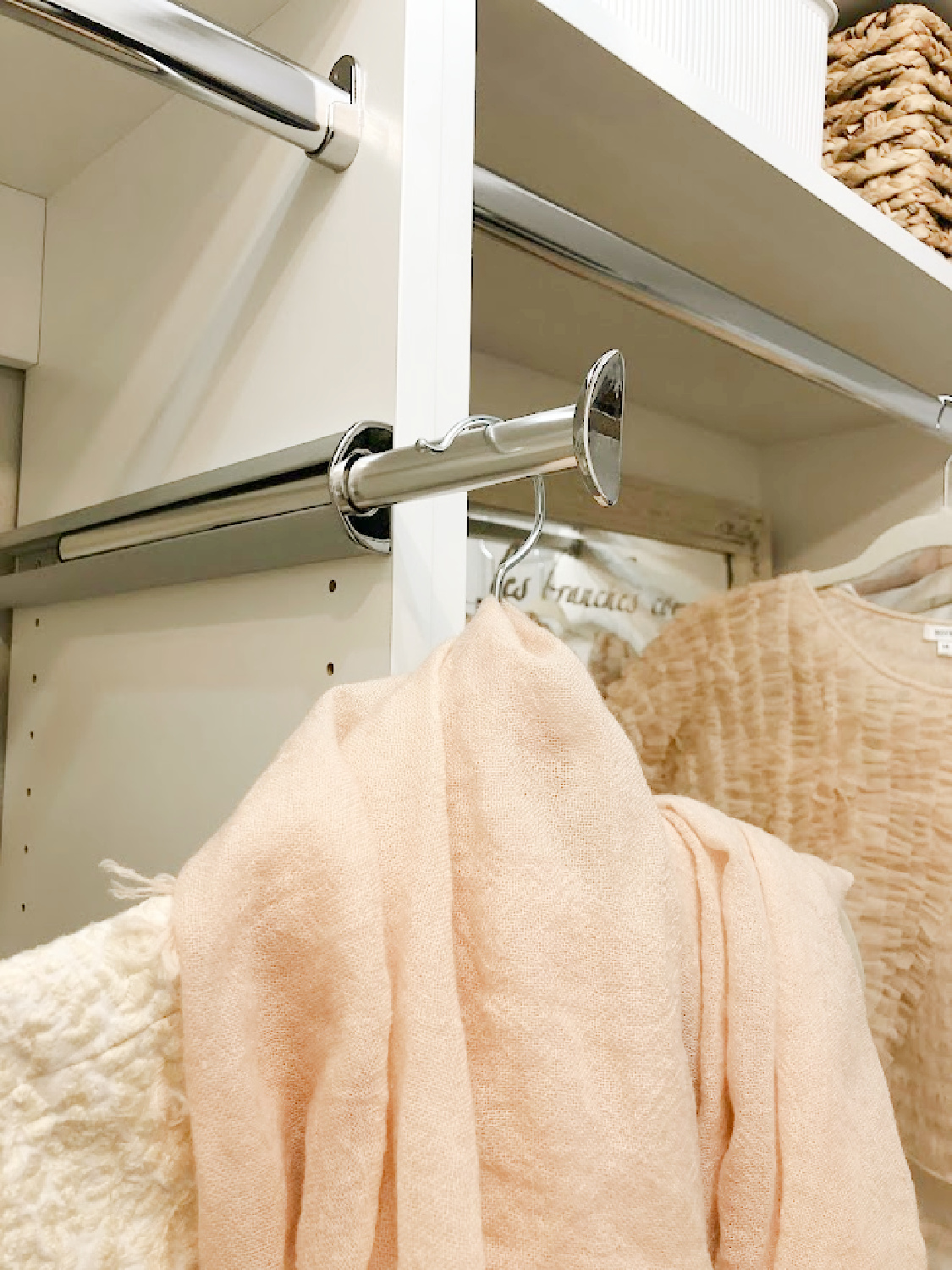 Remember my old mirror which I stenciled with a French poem for a quick DIY way back when (maybe 2010) when I started Hello Lovely? It has been in various closets of mine for many years so wouldn't you know it's just perfect here and doesn't interfere with hangers. Also, if you truly want a dressing room experience…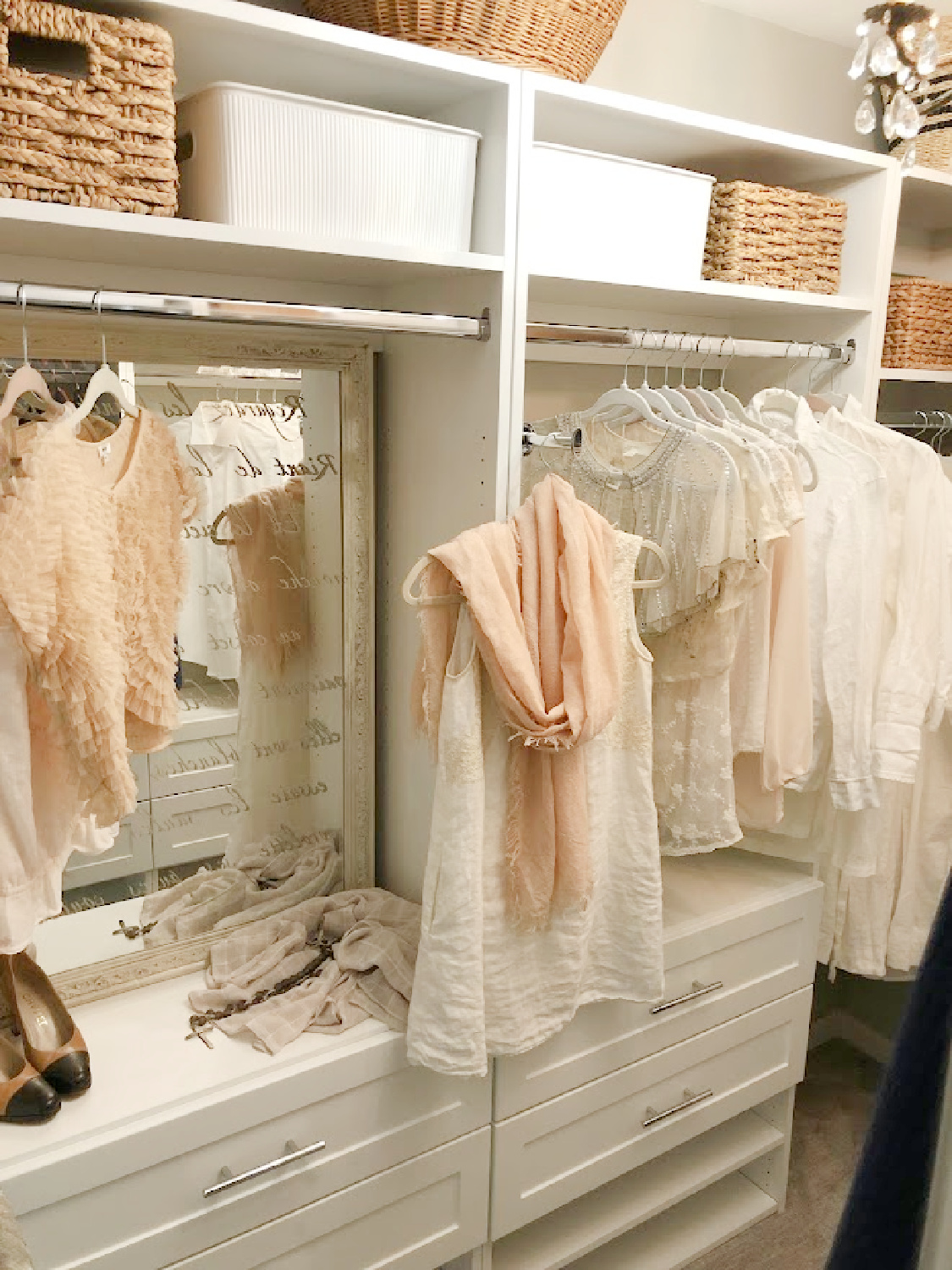 A simple vanity height stool can cozy up to the drawer base top should you want to apply makeup or skincare: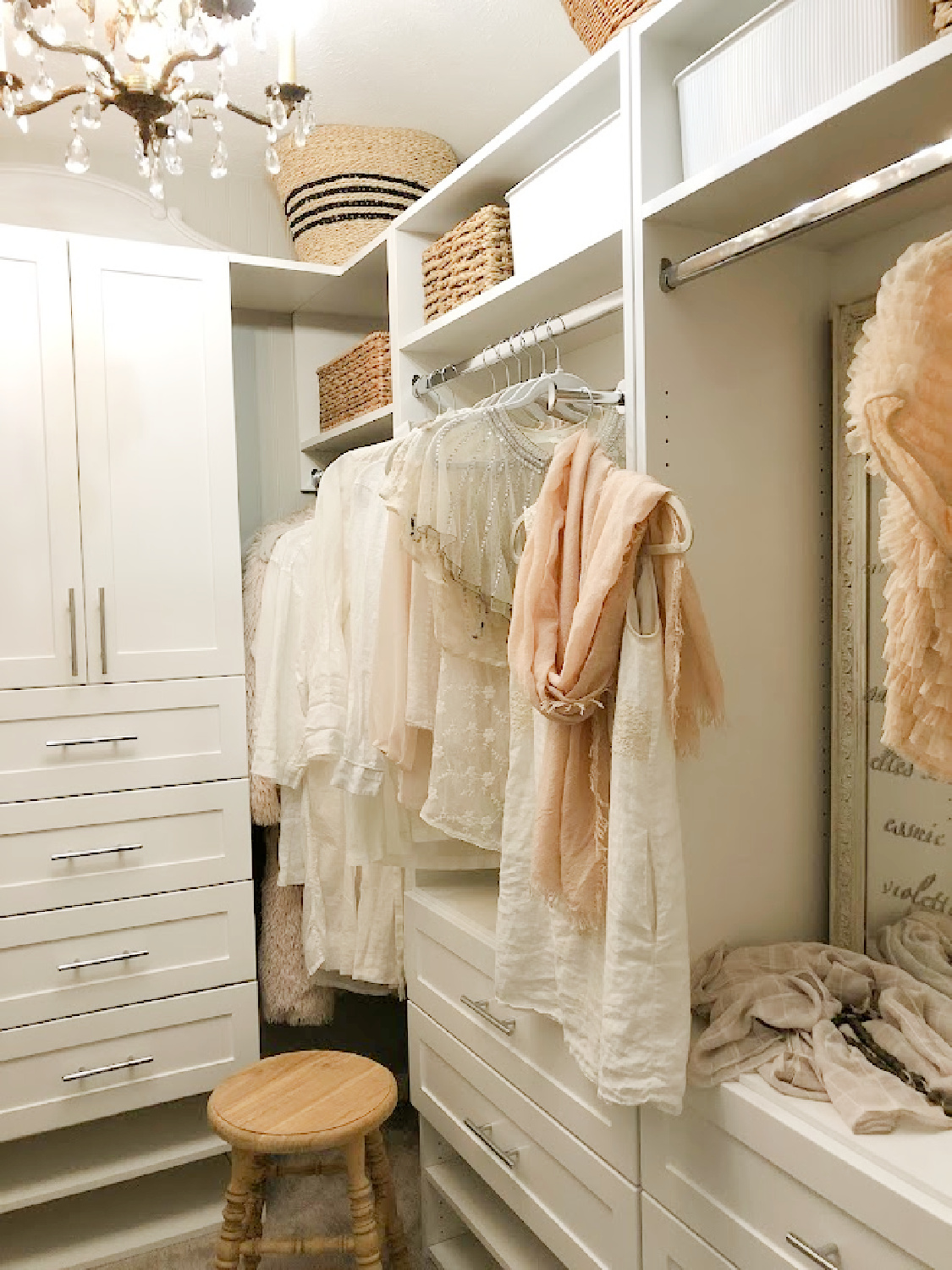 I love those unexpected little wins! Here's another sweet custom feature: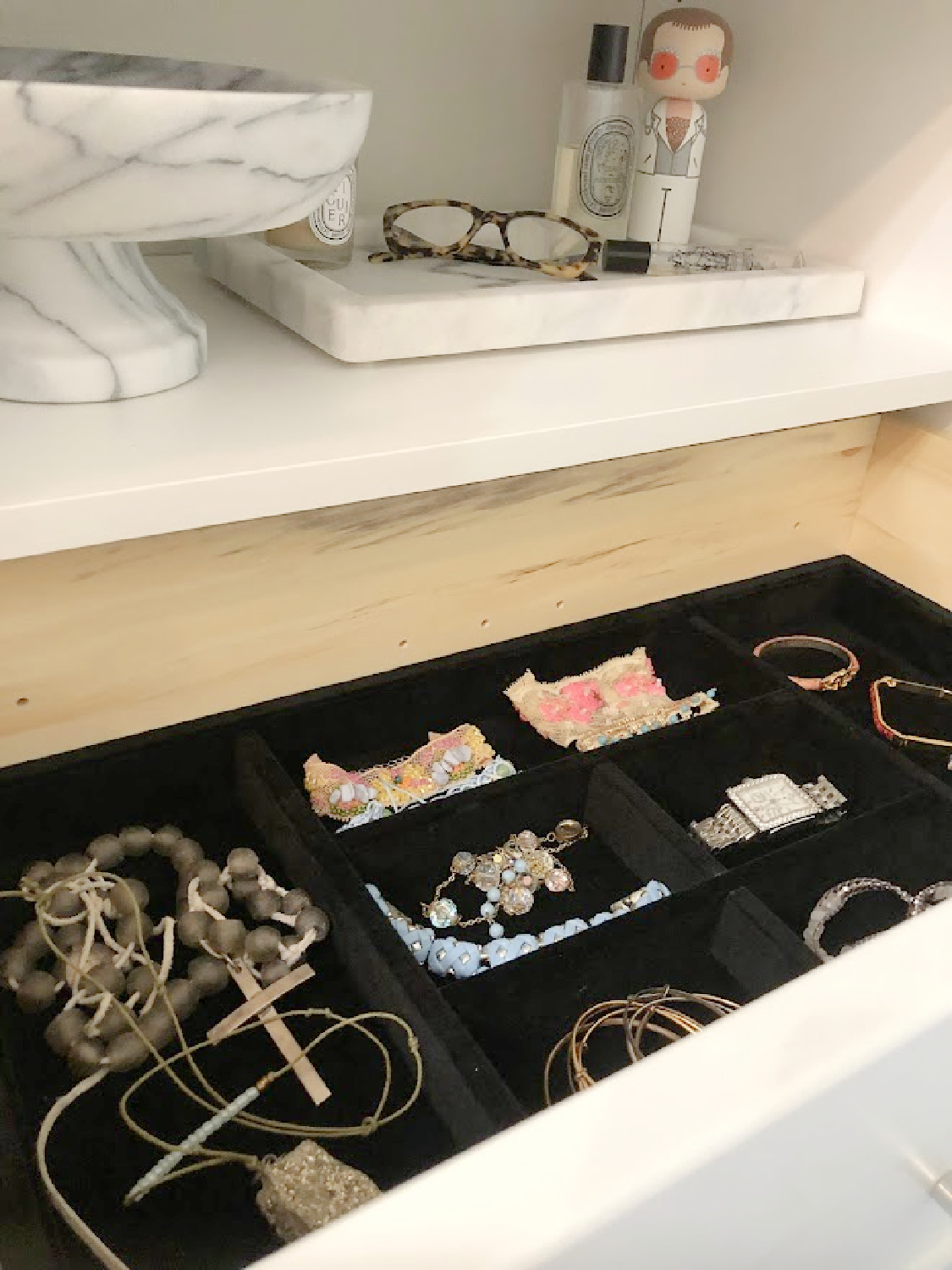 The jewelry tray fits in the drawer perfectly and makes even the humblest pieces feel special.
I love the cabinet doors on the tower on the back wall because they conceal what could be messy stacks of my husband's t-shirts and jeans. When you open the closet door, you see a Shaker style armoire rather than open shelves of disorder.
Back to the "her" side…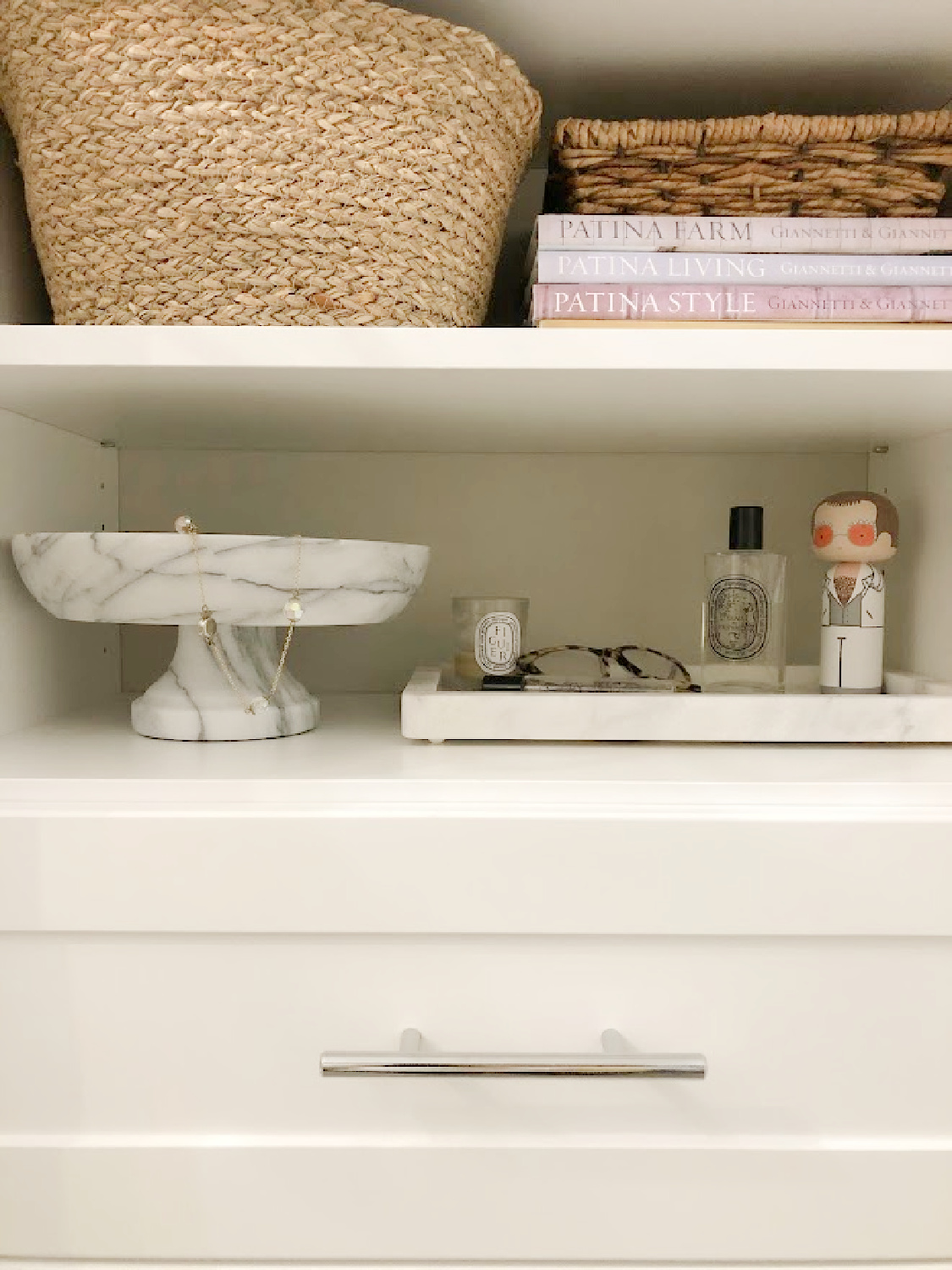 I love the ability to create "moments" on shelves with belongings and treasures. Seeing Elton John, white marble, and seagrass baskets feels uniquely like home to me.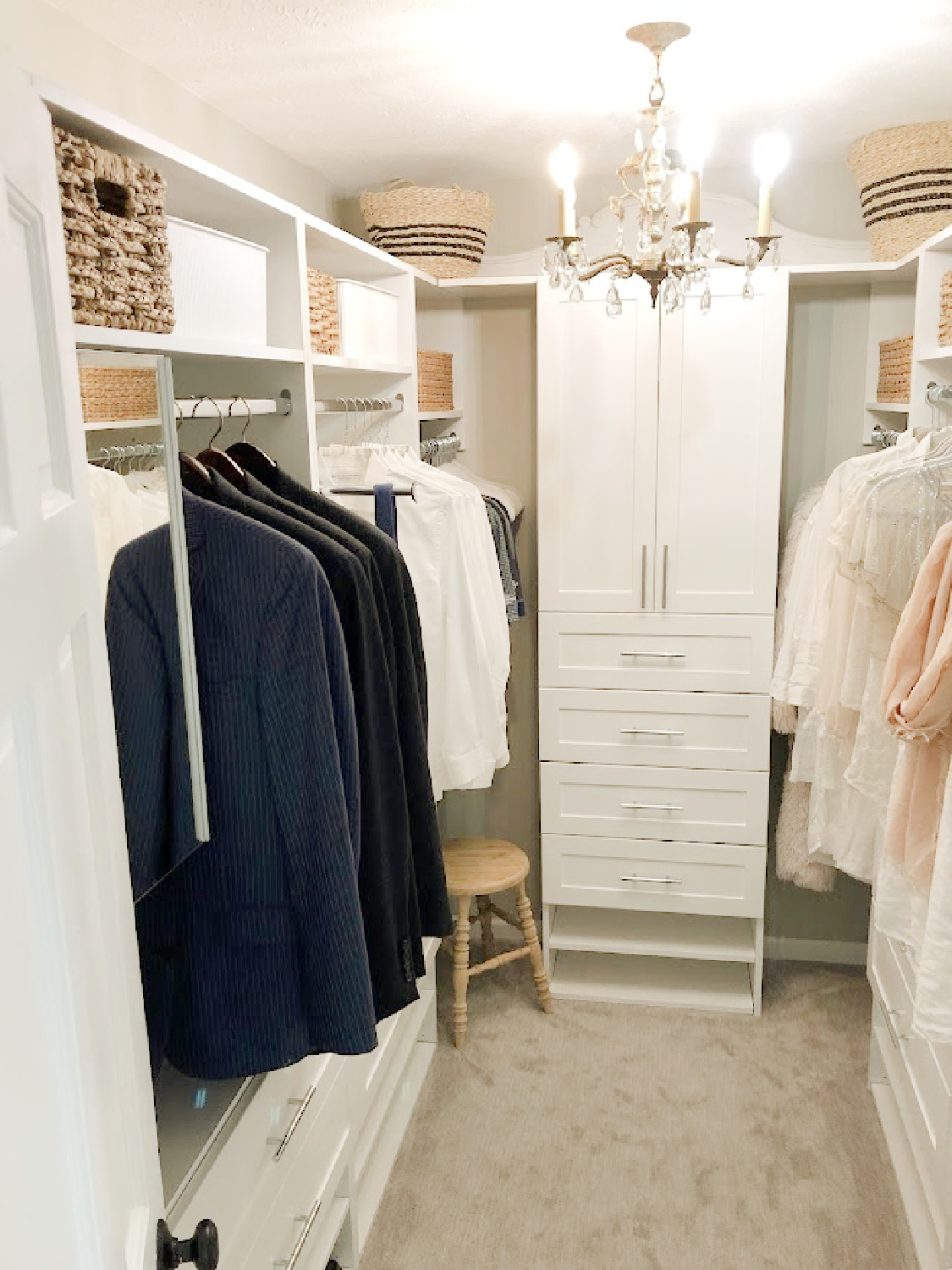 2. These Particular Closet Modules Don't Need to Be Hacked
I mean, you can definitely add crown molding, fluted wood edges, and ornamental flourishes if that's your jam. But you need not trim, hack, or trick out the towers if you don't feel like it.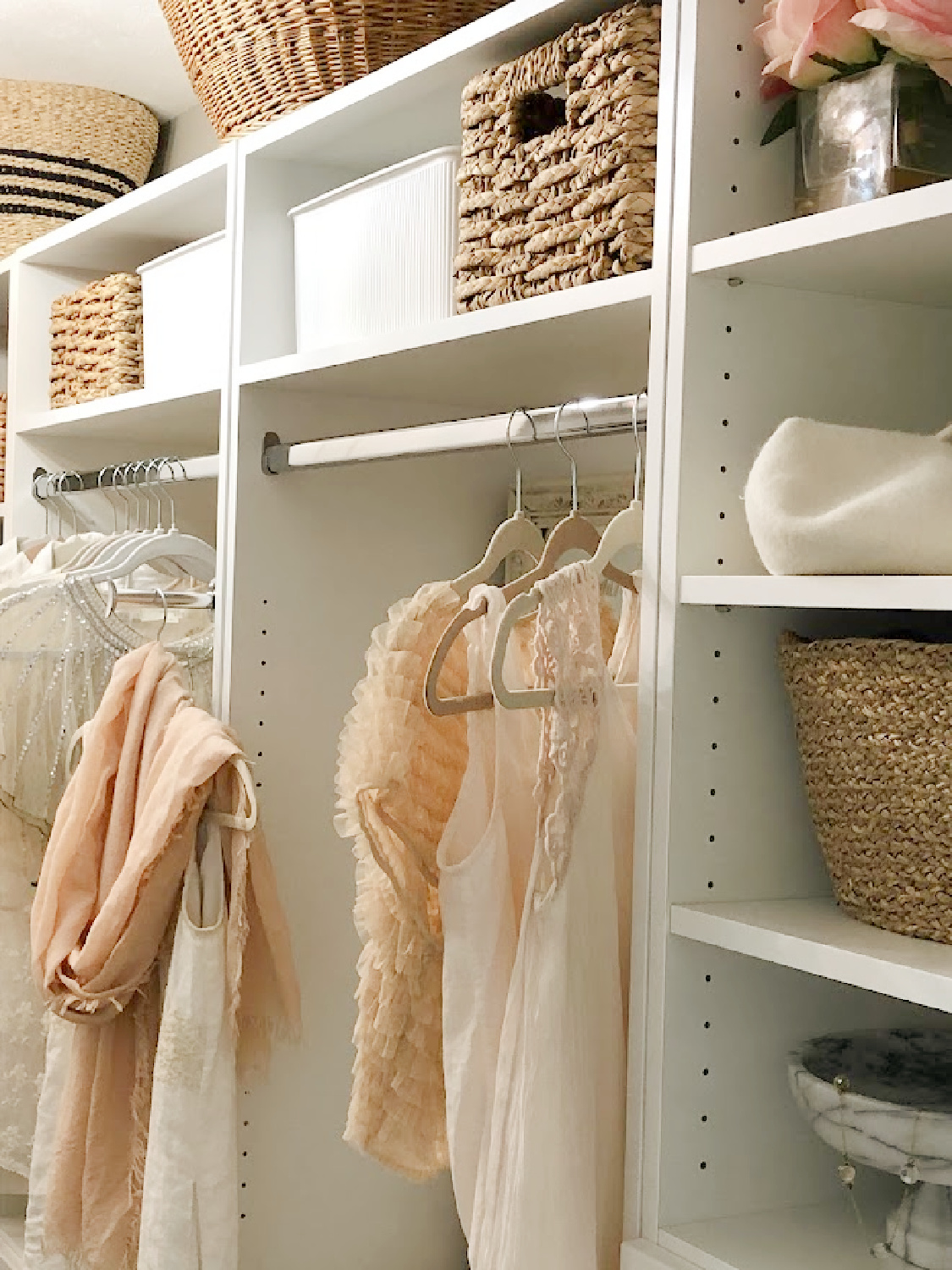 The material for the closet modules is made from top-grade and high-density wood. Minimal can be lovely for a closet which can be clutter-y anyway. Shaker design just lends itself to simplicity without fussy add-ons.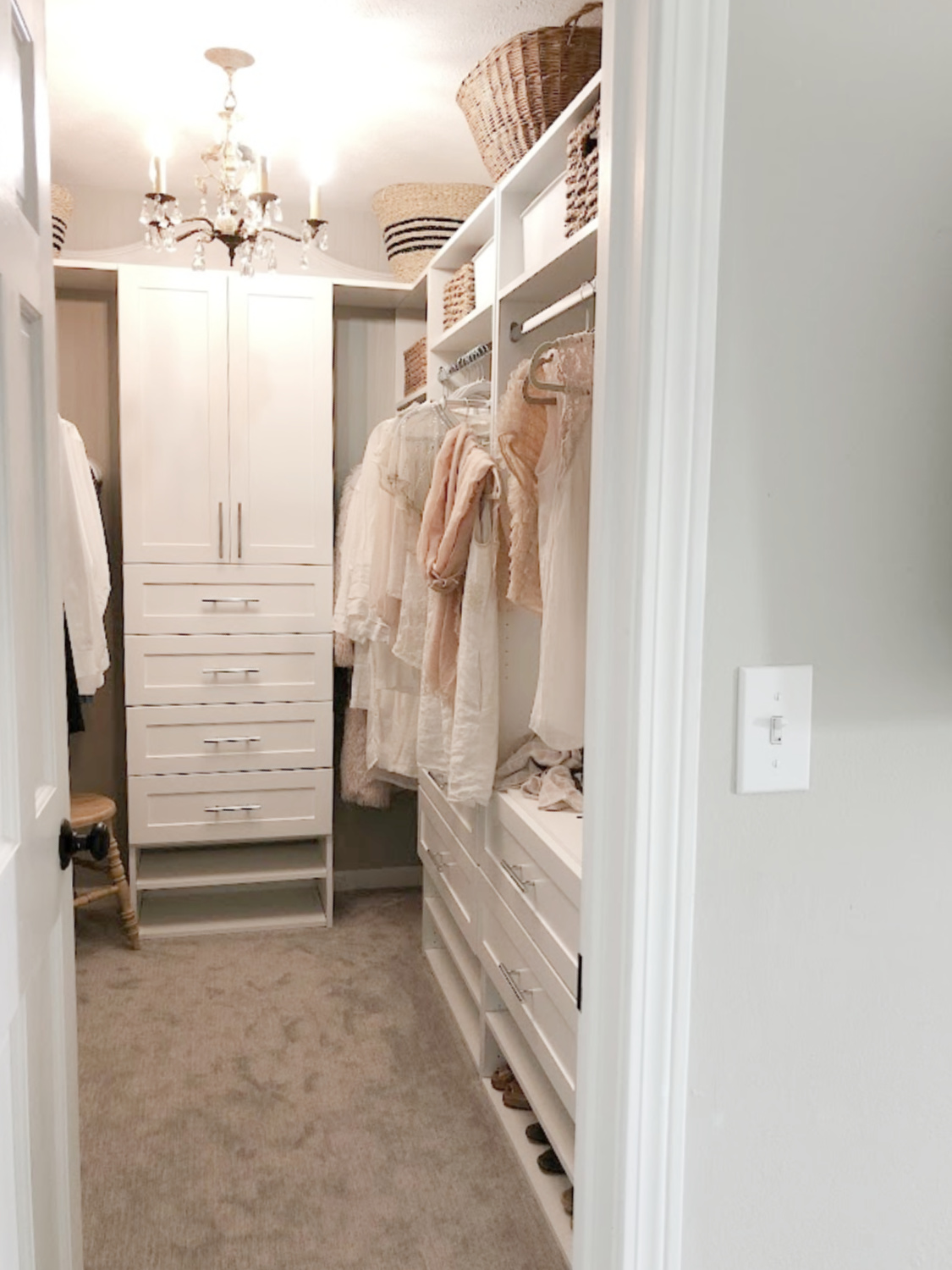 That said, you can have so much fun customizing the closet systems with personal touches.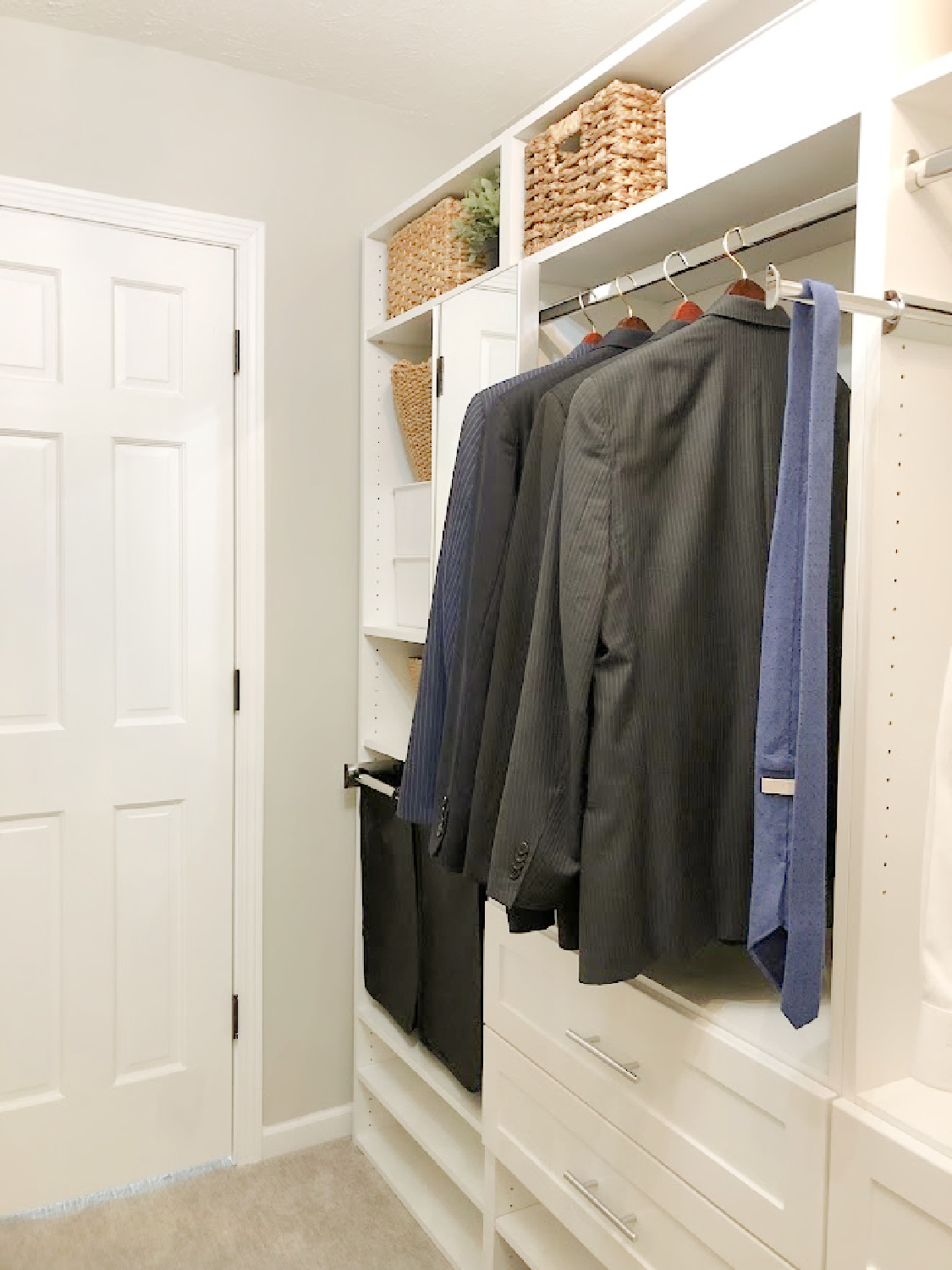 I love the mix of natural woven baskets to break up the sea of white and corral items on shelves. If you're a fan of fabric bins, they would be perfect too.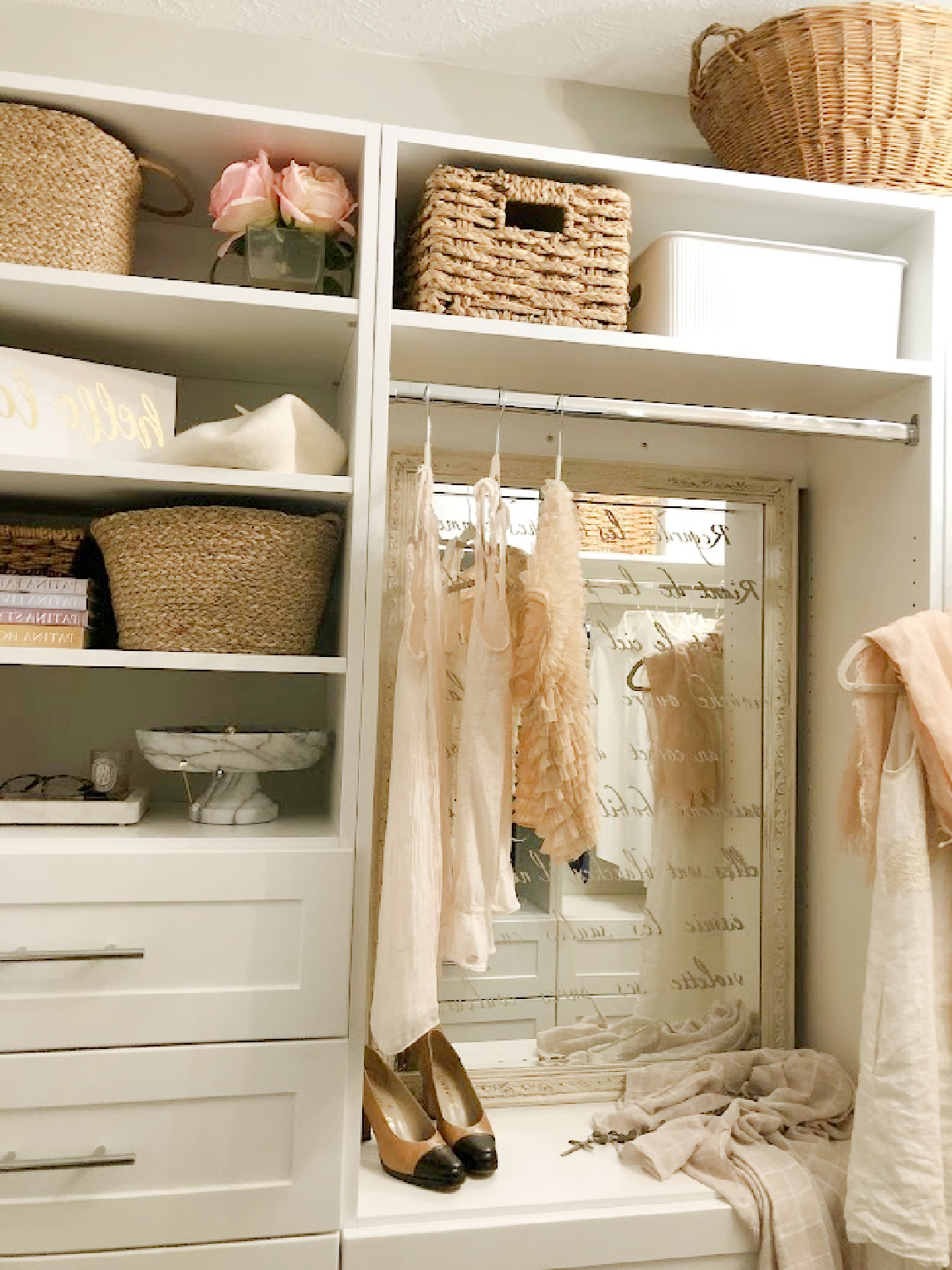 3. The Investment Will Serve This Bedroom for Many Years
All of these custom features and materials add up, and if you're on the fence about the value, I hear you. Many folks prefer to spend on clothes, bags, and shoes rather than closet storage for them. But designer bags won't improve your home's value or set it apart on the market.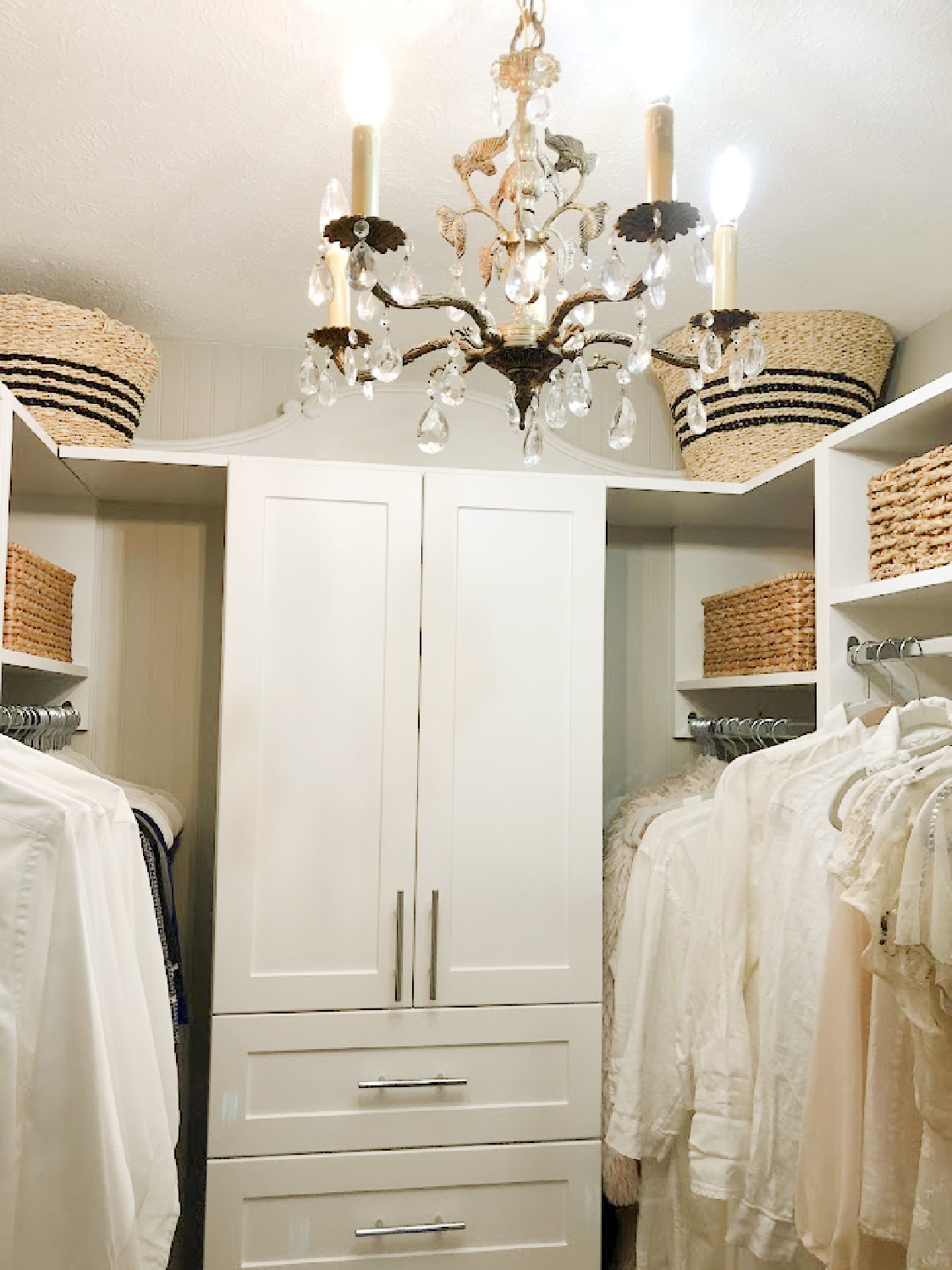 Since I am sensible, I love the fact that we can enjoy this closet now while improving our home's value. My confidence comes from listening to real estate expert advice and anecdotal accounts.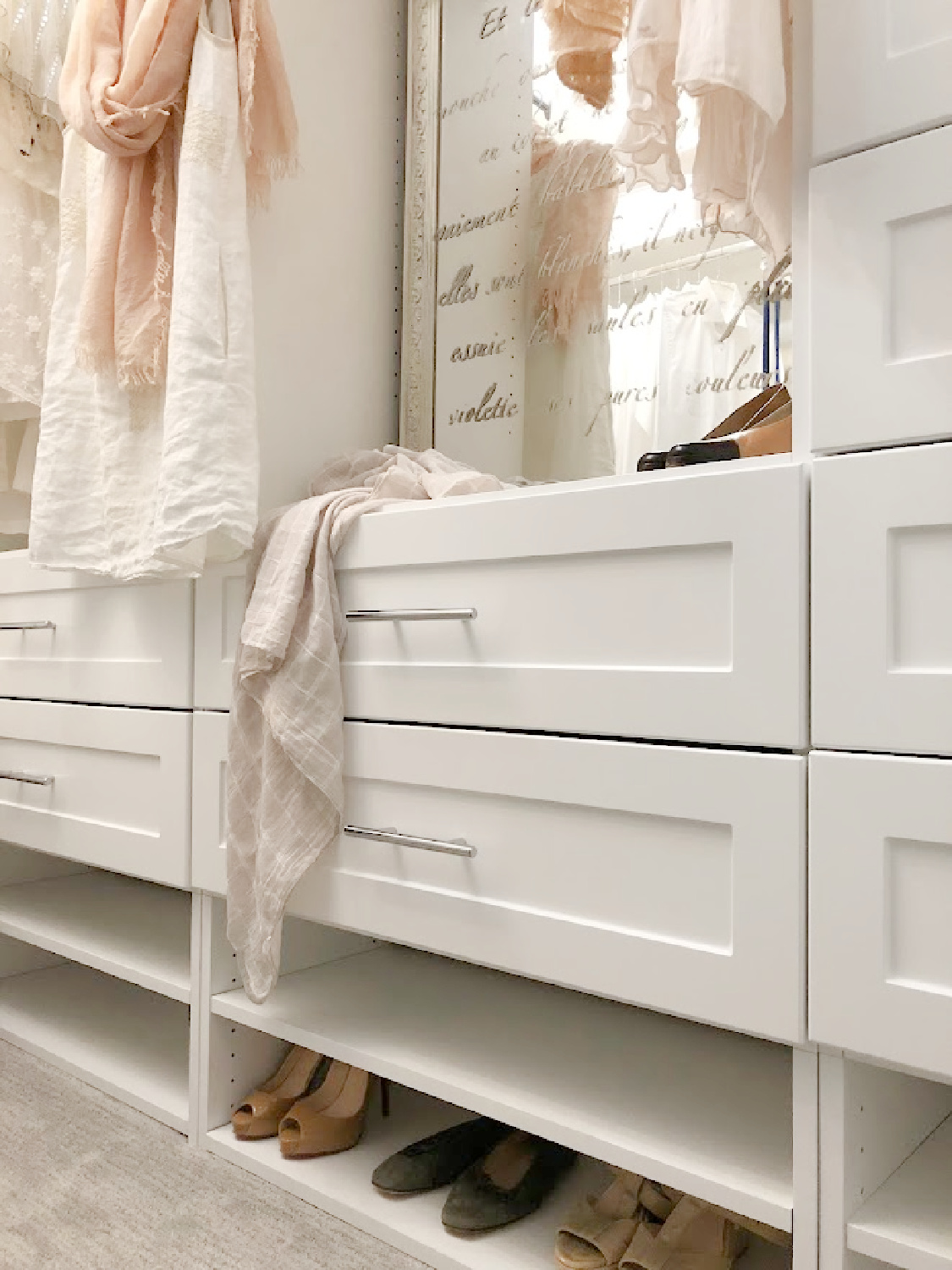 I have never heard anyone complain about having too much storage in their home.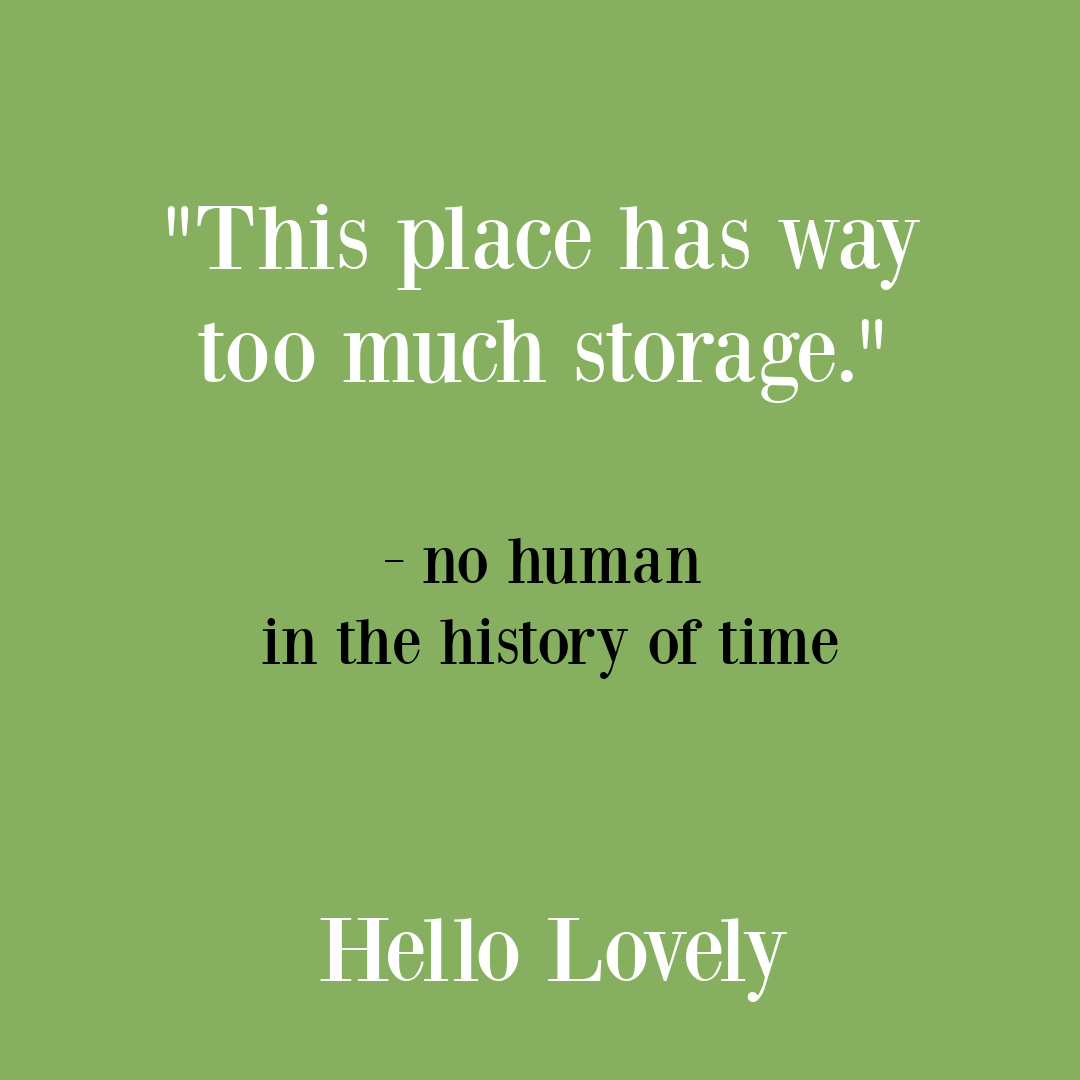 It's not just the percentage value of the initial investment you're likely to recoup when selling. (Home experts seem to agree it's more than half for a closet upgrade). But it's the value added (and stress averted) when your home sells easier and more quickly in a competitive market.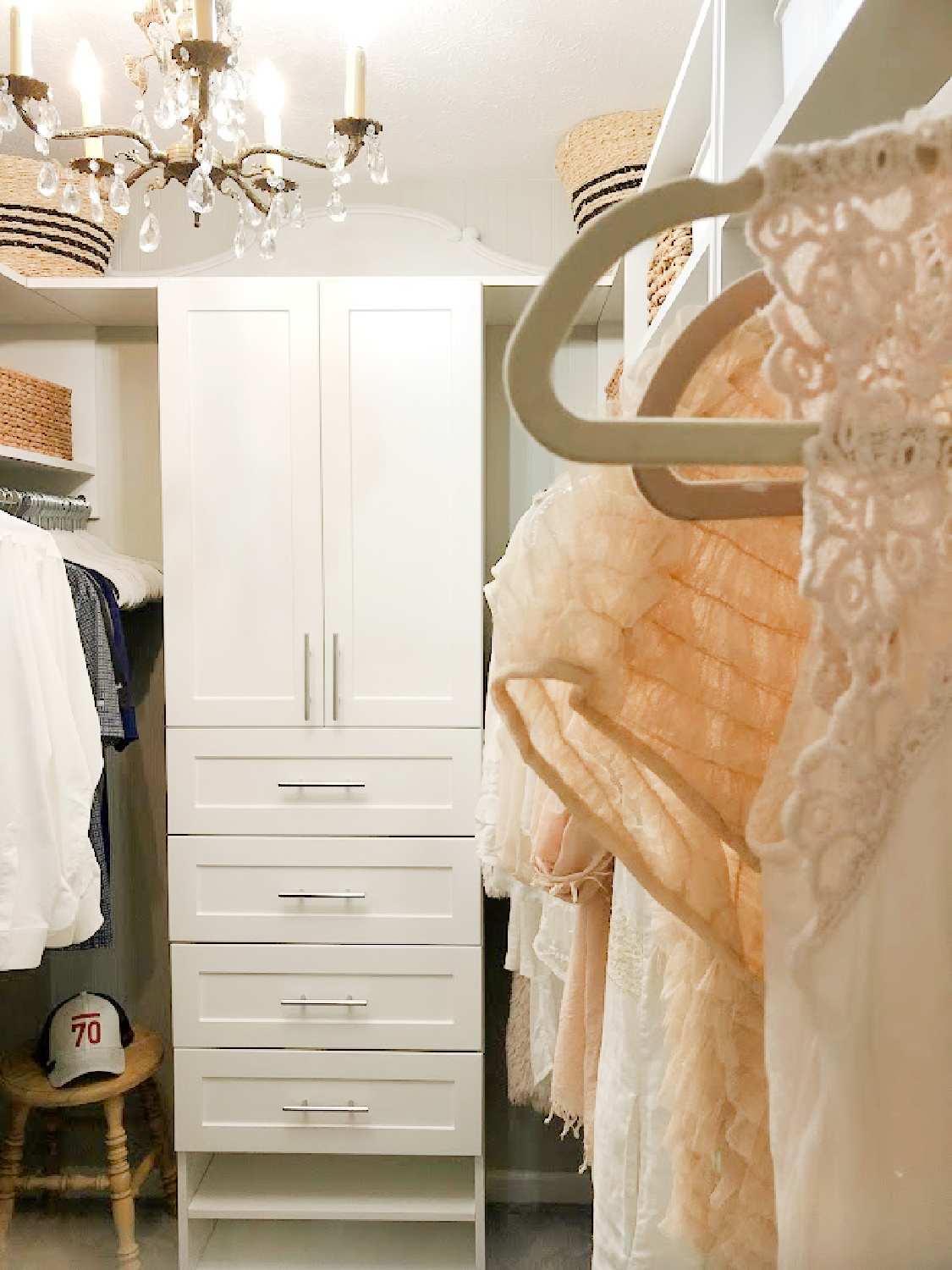 Bonus Tips for a Successful DIY Closet Design
If you're working with Modular Closets or a closet designer, make sure to double-check your measurements. Fractions of inches matter in the biz of closet design! You want to be sure the design will work with your space, and since the components that will be shipped are heavy and cumbersome, you don't want surprises at time of install!
Take time to be mindful before you design anything about what your specific needs are. My closet design is not going to suit someone else with a different wardrobe, organization style, and preferences.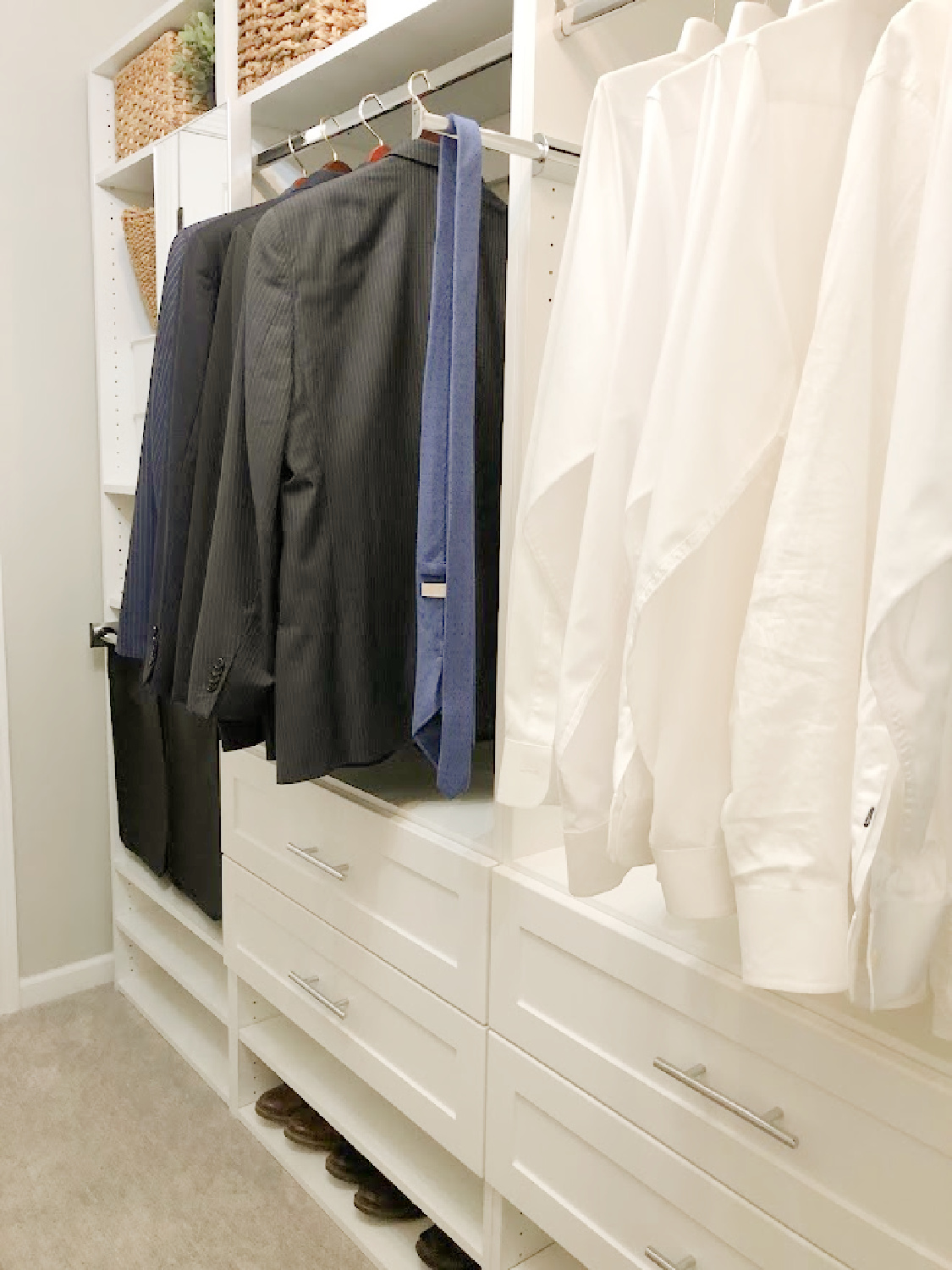 Get clear about particulars such as how many hanging dresses you'll store and the number of items across various categories (hats, shoes, bags, jewelry, folded clothing…).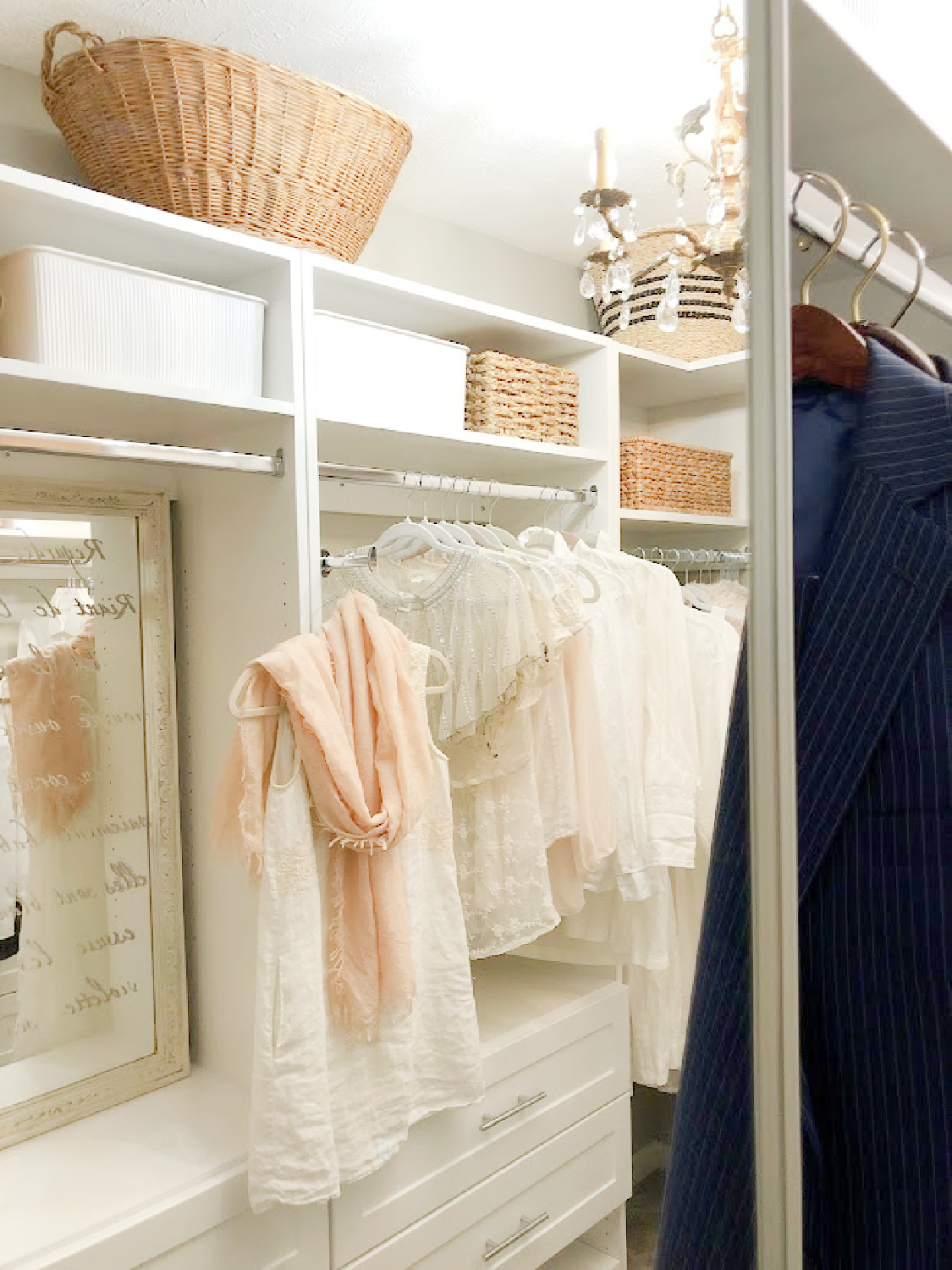 So thankful to MODULAR CLOSETS for supplying product for this DIY and for the opportunity to partner with an amazing brand. Their excellent designers, customer service, and high quality materials streamline the whole creative process.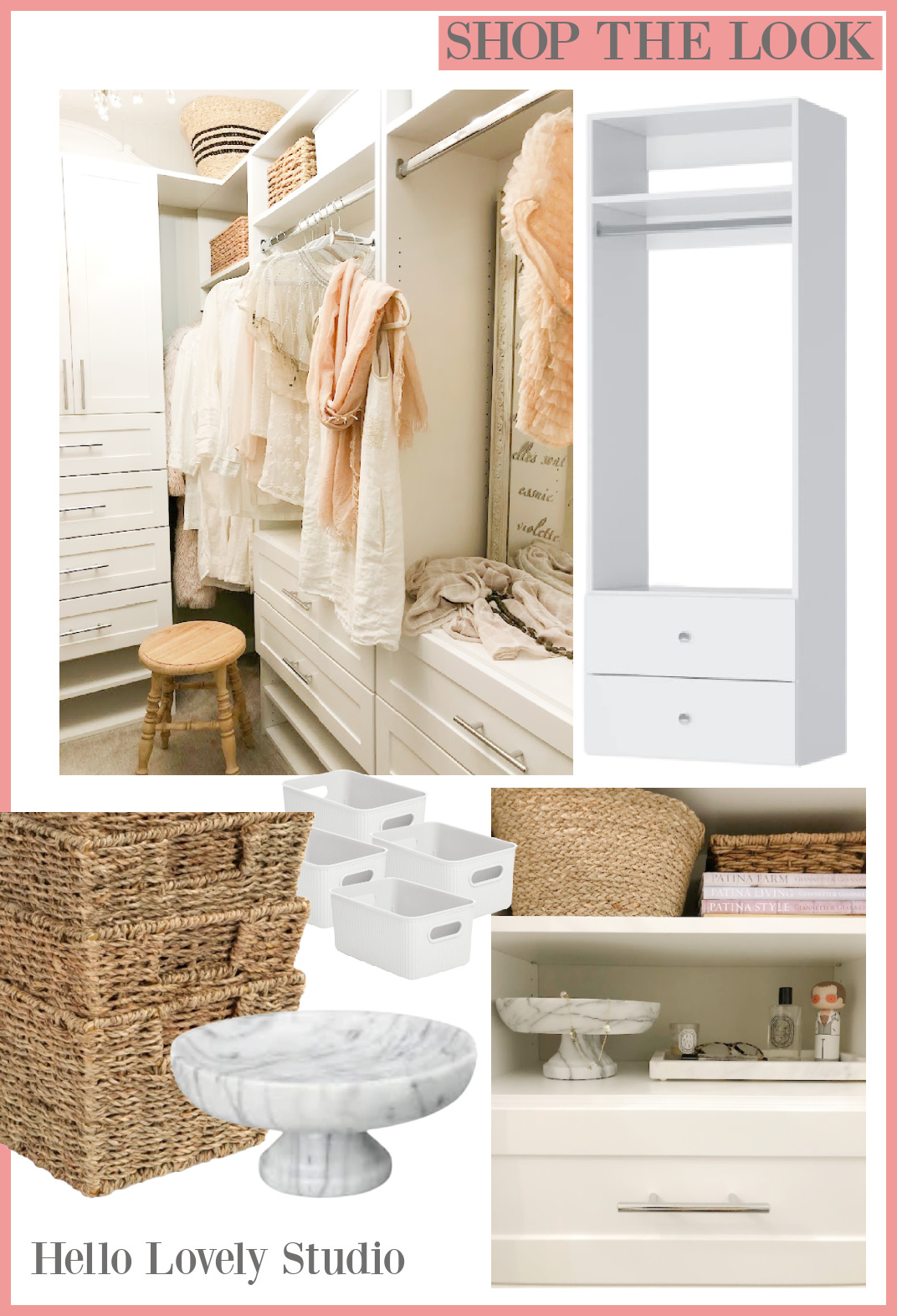 Thanks so much for taking a peek at our closet DIY makeover…please do see our other DIY closet that transformed a silly awkward space!
Peace to you right where you are.
-michele
p.s.
My husband is a champion as far as DIY, and his labor makes dreams come true for this fairy on the prairie. I honor his strength, endurance, and craftsmanship along this renovation journey.