You already know my holiday decor tends to be rather minimal so I'm sure you won't be surprised to see these spare spaces from our prior Nordic French style home. Today, we'll peek into my Christmas Past (these photos are from nearly a decade ago), and I'll ramble randomly (just like a decade ago).
Christmas Past & BEST Christmas Cookies EVER!
This was the first home we ever designed and built and where our young sons grew into men before flying the nest.
It's also where I baked our favorite Christmas cookies (some folks say they remind them of Swedish spritz…others just quietly sigh "is it butter I'm tasting?).
Those cookies won a contest in Country Home magazine while we lived in this house, and my old kitchen found me leaping and weeping for joy when the letter and winnings arrived!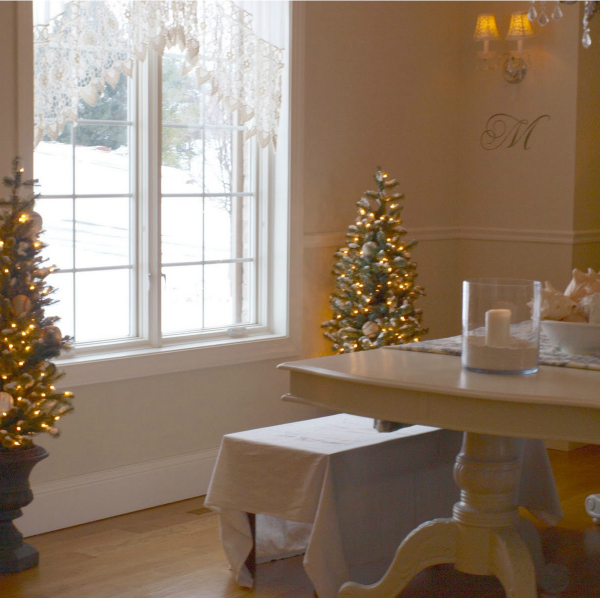 Yep.
This home housed a lot of memories, bitter and sweet.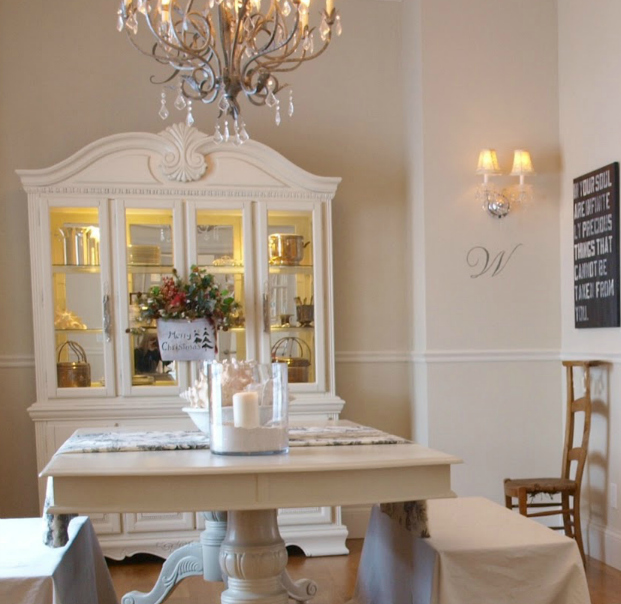 When I threw myself a 40th birthday party, and we feasted in this dining room, I thought I had become ANCIENT.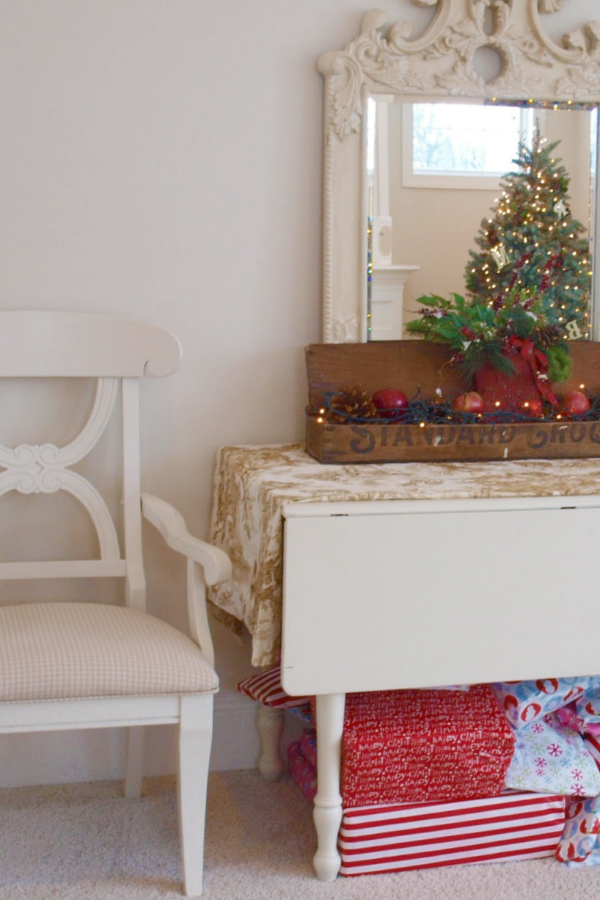 Lord, have mercy, to be ancient again!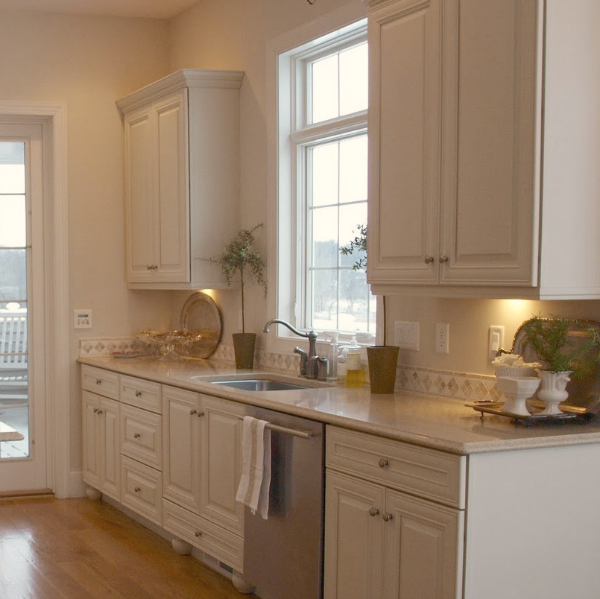 This is the kitchen where I baked lots of baby chocolate brioche, macarons, and, of course, my old fashioned sourdough.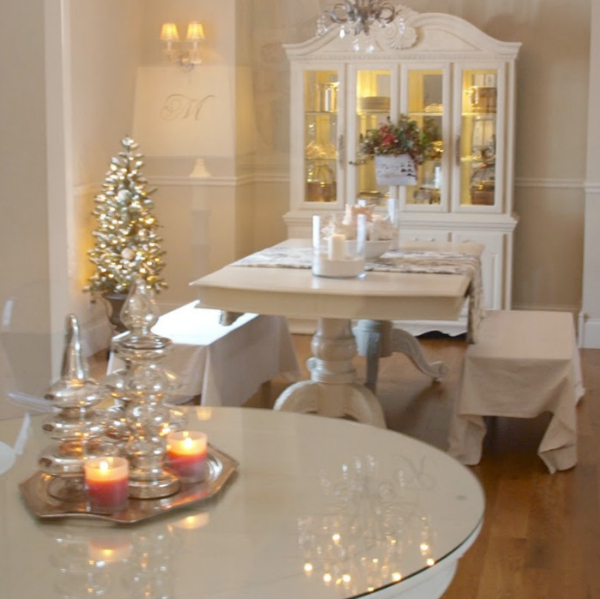 I changed things around in the dining room so often, I can't even imagine how many incarnations there were. In this particular one, I brought in vintage oak benches (found them in a church's garbage in Barrington) that I covered effortlessly with an antique French linen sheet I cut in half.
Now I use one of the sheet halves as a Christmas tree skirt.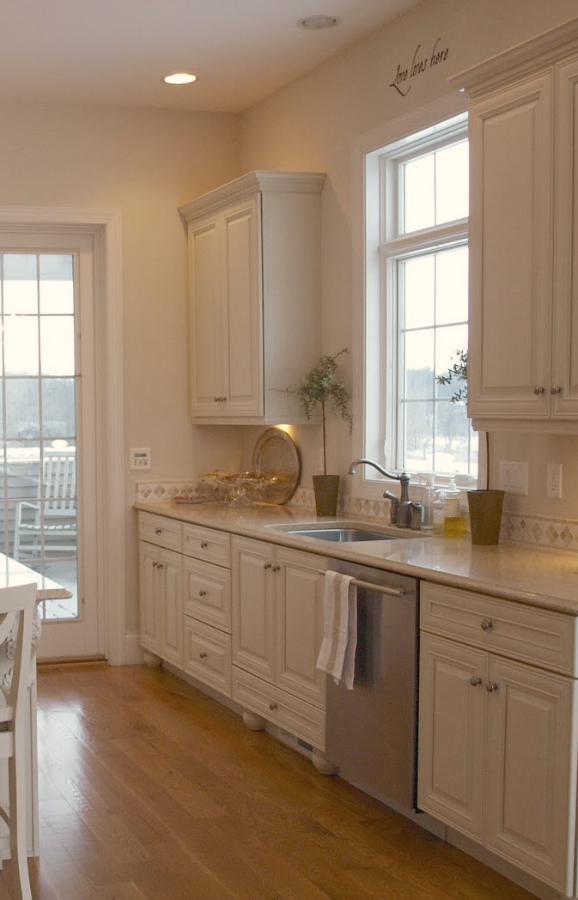 The lettering above the kitchen sink window reads LOVE LIVES HERE.
And like the square footage of my prior kitchen, it sure lived large.
Speaking of BIG LOVE, can I tell you in whispers one of the sweetest moments of my entire life?
Our eldest, little Luke, perfectly platinum blonde in a two-and-a-half year old body, calls my name…
"MAMA."
I look up.
"Yes, babe, what are you up to?"
"I'M JUST LOVIN' YOU."
xoxoxoxoxoxoxoxoxoxoxoxoxoxoxoxoxoxoxoxox
There will never be enough x's and o's or pretty words for this mama to adequately express how her heart OVERFLOWS with AFFECTION when that little voice and sacred moment are recalled.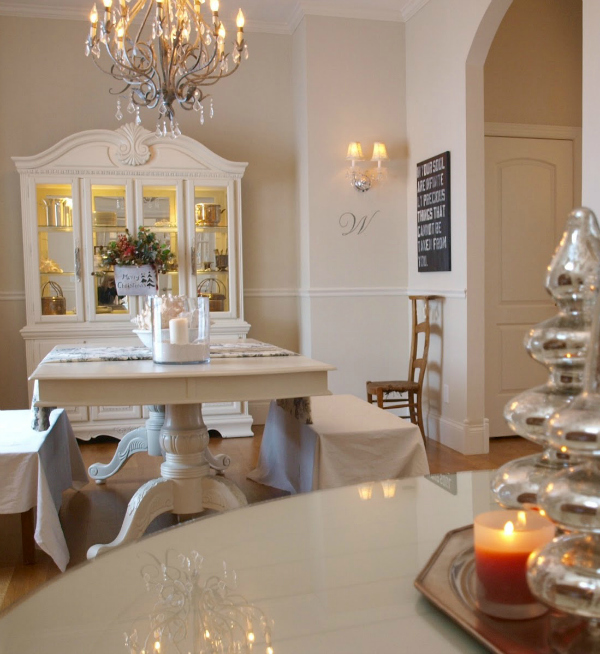 A decade ago, I found myself often at my wit's end as a parent of teen boys.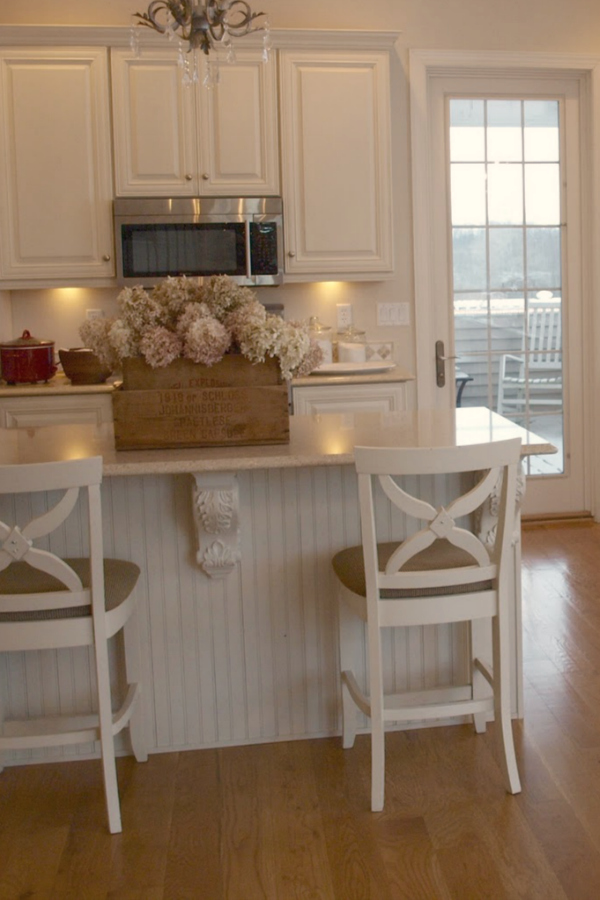 One of the ways I coped was writing humorous essays where I sought to both make sense of and get mileage from the stresses and absurd daily exchanges and occurrences.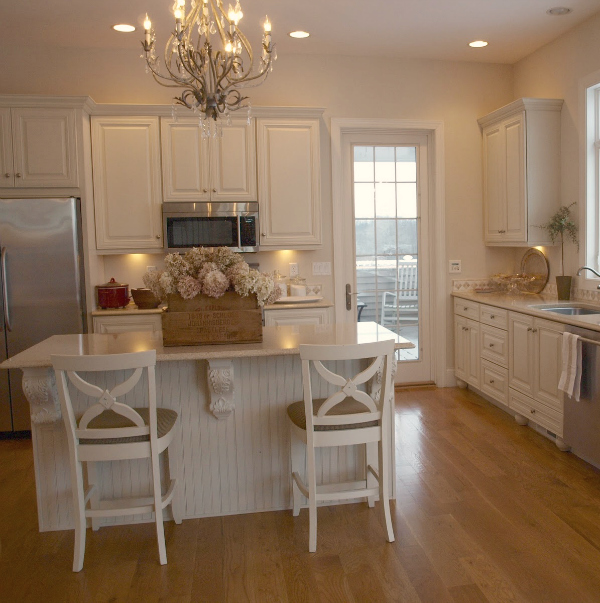 In case you are curious about our family life, let me just say we are extremely independent-minded, passionate, creative, loving, and intellectual humans. Living with three very wild men has prospered me in ways I could never have imagined.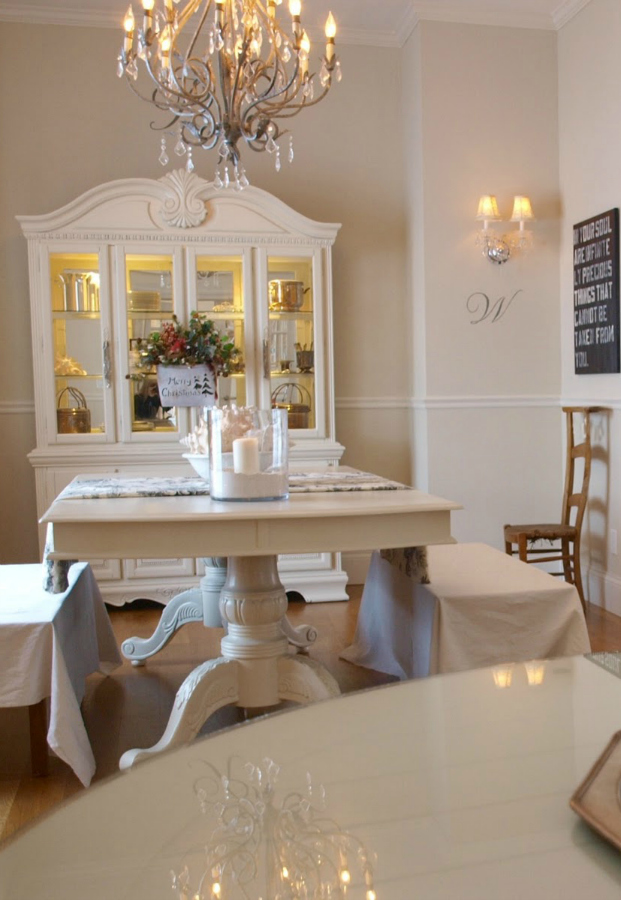 Though these interiors evoke a sense of femininity and softness, do know that very rugged and handsome personalities inhabited the halls.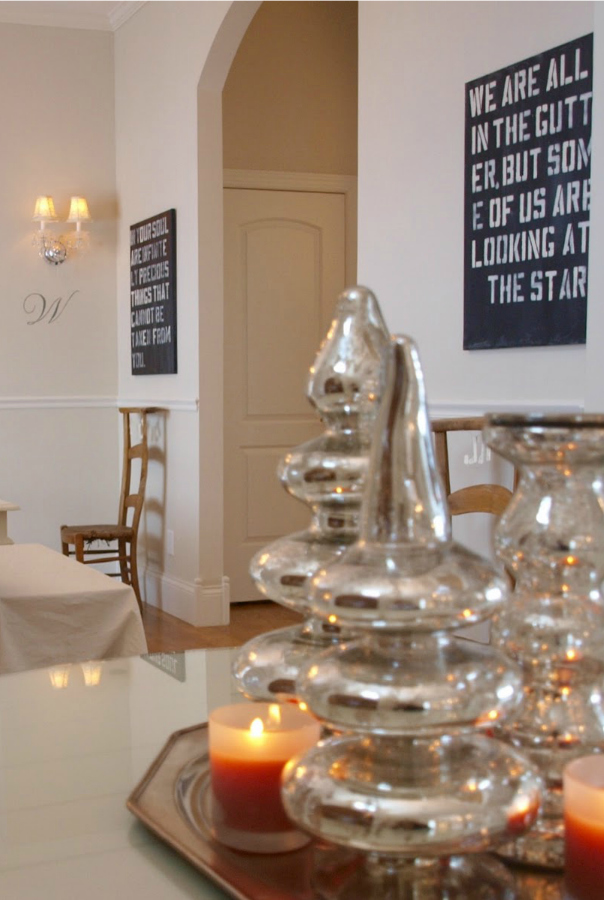 I painted the pair of Oscar Wilde panels in 2008, when a sort of spiritual journeying commenced.
It was also when I began collecting dead pointe shoes…symbols of feminine strength and perseverance for me.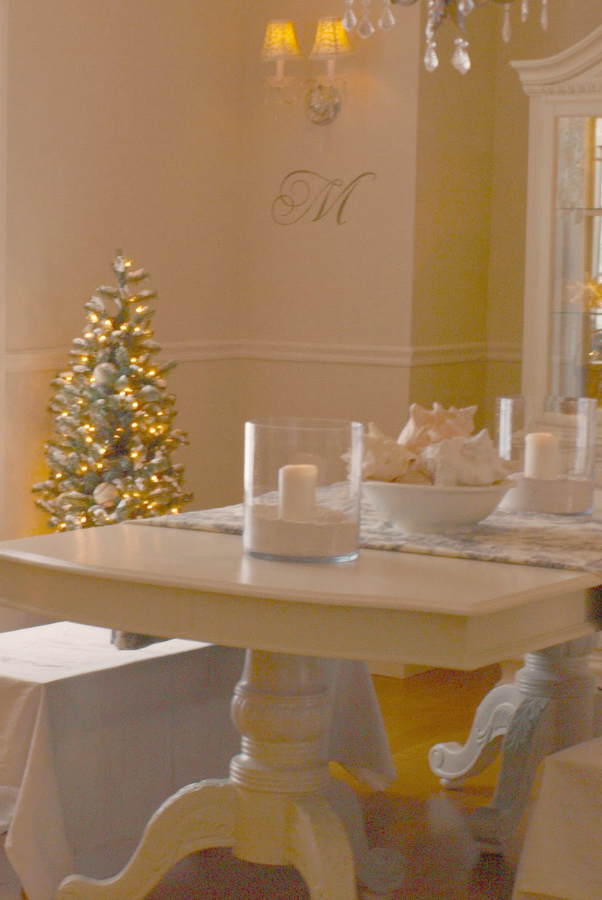 The quiet days I spent in this home with Bella Luna were sacred and prepared me for challenges which lie ahead.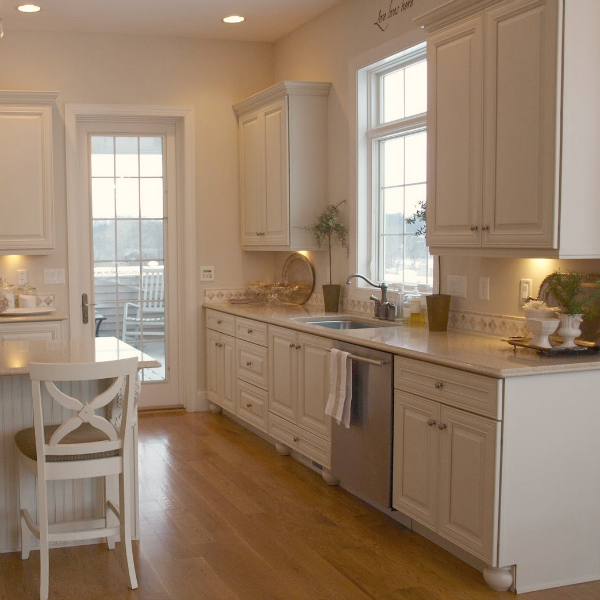 The French door in the kitchen led to a screen porch, upon which I read hundreds of inspiring books.
This was the home where I delighted in making the wooly pom poms of my childhood, shaping them into wreaths tied with blush pink bows.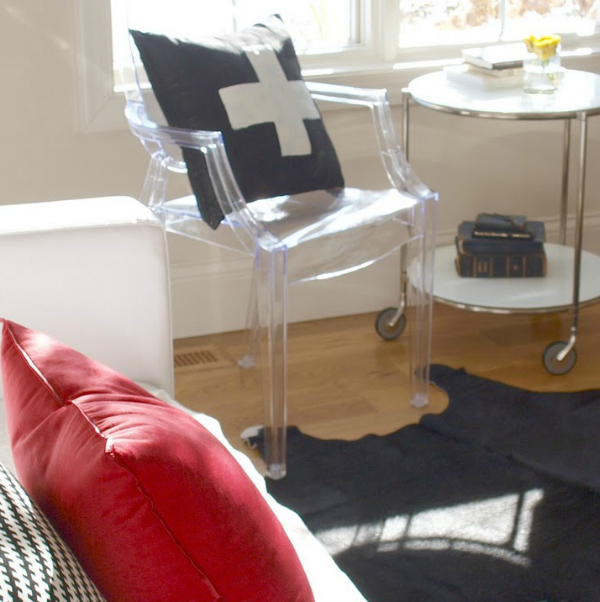 Above is one of the many incarnations of my studio…here with a black and white cowhide and red accents at Christmas.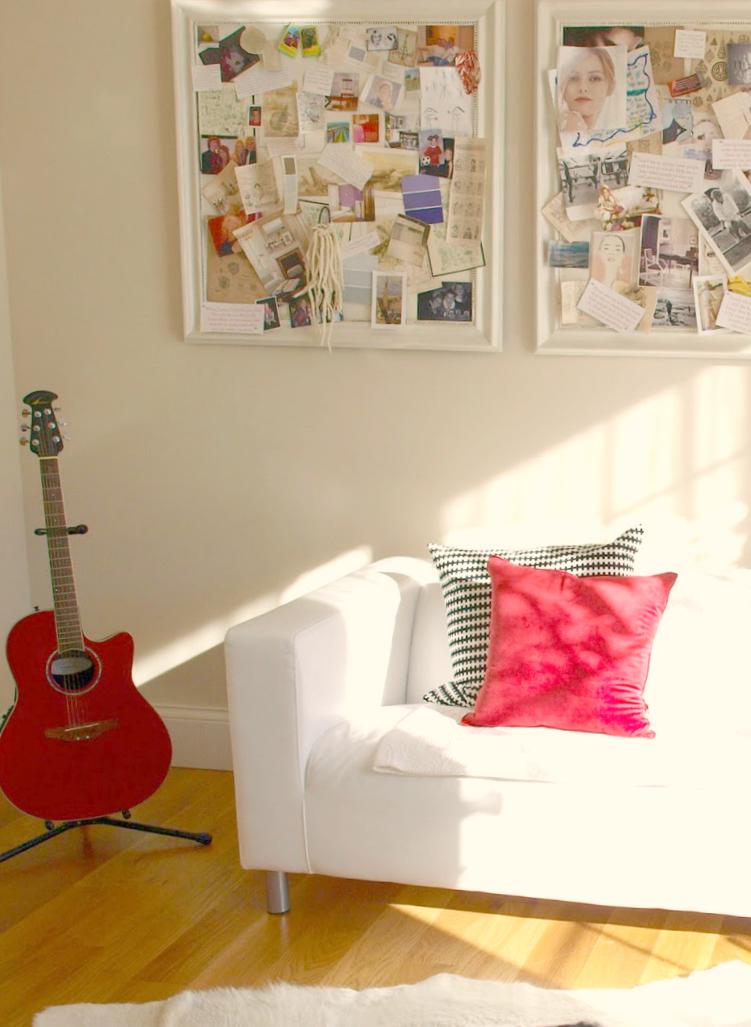 My mood boards contained notes from my young nieces, inspiring shelter magazine clippings, paint swatches, and quotes and scripture.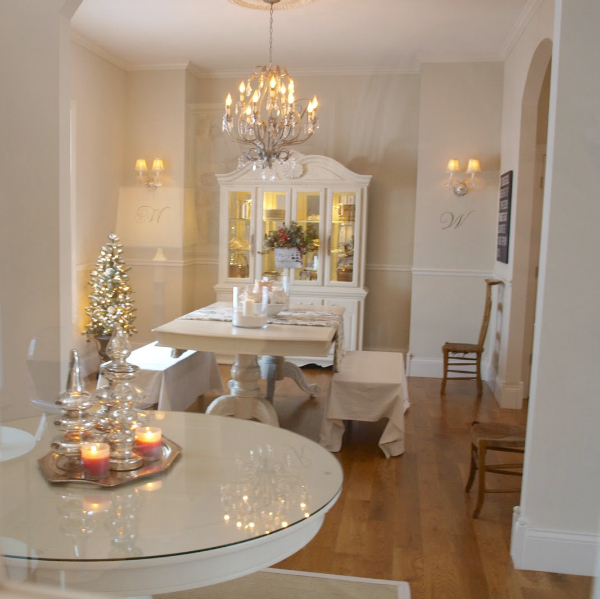 The same table (that appears petite!) in our foyer is now our dining table. Oh to have a queen-sized entry again where so many hugs, heartwarming hellos, and farewells happened.
For the photo of me above (taken by sister Jo), I'm on pointe upon a guest bedroom's window seat where tissue poufs I made, are scattered. I recall this moment as if it were yesterday. I felt strong and full of creative energy. I had not yet deepened, nor softened from the breast cancer previvor journey to come.
Had I known what was in store for my future, I would have made time for more photo shoots and more moments of folly.
I'm reminded that right where I am, there is an opportunity ripe with potential for creativity, dance, and carefree laughter. Someday, I'm sure I'll look back with gratitude.
My Christmas Cookie Recipe
It's that season again where I nudge you to bake these guilty pleasures.
They are called Luke's Christmas Love Cookies because our firstborn, Luke, loves them the most and has been making them with me for more than a quarter of a century. They are special, rich, and not heart-healthy in the cardiovascular sense.
But they are from my heart, and I'm so happy to share them with you.

Swedish Christmas Cookies (aka Luke's Christmas Love Cookies)
Prep: 50 minutes – Chill: 2 hours – Bake: 7 minutes/batch – Preheat oven: 375°
1 cup butter, softened
1 1/2 cups powdered sugar
1 tsp. baking soda
1 tsp. cream of tartar
1 egg
1 tsp. vanilla
1/2 tsp. almond extract
2 1/2 cups all-purpose flour
1 7-oz. jar marshmallow cream
3/4 cup butter, cut up and softened
3/4 tsp. vanilla
1/2 cup powdered sugar
Colored sprinkles
1. In a large mixing bowl, with an electric mixer on medium to high speed, beat 1 cup butter for 30 seconds. Add 1 1/2 cups powdered sugar, baking soda, and cream of tartar. Beat until combined, scraping sides of bowl occasionally. Beat in egg, 1 teaspoon vanilla, and almond extract. Beat in as much of the flour as you can with the mixer. Stir in any remaining flour. Divide in half. Cover and chill for 2 to 3 hours or until easy to handle.
2. On a lightly floured surface roll half of dough at a time until slightly less than 1/4 inch thick. Cut dough using a 2 1/2-inch star-shape cutter. Place 1 inch apart on ungreased cookie sheets.
3. Bake in 375° oven 7 to 8 minutes or until edges begin to brown. Transfer to wire racks; cool.
4. In large mixing bowl beat marshmallow cream, gradually adding 3/4 cup softened butter. Beat in 3/4 teaspoon vanilla and 1/2 cup powdered sugar. Spread or pipe atop cookies. Sprinkle with colored sprinkles. Makes 6 1/2 dozen cookies.
TO STORE : Store in a single layer in refrigerator until frosting sets, about 1 hour. Store in a single layer in an airtight container in refrigerator for up to 3 days. For longer storage, freeze uniced cookies.
Per cookie: 73 cal., 4 g fat (3 g sat. fat), 14 mg chol., 49 mg sodium, 8 g carbo., 0 g dietary fiber, 1 g protein.
This Video
My mom's favorite song is "The Prayer" performed by Andrea Bocelli and Celine Dion, and I never tire of this duet!
Another version of this beautiful song is here:
"The Prayer"
I pray you'll be our eyes
And watch us where we go
And help us to be wise
In times when we don't know
Let this be our prayer
When we lose our way
Lead us to a place
Guide us with your grace
To a place where we'll be safe
La luce che tu hai
(I pray we'll find your light)
Nel cuore resterà
(And hold it in our hearts)
A ricordarci che
(When stars go out each night)
Eterna stella sei
(Whoa)
Nella mia preghiera
(Let this be our prayer)
Quanta fede c'è
(When shadows fill our day)
Lead us to a place
(Guide us with your grace)
[Both:]
Give us faith so we'll be safe
Sogniamo un mondo senza più violenza
Un mondo di giustizia e di speranza
Ognuno dia la mano al suo vicino
Simbolo di pace, di fraternità
La forza che ci dà
(We ask that life be kind)
È il desiderio che
(And watch us from above)
Ognuno trovi amor
(We hope each soul will find)
Intorno e dentro sé
(Another soul to love)
[Both:]
Let this be our prayer
Let this be our prayer
Just like every child
Just like every child
[Both:]
Need to find a place
Guide us with your grace
Give us faith so we'll be safe
È la fede che
Hai acceso in noi
Sento che ci salvera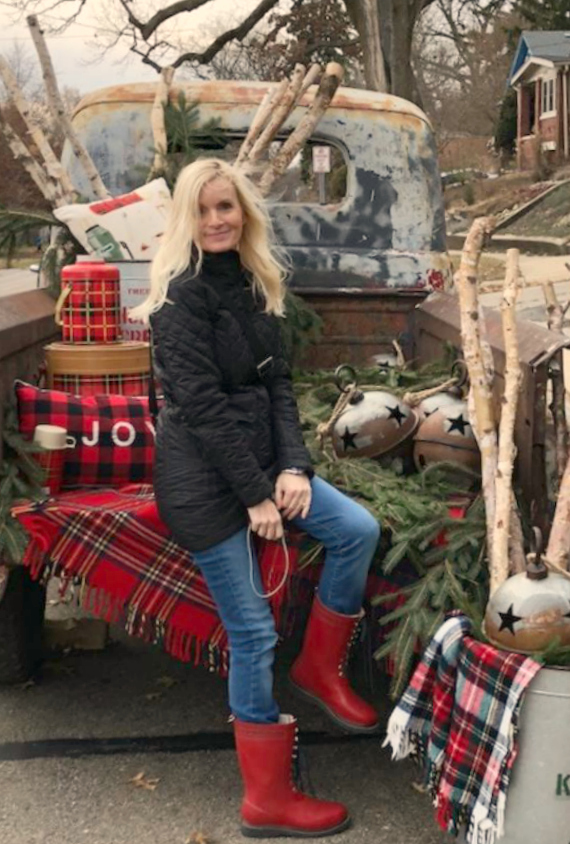 Wishing you Christmas joy,
eyes to be wise,
trust in what we cannot see,
and
Peace to you right where you are.
-michele
Shop for items you already intended to buy on Amazon RIGHT HERE, and also find home decor here to keep decor inspiration flowing on Hello Lovely!
Hello Lovely is a participant in the Amazon Services LLC Associates Program, an affiliate advertising program designed to provide a means for sites to earn fees by linking to Amazon.com and affiliated sites.