The warmth and beauty of Southern Holidays, Thanksgiving and Christmas Splendor glowing in a traditional Southern home by James Farmer is instantly recognizable. Treat yourself to a heaping portion of that style in CELEBRATING HOME (Gibbs Smith, 2022) which graces my own design library. You can't miss: a sense of timeless charm, understated sophistication, and undeniable time-honored traditions. Colors and natural touches reflect the fruits of the South, and you will want to live in these rooms! Let's peek inside at all the beauty, wit, and whimsy.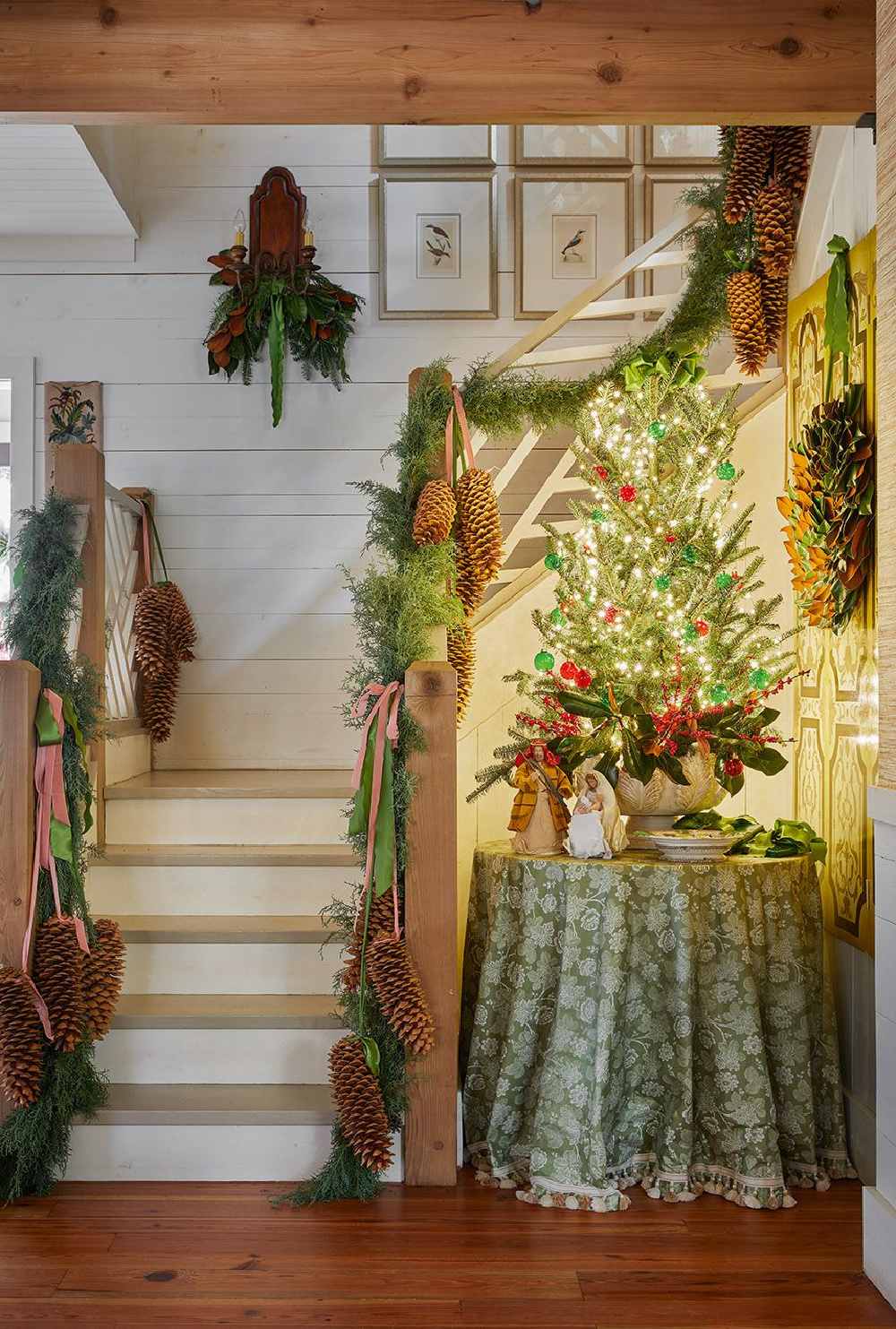 I independently selected products in this post—if you buy from one of my links, I may earn a commission.
SOUTHERN HOLIDAYS, THANKSGIVING & CHRISTMAS TOUR
(IMAGE ABOVE) Isn't it a fun-sized Christmas tree on the table skirted with a Claremont pattern? I just love how it is cozily tucked into a stairway nook adorned with a garland of velvet ribbon, sapphire juniper, and sugar pine cones.
One photo seems to reveal a story layered with love, memories, and a home cherished. So imagine a collection of such photos!
You'll want your own copy of his book to get your fill of Southern seasonal beauty beyond the holidays reflected here. You'll find lovely color stories for a whole year of seasons along with ideas for mixing vintage. Also find menu ideas, floral inspiration, and delightful commentary. Maybe you glimpsed his work in a copy of Atlanta Homes magazine too?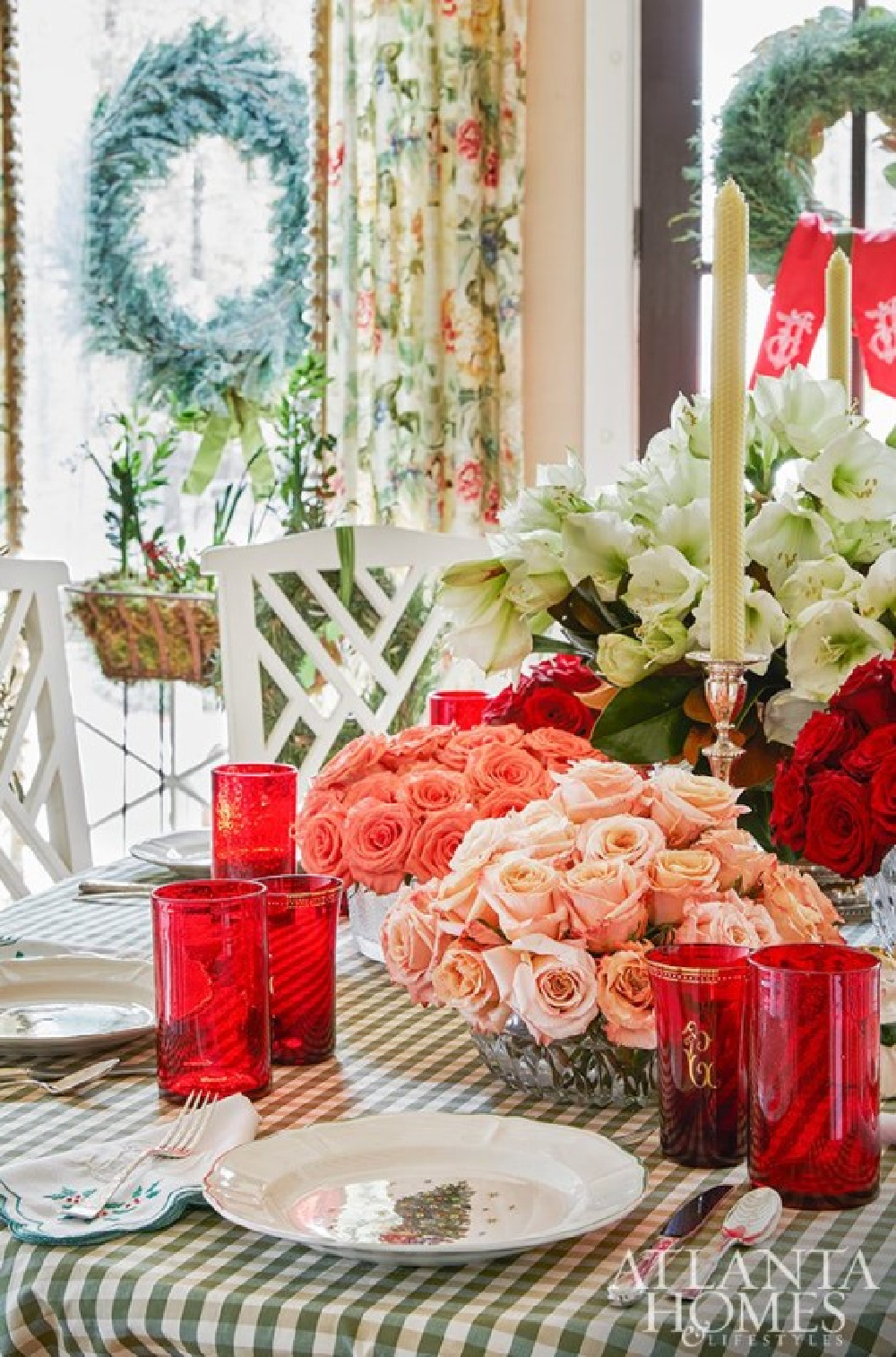 Even if you are less than skilled at decorating a home for the holidays (as I am!), you'll be uplifted by these non-contrived naturally homespun moments from James Farmer's Thanksgiving (at Joe Pye Cottage in Cashiers, North Carolina ) and Christmas (at Farmdale in Perry, Georgia).
Southern Cottage Decorated for Christmas
The Farmdale cottage at Christmastime?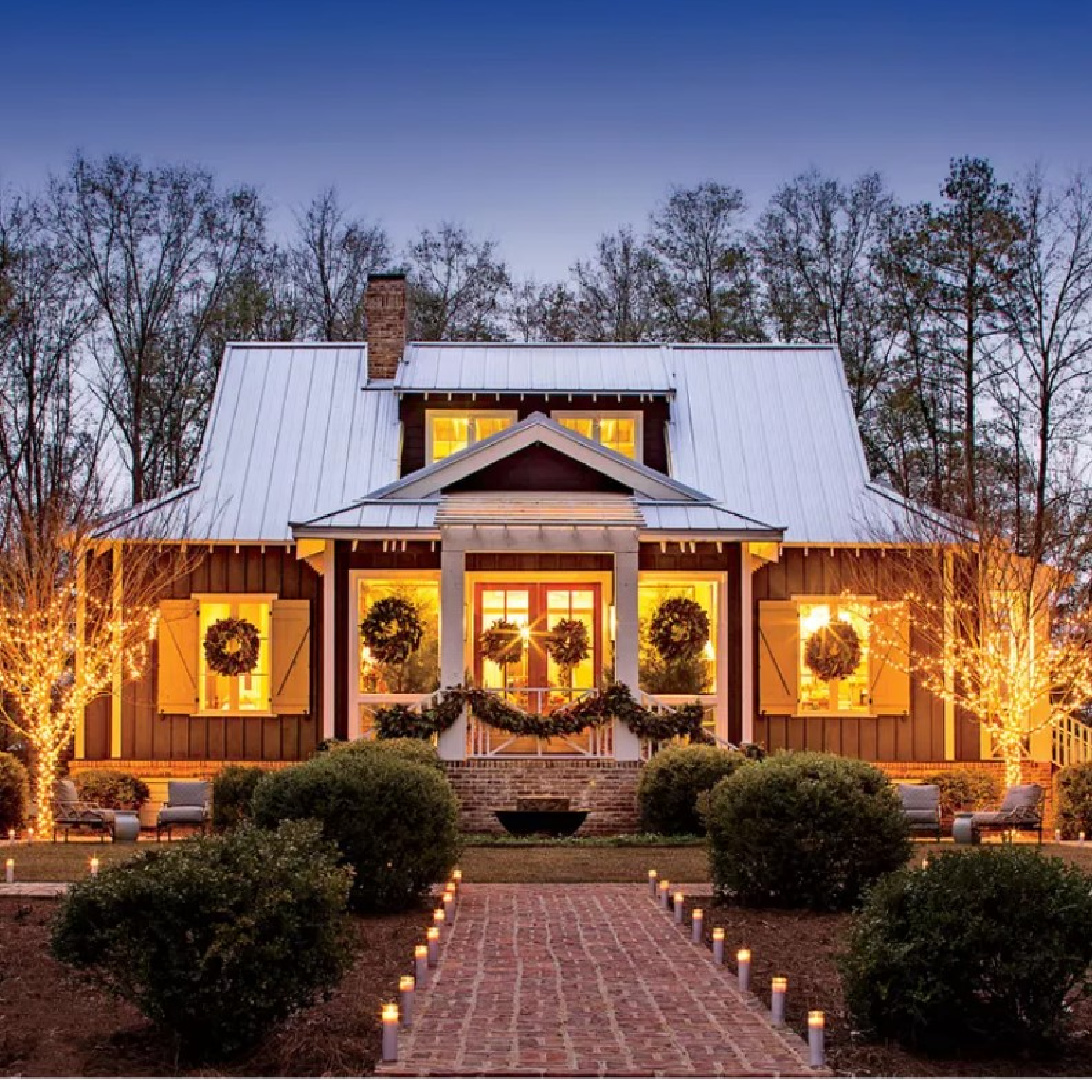 Elegant simplicity and a welcoming spirit flows throughout this home, equipped for hungry guests!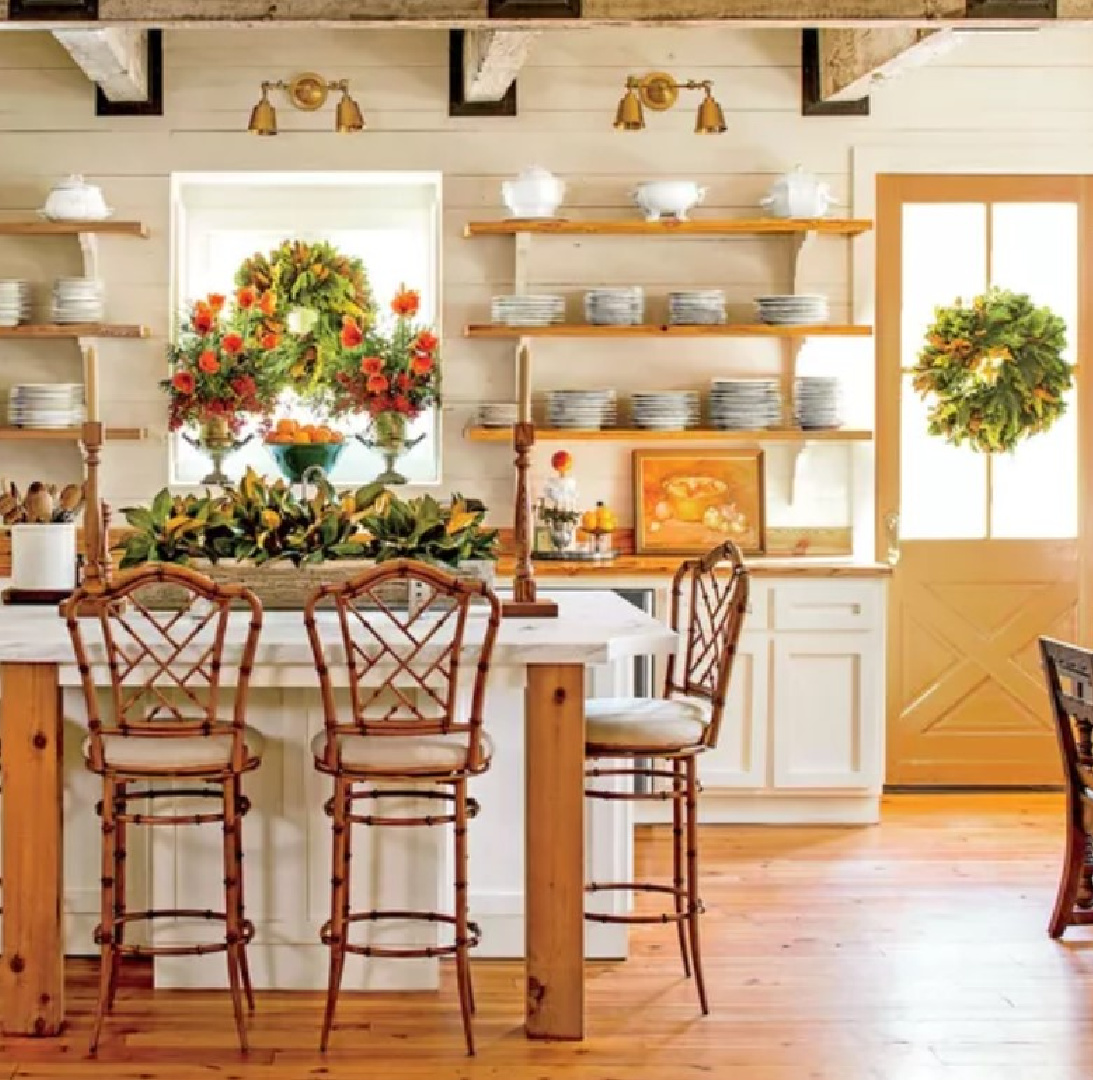 While my style is spare, I admire the sense of abundance from the stacks of white dishes! I would not even mind hand washing them after a feast with the season's deliciousness.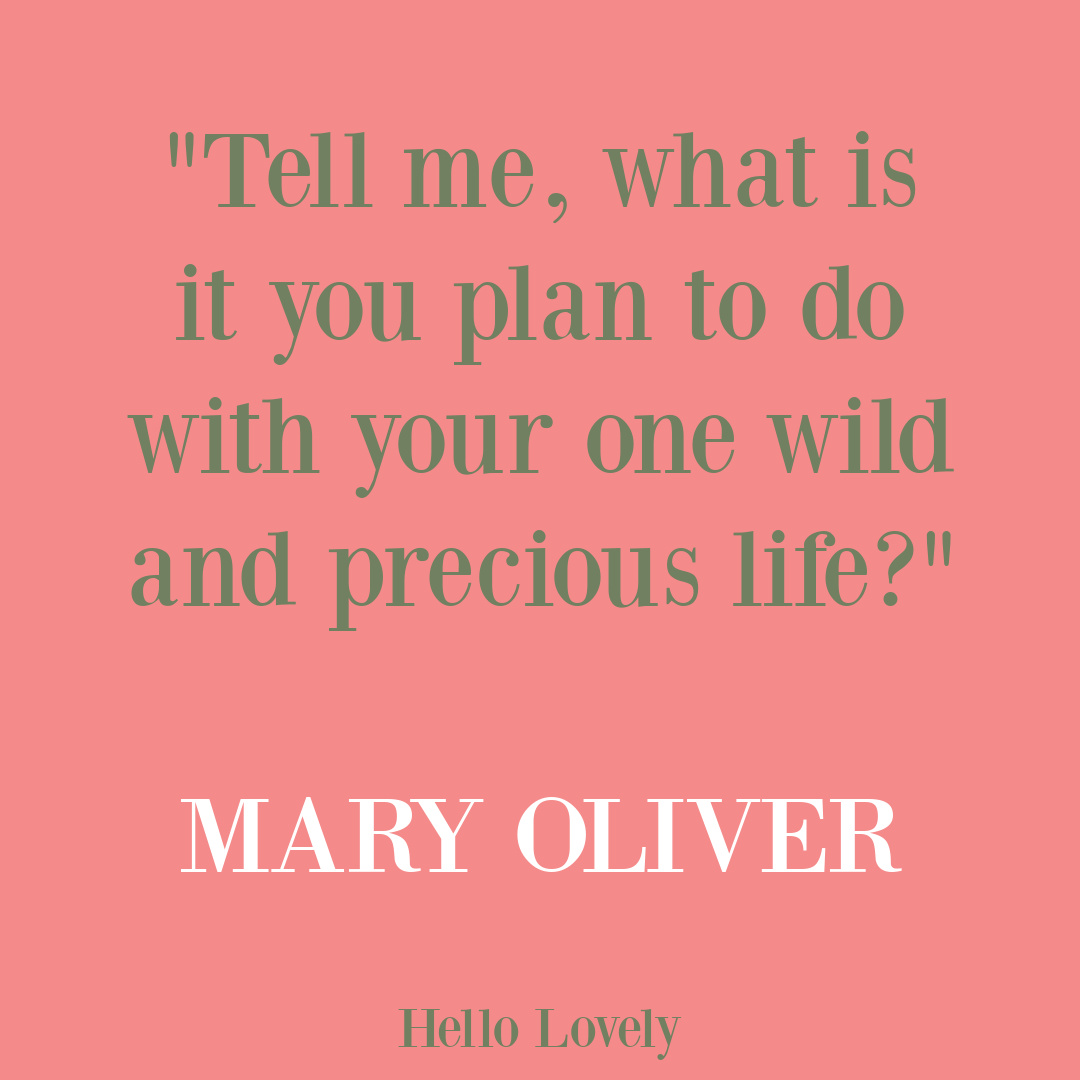 James Farmer's CELEBRATING HOME: Southern Holiday at Farmdale
James Farmer's kitchen table looks and feels wondrous and welcoming with its lime green, vintage brass deer, and old fashioned layered cake, yes? Here's the thing.
Maybe you'll see a fanciful over-the-top fantasy festive Christmas moment and think sure, this makes for a breathtaking styled shot at the home of a magazine editor…but what about common folks like me? Yet if you gaze past the architecture to focus on the simplicity of the festive ingredients, the scheme is suddenly achievable.
We can gather lime green, vintage deer, and a layer cake (storebought!). And we can also hang three fresh wreaths unified with a pale blue ribbon. Yes, we can! Consider another vignette I recall spying in Atlanta Homes where the ingredients include a fresh bay wreath, topiary with pale blue ribbon, and basket of citrus: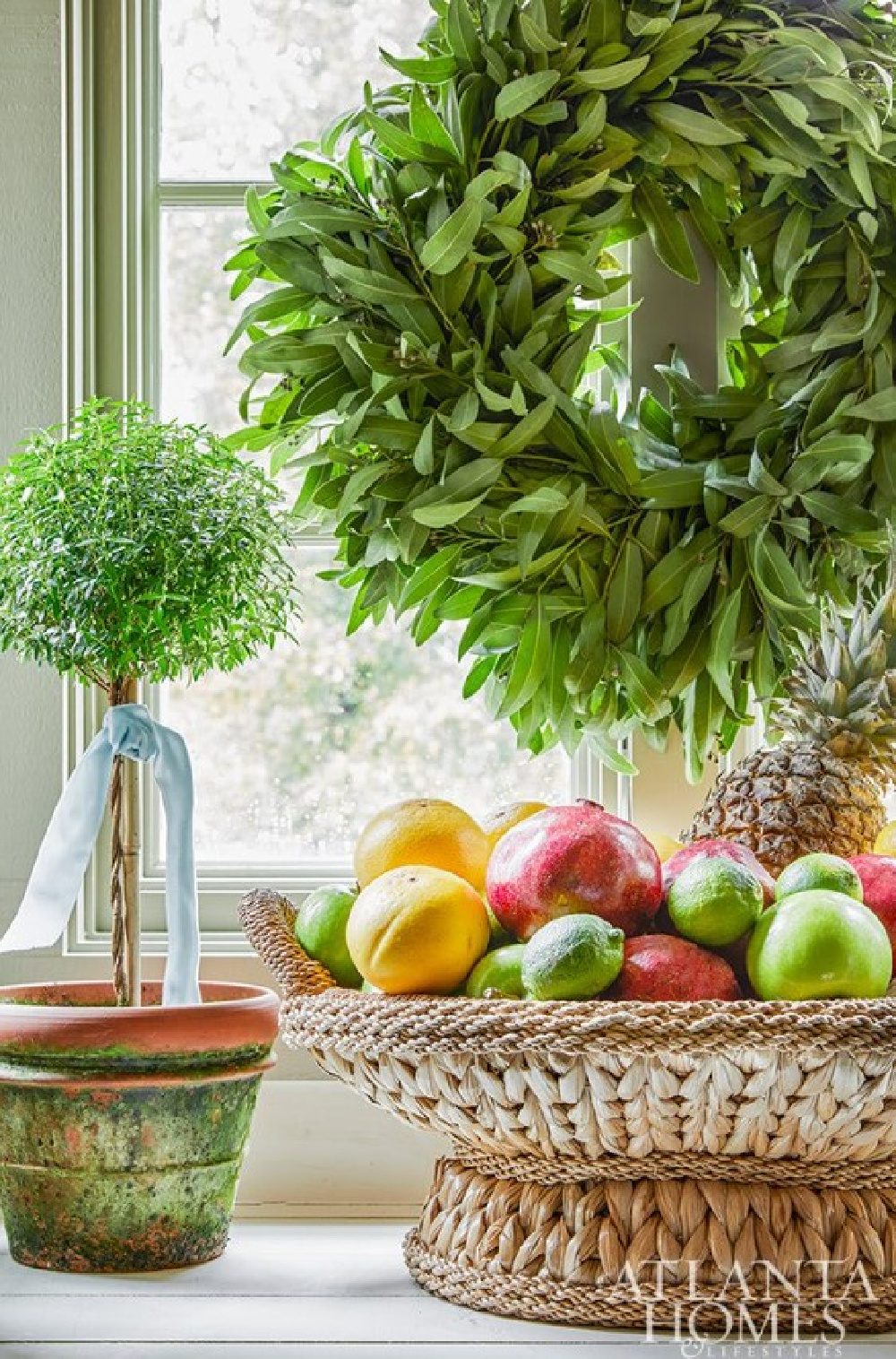 For ideas from another Christmas table by James, enjoy this:
Who wouldn't be thrilled to be welcomed into such a celebratory, hospitable space? Did you notice from that video how all of the senses are carefully considered!?!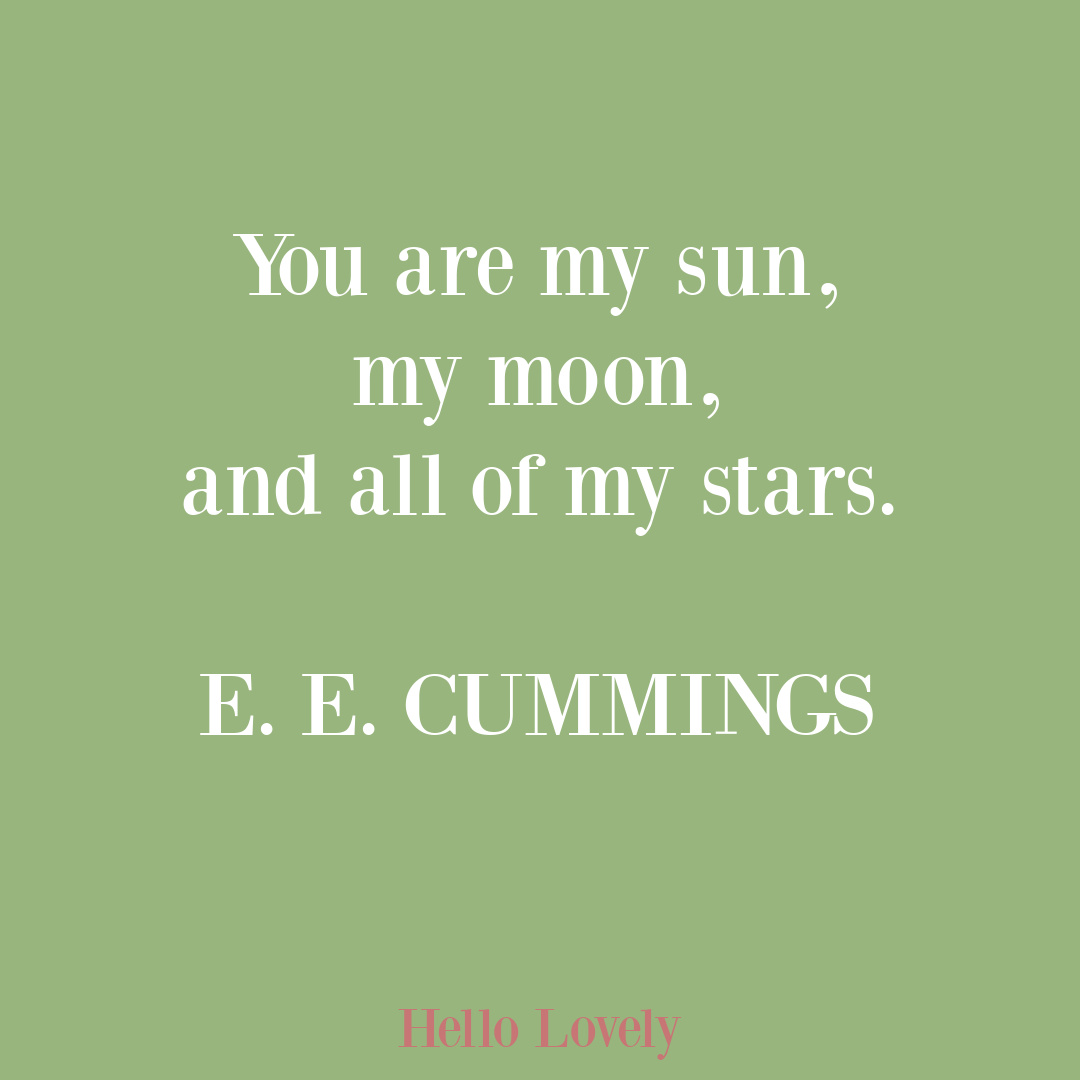 Non-Traditional Color Story in Traditional Interiors
Who says red must star in your holiday scheme? Coral is a color that plays an important part of the Christmas decorations at Farmdale. James Farmer reminds us of the magic that happens when that peachy pink meets turquoise, teal, aqua, and beautiful blues. Notice how his pine dresser positively glows with shelves of collected treasures: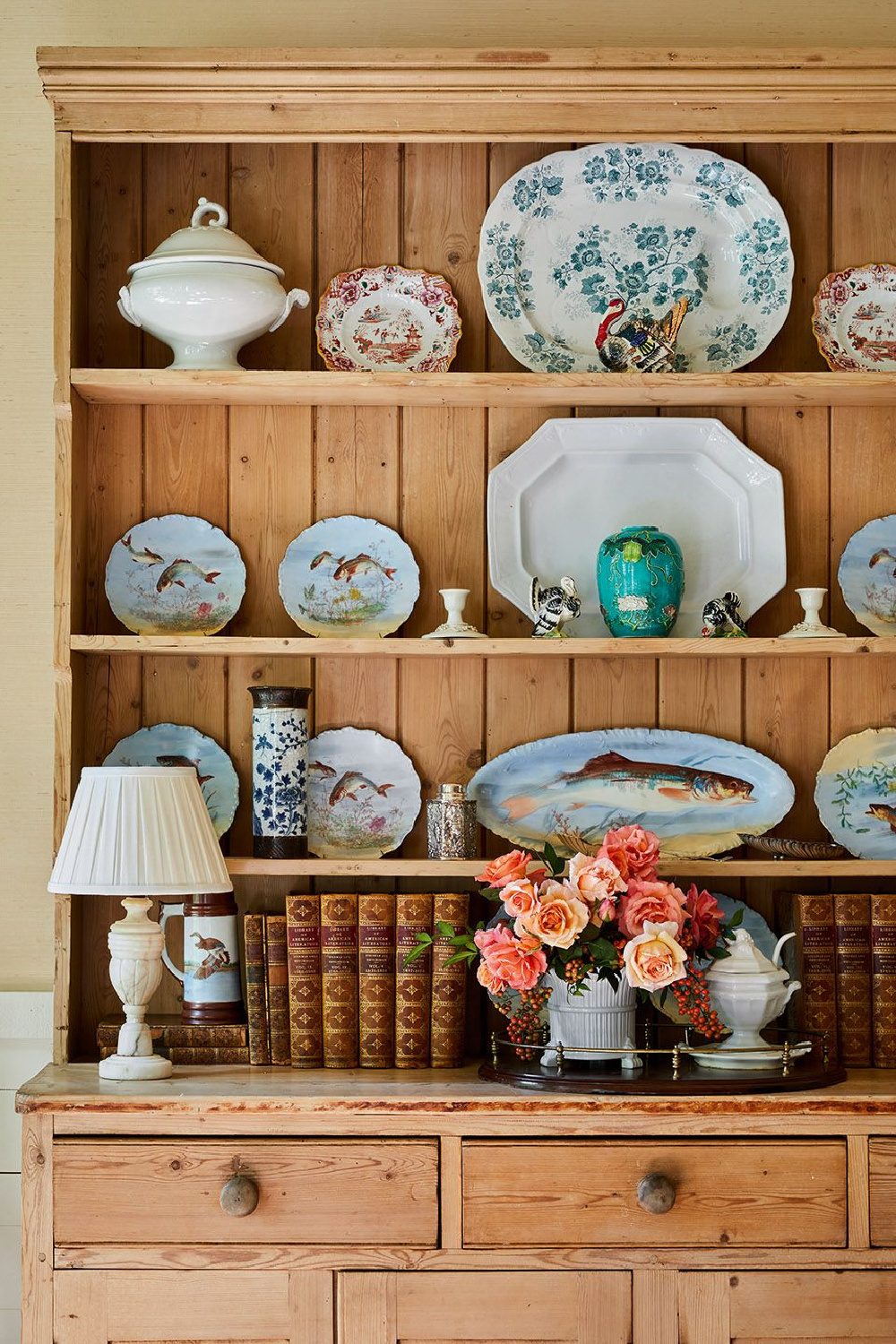 Don't get me started on how this designer uses teal, aqua, and turquoise in unexpected ways to thrill. (Who else is rushing out the door this second to hunt for similar vintage sconces!?!)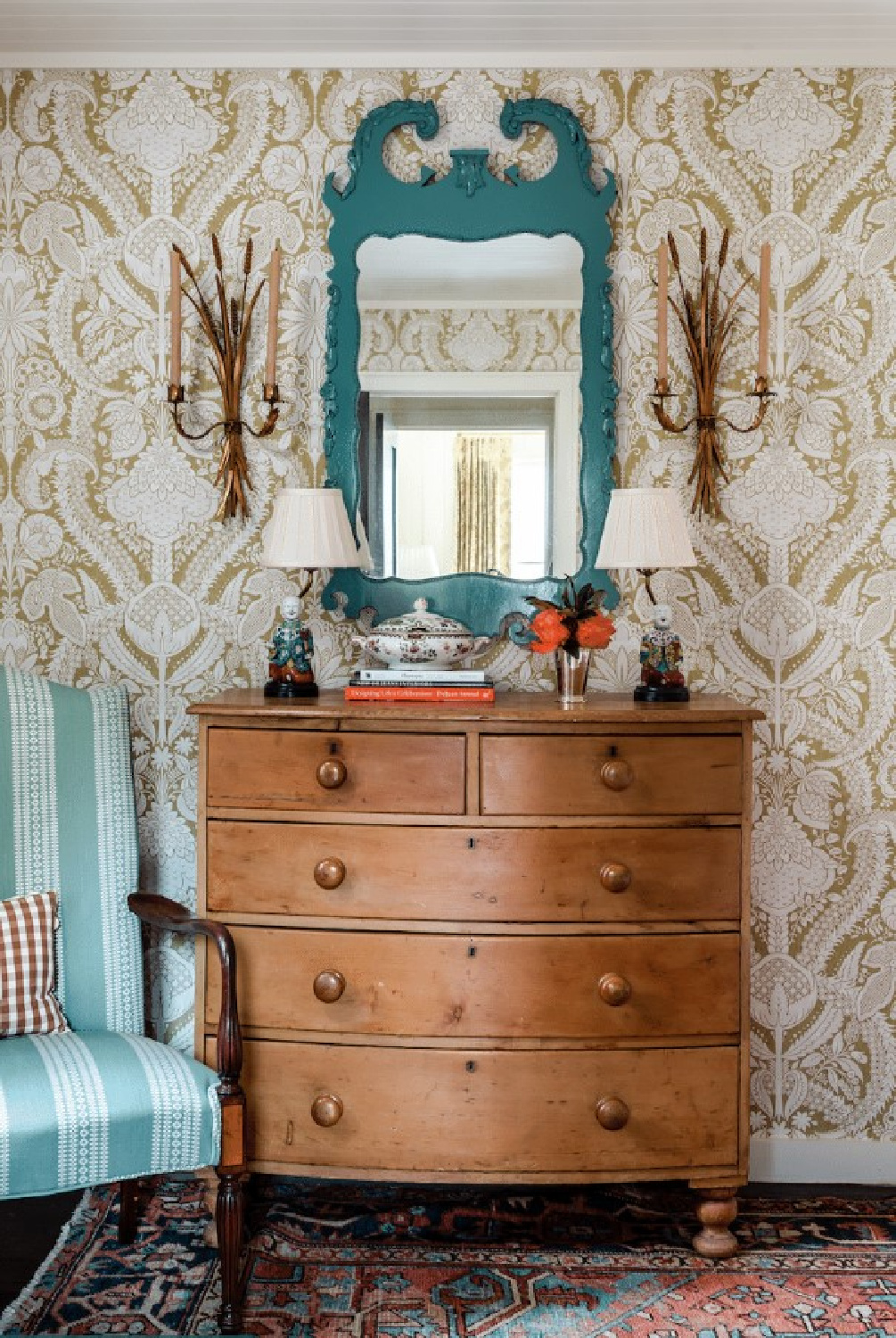 Touches of coral are repeated throughout his decor in such a uniquely lovely manner, and if you own a copy of the book, you'll learn why that is!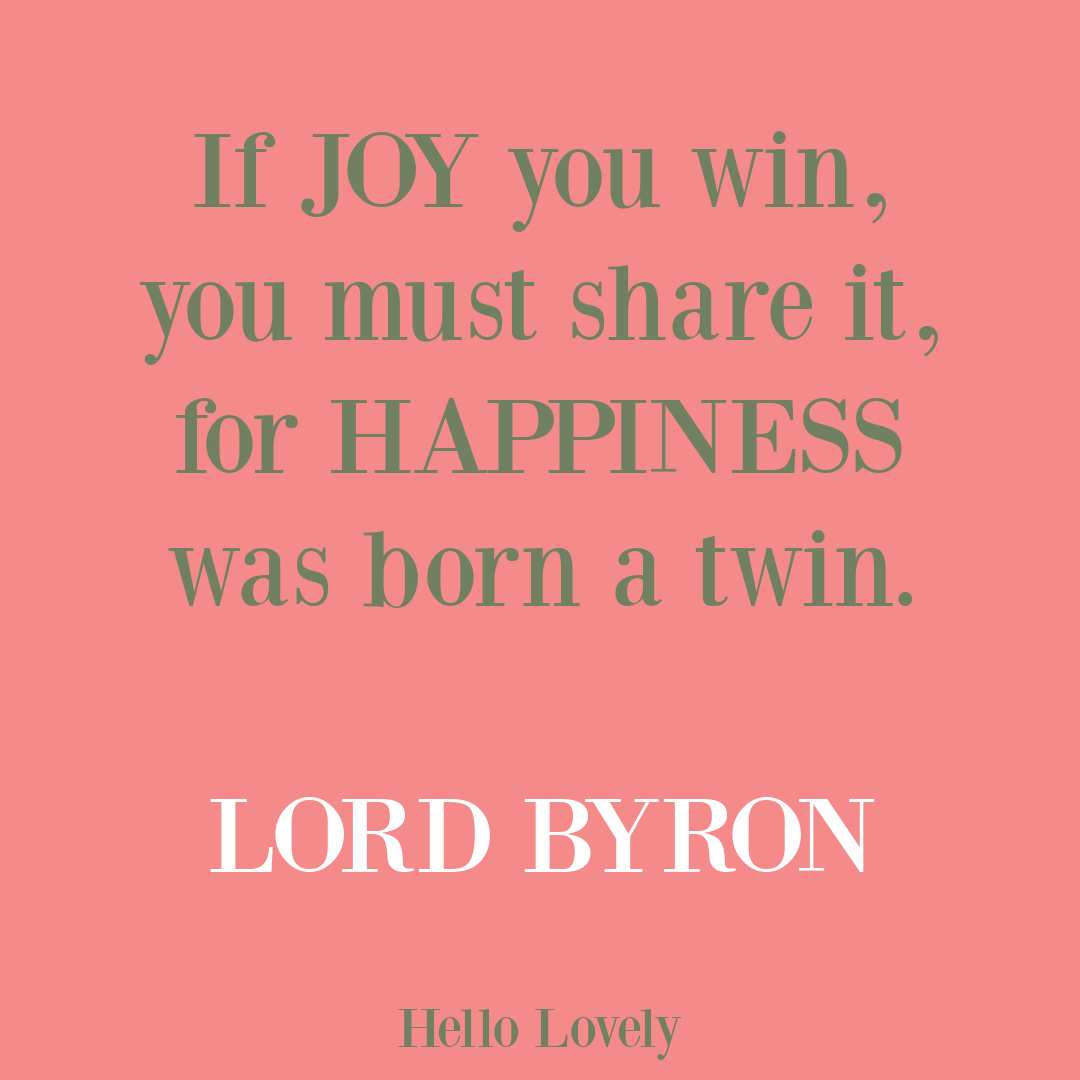 His book CELEBRATING HOME is dedicated to the memory of his beloved pet, Samson who you'll see here where James suggests console decorating ideas:
Southern Christmas Decorated Front Door
But what about creating the warmest of welcomes at the front door? This festive Southern welcome features magnolia leaf wreaths with citrine velvet ribbon, and the door is framed with a garland of evergreens, citrus, and ilex.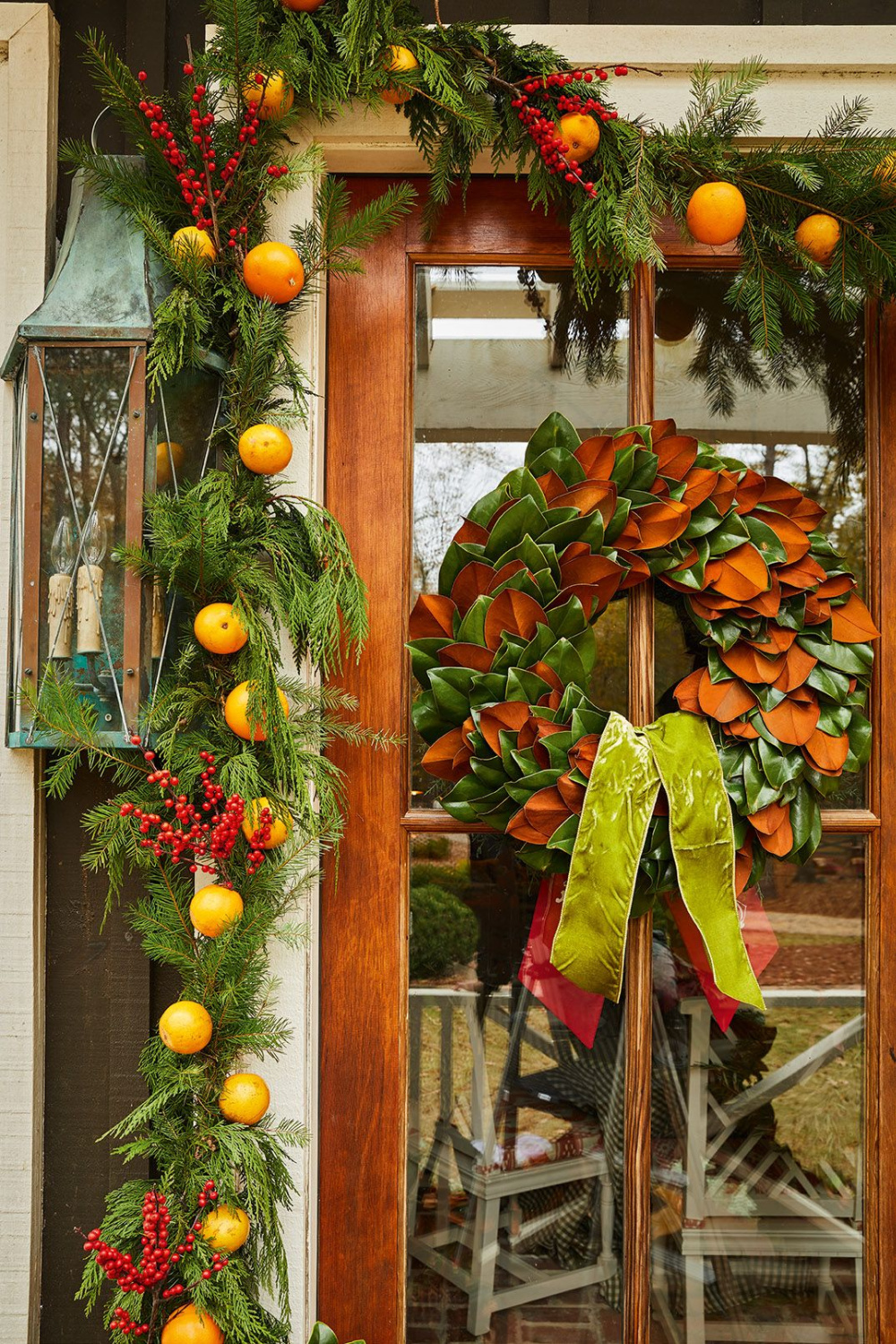 Can you even imagine the fragrance and sense of arrival when greeted by this!?!
Thanksgiving Splendor at James Farmer's Joe Pye Cottage
The designer reveals that the cheerful color palette in the cottage's dining room at this mountain home were inspired by a vintage treasure. The large rose medallion platter near the window below was found at an estate sale. Its persimmon, jade, and aqua tones inspired the direction for the decor.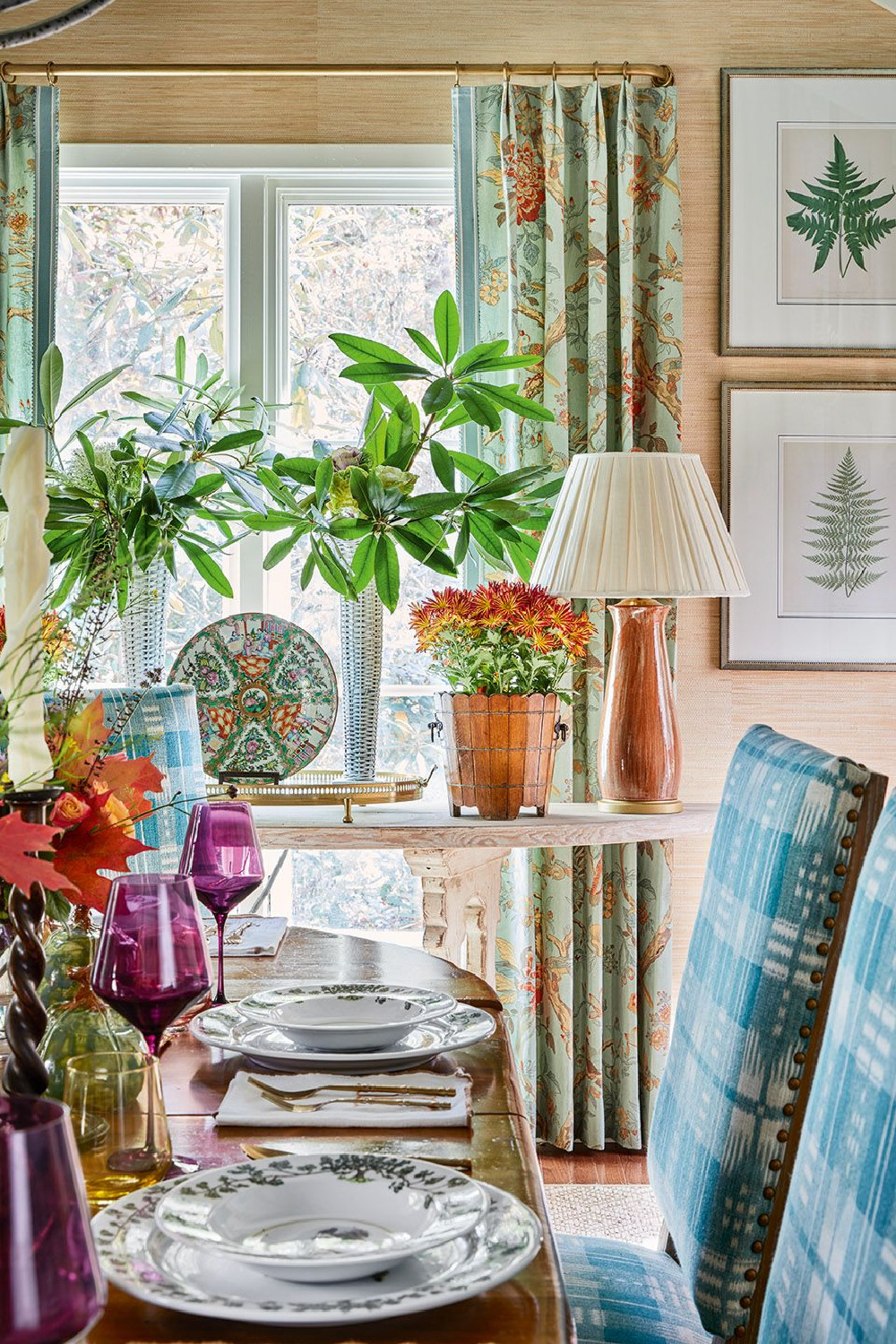 "The Brunschwig and Fils plaid, mountain pottery, and a collection of tabletop items and serving pieces all have a hue, shade, or tint found in the rose medallion platter. Branches of rhododendron add an element of the mountain landscape to the tableau."
– JAMES T. FARMER III in Celebrating Home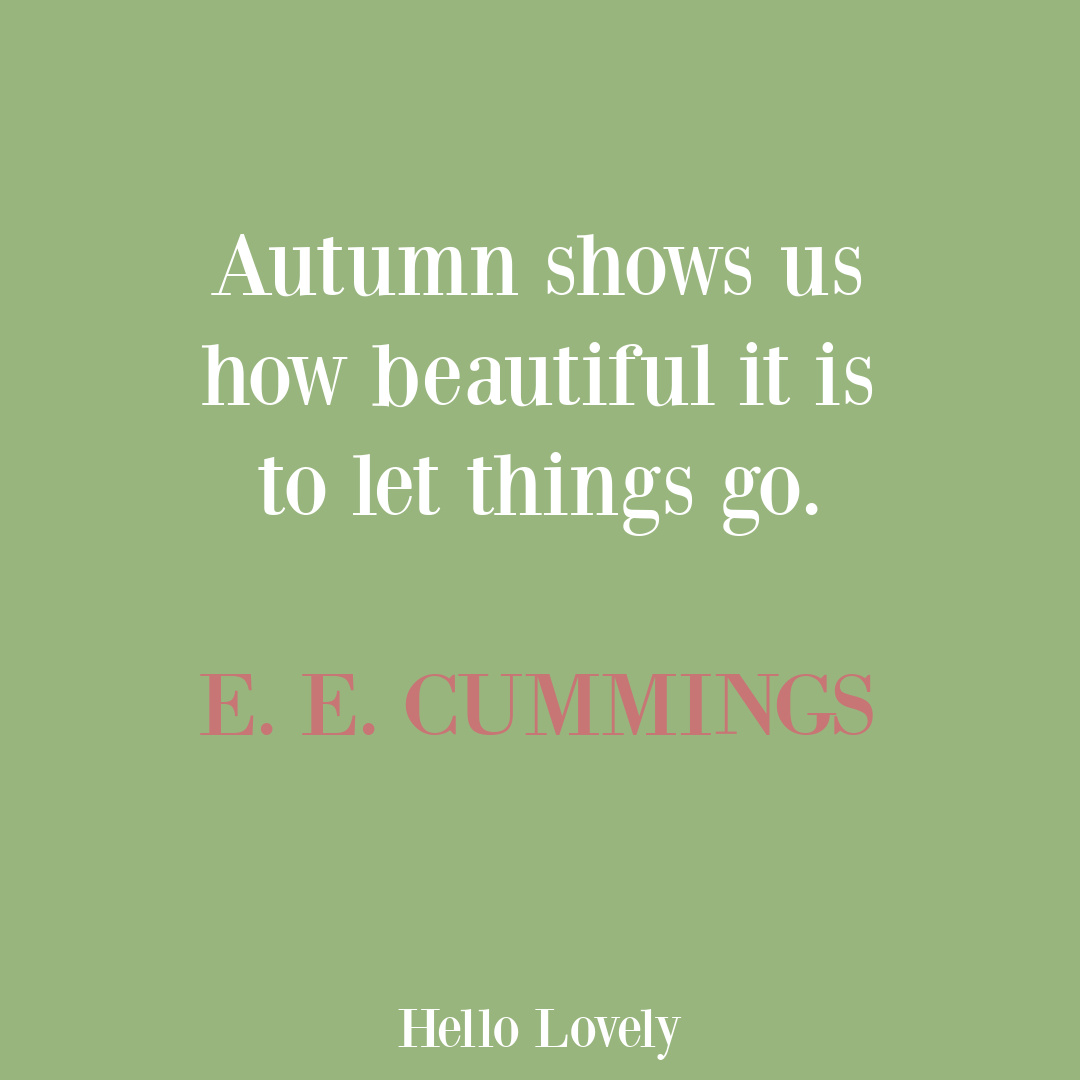 Whimsical Approach to Tablescapes
One of my favorite aspects of all of the holiday decorating at Farmer's properties is the playfulness. You get the sense people are going to relax and laugh often at these gatherings. And shouldn't there always be whimsy and child-like wonder at the heart of any holiday scheme?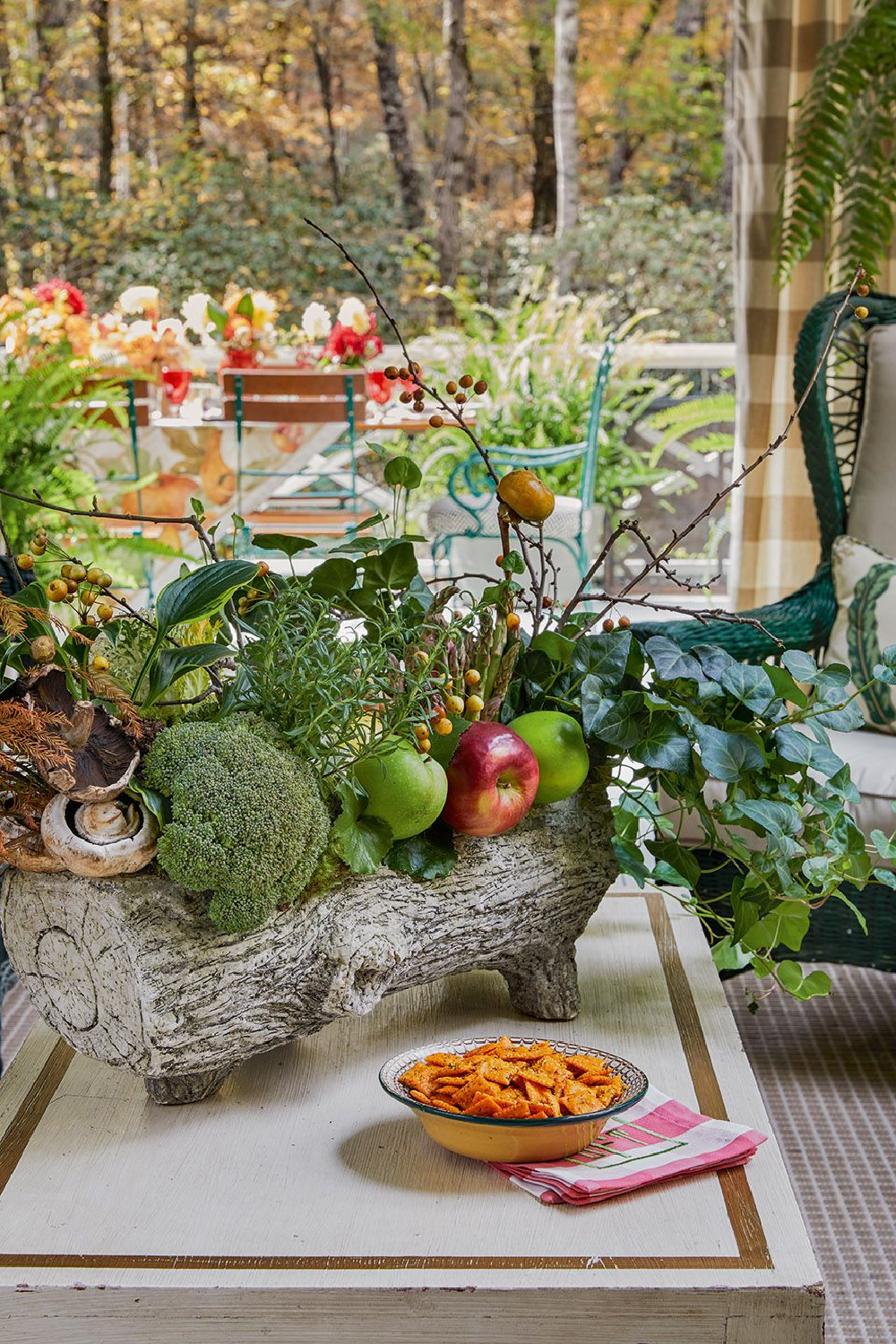 Above we see a sweetly joyful rustic arrangement of produce, herbs, berries, and foliage. Isn't it perfect for a mountain location like this? Since I live near the woods, this would also feel natural. But maybe you have a special platter or compote that has been in the family for years – why not use it as the base of a similar vege-fruit arrangement? (The faux bois log planter hails from the shop, Gardener's Cottage.)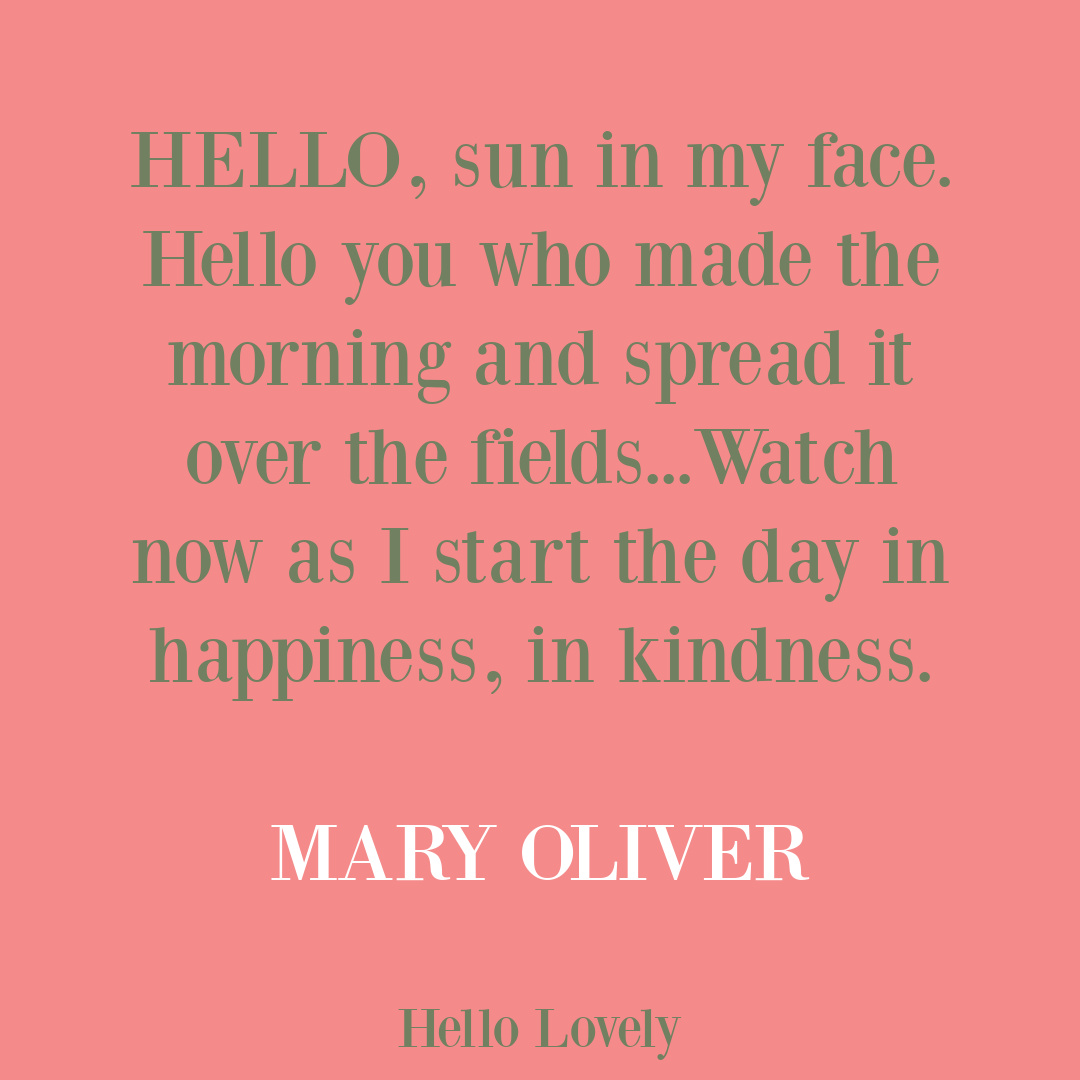 More Ideas for Holiday Decor
Find a few more natural tablescape ideas for Fall/Thanksgiving tables in THIS. Also see this mood board with a few gathered pretty things for autumn: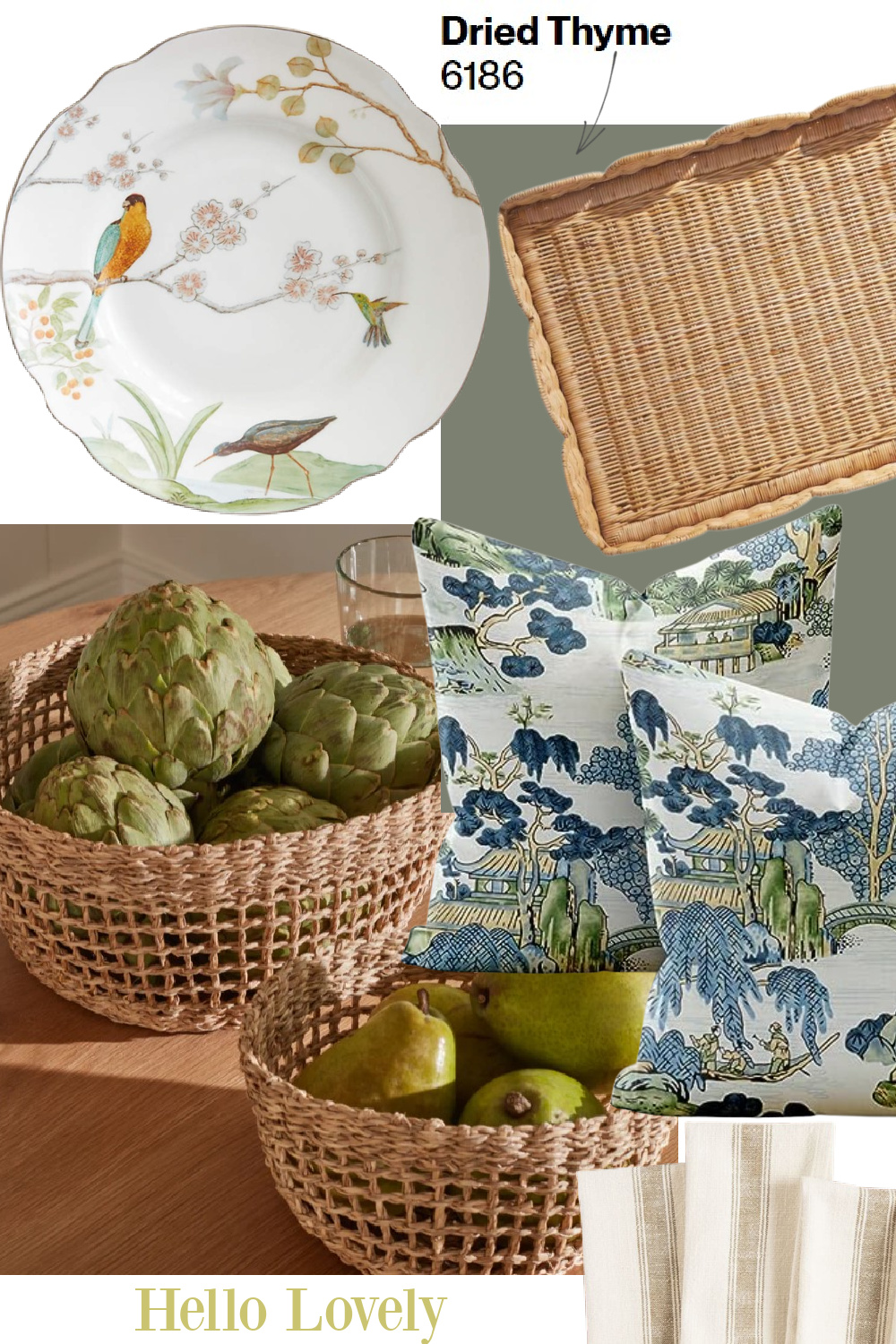 You won't regret visiting sites that share more of James Farmer's Southern style as well as this treasure of a book! Also, you can't miss his love for home, family, hospitality, entertaining, and beauty. Plus, you'll feel somehow empowered to decorate and savor home during the holiday season with a relaxed yet discerning eye for nature's bounty.
Find your copy RIGHT HERE.
I independently selected products in this post—if you buy from one of my links, I may earn a commission.
Peace to you right where you are.
-michele
Thanks for shopping RIGHT HERE to keep decor inspiration flowing on Hello Lovely!
Hello Lovely is a participant in the Amazon Services LLC Associates Program, an affiliate advertising program designed to provide a means for sites to earn fees by linking to Amazon.com and affiliated sites.