How to choose the perfect color of quartz for kitchen countertops or bathroom countertops? I hope Choosing the Perfect Quartz Color for Countertops offers help.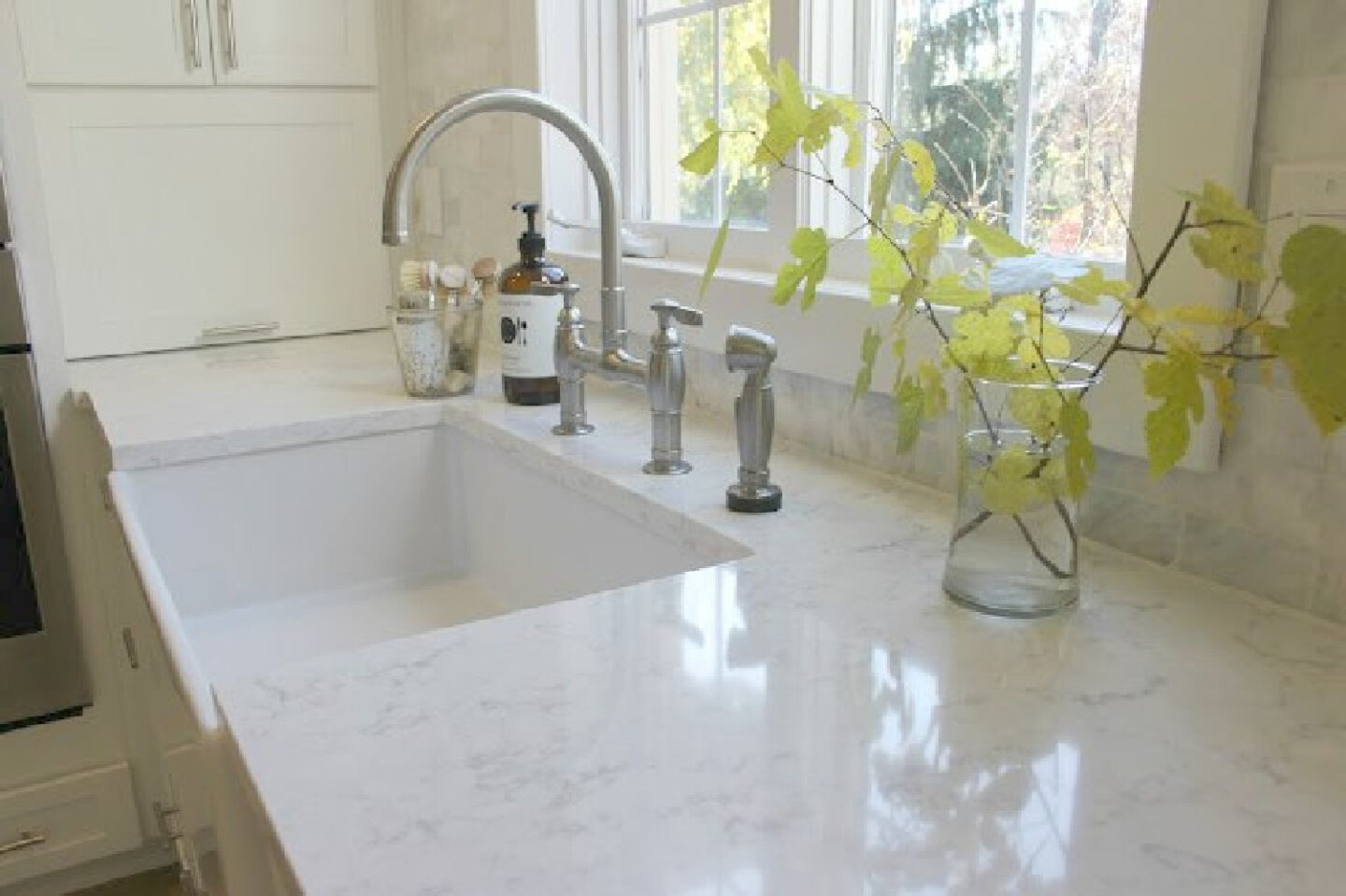 How to Choose the Perfect Color of Quartz
Not always the easiest task. There are tons of choices. But I'm here to help!
Why your ultimate choice matters. Not only are new kitchen countertops a hefty investment, but that durable white quartz countertops choice you make for your kitchen design is going to greet you every morning and evening in the kitchen…a space which has surely evolved into America's new living room.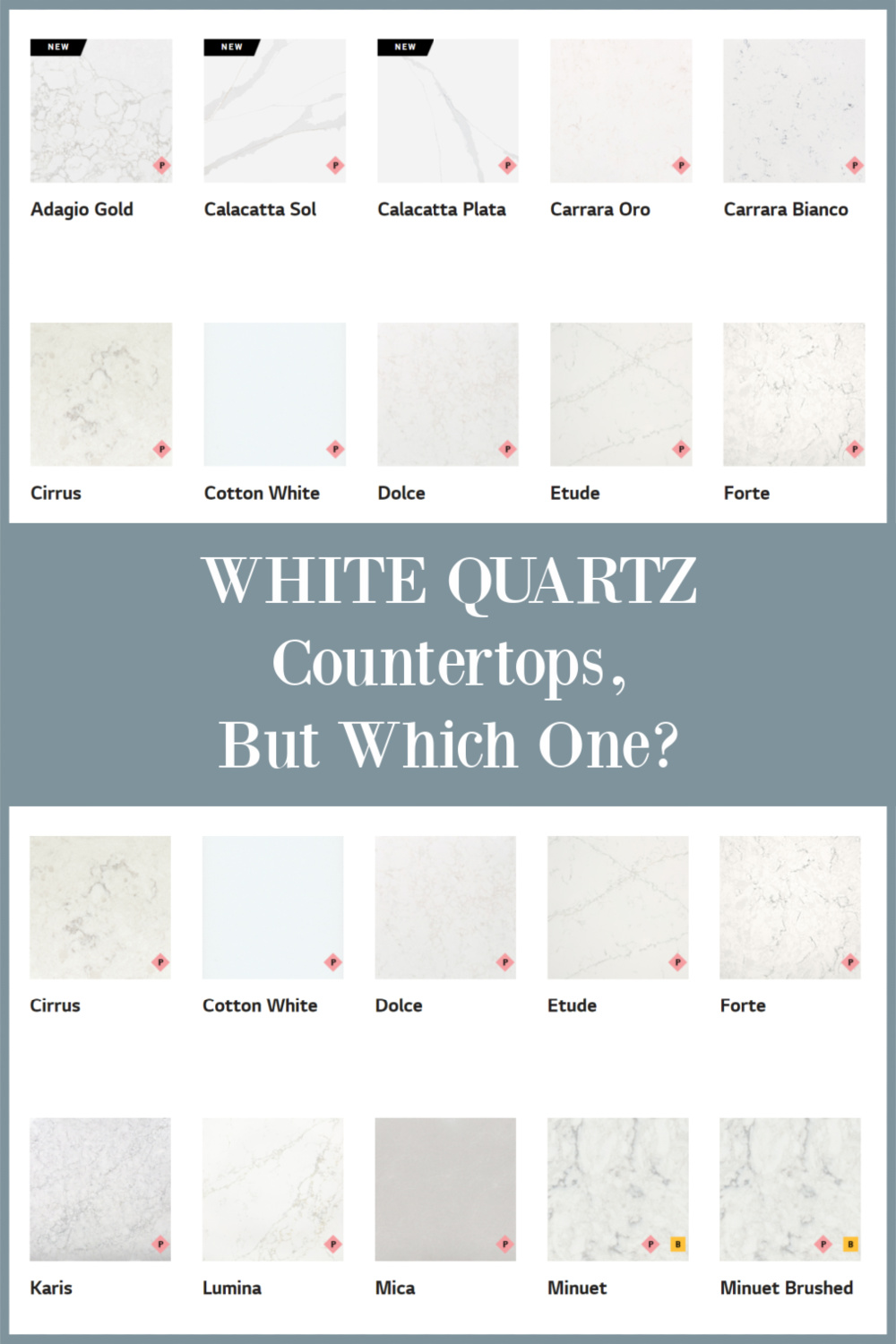 Even though I concentrate on white varieties of quartz in this post, the guidance actually applies to choosing any hue of quartz countertops in your design plans…While my kitchen has Viatera Minuet white quartz countertops, in this story I'll guide you through the selection process.
This is not a sponsored post, just me sharing my story…I did pop in a couple of affiliate links for a sink and faucet (using the links won't cost you extra, yet I'll earn a small commission).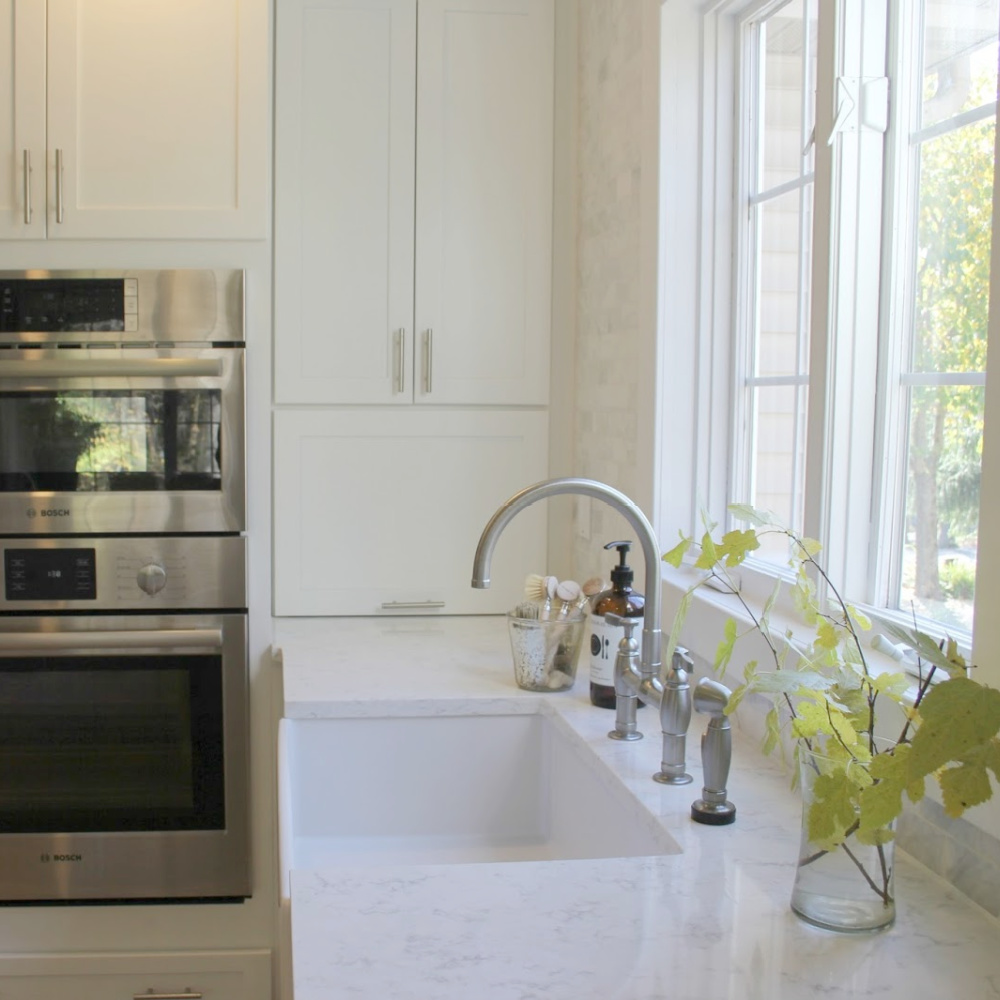 Choosing the Perfect Quartz Color for Countertops
Here at the fixer upper, choosing the perfect
quartz color was surprisingly tricky
despite the fact I knew exactly what I wanted:
a clean, crisp, white to complement
pure white cabinets.
I visited every local showroom with quartz,
looked at giant quartz slabs at a warehouse,
and brought home quartz sample after sample.
It was a quite the quartzy season. Here's the thing.
Even when you get clear about the look you
hope to achieve (Carrara, Granite, Calacatta),
there remain a host of options and more
than "50 shades of white" quartz options
with hues from muted grey to cream to beige to arctic
which can reduce DIY designfreaky
whole house renovators to:
I Thought Calacatta Nuvo Would Be the One!
For example, I thought I found the perfect quartz
for the fixer's kitchen with the highly regarded
Caesarstone Calacatta Nuvo
since it is absolutely gorgeous with dramatic,
not-too-busy veining, texture, and a beautiful finish.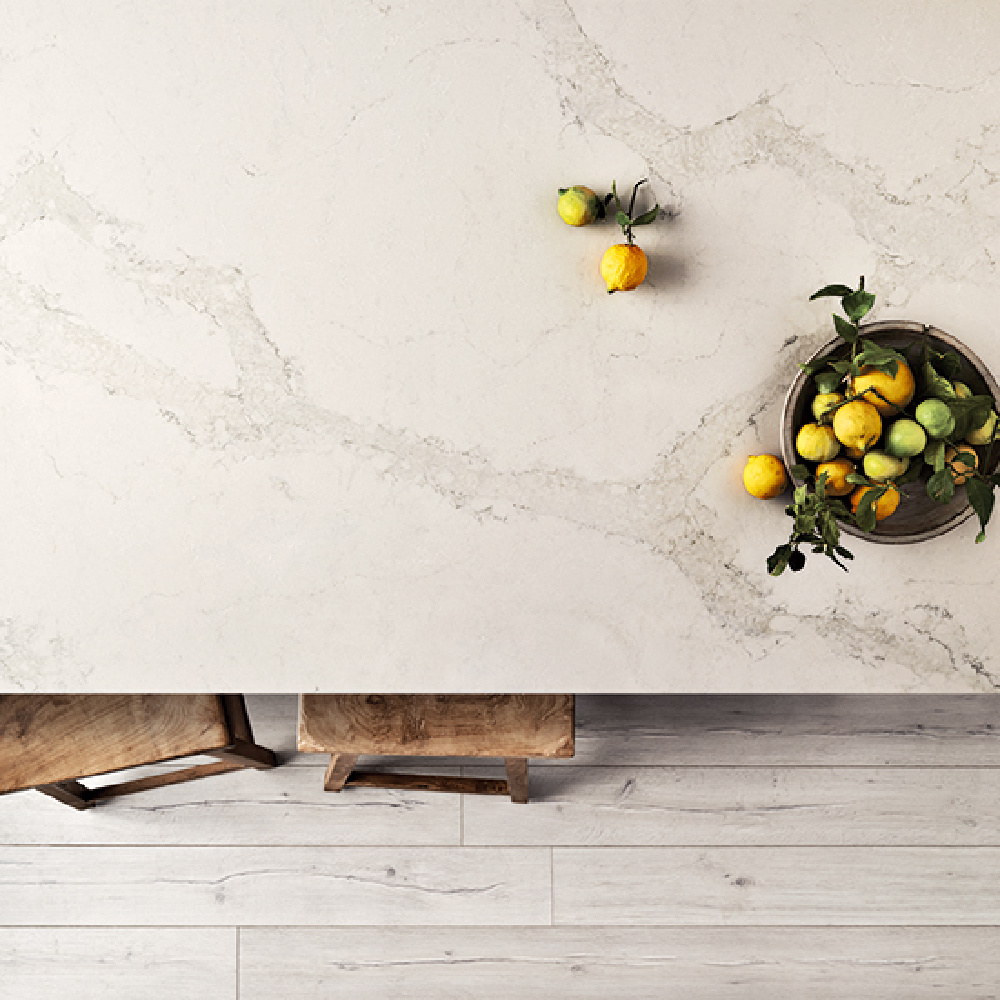 This quartz was my first choice for my countertops; yet when I brought home a good-sized sample
of Calacatta Nuvo to see it with our white cabinets, the color somehow did not
sizzle my bacon since the white of
the cabinetry made it look too creamy.
So that quartz color choice was out.
Then, I brought at least 10 more white-ish quartz samples home to
my kitchen and kept stumbling upon these issues:
*a quartz color which sparkled gorgeously in the showroom under showroom
lighting came off completely wrong in my humble, Northwest exposure (not showroom lit) kitchen.
*the same quartz color appearing gloriously pure white online
fell flat when placed next to my cabinets.
*a quartz color which seemed perfect when I viewed the giant slab in non-fancy lighting…
well, that didn't help either (but obviously it does help to view a full slab
of stone or granite you intend to use for countertops.)
Sound familiar to any homeowners?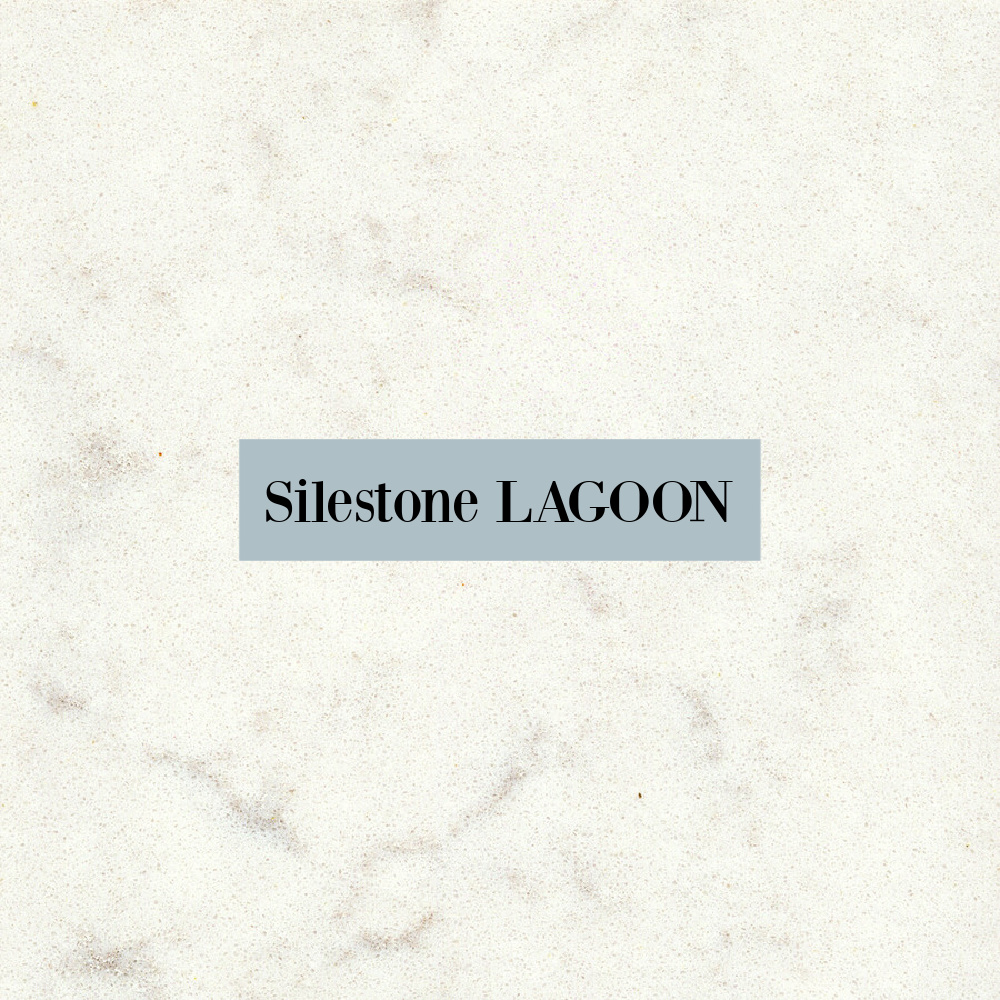 Quartz Color Considered: Silestone's Lagoon
My second choice? Silestone Lagoon quartz. I loved it in the showroom,
in photos online, and as a sample on
the passenger seat next to me on the drive home.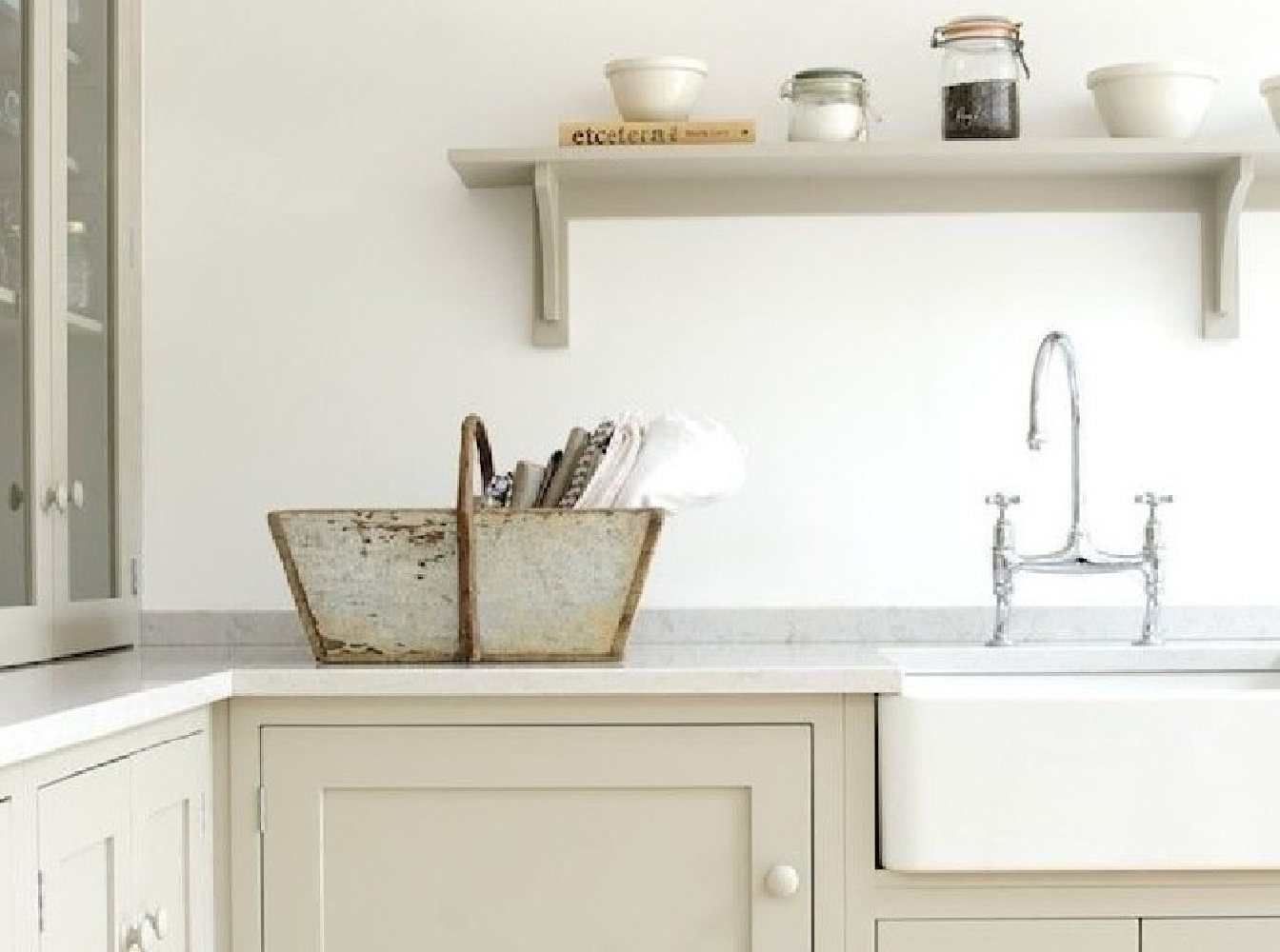 But at home in my kitchen with my particular
northwest exposure and kitchen island/peninsula,
the tone of Silestone Lagoon quartz came off too drab,
presented much more as putty,
and was not quite the white
I was after.
Though I am nutty von nutty about how
Silestone Lagoon quartz works
in every single kitchen design by deVOL,
it just wasn't singing with the "White Icing"
painted finish of custom Schuler cabinets
here at the fixer upper.
(You might remember I chose the same
Schuler custom cabinets interior design expert Sarah Richardson
chose for her cottage-style kitchen because…
Sarah's endorsement was good enough for me,
and Schuler was a great firm to work with.)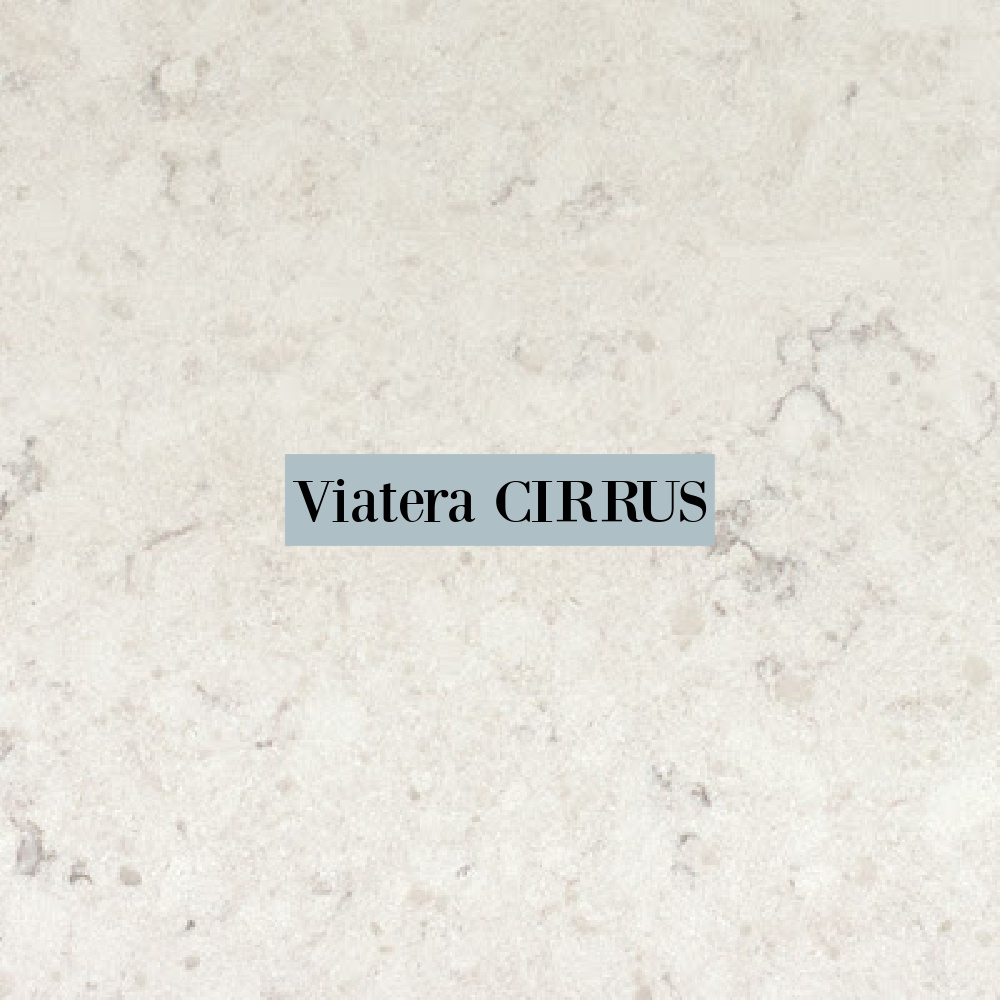 But butter my biscuit!
Everything changed when two particular white quartz
colors from the LG Viatera line came into my life!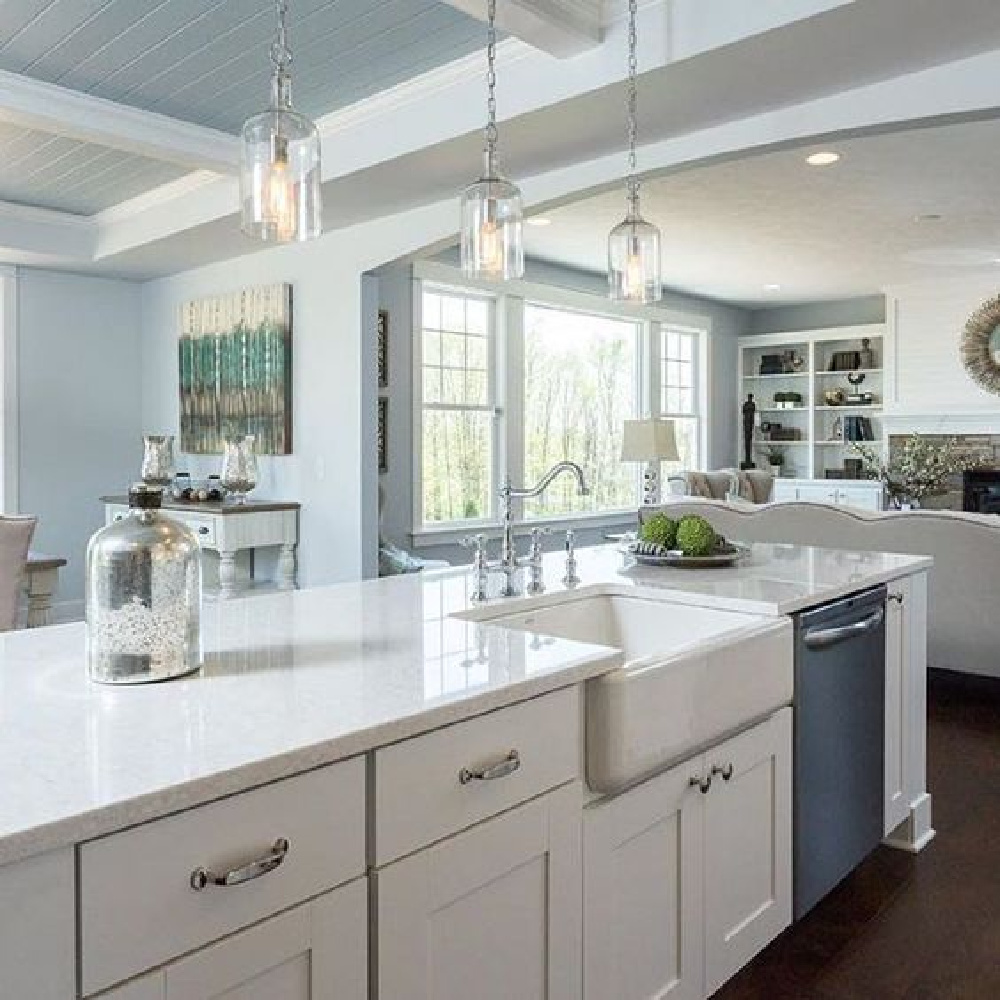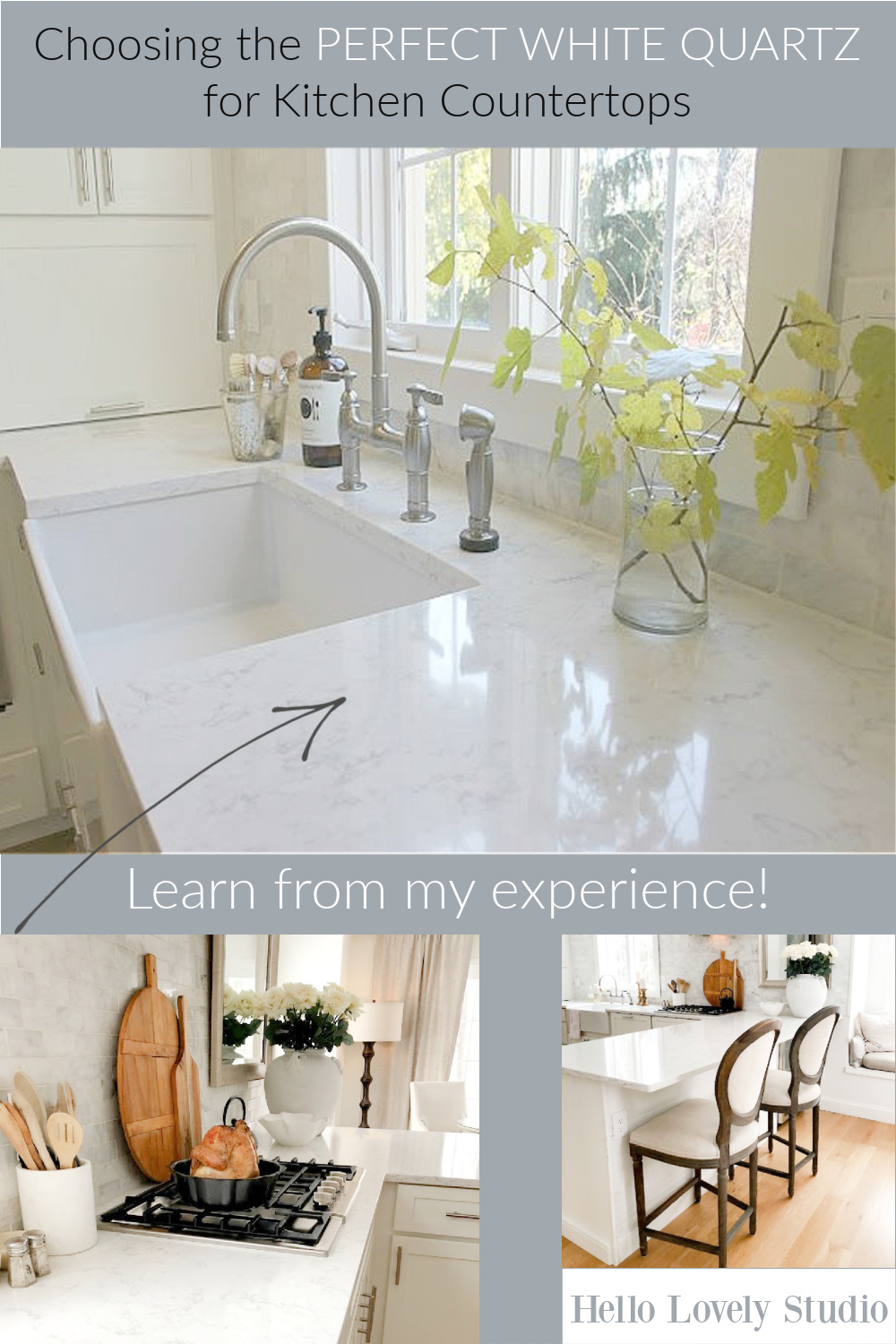 On the Hunt for Quartz
Option No. 1: Viatera Cirrus Quartz. (above) Cirrus is dreamygorgeous and has this ethereal, marshmallow-y, subtle painterly feel about it that made me want to stare and touch it. (Don't judge and don't you dare forward my contact info to the producers of that "strange fetish" reality TV show!) I was almost certain Cirrus was my dream quartz color for my white kitchen.
Until I discovered another option: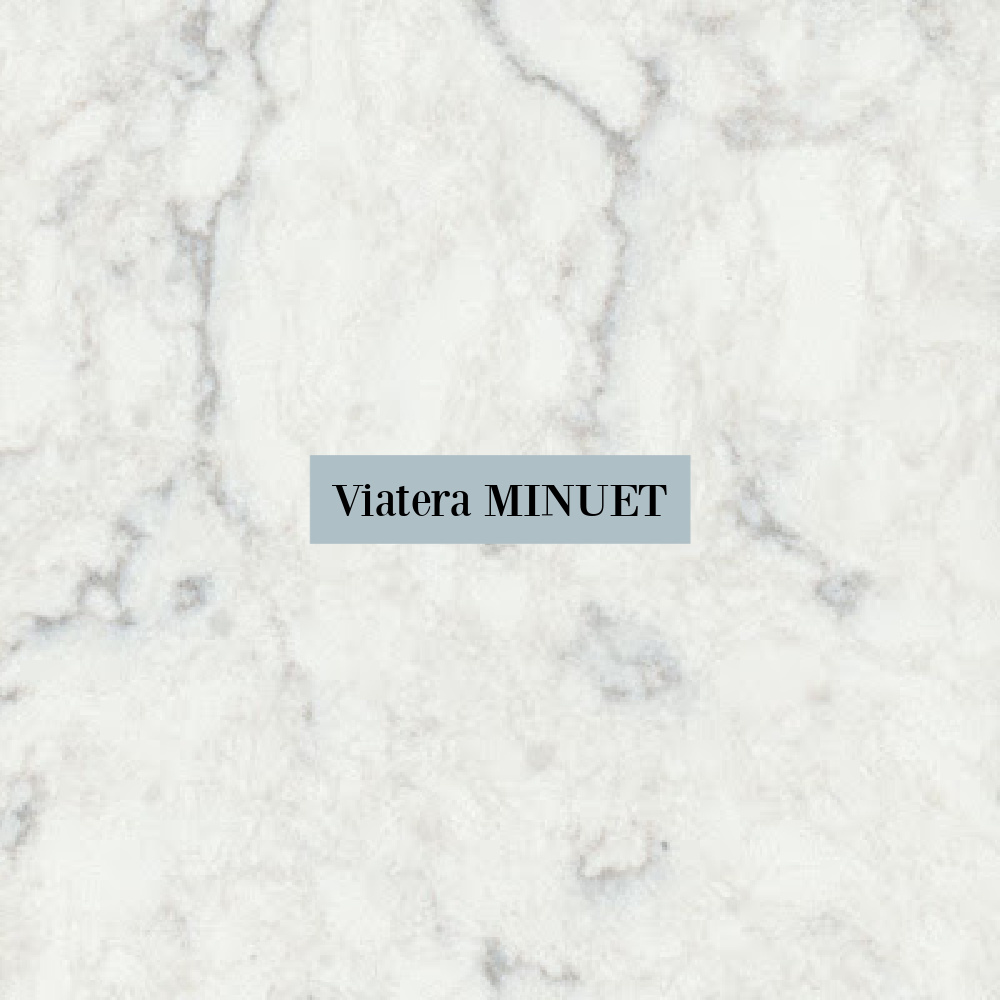 Option No. 2: LG Viatera Minuet
While Cirrus is awesome,
the winning white quartz color in the end for me was
the amazingly pure white and bright, stain-resistant
slightly-less-subtle-than-Cirrus,
LG Viatera Minuet
with its alabaster white background, cool tones, Parisian feel,
light grey marbling, and reflective beauty.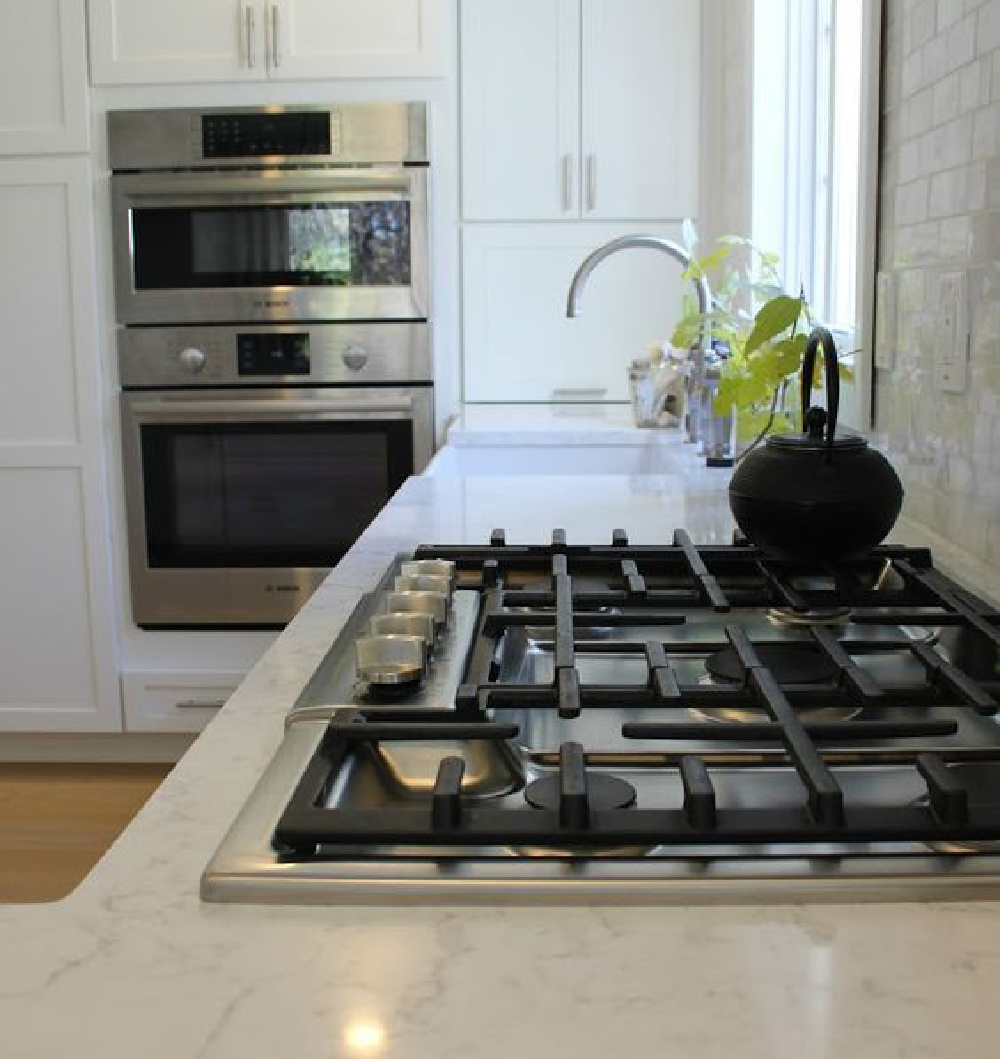 LG named this quartz color Minuet because of its harmonious perfection of tones, reminiscent of the marriage of notes in a minuet, and me oh my, does it sing in the kitchen.
How did Viatera MINUET Quartz Win Me Over?
What was it about Viatera Minuet quartz which triumphed over all the other quartz colors on the spectrum of whites for me?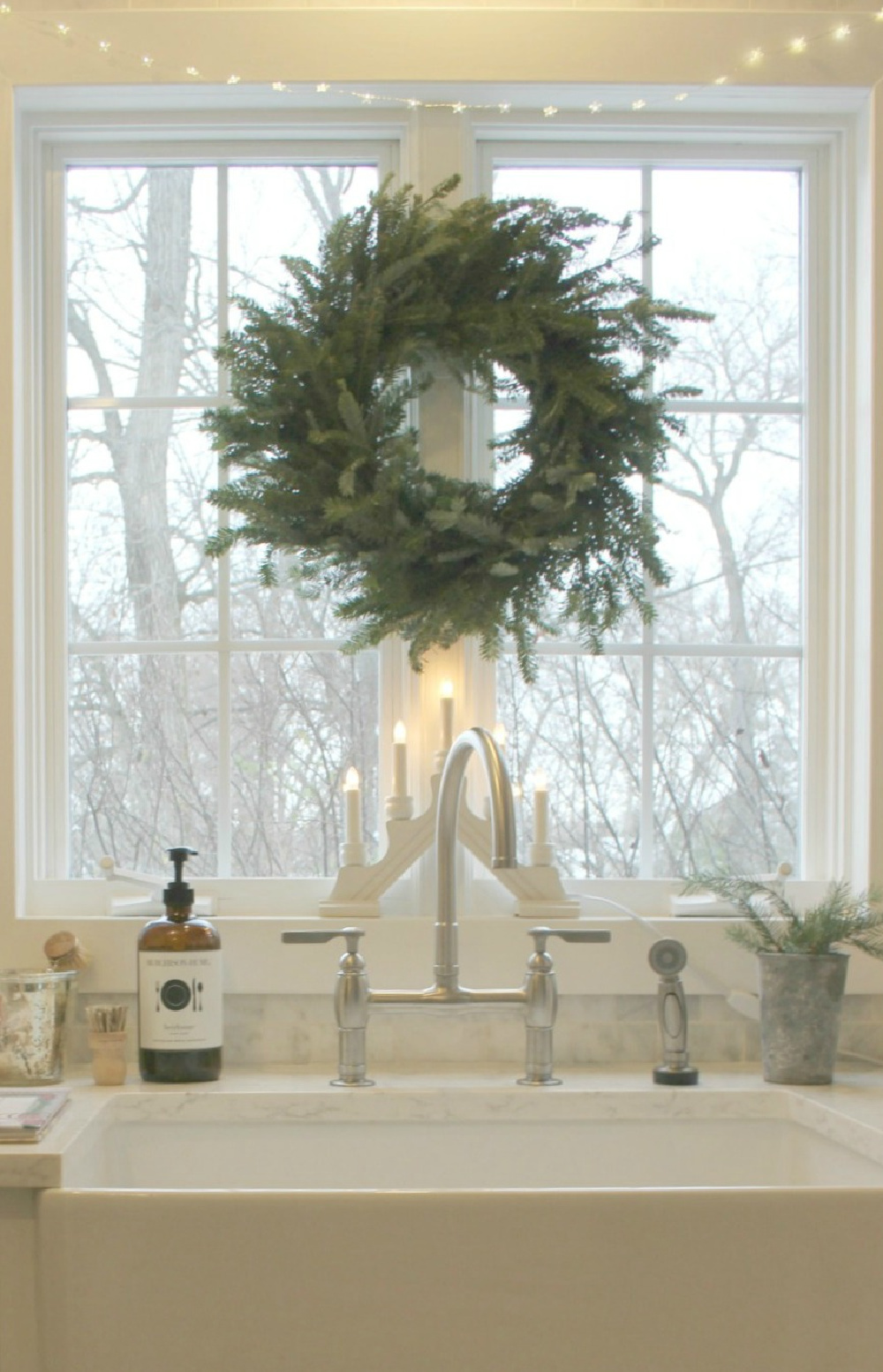 Cost Considerations
First, let's talk price.
My budget was tight, and quartz can get pricey.
At the time, the Caesarstone Calcatta Nuvo quote was actually
double the one for the LG Viatera Minuet which still would
have been fine were it the perfect choice for this kitchen
since we'll be living with the choice for a long time.
(BTW, the cost of quartz is sometimes determined by demand.)
But as it turned out, I didn't have to sweat it since
my top choice also came with the friendliest price tag…score!
With so many other expenses on the renovation
list at this fixer upper, I needed the break.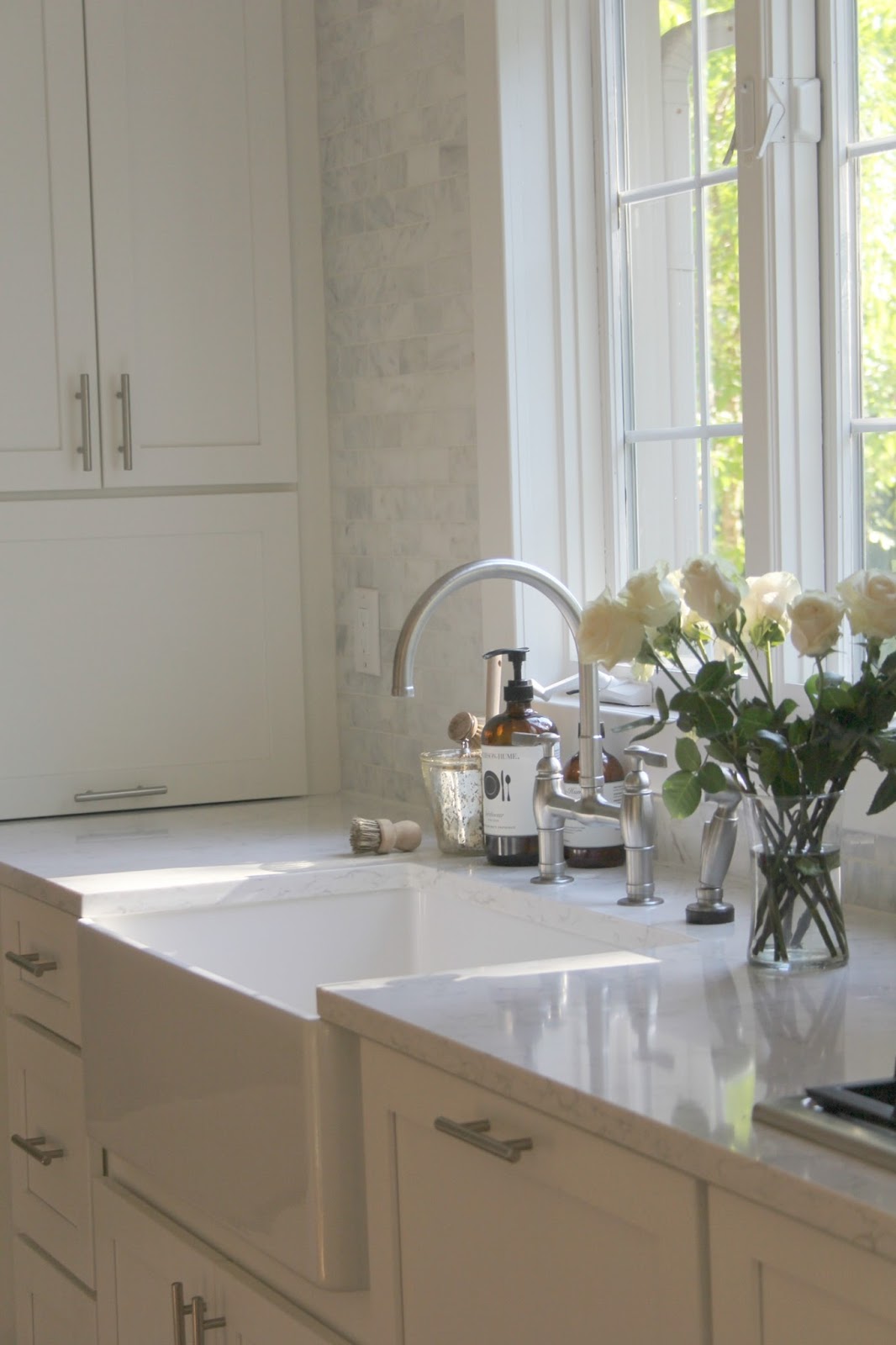 Finding the Precise White
Second, a word about the perfect white.
Viatera MINUET quartz was the whitest white without being a complete white out.
If you have shopped for quartz, then you know what I mean! A solid white base can be awesome in the right modern kitchen design context, but when you are going for a stone look with some veining to keep things natural looking and forgiving, the solid white may be all wrong.
Polished Means Reflective
Third, Viatera Minuet quartz was a winner for being the most reflective choice.
I sorely needed to get the maximum amount of light bounced around in our kitchen,
which is why I also opted for a polished venatino subway
mosaic for the wall as opposed to honed.
With Viatera Minuet, LG created a beautiful alabaster white
which brightened, lightened, and heightened the wow
factor for our kitchen which, as you can see below, truly needed the love!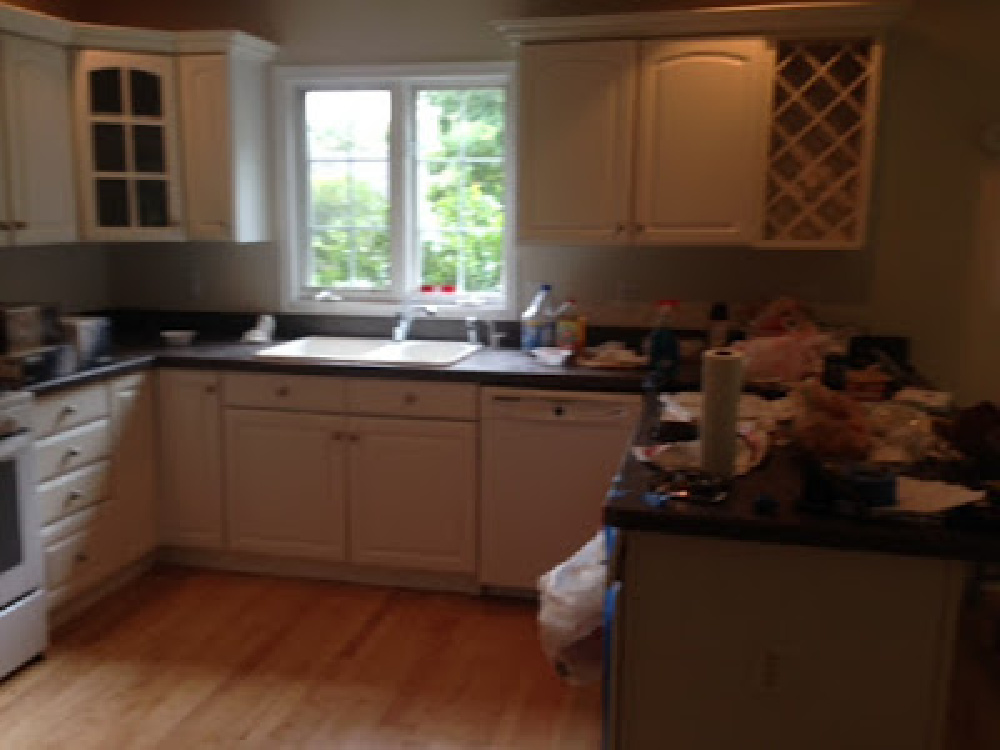 Bonus Points for Complementing White Marble
Fourth, Minuet is the frackin bomb
in how it works with natural white marble.
We used polished venatino for the
backsplash/statement wall, and this focal point is a beautiful marriage
with Minuet since I wasn't interested in contrast.
Minuet worked with Carrara, Grecian,
and other natural stone I brought home.
Fifth, I got to see Viatera Minuet in a real life kitchen.
My sister was designing her own kitchen and baths around the same time I was doing mine, and she chose Minuet in her brand new build for the kitchen and a couple bathrooms, so I was able to see expanses of it installed which is MONEY.
Minuet in My Sister's Kitchen
Here is Viatera Minuet Quartz in Jody's kitchen:
Quartz Vs. Marble
By the way…regarding quartz vs. natural stone or granite for a kitchen design:
I have used quartz for counters in multiple kitchens, not in any way attempting to fake the look of natural stone or granite…
Kittycats, quartz ain't foolin anybody as a marble poser.
No, no, no.
I am quartzhappy because of its stain resistance, uniformity, strength, non-porous, no-maintenance nature, antibacterial properties, and lovely live-ability since we can surely anticipate red wine spills, and limes sliced directly on naked kitchen counters when madame Lovely is not present to police criminal lime slicing behavior.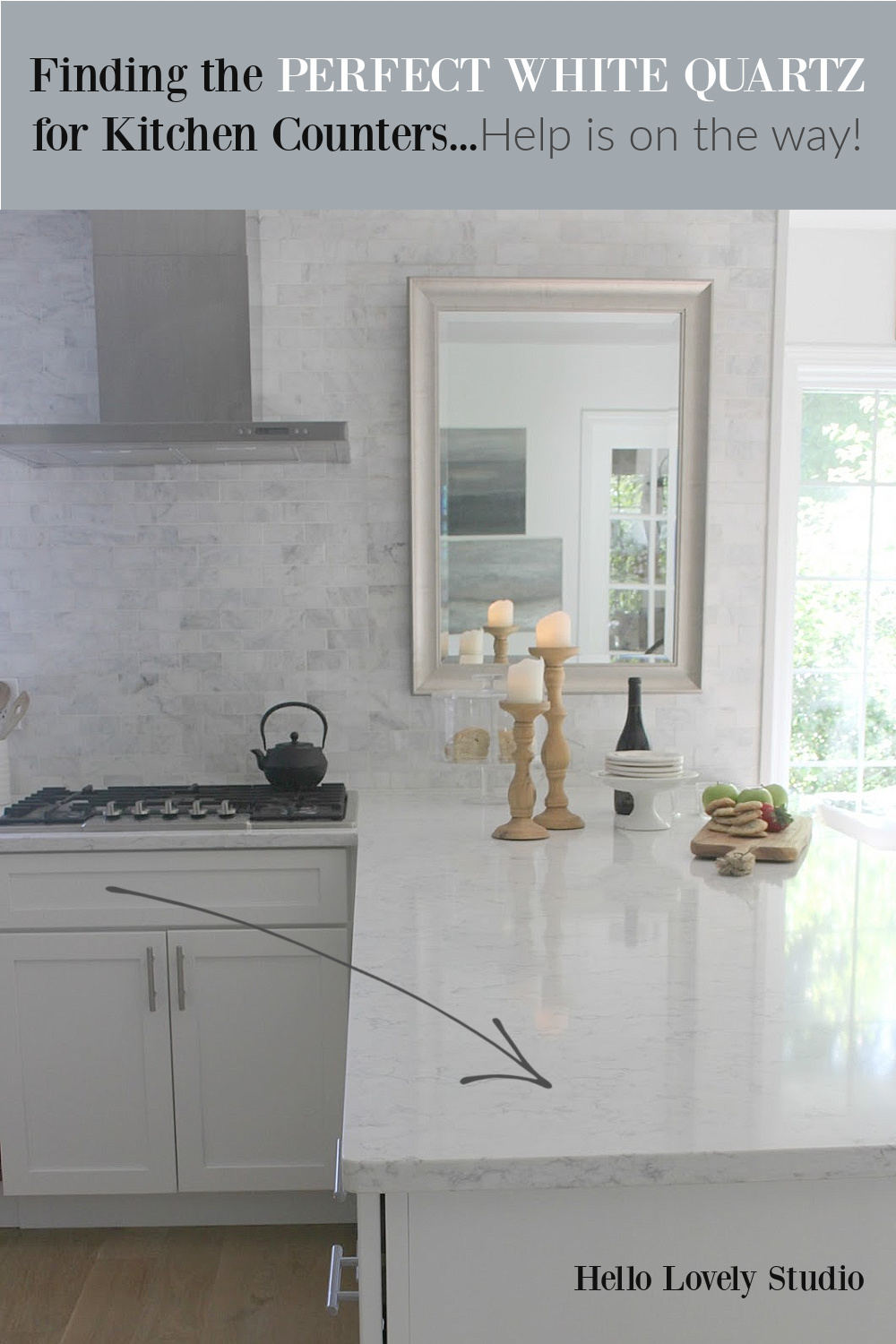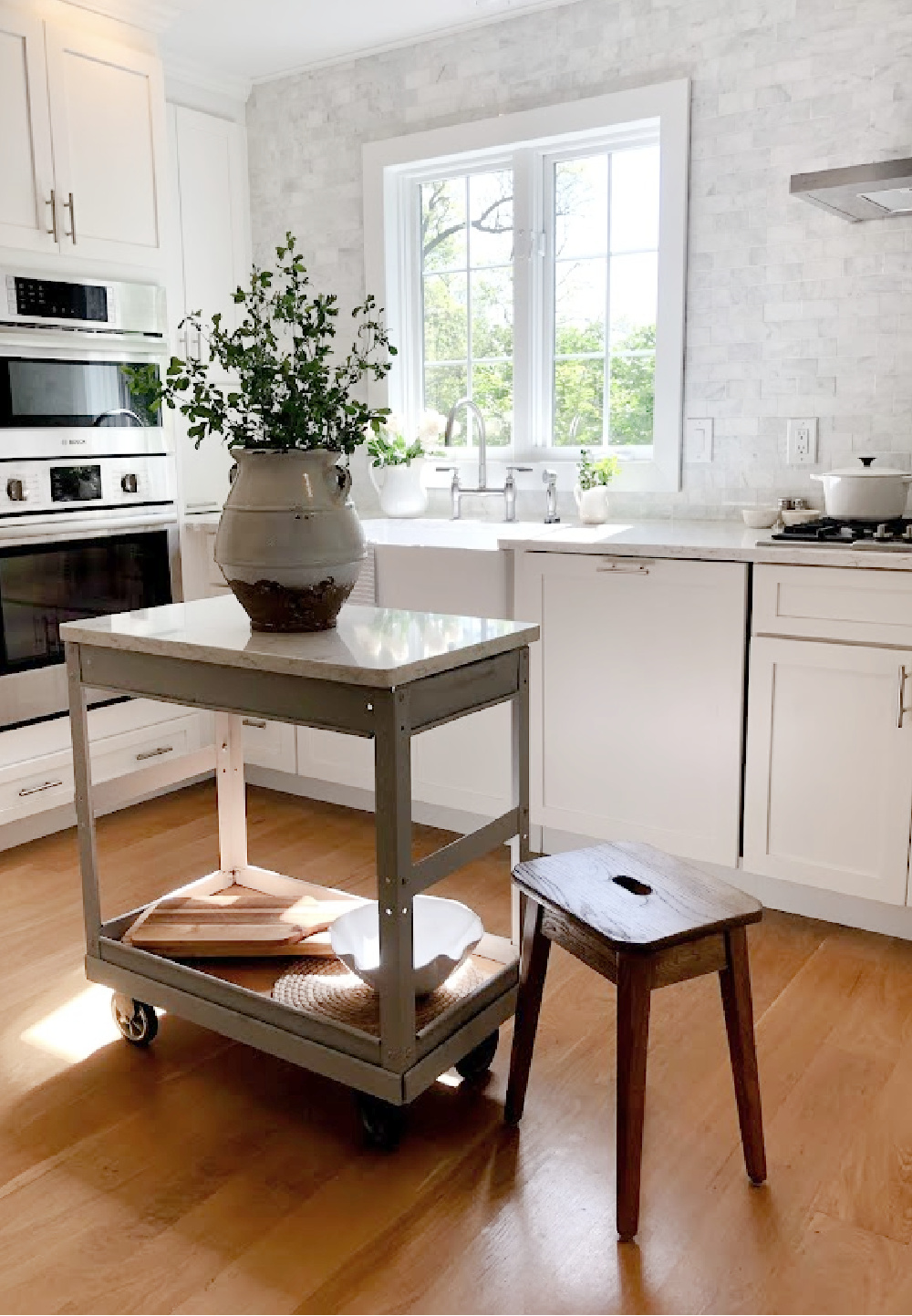 Feel Free to Ask Questions in Comments
Have more questions about choosing the best color of quartz for your countertops? I'm happy to help!
And if you are seeking kitchen design or kitchen decor inspiration, you are in the right place! tap here for lovely kitchen ideas!
p.s. I found a little steel cart to us as a work table that was the perfect size to be topped with the Minuet quartz cut-out from my farm sink. The fabricator had finished the leftover piece on all sides (bonus). I painted it with this Grey chalk paint then added salvaged maple floor boards we had salvaged from the kitchen floor when we demo'd it. The sink cut-out piece fit perfectly on top and is heavy enough that no adhesive was necessary. You can see it on my IG here.
I independently selected products in this post—if you buy from one of my links, I may earn a commission.
Peace to you right where you are.
-michele
Thanks for shopping RIGHT HERE to keep decor inspiration flowing on Hello Lovely!
Hello Lovely is a participant in the Amazon Services LLC Associates Program, an affiliate advertising program designed to provide a means for sites to earn fees by linking to Amazon.com and affiliated sites.