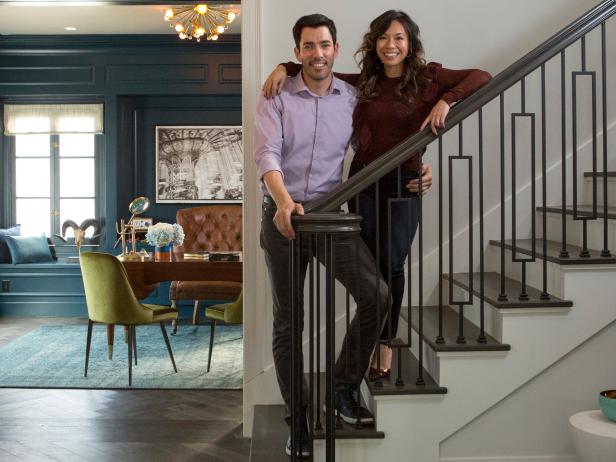 Whether you are in the mood for scoring decorating ideas from a home with classic yet eclectic and Midcentury Modern interiors, touring a celebrity home, or shopping for the exact home decor, furniture, and paint colors as seen on the Property Brothers newest project, Drew's Honeymoon House, I have you covered even for those paint colors so keep reading!
Drew Scott of the Property Brothers is engaged to the Creative Director for his company, Linda Phan, and their 5-part TV series for HGTV chronicles the renovation of the home they will share as a family.
Today's post is covering the home decor choices made in their master bedroom, bath, and closet and will provide links to the exact decor. Exact? Yepper. I have the shopping guide to that stunning chaise, bed, sconce, table, and accessories!
Drew's Honeymoon House is the latest project by HGTV's The Property Brothers, who are famous for their bold home renovations for daring homeowners around the globe…this time around, the interior design project is personal. While the 1921 LA mansion (purchased for $2.3 million) they renovated is Drew and Linda's home, if you watched the show or saw the tour of the guest suite for Jonathan, Drew's twin, you'll know this family is a close-knit one, and the whole project involves the extended Scott family.
We previously shopped the living room and entry in Drew's Honeymoon House, and many of the pieces used in those eclectic spaces are already sold out so do keep that in mind!
The Property Brothers completely redesigned and remodeled this storybook-like charmer in LA. and somehow managed to transform it completely in 12 weeks! Don't expect your contractor to deliver that kind of expediency! You can see the before and after drama in episodes on HGTV.
While Drew and Linda's interior design style in this 1920's manse is eclectic, bold, and not the timeless and tranquil we typically see on this blog, l bet the home decor ideas and interior design lessons within it will engage you.
Many of the EXACT home decor items and furniture incorporated into the interior design of the master bedroom and master bath are available to purchase online, and I think you'll be pleasantly surprised by the affordability of many of the pieces Drew, Linda, and Jonathan chose for the master suite.
Keep in mind that this Property Brothers TV series for Drew's Honeymoon House is hugely popular, and home decor and furnishings you'll see on Hello Lovely are selling quickly. If you find a keeper, I hope you'll be able to snag it before it sells out.
In this post, you'll find furniture and links to the exact home decor used in the master suite at Drew's Honeymoon House. The master bedroom is painted a rich teal that reminds me a bit of Farrow & Ball's Inchyra Blue. Its classic style may inspire you whether you're a Midcentury Modern type or more keen on transitional decor. The master bath is my favorite part of the interior design project, and I love the symmetry of the dual vanities, consoles, and lighting. The tile floor with its decorative marble design in the center adds a lot of character, and the sconces are a beautiful choice (I'm not a huge fan of vanity lights…I just don't come across many I feel as though I could live with).
You can score the EXACT lighting fixtures! If you happen to be planning to design or redesign a bedroom or bathroom in your own home, maybe you'll find some decorating ideas to steal from the fresh interior design ideas you'll see here.
Drew's Honeymoon House – Master Suite
Drew's Honeymoon House – Master Bedroom & Master Bath Resources
This post contains many affiliate links and I will be compensated if you make a purchase.
Drew's Master Bathroom
Drew's Honeymoon House Master Bedroom – Paint Colors
Paint color on walls: FARROW & BALL Railings FIND HERE
Paint color for trim: FARROW & BALL Strong White No. 2001
Paint color for the ceiling: FARROW & BALL Wevet No. 273
If you watched the episode of the show spotlighting the master suite renovation, then you may remember the fireplace snafu. Sometimes an electric fireplace is the right choice in a space where you want to simply flip a switch for instant ambience.
The Sputnik chandelier is pricey, but I have an alternative ceiling light option for you for less than 100 bucks.
What do you think of the master suite's renovation and interior design in this project?
For more shopping and resource guides for Drew's Honeymoon House, visit:
Shop Drew's Honeymoon House – Kitchen
Shop Drew's Honeymoon House – Dining Room
Shop Drew's Honeymoon House – Living Room & Entry
Shop Drew's Honeymoon House – Guest Bedrooms
Shop Drew's Honeymoon House – Jonathan's Guest Suite
Peace to you right where you are.
~michele
I love helping you add style and function to your home with thoughtfully selected product recommendations. Thanks so much for your support as you use independently chosen links, many of which earn me a commission.
MASTER BEDROOM RESOURCE GUIDE
Grey Area Rug Margery Area Rug
White Bench 
2-Light Candle Sconce
White Coral Coral Décor Sculpture
Polka Dot Vase Covered Decorative Urn
Bed Backboard Velvet Upholstered Panel Bed 
Pink Blanket Cotton Throw Blanket
Black/White Duvet Chopin Duvet
Black End Table  
Black End Table 
Blue Table Lamp Toliver 31.5″ Table Lamp
Slate Curtains Solid Semi-Sheer Rod Pocket Single Curtain Panel 
Potted Succulent Artificial Mixed Succulent Sesk Top Plant in Pot
LED Fireplace 63″ Built- in LED Wall Mount Electric Fireplace Insert 
Hand Sculpture  Hands on Base Sculpture
Gold Ceiling Light 6 Light Semi Flush Mount
Hardwood Flooring: Monarch Plank – Boulevard Collection (Jourdan) 1516 – Galleher
Paint/Walls: Railings No.31 – Farrow & Ball
Paint/Ceilings: Wevet No.273 – Farrow & Ball
Paint/Trim: Strong White No. 2001 – Farrow & Ball
Paint/Door: Off Black No.57 – Farrow & Ball
Interior Door: Primed 1 Panel 2-Step Shaker 8491 – Trimlite
Door Hardware: Estate Knob w/Estate Rose (Vintage Brass) 5055.033 – Baldwin
Door Hinges: Square Corner Hinge (Vintage Brass) 1040.003 – Baldwin
Trim, Base & Case Various: Anderson Moulding
Fireplace Tile Weave: Glass Offset Field 1″x 4″ (Pewter) – Walker Zanger
Windows: Siteline Wood Windows (Black Clad Exterior w/Black Painted Interior) – Jeld-Wen
MASTER BATH HOME DECOR RESOURCE GUIDE
Gold Ceiling Light 6 Light Semi Flush Mount 
Gold Wire Tray  2 Piece Metal Mirrored Ornate Decorative Tray 
Gold Ottoman 
Black Table  Console Table
Orchid in Vase Faux White Phalaenopsis Orchid in Acrylic Glass 
Free Standing Tub: 67″ Kateryn Bateau Cast Iron Skirted Tub (Black) 426201 – Signature Hardware
Tub Faucet: Sebastian Freestanding Tub Faucet (Polished Brass) 909045 – Signature Hardware
Shower System: Exira Thermostatic Shower System (Oil Rubbed Bronze) 925470 -Signature Hardware
Shower Drain: Cohen Linear Shower Drain 40″ 927530 – Signature Hardware
Toilet: Browning Siphonic One Piece Elongated Toilet (White) 412265 – Signature Hardware
Vanity Sinks: 23″ Laing Rectangular Porcelain Undermount Sink (White) 933016 – Signature Hardware
Sink Faucets: Lester Widespread Bathroom Faucet (Polished Brass) 932623 – Signature Hardware
Custom Vanities: Creative Woodworks
Countertop Slab: Porcelain Slab (Marron Glace) 2SPOMGL12MMMAT – Walker Zanger
Tile/Floor: Sterling Row Rattan (Charcoal Natural) 1SROCHARAT – Walker Zanger
Tile/Floor Border: Statale – Field 6″x 47″ (Fumo Natural) 1STAFUM647 – Walker Zanger
Tile/Shower Wall: Sterling Row Chesterfield (Linen Natural) 1SROLINCHE – Walker Zanger
Tile/Shower Side Walls: Statuary (Cava Bianco) 1CBISTA312 – Walker Zanger
Paint/Walls: Ammonite No.274 – Farrow & Ball
Paint/Ceilings: Wevet No.273 – Farrow & Ball
Paint/Trim: Strong White No.2001 – Farrow & Ball
Paint/Doors: Off Black No.57 Farrow & Ball
Linen Closet Door: Primed 1 Panel 2-Step Shaker 8491 – Trimlite
French Doors: Riverton Obscure French Door – Trimlite
Door Hardware: Estate Knob w/Estate Rose (Vintage Brass) 5055.033 – Baldwin
Door Hinges: Square Corner Hinge (Vintage Brass) 1040.003 – Baldwin
Trim, Base & Case Various: Anderson Moulding
Vanity Hardware: Brixton Ridged Knob 1 1/4″ (Honey Bronze) TK881HB – Top Knobs
Wall Hooks: Edwardian Bath Double Hook Plain Backplate (German Bronze) ED2GBZD – Top Knobs
Towel Ring: Edwardian Bath Ring Plain Backplate (German Bronze) ED5GBZD – Top Knobs
Toilet Paper Holder: Edwardian Bath Tissue Hook Plain Backplate (German Bronze) ED4GBZD – Top Knobs
Windows: Siteline Wood Windows (Black Clad Exterior w/Black Painted Interior) –  Jeld-Wen
MASTER CLOSET RESOURCE GUIDE
Turquoise Round Ottoman 
Magazine Holder Metal & PVC Magazine Holder
Storage Box 3 Piece Clark Trunk Set 
Black/Gold Ceiling Light 12-Light Sputnik Chandelier
Mirror Smoked Frame Glass Wall Mirror 
Woven Baskets Grand Encampment Storage Basket (Set of 3) 
Geometric Blanket Jacquard Knitted Squares Cotton Blanket 
Closet Fixtures: ClosetMaid Pro – MasterSuite Collection (Chocolate Pear) ClosetMaid Pro
Paint/Walls: Railings No.31 Farrow & Ball
Paint/Ceilings: Wevet No.273 Farrow & Ball
Paint/Trim: Strong White No.2001 Farrow & Ball
Paint/Door: Off Black No.57 Farrow & Ball
Interior Door: Primed 1 Panel 2-Step Shaker 8491 – Trimlite
Door Hardware: Estate Knob w/Estate Rose (Vintage Brass) 5055.033 Baldwin
Door Hinges: Square Corner Hinge (Vintage Brass) 1040.003 Baldwin
Drawer Hardware: Kingsbridge Pull 5 1/16″ (Honey Bronze) TK854HB Top Knobs
Trim, Base & Case Various: Anderson Moulding