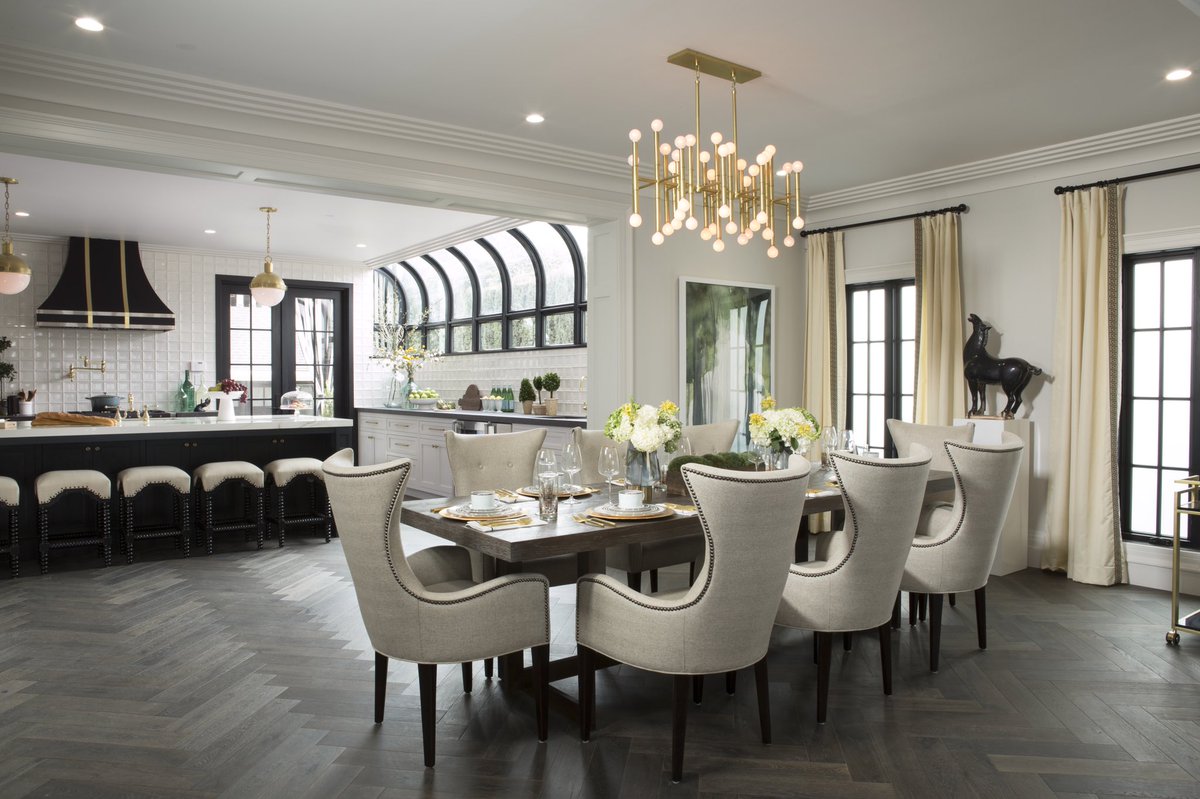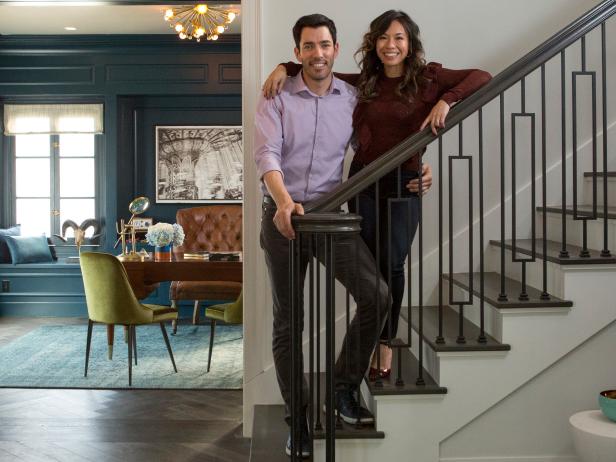 Today's tour of the dining room in Drew's Honeymoon House is destined to appeal to folks who watch The Property Brothers and wish to buy the exact home decor and furniture chosen by Drew Scott and Linda Phan for their newly renovated 1921 home in the Hancock Park neighborhood of LA.
Exact? Yepper. You'll find links to the home decor, stunning light fixture, furniture, curtains, and accessories! For a complete resource list, find it at the end of this post!
Drew's Honeymoon House is the latest project by HGTV's The Property Brothers, who are known for their bold home renovations for lucky homeowners around the globe…this time around, they are renovating for themselves.
Keep in mind that these HGTV episodes of Drew's Honeymoon House are hugely popular, and home decor and furnishings you'll see here are selling out. If you like what you see, I hope you'll be able to snag it before it is out of stock!
In this post, you'll discover links to the exact home decor used in the dining room at Drew's Honeymoon House. I think the lighting fixture may be my favorite design elements in this room, and you can score the EXACT showstopping Jonathan Adler Madrigal pendant with 42 lights!!!! If you happen to be planning to design or redesign a dining room in your own home, you just may be inspired by the classic, yet modern fresh interior design ideas you'll see here.
Source: People magazine, HGTV
Let's get right to the dining room's magic, and do keep in mind the pieces I am spotlighting are selling out fast!
This post contains affiliate links and I will be compensated if you make a purchase after clicking on my links.
Here's what the space looked like before the renovation:
Here's what the description for this magical Jonathan Adler pendant light has to say about it: "Bring a contemporary twist to your traditional home with the Jonathan Adler Meurice 42 Light Rectangular Chandelier. It features 42 lights that give your grand interiors a warm, heavenly glow. This rectangular shaped light fixture can also be used in commercial establishments like hotels and saloons. This impressive lighting fixture is a great gifting option for anniversaries, weddings, housewarming parties, and other festive occasions.This luxurious chandelier from the Meurice collection offers an eclectic lighting solution for your home. It can accommodate 25-watt G16.5 candelabra bulbs that create an amazing shimmering effect. This spectacular light accessory can be placed in your living room, dining area, hallway or foyer. It can be directly wired. Paired with a mixture of other funky light sources, this chandelier creates just the right ambiance in your home.
A must have for your home; the Jonathan Adler Meurice 42 Light Rectangular Chandelier is the perfect blend of stylish appeal and functionality. Its intricate design and sturdy construction are sure to win you many compliments. The height of this chandelier can be easily adjusted from a maximum 57.25″ to a minimum of 28″.
DINING ROOM RESOURCE GUIDE
Hardwood Flooring: Monarch Plank – Boulevard Collection, Jourdan-Herringbone 1516 – Galleher
Paint – Walls: Ammonite No.274 – Farrow & Ball
Paint – Trim: Strong White No.2001 – Farrow & Ball
Paint – Ceilings: Wevet No.273 –  Farrow & Ball
Trim, Base & Case: Anderson Moulding
Windows: Siteline Wood Windows (Black Clad Exterior w/Black Painted Interior)  – Jeld-Wen
Chandelier: Gold  42 Light Kitchen Island Pendant
Dining Table:  Dining Table
Dining Chair:   Wingback Chair
Bar Cart: Gold  Bar Cart  
Marble Stand: Sleek Decorative Stand
Horse Statue on Stand: Han Dynasty Horse Sculpture
China:  Black Striped Plates Parker Place 5 Piece Place Setting 
Dinner Napkins: Embroidered
Home Decor Items in Drew & Linda's Dining Room:
Glass Sphere  Glass Sphere Sculpture
Geometric Sculpture  2 Piece Metallic Wire Dodecahedron Sculpture Set
Gold Sphere Classy & Stylish Decorative Object – Small & Large  
Artwork Grove by Christine Lindstorm Framed Painting Print
Crystal Sculpture Crystal Obelisk Sculpture
Maple Leaf Maple Leaf Silhouette Sculpture
Brown Vase Mosaic Decorative Vase
Crystal Decanter Bellini Spirits Decanter
Crystal Decanter Plaid 25 oz. Whiskey Decanter
Decanter & Glasses Denmark  6pc Decanter Tray and Glass Whiskey Set 
Planter Box Moss in Stained Wooden Container 
Bottle with Gold Neck Etched 3 Piece Decorative Bottle Set 
White Vases Bud Ceramic Vases
Wine Glasses Red Wine Glass ( Set of 4)  
Spiral Stair Sculpture Lighthouse Steps Architectural Sculpture
White Lantern Jardine Ceramic Lantern 
Dinner Napkins Verrett Embroidered Line Design Dinner Napkin
Medallion on Stand Marble Decorative Medallion on Stand 
Gold Flatware  20 Piece Flatware
Gold Plates Wellston 13″ Charger Plate
Black Striped Plates Parker Place 5 Piece Place Setting 
Pattern Gold Jar Decorative Jar 
Cream Curtains Abernathy Geometric Semi-Sheer Rod Pocket Single Curtain Panel 
Marble Jar Ceramic 3 Piece Decorative Jar Set
White Square Vase Gunner Vase
White Cylinder Vase Long Table Vase 
Square Grey Jar Ceramic Covered Jar
Gold Candle Holder  Agate 2 Piece Metal Candlestick Set
Rock Sculpture Agate on Base Sculpture
Gold Rod Sculpture American Lotus Pod 2 Piece Sculpture Set
Small Gold Glass Bergenia Reticulated 15 oz. Highball Glass 
Gold Leaf Leaf Sculpture 
Make sure you visit the resource shopping guide for Drew's kitchen!
For more shopping and resource guides for Drew's Honeymoon House, visit:
Shop Drew's Honeymoon House Kitchen
Shop Drew's Honeymoon House Master Suite
Shop Drew's Honeymoon House – Living Room & Entry
Shop Drew's Honeymoon House – Guest Bedrooms
Shop Drew's Honeymoon House – Jonathan's Guest Suite
Peace to you right where you are.
~michele