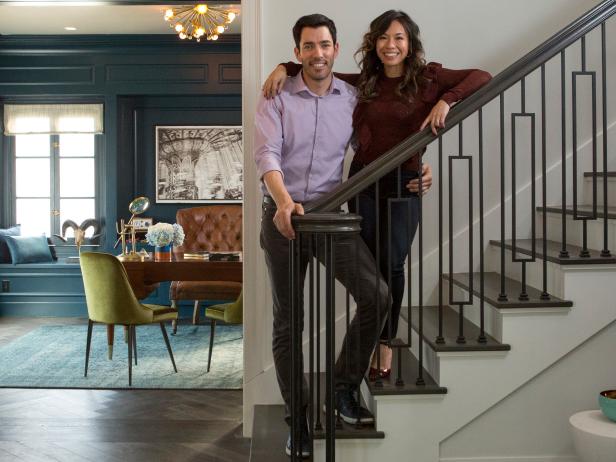 Our tour of Drew's Honeymoon House continues and will especially appeal to folks who watch Property Brothers and wish to buy the exact home decor and furniture chosen by Drew and Linda for their new LA home.
Exact? Yes. I have the home decor links to those stunning light fixtures, bar stools, dishes, and accessories! For a complete resource list, find it at the end of this post!
Drew's Honeymoon House is the latest project by HGTV's The Property Brothers, who are known for their bold home renovations for lucky homeowners around the globe…this time around, they are renovating for themselves.
While the LA mansion is Drew and Linda's home, if you saw my post the other day, you'll know the Property Brothers created a special guest suite for Jonathan, who is Drew's twin.
We previously shopped the living room and entry in Drew's Honeymoon House, and many of the pieces used in those eclectic spaces were wildly popular.
The Property Brothers completely redesigned and remodeled a 1920's charmer in LA., and somehow managed to transform it in just twelve weeks! Oh that we could all be so fortunate with our reno projects! You can catch all the episodes on HGTV.
While Drew and Linda's interior design style in this 1920's manse is eclectic, bold, and not aligned with my own sensibilities, there are plenty of beautiful home decor ideas and interior design lessons within it that I think you'll have an opinion about.
Many of the EXACT home decor items and furniture incorporated into the interior design of the kitchen are available to purchase online.  I think you'll be pleasantly surprised by the affordability of many of the pieces Drew, Linda, and Jonathan chose for this project considering their personal bank accounts.
Keep in mind that this Property Brothers TV series for Drew's Honeymoon House is hugely popular, and home decor and furnishings you'll see on Hello Lovely are selling like hotcakes. If you like what you see, I hope you'll be able to snag it before they are out of stock.
In this post, you'll find furniture and links to the exact home decor used in the kitchen in Drew's Honeymoon House. I'm also including some of the dining room resources since this kitchen flows into it. The kitchen has a black, white, and gold color palette, and its classic style will appeal to both traditionalists and lovers of modern. I think the AGA range and lighting fixtures may be my favorite design elements in the kitchen and dining spaces. If you happen to be planning to design or redesign a kitchen or dining area in your own home (two-tone, black and white kitchen, anyone?), you just may be inspired by the classic, yet modern fresh interior design ideas you'll see here.
Source: People magazine, HGTV
Let's get right to the kitchen's magic, and do keep in mind the pieces I am spotlighting are selling out fast!
This post contains affiliate links and I will be compensated if you make a purchase after clicking on my links.
That kitchen wall tile? Tile/Backsplash: Studio Moderne SM Ecru Gloss Marquis – 1SMOECRGMARREC45 – from Walker Zanger
Here's what the description for this magical Jonathan Adler pendant light has to say about it: "Bring a contemporary twist to your traditional home with the Jonathan Adler Meurice 42 Light Rectangular Chandelier. It features 42 lights that give your grand interiors a warm, heavenly glow. This rectangular shaped light fixture can also be used in commercial establishments like hotels and saloons. This impressive lighting fixture is a great gifting option for anniversaries, weddings, housewarming parties, and other festive occasions.This luxurious chandelier from the Meurice collection offers an eclectic lighting solution for your home. It can accommodate 25-watt G16.5 candelabra bulbs that create an amazing shimmering effect. This spectacular light accessory can be placed in your living room, dining area, hallway or foyer. It can be directly wired. Paired with a mixture of other funky light sources, this chandelier creates just the right ambiance in your home.
A must have for your home; the Jonathan Adler Meurice 42 Light Rectangular Chandelier is the perfect blend of stylish appeal and functionality. Its intricate design and sturdy construction are sure to win you many compliments. The height of this chandelier can be easily adjusted from a maximum 57.25″ to a minimum of 28″.
Similar dining chairs:
Open to the dining room is the living room, where a fair number of readers were very disappointed to see a new fireplace replace the character-filled original one:
What do you think of the kitchen renovation choices in this project?
For more shopping and resource guides for Drew's Honeymoon House, visit:
Shop Drew's Honeymoon House Dining Room
Shop Drew's Honeymoon House Master Suite
Shop Drew's Honeymoon House – Living Room & Entry
Shop Drew's Honeymoon House – Guest Bedrooms
Shop Drew's Honeymoon House – Jonathan's Guest Suite
You may have noticed the Property Brothers chose brass kitchen hardware for their design, and for a ton of beautiful inspiration using brass in the kitchen, see this recent story.
Peace to you right where you are.
~michele
Resource Guide – Drew's Honeymoon House Kitchen
Hardwood Flooring: Monarch Plank – Boulevard Collection, Jourdan-Herringbone (1516) – from Galleher
Range: Dual Fuel Range (Matt Black) – AMC48DF-MBL – from AGA Marvel
Kitchen Sink: 32″ Executive Zero-Radius Undermount Sink – 936750 – from Signature Hardware
Kitchen Faucet: Vintage Bridge Kitchen Faucet (Polished Brass) – 921259 – from Signature Hardware
Paint Color/Walls: Ammonite(274) –  from Farrow & Ball
Paint Color/Cabinets: Ammonite (274) – from Farrow & Ball
Paint Color/Island: Railings (31) – from Farrow & Ball
Paint Color/Ceiling: Wevet (273) – from Farrow & Ball
Paint Color/Trim: Strong White (2001) – from Farrow & Ball
Tile/Backsplash: Studio Moderne SM Ecru Gloss Marquis – 1SMOECRGMARREC45 – from Walker Zanger
Countertops (Perimeter): Absolute Black Zimbabwe (matte/brushed finish) – 2SGRZBLB3 – from Walker Zanger
Countertops (Island): Secolo Porcelain Slab (Calcata Regent) – 2SPOCRE-B12MMPOL – from Walker Zanger
Window & Doors: Siteline Wood Windows (Black Clad Exterior w/Black Painted Interior) – from Jeld Wen
Door Hardware: Bismark European Mortise (Satin Black) – MP002.190 – from Baldwin
Trim: Anderson Moulding
Conservatory Windows: custom by California Deluxe Windows
Range Hood Vent: Matte Black Powder Coated Steel Hood w/ Brass & BSS Straps – from Fine Design Fabrication
Refrigerator: Professional Built-In 36″ All Refrigerator – MP36RA2RS – from AGA Marvel
Freezer: Professional Built-In 36″ All Freezer – MP36FA2RS – from AGA Marvel
Dishwasher: Professional Dishwasher – AMPROTTDW – from AGA Marvel
Wine Refrigerator: Professional 24″ High Efficiency Dual Zone Wine Refrigerator – MP24WD1G5RS – from AGA Marvel
Wall Oven: Viking 30″ Electric Single Premiere Oven – Veso – VESO5302 – from Universal Appliances
Warming Drawer: Viking 30″ Warming Drawer – RVEWD330SS – from Universal Appliances
Pot Filler: Augusta Retractable Wall-Mount Pot Filler (Polished Brass) – 907294 – from Signature Hardware
Prep Sink: 23″ Executive Zero-Radius Undermount Sink – 936756 – from Signature Hardware
Prep Sink Faucet: Isadora Single Hole Bar and Kitchen Faucet – 926646 – from Signature Hardware
Cabinet Hardware: Brixton Pull 6 5/16″ (Honey Bronze) – TK885HB – from Top Knobs
Brixton Pull 12″ (Honey Bronze) – TK888HB – from Top Knobs
Brixton Ridged Knob 1 1/4″ (Honey Bronze) – TK881HB – from Top Knobs
KITCHEN ACCESSORIES/HOME DECOR
 2 Piece Salt & Pepper Shaker Set
Gold Fruit Bowl Bird Fruit Decorative Bowl
Hand Book Stand Haven Hand Statue
Gold Ceiling Light ette – Large & Small
Wood Spoons Olive Wood Mixing Spoons
Wood Ladle Olive Wood Slotted Ladle
Dish Towel  Linen Stripe Tea Towel – Set of 2
Large Ficus Faux Ficus Potted Topiary
White Potted Plants 8 Piece Preserved Boxwood Topiary in Pot Set
Glass Vase Recycled Glass Table Vase – Medium & Large
White Bowls Catering Packs Round Cereal Bowl (Set of 12) 
White Fruit Bowl Grand Pedestal Fruit Bowl – Small & Large 
Glass Cake Stand Michelangelo Footed Cake Stand
White Utensil Holder Porcelain Utensil Crock
Marble Mortar & Pestle 2 Piece Oversized Mortar and Pestle Set
Black French Press Stoneware 3.36 Cup French Press 
Round Cutting Board Plank 4 Cutting Board 
Marble Cutting Board Marble Round Paddle Board with Half Strip
Blue Pot Artisan Round Dutch Oven with Lid
Glass Bottles Persimmon 3 Piece Cloche Bottle
Pentagon Cutting Board Grid Plank
Gold Cheese Knives 4 Piece Cheese Knife Set 
White Dessert Bowl 9 oz. Dessert Bowl (Set of 4)
Polka Dot Bowl 3 Piece Deco Dot Ice Cream Set
Brown Stand Mixer Artisan 5-qt. Tilt Head Stand Mixer
Wine Glasses Wayfair Basics 18 Piece Wine & Champagne Glass Set
Flowers & Vase Magnolia Arrangement with Vase
Mini Plants 3 Piece Preserved Boxwood Mini Garden Topiary in Planter Set
Deer Figure Standing Deer Figurine
Tall White Fruit Bowl Britannia Observant Fruit Bowl
White Dinner Set  16pc Dinnerware Set 
Black Striped Bowl Concord Square Soup Bowl 
Square Short Glass Classico Water Glass