Decorating for Serenity & Creating an Inner Landscape of Beauty is a tall order. Especially since I am a student of these disciplines more than a seasoned creator of them. Curating beauty is one thing. But creating it? Add to that, I am not terribly credentialed. I'm destined to fail and have only a short time to pen this. But this fairy on the prairie is no longer young enough to wait for full ripening, enlightenment, or more sessions of Wisdom School. In fact she's naive enough to believe there is genius right here. Right now. Within messy miraculous moments on an epic journey of the heart.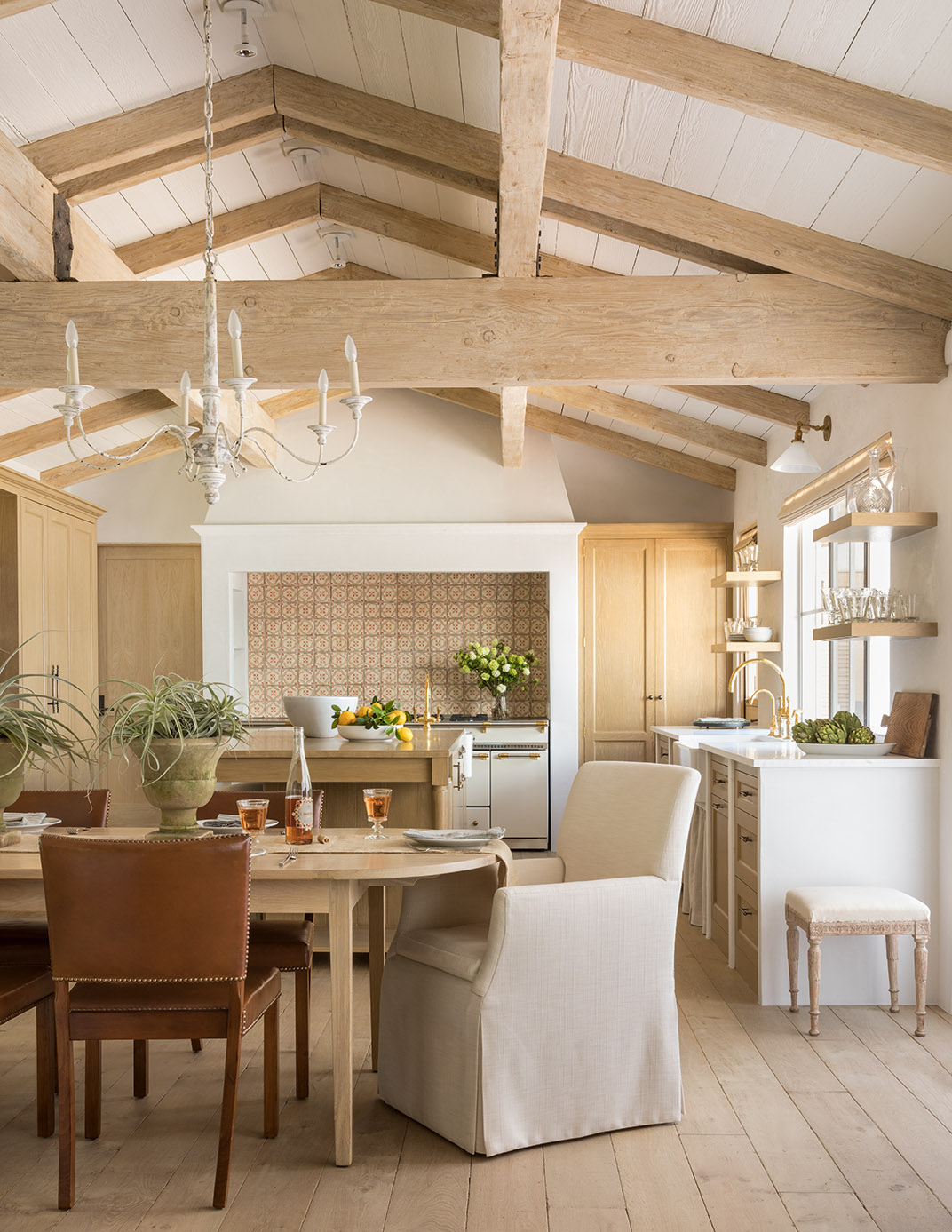 Decorating for Serenity & Personal Reflections
Do you long for beauty as I do? Are you aware it's moving toward you? Do you need to be reminded you are orbiting and spinning in outer space this very moment? That you are in fact made of stars and reliant upon a gorgeous ball of fiery hydrogen and helium rising in the East?
Elegant Simplicity & Patina Perfect
How strange and awe-inspiring is it to connect in spirit here in spite of vast physical distance?
Living in such a state of awe and learning to somehow hold paradox and not grow bitter is where I most belong.
Naturally Warm & Unfussy Serenity
It's where I find purpose.
The first half of my life in so many respects was a feverish rush not toward awe as much as respectability and a unique identity.
Toward work and achievement that would someday lead to a destination where I imagined I would feel free, content, comforted, and integrated.
Nordic French Vintage Romance
Such imagining, however romantic and soothing, can steal decades and even full lifetimes if left unchecked.
Now I see how the rush can become intoxicating.
I see how slow, sobering, surrendered, spiral-like moments create an inner landscape of quiet, elegant, tender beauty.
When Old World Feels Serenely Modern
How right where I am, alive and woundable, fierce and unprotected, majestic and mixed up…right here is where a timeless tranquility can permeate my presence within the present despite any present circumstances.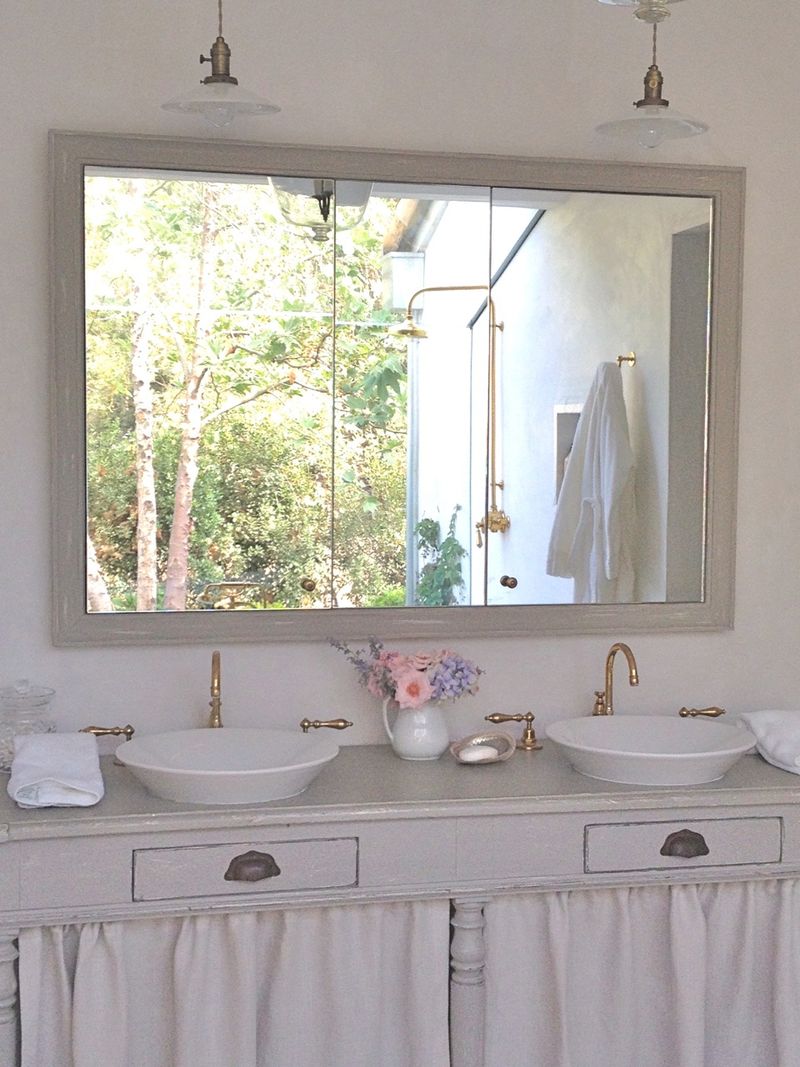 Even as my brain ages, my immune system malfunctions, and my vision blurs, I can see with fresh eyes the miracle of our being here in this crusty thin layer upon Mother Earth.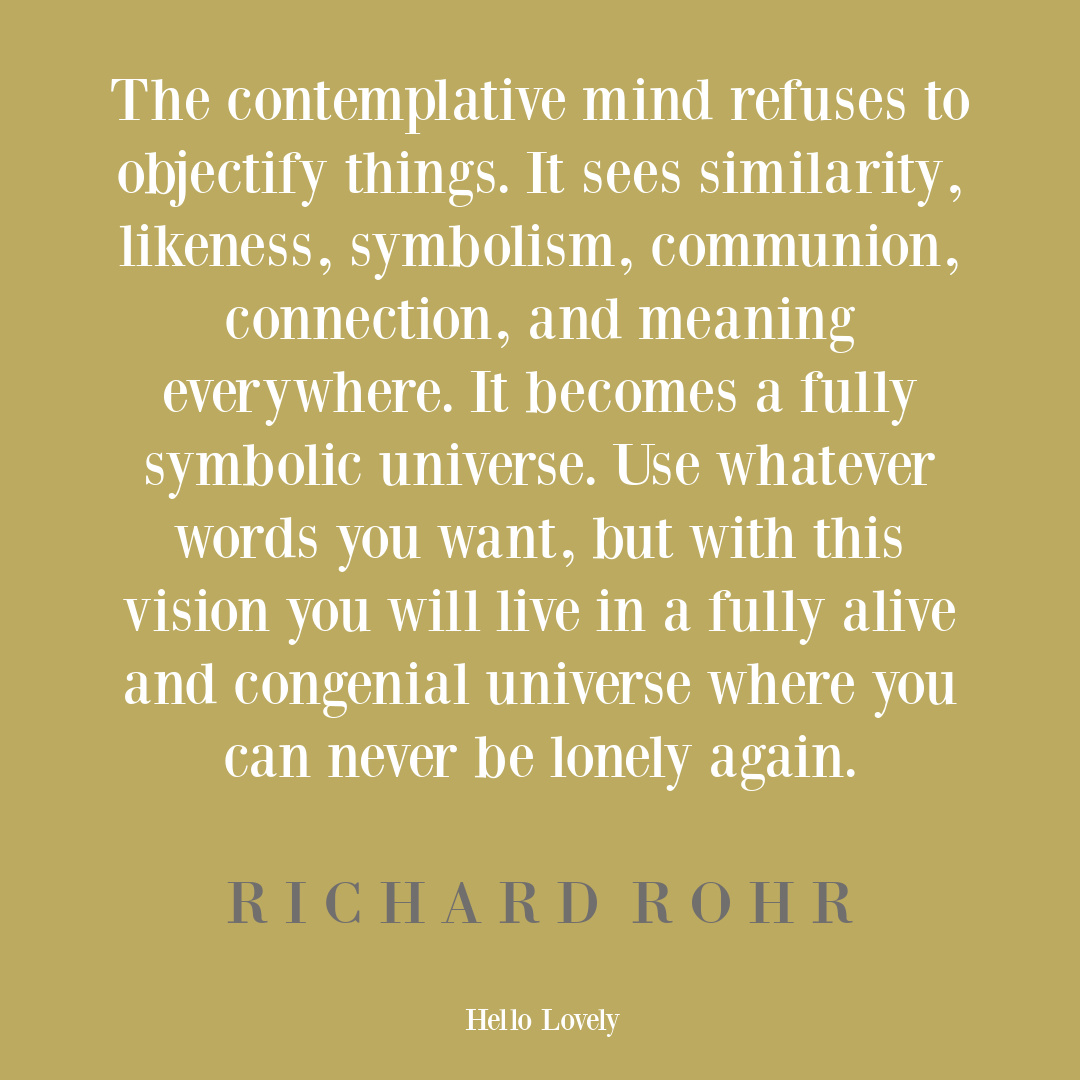 See how each new day: blooms for us as God in disguise, breathes with possibility, and beckons us to surrender to unknown blessing already on its way.
Calm Blue and White
But creating this inner landscape of beauty, how does it begin?
Timeless Neutrals in an Old World Setting
Maybe it begins with a YES.
With consent to be changed.
Perhaps the ground will need to be hollowed and seeds sewn.
To offer your YES is not a small thing. It's holy ground after all.
White Ethereal Elegance
Maybe the most challenging part of becoming fertile ground for an inner landscape to grow is how it is difficult to become still and silent in a modern world of distractions.
There are tasks to complete, concerns requiring our presence and mental attention, jobs to work, and relationships to nurture.
All White Kitchens With a French Accent
Where will we find time to offer ourselves to meditation, prayer, contemplation, and solitude?
The answer is different for each of us.
For me, a daily spiritual practice at home in the early morning is what works.
For someone else, the golf course or garden or chapel provide such holy space.
Humble Symphonies of White
Time where you can exit your thoughts and allow your mind to fall into your heart is precious.
For even though it may feel as though nothing is happening, plenty is.
One White Paint Color
It can be shocking to discover the clutter and flurry of thoughts, worries, and judgments that arise when we become still enough to observe them.
I watch them float by and keep returning to the empty.
Sincerely Serenely French
As the spaciousness grows, maybe this is where the soul may rest.
Where the tangled parts can untangle without interference from me.
Are light and rain able to reach the seeds as obstacles move? Who knows?
White is Simply Timeless
But what feels true is that the True self underneath the rubble of my ego, defenses, and delusions can safely come home.
In my willingness to simply let go of attachments in order to align with Love, God, the Divine Mystery, the Holy (you may call it by another name) something new grows within this landscape of beauty.
It's different than learning a new coping mechanism or a way to calm my nervous system.
While helpful, I'm not sure they bear the same holy fruitfulness I seek.
Emptying myself in quiet contemplation and prayer is not an agenda to prosper or draw more love into my sphere.
I empty without expecting an outcome or blessing.
Those are attachments too.
French Gustavian Interior Design Inspiration
Rather, as I allow something new to be born…
as I welcome a Love beyond words…
I become more teachable, more open for a landscape of beauty to emerge.
Unfussy European Decorating & Lifestyle
How does an inner landscape permeate daily life?
Hopefully it leads to greater wholeness and a life decorated with more mercy, compassion, and gentleness.
Beauty inside calls to beauty outside and finds it.
Life takes on greater purpose, and my lens is a new lens.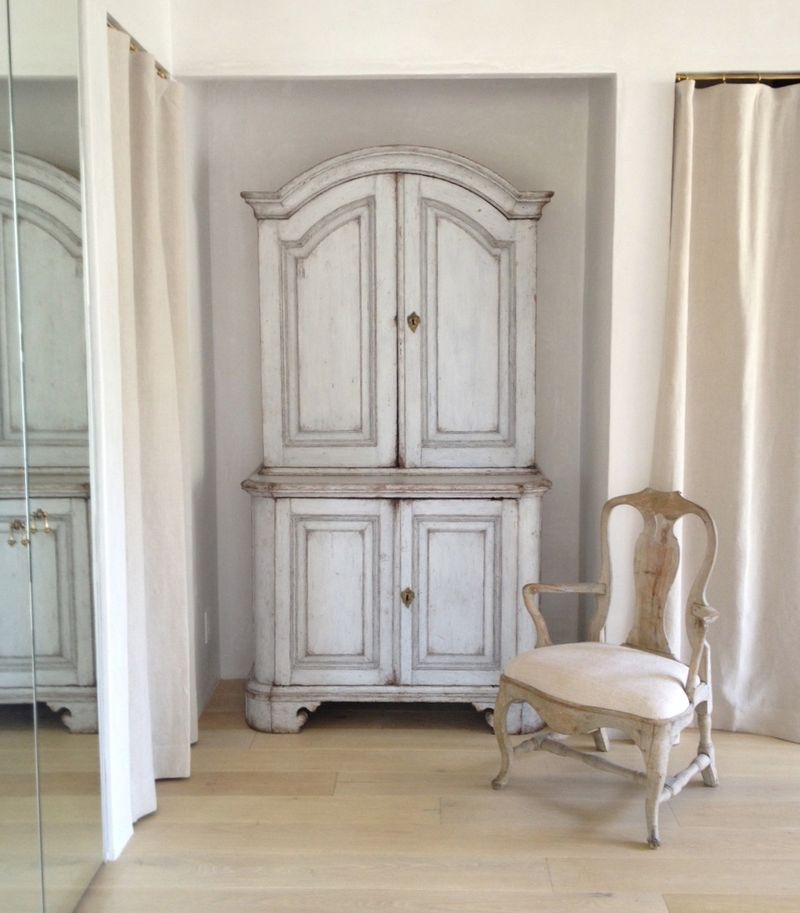 Humility and patience come.
Authentic French Interiors
Let's face it. Transformation is the work of a lifetime.
Changes may come slowly and be largely invisible even to those who know us.
But little truly can become much when invested in what is good.
As we grow and heal and transform our pain, love flows into the world and begins to ripple.
What does any of this have to do with feathering a nest in a serene way?
Clearing away clutter and the unnecessary to make way for a pleasing spaciousness is also a gesture to welcome light.
Mindfully considering spaces, objects, and the emotional field can be an act of kindness…
to yourself and to others.
Divinely Crafted Spaces
An interior can become a landscape that supports you just where you are on the journey.
Is it a soft place you long to land?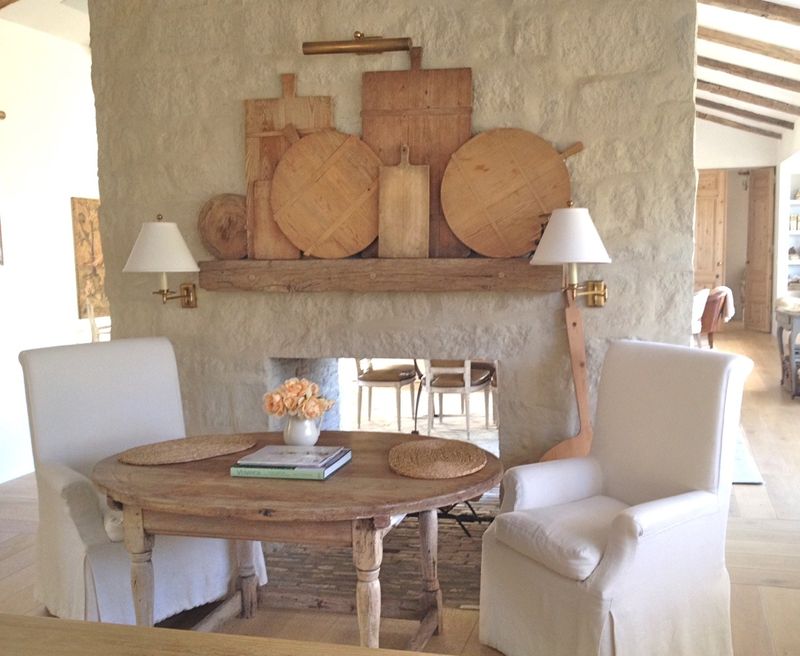 Is it a cozy space for dreaming you need?
Is it a restorative, zen-like environment where you can cultivate the capacity and strength you require?
Vintage Whites for a Meditative Mood
Designing, decorating, styling, and creating can be a response to answer such questions.
Suddenly our efforts take on renewed wonder and meaning.
We can lean into the prospect of greater harmony between inner and outer landscapes.
Cold winds will continue to blow, and unlovely chapters are bound to surface.
But a retreat where we can re-energize and recuperate and reconnect because it somehow reflects what we hold dear, however humble, however small?
Well, that's lovely.
I independently selected products in this post—if you buy from one of my links, I may earn a commission.
Peace to you right where you are.
-michele
Thanks for shopping RIGHT HERE to keep decor inspiration flowing on Hello Lovely!
Hello Lovely is a participant in the Amazon Services LLC Associates Program, an affiliate advertising program designed to provide a means for sites to earn fees by linking to Amazon.com and affiliated sites.