We are back from vacation, and part of it was spent in Franklin, TN. If you're a fan of the work of the Giannettis, you may know they opened PATINA in nearby Leipers Fork. I loved the shop and even had the chance to chat with Brooke and Steve. A bonus was viewing their collected Swedish antiques in person after admiring them online and in their books. The painted finishes of those pieces? Lovely! Today we'll consider a range of inspiring looks with Modern French and Gustavian style. Strictly white or slightly shabby elements often spring to mind, but I'm taking a less narrow perspective. "Modern" perhaps allows a looser interpretation and for me, signals less clutter and ruggedness. Serene yet warm, spare yet interesting, and ethereal elegance or a meditative mood. Modern French Nordic Mood is a tranquil timeless vibe to experience!
I independently selected products in this post—if you buy from one of my links, I may earn a commission.
An Eclectic Mix of Modern French Nordic Design Ideas
What inspires you most? Traditional and classic architecture? Quiet color stories? The mix of antiques, vintage, and contemporary objects? Sophisticated yet understated pale rooms? The timeless and tranquil mood?
At first blush, this space below may strike you as traditional and Old World. But look again.
Those steel doors. The minimal decor. Lending a room modernity doesn't necessarily mean adding modern light fixtures or contemporary art to traditional setting. Rather, it can entail a modern approach to the use of color, restraint, and even function.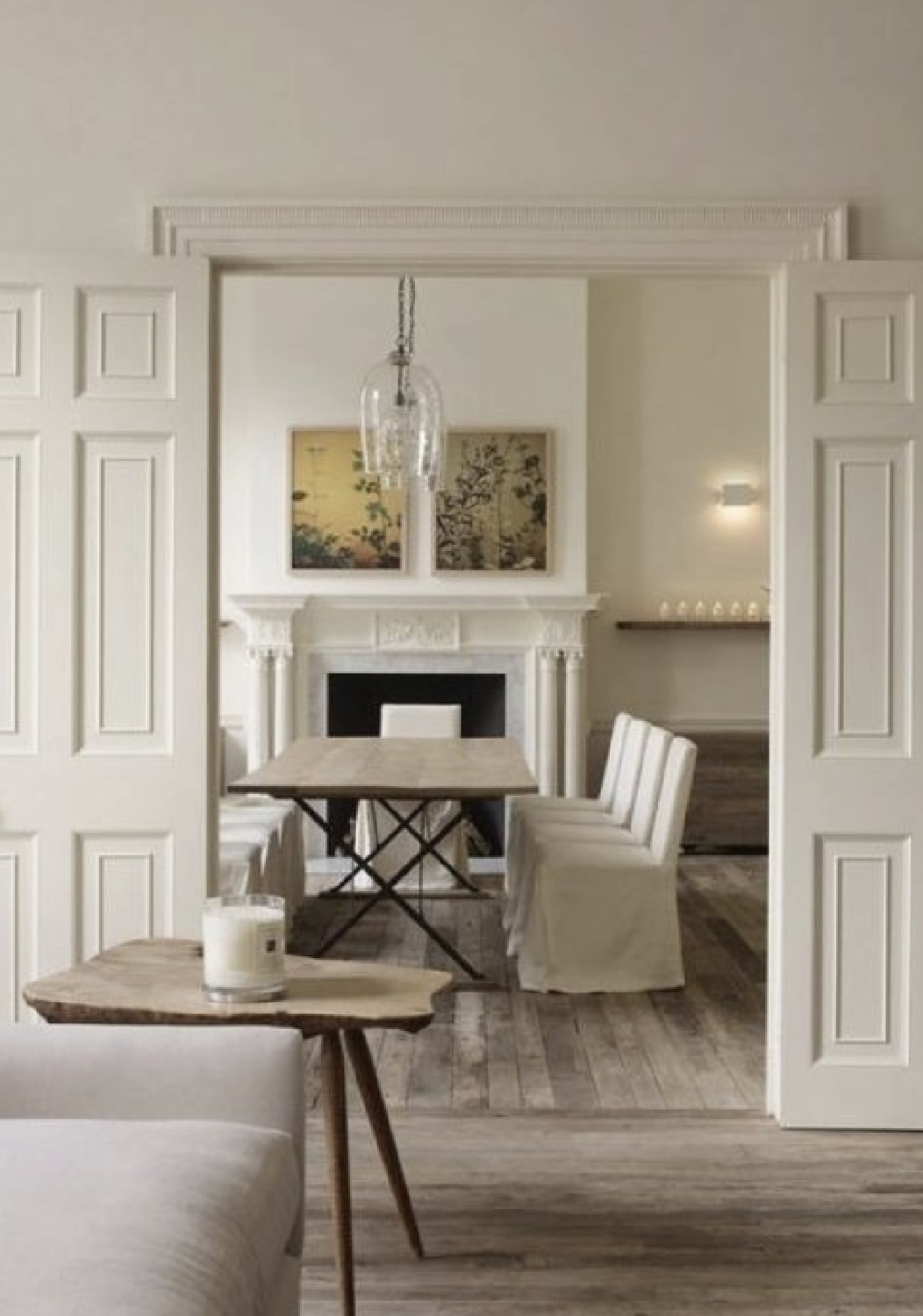 Would you mind reporting to work if your meeting room resembled above?
Modern French & Modern Swedish Nooks & Neutrals
Why don't we start giving smaller bedrooms the respect they deserve since they are ripe with cozy potential? In America, so often, we cannot get over wall to wall furniture. What a retreat when the eye can rest, and the architecture can soothe.
Will white + black + natural tones ever feel outdated? So timeless!
The combination works in any number of spaces:
and is awe-inspiring when reflected in a Stockholm winter cityscape:
Mixing Neutrals & Texture for a Soothing Mood
Speaking of neutral palettes, I admire how designer Beth Webb mixes neutrals and texture:
Pretty Blues & Greys for Gustavian or French Nordic Style
There is something so soothing about chalky blue greys and pale tones which can feel so calm in a modern kitchen: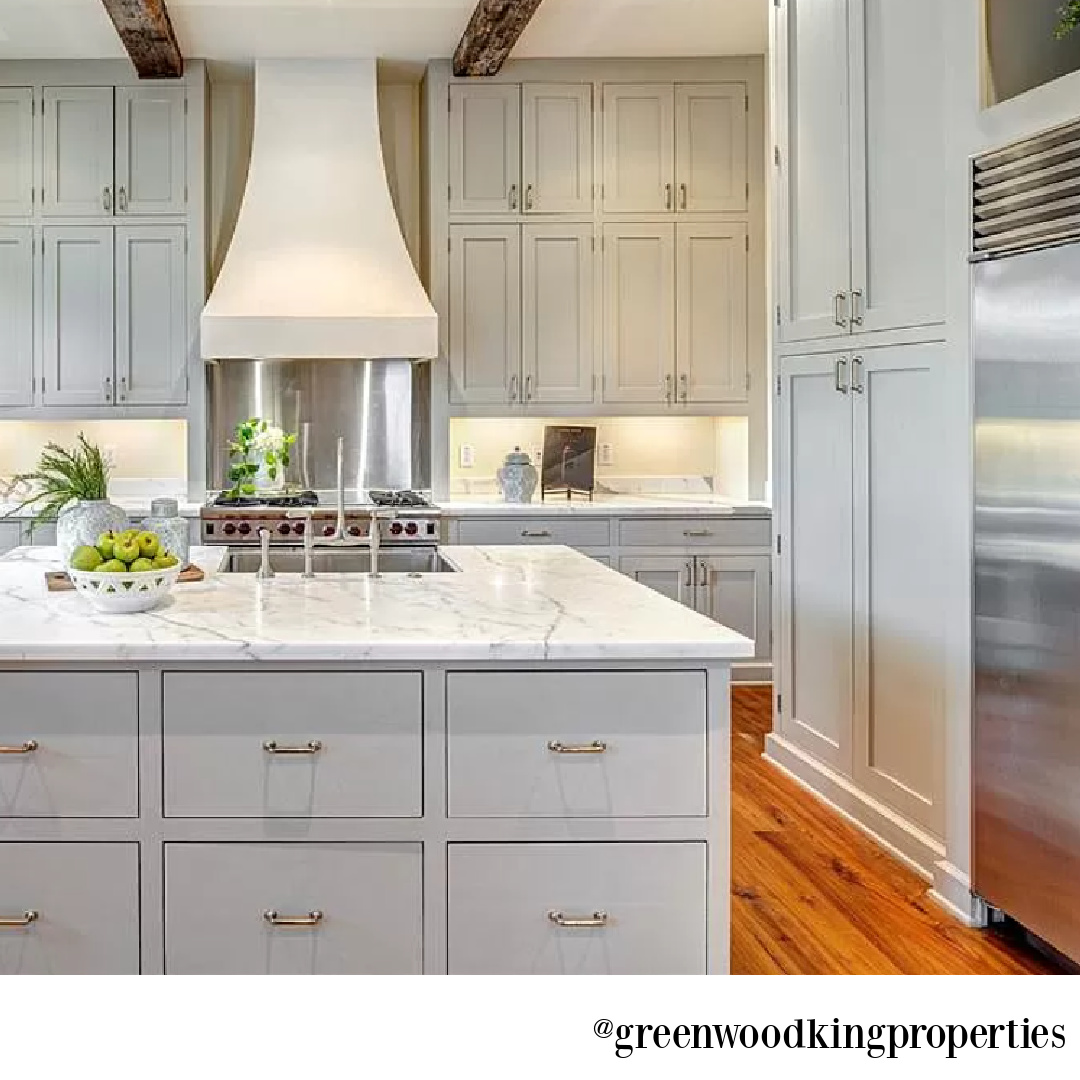 I favor those subtle French blues and greys best like the hints in this amazing backsplash:
This pretty Swedish blue wallpaper is similar. Wouldn't it be precious in a laundry room or even a pantry?
Here it is in green:
Who could forget Lambert's kitchen in Victoria in 2015:
and the rest of her French Nordic home: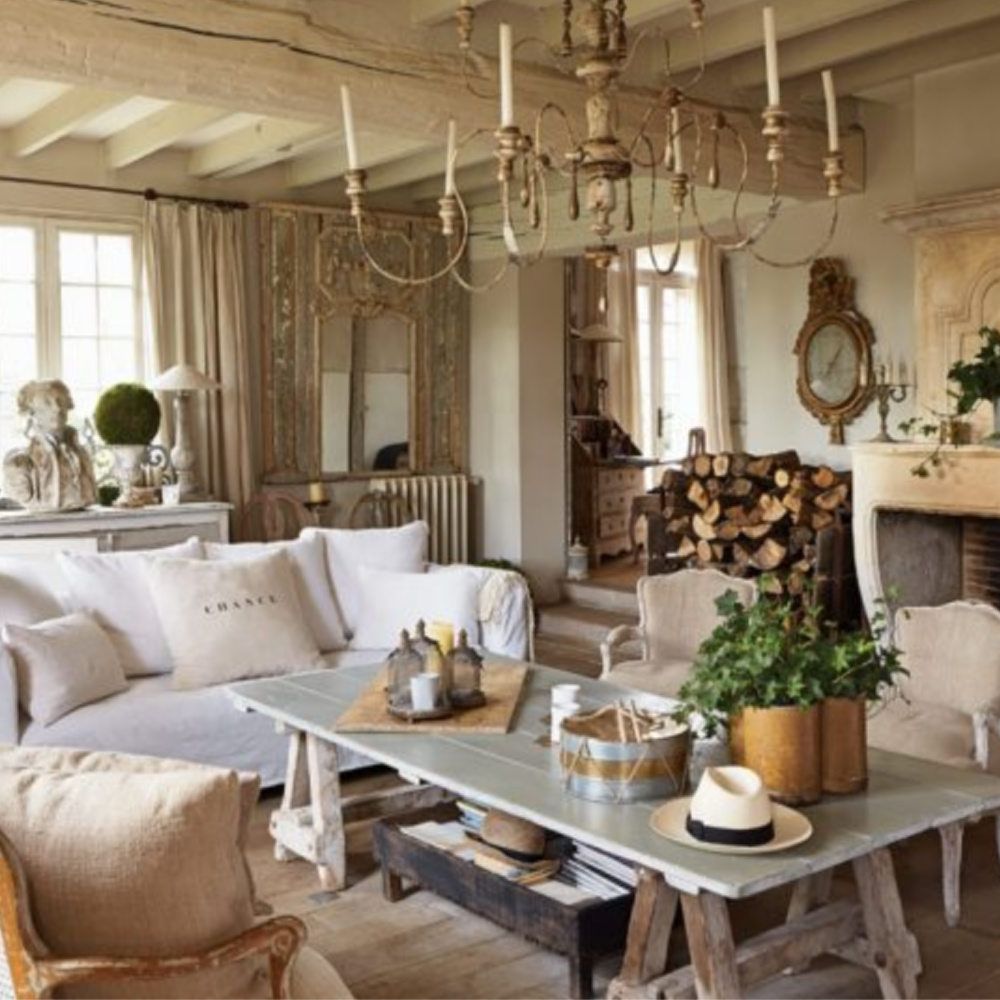 This faded aqua blue-green paint on an antique cupboard is the stuff of dreams and never far from my mind after spying it years ago in Milieu.
By now, it should be clear the Modern French Nordic style need not be all white or dominated by cool colors…
The Allure of Checkered Patterns
Not that there's anything wrong with cool blues and greens! I'm not sure checkered patterns and ginghams will ever fall out of style, but checkered everything is certainly getting grammed like crazy in the 2020s.
My mama has this fabric on her Swedish dining chairs, and it just never gets boring to us.
Ideas for Gustavian Furniture: Swedish Accent Chest
It is difficult to not crush on scalloped cuties like this…and the hardware!
I showed you a pretty Amber Lewis x Loloi rug next to our bed, and this herringbone pattern could be sweet in any number of spaces:
What sort of lamp gets your heart racing? Slightly fancy formal?
Or unfussy and sculptural?
For a Gustavian Style Lover's Boudoir!
Gold With Pale French & Swedish Palettes
A continuing design trend for kitchens is larger pendant lighting instead of multiple itty bitty shades hanging over monstrous islands.
I have always admired this:
Wouldn't it be gorgeous with this?
Elegant & Timeless Console Tables
Fine Art Print With Modern French Nordic Vibe
Need an idea for a modern fine art print to bring a little Stockholm chic to your space? Here's one I own:
Peace to you right where you are.
-michele
Shop for items you already intended to buy on Amazon RIGHT HERE, and also find home decor here to keep decor inspiration flowing on Hello Lovely!
Hello Lovely is a participant in the Amazon Services LLC Associates Program, an affiliate advertising program designed to provide a means for sites to earn fees by linking to Amazon.com and affiliated sites.