Shhhhh….I have tan lines! A little bit of gardening each afternoon is to blame, and it's a bonus to look healthier with the color. As summer approaches, 2023 coastal grandmothers and lifestyle vibes are still vibing even if they were a 2022 trend. Let's face it, coastal grandmother is a laid-back, elegant aesthetic fresh with hydrangeas, understated neutrals, and bowls of fresh citrus. Those classics aren't going anywhere. The hashtag simply re-packages the loveliness coastal romantics have been celebrating since well before the chic Nancy Meyers movie sets. Oh the pretty blues, the natural colors of coastal life, cozy cottage style kitchens, and lazy summer afternoons without plans. And beach houses! That luxe Hamptons beach house in Something's Gotta Give is epic coastal granny dream house territory.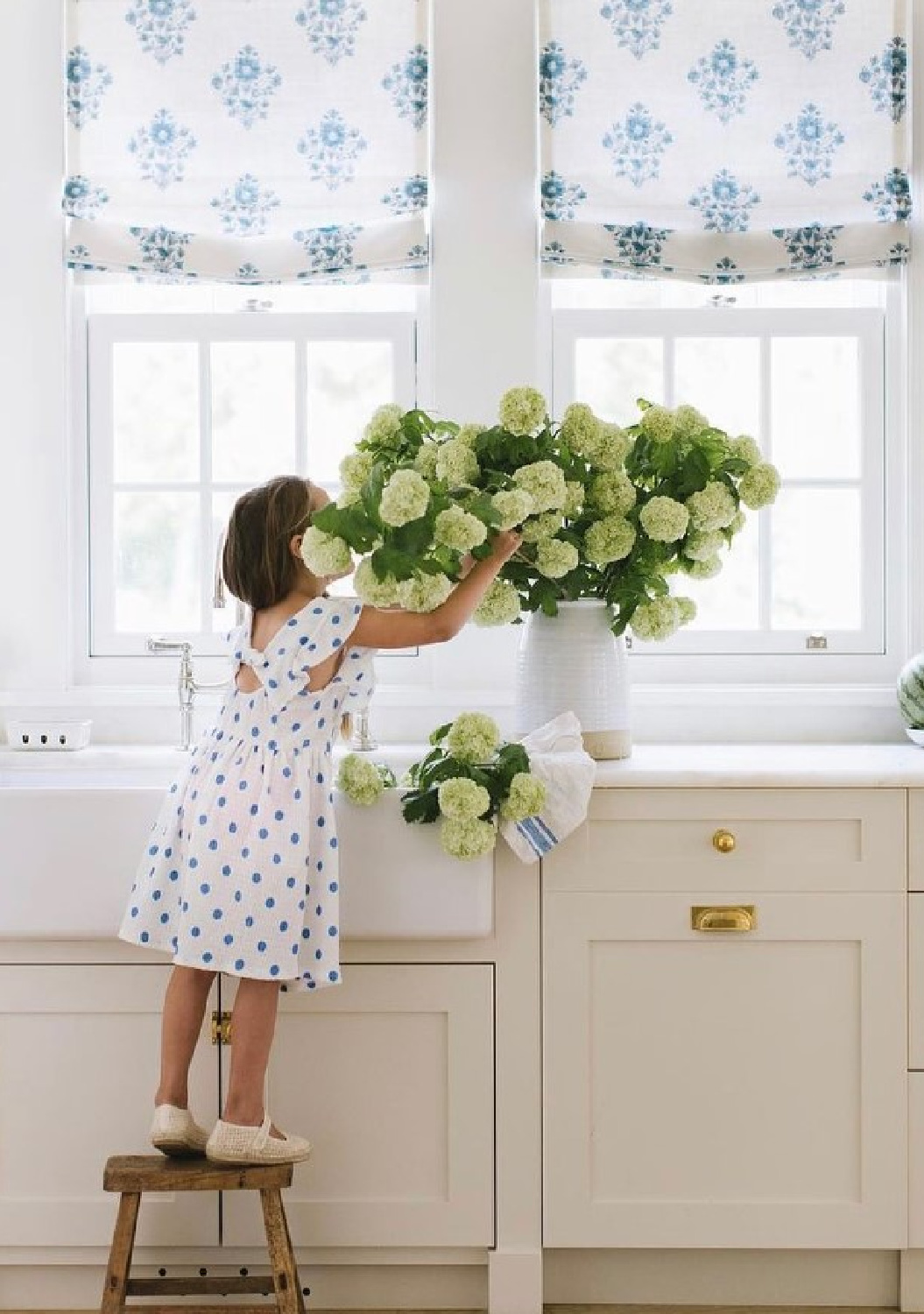 I independently selected products in this post—if you buy from one of my links, I may earn a commission.
2023 Coastal Grandmothers
What is a Coastal Grandmother Aesthetic?
Jimmy Fallon has fun with coastal grandmothers and some of the tenets in this:
"Got me eating dinner at 3" is maybe my favorite lyric…hahahaha.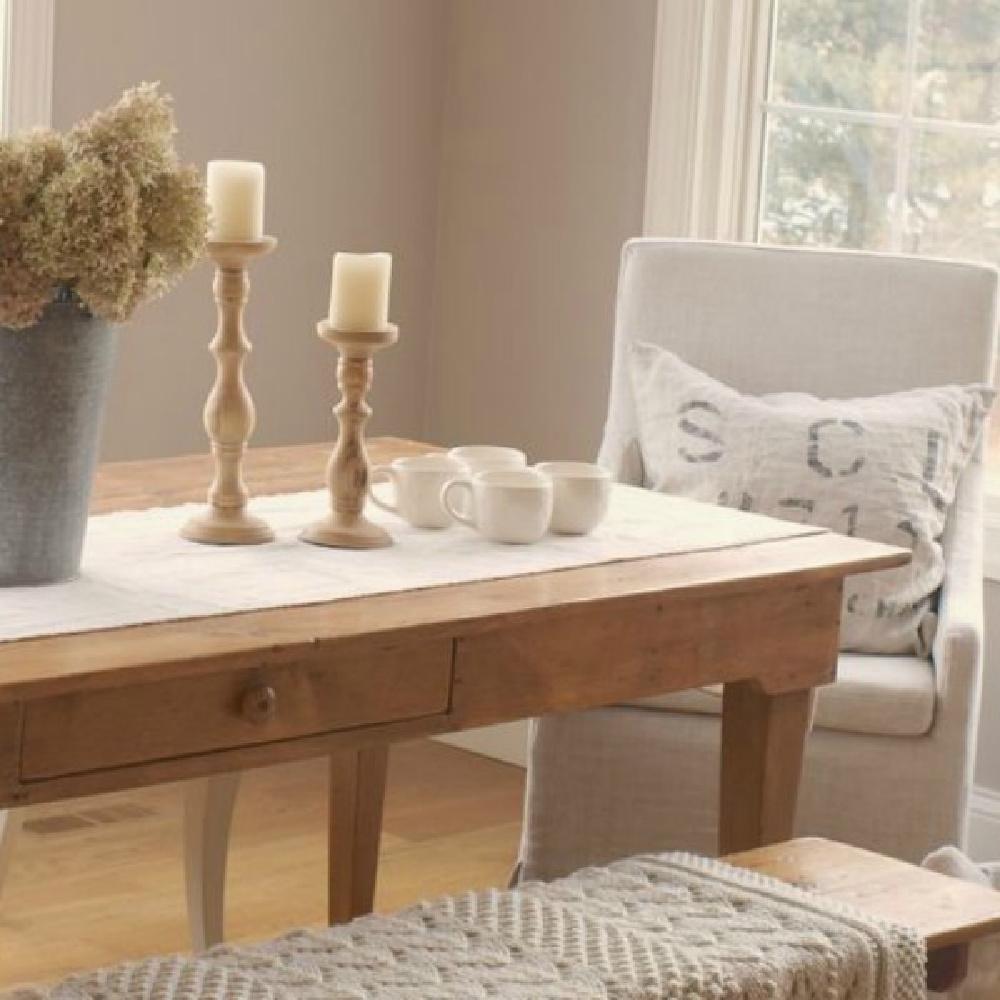 But you don't need to be divorced, watch THE VIEW, or relate to Jane Fonda. Nope. You don't even need a nearby beach or grandparent status. Heavens, I'm a card carrying Midwestern CG along with Stanley Tucci, who totally has coastal grandmother down to an art.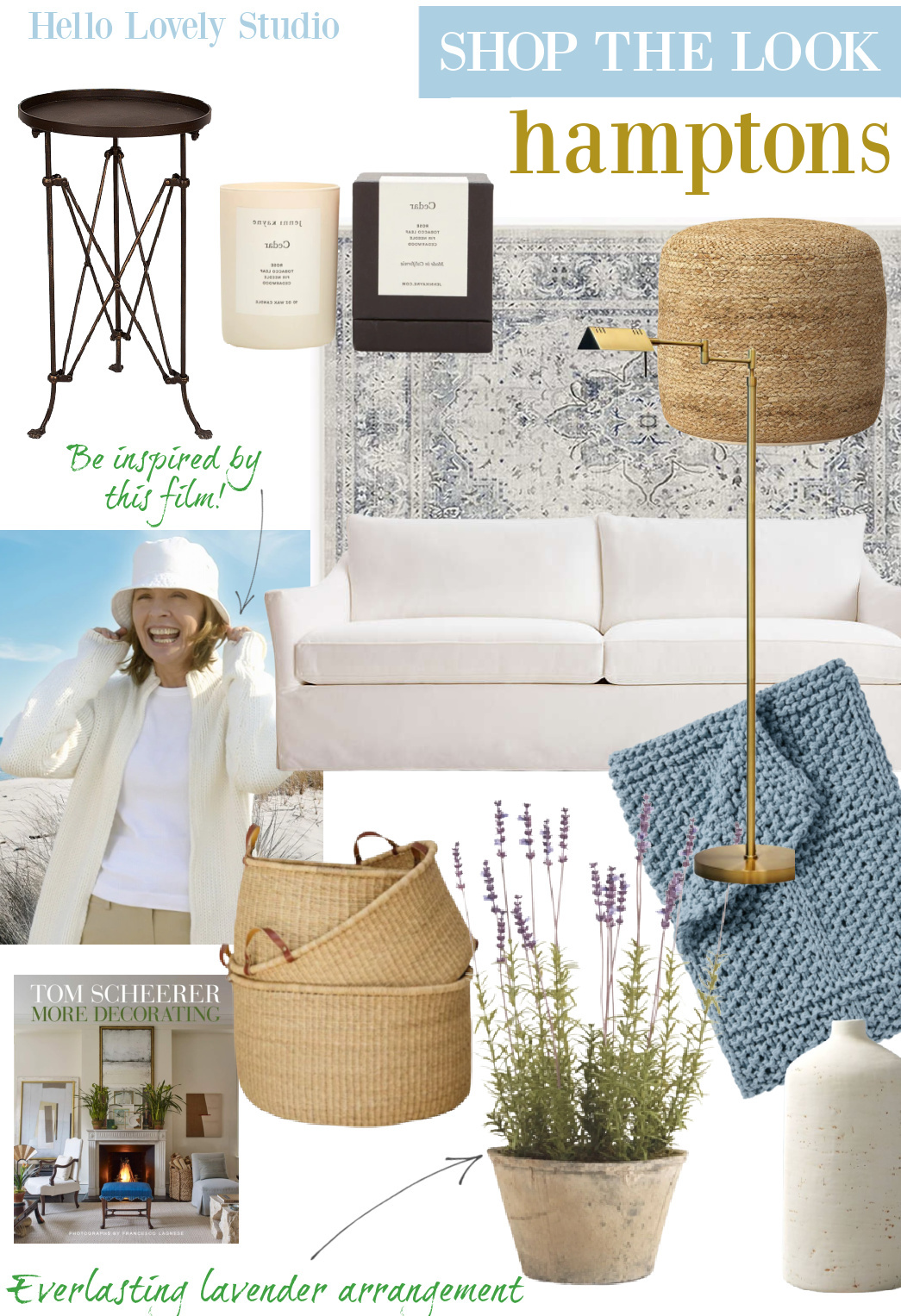 It's about enjoying the little things, and the aesthetic is easily applied to lifestyle, interiors, gardening, wardrobe, and even self-care habits.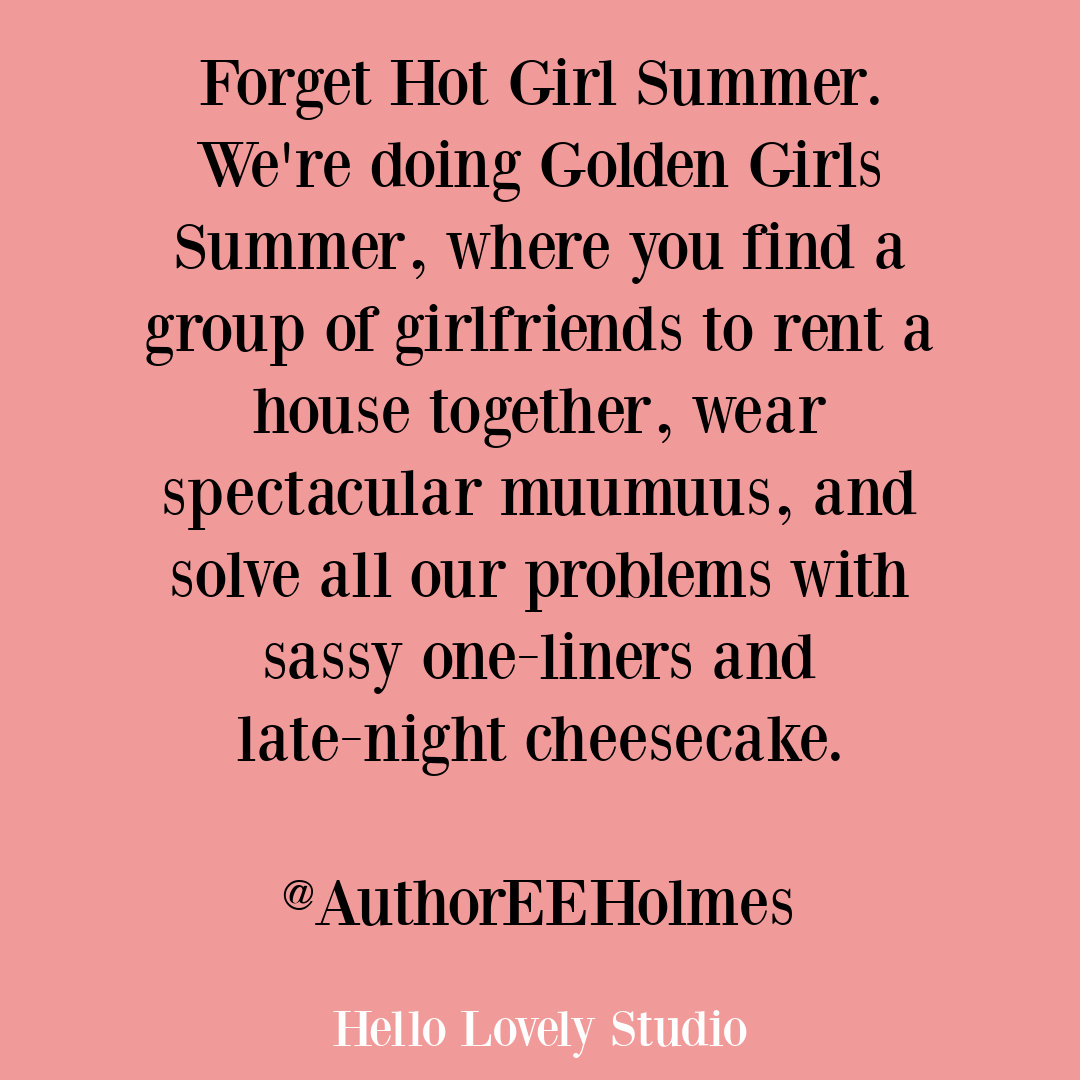 Maybe coastal grandmotherhood can even be a state of mind. And maybe I'm a coastal grand-mama.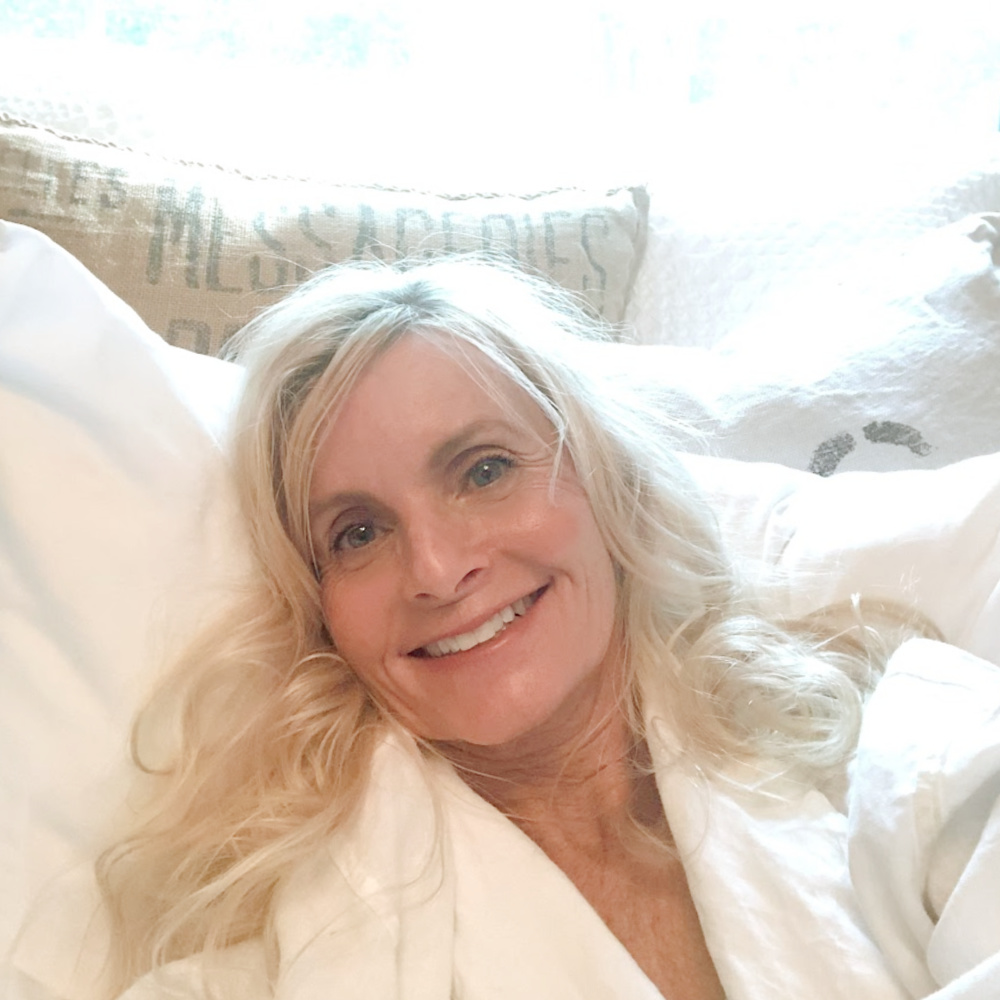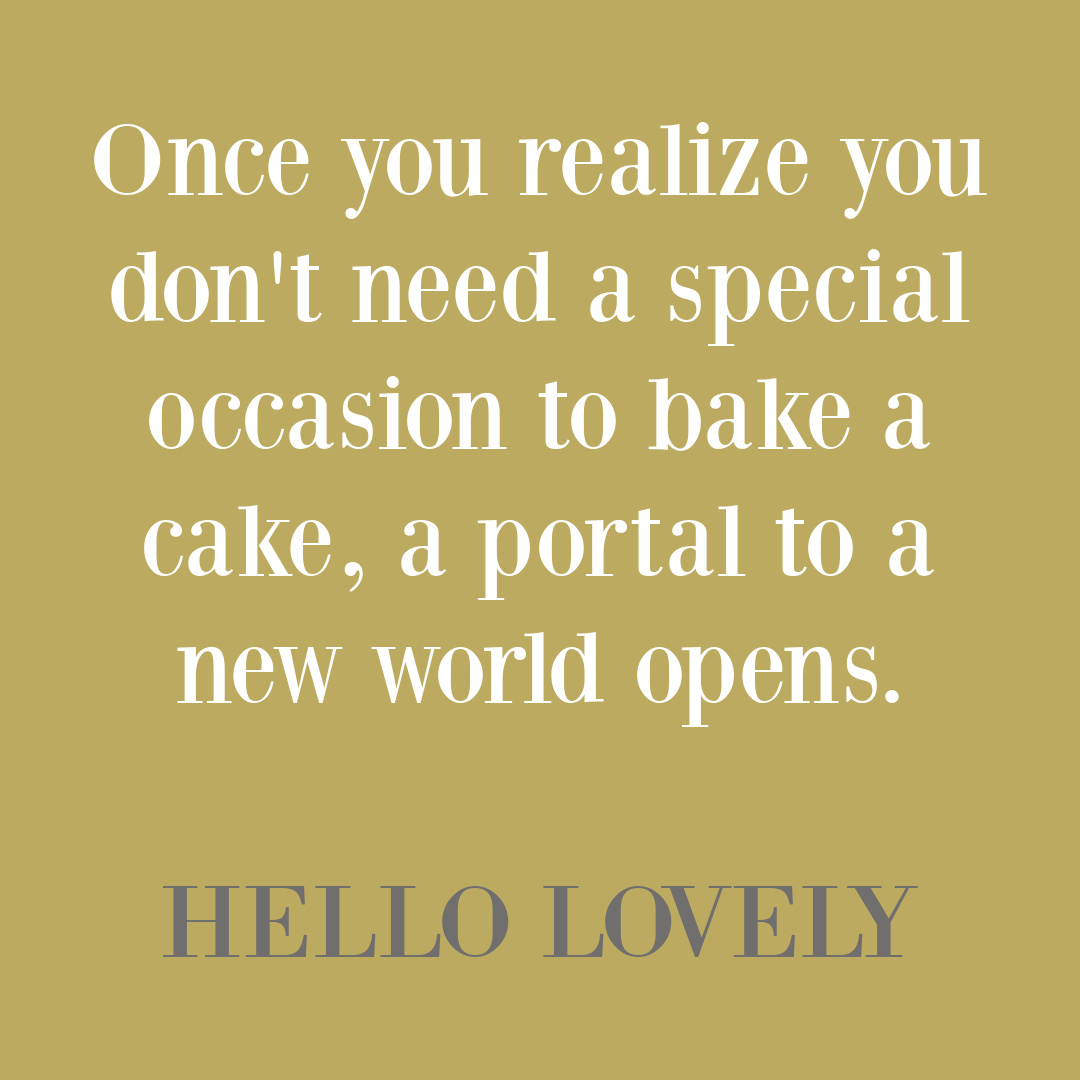 "It's more about the way you live your life — slowing down and taking time to enjoy the little things." – Lex Nicoleta via HGTV.
Can you dig it? There's no ocean or sea breeze here, but there's a breezy barefoot elegance, yes?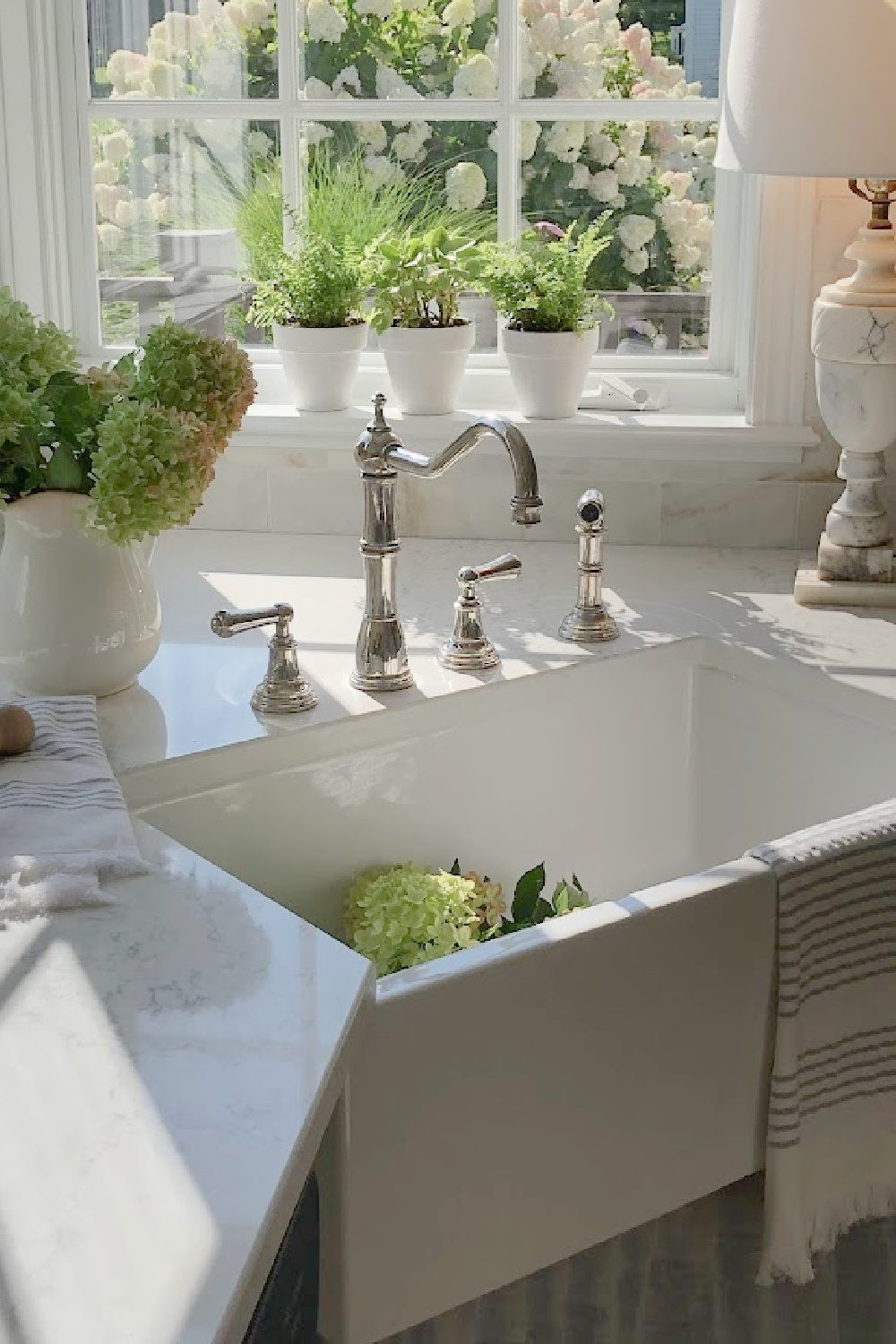 CANNOT wait for our hydrangeas to bloom magnificently like this again!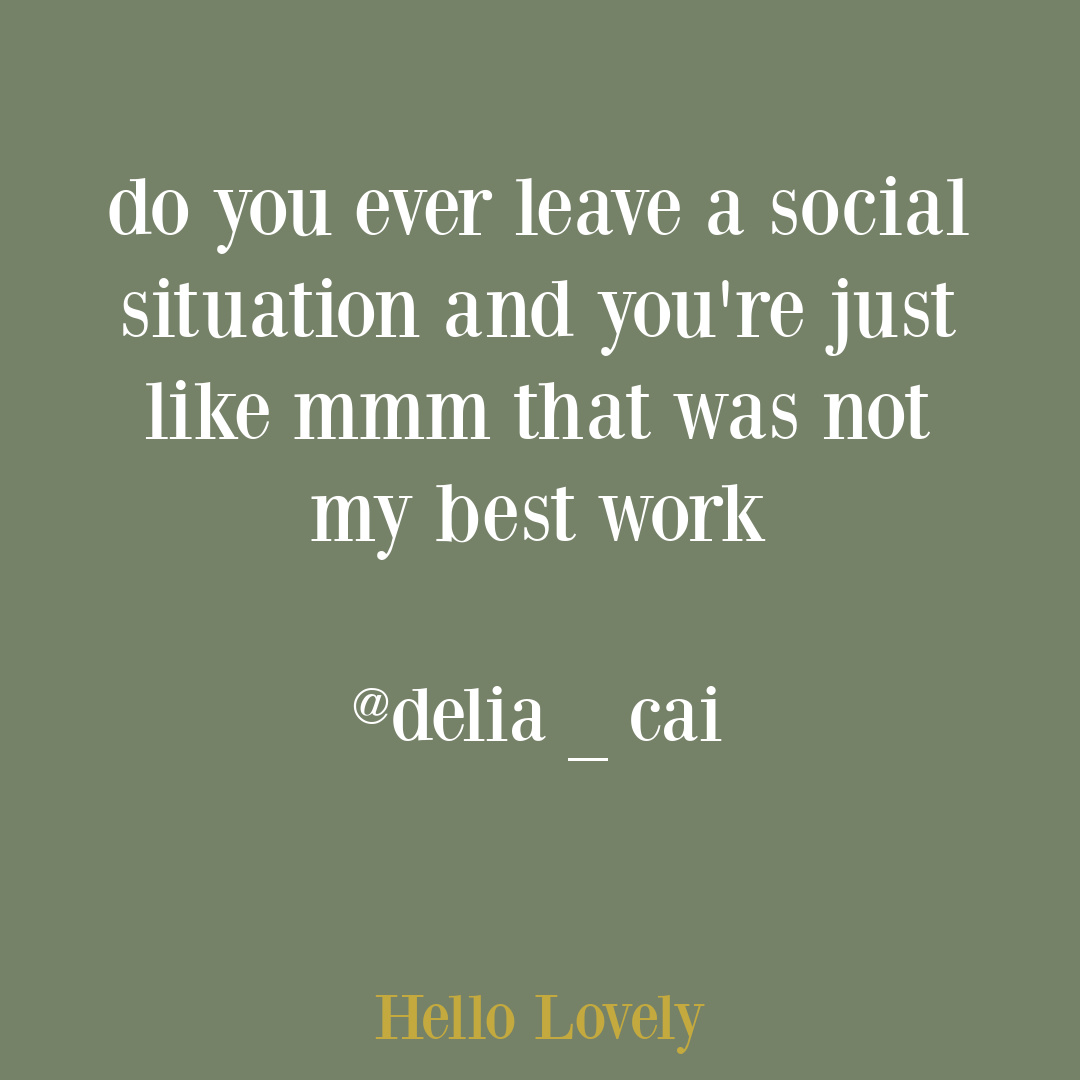 Why is a Coastal Aesthetic Timeless?
It is no surprise this aesthetic for interiors and lifestyle endures with its timelessness. Maybe it is timeless because it relies on classics and is always timely as an antidote for stress.
So many of us are dang exhausted from politics, social media, global threats, AI emergence, and information overload. We're deeply concerned and want to be a part of reconciliation and resolutions, but we need breaks from the stress to re-energize. Things "cozy and calm home" feel even more sacred in the 2020s as uncertainty comes in fresh ways.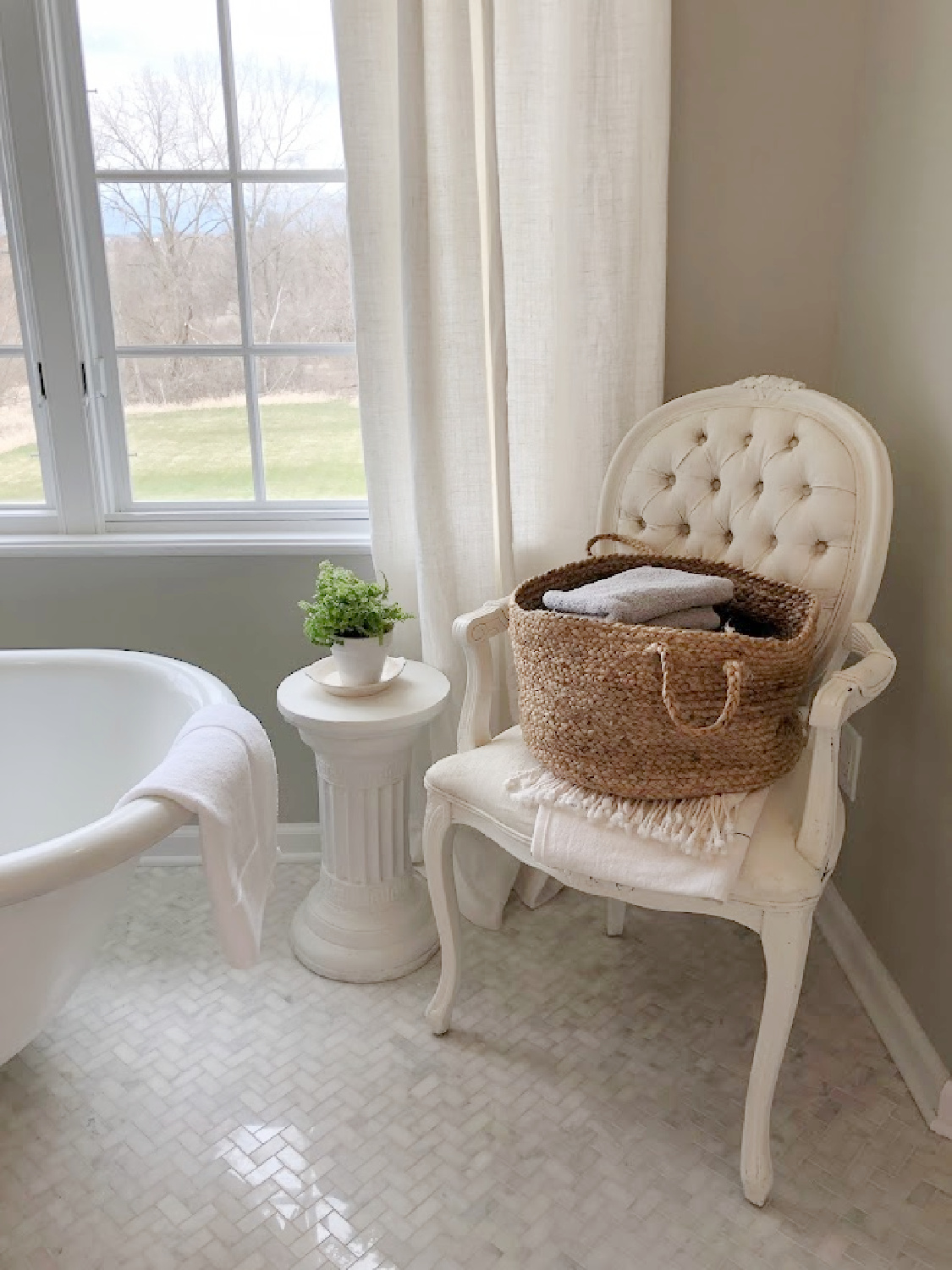 More than ever, folks need home to feel to like a safe retreat to recharge and regroup.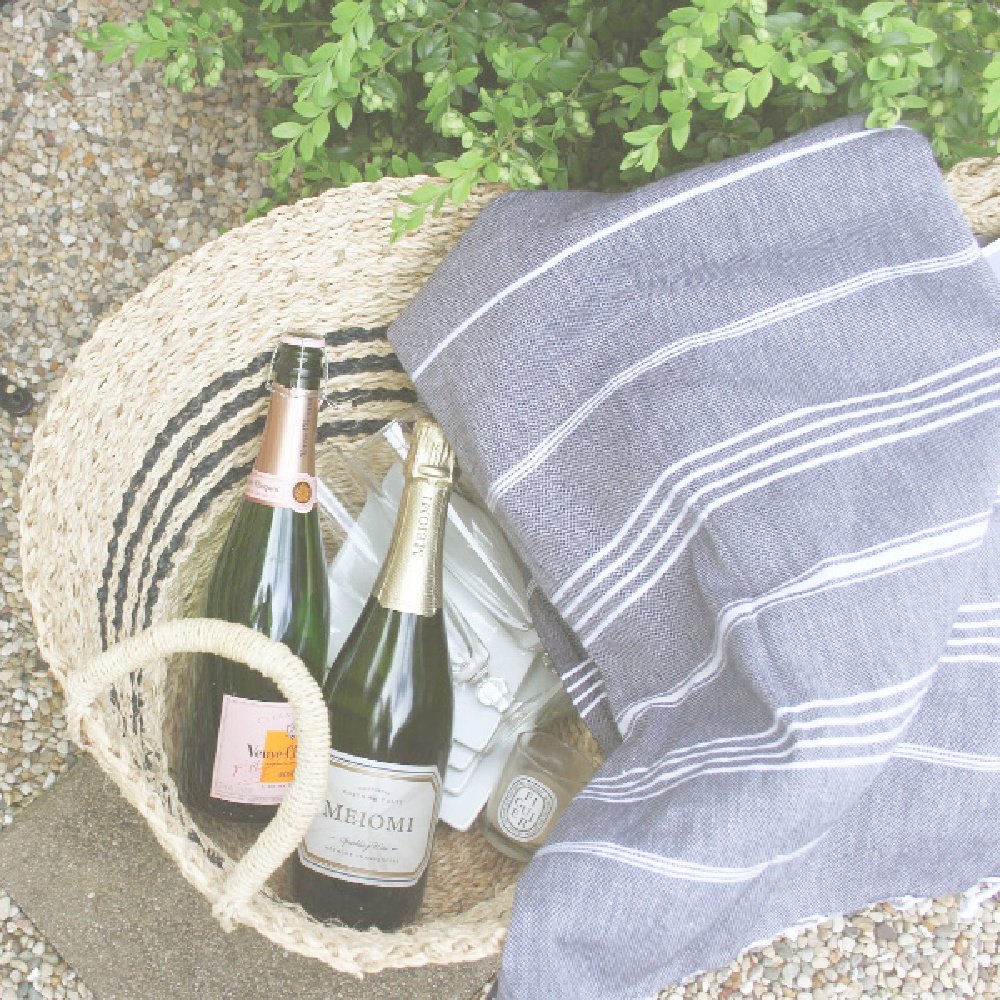 Coastal Icons?
Certain celebrities and influencers spring to mind. I mentioned Stanley Tucci. But also, Oprah, Ina Garten, Martha Stewart, Anne Hathaway, fictional characters created by Nancy Meyers (Diane Keaton, Meryl Streep), and if we go back to the 1950s…Brigitte Bardot!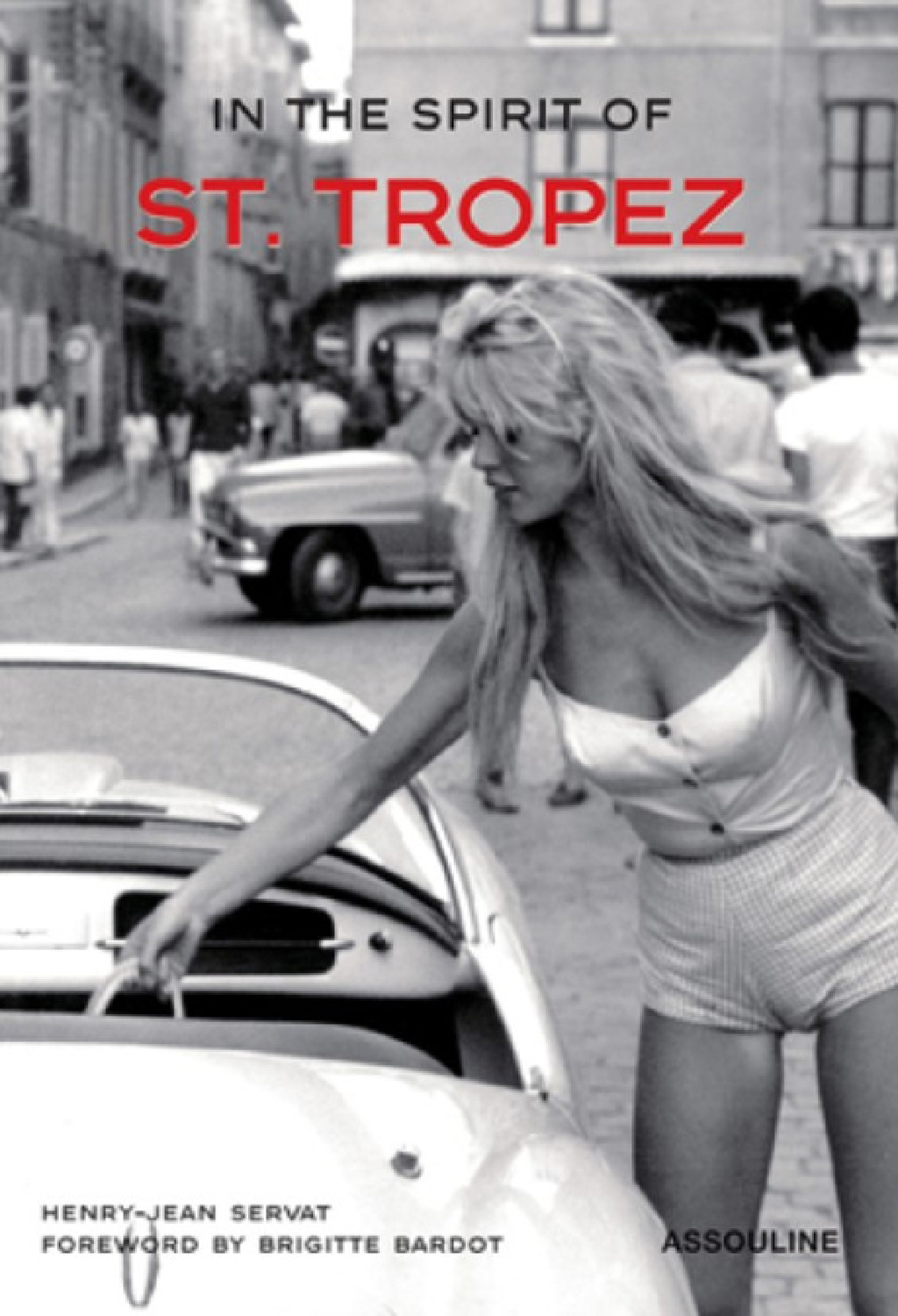 Talk about a single human being propelling a coastal village to fame!
When is coastal style not just a décor style?
I think going coastal is about loving the simple things, slowing down to savor them, and staying close to the earth by truly noticing the beauty of sea, sky, sand, and nature's bounty. It is about honoring natural materials such as cotton, linen and cashmere, yet it transcends fashion.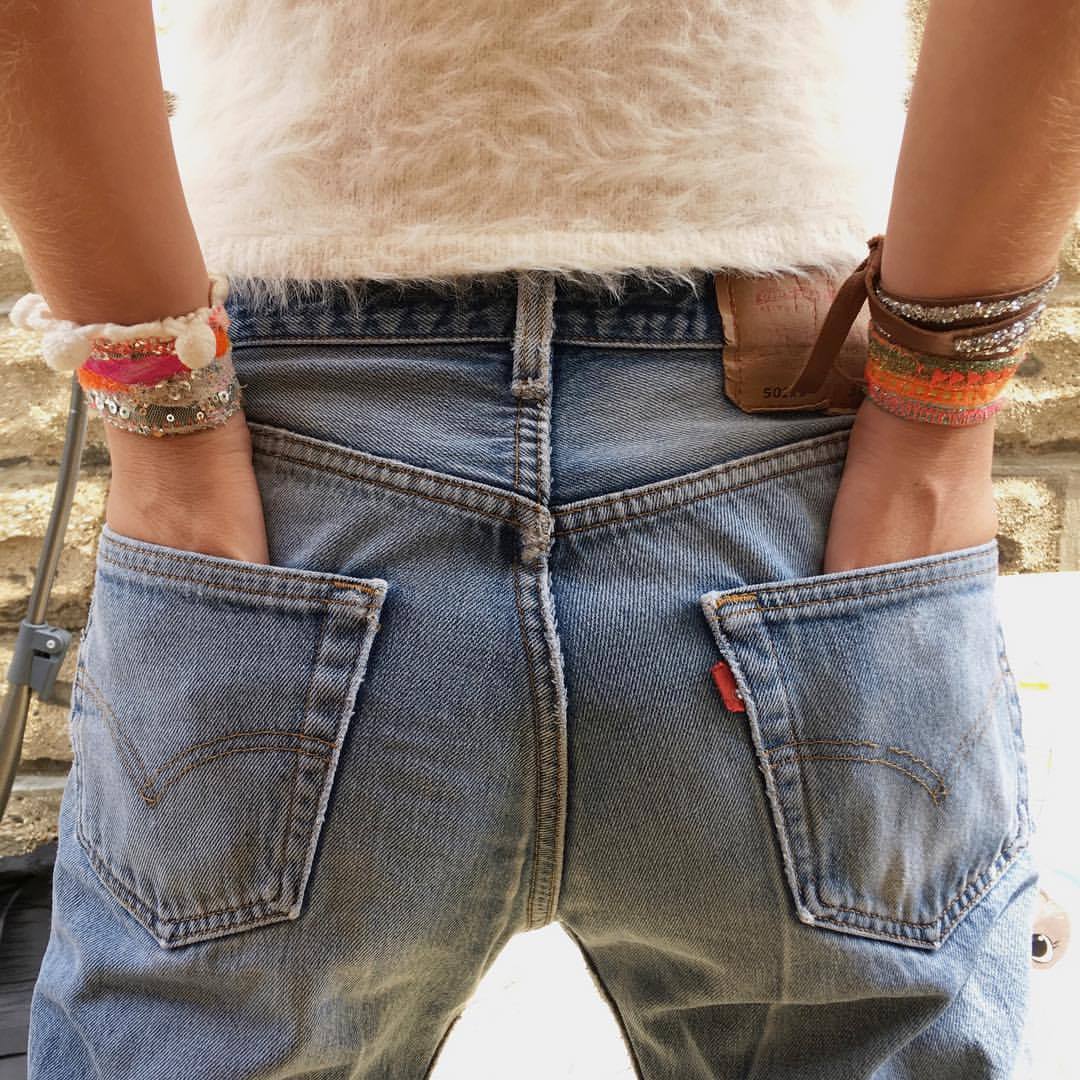 Inherent in coastal living are aspirations to elevate ordinary days with simple elegance and everyday romance.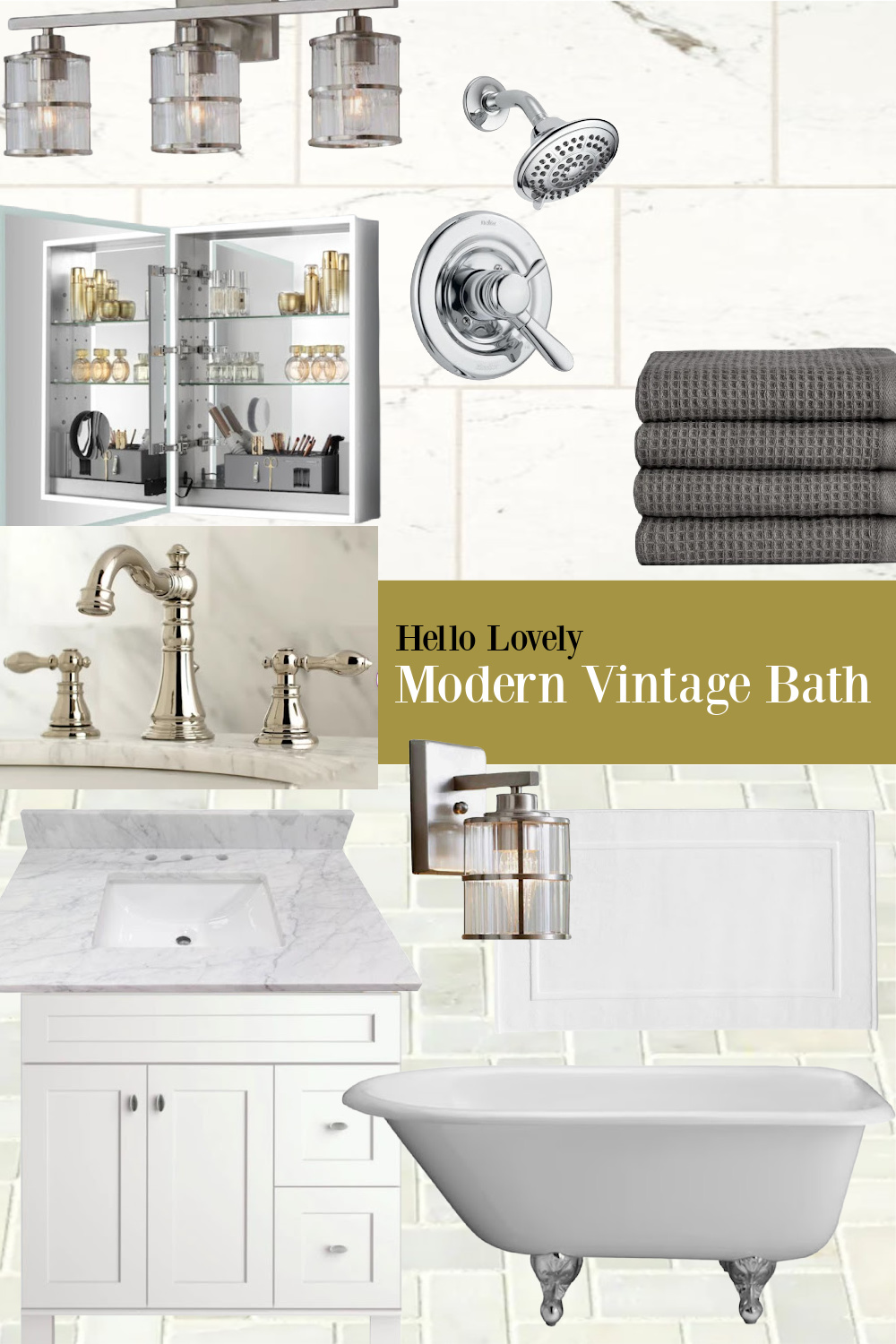 The aesthetic and lifestyle may especially appeal to homebody types who love to create subtle backdrops for peaceful moments to unfurl within a safe haven.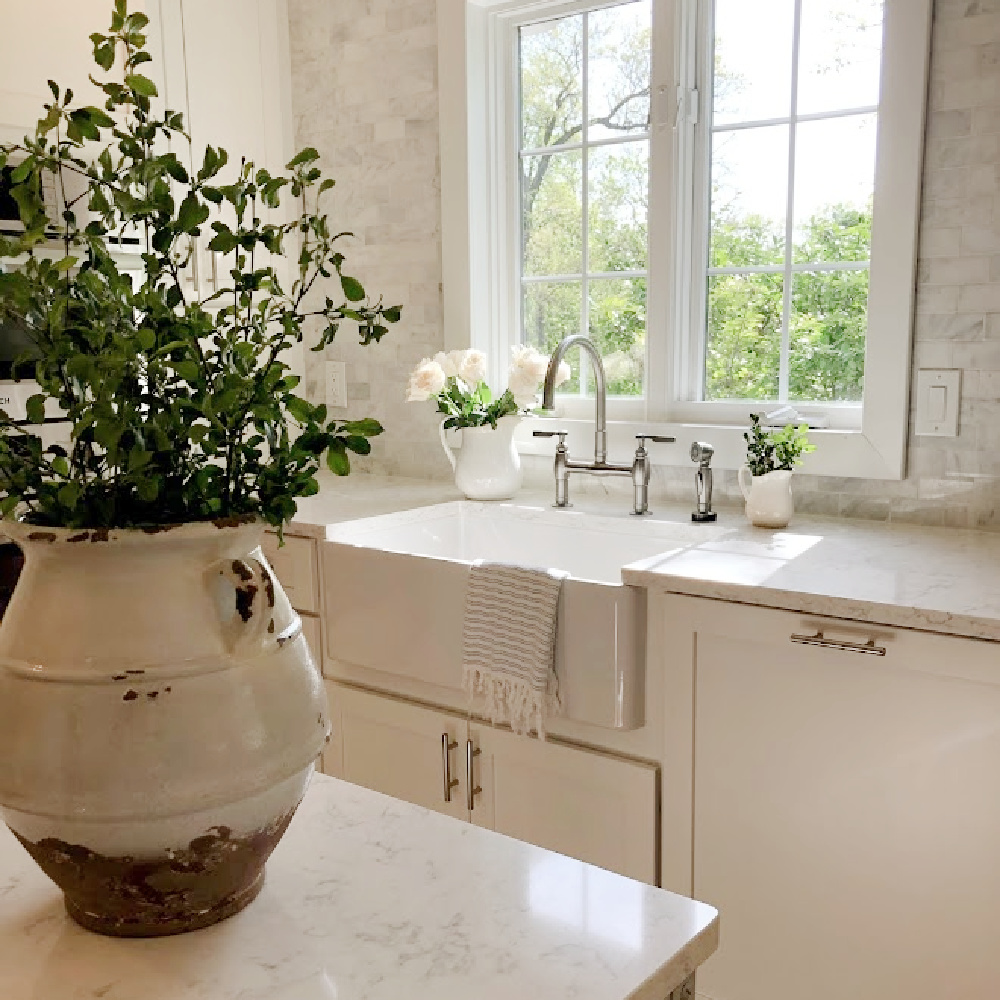 There's little patience for uncomfortable high heels or underwire pushup bras. (Shhhh. Since my reconstructed boobs don't need one, I rarely wear a bra.) White tshirts, denim, and chambray button-downs belong. Self-care may look like: long walks in nature, reading books, crocheting, sipping lemonade or wine, gardening, painting watercolors, and uncomplicated recipes.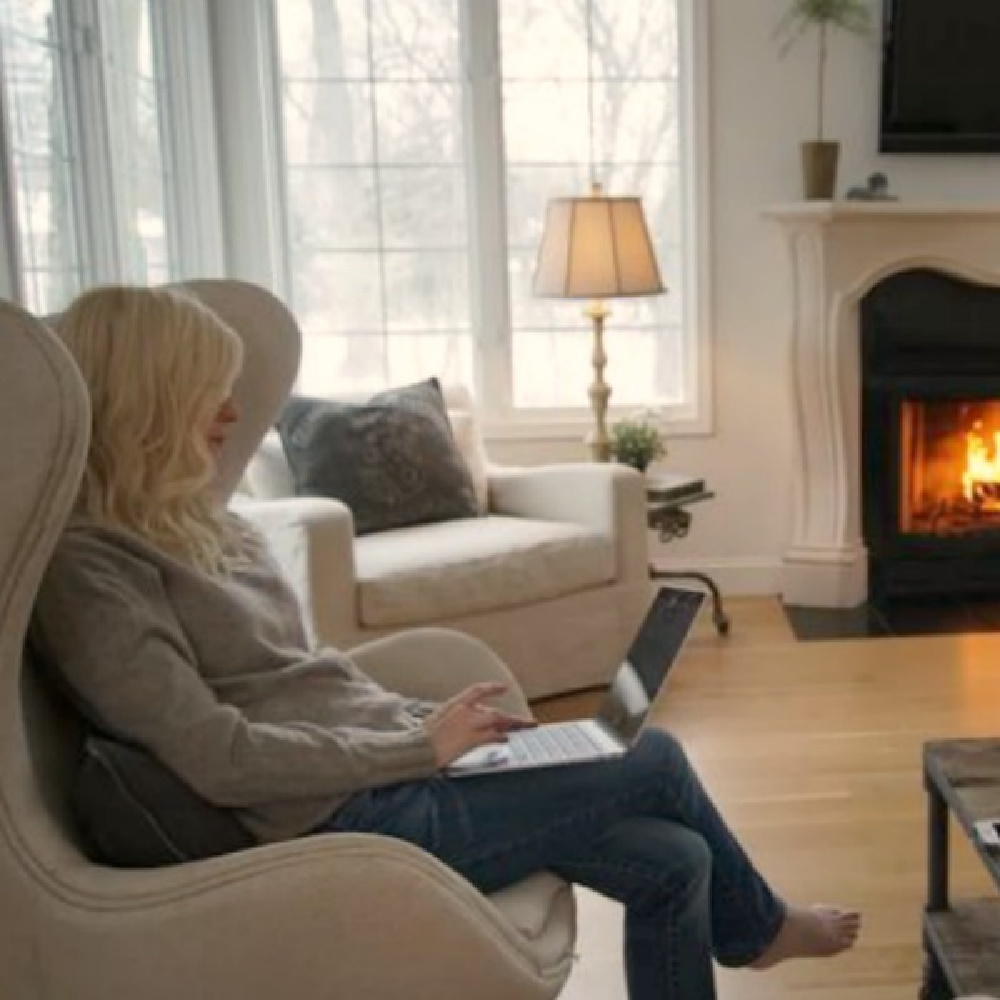 How Does Coastal Grandmother Vary From Preppy Style?
Preppy all-American style seems to overlap with coastal grandmotherhood. However, their interiors may reveal a discrepancy. A prepster may be more likely to choose chintz, plaid, and fussy wallpaper. These may feel too busy or like too many layers for a coastal granny's taste. Also, a lot of preppy lovers favor colorful maximalism whereas there's a pared down quality to coastal grandmother chic environments.
"…preppy decor's roots remain in exoticism as popularized by upper-class European society" – House Beautiful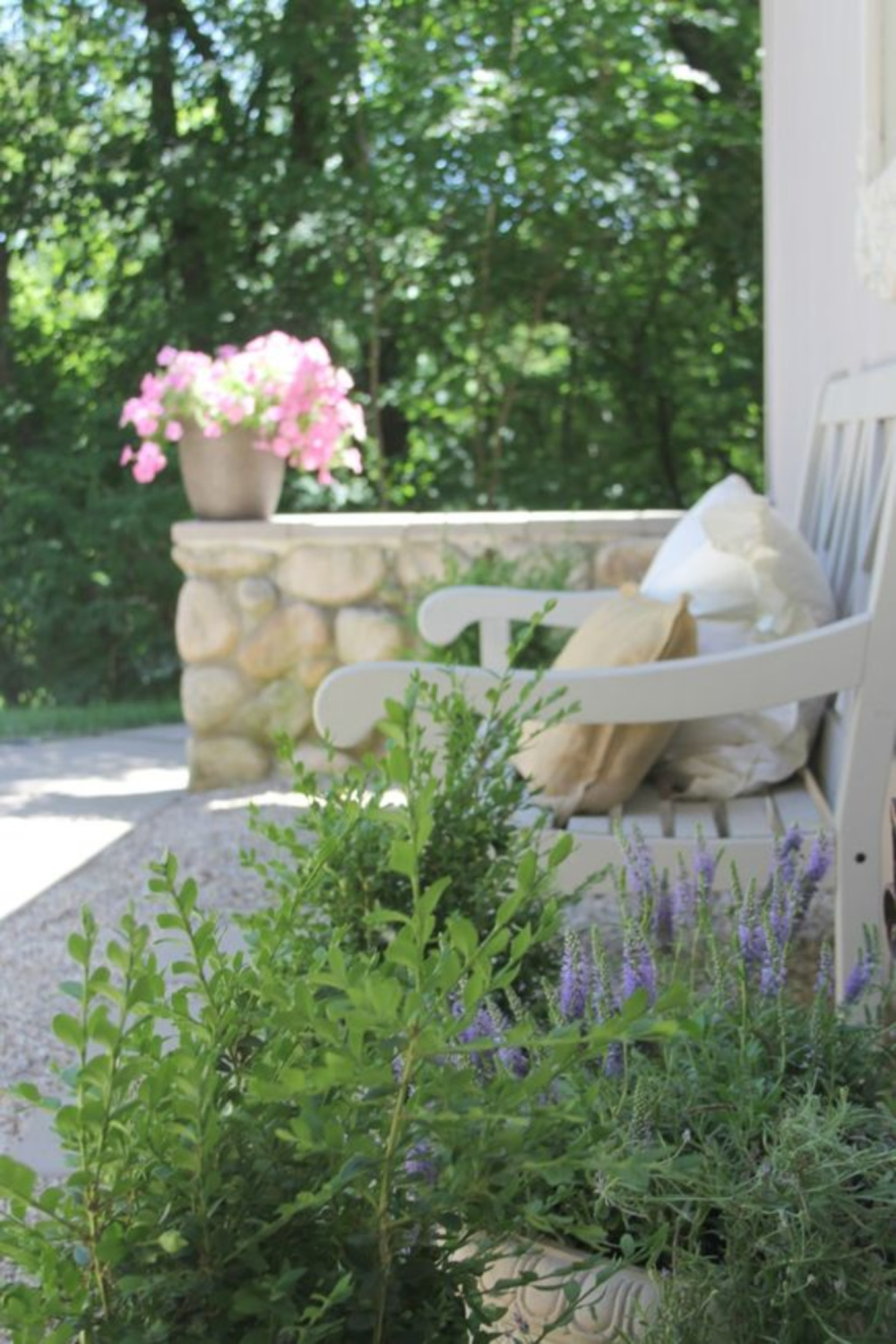 While both styles are rooted in sophistication and classicism, CGs are maybe more uplifted by the natural world, solitude, and the rhythms of the sea. They may treasure driftwood as decor for their cozy cocoon more than exotic chinoiserie.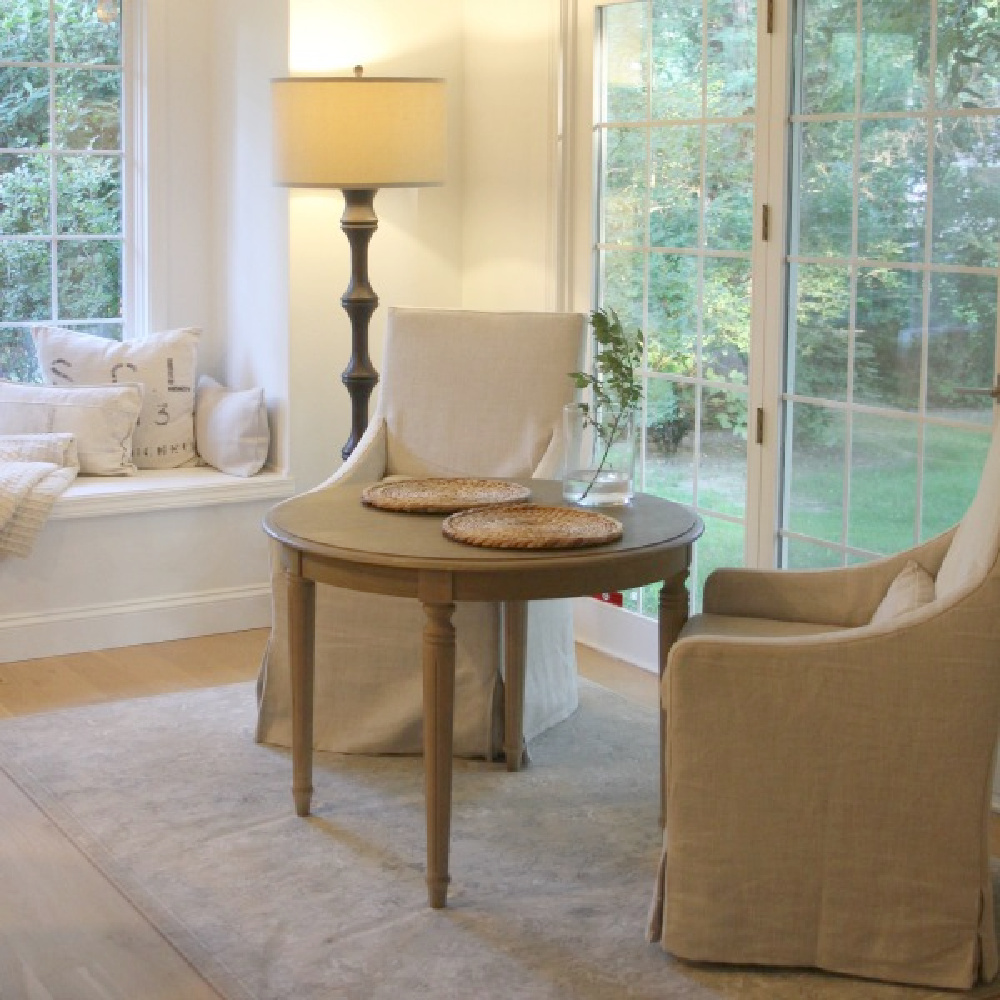 Is Coastal Grandmother Lifestyle Expensive?
Diane Keaton's character in Something's Gotta Give (Erica Barry) owns an oceanside Hamptons beach house that would cost a fortune. Not a simple or inexpensive lifestyle to copy!
"The vibe is very ocean inspired and feels vacation-ey. It also looks effortless and chic and is easy to copy at any price point." – NY Post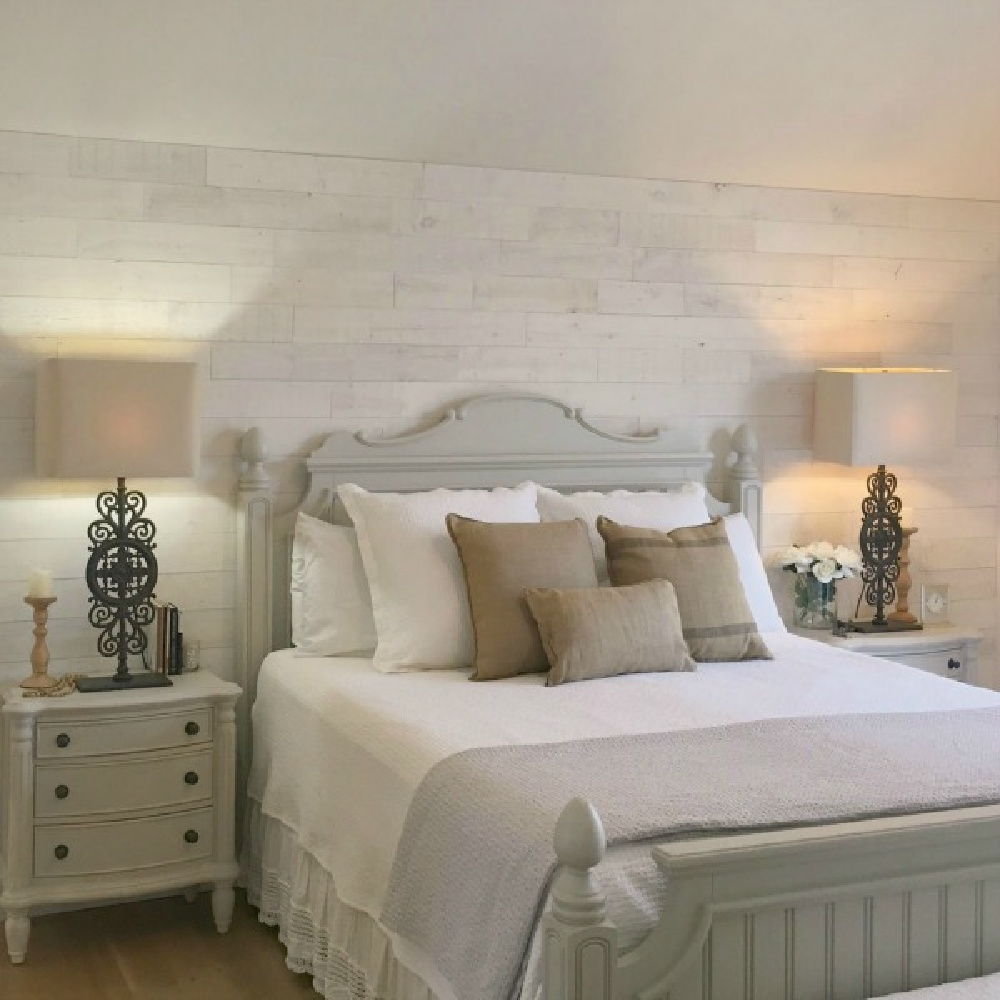 Can you truly capture the vibe on a budget? It depends.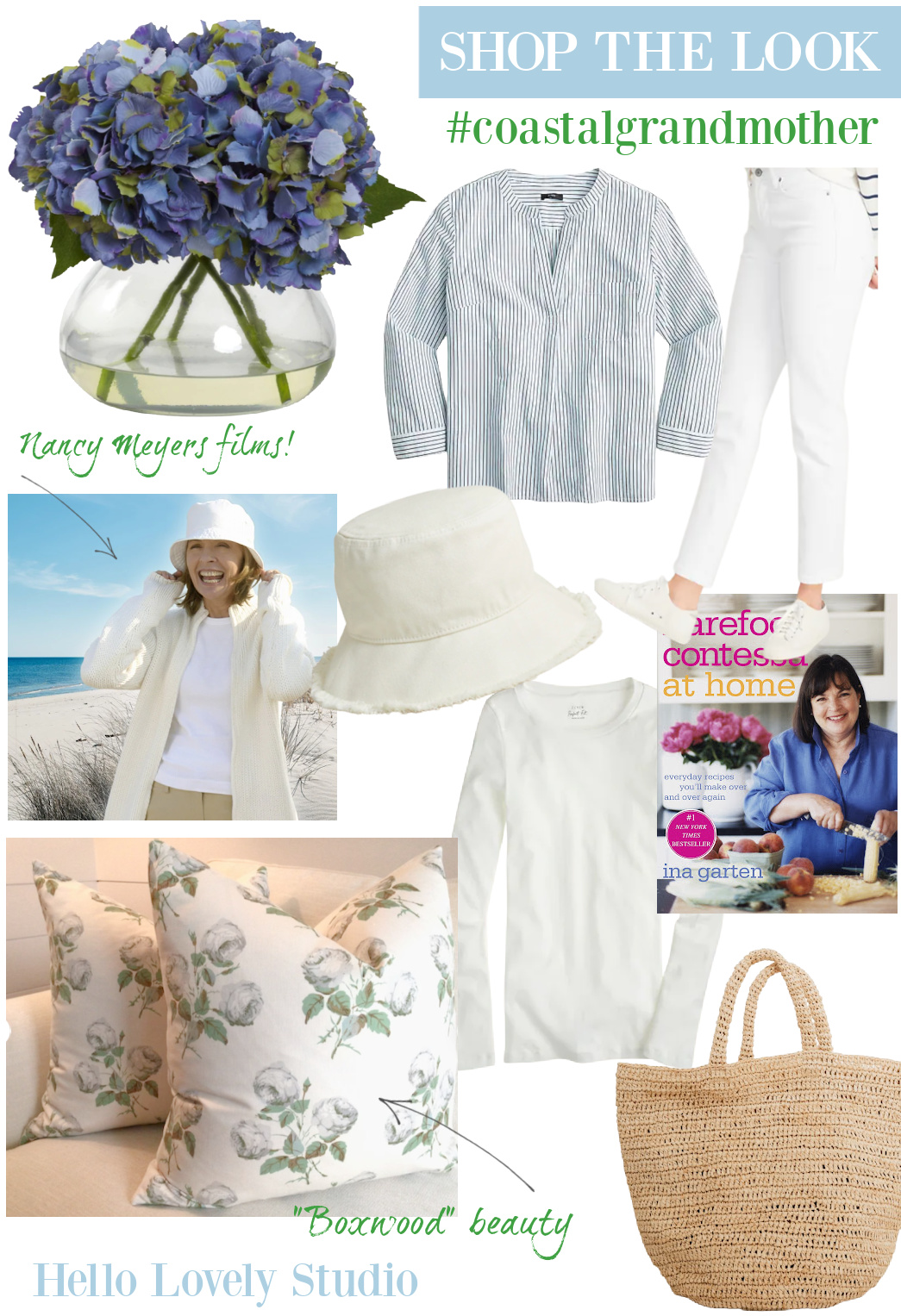 Sure, a single room can be decorated with a chic coastal look on a budget. However, it's the authentic lifestyle and carefree mindset that comes with a steep cost.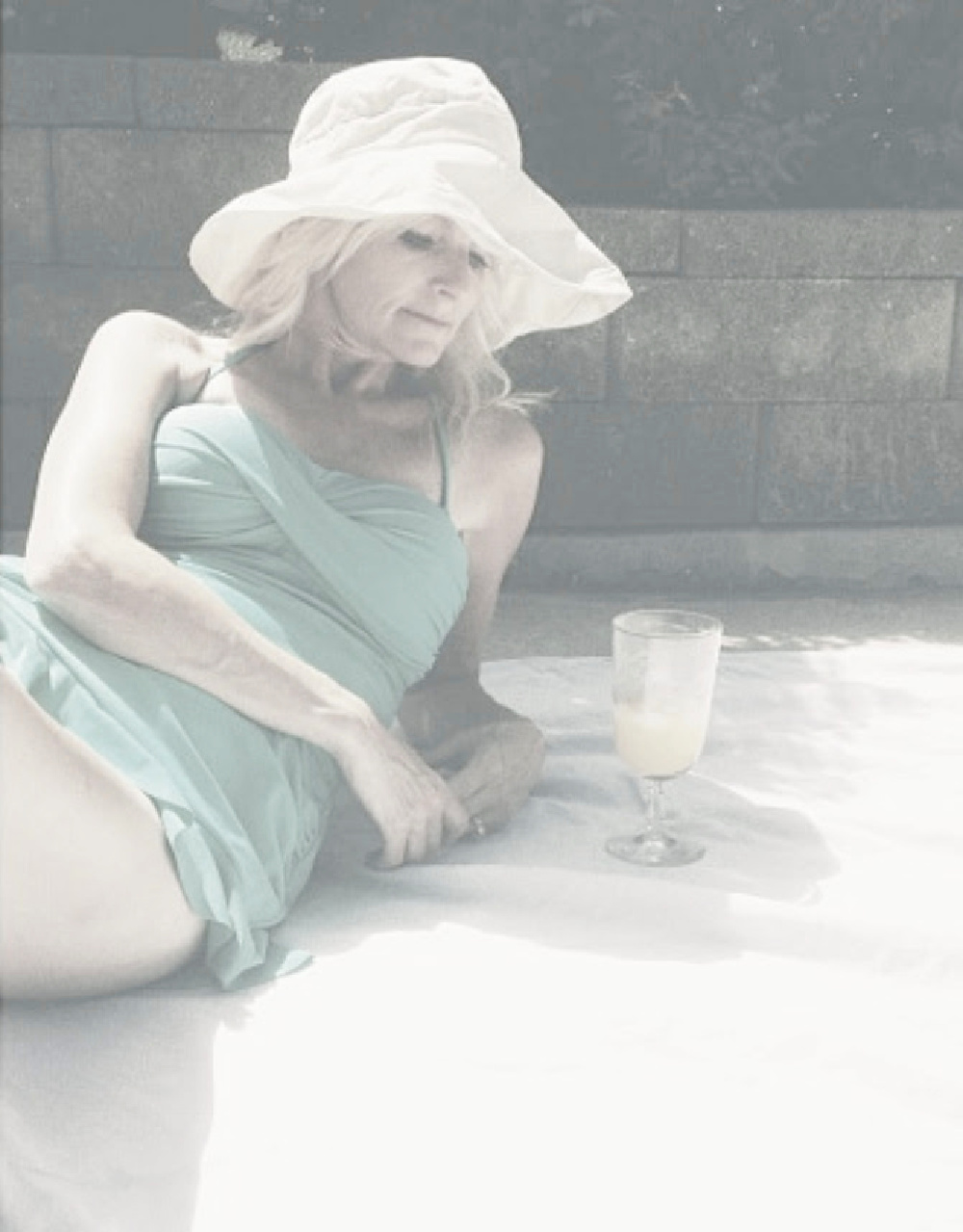 In the 2020s, FREE TIME is also wealth. So if you should have hours for coastal grandmother hobbies and pursuits, maybe your bank balance is irrelevant.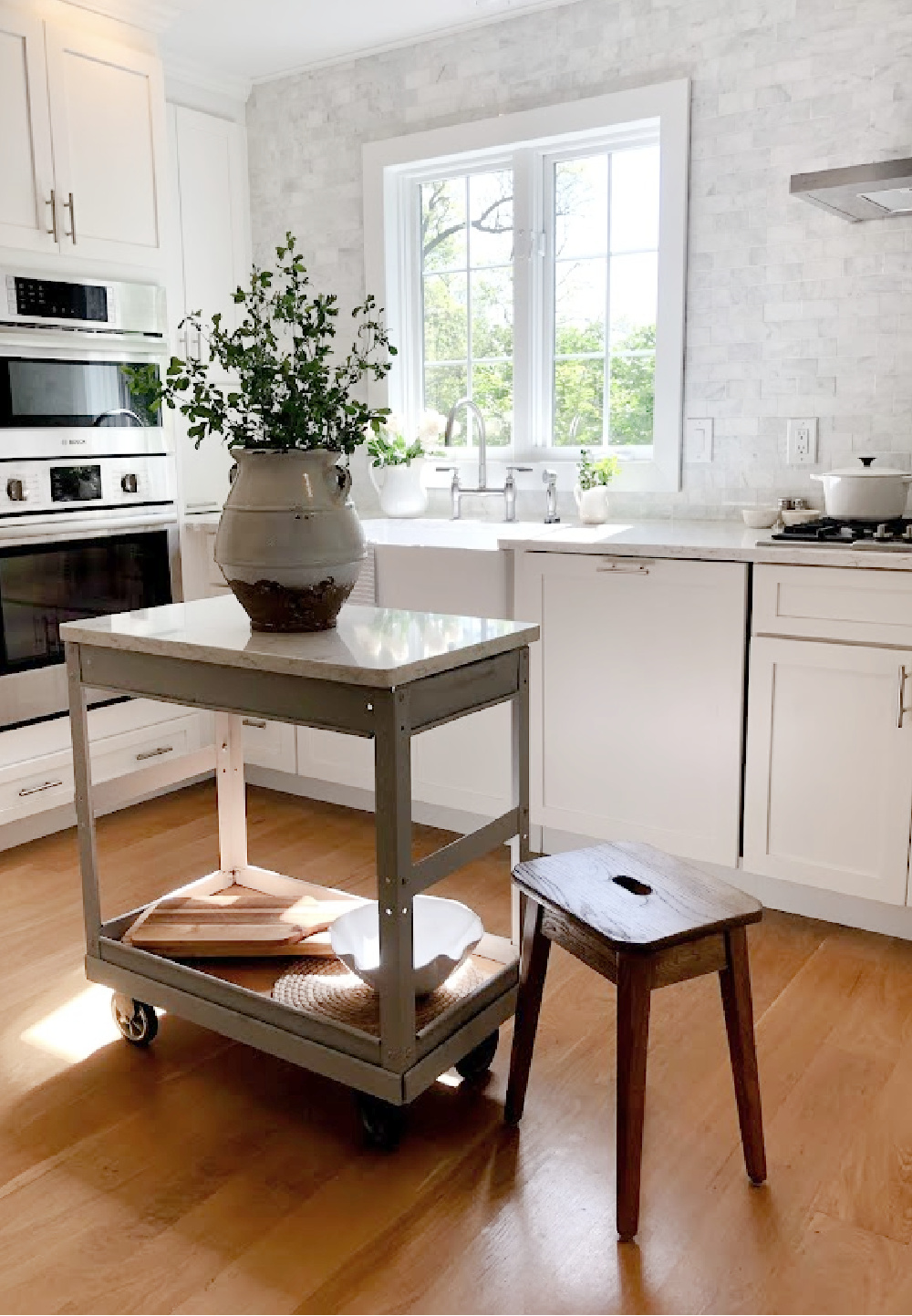 For many folks, experiences trump expenditures. Arranging a branch in a vase or freshly plucked flowers from the garden in a simple ironstone pitcher? It can feel more lifegiving and rich to a CG than shoe shopping.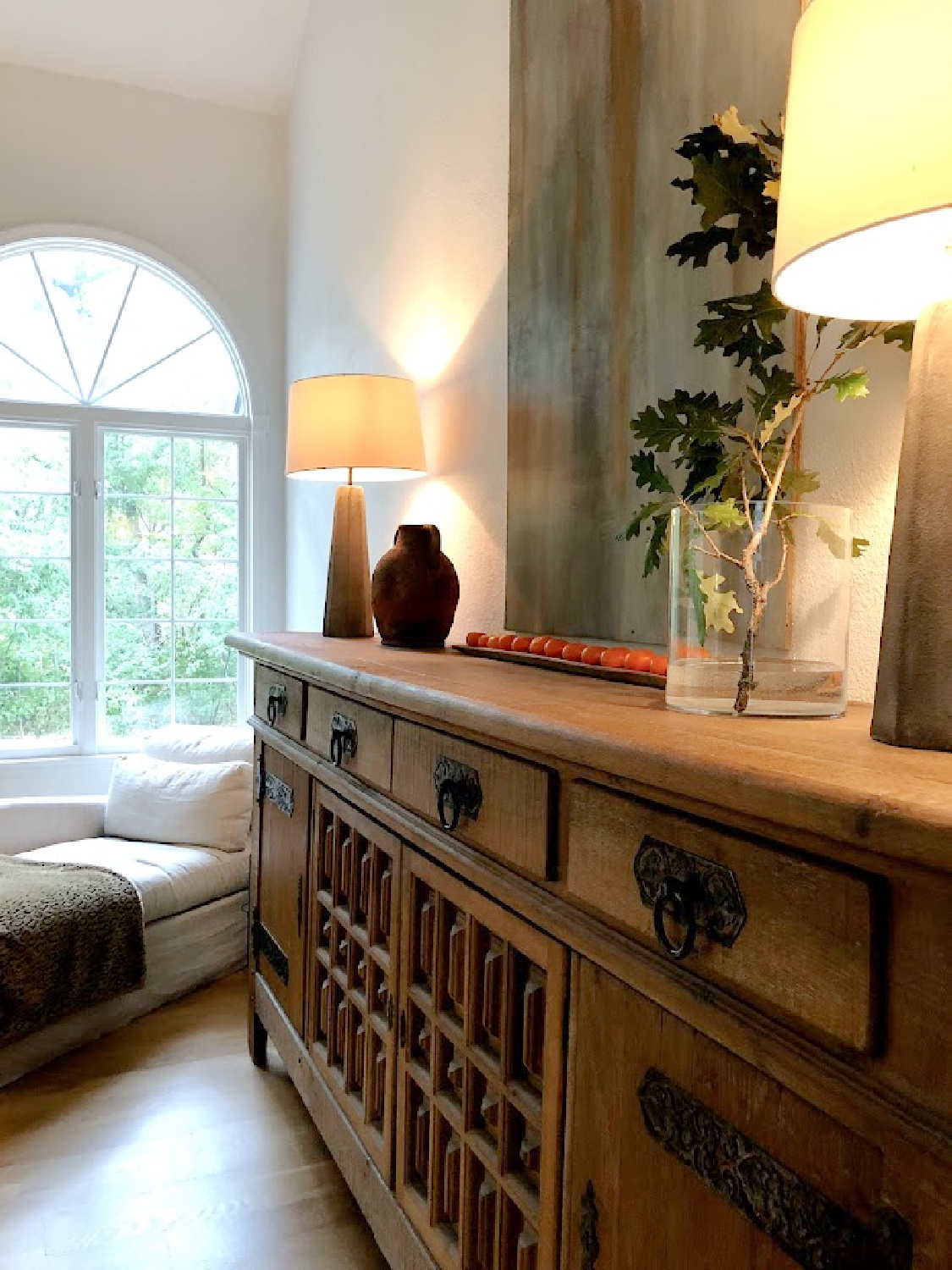 "A coastal grandmother doesn't care for thong bodysuits…She likes heirloom tomatoes and going to bed early." – Glamour
Ha! That tickles me every single time because YES, Glamour. No thong bodysuit could ever compete with an heirloom tomato on planet coastal granny!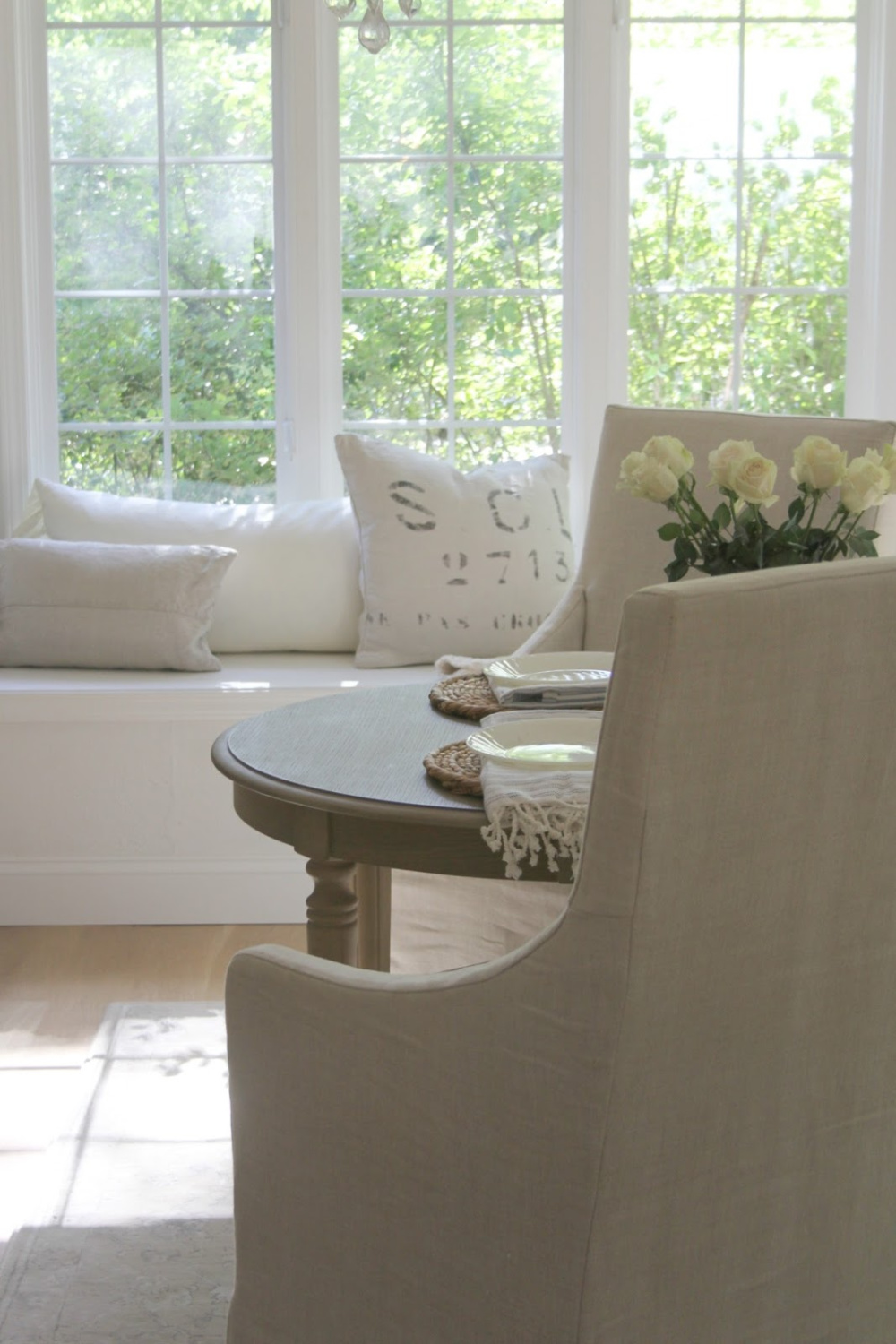 Is This TikTok Trend More Martha or Ina?
Even though Lex Nicoleta says coastal grandmother "is not fully Ina Garten," it's hard to imagine anyone who comes closer! Ina's calming disposition, recipes, and entertaining suggestions are accessible yet utterly chic.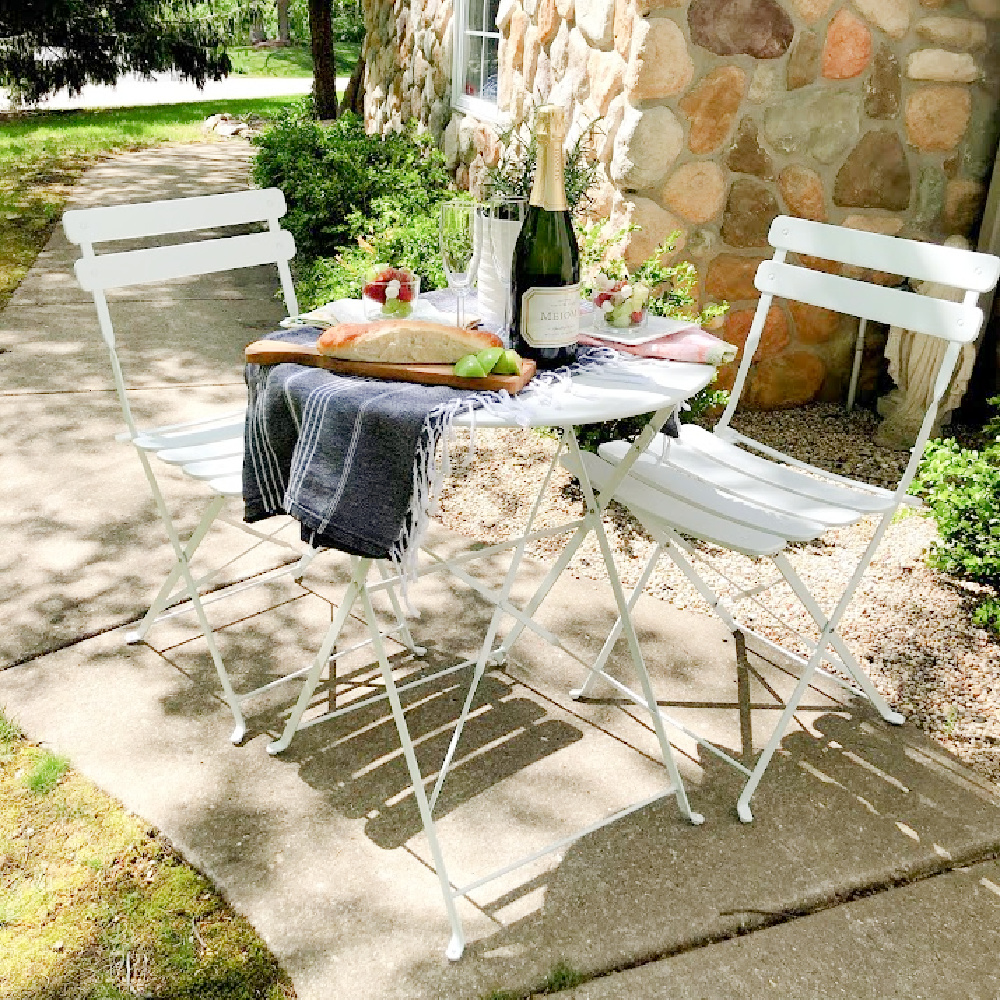 Yet I wonder if coastal grandmothers appreciate the IDEA of her ideas for perfect soirees more than the actual execution of them. Hahahahaha. I know you know what I mean. (i.e. my hoarded crafting and art supplies…no, madame, I am neither rich nor busy crafting all day, just highly irresponsible and skilled at procrastination.)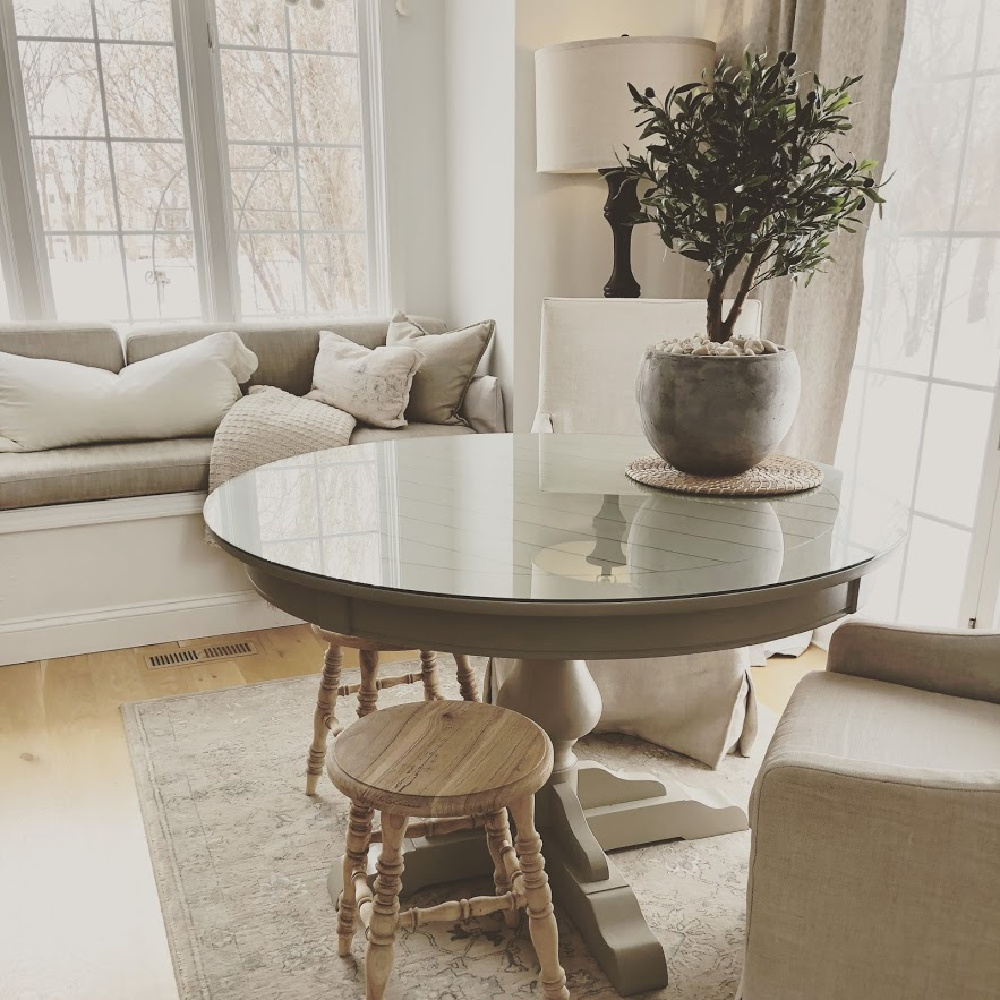 What's your take? Do coastal grandmas hoard craft supplies? I wonder if what I'm doing is rebelling against the culture's push for constant productivity and hustling. It is still so countercultural to value rest. Add to that pressures to make hard work appear effortless!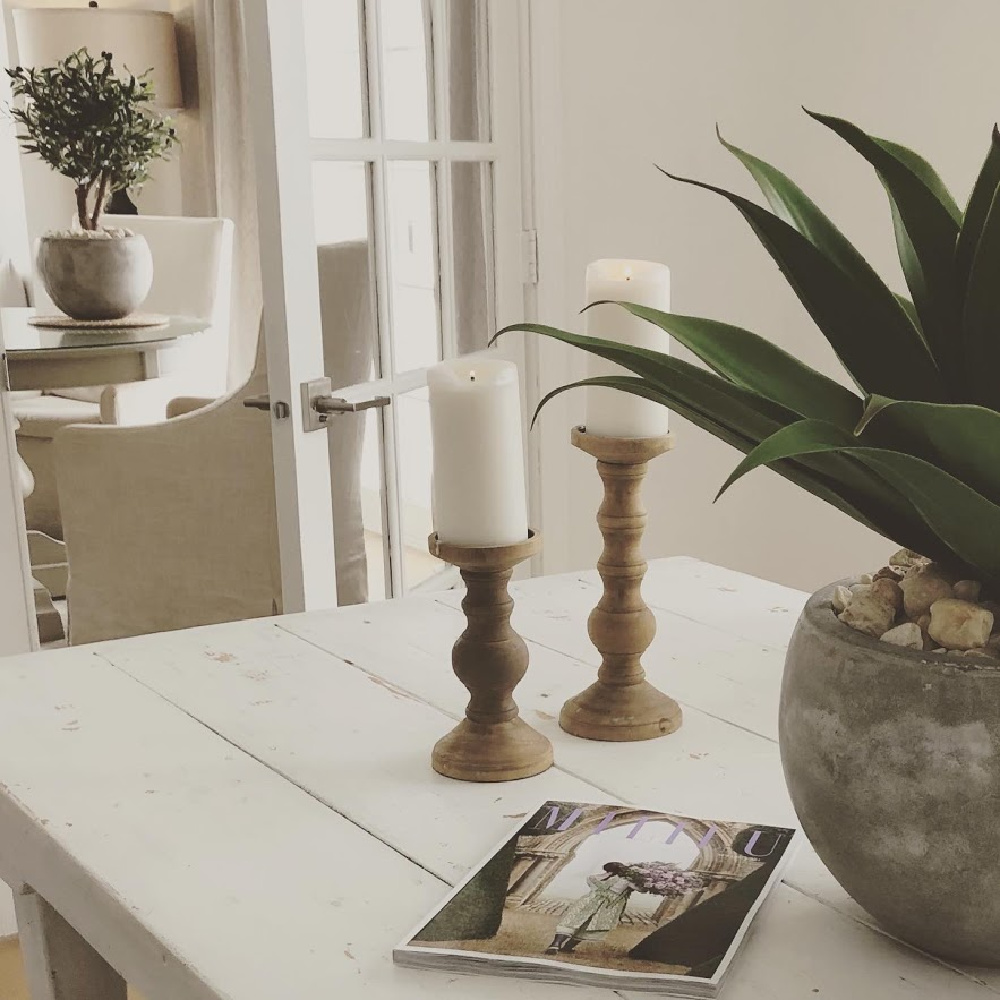 Coastal peeps need pajama time and lazy days. Intimate Ina Garten-esque gathering with a simple menu that won't require exotic ingredients or days of prep? I'm in.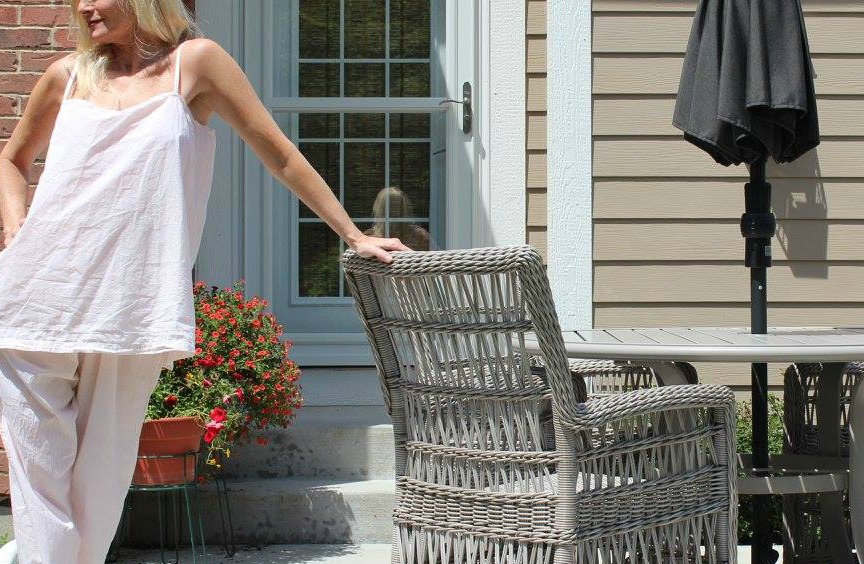 How to Capture a Nancy Meyers Chic Inspired Look at Home
Emulating an effortless, Something's Gotta Give look? Ummm. It's Complicated and requires effort!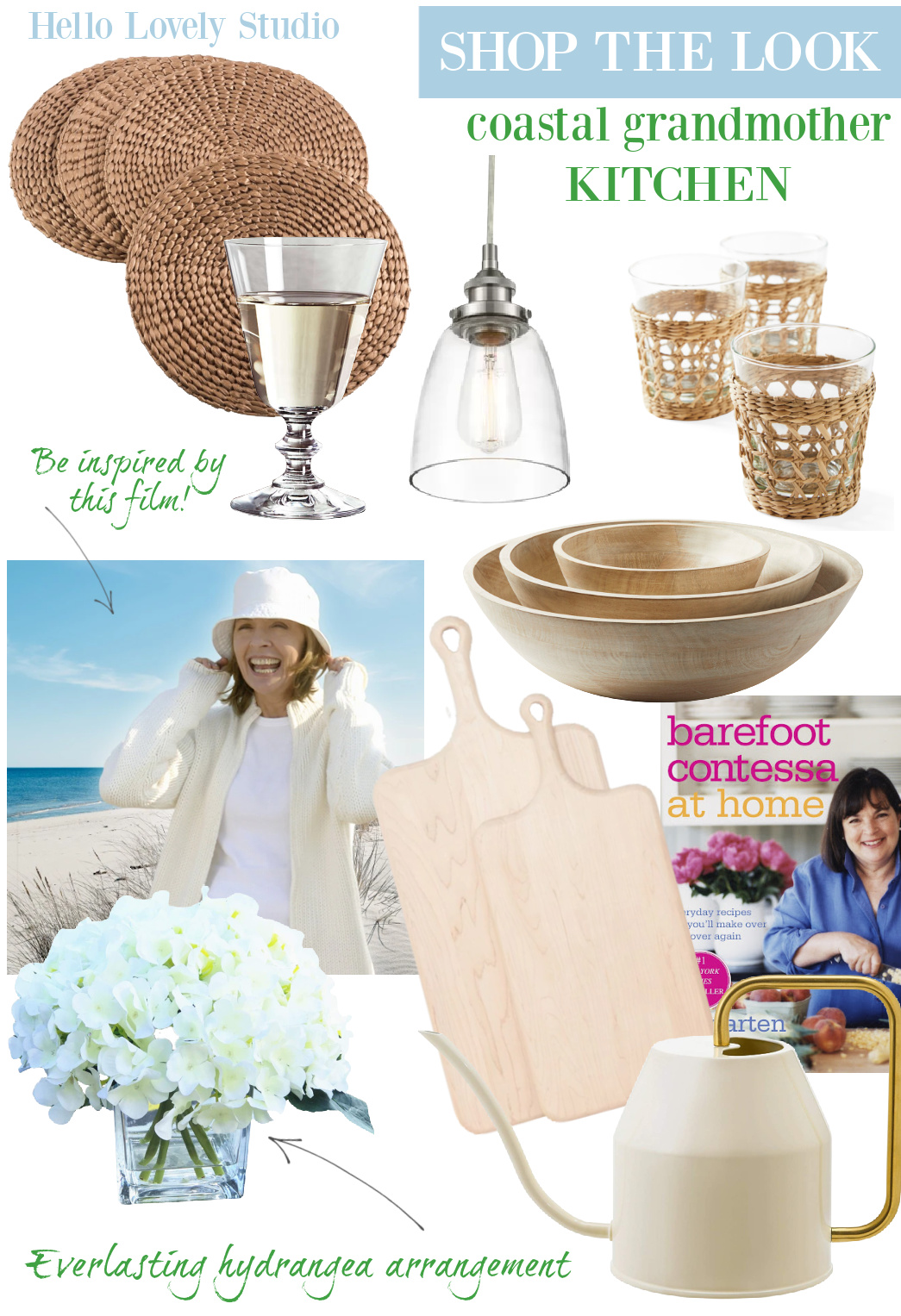 Study The Movie Sets!
We shall not discuss the number of times I have pressed pause to view a scene in slow-mo or spend more time with the set decoration of a Nancy Meyers movie. Train your eye. Notice the architecture, layering, and furniture placement.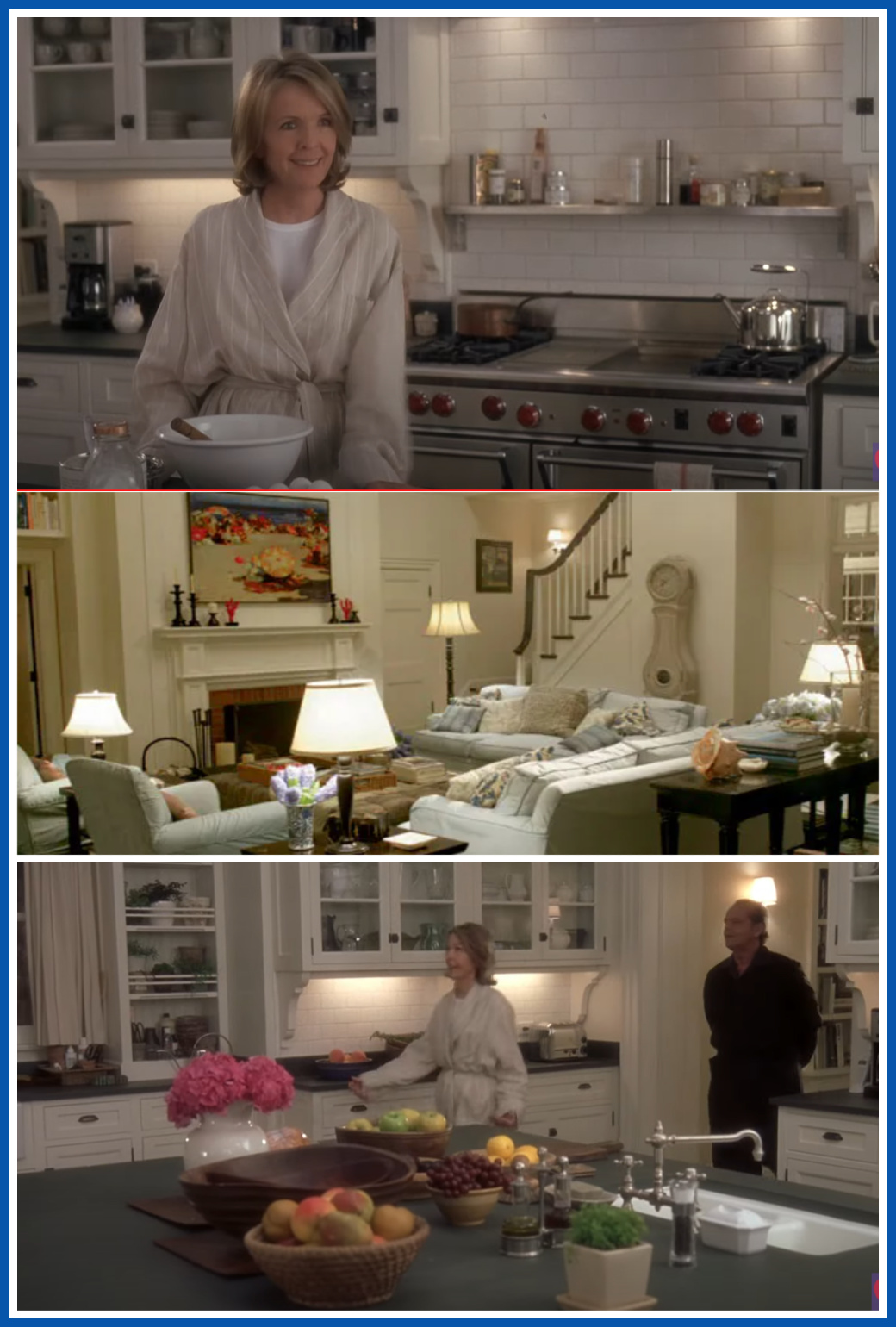 Notice what's there and what's not there. BTW. The interiors within that unforgettable Hamptons manse in Something's Gotta Give were actually movie sets built to Nancy Meyers' specifications. Even the kitchen countertops only appear to be soapstone! They were painted to look like the real thing.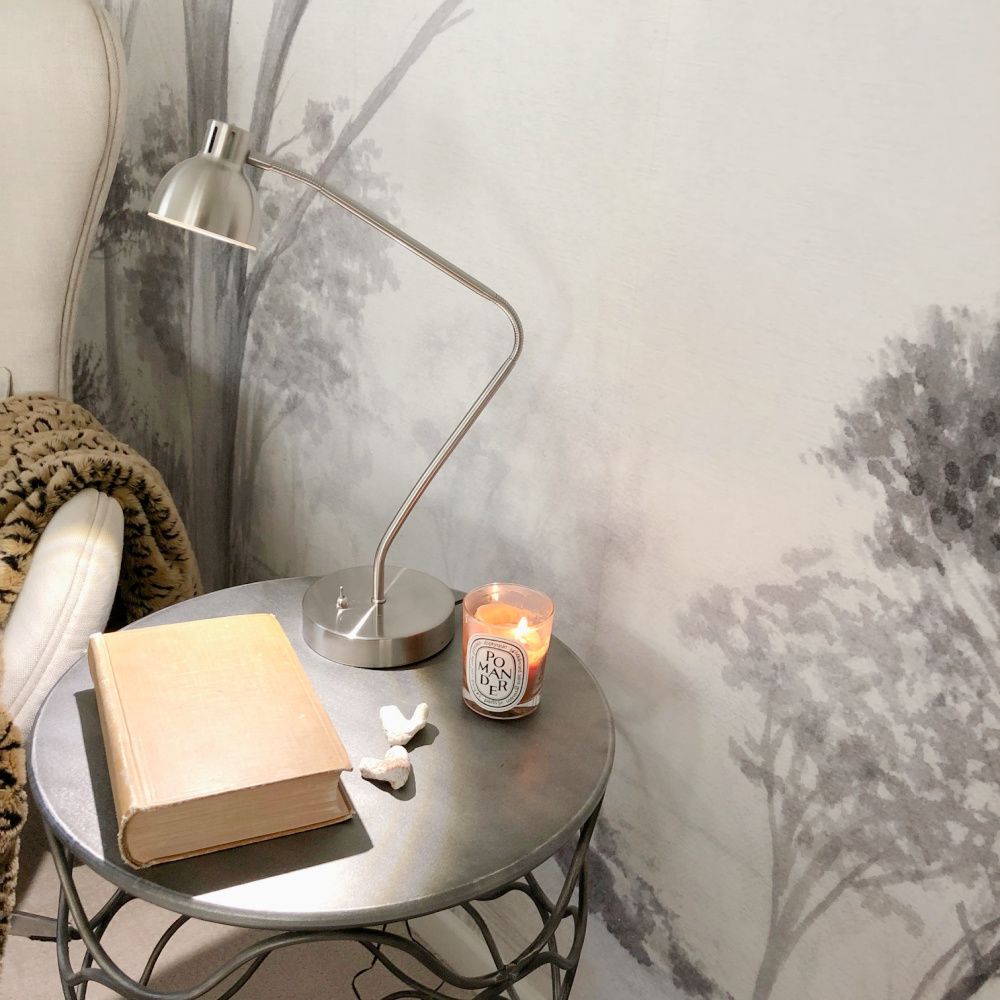 Don't Shop the Nautical Section
Kitschy beachy-themed décor at your favorite discount stores has never been your friend. There's a wide difference between taking decorating cues from the sea with strokes of subtle understatement and filler which clutters a room with beachy signs. Natural sea fans or coral cluster can be beautiful accents, while a slew of faux beach decorations from Homegoods misses the mark.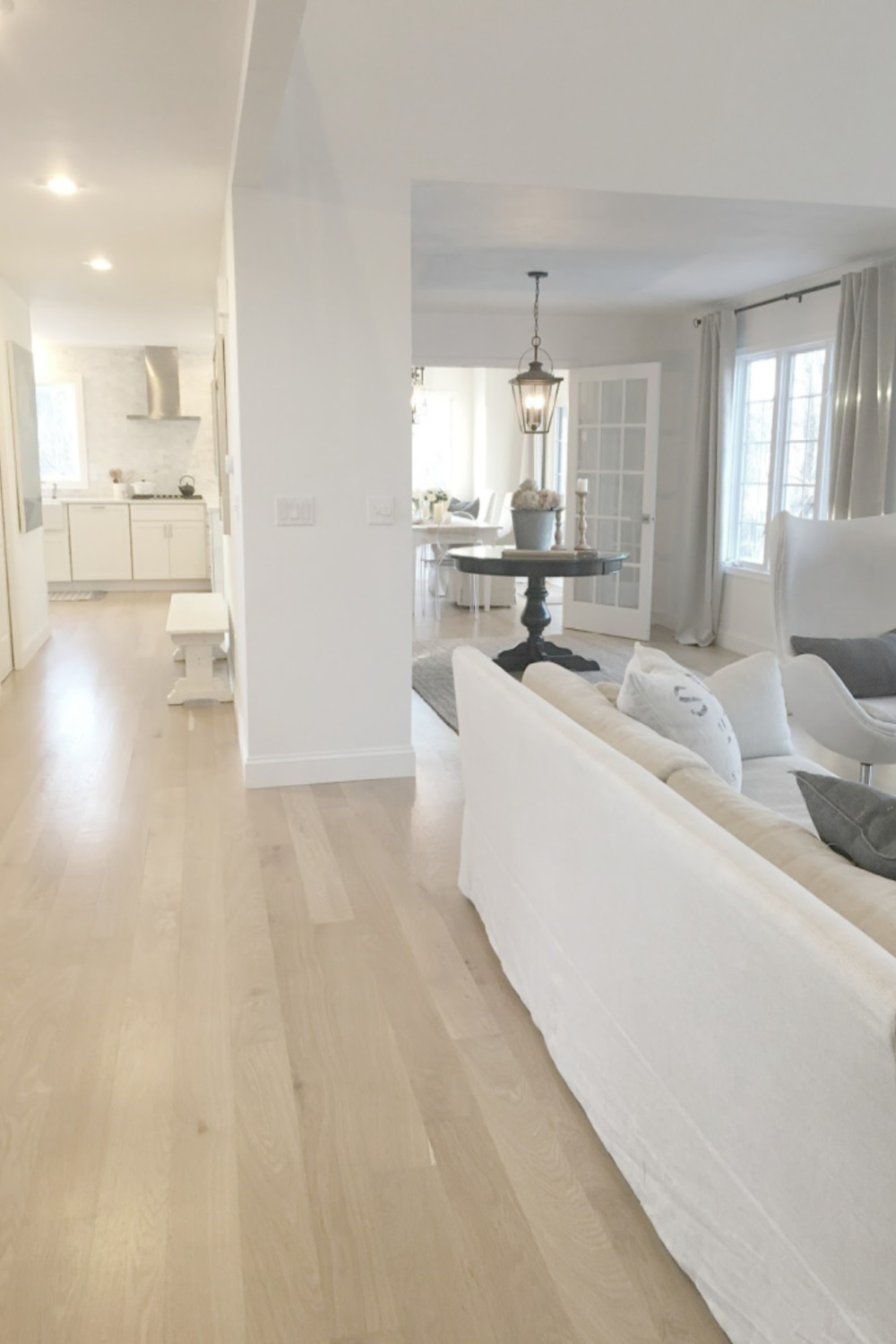 Keep the Color Story Cool & Neutral
White sofas are right at home in a beach house, and blue is a timeless coastal accent. I'm partial to grey and white since it reminds me of the moon (yes, a hippie coastal grandmother), and I don't tire of the combination. Paint trim a crisp white (see this for ideas for the right white), and search my archives for timeless and tranquil inspiration.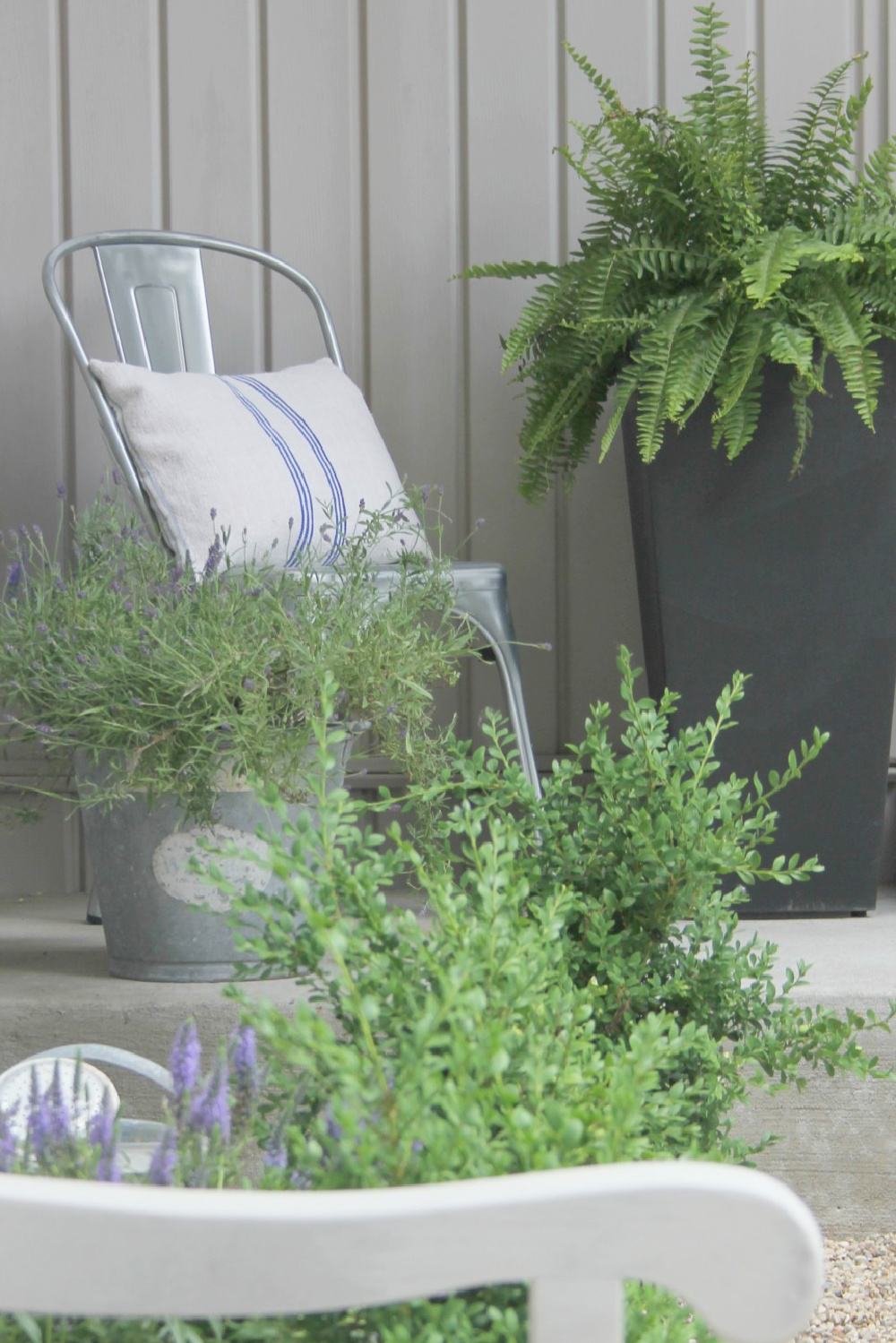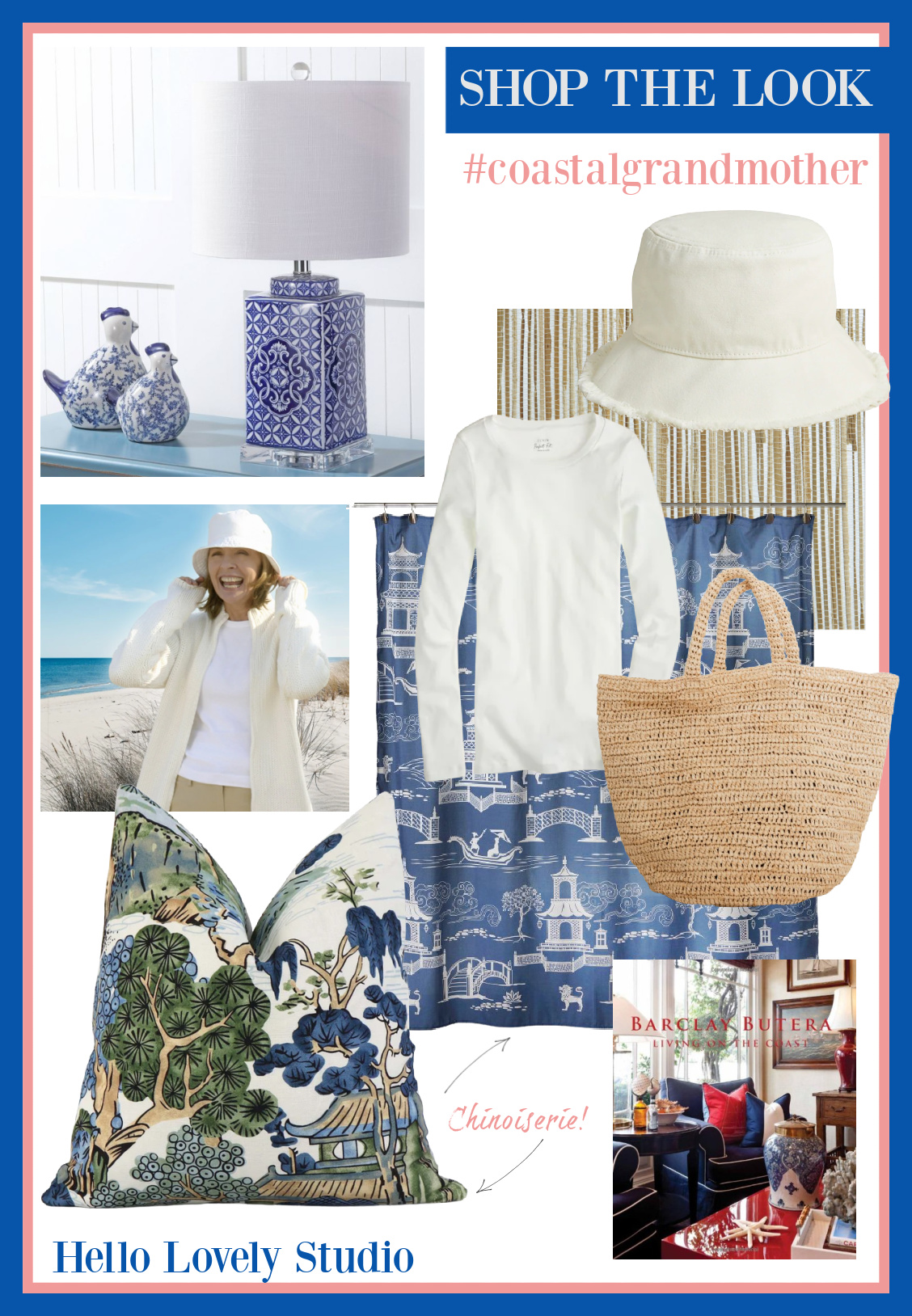 Psst. I love my everyday flatware from Georg Jensen and nearly identical to this:
I may not live near a coast or enjoy grandchildren, but a coastal state of mind appeals!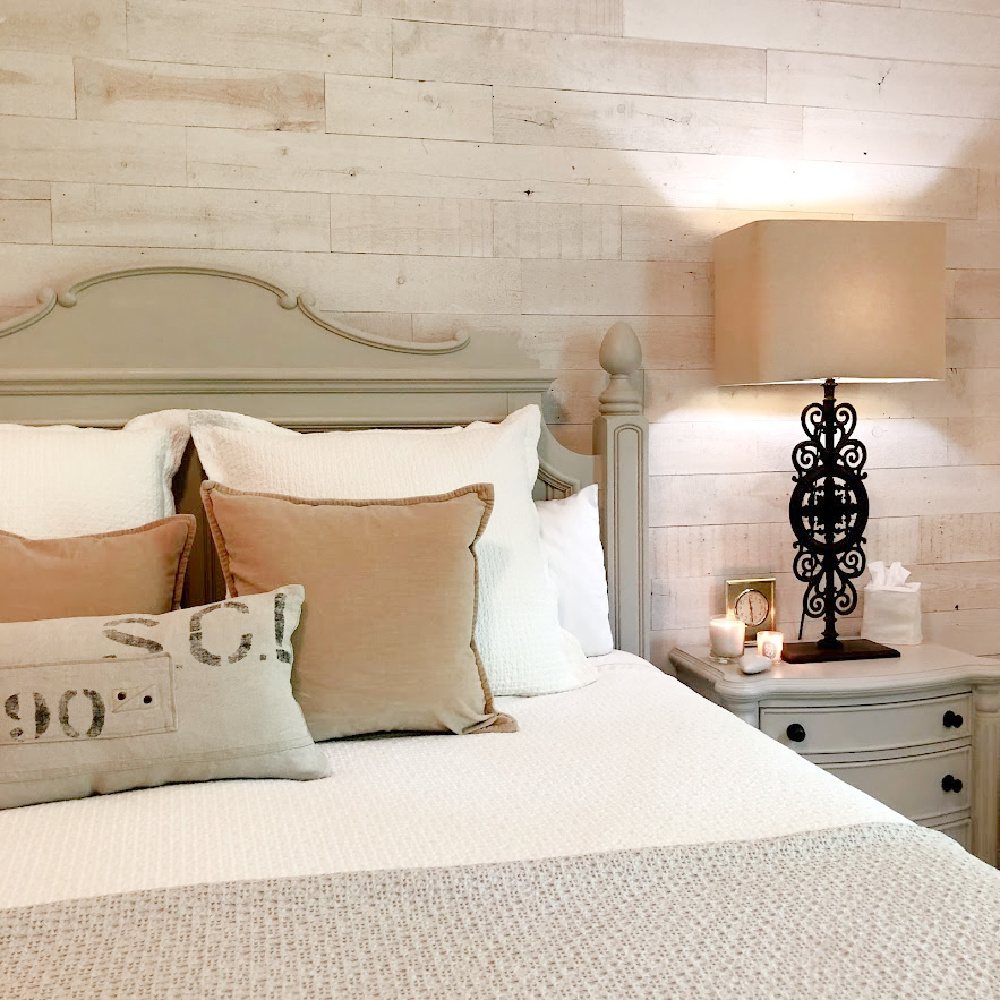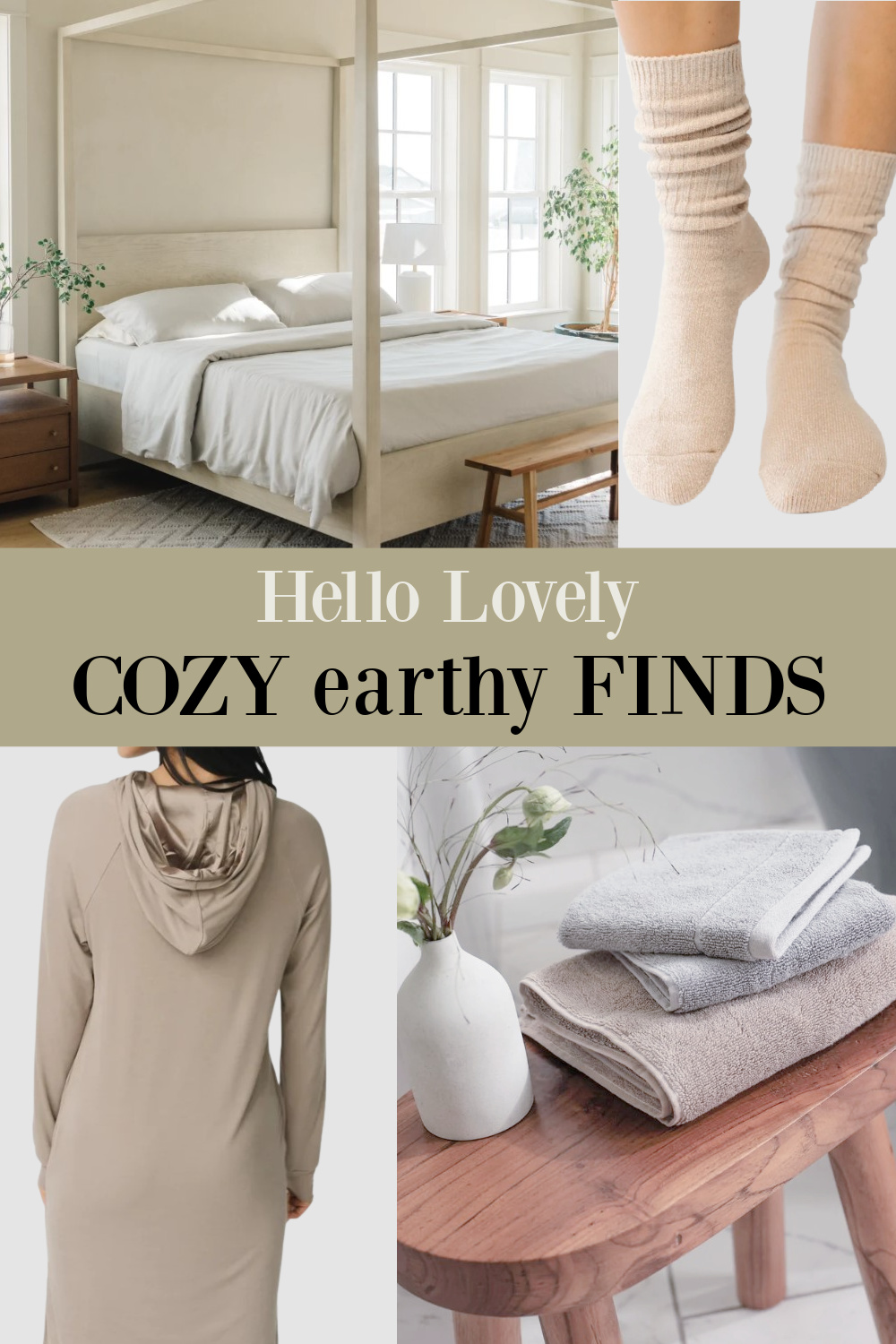 I'd love to hear your thoughts and whether the aesthetic suits you too.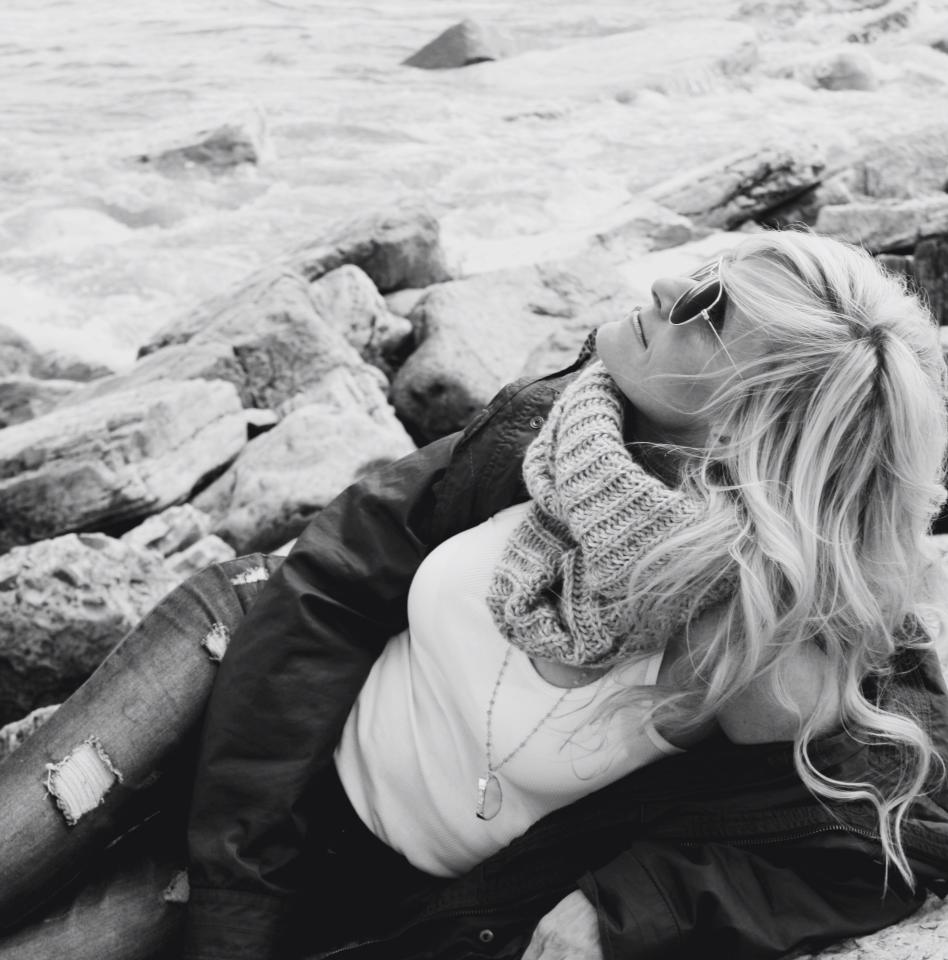 p.s. thank you for being here on the journey with me – it's so much easier when you feel joined.
Peace to you right where you are.
-michele
Shop for items you already intended to buy on Amazon RIGHT HERE, and also find home decor here to keep decor inspiration flowing on Hello Lovely!
Hello Lovely is a participant in the Amazon Services LLC Associates Program, an affiliate advertising program designed to provide a means for sites to earn fees by linking to Amazon.com and affiliated sites.