Let's revisit an amazing HOUSE TOUR of a board and batten Palmetto Bluff homestead imagined by an interior designer who created a coastal grandmother dream house! I know you'll adore its easy breezy style, and maybe you'll also score ideas and resources for your own #coastalgrandmother plans. Coastal Cottage Decorating Ideas unlocks the magic inside this blue and white barefoot-luxe lakehouse beauty!
Coastal Cottage Decorating Ideas: Get the Look Now!
This beautiful home was dreamed into existence by designer Lisa Furey
Architect: Court Atkins Interior Design: Lisa Furey Interiors
FIND UPDATED RESOURCES, PAINT COLORS & DECOR IDEAS: for the kitchen/entry HERE, the great room HERE, and the bedrooms/baths HERE.
Since this project embodies so many of my favorite design elements, I wanted to dig deeper into the particulars shared by the designer.
Why I Thought You'd Love It
If you love a classic cottage, slightly beachy, mostly white with blue accents, minimal modern farmhouse-y kind of vibe, then today's house tour is bound TO ROCK YER SOCKS!
Here's a snippet from the real estate listing when it was offered for sale:
"Expertly sited to take advantage of the views of lake, park and conservation area, this charming compound was created with special attention to all details…A separate carriage house includes a second floor bunk room, kitchenette, and a deck overlooking the lake."
I am intrigued by the idea of three separate small structures adding up to 3,000 square feet, aren't you?
You can live in the main cottage in the middle, allow adult children or aging parents to reside in the guest cottage, and still offer the carriage house for guests or rental income!
The project proves you truly can create a masterful private enclave with just one half of an acre.
Cottage Overview
Coastal cottage details: 5 bedrooms, 4 bathrooms, 3,100 square feet, .5 acre
What's the White Paint Color Inside & Out?
Benjamin Moore "White" is the color the designer painted all the interiors and exteriors, and this is the color I painted all of our interiors in my own home.
Need advice for choosing a white paint color? See this helpful post. And #coastalgrandmother style is in ample supply at Jenni Kayne:
Coastal Cottage Video
To get the most from this post, WATCH THIS GORGEOUS VIDEO OF THE PROPERTY BEFORE OR AFTER YOU READ THE POST to get a feel for the interior design and see up close and personal glimpses of some of the design elements highlighted below.
Now on to the amazing tour where you'll learn resources to get the look with furniture, light fixtures and decor.
Front Porch/Entry
All of the light fixtures were handcrafted in New Orleans by Bevolo Gas & Electric Lights
Isn't this a versatile bench since the style is so classic?
I mean, you gotta love knowing these pieces will never go out of style.
The key is to keep your coastal classic and not kitschy!
Nautical nods are swell, but there are just too many cheesy accessories out there that water down the sophisticated look.
Lanterns inside and out are right at home…
can you believe how many gorgeous options are available now?
My favorites are the ones with candle-style lights inside:
they're so nostalgic and Old school.
Do you like the models with a distressed finish?
The designer called the style of this home modern farmhouse meets coastal cottage, and I think we all get a little too hung up on semantics these days…
I mean you could just as easily refer to this home as a beachy chic paradise. BTW…do you need your own mini board and batten beachy chic cottage from a kit?
Entryway: Decor & Furniture Resources
Here's where you can truly sense the "modern" coming forward…
Do you like the open stringer stairs?
Blue Cabinet Paint Color
Don't you love it when a designer shares the exact paint color in case it might work for your own project?
Benjamin Moore CSP 600 Andes Summit
Lighting & Decor in Entry
To keep things feeling sea-worthy, bell-shaped retro fixtures like this work dreamily:
A similar coastal style bell shaped ceiling light:
I have been crushing on this batik-covered bench for sooooooo long!
I can imagine an entry being completely designed around the bench!
It would also be beautiful in a dining room or bedroom.
Isn't the blue cabinet a lovely space saving alternative to a closet?
Sliding barn doors also conserve space, and they don't have to be overly rugged and rustic.
Barn Door Hardware
Hardware for barn door is Rustica: Find here.
Living Room Decor & Furniture
The wood planked shiplapped walls and ceilings add so much age and charm to this new build:
And the color story is kept quite simple with indigo blue, white, and natural tones.
Lighting
In lieu of a Swiss cheese ceiling of recessed lights, lots of glass and character are right at home with all the white shiplap.
Not that you would even need a lot of artificial light with this much natural light streaming in those amazing windows!
Pillows
If you're wondering about the source of those pillows and the name of the fabric…
oooooooh, I got you, coastal grandmothers!!!!
You have to admit this is not your grandmother's coastal grandmother style, yes?
Wait. What?
Moving along…
White Sofa Ideas
White sofas are a very good start to a proper Coastal Grandmother's beachy living room.
Just think of how many different colors, prints, and patterns will look perfect against the crisp backdrop…
And isn't that wood platform base on the sofa above incredible? It's not easy to find a quality-made white sofa with a breezy to live with, wood base!
Also, see this story with some favorite white sofas.
Handmade Jute Area Rug
If you're after a low contrast look for the floors, consider natural fiber area rugs.
Pssst. If your space is not blessed with hardwood floors, a rug like this may work well to be suggestive of wood.
It won't fall from favor and can take a lot of abuse!
Also, find more jute area rugs with geometric patterns HERE.
Hardwood Flooring
With all the white millwork, the warmth of these hardwood floors brings beautiful harmony to the mix.
Not the exact flooring, but here's a very pretty similar engineered flooring.
Staircase
Notice how modern, airy, and unfussy this staircase feels:
It sets such a casual, laid-back luxe tone.
Staircase Light Fixture
With all the straight lines of the shiplap and architecture, this light brings a curvy contrast that feels soothing and natural.
Window treatments were kept simple and classic as well:
Ideas for Coastal Cottage Paint Colors
Here are paint colors designer Lisa Furey shared from her home.
The exterior white paint color, interior walls, cabinetry, and trim are all the same color: BENJAMIN MOORE White
Master Bathroom Vanity Paint: SHERWIN WILLIAMS Tinsmith 7657.
Grey Kitchen Island Paint Color: BENJAMIN MOORE Pashmina AF-100
Blue cabinet in entry color: BENJAMIN MOORE Andes Summit.
Dining Room Resources
The casual dining area is between the kitchen and conversational area of the great room.
I love the idea of lining up vases/urns and popping in simple branches and fronds from outside. #coastalgrandmotherstyle
Light Fixtures in This Cottage
If you have never explored lighting designed by Thomas O'Brien, you're in for a treat!
His work is so classic and timeless!
Here is a more friendly-priced alternative to the Thomas O'Brien pendants.
Do you love the look of woven chairs but prefer a softer feel?
I'm dying to try one of these out for comfort – does anyone out there know firsthand if they're comfy?
Not sure these vessels are still available:
Deck Decor & Furniture
Just a few ideas for patio furniture:
While these aren't the chairs on the deck, they might feel right at home there.
Where do we even begin with the beauty of this Lisa Furey designed kitchen?
So much style in a relatively small footprint!
Modern Farmhouse Meets Coastal Cottage Decorating Ideas: Kitchen
I'm not sure I have ever seen a taller shiplap-covered range hood…have you?
And yet to my eyes, it is not even overpowering!!! How did they do that?
It reads "whimsical" without feeling ridiculous, and I think I just love how this kitchen refuses to take itself overly seriously.
The style of the cabinets is simple, and the hardware is subtle.
The backsplash tile is handmade and adds so much dang personality.
I'm also struck by how gentle this kitchen feels in spite of it being a working kitchen decked out with appliances.
That's a quality I'm after for my own kitchen (Lord have mercy, I am painting trim and toiling in our new kitchen and wonder if it will ever be ready for its closeup!).
Isn't the farm sink a sight to behold with the tall window and floating shelves flanking it!?!
I know you coastal grandmothers will be asking! The kitchen backsplash tiles are Walker Zanger Duquesa Jasmine Field Tile in Mezzanotte: FIND them HERE.
The paneled frig definitely helps keep the mood soothing and less utilitarian.
And sconces bring both ambiance and task light:
Small Blue Bedroom
Not sure you have noticed – but I am seeing more and more designers and home builders
intentionally keep bedrooms on the small size.
While bedroom bathrooms and closets seem to be growing in size.
I like this developing trend personally!
Because you want your bedroom to feel cozy and just right for snoozing.
It's also harder to cool and heat a bedroom that is too large.
Psst. Find more options for blue gourd table lamps RIGHT HERE.
Modern Farmhouse Style Meets Coastal Cottage: Guest Bathroom
I love all the circular shapes introduced here:
And I don't care what the headlines read in terms of grey paint being in or out…
it's a neutral that has been with us for ages and need not disappear because a bunch of marketers say it is cancelled.
That said, I don't have experience living with grey tile. Do you? I wonder if it ever feels dreary to greet in the morning shower or bath?
We don't often see decorative plates on the walls of the bath…
but why not?
Primary Bedroom & Owner's Suite
There's a very spare vibe happening in this space with soothing coastal colors and expanses of cool white.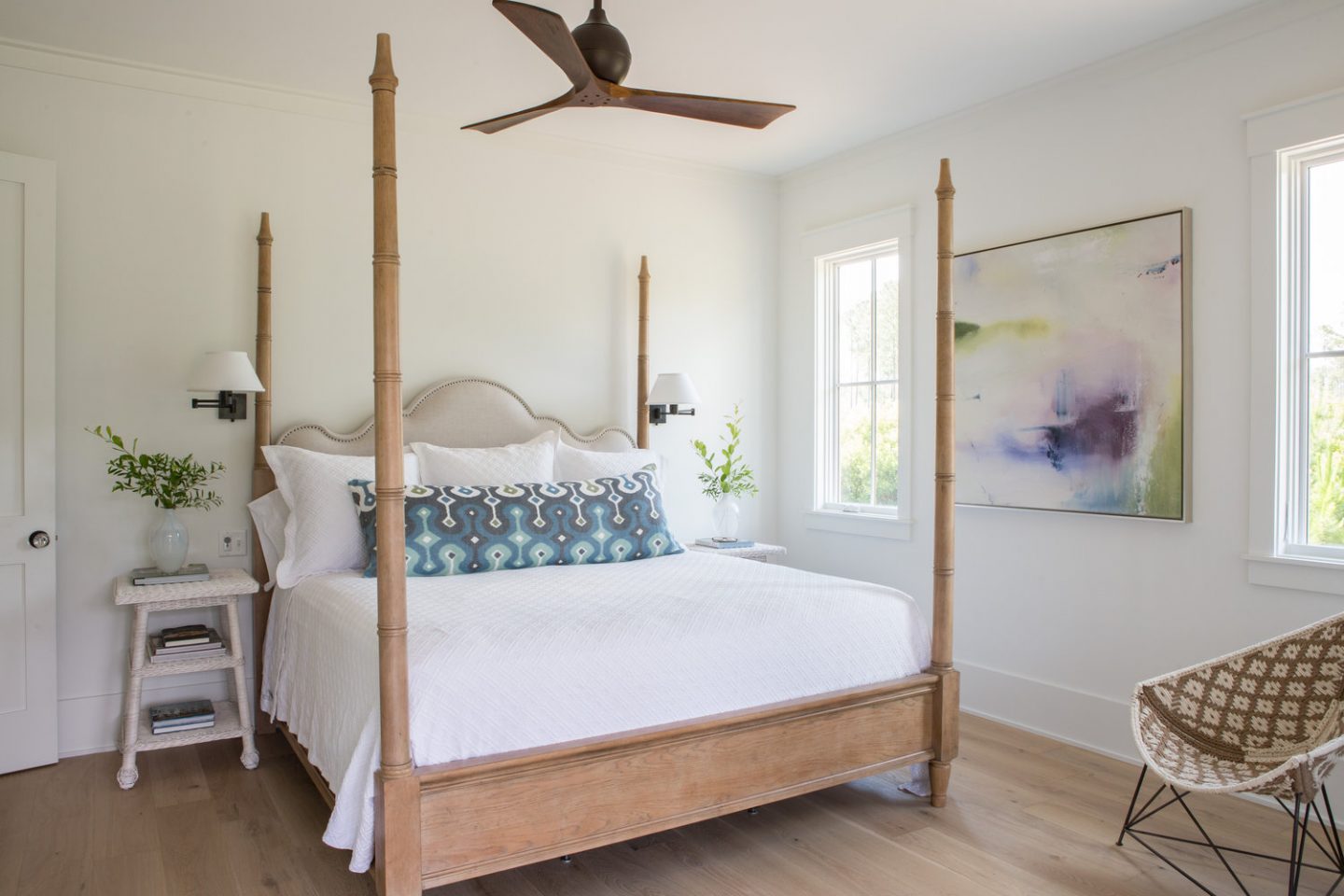 Someday this swing will show up in one of my spaces!
Yet a modern ceiling fan is not likely to join any of my ceilings. It's a little edgy for me personally even though I can imagine how useful it would be.
I love these traditional swing arm sconces for reading in bed:
and what a simple nightstand idea:
You've got to love a bed that combines too beautiful elements: a poster style bed and an upholstered headboard.
Primary Bedroom Porch
What a dream to have a blue-ceiling-painted screen porch right off your bedroom in a coastal environment!
Can you even imagine falling asleep out here?
This just may be my favorite spot in the whole house.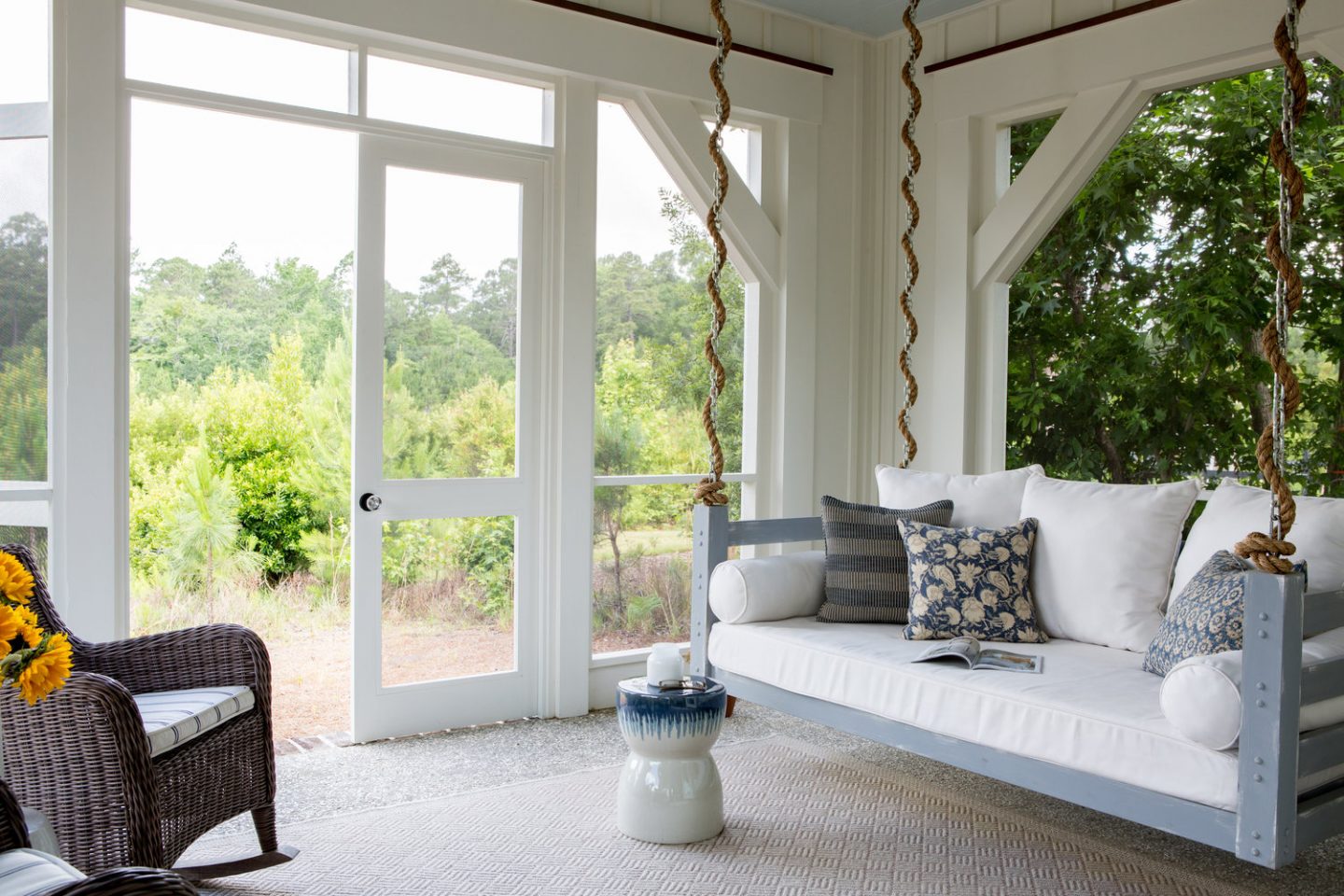 A porch with any swing at all would seem dreamy!
Modern Farmhouse Style Meets Coastal Cottage Decorating Ideas & #coastalgrandmother Style
Sometimes what your bathroom needs is a few upgrades rather than a full gut job.
Upgrading a faucet or changing out the hardware on a vanity can elevate a space.
Even changing out the mirror has potential to freshen your bath.
I like this one even better:
Guest Cottage Interiors
I love seeing how the designer outfitted cozy small bedrooms…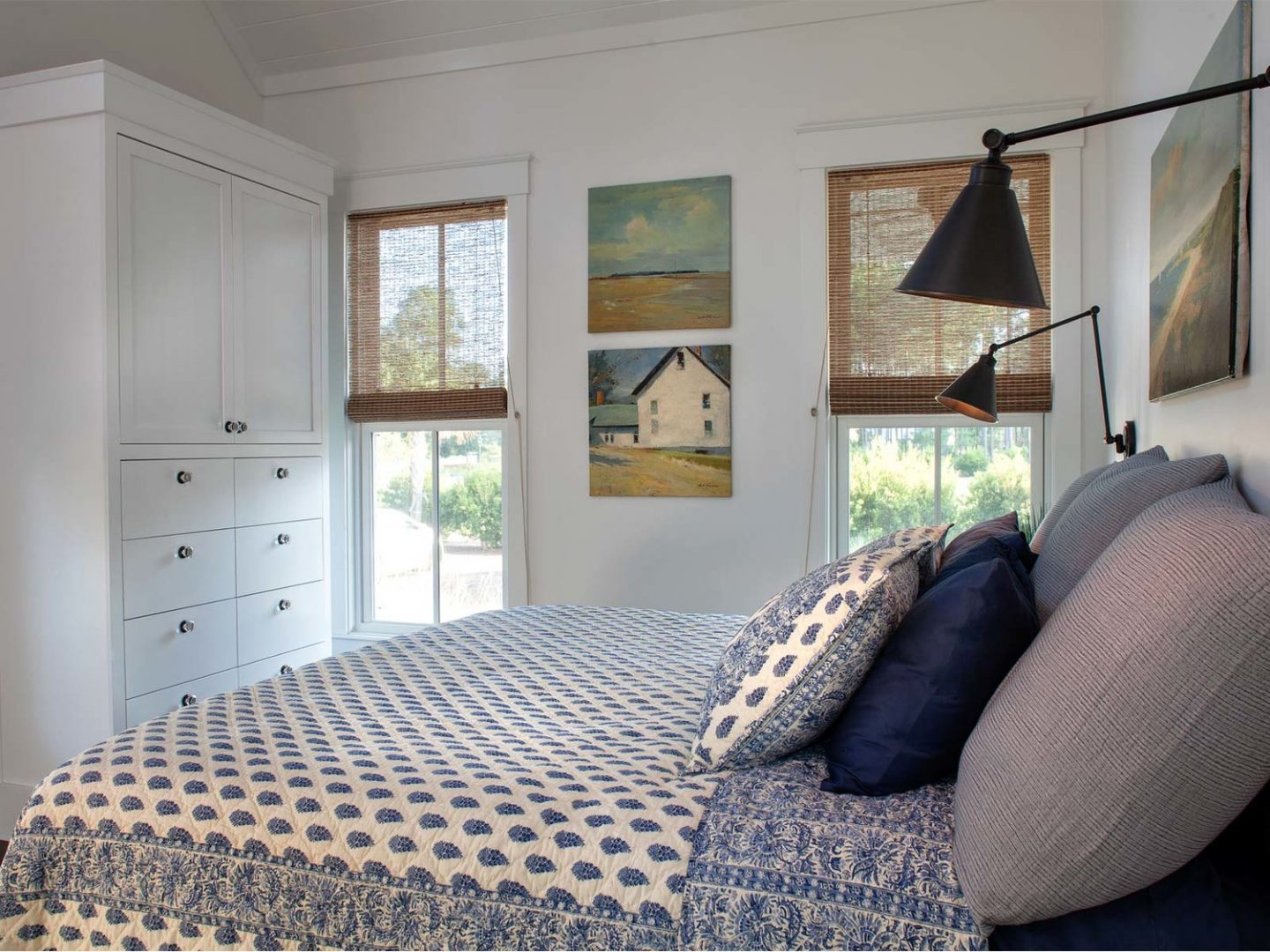 who cares if the bed takes up most of the room's real estate?
I think it can feel charming that way!
And your energies can be devoted to creating a sumptuous nest of a bed in which to retreat.
Blue and white are coastal grandmother best friends! How much do you love this cheerful runner on the stairs!?!
I would never tire of that pattern!
Garage and Carriage House
The sweetest coastal cottage kitchenette, anyone?
Who can resist those itty bitty shelves!?
The only thing better than an apron front farm sink is a mini version!
How would you ever get your guests to leave?
Is this whole property a love letter to blue and white or what?
Hope you enjoyed this tour and all of the beachy but not shabby glimpses.
Thanks so much for touring and pinning away these inspiring design ideas!
So many memorable moments in this cottage property!
Now pour yourself something yummy and then go back and watch the video at the top if you haven't already!
Thank you so much for reading and joining in the fun of discovering timeless and tranquil inspiring interior design.
I independently selected products in this post—if you buy from one of my links, I may earn a commission.
Peace to you right where you are.
-michele
Shop for items you already intended to buy on Amazon RIGHT HERE, and also find home decor here to keep decor inspiration flowing on Hello Lovely!
Hello Lovely is a participant in the Amazon Services LLC Associates Program, an affiliate advertising program designed to provide a means for sites to earn fees by linking to Amazon.com and affiliated sites.