Work from home? Since home offices are in high demand these days, they may as well be smartly designed and beautiful. My current home office? Essentially an ultra-thin, light laptop which allows me to work anywhere. I typically move around. We have a cozy sitting area streaming with sunlight in our bedroom which works well for inspiration from nature. I also have a cloffice which works well when I don't want to disturb my husband. Folks are getting so creative with "cloffices," niches and laundry room flex spaces. Home Office Design Inspiration: How to Elevate Your Workspace spotlights a variety of designs plus offers comic relief with funny work-from-home tweets!
Home Office Design: How to Elevate Your Workspace!
How do you design a home office?
A good place to begin is to look to designers and experts with experience in maximizing space and with an understanding of architecture, function, beauty, and interior design resources. As a frequent DIYer, I try to learn from designers by studying their work and choices. I'm a huge fan of everything designer Sherry Hart dreams up, and I always know I'm going to love her color choices. Let's peek at her own home office.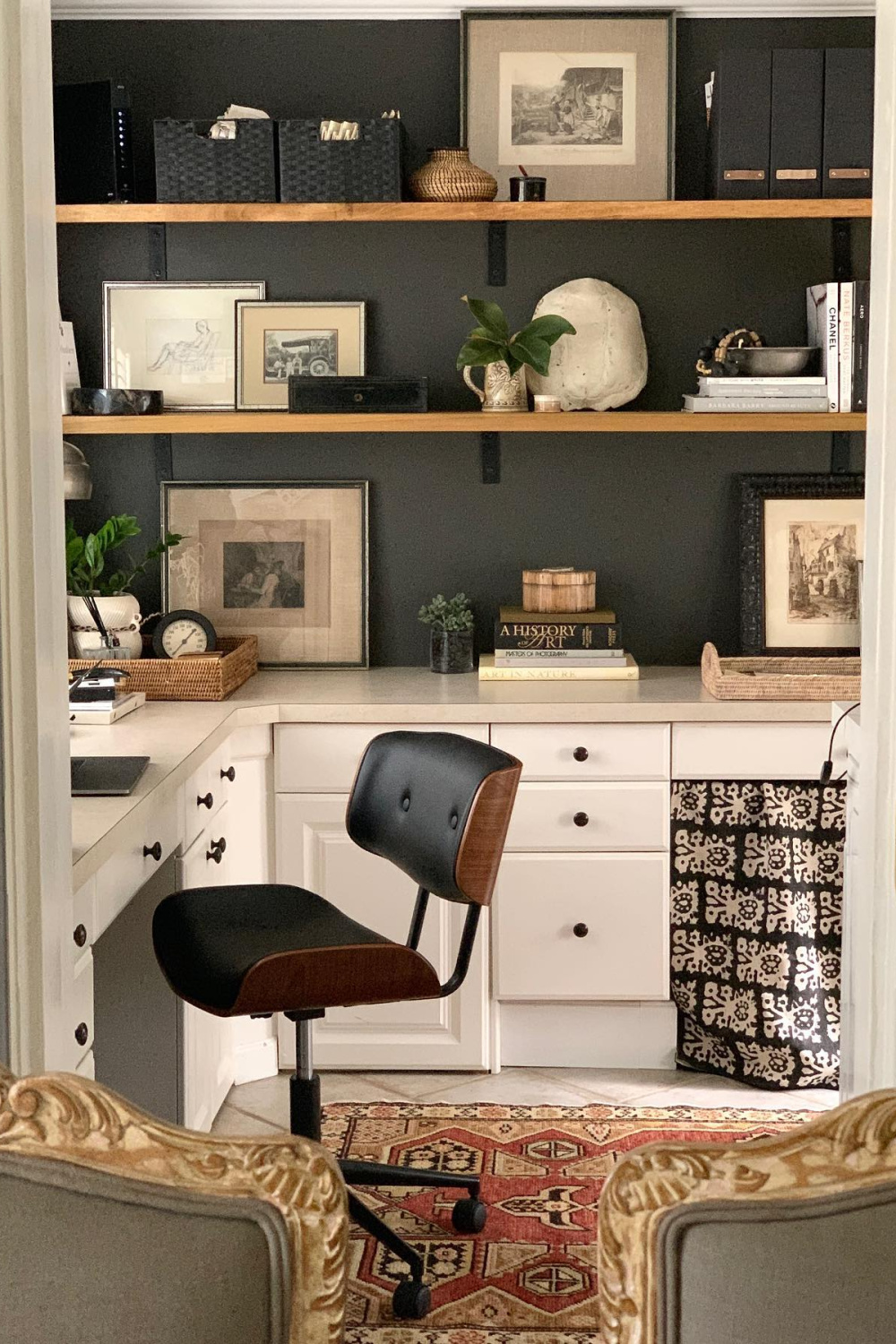 By studying images of attractive office spaces, you'll begin to get an idea of certain moods to which you're drawn. Notice the various layers which collective harmonize together create a cohesive area that allows you to be efficient, to focus, and to be productive.
Aren't those shelves perfect for adding accents, accessories, and artwork as well as smart storage? The dark walls contrast beautifully with the warmth of wood, and the gorgeous rug anchors the work space.
Shop for an Appropriate Office Chair
Home office design involves giving special attention to issues such as seating that is comfortable, ergnonomic, and durable. Since you'll likely be seated for long stretches of time, intelligent planning will help you prevent repetitive strain injuries.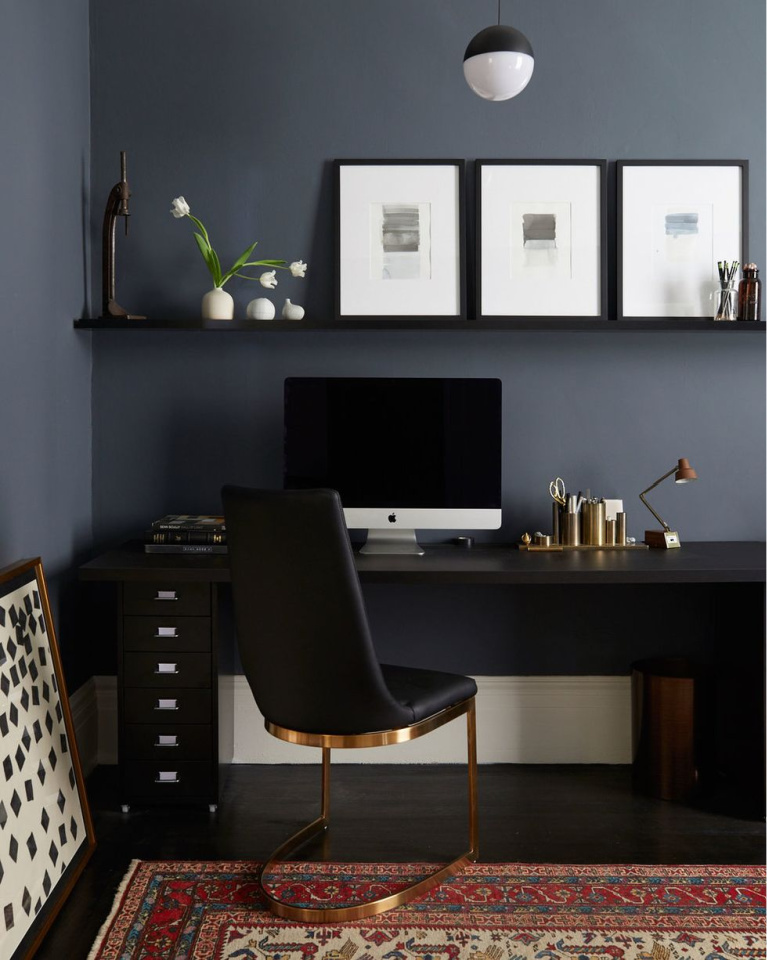 As tempting as it is to choose a gorgeous chair that looks great with the style of your home, it is far more important that your chair be scaled, designed, and constructed to support your health. If you have worked from home for years as I have, you may already be clear about the particulars that help you stay focused and productive.
Architectural Digest and Country Living shared amazing examples and wisdom for thoughtfully designed home offices so do visit those sites to score more helpful ideas and diy.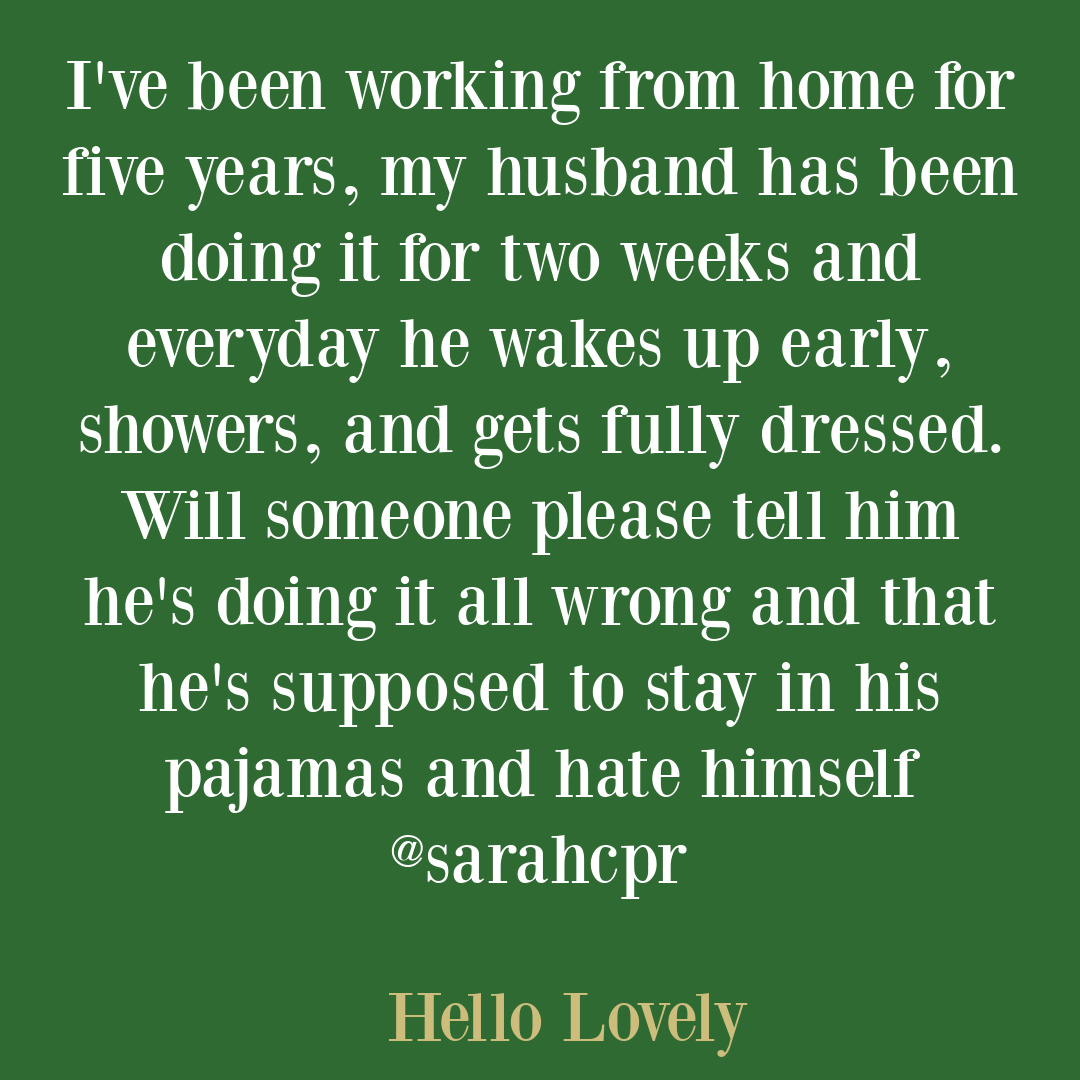 However, if working from home is brand new, it may take some trial and error before you are able to adequately understand your needs and discover the best options that work for your unique needs.
Lighting a Workspace
You'll note from this gallery of home offices that time, expense, and planning went into the lighting scheme. In some cases, a table lamp may be all the auxiliary light you illumine your desktop area for reading and tasks. However, it's worth considering how multiple sources of light may be more helpful.
For example, for built-in worktops or small desk area, a pendant or sconce may be ideal. I can imagine how the following wall sconce light fixture could be added to a space even without hardwiring. The light's cord could be easily concealed in the grooves of the paneling!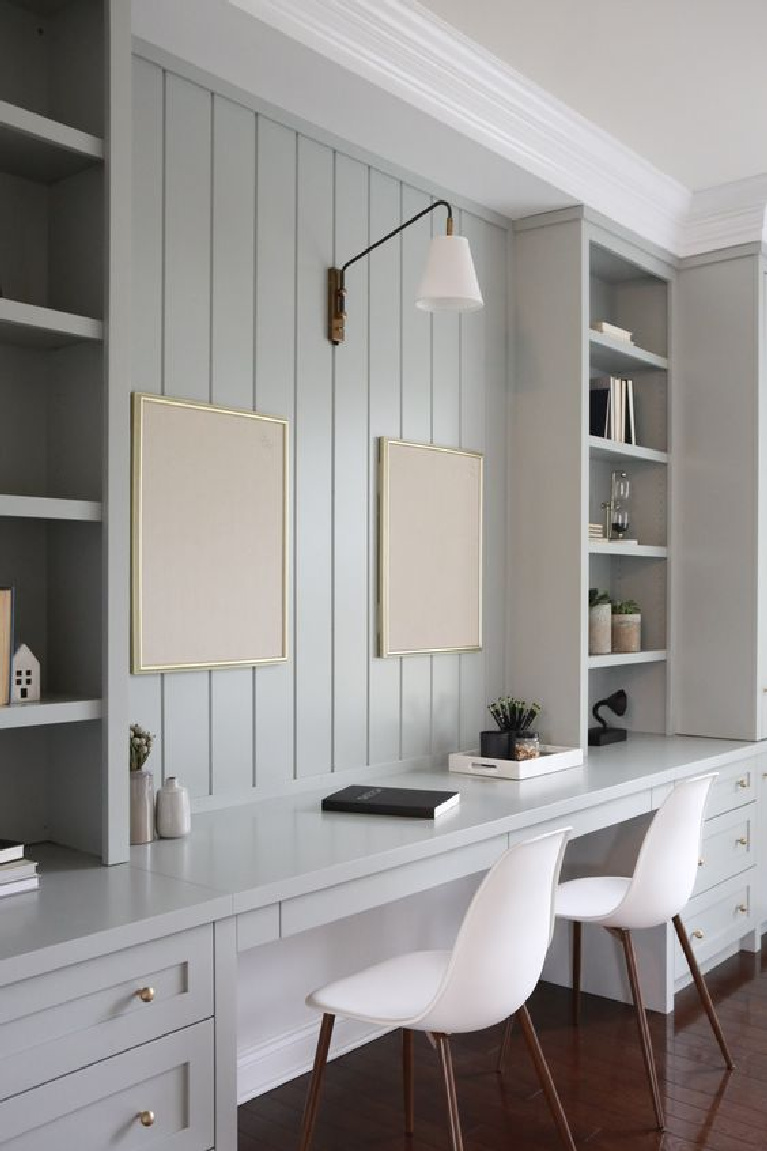 While I don't spy sconces, lamps, or hanging fixtures in this next beautiful space to work from home, it's easy to picture how sconces on the sides of the shelves could add lovely illumination to the top of the desk. A hanging pendant could also be centered to direct light downward.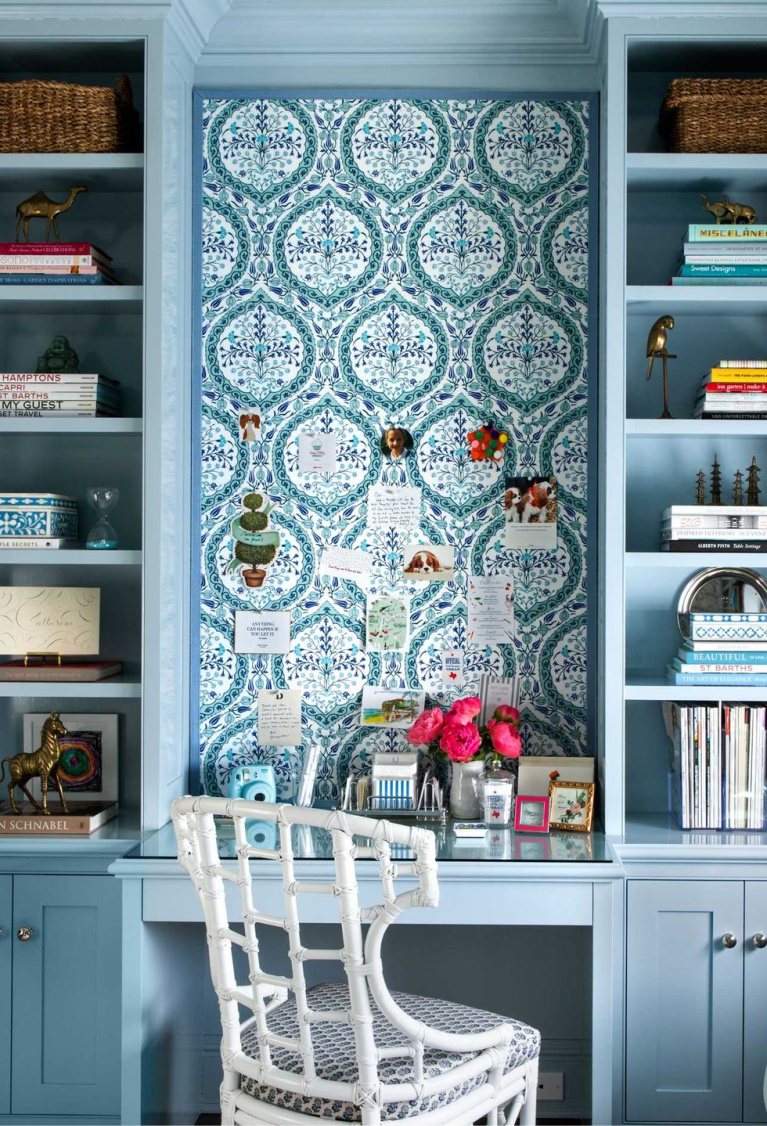 Ideas to make your home office look professional
There's no one approach or one style to guide your office design plans. Sometimes the nature of your work will demand a professional looking space that contrasts with the rest of your home's look. In other cases, the look of your office need not be clinical, cold, or commercial-like. Traditionally, a professional looking office is going to include a smart looking desk with plenty of surface area, storage drawers for supplies and files, a computer, a lamp, wall art, andr framed diplomas or certifications. A professional looking office often has seating for clients opposite the desk and minimal personal items or evidence of home life such as toys, televisions, exercise equipment, and clutter.
Work Table or Desk?
A more professional appearing home office will likely entail a traditional desk, but depending on the work you do, other work surfaces and alternative office furniture may suffice if the environment need not look cold and professional.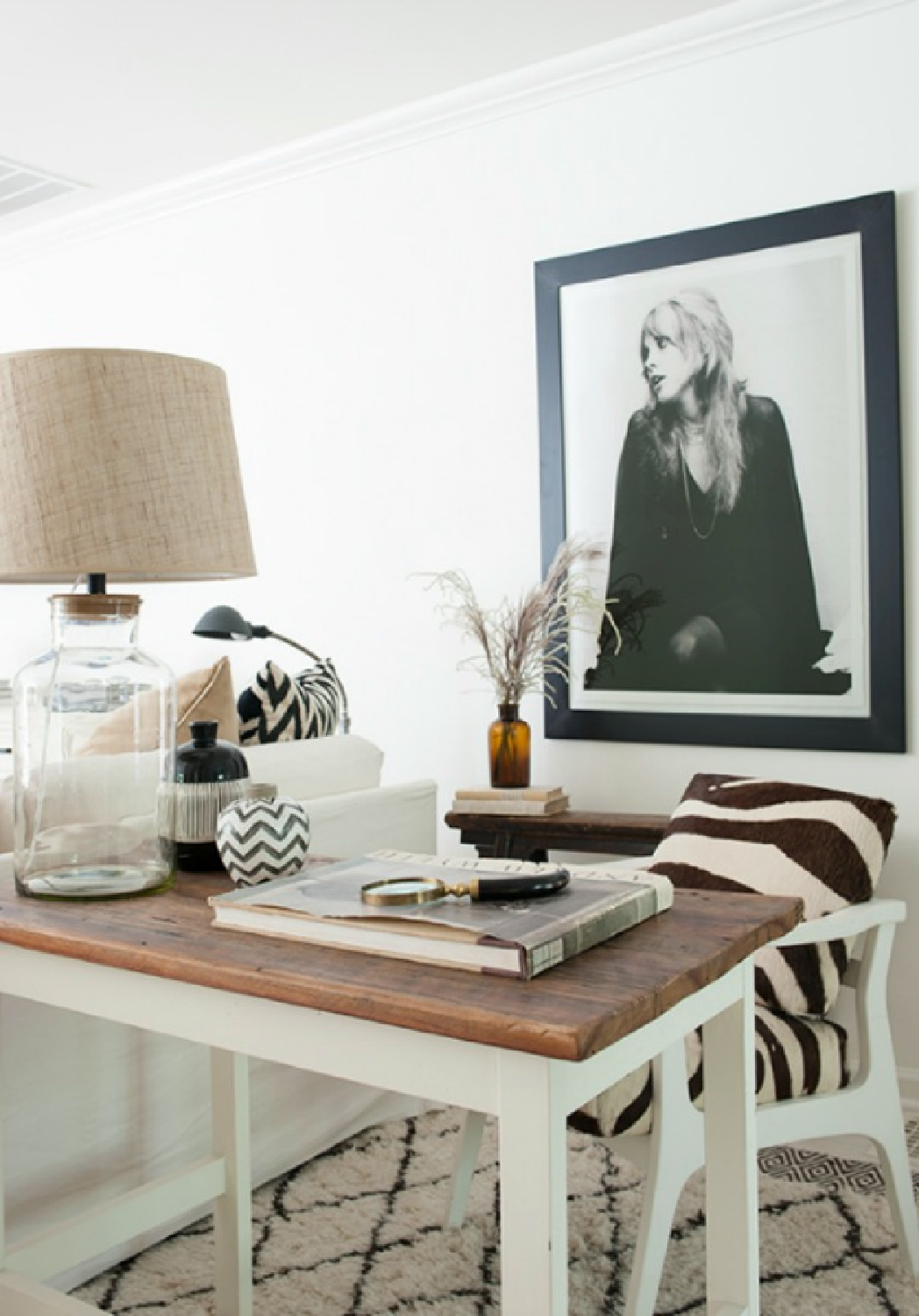 In this living room work space above, there's nothing stuffy or cold about the area for working. In fact, it's a seamlessly cohesive look adjoining the living area. With the increase in remote jobs from home and the sheer reality of limited office space at home for many, the standards are changing for what constitutes a "professional" look and a "too personal look."
Sometimes a work table makes more sense since it can provide more surface area. (Note the clever placement above near the sofa). Work tables can also lend an airier feel to an office than a clunky desk. (And don't forget art or a gallery wall to inject personality and life.)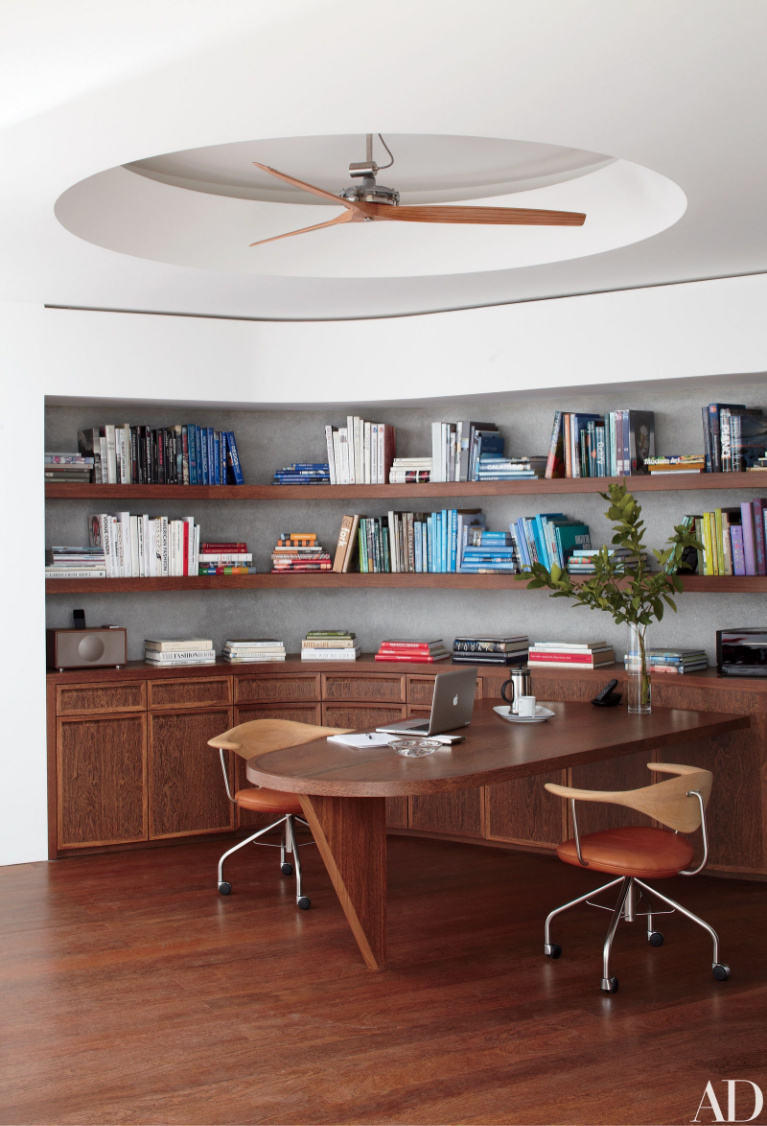 Not your typical desk and such an inspiring custom idea. That ceiling, and all of the architectural wonder!
Carving out a Space to Transform a Corner
This Ellwood-Lomax drop front desk is genius in its ability to disappear when the work day is over. Wouldn't this be an incredible DIY if you have carpentry skills? I admire the curves of the desk chair, cone shaped sconce, softly sculptured pieces, and round ottoman. It's a good reminder to make sure all of your rooms have a mix of shapes represented. There's a subtle ease that emerges when the balance is right, and you can mindfully create that ease.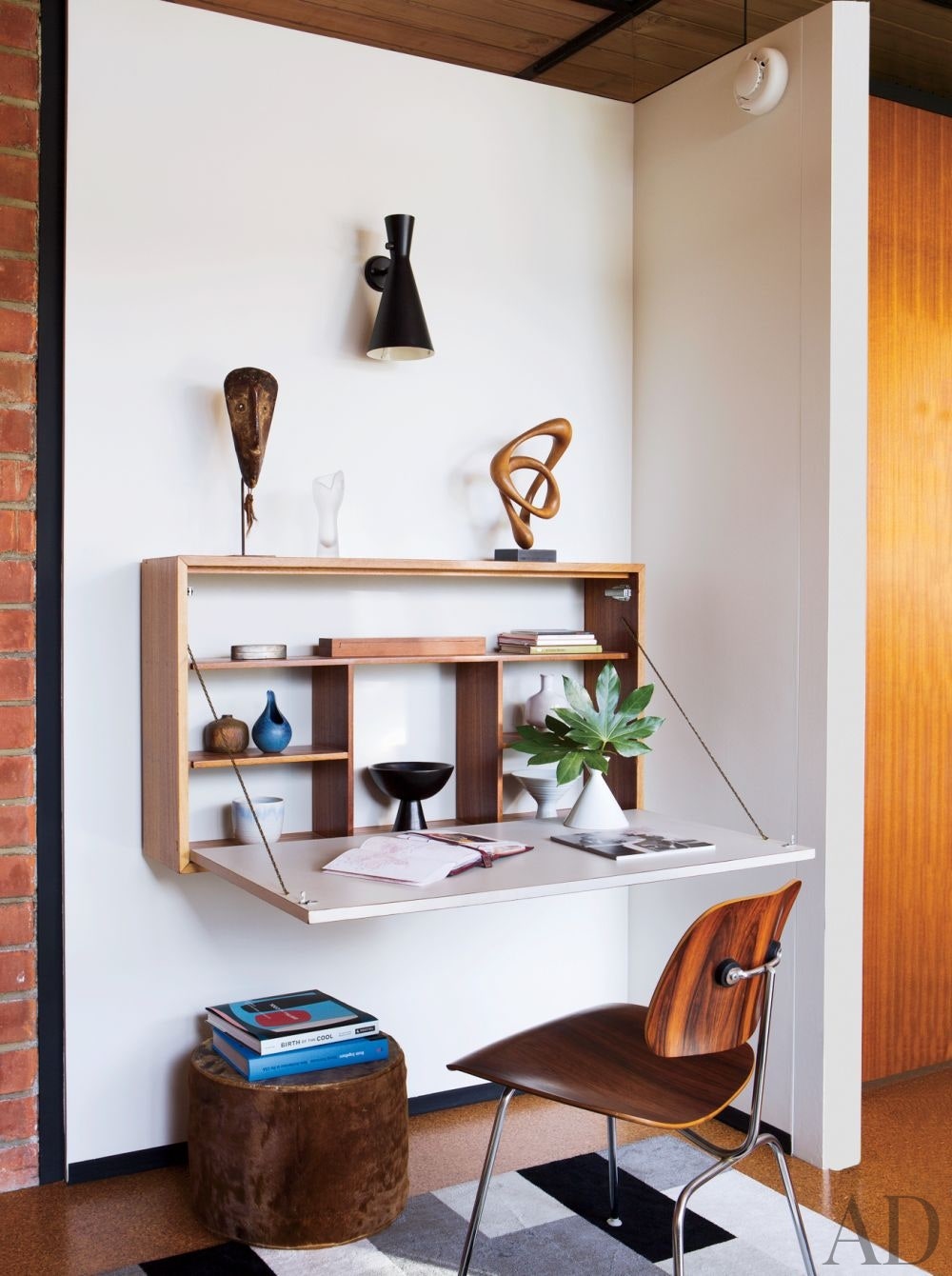 Thank goodness an ugly printer is not always a necessity for offices these days! So many lovely desktop options so that you need not sacrifice style.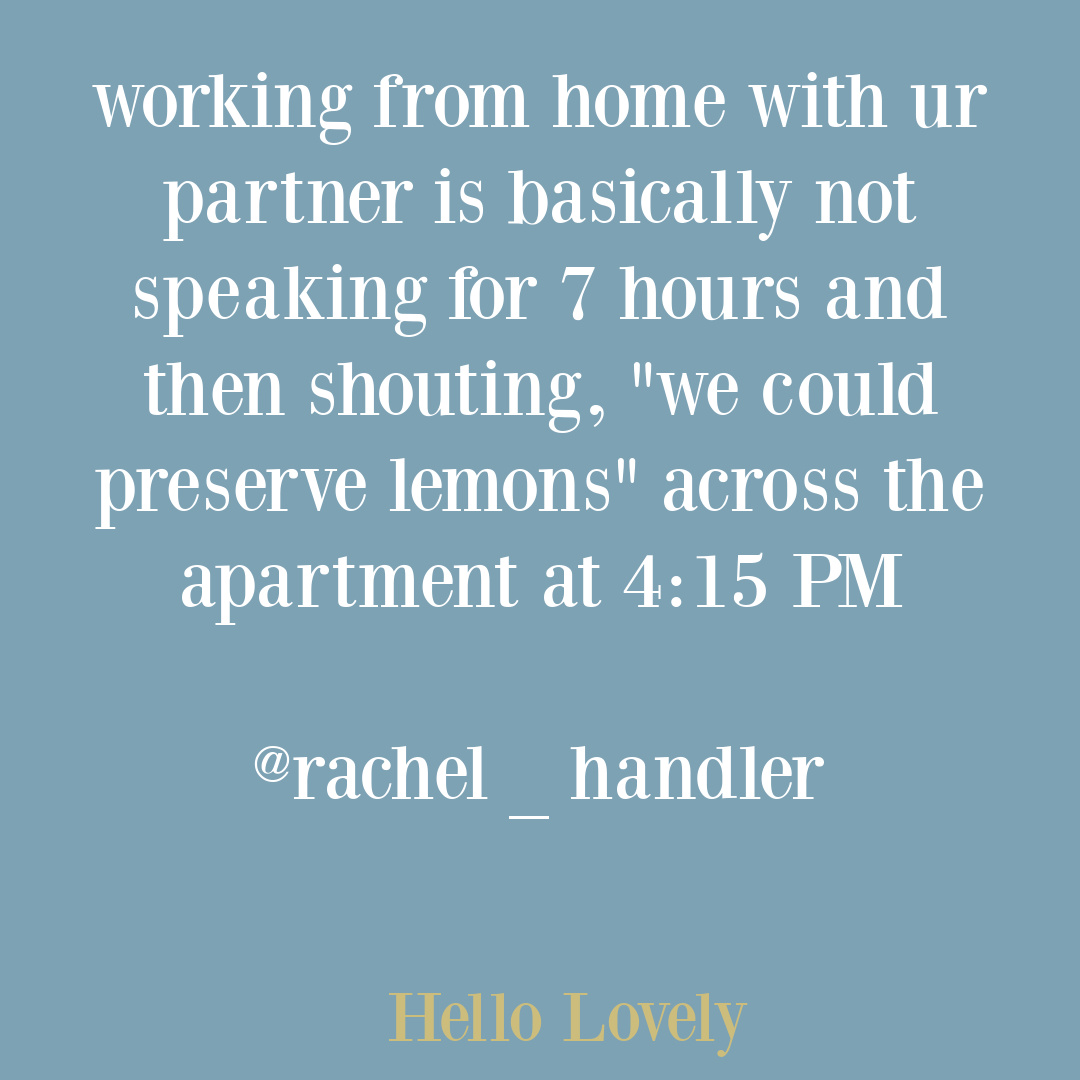 Consider the View from Your Desk
Situating your work area near a window may do wonders for your mood and productivity if you enjoy the view. Because of glare, noise, and distractions, it's also possible a window seat is NOT ideal. A light filtering blind may be helpful, and I admire how the one below is installed high at ceiling level…it's possible the window is actually much shorter than how it appears!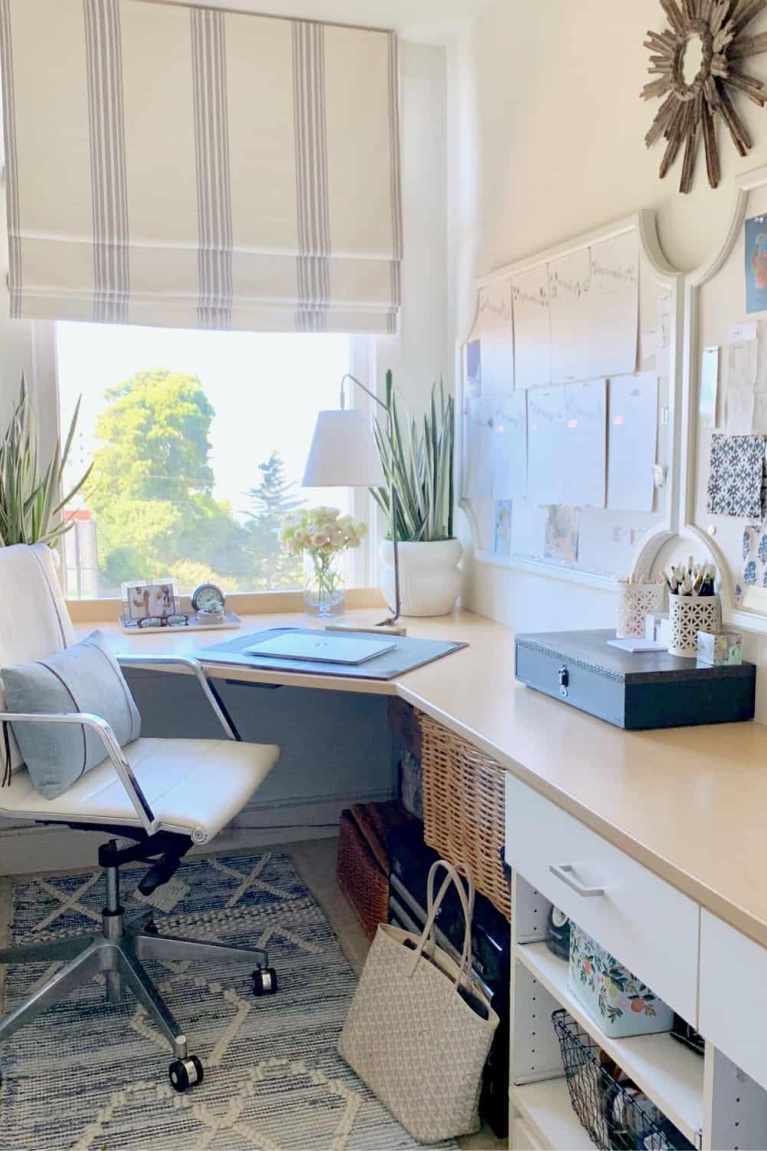 Even the architecturally attractive memo boards in the office below provide a pleasant view. Their interesting shape and the multiples feel like beautiful wall panels that also serve an important function.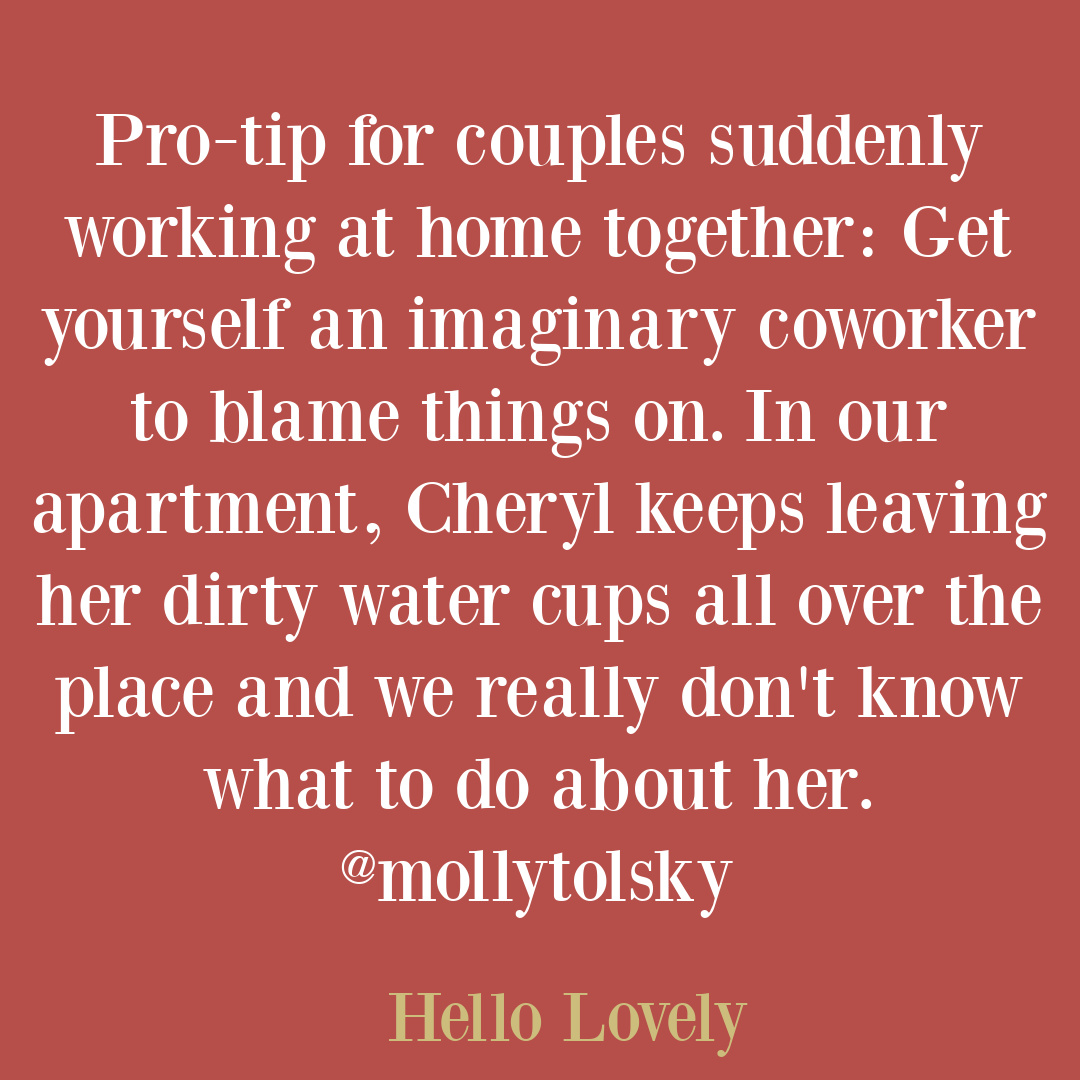 If natural light and/or a view are important for your productivity and focus, is there space in a den or family room should you lack a dedicated room for a home office? This next space looks as if it could function as a dining space as well as a space to work.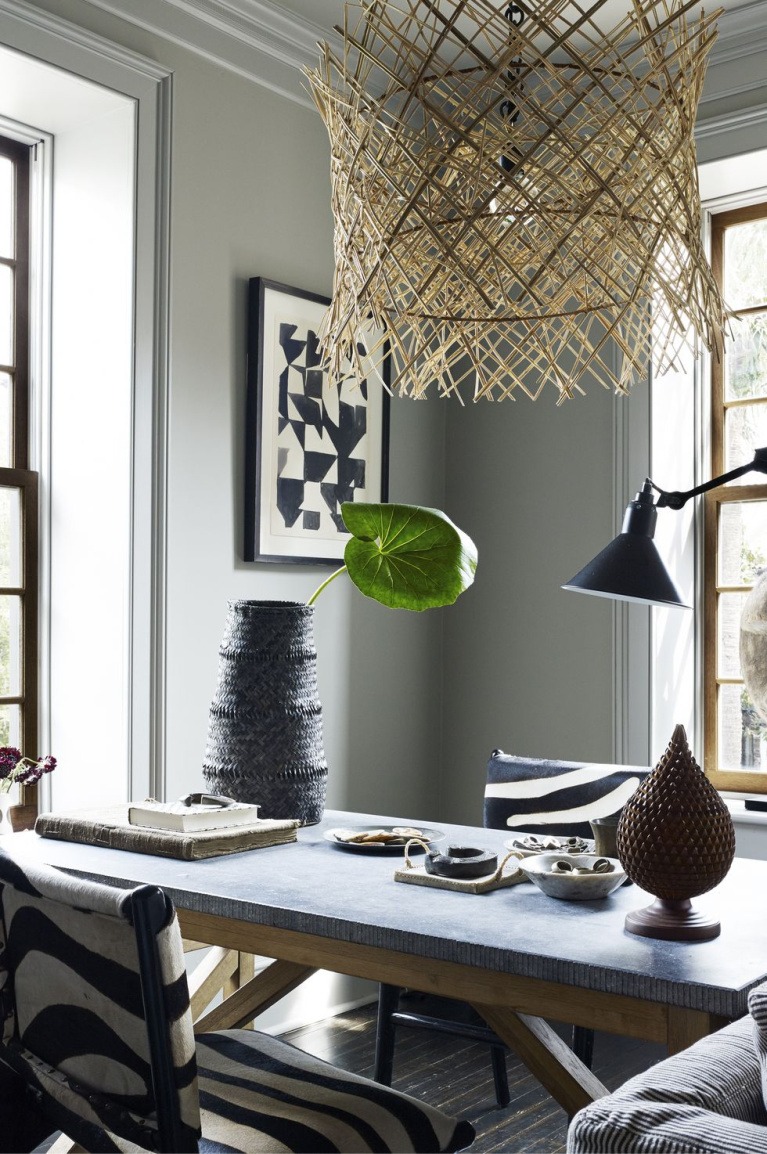 The tropical branch in a vase (above) is another good reminder that bringing nature to a space can be impactful if the view is not relaxing or natural. There's no reason we should keep nature and living things separate from where we work. If the view is terrible, create a new one.
Should the Style Be Modern, Vintage or a Mix?
There's something so serenely beautiful about this next classic modern yet tradtional home office with its custom millwork and pale charm. The sconce is rather traditional in style, the millwork and built-ins are classic, and the uncluttered feel keeps it feeling freshly modern. The serenity is a result of such minimal clutter, but it is also a consequence of the tone on tone color story. All of the hues are gentle, soft, and light reflective.
Need more ideas for light grey paint colors?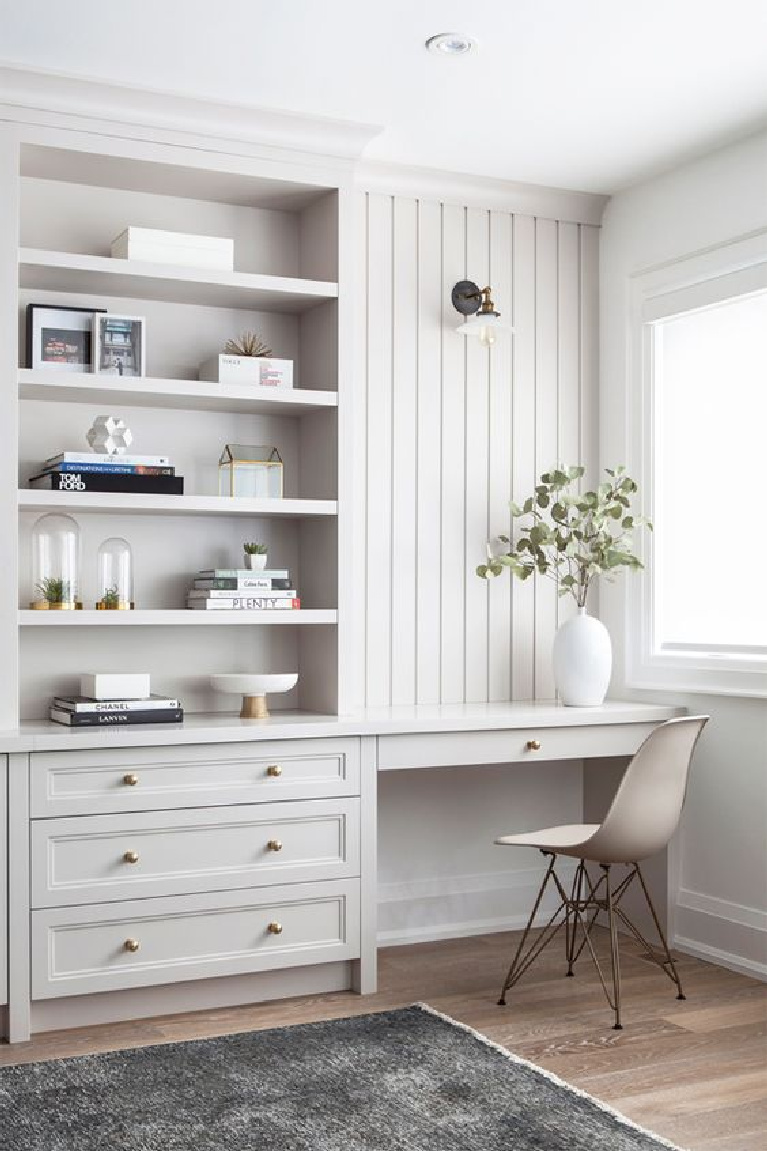 The vertical lines of the paneled area above the desktop add so much rich texture and interest and draw the eye up. I'm struck too at the absence of cords and power strips that are visible. Perhaps they are located on the underside of the desk's top. They may also reside on the side of the drawer base. Such mindful design wisdom in the initial plans for a custom piece yields years of calm!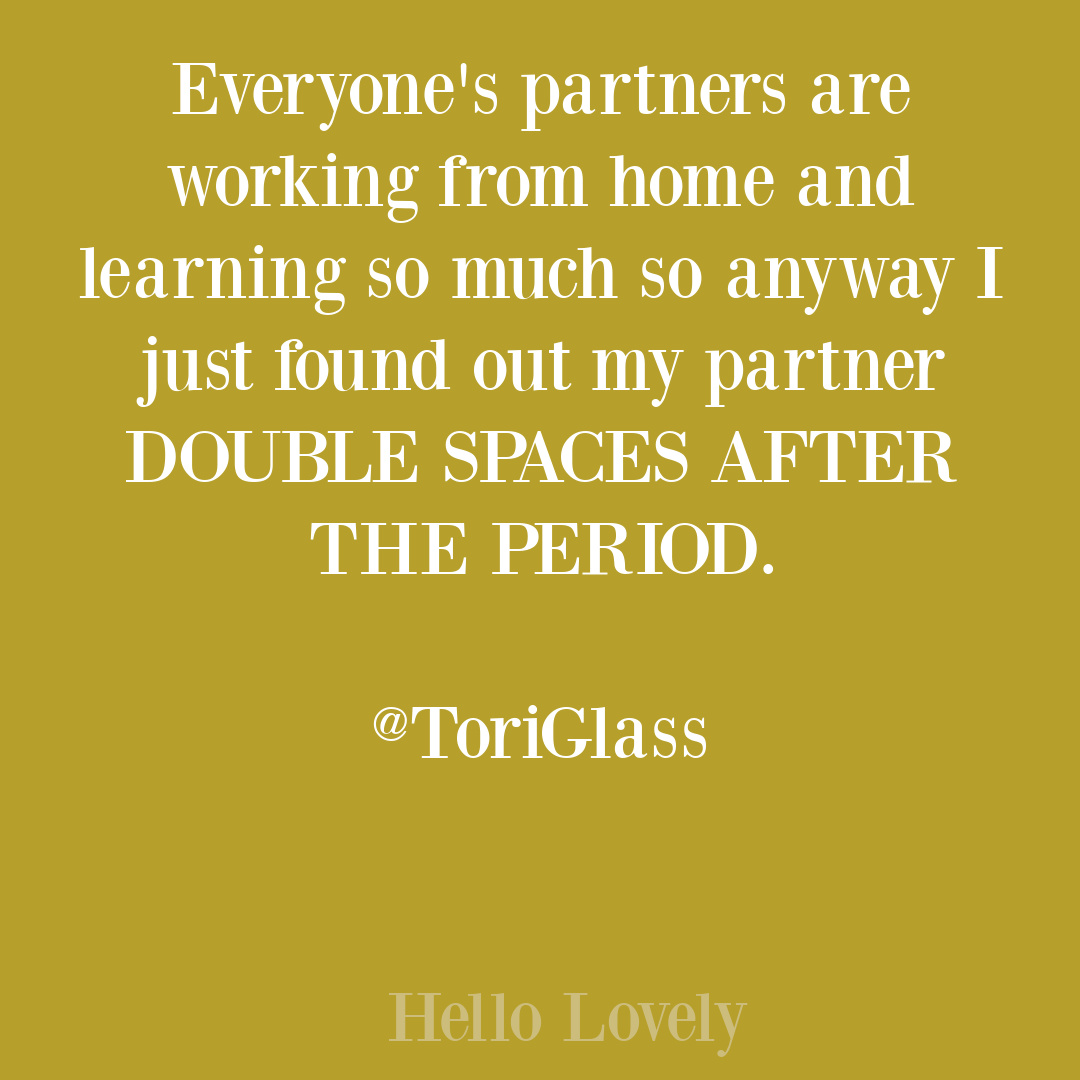 Natural Elements for Home Office Design
A quiet, minimal, sanctuary of a spot for your desk may be just the ticket when you require calm to get business done. While this office below seems best suited for a writer or minimalist, we can still take cues from the mood of the design and the power of natural materials.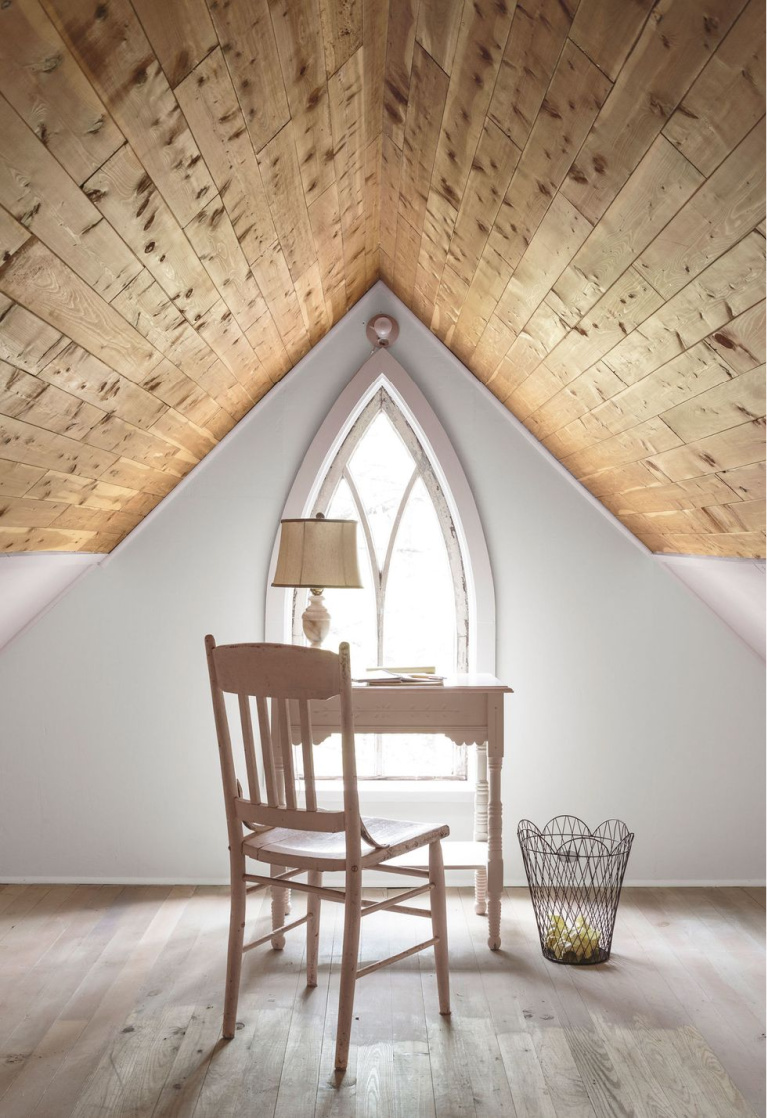 Knotty wood planks on the ceiling (do you suppose it is cedar?) warm the space and feel anything but sterile or commercial cubicle central. The wood floors are also rustic and feel so clean. Don't underestimate the power of an attic space or closet to carve out an office!
Natural elements can be as simple as real plants, a wood desk with a natural stain, wallpaper with a nature motif and earth tones, or woven baskets for storage.
Office Nooks
I love how this home office nook is just wide enough to accommodate the desk. We don't often think of nooks for rooms beyond the kitchen or dining room, but here's a reminder they can live large everywhere. The monochromatic blue is also so calm and comforting.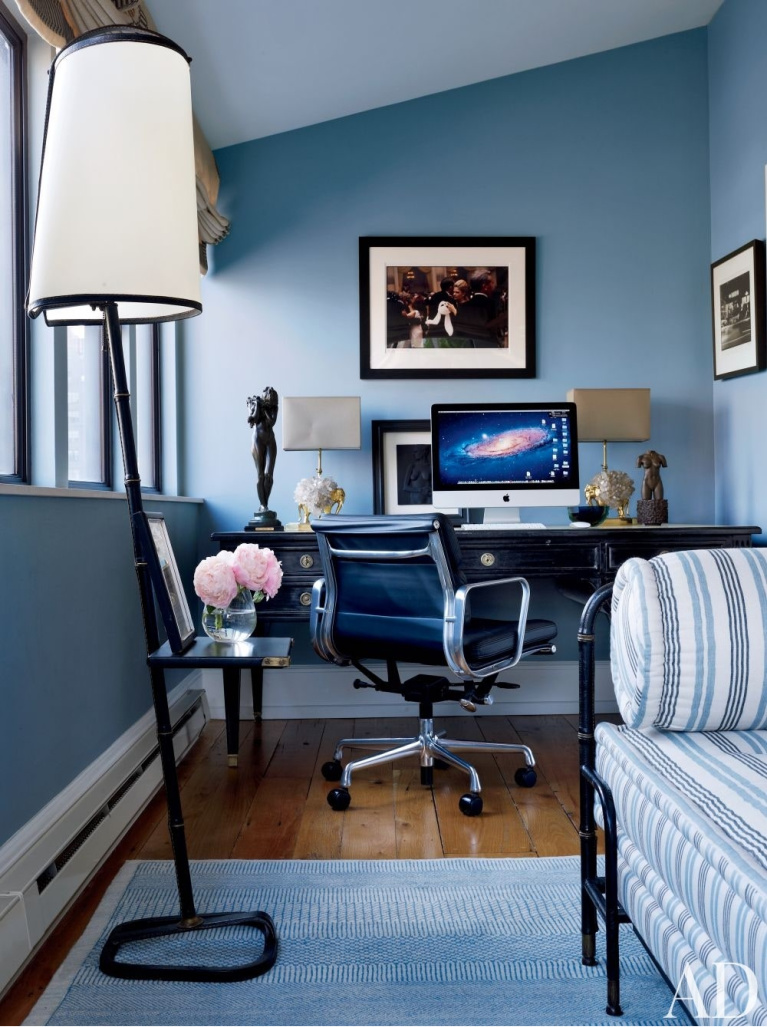 The space appears to be able to function as a small guest bedroom, and the stand for tablet/TV is also a smart addition to note for small spaces. An office with desk nook, daybed, and media area all represented in a rather small footprint.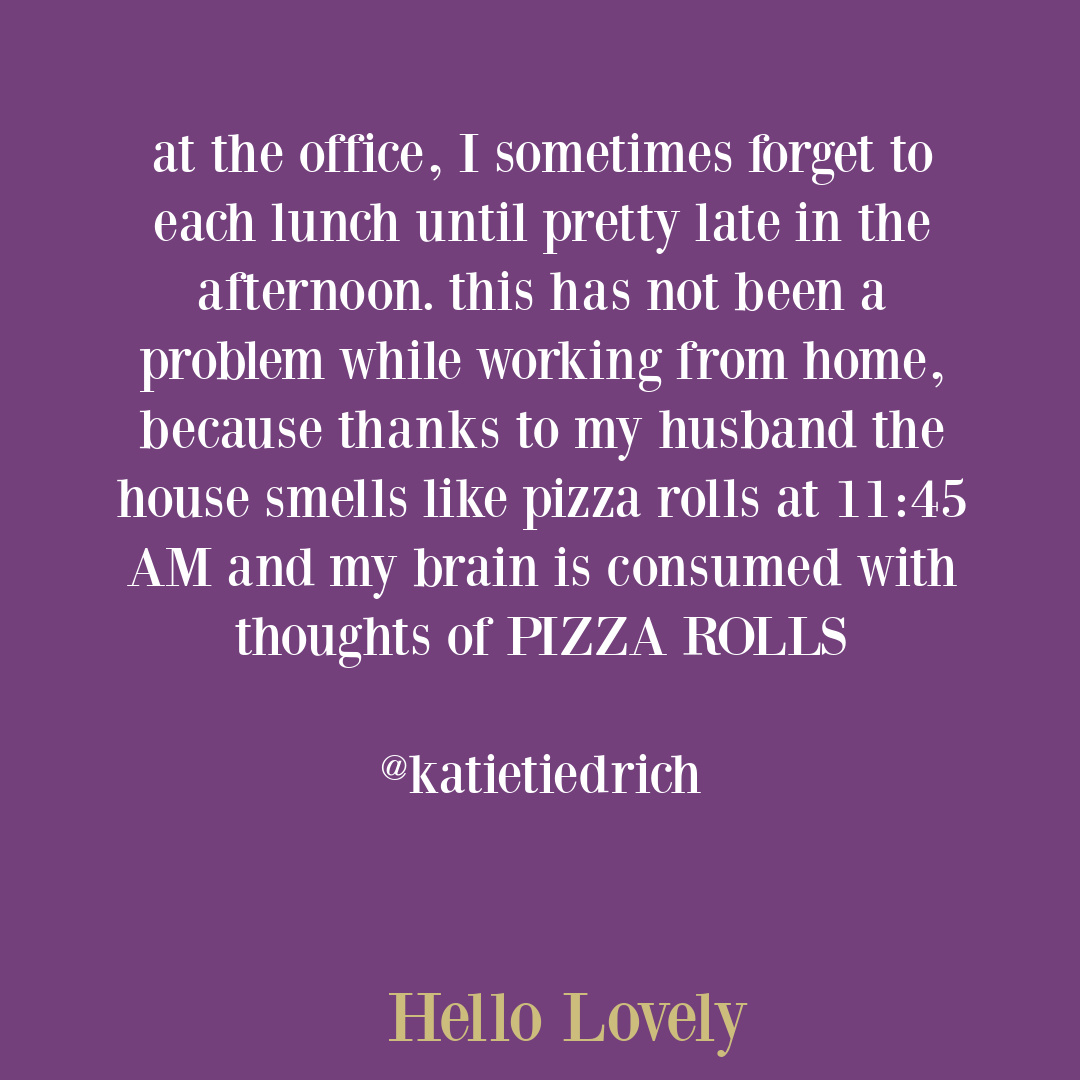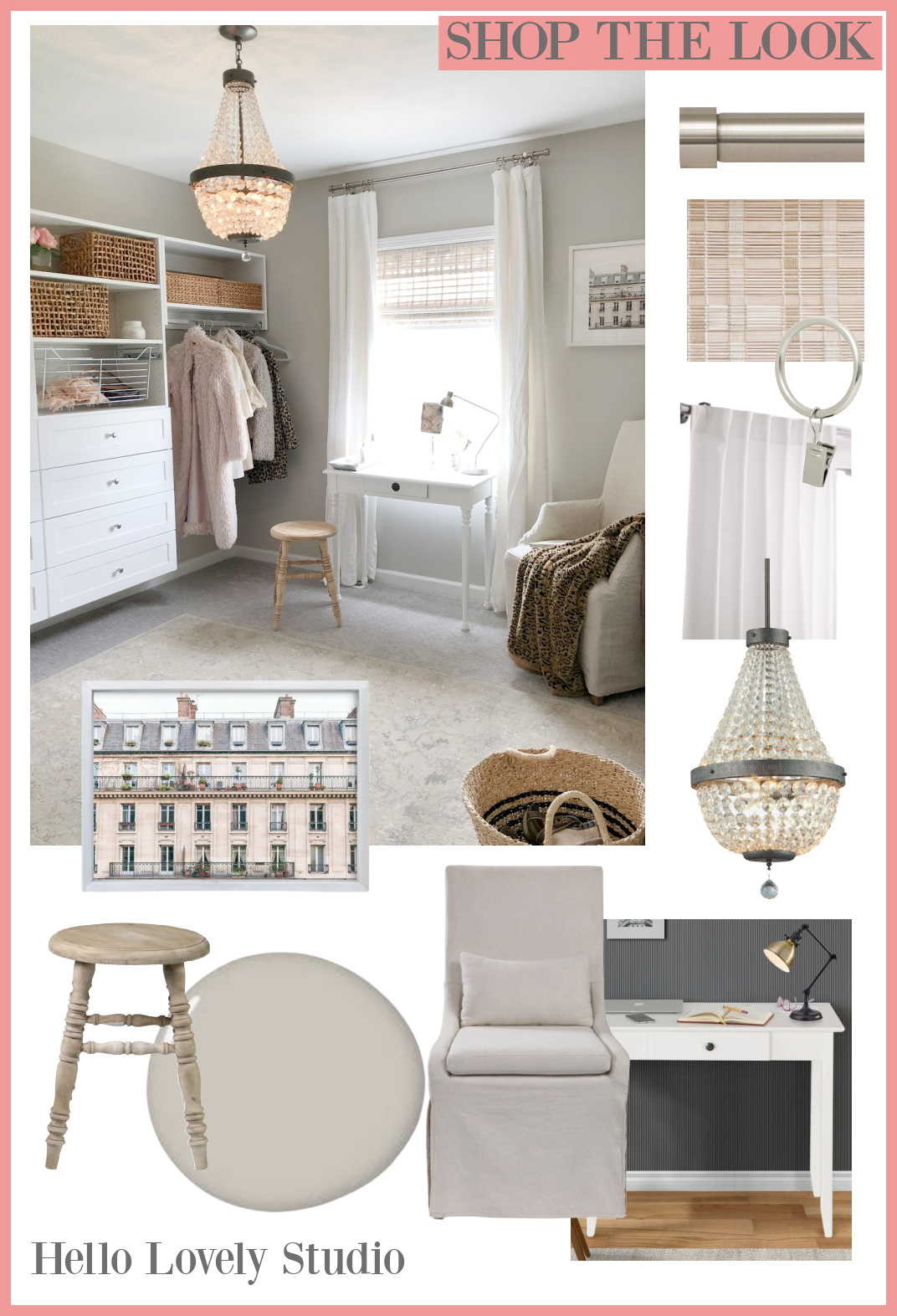 Should the Office Design Be Colorful or Calm?
We all know how color affects us psychologically, and if you're the type who needs to feel high energy for work, do go for it! There are plenty of ways to use color without wrapping the whole room in it. Notice how the back of these built-in cupboards and shelves provide bold color and contrast.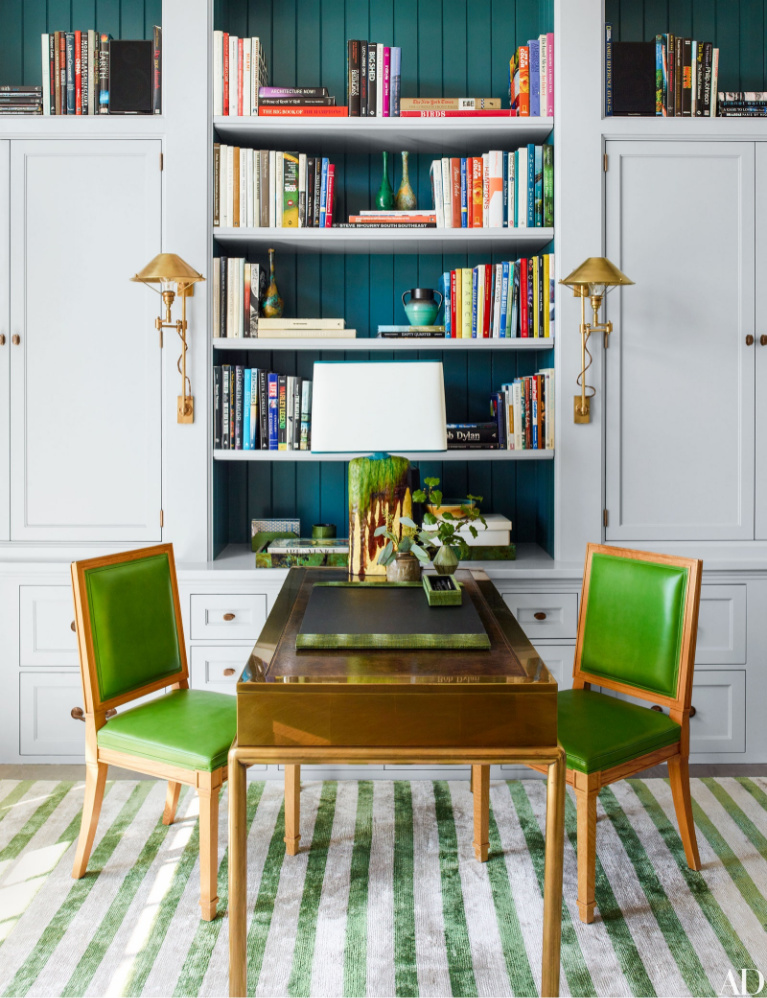 What Color Should You Paint Your Home Office?
Here's a bit of a shortcut if you're curious about the psychological underpinnings of color:
Bold Colors in Design
RED: Associated with energy, war, danger, strength, power, determination, red brings to mind passion, desire, and love. The color red enhances human metabolism, increases respiration rate, and raises blood pressure. It also attracts attention more than any other color, at times signifying danger.
BROWN: Here's a hue associated with the traits of dependability, reliability, and resilience. Brown-lovers are most often reserved and not looking to attract attention to oneself. While light brown represents honesty and stability, dark brown is considered mature, predictable, and dull.
ORANGE: Orange combines the energy of red and the happiness of yellow. Associated with joy, sunshine, and the tropics, it represents enthusiasm, fascination, happiness, creativity, determination, attraction, success, encouragement, and stimulation.
YELLOW: Associated with joy, happiness, intellect, and energy, yellow produces a warming effect, arouses cheerfulness, stimulates mental activity, and generates muscle energy. Bright, pure yellow is an attention-getter, which is the reason taxicabs are painted this color. When overused, yellow may have a disturbing effect. It is known that babies cry more in yellow rooms. While yellow indicated honor and loyalty, it was later connected with cowardice.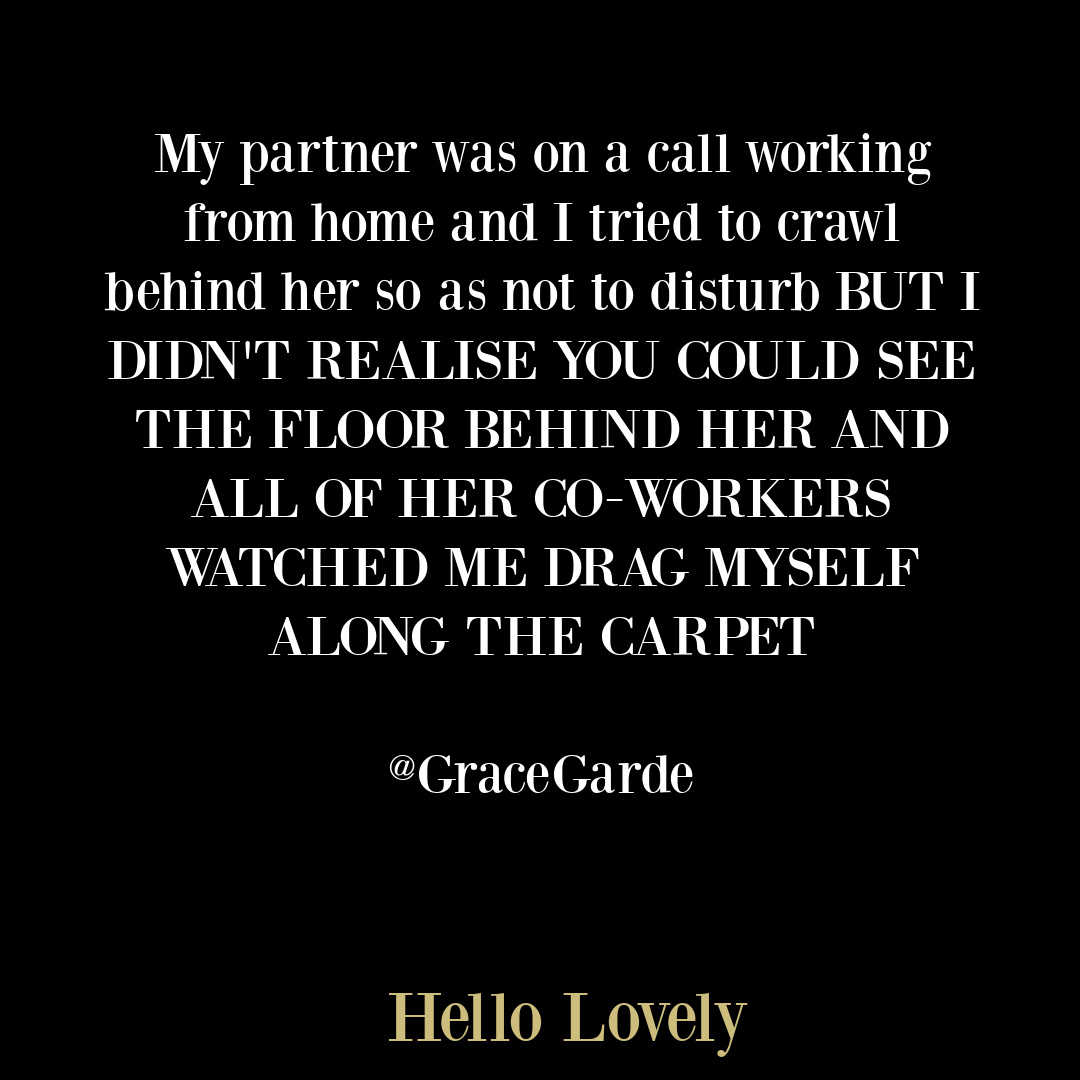 Calm Colors for Design
GREEN: This is the color of nature symbolizing growth, harmony, freshness, and fertility. Considered beneficial to the mind and body, green slows human metabolism and produces a calming effect. Strongly associated with tranquility and calmness, it is used to symbolize piety and sincerity.
BLUE: Unique and authentic, blue is enthusiastic, sympathetic, and personal. Those who favor blue seek meaning and significance in life. Warm, communicative, and compassionate; they care about what they do. Idealistic, spiritual, and sincere; they value unity and integrity in their relationships. Peaceful, flexible, and imaginative; they are natural romantics and nurturers.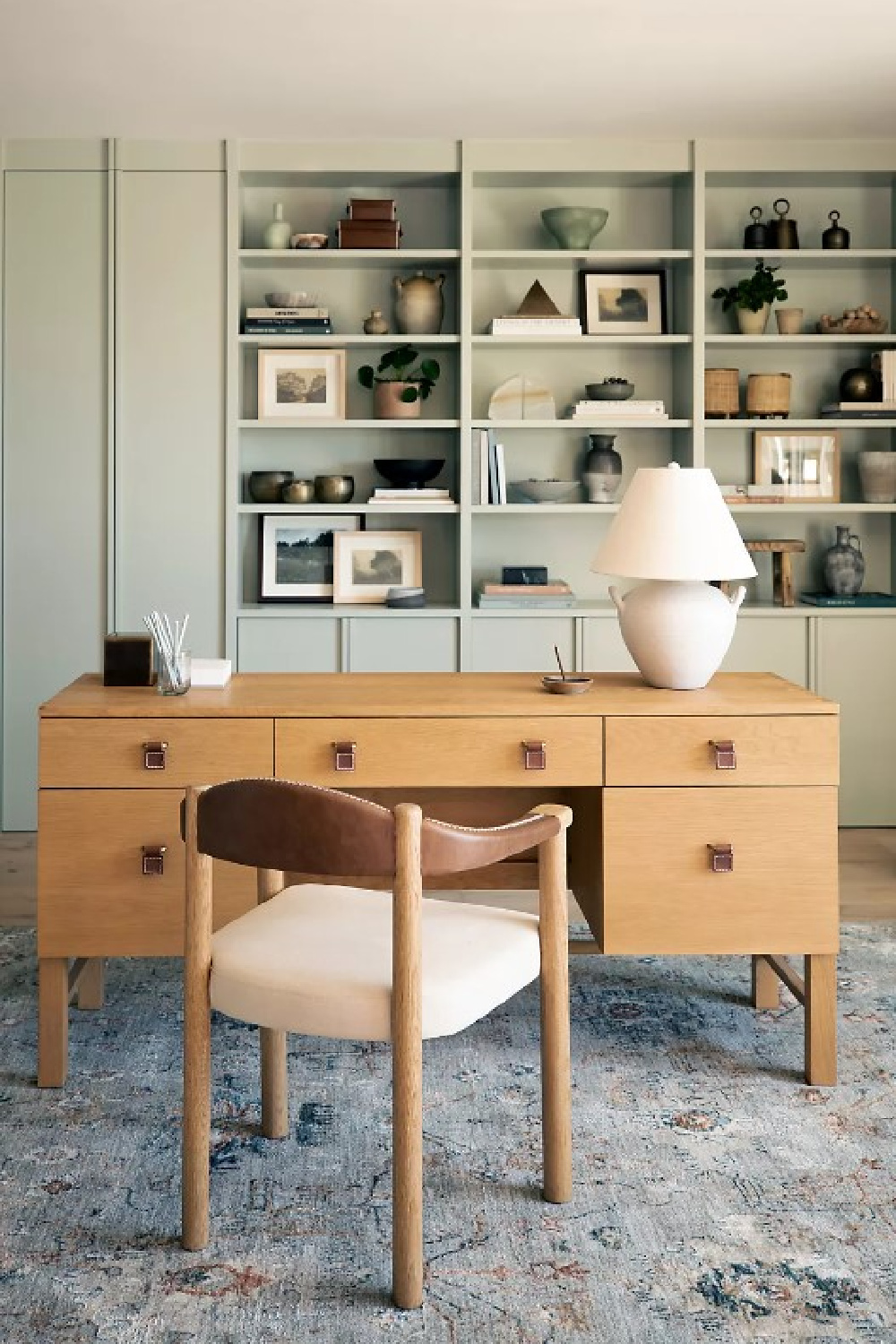 PINK: This is a color that represents a gentle type of love. Pink stands for tenderness, vulnerability, and youth. It is a calming, non-threatening color linked to innocence, hope, and optimism. The pink color also represents positive aspects of traditional femininity such as nurturance and kindness. Pink can be linked to childhood sweetness and innocence, appearing sometimes as naïve or silly.
PURPLE: Combines the stability of blue and the energy of red. Associated with royalty. It symbolizes power, nobility, luxury, and ambition. Purple conveys wealth and extravagance while being associated with wisdom, dignity, independence, creativity, mystery, and magic.
WHITE: Associated with light, goodness, innocence, purity, and virginity, white is considered to be the color of perfection. The color signifies safety, purity, and cleanliness and usually has a positive connotation. Can represent a successful beginning and depicts faith and purity.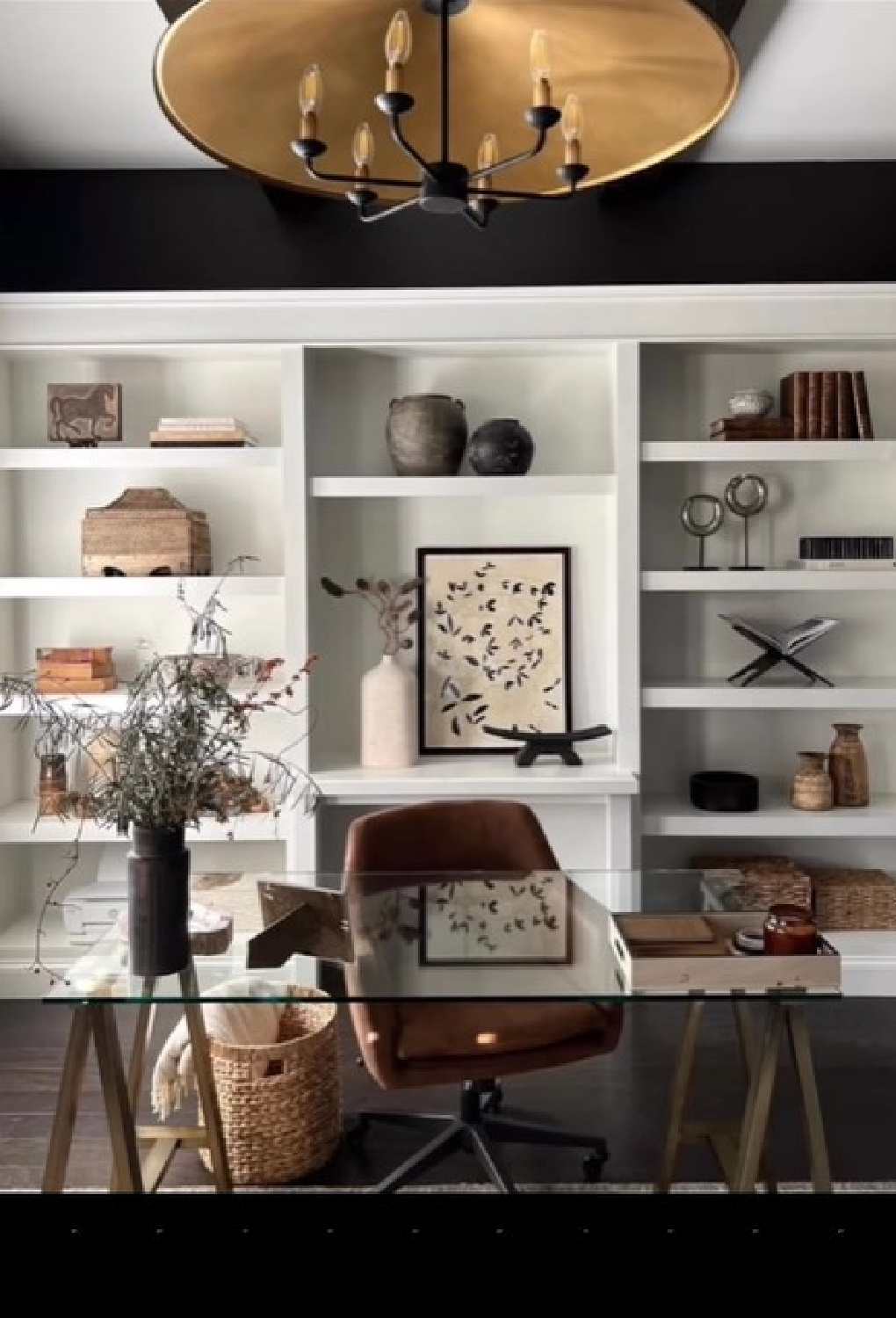 Where to Hide Clutter?
Depending on your comfort level with clutter and your organization style, it is sometimes beneficial to hide it all away. The storage in this home office (below) is enviable! Read this helpful piece to uncover your idiosyncratic organizational style.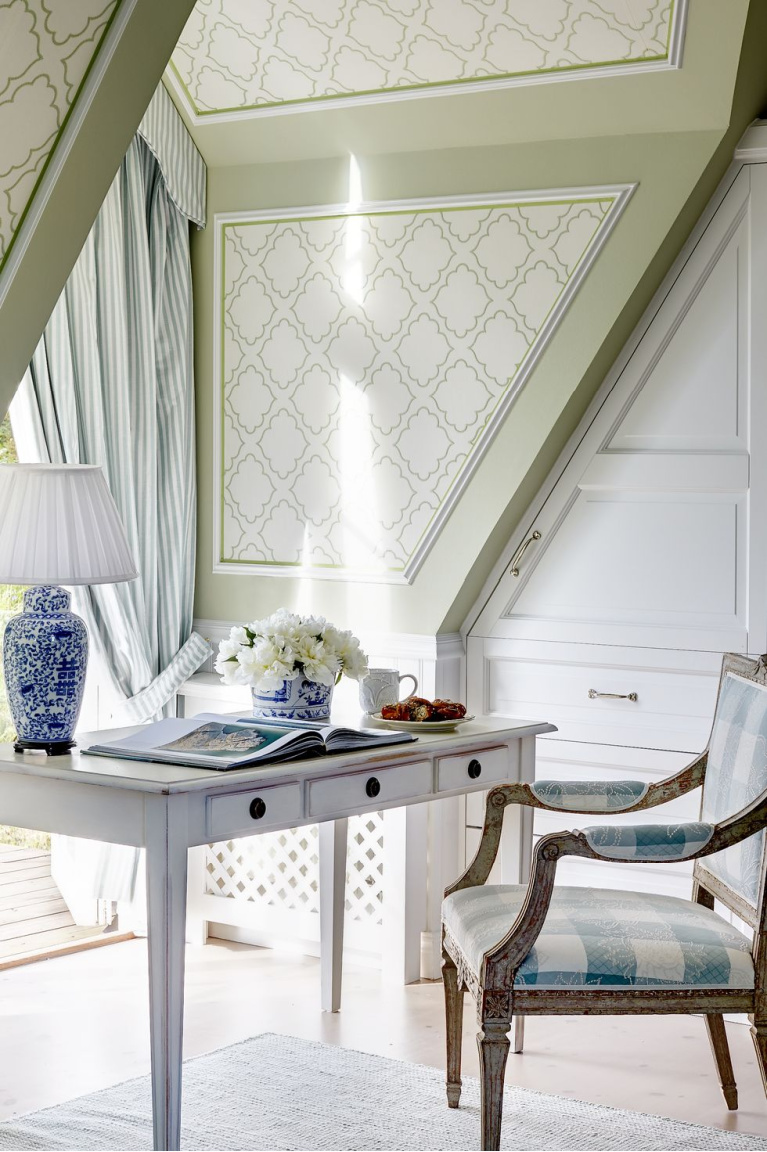 Make it Mobile
If you work in a living area rather than a room devoted exclusively for an office, it's helpful when your work table is mobile. Casters help!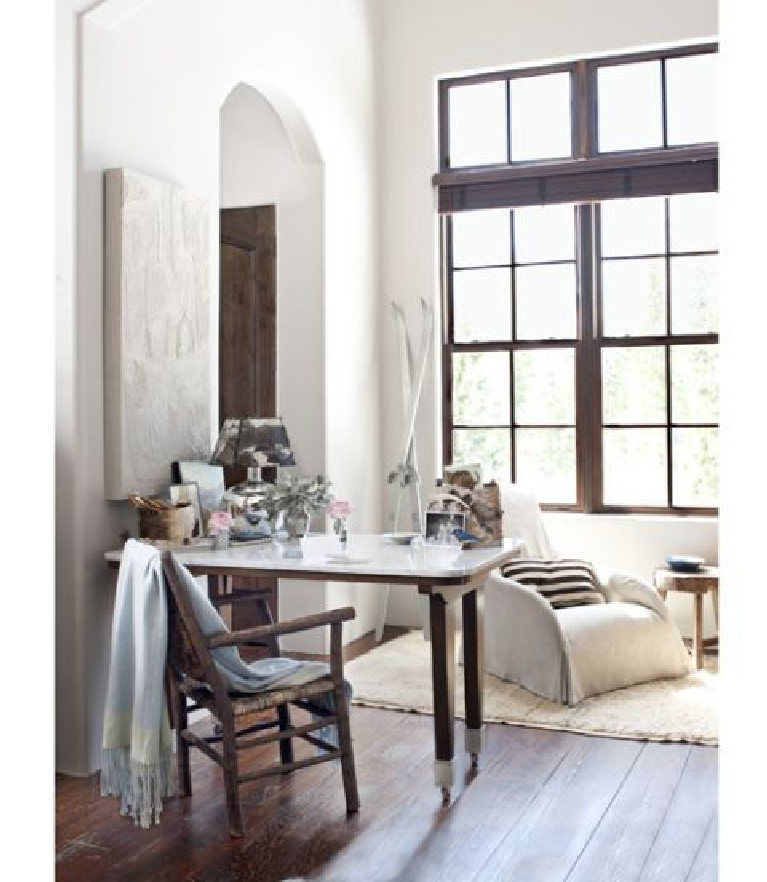 This beautifully designed study below does not feel 'office-y' at all, and the work area blends seamlessly.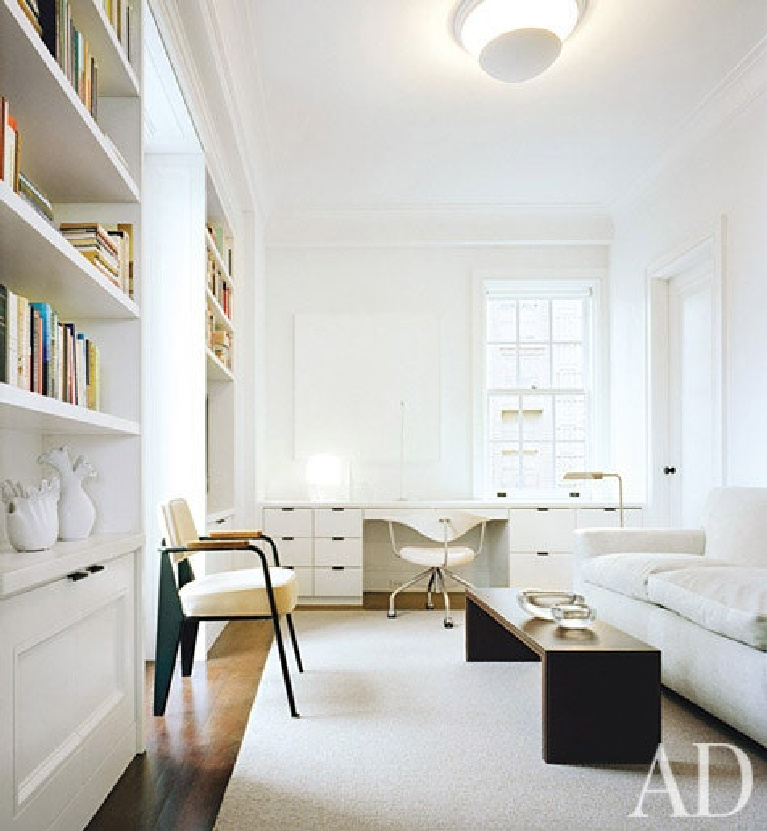 A den with a sofa, builtins, minimal modern style and tone on tone decor is an ideal multipurpose flex space!
Laptop Lifestyle
I tend to move around and am comfy working just about anywhere since my work doesn't require file cabinets or office supplies. What a discovery when I found one of those modern standing desks! Read this to see what I chose!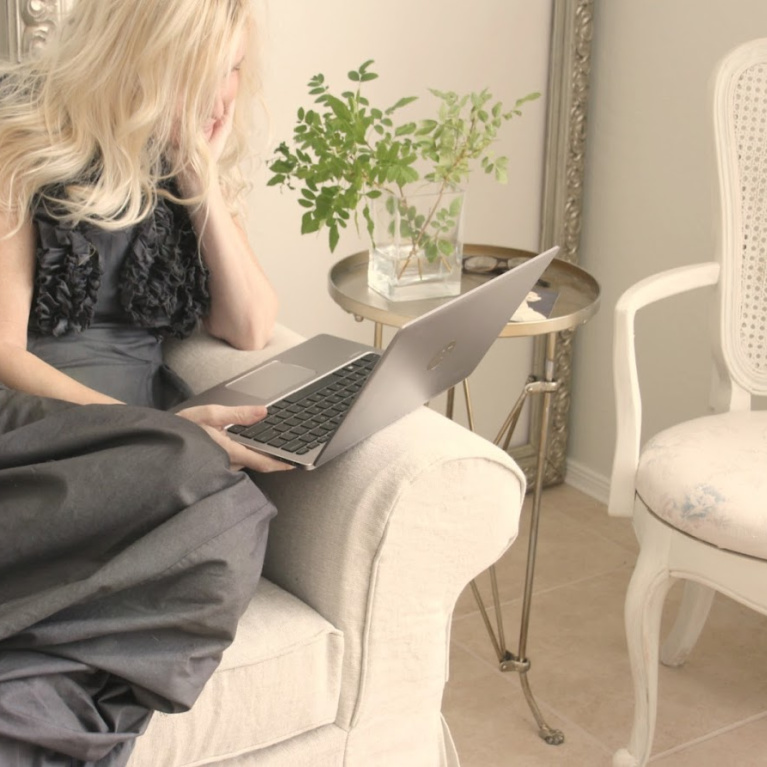 I enjoy changing it up and working wherever the view is inspiring and the distractions minimal.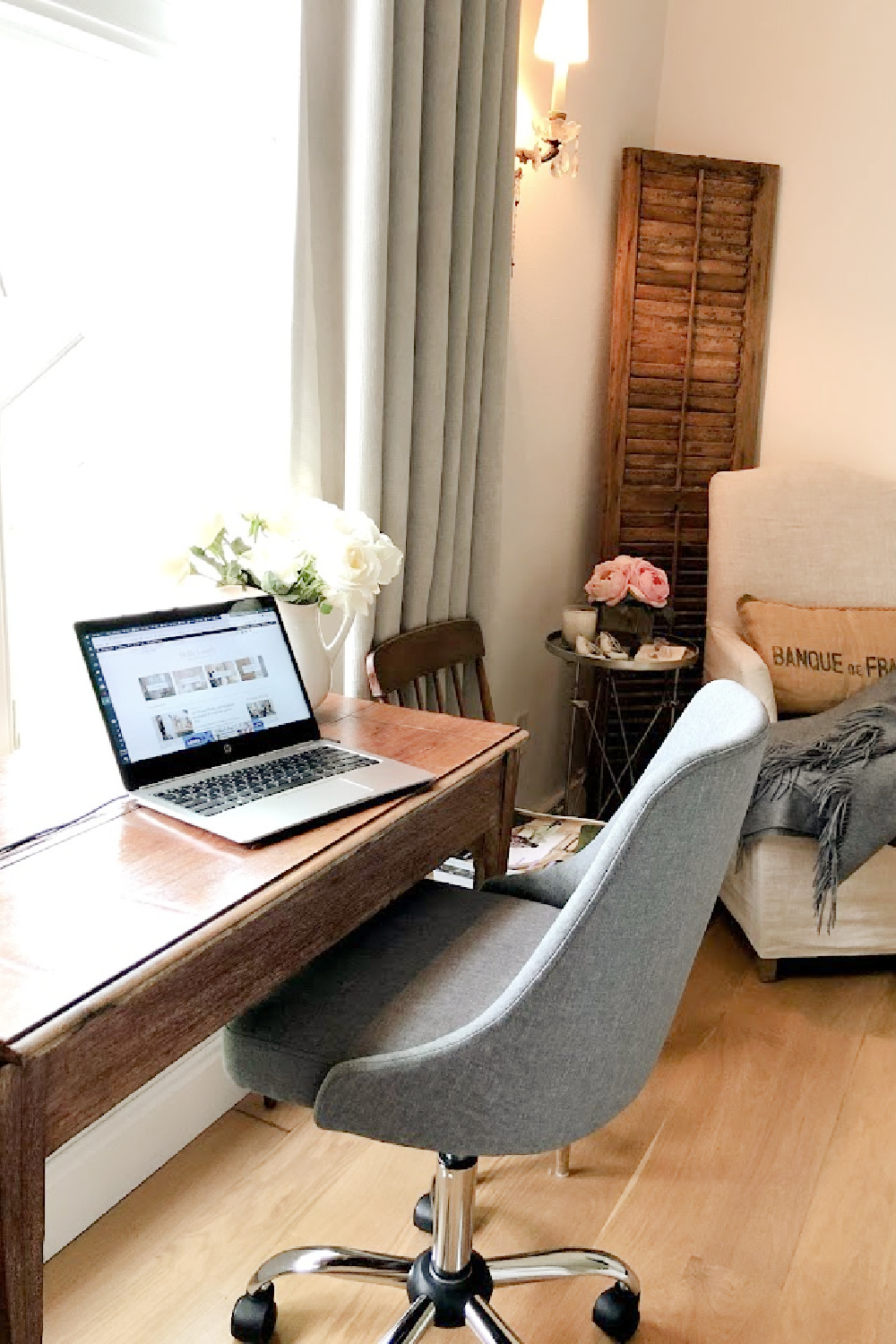 So sometimes I'll get cozy in the kitchen and enjoy watching woodland creatures or snow fall outside.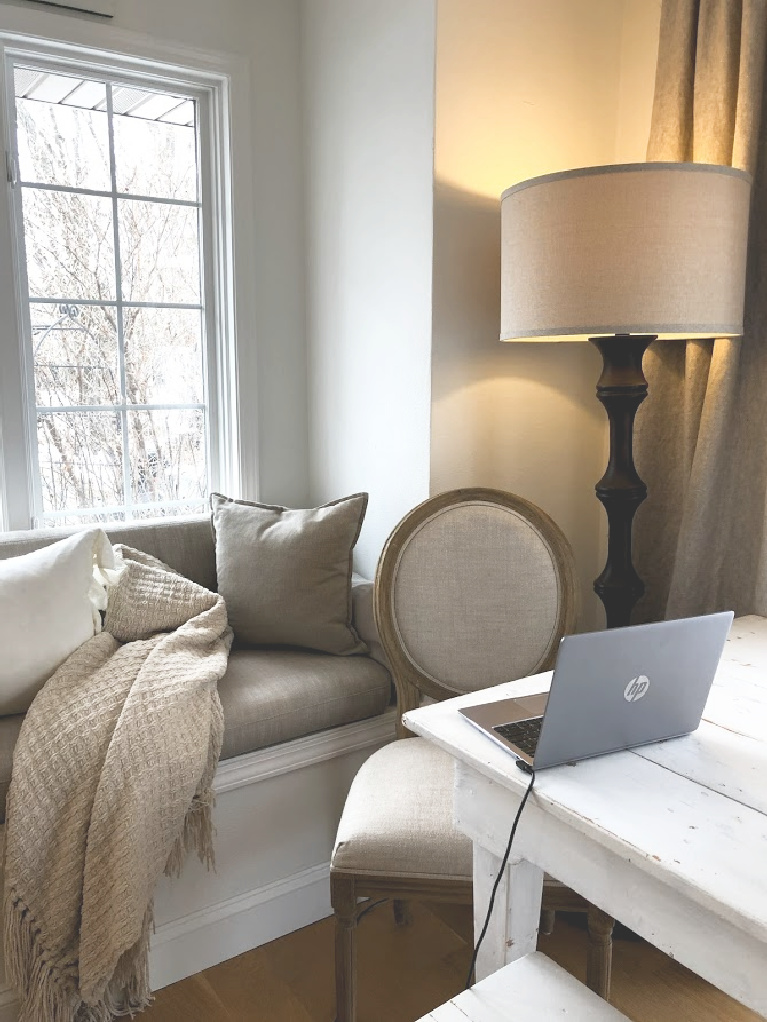 You can see my good looking desk chair on this mood board below. It looks great with my lift desk when I want to sit rather than stand, and it is even better in person and only appears expensive: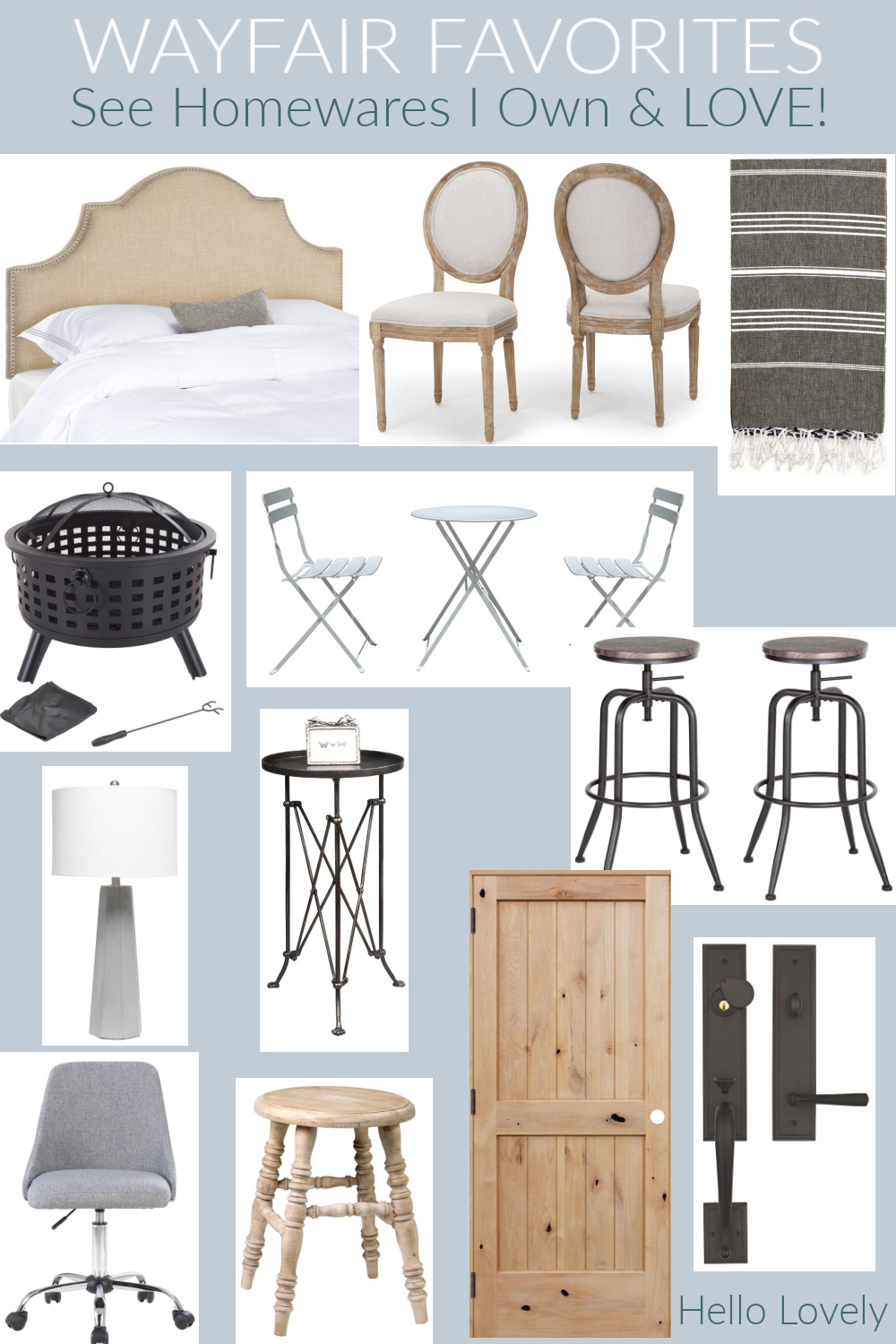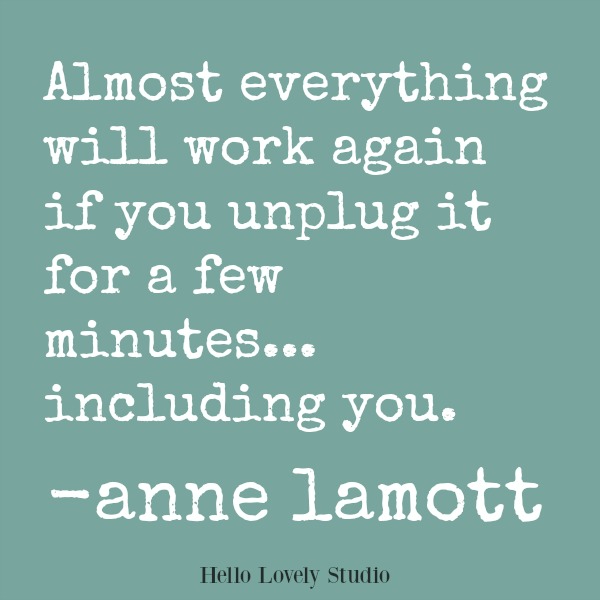 If you're fond of Old World and European inspired style, you might enjoy these resources (please pin the goodness to help this blog!) for an elegant, tonal office that feels anything but office-y:
Ideas for a French Inspired Home Office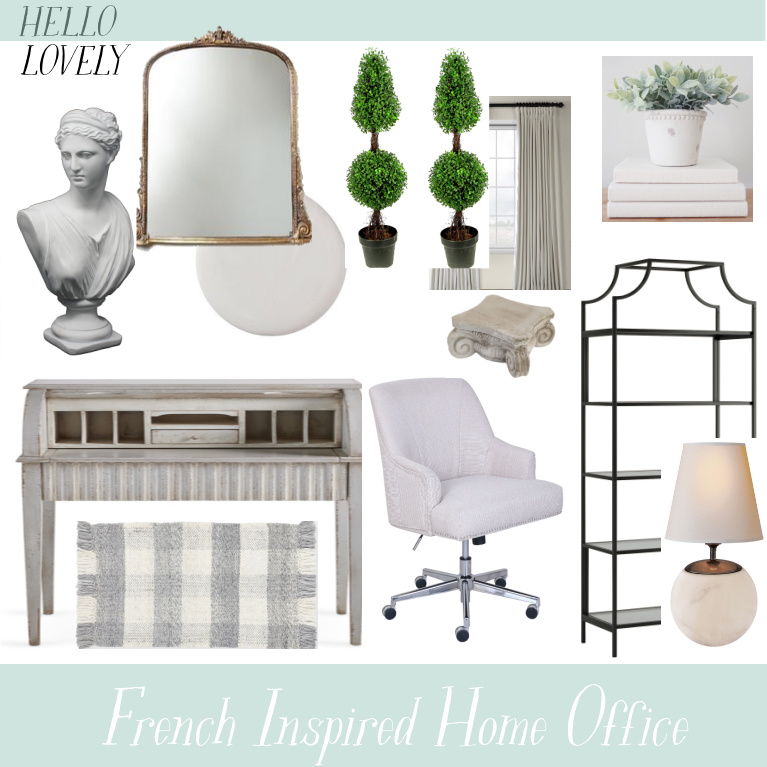 Tour Sarah Richardson Designed Home Offices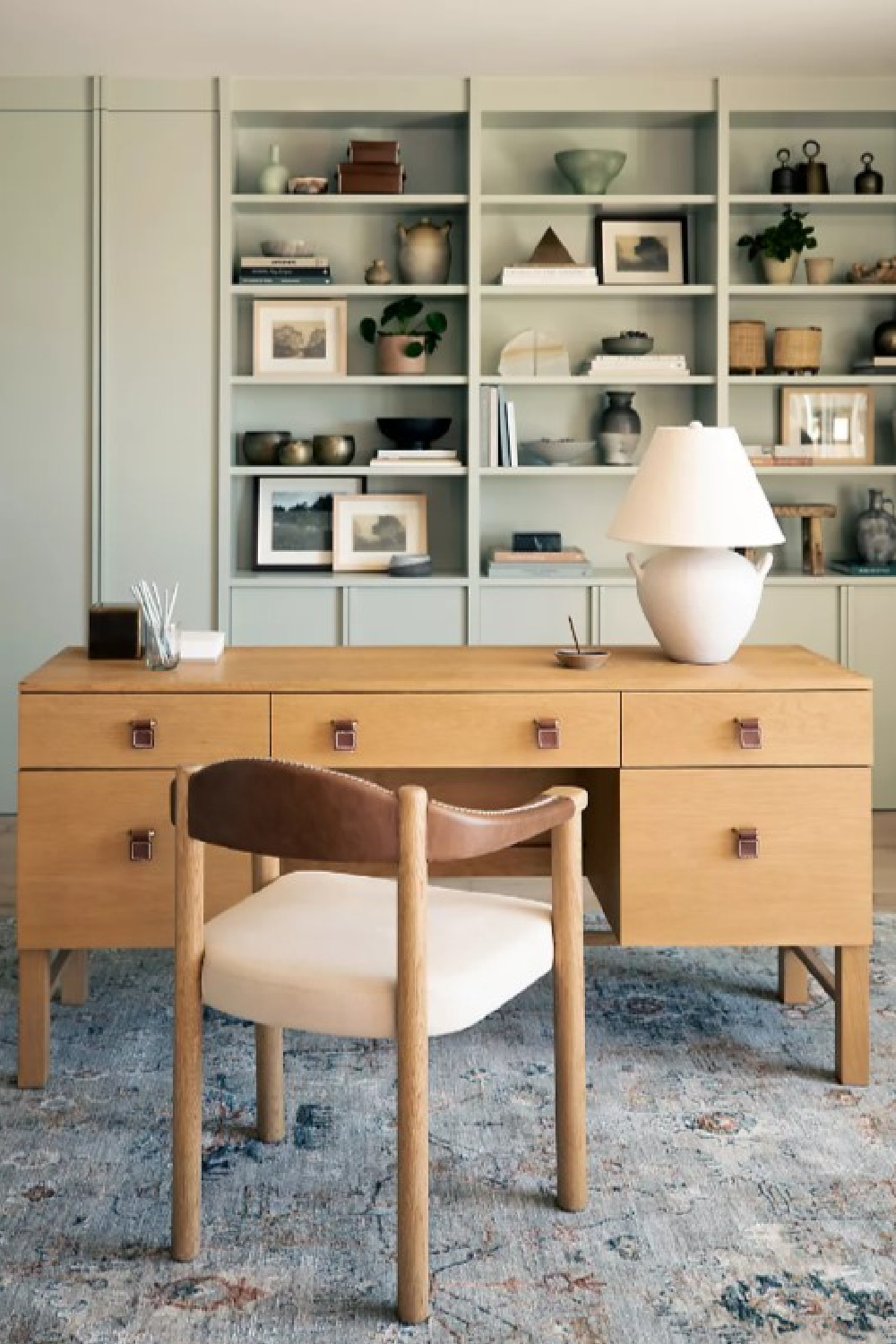 I independently selected products in this post—if you buy from one of my links, I may earn a commission.
Peace to you right where you are.
-michele
Shop for items you already intended to buy on Amazon RIGHT HERE, and also find home decor here to keep decor inspiration flowing on Hello Lovely!
Hello Lovely is a participant in the Amazon Services LLC Associates Program, an affiliate advertising program designed to provide a means for sites to earn fees by linking to Amazon.com and affiliated sites.