Leanne Ford seems to be always self-deprecating, and maybe that's part of her genius. But her casual approach doesn't deter me from recognizing true design intelligence when I see it. It's not so much "lazy of Lee" to practice restraint and minimally mess with what a space already boasts as it is well-informed and "wise of Lee." It's the knowing what to add or modify, how much to leave entirely alone, when to stop. I'd sing her praises had she never emerged as a superstar. Leanne Ford's design intelligence, eye for beauty, exceptional innovation, and creative re-imagining are quite enough.
Leanne Ford's Design Intelligence
Anyone can gut a place and start fresh if the budget is healthy enough.
But preserving soul no matter the budget? That calls for: a certain level of soulfulness, a particular set of sensibilities, and purity of the lens.
Leanne Ford is a favorite of mine for reasons beyond the obvious mutual reverence for white paint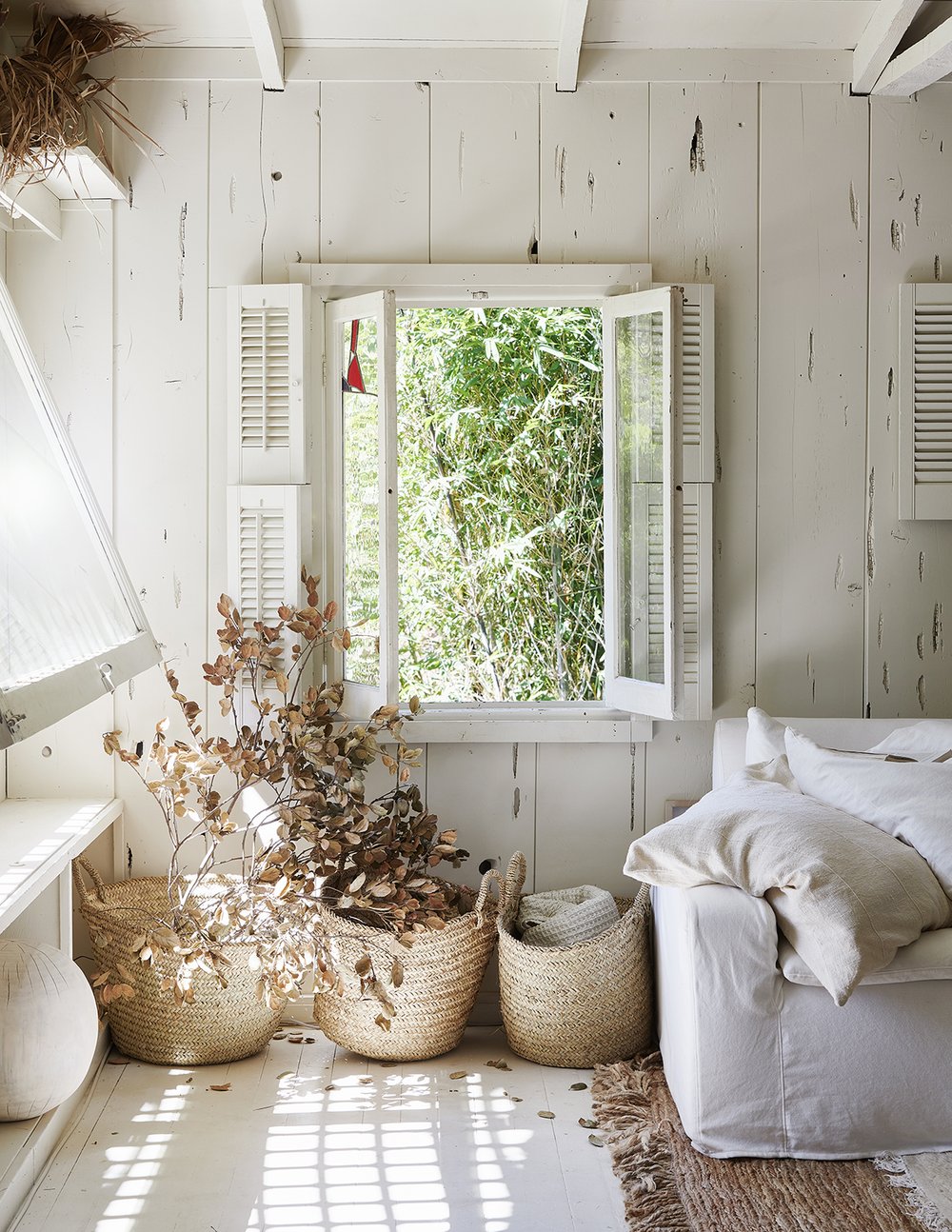 Her style leans toward minimal luxe…there's always an intelligence about the livability of floorplans, materials, and design directions.
There's also a sense that she is never showing off. If anything, a deep humility shines through.
Time and time again, she wisely shows us how to use what we have. We have hung on to it for a reason after all!
Creatively thinking outside of the box is one of her gifts. She knew the walls in this guest cottage at her home needed interest and texture, and since she had coffee grinds lying around?
Of course. Coffee wash the walls. In other cases, she uses ordinary supplies like grout in fresh ways.
There's always some risk involved, but her style reminds us it is only decor – we don't have to get caught up in the seriousness of it all.
And she gives us permission to go for it and explore our own creative impulses.
Ever see the show stopping cool interiors (including the study, above) she designed for Rock the Block?
Free-spirited Boho Influences
It is often what Leanne Ford doesn't bother with…for example, trim and casing…that set a relaxed tone. I can't help but smile and think of Gilligan when I see this:
Go Bold With Modern Rustic Texture
Loving the textured, plaster-like wall (above) and wishing you could create one? You can. It's a skim coat of a concrete product (Sure Tex "Whitewater") RIGHT HERE.
Natural Warmth & Liberal Doses of White
Leanne's modern farmhouse white kitchens are often recognizable. Remember when "modern farmhouse" was not yet a thing? You may recall this Pittsburgh kitchen with the MCM Sputnik chandelier.
She often mixes pristine whites with ruggedly beat up wood finishes.
Leanne Ford's Fashion Stylist Past Shines Through
Before all of the interiors work, she was a fashion stylist in LA. That may explain the heavy California cool vibes.
It is no wonder she understands cool, edgy, vintage style, and fashionable vignettes.
She also uses black to great success. If you watch her HGTV shows, you may remember this bar she created (they antiqued the mirrored back).
Undone Relaxed Cool in Leanne's Projects
I appreciate how the rooms Leanne touches don't appear "done" or "decorated" or "perfect."
Taking a truly unfussy approach to yield an unfussy result means "underdone" and "imperfect" and "evolving" can emerge.
Creating Drama by Riffing on What's Already There
If you have watched Leanne's creative approach on TV, then you know she is not quick to dismiss elements that have decorated a home for many years. Does all of the wallpaper have to be removed? Could it be tweaked or somehow elevated to become a unique new artful element?
Curious about the paint colors Leanne favors? SEE THIS. Here's another warm white she loves:
I independently selected products in this post—if you buy from one of my links, I may earn a commission.
Slightly Messy Zhushing & Shelf Styling
While shelves are functional, they also provide potential for a rotation of interesting styling opps. Leanne often demonstrates how to create opportunities for decorative vignettes to happen without overthinking placement of the treasures.
Clutter-light & Quirky
Her warm modern minimal luxe look often relies on editing and restraint…as well as thoughtfully-curated accessories. Leanne masterfully masses vintage finds and still somehow keeps the look feeling light and airy.
I independently selected products in this post—if you buy from one of my links, I may earn a commission.
Ideas to Get the Leanne Ford Look
Clever Budgeting
Just look at what an inexpensive stencil can do to a patio…this genius stenciling pattern on ordinary concrete exudes the look of cement tile. Learn more about cement vs. stencils here.
For Bathrooms
This story about my own farm sink gives you the inside scoop about why I'm crazy about these pretty basins.
If you love the Zellige handmade tile Leanne often installs maybe you'll want to try a sample…it runs about $17.50 per square foot.
A more budget-friendly idea for a similar look but with ceramic tile is this one:
For Living Rooms
For Bedrooms
Leanne Ford's Favorite White Paint
For Kitchens & Dining Rooms
Tour Leanne Ford's Cabin
More ideas for modern rustic style HERE, and also find decor options here:
Peace to you right where you are.
-michele
Shop for items you already intended to buy on Amazon RIGHT HERE, and also find home decor here to keep decor inspiration flowing on Hello Lovely!
Hello Lovely is a participant in the Amazon Services LLC Associates Program, an affiliate advertising program designed to provide a means for sites to earn fees by linking to Amazon.com and affiliated sites.