White paint color as a topic is a big yawn until it's YOU choosing one for walls, trim, windows, doors, cabinets, ceilings, or exterior. Suddenly the struggle of choosing the right white with proper undertones and light reflectance is REAL. It's too easy to get wrong when you grab a random white before sampling a few. It helps when a designer reveals her trusty top three. Which whites are trustworthy across various lighting conditions and contexts for interiors and exteriors? Three Favorite Leanne Ford White Paints spills the tea on perfect whites while also providing multiple options to sample across different paint brands. Because your perfect aint my perfect! (Use Samplize…they make it a breeze.). Bonus? I have a lifetime of experience with color and paint consultancy and will translate the science into plain English!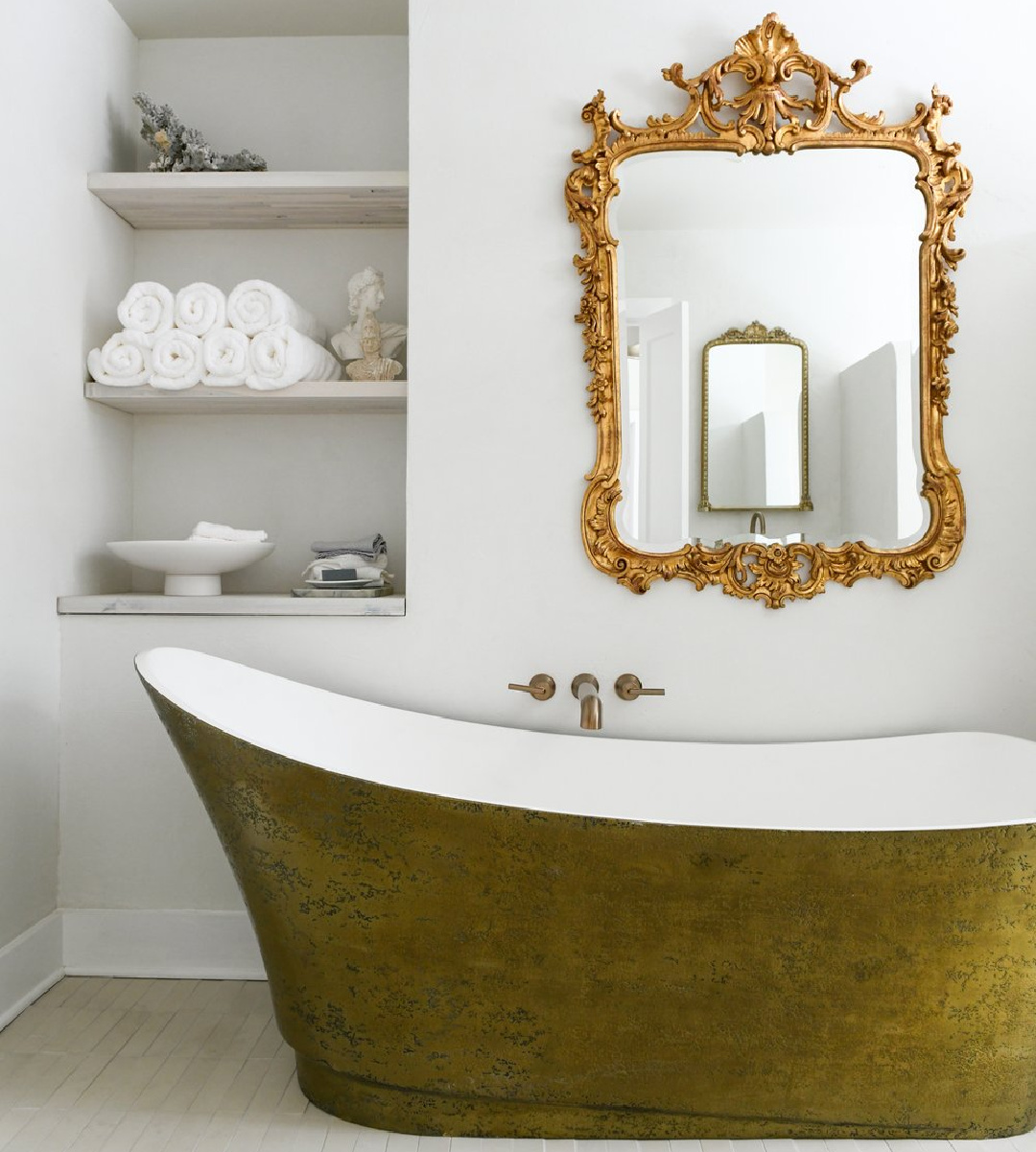 Design: Leanne Ford; Photos: Erin Kelly & Amy Neunsinger
3 Favorite Leanne Ford White Paints
Here's the warm white paint color Leanne Ford has embraced for multiple projects, and Behr paints are sold at Home Depot. I'll also provide ideas for comparable whites from other brands in case it helps with shopping ease and sampling.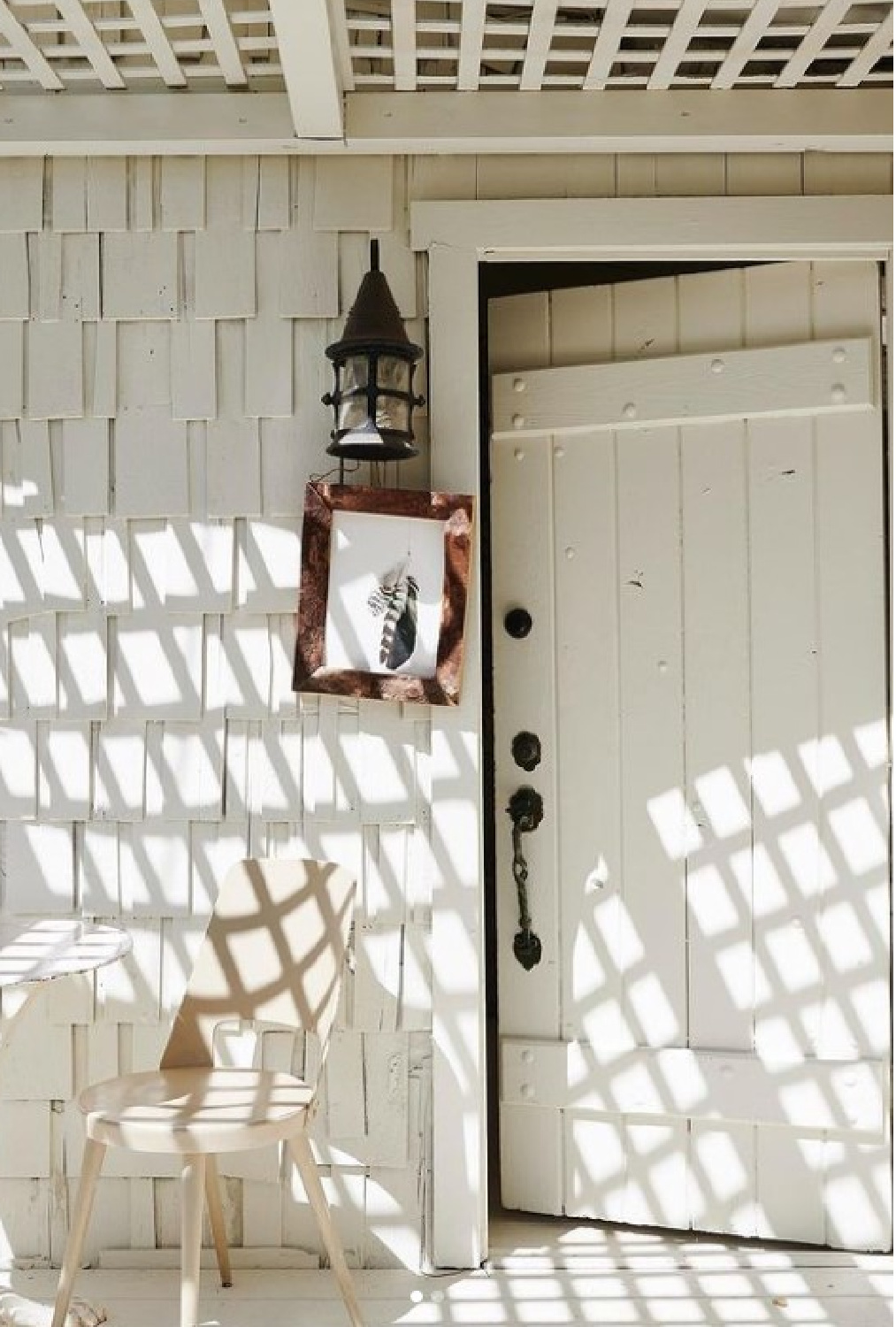 Remember, if you love the look of Crisp Linen, you should still sample it with at least two more similar warm whites because subtle differences matter. Behr says Crisp Linen is a true beige; a perfect neutral that suggests serenity and classic beauty. With a light reflectance (LRV) value of 76, it is going to reflect 76% of light.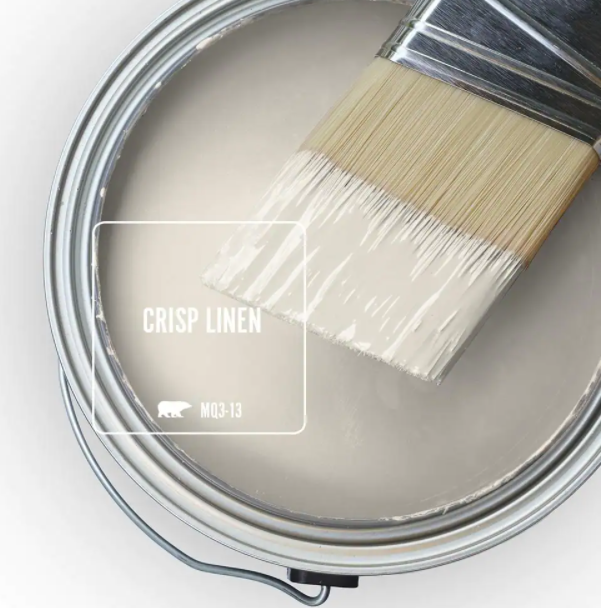 Does that 76 number sound high? While it is on the lighter end of the spectrum , keep in mind brighter whites can surpass 90. So don't worry omg it's going to be a blinding white.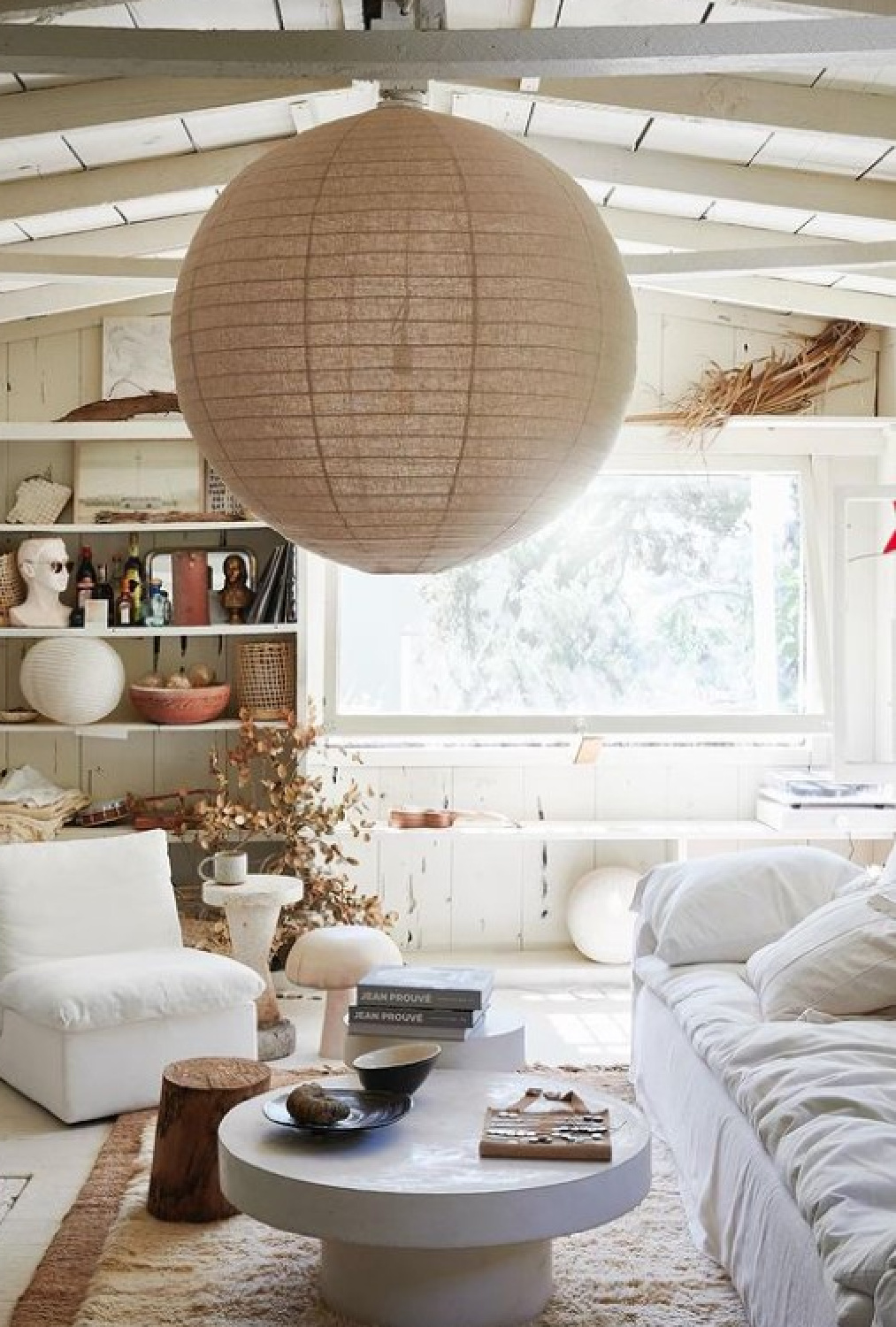 What I love about Crisp Linen is how it works with brighter, lighter white painted trim and doors. You can see in these interiors by Leanne how a subtle contrast is soothing and not jolting.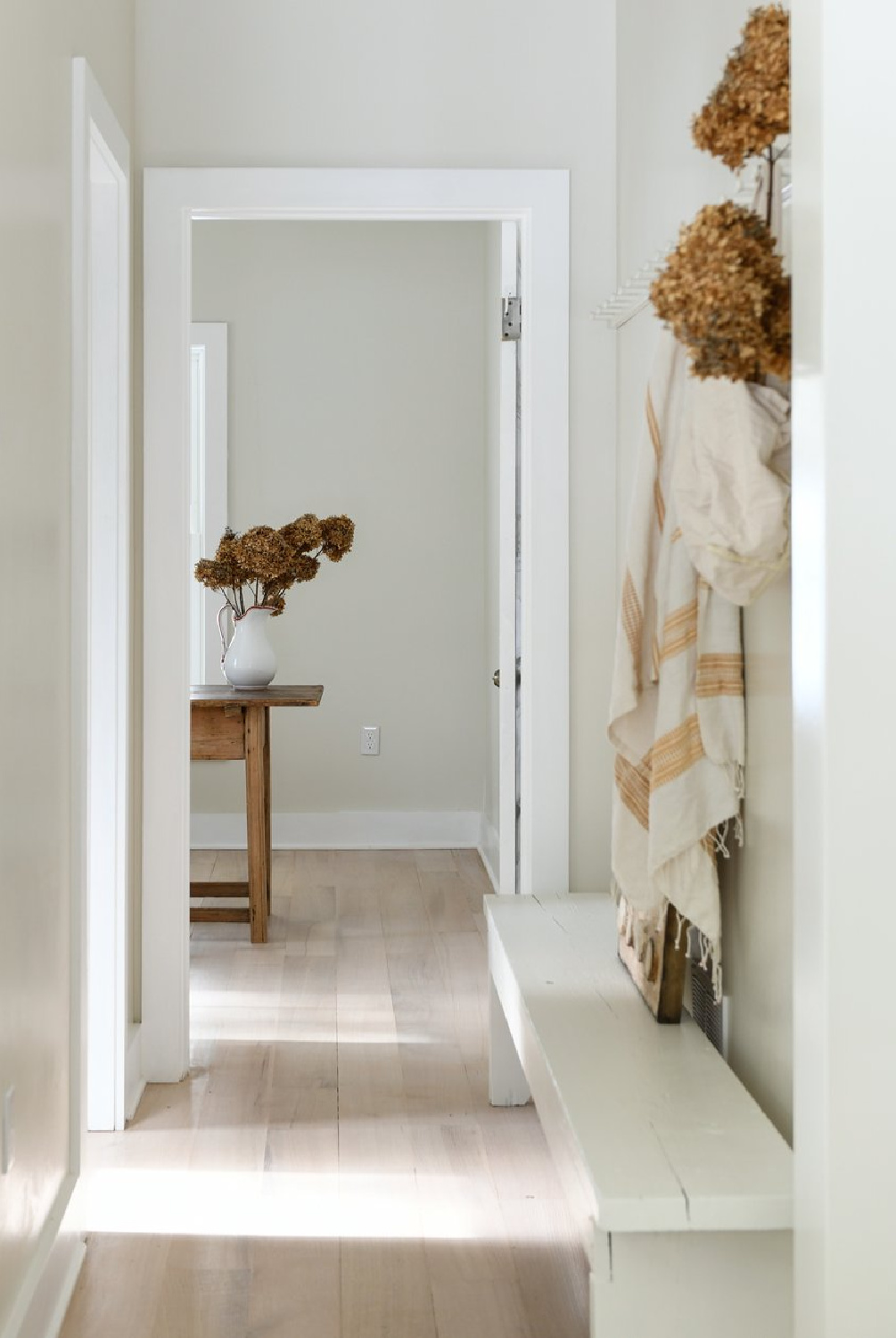 You don't even need to feel pressured to have any contrast. There are situations where you can use the same white for walls AND trim. Fortunately, it's easy to test. Simply paint a small area of trim to decide which amount of contrast appeals to you.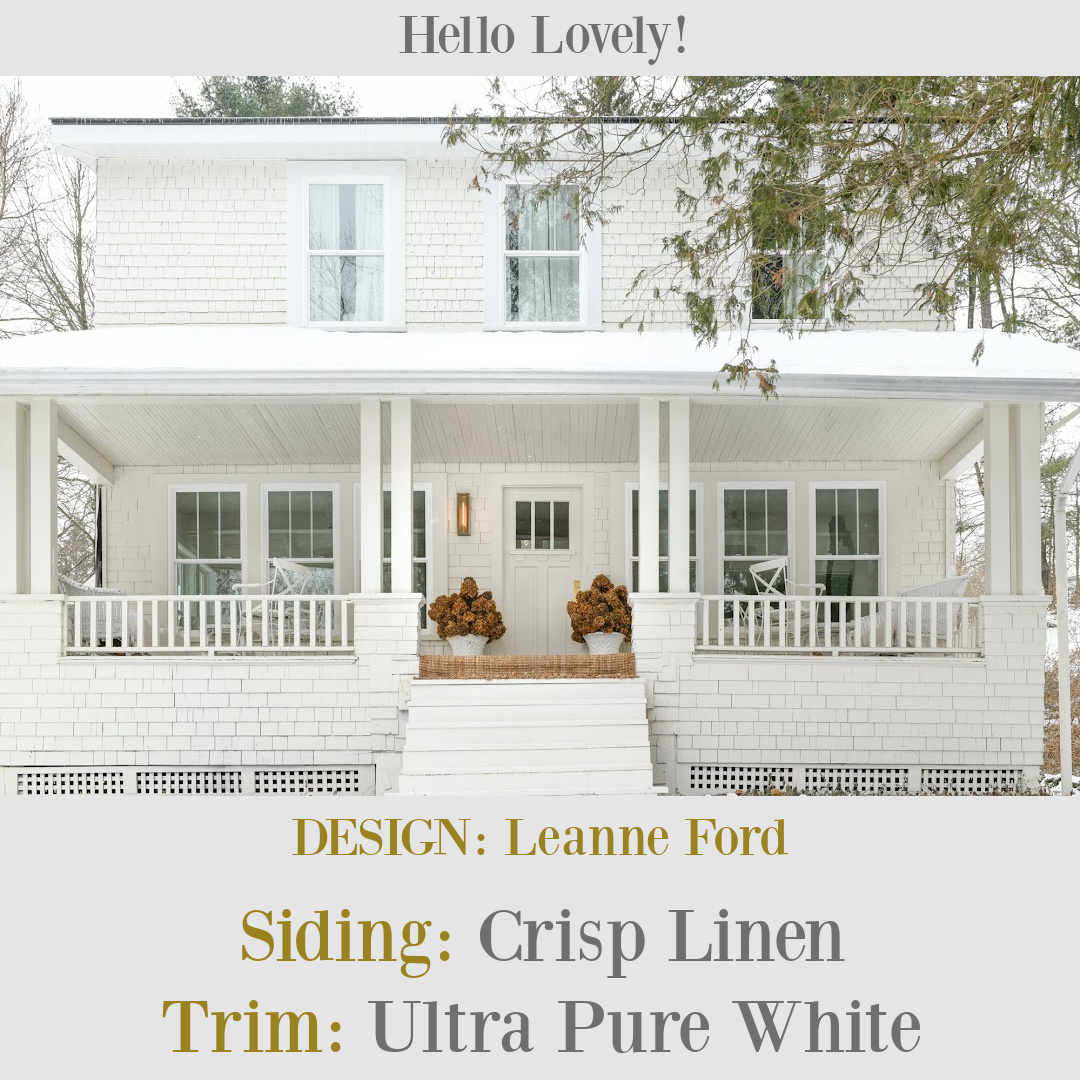 Warm Whites Similar to BEHR Crisp Linen
My first pick for a color very very similar to Crisp Linen but in the Benjamin Moore line is BALLET WHITE. It's lovely.
I have used Ballet White for many different interiors and love how gentle it is. If it's too light for you, then BM White Sand is my go-to. The thing about warm whites is I avoid anything too yellowy (for me, it can feel dated) or too brown (can feel less clean). Undertones in white may not seem too perceptible without sampling a few whites side by side. Suddenly you'll see!
Here's another Benjamin Moore warm white quite close to Crisp Linen:
I have less experience with Swiss Coffee, but lots of designers are crazy about it. I know Kate Marker uses it endlessly.
Finally, if you want to stick with Sherwin-Williams brand paints, Alabaster is a trustworthy white with a similar LRV and formula to Crisp Linen. Alabaster became THE go-to warm white in the 2010s with the rise of modern farmhouse style and all things Joanna Gaines HGTV Fixer Upper. That said, it isn't trendy. It is a classic that works across a range of design and architectural styles.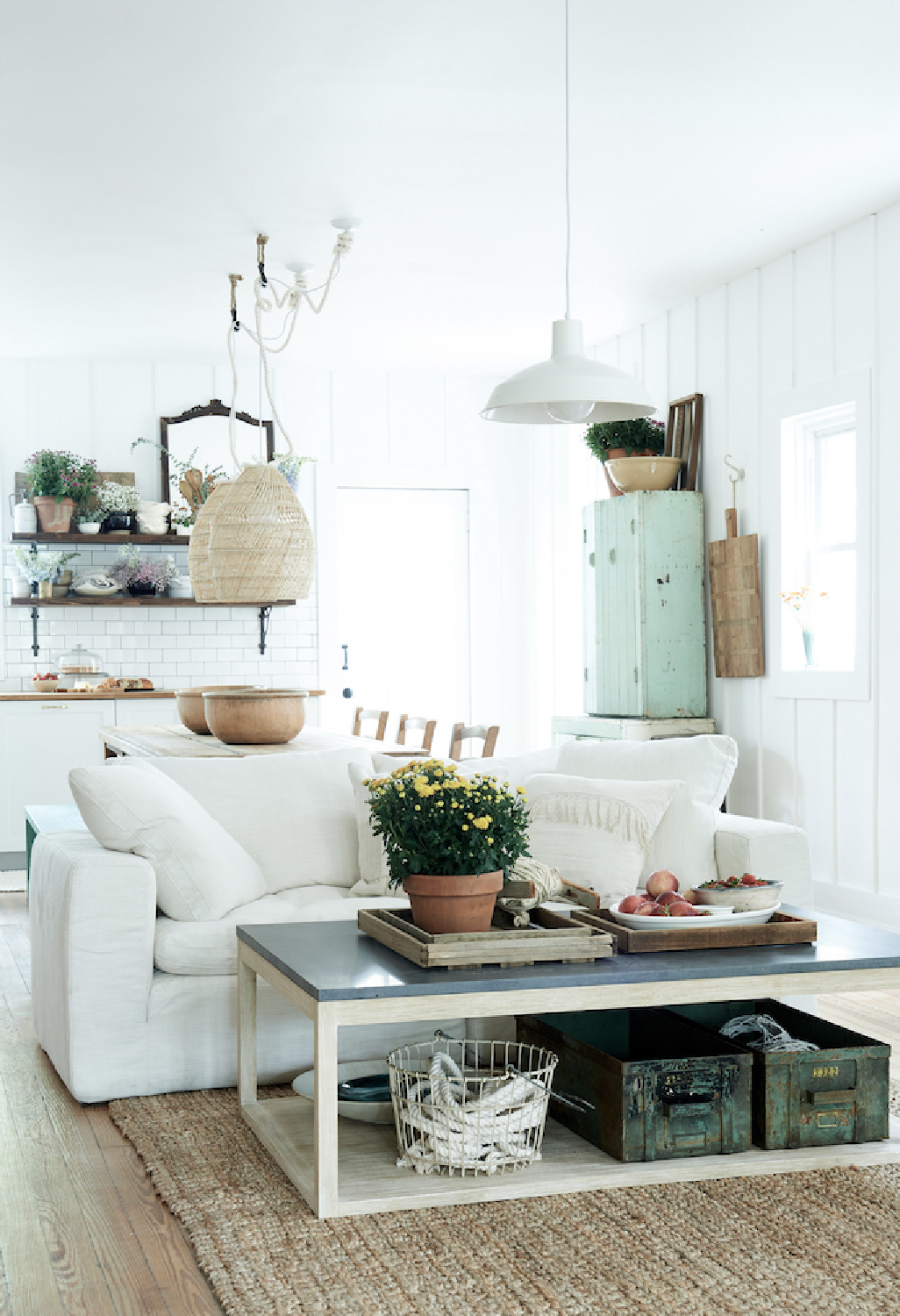 What does it mean when Leanne Ford calls Ultra Pure White a true white? It signifies a white with minimal to no undertones that will bounce the maximum percentage of light back into the room.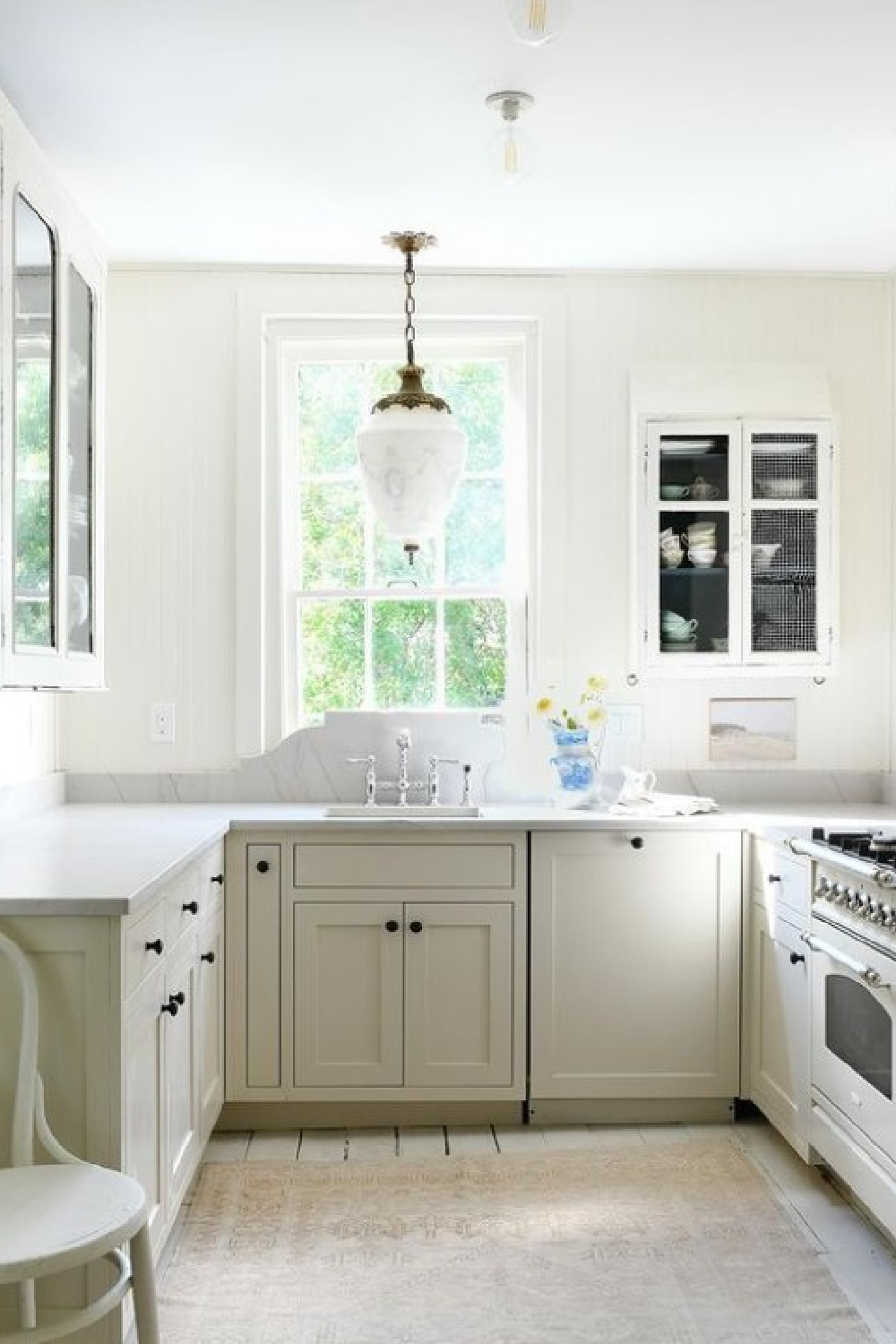 If you see an interior associated with Leanne Ford and the walls seem bright, with the lightest white that feels gallery-like, chances are it is Ultra Pure White right off of the shelf at Home Depot. Why is it on the shelf? Because it doesn't have to be tinted since it is a base.
This bright clear white is super reflective and bright with a LRV of 94. That's a lot of light reflected back! Is it too white for your project? It depends. Here at my own home, I love a bright white like this one for trim, but on the walls it feels too chilly and off because the architecture of our home is so traditional and fussy.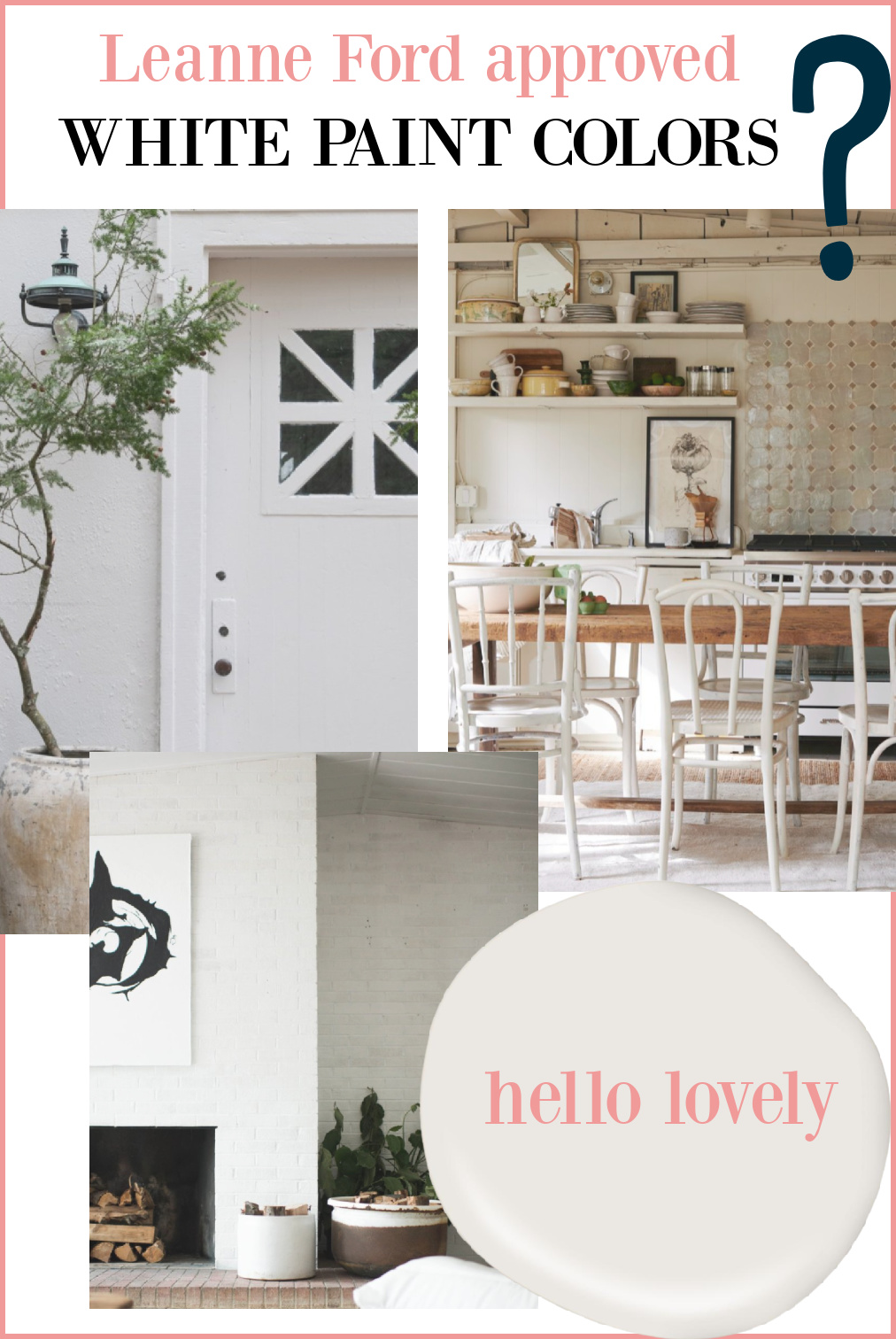 The exposure of your room makes a huge difference. Natural light is going to warm the paint color. Let's look at a few recent Leanne Ford projects where she has a mix of whites to get a feel for undertones and subtle variations of hues.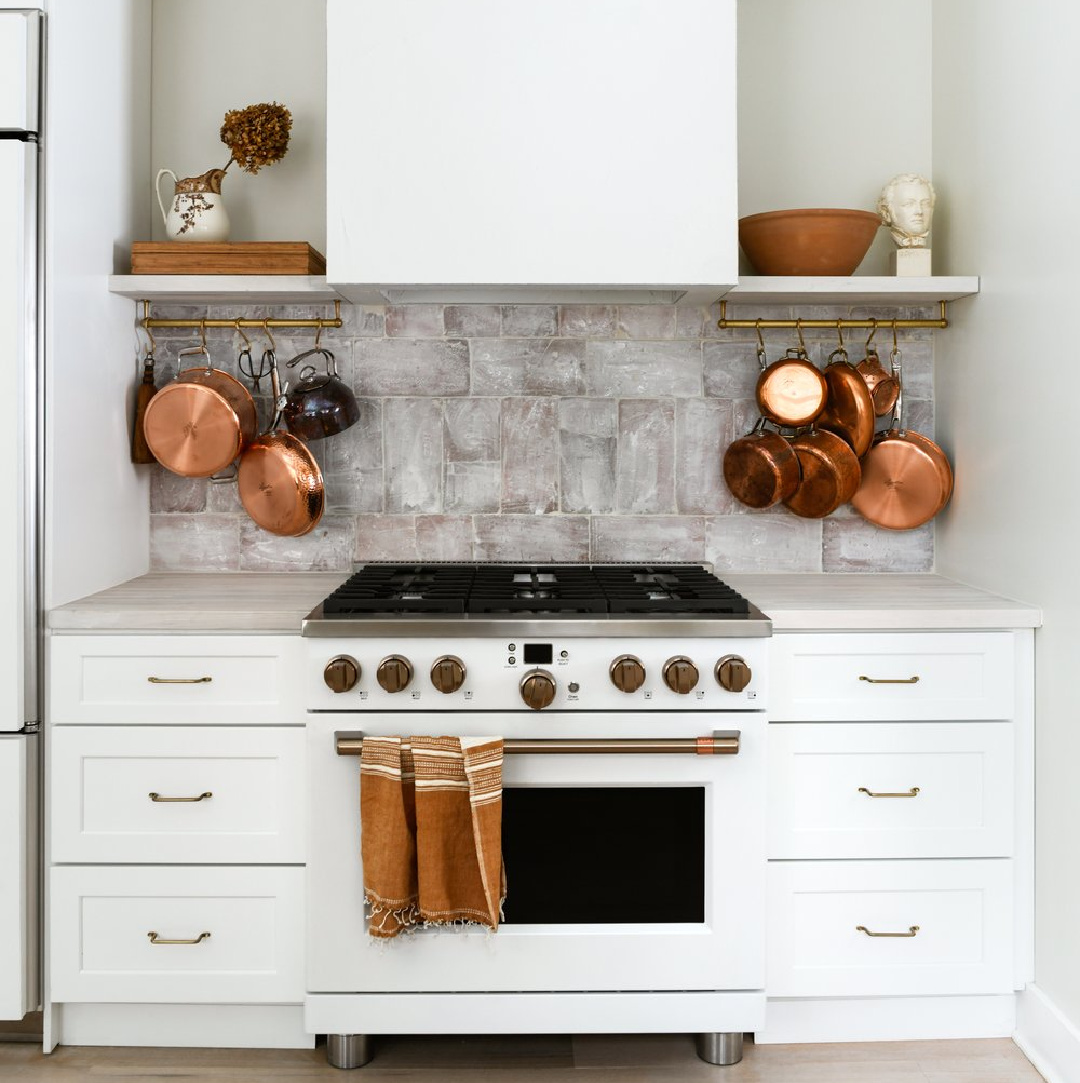 I'm not certain the kitchen cabinets above are Ultra Pure White, but they are suggestive of it because you can see how close the white is to the baseboard trim which we know for certain is Ultra Pure White.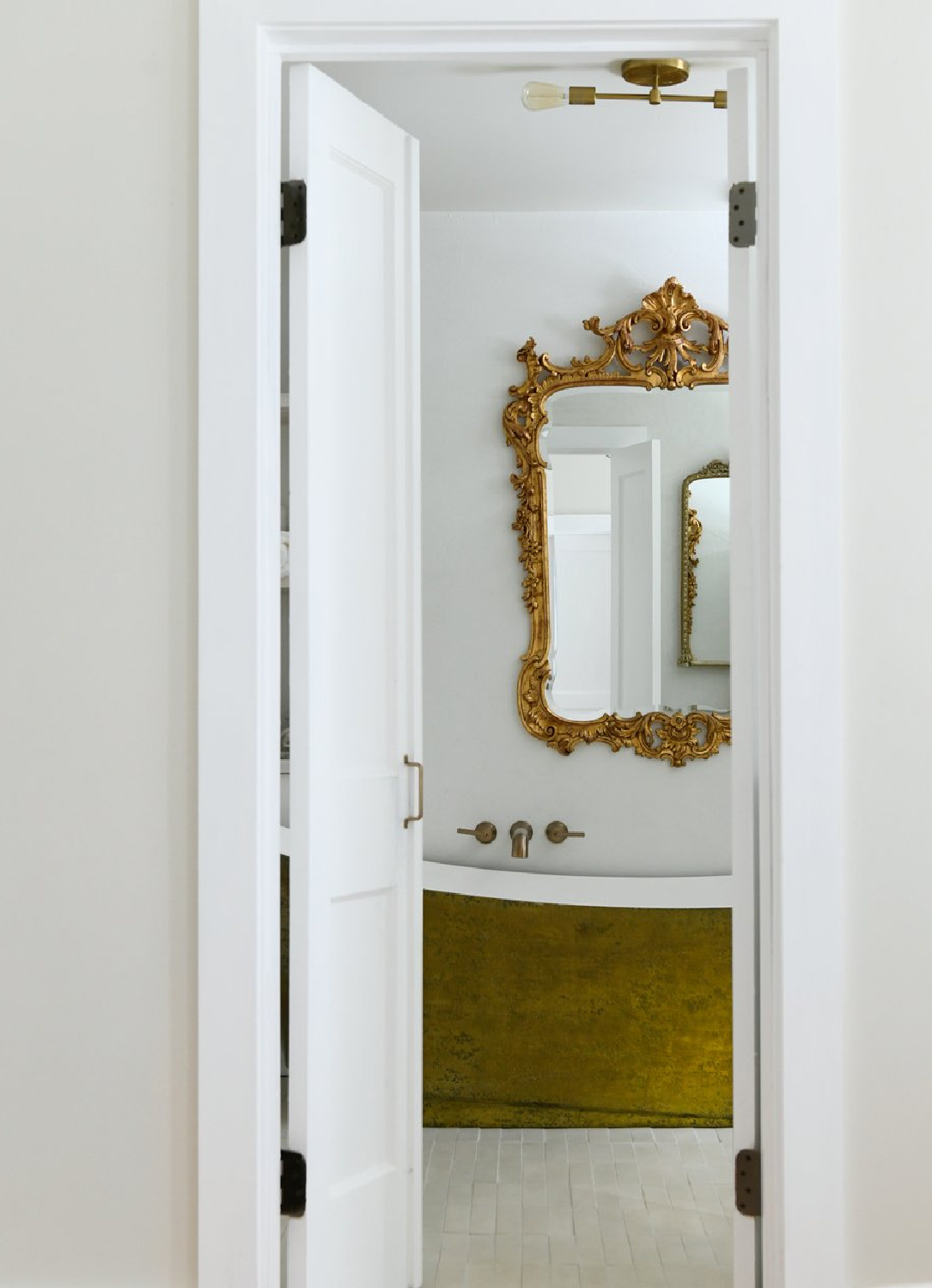 Notice above how much lighter and brighter it is (trim and door) than Crisp Linen (walls).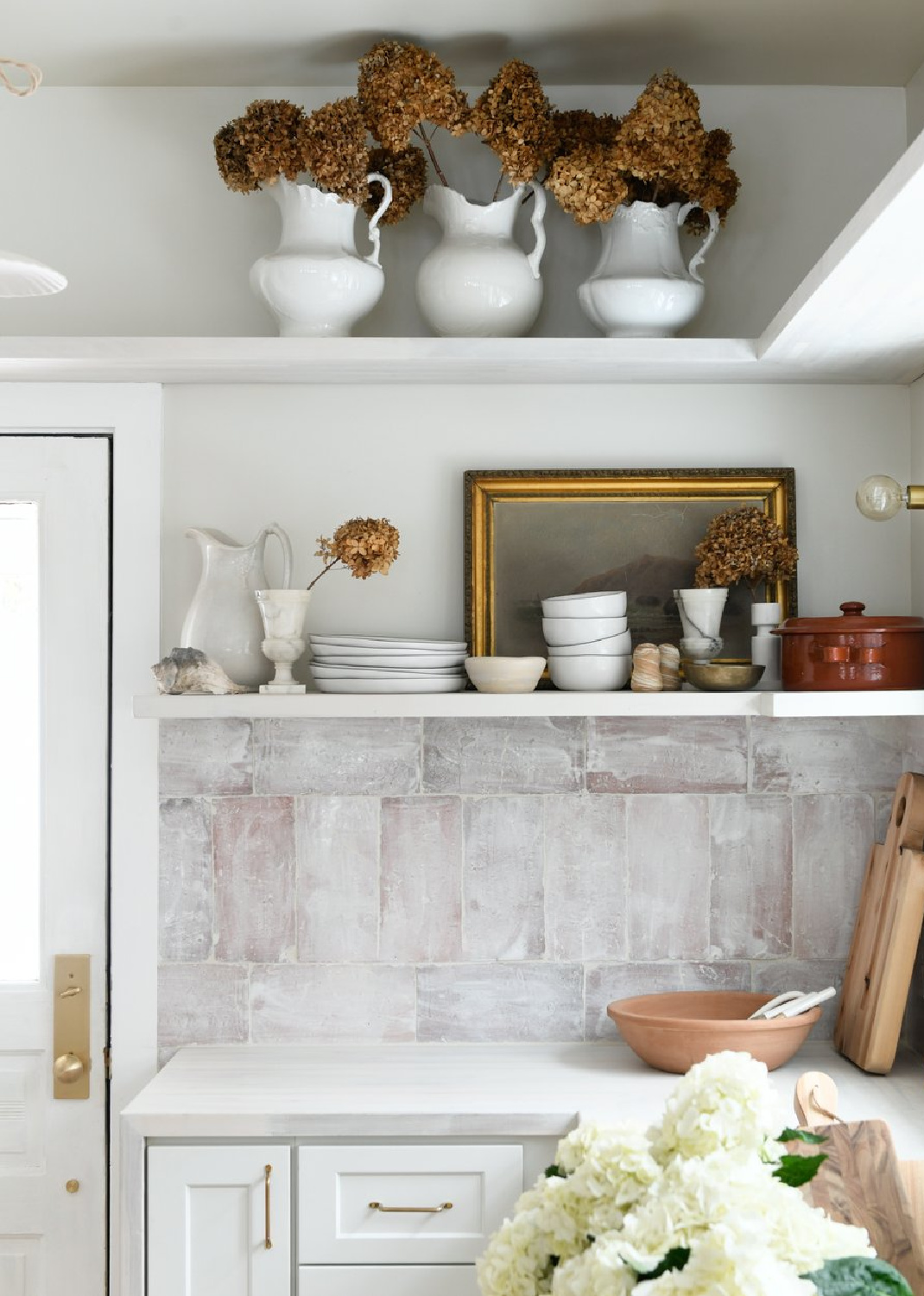 True Whites Close to Behr Ultra Pure White
Warm white walls vs. true white walls are going to create different moods which is why you should sample to select the right one before wasting time and money. I painted walls, trim, ceilings and windows in our former cottage (MCM style architecture) a bright white (in varying sheens) very close to Ultra Pure White called Benjamin Moore White OC-151:
OC-151 felt cozy, modern, and just right (flat for ceilings and some walls, satin for some walls, semigloss for trim). You can find photos of it with more details about that color HERE. However, OC-151 in our next Georgian house felt ridiculous and wrong. Your white tone with its unique undertones or lack of undertones truly matters. Here's another white similar to Ultra Pure White:
A lot of designers are loyal to Sherwin-Williams Extra White so it's a great contender to sample with the other bright whites to decide on your fav.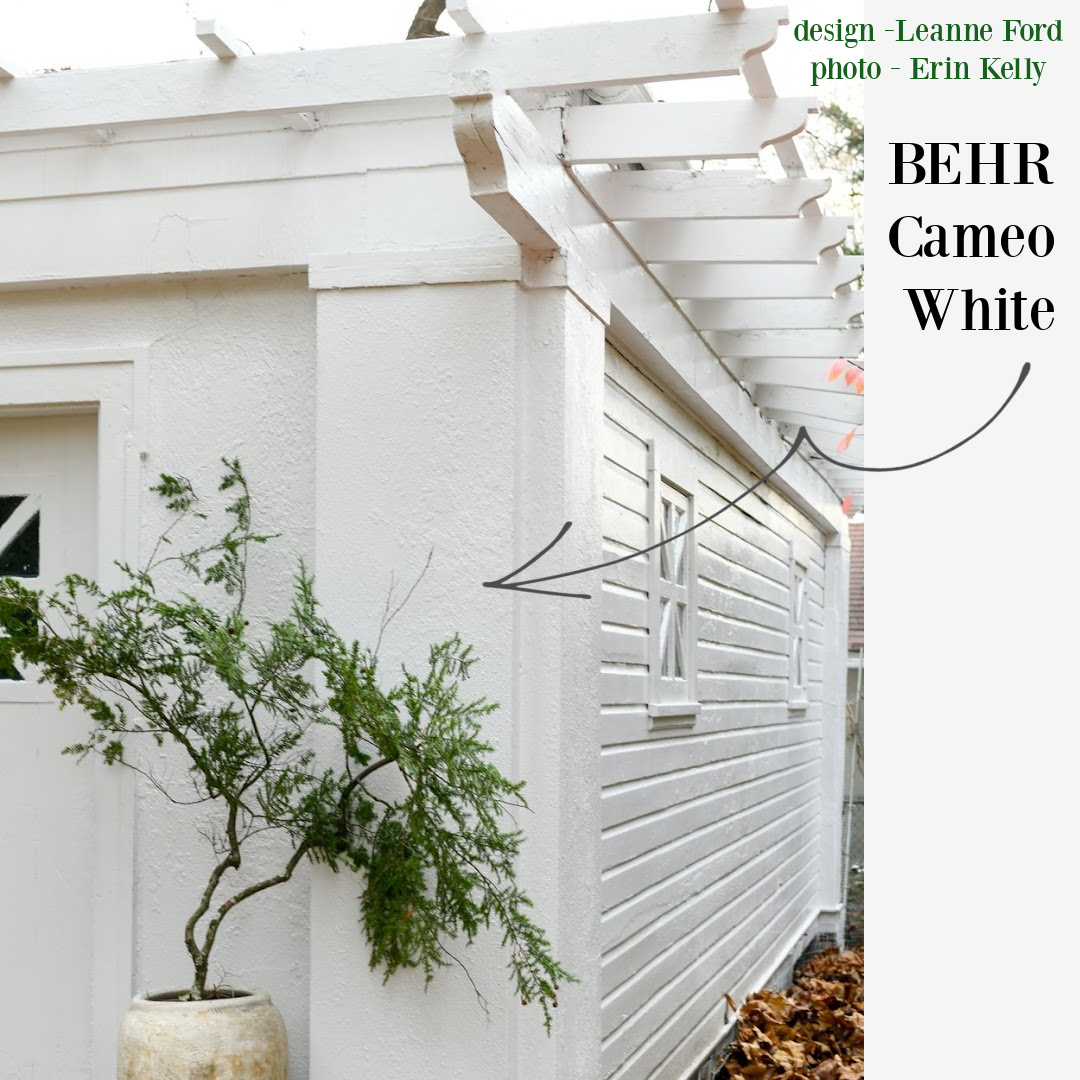 When I think of cool whites, I think of off-whites and greyed-whites. Here's how Behr describes Cameo White: "With its pearly blush and charming appeal, Cameo White relaxes the senses and softens any space."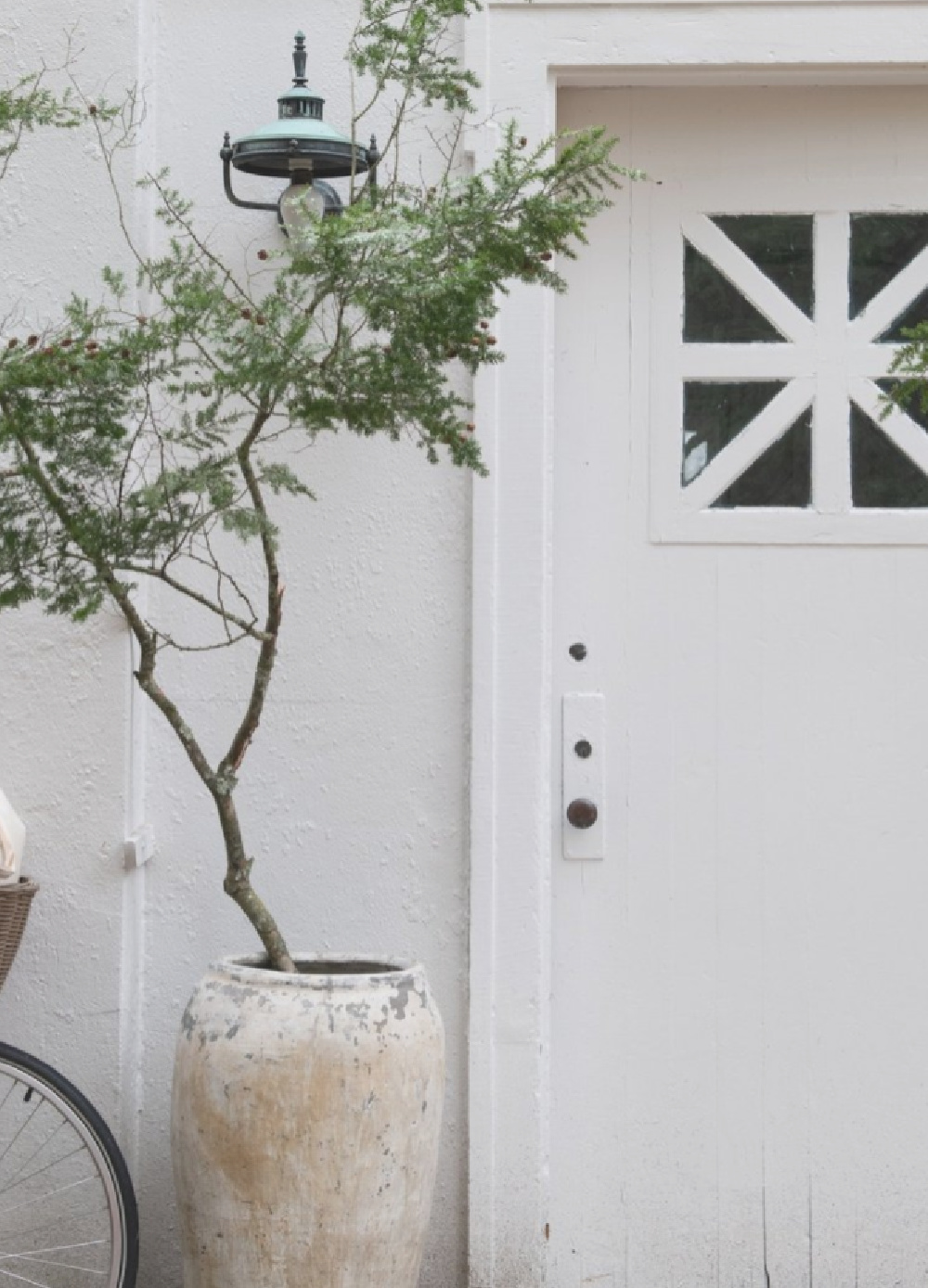 With a light reflectance value (LRV) of 81, it is going to reflect plenty of light. What effect does the coolness of a white have?
How Qualities of Cool Whites Vary from Warm Whites
Cool paint colors in general tend to be associated with calm and relaxation. Think for example of serene blues and greens. Cool whites will have cool undertones provided by those colors. Since she was after zen-like tranquility, is it any wonder Leanne Ford chose Cameo White for a backyard yoga studio?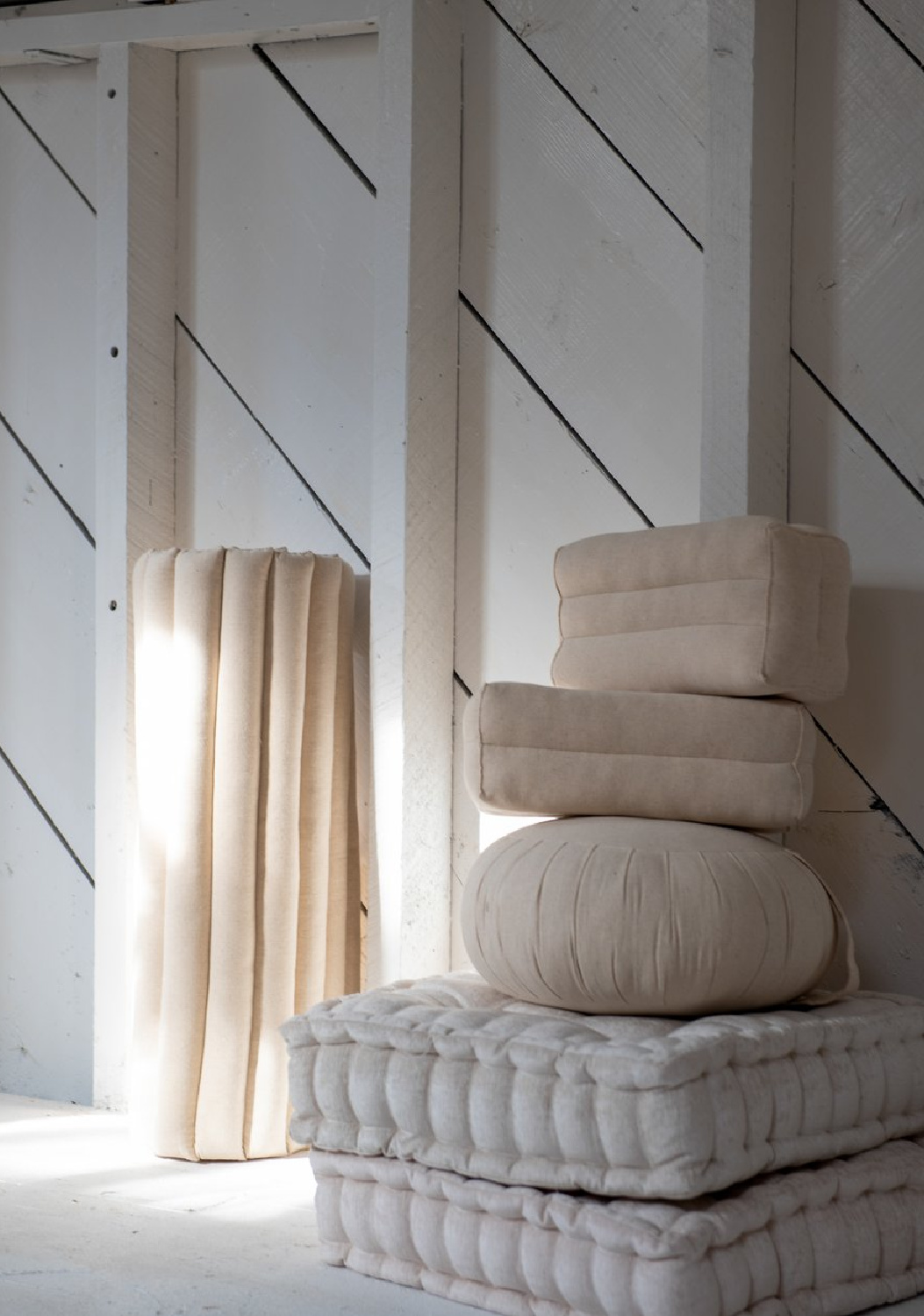 When you're after a very tranquil, peaceful, sedate mood (for instance for bedrooms or spa-like baths), cool colors accomplish that. They bring the temperature down.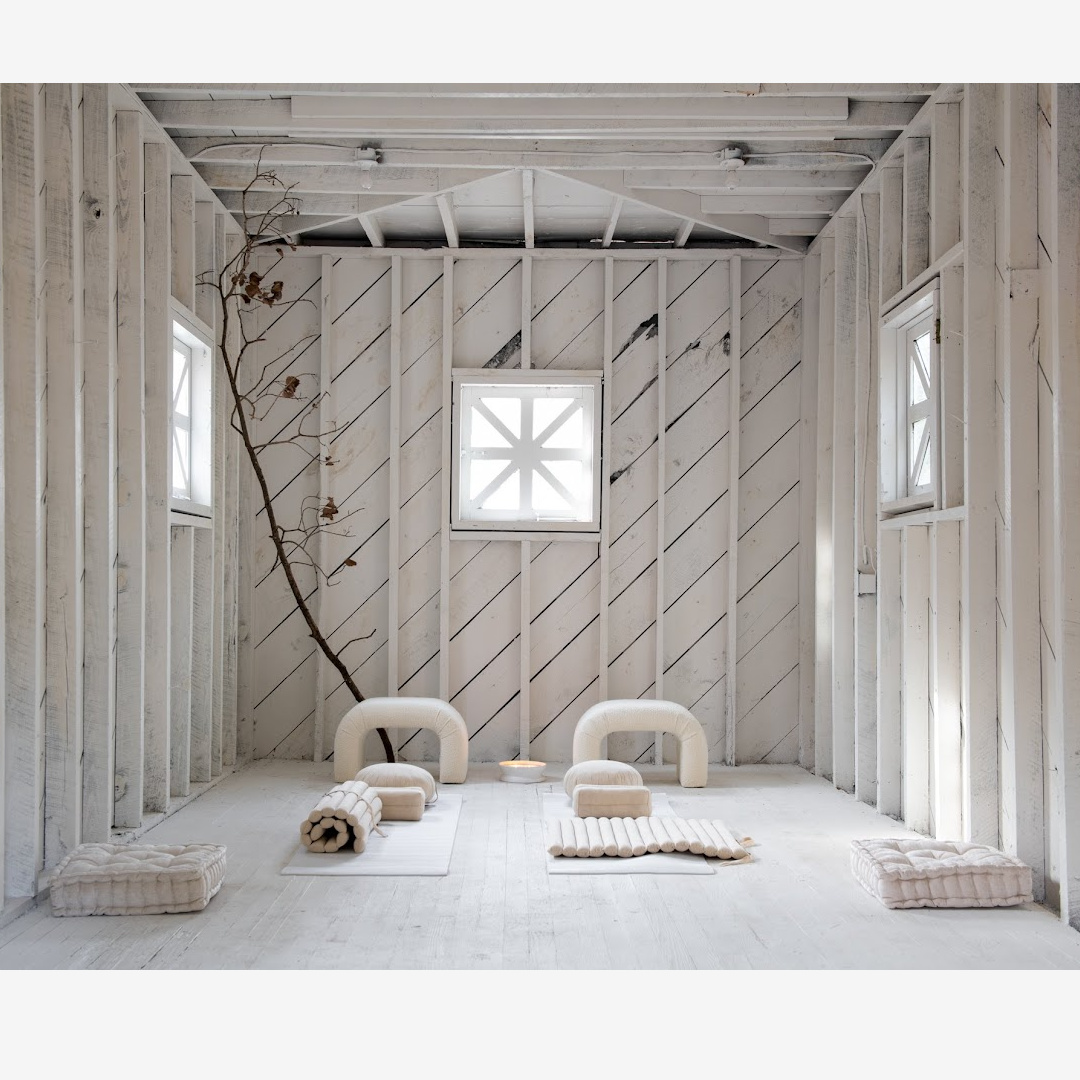 Cool colors also tend to feel clean and expansive. Since they tend to recede visually, they make a space appear larger. Finally, cool whites often feel elegant, modern, and sophisticated. While this shed was not designed for elegance, I'll show you a color very similar to Cameo White in my own home that does exude elegance.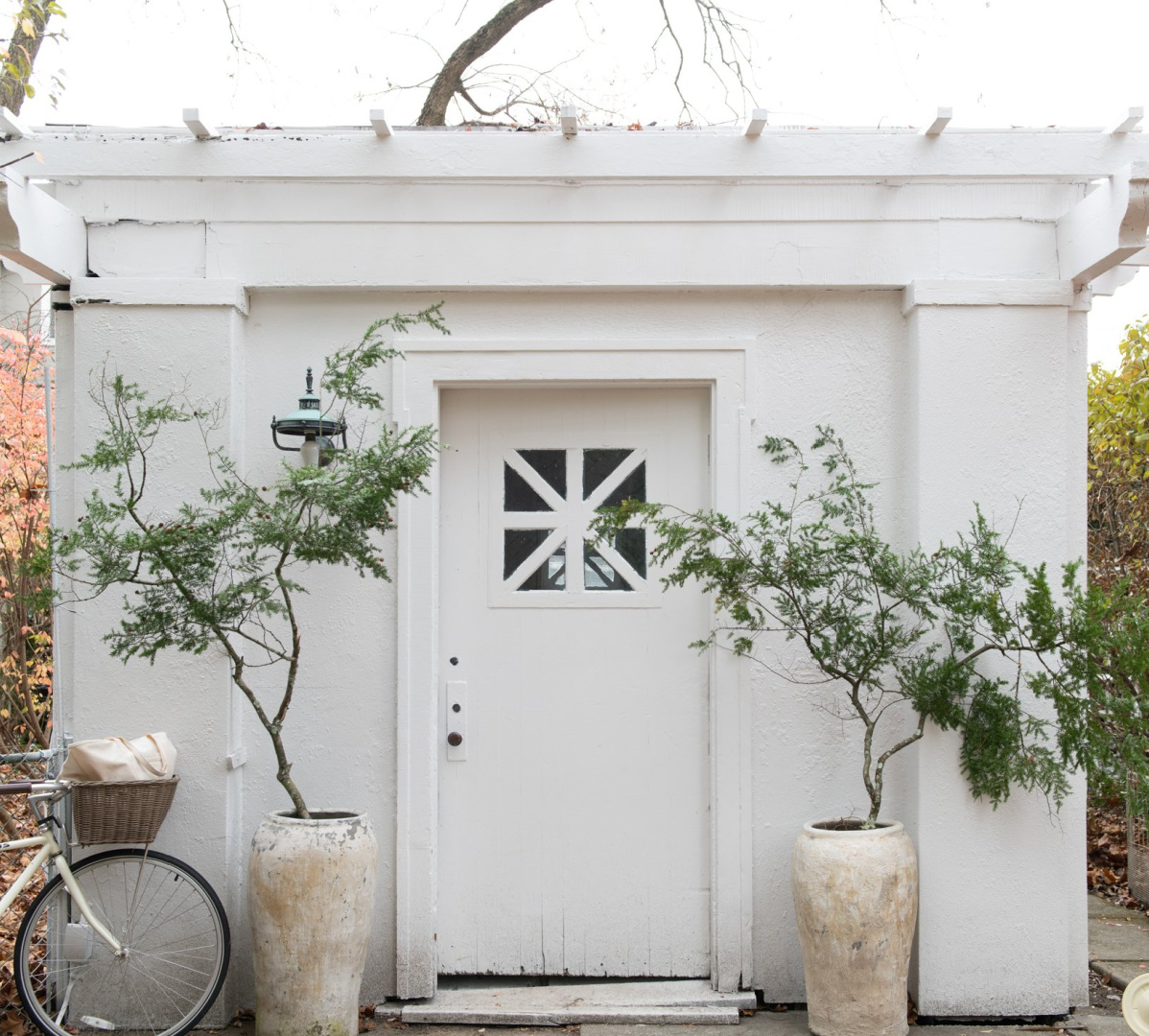 What's interesting about Leanne Ford's use of cool white is that her projects are often rustic in nature.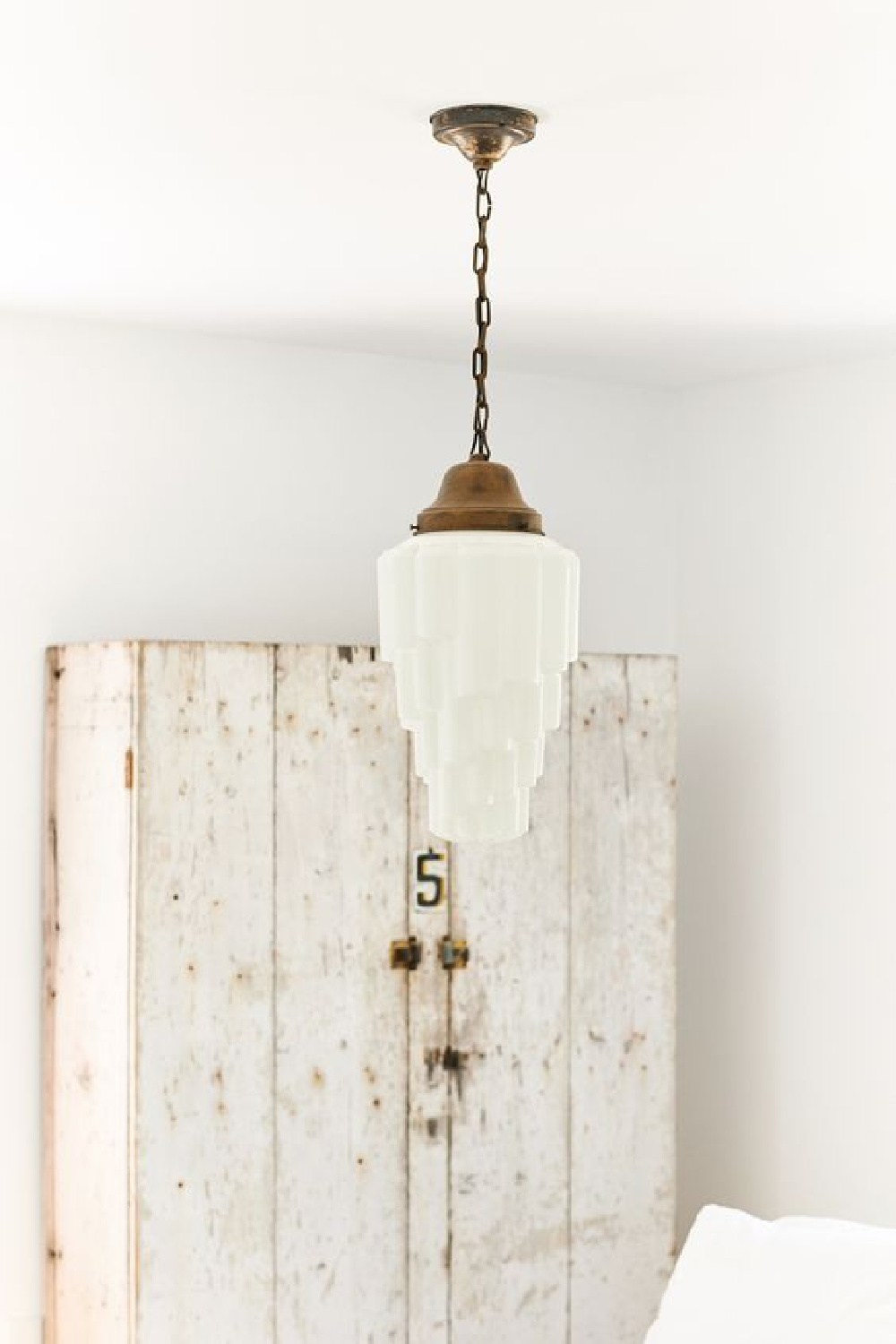 Colors that feel elegant and sophisticated paired with rustic textures and informality create a pleasing tension.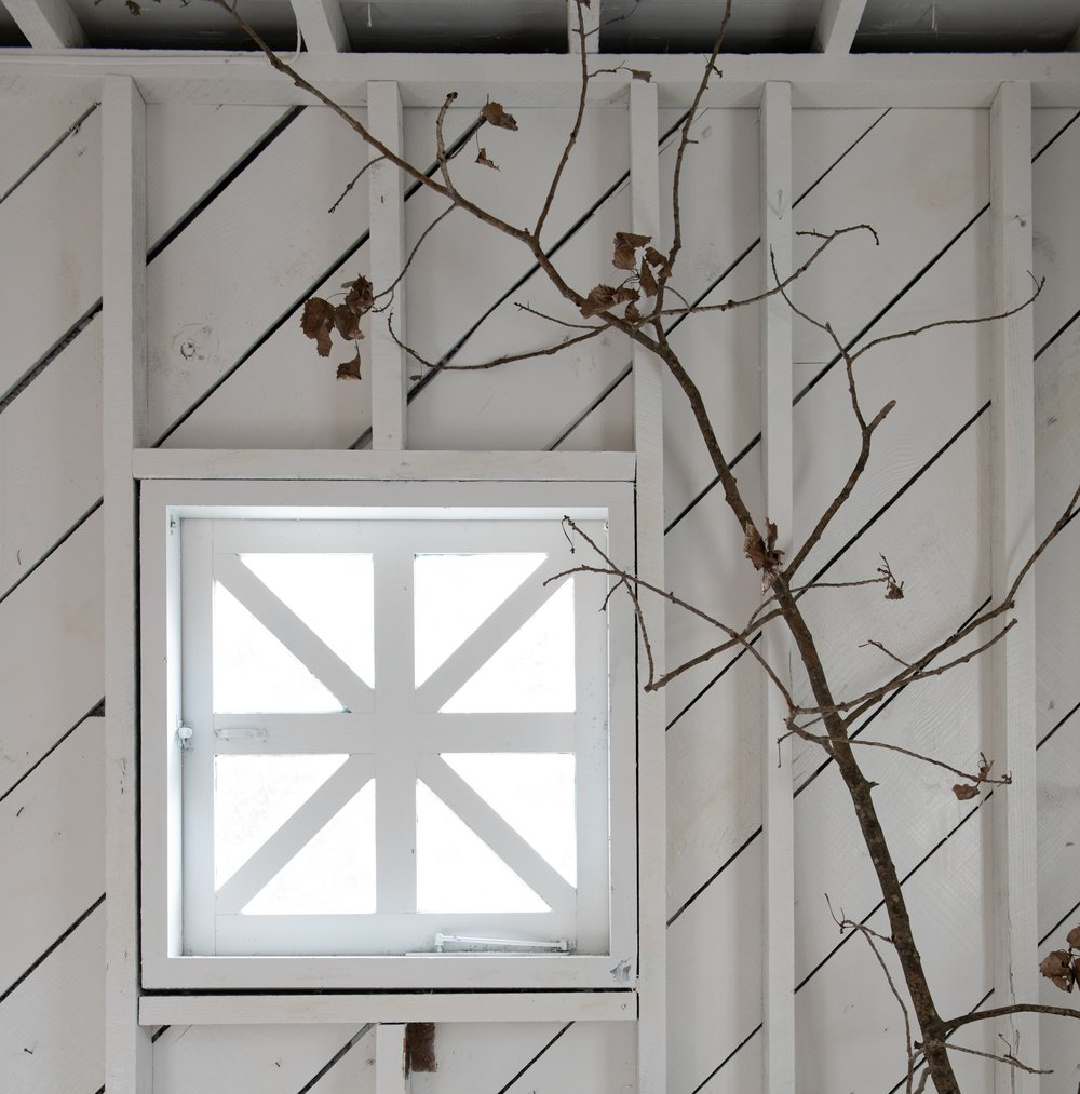 It's a way of creating serenity and also edginess to keep a place from feeling too rustic, too pretty, or too precious.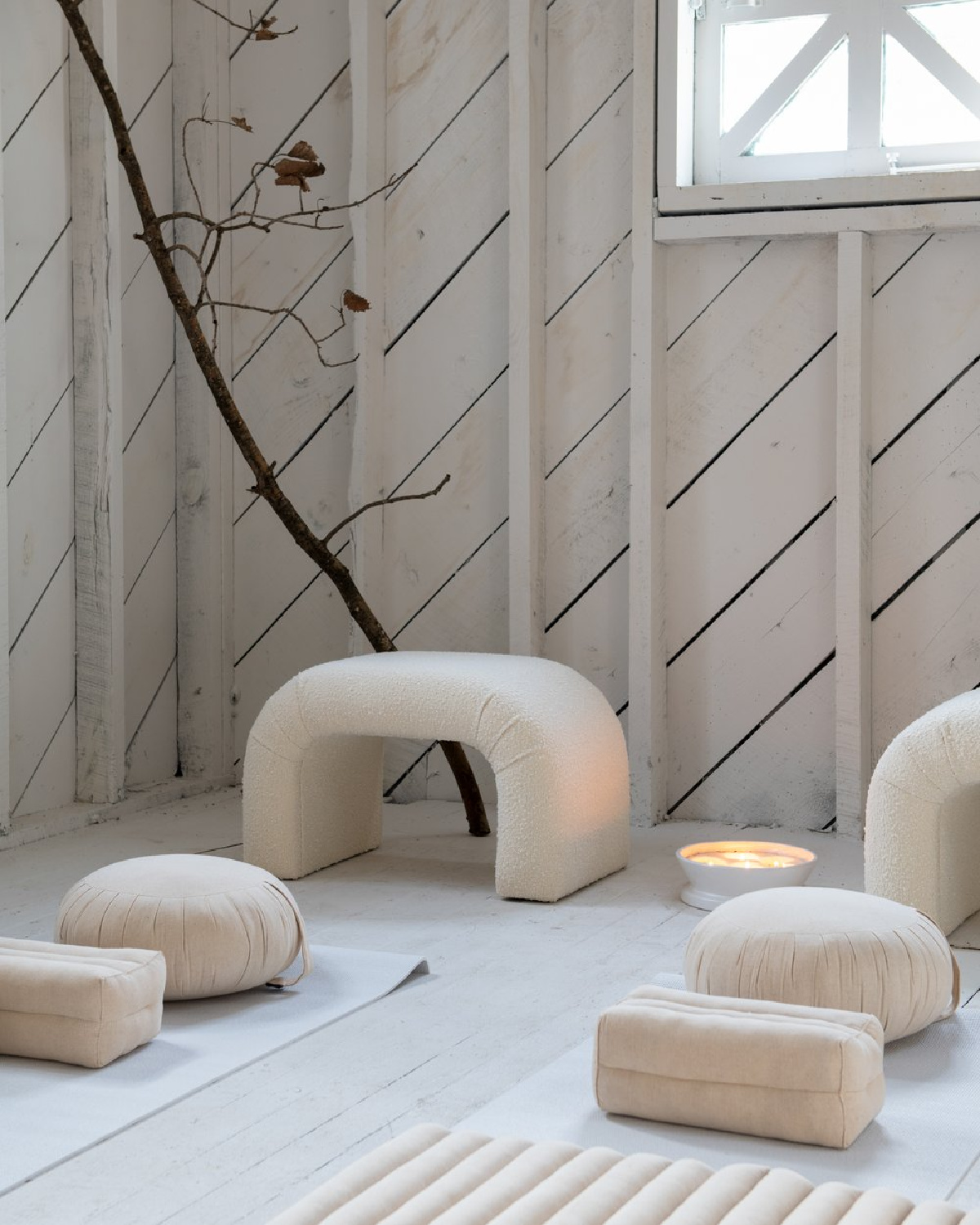 Cool Whites Comparable to Cameo White
Here's the gorgeous cool white I alluded to earlier that is a Sherwin-Williams white quite similar to Cameo White:
Eider White is one of the more interesting cool whites I have discovered. It was here in the kitchen and nook when we bought the home two years ago (brown cabinets, brown trim and the whole house brown brown brown!). I liked Eider White enough to leave it alone. Then I loved it when it worked with the design elements I gathered for the kitchen's full renovation.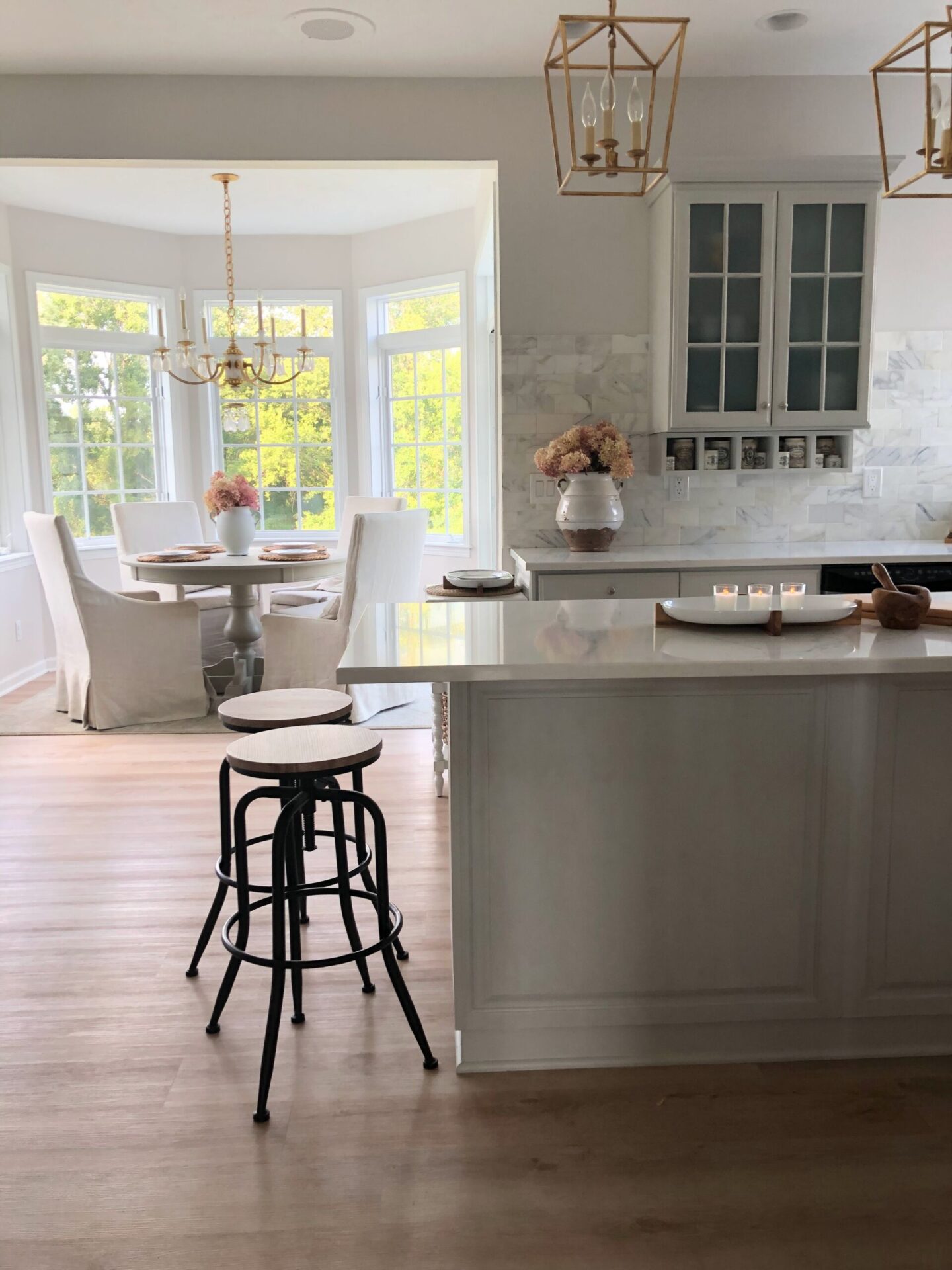 It works beautifully with calacatta gold marble. And it has subtle pink/purple undertones which are perceptible depending on the light. I'm generally never mad at pink undertones because they can be so daygum flattering to complexions. Designers have added drops of pink to white ceiling paints forever because they know this secret!
I independently selected products in this post—if you buy from one of my links, I may earn a commission.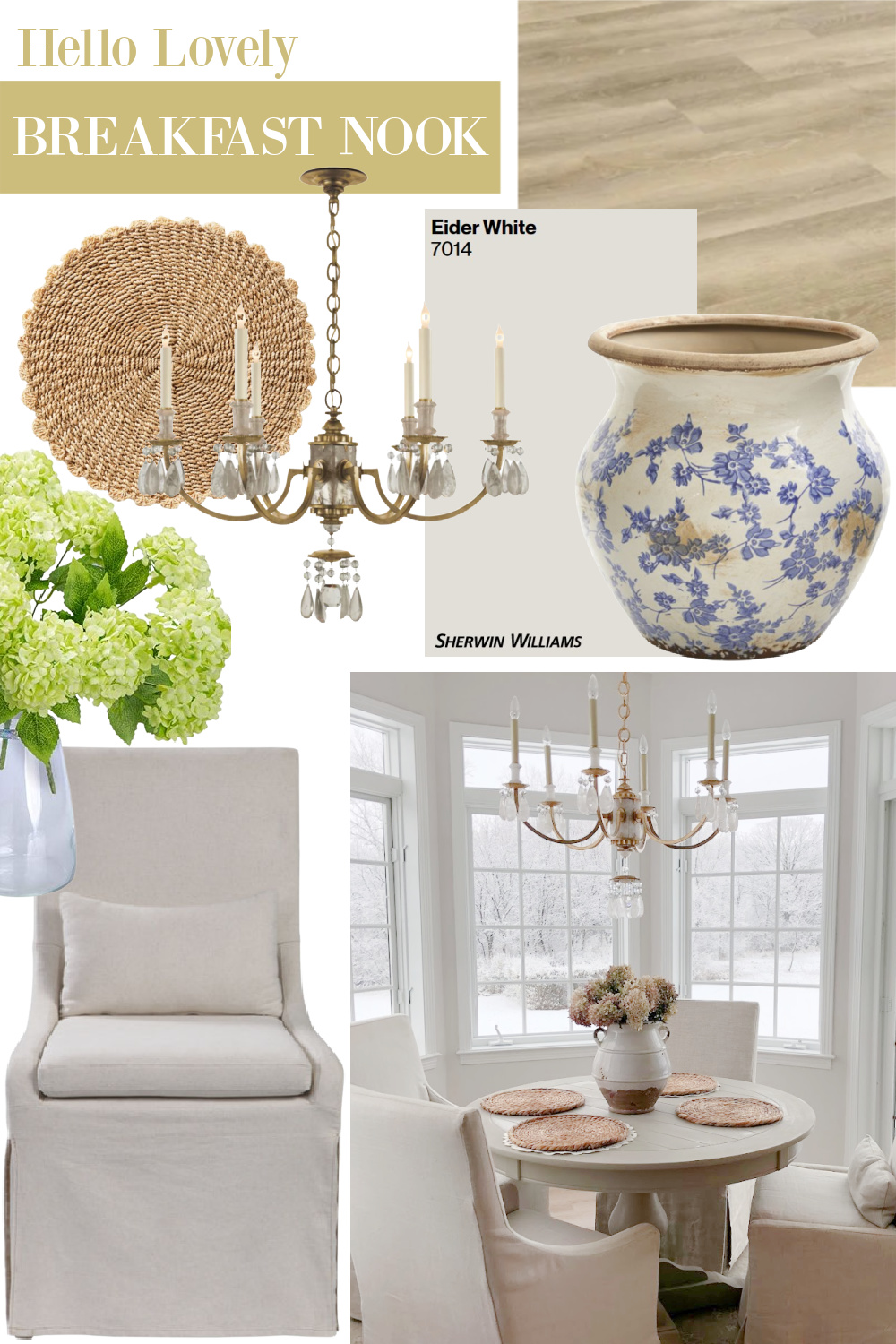 Another idea for a cool white like Cameo White but in another paint brand?
It's a fabulous color that a growing number of folks have discovered as a pleasing house exterior paint color. I go into detail about it in THIS.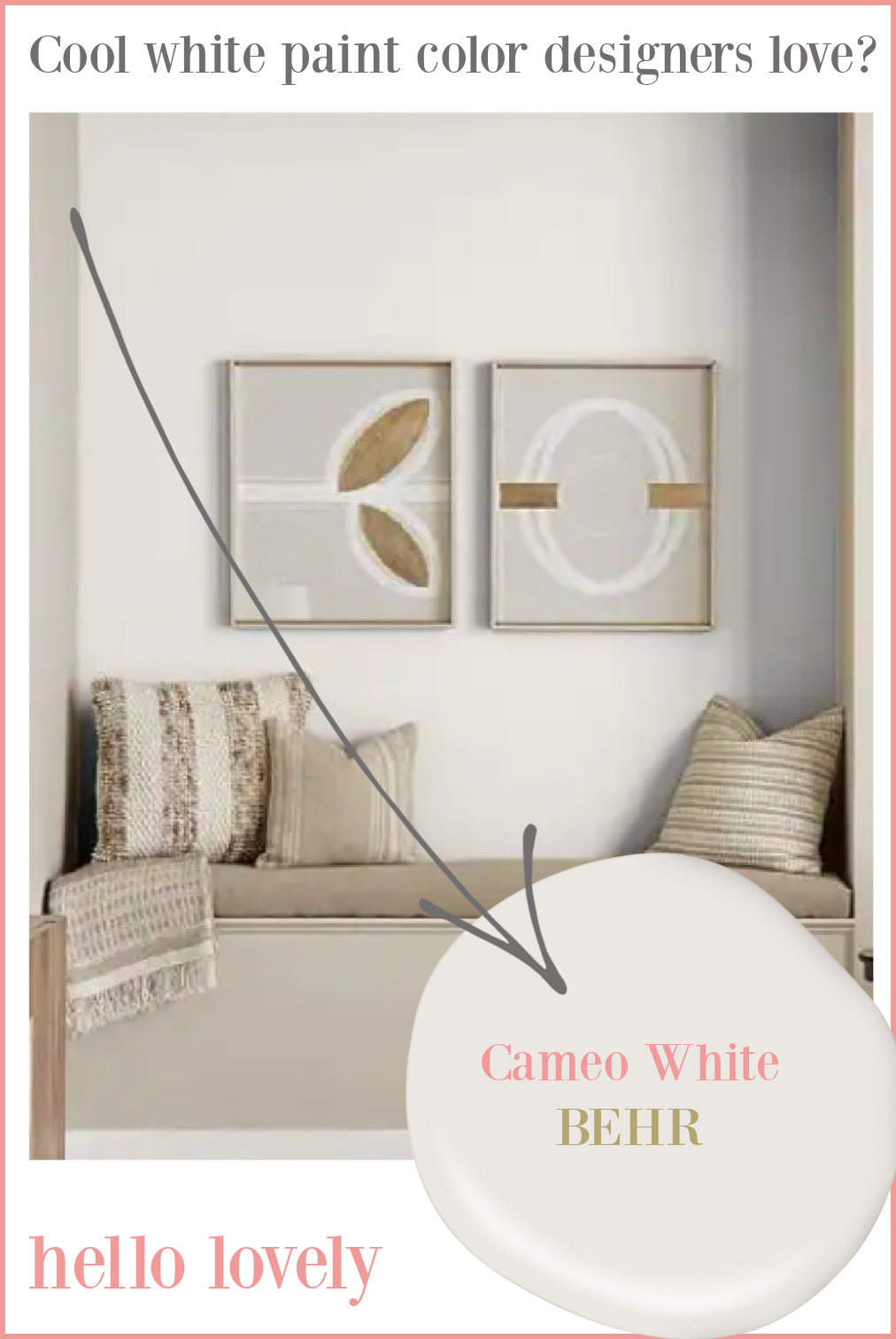 I hope these picks from Leanne Ford, inspirational photos, and ideas for paints to sample empower you to choose wisely. Sometimes you simply need a place to start!
Peace to you right where you are.
-michele
Thanks for shopping RIGHT HERE to keep decor inspiration flowing on Hello Lovely!
Hello Lovely is a participant in the Amazon Services LLC Associates Program, an affiliate advertising program designed to provide a means for sites to earn fees by linking to Amazon.com and affiliated sites.