Backsplash Ideas for Blue Kitchen Cabinets brings inspiration to help you choose a backsplash material, color, or texture for your kitchen design. Even though cabinetry, appliance, and countertop materials tend to be the big ticket items for a kitchen remodel or new build, a backsplash always makes a huge impact. More than protecting walls from splatters and moisture, splashes often bring style, identity, personality, and architectural interest to the scheme.
Backsplash Ideas for Blue Kitchen Cabinets to Inspire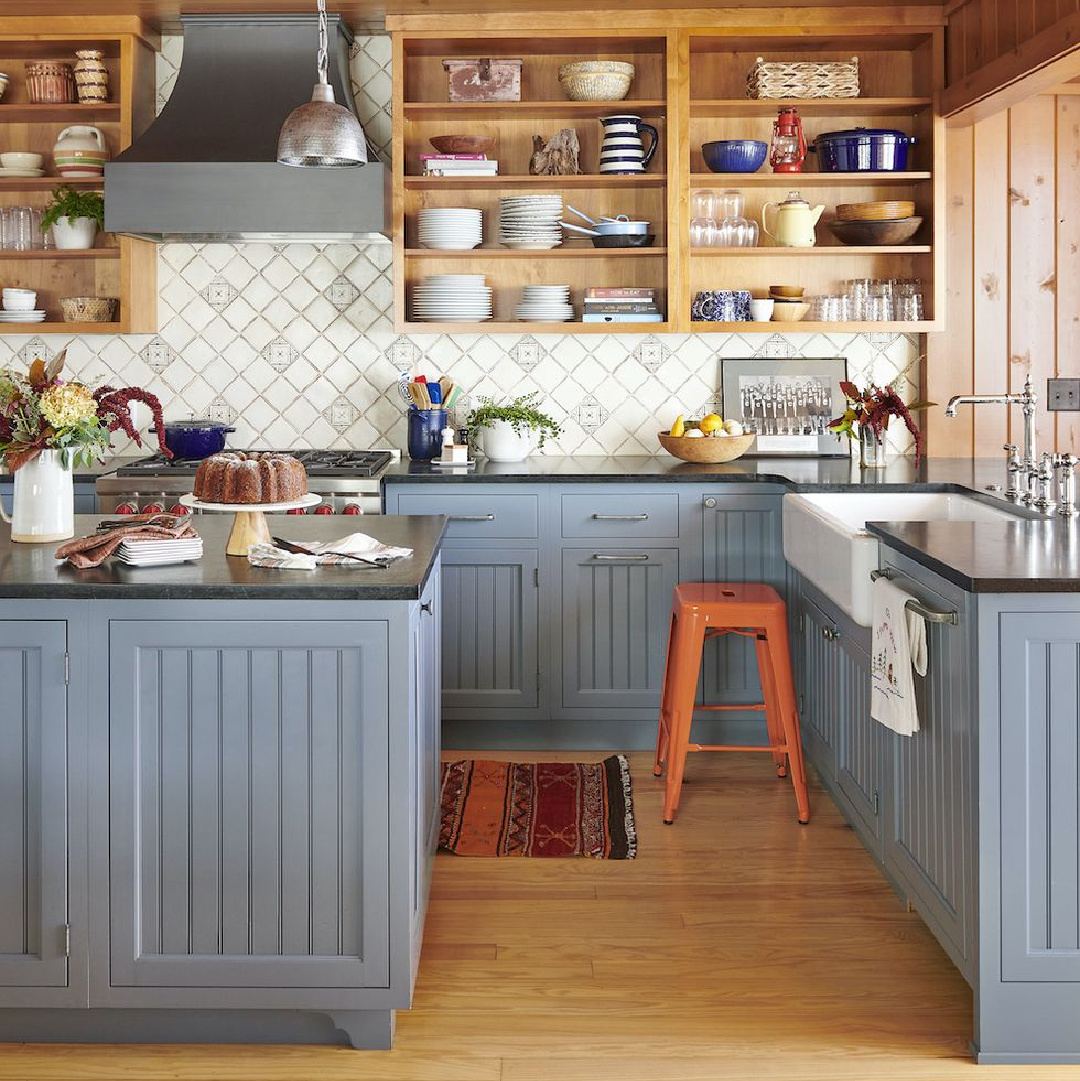 Choosing the Right Kitchen Backsplash to Suit Your Design
My experience with blue kitchen backsplash ideas is fresh in memory since we renovated our kitchen only months ago! We gave 30-year old dark wood cabinets new life with light blue-grey paint and installed Calacatta Gold marble subway tile to coordinate with Viatera Muse white quartz counters.
If you're not sure what material will best suit your kitchen for the backsplash, I suggest thinking about STYLE, BUDGET, COLOR, CONTRAST and PAST EXPERIENCE.
How to Choose the Right Style Backsplash
While there are no steadfast design rules for backsplashes in terms of style (a subway tile backsplash can look right at home in a modern or a traditional kitchen), you should consider whether you're after a particular classic, timeless, traditional, contemporary, trendy, coastal, romantic, glamorous, country, urban, or industrial style look. Viewing images online of kitchens will help you narrow down a style even if you aren't design savvy.
As a real life renovator, I recommend sticking with classic materials and patterns over trendy ones so that you don't feel the need to change it in a couple of years. It can be changed, but it is not fun (no matter how fun they make demo look on TV) to re-do it since demo often damages walls and creates more labor and material expense.
Price Range for Kitchen Backsplashes
The wonderful part about this kitchen design feature is you can create a beautiful look no matter the budget. Installation costs $15 to $40 per square foot, and the cost for material varies significantly. Ceramic tile is a popular choice, widely available, and a relatively easy DIY if you care to save the expense of labor. Subway tile, for example, may cost under $1 per square foot, while a handmade specialty tile could cost $100 per s.f. The cost for marble, stone, or quartz backsplashes can range from $10-$120 per square foot.
Color, Contrast, Sheen, & Grout Issues
With blue cabinets, do think carefully about the color of your backsplash since it will need to harmonize with the cabinetry, walls, and counters. As you view images online, notice the relationship and colors…are there certain combinations to which you are drawn? Notice contrast too. While a white backsplash may sharply contrast with blue cupboards, its contrast with a white countertop will be low.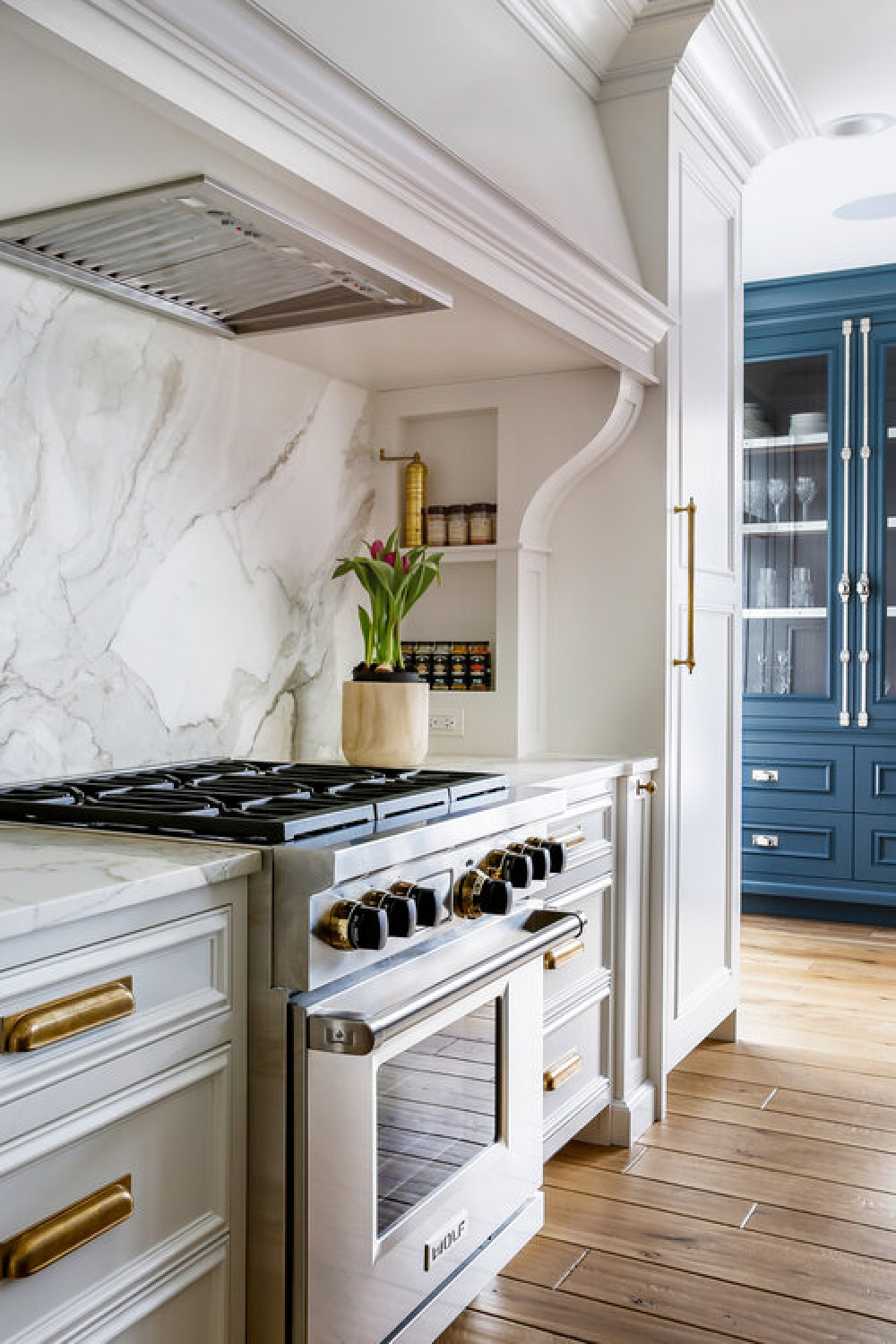 For tile, determine whether you prefer glossy, honed, matte, tumbled, smooth tile, etc. In my experience, bringing samples to view in the actual space is the only way to feel confident. Viewing tile in a store under fluorescent lighting or ordering a quantity of tile from images online are not fun or reliable options. View completed kitchens and lots of photos online to decide on grout color. Your past experience with grout may also inform your decision.
Marble Subway & Mosaic Tile Backsplash
I'm crazy about marble mosaics, and it's not always easy to detect whether it was a mosaic installation or individual tile installation.
Typically, mosaics save lots of labor and time since the spacing is already done.
Subway style can mean rectangular tiles that are 3×6, smaller, or larger. Keep that in mind when you're shopping and be sure to determine which scale appeals to you.
For our recent reno, we went with individual marble tiles because we wanted more traditional sized tiles which turned out to be much more labor intensive than a mosaic.
Wood, Beadboard, & Tongue & Groove Backsplashes
It may not be as popular for backsplashes in the USA, but wood can be beautiful in areas that won't get too wet.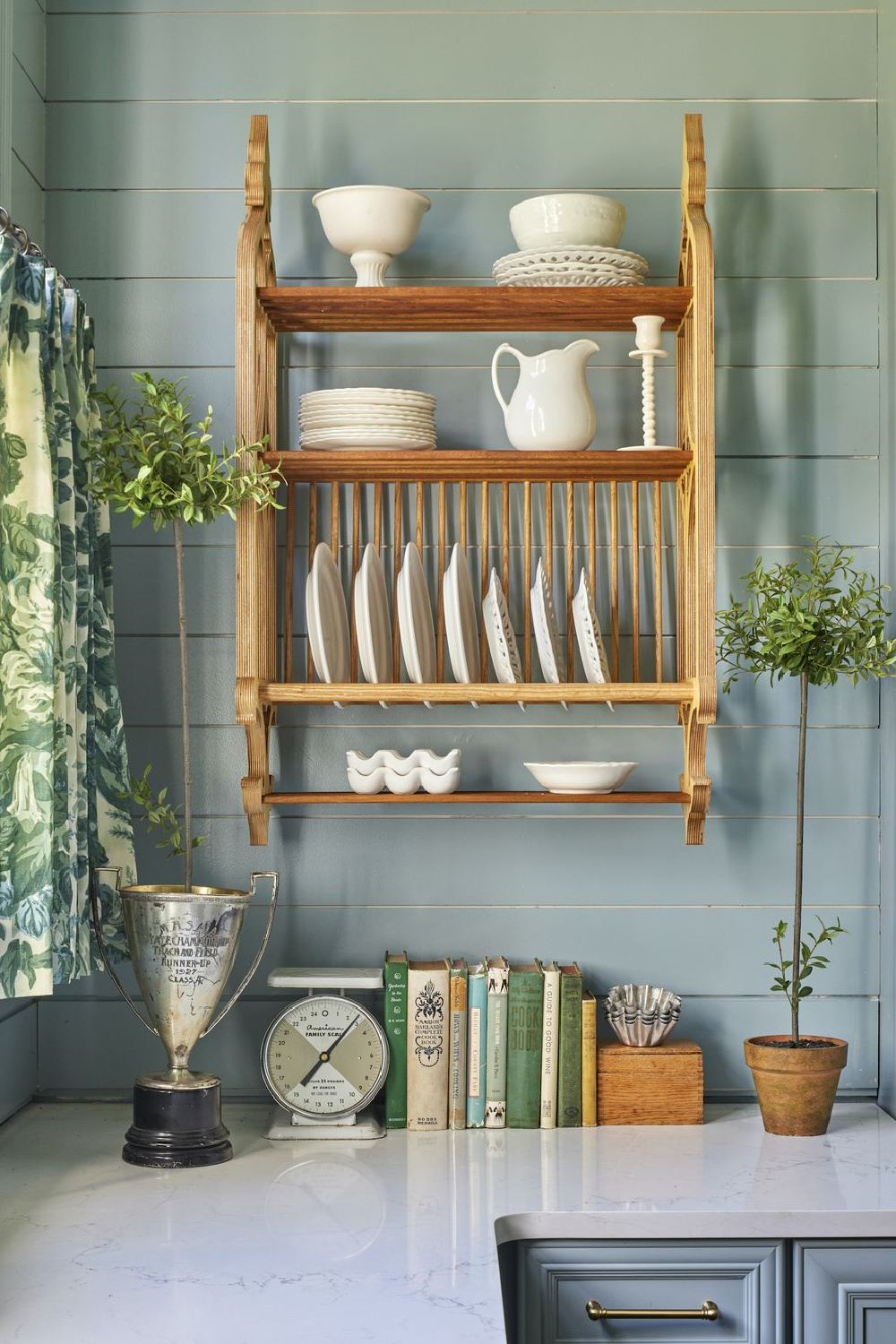 Wood panels, planks, and products can also be great above an existing 4″ backsplash where you want to fill in the area below the cabinet (in most cases, the 14″ of wall between bottom of upper cabinet and top of standard backsplash).
Wood can also offer a rustic or custom look as long as you're aware of the extra care or protection for it.
It can even be a showstopper in luxurious kitchens where aesthetics may trump durability issues for a backsplash.
In this light blue kitchen below, the glass window serves as backsplash!
Beaded board can be a budget friendly way to protect the wall, add architectural interest, and enhance a country look.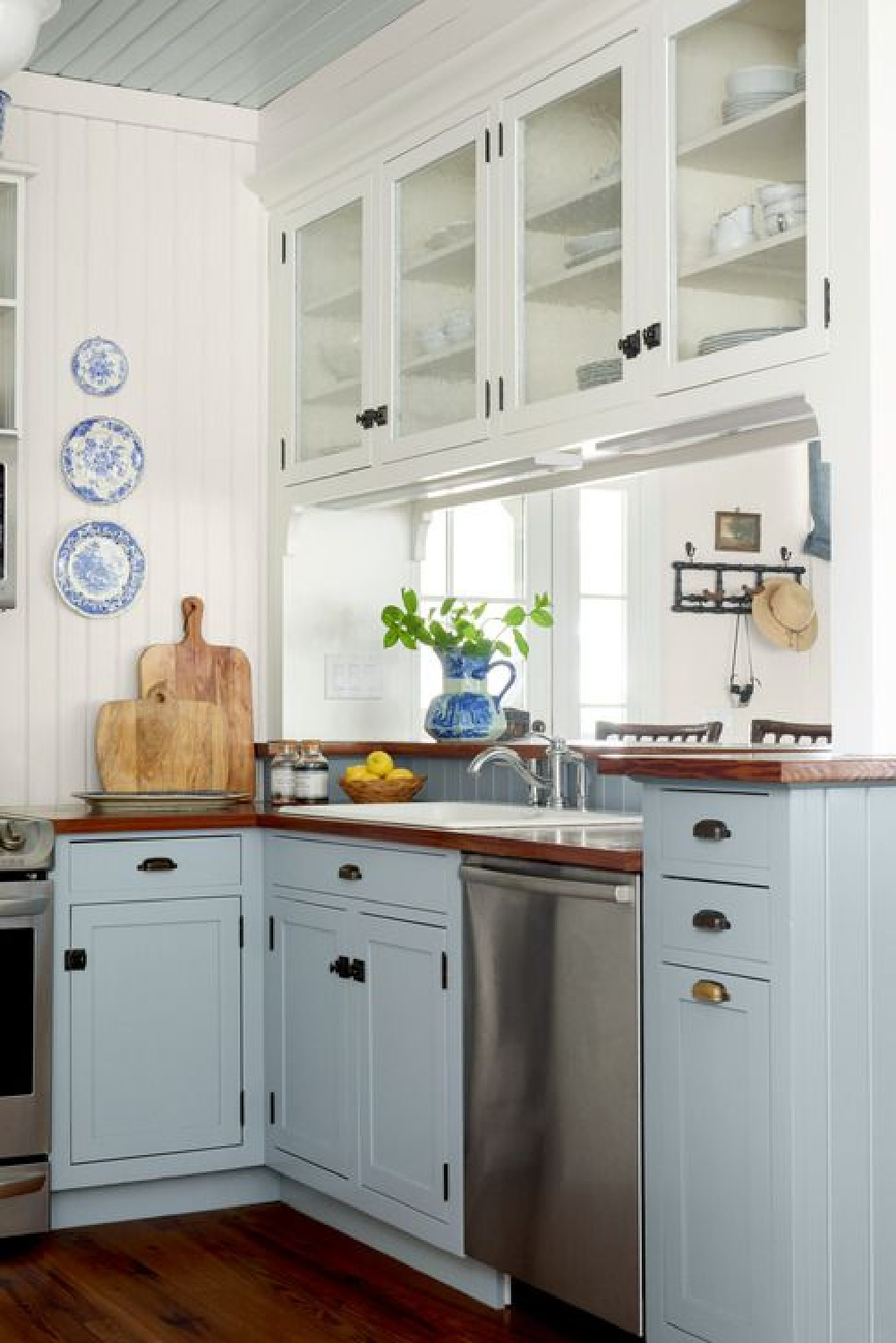 Not only is it a cost effective solution (with no grout!), since the material can be painted to match cabinets or counters, it is a way to completely customize the look.
Wallpaper Backsplash in a Blue Kitchen
It may not be the most popular way to decorate a backsplash, but wallpaper can be a whimsical and bold addition. How will it stand the test of time? In a real working kitchen that is used daily, it will definitely show signs of wear – so common sense will tell you whether it makes sense for your project.
Encaustic Tile (or Cement Tile "Look" Tile) Backplash
Keep in mind authentic encaustic/cement tiles are going to be much more expensive than ceramic or porcelain tiles that look like cement.
Cement tiles are also thicker and heavy. There are plenty of options that look like the real thing!
Classic White Subway Tile Backsplashes
There's a good reason they are so popular, and you need not worry about this being a trend that is not a safe choice.
Even if "modern farmhouse" style falls from favor, white rectangular tiles make sense for a variety of design styles and kitchens.
Subway style tiles can be machine made, handmade, tumbled, reflective, or matte.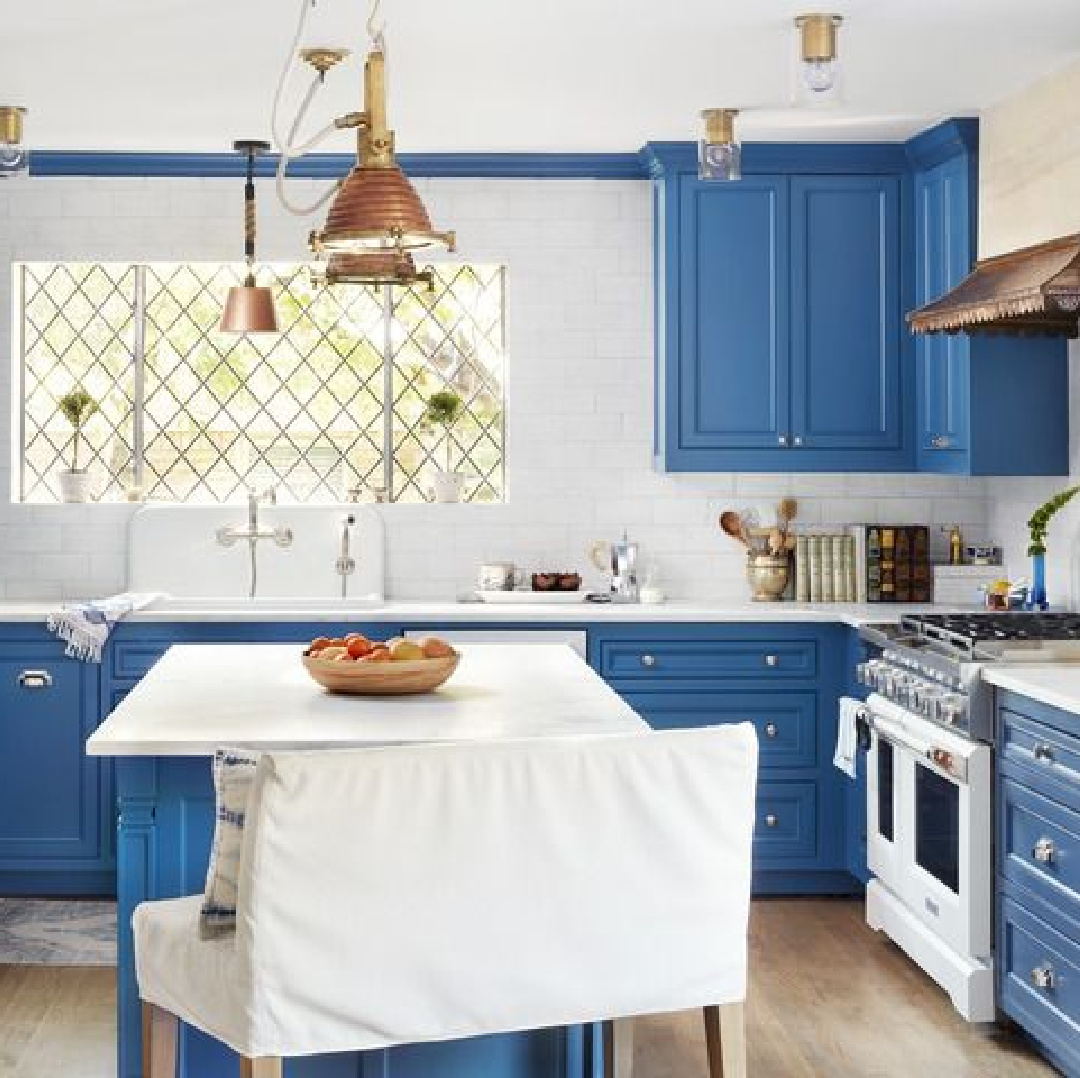 White grout will impart a different feel than grey or dark grey grout.
And there are plenty of colors beyond white.
Subway tile can be ceramic, porcelain, marble, glass, or cement.
In the blue kitchen above, you can see how a reflective subway tile will really bounce the light around.
In the kitchen above, the tile appears more matte and subdued.
Even if you know for sure you want subway tile, it's a good idea to look at lots of images online (expand them!) to determine what size subway tile appeals to your eye.
Then get a sample to view in the kitchen with your cabinets and counters to be sure you like the scale.
Traditional Handpainted & Handmade Tile
While most folks want something fairly neutral for their kitchen's backsplash (like the handmade Zellige above), adding patterned tile to a particular area (like behind the range) can be beautiful.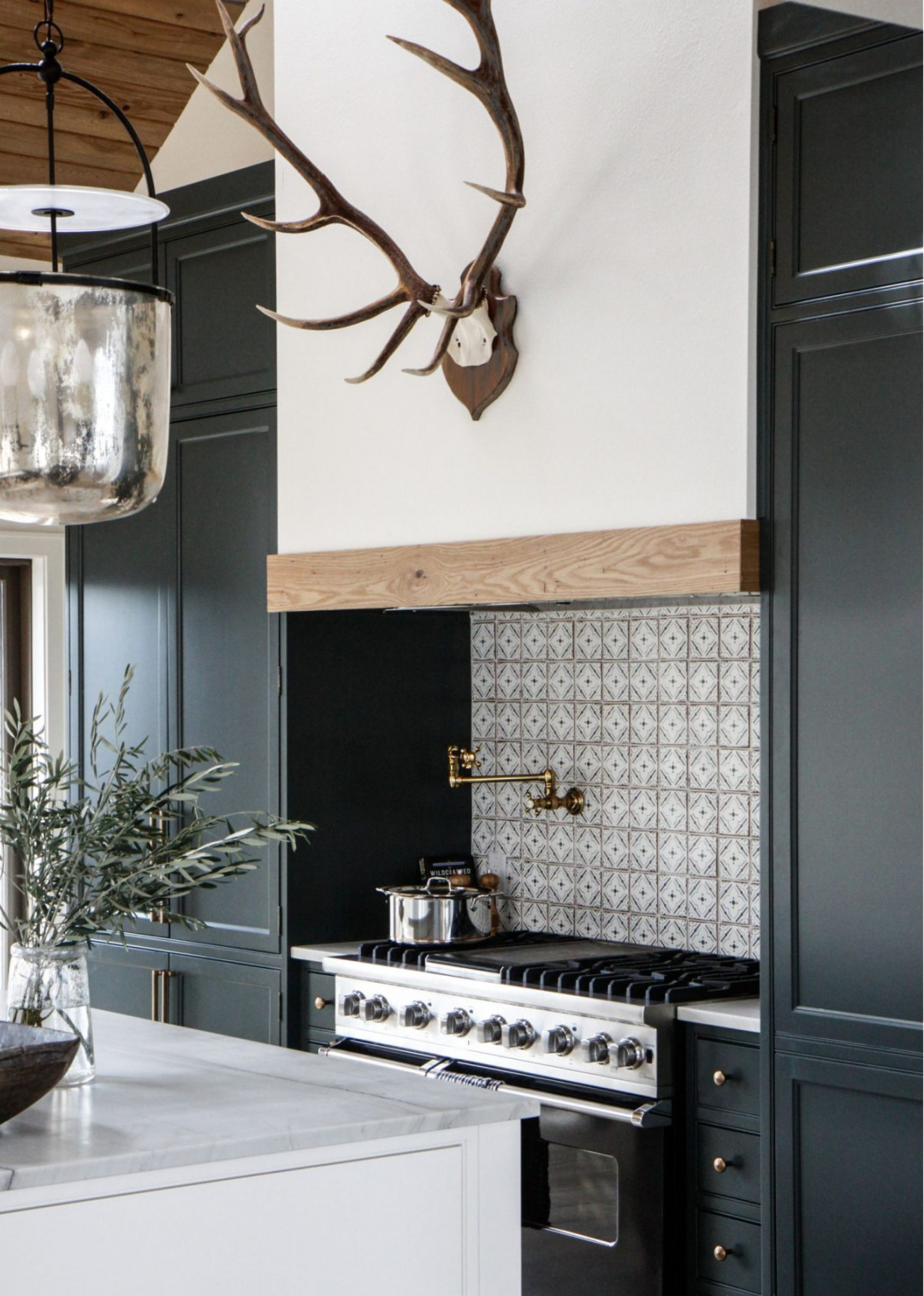 How much of the handmade or handcrafted tile you decide to use is a subjective matter. Sometimes bold is the way to go if you know you'll never tire of the pattern!
And sometimes budget will dictate how much of a handmade tile you'll use.
A checkered pattern is one of those timeless classics that is as relevant now as it was a century ago.
Stone or Quartz Same as Countertop
A custom marble, granite, or quartz backsplash can be beautiful when you want to repeat the same material.
If you're a DIYer, it can also save a lot of labor to get countertops AND backsplash installed by someone else in one fell swoop.
Let's face it. Choosing a tile or material to coordinate with your countertop material can be challenging so having a sure thing decided is one less headache!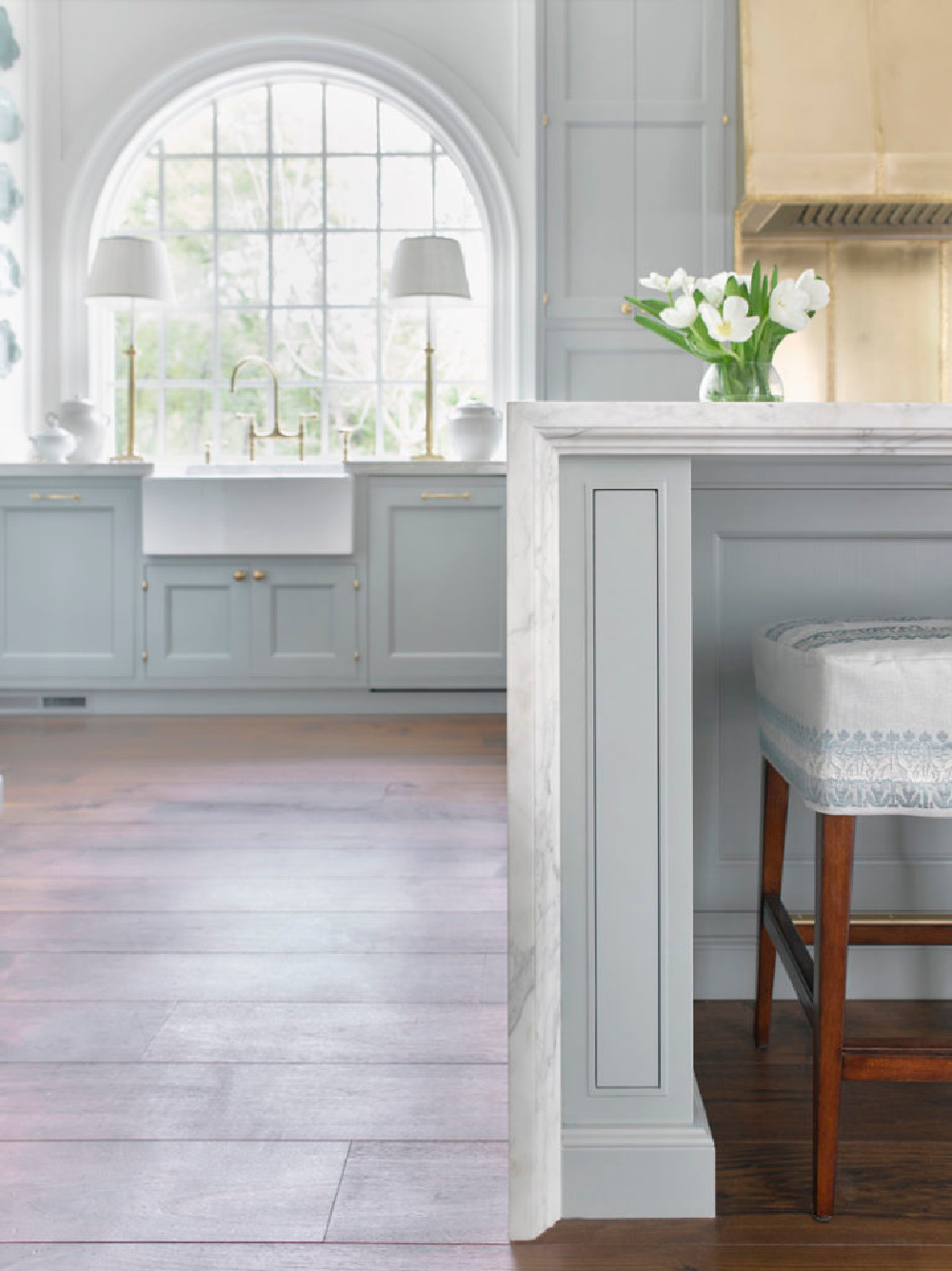 I independently selected products in this post—if you buy from one of my links, I may earn a commission.
Peace to you right where you are.
-michele
Shop for items you already intended to buy on Amazon RIGHT HERE, and also find home decor here to keep decor inspiration flowing on Hello Lovely!
Hello Lovely is a participant in the Amazon Services LLC Associates Program, an affiliate advertising program designed to provide a means for sites to earn fees by linking to Amazon.com and affiliated sites.