This is an inspiration site and not one of those here's a tutorial and 3-step plan blogs. I'm always hoping to ignite imaginative scheming and creative synthesis because I think that is where so much of the fruit is. So Neutral Color Stories & European Country Inspired Living Rooms won't be "actionable ideas to transform your space in a weekend." A timeless look takes…well…time. Painting your living room "French Gray" sure 'nough won't transform it into a country French house. But if a color speaks to you, it can provide a lovely canvas to begin the imagining!
European Country Inspired Living Rooms & Neutral Colors
I love the idea of noticing which color stories speak and then interpreting it in a fresh way in your own space. Most readers of this blog don't reside in the French countryside. Nor do most of us have access to a champagne-like budget for antiques, custom millwork, reclaimed wood floors, and ancient limestone.
But I guess I'm not interested in uptight discussions of the sort "well, that doesn't look authentically French" or "here are the only colors consistent with historical English country palettes."
I guess I'm hoping you're also not energized by such concerns. There are plenty of other blogs with revved up bloggers at the helm serving attitude if it's yer jam.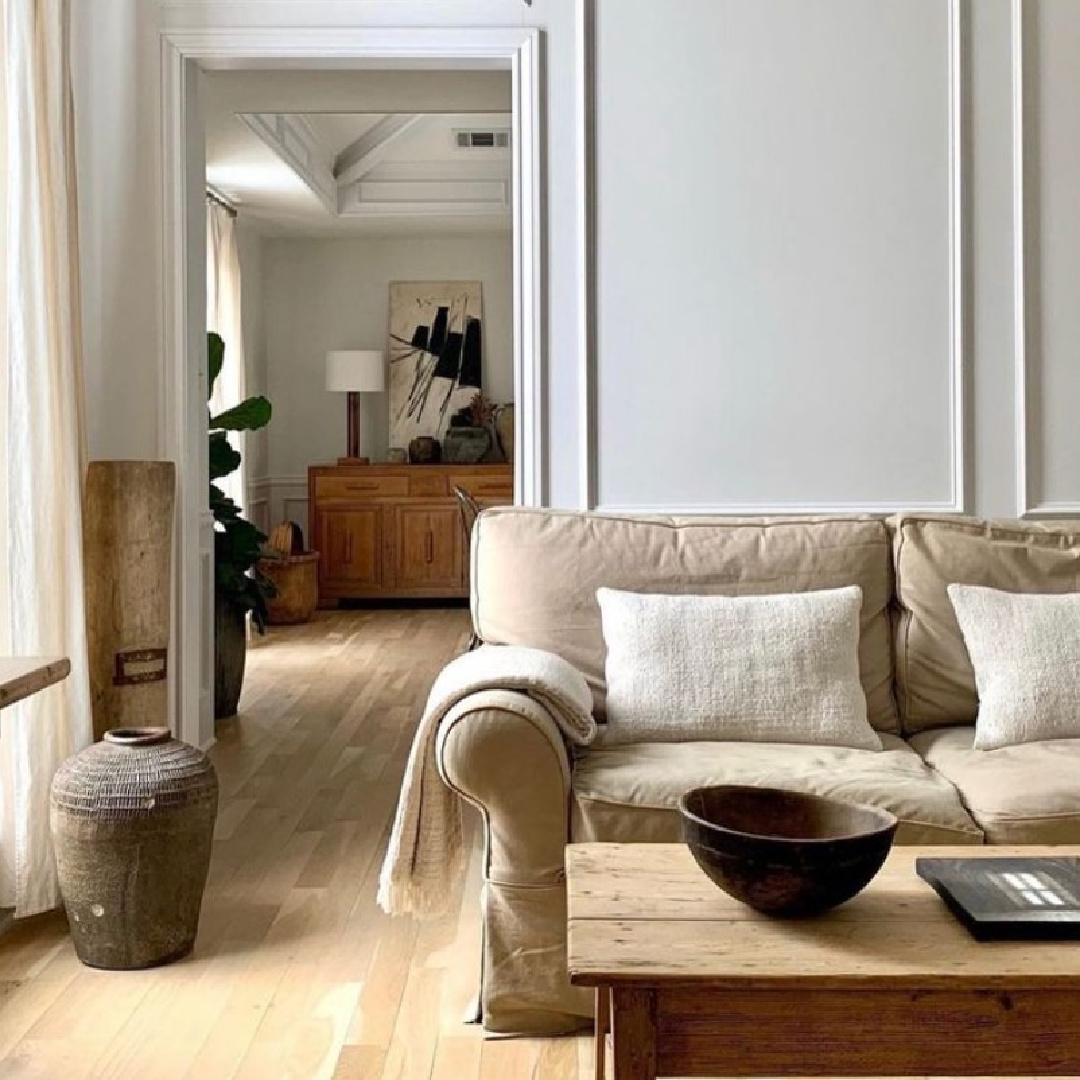 While I honor commitment to design purity and authenticity, the average homeowner lacks a hefty budget and free time. Does that mean we can't borrow ideas (like the palette) from European Country style living spaces, French kitchens, or dining rooms with sophisticated whimsy?
Bet you know my answer to purists who would prefer to keep me and my less-than-bougie-self locked out of the garden!
I'm not mad at purists. While I love the idea of purity and turning away from mediocrity, I am no longer young. I just don't have that kind of time! In plenty of areas of my life beyond design, I continue to notice "good enough" is truly good and truly enough.
Which is why I admire so many European Country inspired designs that feel relaxed, livable, and sophisticated yet approachable. You can imagine laughter echoing in these spaces. And life being lived authentically out loud.
Romantic French Country Inspired Pale Palette
Brooke and Steve Giannetti's living room at Patina Farm was a dreamy mix of old and new. What an incredible project that truly blurred the distinction between brand new and Old World!
Pale Walls & Tone on Tone
The point of the inspiration below is to illustrate how it's possible to forego window treatments, clutter, and heavy furniture or lamps to arrive at a Modern French look.
Belgian Linen Sofas
You just can't go wrong with this yummy upholstery for a French country or French farmhouse living room.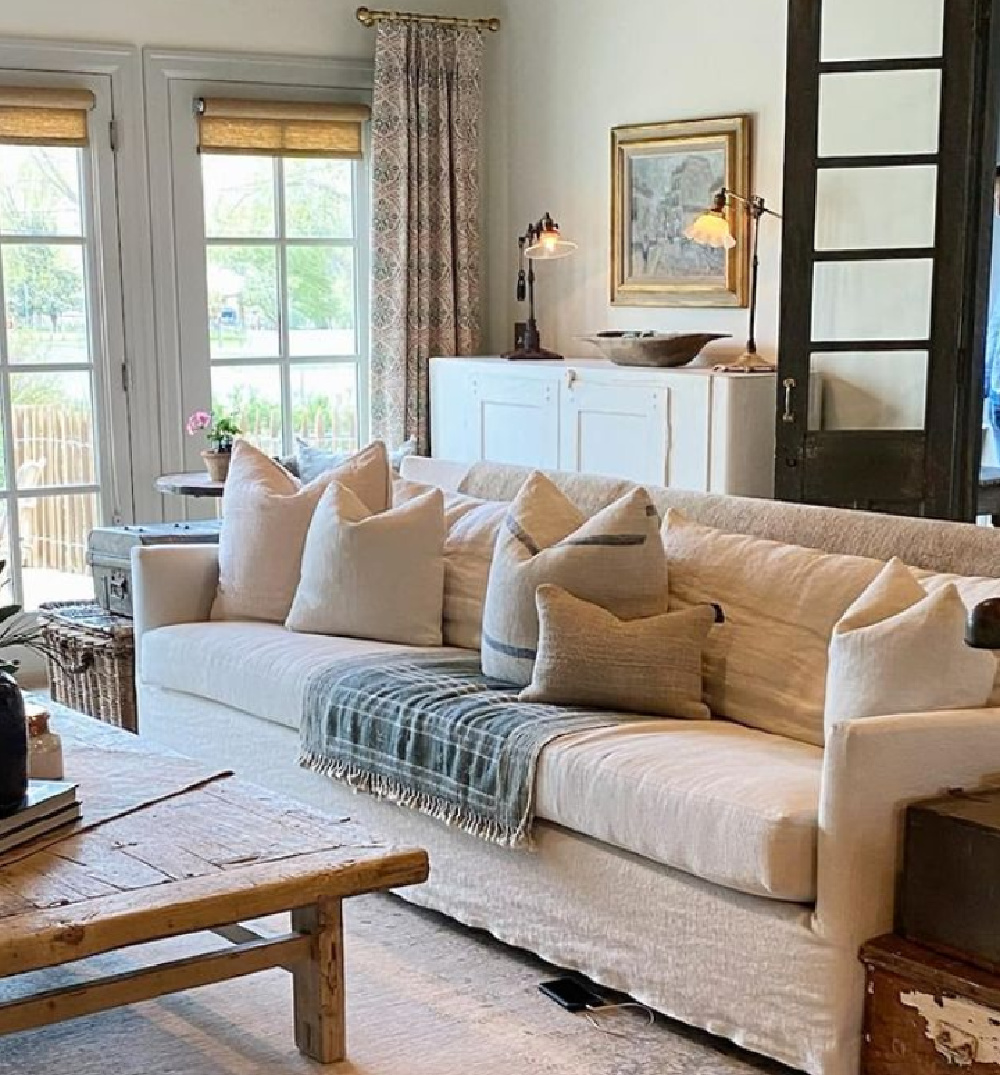 It's easy to change out the decor seasonally with such a neutral anchor in the living room.
Don't you love the dough bowl on top of the cupboard?
Lantern Pendants
These lanterns are such a charming way to introduce casual farmhouse allure to a room.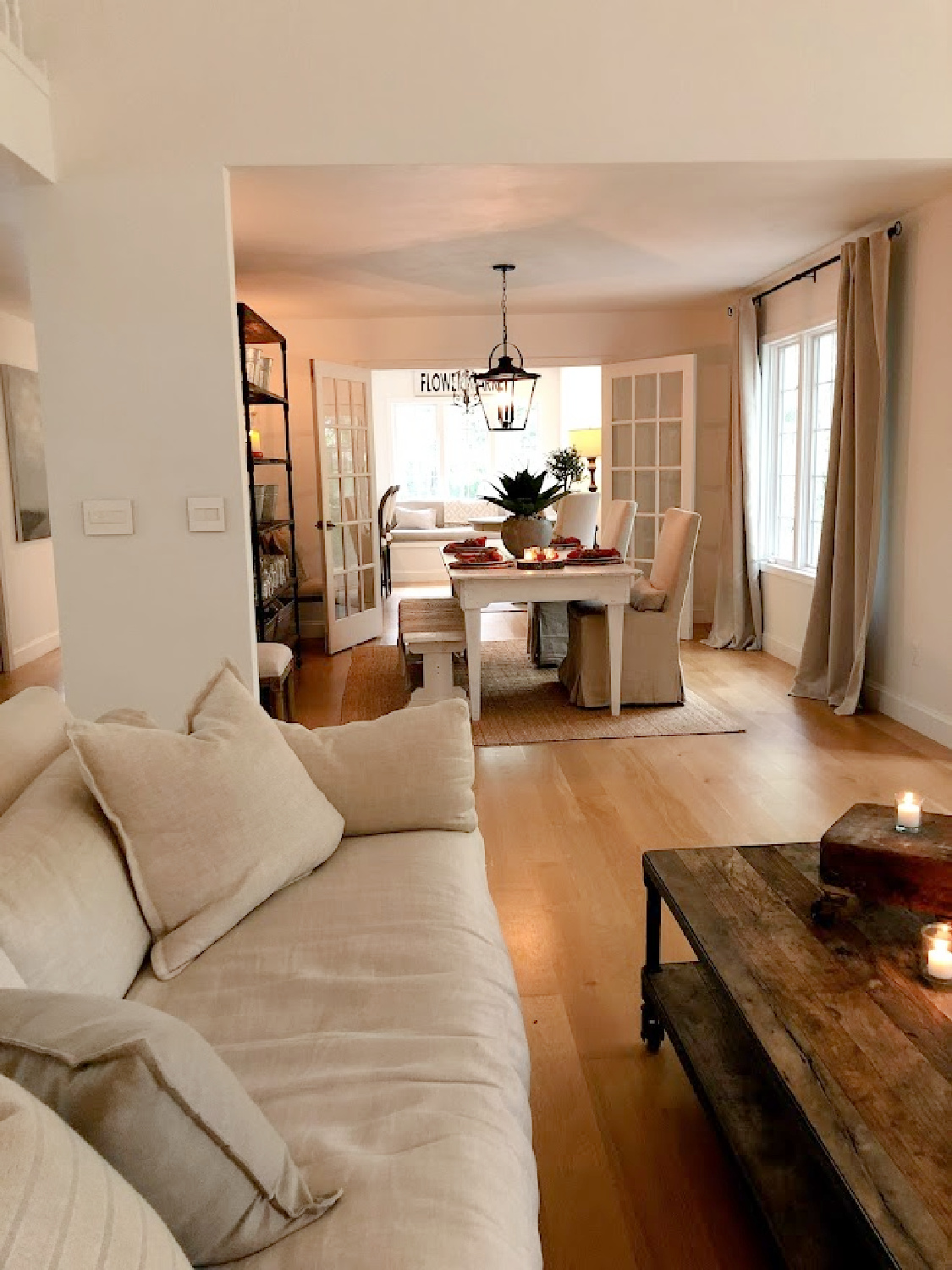 There are so many gorgeous examples from which to choose, and it is but another way of bringing the outside in as well as create glow and warmth inside.
Here's one I'm considering for our family room when we get around to sprucing it up:
My Favorite French Farmhouse Lantern Pendant
I love the hand-finishing of lighting from Visual Comfort, and it's not easy to find a white finish for lanterns!
For a more modern take on pendant lighting in a laid back country Frenchy living room, consider something simple like what Leanne Ford did in her guest cottage:
You may recall that Leanne lazily rubbed coffee on the walls to add texture and interest! (See more of Leanne Ford inspo here and here.) She doesn't just suggest an effortless look, she actually models not overdoing or exerting much effort at all!
French Nordic Inspired
I love the look of a long narrow wood coffee table for a casual look in the living room, and I'm also inspired by the rustic cupboard with glass doors all lit up inside!
Why should a fancy formal china cabinet get all the light!?! Isn't that a great idea?
It's safe to say I remain a fan of tone on tone through the years. This was our living room in 2008:
Trendy colors can be wonderful if you know yourself well and know you won't tire of them. I personally get bored with any color after a year or so. Neutrals? Never boring to me, and I even breathe easier.
This post contains affiliate links which I hope you will use since they won't cost you a penny extra yet may earn this blog a small commission.
Shopping Resources, Paint Ideas & French Lesson
Why not discover some French along the way… je vous en prie!?!
You'll find various furniture pieces and accessories for infusing your living room with the rustic elegance of French farmhouse style.
White Paint Color Ideas
Check out THIS POST for smart white paint color favorites from Leanne Ford. One day I'll share my own favorites (still busy painting in our bath even today!), and you'll love these ideas in the mean time.
You'll also find the favorite white paint used by interior designers in THIS.
French Grey Paint Color Ideas
Here are a few French Grey colors to consider for walls, trim, or furniture you may be touching with your brush. You can order sample pots of these online (the Behr paints ship free) to test a swatch in your space.
BEHR Silver Marlin
BEHR Still Gray
FARROW & BALL Pavilion Gray
Farrow & Ball's Pavilion Gray is a very Frenchy grey that closely resembles the custom grey paint hue the Giannettis used on trims at Patina Farm (see glimpses RIGHT HERE). You can order a sample of it before investing in it!
Need more pretty paint color ideas? Do visit my BEST PAINT COLOR board on Pinterest and pin away, please! The easiest way to see if a paint color will work is to order samples with Samplize and have them delivered straight to your door.
Lamp…La Lampe
Accent Chair…La chaise d'appoint
This one is pricier:
For a modern twist!
Pillow Cover…La taie D'oreiller
Chandelier…Le Lustre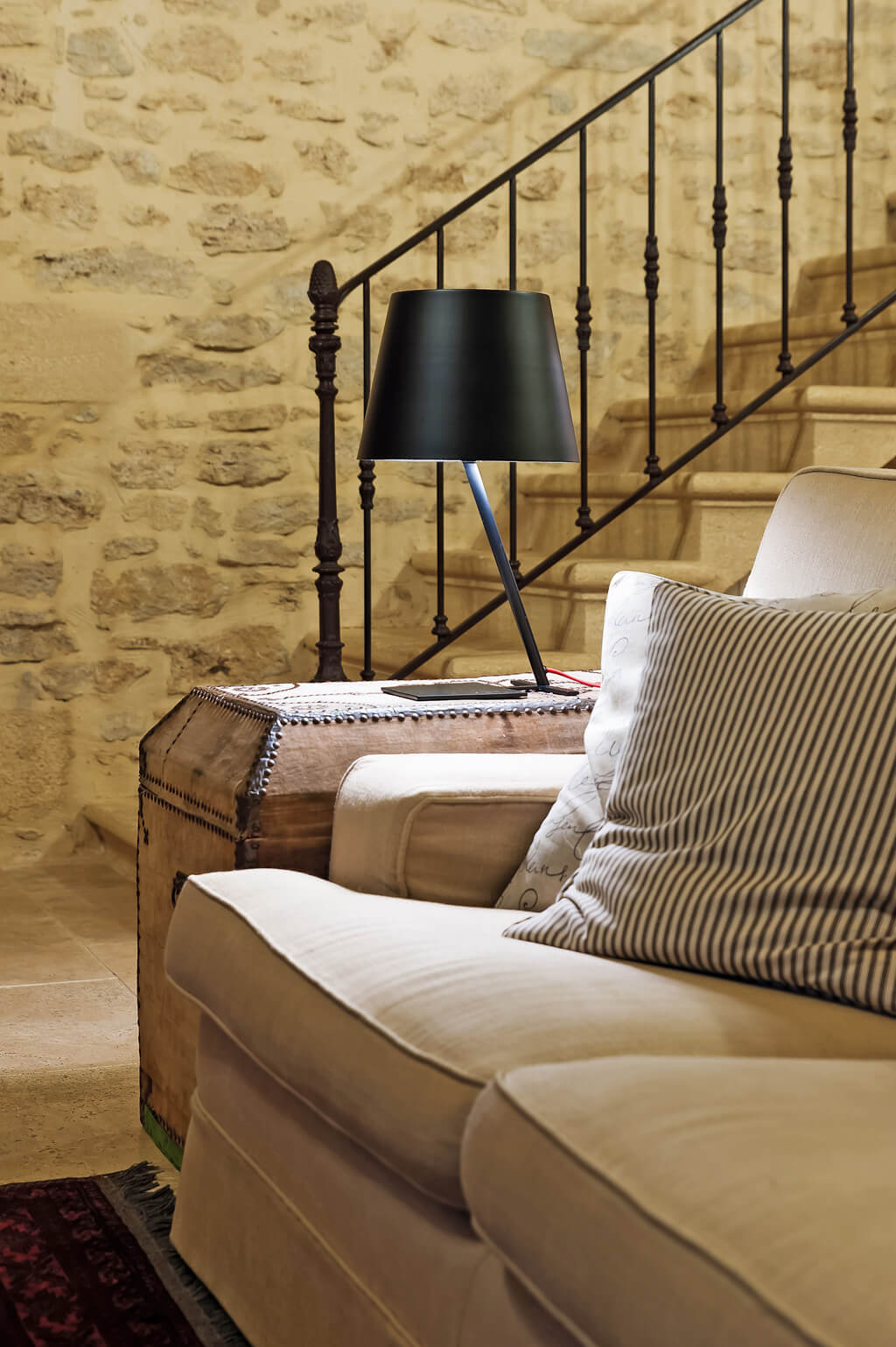 Wicker Trunk…Le Coffre En Osier
Settee…Le Canapé
Cremone Bolt…La Crémone
Table Lamp…La Lampe de Table
Console Table…La console
Stripe Chair…La Chaise à Rayures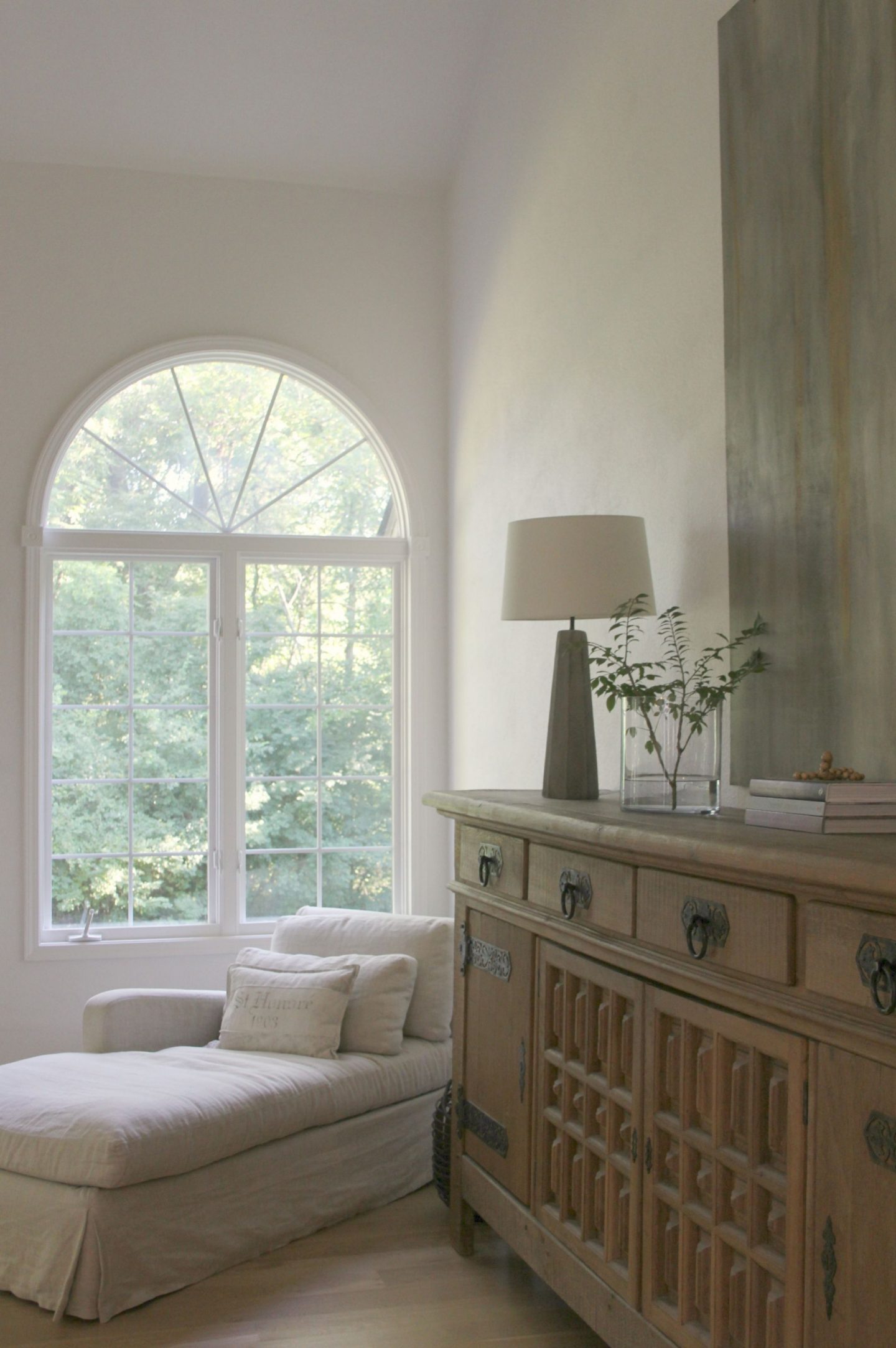 Fireplace Mantel…Le Manteau de la Cheminée
Seagrass Basket…Le Panier d'Herbiers
Chalk Paint…La Peinture à La Craie
Farmhouse Table…La Table de Ferme
Olive Tree Topiary…La Topiaire de L'olivier
Wood Candle Holder…Le Bougeoir en Bois
Confit Pot…Le Pot Confit
Rustic Candle Holder…Le Chandelier Rustique
Jute Rug…Le Tapis de Jute
Door Stop…La Porte Arrêt
Chandelier…Le Lustre
Curio Cabinet…Le Cabinet de Curiosité
Gold Leaf Mirror…Le Miroir Feuille D'or
Terra Cotta Jug…La Cruche en Terre Cuite
Distressed Vase…Le Vase en Détresse
Vintage Style Chandelier…Le Lustre de Style Vintage
Crackled Vase…Le Vase Craquelé
Ever Dream of Buying in France?
Poetry to Light the Soul
I independently selected products in this post—if you buy from one of my links, I may earn a commission.
Peace to you right where you are.
-michele
Shop for items you already intended to buy on Amazon RIGHT HERE, and also find home decor here to keep decor inspiration flowing on Hello Lovely!
Hello Lovely is a participant in the Amazon Services LLC Associates Program, an affiliate advertising program designed to provide a means for sites to earn fees by linking to Amazon.com and affiliated sites.