These paint color ideas for chic beige kitchen cabinets will ease your mind. It can be daunting to choose the right shade from so many choices when you begin to browse online. And how will you know if the color is going to look right with your particular kitchen with its unique artificial light, natural light, and unique lighting conditions? I have ideas for that too.
Paint Ideas for Chic Beige Kitchen Cabinets
I independently selected products in this post—if you buy from one of my links, I may earn a commission.
Keep in Mind Many Names Won't Contain the Word Beige
As you consider these contenders, keep an open mind when you see the paint color name or even the swatch. Some people see a putty color and think "white." Other people see the same tone and instantly surmise "oh, a pale greige with a hint of mossy green."
The thing is, my favorite colors are the ones difficult to describe with words. It sort of reminds you of natural linen, but in some light or at a particular time of day, it suggests gray-green or pale stone.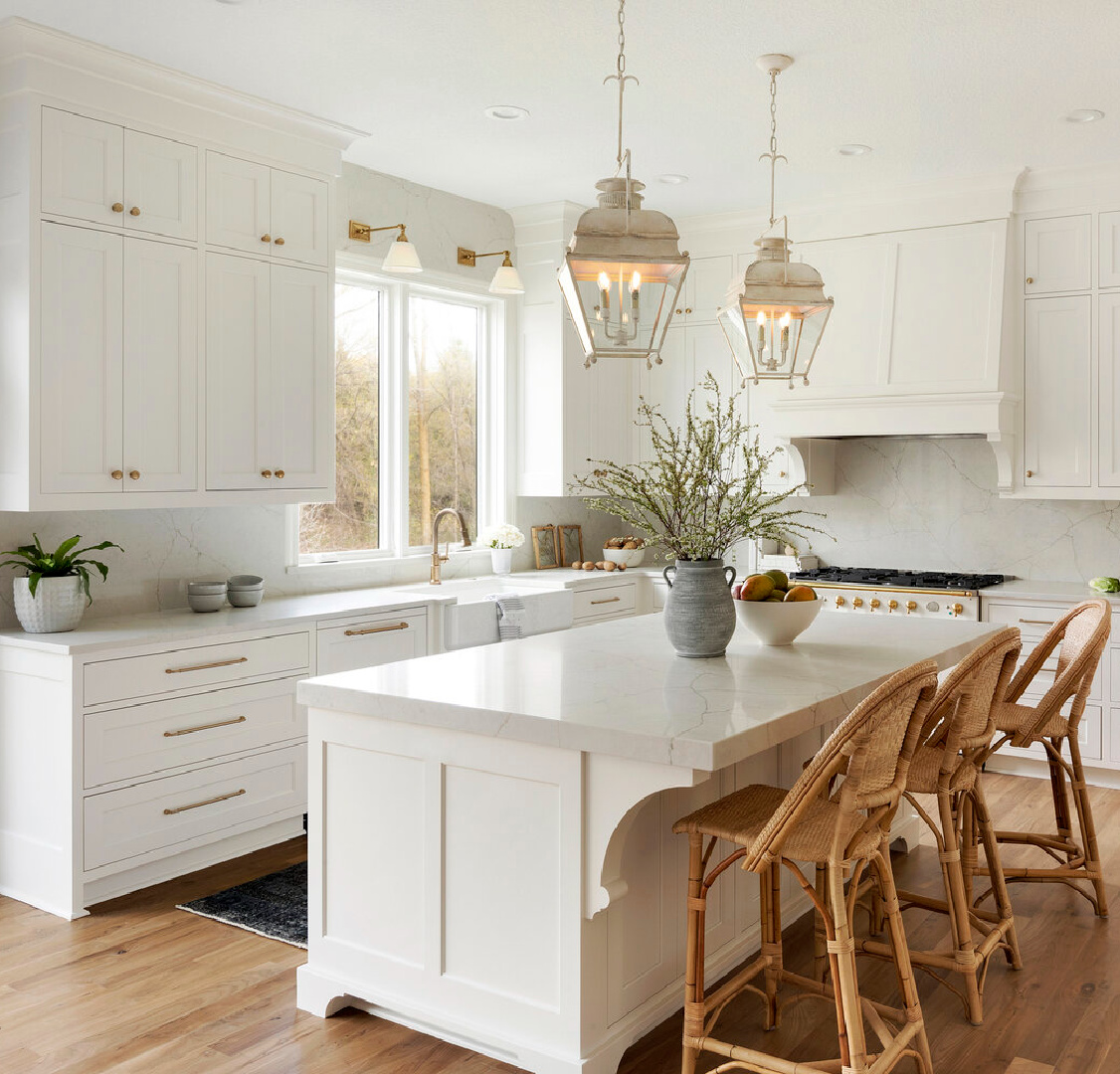 Warm White and Beige Color Ideas for Kitchens
So many warm whites echo elements found in nature (think of sand!) which is why they may feel organic or earthy. Those are always my favorites. And don't even get me started on shades suggestive of beautiful limestone!
Bet it will become apparent quickly that even when you decide to go warm white for the cabinets, there are a ton of possibilities. Even when you narrow it down to putty shades!
In my friend Tina's kitchen (above), warm white cabinets are custom and finished with layers of paint and glaze. The overall color is suggestive of this beige which I have used with great success:
BM Collingwood 859
The perfect paint colors can at times be tricky to choose because what you see in a photo is a moment in time. Here's what Benjamin Moore Collingwood 859 looks like as a swatch:
Maybe you'll fall in love with this neutral greige with cool gray undertones. However, paint contains multiple gradations, undertones, and combinations which influence a color's LRV (light reflectance value). Collingwood has a LRV of 61.52 so it is on the lighter end of the spectrum and will reflect 61.52% of light.
Yet when we see it in on kitchen cabinets above, it seems much lighter. Since kitchen photos online are often edited, photoshopped, and of course snapped at a particular time of day in particular light in a particular part of the globe, even if you know the exact color used, it could look completely different for your project.
Add to that the fact that the color may have been mixed at a lower saturation (which is essentially creating a custom color), and the designer didn't mention that fact. So why even begin by reviewing a bunch of images?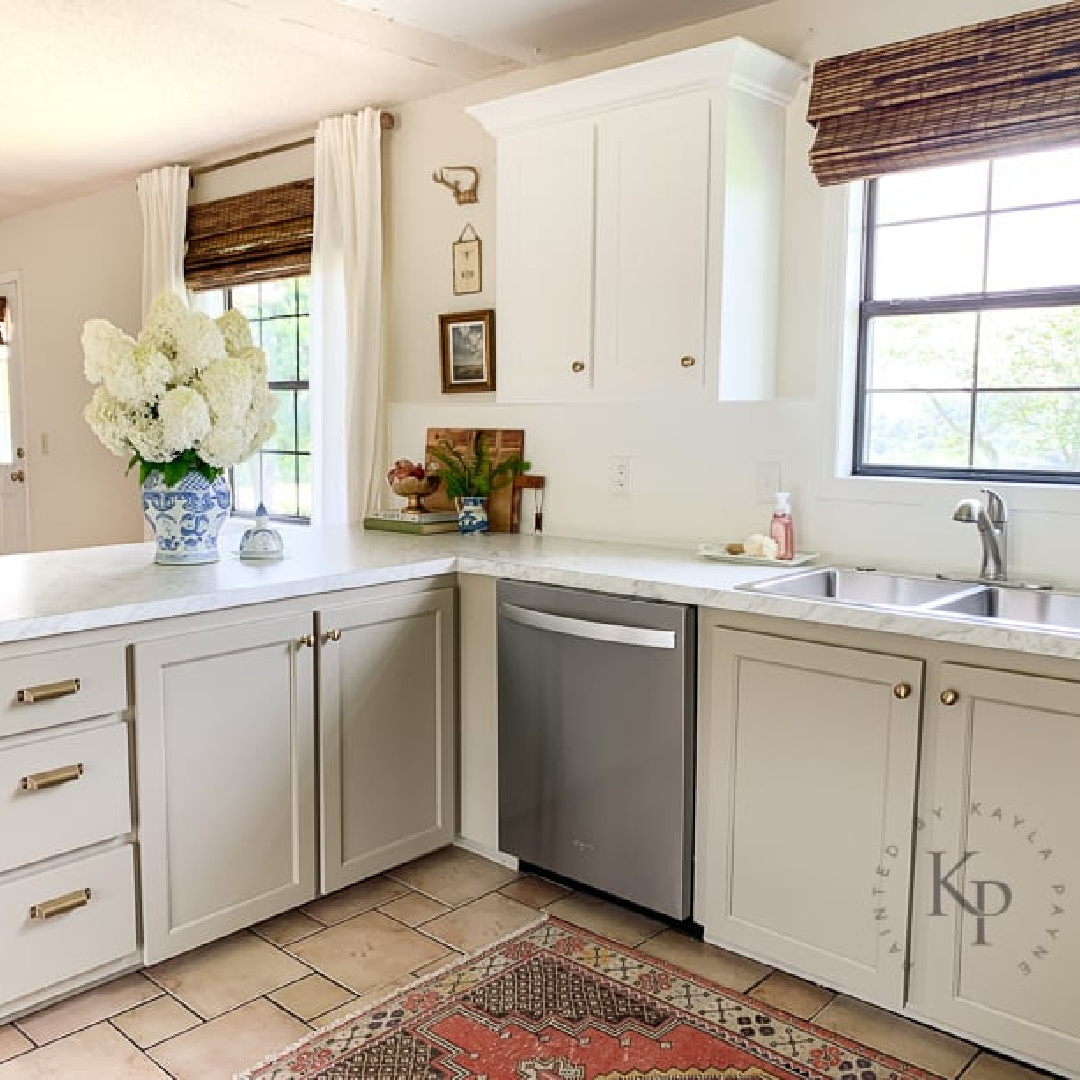 They are full of clues! It helps to explore images to notice qualities of a neutral warm white and consider WHY this tone appeals. Learning that the color on the cabinets above is Berkshire Beige may be helpful. But when you sample it or view this swatch:
It may suddenly become confusing. Was the color used at 50% saturation? Does it even really matter? Whatever the case may be, it's probably more helpful to notice that in the actual photo, the cabinet color seems closer to BM Pale Oak.
Pale Oak is a warm greige with warm grey undertones and light reflectance value (LRV) of 68.64. So it's going to reflect a bit more light than Collingwood.
Here is Pale Oak in a kitchen with glazed subway tile:
If you have a color consultant's help (that's me!), it can often be more helpful to have a photo reference than to know the exact color name.
Not only will an expert be helpful to recognize undertones, experience with paint colors matters.
For example, I have a wealth of experience using a variety of beige colors including BM Pale Oak and BM Ballet White. I know how Pale Oak is a little more of a greige while Ballet White has a bit more green to it. And I know how Ballet White looks with abundant natural light and how it looks at night with artificial ambient light.
What if You Are Torn Between Two Paint Colors?
This happens more often than you might think. Even with thousands of beige paint colors and chic greige hues out there, custom may still be the way to go. One light gray color is a little too cool and the other warm beige is just a bit off. Yet both seem like worthy contenders.
For example, if you like Pale Oak but when you sample it, it seems a little too brown in your kitchen…
and if you also like BM Classic Gray 1548 but you feel it needs a bit more warmth…
You may like what they create when mixed 50/50 or 60/40 or at a proportion you decide is for you. Or you may see notice that Classic Gray is almost just right in your kitchen, but you realize a more saturated gray rather than a cool beige is what you're after.
BTW, I'm not suggesting that you will be manually mixing big gallons of paint – for a custom color, talk to the paint expert at the counter, let them know what you're after, get the precise custom color you like in a sample, then go from there.
Which White Paint for Walls With Warm White Kitchen Cabinets?
After you decide on a cabinet color, you can visit its description online, and typically, there will be suggestions for coordinating colors. In most cases, you'll want a white with similar undertones as the cabinet paint. So a beige color with warm grey undertones could be paired with an off-white with grey undertones.
When you begin exploring white paint colors for walls and even trying samples, you may feel overwhelmed quickly. I think this happens because it's too hard to picture the whole enchilada complete.
That's why I think viewing images online is extremely helpful. You'll be able to decide if you like it when there is a little contrast between cabinets and walls or a lot. You'll start to look at specific relationships like how the white marble below works with the warmth of greige cabinetry.
Think About the Desired Contrast
For high contrast, you'll probably be looking at cool whites for walls and trim. And for just a little contrast, you'll be looking at whites that are similar to the cabinet color but have a higher LRV. Notice how the custom cabinet finish below (it's Limestone from Neptune) softly harmonizes with walls that are painted Farrow & Ball Strong White.
You can even go for a monochromatic look if you view a bunch of kitchens online and keep noticing that you like it when the walls look the same color. Here's an example where the backsplash Zellige tiles are warm and putty-like, with very little contrast to the cabinet color.
Notice how the cabinetry below is the same color as the tongue and groove wood backsplash:
There's no perfect solution; only the combination that suits you alone.
Farrow & Ball Cornforth White 228
I suggested Cornforth White 228 as a possibility if you like the Heidi Callier designed kitchen above, and it is a gorgeous beige with which I have experience.
I also like a 50/50 combination of Cornforth White with the darker Hardwick White for a gorgeous custom greige. (Consider that custom combo for a house exterior – it's the color of our former woodsy cottage and is suggestive of natural stone.)
Farrow & Ball offers these highly sophisticated, European inspired, and often historically based colors with depth and character.
They describe Cornforth White as "the mid tone in the group of Relaxed Neutrals which are totally understated and extremely versatile. Neither too warm nor too cool, Cornforth White sits contentedly between Ammonite and Purbeck Stone to create a hushed and calming retreat. Named in memory of John Cornforth, the revered architectural historian, contrast with Wevet to enhance its grey qualities."
Can I Paint Lower Cabinets Only?
It helps to see two-tone kitchens to decide whether it's a look for you.
Also, don't forget "washes" of greige or putty tones with subtle washes, staining and glazing.
Perfect Beige Paint Colors for Cabinets: Where to Begin?
Sample at least three before deciding on the best option.
Easiest way to see if a paint color will work? Order samples with Samplize and have them delivered straight to your door.
Too overwhelmed and want just ONE sample to begin with? Try Benjamin Moore Revere Pewter.
Benjamin Moore Revere Pewter
While I didn't paint kitchen cabinets this color, I did paint bedroom furniture with light coat of it.
The original finish on the furniture was a very warm yellowy antique white, and I wanted a cool chic greige. Benjamin Moore Revere Pewter transformed it.
While another set of eyes might simply see a boring beige on beige scheme happening, in person, the mix of textures and hand-painted brushstrokes feels alive and less one note than the photos allow.
When You Love Living With Greige Finds…
See the Beige Chosen for This Renovated Kitchen in a French Chateau!
If you love country style, here are some decorating resources that may appeal:
Here are resources for a more modern, California cool kitchen:
Peace to you right where you are.
-michele
Shop for items you already intended to buy on Amazon RIGHT HERE, and also find home decor here to keep decor inspiration flowing on Hello Lovely!
Hello Lovely is a participant in the Amazon Services LLC Associates Program, an affiliate advertising program designed to provide a means for sites to earn fees by linking to Amazon.com and affiliated sites.