I'm so glad so many of you admire Rustic Elegant French Farmhouse Design Ideas! Trends come and go, appetites shift, and yet so many of us never tire of French inspired Old World loveliness. These inspiring photos will inform, uplift, and inspire if you're drawn to rustic European and French country interior design. It is hard to resist the authentic charm of a Provence country house! Yet we'll also peek at examples outside of Provence. Think: beautifully pale limestone, weathered shutters, and French country charm.
Pin this post for future reference RIGHT HERE!
40 Rustic Elegant French Farmhouse Design Ideas
This post contains affiliate links which I hope you will use since they won't cost you a penny extra yet may earn this blog a small commission.
Psst. Thanks for reading with tenderness and for your prayers – did you read this? I'm having a good day today and am so grateful for that! These days, I am moving slower, taking more breaks (nibbling one of THESE as I blog just now), and caring for myself more lovingly.
While I may not get to a meditative garden in the South of France any time soon, images such as this will have to do:
French Farmhouse Design Idea No. 1: TIMELESS TRANQUILITY
Brooke and Steve Giannetti's Patina Farm master bedroom embodies the timelessness and tranquility so desirable and consistent with French farmhouse sensibilities.
What makes it timeless? Will the paint color look dated in 10 years? Um, not a chance. There is NO PAINT on the walls…we're seeing a thin coat of plaster, mes amis.
What makes it tranquil? A soothing color palette, Belgian linen, sumptuous fabrics, and an airy atmosphere with European country antiques mixed with modern.
French Farmhouse Design Idea No. 2: HUMILITY
Listen. I'm aware of the price tags on Swedish antique furniture and old rustic French dining tables. They were built to last and are collectible as well as rare.
But I'm also aware of how they reflect a humble charm.
I admire how Tracie of My Petite Maison lives with beautiful collected pieces in her Swedish immigrant's cottage.
There's an undeniable humility where nothing feels too precious or too hands off.
French Farmhouse Design Idea No. 3: RUSTIC STONE
The warm glow of reclaimed ancient stone from Chateau Domingue leaves me awed and breathless.
Read more about this home HERE.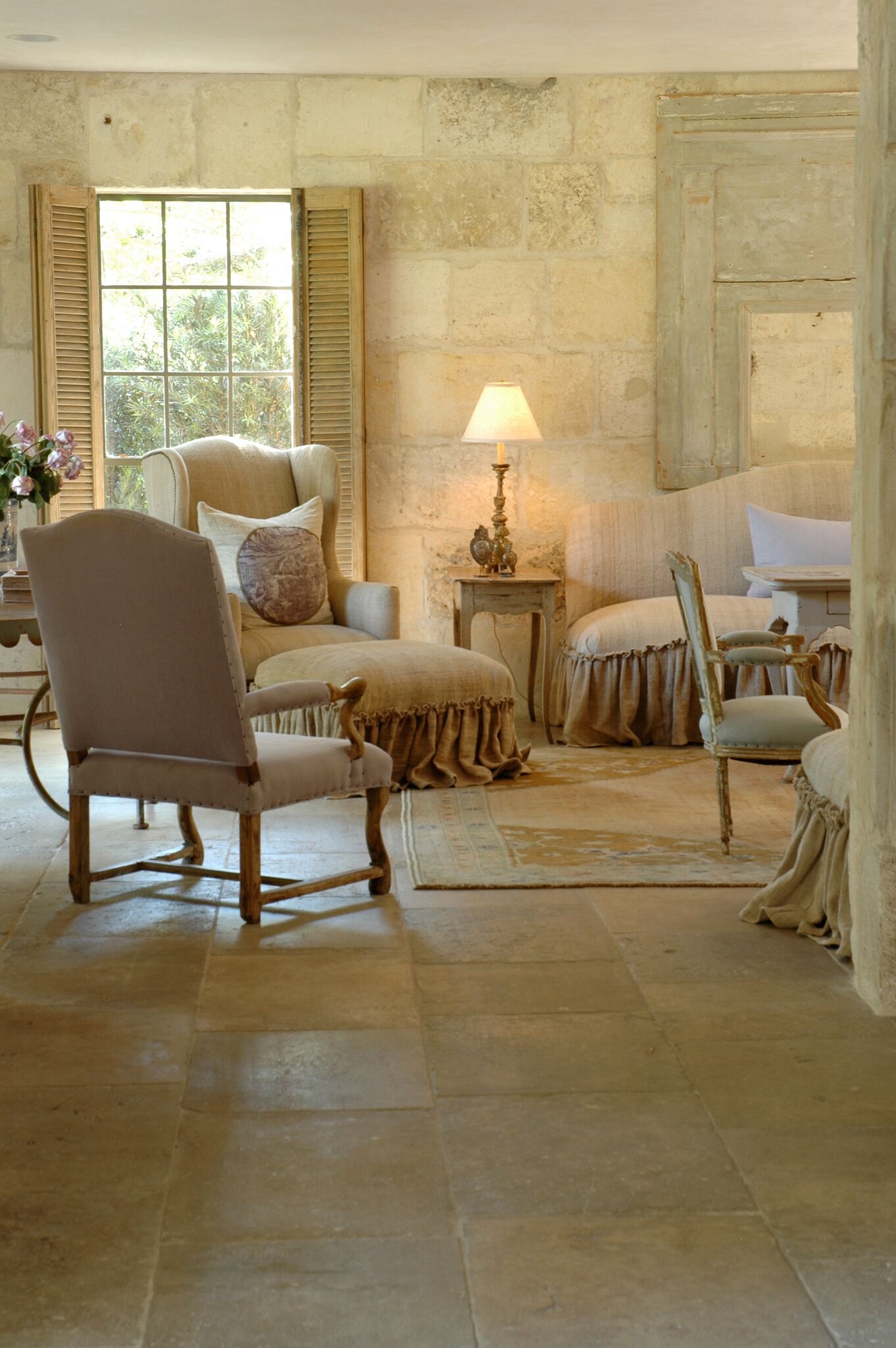 French Farmhouse Design Idea No. 4: REPURPOSED FINDS
While it may not always be sensible to retrofit valuable European antiques, there are plenty of inexpensive vintage pieces anyone would feel free to repurpose.
This vanity in the light flooded master bath at Patina Farm is a sight to behold.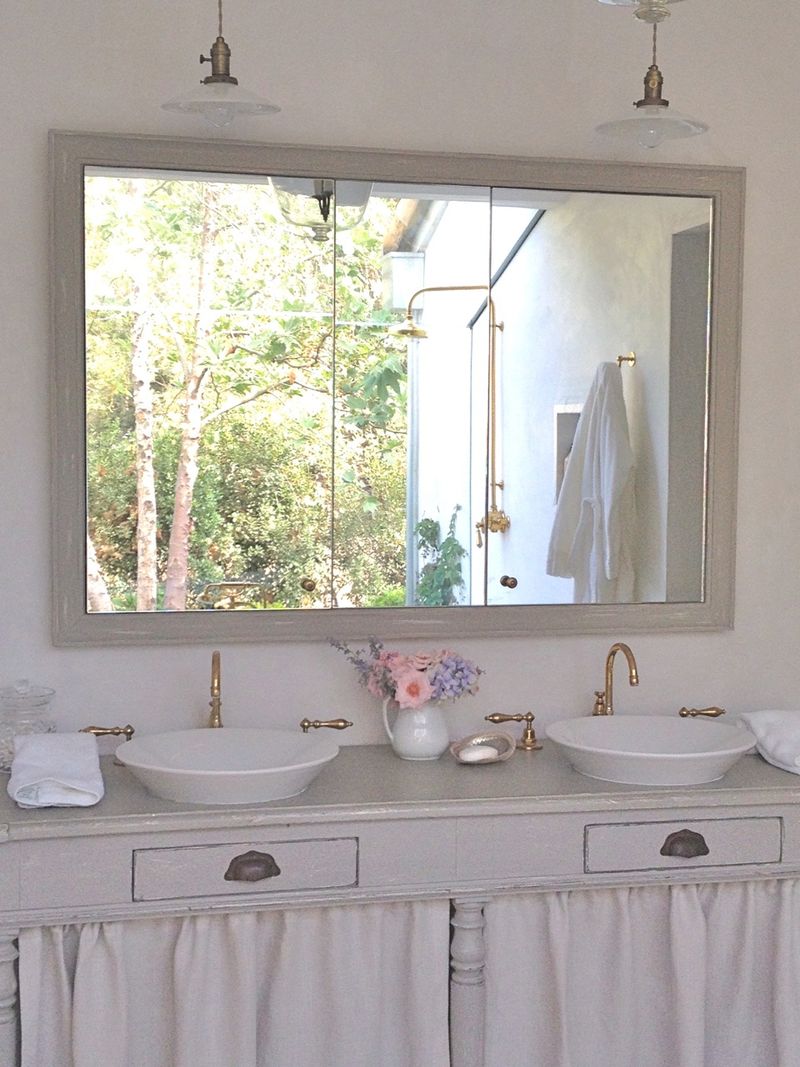 Why let an old table gather dust in a library or guest bedroom when you could enjoy it every single day as a useful and beautiful fixture?
French Farmhouse Design Idea No. 5: REVERENCE FOR NATURE
The French truly know how to appreciate nature and enjoy it to the fullest. Bringing fresh flowers into the home is but one possibility.
My favorite way to enjoy the fruits of my garden? A simple branch in a clear glass vase.
French Farmhouse Design Idea No. 6: PURPOSEFUL DECOR
Charlotte Reiss of Vivi et Margot has a keen eye for beauty and is fluent in the language of French farmhouse since she happily owns one.
Her shop is a lovely example of purposeful decor that is useful as well as beautiful to display.
French Farmhouse Design Idea No. 7: LINEN
Velvet and Linen's Brooke Giannetti has an ongoing love affair with linen and used it for panels in their master bedroom closet in lieu of closet doors!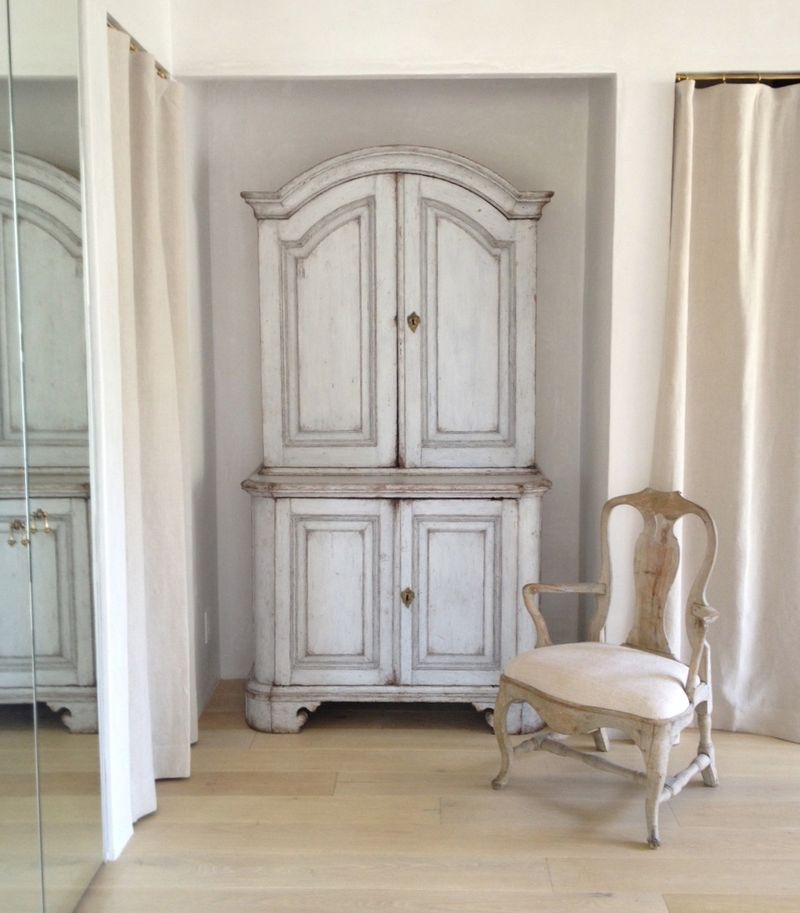 French Farmhouse Design Idea No. 8: VINTAGE FRENCH SHEETS
Fortunately, an ample supply of antique and vintage French sheets exists for pillows, slipcovers, curtains and more.
Monogrammed examples with embroidery add a graphic layer of interest to the mix.
French Farmhouse Design Idea No. 9: NATURAL MATERIALS
This kitchen sink-side vignette from Vivi et Margot's French farmhouse kitchen aptly illustrates how a lovely mix of natural materials can sing harmoniously.
The warmth of aging brass and copper, the softness of the wood countertop, the cool marble backsplash, and earthy clay jars don't show off or upstage each other.
Best of all, they will all improve with age!
French Farmhouse Design Idea No. 10: FEMININE SILHOUETTES
The curves of the dining chairs (Chateau Domingue) suggest a feminine silhouette and play against more rugged pieces and textures.
French Farmhouse Design Idea No. 11: CREAMY WHITES
The art of combining putty, snow, stone, and sand is one which perhaps takes experience to learn – and it's always a pleasure to train the eye with fine teachers like My Petite Maison's instagram feed!
French Farmhouse Design Idea No. 12: RUSTIC BREAD BOARDS
Functional, display-able, and perfectly poised to patina.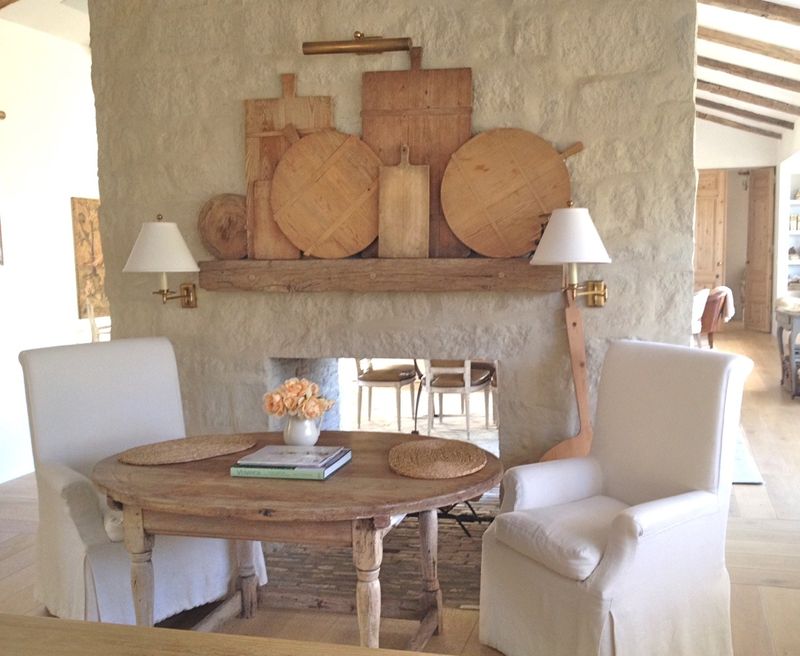 They may also be brought into service beyond the kitchen. Brooke Giannetti has incorporated them on upholstered ottomans and atop wicker trunks when a more solid surface is desired.
French Farmhouse Design Idea No. 13: WOOD LEFT NATURAL
There's something utterly lovely about old country furniture when wood is left natural or is stripped to reveal its original state.
Add white and boom…magic.
French Farmhouse Design Idea No. 14: TERRACOTTA TILES
The reclaimed hexagon antique terracotta tiled flooring in this French farmhouse's renovation were key for achieving an authentic result.
Bonus? The coppery tone of the beautiful tile echoes the copper pot collection!
French Farmhouse Design Idea No. 15: WHIMSY
Can a French antique shaving stand become an elegant tableau in a French Nordic cottage?
Mais oui! Is there such a thing as subtle whimsy? Oui again!
French Farmhouse Design Idea No. 16: ANTIQUE DOORS
I'm fully aware we are approaching FANTASY territory since introducing antique doors into your home is *ahem* neither easy nor inexpensive.
However, here's the thing…not every door in your home need be replaced with a lovely ancient one.
A pantry door, for example, could become a charming statement.
French Farmhouse Design Idea No. 17: GALVANIZED GLORY
Whether it is watering cans, buckets, or metal dining chairs, it's easy to add old and new galvanized glory.
French Farmhouse Design Idea No. 18: GRAVEL & GARDENS
I have told you how we easily created a French courtyard HERE, and pea gravel played a starring role. BUT truly this is how you create a one of a kind outdoor oasis!
French Farmhouse Design Idea No. 19: UNFUSSY BATHROOMS
In contrast to many luxurious American bathrooms (heavy on opulent walls of marble), French farmhouse style says 'ma petite chou, relax already.'
French Farmhouse Design Idea No. 20: UNDECORATED & UNDERDONE
It takes some thought to arrive at an 'undecorated' look, oui?
Simplicity doesn't always just happen…there are editing decisions as well as restraint to be had.
Looking for Design Ideas 21-40? Don't miss the second half of this post with 20 more French farmhouse design ideas RIGHT HERE!
More French Farmhouse Inspiration
Click here for more stories featuring French farmhouse design!
I independently selected products in this post—if you buy from one of my links, I may earn a commission.
Peace to you right where you are.
-michele
Shop for items you already intended to buy on Amazon RIGHT HERE, and also find home decor here to keep decor inspiration flowing on Hello Lovely!
Hello Lovely is a participant in the Amazon Services LLC Associates Program, an affiliate advertising program designed to provide a means for sites to earn fees by linking to Amazon.com and affiliated sites.