It isn't an easy design element to add after the fact, but if there's a new build or remodel in your future, maybe this country kitchen inspiration will help. They add so much romance to the everyday! I love them so much, I have added them to our last two renovations. Is a pretty country kitchen sink in your future?
Country Farm Sink Romantic Inspiration
What I wouldn't give to go back in time and have one of these babies in our home when I had babies!
Because they are like these gorgeous little bathtubs, and bubble baths make even the messiest chores a little easier.
It's funny that folks don't give their white bathtubs a second thought yet worry about the prospect of a white kitchen sink (but won't it get dirty?).
If you had a home-ec class, maybe you learned like me to KEEP THAT SINK CLEAN WHATEVER YOU DO. I haven't found my farm sinks to be anything but easy with which to live.
Ordering One? An Unromantic Lesson Learned Along the Way
There were no issues with our current Hyannis sink from Nantucket Sinks, but I did have an issue years ago when I ordered my first farm sink. If ever you have remodeled a kitchen or built one, you may know the sink must be in place before a countertop measure.
In our last home, I was anxious to get the measure done and countertops installed after months and months living without a kitchen.
Although I had ordered the farm sink well in advance, because of its tremendous weight, I never removed it from the box to look at all sides of it until install time.
Oops. That bad boy was completely warped and defective! A big ol' lemon!
The brand, while apologetic, would not send out a new sink until I brought the defective sink to FedEx to be shipped and then received by them.
I'll never forget the weight of that thing and the spectacle of getting it from my car to the drop-off counter.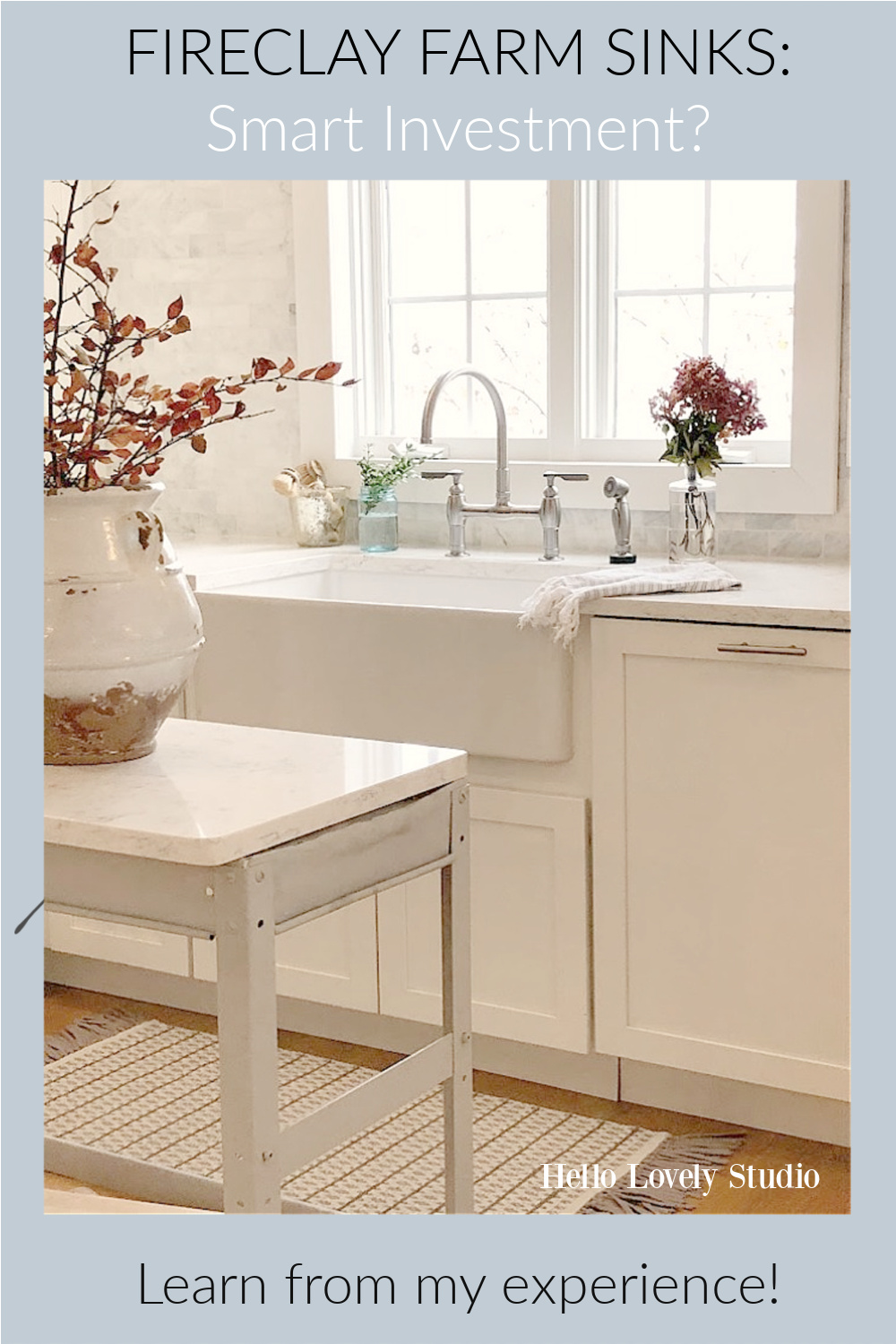 Lord have mercy–and I can't remember why the muscle-blessed men in my life were unavailable to assist.
All of it got worked out in the end, but delays in construction are costly and frequently lead to a domino effect.
It's always something with renovation, right?
I mean, is it even a real renovation without meltdowns, disasters, and First Aid involved?
What's So Romantic About Doing Dishes?
Doing dishes has never been a dreaded chore to me; but a farm sink has simply made cleanup a bit more special.
If you spend a lot of time in your kitchen, why not do all you can to make it a space that feels comforting and romantic?
Part of the romance is simply that these sinks feel and look old fashioned.
They work so beautifully in Old World designs or vintage kitchens.
They also have a humble quality that makes them charming.
Even in luxurious, high end fantasy kitchens, a farm sink seems to say I'M JUST GONNA quietly ADD A SIMPLE POP OF WHITE AND WELCOME ALL YOUR DIRTY POTS AND PANS.
Country Sinks in a Diverse Collection of Kitchens
I love seeing a country sink across a variety of contexts because it really reinforces their timeless appeal.
I mean, how many other kitchen design elements instantly date a kitchen? Whether incorporated into a new renovation with rustic wood beams…
…or paired with classic Shaker cabinetry,
a deep country sink looks right at home and cozies up the whole design.
Don't you love how Jennifer added those cozy sconces above!?! What a romantic moment where cleanup can happen!
Stainless Vs. Fireclay Country Sinks
A close friend has a stainless farm sink, and she has no regrets. Her gorgeous kitchen is more rustic than mine and features a number of authentic primitive antiques. I would describe the style as romantic yet more handsome than pretty.
I tend to think of stainless as a more utilitarian kind of material. It's reliable and trustworthy for sure.
Whereas fireclay has a soft, pretty and more romantic aesthetic. Plus you can do dishes in it. 🙂
All of these pretty cottage style moments have me dreaming about a charming cottage!
I independently selected products in this post—if you buy from one of my links, I may earn a commission.
Let me know if you have any questions about living with these sinks as I have plenty of experience over the years!
I independently selected products in this post—if you buy from one of my links, I may earn a commission.
Peace to you right where you are.
-michele
Shop for items you already intended to buy on Amazon RIGHT HERE, and also find home decor here to keep decor inspiration flowing on Hello Lovely!
Hello Lovely is a participant in the Amazon Services LLC Associates Program, an affiliate advertising program designed to provide a means for sites to earn fees by linking to Amazon.com and affiliated sites.