The fun started HERE, and a parade of pretty continues below because wallpaper is one of those transformative design ingredients that we can all enjoy. If you're on a tight budget, there are plenty of options, and if you're not? Well, I suppose you and your designer can design something like this…
Or transform a den like the one within an unforgettable Charleston home:
I independently selected products in this post—if you buy from one of my links, I may earn a commission.
Eclectic Mix of Beautiful Wallpaper Inspo: Part 2
I'm not much of a Tik-Tok girl (give me long, detailed youTube tutorials, vlogs, and house tours), but this one demonstrating a DIY with paintable wallpaper? Wow.
Someday I would love to create a pretty bedroom wrapped in a meadow of flowers
Can you even imagine all of the beautiful choices to sift through?
I'm partial to pretty blues: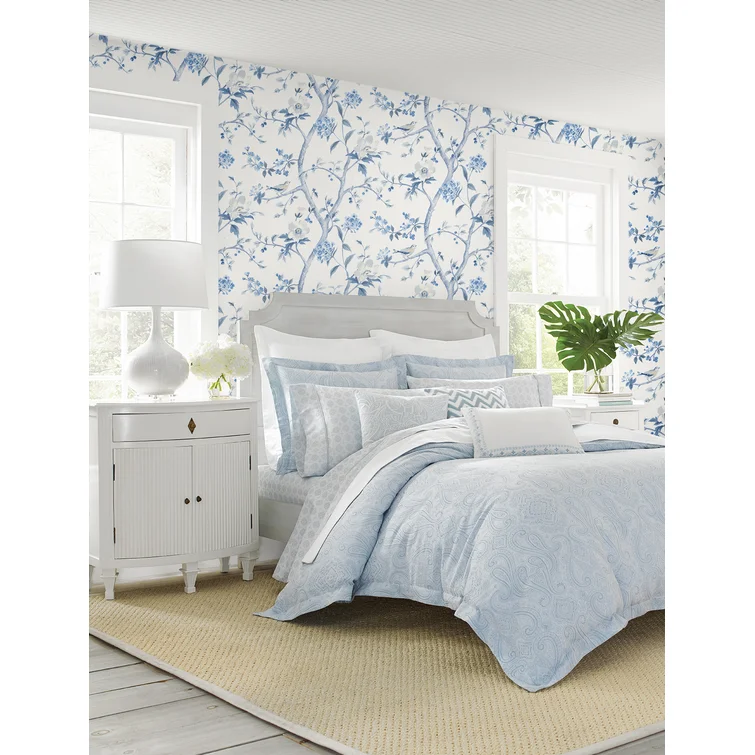 They're so romantic, and isn't blue white's best friend?
Blue has more than one best friend…gold too is a bestie.
And to me, the combination always feels very French-like.
French-like? Is blue toile ever a bad idea?
Mais non.
Don't Forget that Fifth Wall!
Wouldn't this be the coziest?
Oh my goodness, I would never leave that Mark Sikes space, and I instantly want to organize books by color! Here's another space where there are panels rather than a mural stretching wall to wall. I actually tried this in our powder bath here at the Georgian. Instead of hanging art or creating a gallery wall, we continued the mural from the entry by framing a single panel.
Isn't this a brilliant way to live with a beautiful pattern and be able to move it around as you please?
Wallpapered Accent Wall in My Guest Bedroom
I wasn't sure if I would tire of this tree motif when I used it on an accent wall in a guest room a few years back, and I grew to love it even more.
A couple of hours work to wallpaper a wall can be a big pay off.
Lovely Bathroom Wallpaper Looks
Here are some pretty ideas to consider should you like a bit of inspiration for your bath decorating schemes.
What if a bath could truly feel more like an escape rather than strictly a clinical place for hygiene?
The thing is, everyone has a comfort level with color and pattern. Some folks love to feel energized by delicious color and even crave it first thing in the morning.
Others prefer easing into the day more gently without excess stimulation or interest.
Wallpaper can evoke the mood you want or need.
And whether you start with wallpaper as the inspiration/color starting point or add it at the end to enhance the existing fixtures, it can set the tone you're after.
Cozying Up an Entry With Wallpaper
I chose to add wallpaper to our entry here at the Georgian since I wanted it to set a tone right away.
A true identity that felt like a room and space to welcome guests rather than simply a pass-through hallway on the way to somewhere else.
Why not allow personality or the unexpected to shine in halls, pass-throughs, vestibules, and closets?
Bold Blue in a Charming Kitchen
If blue is your favorite color, you have to love it when someone fully embraces it and refuses to decorate a "neutral kitchen staged for sale to appeal to a broad range of buyers," ya know?
Classic, Pretty and Traditional Bedroom Wallpaper
Oh the timelessness!
That's it–if ever I inherit an old seaside cottage, a bedroom's floor is going to be painted turquoise!
Does this space instantly bring your blood pressure down and cause you to dream about spending time in a room so pretty and perfect?
Oh, the work of Tom Scheerer, and the inspiration from this hand-stenciled raffia wallpaper! Don't you love the idea?
And I can imagine the lovely memories a child might make in a room where a sweet folky pattern keeps them company over their formative years.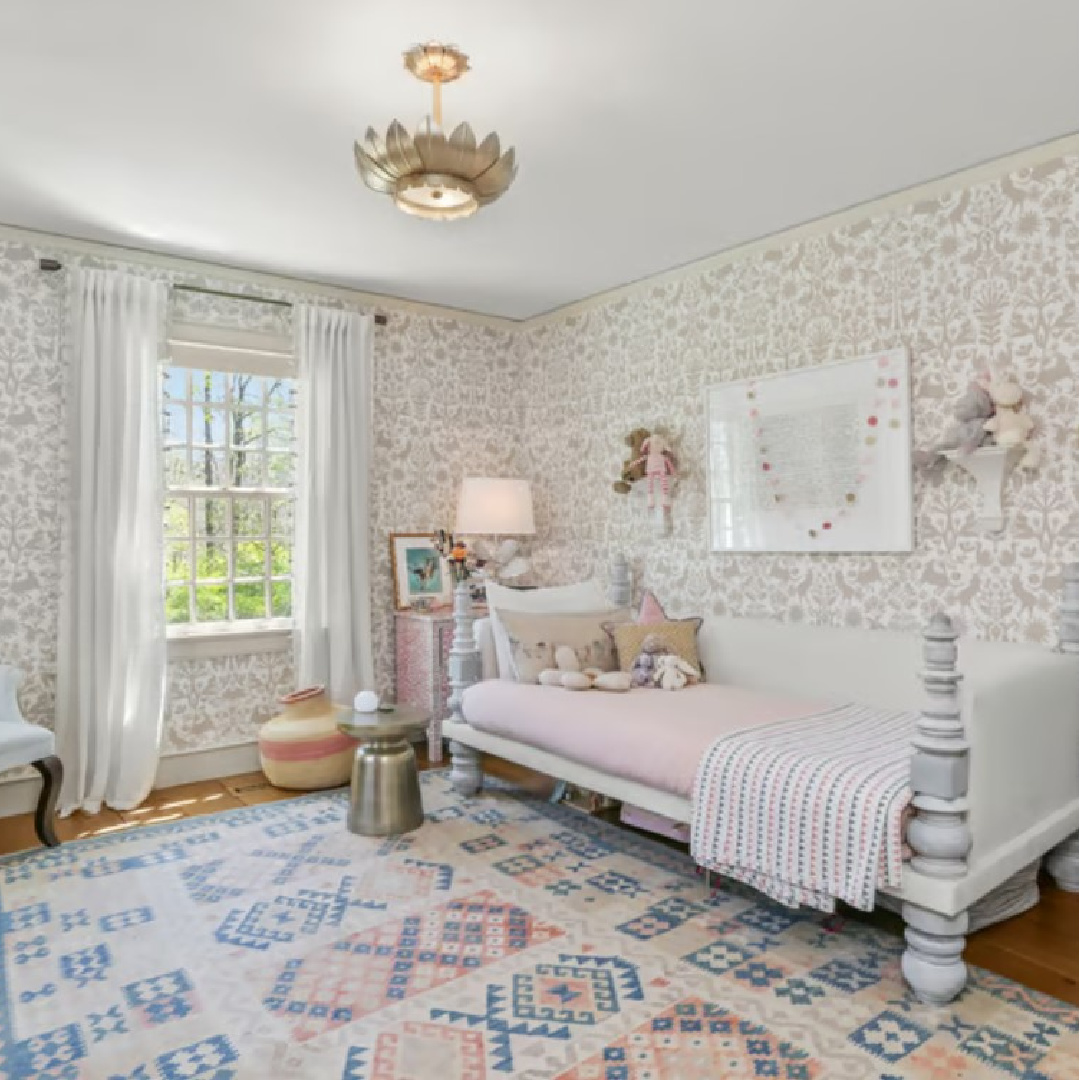 In contrast, a bold dramatic atmospheric pattern while wonderful to enjoy for a short stay in a hotel could maybe be too energetic for a bedroom where you long for rest!
Make sure to check out PART ONE of this wallpaper exploration too!
Peace to you right where you are.
-michele
Shop for items you already intended to buy on Amazon RIGHT HERE, and also find home decor here to keep decor inspiration flowing on Hello Lovely!
Hello Lovely is a participant in the Amazon Services LLC Associates Program, an affiliate advertising program designed to provide a means for sites to earn fees by linking to Amazon.com and affiliated sites.