Leanne Ford has such a chic signature style that is marked by its imperfect beauty and relaxed mood. What is even more wondrous about her approach to decorating is how gracious she is! She shares exact paint colors, philosophies, techniques and down-to-earth advice to the masses. Today we'll learn from the look and take away ideas for white paint colors she loves. We'll gaze closer at some beautiful moments in Leanne Ford laid back projects from which I'll pitch suggestions for actionable ideas to apply to your own schemes.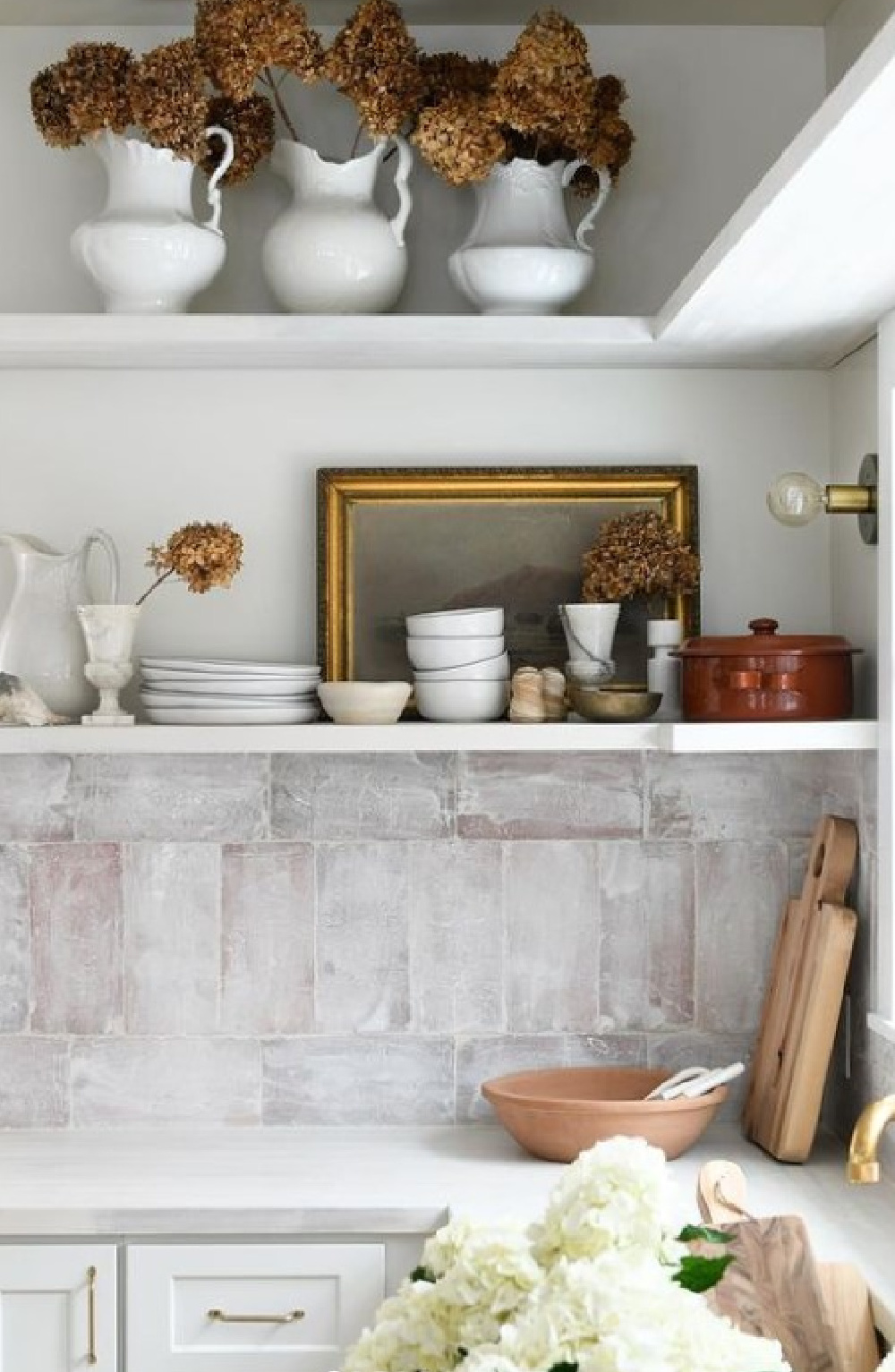 LEARN FROM THE LOOK: Leanne Ford Laid Back Luxe
Learning from the look is different than copying a room or buying the identical accessories. If you have listened to Leanne's design advice on Restored By the Fords, Rock the Block, or her IG feed, then you may already know her sensibilities.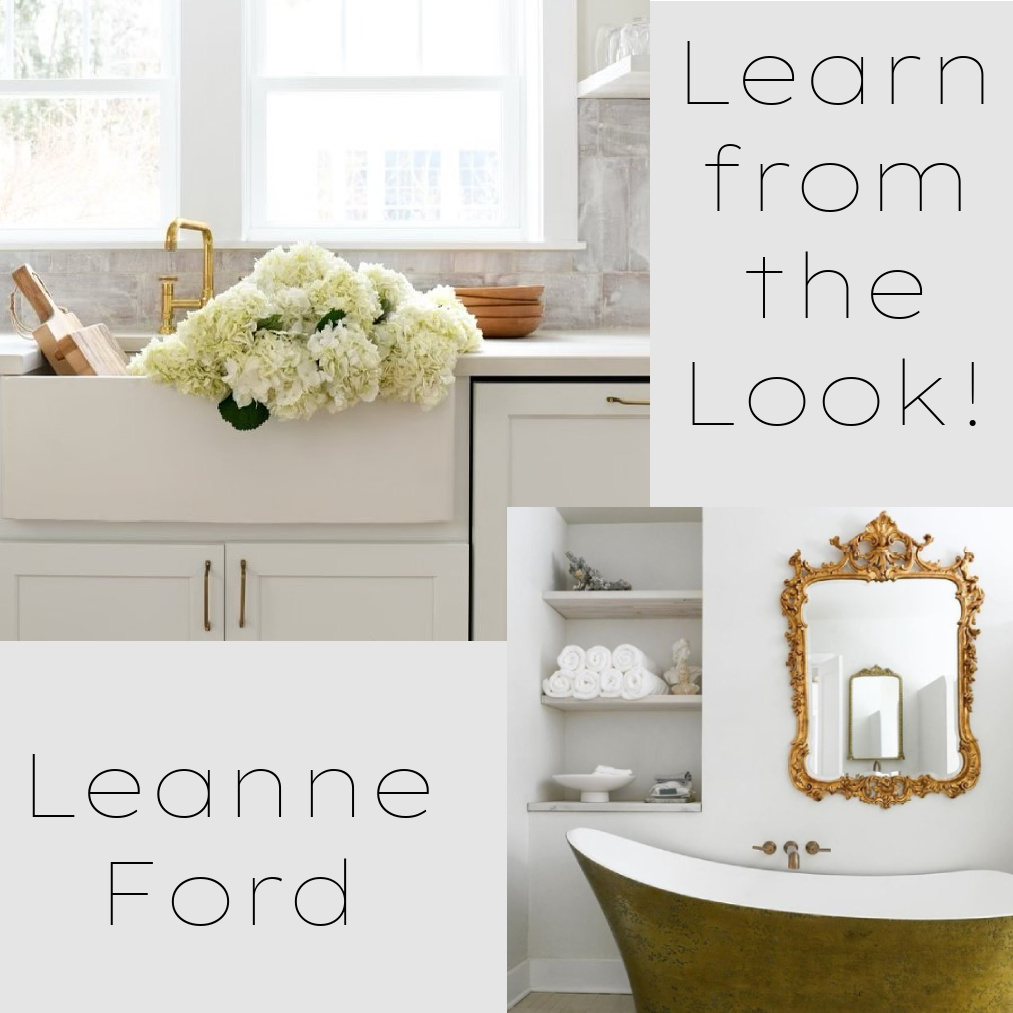 Ford loves using existing materials whenever possible. She doesn't typically compromise on the color palette (nothing too colorful and white paint is always a good idea), and she doesn't mind tweaking new and old things to freshen them.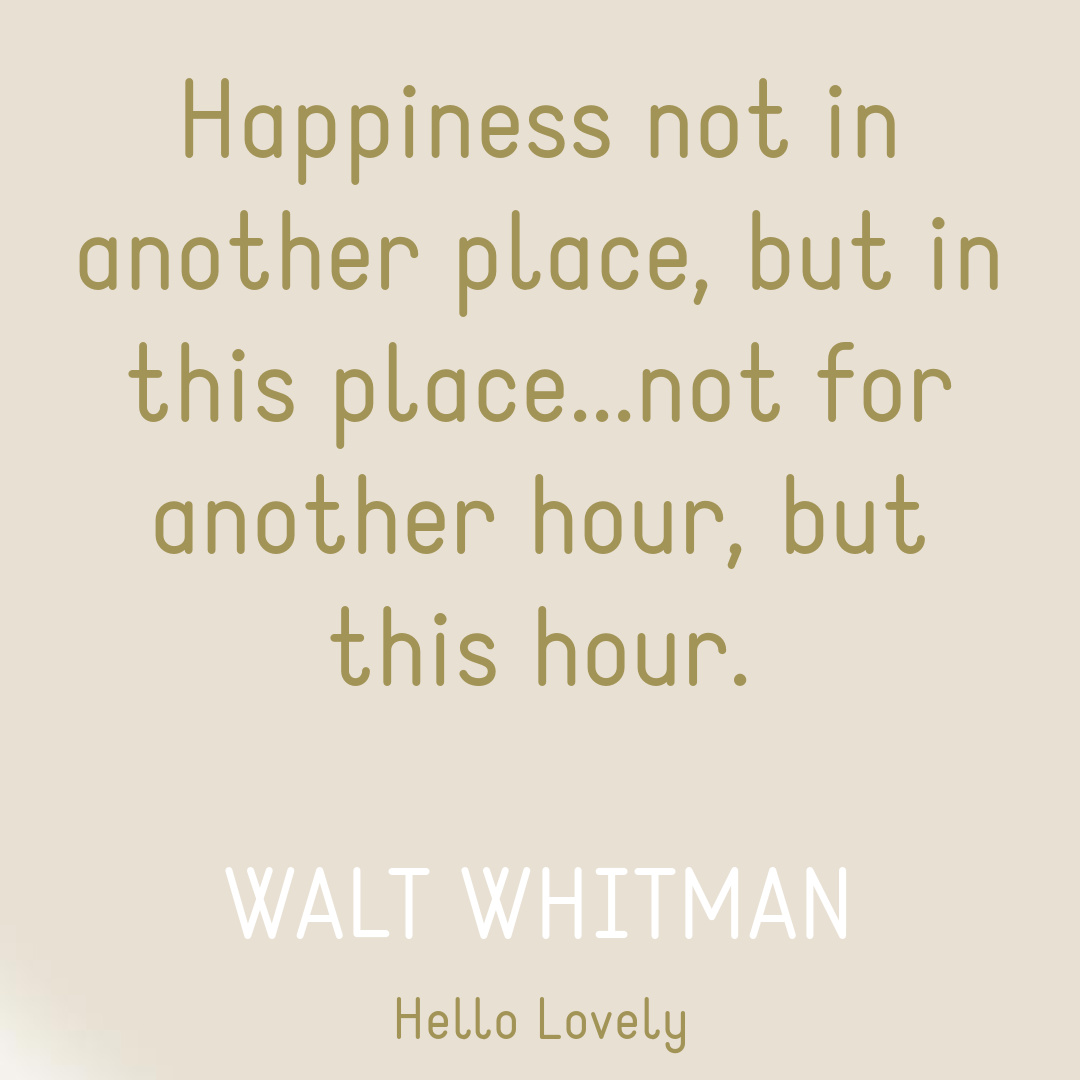 Shelves Can Be Unfussy Fabulous
I'm with Leanne on this and recently designed plain jane cheap wood floating shelves for our laundry room.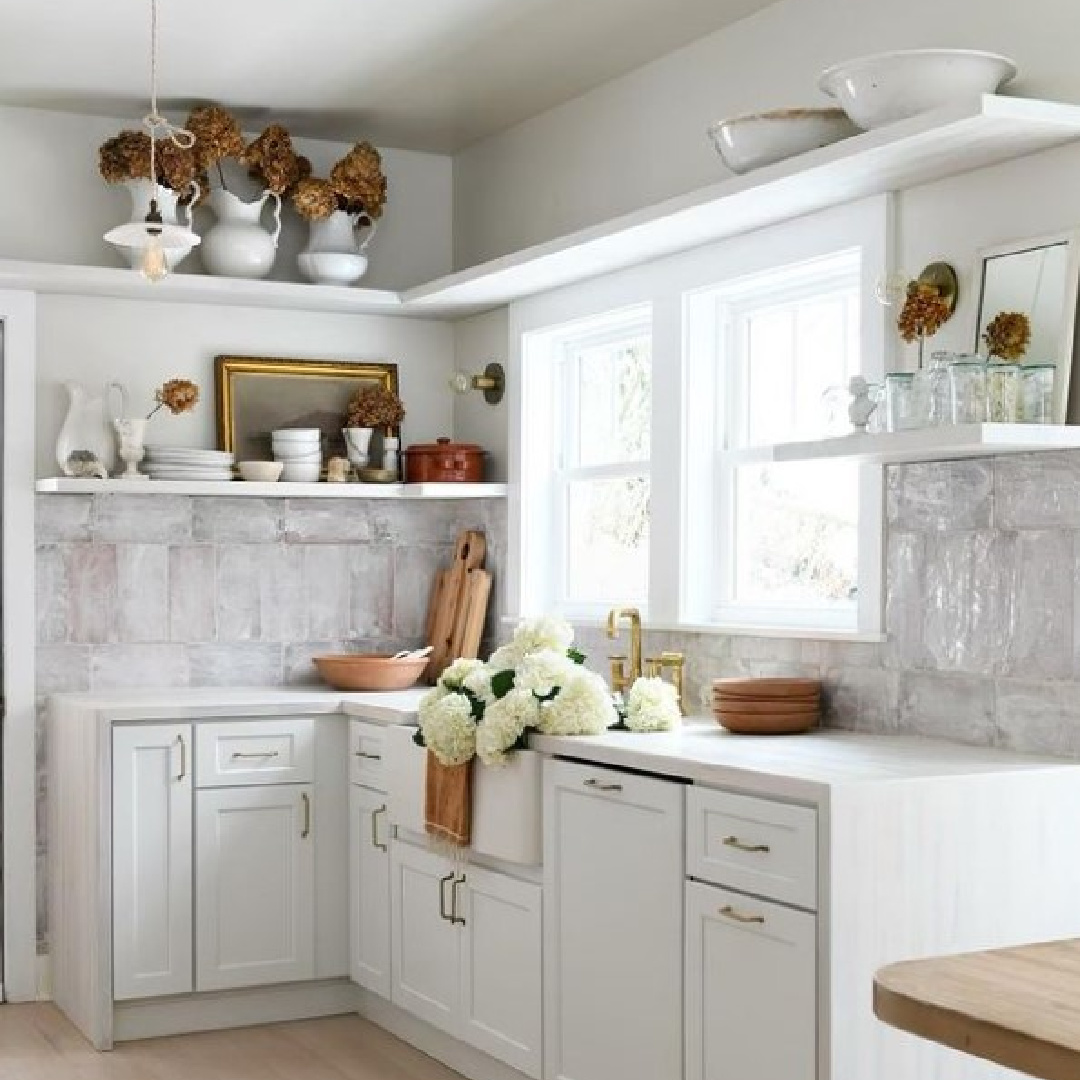 So often, less is more, and in this case, for a more casual look where ornate brackets or fussy details could detract, the simplest wood boards did the trick.
Customize Tile & Butcherblock for a Unique Look
For a lived-in, laid back, imperfectly modern rustic look, sometimes an off the shelf tile or backsplash can be creatively tweaked as Leanne did for this kitchen.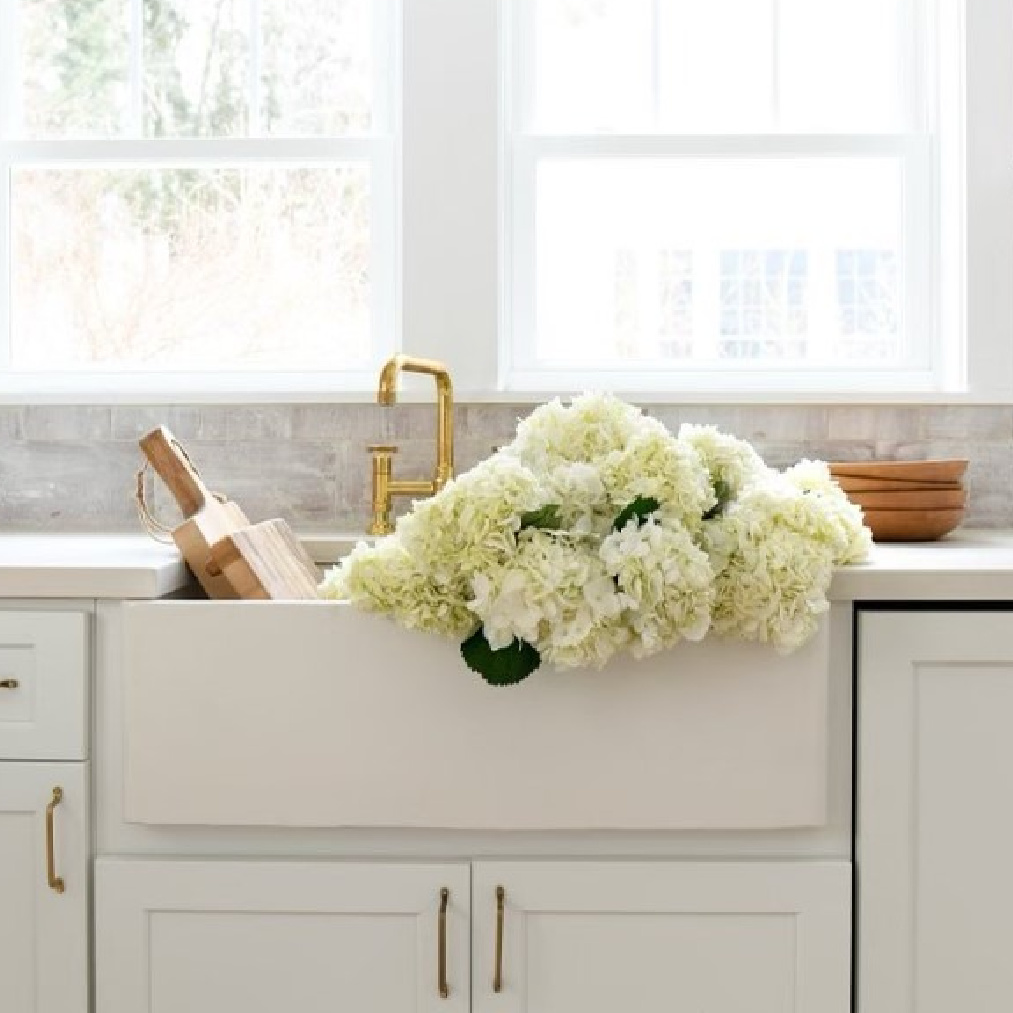 Leanne is famous for grout washing as you see on the tiles. Find instructions for finish techniques HERE. The counters in this craftsman kitchen above are butcher block to which she applied 50% Behr Crisp Linen paint and 50% water before sealing them.
Tour a Unique House Renovation by Leanne Ford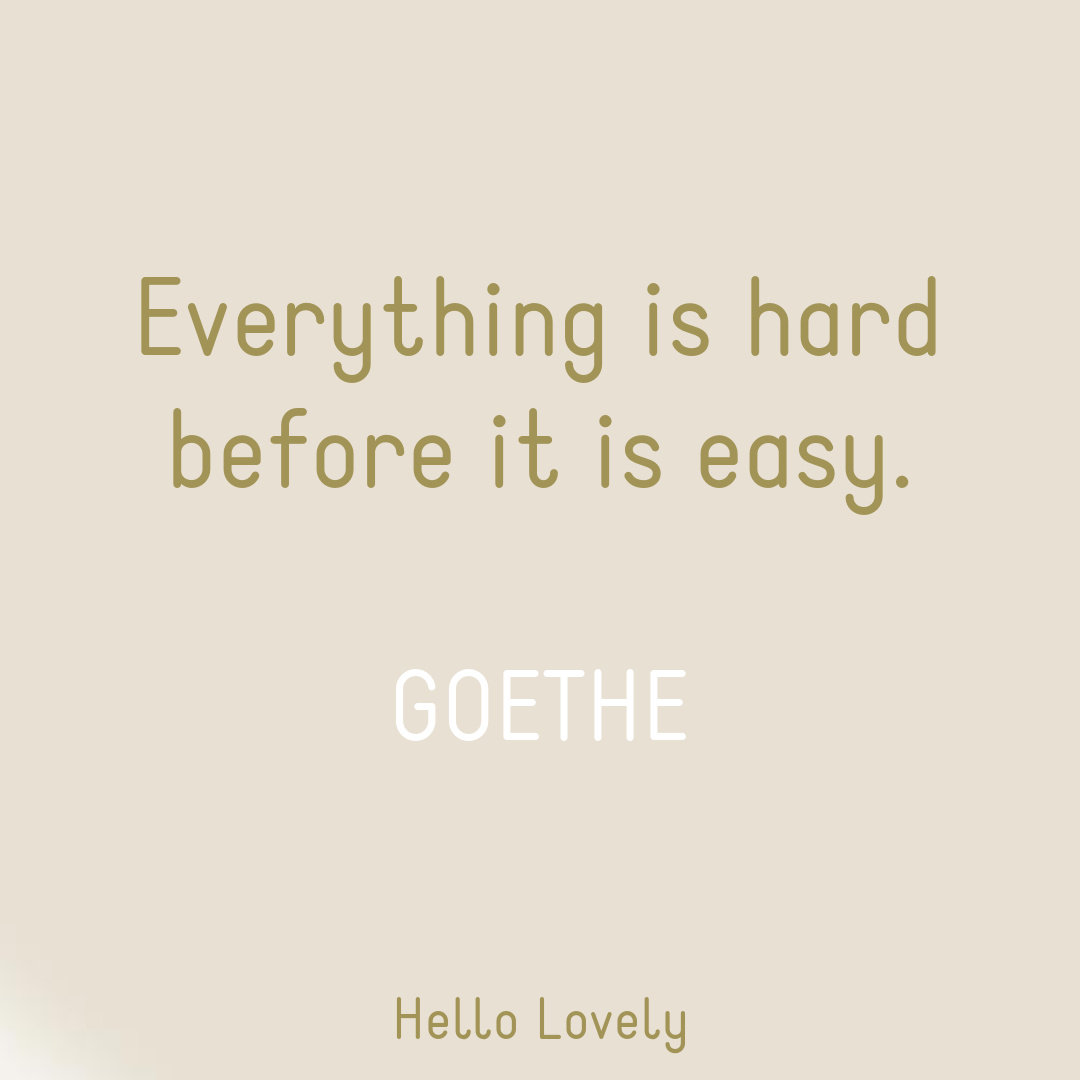 Use Scrap Materials for Holiday Decor
With sustainability in mind, Leanne recycled wood scraps that may have been tossed into these rustic and unique garlands.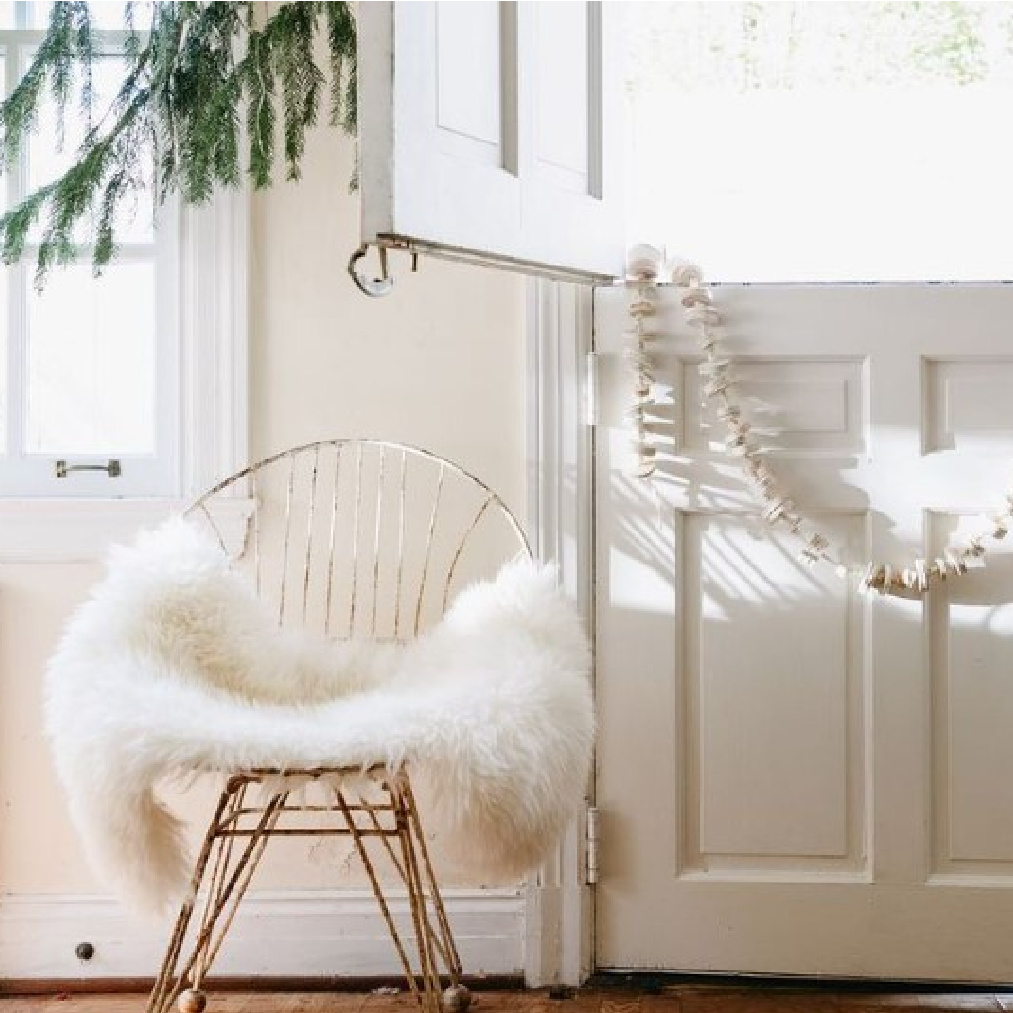 Not only is the garland interesting and pale (consistent with the rest of her scheme), it has a handmade sweetness – just the sort of innocence that we cannot buy from a store.
Dropcloths Work as Table Linens
In lieu of a fancy Christmas theme-y tablecloth, a canvas dropcloth covers the Christmas table.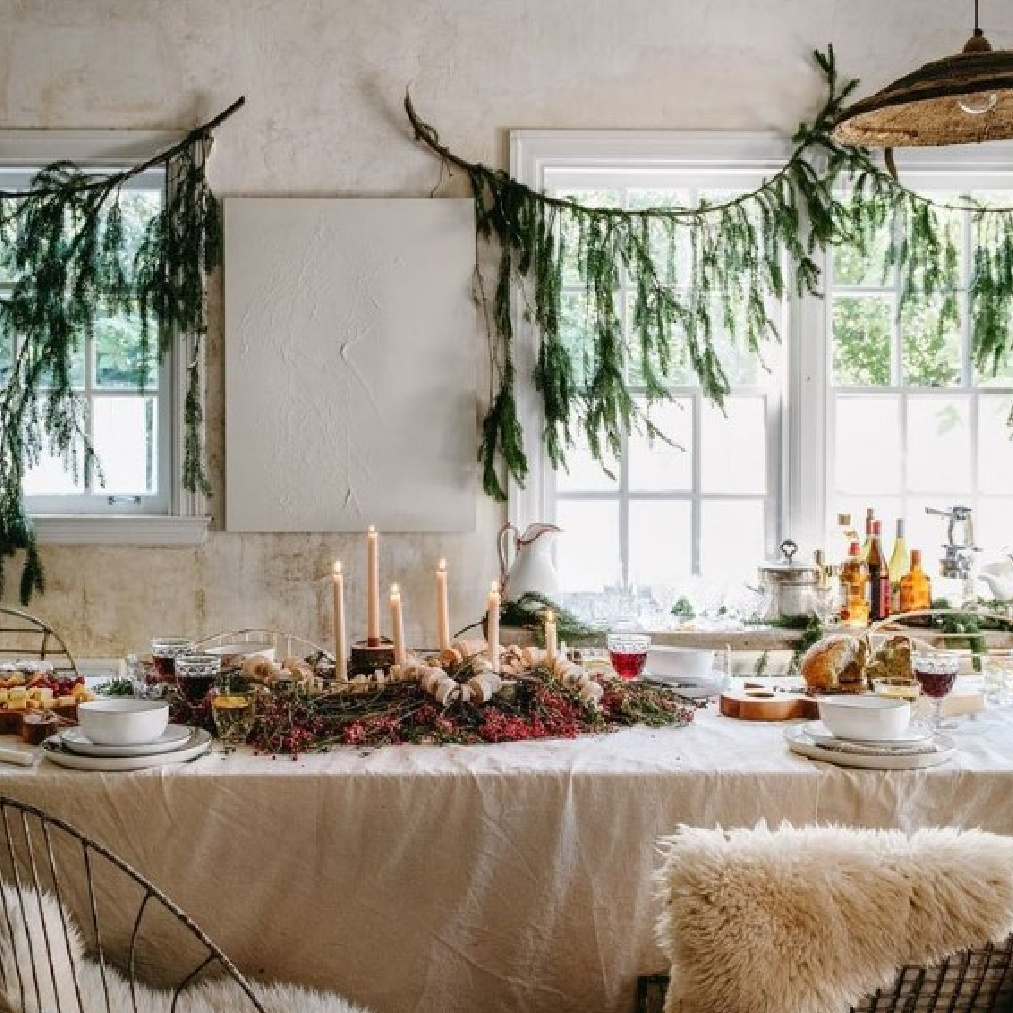 Also notice the sheepskin (or faux sheepskin) which look so cozy over metal and Bertoia style dining chairs.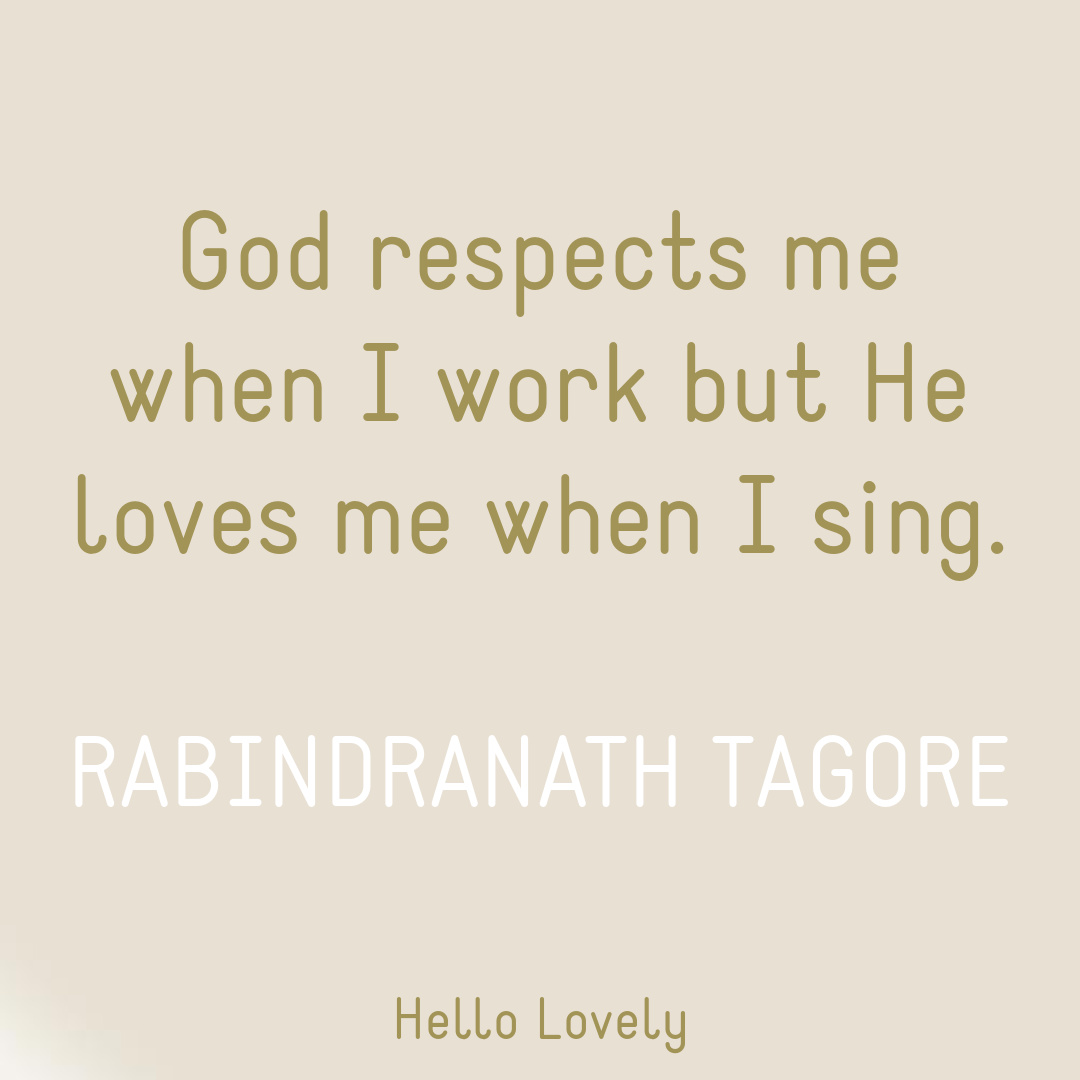 Soft Colors are Perfect for Rugged Environments
While we all understand the power of paint to transform interiors, something magical happens when more rugged items get the white paint treatment.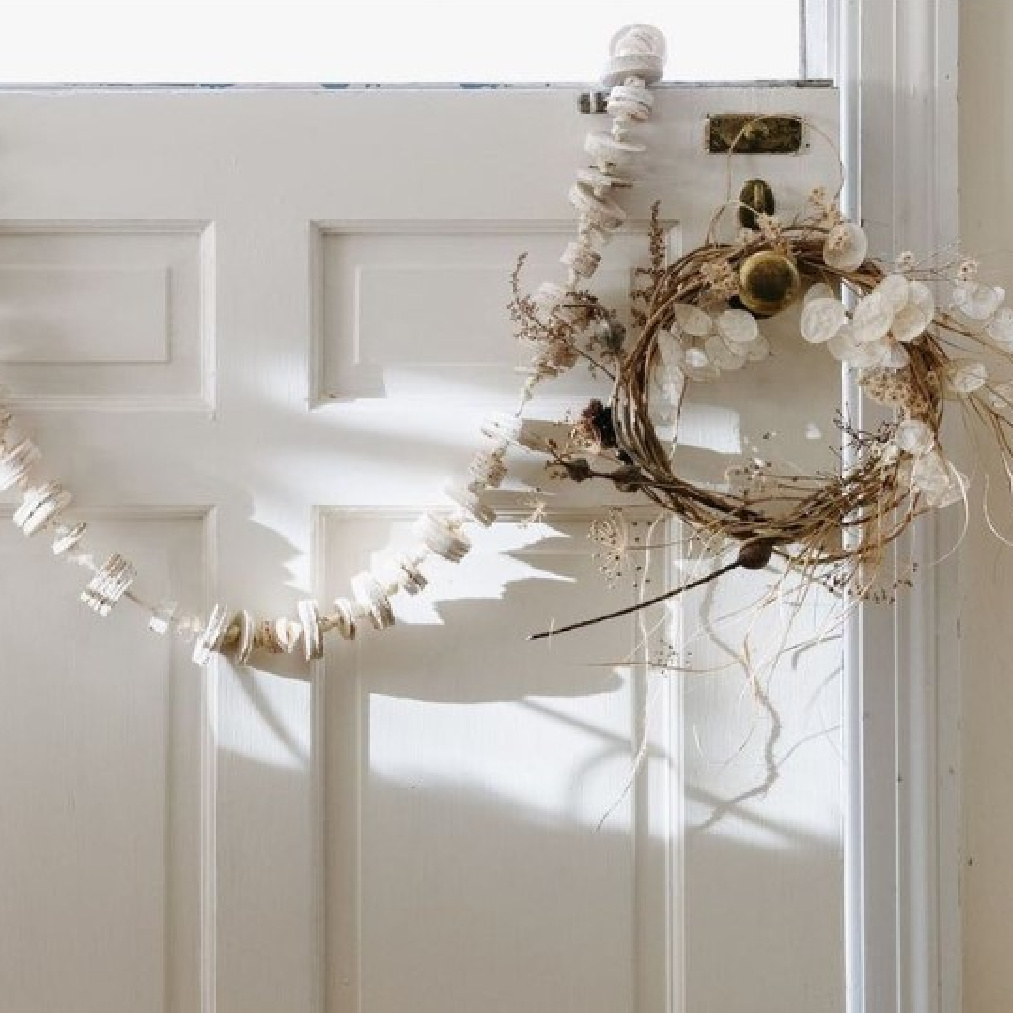 While it quiets rugged trim, doors, ceilings, beams, rafters, and beyond, these elements don't feel precious or too feminine.
You Can Be Minimal Yet Cram Shelves Full
Rooms where the "stuff" is sprinkled throughout the space can feel cluttery and less inviting. Consider massing collections and objects you love in designated areas and allowing the rest of the space to breathe and feel airy.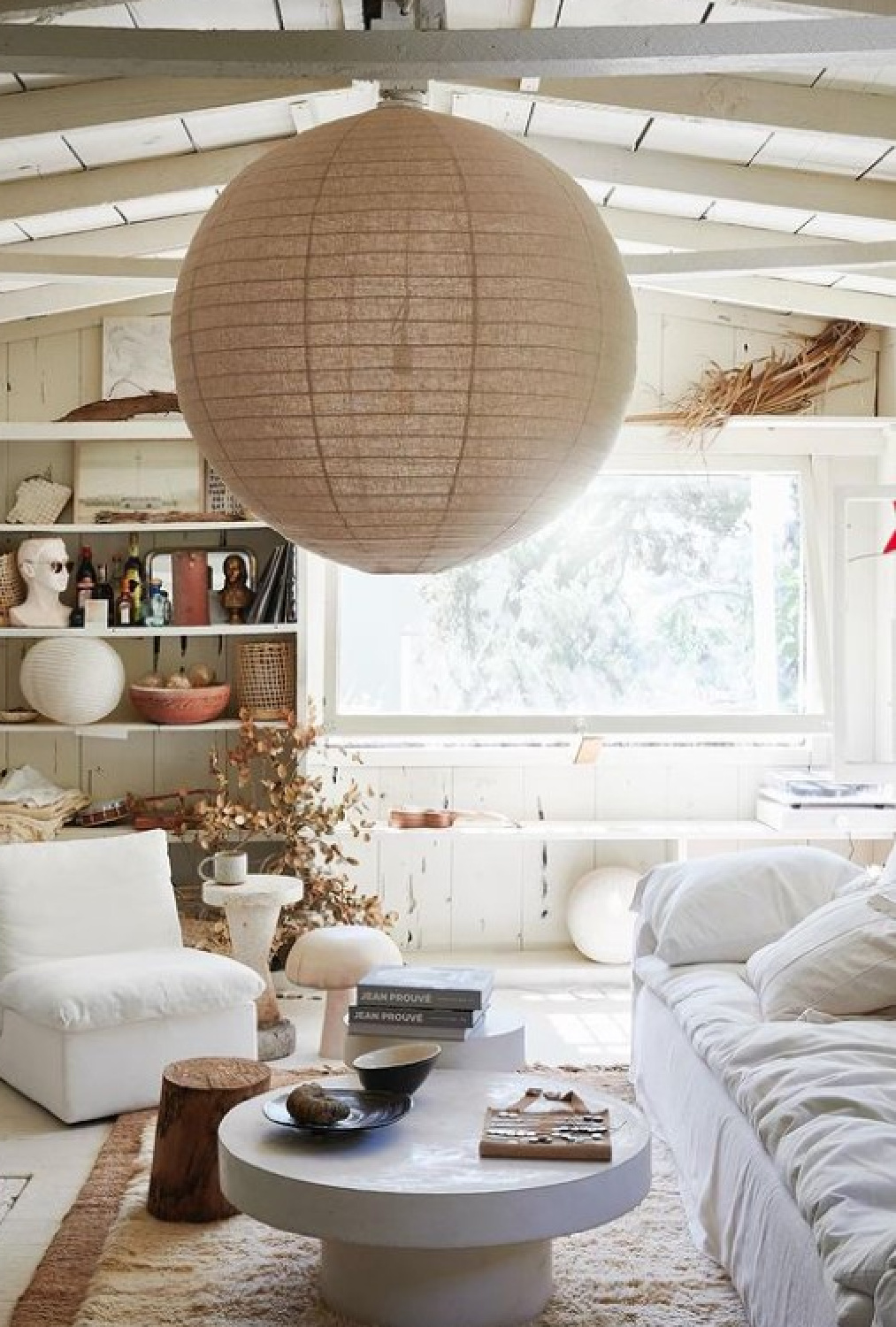 Work With What You Have
If you have followed Leanne Ford's work over the years, then you know she doesn't run out and buy a bunch of new fillers. She is sensible and conservative about using what is on hand and elevating it!
If there's a pile of old tiles left in an existing shed on a property, she'll incorporate them into a design, believing they belong!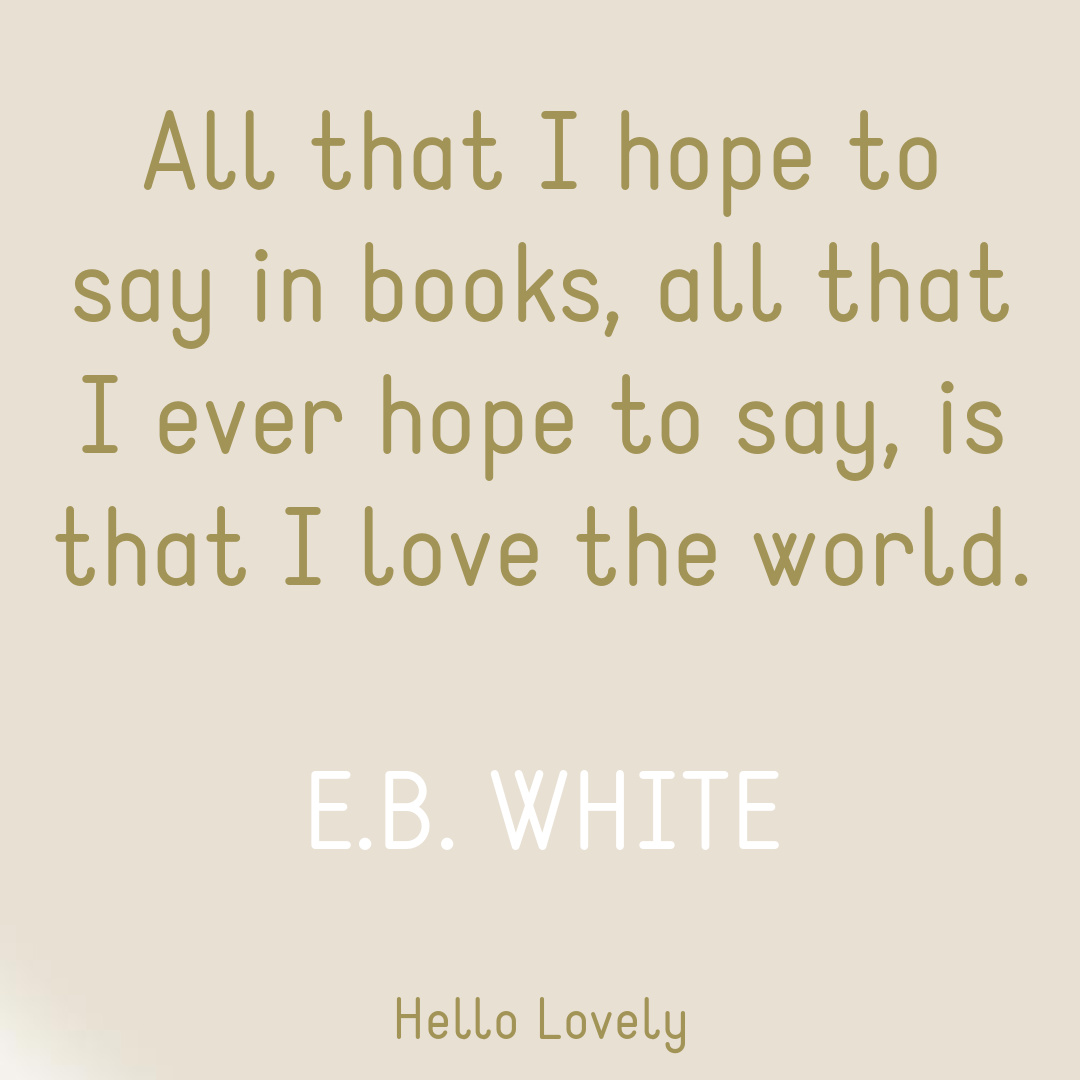 Secrets for a Sumptuous Bed from Leanne Ford
Lounging is one of her favorites (she calls herself 'Lazy Lee' but that seems like a stretch if you check out her portfolio). So it's not surprising she has smart ideas about making the bed.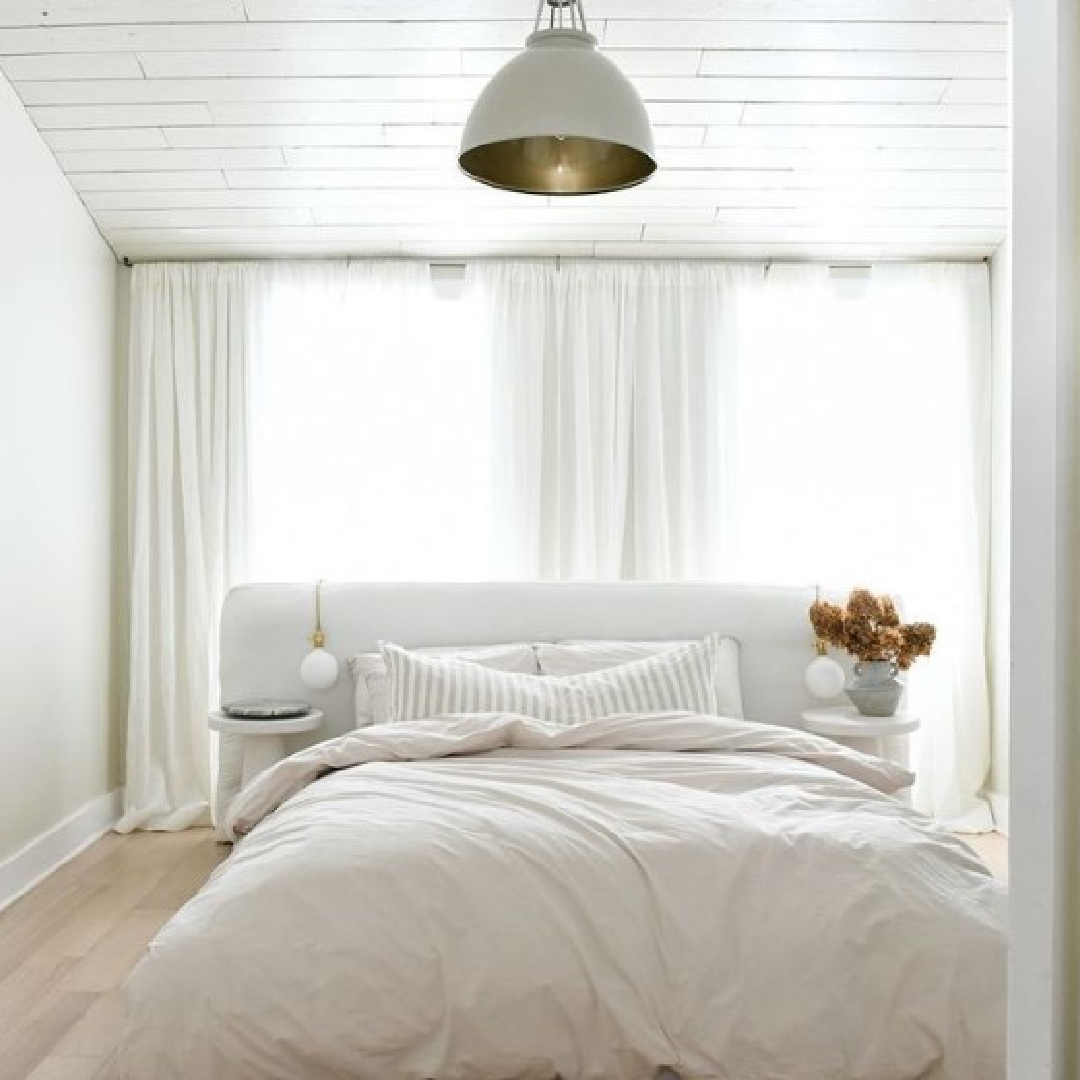 Ford suggests buying king size pillow cases for standard pillows and tucking the ends in. Another tip she applies at home? Size up for duvet covers for a more relaxed look like her bed above.
How to Style Your Bedroom Like Leanne Ford
Let the Tub Be the Star
One of the common denominators you may notice in her bathroom designs is emphasis on the tub. Notice how the bathtub is clearly the focal point, and very humble shelves in the nook don't even try to compete.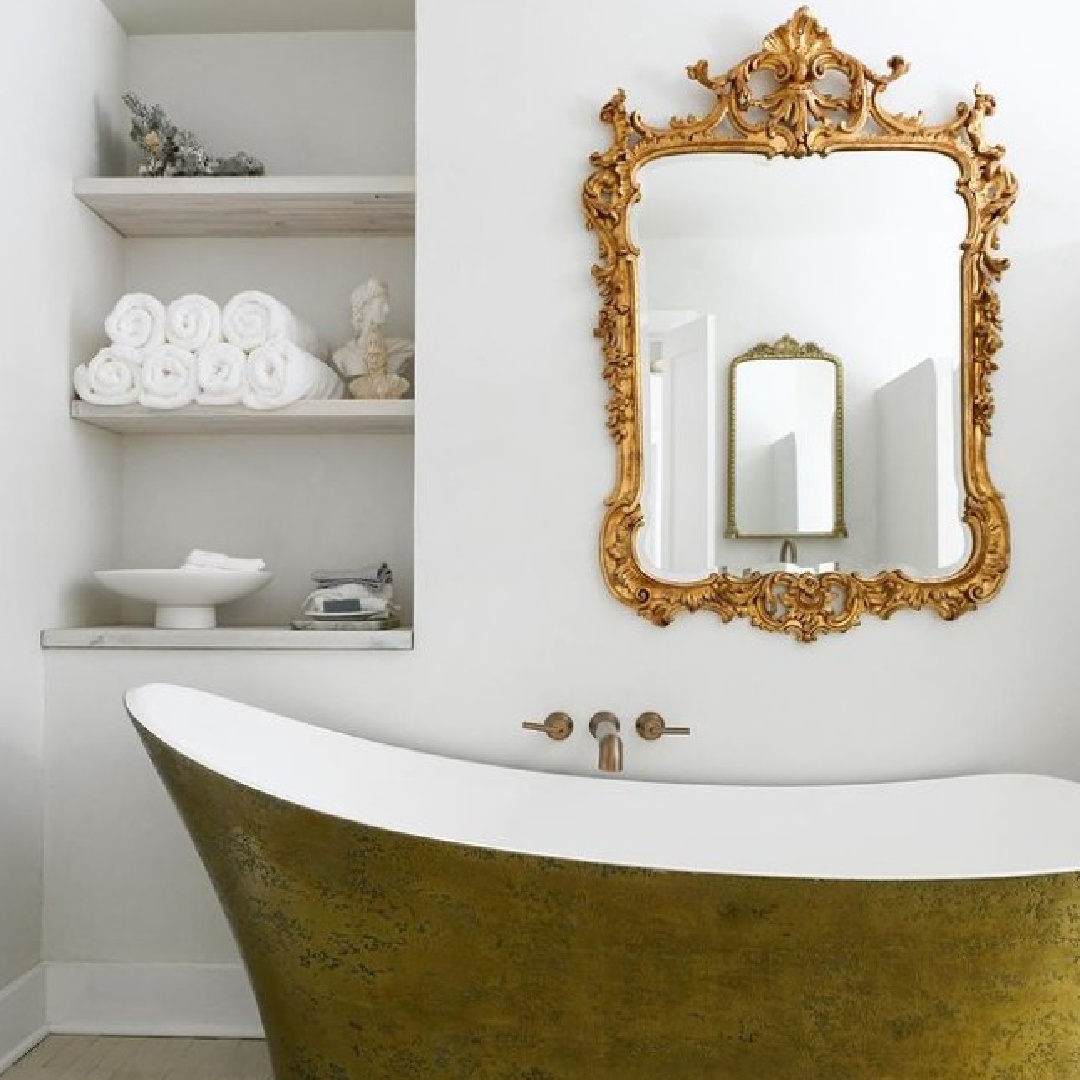 Try These Leanne Ford Approved Paint Colors!
Like Leanne, I never tire of white! Here's a case where you may want to try the exact same colors.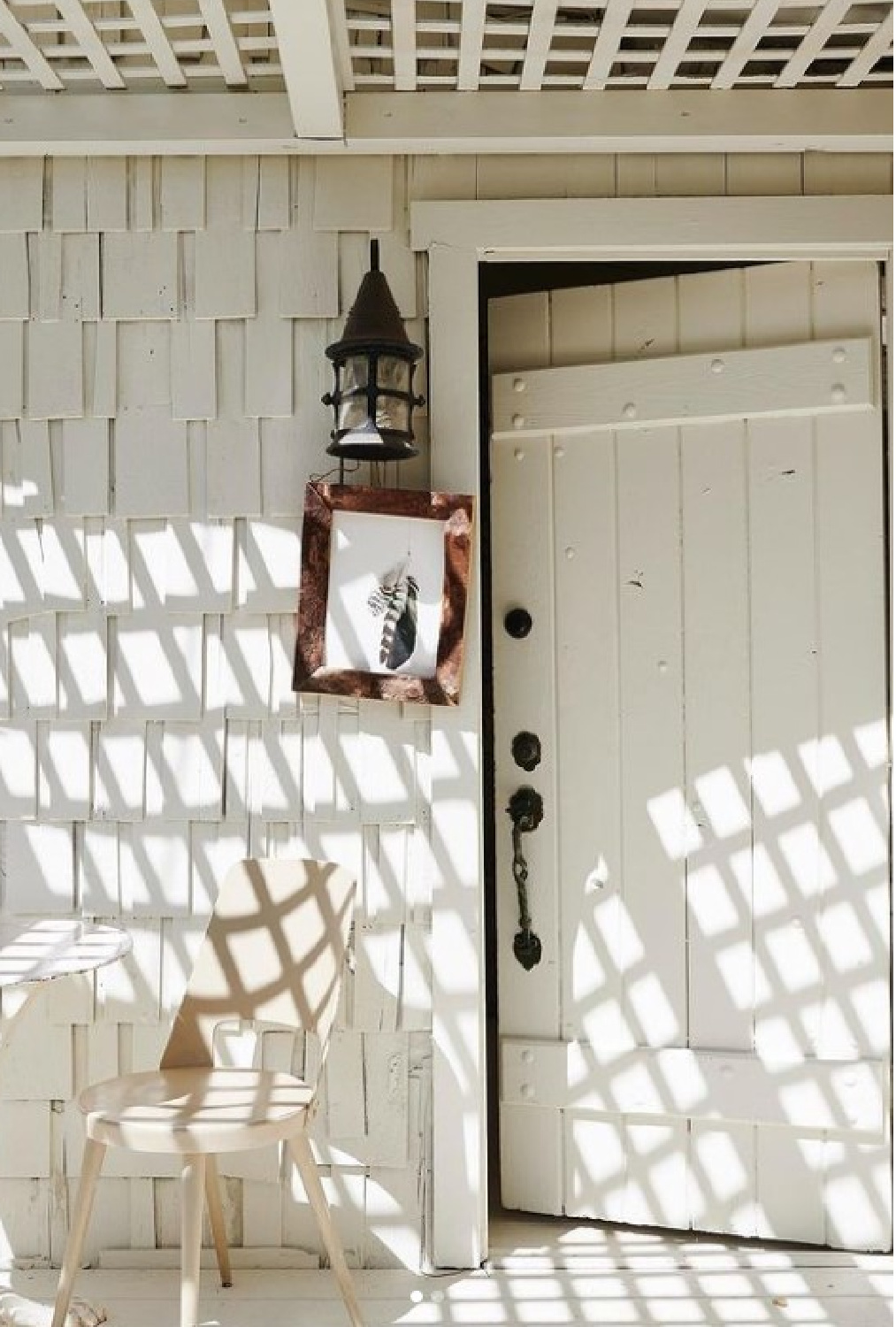 Leanne Ford is crazy about Behr Crisp Linen and uses it multiple projects. It's a warm white that reminds me of BM White Sand which is the color I used throughout the French country manor home we built years ago.
For a brighter white Leanne uses, try PPG Delicate White.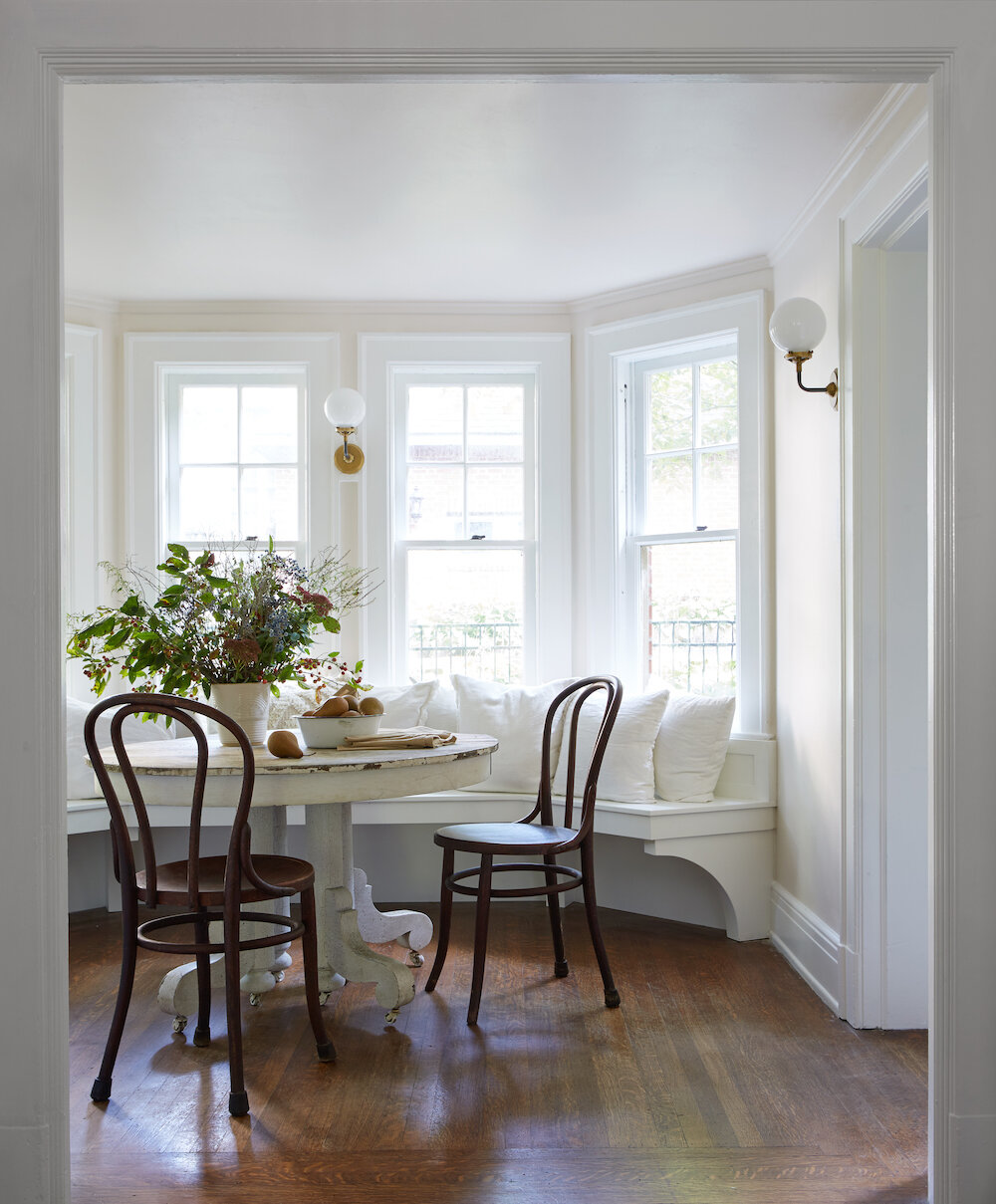 Don't you love how she and Steve Ford built the banquette with those brackets on the ends!?!
What a dramatically clean transformation is possible with simple white paint! Here's a color with which I have experience. It's very similar to the hugely popular SW Alabaster (a Joanna Gaines favorite) but is Behr Cameo White.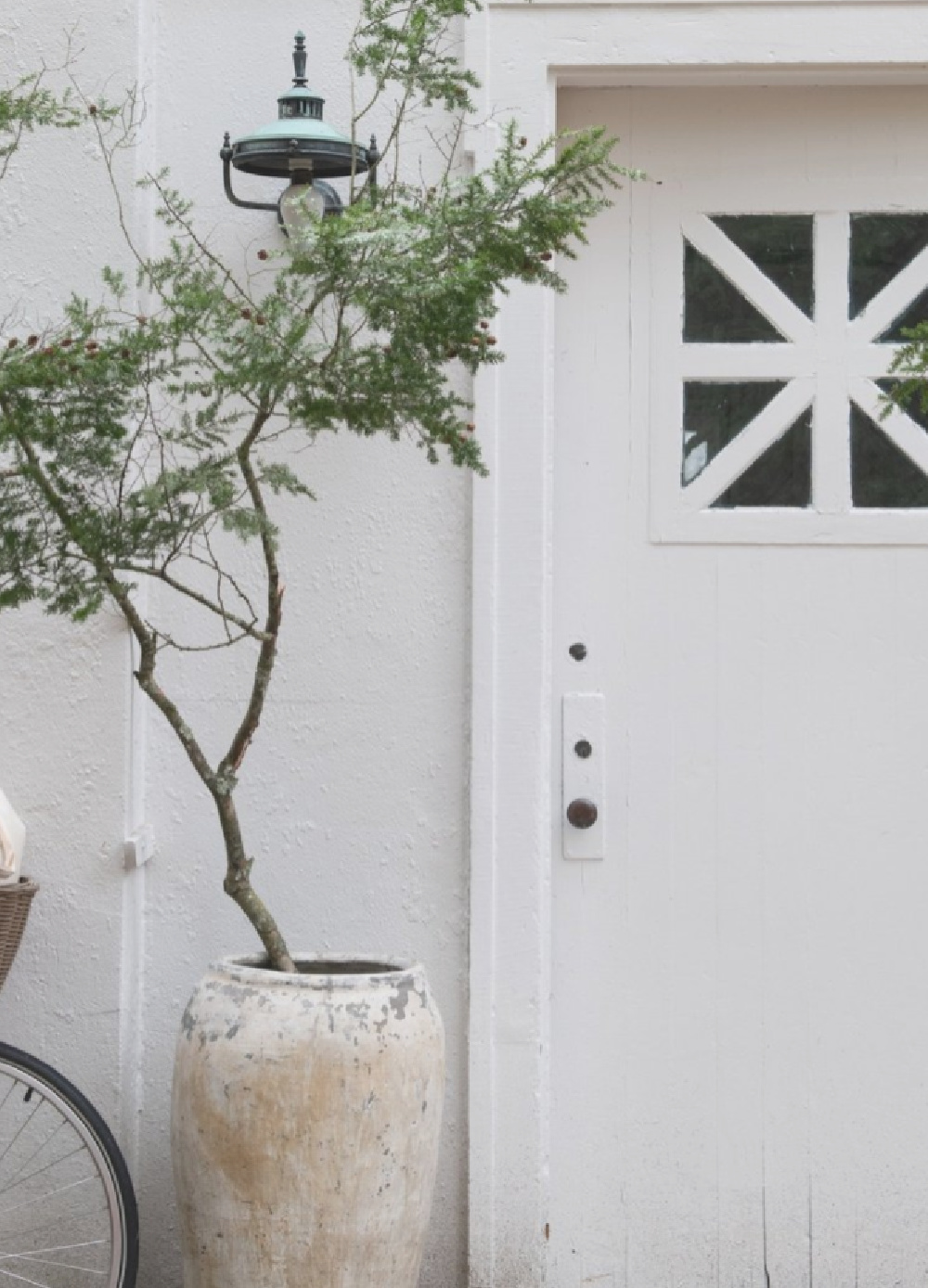 Easiest way to see if a paint color is right for YOUR space? Order samples with Samplize and have them delivered straight to your door.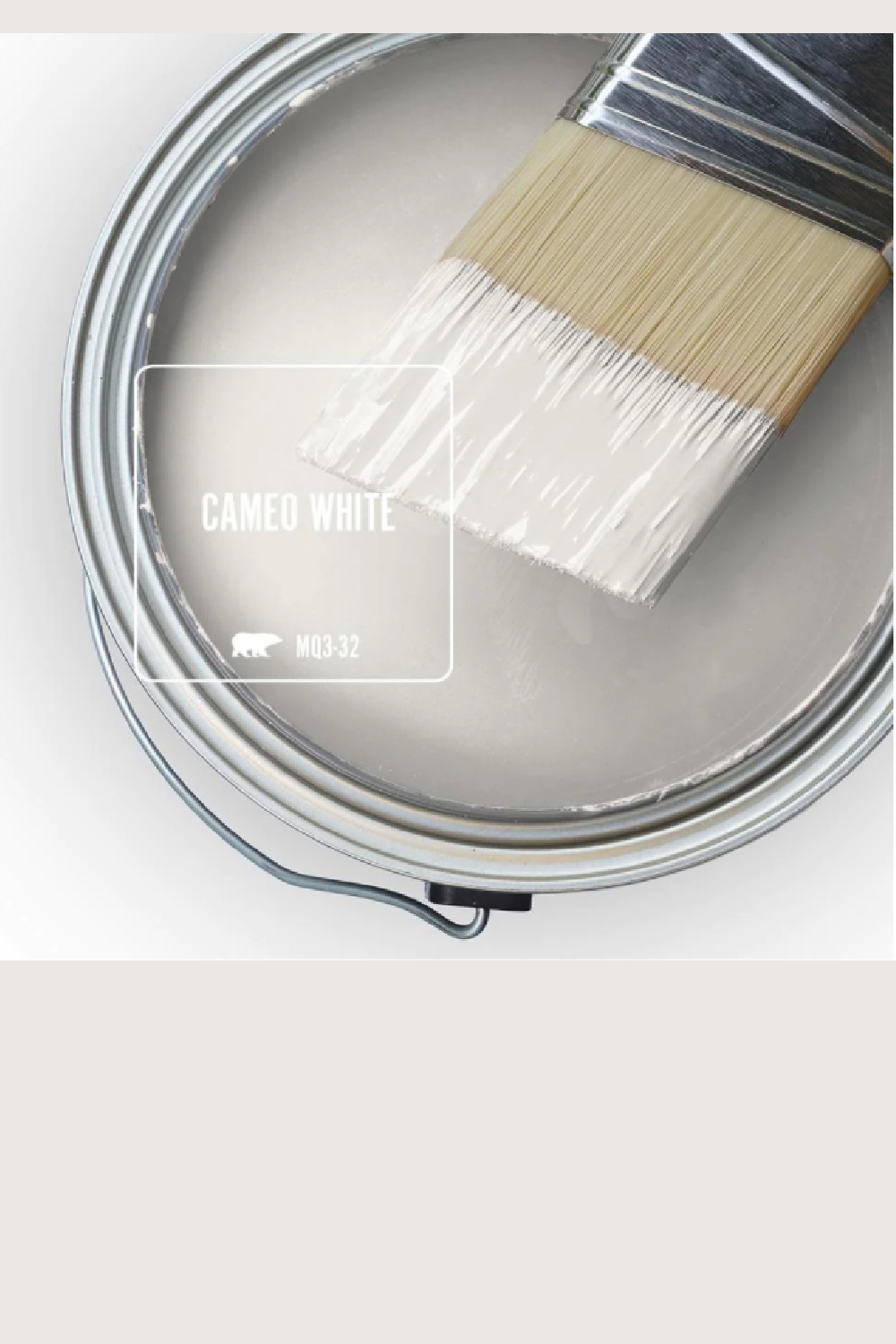 See more inspiration from Leanne Ford HERE.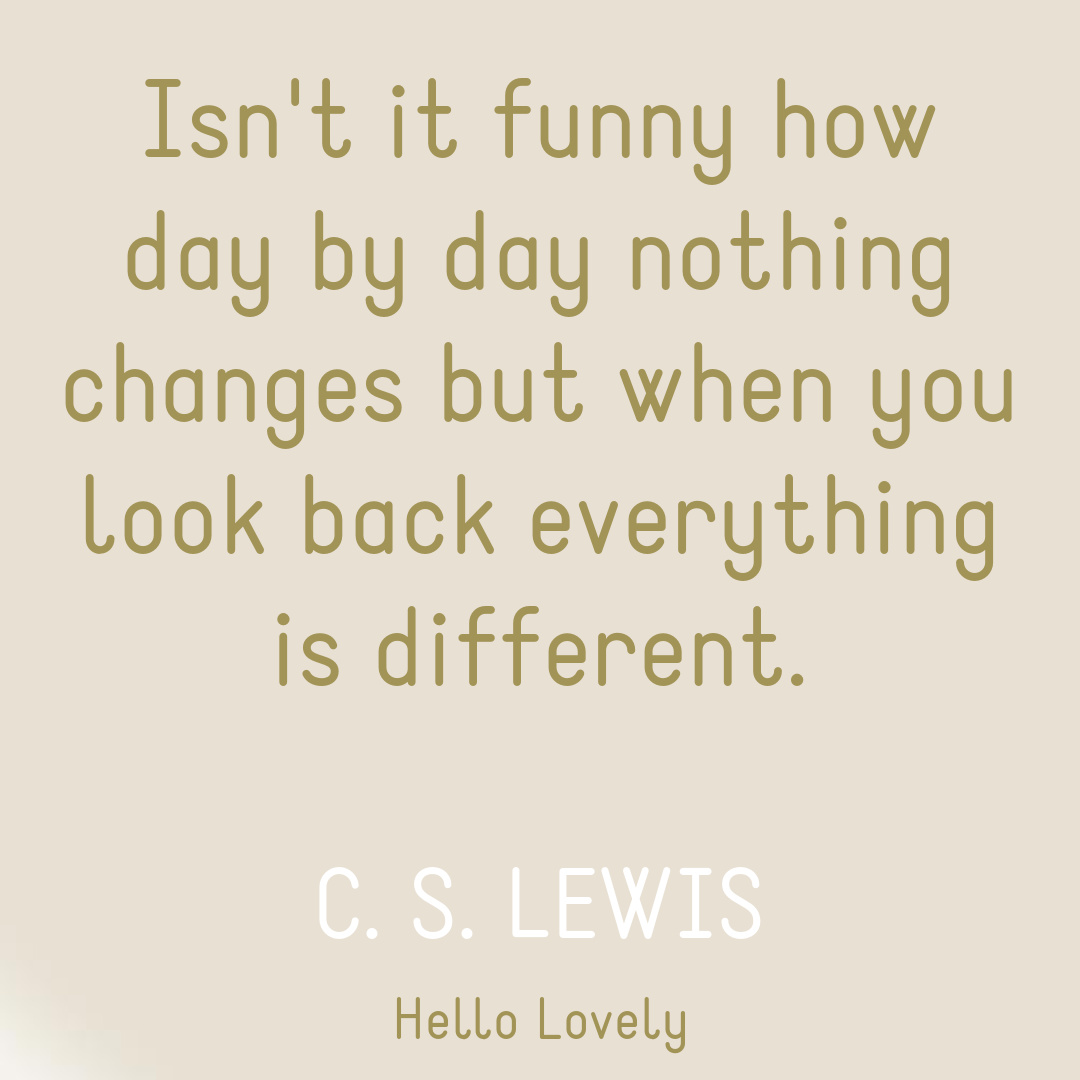 I independently selected products in this post—if you buy from one of my links, I may earn a commission.
Peace to you right where you are.
-michele
Shop for items you already intended to buy on Amazon RIGHT HERE, and also find home decor here to keep decor inspiration flowing on Hello Lovely!
Hello Lovely is a participant in the Amazon Services LLC Associates Program, an affiliate advertising program designed to provide a means for sites to earn fees by linking to Amazon.com and affiliated sites.