With the New Year, we have seen 2023 paint color trend articles roll out everywhere. While I'm ever curious about the colors marketers say folks will be clamoring for when it comes to fashion and family room walls…color me timeless alllll day, everyday, every year! Neutrals aren't going anywhere. Timeless trustworthy white paints to know are included in this installment.
I independently selected products in this post—if you buy from one of my links, I may earn a commission.
6 Trustworthy White Paints You'll Want to Know
Ever stood beneath the fluorescents in a big box store leafing through paint swatch cards in search of a white paint color? It can be confusing when you're away from home and feel clueless about where to even start. That's why it helps to know the names of white paint colors designers commonly reach for. These colors are popular for a reason–they have worked for a lot of folks in a variety of contexts.
With its slight gray undertone, this versatile cool white pairs well with other gray-influenced colors. Like stepping into a snowy glade.
While we don't know the exact paint for the grey shutters, try Farrow & Ball Manor House Gray No. 265 which is called a cool architectural grey.
Although we are seeing a surge in popularity for colorful kitchen cabinets these days, timeless white kitchens are not likely to disappear. Same goes for white exteriors and painted white brick facades:
Should you paint your kitchen's walls the same white as the cabinets? There is no design police that will write you up for either way! Since the finish of the paint on cabinetry and trim will be different from the wall finish, they will vary in that way.
The best way to decide is to look at as many images online of white kitchens and notice what your eye seems to favor most. A little contrast between walls and cabinets? High contrast? Almost no contrast? Let that guide you.
When you want it light but cozy, consider this warm, creamy white that borders on greige.
In my experience with choosing paint colors for myself and others, I am convinced that reviewing images online is actually more helpful than discussions at a paint counter. All the white swatches together in a store sometimes begin to look the same!
Notice how the swatch above appears more putty-toned, but with natural light in the bedroom below, it is warmed by the yellow of the sun:
Putty colors are still popular for kitchen cabinetry, and you can find ideas in THIS.
The black accents are so gorgeous with Shoji White!
Shoji White Exteriors
To fully appreciate just how powerfully white paint can transform a home, consider this home's BEFORE and AFTER…it is in my neck of the woods where you see this traditional style two-story exterior everywhere:
Wow! Choosing the right white for an exterior is often confounding for homeowners.
A handy rule (even though there are truly none) is to choose a white where the LRV is less than 80.
This eliminates a lot of too-bright whites that may not feel warm and inviting.
Do you love the contrast with black?
I'm still personally drawn to the understated tranquility created with low contrast whether it is inside or outside.
Another wildly popular white paint color among designers? BENJAMIN MOORE Simply White.
Simply White's color name says it all!
The slightest hint of warmth makes this clean, crisp white a favorite to use anywhere in the home.
Here's a color for people who love pared-down, sophisticated simplicity.
Tour a beautiful home where Simply White is used beautifully throughout the interiors HERE.
BM Simply White and shiplap seem to go together like a snow on a white picket fence, and you'll find plenty more examples on Pinterest here tool.
Need an idea for a high contrast neutral to use with it?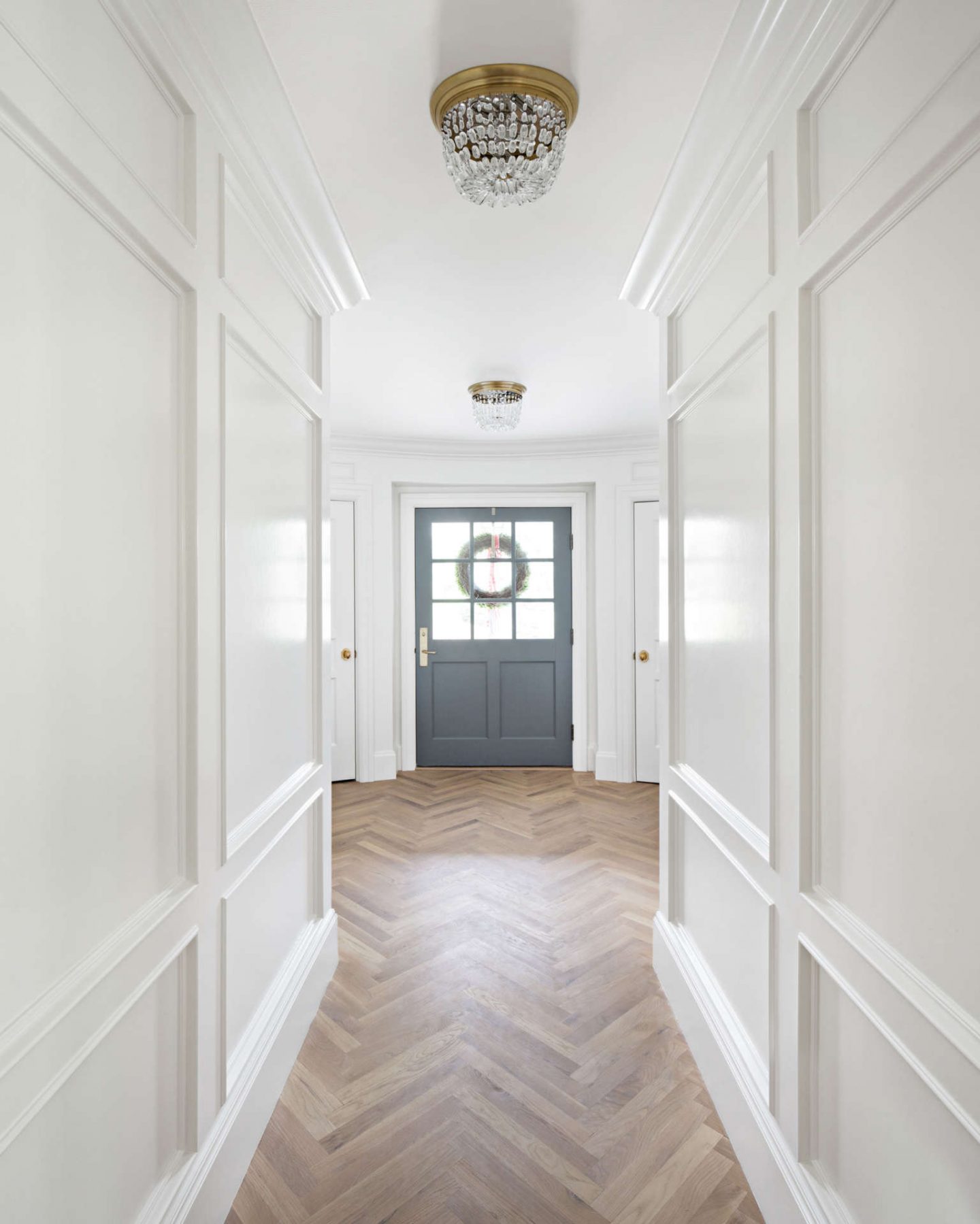 The Fox Group often chooses this paint color for their renovation and construction projects which quite often entail architectural details such as paneled walls.
I can't imagine being tasked with the job of choosing the perfect white for an area like this…so much work to ever change it!
In case you are wondering how Simply White works with warm metals:
In our former home, we chose BENJAMIN MOORE White OC-151 for walls, trim, and ceilings.
After sampling many whites with various unflattering undertones, this bright, crisp, very cool, gallery-like white almost instantly modernized the dated rooms.
If you compare Benjamin Moore White OC-151 to other whites on the graphic below, you can appreciate how much more cooler it is than the warm greyed neutrals.
Walls were painted in a flat finish, and semigloss was used on the trim.
While it is certainly not always in order to paint trim the same white, we wanted ours to mostly disappear.
Our alder doors (left natural with no stain) contrast with the surrounding white door trim.
A favorite coastal cottage with interior design by Lisa Furey is painted inside and out with Benjamin Moore White as well.
You have likely heard all sorts of hype about White Dove, and there's good reason. It is a tried and true white with staying power.
Isn't it helpful to see the color in a variety of contexts? Here it is on a house exterior:
It's beautiful in this timeless dining area with shiplap:
White Dove stays true throughout the day with changes in light and gets along nicely with neighboring colors!
Its bandwagon is one you can't afford to ignore, and I have slathered it on a crazy number of cast-off furniture pieces and cabinets.
I love it in older homes, but it can also be magical in more modern rooms. Here it is paired with blush:
Such a great choice when you're after modern vintage style:
Here is a reference to pin:
Do you have a Pinterest board reserved for paint colors? It can keep you organized.
White Dove on shiplap is timeless and classic:
If you're after a classic look that doesn't feel cold and that will stand the test of time, definitely sample this color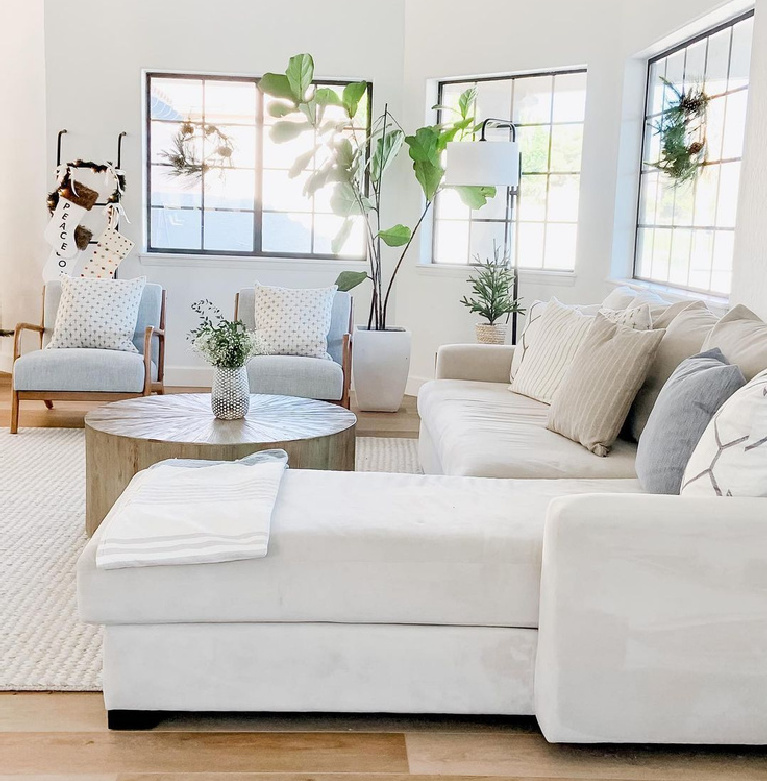 Chantilly Lace is cooler than White Dove so designers often like it for rooms where the mood is more modern.
One of my favorite kitchens of all time is Chantilly Lace with SW Repose Gray cabinets along with natural wood and woven accents.
In an all-white kitchen, a white painted ceiling offers texture but whispers. Staining the wood ceiling could be beautiful too, yet it would feel more rustic than elegant.
Here's a beautiful mood board from a designer for a kitchen she designed where Chantilly Lace is paired with blue-grey and Muse quartz:
Brilliant, bright whites like Chantilly Lace can be a smart choice for bathrooms where you want to maximize light.
If you're after a warm white to pair with a cooler white painted trim, consider White Sand.
We used it throughout our prior home as I loved how it appeared with abundant natural light.
While we could have tweaked the saturation of White Sand for rooms which were more dim, we chose to keep it at full strength. I actually enjoyed this color in different lighting situations.
Since the rooms in your home have different exposures, choosing one color for the whole house means each room will vary so it's not a boring choice to make. (Yet it sure saves time and headaches when you're touching up paint down the road!)
Where the exposure changes, so will the color.
Easiest way to see if a paint color is right in your space? Order samples with Samplize and have them delivered straight to your door.
A Few Favorite White Furnishings
I independently selected products in this post—if you buy from one of my links, I may earn a commission.
It can be tricky to find a white sofa that strikes the balance between unfussy yet not too casual.
I love how restful a creamy wallpaper paired with wainscot or shiplap can feel in a bedroom. I wouldn't ever tire of a pattern like this:
If you have yet to discover Serena & Lily, do visit them for coastal beauty and lessons in scale…
Peace to you right where you are.
-michele
Shop for items you already intended to buy on Amazon RIGHT HERE, and also find home decor here to keep decor inspiration flowing on Hello Lovely!
Hello Lovely is a participant in the Amazon Services LLC Associates Program, an affiliate advertising program designed to provide a means for sites to earn fees by linking to Amazon.com and affiliated sites.