Sometimes it is about a big bold move such as fully renovating a dark, busy bathroom or kitchen so a bright, peaceful, airy one can be born. (But what would I know about that? Ahem.) Sometimes a subtle addition or subtraction, serene decorating, and small thoughtful changes are just what you need to feel more satisfied with a space.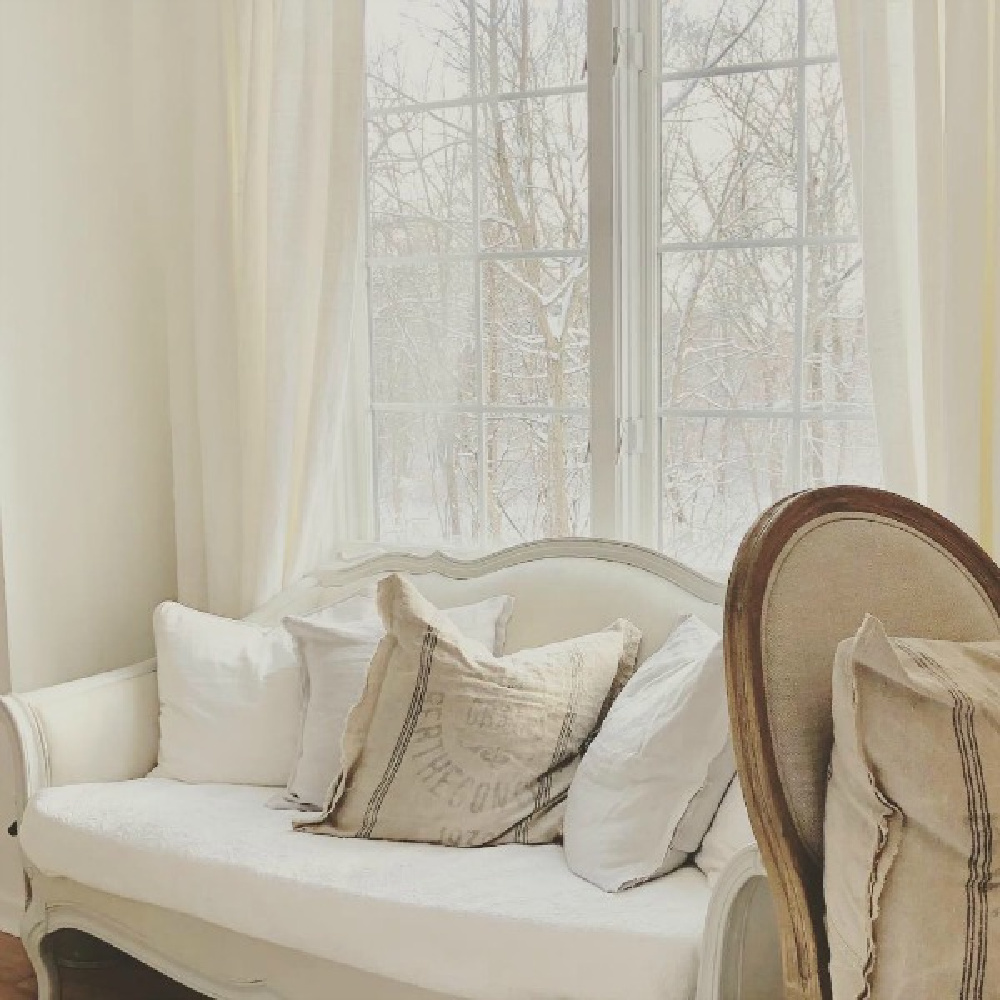 I independently selected products in this post—if you buy from one of my links, I may earn a commission.
Serene Decorating: How to Make Small Thoughtful Changes
Why Smaller, Simpler and Serene Changes?
We're often short on time, energy, and funds. Feel frustrated with a space that needs attention yet leaves you feeling stuck? Pretty sure a skilled designer could offer a solution? It's possible.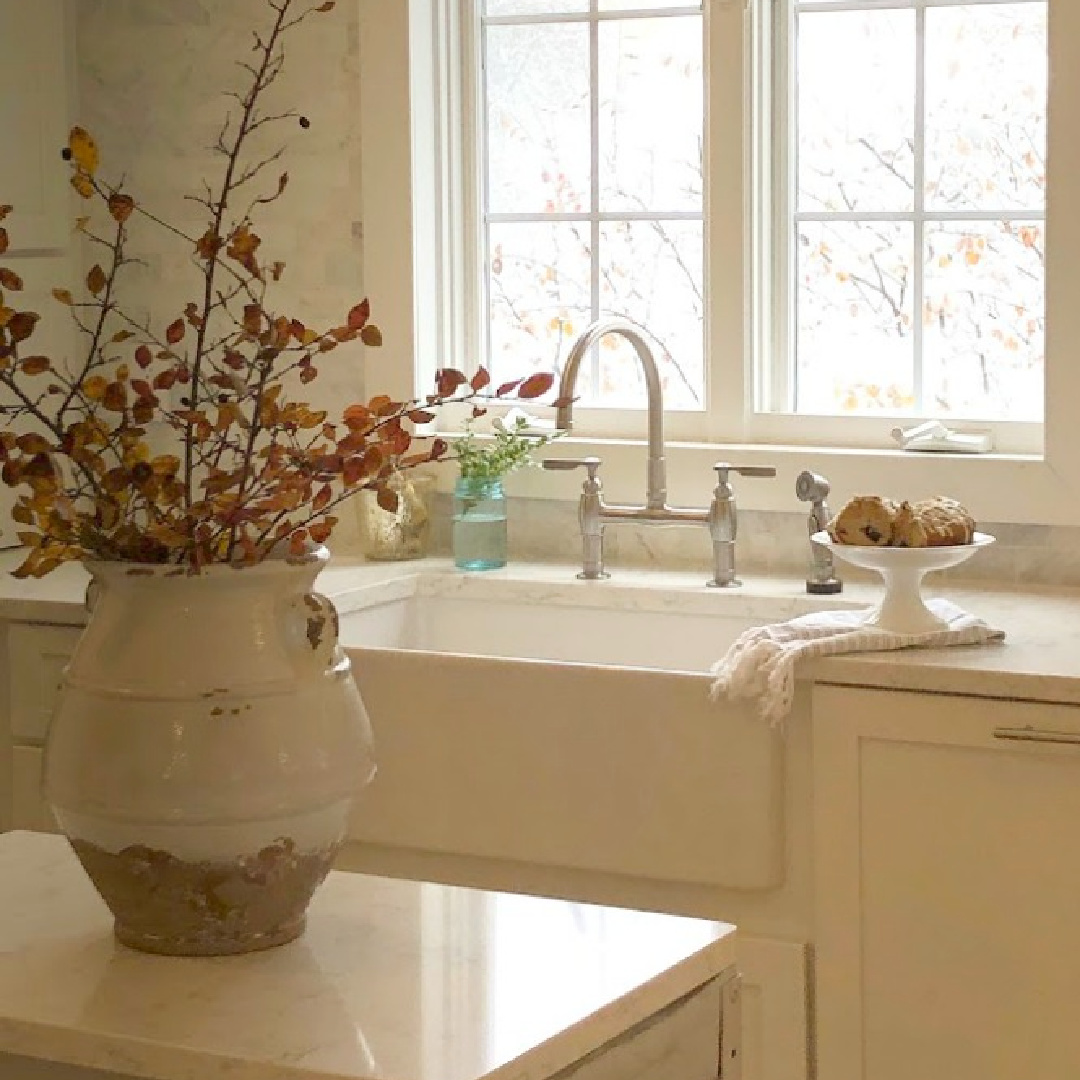 If it is a kitchen or bath, as long as you have buckets of extra cash, miles of patience, and months of time, you'll probably, mostly, eventually, someday arrive at a beautiful result. 🙂 But if they're in limited supply, there are still creative, intentional, practical options.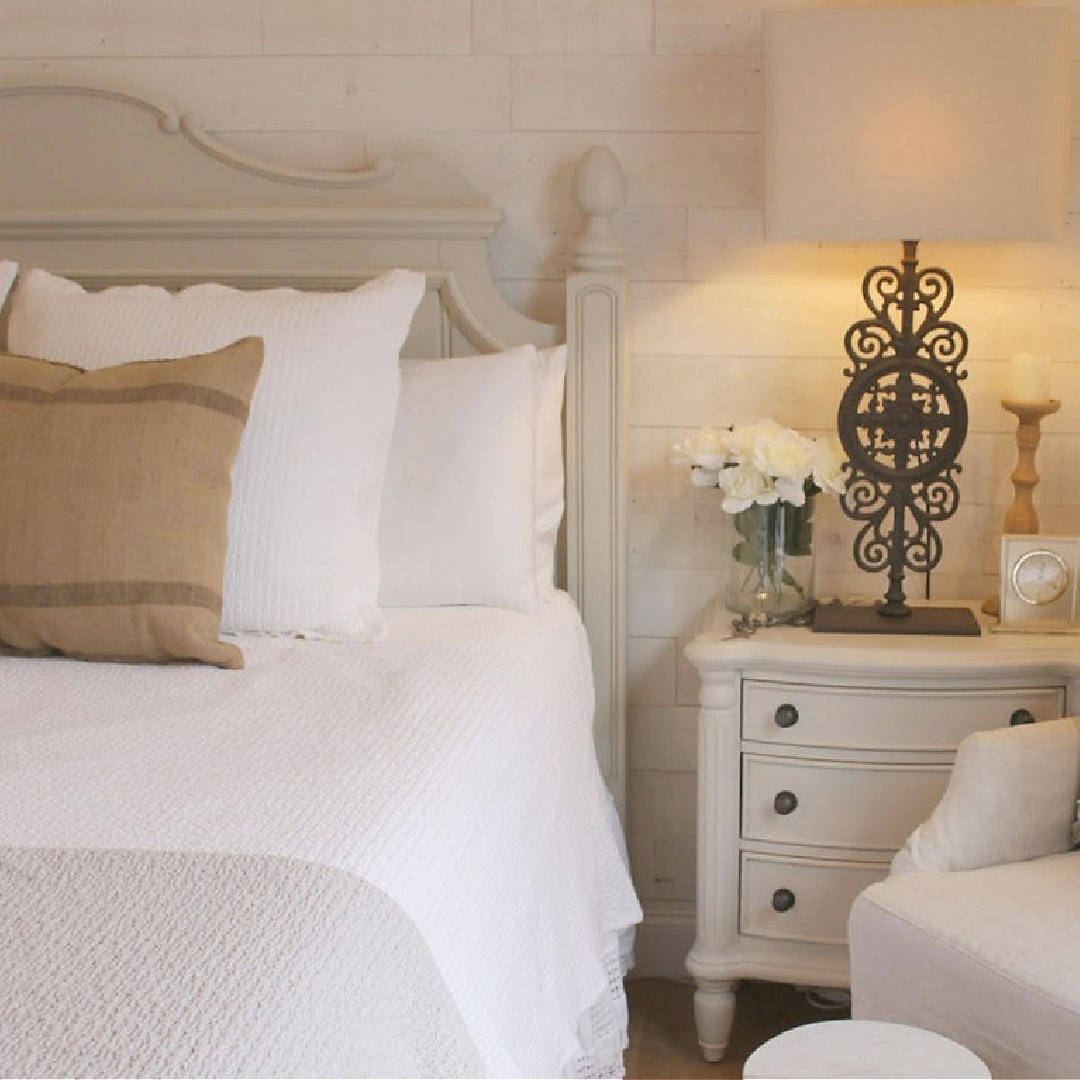 Often, when we're after a calmer, less busy, unfussy space, it's about making small thoughtful changes (acquisitions, deletions, modifications) that won't create a pile of debt or regret. For example, a few years ago, fed up with our dimly lit forlorn pass-through laundry room, I made small, customized tweaks just for me.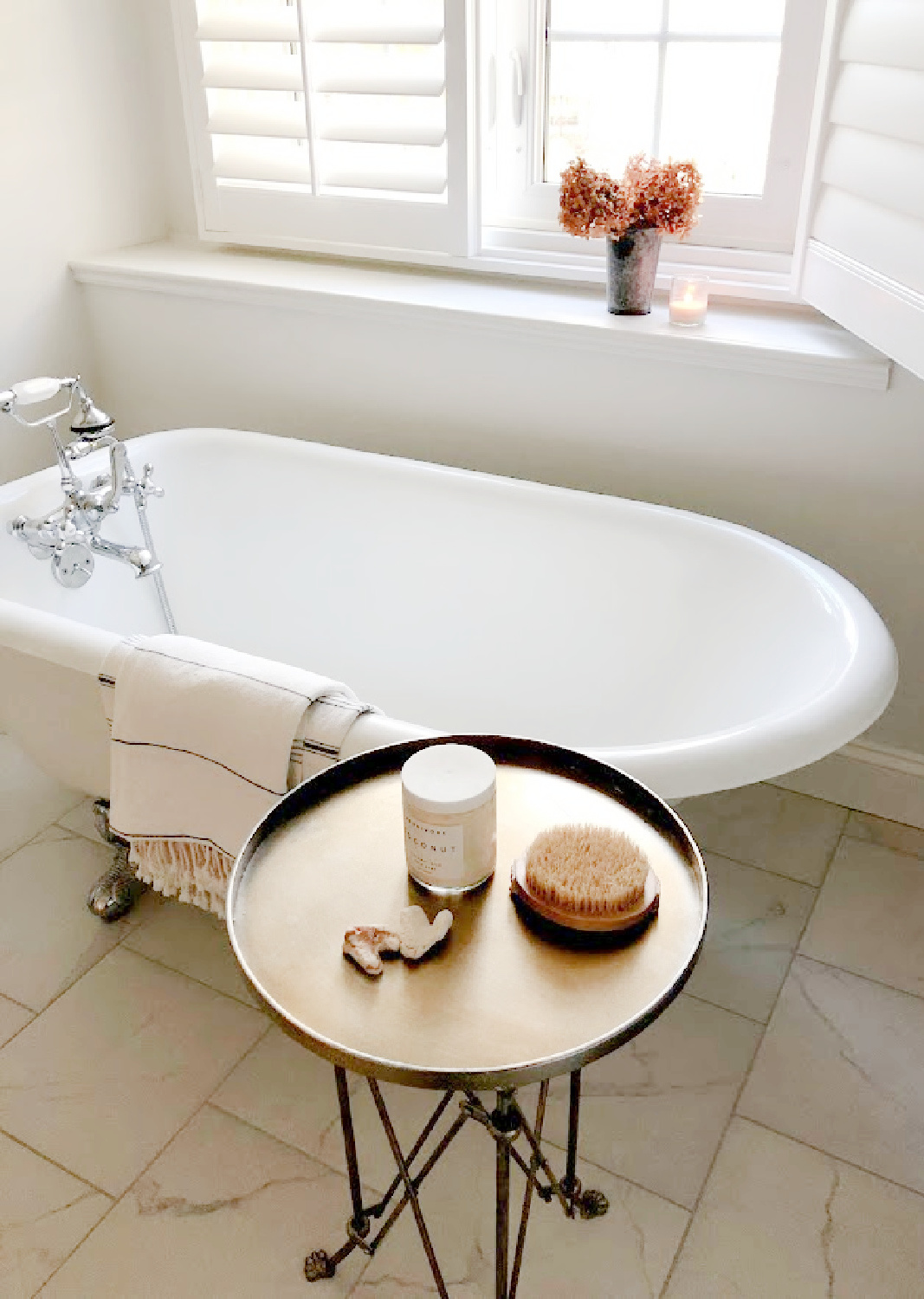 Staying True to You
I know there were blog readers who were disappointed in how humble I kept the plan. Folks who see me as a creative dynamo with a handy husband anticipated that I'd sock money, labor, and time into a pinworthy project.
But while I post plenty of fantasy, high end inspiration, I'm a frugal and sensible soul. I stayed true to myself and chose easy, understated, cosmetic changes that required no demo, dust, or trade professionals.
We didn't even buy a flashy new washer and dryer set since ours are still working fine.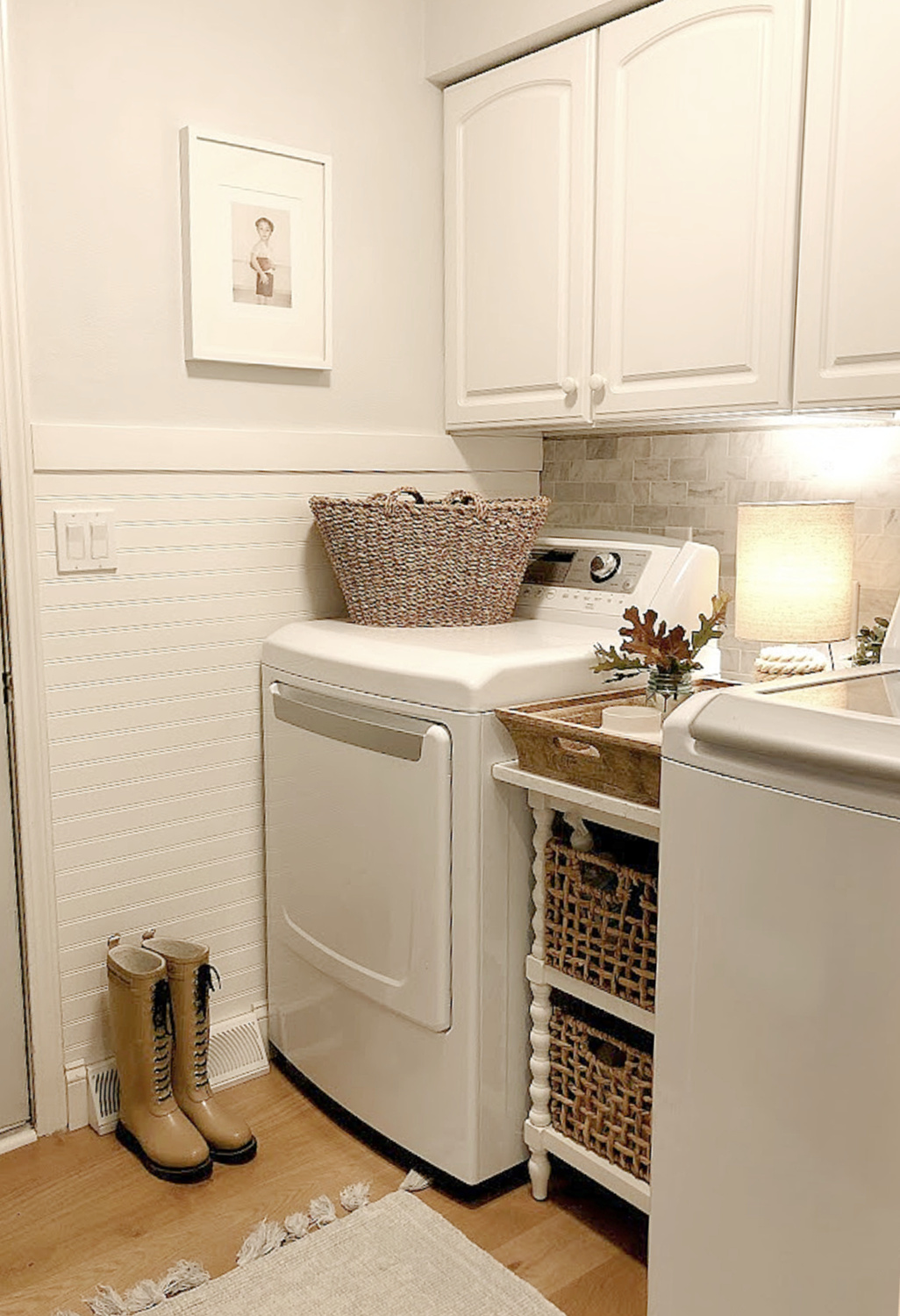 I wasn't creating a #laundryroomgoals space because our wee-sized, pass through, windowless room didn't need to become a fantasy. It simply needed to calm down, have an organized pantry closet, and become a tidy, functioning space to do laundry.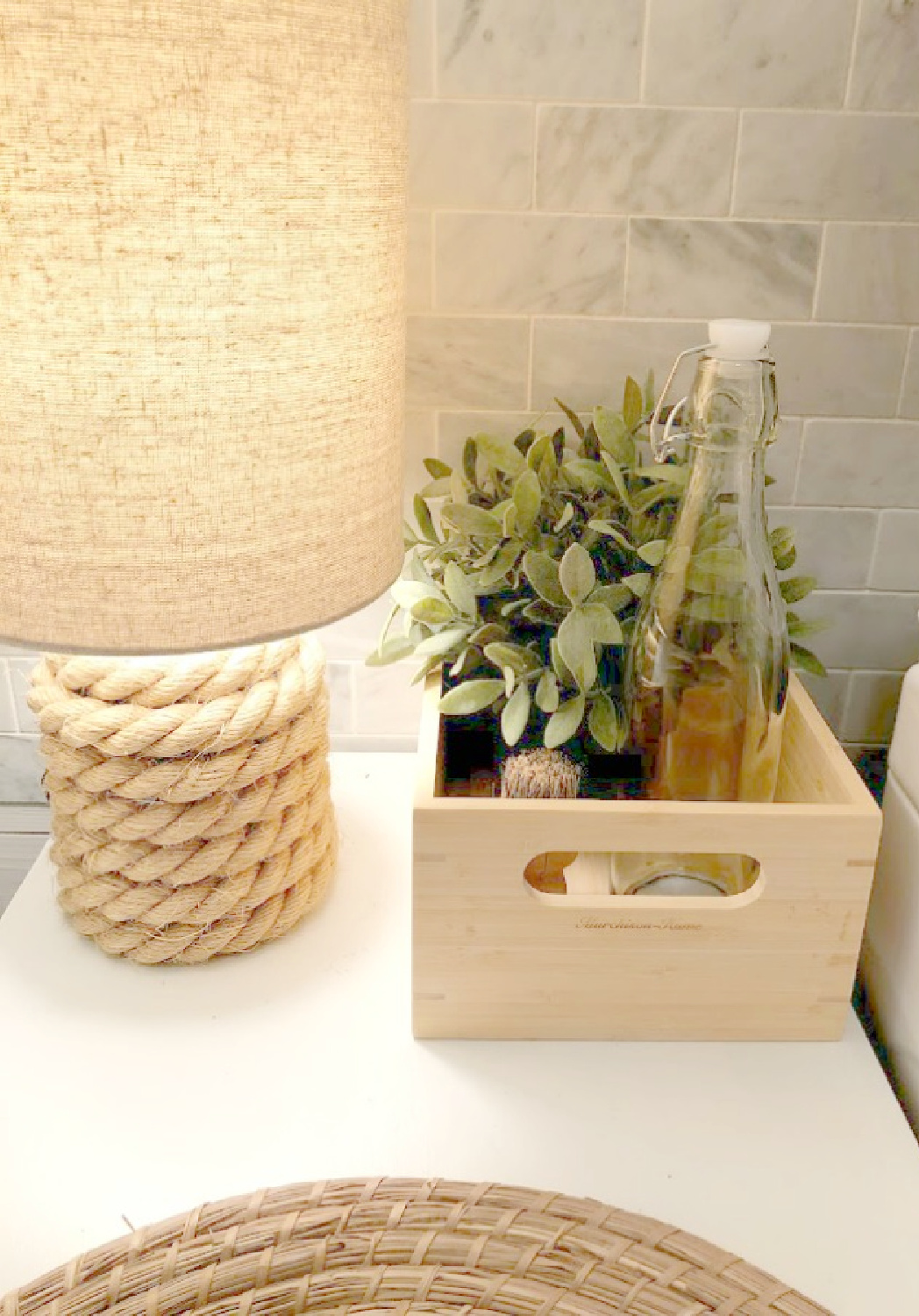 I'm guessing you may have a similar space at home. Maybe you're unhappy with how it makes you feel jittery and not calm. Yet maybe you rent. Or maybe it's not worth: hiring a pro, going to great expense, or the trouble of remodeling for resale or for your sanity.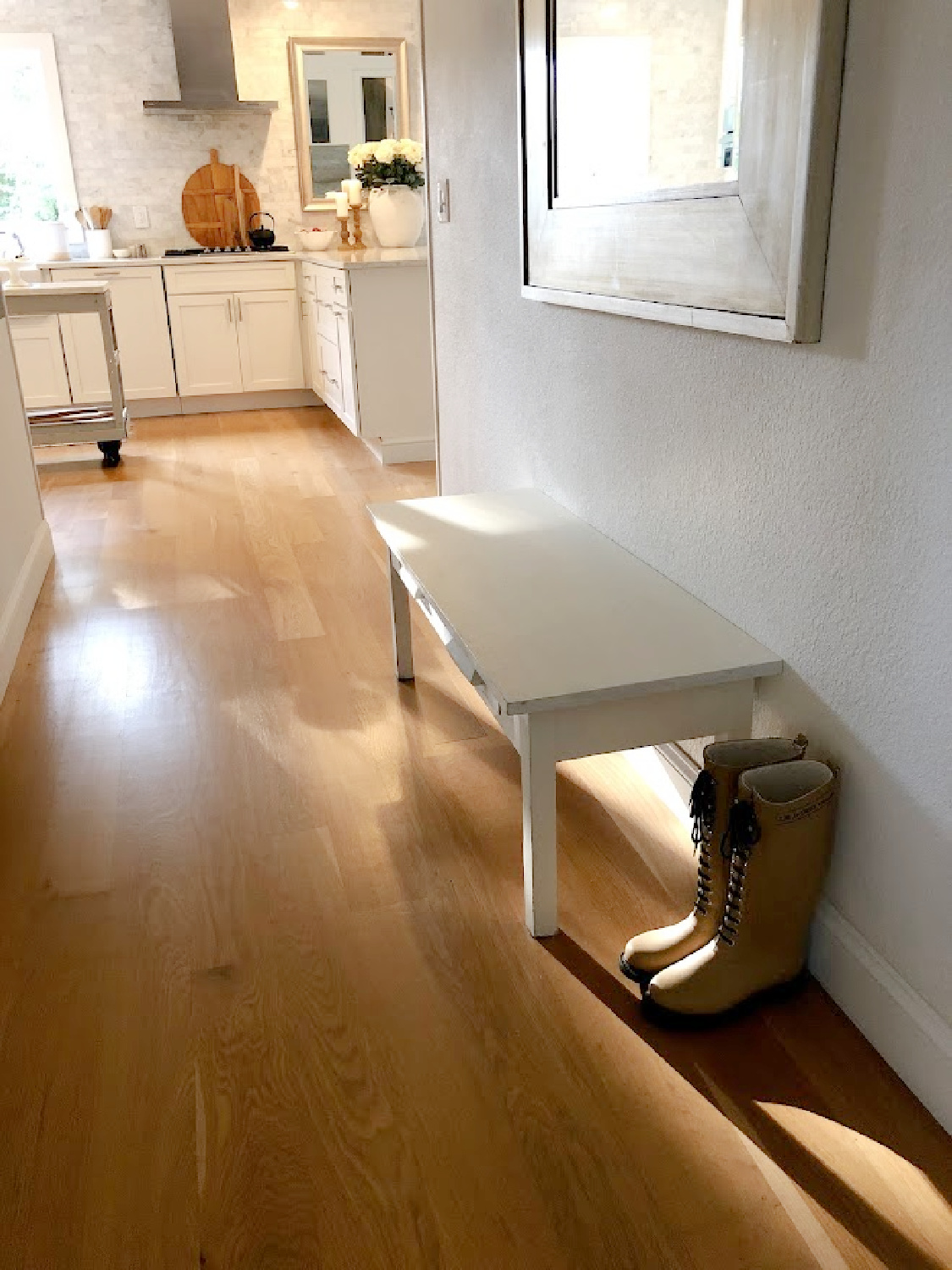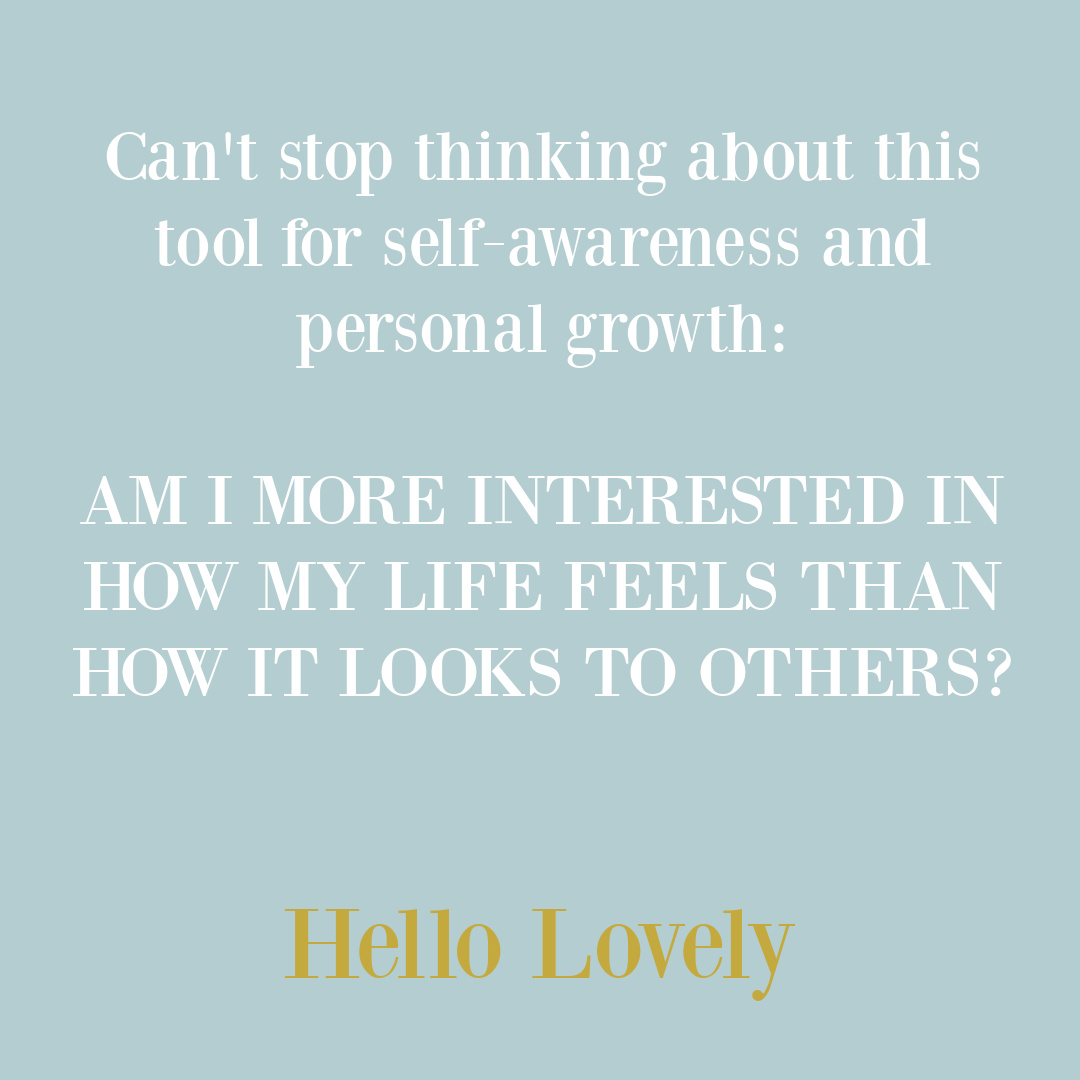 Simple & Understated is Totes Underrated
Even though I was after simple and understated, it was about adding the right elements to that utility space. Upgrading the builder's grade ceiling light for a pretty chandelier and adding a beautiful polished marble mosaic tile backsplash in that former laundry room?
Gamechangers.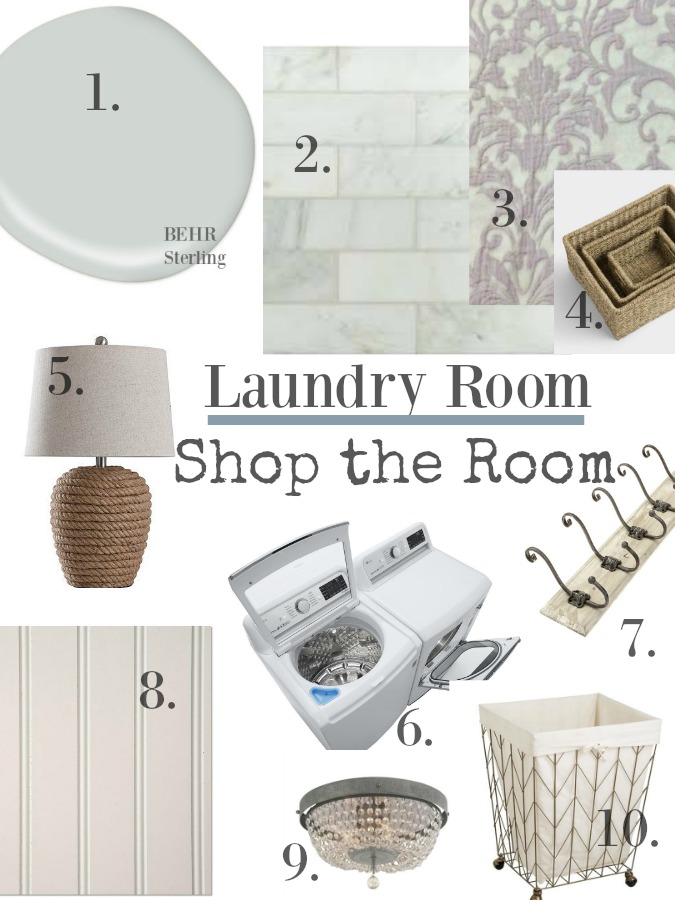 Softly diffused, sparkly light made the little space more welcoming. The light bounced off reflective stone tile which brought a natural, organic layer into a sterile environment. A favorite color painted on the walls made it feel customized for me. There were no headaches or tears or second mortgages involved.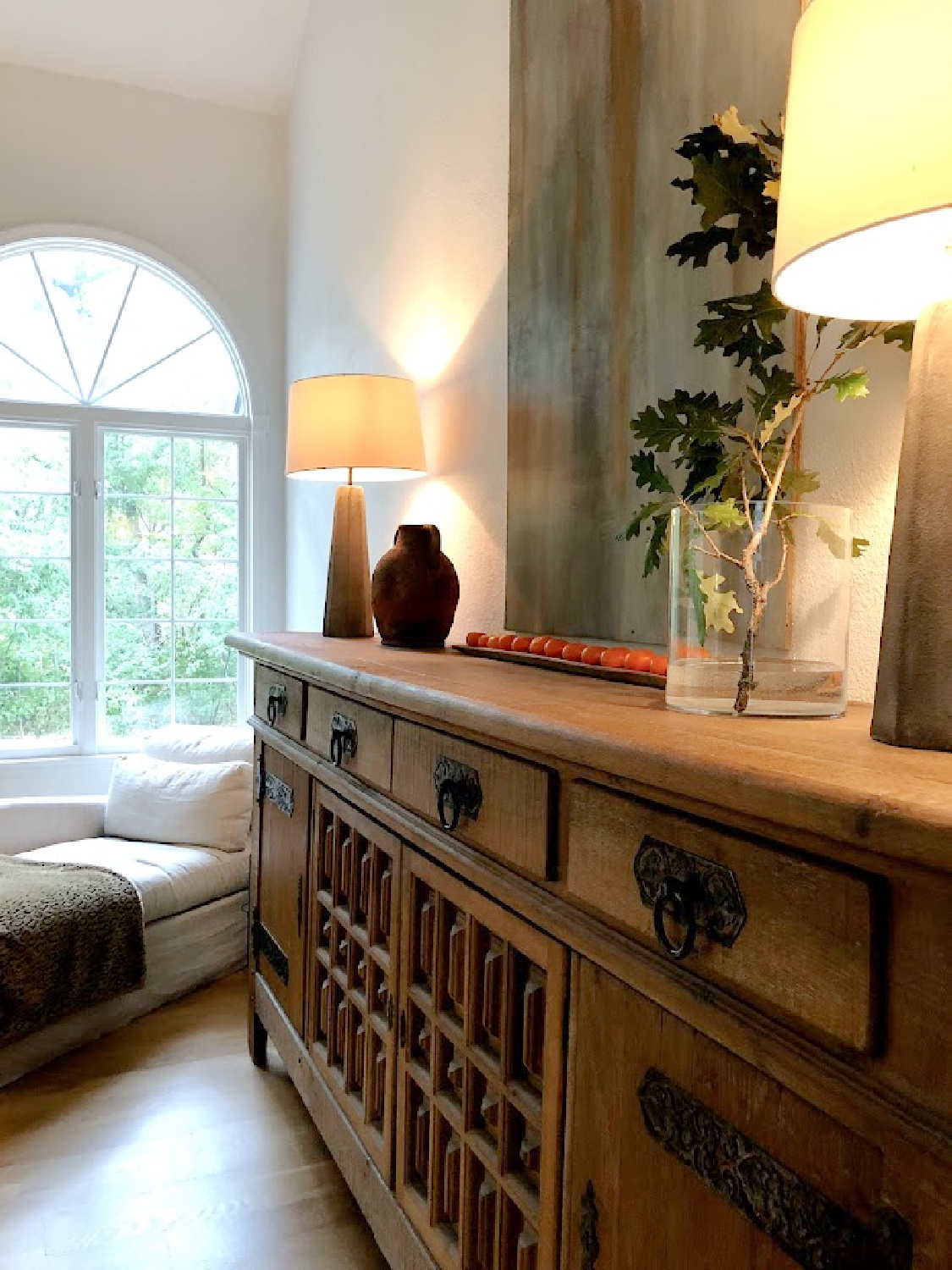 So let's consider ideas for how to make small thoughtful changes if you love serene decorating.
Turn the Tables
Before we moved, I swapped a great big harvest table for a petite round rustic dining table in the breakfast nook.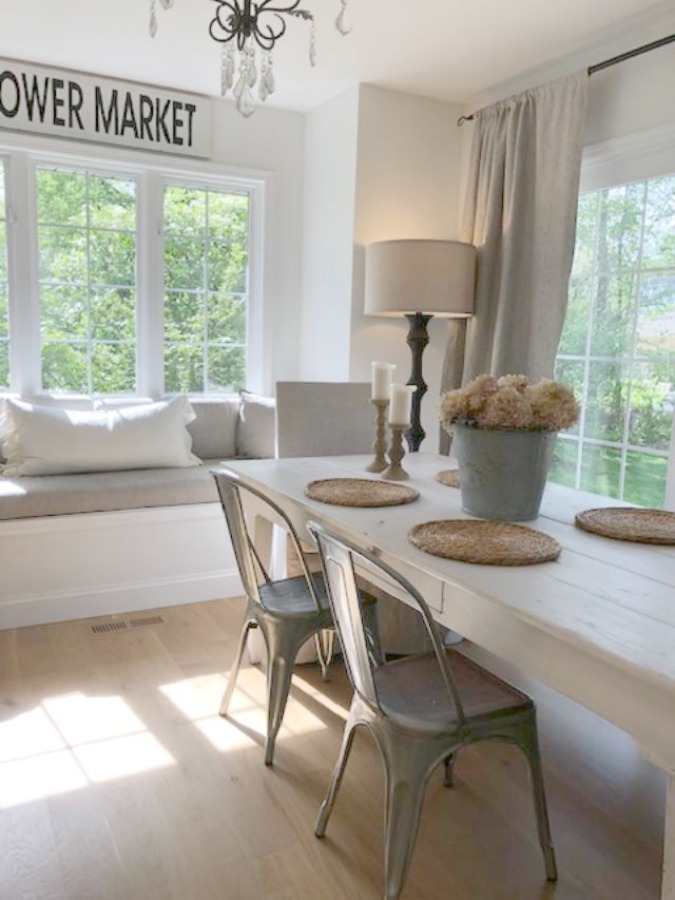 I also added a rug which instantly warmed and anchored the dining space.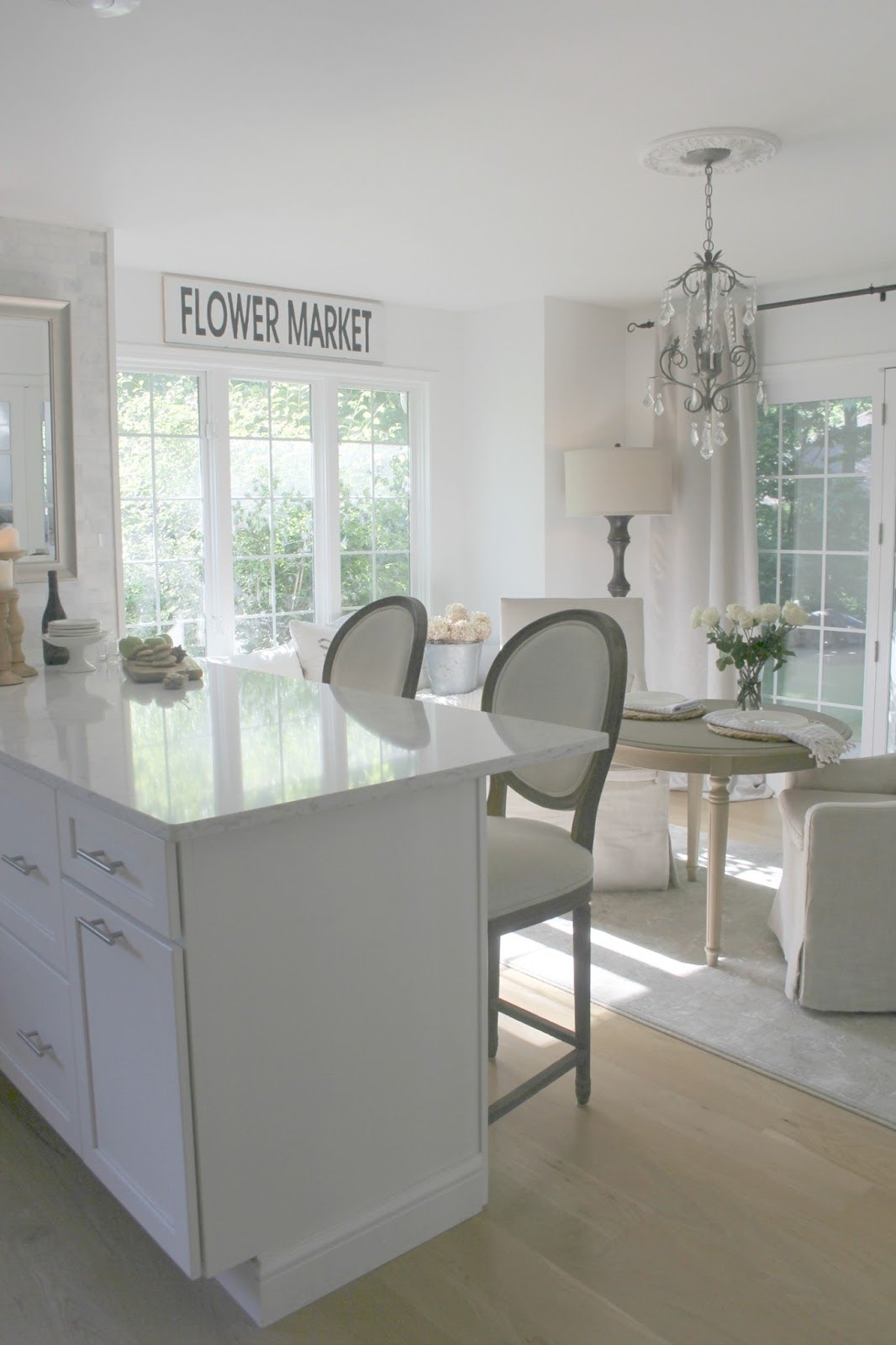 Then I swapped that one for a larger round table I have had forever!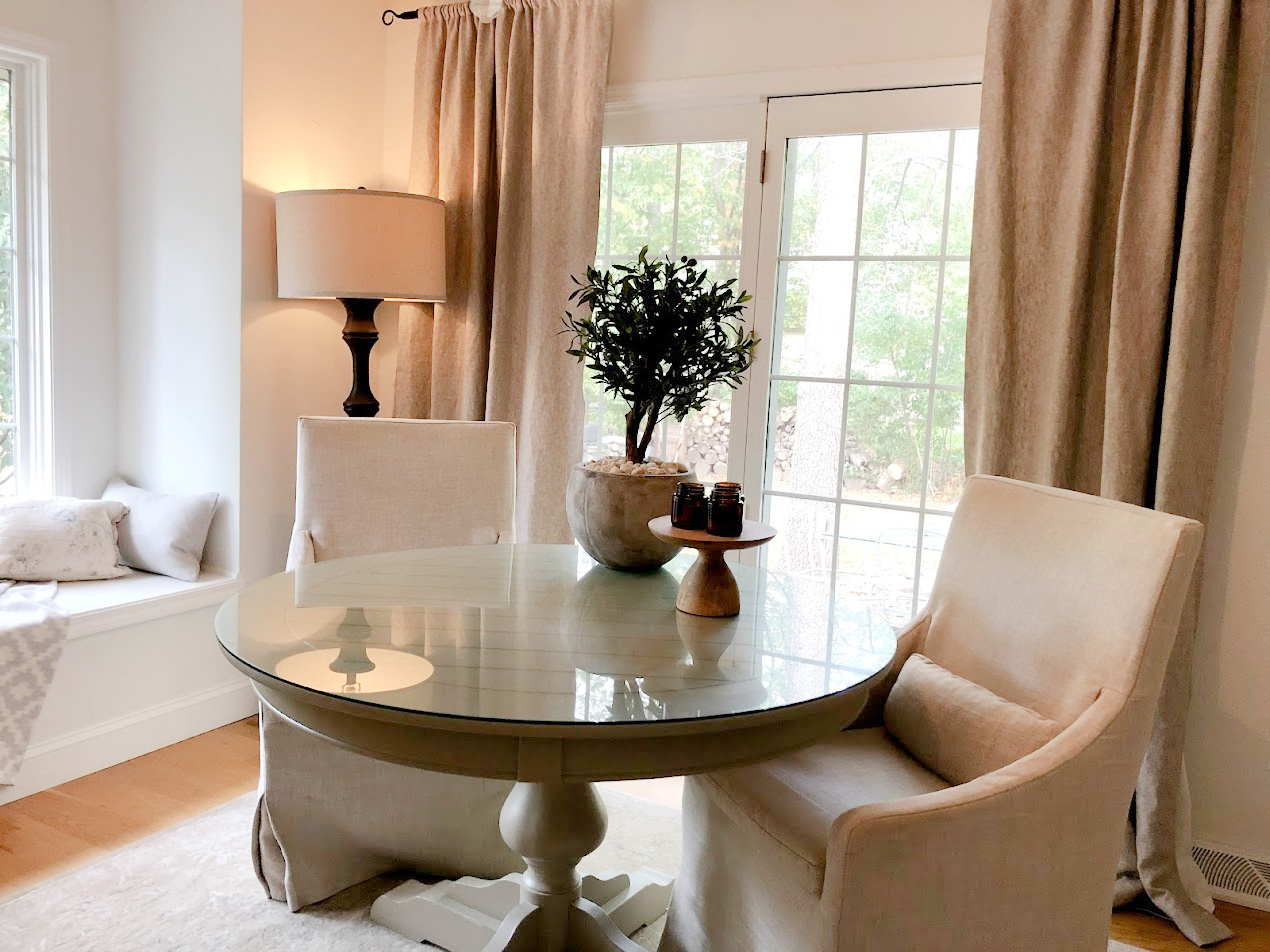 If you own more than one, have you considered swapping kitchen/dining/game tables in your home? It's a small thing, but it may completely change the mood and function of your space.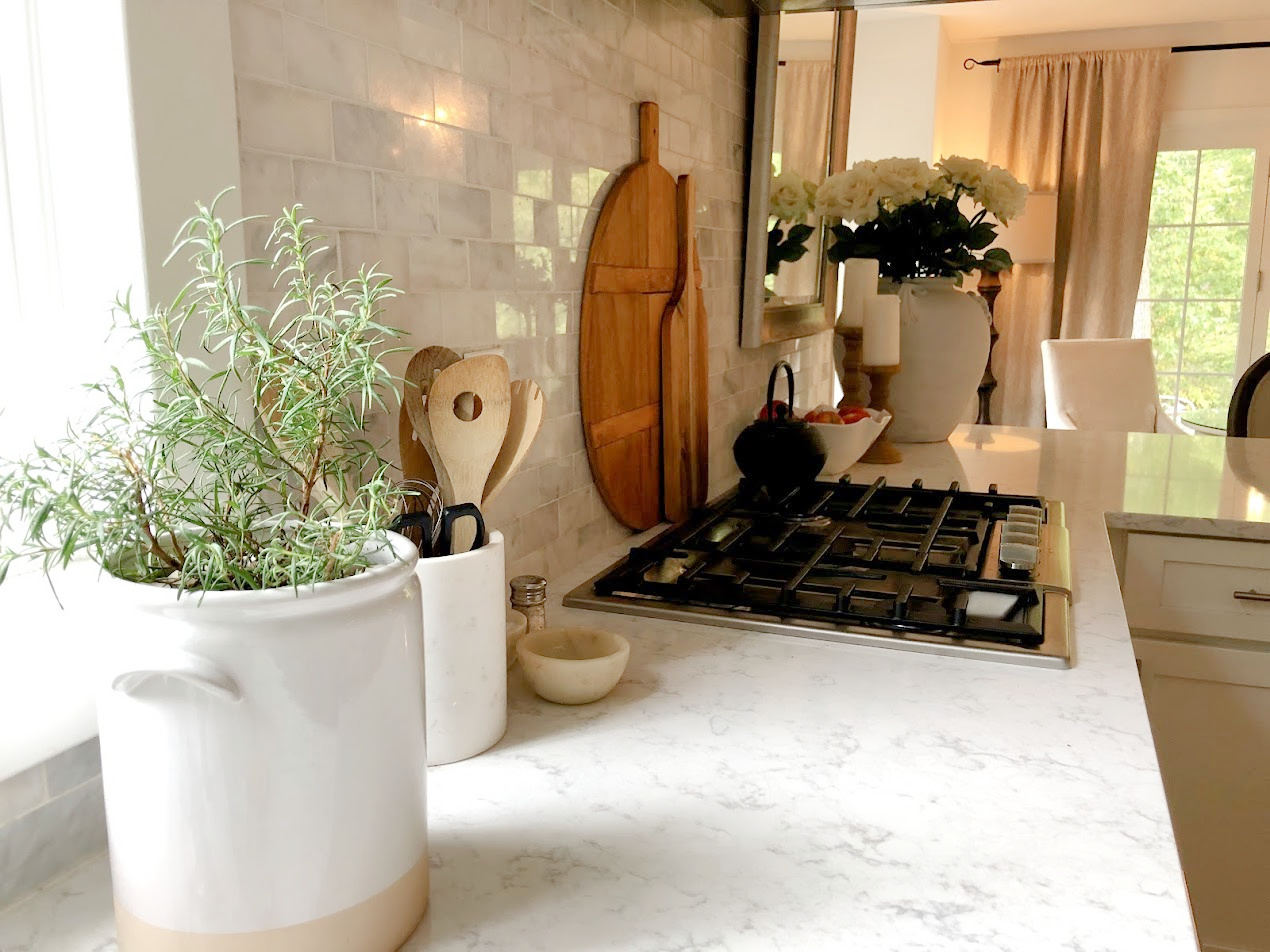 BTW. Maybe instead of a smaller table in your space like my swaps, you want a larger one. The bonus of a huge farm table (even if by all accounts it is super-sized for the space) is its usefulness for spreading out with homework, crafts and even folding laundry.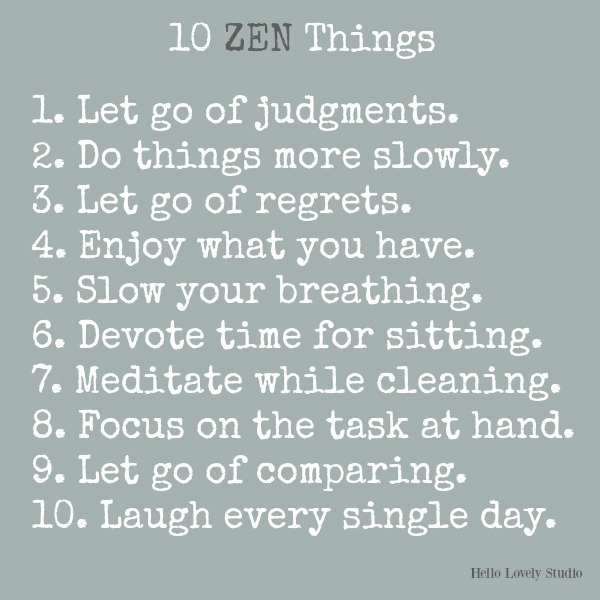 Small Investment, Big Return
Another small change for a kitchen with a big impact? A petite work table.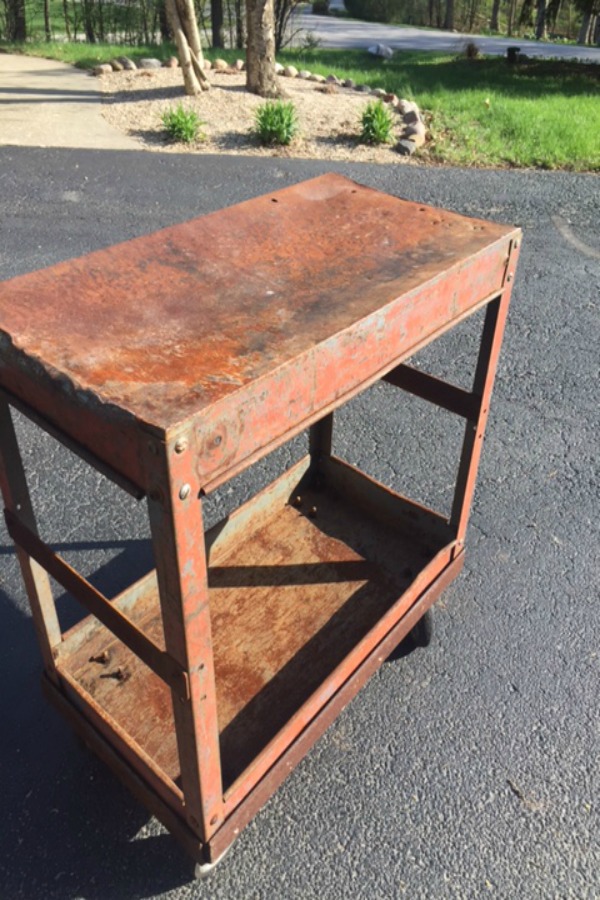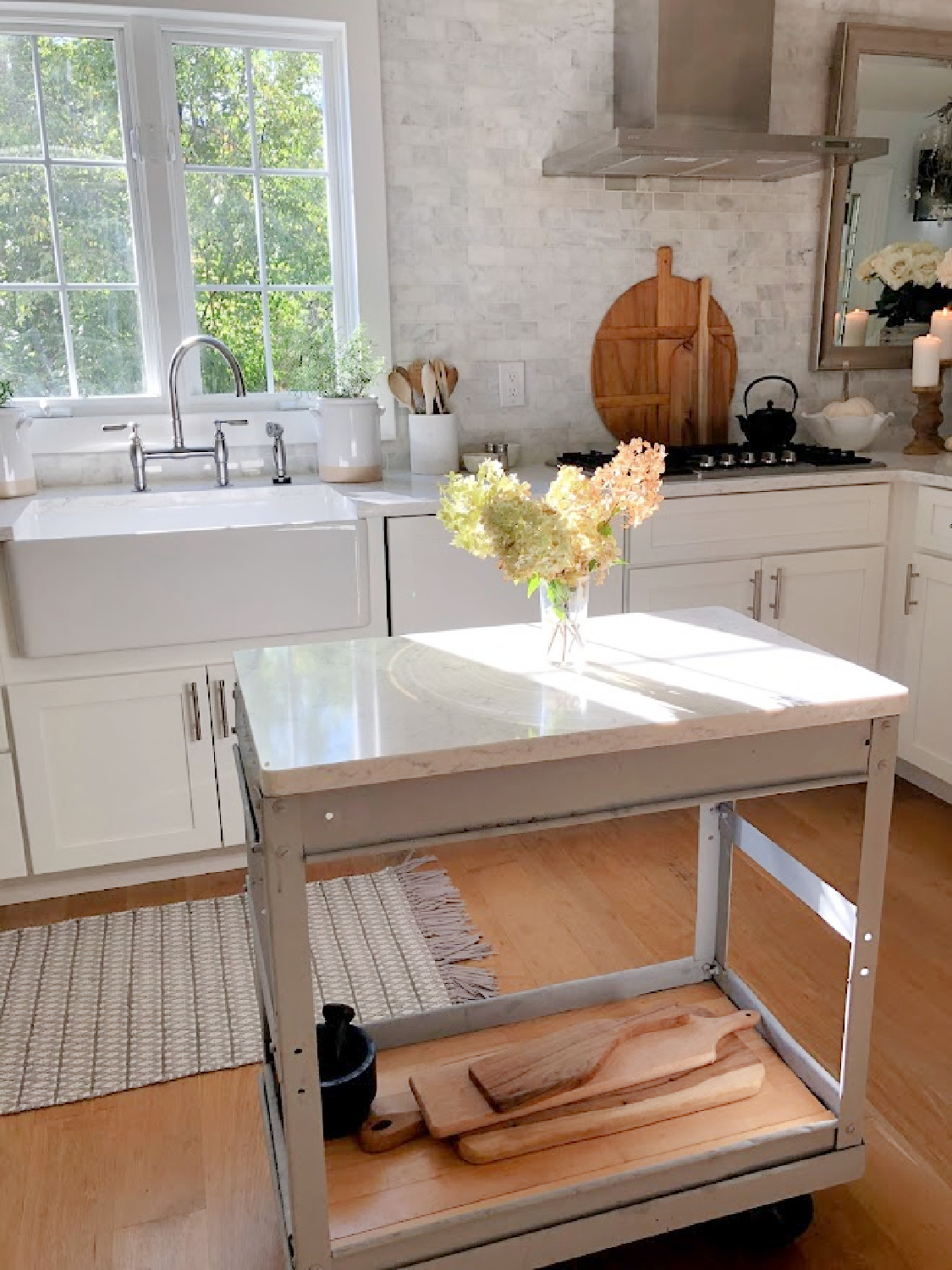 A petite vintage industrial steel cart scored for $10 was transformed into a hardworking kitchen cart with paint, leftover quartz (the sink cut out I saved), and salvaged wood from the old kitchen floor.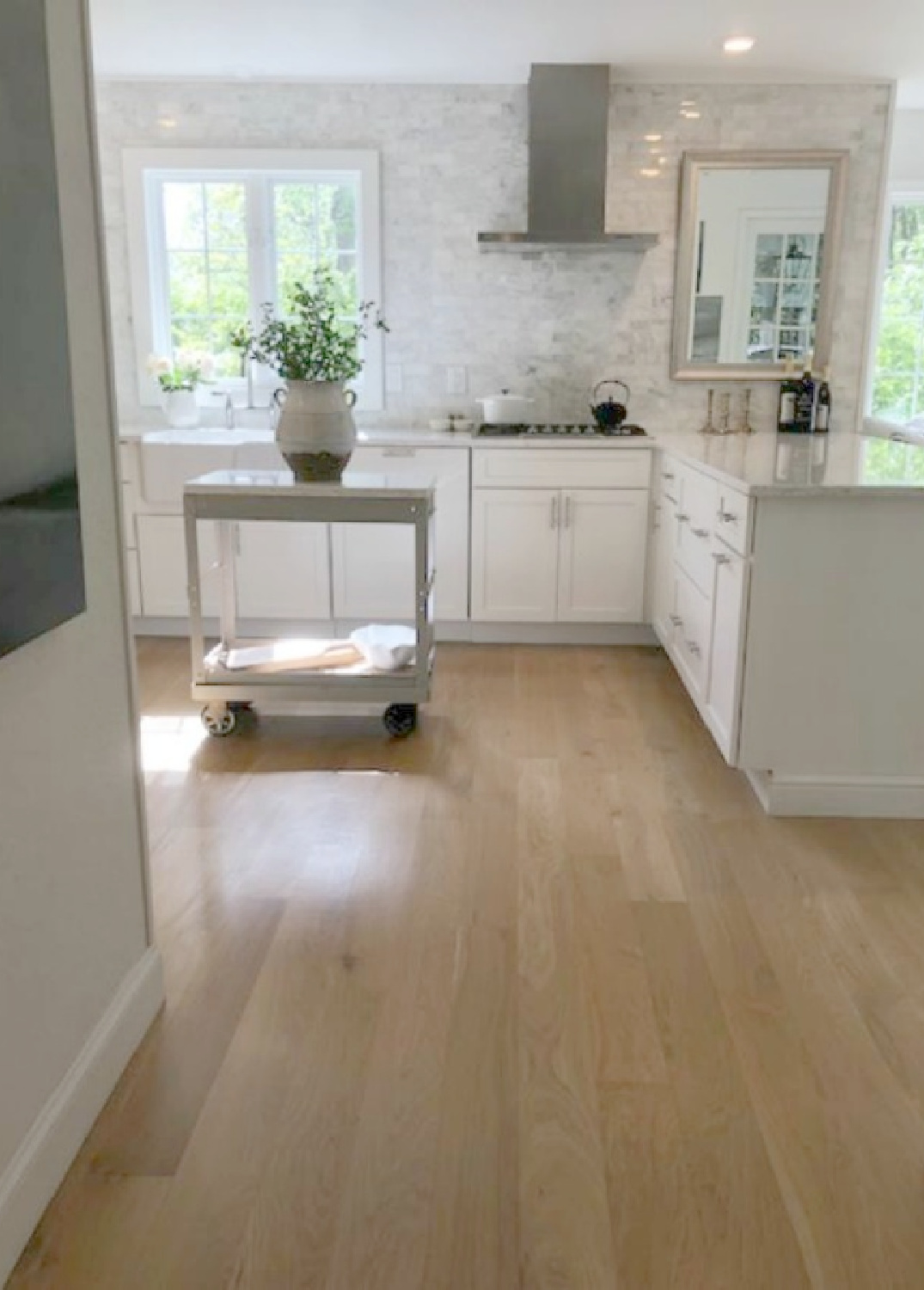 Here's a petite model with clean lines that appears easy to keep clean.
Live With Less Visual Noise
Deletion of excess may be more beneficial than any purchase or decorative zhushing. Living without clutter and fussy rugs/accessories/decorations makes it easier for me personally to maintain. Slow living (or slower living) in a serene atmosphere suits me and my husband personally since our work lives can be hectic.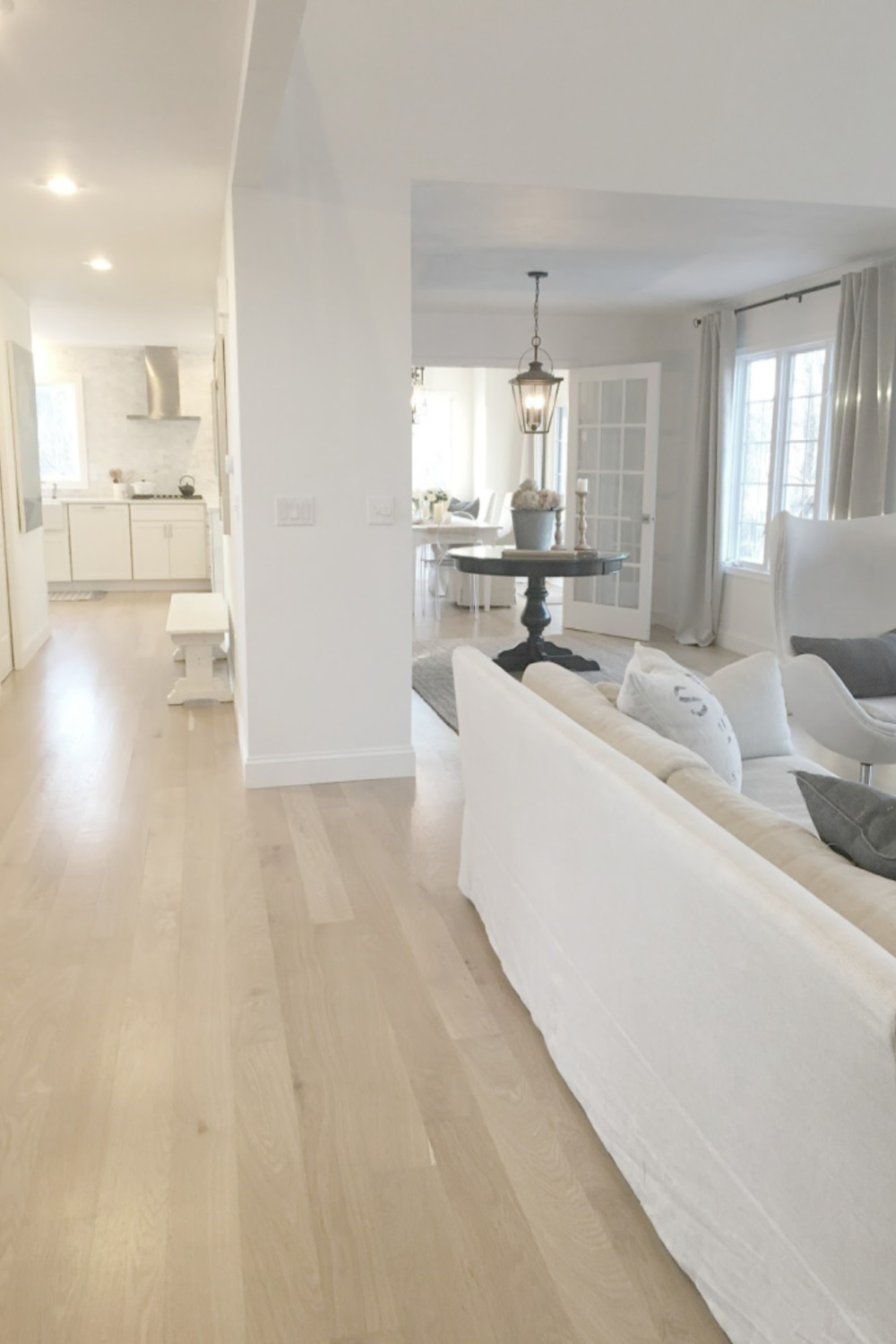 You can always bring in pops of seasonal color and layering as you wish: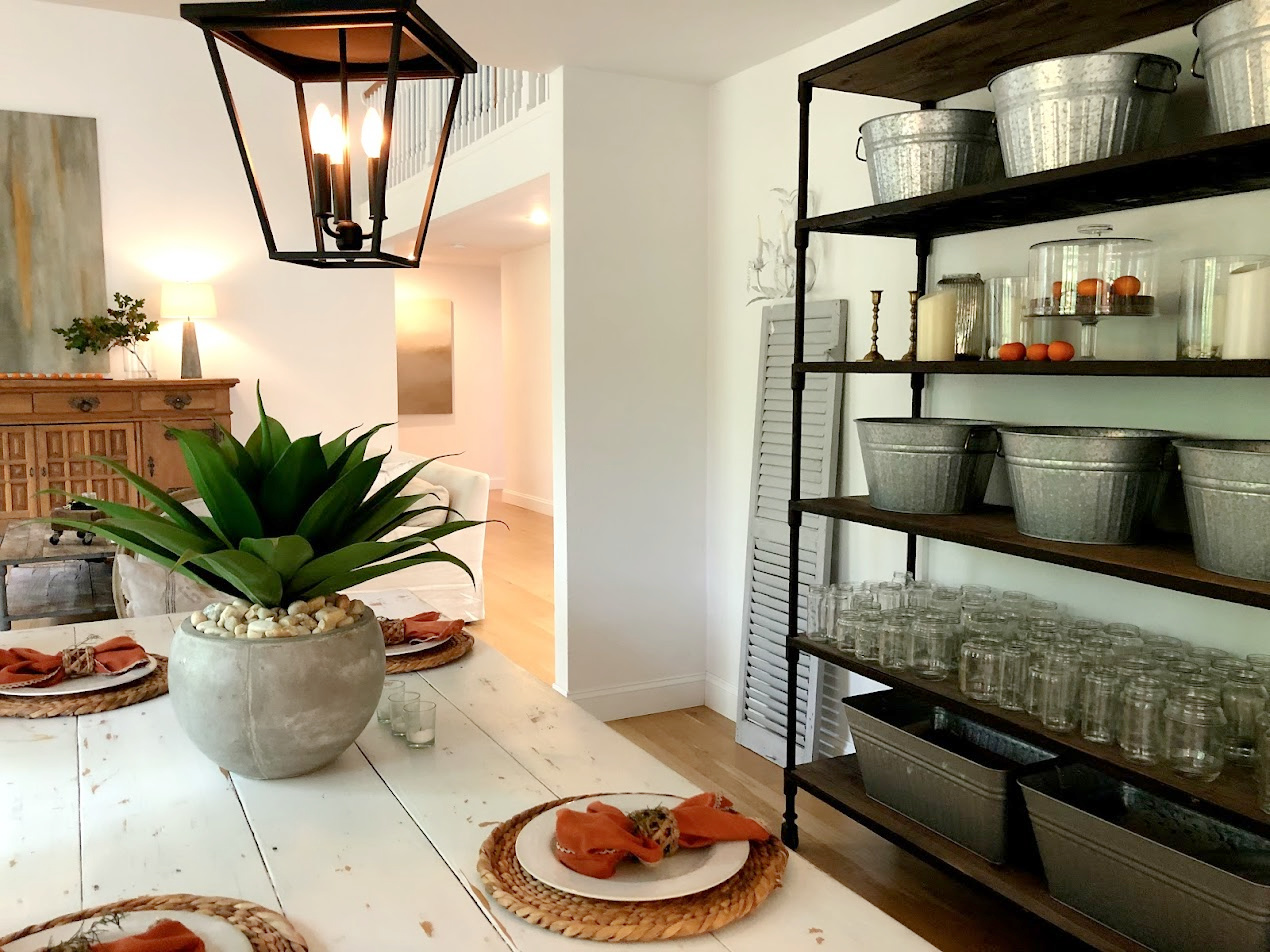 Prioritize Pieces That Function
If you live in a smallish home or have a tiny kitchen, you can probably relate to the challenge of limited storage and also keeping surfaces clutter-free for prep space and day to day tasks.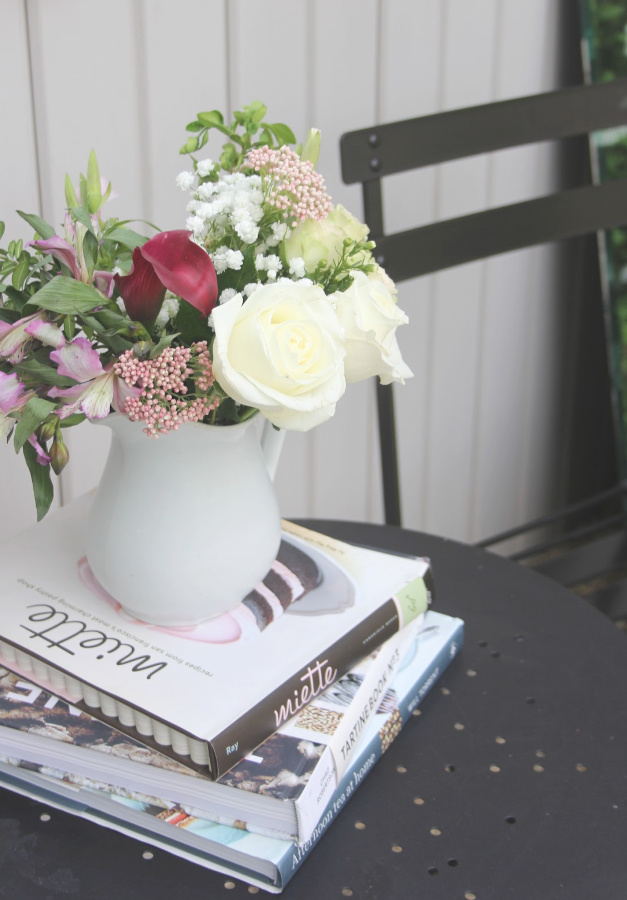 Make your decorative items work for you and think twice about embellishments that just sit there.
I love ironstone pitchers, and they can be pulled into service for multiple tasks.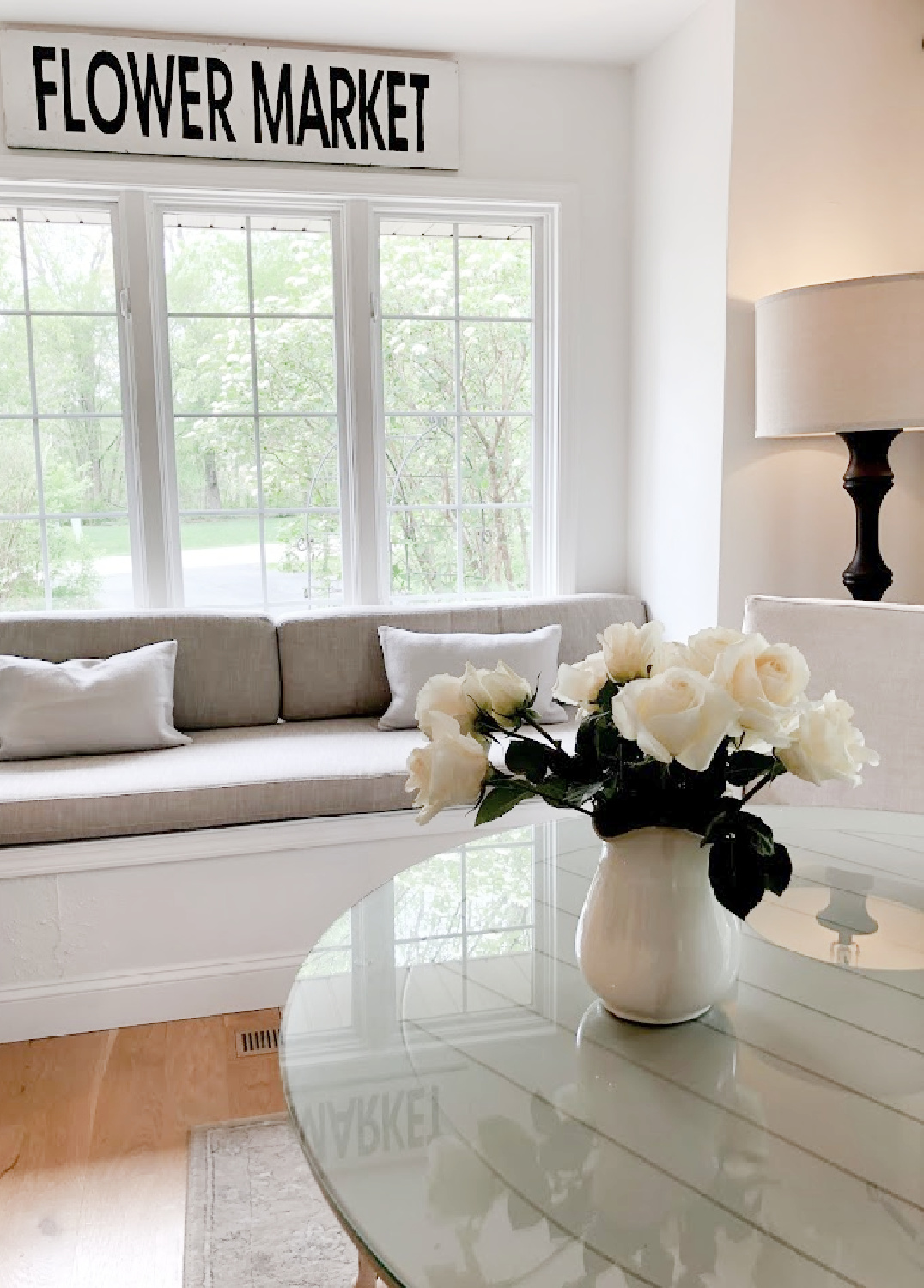 I use them as vases, to hold utensils, for lemonade, or even to water plants.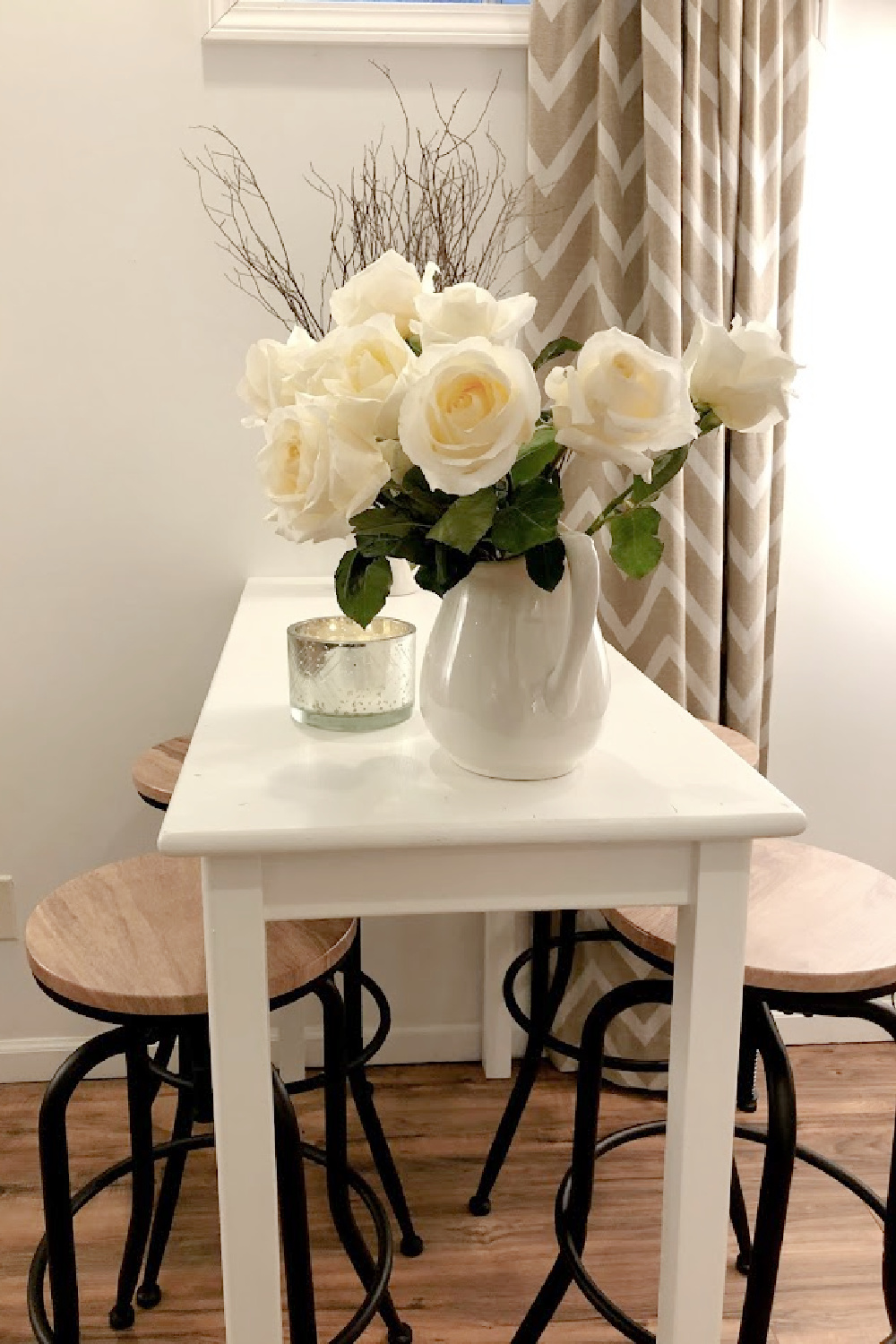 Can the item be used in multiple rooms and outdoors? Even better.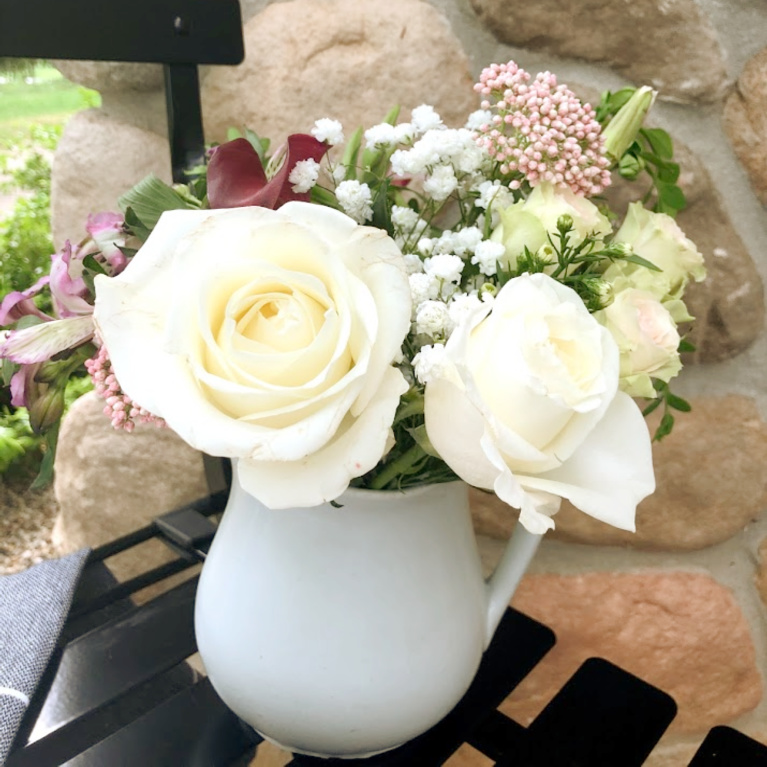 I also love these round wooden rustic stools which can be used for seating, tables, step stools and more. They work as a perch near a tub:
As a vanity stool: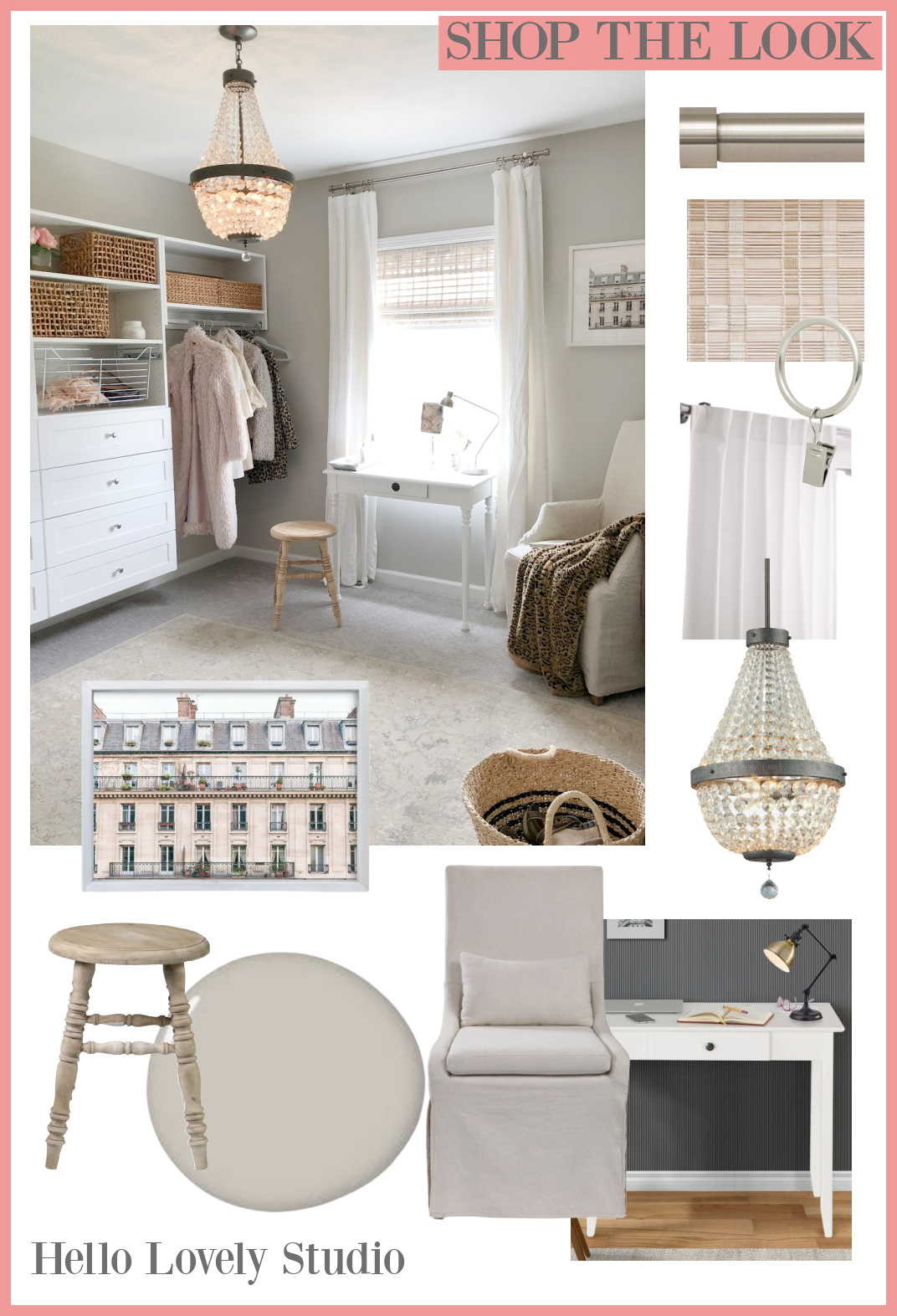 as a piano stool: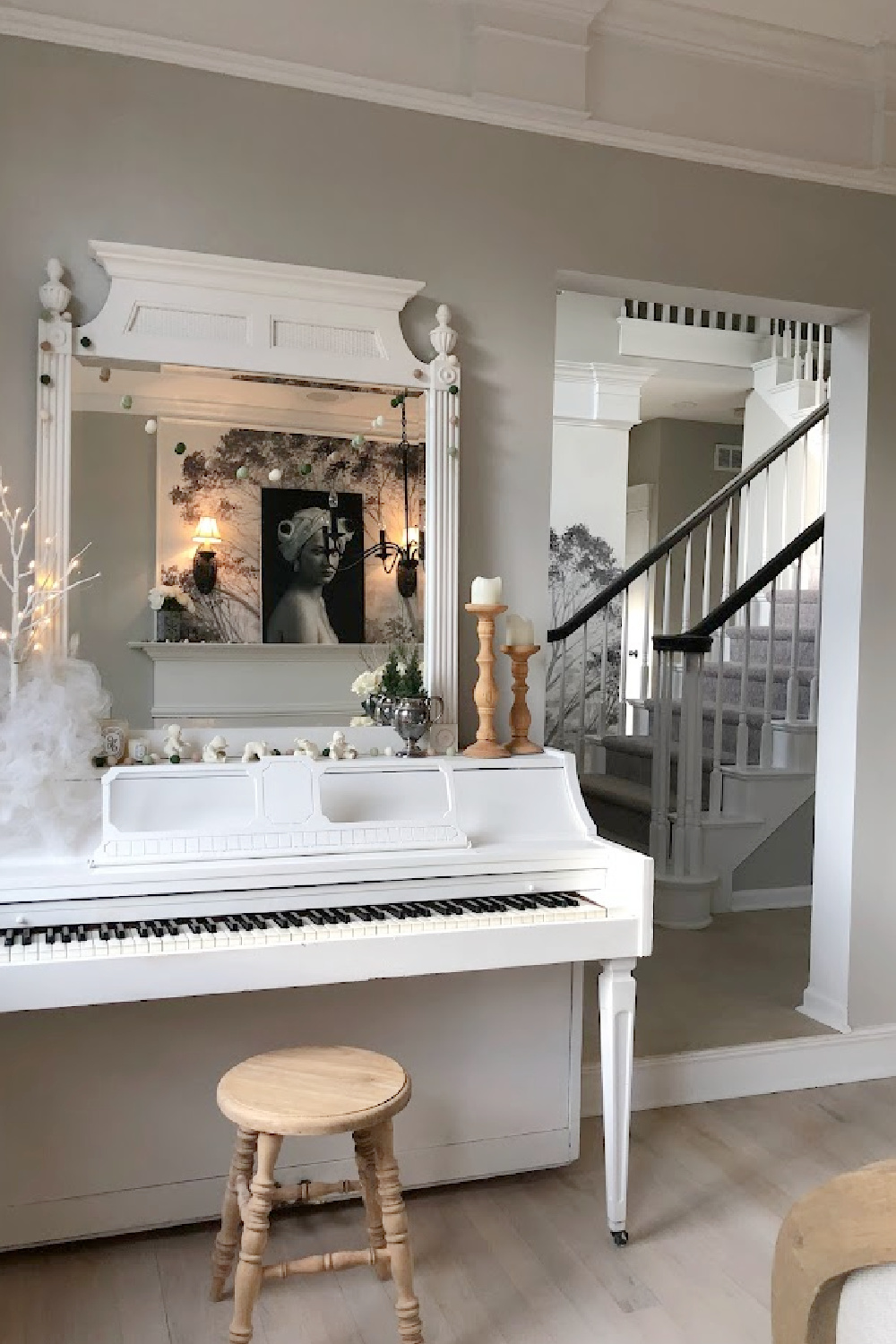 or as a little outdoor table: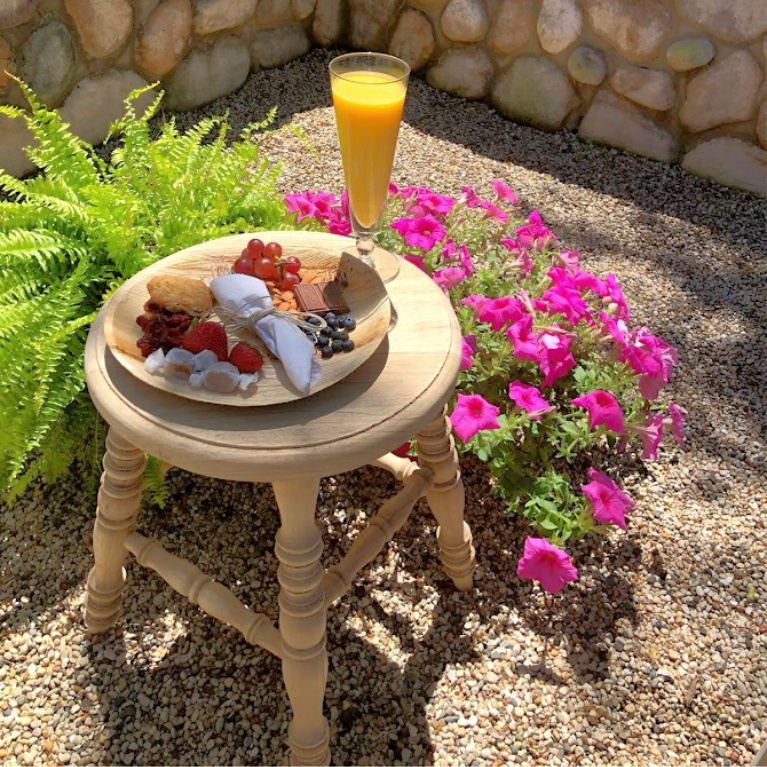 Even a bedside table when space is tight!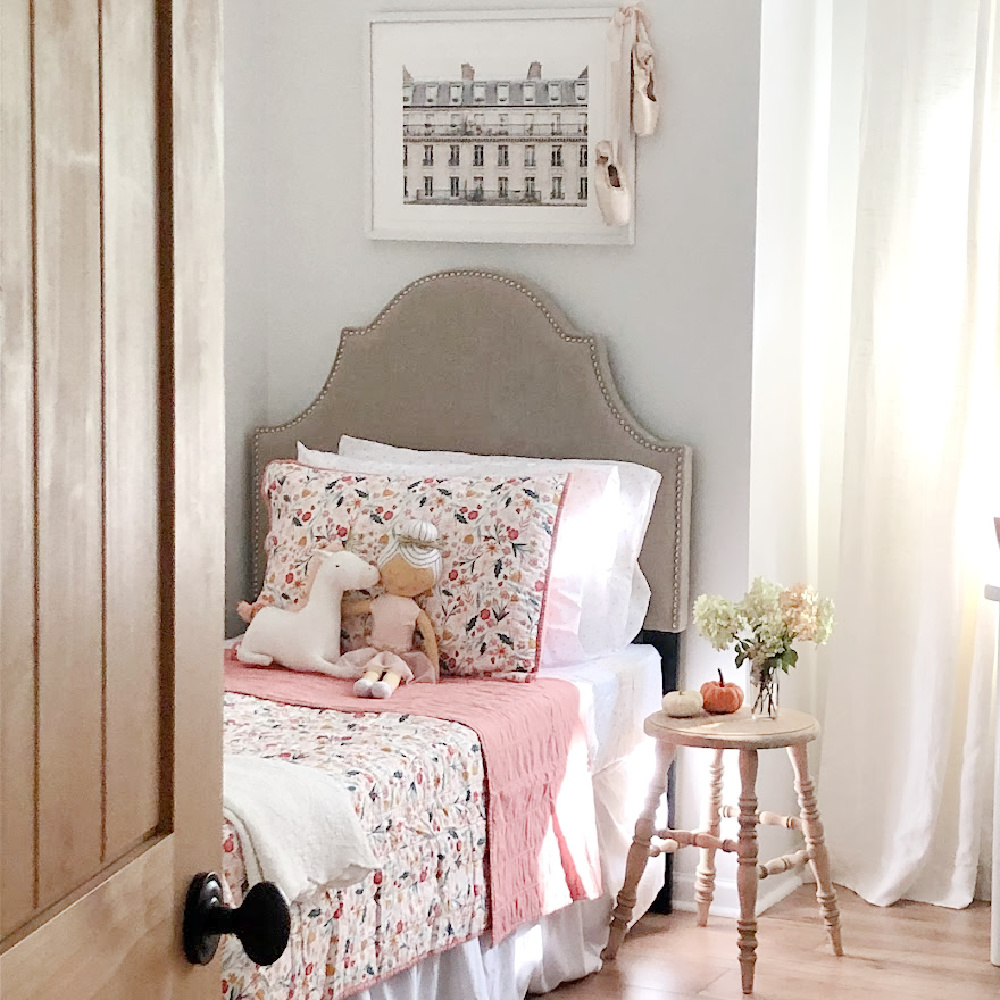 See what I mean about making pretty things work for their keep?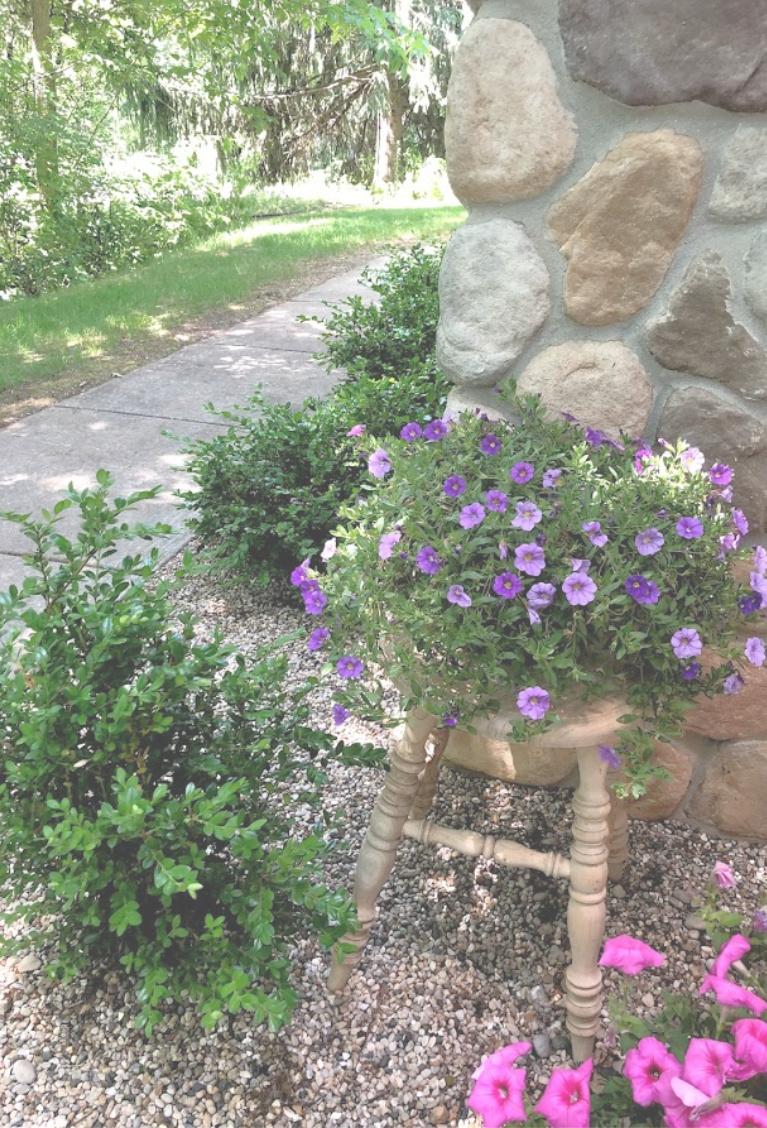 Serene, Small, Thoughtful Kitchen Changes
Sometimes small changes can live large without spending a fortune. And sometimes it is definitely worth it to spend now with an eye to the future and property value. If your kitchen countertops are posing a threat to the serenity factor, you have options. While it probably doesn't make sense to invest in stone or quartz if the cabinets will need to be replaced soon, swapping dark laminate for butcher block or a marble-look laminate need not break the bank.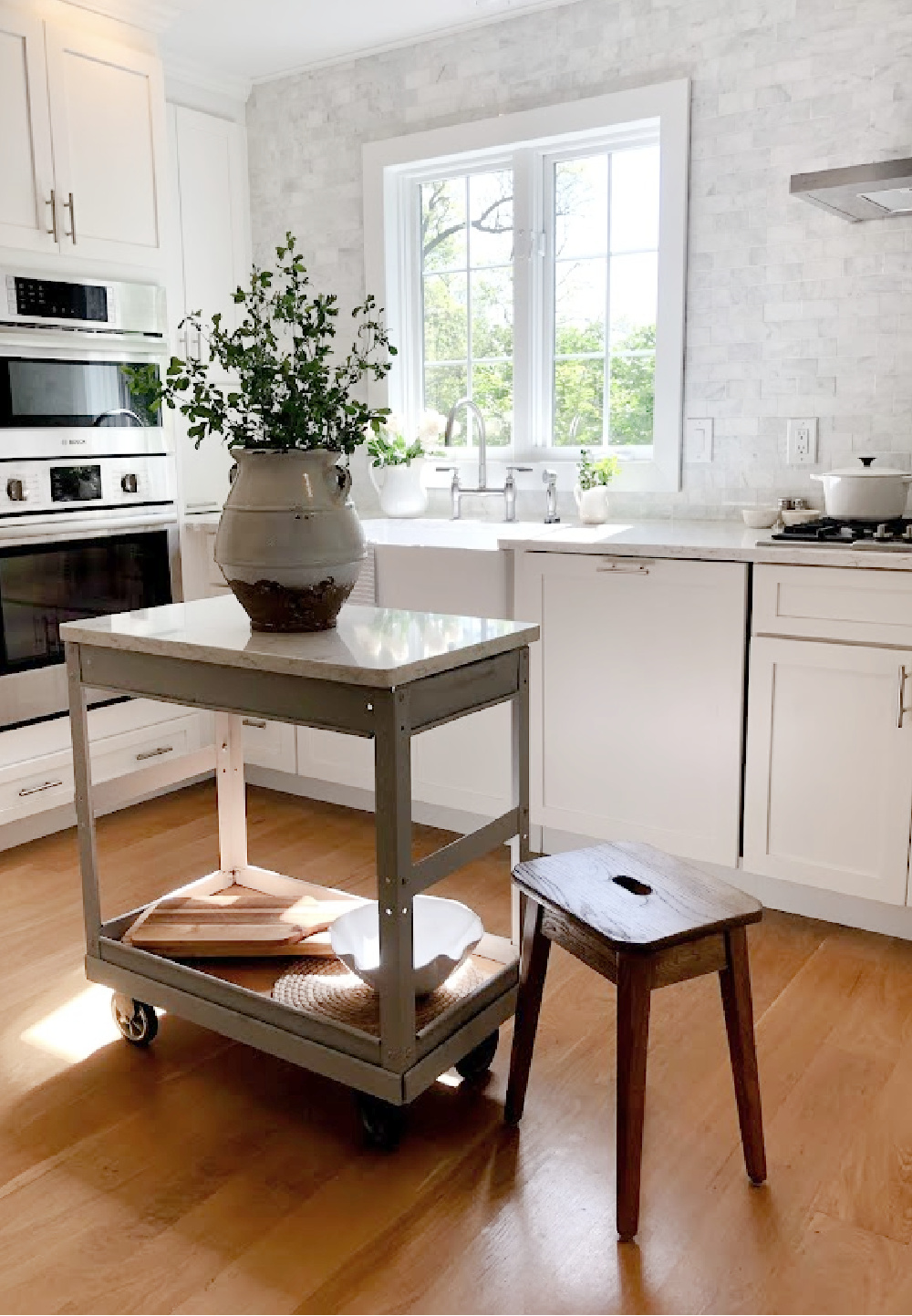 Have you seen the latest readymade laminate countertops with thick edging, texture, gloss, and a look that mimics marble?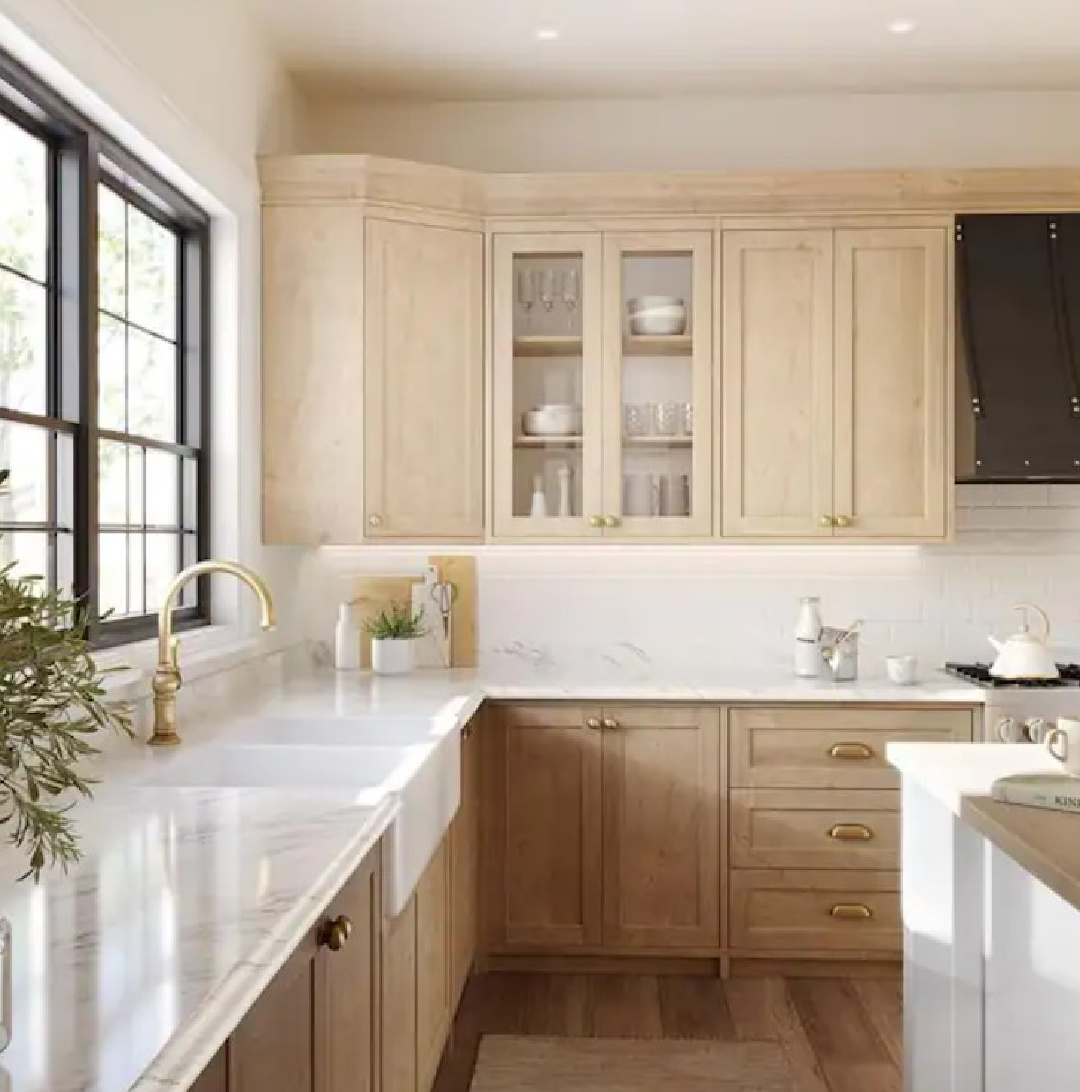 If you decide to invest in stone or quartz, there are plenty of options that will feel calm and not too energetic. Eight years later, I am still hearing from folks who find my posts about our kitchen reno and choose Viatera Minuet quartz for their own design.
There's little to no DIY unless you choose to demo your own counters yourself so for me, that makes this change "simple." You can sometimes buy laminate right off the shelf or online, and if you need custom counters, it's even easier since the pros do all the work.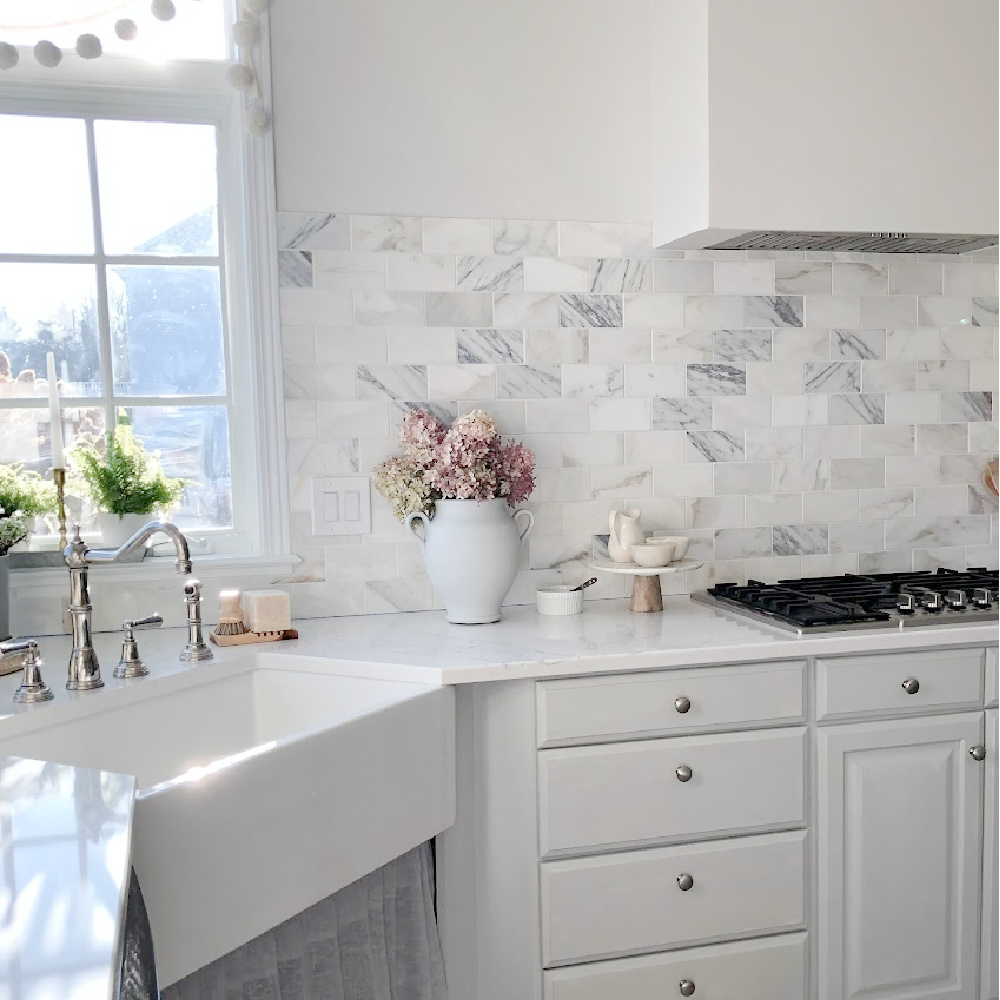 Make a Small Shift in Your Mindset
With a particular mindset, you may feel depressed/envious/annoyed when viewing interiors inspiration from influencers on social media. "My little apartment is too small to ever feel serene and airy!" or "I don't have the means to hire tradespeople to renovate this place" or "I just don't have time to make changes."
But cozier little homes, teeny budgets, and even time crunches are relative. Small can be beautiful whether it is square footage or budget. Get inspired by thrifty makeovers and tiny living!
And get cozy with the idea that you can be a slow decorator. I am!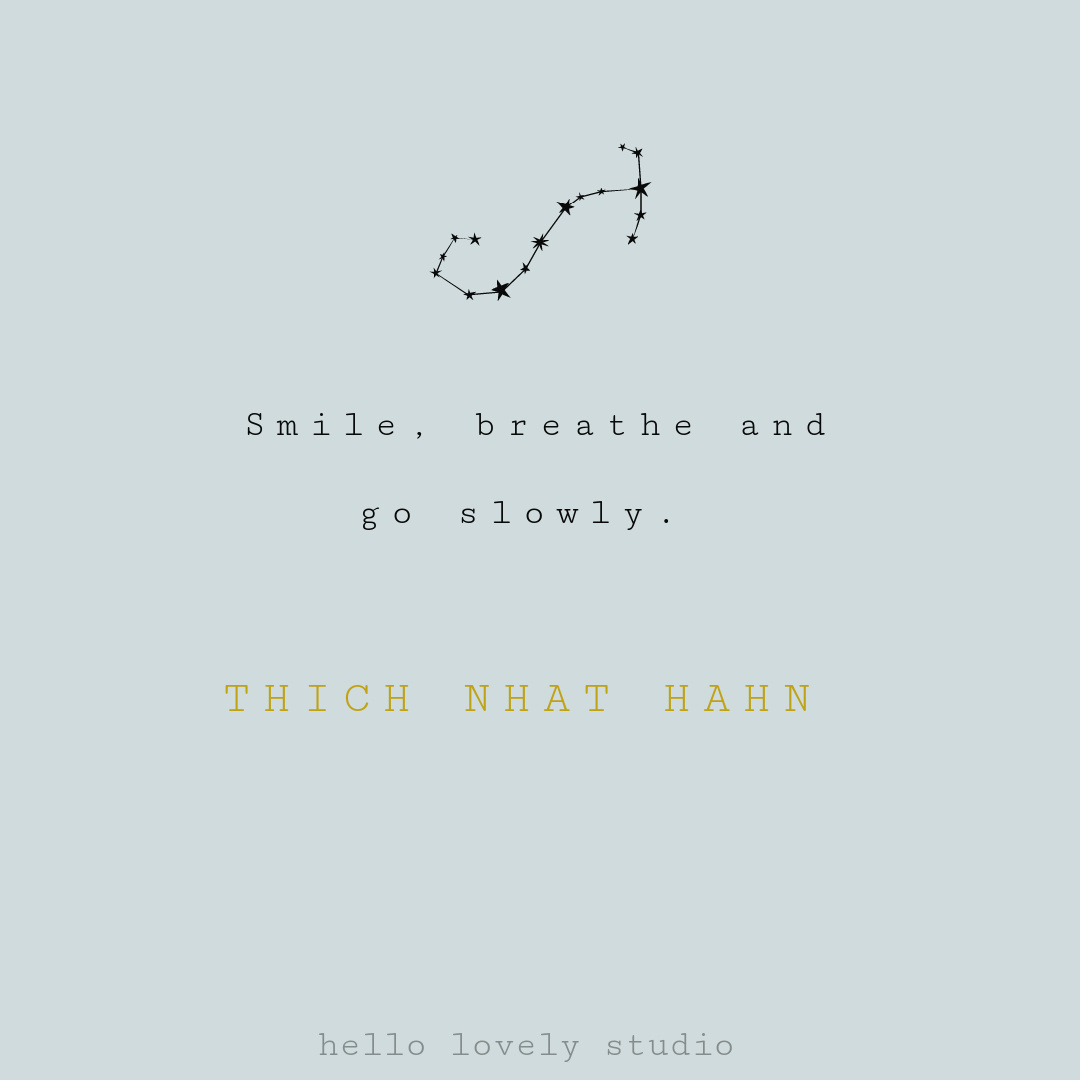 Hi There, I'm a Slow Decorator
I have a special talent for being a slowwwww renovator and decorator when it comes to our home. Since I live with chronic illness, I have physical limitations and can't tackle projects quickly or work long hours like I did when my health was better.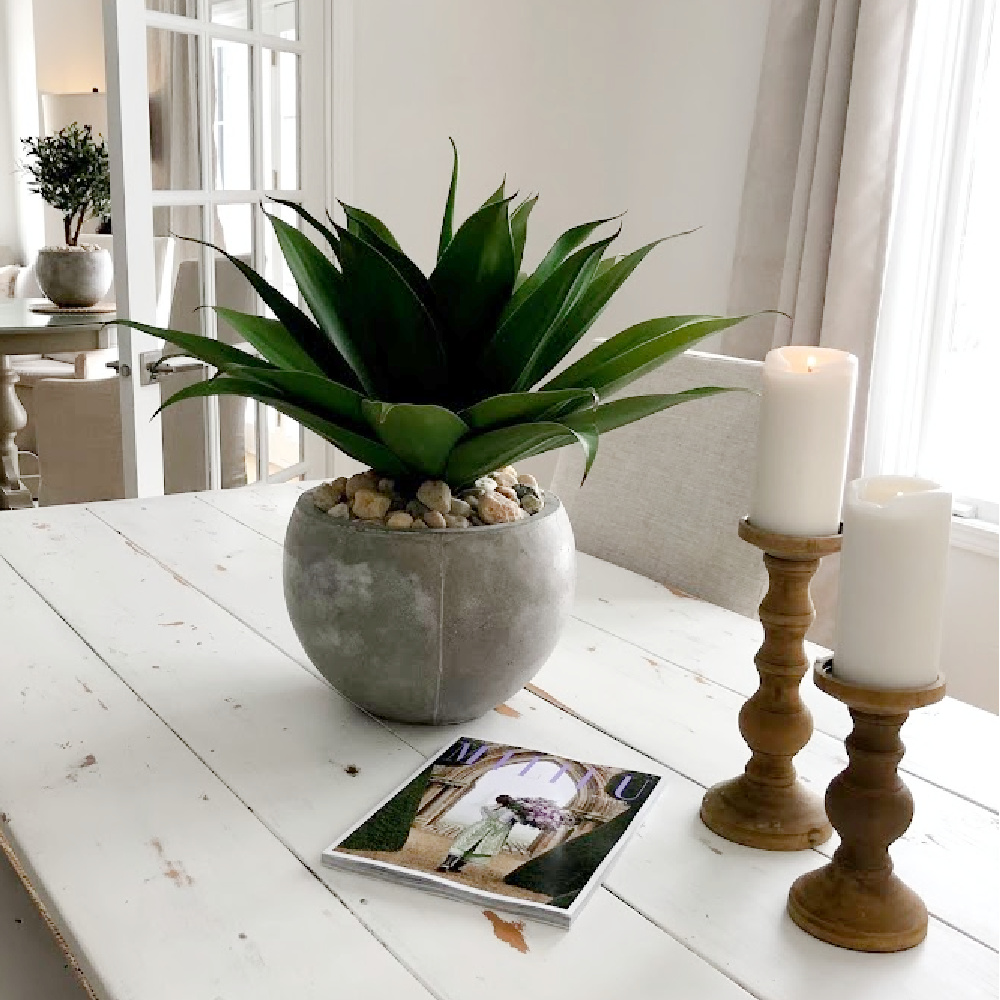 And who knows? Maybe all of the serene, tranquil interior living has slowed me down too – that is not such a horrible thing for good health and wellth.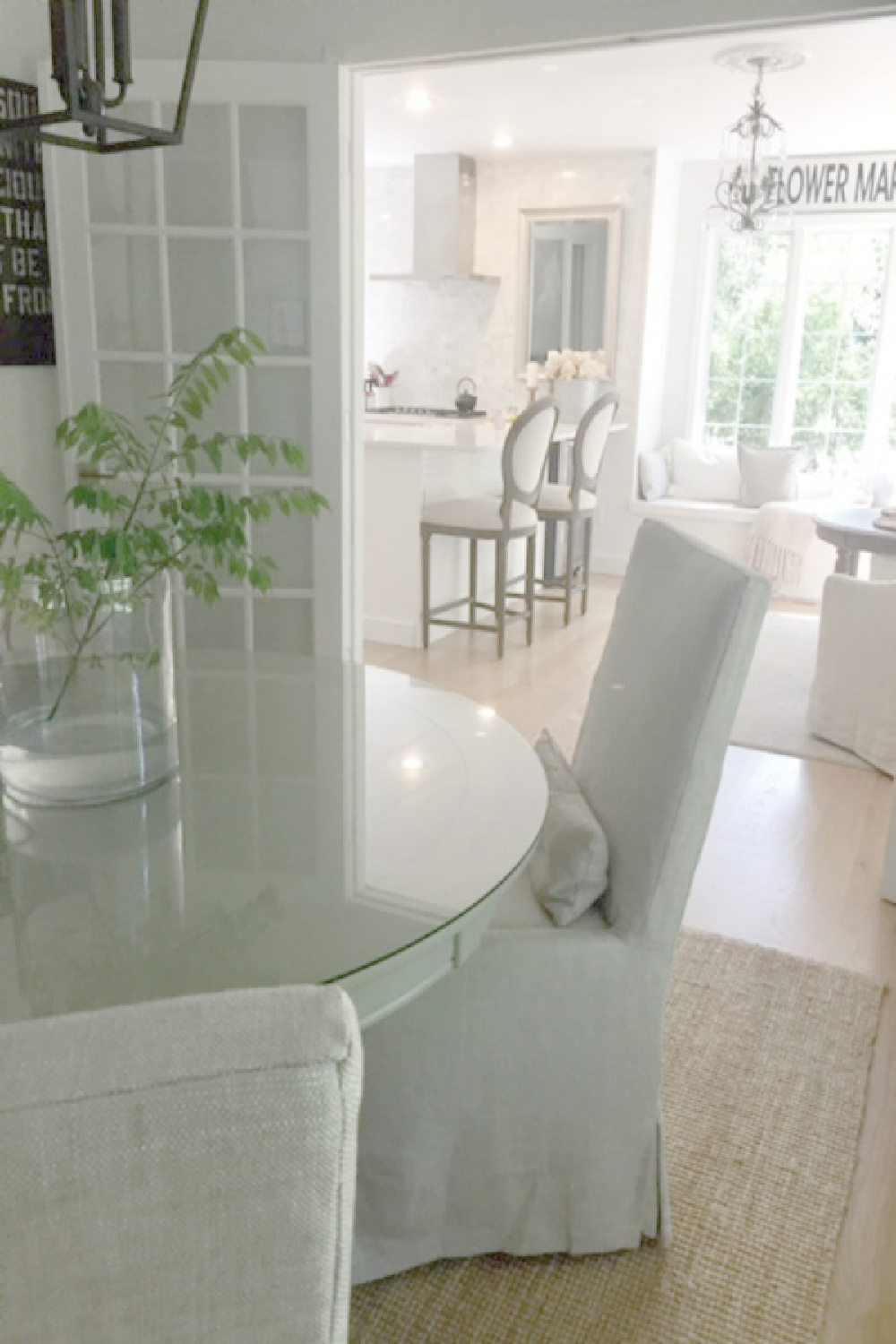 White Paint & Serene Neutral Palettes
White paint is maybe one of the easier strategies to bring serenity to a space.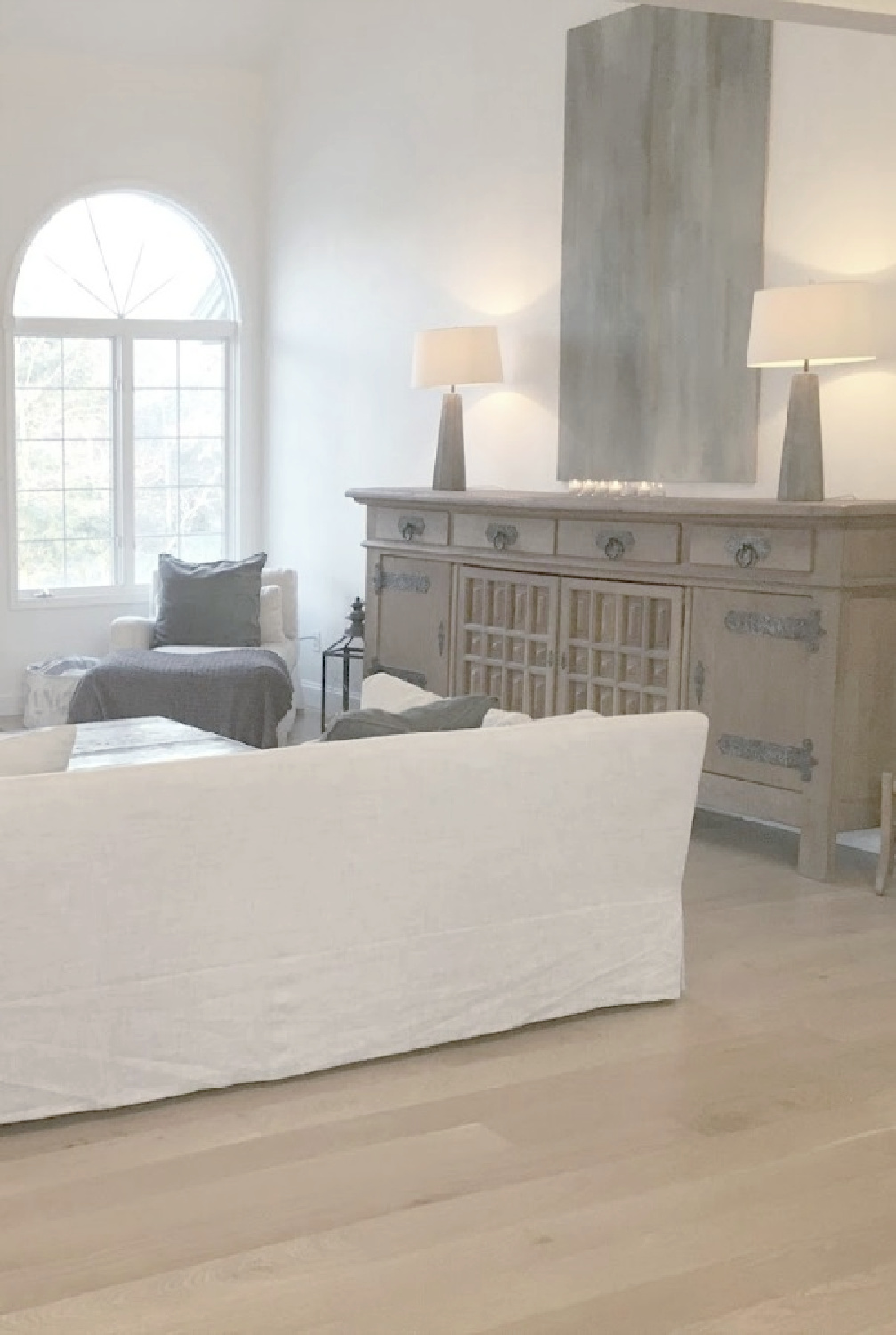 Most of the walls in our former fixer were painted BENJAMIN MOORE White. It's a base white without any of the pigments added for their other whites. We needed a strong white to counter the strength of the yellow natural light.
If you're still not sure where to start with a white paint, here's my advice. For a bright, cool, gallery white try a white right off the shelf that has no tint. Or for a soft white in a room you want to feel fresh and modern, try Benjamin Moore Chantilly Lace. And for a white for a vintage home or space you want to feel traditional or timeless, start with Benjamin Moore White Dove.
Small Serene Changes: Texture & Softness
Serene moods often call for cool colors and minimal decorating. The drawback is that sometimes the look reads too cool and too minimal. Layering all that cool with warmth and texture helps.
My window seat in our former breakfast nook was okay in its before…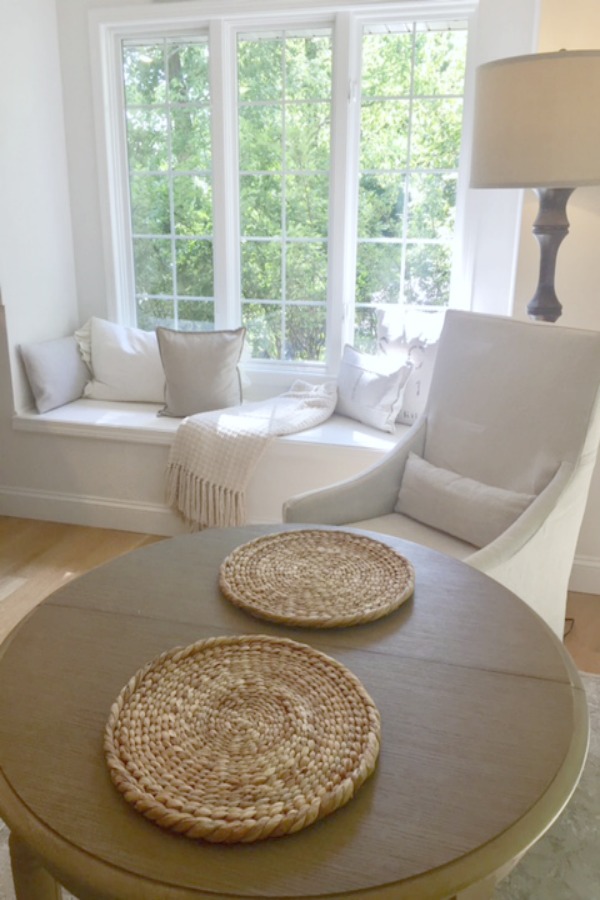 but cozier and more functional AFTER: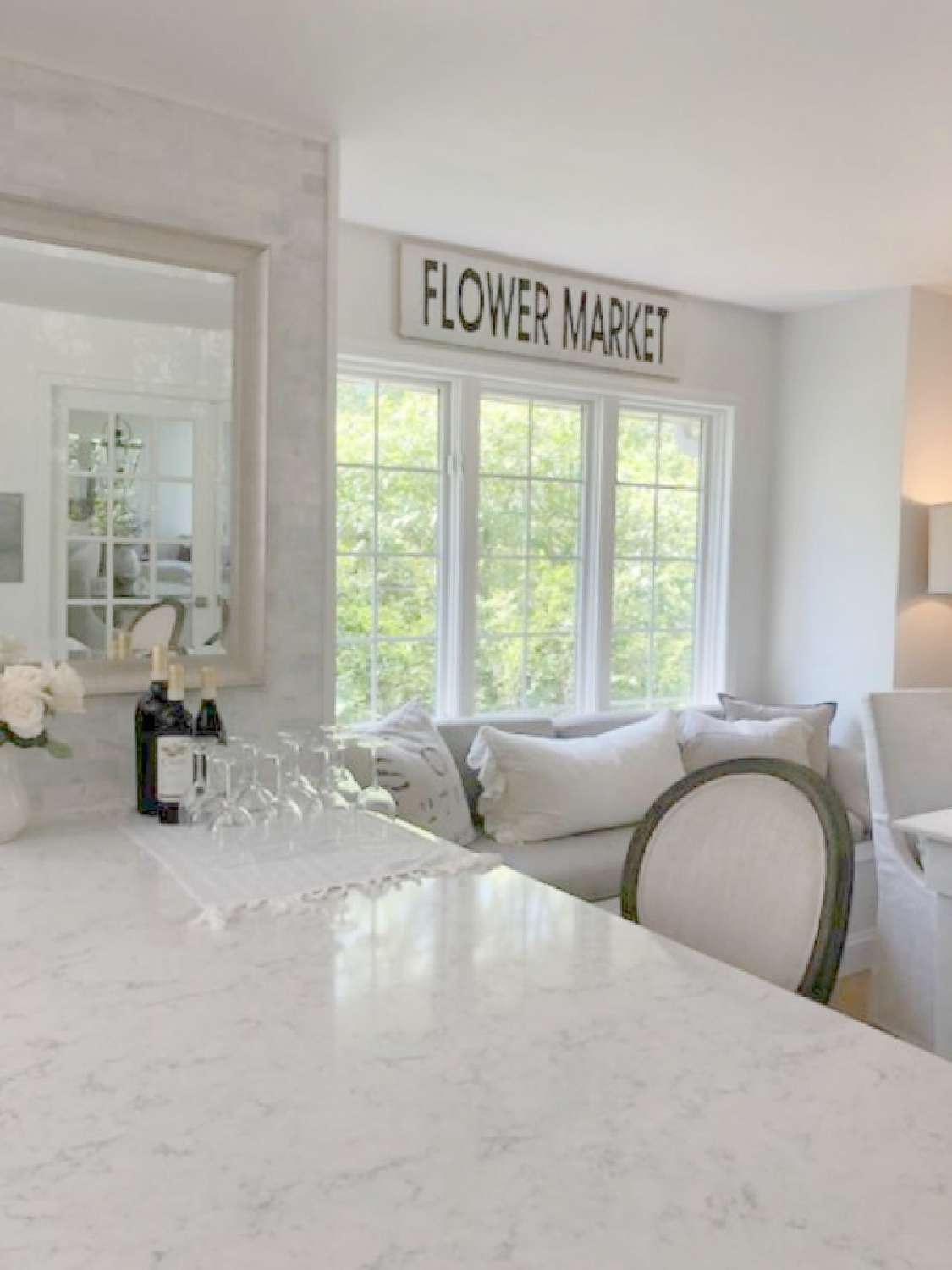 I bought the handpainted FLOWER MARKET sign above the windowseat at Urban Farmgirl. Find a few options HERE.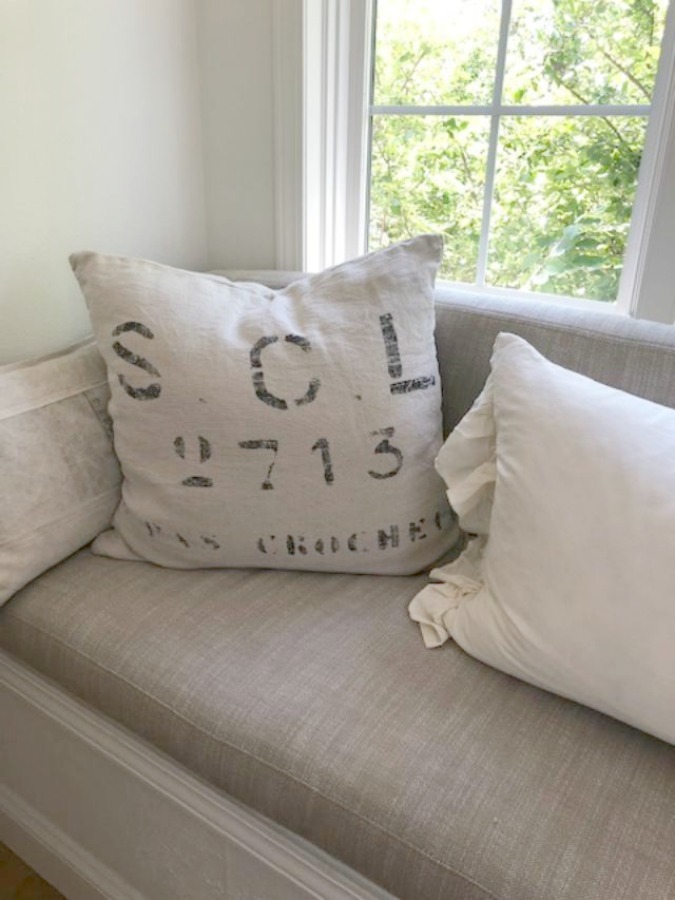 Sometimes just a little warmth from a wood candleholder will contrast softly in a field of white: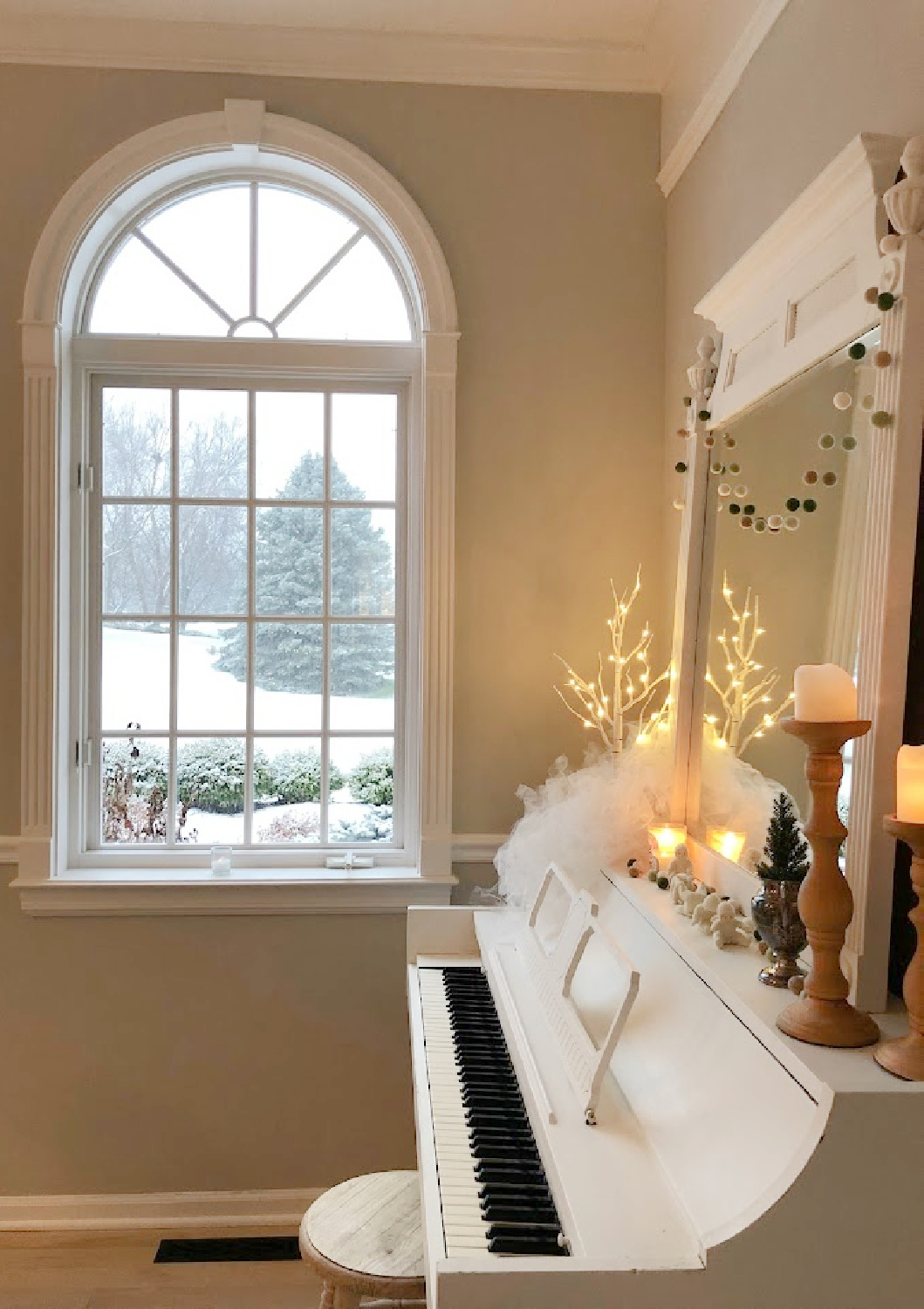 See more resources from my homes here, and find more sources for the decor here.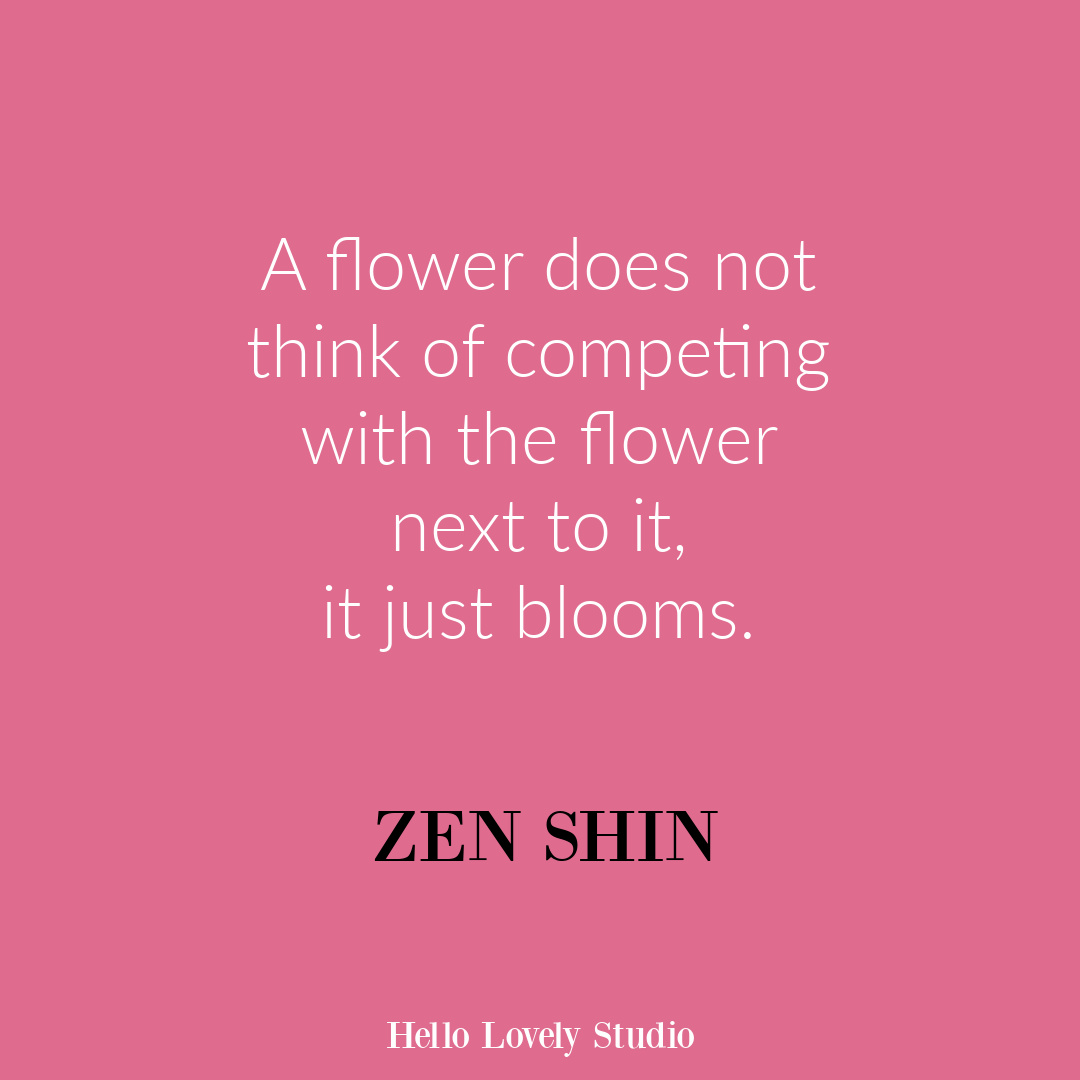 Peace to you right where you are.
-michele
Shop for items you already intended to buy on Amazon RIGHT HERE, and also find home decor here to keep decor inspiration flowing on Hello Lovely!
Hello Lovely is a participant in the Amazon Services LLC Associates Program, an affiliate advertising program designed to provide a means for sites to earn fees by linking to Amazon.com and affiliated sites.