Yep. Does this sound like exciting, creative fun to you? It aint. There's a reason bath design pros and interior designers charge what they do! Experienced design knowledge is worth every penny. Juggling the decisions, labor, and expenditures is always a challenge even when you're seasoned real life DIYers like us who have careers outside of the work. For the bath's design, I'm staying away from trends and listening to this home's architecture. Timeless, thoughtful design elements customized for us that don't shout "2020s renovation" can't happen swiftly or cheaply. Ya know? Everything is much more expensive now. If you are seeking Bath Remodel Ideas, I hope the inspiration and wisdom here helps.
I independently selected products in this post—if you buy from one of my links, I may earn a commission.
Bath Remodel Ideas & Inspiration to Help
Does my attitude sound like I'm too much of a perfectionist? I am probably just tired. I already know we'll make mistakes and choices that in the end seem wrong for others. But we are truly trying to create a calming beautiful space in the awkward footprint with which we have to work.
It is awkward with too many angles (hello, 1990s), soffits, steps up to a sunken bath, a custom bench underneath the shower head instead of across from it, and hard dark surfaces everywhere. It is a funky clunky room with a million dollar view that deserves flow and elegance.
The thing about bathroom design? It's SO PERSONAL. Just a zillion operational details even before a discussion of how it should look and feel.
For example, I can hardly see without my glasses so…lighting issues. My husband needs a particular level of technology and storage. With my osteoporosis and Raynaud's, the old bath's safety hazards made it unusable for me (didn't use it a single day since we bought the place).
Also, a redesign is trickier than starting from scratch. Moving existing plumbing and electrical takes time, specialized skills, and wads of cash.
Way before picking pretty materials, there's the labor of erasing what is existing. For us that meant demo of a ton of dark tile in a large custom shower, giant steps and platform surrounding a Jacuzzi tub, and tile on walls and floor. Tile is heavy!
Add to the list seven feet of heavy cabinets, granite, tub, glass walls, lighting, and mirror. So much work even before important hidden electrical and plumbing details are addressed.
When you're creating a custom design as we are, the bonus is you can include the features you know will serve your daily needs. The catch is, trying to also make it all look and feel pleasant and harmonious with the rest of the home.
We'll be working on the bath this weekend, and I hope to order some of the fixtures. I'll check in soon with a mood board and hopefully good news and progress!
Our Former Bath
We opted for separate, individual, freestanding vanities and then created a custom bridge as a makeup area. In our new bath, I also want two vanities, but with less space, I'll tuck the makeup area somewhere else.
I liked how the angles of our vanities' top and base echoed other architecture in that space. In our new home, the angles and quirky turns are out of control! So I want simple edges and lines wherever I can get them.
I also appreciated the base molding of our former vanity cabinets as such custom details help the pieces feel more like furniture. We plan to add our own custom finishing millwork here at the Georgian.
One thing I missed in our former bathroom was drawer storage. We lived with zero and adapted, but storage will be a priority in the Georgian bath.
Here are a few ideas for cabinets and vanity organization:
Clear Bins to Store Like Items
It's the mirrored base in the bins that really does it for me!
Drawers Behind Doors
Smarter Styling Organization
How to Choose the Right Style Vanity
Choosing the right vanity for your bath is important since it is a focal point that sets a tone. There are more choices than ever within the world of custom design and inside your local hardware store.
Notice the Relationship of Vanity and Top
Are you a fan of high contrast between the vanity and vanity top? When you're collecting and studying photos of bath vanities you love – notice whether there's a pattern. Does your eye like high contrasts, low contrasts, ornamentation, minimal style, or modern lines?
What are Your Lighting Needs for the Vanity?
I love love love beautiful sconces like these, but we may not have room for this lighting option. The most flattering light at the vanity is when it comes from the sides of your face, but it's not always possible when space is limited.
I also have some thoughts about this flattering light thing. At my age, I am not standing at the mirror, grooming for long periods of time or studying my face. Knowing this, I'll be able to relax a little if I have to settle for overhead light instead.
But that won't stop me from sighing when I see something as extraordinary as:
Once you start looking closely at pretty bathrooms, it becomes clear that there are endless lighting options and not a singular formula for where the lights should go.
We will probably need to do above the mirror lighting for our own remodel, similar to this beautiful design:
Simple Bath Refresh
Before we painted this vanity, it was a 20-year old builder-grade oak vanity with orange stain. Just that simple change, even without changing the old faucet or cultured marble top made a big difference.
This paint color (above) is an interesting charcoal color with both brown and navy blue undertones. In some lighting, it looks like oil rubbed bronze, and in others, a soft black.
Repurposed Antiques for a Traditional Vanity
Another vanity with a lamp! So gorgeous! If you have the opportunity to repurpose an existing vanity, antique, table, console, etc. what a blessing!
Here's a unique attic bath with a repurposed cabinet: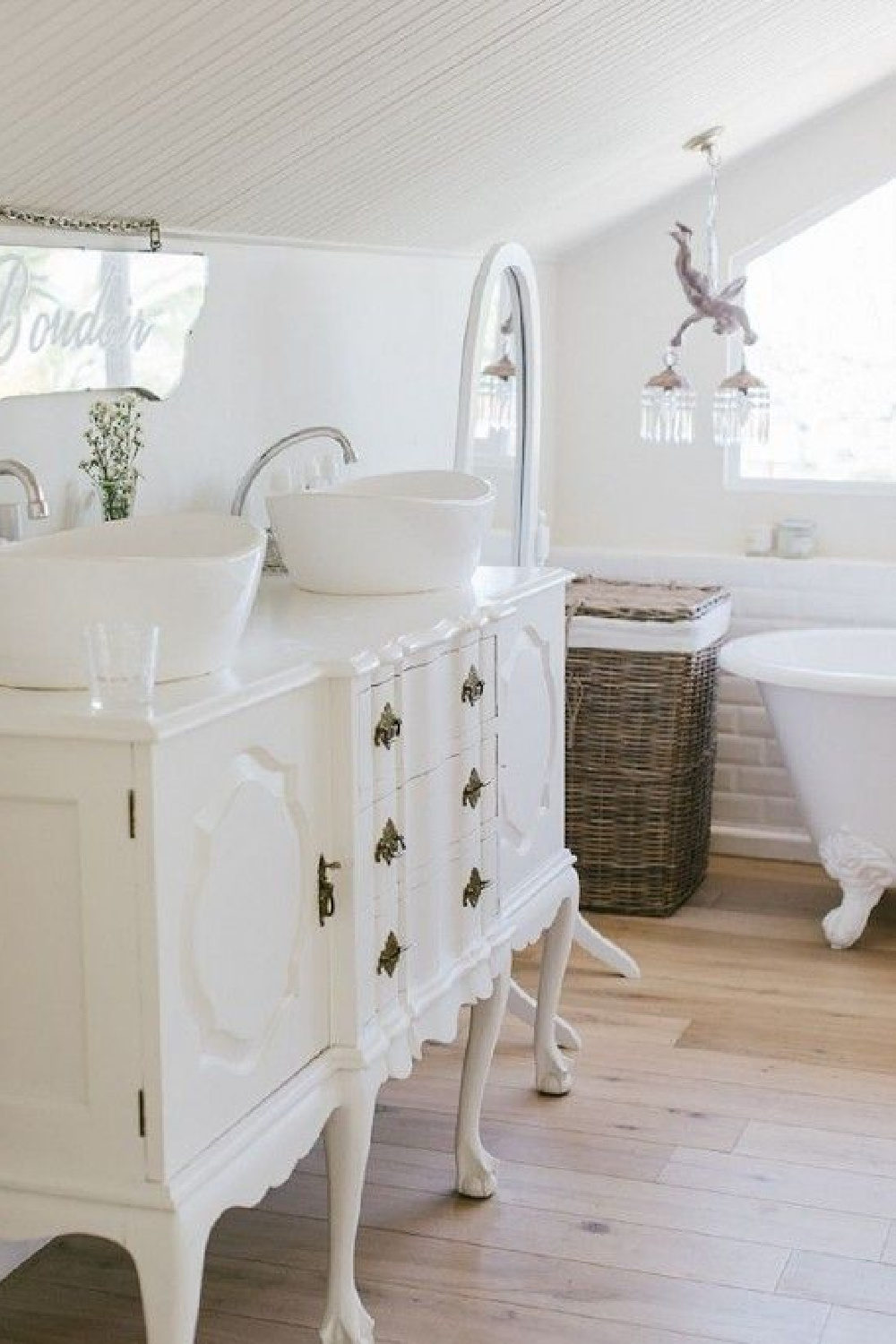 Certain cabinets can be retrofitted and tweaked to work as beautiful vanities, but you should start the planning process with function and storage as priorities.
I was all set to repurpose our short, old, existing solid wood vanity by modifying it to be a better height, refinishing it and giving it a new top. (The sinks were almond so they had to go, and the brown granite top wouldn't relate to any of the other changes made.)
However, the custom countertop alone cost more than new everything. I decided I didn't want vessel sinks (to add height to the low vanity), and the labor of refinishing wood is a cost too since time is money.
So we carefully removed the old to make room for the new even though I had high hopes of sanding down the wood to arrive at something like:
or even this:
Modern French Country & Old World Vanity Inspiration
This is a sconce with mirror look I love, but we just don't have room for two of these, and we like larger mirrors to maximize light.
Here's another fantasy moment…maybe a powder bath?
and here's a vanity area that is so darling if you have space.
Certain colors just translate as European inspired, and the easiest way to refresh any space is with a pretty new wall color. See this for pink paint color ideas.
If the walls are painted a color that just feels off, maybe cover them with a crisp white:
Are Coastal Style Baths More Popular Than Ever?
If you have been shopping for bathroom design elements, it certainly seems like coastal and Shaker style is most commonly available.
Is this my favorite traditional yet modern cottage vintage look?
That beautiful tile mosaic alone would probably blow the budget! Ha!
Vintage & Country Bathroom Vanity Inspo
Remember when we had almost no choices whatsoever for readymade vanities or bathroom sinks?
Sheets of mirror on the wall can still be a great idea, but there are plenty of other possibilities too.
Here are a few more possibilities:
Petite & Modern Ideas
Those Bath Vanities in Our Former Bath Were Budget-Friendly
When we tackled our master bath above, we first demo'd everything to begin from scratch. I wanted budget friendly traditional white vanity sets with simple clean lines.
In lieu of a long double sink bathroom vanity, a custom makeup counter joins two separate single vanities.
Our DIY bathroom remodel was a mix of high and low. In fact, the faucets cost more than the vanities.
But I have learned that prices have changed since 2015!
This is an important factor to note even if you are not planning any renovation projects. If you are buying a home that was remodeled–you should know prices for materials and labor have been high for several years now.
If you're in the market for a home and see "new roof" or "new kitchen" or "new pool," just know that it probably cost more than you think (and probably caused headaches that you'll be able to skip!).
Modern Farmhouse Vanity Inspiration
This mirror is a FAVORITE among famous designers…if it's in stock, snag it!
Here it is in Sarah Richardson's daughter's bedroom.
Rustic Meets Industrial
Find beautiful bathroom design inspiration from my PINTEREST BOARD HERE.
In the mood for a little fantasy tour? I am!
I independently selected products in this post—if you buy from one of my links, I may earn a commission.
Peace to you right where you are.
-michele
Shop for items you already intended to buy on Amazon RIGHT HERE, and also find home decor here to keep decor inspiration flowing on Hello Lovely!
Hello Lovely is a participant in the Amazon Services LLC Associates Program, an affiliate advertising program designed to provide a means for sites to earn fees by linking to Amazon.com and affiliated sites.