Find my winning recipe since it is definitely Time to Make Christmas Cookies & Collect Holiday Baking Inspo. My spritz-like, buttery, buttercream frosted cookies are an annual tradition here along with a few other family favorites. The funny thing about some of our family favorites is how they have evolved due to changes in us. My husband can't tolerate gluten, one of our sons is vegan, and my diet restricts fat…extra work and creativity are on the menu!
Time to Make Christmas Cookies With My Recipe
With just 10 days until Christmas, I have finished the shopping, planning, and simple decorating. Now it's time to listen to holiday music, marvel at the snowy wonderland outside, and bake a few yummy things.
Yesterday I baked the Old fashioned bread I have been making with a starter I have been feeding for 30 years, and I think it will be used for a baked French toast (recipe is below).
Since my husband can't have gluten, there will always be g-free goodies in the mix…like these easy pistachio cookies:
They're sooooo delicious and easy…find the recipe HERE.
Family Holiday Recipes Become Extra Special
This post is dedicated to all of the families and friends who can't gather physically for a variety of reasons. Sometimes enjoying the tastes of home provides some comfort when we can't be together on the actual occasion.
Snowflakes are falling as I type these words, and the trees in the our woods are wearing frosty sweaters.
Winters in Northern Illinois stretch long and fierce, and one secret to not resenting them is joining in the fruits…getting out into the crispness when temps are not dangerously low.
I don't have snow shoes, but this would be a good year to get some since we have beautiful trails just outside the door.
I hope you enjoy these treats I make again and again, and I would also love to hear about your own family favs!
I independently selected products in this post—if you buy from one of my links, I may also earn a commission.
Swedish Christmas Cookies (aka Luke's Christmas Love Cookies)
If you have been reading this blog for a length of time, you know about these delicious cookies. I have baked them with my sons their entire lives, and it just isn't Christmas without them. Winning a contest in Country Home magazine more than a decade ago was a game changer and inspired me to start sharing creatively online.
Prep: 50 minutes – Chill: 2 hours – Bake: 7 minutes/batch – Preheat oven: 375°
1 cup butter, softened
1 1/2 cups powdered sugar
1 tsp. baking soda
1 tsp. cream of tartar
1 egg
1 tsp. vanilla
1/2 tsp. almond extract
2 1/2 cups all-purpose flour
1 7-oz. jar marshmallow cream
3/4 cup butter, cut up and softened
3/4 tsp. vanilla
1/2 cup powdered sugar
Colored sprinkles
Instructions
1. In a large mixing bowl, with an electric mixer on medium to high speed, beat 1 cup butter for 30 seconds. Then add 1 1/2 cups powdered sugar, baking soda, and cream of tartar. Beat until combined, scraping sides of bowl occasionally. Beat in egg, 1 teaspoon vanilla, and almond extract. Beat in as much of the flour as you can with the mixer. Stir in any remaining flour then divide in half. Cover and chill for 2 to 3 hours or until easy to handle.
2. On a lightly floured surface roll half of dough at a time until slightly less than 1/4 inch thick. Cut dough using a 2 1/2-inch star-shape cutter then place 1 inch apart on ungreased cookie sheets.
3. Bake in 375° oven 7 to 8 minutes or until edges begin to brown. Transfer to wire racks; cool.
4. In large mixing bowl beat marshmallow cream, gradually adding 3/4 cup softened butter. Beat in 3/4 teaspoon vanilla and 1/2 cup powdered sugar. Spread or pipe atop cookies. Sprinkle with colored sprinkles. Makes 6 1/2 dozen cookies.
TO STORE : Store in a single layer in refrigerator until frosting sets, about 1 hour. Store in a single layer in an airtight container in refrigerator for up to 3 days. For longer storage, freeze uniced cookies.
Per cookie: 73 cal., 4 g fat (3 g sat. fat), 14 mg chol., 49 mg sodium, 8 g carbo., 0 g dietary fiber, 1 g protein.
Holiday Baking Inspiration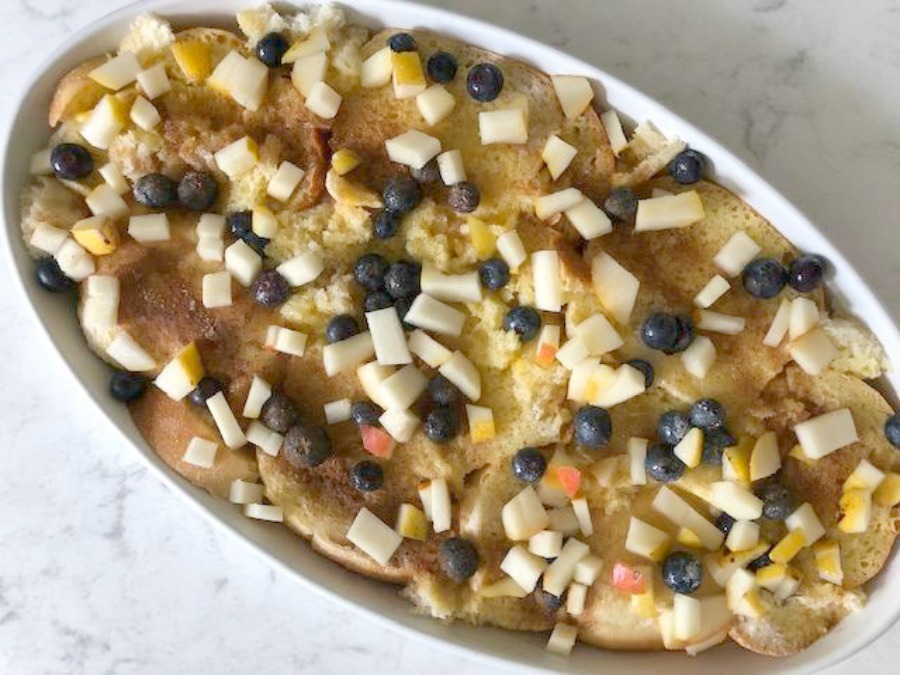 Crème Brûlée French Toast
Need an idea for Christmas morning or a brunch any given weekend? I love this dish because it is made ahead.
So easy and delicious! Sometimes I'll sprinkle fruit on top before baking, and since I bake bread weekly, I use it for this recipe. However, you can use French bread or your favorite from a bakery.
1 stick butter
1 cup brown sugar
2 Tbsp. corn syrup
1 8-9″ round loaf of country style bread
5 eggs
1/4 tsp. salt
1 1/2 cups half and half
1 tsp. vanilla
Instructions
In a small heavy saucepan, melt butter with brown sugar and corn syrup over a moderate heat, stirring until smooth, and pour into a 9×13 inch baking dish. Cut six 1″ slices from the center portion of the bread and trim the crusts. Arrange slices in one layer in the baking dish, squeezing them slightly to fit.
In a bowl, whisk together eggs, half and half, vanilla, and salt until combined well. Pour over bread. Chill covered, from 8 hours to one day.
Preheat oven to 350 degrees and bring bread to room temperature. Bake, uncovered, in center of oven until puffed and edges are pale golden, about 40 minutes. Sprinkle with powdered sugar if desired. Slice and invert (to plate servings ooey gooey side-up!) and serve with or without maple syrup.
Merry Mug Inspiration
Serve it with mugs of warm apple cider or hot chocolate.
Speaking of mugs…
The fun part about the taller rack is it can also easily double as a Christmas tree during the holidays.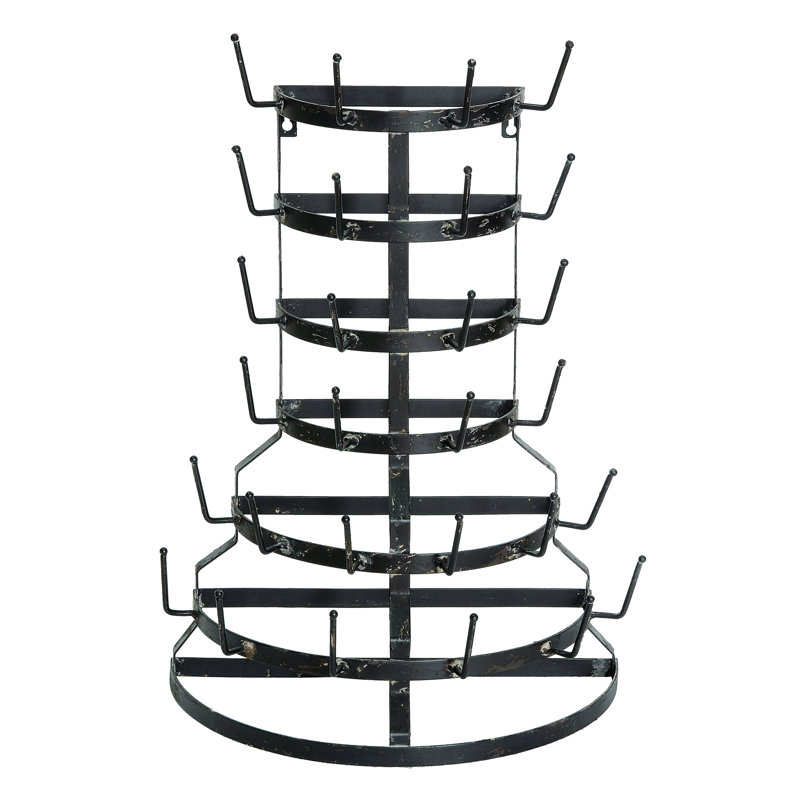 Festive Bottle Holder Inspiration
The vintage examples are awfully sweet, and they certainly need not be decorated to have presence!
More Sweet Family Recipes
Next up is is my mom's easy peasy punch recipe, served at special occasions. You just can't mess it up, and it also works for a brunch or simple sweets buffet.
Mom's Easy Strawberry Punch
This punch is basically a strawberry float and sort of like our family's faux eggnog since we like drinking sugar more than eggs. You can certainly add rum or Chambord to this should you like your floats boozy.
1/2 gallon really good vanilla ice cream
2 cups strawberries (halved) frozen (or a package of frozen)
3 Tbsp. sugar
1 2-liter bottle ginger ale
In a punch bowl, pitcher, or large mixing bowl, add ice cream then strawberries. Sprinkle on sugar. Add ginger ale to cover, combine gingerly, then top off with ginger ale as needed.
Hello Lovely Special K Bars
These are from my childhood in the 70s and are present at every holiday or family gathering. Other recipes call for a 2:1 ratio of butterscotch to chocolate, but mine are heavier on the chocolate, and dark delivers a completely different result than milk chocolate. You can make them vegan by eliminating the butterscotch chips and subbing dairy-free chocolate chips.
1 cup sugar
1 cup corn syrup
1 1/2 cups smooth peanut butter
6 cups Special K cereal
11 oz. package butterscotch chips (I like Hershey's)
11 oz. package dark chocolate chips (I like Hershey's)
Lightly grease a cookie sheet or half sheet pan (I use a half-sheet pan, 10.5″ x 15.5″) or spray with nonstick spray. Place cereal in a very large mixing bowl. Bring sugar and syrup to a boil, then remove from heat. Add peanut butter and stir to completely melt and combine. Pour mixture over cereal in bowl and delicately fold together with silicone spatula. Then pour into prepared pan and press lightly with wet hands to form an even thickness. Melt the butterscotch and chocolate chips together (I use microwave), then pour over pan. Let cool completely, then cut into small squares. These freeze wonderfully – I cut them first then freeze small quantities.
Holiday Goodies That Won't Cost a Bundle
Gooey Butter Cake
Everyone will think they are lemon bars, and we think they are sooooo much tastier! This is one of those doctored cake mix recipes my family is crazy about, and there are all sorts of variations. For example, you can add a handful of chocolate chips on top before baking, but my family likes these as is. They are decadently rich! I bake it in a sheet pan then cut into small, very thin bars.
Preheat oven to 325 and adjust rack to bake it in top third of oven.
1 white cake mix
1 stick of butter melted
3 eggs
8 oz. cream cheese, softened
12 oz. powdered sugar, more for sprinkling on top
1 1/2 tsp. pure vanilla extract
Instructions
Butter or spray a half-sheet pan with non-stick spray. In a large mixing bowl, add the cake mix, melted butter, and also one lightly beaten egg. Stir until smooth – then use wet hands to press to the edges of pan. (It takes a little while to press and spread it thin!).
In same bowl, use hand mixer to blend softened cream cheese with half of the powdered sugar. Add two eggs, and vanilla and keep mixing as you gradually add remainder of powdered sugar, blending until smooth, about 2 minutes.
Pour cream cheese mixture over cake mix layer and if necessary, spread to cover. Bake in upper third of oven 35-40 minutes, cool completely on rack, then cut into small squares.
Step Into the Studio
This is another peek into my personal life since you'll find me almost every single day plunking out something on the old piano I have been pounding since childhood.
More Delicious Recipes
I still make cinnamon bread from a starter and share it with family and neighbors since my husband can't eat it, and I can only have a little.
In case you are looking for a healthy "bread" that won't work for a ham sandwich but is just fine for toast or a PBJ, check out this gluten-free, vegan, flour-less bread recipe I tweaked and often bake.
If you had told me years ago I would be baking vegan g-free recipes containing nuts, I would have called you NUTS; however, auto-immune diseases and GI issues are no joke!
About Those Holiday Extra Calories…
I bought this beachy cruiser when neuropathy, osteoporosis and balance issues a year ago changed my world. I highly recommend it as a gift that may keep on giving! The back storage basket is perfect for groceries or a pet, and if you are wondering whether you can still get exercise with it…the answer is yes!
I added a basket to my handlebars as well.
Thanks for reading and also making my day with your comments!
Do visit more holiday themed posts for inspiration and cheer.
I independently selected products in this post—if you buy from one of my links, I may earn a commission.
Peace to you right where you are.
-michele
Shop for items you already intended to buy on Amazon RIGHT HERE, and also find home decor here to keep decor inspiration flowing on Hello Lovely!
Hello Lovely is a participant in the Amazon Services LLC Associates Program, an affiliate advertising program designed to provide a means for sites to earn fees by linking to Amazon.com and affiliated sites.