I have been sharing plenty of cozy cabin winter vibe inspiration on FB in recent weeks, and as the weather gets nastier, it helps a little! As this second week of December ends, I am sending my love far from the mountains…on the prairie. There are snow flurries flurrying this moment, and I'll soon dress for a holiday gathering in the city. But just now, since there truly isn't a one size fits all, singular "mountain lodge chic" look, let's gaze at eclectic Mountain Cozy Cabin Beauty.
I independently selected products in this post—if you buy from one of my links, I may earn a commission.
Mountain Cozy Cabin Rustic Chic Interiors
Ken Fulk Designed Guest House in Montana
I remember not just seeing the photos in the Elle Decor article with this Montana guest house by Ken Fulk, but reading every word. Why wouldn't I? The designer is so interesting and fun, and you just know there will be surprises and secrets revealed.
This Yellowstone Club living room (above)? Fulk snagged those ottomans from Costco!
Such a lovely reminder that is indeed possible to create a rustic chic vibe, an elevated mood, an emotionally evocative space even without bespoke everything.
Steve & Brooke Giannetti's Tennessee Cabin at Patina Meadow
What an exciting time for the Giannettis who recently relocated from Patina Farm in Ojai to Patina Meadow in Leiper's Fork, TN! Brooke has begun sharing images of the small historic home on their property they are presently calling home.
Get a peek of their beautiful bedroom with the 18th century tapestry behind the bed that you may remember from their home at Patina Farm.
Isn't it cozy and kind of perfect?
Cozy Cabin Outdoor Living
Can we imagine spending time out here in winter? Perhaps we will create something similar on our property someday! Just now three gorgeous deer came prancing in our woods! (You know exactly what I did…whispered "mama loves you at the window" knowing they can feel my love.)
Rustic Mountain Cabin Bunk Room
The bunk room at that Montana guest house is unforgettable!
I'm not sure we need a bunk room here at the new house unless it was a mini one for our sons' pets, but it is so fun to dream of building something custom like this again. We designed and built cozy elevated Captain's beds in the French country home we built, and they were the coziest!
An Inspiring Not-Too-Rustic Lodge Bedroom
Marie Flanigan magic!
Isn't the storage trunk with the flat top a smart addition in a small space?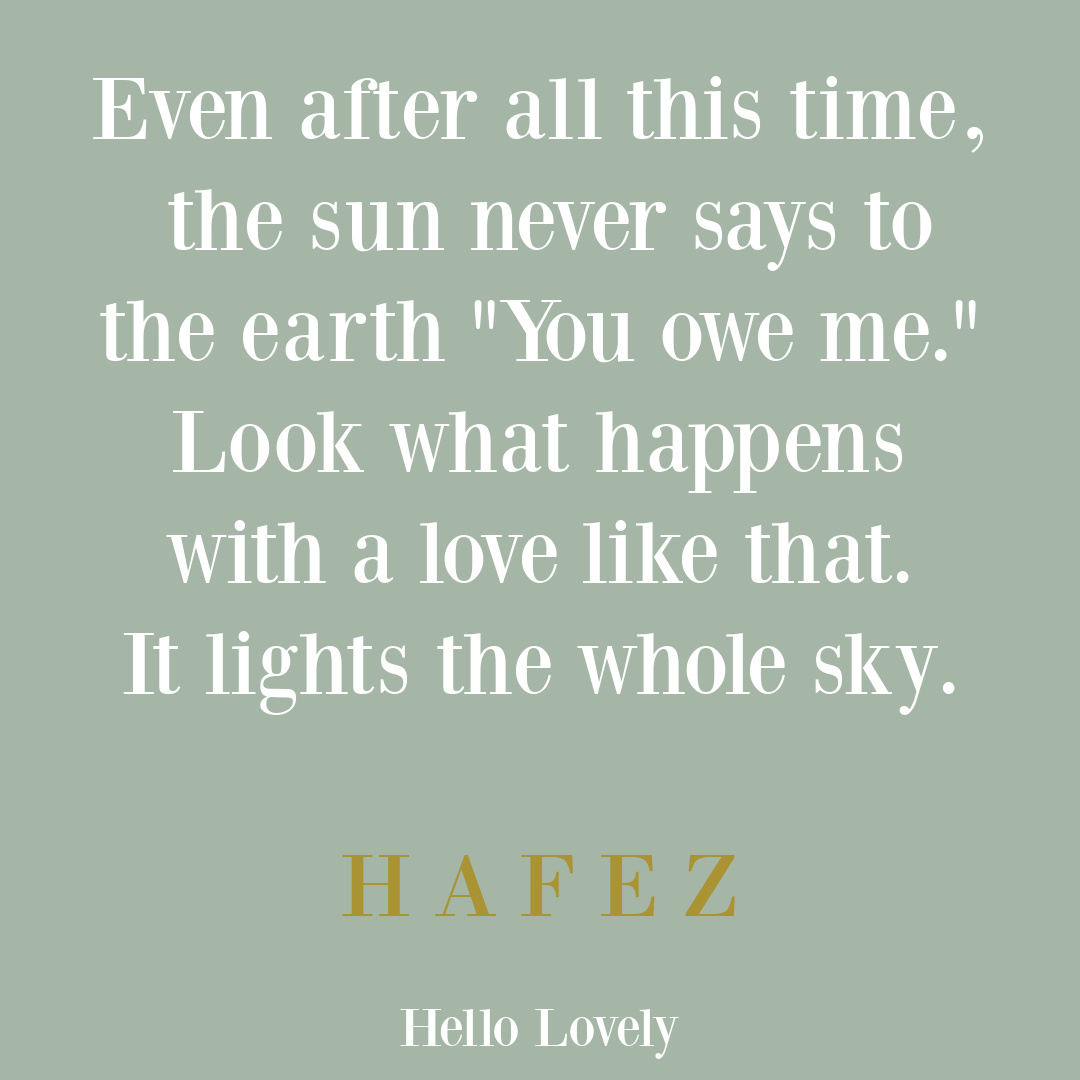 This bath by Marie Flanigan with beautiful reeded vanity is so classically timeless and packs so much interest into a small footprint! It is styled in such a warm and organic way, yes?
While it in no way whispers 'cabin,' I can imagine snow falling gently outside this bath with its snowy-soft walls.
Sherry Hart Designed Rustic Modern Bath
The green floor is such a beautiful addition to this neutral bath design by Sherry Hart.
If you have always dreamed of using this Schumacher wallpaper, maybe you should!
Inspiration for Cozy Winter Vibes
Smart Sources for Mountain Lodge Style & Luxe Looks
For that "rustically cozy, snowing outside with simple sophistication inside, try these inspiring sources:
SEE THIS for inspiration from Jenni Kayne's new book, PACIFIC NATURAL AT HOME:
Order This Book of Tranquility!
Who among us, breathing air in the 2020s, couldn't benefit from creative ways to manage emotions, relieve stress and restore calm?
Bet you'll want to give or receive this lovely source of soothing wisdom and tools to reduce feelings of distress and anxiety.
Healthy Meal Idea to Stay on Track
Have a moment to catch up on all the holiday posts? Do CHECK OUT THIS CHRISTMAS LOVELINESS!
I independently selected products in this post—if you buy from one of my links, I may earn a commission.
Peace to you right where you are.
-michele
Thanks for shopping RIGHT HERE to keep decor inspiration flowing on Hello Lovely!
Hello Lovely is a participant in the Amazon Services LLC Associates Program, an affiliate advertising program designed to provide a means for sites to earn fees by linking to Amazon.com and affiliated sites.