Are you the type who waits for the first snow fall or below freezing temperature to think about holiday gifts or cozy Christmas scents? My Pinterest followers collect ideas the whole year through so that explains why I'm typically posting seasonal stuff way ahead of schedule. I start simmering spices in early November and keep my eyes peeled for great gift ideas well before then. Everyone gets nostalgic about favorite holiday aromas, but not everyone loves the traditional ones. One of my friends despises cinnamon smells, another feels edgy around vanilla candles. For me and my house, it's all about infusions with citrus and rosemary. Uncommon Gifts & Citrus Simmer to Consider shares my recipe as well as gift ideas you may not see anywhere else.
I independently selected products in this post—if you buy from one of my links, I may earn a commission.
Uncommon Gifts & Citrus Simmer
Girls and guys and grandmas love beanies, and the one I own from Artilect is hard to beat. The caffeinated snack bars? What can I say? Some like to drink their green tea, and some of us prefer to eat it (try the Vanilla Latte). The energy they provide is not the jittery kind.
The CMY Cubes are so cool to behold and definitely a conversation starter when placed on a table or desk as a modern accent. I'm gifting them to my Millennial sons. My husband is getting the Zoom Tube. Have you seen these things? It may inspire you to go hiking (or spy winter birds in the bare trees outside your window).
Maileg mice are an absolute joy to collect, and I am crushing on mum and dad in the cigar box…how cute are they!?! Think beyond kids for these sweet soft creatures. I love bringing them out at Christmas time for whimsical accents. Finally, the cat backpack carrier…I mean. I have three little grandkitties now who need this in their granny's life.
More Uncommon Gifts to Give
For Delectable Christmas Smells, Simmer This Recipe
How To Make Your House Smell Like Christmas!
Have a favorite recipe to infuse your home with delicious Christmas smells? Here's my favorite.
Ingredients
1/4 Grapefruit, sliced into wedges
1/2 Apple, sliced
3 Cinnamon Sticks
1 Rosemary Sprig
1 Sprig of Pine or Fir
Handful of fresh cranberries
2 1/2 tsp. Cloves
1 Tbsp. Ground Allspice (a mixture of cinnamon, cloves & nutmeg)
Water to cover
Tweak This Mix to Make It Your Own
No need to be rigid about this mixture – if you love the smell of grapefruit like I do, use more! Add ingredients to a heavy saucepan including water to cover, and bring to a boil. Reduce heat to simmer and add water as needed. Keep an eye on the water level so it doesn't reduce and begin to burn.
It's fun to plant rosemary in little vintage English marmalade jars, and they also make sweet little holiday trees with fabulous fragrance.
Fills the Senses
A bonus to this recipe with cranberries is the little popping they do as they begin to cook – you certainly need not be a child to enjoy this sweet result.
I have maybe broadcast this a zillion times, but my favorite fragrance on the planet is orange blossom – and you can also substitute oranges or other citrus for the grapefruit if desired.
The pan I used is a 5 qt round cast iron Cusinart casserole pan, and you can also find options HERE as well as Here.
Here's my potpourri simmering away…
Classic as well as a pretty essential for all of your holiday cooking:
Simmer Down Now!
Also, for safe simmering you won't have to babysit all day – how about using this…?
For a hefty quantity of ground Allspice at a low price, here's a possibility too:
Is there anything more warm and welcoming than the smell of cloves…also find a great value HERE.
Rosemary and Citrus…certainly a delicious combo
I love when the cranberries begin to POP, and can't you just hear the Christmas music in the background too?
Simple pleasures indeed!
Yummy Christmas Candles & Wintry Scents to Enjoy
Cardamom and Vanilla
First, here's my absolute favorite of the bunch! This holiday scent hails from my childhood indeed. Cardamom and vanilla is subtle, not too sweet or cloying.
Citrus & Slightly Sweet
Oooooohhhhh, the secret is out…a candle under $10 that smells citrusy, slightly sweet and exactly like those Capri Blue burning inside every Anthropologie!
Here it is:
But a name like Bali Sunrise…is it even Christmasy? Pineapples and mango smell like a party to me! No cinnamon or cypress, yet this scent satisfies in every season.
Winter Woods and simmering spices…Smells Like Christmas indeed!
Cinnamon, Cloves, Allspice & Orange
Fresh Cut Christmas Trees…certainly smells like Christmas!
Classic as well as a pretty essential for all of your holiday cooking: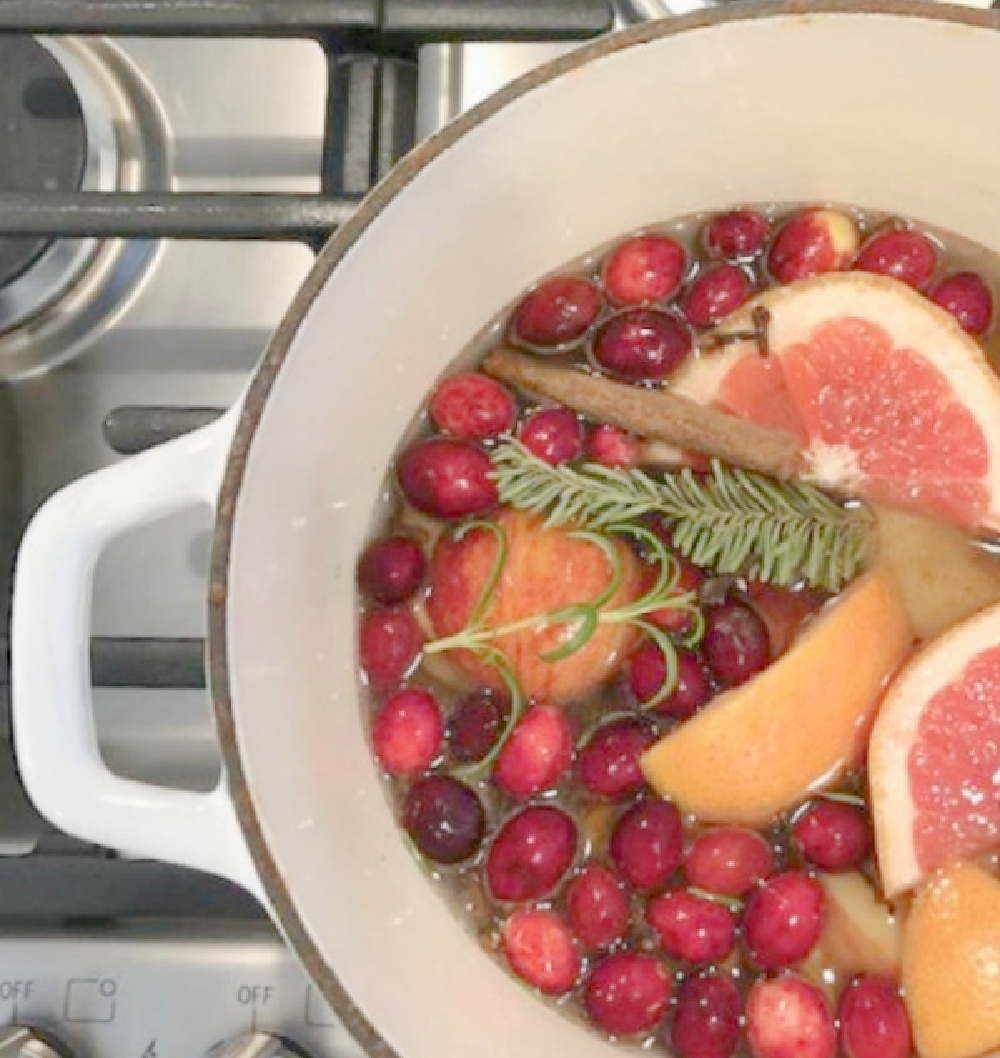 Need a Large Wood Slice Platter for your rustic vignettes or a centerpiece? Find one HERE.
I used mine as a cake pedestal for this mini layer cake – find the recipe here.
How I love the sights, sounds, and smells of this Christmas potpourri poppin' on the stove when it's cold outside!
I'll be poppin' into a few of my favorite shops this weekend for the annual vintage shop hop (Trove is a favorite where these Westie cuties who are now in heaven, used to run the place).
Also, Warm Your Heart With These
Speaking of cuties, are you acquainted with Pip?
Also, for those of us who grew up watching 'A Charlie Brown Christmas,' check this out if you have a few minutes…
Have a favorite Christmas simmer or mulling spice recipe to share?
Be sure to also visit this tour of quiet Christmas gorgeousness!
I independently selected products in this post—if you buy from one of my links, I may earn a commission.
Peace to you right where you are.
-michele
Shop for items you already intended to buy on Amazon RIGHT HERE, and also find home decor here to keep decor inspiration flowing on Hello Lovely!
Hello Lovely is a participant in the Amazon Services LLC Associates Program, an affiliate advertising program designed to provide a means for sites to earn fees by linking to Amazon.com and affiliated sites.