Welcome to my Cherry Christmas Table & Mini Cake Recipe! It had been quite some time since my gluten-intolerant husband indulged in a slice of cake (you may recall I came up with this flourless chocolate one for him last year). So I developed this gluten-free Mini Carrot Cake Recipe as a holiday treat, and he highly approves.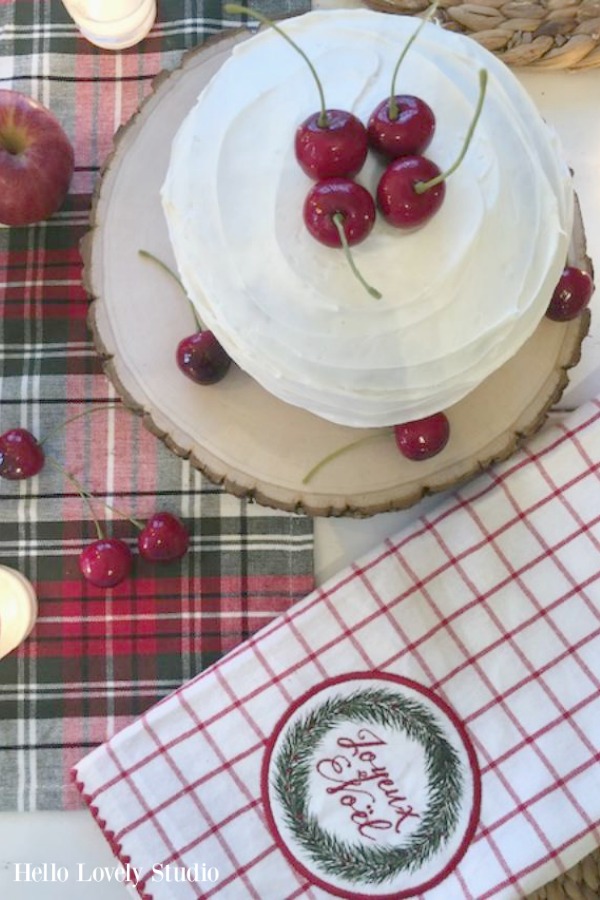 With all the cherries and red, it may have you thinking cherry cake, but this mini layered yum is CARROT CAKE since he requested it, and I wasn't feelin an orange carrot tablescape.
Cherry Christmas Table & Mini Cake Recipe
I surprised my husband with this treat on Saturday evening, decorating the table with what I had on hand.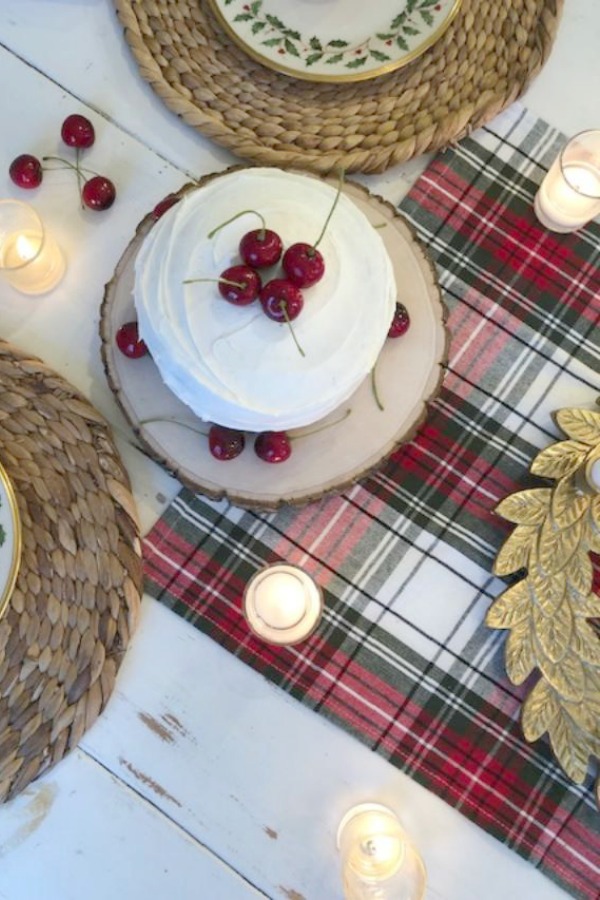 He had volunteered to work outside in the freezing cold all day with a friend, cutting down dead trees.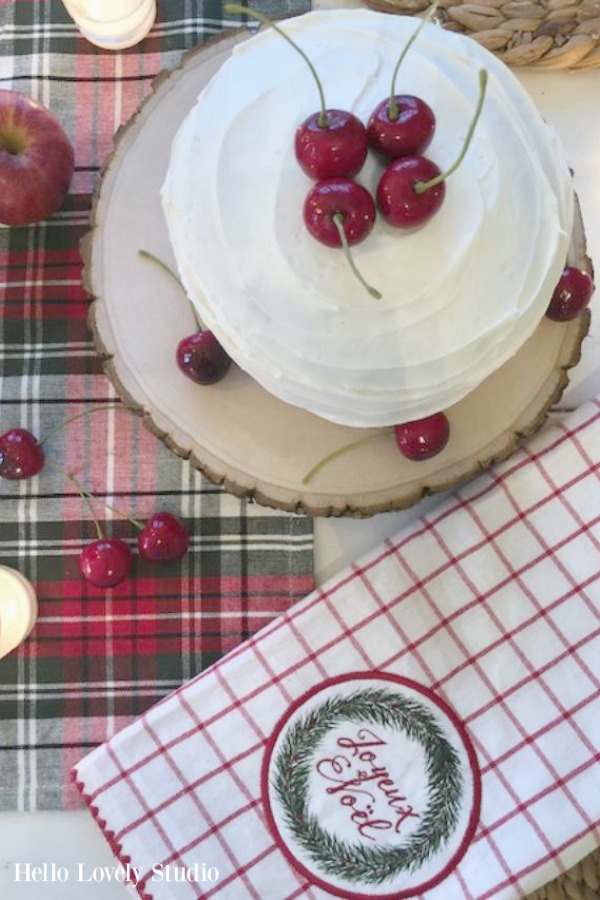 See it live here…
Who could you make this for?
Exhausted and about as sore as one could possibly feel after wrangling a chainsaw til sundown, he came home to a comforting chili dinner and this dessert on the table with candlelight.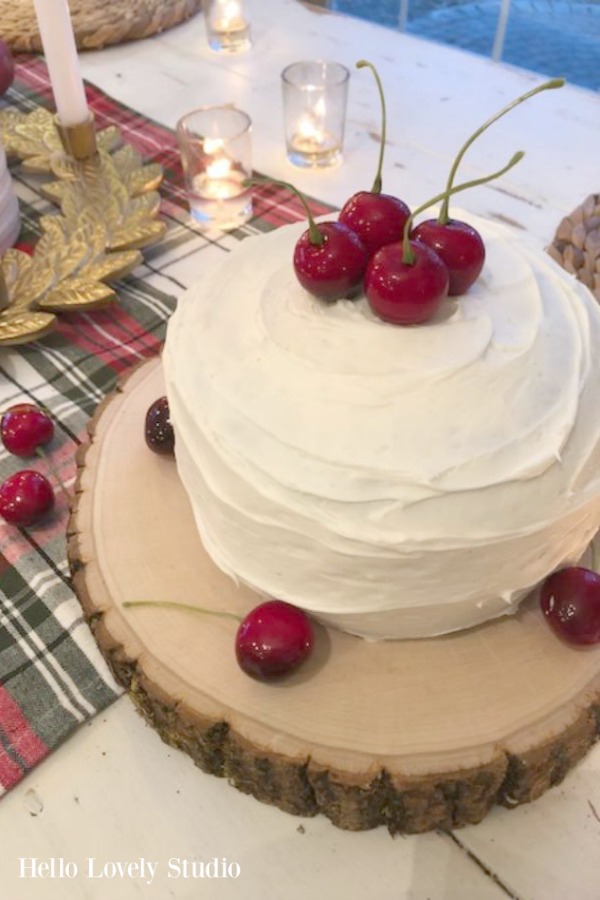 I'll share the sources for my super simple "cherry Christmas" tablescape as well in case you'd like to create something similar.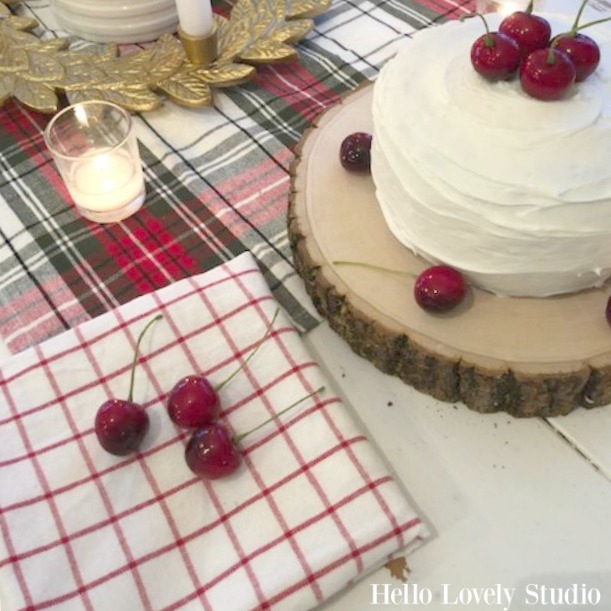 BTW, if you have never made a homemade cake, don't be scared off by the recipe–it's very simple.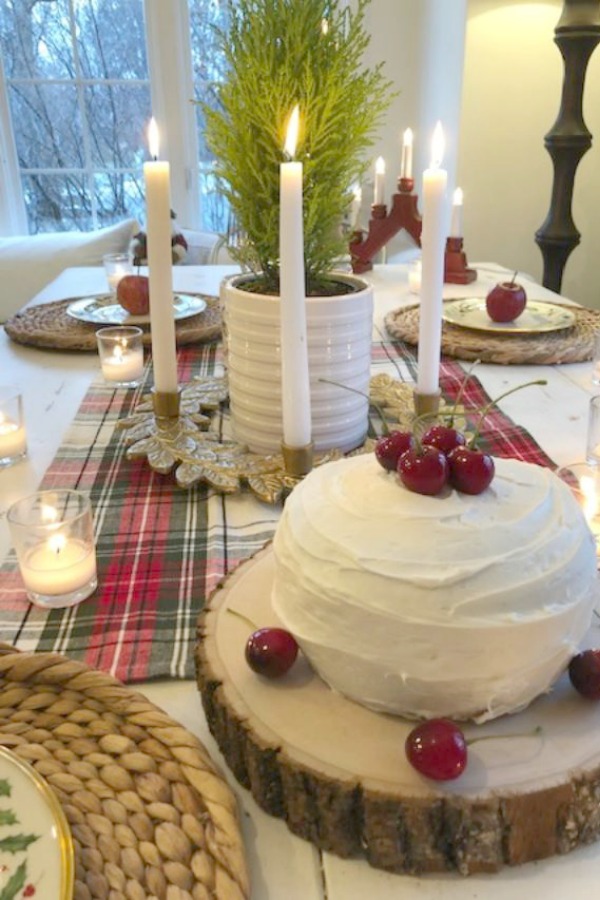 Baking Times
The challenge is figuring out how long to bake it as my experience with gluten free batters proves it is hard to know!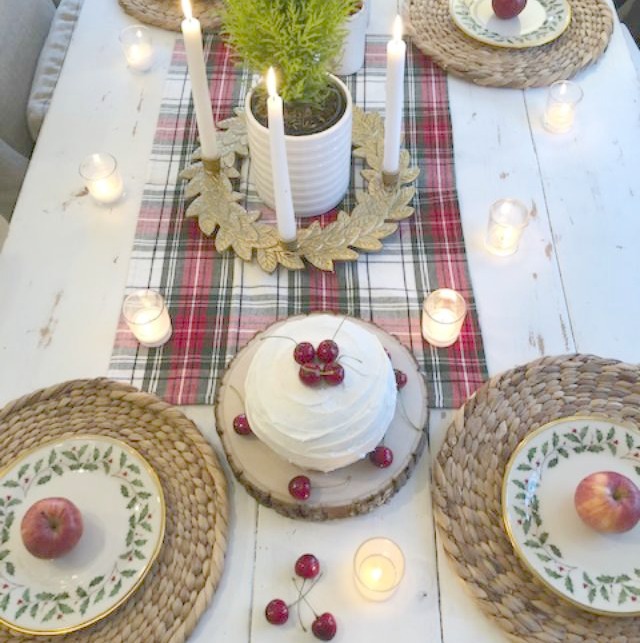 The first time I made this, it baked in the oven only 20 minutes, but the next time, it was for 27 minutes.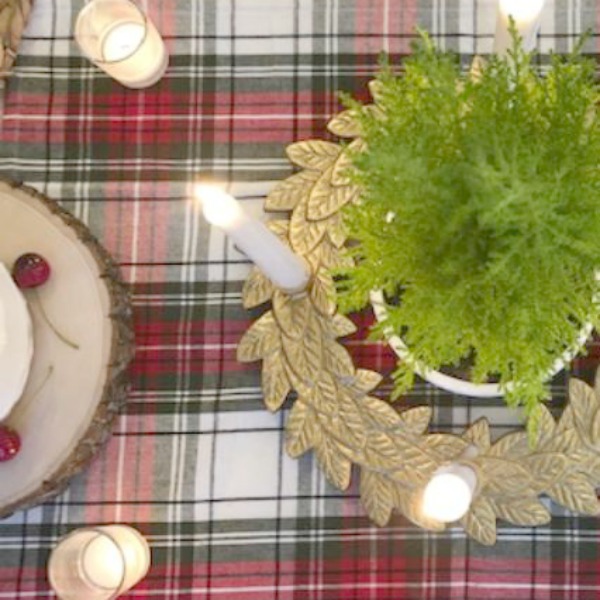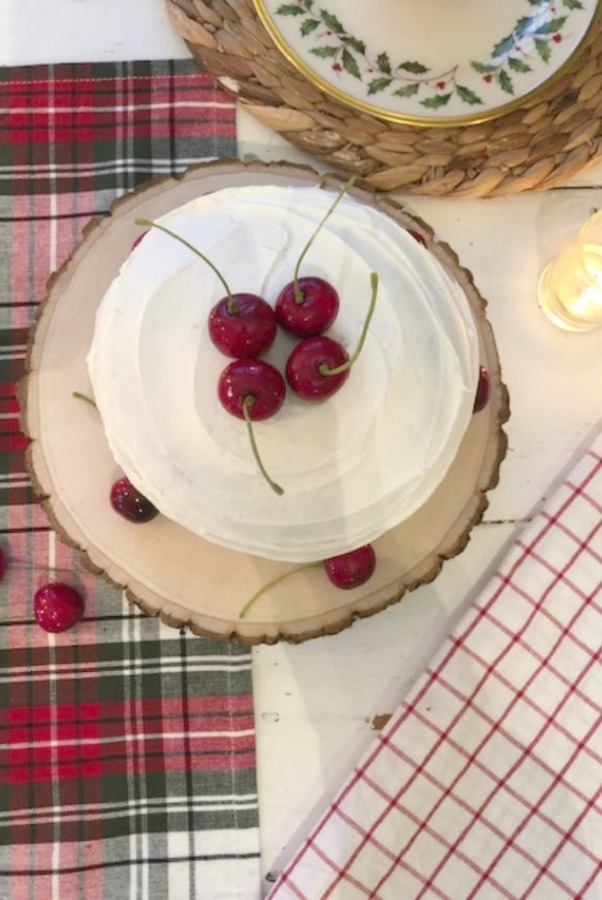 So 20-30 minutes may sound like a crazy range, but your geographical location and oven paired with the mystery of gluten-free properties warrants this necessary window.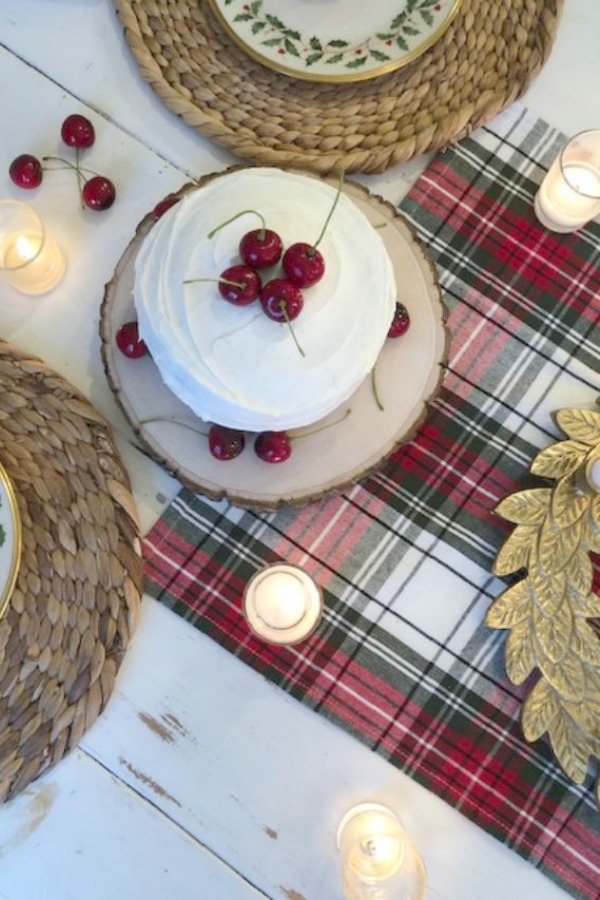 No need to keep it gluten free!
You can also make this with regular ol' flour–you'll just have to increase the amount of flour to 1 3/4 cups.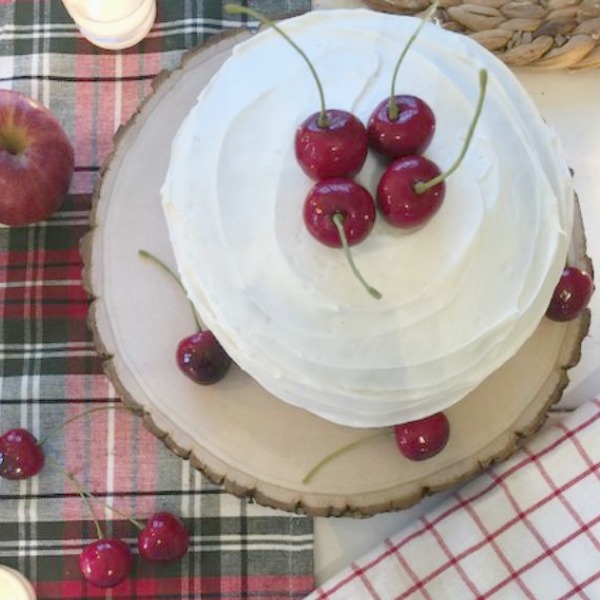 Mini Carrot Cake Recipe
1/2 cup sugar
1/4 cup brown sugar
1 cup gluten free flour (or 1 3/4 cup all purpose flour for non-gluten free cake)
3/4 tsp. baking powder
1/2 tsp baking soda
1/2 tsp salt
1 1/2 tsp cinnamon
1/2 cup corn oil
2 eggs
1 1/2 tsp vanilla
1/4 cup milk
1 1/2 cups carrots, grated
1/4 cup sour cream
Cream Cheese Frosting: Mix together 4 oz. whipped cream cheese, 4 Tbs softened butter, 16 oz. powdered sugar (I buy the box so no measuring), 2 tsp vanilla, and small spoonfuls of milk or cream to bring it to desired consistency.
Preheat oven to 350.
Spray 2 six inch cake pans with nonstick spray.
Place them on a baking sheet that accommodates both pans.
Mix together first 7 ingredients in large bowl.
In a smaller bowl, whisk together oil, eggs, vanilla,and milk. Blend til smooth.
Add wet ingredients to flour mixture and stir until combined.
Fold in grated carrots and sour cream.
Divide batter between prepared pans.
Bake in center of oven until set, approximately 20-30 minutes.
Remove from oven and place pans directly in freezer to cool completely. Make cream cheese frosting while cake layers cool.
Frost and enjoy.
The Process & The Goods
Cake Pans
The cake pans I use for this mini carrot cake measure 6″ across and 2″ high. Buy them RIGHT HERE.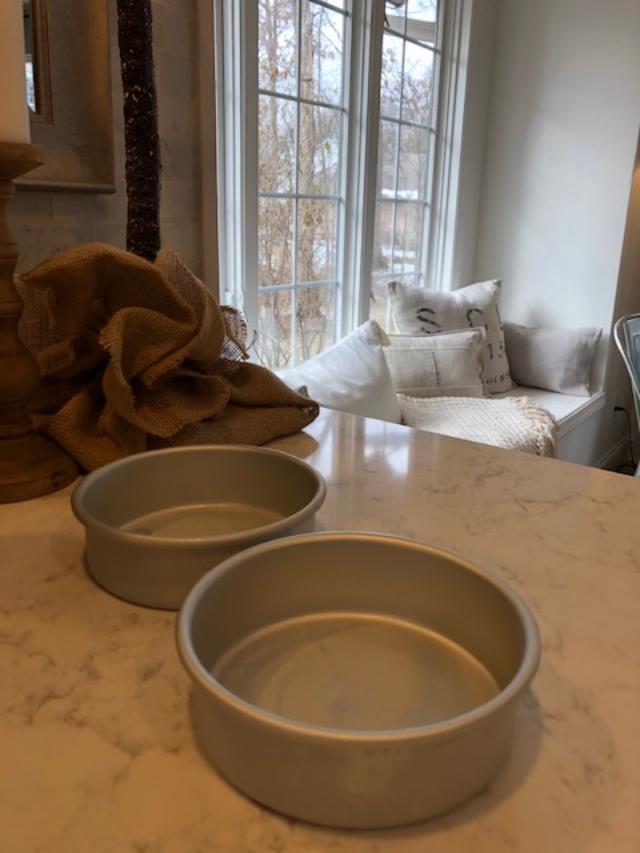 Gluten-Free Flour
This is excellent for my baking. Find it HERE.
Shredded Carrots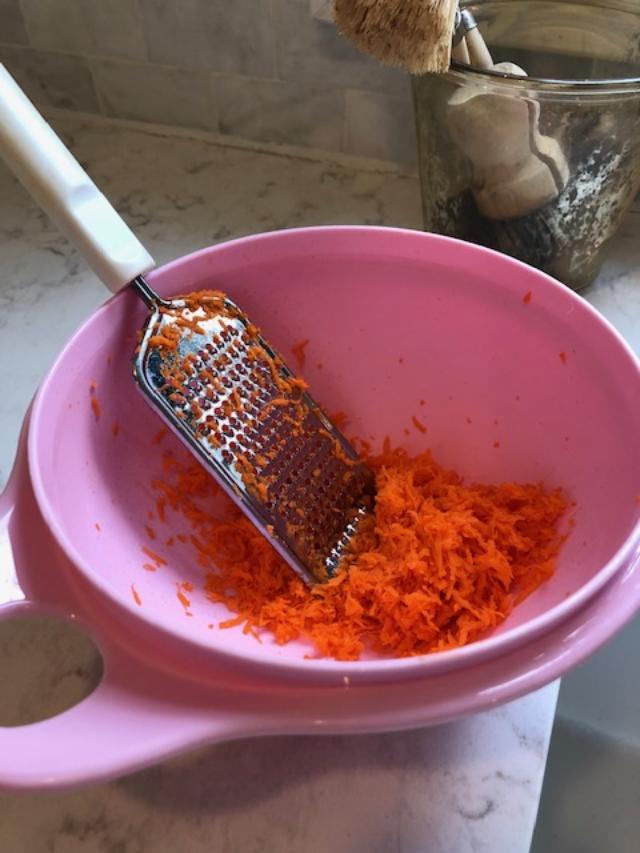 Gather Your Ingredients
Here's a great VANILLA if you need it, and a set of custard cups.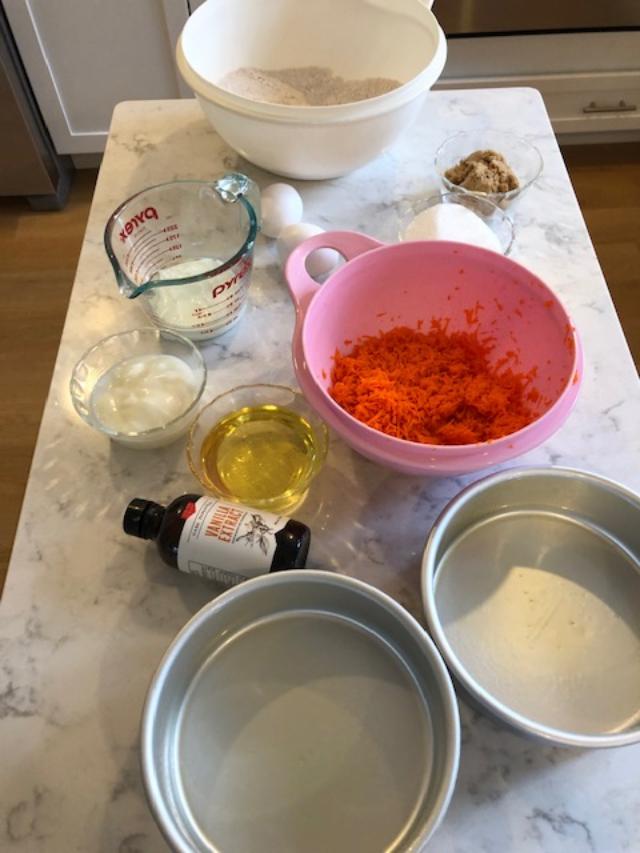 Make Your Batter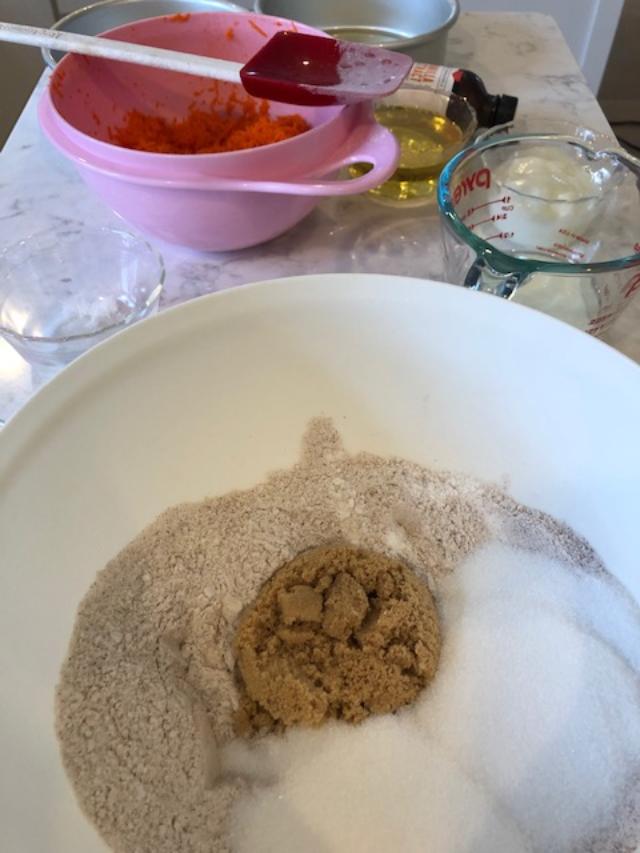 Get Ready to Bake!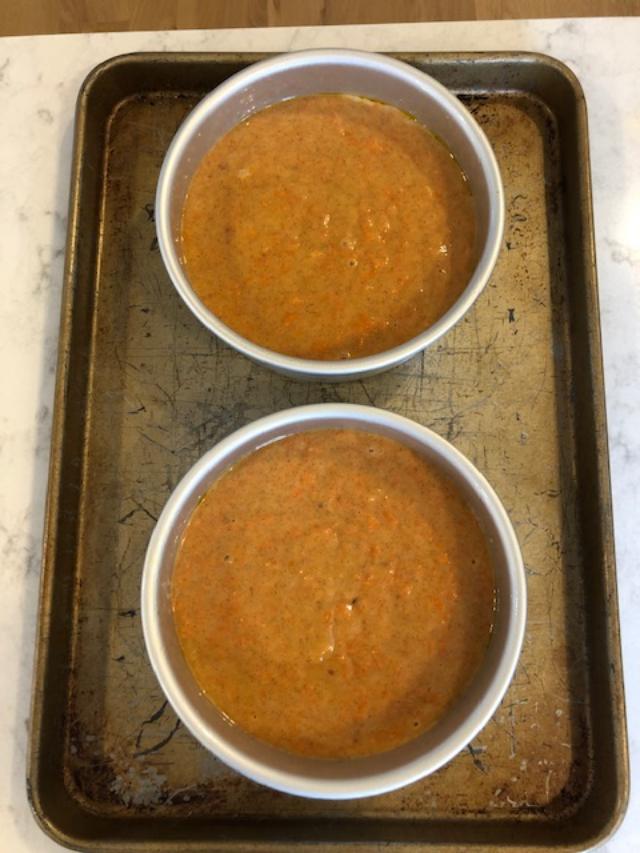 Remove From Oven & Place in Freezer
While the cake is in freezer, make the frosting.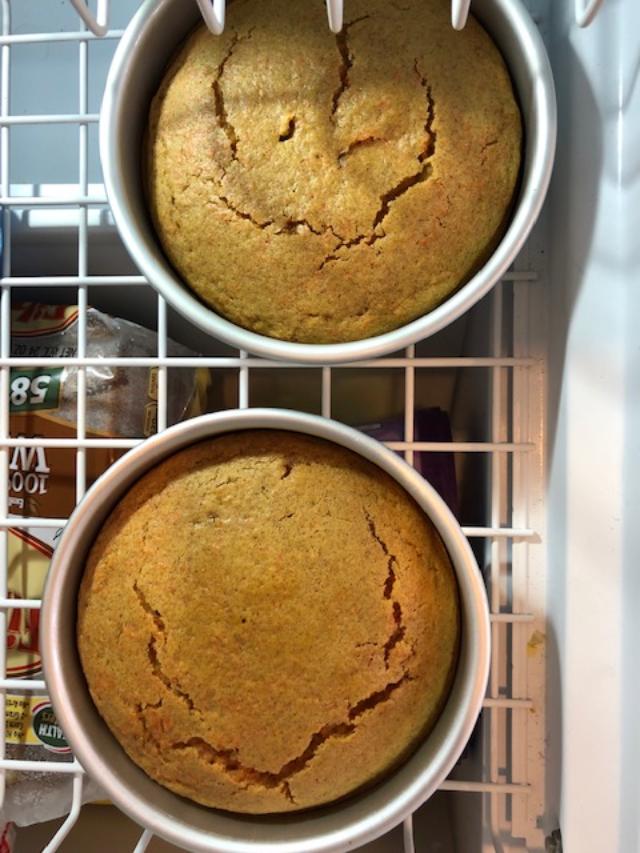 Remove to Platter & Get Frosting
Here is the bottom layer (on a wood slice platter) placed rounded side down. Spread on frosting, then top with second layer and frost as desired.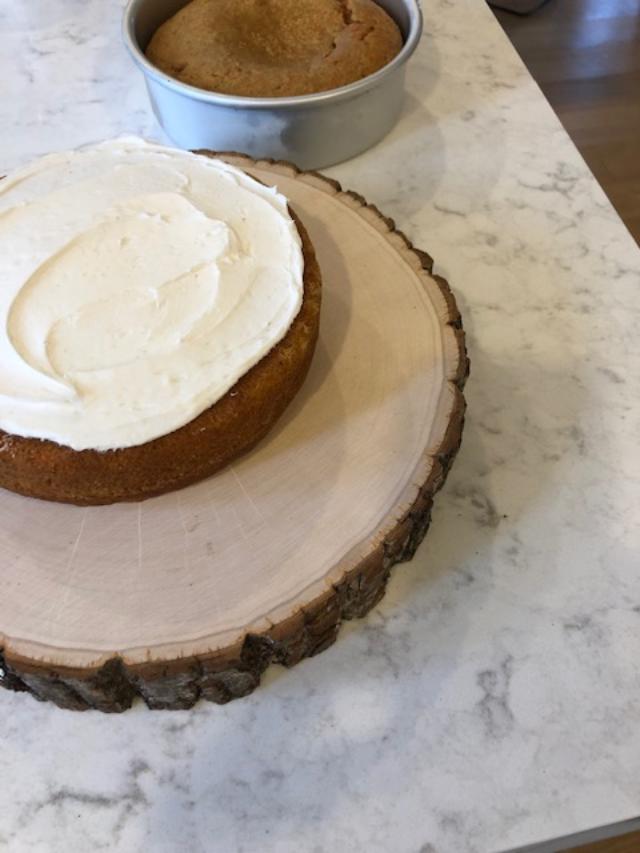 Ta-da!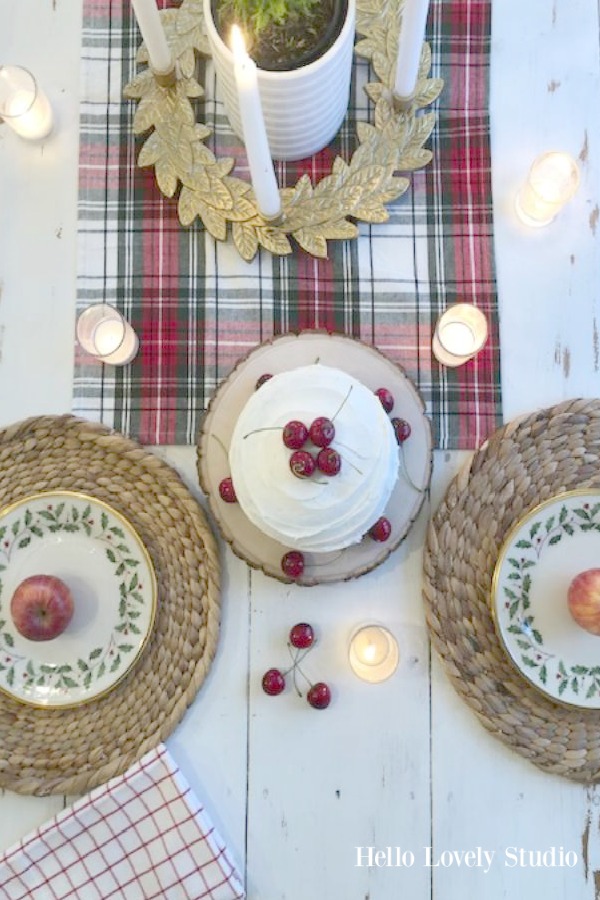 Swedish Wood Candelabra: HERE.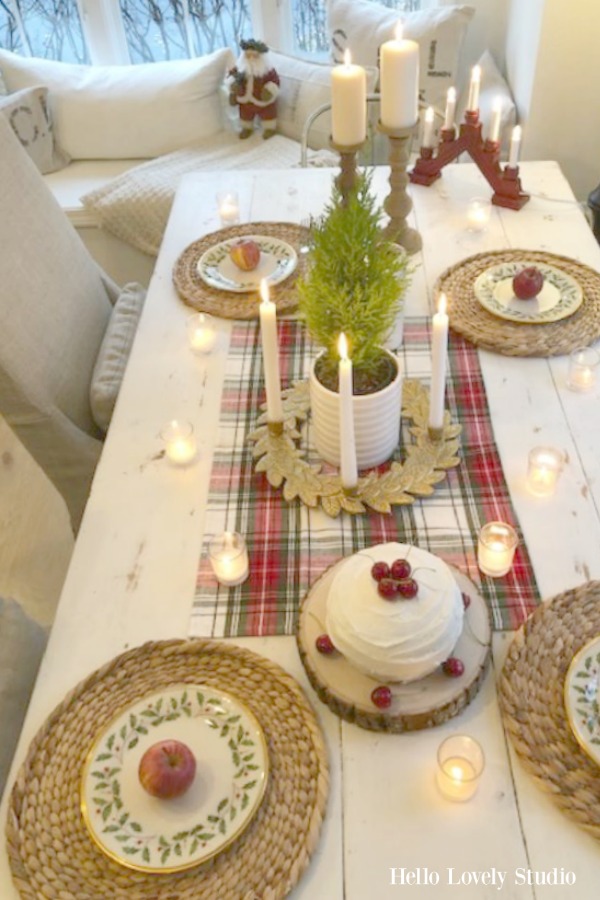 Plaid Dishtowel as Runner: Mine is from Urban Farmgirl. More Options Here.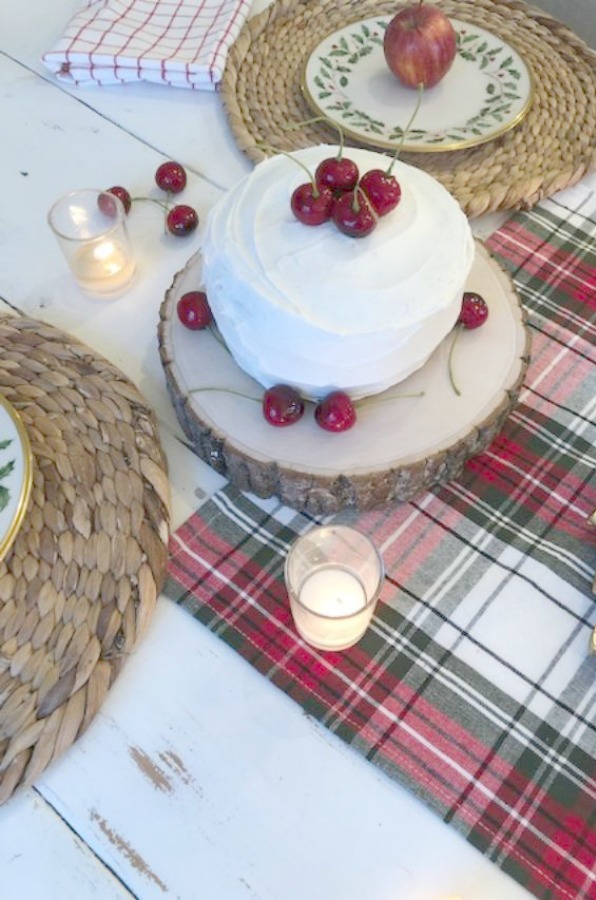 Wood Slice Platter/Chargers: HERE.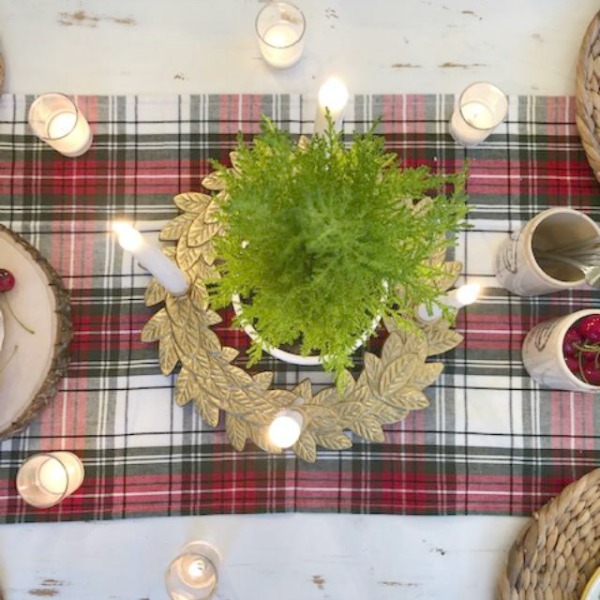 My gold advent candle wreath is vintage Target – see options HERE.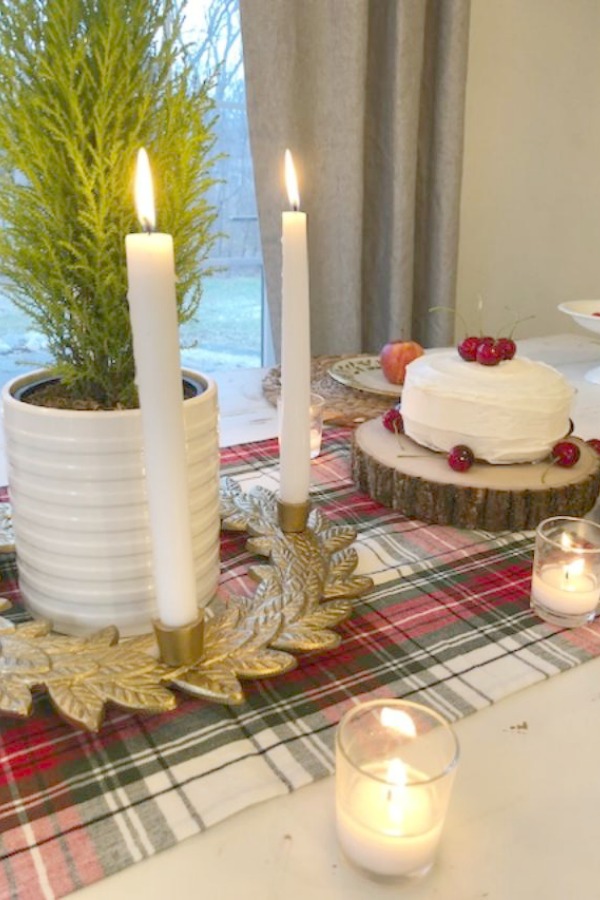 I picked up the lemony cypress tree from Home Depot. The pot is a ceramic utensil crock…see options HERE.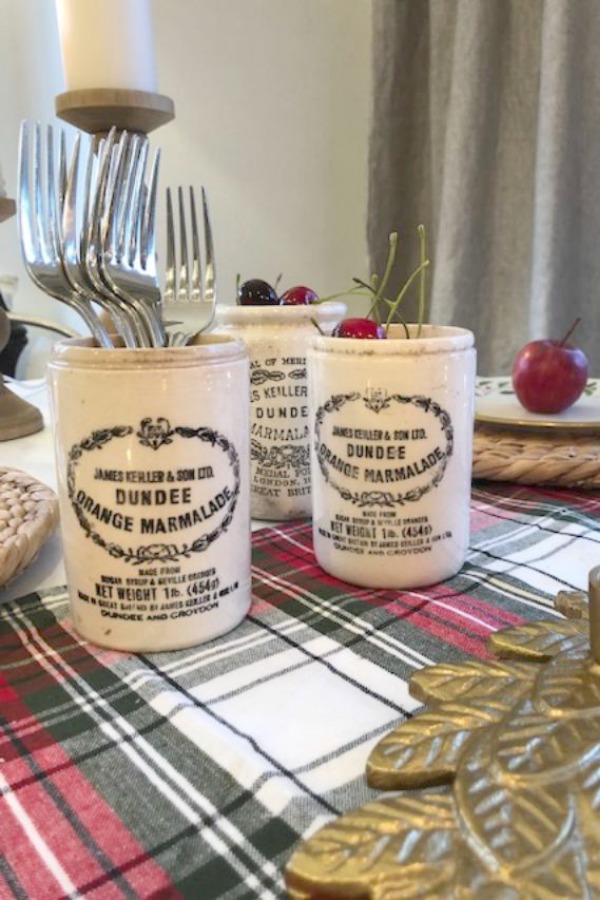 Find vintage English marmalade jars HERE.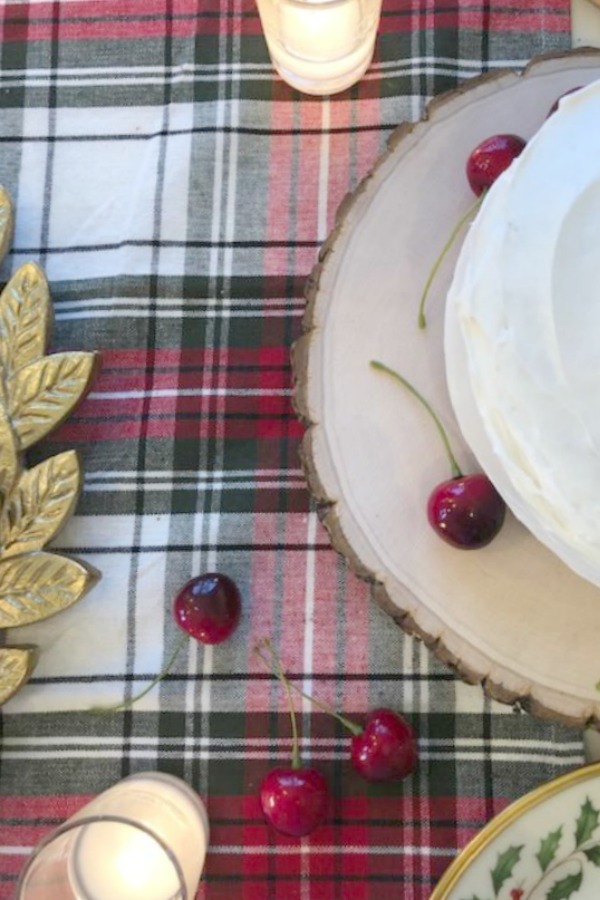 The faux cherries are so much fun and won't leave any stains! Find the exact ones HERE.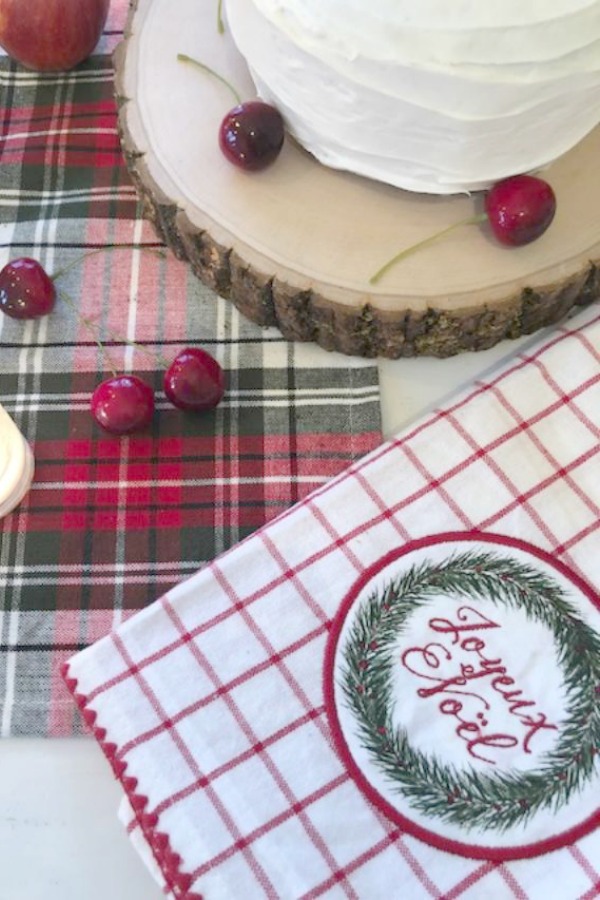 The Joyeux Noel pretty towel is from Urban Farmgirl.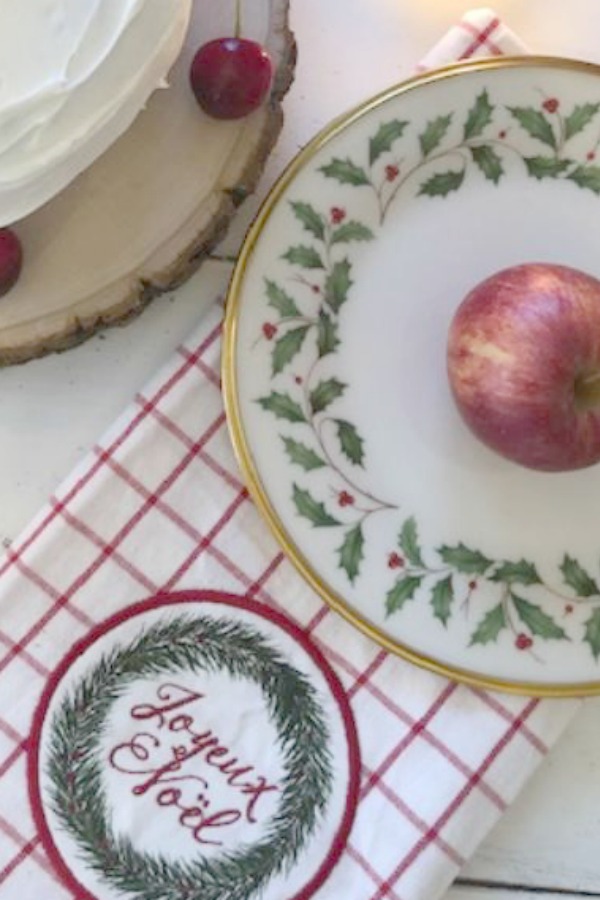 Find rustic wood candleholders HERE.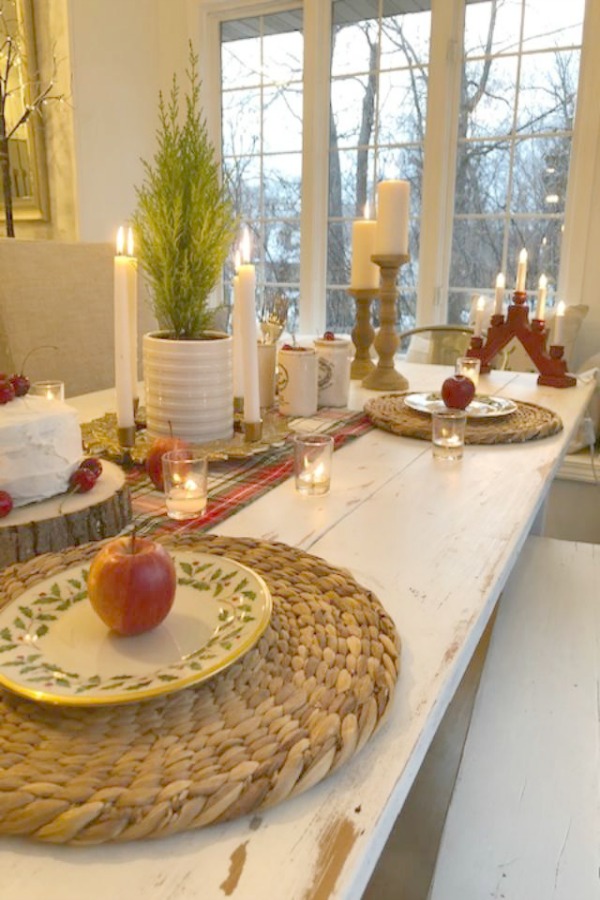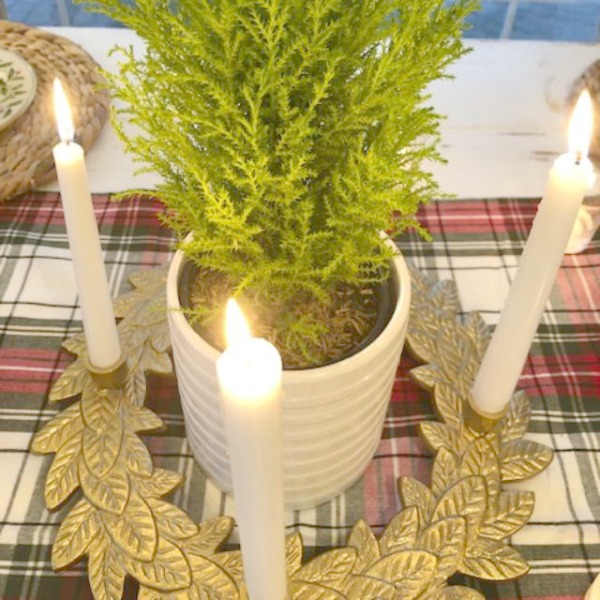 My 8″ Lenox Holiday china salad plates with holly are vintage, and you can find a brand new set of 6 like these, encircled with 24 karat gold HERE.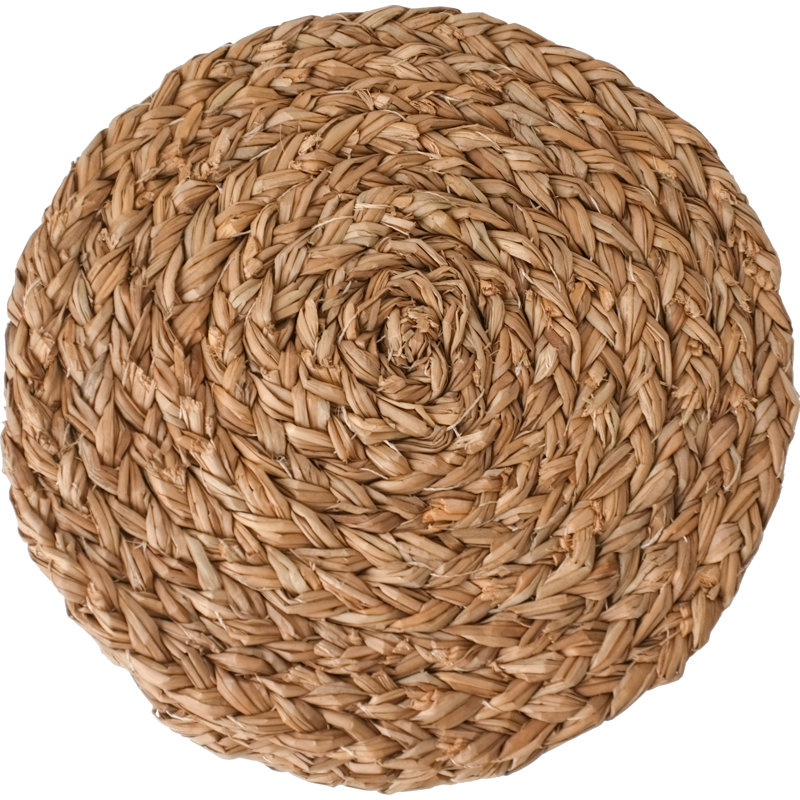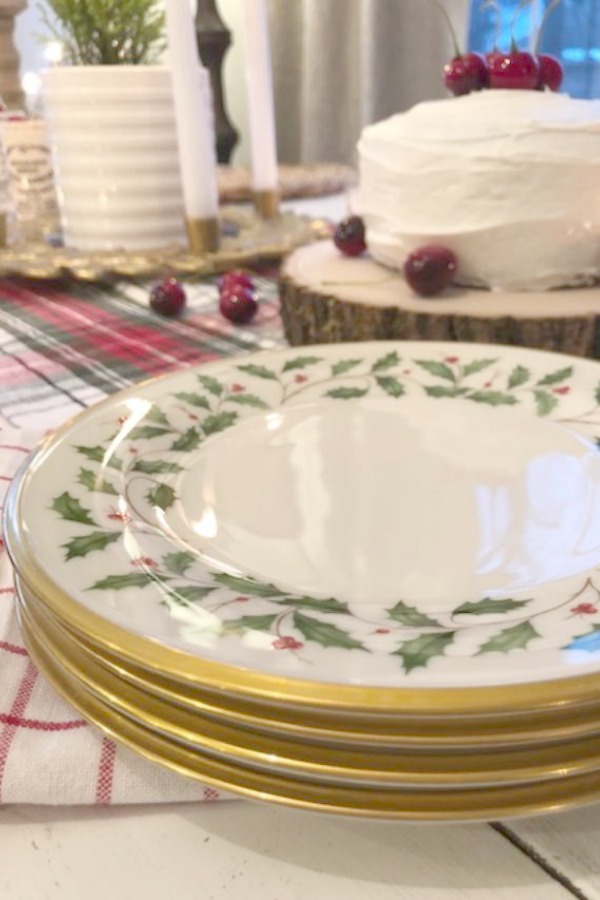 Find a set of 36 small, clear glass unscented candles HERE.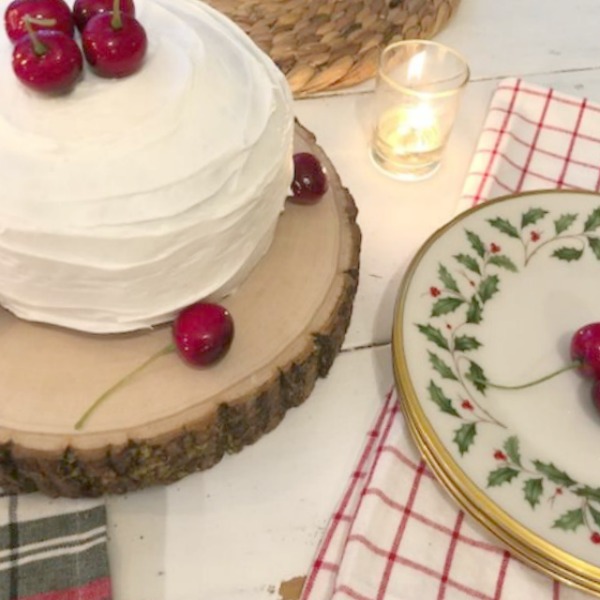 Is there a more gorgeous arrangement of this classic?
Thanks for playing along and baking with me on a lovely December Saturday. Do visit more holiday themed posts for inspiration and cheer.
Peace to you right where you are.
-michele
This post contains affiliate links which I hope you will use since they won't cost you a penny extra yet may earn this blog a small commission.
Support Hello Lovely by shopping Amazon RIGHT HERE for anything (not just products mentioned here) to keep the inspiration flowing!
I'm a participant in the Amazon Services LLC Associates Program, an affiliate advertising program designed to provide a means for me to earn fees by linking to Amazon.com and affiliated sites.
Click HERE to find cost conscious furniture and decor for your home too!