Pretty Porch Decorations for Christmas offers inspiration from a variety of homes and showhouses. Are you someone who goes all out? I have never had much confidence since Christmas decorating involves bold gestures. And in order to help your porch stand out, you can't really take an understated approach. So I'm a great admirer of folks who take the time to think about their exterior decorations. Whether it's a new color story or a clever wreath, there is always something to learn!
Pretty Porch Decorations for Christmas
Christmas Wreath Inspiration
I never tire of classic cheerful checks…do you?
Sometimes the style of your front door will dictate where a wreath should hang. Have you ever hung a wreath on the lower portion of the door?
Here's a farmhouse with pretty porch decorations including checkered ribbon and the wreath below the door's window.
The symmetry definitely lends itself to a tidy look.
I have noticed that Scandinavian cottages frequently rely on natural, wild and whimsical looking natural wreaths.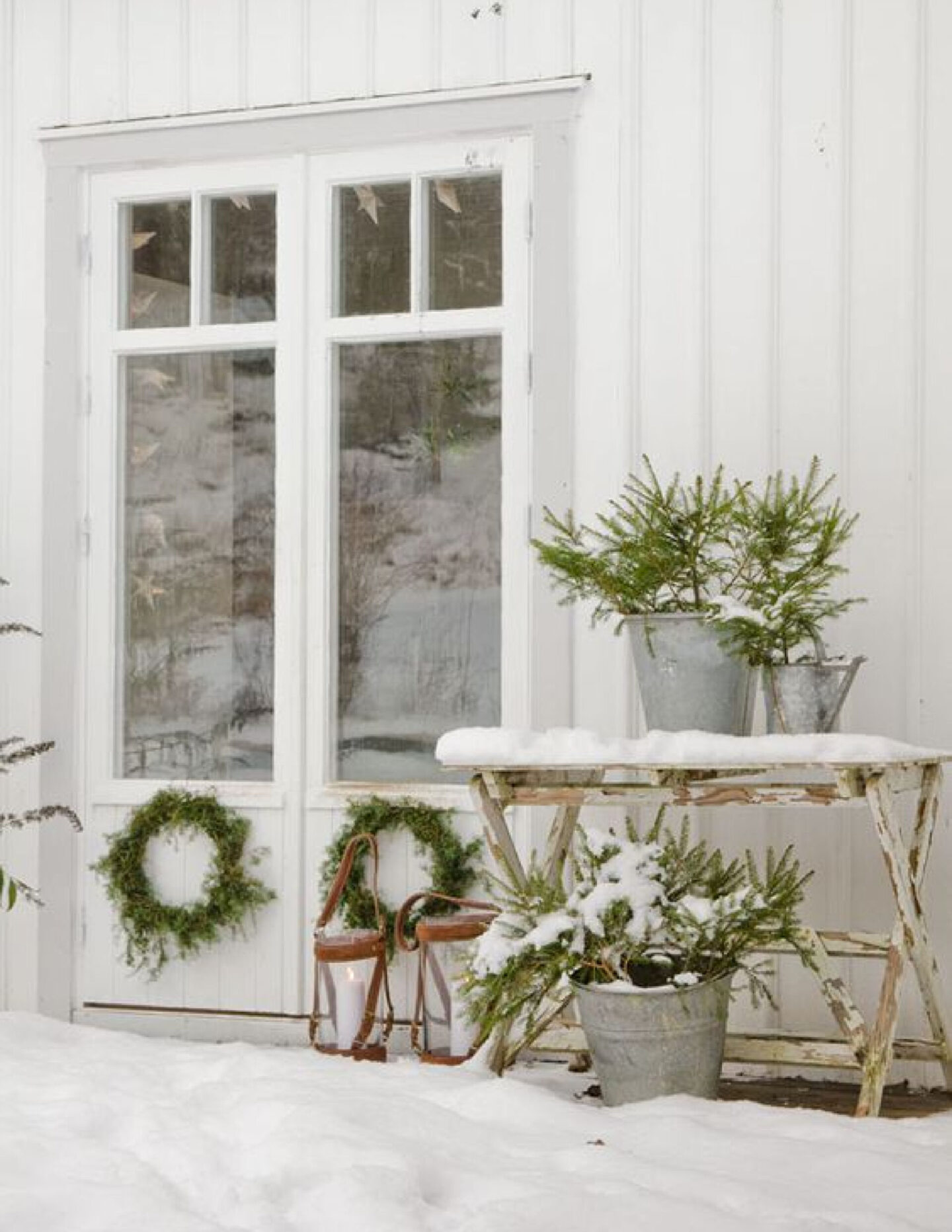 Here's a Scandinavian style entry where the decorations look entirely natural and rustic.
This example illustrates the power of a very pretty wide ribbon. All of the decorations pop against the snowy white exterior.
Vintage Basket With Fresh Boughs Instead of a Wreath
Here's what I did at our former home with its working speak easy on our front door. I found the fishing basket at the antique mall, and it was in poor shape. However, since it was in a covered area, the condition didn't seem to matter. A few picks of faux berries and a red velvet ribbon was just enough embellishment.
A Mix of Planters for a Casual Look
Country houses often come with beautiful deep porches that may wrap around, and a relaxed look with mismatched planters just works.
Not that you need multiple planters. With one bold move (fine – this involves several bold moves!), one may be plenty.
I'll never recover from seeing the patina on these planters in an Atlanta Holiday House from a few Christmases ago.
Can you even get over the movement created with the garlands and all that gorgeous pale pink ribbon?
The pink makes me think of both sugar plum fairies and cotton candy!
Depending on your exterior house color, bold pink is another option for your pretty porch.
Magnolia Garland
Magnolia leaves are so gorgeous, and since the back of the leaves are brown, there's a pleasing very natural color combination.
Just in case you love the exterior colors and care to snag the exact paint colors…Benjamin Moore Simply White and Benjamin Moore Blue Porcelain. Topiaries in blue Chinoiserie pots is another inspiring idea to consider along with little copper lanterns.
With so much charm and texture even without decorations, it's easy to see why just a few magnolia moments works:
Sometimes it helps to see that bling-y accents, ribbons, bows, and even planters are optional depending on the look you're after.
Storybook Charm for Pretty Christmas Porches
Isn't this bell hanging below the exterior sconce sweet?
Can you even imagine living in a gingerbread house cottage like this during the holidays? I love how old milk cans hold Christmas trees flanking the step up to the porch. Here's another perspective:
Black Accents for Front Entrance Decor
Isn't black striking as a backdrop and accent for greenery?
I love how the birch branches provide added texture and height to the arrangement.
DIY Christmas Garland Lesson
Textural Ideas to Create Visual Interest
Is it really as simple as lanterns and baskets?
Because I'm beginning to think so.
Whimsical Doormats for Warm Welcomes
There are so many wonderful choices! Layering is a very popular option:
Bet you'll score timelessly classic holiday decorations at McGee to use for many Christmases to come.
A Timeless Look With Wreaths on Windows
It's always a traditional look, no matter the size or style of the home.
Understated Christmas Exteriors
Olive branches, bells, and ivory ribbon? Yes, please.
I suppose when your home is this darling, you only need a few lights and two wreaths!
Simple touches are often the secret to an elegant look.
You honestly cannot go wrong with real evergreens and silk ribbon!
Pretty Plus-Sized Pinecones
We are not all minimalists (thank goodness!), and at Christmas MORE can definitely be MORE!
What do you think of these garlands that swag and continue on the porch floor, hugging the planter? I'm loving it.
Tour a Memorable Holiday Showhouse
I independently selected products in this post—if you buy from one of my links, I may earn a commission.
So much lovely CHRISTMAS DECOR INSPIRATION to greet HELLO in POSTS HERE and boards HERE.
I independently selected products in this post—if you buy from one of my links, I may earn a commission.
Peace to you right where you are.
-michele
Thanks for shopping RIGHT HERE to keep decor inspiration flowing on Hello Lovely!
Hello Lovely is a participant in the Amazon Services LLC Associates Program, an affiliate advertising program designed to provide a means for sites to earn fees by linking to Amazon.com and affiliated sites.