No matter what design style you favor, if you are creating a comfortable living space at home, chances are you'll require an armchair or two. Since I have lived with white decor and white living rooms through the decades, I have shopped for my share of ivory, natural, snow white, putty, and ecru arm chairs. 12 Gorgeous White Living Room Chair Favorites is a collection I put together of some yummy ones to consider.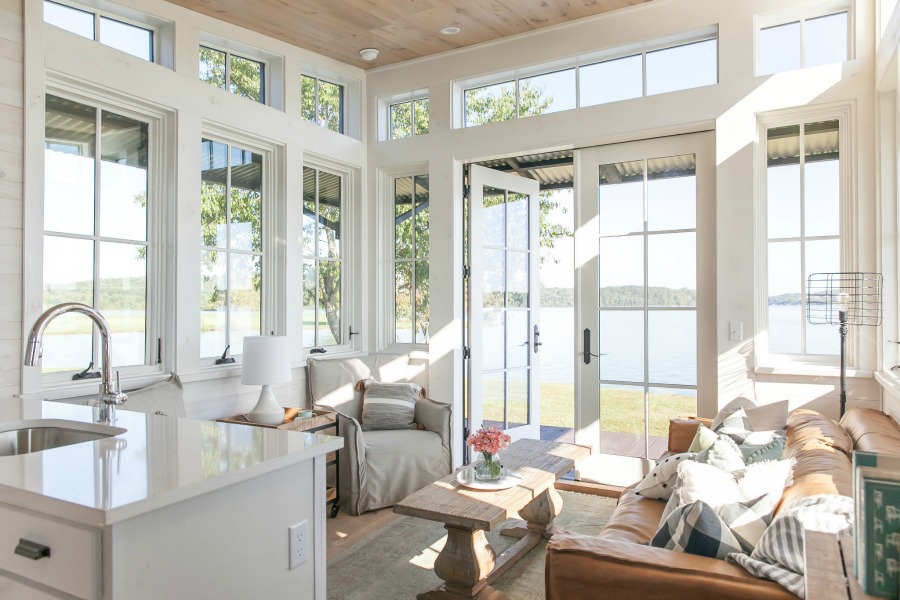 Why a white armchair? For starters, should your living space be on the cozy small side like this sweet little Saltbox tiny house living room above, white won't be visually overpowering. And if you're living room is lofty like the one I live in at the moment, light, bright and neutral can come together for a serene and tranquil (even monastic–which I love!) mood.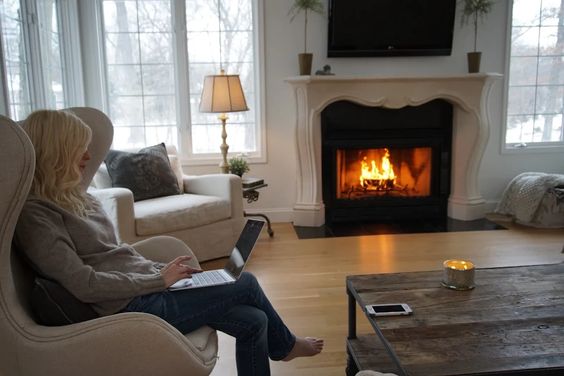 But First This
However you will be spending Memorial Day – I wish you PEACE and LOVE and LAVISH GRACE as we honor our veterans and troops. (When Reagan mentions 'The Argonne' in the video below, I get a catch in my throat. My grandfather was a hero in World War I (yes the First War…he was not young when he and my grandmother had my mother!) and one of those soldiers fighting in that pivotal battle in France for our country.
and this:
Gorgeous White Living Room Chair No. 1: Belgian Linen Swivel
I collected the Belgian linen chairs in our own living room over time, and they have lived in different rooms over the years. That's the beauty of neutrals, right!?! Find more decor and furniture to get a European inspired look I love RIGHT HERE.
This post contains affiliate links which I hope you will use since they won't cost you a penny extra yet may earn this blog a small commission.
The Belgian linen upholstered Copenhagen chair from RH is my favorite, and while it's no longer offered at Restoration Hardware, you can sometimes snag one HERE.
I can't say enough about how easy Belgian linen is to live with. Pieces in our living room have experienced their fair share of red wine, chocolate, and various 'oops.' Spot cleaning has always returned them to glory.
Gorgeous White Living Room Chair No. 2: Slope Armed Lovely
Another design element I love about a gorgeous linen armchair is a beautiful slope arm which Belgian designers have ingeniously mastered.
Gorgeous White Living Room Chair No. 3: Wings & Swivel
I'm serious about my admiration for swivel. It's just more fun, not to mention the ease for conversation, television watching, and overall function.
Gorgeous White Living Room Chair No. 4: Barrel Chair With Swivel
Here's an option when you need a couple of neutral barrel chairs for not a lot of cash.
Gorgeous White Living Room Chair No. 5: Compact Barrel Chair
I opted for inexpensive Tullsta barrel chairs from Ikea for our Arizona master bedroom, and there are wonderful examples, most with cost-conscious price tags. If messy slipcovers bother your eye, you may not be a fan of the Ikea ones I used. (You can also see the wrinkles of my Belgian linen panels at the window…never bothered me!).
Gorgeous White Living Room Chair No. 6: Accent Chairs in Living Spaces
Let's face it. For many of us, the kitchen has become the true living room. In my own kitchen, I approached the breakfast nook as more of a living space with Belgian linen slope arm dining chairs (RH), a floor lamp, and lots of pillows on the window seat.
Here's a beautiful possibility!
Gorgeous White Living Room Chair No. 7: Timeless Bergere
Oh, the beauty of a French armchair in any room!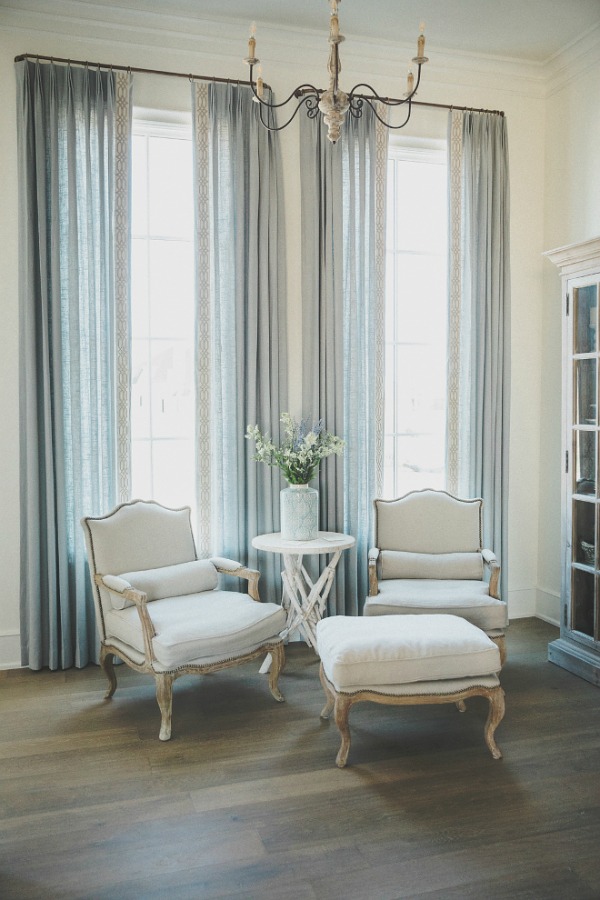 Gorgeous White Living Room Chair No. 8: Modern, Comfy & Unexpected
This chair! It's on my list of 'someday pieces' for the dream house I am designing in my head. Who can forget how designer Pamela Pierce used one of these in her timeless Houston living room?
Gorgeous White Living Room Chair No. 9: Sexy Peek-a-boo Linen
Here's another one of those fantasy white linen chairs for me. It can't go in just any ol' space, but I can imagine designing a room around a pair of them. Wouldn't 4 of them in lieu of a sofa be a sexy start for a chic and conversational living space?
You can snag it in chrome too if that better suits you.
Gorgeous White Living Room Chair No. 10: To Inject Modern Into the Mix
Sometimes a living room can be in need of a modern design element to save it from 'granny factor' or 'one note factor' or even 'predictable factor.' I use my own stackable Louis style ghost chairs every time we entertain a group because they are so easy to pull up to a table or use in the living room when extra seating is needed.
Gorgeous White Living Room Chair No. 11: Swing Chairs
So it's well established that I love to swivel. But I also love to swing! Here's a trio of yummy examples, and I'd love to hear your favorite.
Gorgeous White Living Room Chair No. 12: Distressed & Sculptural
Here's a wildcard that reminds me of something I would see in a modern farmhouse or a space inspired by Patina Farm (read about the Giannetti's latest venture HERE).
What a Triumph
Thanks so much for reading, friends. For more inspiring interior design, do visit:
Inspiring Fantasy Provence Farmhouse
Coastal Cottage Interior Design Inspiration
Peace to you right where you are.
-michele
Shopping for items you already intended to buy on Amazon RIGHT HERE (not just items mentioned in posts) keeps decor inspiration flowing on Hello Lovely!
I'm a participant in the Amazon Services LLC Associates Program, an affiliate advertising program designed to provide a means for me to earn fees by linking to Amazon.com and affiliated sites.
Click HERE to discover lovely cost conscious furniture and home decor!