Easter? Ummmm, how did Easter sneak up on me this year? Also, winds are howling and snow is falling outside my windows right now as a space heater in our bedroom cranks out warmth in our drafty von drafty bedroom. Let's face it. I need a diversion from all the sawdust inside and ridiculous shifting weather patterns outside. Charming French Gift Ideas for Francophiles revisits a few personal photos of a wedding shower, suggests French inspired gifts, and allows me to whine a little as I recall days I could nibble cheese as if there was no tomorrow. Cheese?
Charming Francophile Gifts for Mamas, Brides, Birthdays & Easter
It does seem that everywhere you turn on social media, you see some reference to charcuterie or graze boards. I used to devour cheese like the French do.
Then my diet became big time restrictive (very-low-fat and minimal gluten as a means of survival now).
Me and cheese were like peas and carrots. Wait. What?
It's possible I'm getting hungry.
I Miss Cheese!
I haven't eliminated cheese entirely from my diet – a sprinkle on pasta or pizza (this Chicago girl could happily eat Lou Malnati's every night) still happens.
But my ooey gooey grilled cheese days are essentially history.
So while I couldn't enjoy the wondrous dishes with cheese at this fete a couple of Aprils ago, I DID soak up all the love, laughter and romance.
The wedding for these two was held at an art museum and was a beautiful affair.
Wedding Shower Highlights
What a stunning almost bride she was at her shower!
Since she is a true Francophile, there were delicious macarons and many Frenchy details at the shower.
I'm sure you are terribly surprised to hear I wore neutrals to this part, yes? Hahaha.
A simple tan shift dress from HERE, a shrug with sparkle from HERE, and edgy modern sandals.
Oh and pantyhose. Frankly, I'm thrilled they are acceptable again. (Update: no idea whether hose are soooooo 5 minutes ago in 2022).
It is always epic to be with my sisters. We are (left to right) Lala, Mimi, and Jo-Jo to all of the cousins.
My mom and niece Sofia are darling, aren't they?
Sofi's natural hair color is FLAMES and so unique…comes from her daddy's side since he is 100% Italian.
And my mama. Mercy, what this woman has been through in recent years! And she still has the best sense of humor!
The nieces were able to visit shortly after this shower, and it is always a treat since they are musicians/songwriters too. We gather around my vintage piano to harmonize like me and my sisters did for so many years.
As you may recall, we moved recently, and moving my vintage piano from childhood is always scary since it falls apart a little with each move. It is not looking or sounding great, but I'm hoping at some point, repair will be possible.
That piano still serves me so well, and in seasons of high anxiety, I am known to write awful, one-off, CHEESY songs about serious topics (like menopause) which I share only with the women in these photos.
Did someone mention cheese? If you are able to enjoy cheese – blissfully consume it for your pal here. Maybe one day I'll be able to enjoy it again, and until then, here's your permission slip to eat my portion.
I independently selected products in this post—if you buy from one of my links, I may earn a commission.
Just Bought This for a Bride
It was so wonderful to gather for a bridal shower brunch a couple of weeks ago and to be mask-free with people I love. You just can't go wrong with a charming barn strung with fairy lights, pancake kebab things and mimosas!
Gift Ideas for Francophiles
What I'd Love to Receive (The Perfect Gifts for Yourself)
Wrap your gifts with this adorable gift wrap with French bulldogs:
To label your Frenchie things:
A Collection
Madame & Monsieur Tumblers
I spotted these glasses on the Francophile author of Petite Haus, Angelina's patio!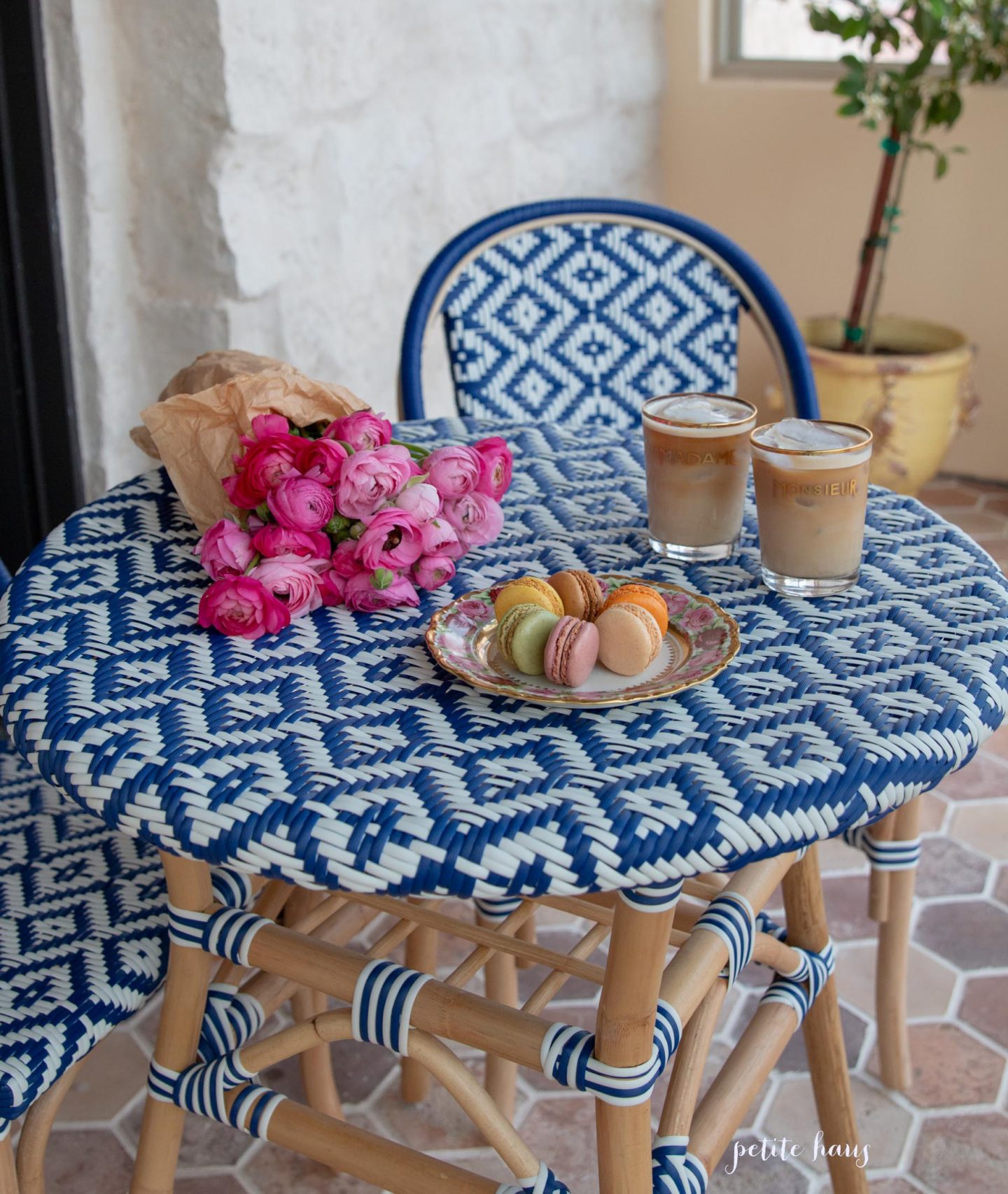 Madame & Monsieur Wine Glasses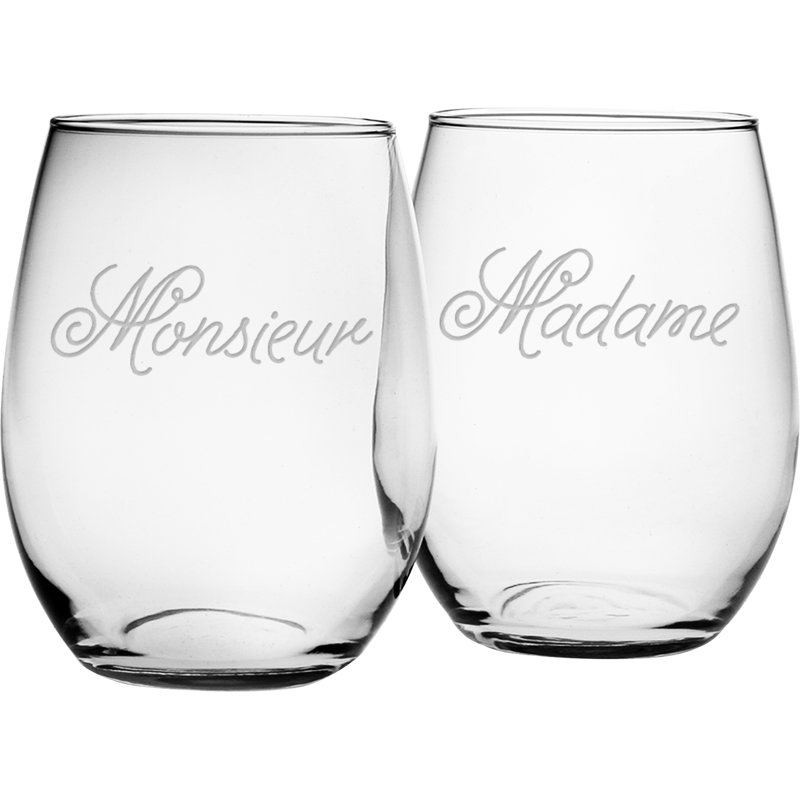 I'm thinking about personalizing these great customizable wine glasses with MADAME and MONSIEUR instead of the "Queen…" way it is displayed here.
Champagne Flutes
Artwork Featuring Paris
My framed Paris print (below) looks gorgeous no matter where I place it, and I'm looking forward to hanging it here in the new house.
I recently bought another framed fine art Paris print for the new house as well:
Isn't it fabulous? It's even better in person, and I chose a white frame.
Reversible Madame/Monsieur Pillow
DIY Personalized Gift Ideas
After seeing the Madame & Monsieur tumblers, I got to thinking about lettering on stemware. Are you good at hand-lettering? These may come in handy!
Can we even stomach more images of cheese? Why, yes.
Y E S we C A N.
How sweet and simple does a little marker make things?
Gifts for French Lavender Lovers
Practical Gifts For Homebody Types
Did you know the beautiful blog Dreamy Whites is also a shop (Dreamy Whites Atelier)? Wonder what wondrous French farmhouse treasures you'll discover!?!
For Coffee People
Gifts for Lovers of Wine & France
Do PIN THIS POST for future reference!
For Traditional Style Types
Gifts for Cocktail Enthusiasts
Gifts for Francophiles Who Indulge Their Pets
Who Could Forget Puddy & Pippa's Wedding?
If you're in the mood for more civilized interior design inspiration and less cheese, do mosey on over to THIS.
I independently selected products in this post—if you buy from one of my links, I may earn a commission.
Peace to you right where you are.
-michele
Shop for items you already intended to buy on Amazon RIGHT HERE, and also find home decor here to keep decor inspiration flowing on Hello Lovely!
Hello Lovely is a participant in the Amazon Services LLC Associates Program, an affiliate advertising program designed to provide a means for sites to earn fees by linking to Amazon.com and affiliated sites.