While my parents are here for a visit with their beloved shih tzus, we're enjoying the bright green grass and leafy trees. In my region, Fall can arrive with a flurry, and we are soaking in the summer's balmy remains. Brown, gold, and crimson will emerge and soon be visible on the wind as the holiday season inches closer. When I am intentional about carving out quiet, slow living, meditative moments to center the heart and mind, all of this beauty is magnified and can impart wisdom. Even daily blogging helps to celebrate all the loveliness blooming across the seasons. I hope Autumn's Cozy Color Stories soothes you right where you are.
I independently selected products in this post—if you buy from one of my links, I may earn a commission.
Autumn's Cozy Color Stories & Inspiring Palettes to Soothe
I don't simply have artists in mind when I post these color story inspiration ditties. I'm thinking of all of us homebodies who keep our eyes open for seasonal color shifts as nature finds its way into our shelters.
Who knows how these warm, cozy color combinations will find their way into imaginations, homes, hearts, and creations?
And I love the thought of being but one small ripple in the sea of inspiration on the web.
Because isn't it a wonder that we all have a part in this symphony and great Mystery?
(Above: Oh, Loi have mercy, your autumn Maine home-cozy vibes always tug at my heartstrings!)
Cozier Autumn Interiors
It was two autumns ago that we bought this Georgian house and began to think about parting with the fixer upper we transformed from top to bottom. At that time, still living in our former home which was perfectly cozy and complete, we began deconstructing the new home. Each night after work, we would tackle a bit of this, and a bit of that, starting with the entry and then moving toward the kitchen.
It was a sweet rhythm in spite of ongoing symptoms from my health condition because there was this sense of moving forward and through the unlovely to uncover beauty. (Pajamas are often a daily uniform when I'm recovering, doncha know…and recovery is very often a part of my journey.)
Living with whites and tranquil greys soothes me, and I also admire cozy autumn colors and muted neutrals like these:
Years ago, I was into large fall wreaths and centerpieces, but in recent years it's more about the subtle touches like little white pumpkins, dried hydrangea, nostalgic vignettes, and texture.
Is Fall Decorating for You?
I don't change my decor drastically across the seasons, but it always feels natural to bring in touches of nature.
Dried hydrangea from the garden are swapped for white roses. A few pumpkins, gourds, simple branches, mums on the porch, and lit candles feel right as the days shorten.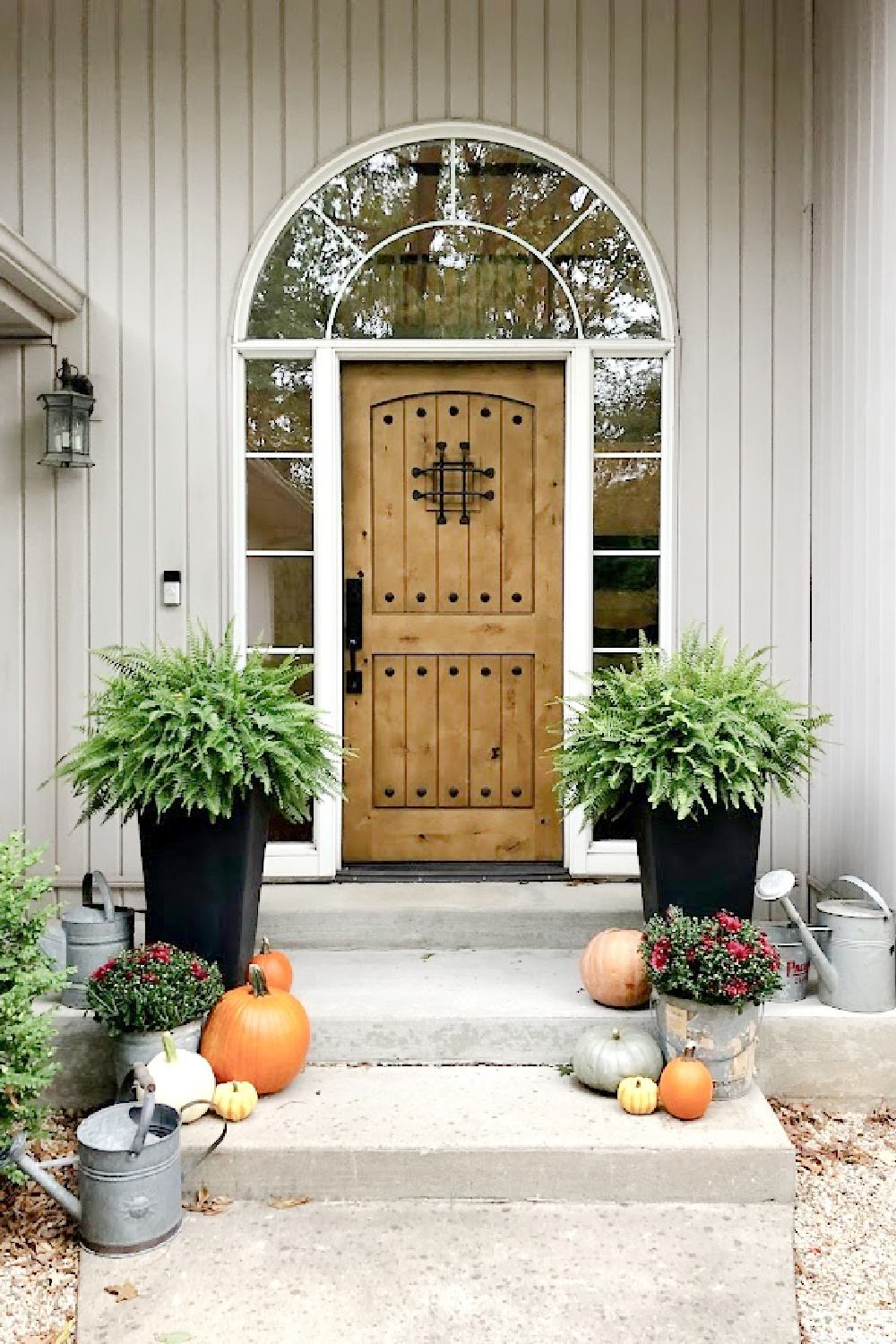 This mat would have been perfect on our former porch above:
or this one…
Less is More Autumn Moments
The colors in autumn come and go quickly, making them all the more magical. If everything is still green in your neck of the woods, maybe make it a point this year to be ready to get out there and snap lots of photos of pretty homes with colorful leaves!
Thank goodness life on earth includes a Bettie Bearden Pardee:
Isn't that a most elegant gourd-geous autumn entry with a limited color story?
All the yeses!
What will you bake this fall? You know I can't get enough apple crisp, apple crumble, apple cake, and apple cinnamon rolls drizzled with icing.
And apple tarts. What a treat it must be to have an old barn where dinners can be hosted like this:
With so much glorious harvest goodness, who can resist the warmth of a golden bonfire or the promise of a quiet day with mulled cider aromas wafting from the kitchen?
The Quieter Autumn Color Stories
Layering for fall is a relative matter. I'm a minimalist so my rooms may still appear spare even when I toss a few pillows and a throw into the mix.
Is orange optional?
Absolutely.
My Zuma rugs look good in every room!
Oh I love all of the evidence pointing to cozy factor with white.
The warmth of this vanity is such an amazing moment in this otherwise cool toned bath:
I could never tire of the baby boos.
Which Fall Colors Speak to You?
Are you a terracotta or russet person?
I do appreciate the color of a golden crust with its toasty brown.
We looked at some incredible bunk beds in THIS, and the mustard colors in the mood board below feel very autumnal to me.
Fall Quiet Beauty, France & Nat King Cole
Warm Autumnal Color Palette
And you just can't go wrong with a garland this beautiful, vintage books, and a white pumpkin on a mantel:
But color from fruit, foliage, and florals is always welcome!
How do you like your fall pumpkins anyway?
(a.) in a cake (b.) in a pie (c.) in a savory soup*
*Here's an excellent book by Drew Smith, SOUPOLOGY (Rizzoli, 2020) to learn to master six broths which can be turned into 60 soups! Is it too lofty a goal to make 60 soups this autumn?
Or do you like your pumpkin…
(d) as a receptacle for richly hued fall blooms with a sexy split pomegranate reclining seed side up?
(It's d d d d allllll day for me thanks to French Garden House!!!)
Falling for Leaves
Is this your idea of beautiful falling leaves?
or do you prefer this variety:
One of Hello Lovely's FB followers said she made a corn cob wreath like the one below and watched squirrels leaping to her front door to feast.
Definitely my idea of live autumn entertainment!
Autumn Tables
In spite of so many inspiring tablescapes, I have never orchestrated an outdoor fall party…it's a romantic prospect though considering how easy Gwen Moss makes it look, oui?
Oh, fall trees, who can compete with your beauty!?! We have a maple in the front yard that will soon look like this:
and even though I don't want to rush through the seasons, it takes some planning to capture the beauty in photos or plan an outdoor dining experience with such a backdrop.
Is deep olive green still trending? Not that we care about trends, but do you like the green background of the quotes in this post? It's Farrow & Ball's Green Smoke.
By now you have seen this tone all over social media. She has moved on from this kitchen, but Charlotte Reiss freshened formerly limestone colored kitchen cabinets in her French farmhouse with Green Smoke:
Can you EVEN get over the warmth of 200-year-old pumpkin-hued hex tile magic as it plays with the sophistication of the slightly mysterious green? See my story with glorious dark greens right HERE and sage green HERE.
If you have yet to discover French homewares at Vivi et Margot…your cozy fall socks will be rocked, pumpkin. I love my ivory wool beret from Charlotte's shop!
More Finds for Fall
If you follow Good Life of Design on FB, you may have seen the happiest fall wreath on the planet gracing her front door.
Gracious host and talented interior designer, Kathy, shared her Williams-Sonoma find and encouraged us to get this look as well.
Can you even fathom how incredible this wreath looks on a yellow or lavender door!?!
Peace to you right where you are.
-michele
Thanks for shopping RIGHT HERE to keep decor inspiration flowing on Hello Lovely!
Hello Lovely is a participant in the Amazon Services LLC Associates Program, an affiliate advertising program designed to provide a means for sites to earn fees by linking to Amazon.com and affiliated sites.