French Farmhouse Living Room & Paint Color Ideas pairs nicely with European country design inspiration HERE. You'll find gorgeous resources at friendly prices to score online. While we may not yet live in an actual farmhouse in France, nor possess a champagne-like budget (antiques, reclaimed wood floors, and ancient limestone, anyone?), we may still capture the spirit. A pale color palette, vintage mixed with modern, and an unfussy point of reference are a good start.
French Farmhouse Living Room Inspo & Paint Color Ideas Too!
French Inspired Lighting & Warm Stone
Brooke and Steve Giannetti's living room at Patina Farm is a dreamy mix of old and new. What is impressive is how it is tough to separate what is from this century and what is from another!
An antique stone fireplace (above) surround adds coziness not just to one room, but three!
White Walls & Tonal Decor
The point of the inspiration below is to illustrate how it's possible to skip window treatments, clutter, and heavy furniture or lamps to arrive at a Modern French look.
Belgian Linen Living Room Sofas
You just can't go wrong with this yummy upholstery for a French country or French farmhouse living room.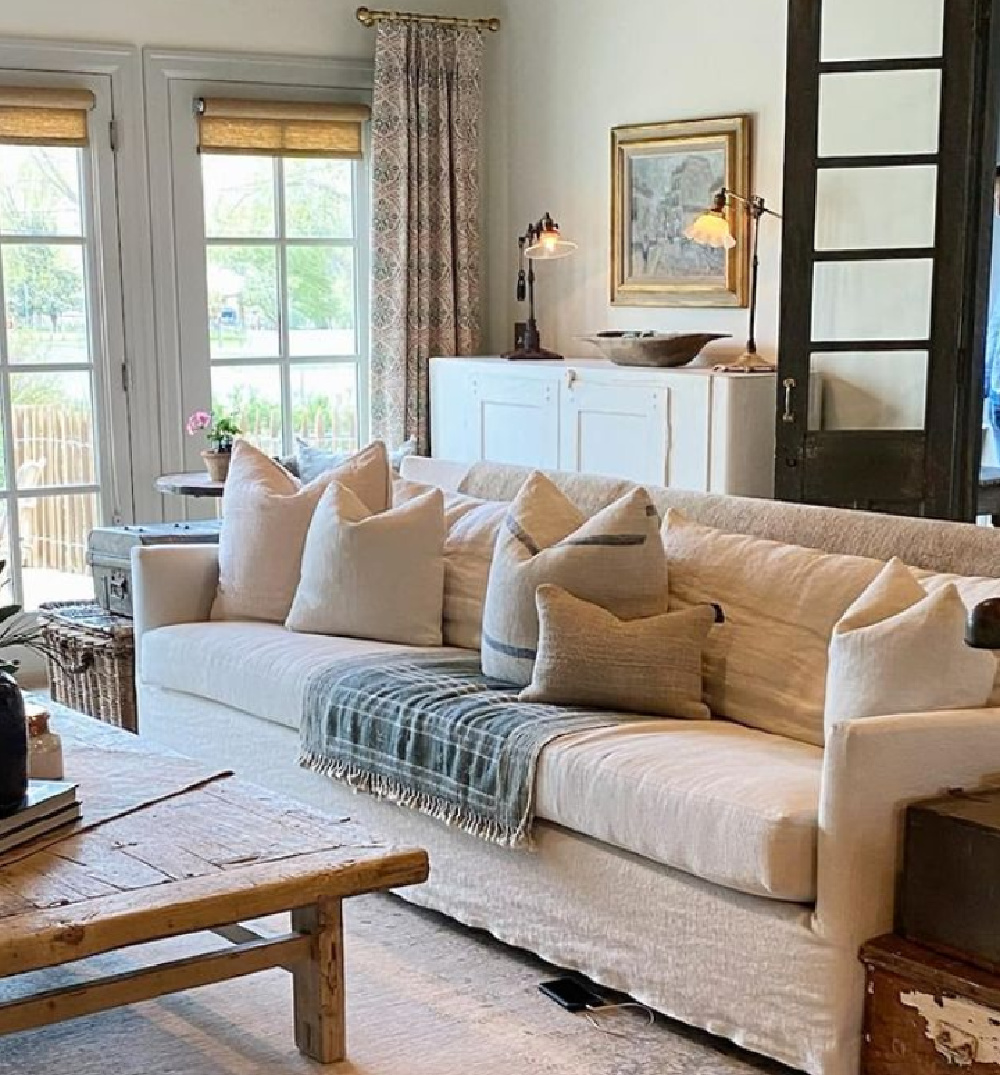 It's easy to change out the decor seasonally when you have such a neutral anchor in the living room to work with!
Don't you love the dough bowl on top of the cupboard?
Lantern Pendant Lights
These lanterns are such a charming way to introduce casual farmhouse allure to a room.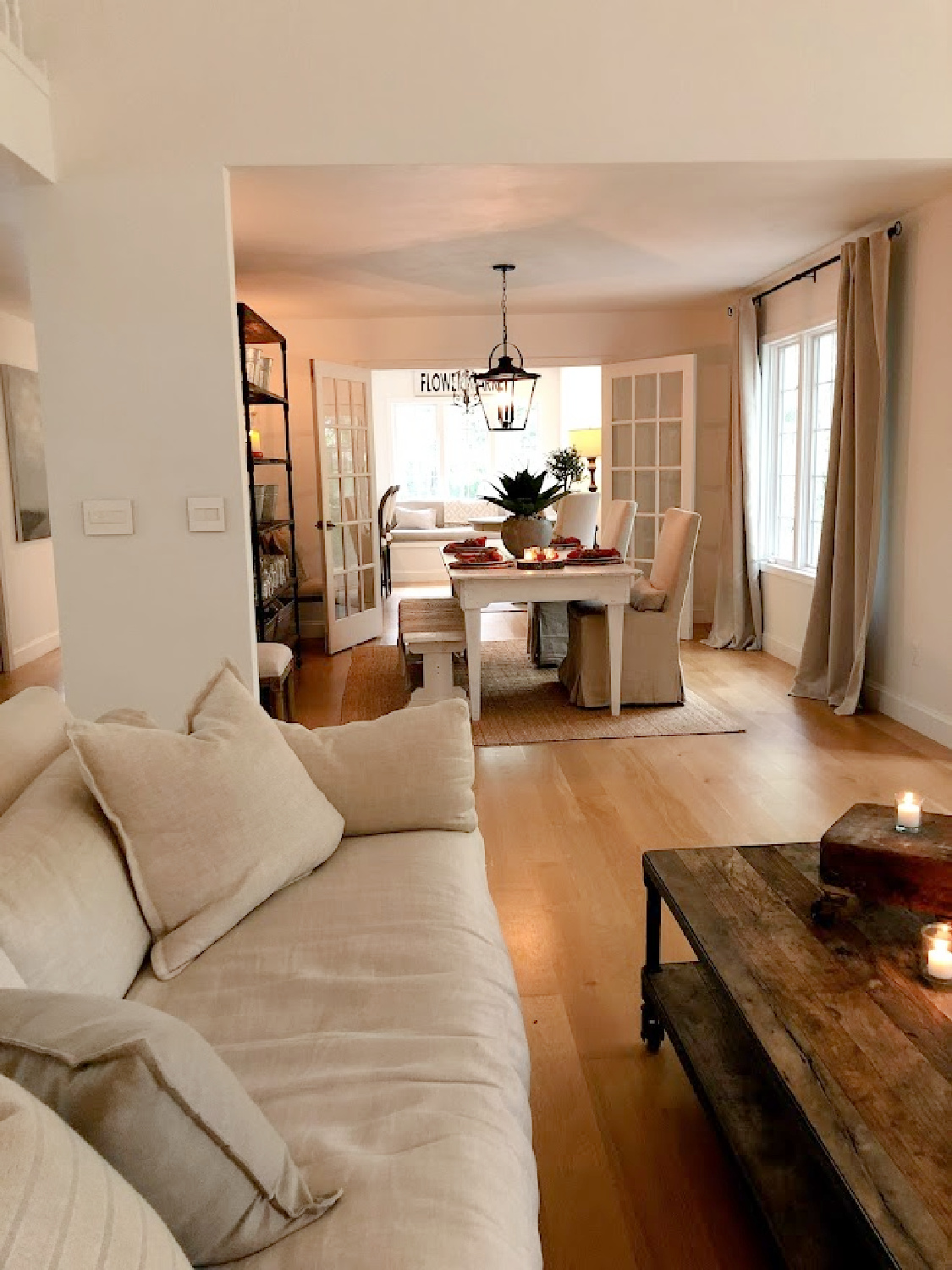 There are so many gorgeous examples from which to choose, and it is but another way of bringing the outside in as well as create glow and warmth inside.
Here's one I'm considering for our new place:
My Favorite French Farmhouse Lantern Pendant
I love the hand-finishing of lighting from Visual Comfort, and it's not easy to find white lanterns! For a more modern take on pendant lighting in a laid back country Frenchy living room, consider something simple like what Leanne Ford did in her guest cottage:
You may recall that Leanne lazily rubbed coffee on the walls to add texture and interest! (See more of Leanne Ford inspo here.) She doesn't just preach an effortless look, she means, don't put too much effort into it!
French Nordic Farmhouse Living Room
I love the look of a long narrow wood coffee table for a casual look in the living room, and I'm also inspired by the rustic cupboard with glass doors all lit up inside!
Why should a fancy formal china cabinet get all the light!?! Isn't that a great idea? It's also hard to miss the lack of color in this living room, and you could say I'm still a fan of that look. This was our living room in 2008:
A vintage amber beer bottle makes a simple vase, and my lamp was once an ugly dark brown that I transformed quickly and easily with creamy paint and umber glaze.
This post contains affiliate links which I hope you will use since they won't cost you a penny extra yet may earn this blog a small commission.
Shopping Resources, Paint Ideas & French Lesson
Why not discover some French along the way… je vous en prie!?!
You'll find various furniture pieces and accessories for infusing your living room with the rustic elegance of French farmhouse style.
White Paint Color Ideas
Check out THIS POST for smart white paint color favorites from Leanne Ford. I'll soon be sharing my own favorites (I'm so busy painting this very moment!), but you'll love these ideas in the mean time.
You'll also find the favorite white paint used by interior designers in THIS.
French Grey Paint Color Ideas
Here are a few French Grey colors to consider for walls, trim, or furniture you may be touching with your brush. You can order sample pots of these online (the Behr paints ship free) to test a swatch in your space.
BEHR Silver Marlin
BEHR Still Gray
FARROW & BALL Pavilion Gray
Farrow & Ball's Pavilion Gray is a very Frenchy grey that closely resembles the custom grey paint hue the Giannettis used on trims at Patina Farm (see glimpses RIGHT HERE). You can order a sample of it before investing in it sight unseen!
Need more pretty paint color ideas? Do visit my BEST PAINT COLOR board on Pinterest and pin away, please!
Lamp…La Lampe
Accent Chair…La chaise d'appoint
This one is pricier:
For a modern twist!
Pillow Cover…La taie D'oreiller
Chandelier…Le Lustre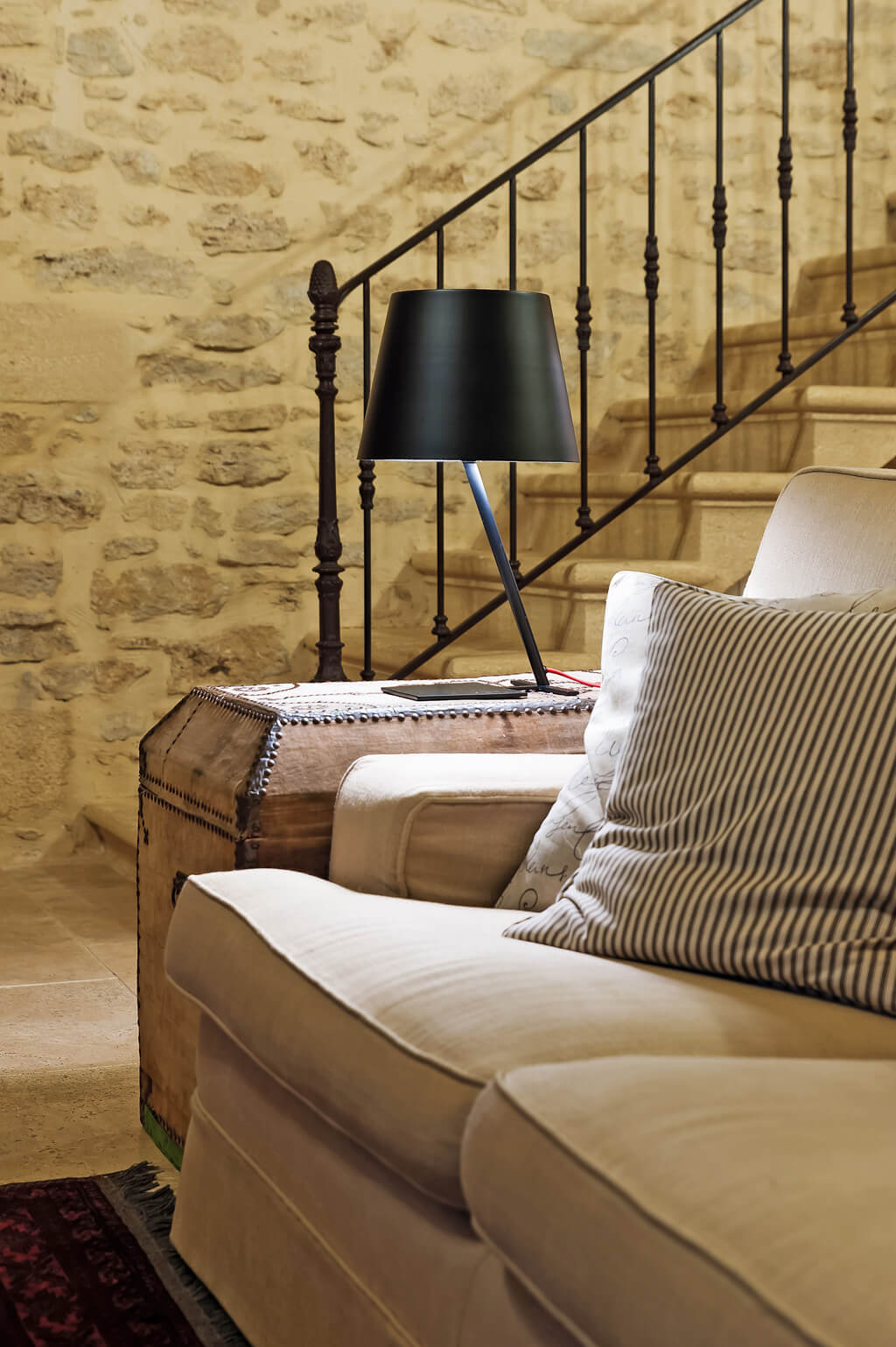 Wicker Trunk…Le Coffre En Osier
Settee…Le Canapé
Cremone Bolt…La Crémone
Table Lamp…La Lampe de Table
Console Table…La console
Stripe Chair…La Chaise à Rayures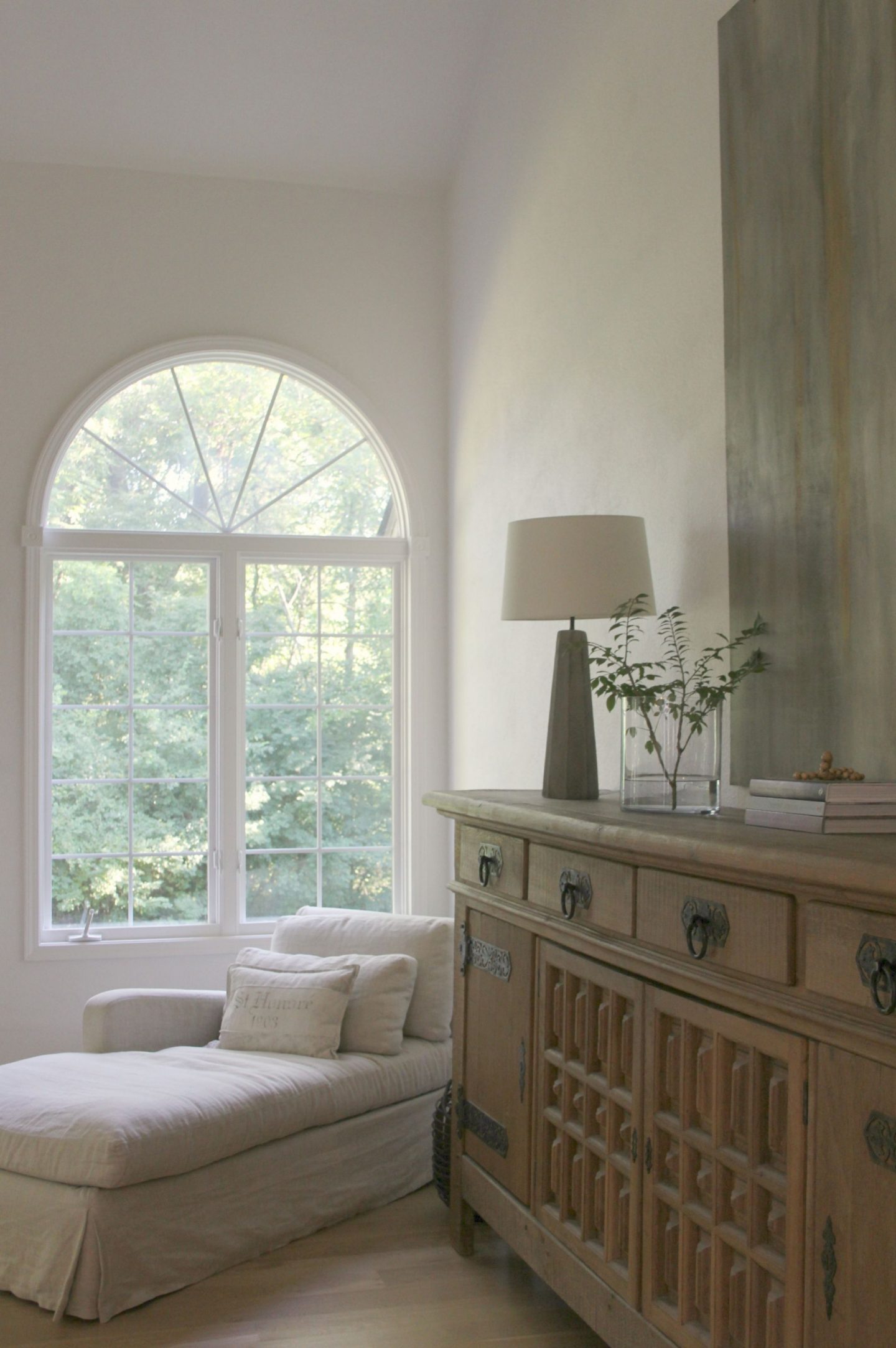 Fireplace Mantel…Le Manteau de la Cheminée
Seagrass Basket…Le Panier d'Herbiers
Chalk Paint…La Peinture à La Craie
Farmhouse Table…La Table de Ferme
Olive Tree Topiary…La Topiaire de L'olivier
Wood Candle Holder…Le Bougeoir en Bois
Confit Pot…Le Pot Confit
Gold Chandelier…Le Lustre en Or
Dough Bowl…Le Bol de Pâte
Rustic Candle Holder…Le Chandelier Rustique
Jute Rug…Le Tapis de Jute
Door Stop…La Porte Arrêt
Chandelier…Le Lustre
Club Chair…Le Fauteuil Club
Curio Cabinet…Le Cabinet de Curiosité
Gold Leaf Mirror…Le Miroir Feuille D'or
Terra Cotta Jug…La Cruche en Terre Cuite
Distressed Vase…Le Vase en Détresse
Vintage Style Chandelier…Le Lustre de Style Vintage
Crackled Vase…Le Vase Craquelé
Ever Dream of Buying in France?
Food for the Soul
I independently selected products in this post—if you buy from one of my links, I may earn a commission.
Peace to you right where you are.
-michele
Shop for items you already intended to buy on Amazon RIGHT HERE, and also find home decor here to keep decor inspiration flowing on Hello Lovely!
Hello Lovely is a participant in the Amazon Services LLC Associates Program, an affiliate advertising program designed to provide a means for sites to earn fees by linking to Amazon.com and affiliated sites.