While I haven't yet ordered Christmas cards or considered whether it'll be a natural or everlasting tree this year, I have already been pinning holiday themed inspiration and have begun holiday crafting. White French Country Christmas Cottage Decorating Inspiration shares lovely moments of quiet, charming simplicity.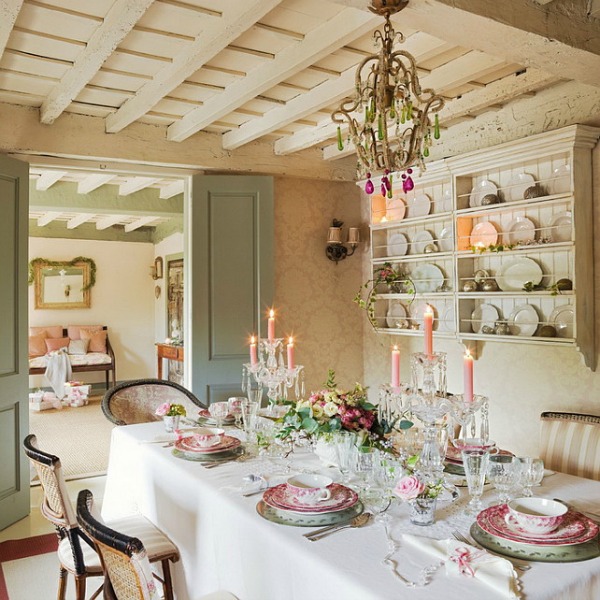 Photos: El Mueble Homeowner: Mercedes Álvarez de Toledo Location: Cantabrian countryside of Spain
White French Country Christmas Cottage Decorating Inspiration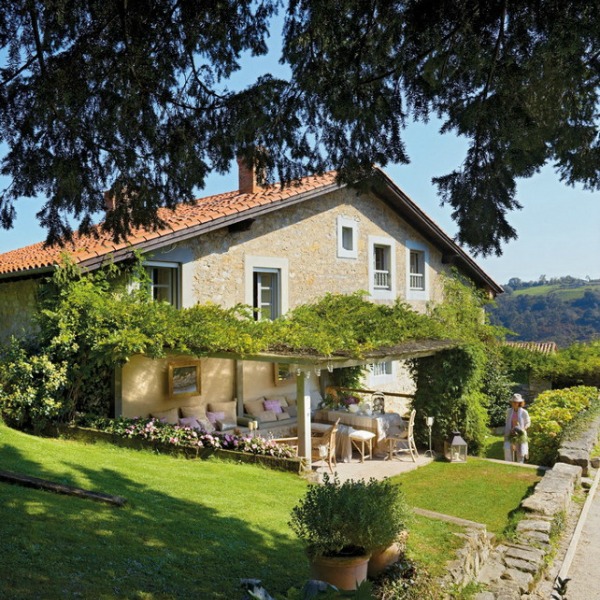 As the autumn weather turns cool and the leaves rain from the trees in our sweet woodsy hamlet, my thoughts turn toward the holiday coziness to come.
French Country Wreath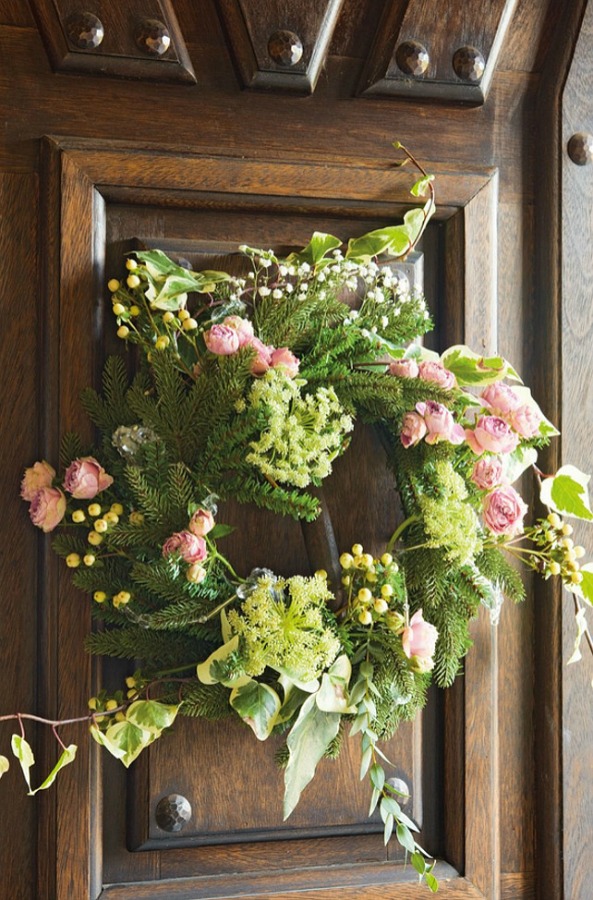 While I always miss the summer sunshine, I welcome more time inside for cozy retreats. There are so many creative crafty ventures for a homebody like me to enjoy.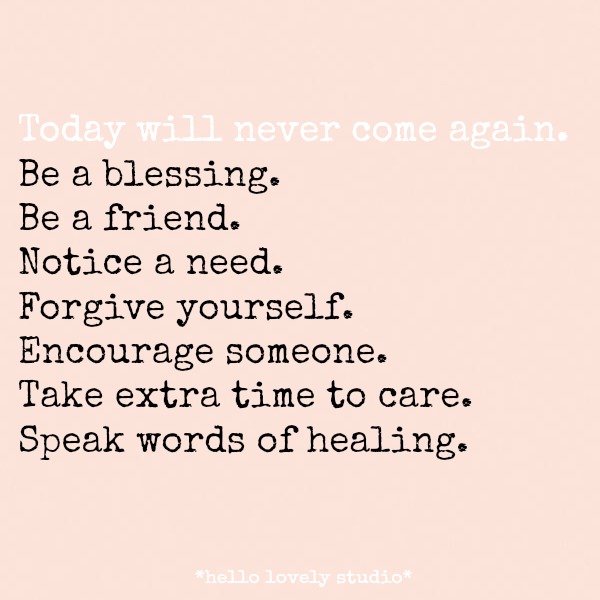 Romantic Christmas Decor Inspiration…PUSH PLAY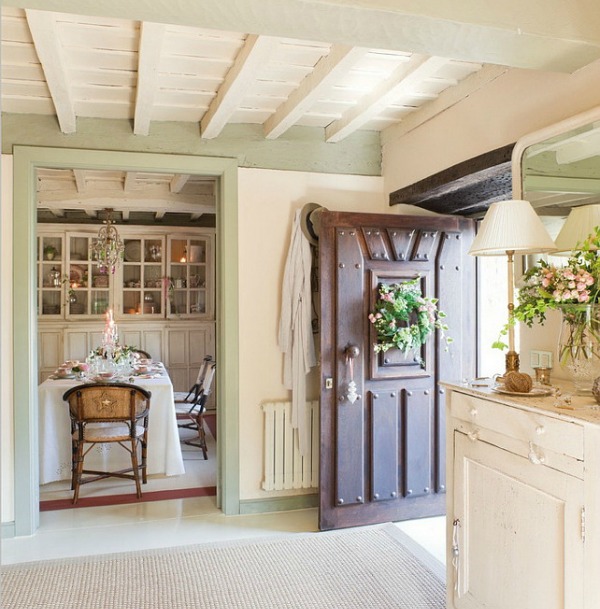 Every year, I try to be intentional about carving out time to make handmade holiday adornments and try new recipes for goodies and stovetop simmers.
Romantic Country French Dining Room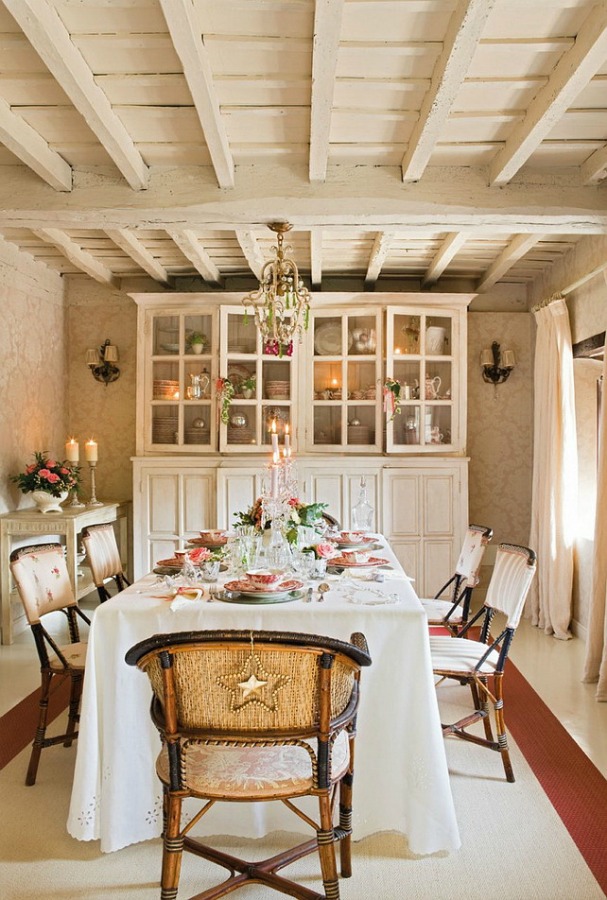 In this way, I don't wake up to discover all at once that December is upon us. (Of course, a blog like this will sure 'nuff hold you accountable too.)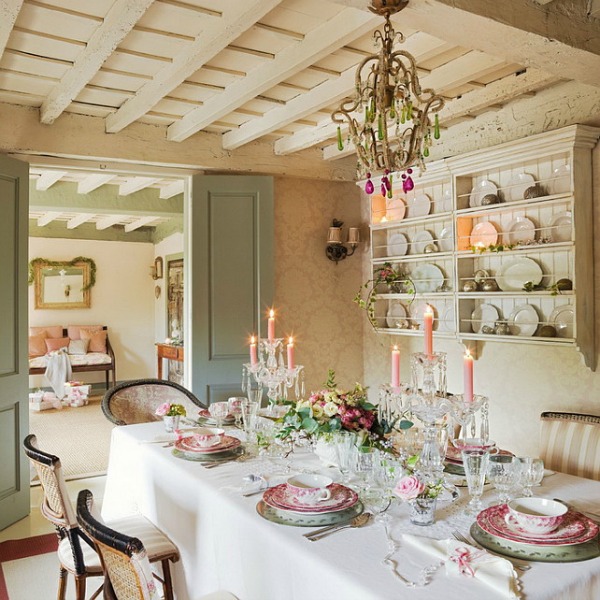 So when I consider an authentic farmhouse in France or a sweet cottage like this with its quiet, rustic, pastels and French Country style, I'm looking for clues.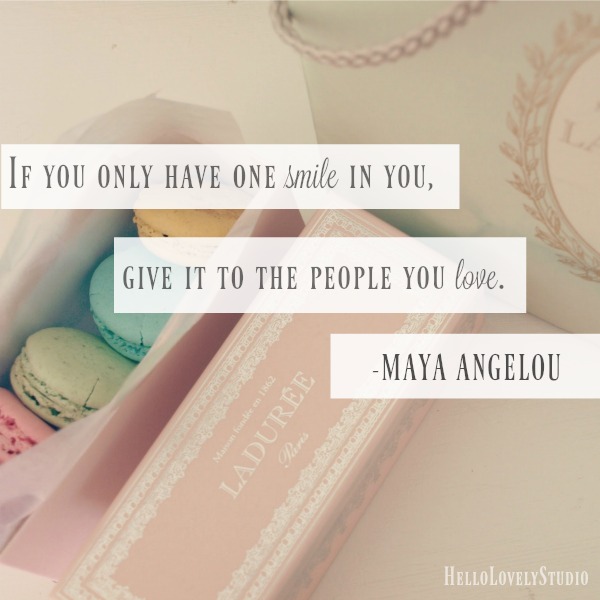 Living Room With Soft Green Trim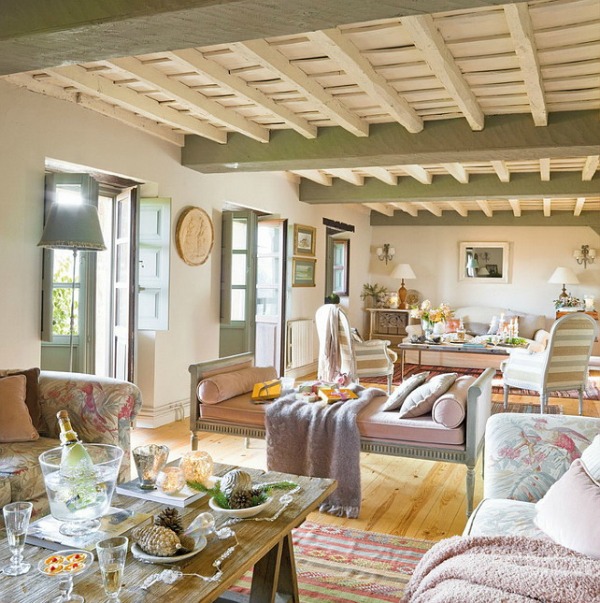 How do the colors work together?
What contributes to the romantic mood?
In what sense does it hold my interest?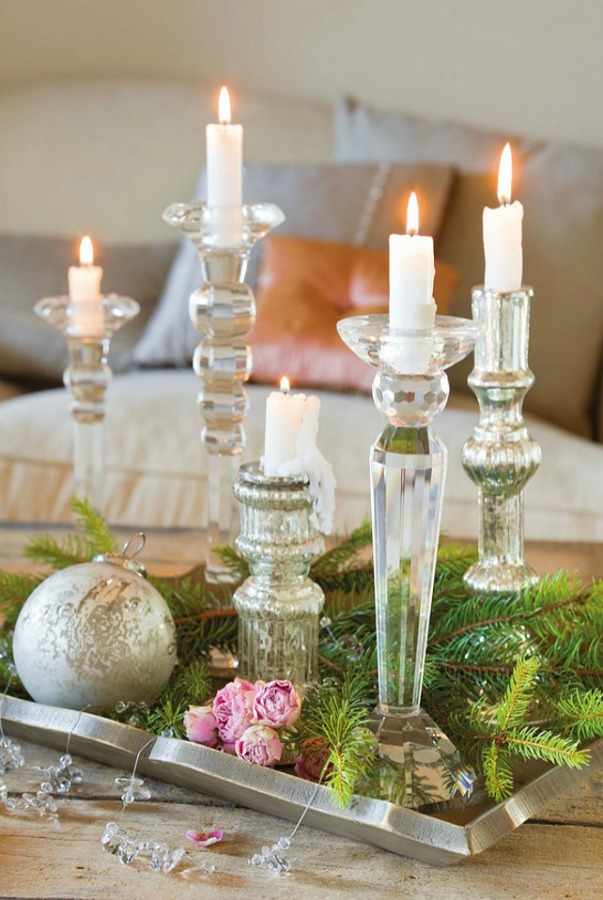 Are there repetitive design elements shining through?
Is there anything surprising to behold?
What stories does it tell?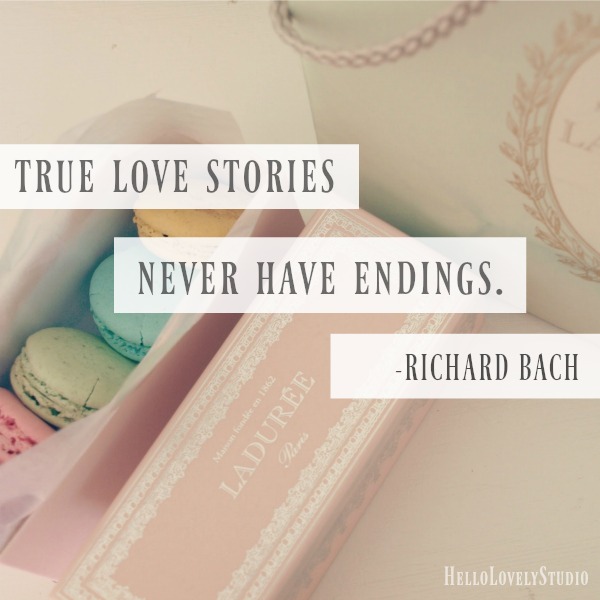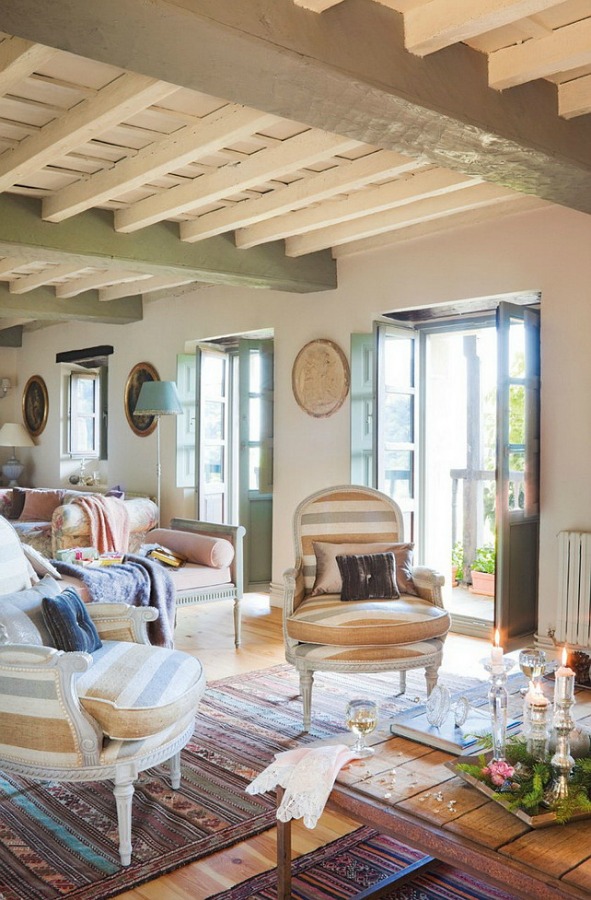 What details might I emulate in my own holiday decor?
Charming Rustic Cottage Interiors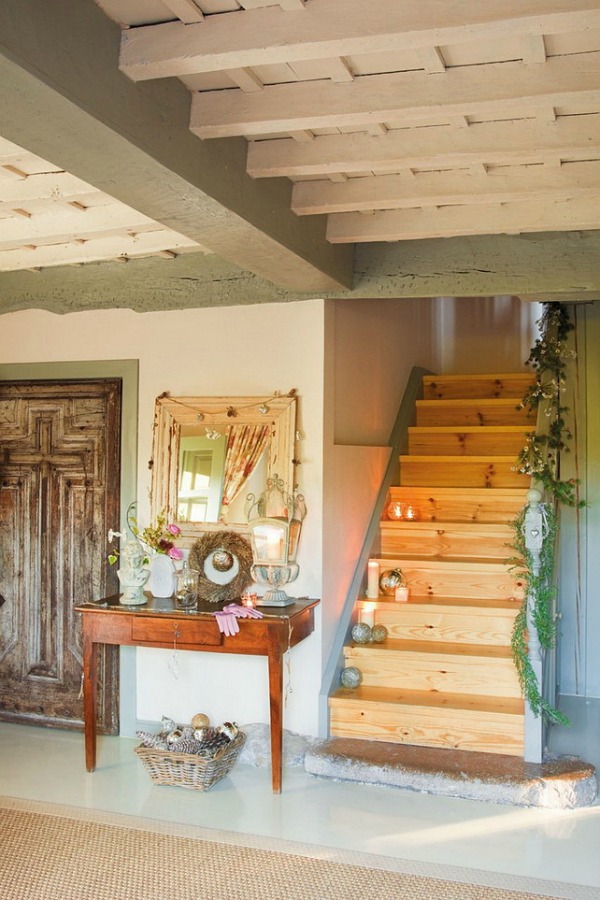 It's my hope you too will be guided by such clues and decor magic so that your own schemes and dreams are sprinkled with a bit more holiday fairy dust found here.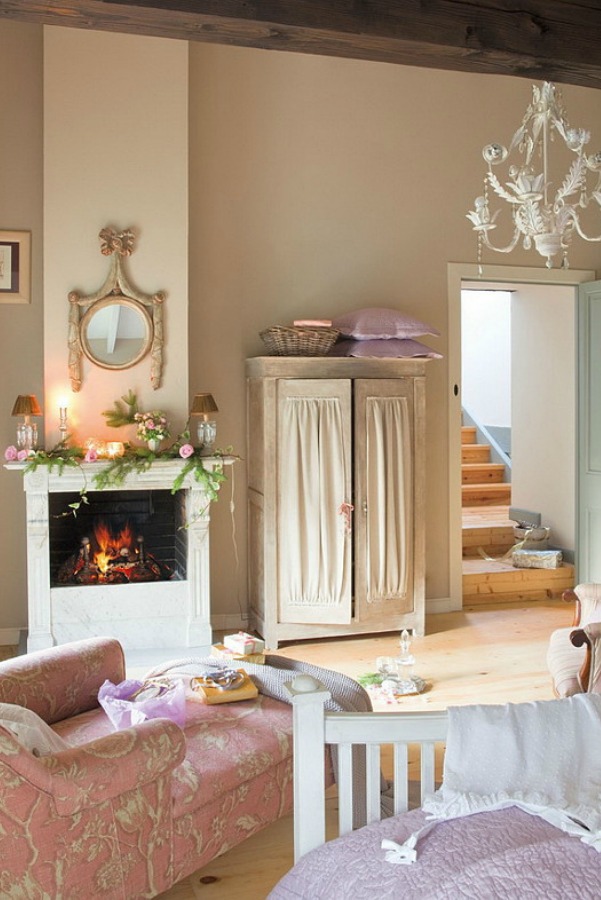 Don't you love how this cottage feels rustic yet refined and is decorated yet feels airy and natural?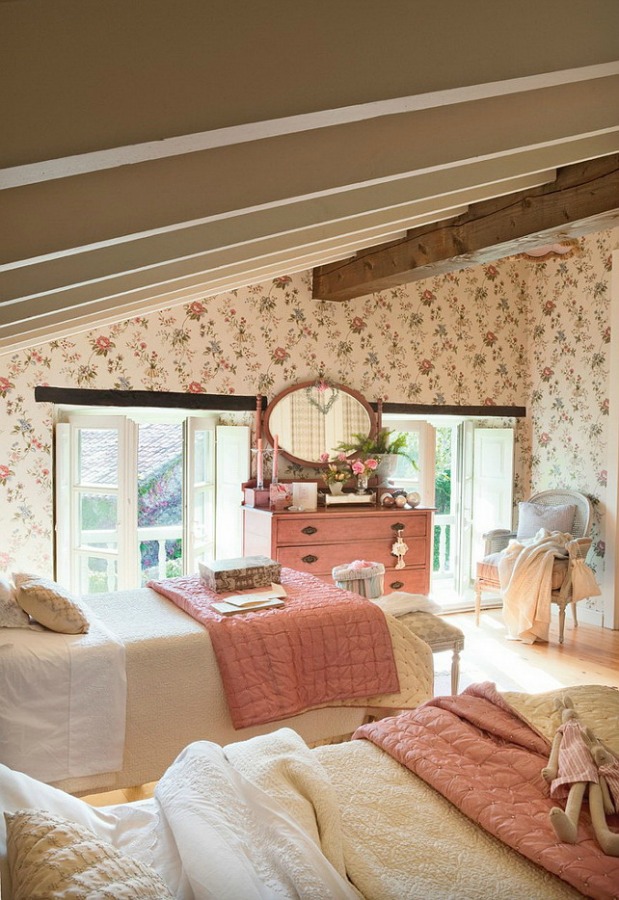 I suppose when pink is a staple in your year-round design, it is the perfect seamless accent at Christmas.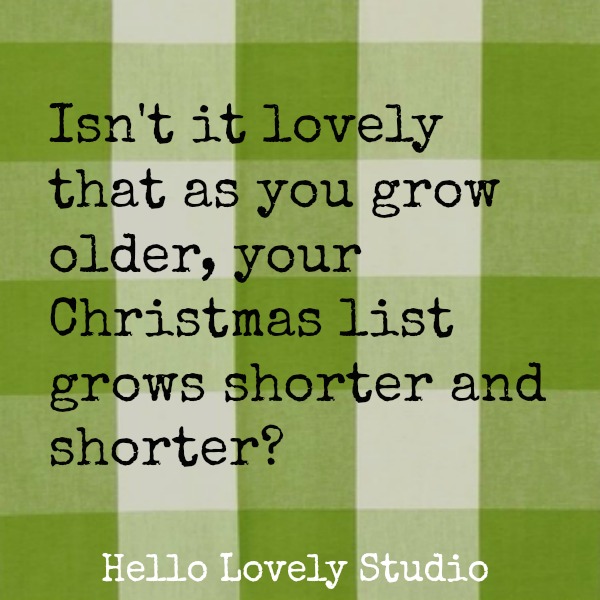 Pink Accents in a French Inspired Cottage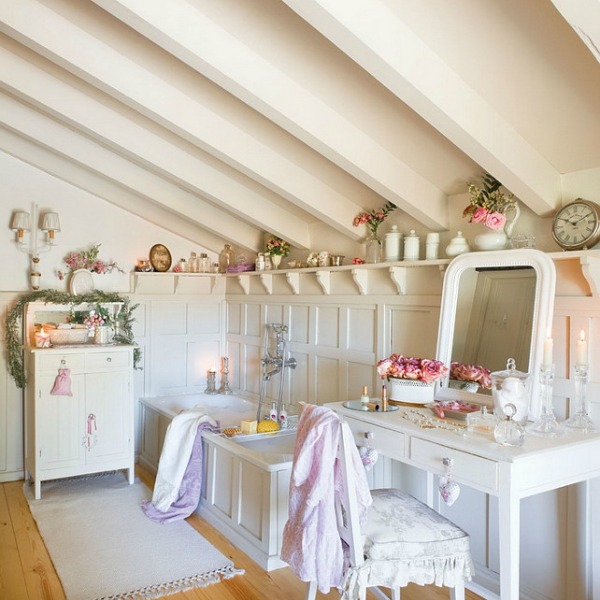 I have yet to decorate our master bath with greenery and holiday touches, but if it had bones like the one above, how could I resist?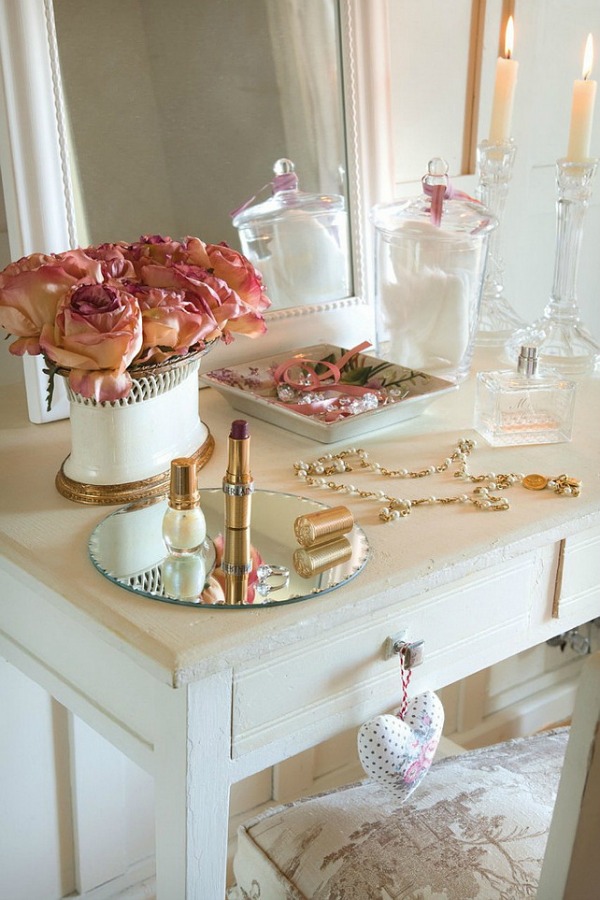 Romantic Bedrooms With Pink Accents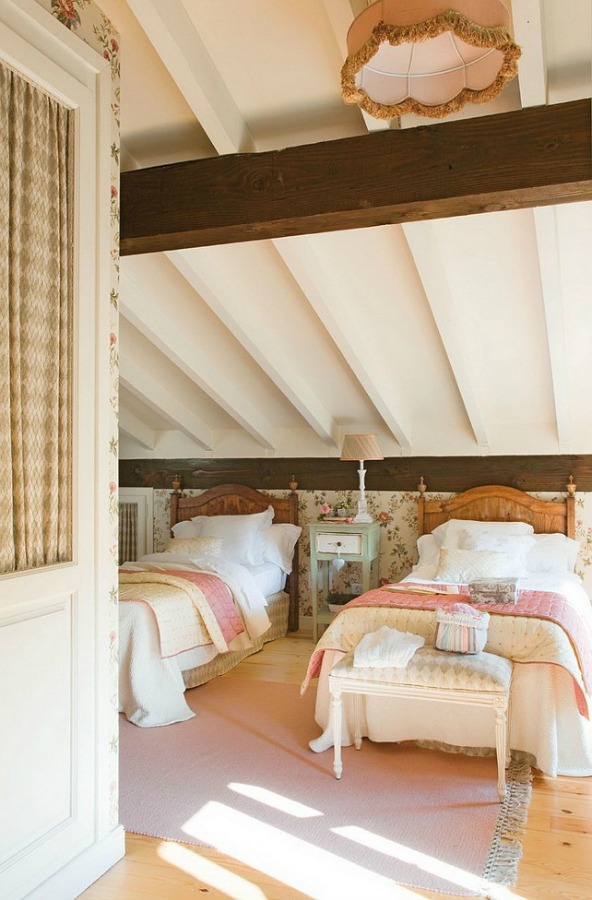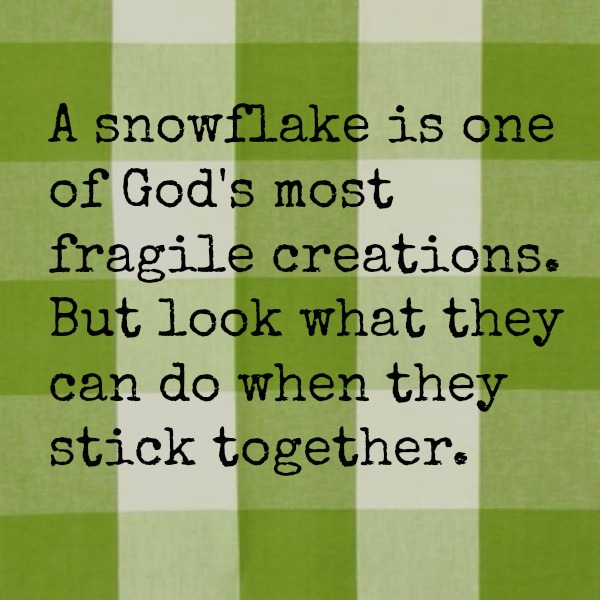 Dreamy Christmas Creations
Since procuring a French Country cottage in the Spanish countryside seems a tad out of reach at the moment, I'm thinking edible cottage…
I'm such a fan of artists and bakers who create charming creations like those since mine are often leaning, wonky, wobbly, ghetto shacks held together with royal icing and prayers!!!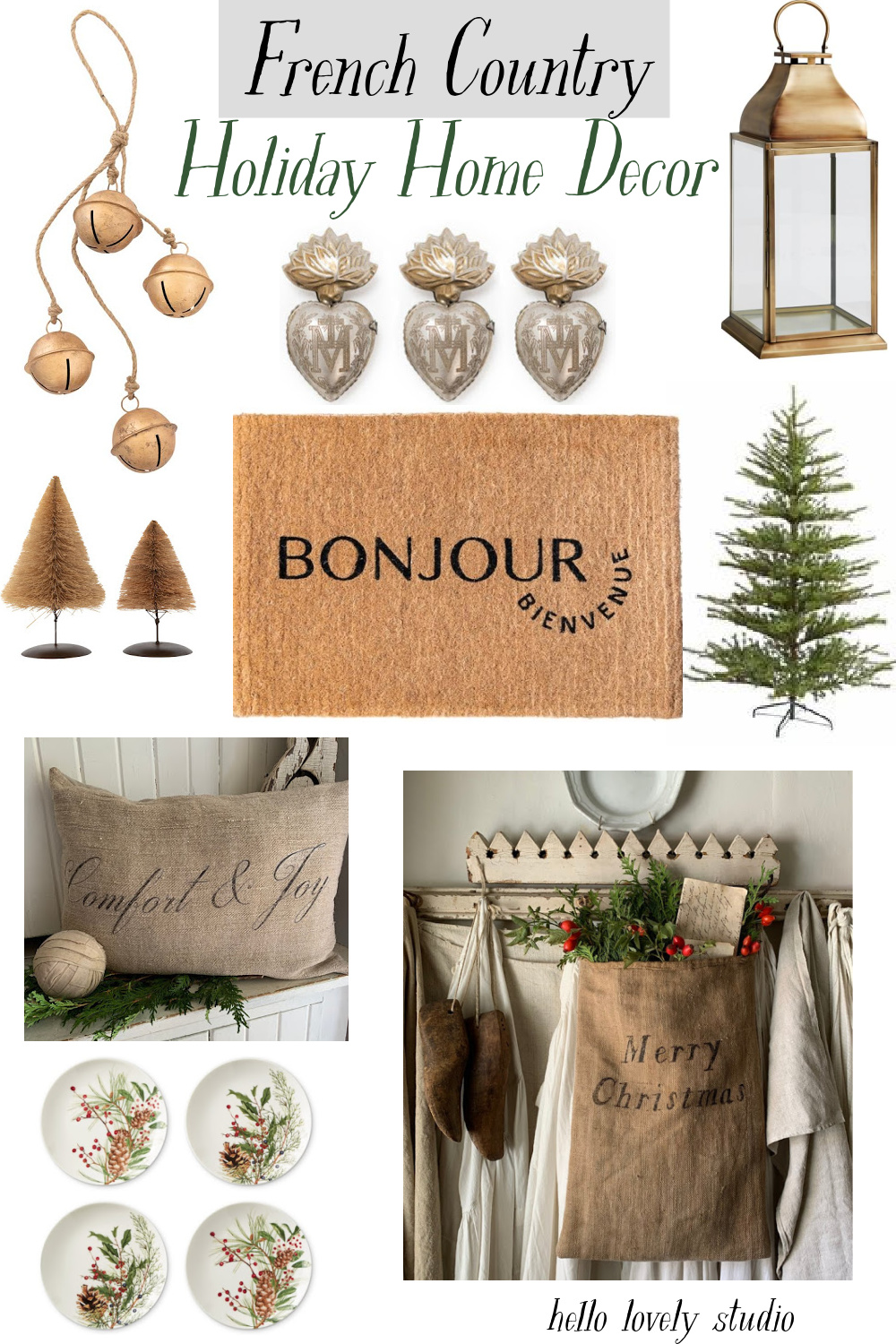 Quiet Holiday Decor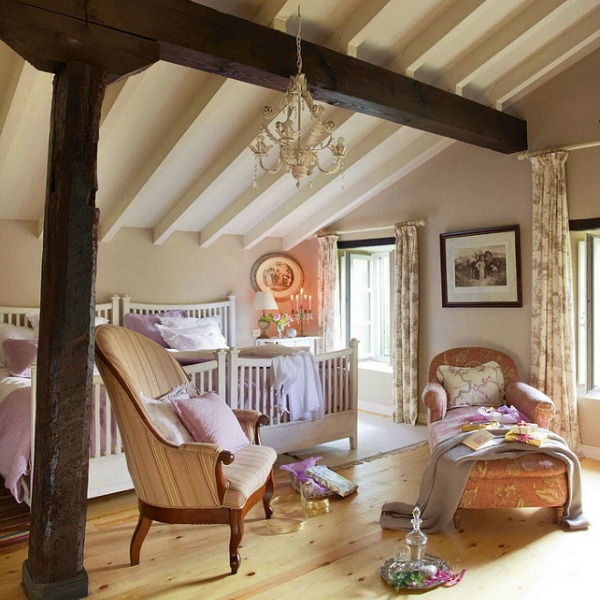 Doesn't this bedroom above feel like a space you would want to linger in? So spacious and laid-back yet romantic.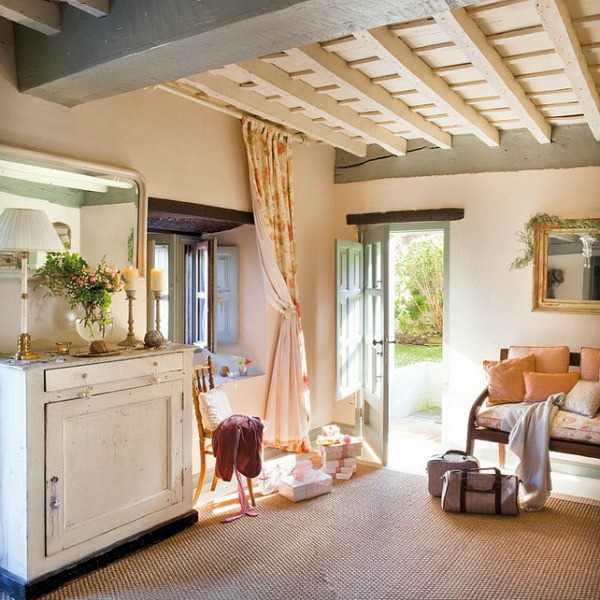 I hope you feel more peaceful just gazing at these images and collecting simple details to incorporate into your own plans.
Pinecones & Silver Under Cloche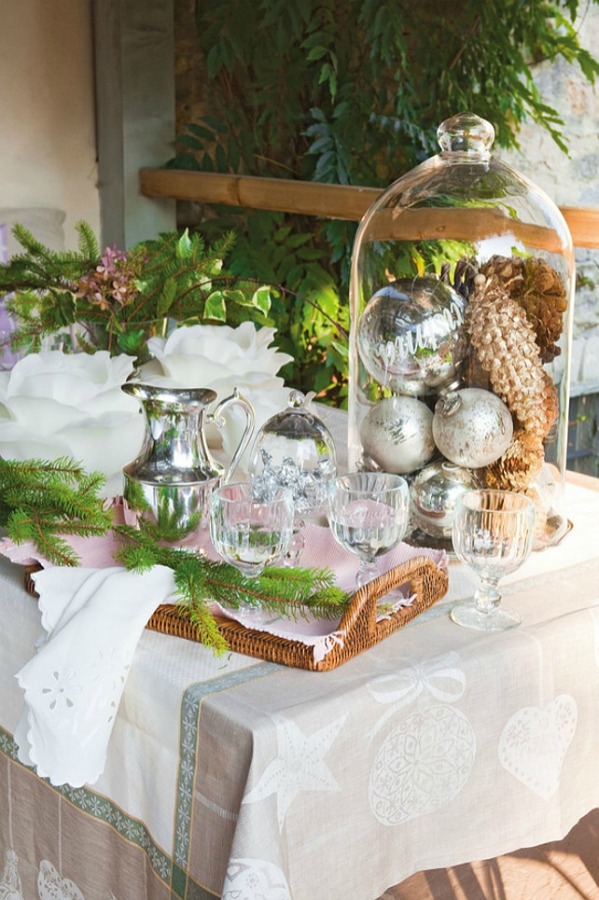 And if you have photos of your own holiday decorated rooms, I'd love to see them and share them here if you wish…just hit reply if this post arrived in your email or contact me with the info at the bottom of my About page at top.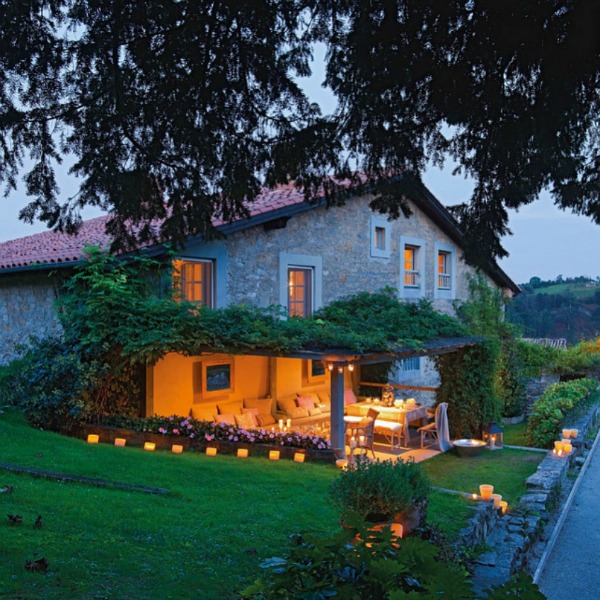 Christmas & Holiday Finds
I independently selected products in this post—if you buy from one of my links, I may earn a commission.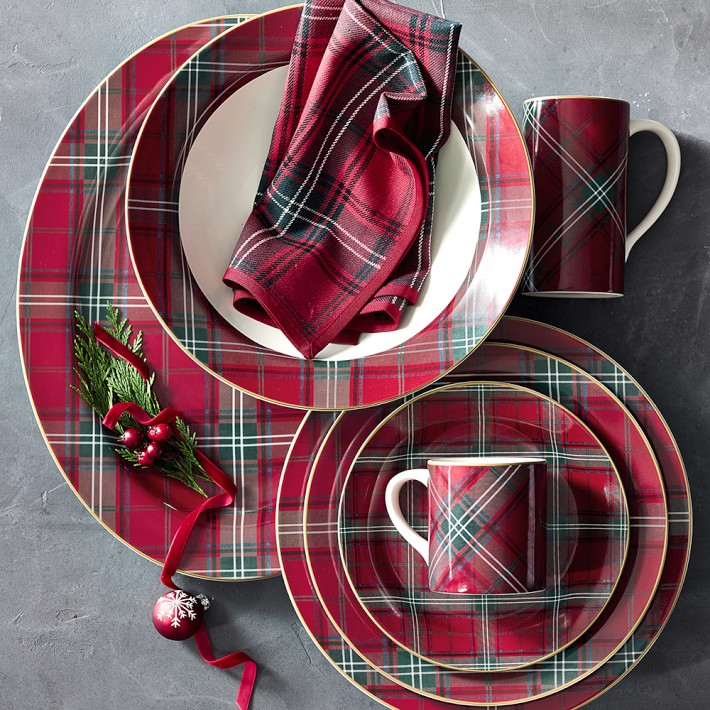 I independently selected products in this post—if you buy from one of my links, I may earn a commission.
Peace to you right where you are.
-michele
Shop for items you already intended to buy on Amazon RIGHT HERE, and also find home decor here to keep decor inspiration flowing on Hello Lovely!
Hello Lovely is a participant in the Amazon Services LLC Associates Program, an affiliate advertising program designed to provide a means for sites to earn fees by linking to Amazon.com and affiliated sites.