We're revisiting my Arizona kitchen makeover…we have since sold this second home (bidding war…yay!) so it was a great investment and adventure. While we have gutted and renovated our fair share of kitchens as real life DIYers (translation: no crew, on a budget, no flipping business), this project was different. Since we didn't have the luxury of time or access to our power tools at home, the goal was to completely avoid demo and dust but dramatically improve a builder grade special. Hence, Before & After: Hello Lovely's Kitchen Makeover tells the story of our upgraded, gently made over, tranquil Arizona kitchen.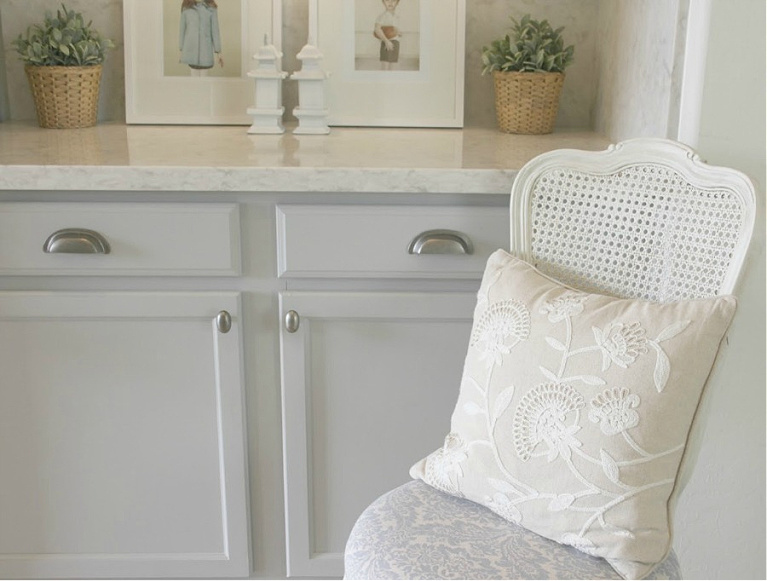 Before & After: Hello Lovely's Kitchen Makeover
The DIY journey began here, and our goal for the forlorn, builder-grade, cookie cutter kitchen that came with our getaway home was to make it calm and ethereal, upgrade it without tearing apart, and avoid the headache of dust and construction.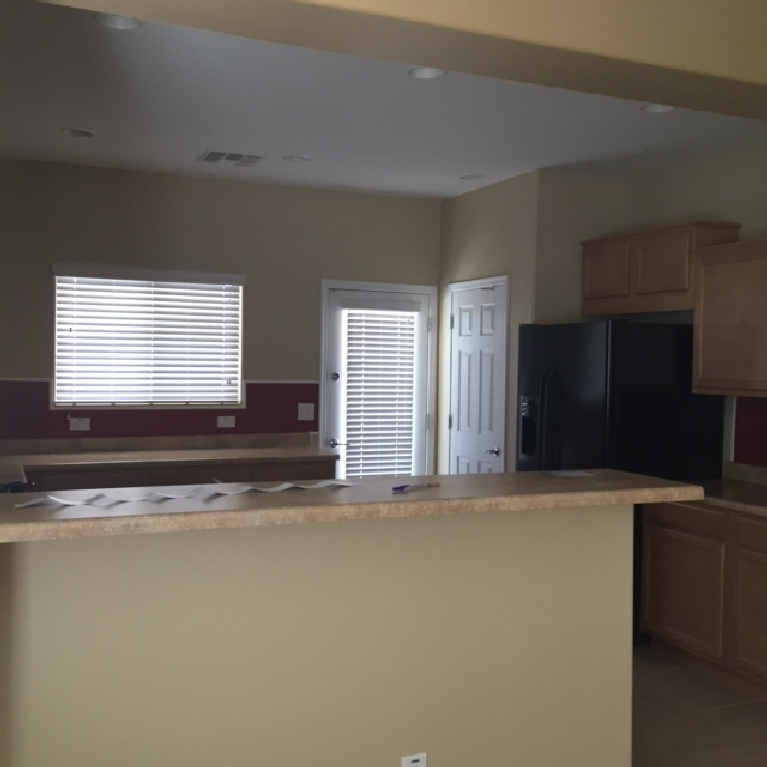 The "after" surpassed my expectations.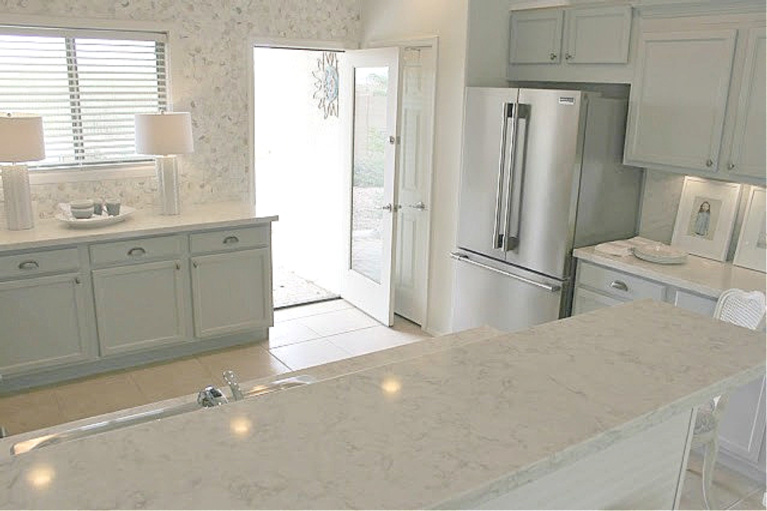 You may remember we bought this second home as a warm vacay getaway to escape treacherous Chicagoland weather.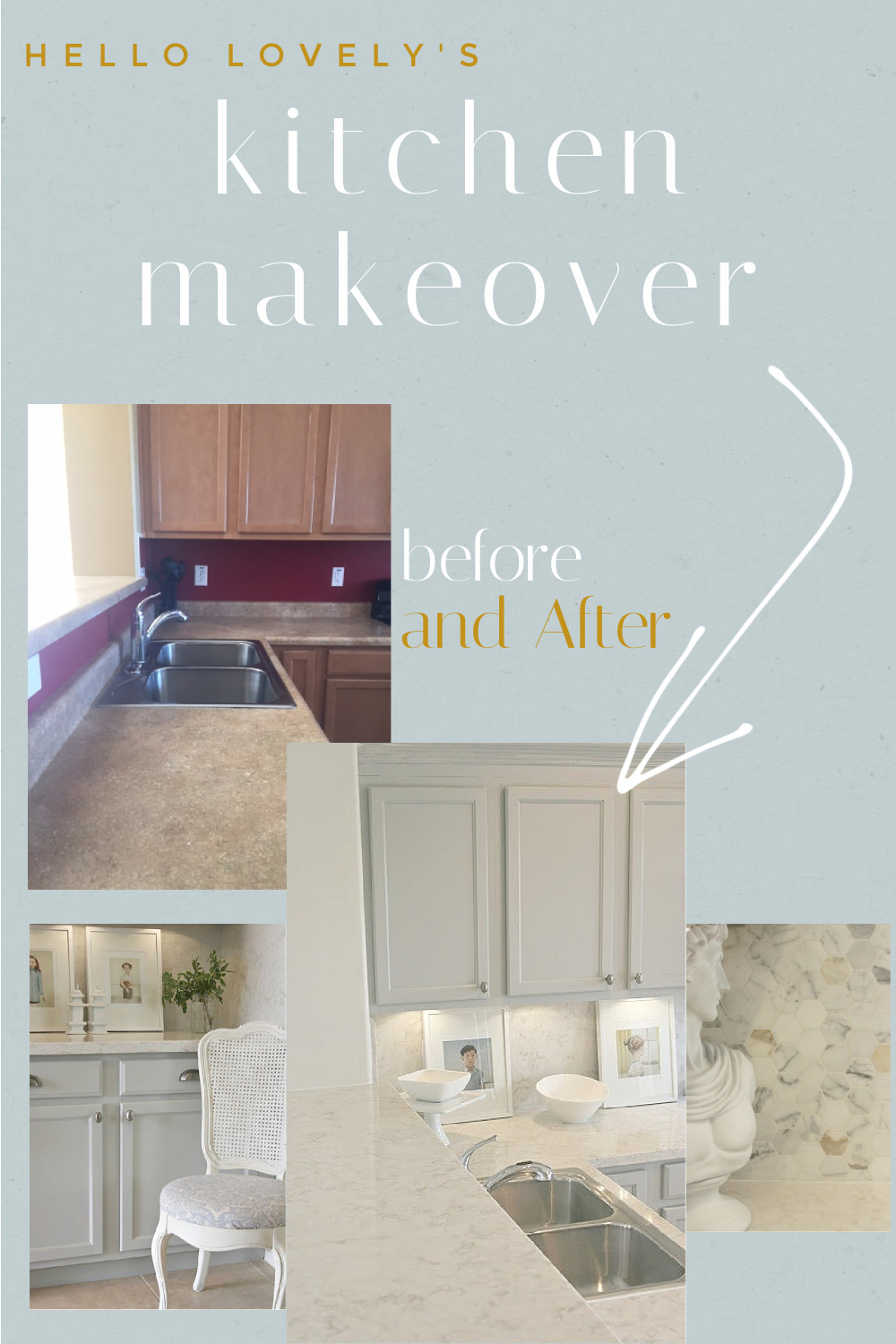 The home backs to a desert wash, came with a virtually maintenance-free landcape (and irrigation system), and was in wonderful condition.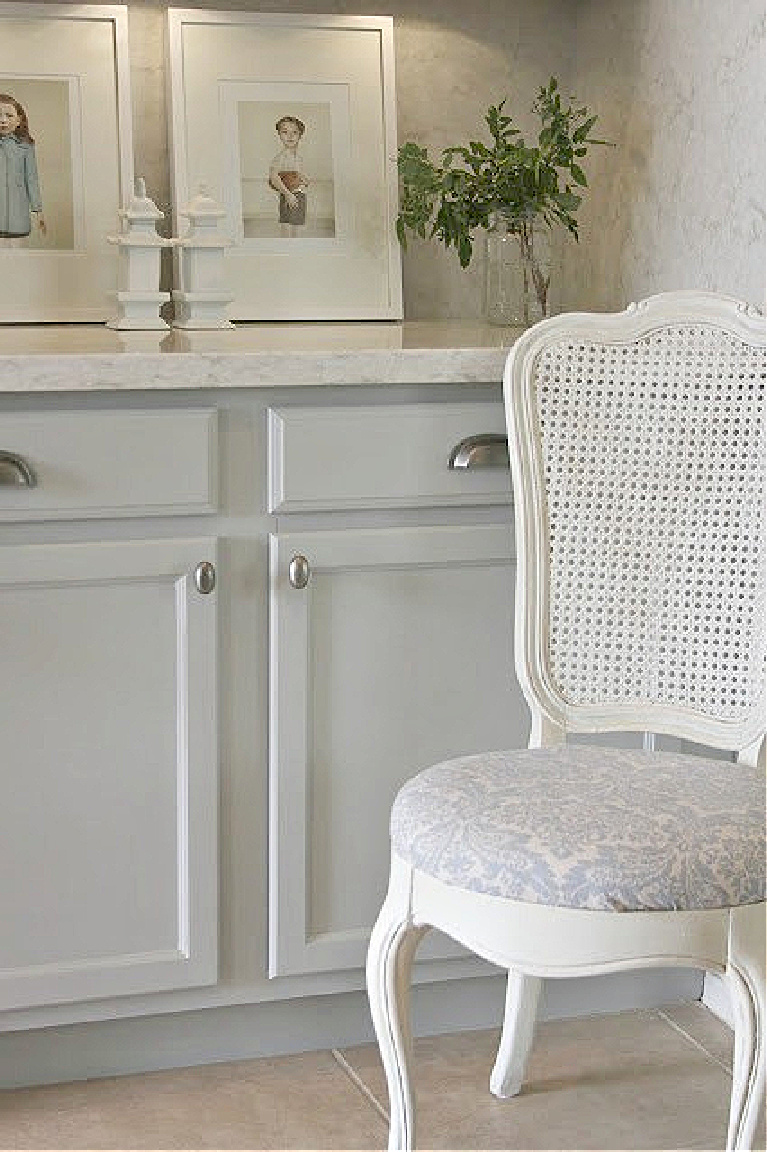 It simply needed design love and a light touch. Below are some of the elements I incorporated into the kitchen:
Mood for the Kitchen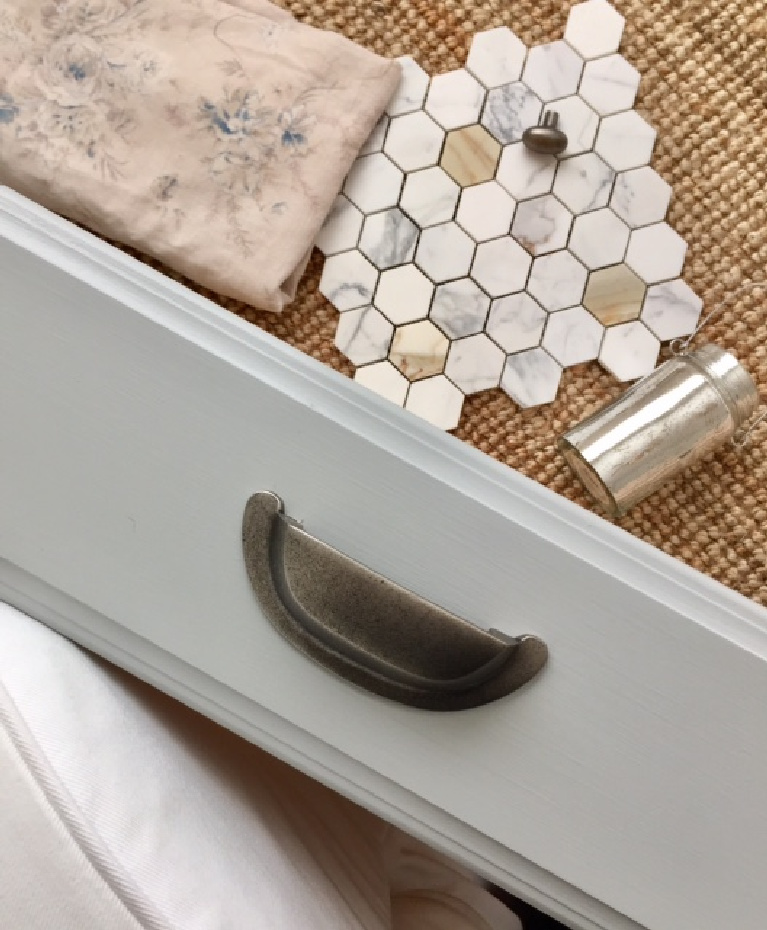 ABOVE: Rachel Ashwell designed Shabby Chic Couture Linen, Calacatta Gold Marble, Blue-Grey Cabinets, Natural jute rug, and also Pewter finished hardware.
I actually used three different gorgeous Rachel Ashwell designed linen fabrics for the adjacent dining room.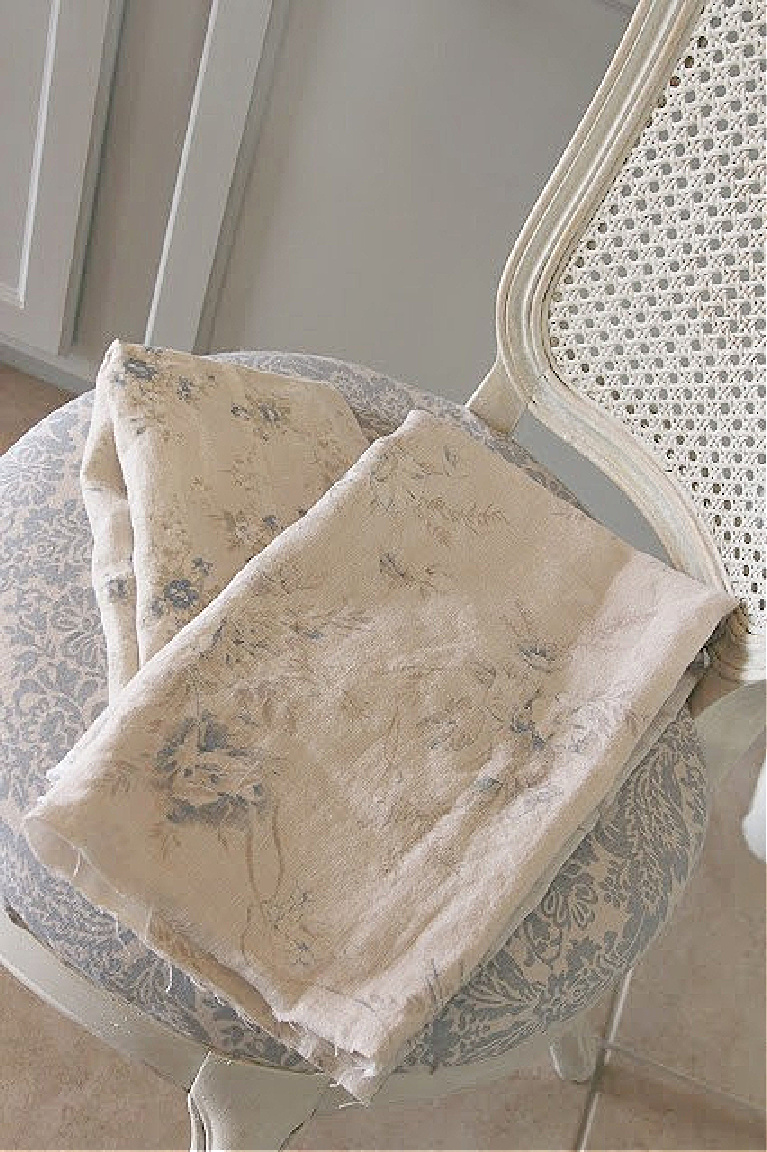 My favorite colors are muted, faded, timeless, soft neutrals and blue-greys with plenty of expanses of creamy white. I feel most at home in serene, peaceful, ethereal, white, and bright spaces with abundant natural light. The style is European inspired, traditional, and tranquil.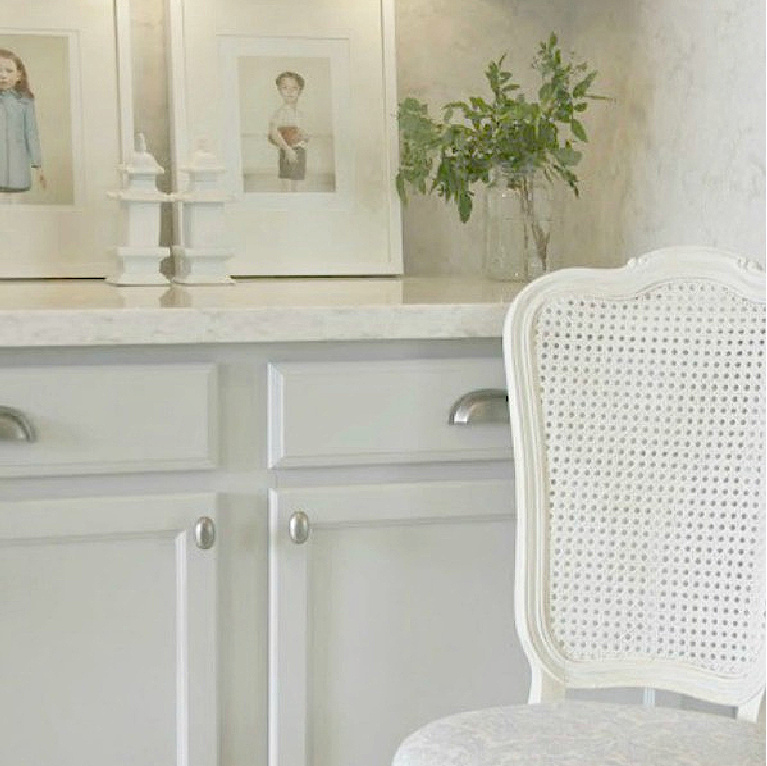 The kitchen is open to the living room (below) which has Belgian linen and soft blue accents.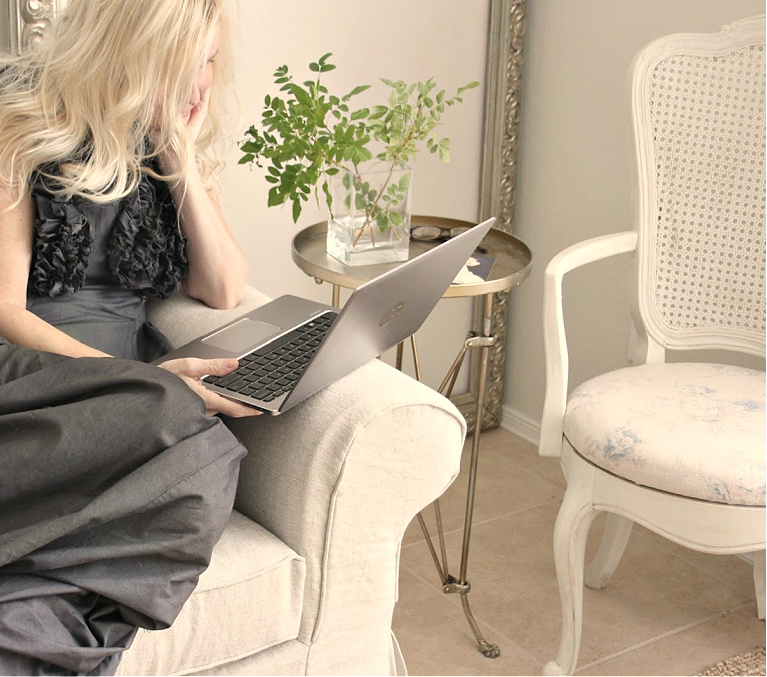 Serene Arizona Kitchen Makeover: Sink Wall
You could say I was NOT too fond of: the red painted "backsplash" trimmed in white plastic, mottled laminate counters which matched the floor tile, black appliances, and dinky crown moulding. However, I loved the ceiling height, the layout, the tile, and the condition of the sink and cabinets.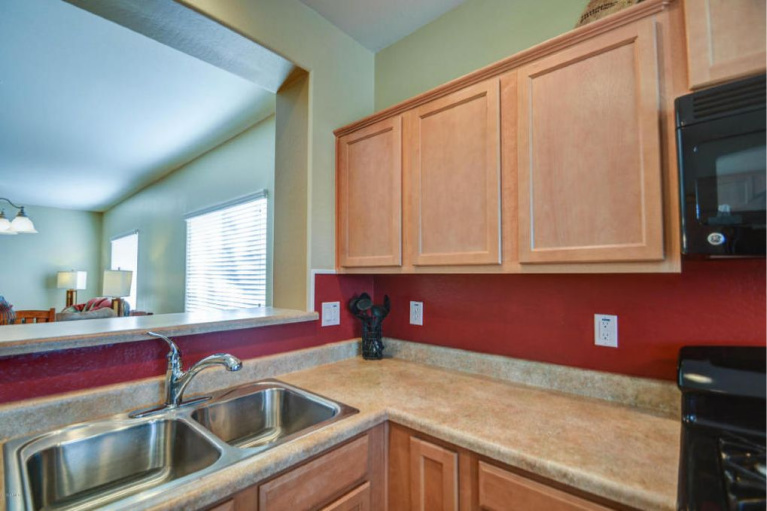 We chose to re-use the sink and faucet to save money, and what a difference opting for quartz counters and backsplash made!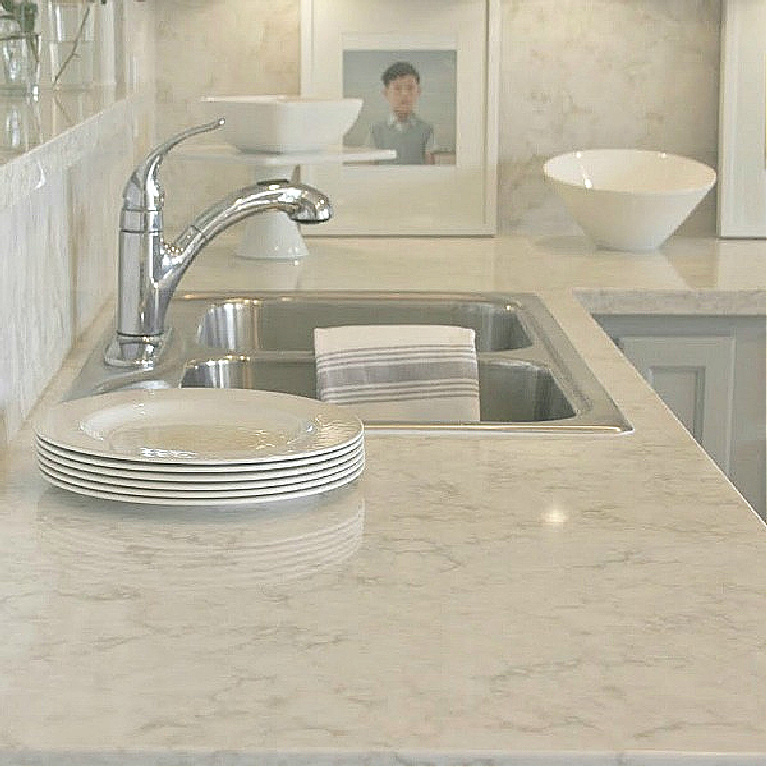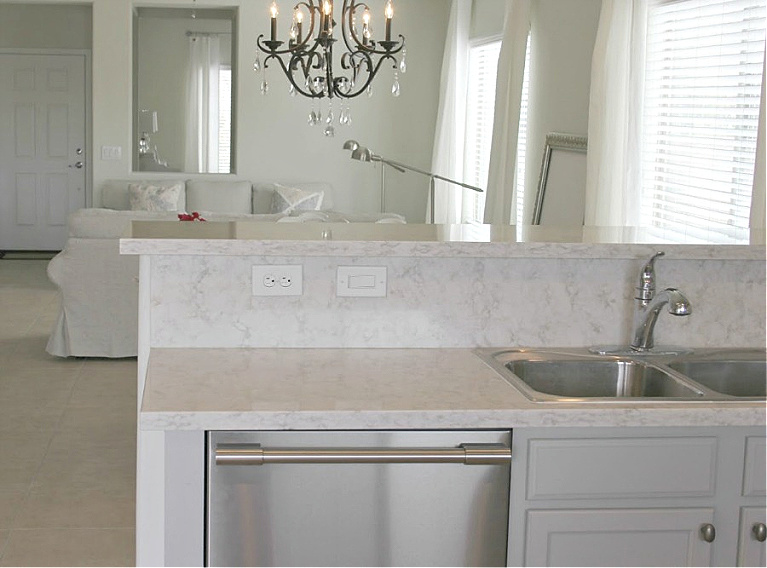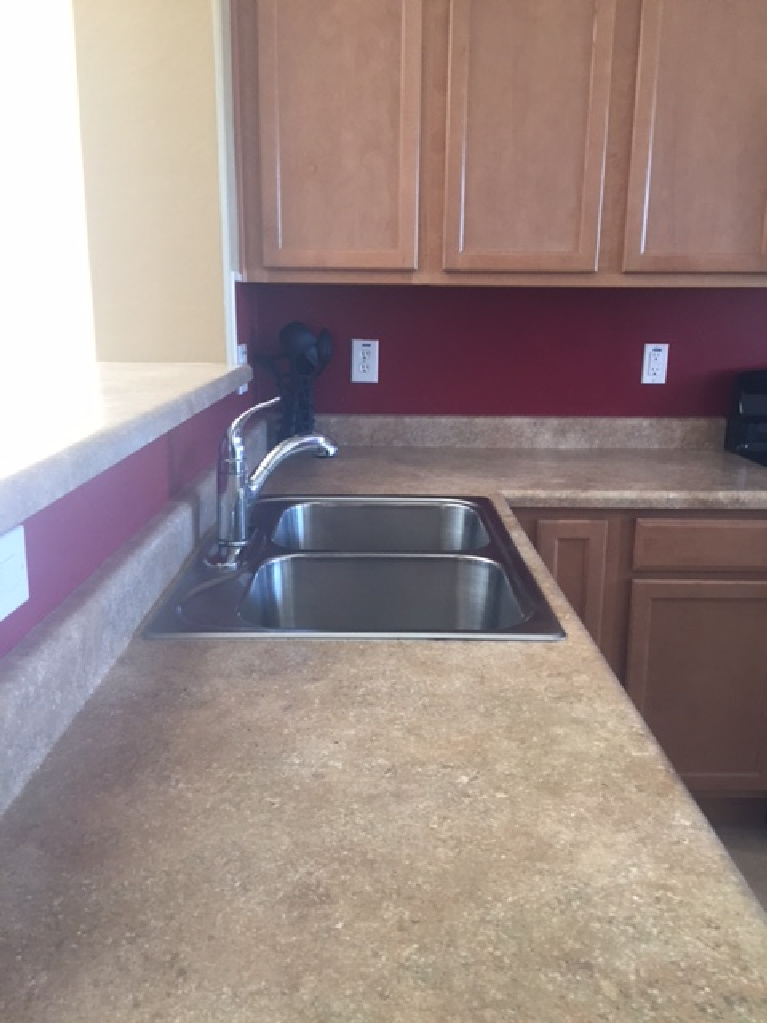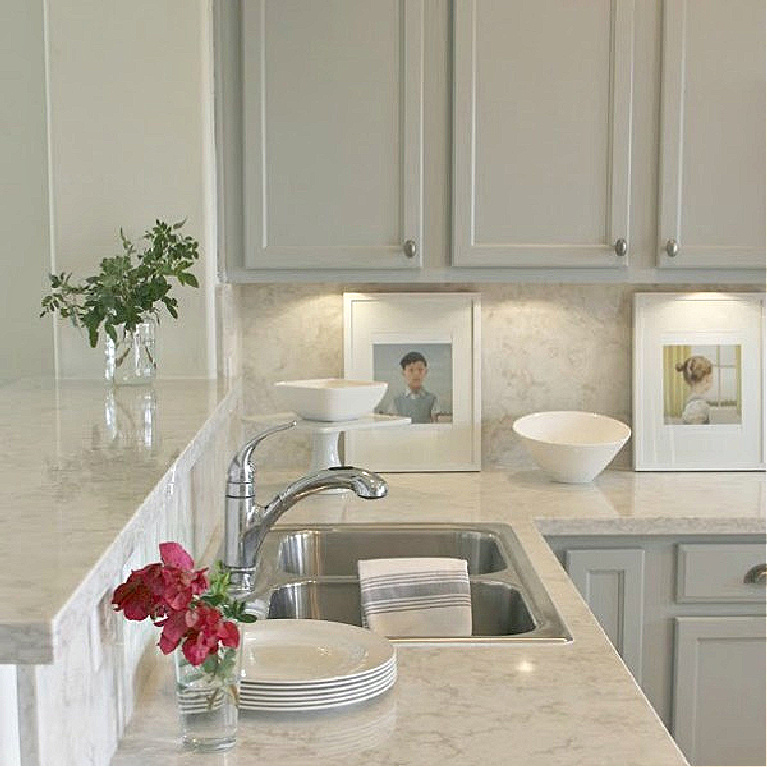 Arizona Kitchen Reno: Range Wall
While I'm not a huge fan of the microwave over the range, by keeping this configuration, we saved ourselves demo, electrical, and carpentry work which would have been necessary for another arrangement.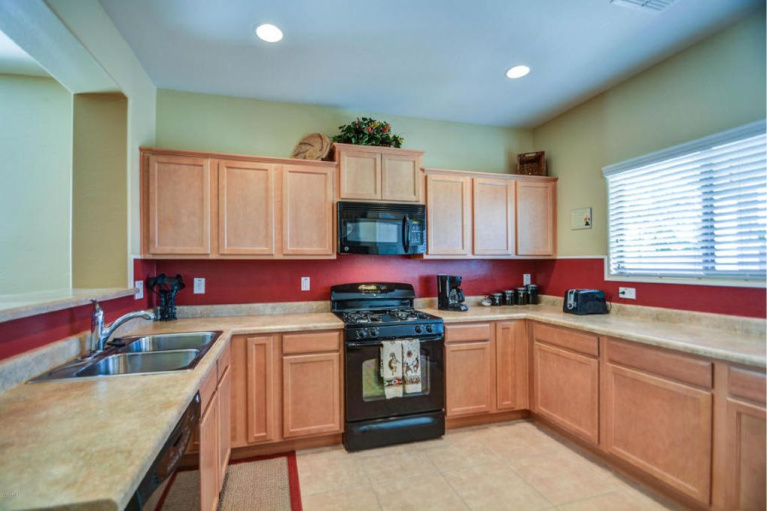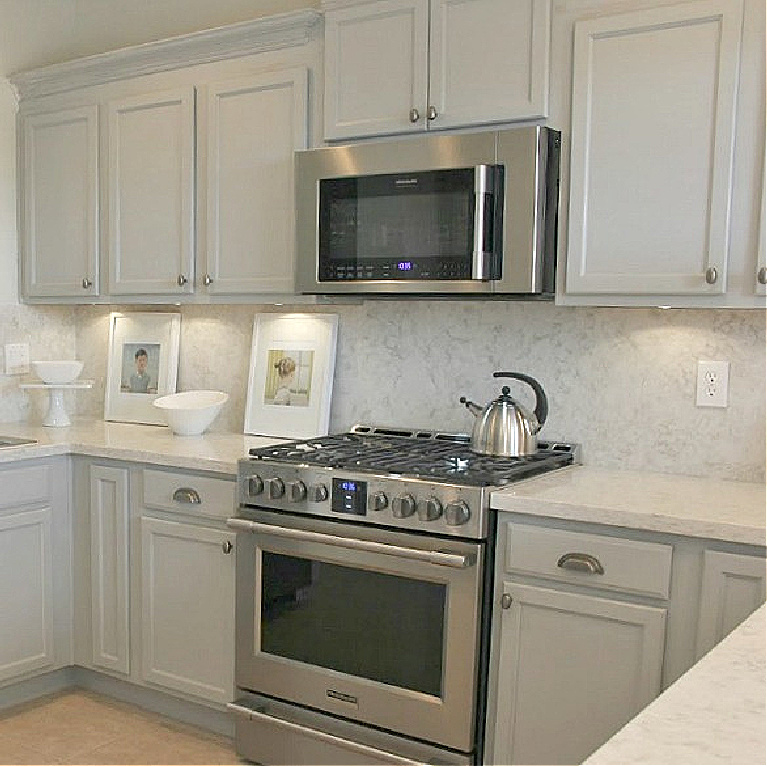 While the black appliances functioned well, they were all wrong for the serene mood.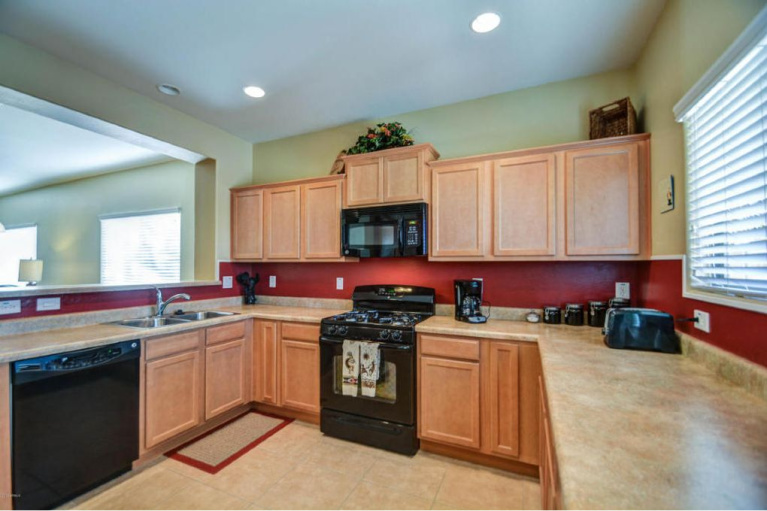 As you can see (above), there were just too many colors, and the space felt unappetizing to me.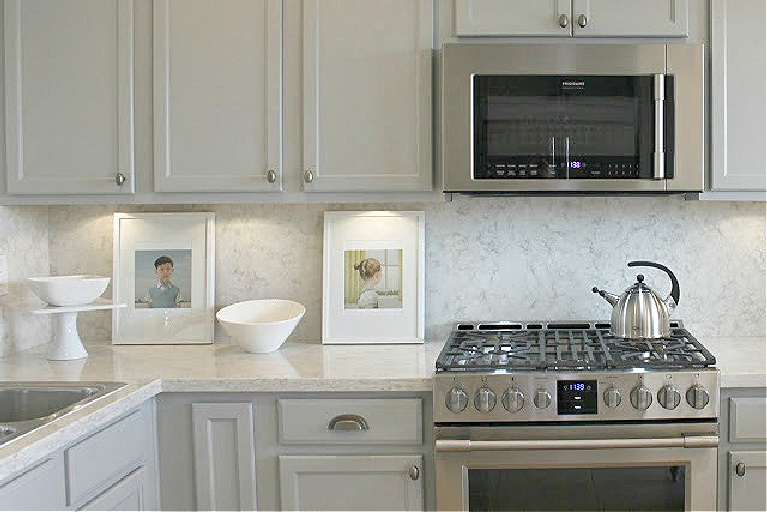 Cooling everything down and creating clean simplicity gave it a more pulled together, calm, and custom look.
DIY Kitchen Makeover: Frig Wall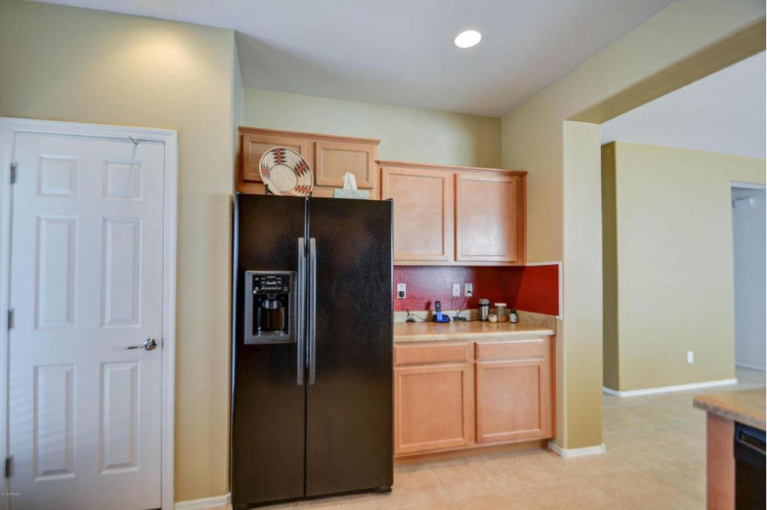 I just knew this part of the kitchen could get much better because it was all wrong.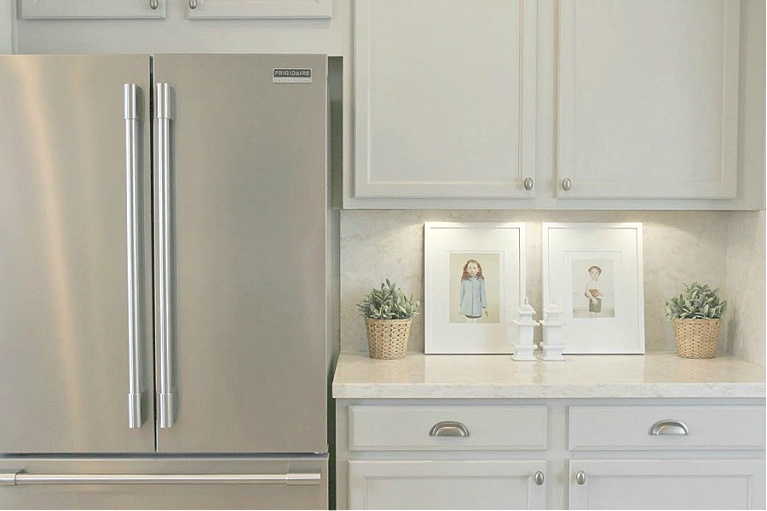 But it was pretty upgrades and sweat equity to the rescue rather than deconstruction and a re-design. Time is money!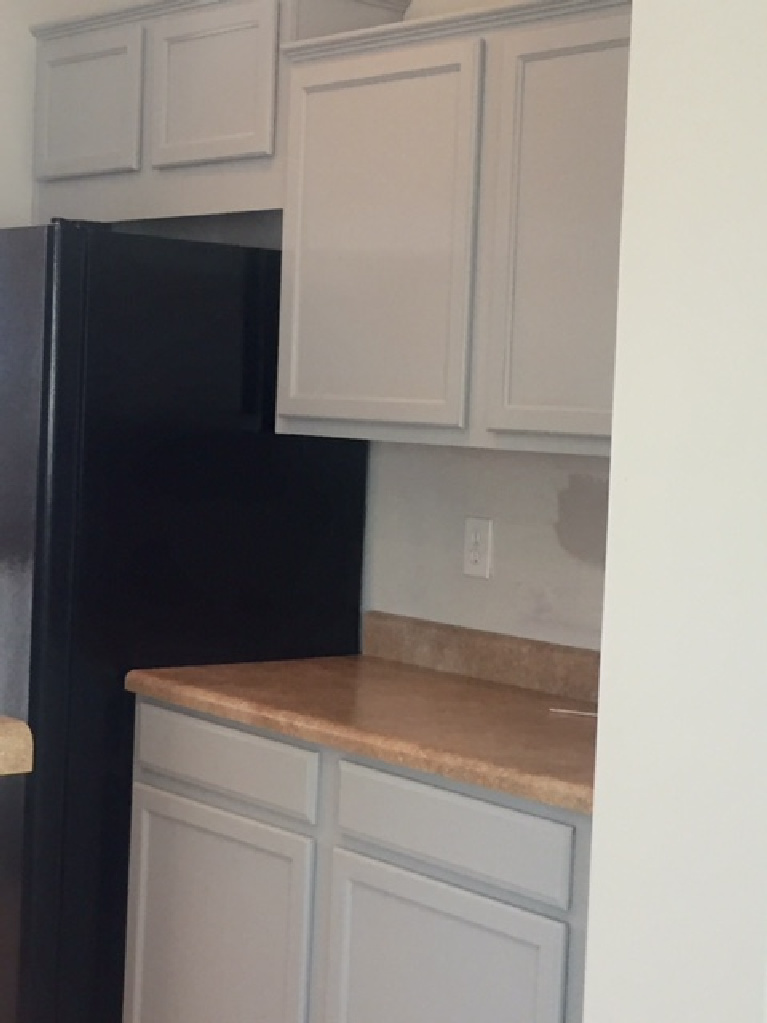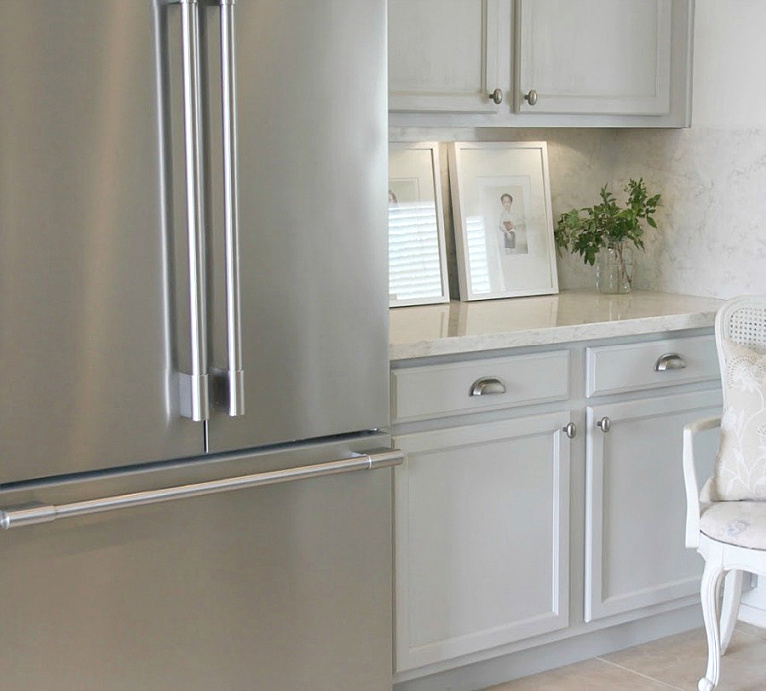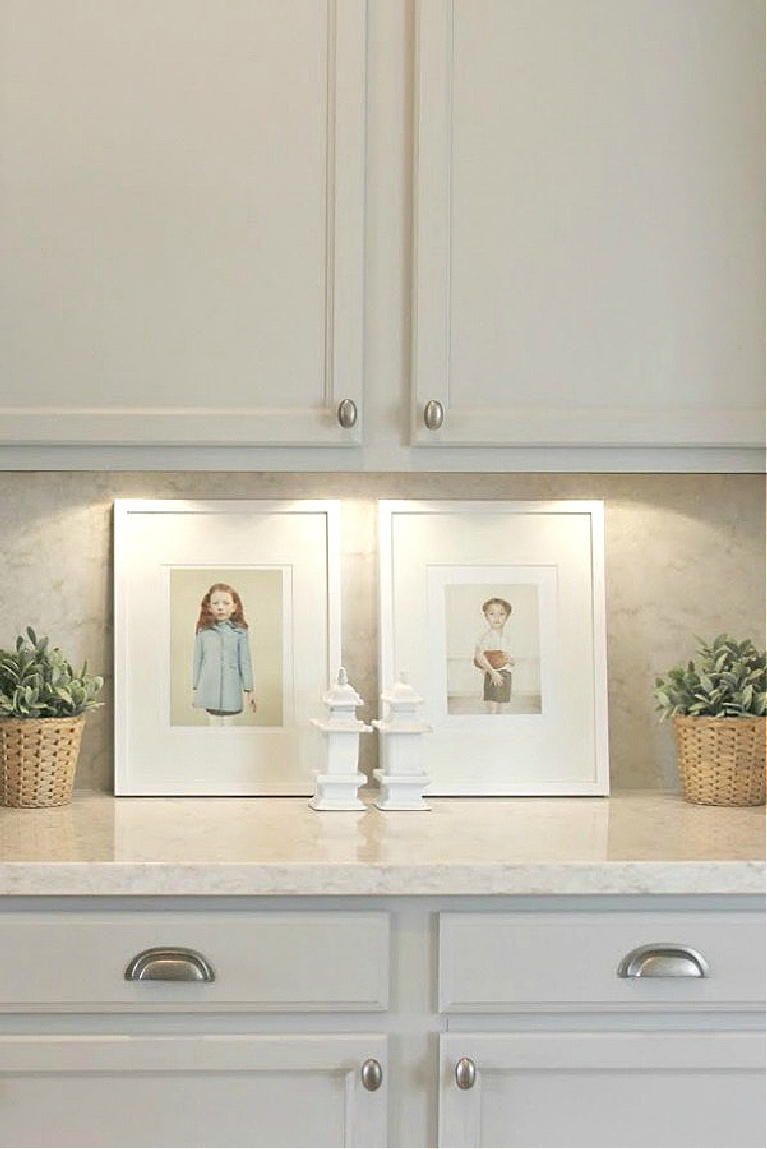 Before/After Kitchen: Statement Wall
I got really lucky with my statement wall in this kitchen because there were no wall cabinets to remove which meant no demo here either!
We covered the wall in a calacatta gold honed marble hex mosaic tile I fell in love with. I knew you would notice it as soon as you walked through the front door.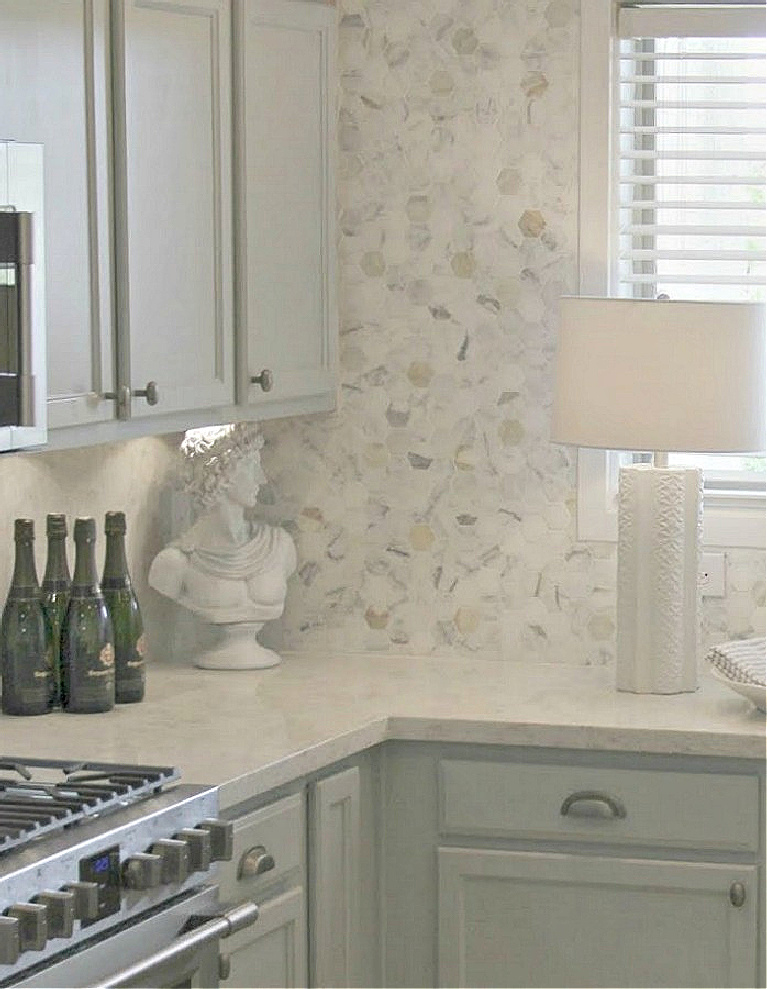 Originally, this is what you would see across the room: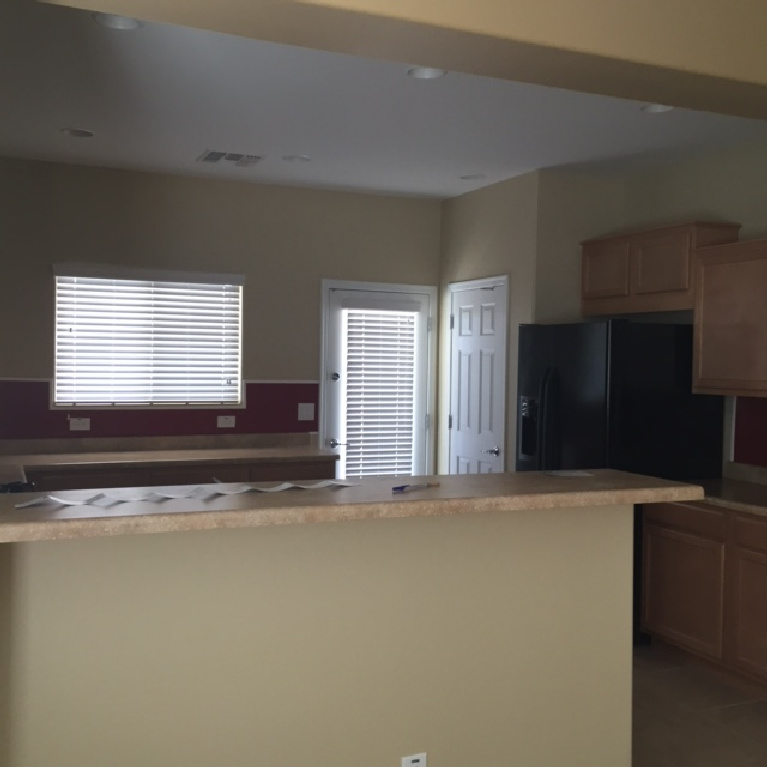 We used white grout for a very soft, interesting painterly effect that doesn't feel trendy or too bold.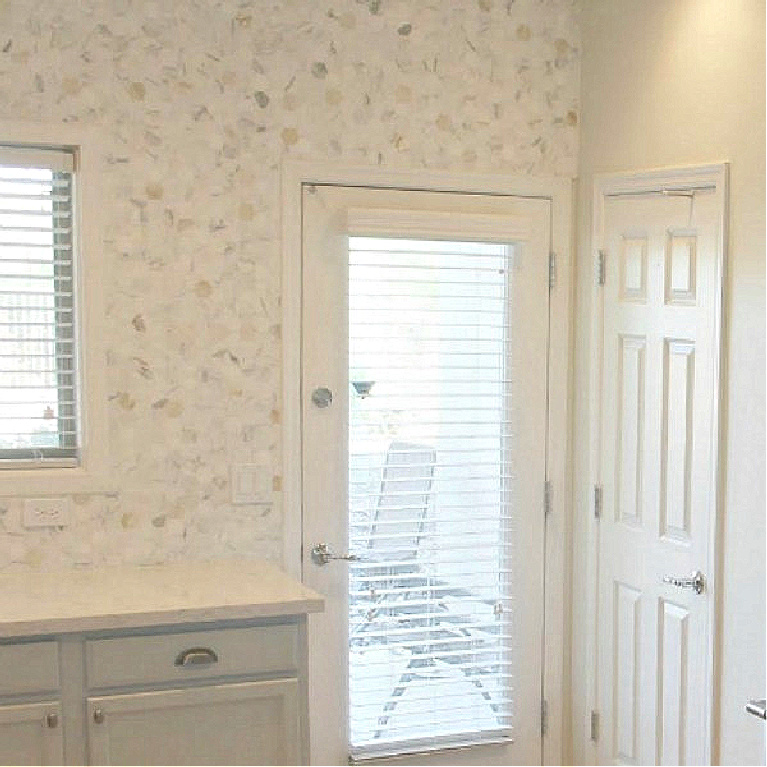 It was just the right amount of movement and lyrical lightness the space needed.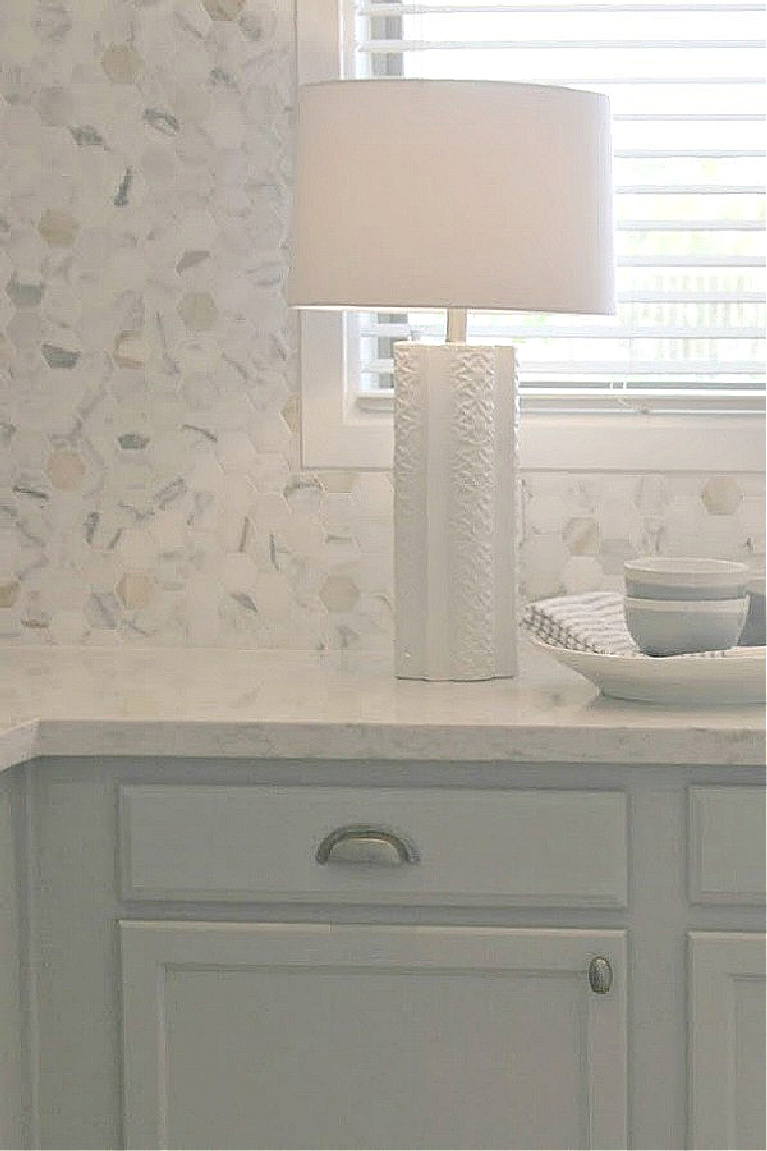 Smart Kitchen Design Upgrades: LG Viatera Quartz Countertops
We ditched the existing beige laminate countertops for a very luxe and hardworking LG Viatera quartz in a color called Soprano. (Read about why I chose Viatera for our Chicagoland home right here.)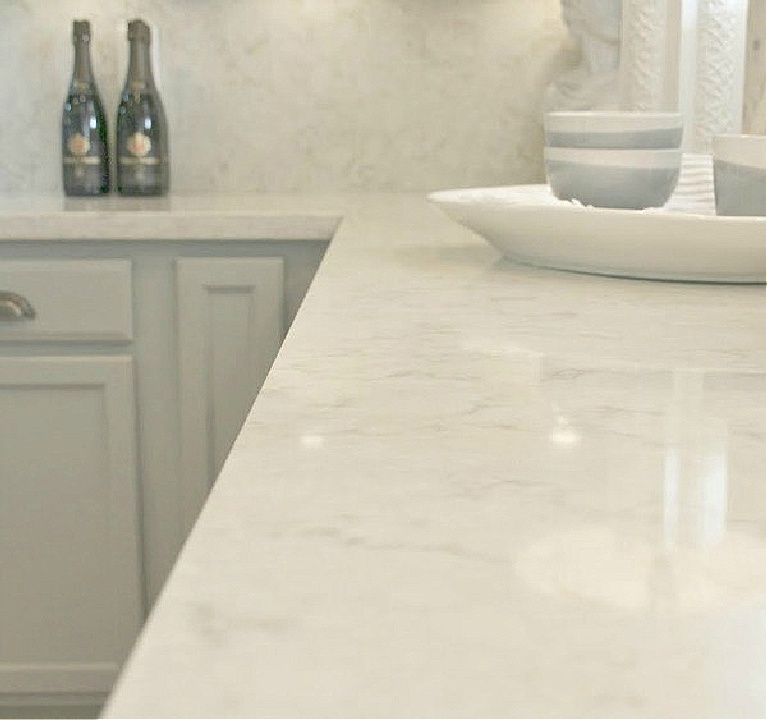 The day these Viatera quartz countertops were installed was one of my favorites since the old counters were holding down the quality of everything as well as stealing light from the space.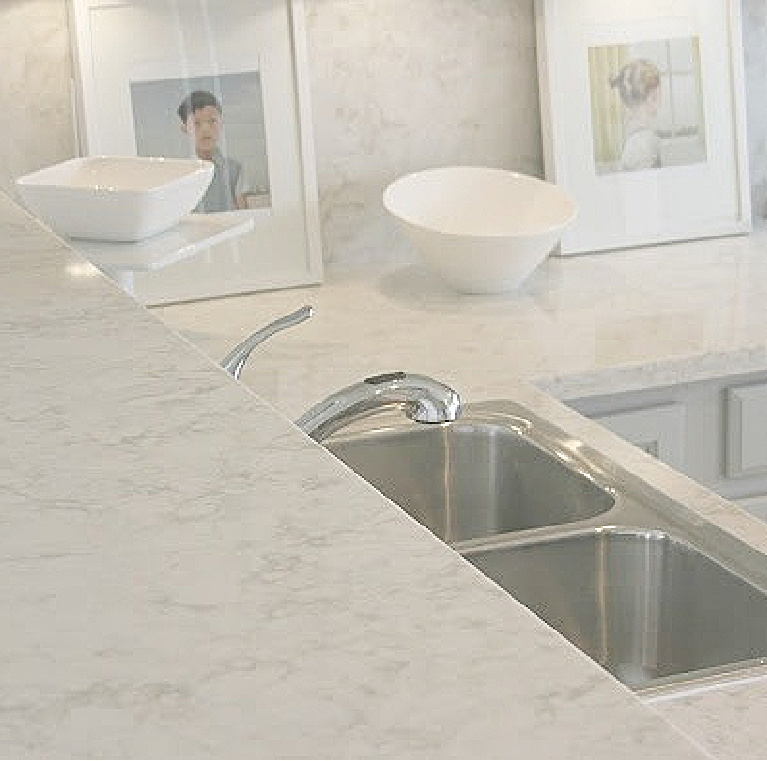 Since I have always admired the modern minimal look of a quartz backsplash, we continued the quartz on the backsplash as well.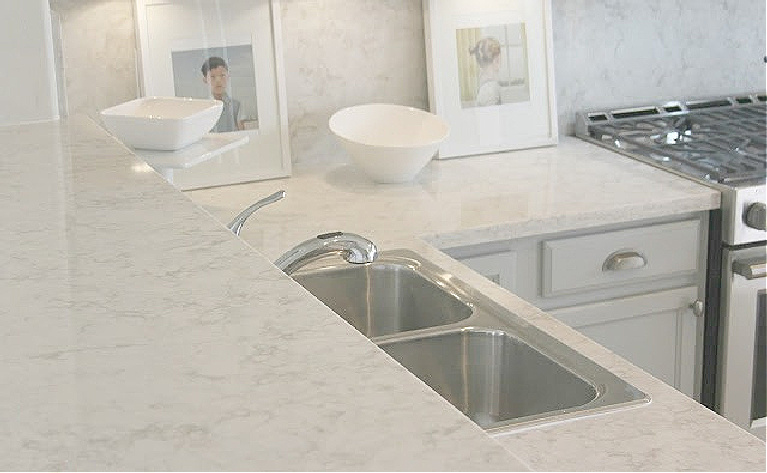 Soprano is a gorgeous choice to complement calacatta gold marble.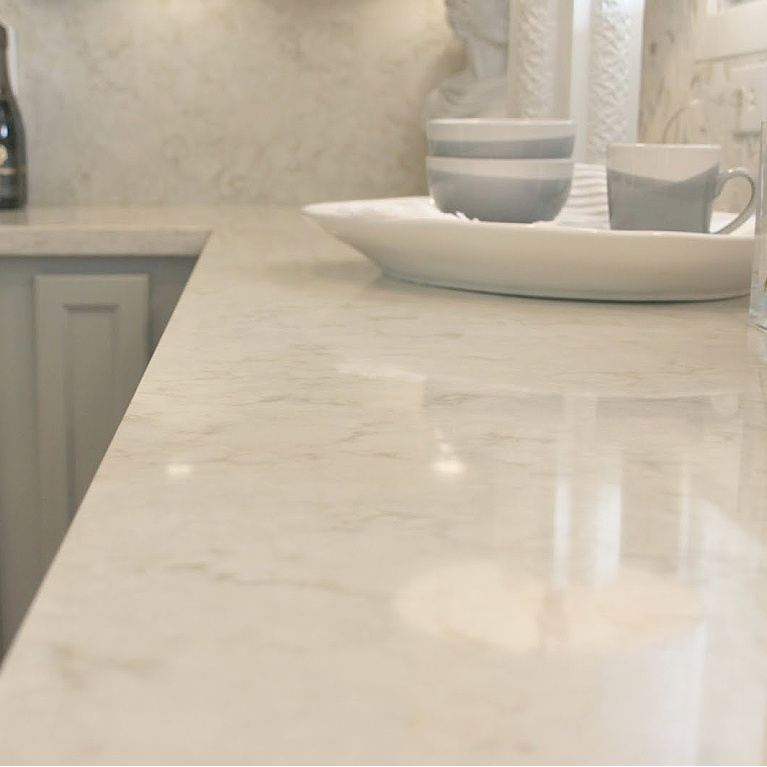 Smart Kitchen Design Upgrade: Calacatta Gold Marble Mosaic Tile
Here are some detailed shots of the 2″ hex mosaic tile we chose for the statement wall in the kitchen.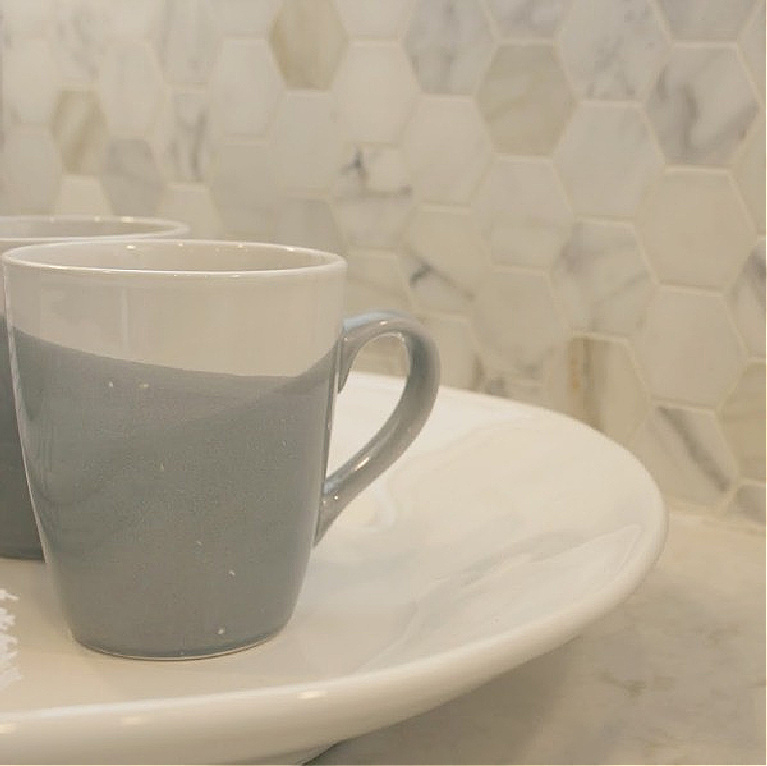 As you can see, there is beautiful variation with luscious caramel, creamy off white, light grey, and darker grey veining throughout.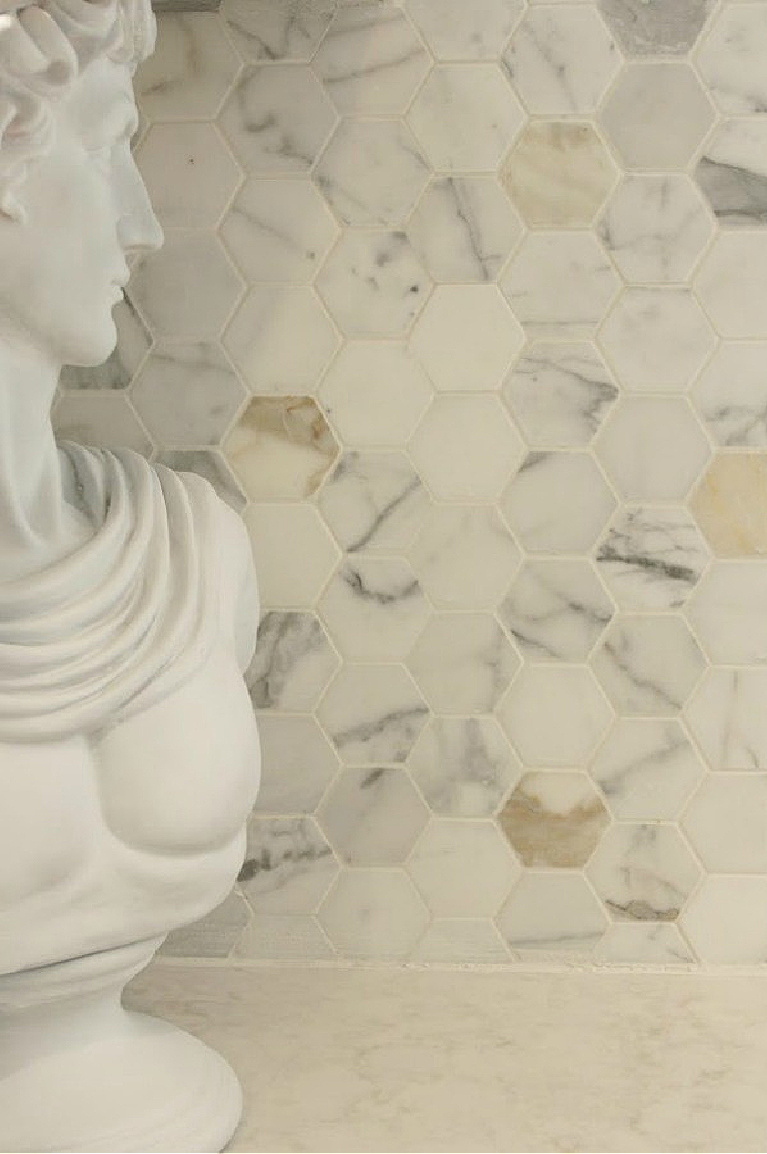 I chose not to use this marble mosaic tile on the backsplash in the remainder of the kitchen for two reasons. (1) I wanted it to feel special, and (2) I wanted to avoid grout in areas where things would be splashing…like at the sink and range.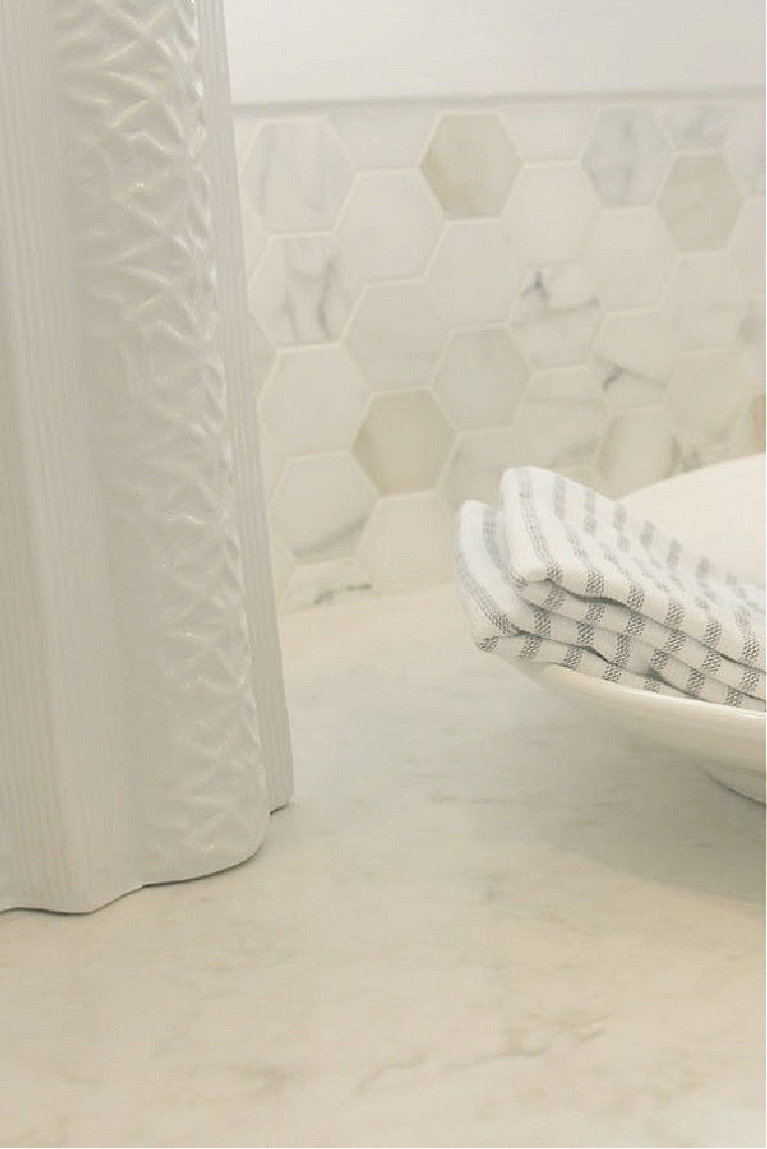 No Demo/No Dust Kitchen Upgrades: Professional Style Stainless Appliances
I love this appliance collection from Kitchenaid! It has a special finish called Smudgeproof, and what a difference that makes!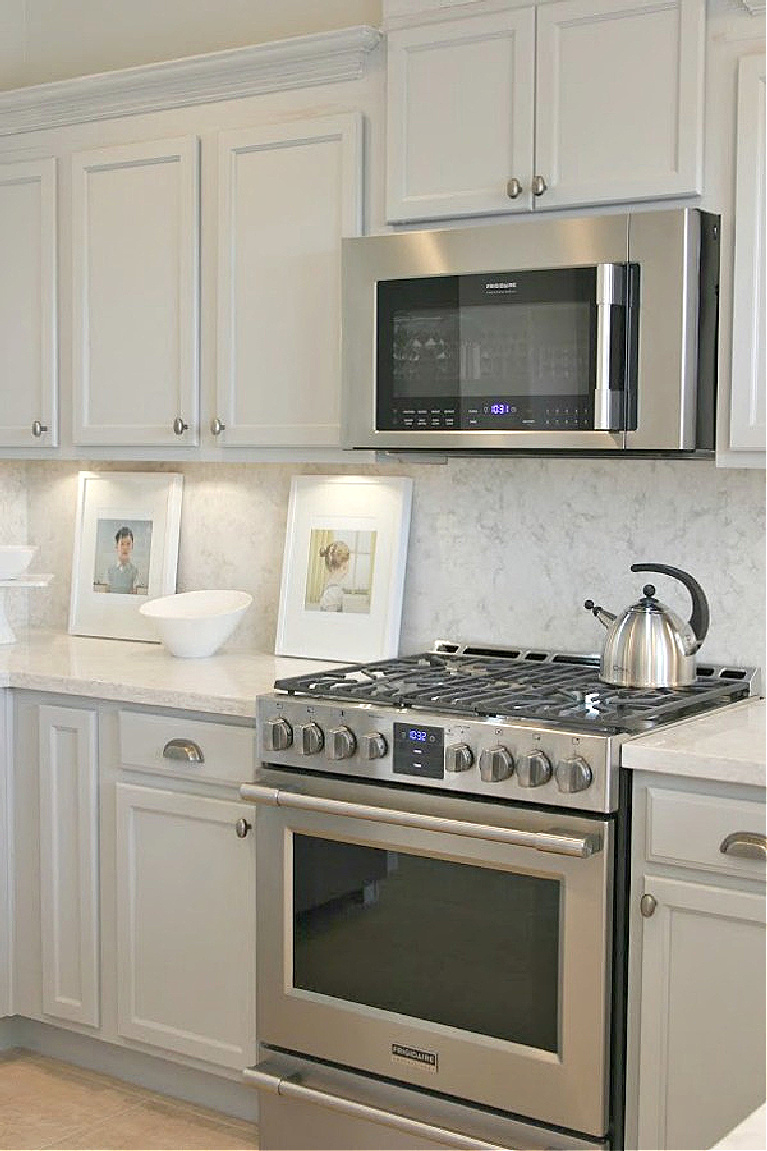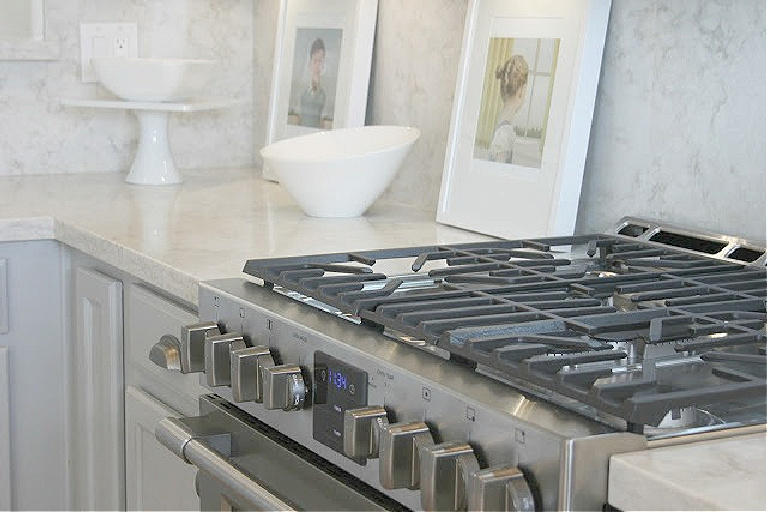 I'm crazy about sexy commercial style handles on stainless appliances so these babies seduced me.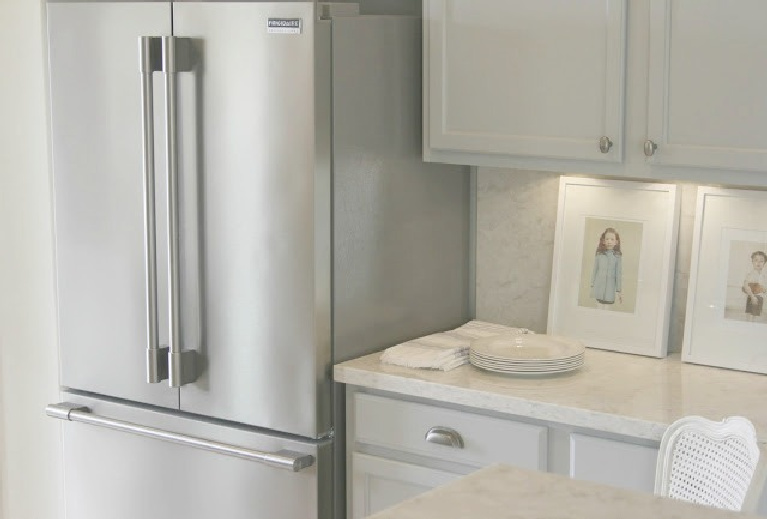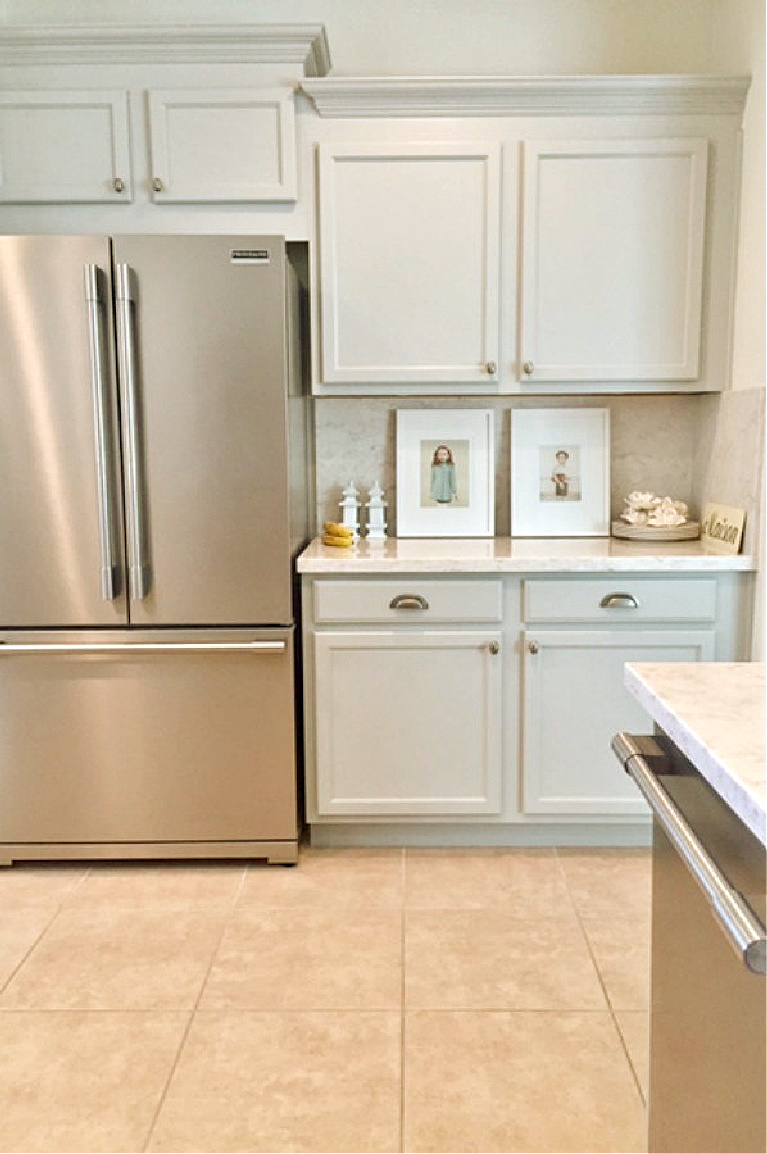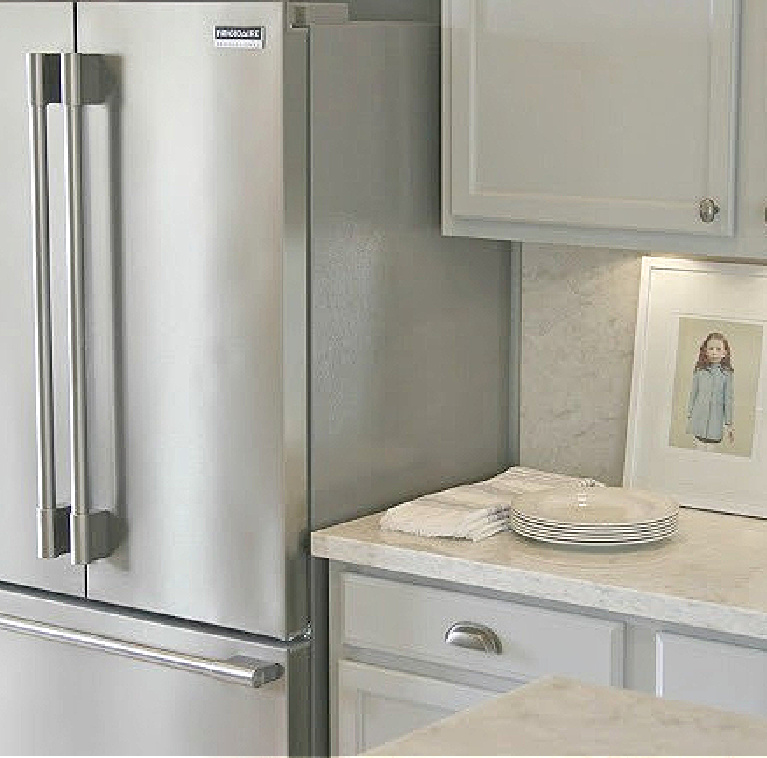 High Quality Cabinet Hardware
The cabinets we inherited came with no hardware so when we upgraded to the magnificent, hand-forged bronze cabinet hardware from Top Knobs (Aspen Collection)…ooh la la!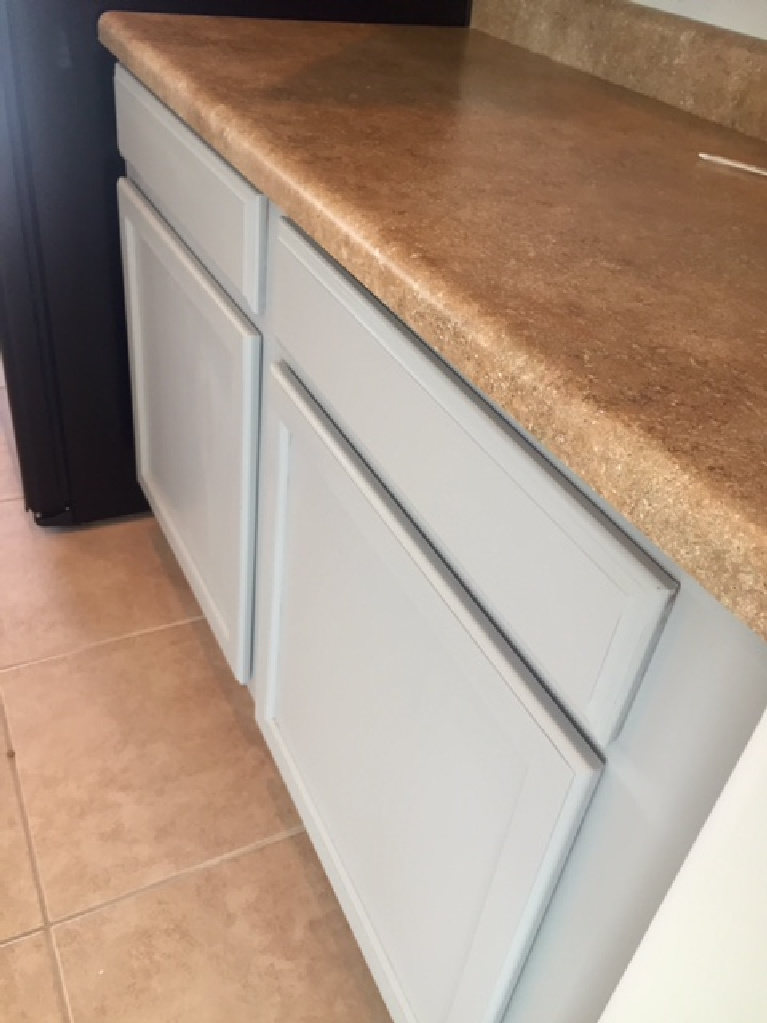 What a profound impact, beautifully timeless pewter finish, and function this simple DIY upgraded addition made.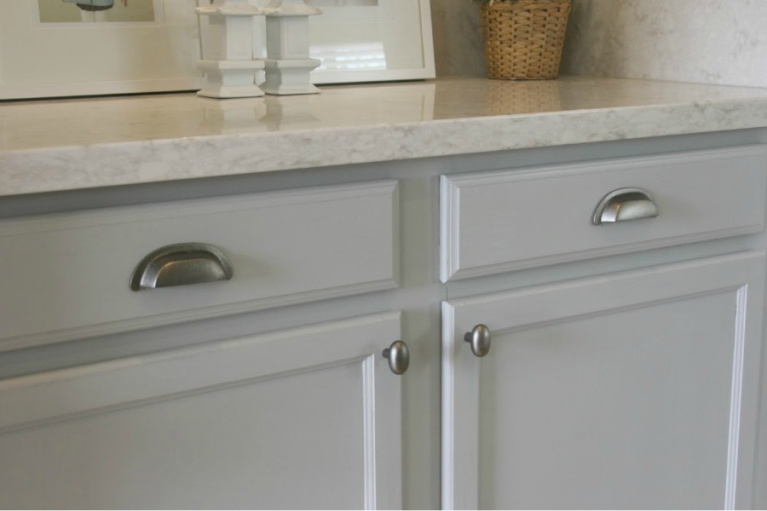 Low Cost Kitchen Upgrade: Under-cabinet Lighting
We installed inexpensive battery-operated puck lights beneath the cabinets for easy mood lighting.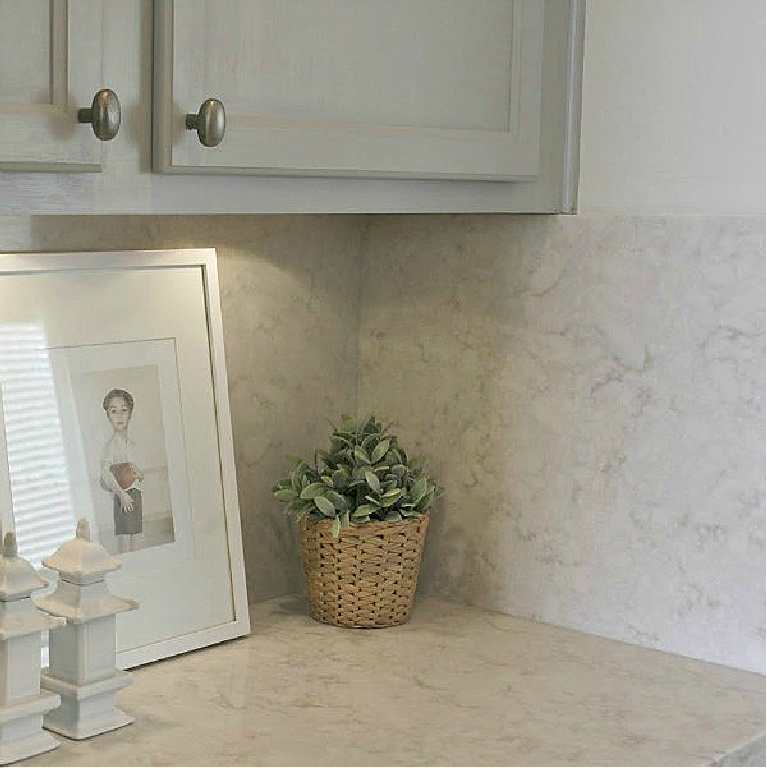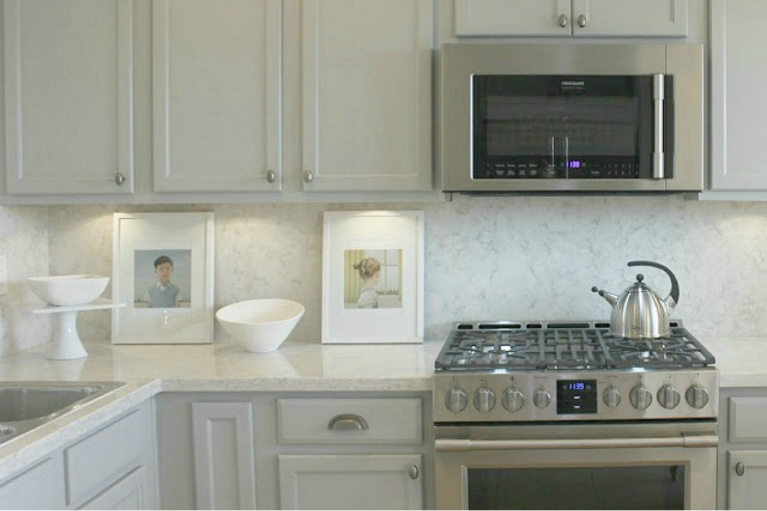 Inexpensive Kitchen DIY: Grey Painted Cabinets
This kitchen receives strong southern light, and since I wanted a blue-grey color for the cabinets, I chose a color that may actually be considered a medium grey. With so much light, it reads light grey in this space.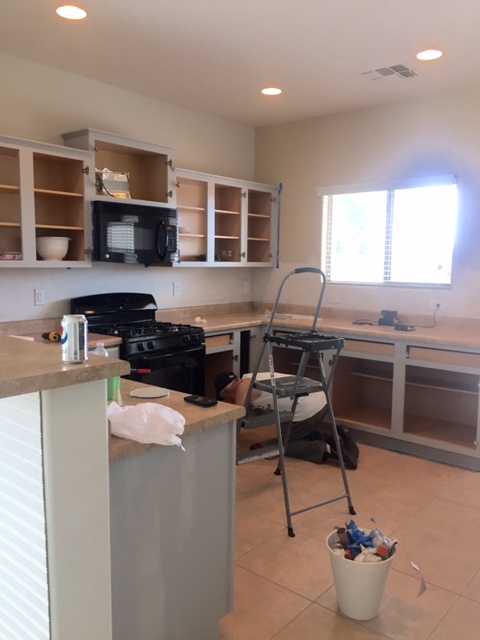 The paint color is Behr Classic Silver in a satin finish.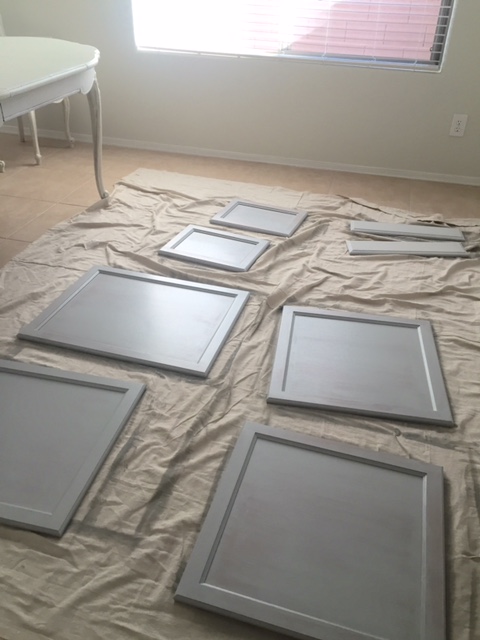 During…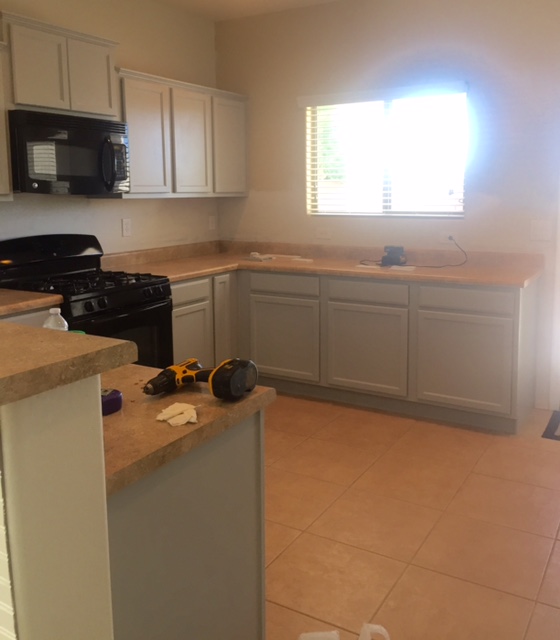 After…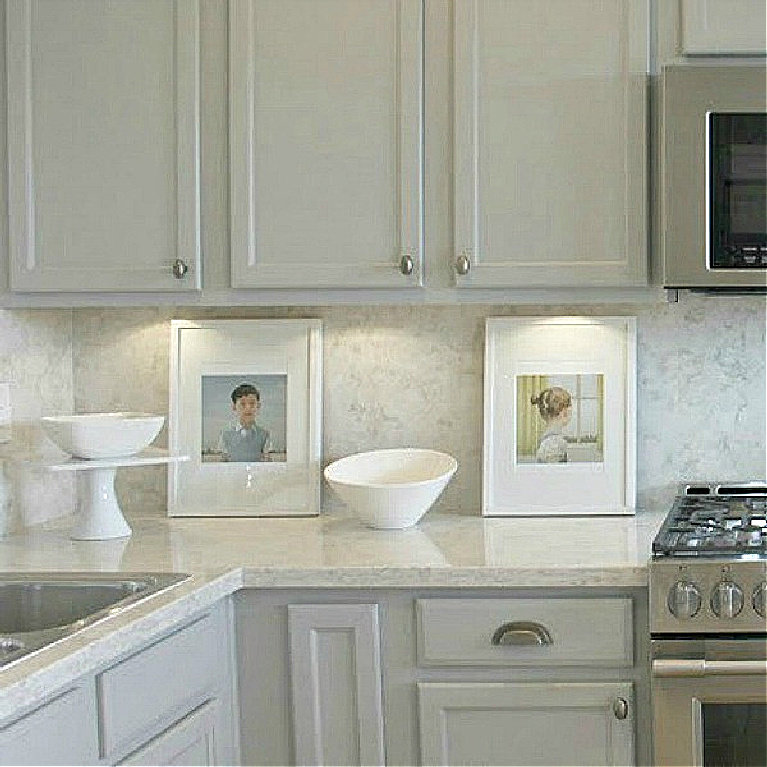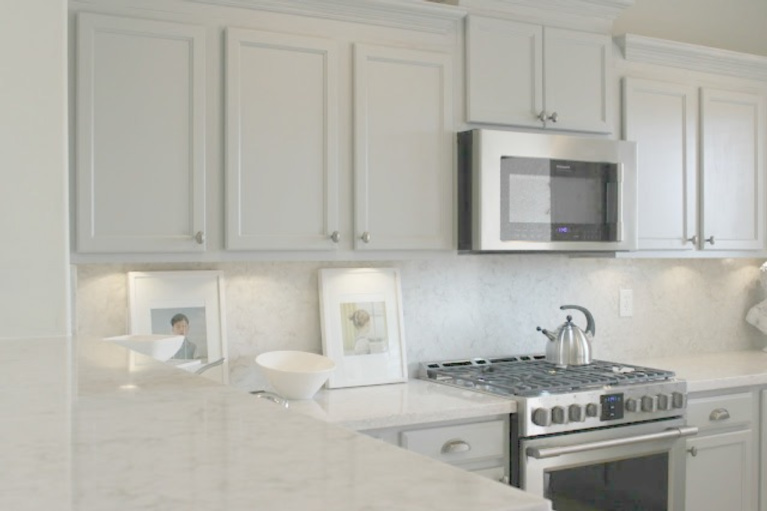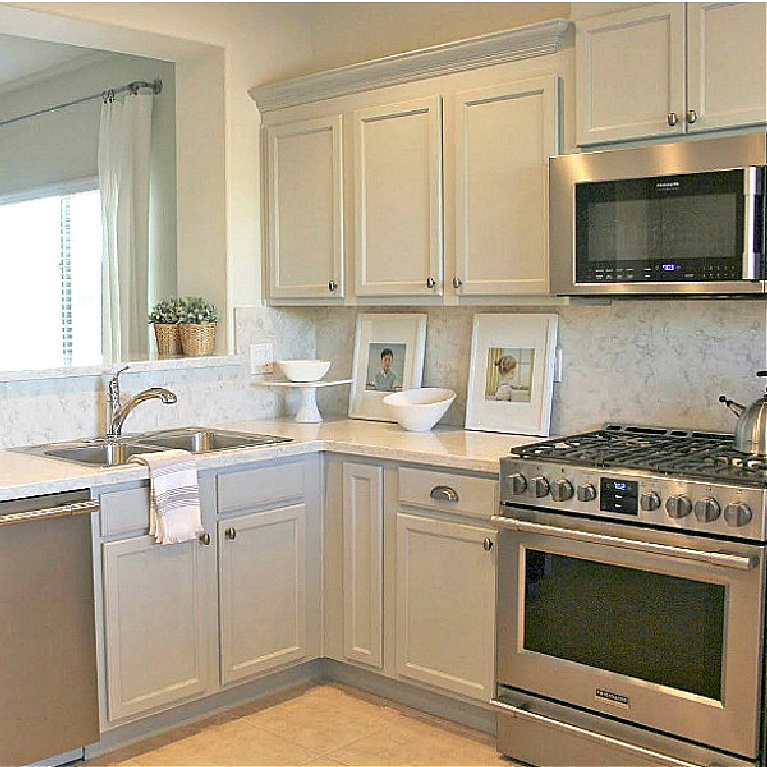 Smart DIY Upgrade: Shaker Trim Around Window
Adding a simple wood trim around the window made a huge difference for me and probably cost $10. If we had kept the house a little longer, I would have added plantation shutters to many of the windows.
Low Cost Kitchen Design Detail: Beadboard Panel on Breakfast Bar
Just like our main house, we installed horizontal beadboard paneling on the breakfast bar. For less than $20, you get a more durable surface and cottage charm.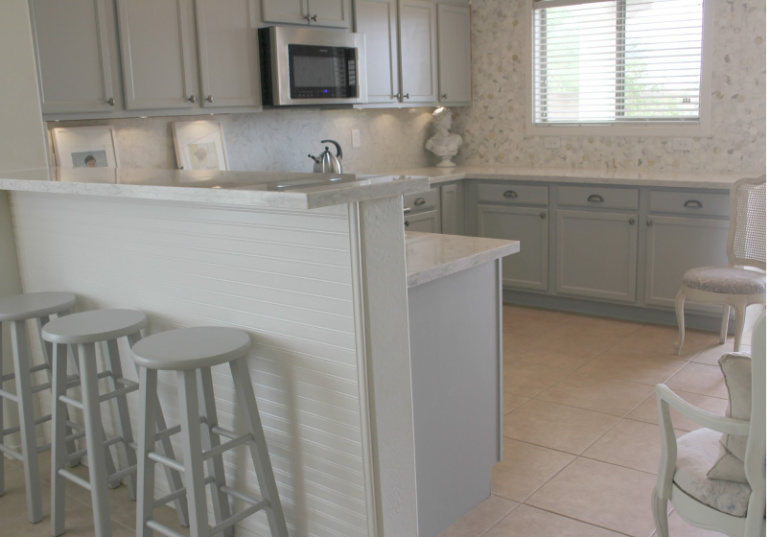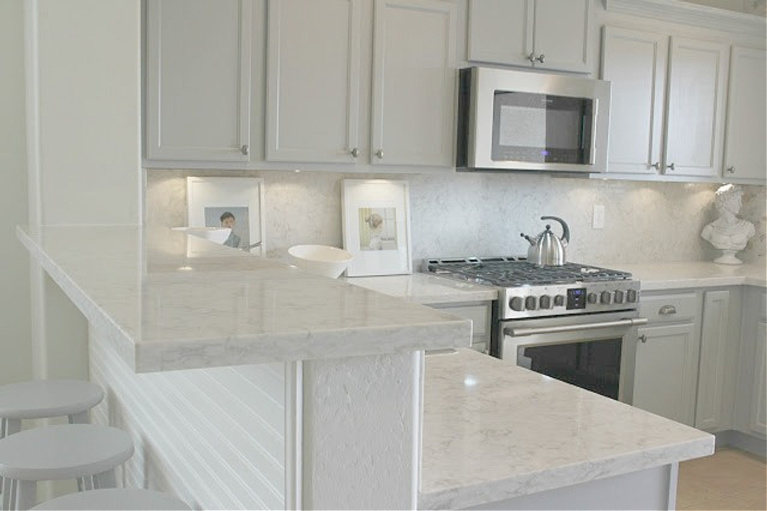 Smart Addition to DIY Makeover: Riser & Crown Molding on Cabinets
With 9′ ceilings in here, I knew we could add a piece of riser moulding to the top of the cabinets and then top it with a beefier crown.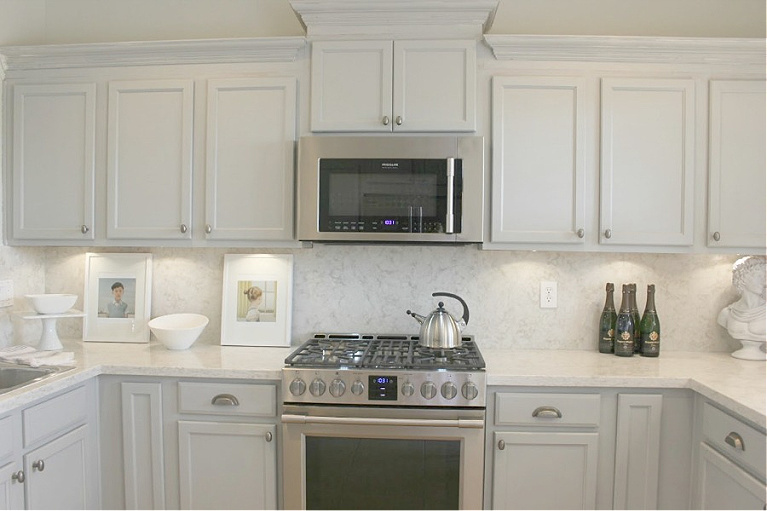 This is a low cost way to customize cookie cutter, builder-grade maple cabinets that look like a bunch of boring boxes.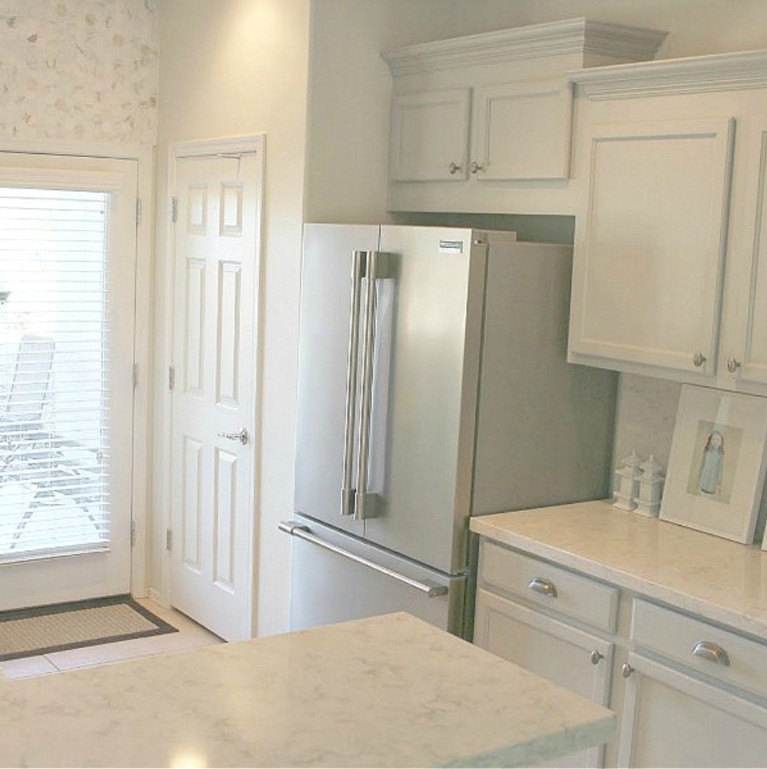 Other Ways We Saved Money
We kept the existing footprint. I didn't even think of changing it because I knew that would mean headaches, dust, and surprises!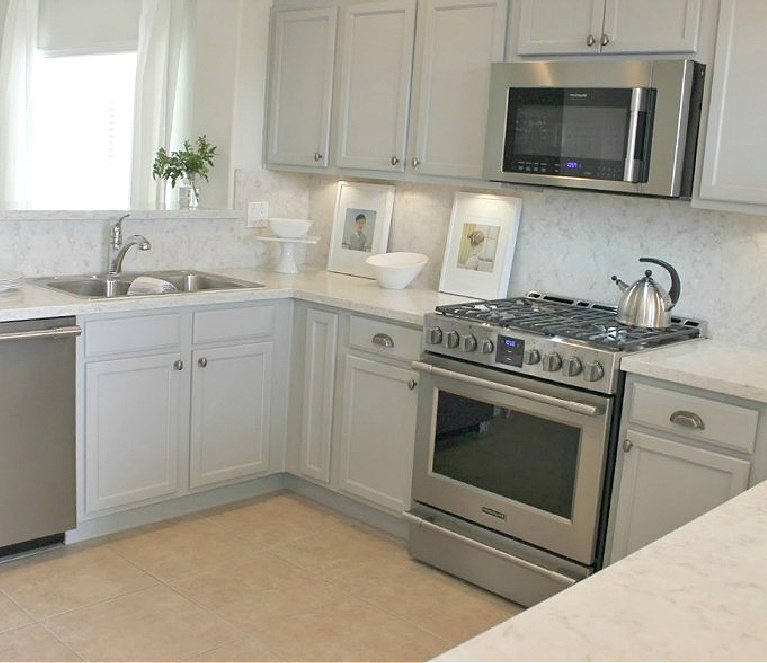 Worked with the existing flooring. While I love wood floors, the linen color of the existing porcelain tiles worked with the plan for a serene kitchen so they stayed.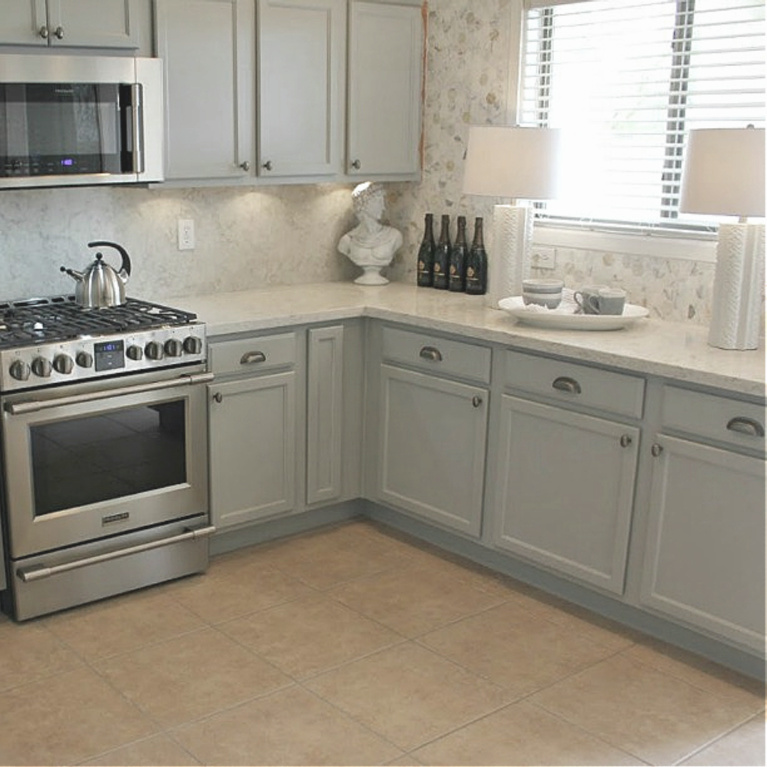 Kept the existing stainless sink and faucet. I seriously considered adding a farm sink in here, but since it would involve re-working the sink base, carpentry work, and plumbing changes, I used the perfectly fine stainless features we inherited.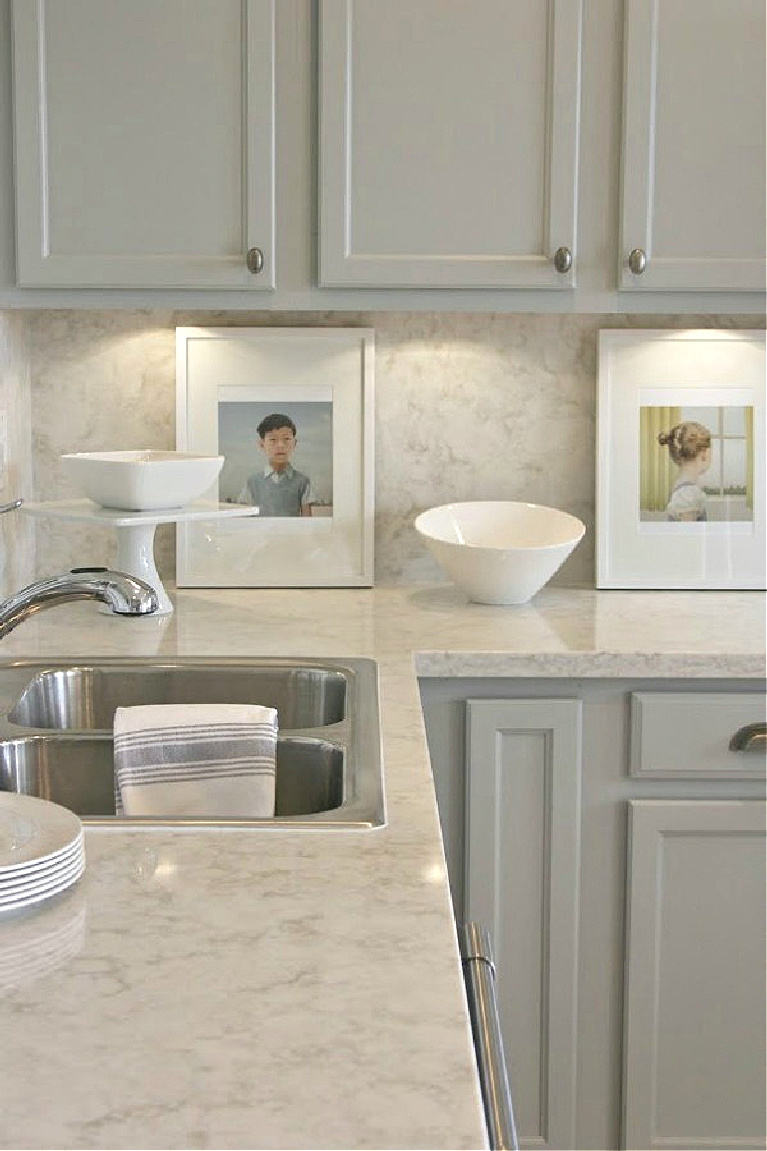 Shopped local estate sales and Ikea for decor. I had so much fun picking up little things to try from Ikea and shopping estate sales. (The frames for the prints and succulents came from Ikea.)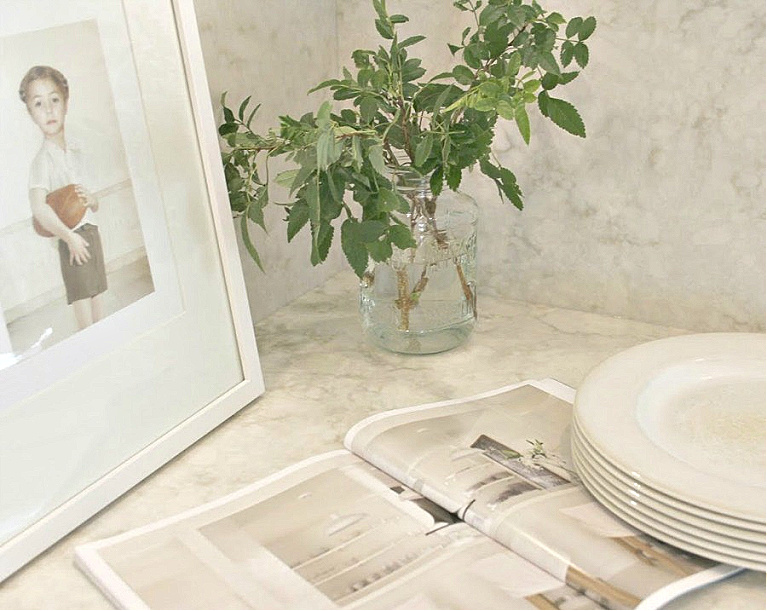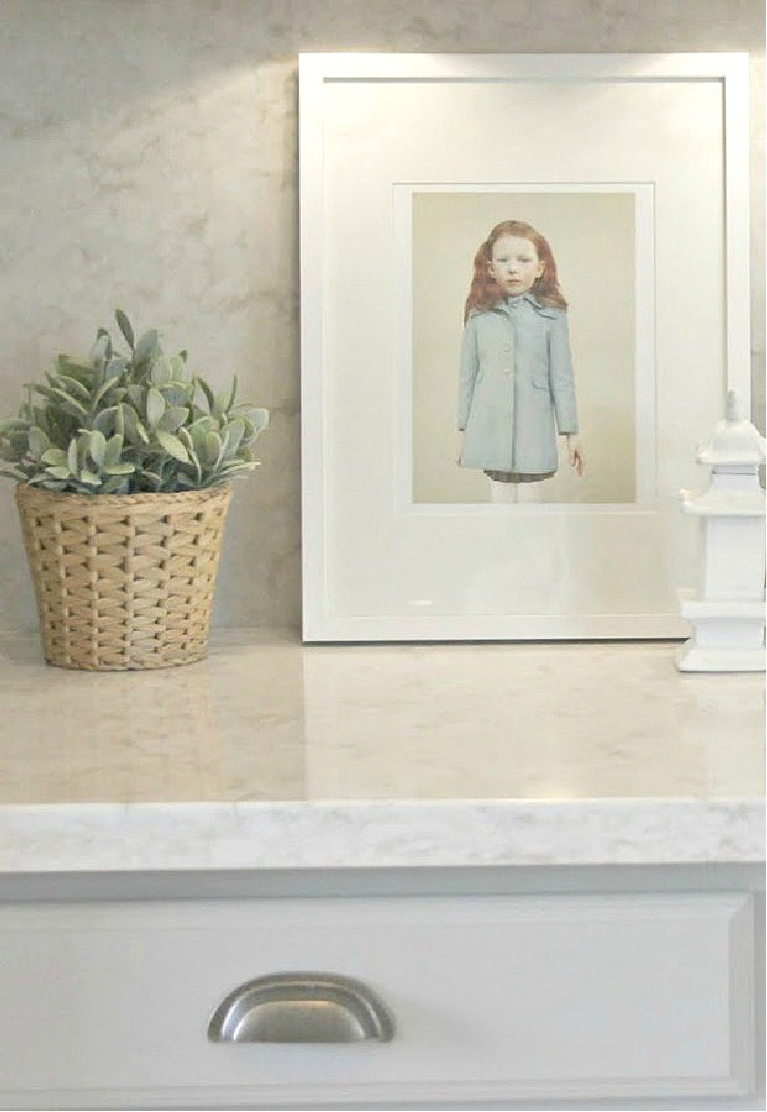 Calacatta Gold Mosaic Tile
For a calacatta marble hex mosaic option with predominantly light grey and white tones and without the gold and caramel, this option is a glorious one too:
Paint Colors Used in Kitchen
Wall Paint Color: Valspar Salute (7006-12).
Cabinet Paint Color: Behr Classic Silver.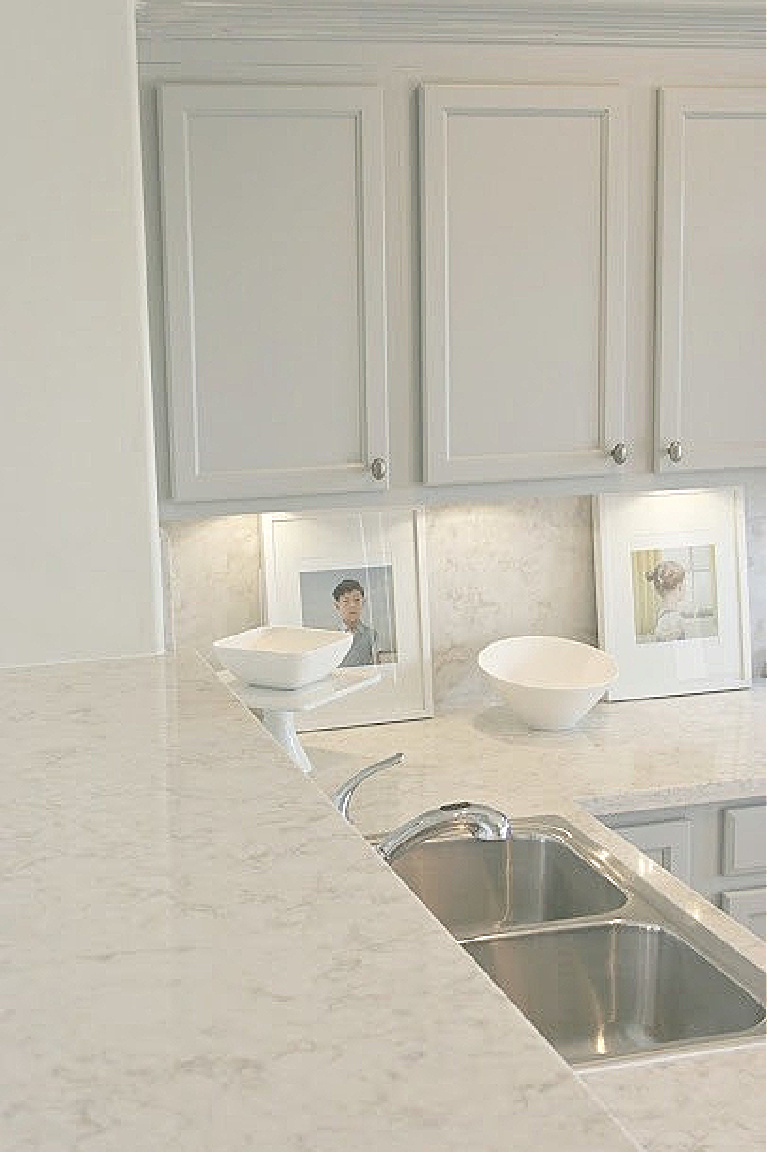 Behind the Scenes Glimpses
To give the exterior wall of the kitchen extra wow factor and interest, we installed gorgeous Calacatta Gold marble hex wall tile, and I knew it would be perfect paired with the Soprano quartz which has swirls of caramel and grey.
Calacatta Gold has a range of natural variation in the marble, and I love how the creamy white/grey/caramel tones play off the cool blue-greys elsewhere.
While it may have been too busy a choice if used for the backsplash elsewhere, as a statement wall, it makes a bold statement without being overkill.
There are plenty of other simple elements in the space that keep the overall look calm, yet the interest of the natural stone minimize the boring factor.
Before the crown molding was painted…
Detail of honed marble:
Before/After Arizona Kitchen
Thanks so much for checking out this before/after. Do let me know if you have any questions, but keep in mind I can't take any photos since we sold the house!
FIND THE RESOURCE GUIDE WITH LINKS TO construction materials, decor, appliances, and paint RIGHT HERE!
Did you miss my post with adorable fall tablescapes? I shared some lovely pinnable quotes and this poem which I adore: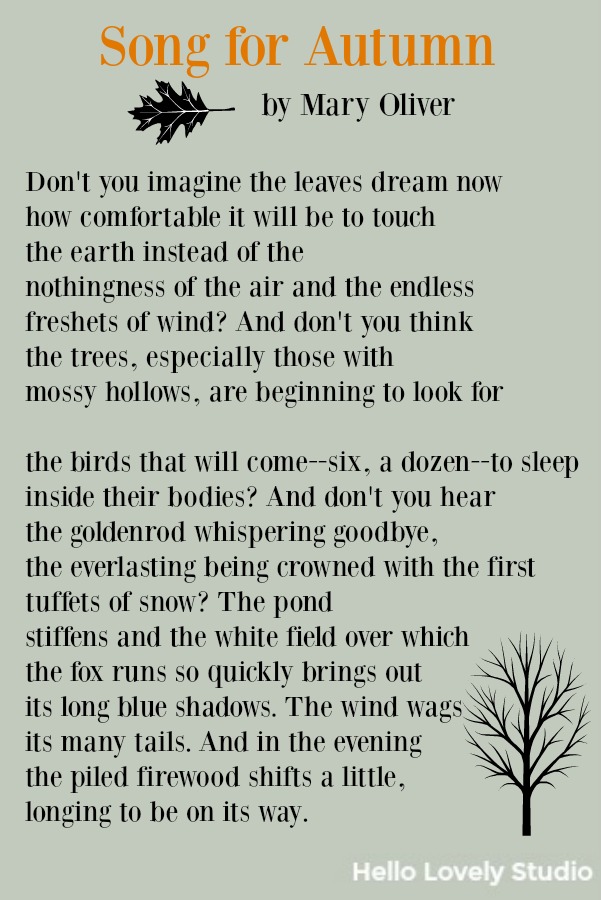 Thank you kindly, Viatera, The Builder Depot, and Top Knobs
for providing beautiful materials in this kitchen makeover.
I independently selected products in this post—if you buy from one of my links, I may earn a commission.
Peace to you right where you are.
-michele
Shop for items you already intended to buy on Amazon RIGHT HERE, and also find home decor here to keep decor inspiration flowing on Hello Lovely!
Hello Lovely is a participant in the Amazon Services LLC Associates Program, an affiliate advertising program designed to provide a means for sites to earn fees by linking to Amazon.com and affiliated sites.