Happy October, pumpkin! Here's the the thing about Thanksgiving table inspiration and tablescape ideas in general. The host is usually so busy with a mile long list of tasks to complete for ONE DINNER that there is simply no time to snap pics when everything appears perfect and ready for guests! So there does appear to be a shortage of documented inspiring ideas, and I'm oh so grateful for the bloggers and designers who managed to get a photo! Oh, and painted pumpkins. I will never see enough of them. Cozy Thanksgiving Tables & Painted Pumpkins is comin at ya, ready for not.
Do TAP TO PIN THIS POST to save it for future reference!
Cozy Thanksgiving Tables & Painted Pumpkins
1. Make it a Bountiful Beginning
You know your blogging girlfriend loves a cheesy beginning to ANY bash in any season, and Thanksgiving lends itself to bounty!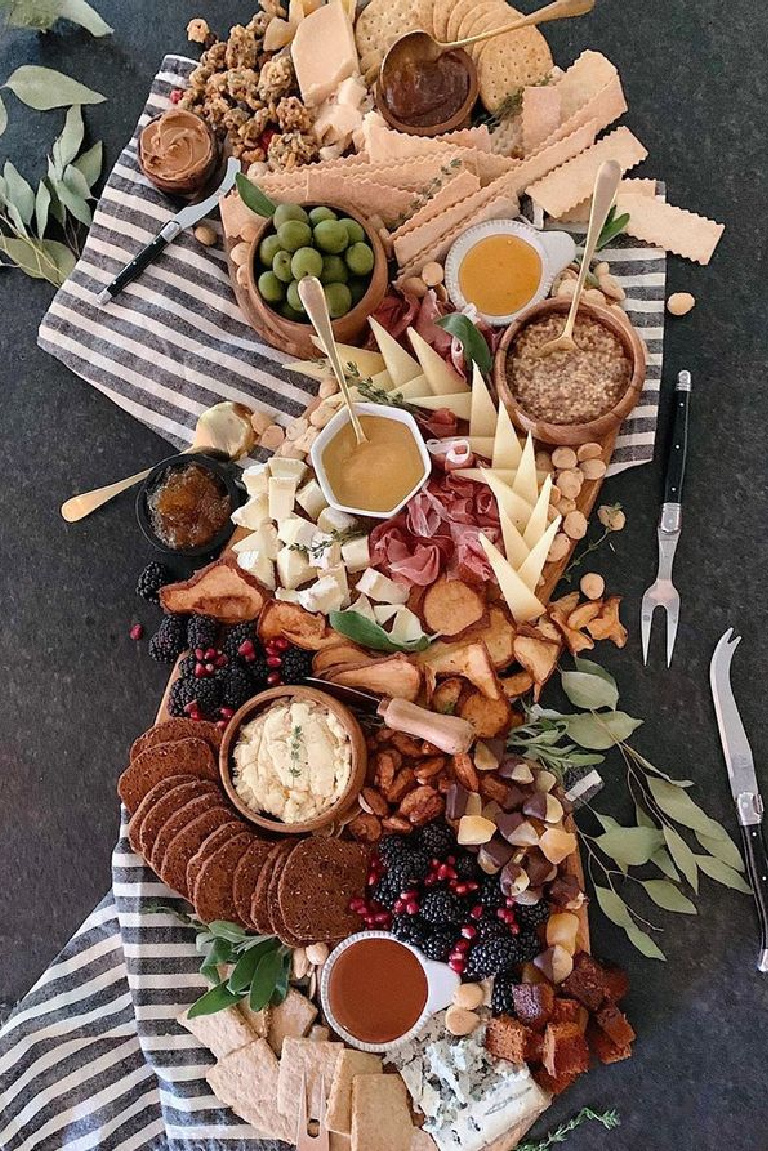 ABOVE: @brieherenow…hello scrumptious indeed.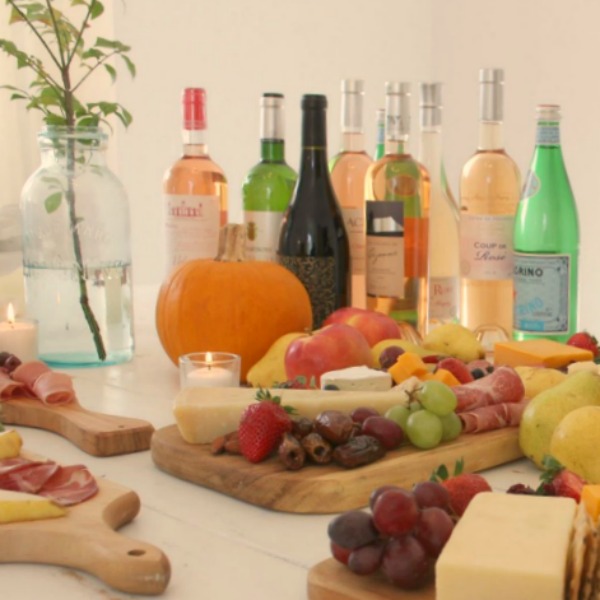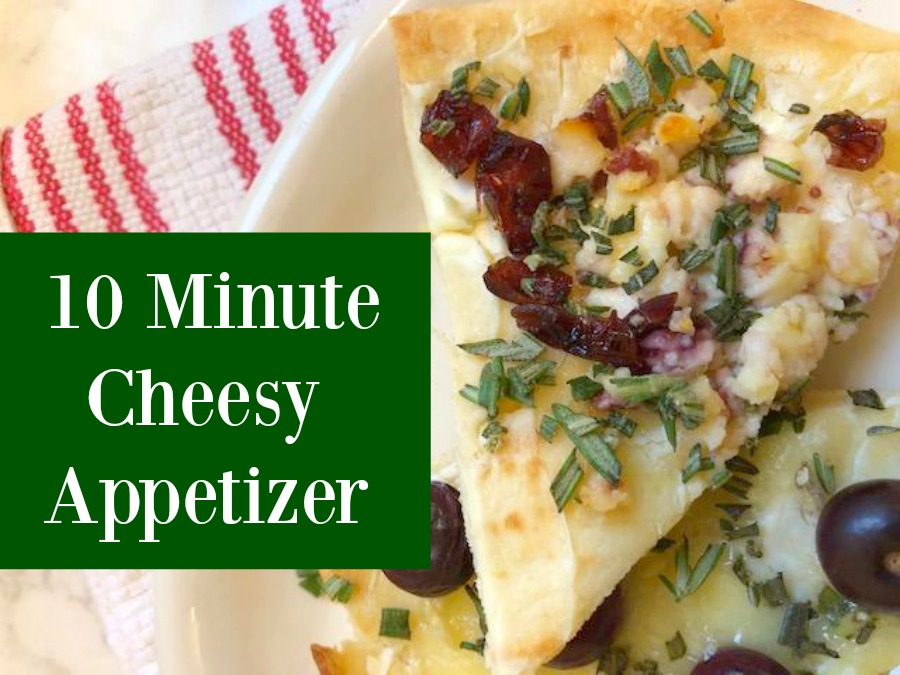 Find my easy cheesy recipe HERE.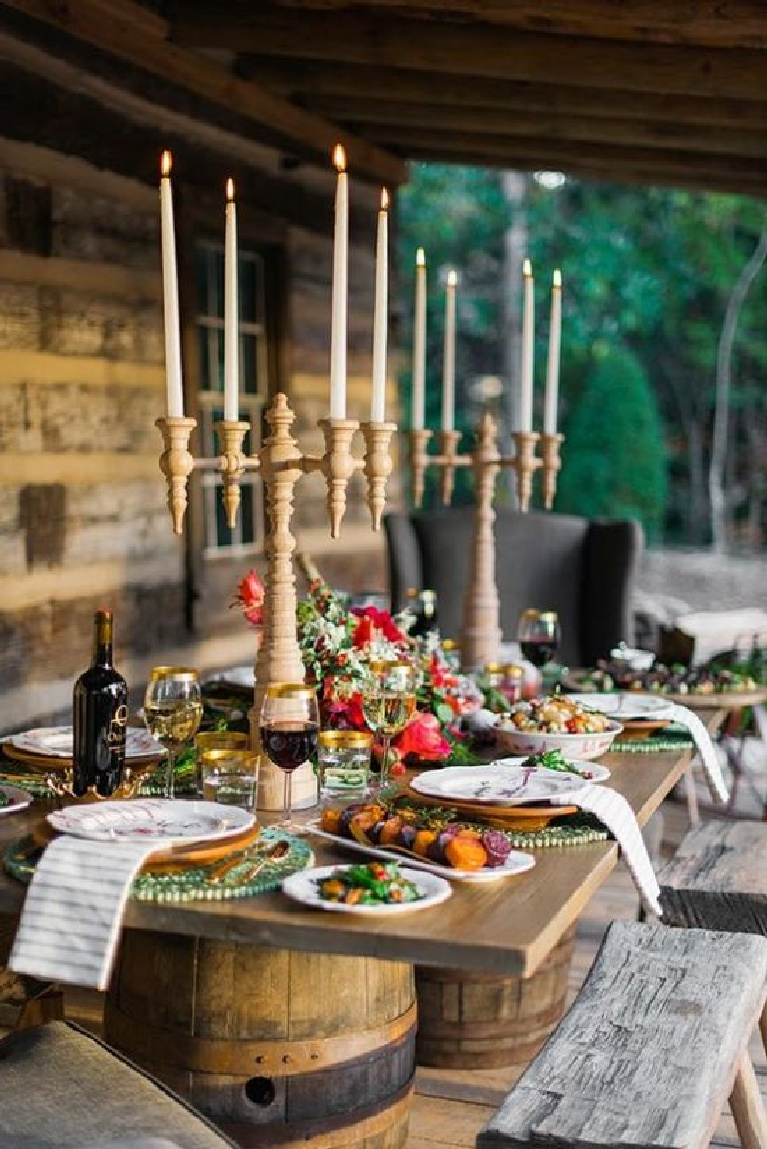 ABOVE: society19…hello lovely indeed (and sometimes just the gold rimmed wine glass can inspire your whole design!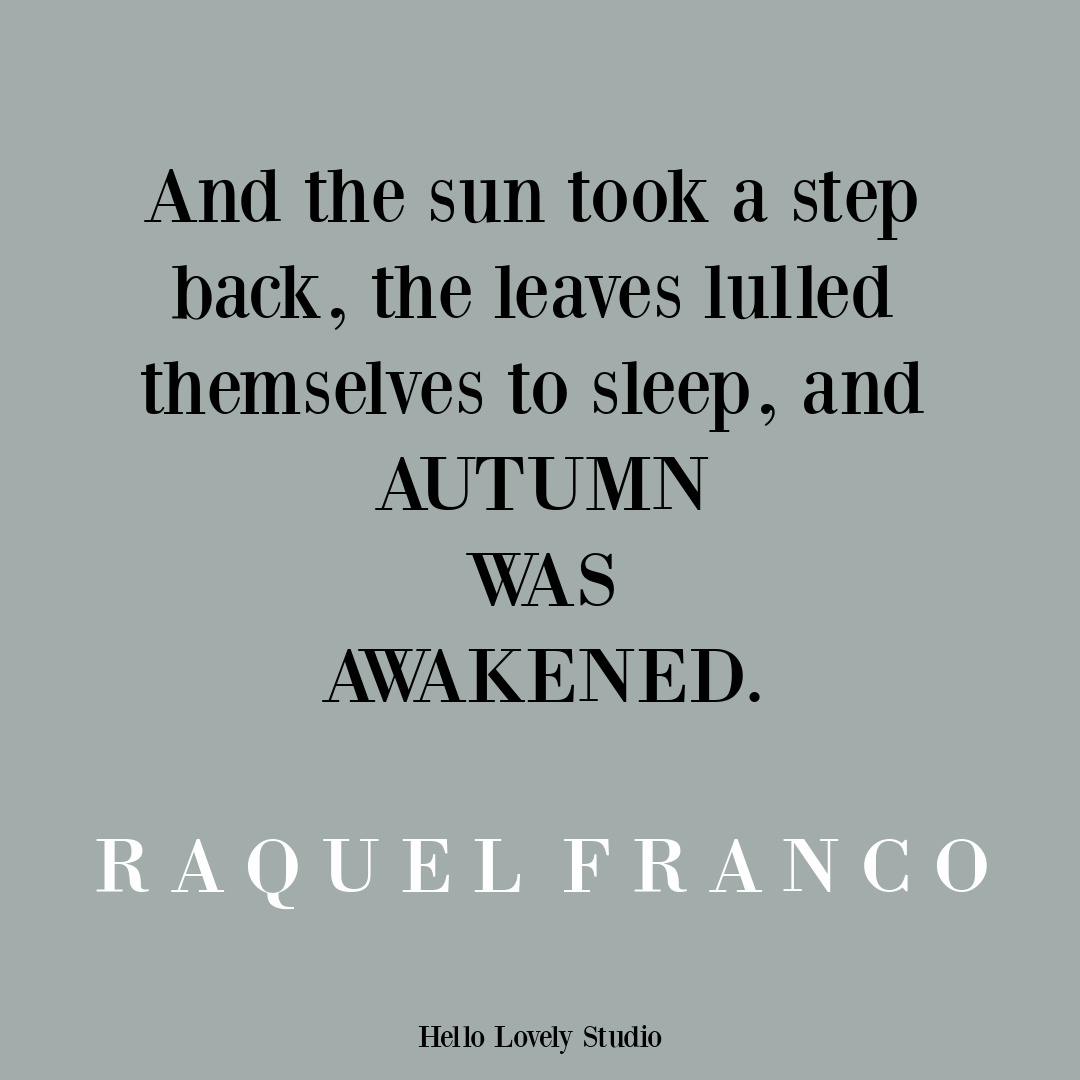 2. Mass Vintage Brass Candlesticks
Could the heart of your tablescape design truly be as simple as a bunch of thrifted brass vintage candleholders?
Yes, m'am.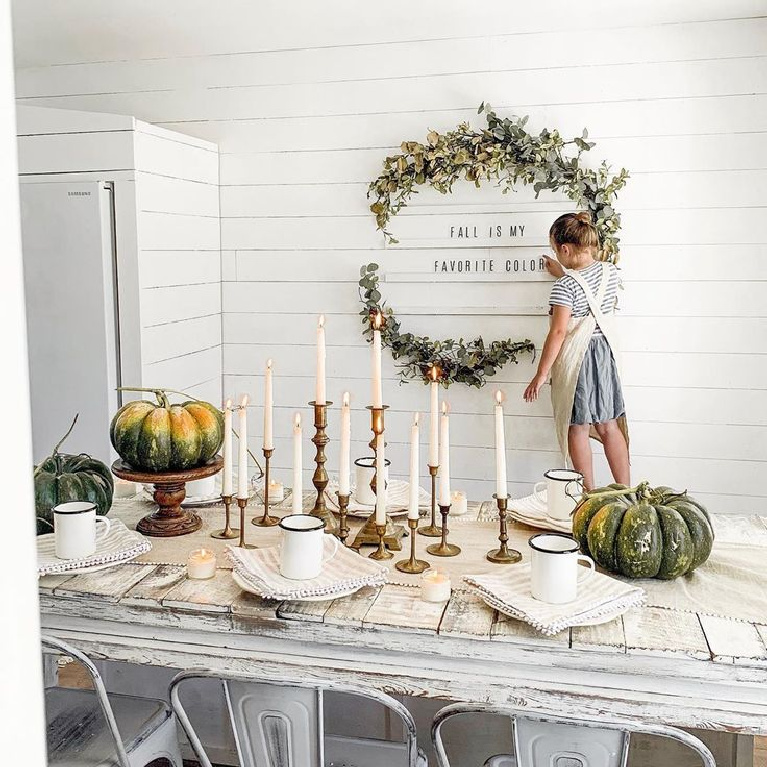 ABOVE: @welivedhappilyeverafter…hello darling indeed.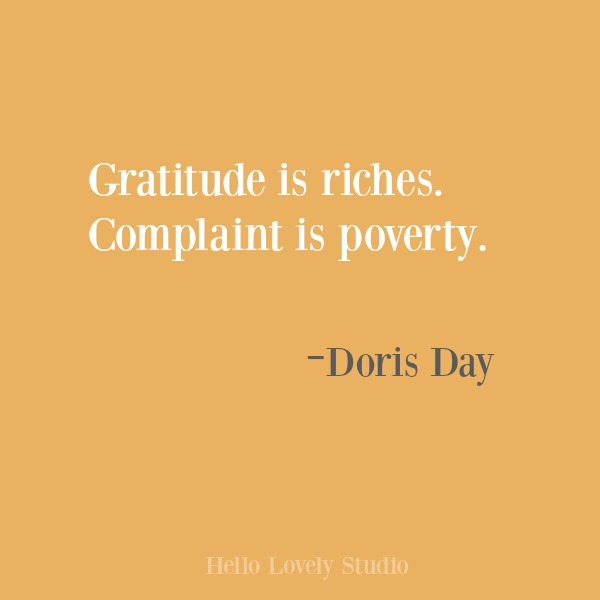 3. Intimate Garden Affair
Pandemic era Thanksgivings may be marked by less chairs gathered 'round the table, yet cozy intimate dinners are possible when they mosey out into nature.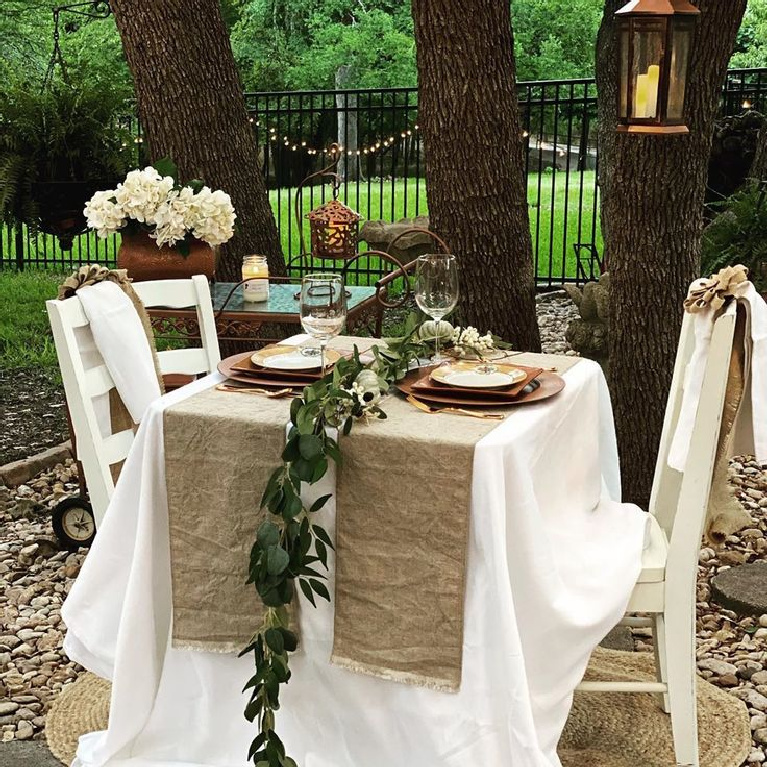 ABOVE: @vintagejoycemarie…hello cozy indeed.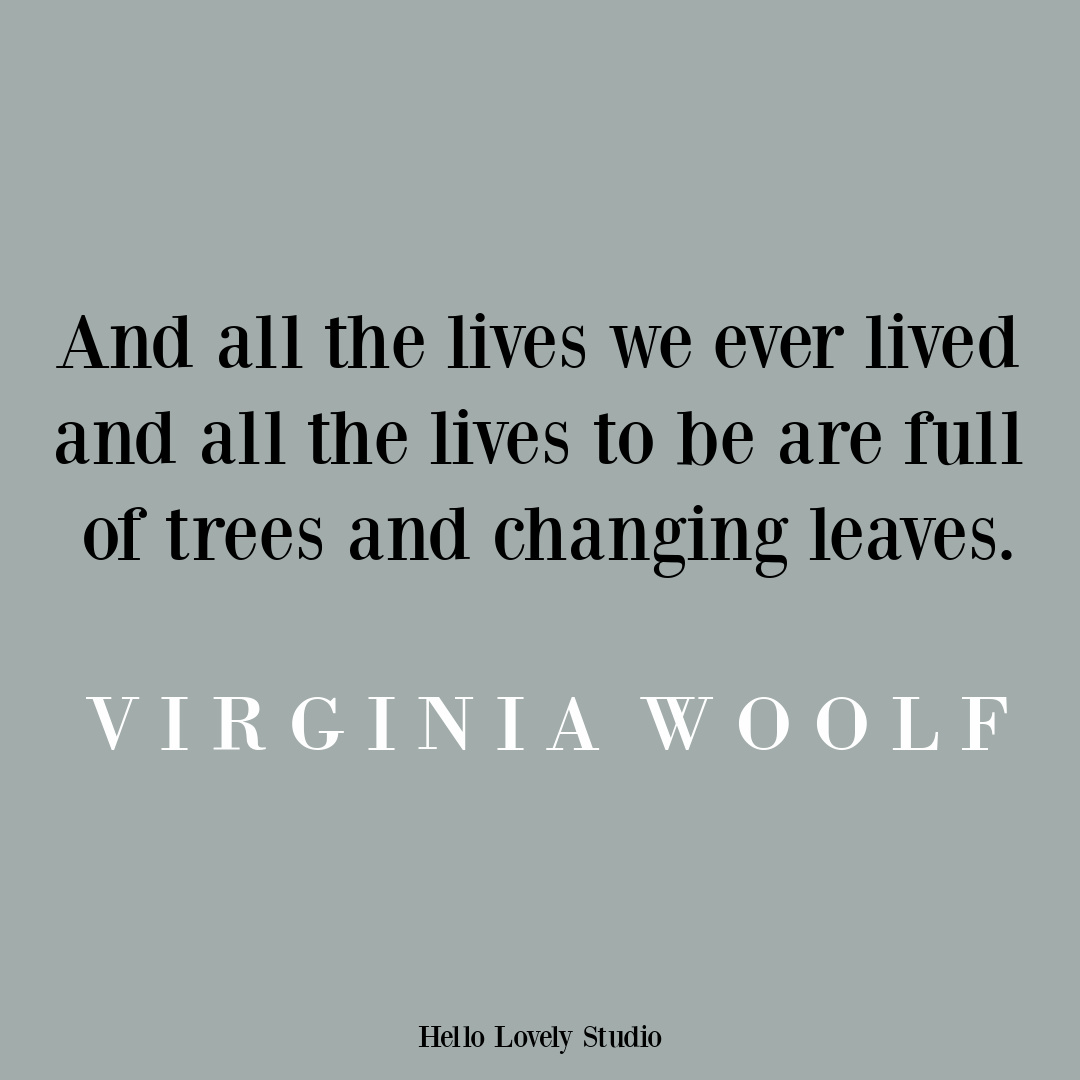 4. Black Buffalo Checks
They are perfect for Halloweenie gatherings, harvest dinners, and holiday soirees so maybe black buffalo check linens are THE country staple in your pantry.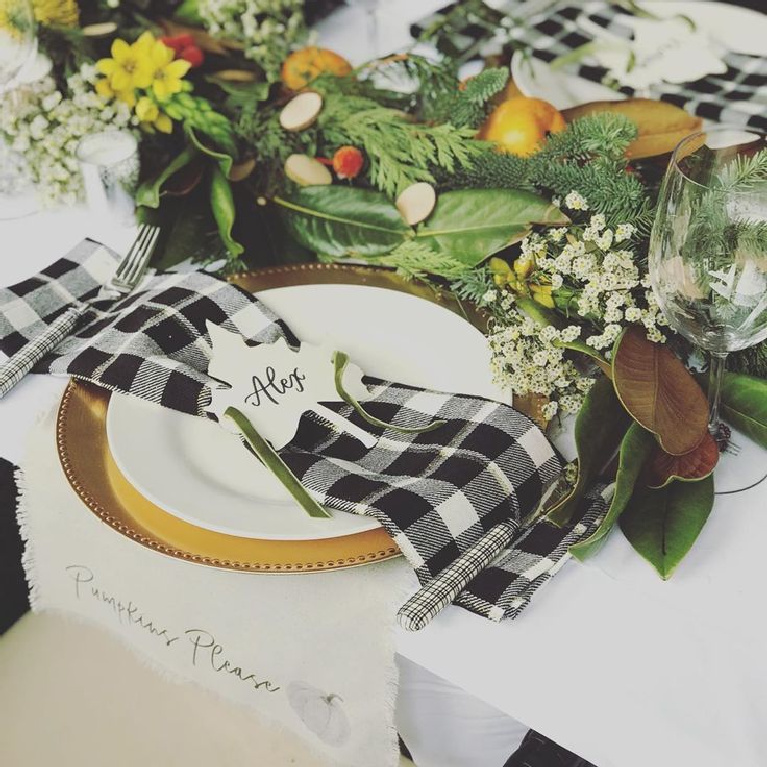 ABOVE: @theintimateevent…hello charming indeed.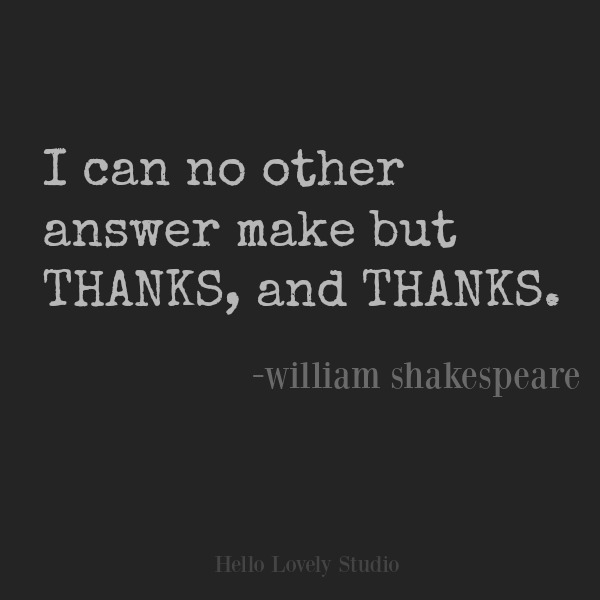 5. Amber Bottles & Organic Modern Rustic
If you love a modern rustic table and have access to wild branches and dried florals from the yard, maybe an assortment of amber glass will tie it all together easily.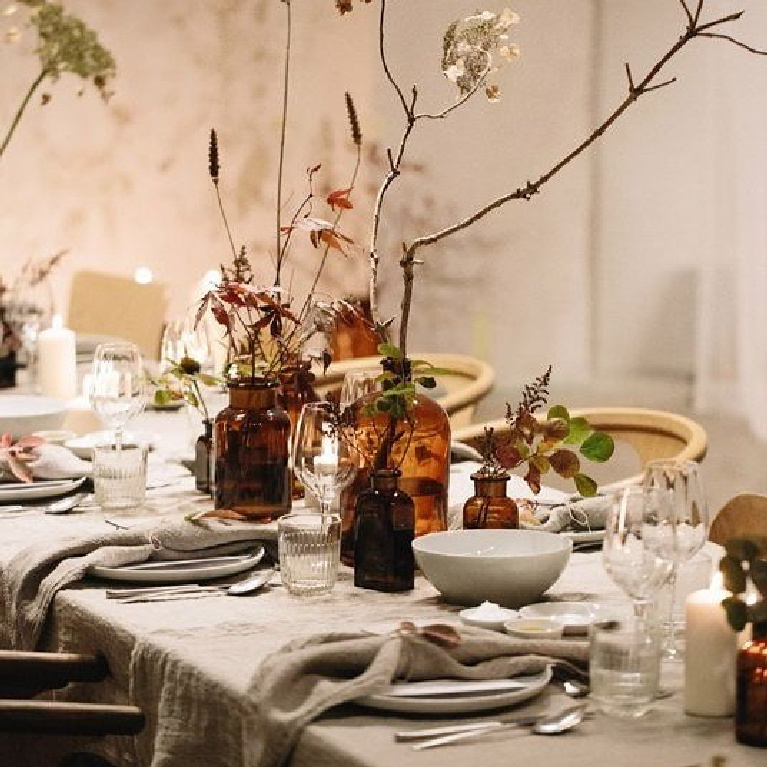 ABOVE: @saltpoppy…such a gorgeous natural tablescape indeed.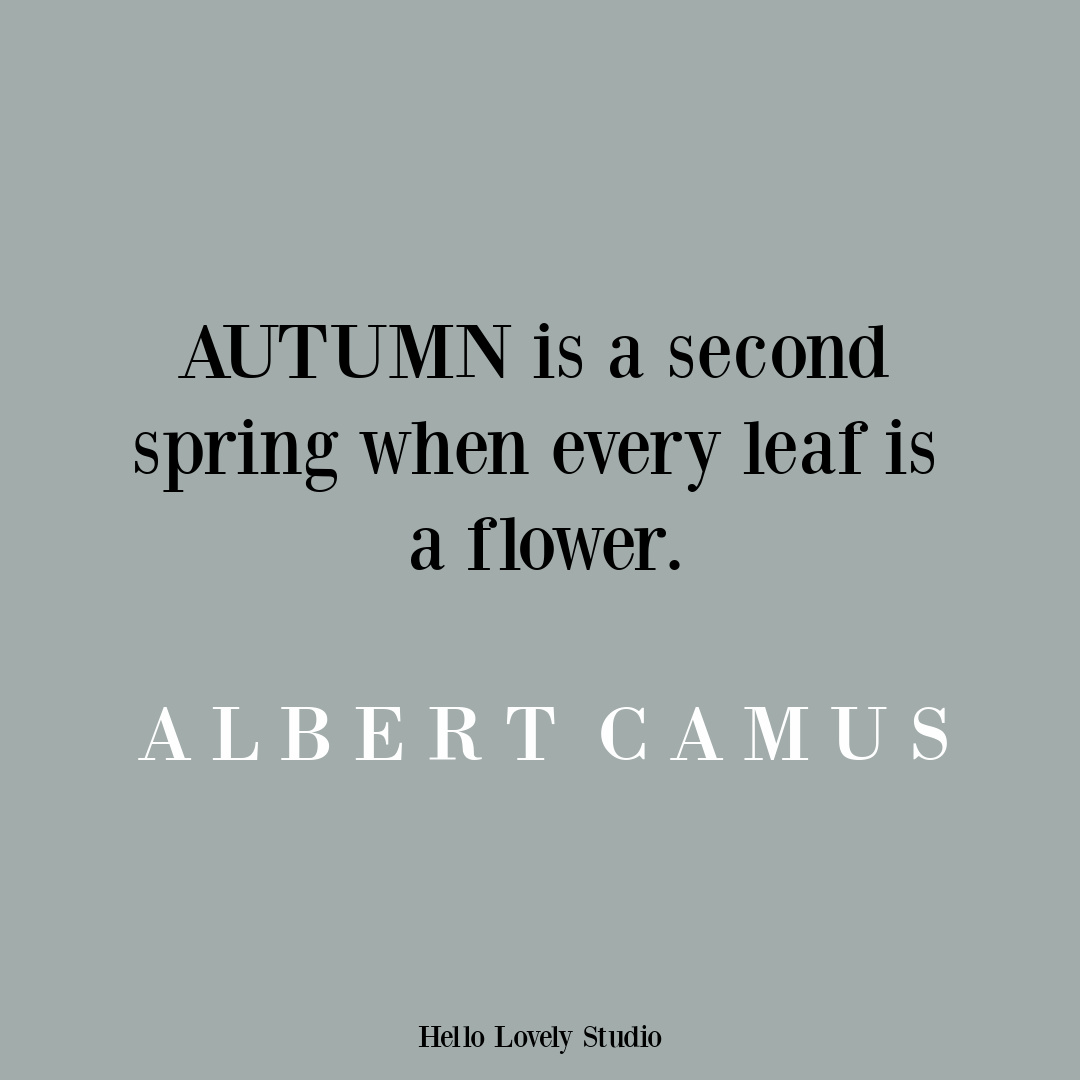 6. Edible Centerpieces
Ever sampled a pie cake? This one on the table is destined to get all the attention! (I'm also smitten by the washed rosy velvet beneath this gorgeousness!)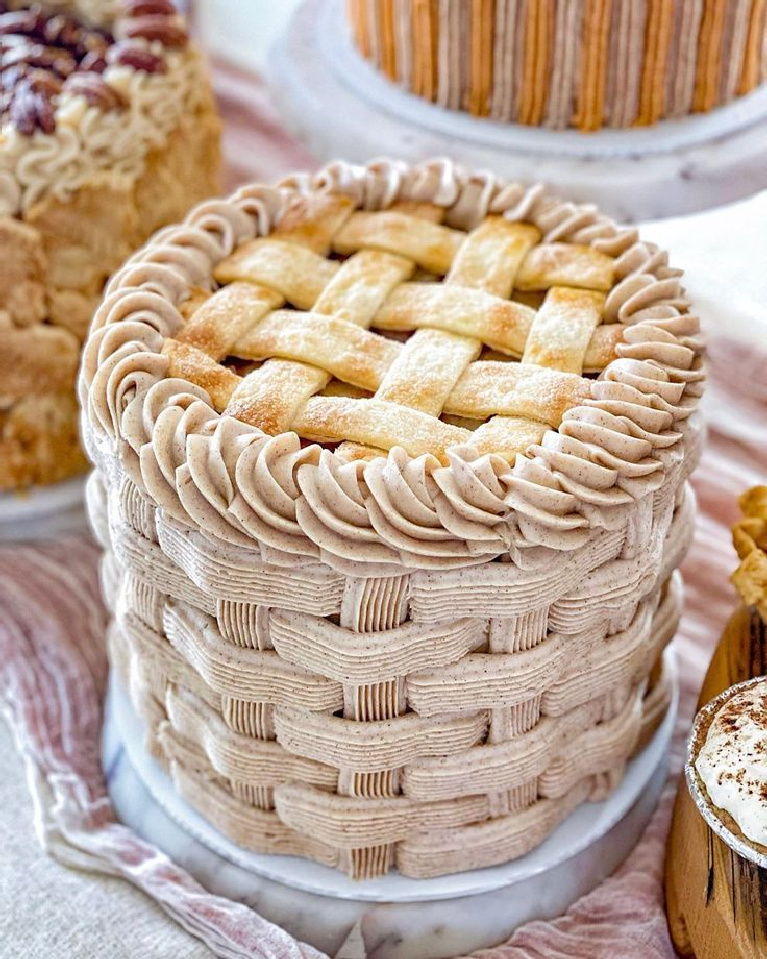 ABOVE: @livingbeautahfully…hello deliciousness indeed.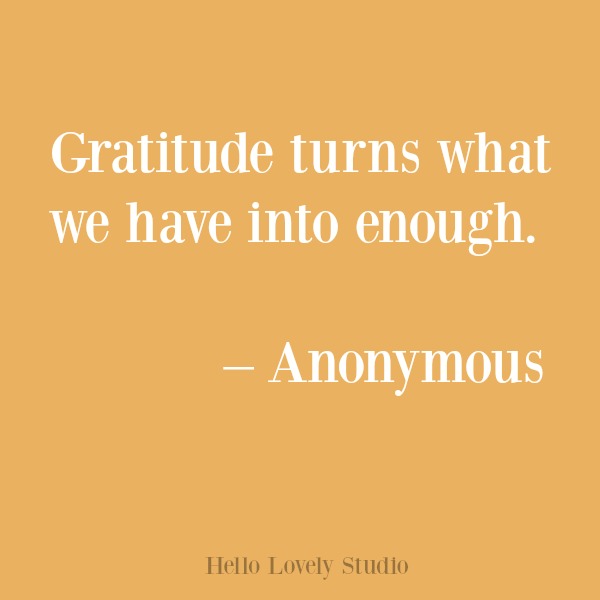 7. Orange Candles
Ever set the table with orange taper candles? Since it's not a favorite color over here, I'm not likely to throw them in my cart, but when I see them outdoors like this paired with green…hello lovely.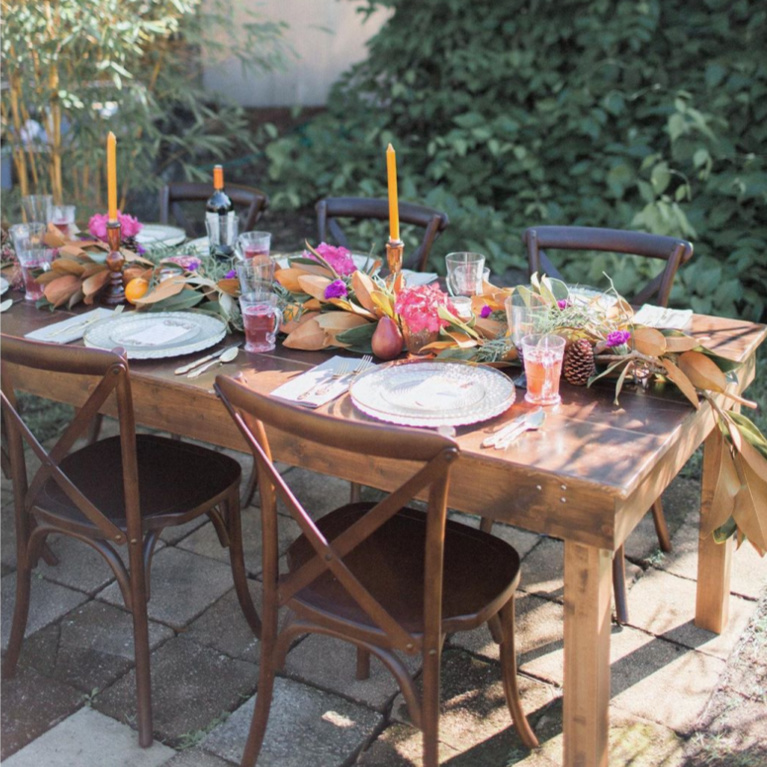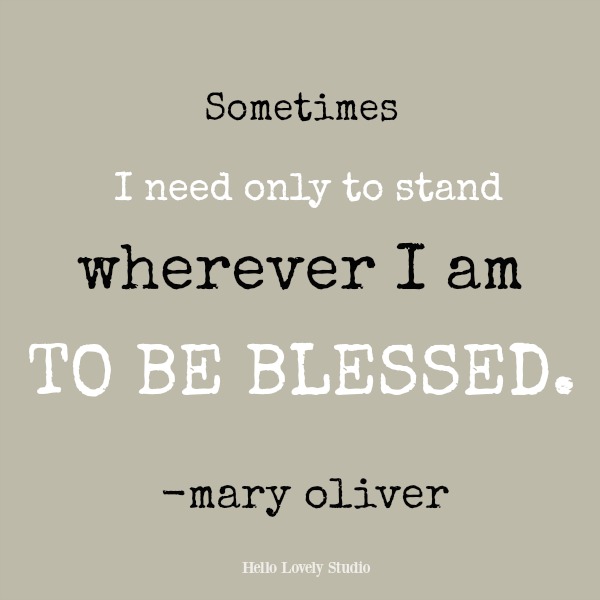 8. Golden Pears
Fresh or everlasting, golden pears with a spray of eucalyptus or a branch from the yard can be a winning combo.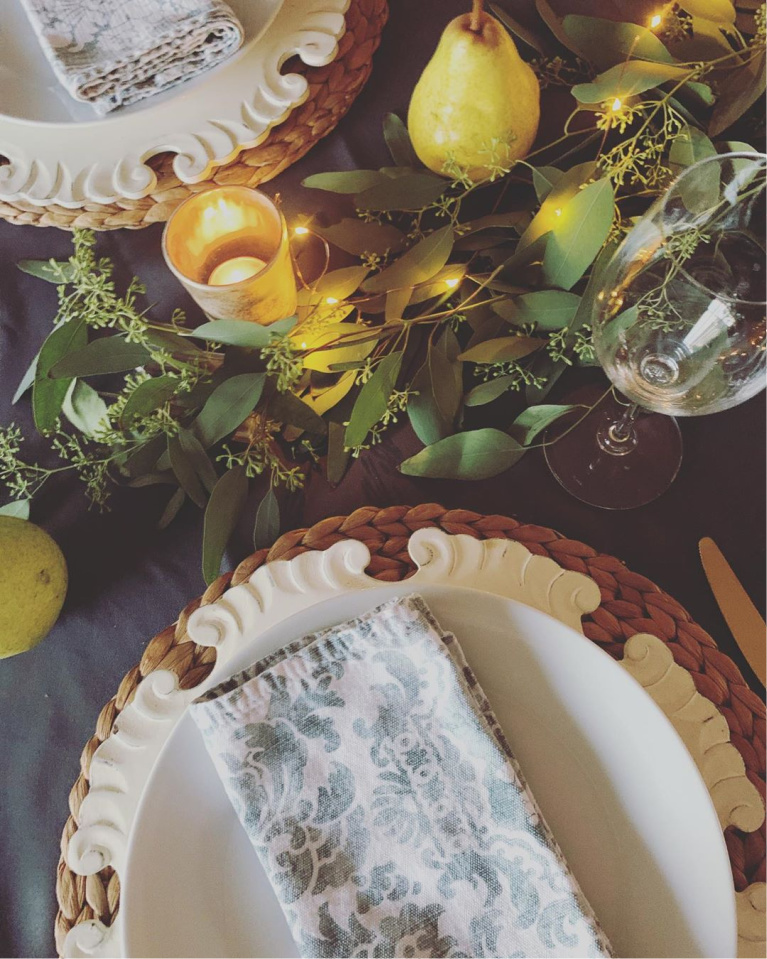 ABOVE: @saeconne…hello pretty indeed.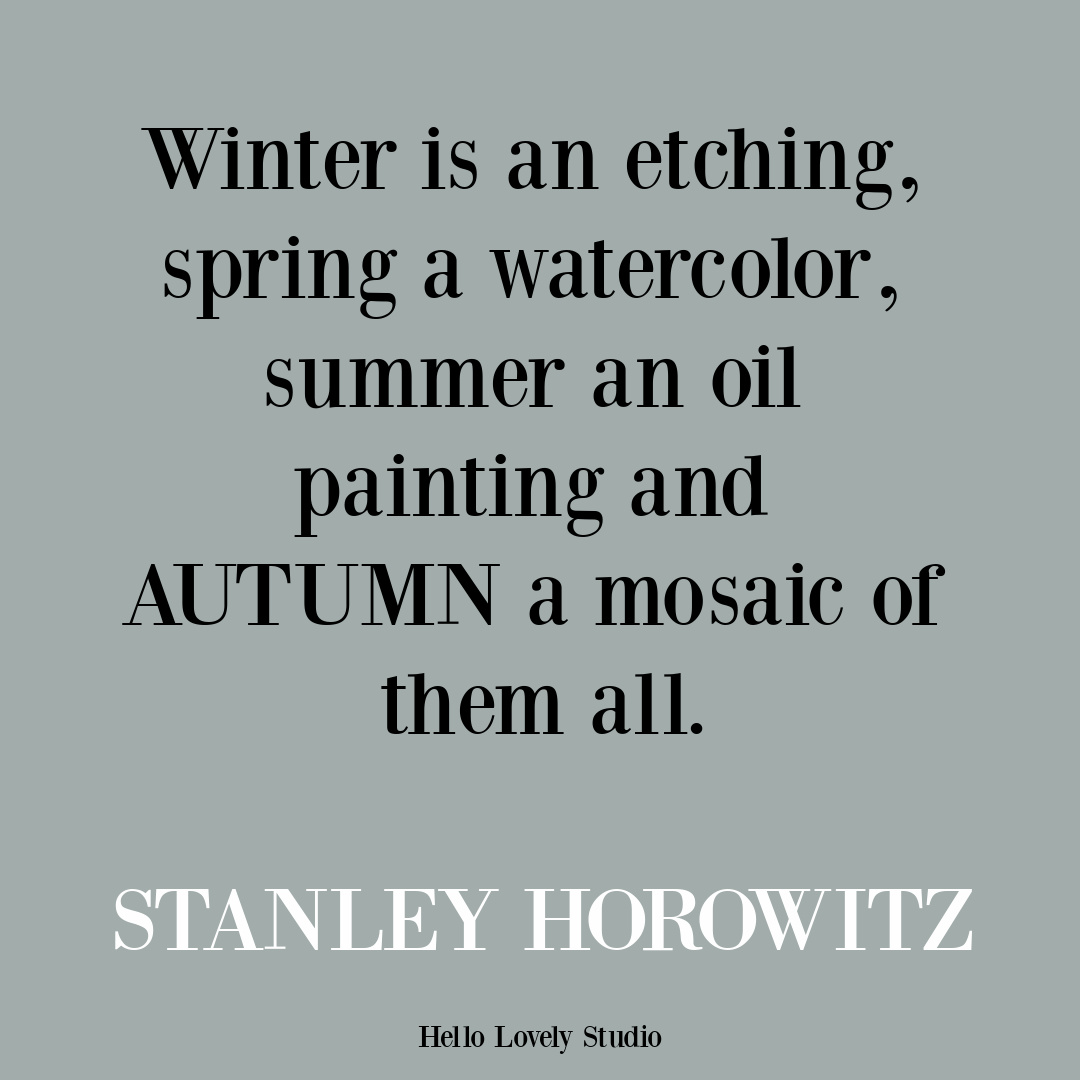 9. Pumpkin Paradise
Sometimes it's nice to see a repeated design element from nature to which we all have access!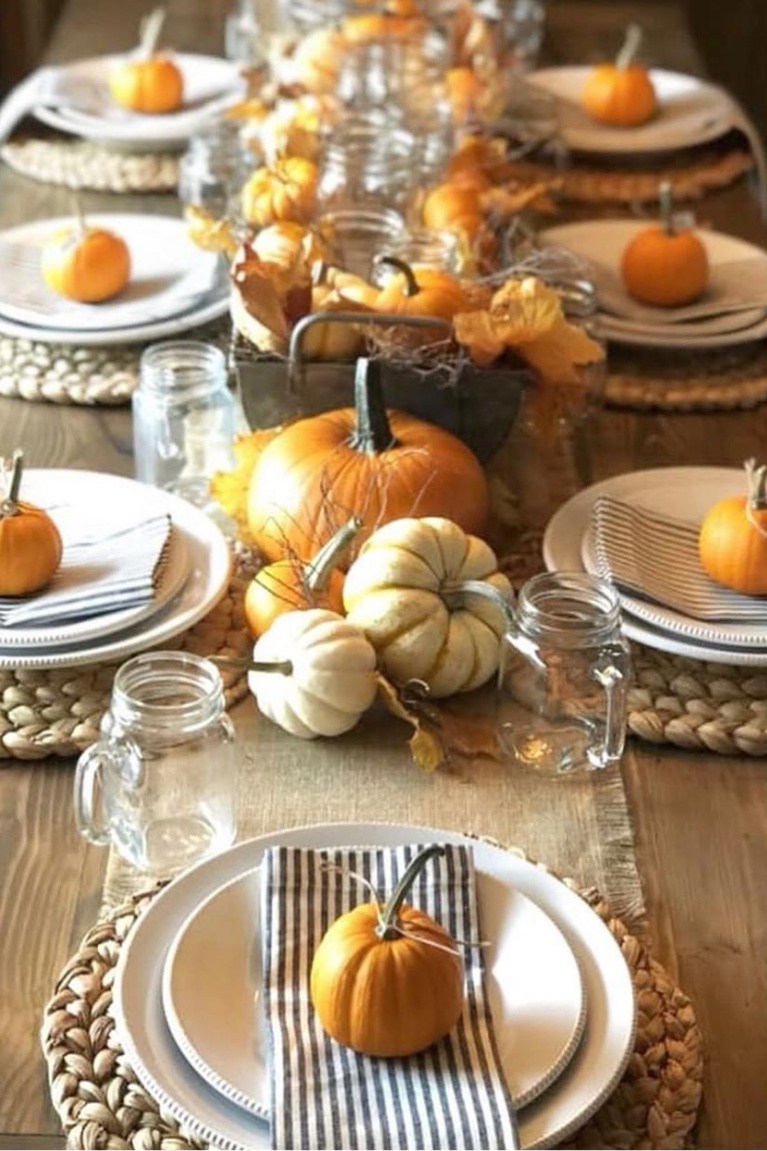 ABOVE: @littlehouseonchestnut…hello lovely indeed.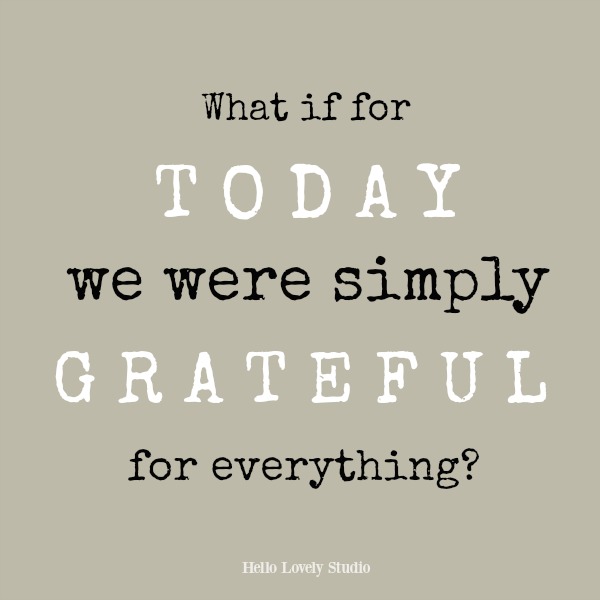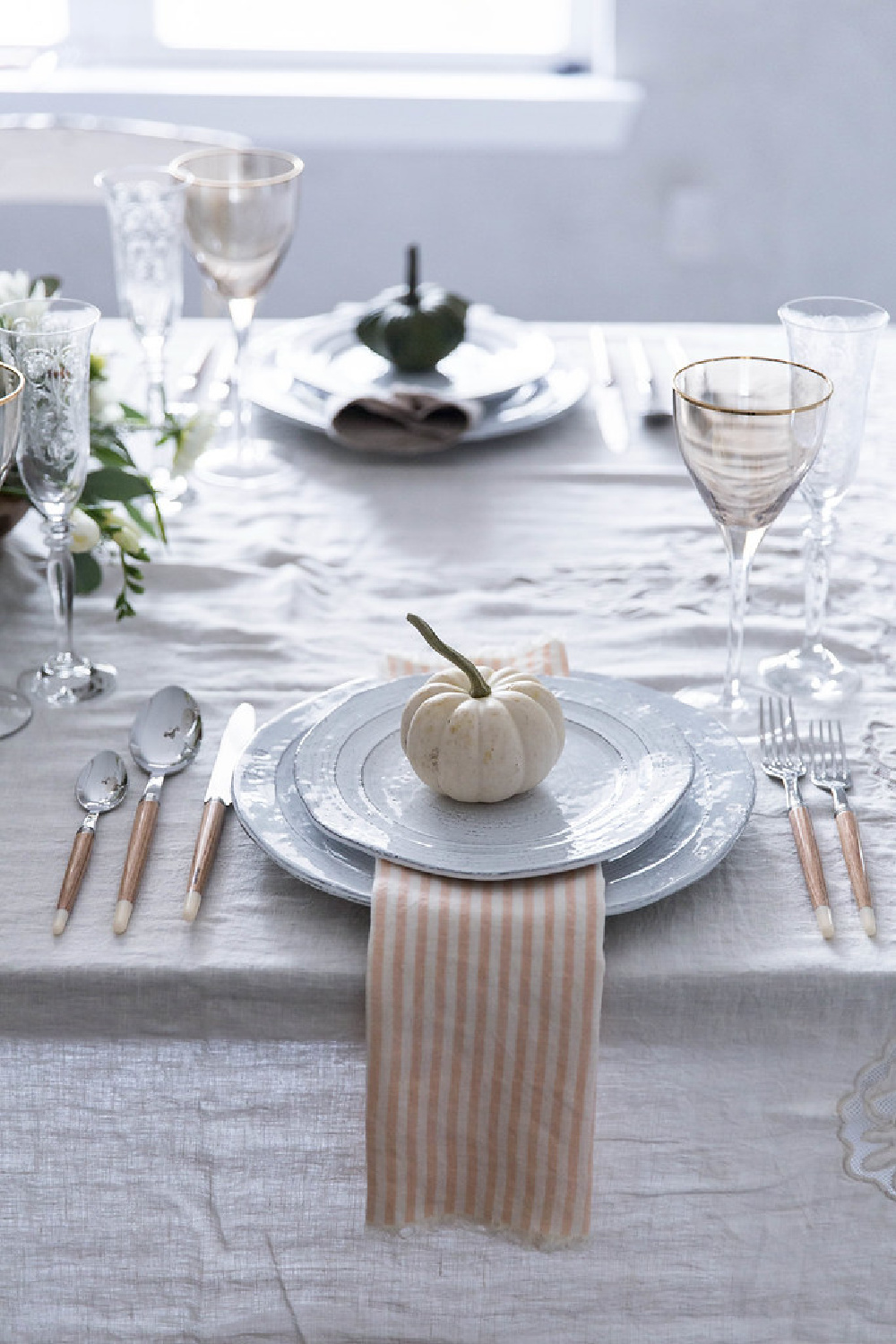 Painted Pumpkin Inspiration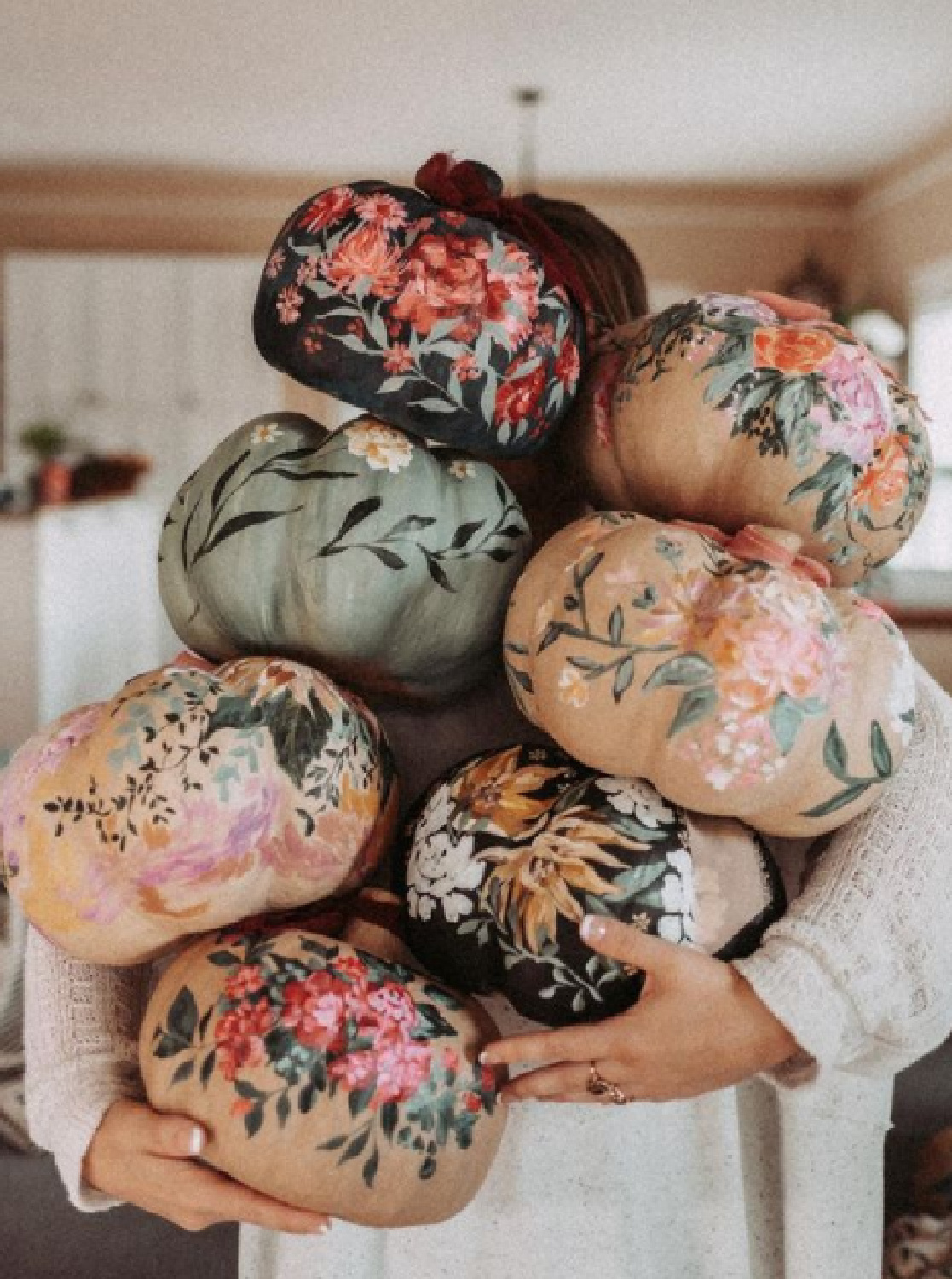 10. Light Blue + Cognac
Here's a hue we don't often break out in autumn, but what could be better than blue skies!!!!???? I have always been partial to Pottery Barn's porcelain blues, or maybe it all begins with a vintage blue floral tablecloth.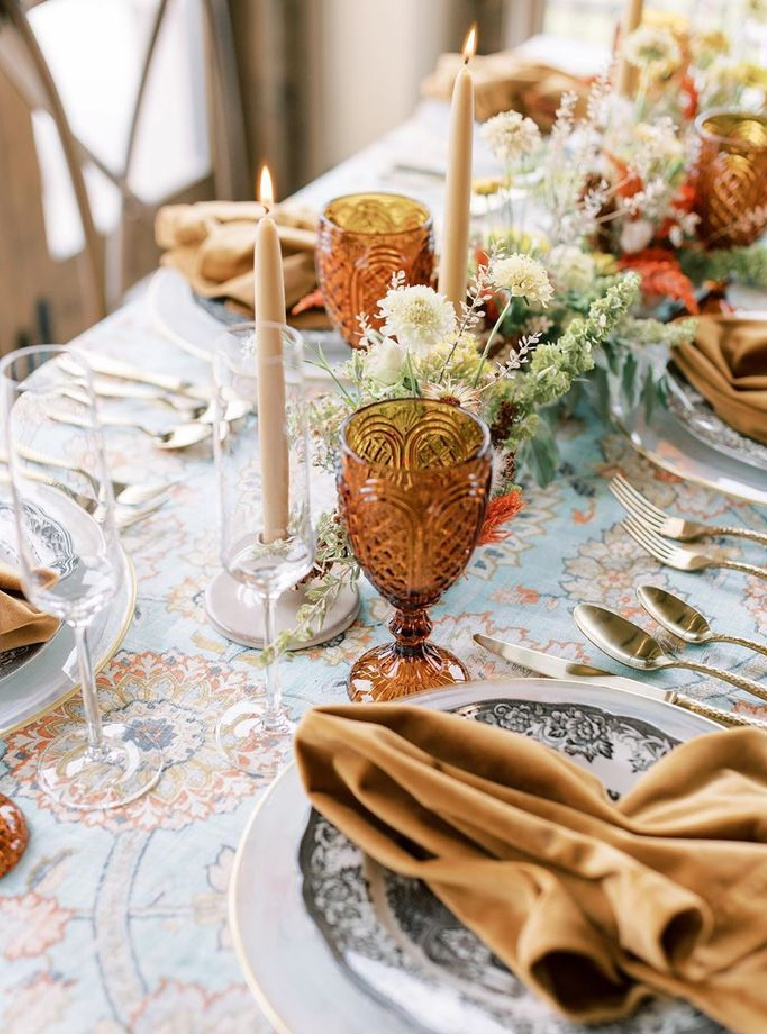 ABOVE: @kroseevents…hello lovely color combo indeed.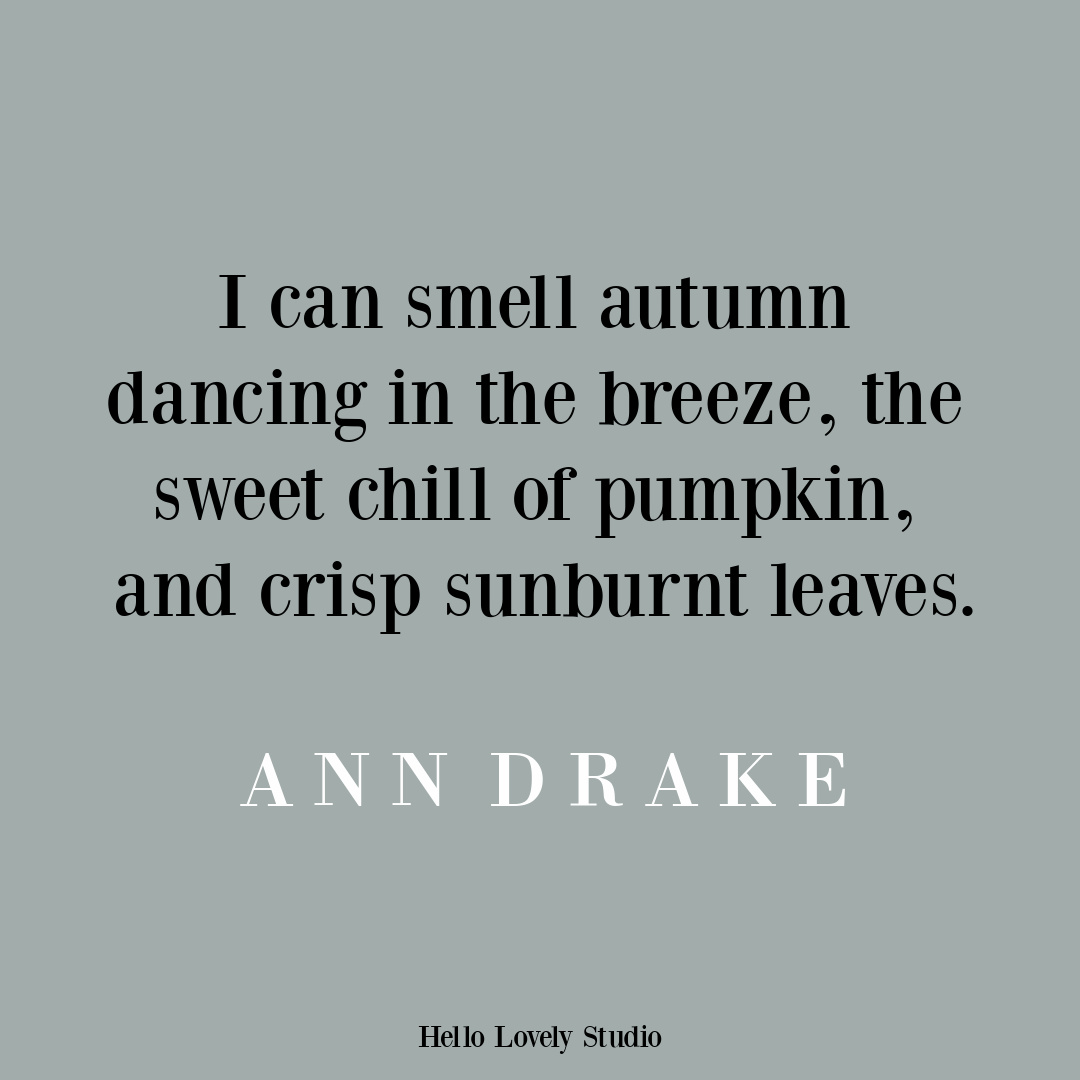 11. Everlasting Felted Florals
So much inspiration to take away from a single image…the soft chalky colors, pastels as something different for Thanksgiving, maybe a craft idea to keep your hands busy before the big day.
Tutorial for Wet Felting Flowers
Have you ever tried felting wool? It has been years since I was busy trying different methods (lots of needle felting for me), but here is an excellent video from an artist who knows his craft. Obviously, the process is simplified when you're wet felting solid colored blooms!
While you can buy felted wool creations HERE, if you decide to get crafty, these supplies mentioned in the video may help:
The solar pool cover with all those bubbles truly looks like the perfect surface for wet felting! I have only tried wet felting techniques with soapy water and my hands or with the washer (so much fun to shrink thrifted Merino sweaters!).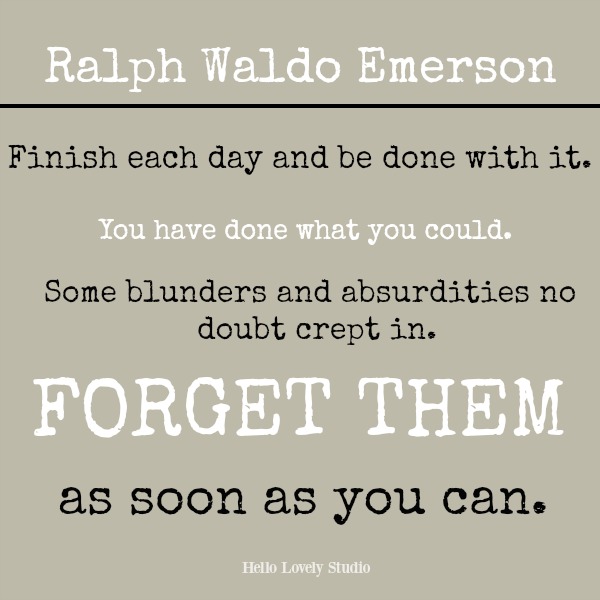 12. Tone on Tone Elegance
I'm always in awe of what Amy dreams up since her style is so serene and traditional yet fresh!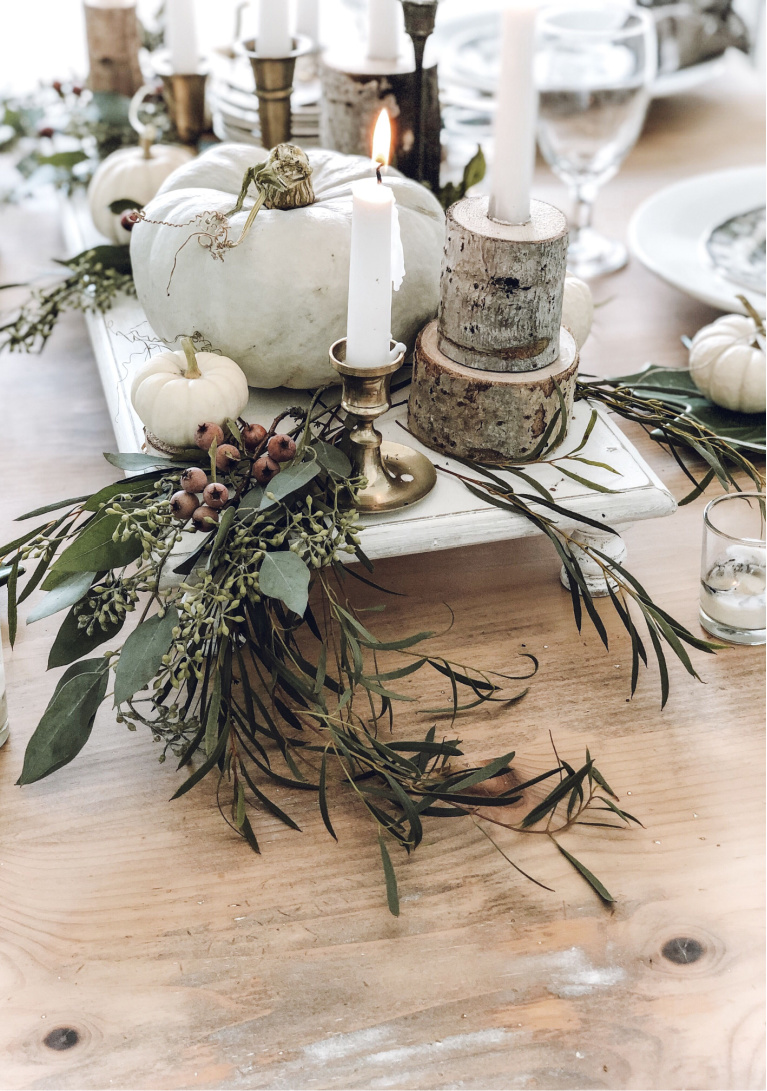 ABOVE: @lecultivateur…hello serene indeed.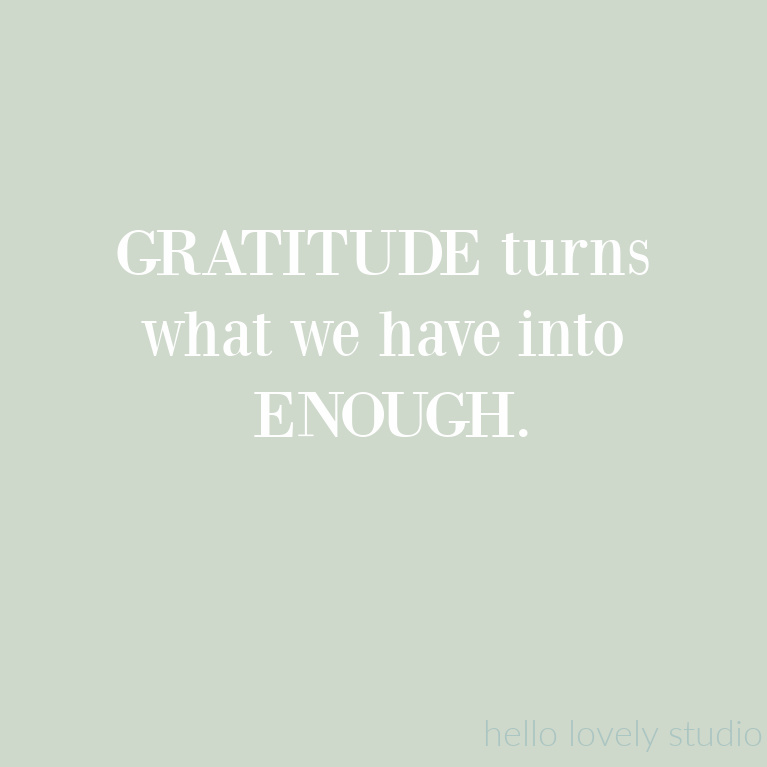 13. Delectable Dessert Finale
Whether anyone has room for dessert or not, it's always a good idea to go BIG with presentation for your holiday sweets table. Make sure to have takeout boxes at the ready too!
Need ideas for extra special French treats to bake? PETITE PATISSERIE is a très magnifique new book by Christophe Felder and Camille Lesecq and will set you up for success!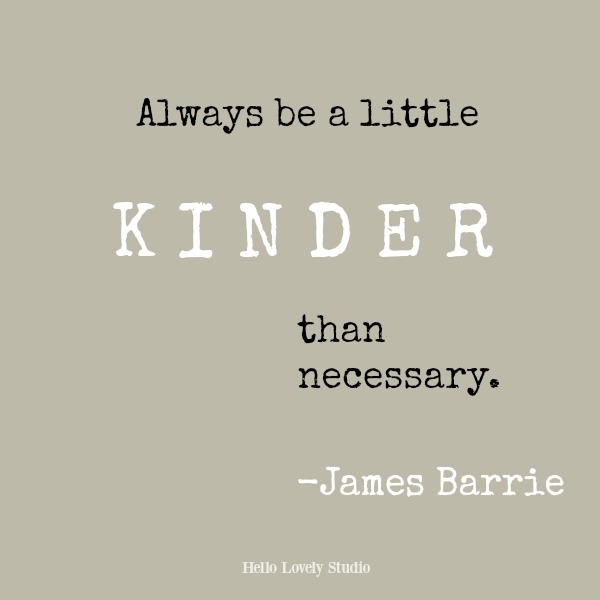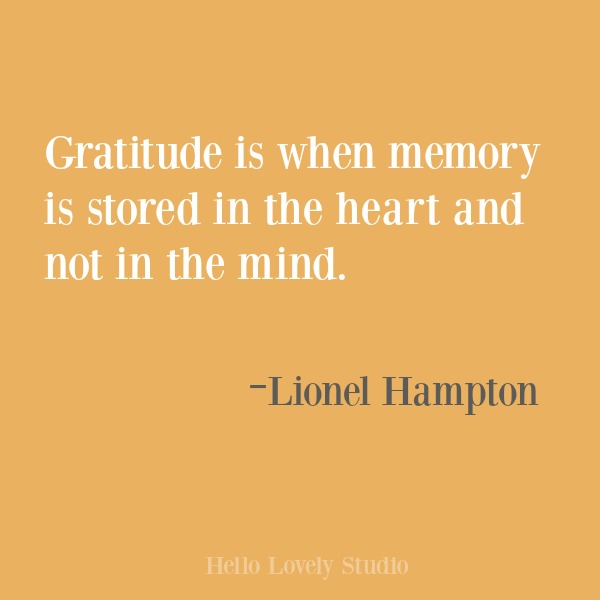 Autumn Things to Wear & Display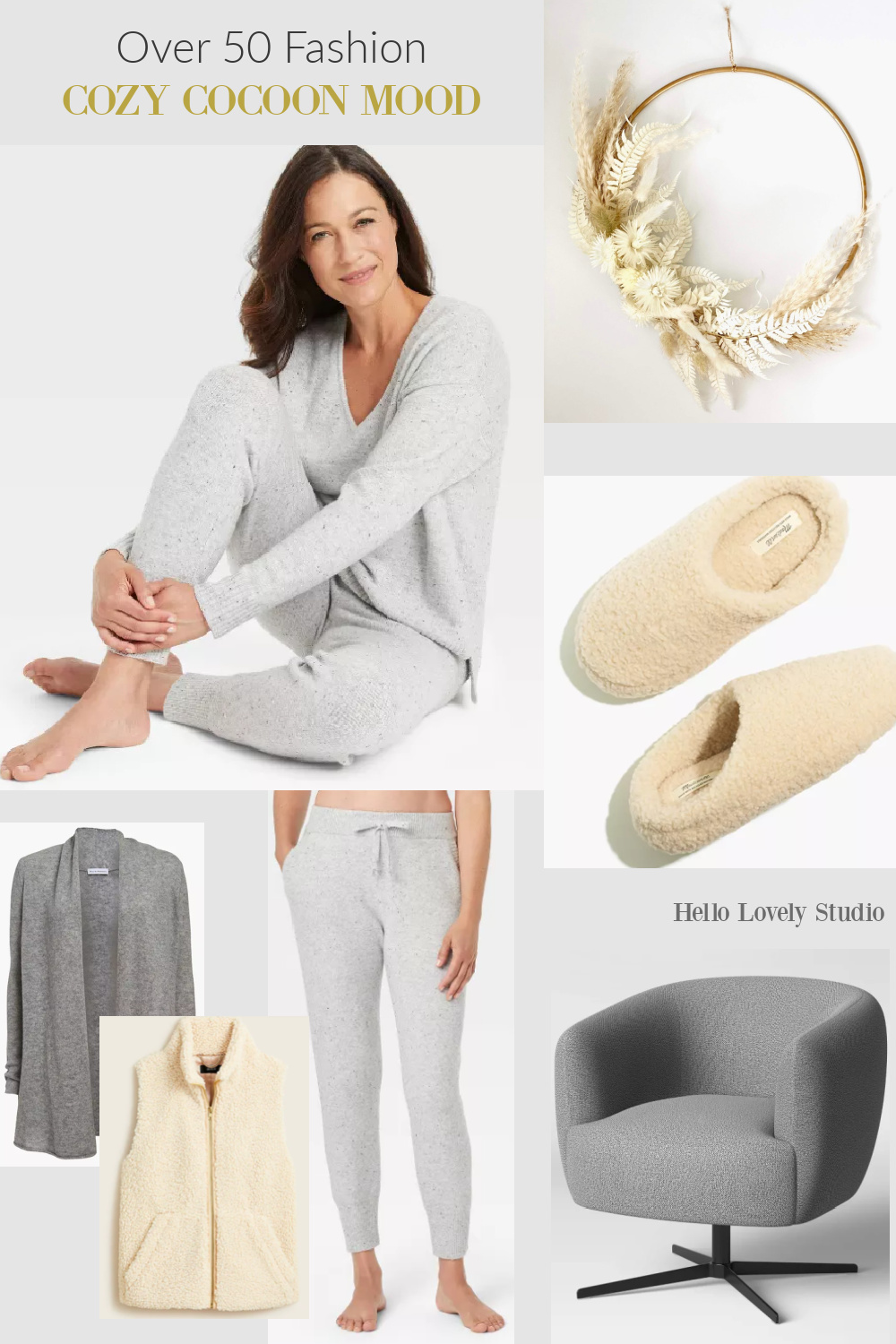 For more fall inspiration, also visit these stories HERE and HERE.
Behind the Blog in Early Fall
A year ago, I didn't have the strength to unscrew the cap on the orange juice, and lifting a watering can to sprinkle flowers and herbs was a challenge thanks to the virus. This year, there are still reminders and symptoms (neuropathy and I can't taste much), but I am thankful to feel so much more human and strong.
Thank you for your continued prayers, you gorgeous friends.
I independently selected products in this post—if you buy from one of my links, I may earn a commission.
Peace to you right where you are.
-michele
Shop for items you already intended to buy on Amazon RIGHT HERE, and also find home decor here to keep decor inspiration flowing on Hello Lovely!
Hello Lovely is a participant in the Amazon Services LLC Associates Program, an affiliate advertising program designed to provide a means for sites to earn fees by linking to Amazon.com and affiliated sites.