There was such an abundance of holiday decor inspiration, I broke the recap into two parts…part 1 is HERE. New Year Inspirational Quotes & Best Holiday Inspiration Ideas & Recipes brings encouraging words, links to stories you may have missed and ideas for deliciousness to ring in 2021 even if it's just you and your quarantine crew.
New Year Inspirational Quotes & Best Holiday Inspiration Ideas & Recipes
A new year is just 26 days away, and I'm one of those souls who draws energy from a CLEAN, NEW FRESH START. If you were awake in 2020, you deserve a break in 2021. The year brought so many heartaches and life lessons that I think we all lost count. I pray that a new year will bring unprecedented blessing to our hearts and souls.
If you're in the mood for sillier quotes, plenty were shared in this post celebrating pets. 🙂
Last year found me ringing in the new year with friends at a concert, and this year such a gathering could have deadly ramifications. What a difference a year makes!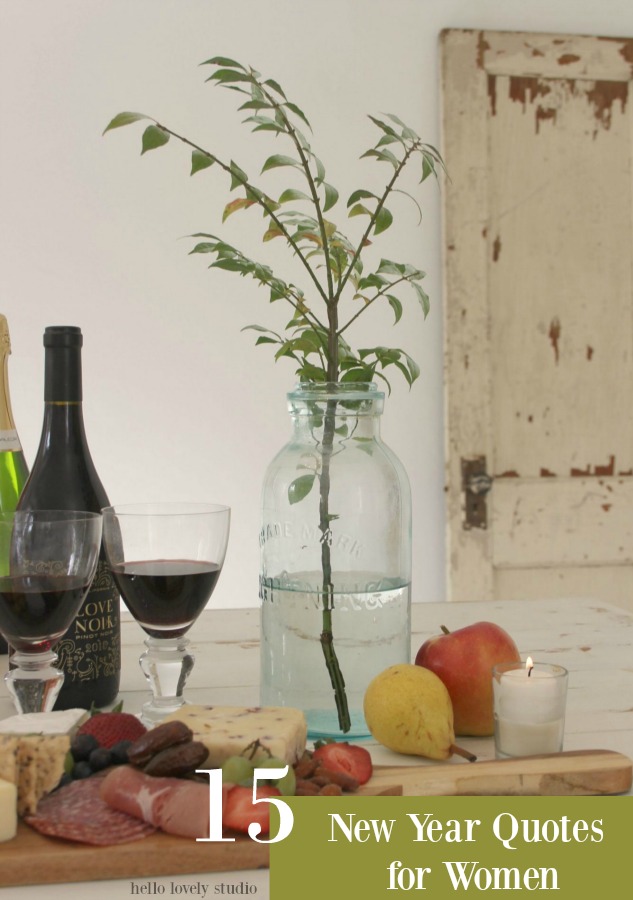 1. Small Bites for an Intimate Brunch
What pairs well with champagne for you? Here are a few delicious prospects from around the web:
This post contains affiliate links – using them won't cost you a penny extra yet may earn this blog a small commission.
TAKE AWAY: Celebrate at noon rather than midnight.
Nobody says we have to ring in the new year at a particular hour. If brunch is more your style, do brunch. Put on favorite music, bake a bundt or frosted cookies, and light a few candles. Bada boom.
2. Bubbly & Sweets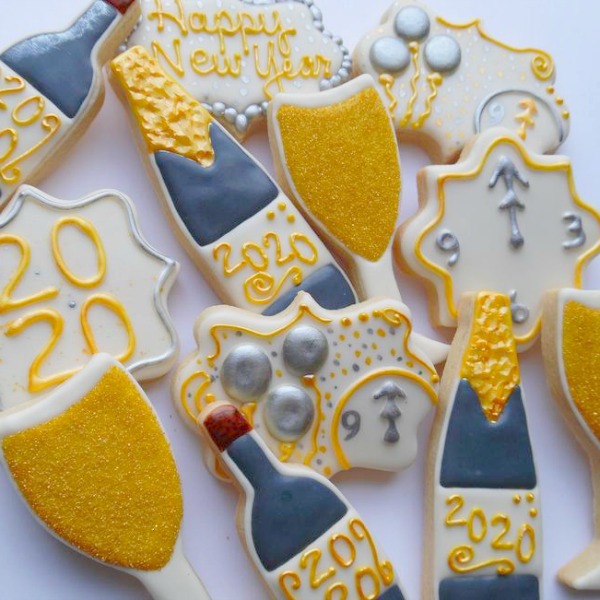 Whether you make them yourself or buy them (you can order theme cookies online), champagne and time-related cookies are a fun treat to serve.
Ever wondered how to ice cookies this way (the technique is called flooding)? Let's dig in and learn in a just a couple of minutes!
Aren't these cuties below festive and understated at the same time?
TAKE AWAY: Decorate homemade or pre-made cupcakes with these bubbles!
3. Black Tie Affair
While there may not be black tie NYE parties to attendin 2020, think of the smiles these snacks could bring!
TAKE AWAY: Here's the secret behind that black tie.
4. A TIMELY Theme for Family Dance Parties
Not sure we'll be up to it, but if I had my way, I'd be ringing in 2021 with a living room dance party with family. Create a playlist that recalls time – and there are a ton of possibilities. Here's a fav that may stir up memories for you…watch and be transported back to the 80s…
But if that tune triggers more tears than cheers, turn up Morris Day instead (we see them live every year!)
TAKE AWAY: Save TIME and create these no-bake treats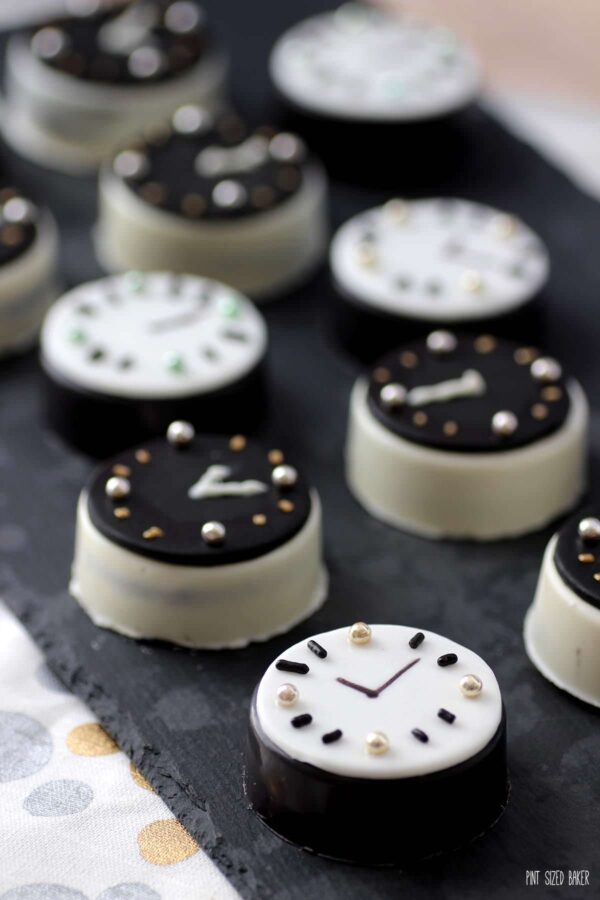 5. Fringe-tastic Backdrop
Let's face it, it will likely make sense to pin these cool decorating ideas for NEXT YEAR'S shindig (and you may have luck starting HERE to get your creative juices flowing.)
If your Christmas decor disappears on December 26th – here's a simple idea to decorate for a New Year's Eve photo op.
TAKE AWAY: Just add shimmer!
6. Marshmallow Starry Wonder
Kids of all ages appreciate a magic wand when it is this delicious.
Marshmallowtini: 2 Ways!
Have you ever made a marshmallow tini? These sound delish.
#1
Secret to that yummy rim? Rim martini glasses with marshmallow fluff, then dip in graham cracker crumbs!
#2
TAKE AWAY: Sweeten the party menu and shake it up with delicious (and fat free) marshmallowy goodness.
7. Super Easy Silver & Gold
Here is a silvery centerpiece alternative to fresh flowers that is refreshingly simple and reflectively lovely!
TAKE AWAY: Use a secret stabilizer to anchor candles.
Just when you thought you had seen every version of puppy chow, there's this impossibly elegant gold variety…
Have you ever used edible gold stars???
8. TIPSY Truffles (to Serve or For Favors)
How about a slightly tipsy truffle to serve with those marshmallow-tinis? It only takes 1 minute to learn the method:
There's something about the idea of vegan chocolate truffles that simply sparks my imagination. Think of all the possible toppings to pair with a good chocolate! Beautiful AND tasty.
But which chocolate?
9. Ultimate Graze for Holidaze
Oh, gurrrrrl, even though cheese is now an issue for this fan, you know I still love to graze!
Simple cheese, charcuterie, and graze boards make for simple casual entertaining with next to no stress.
No matter what you call your boards of glory (cheese boards, cheese platters, charcuterie boards, or graze boards), it's all lovelyspeak to me! What could be easier than assembling your favorite cheeses, nibbles, and nuts and then serving them casually with wine, cocktails, or alcohol-free punch? Punch? Find my easiest family eggnog punch recipe in THIS STORY.
Let the Nosh Live Large as Decor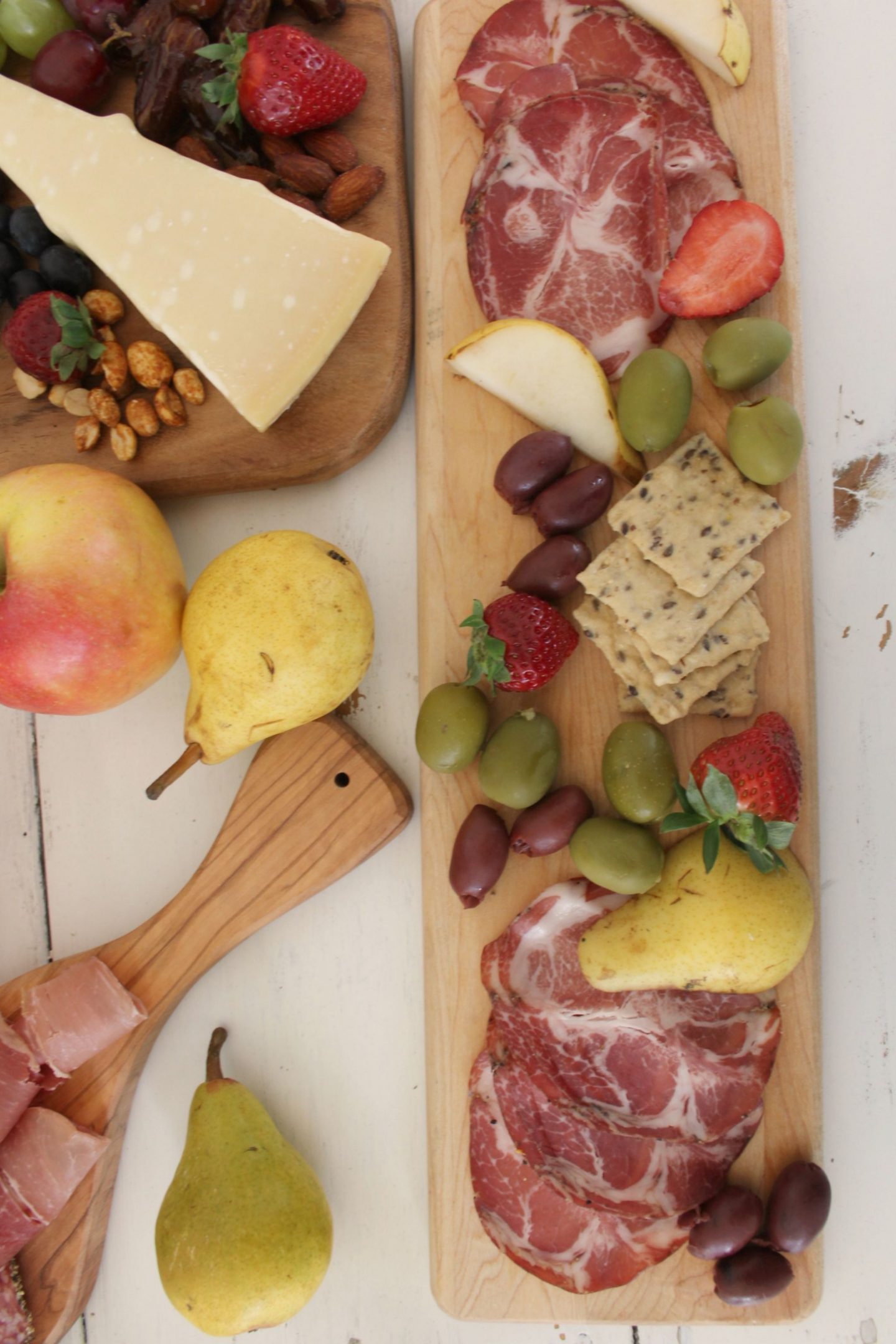 Rustic wood boards are easy to find everywhere, and here are some lovely olive wood options:
If fresh flowers are in short supply, don't overlook branches right outside your door.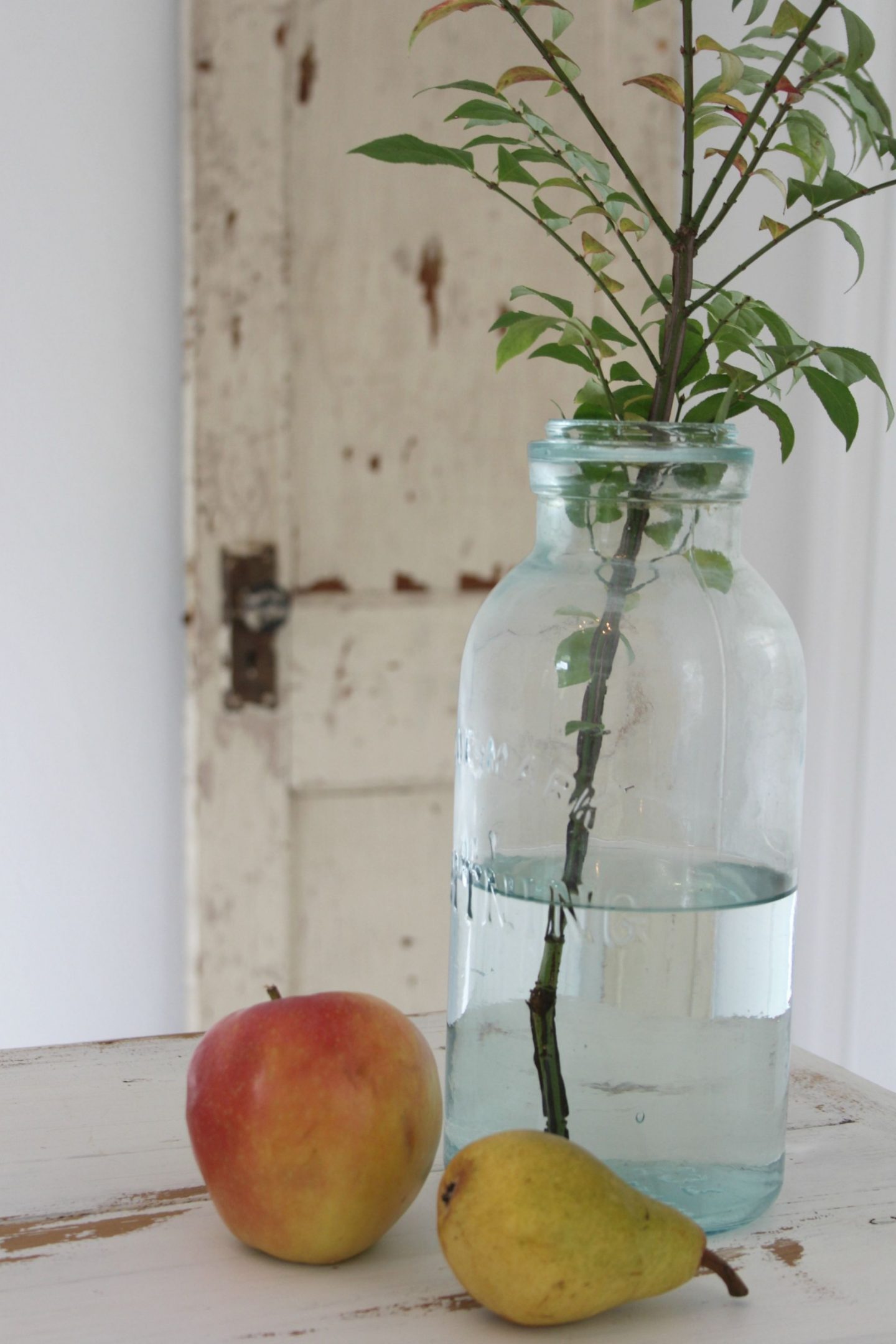 Secrets Behind a Beautiful Cheese Board
1. PLATTER MATTERS. Select a beautiful board or three.
Shop for new wood or marble boards or trays with a smooth surface.
2. CHOOSE THE CHEESE. Decide on a few different varieties of cheese, charcuterie, fruits, nuts, crackers, etc.
In terms of cheese, there are honestly no rules you must abide by beyond simply choosing what you love. If a stinky cheese gives you a headache, do not consider it! I love fruit-studded cheeses, and it doesn't hurt that they add a great variety of color. As for charcuterie, I love the ease of pre-sliced coppa, proscuitto, and salami.
3. SLICE THE LOVELY. Slice some of the strawberries, pears, charcuterie, and cheese.
If there's any secret at all, it's this: leave some of the fruit and cheese whole, and also slice some of it. A few strawberry, fig and pear slices will add interest and beauty to the board. Slice the charcuterie thinly (if it didn't pre-sliced) and dice some of the cheese into bite-size chunks. Simply style apples and pears on the table around the board for color and added beauty. Prepare the grapes: with kitchen shears, cut the stems for small individual bunches.
4. JOYFULLY ASSEMBLE! Artfully arrange ingredients on the board.
Begin with the largest items (cheese, meats, crackers) and then fill in, paying attention to what pleases your eye as far as color. Have fun with it!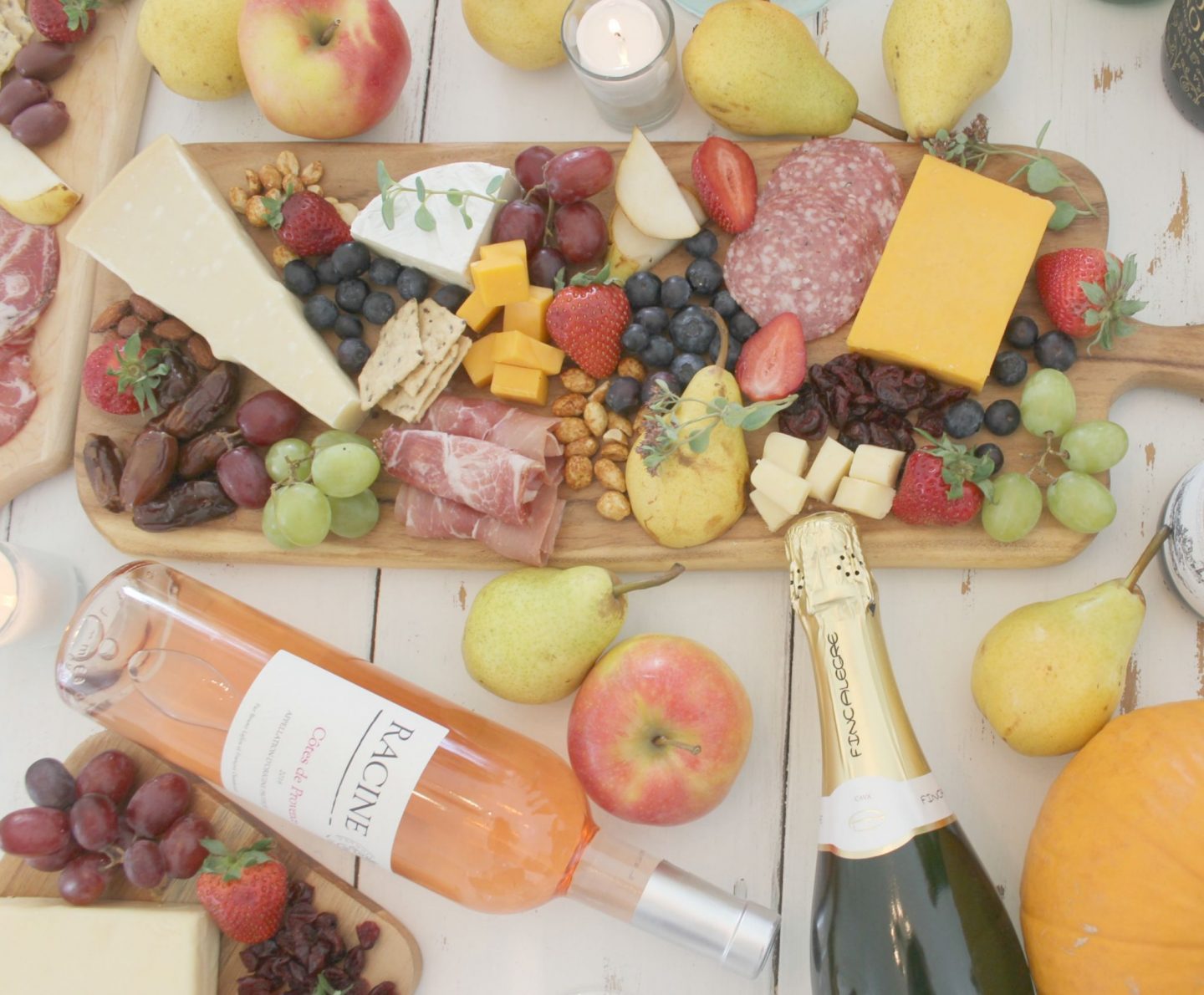 Drinking wine with this delish? I like to leave choosing wines to Martha Stewart Wine Co…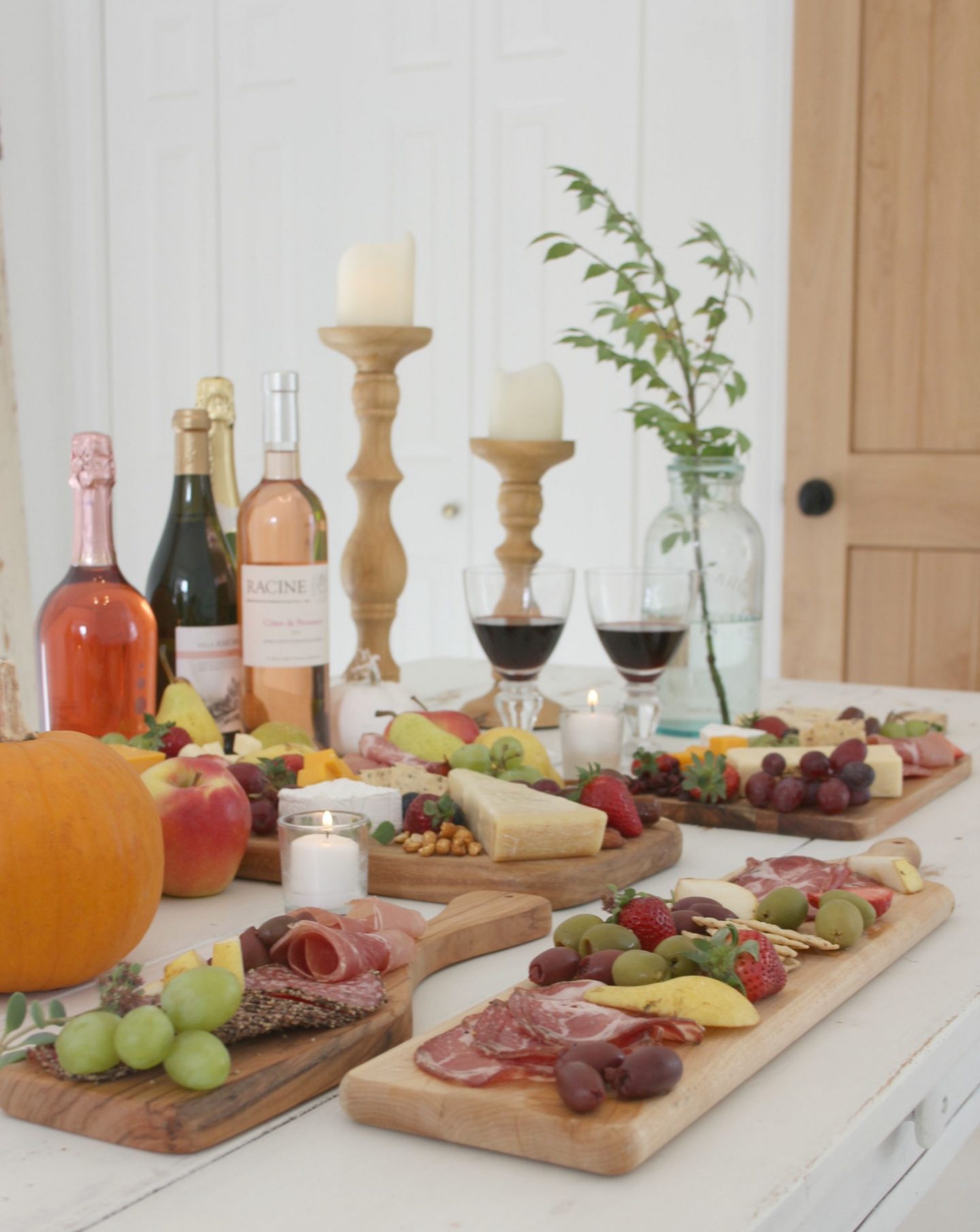 * Cheese Fest Shopping List *
Wine – (let Martha Stewart pick 'em!)
Triple creme brie, cow's milk
Longhorn Colby – cow's milk
Chèvre – goat milk
Canadian Cheddar – cow's milk
Parmigiano Reggiano – unpasteurized cow's milk
Wensleydale with Cranberries – cow's milk
Peppered Salami, Salami, Coppa, Proscuitto
Kalamata olives, green olives, red and green grapes,
dried cranberries, pears, strawberries, blueberries, figs
Roasted peanuts, Smoked almonds
Assorted gluten-free crackers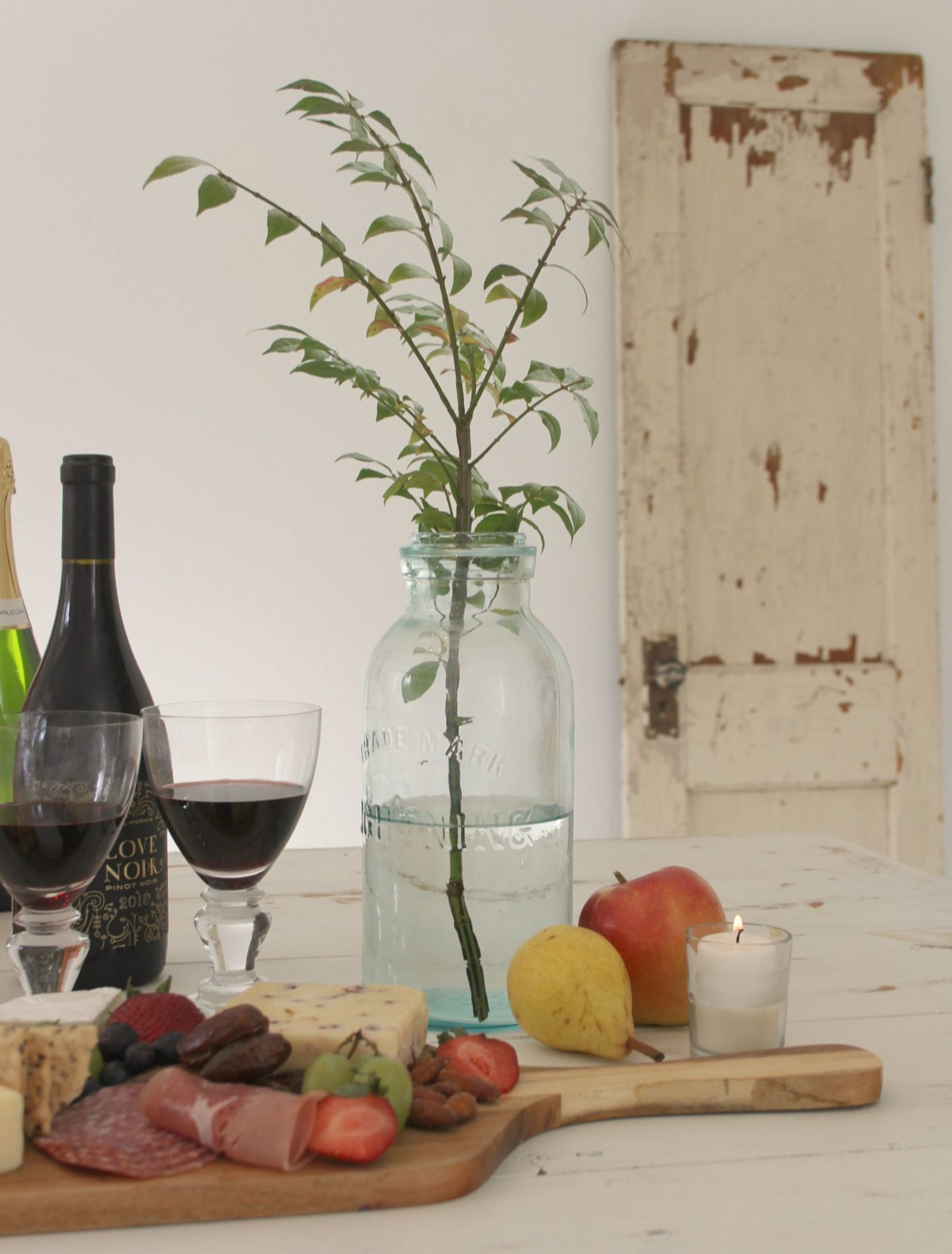 BE SURE TO PIN THIS TO YOUR HOLIDAY and QUOTE BOARDS AND TAKE A WHOLE YEAR TO GATHER IDEAS FOR 2021!
I independently selected products in this post—if you buy from one of my links, I may earn a commission.
Peace to you right where you are.
-michele
Shop for items you already intended to buy on Amazon RIGHT HERE (not just items in posts), and also find home decor here to keep decor inspiration flowing on Hello Lovely!
Hello Lovely is a participant in the Amazon Services LLC Associates Program, an affiliate advertising program designed to provide a means for sites to earn fees by linking to Amazon.com and affiliated sites.