'Cause we need a little Christmas right this very minute. Or not. But I mean, candles in the windows, hearts full of expectant wonder…and 20 Friendly Priced Holiday Finds. Also, we certainly need light hearts, quotes and humor to float us through the complexities of modern life.
Snag These Holiday Finds & Engaging Quotes Now
Even if we don't need a darn thing (in the name of mindfully simplifying or heartfully preserving the 'holy' in the days), maybe something unexpected within this parade of festive Christmas decor finds will speak to you or inspire a craft.
The Reason We Celebrate
Before we gaze upon whimsical trappings or giggle – my heart is turned toward all who may feel an ache with the mere mention of the holidays.
Maybe something precious has been lost and you find yourself limping through November and December with a fractured heart. Perhaps laughter eludes you.
The Sweetest Gift is Knowing Where You Are
I'm with you. I am thinking about the loss of our dearest Tina, whose soul flew home with the angels in the worst July on record for our family. She will be missed deeply this Christmas, yet we know she has been absorbed into the fragrant petals of the Sweetest Rose where Infinite Love blooms.
My hand is extended if you also grieve, and there are truly no words. So let's allow the sounds of music and laughter to echo and honor the beauty which lives on purposefully in another realm.
This is for you…sealed with so much tenderness.
20 Frugal Holiday Finds Under $20
How will we keep the holidays peaceful, rich in love, and meaningful, ringing with the magic jingling of sleigh bells like the ornament above?
Surely it begins in the heart–becoming centered and aligned with ultimate mercy and goodness so that love can flow freely from us to thirsty places.
Pin Away, S'il Vous Plait!
Please click here to PIN THIS POST which will save it so you can refer to it later when you need it, and DO FEAST ON HOLIDAY DECORATING INSPIRATION pins HERE, kindly re-PINNING to spread lovely good cheer.
Affiliate links follow and won't cost you extra to use them while they may earn this blog a small commission.
1. Christmas Decor Find: Playful Glassware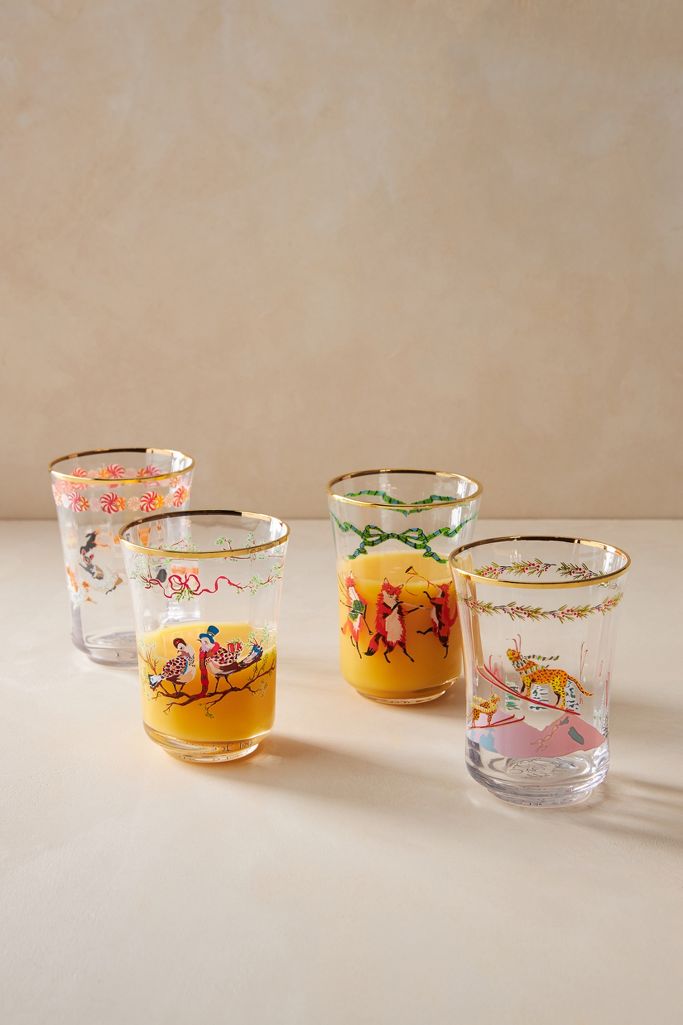 This quote was from 2019, and I'm not certain it applied to the majority of us this year…
2. Bottle Brush Christmas Trees
More super cute bottle brush Christmas trees RIGHT HERE.
3. Inexpensive Whimsical Holiday Finds
4. Chocolate Count Down
5. Buffalo Check Beauty
6. Milagro Heart Shaped Box
7. Cheerful Christmas Kitchen Towels
8. Forest-y Fragrant for the Kitchen & Bath
9. Smart Christmas Ornament Storage
10. Wooly Sweet Bird
11. Pom Pom Garland
12. Swedish Christmas Ornaments
13. Basic Corrugated Metal Vase
So often, those basic essentials for seasonal decorating are the most difficult to find. For example, a simple galvanized corrugated vase for fresh flowers year round. They are tricky to source at any price point!
Options I see at Target and Michael's are not quite right in texture or size. Pottery Barn (above) offered the perfect one (medium was 7″, large was 10″).
For under 20 bucks, this one's not quite as tall…
14. Cozy Romantic Lighting
15. Casual Chargers
16. For Brown Paper Packages Tied Up With…
17. For All Winter Long
18. Turned Wood Candle Holder
19. Organic Christmas Soy Candle
20. Functional Festive Red Works as Decor on Counter!
In Case You're Over 40 and Have Been Humming But Forgot the Lyrics…
Haul out the holly;
Put up the tree before my spirit falls again.
Fill up the stocking,
I may be rushing things, but deck the halls again now.
For we need a little Christmas
Right this very minute,
Candles in the window,
Carols at the spinet.
Yes, we need a little Christmas
Right this very minute.
It hasn't snowed a single flurry,
But Santa, dear, we're in a hurry;
So climb down the chimney;
Put up the brightest string of lights I've ever seen.
Slice up the fruitcake;
It's time we hung some tinsel on that evergreen bough.
For I've grown a little leaner,
Grown a little colder, Grown a little sadder, Grown a little older.
And I need a little angel
Sitting on my shoulder,
Need a little Christmas now.
DON'T MISS any of the LOVELY HOLIDAY INSPIRATION right here!!!
Peace to you right where you are.
-michele
Shop for items you already intended to buy on Amazon RIGHT HERE (not just items in posts), and also find home decor here to keep decor inspiration flowing on Hello Lovely!
Hello Lovely is a participant in the Amazon Services LLC Associates Program, an affiliate advertising program designed to provide a means for sites to earn fees by linking to Amazon.com and affiliated sites.