A few seasons back, I shared this post after we finally made some thoughtful changes to our little laundry pass through. Ours is not at all a blogworthy space to do laundry. But sometimes little touches that involve no demo at all can live large and make chores more pleasant. For example, just adding marble subway tile behind the washer and dryer as a backsplash changed the game. That subtle facelift re-affirmed how Serene Decor, Slow Living, and Small Thoughtful Changes can make a powerful impact.
Let's flesh out the idea.
Serene Decor Slow Living and Small Thoughtful Changes at Home
Rearrange What You Have
Not too long ago, I swapped our petite round breakfast dining table (below) for our great big painted harvest table. I also removed the rug since it isn't the proper size for the larger table, and I'm a minimalist who doesn't mind a beautiful naked wood floor.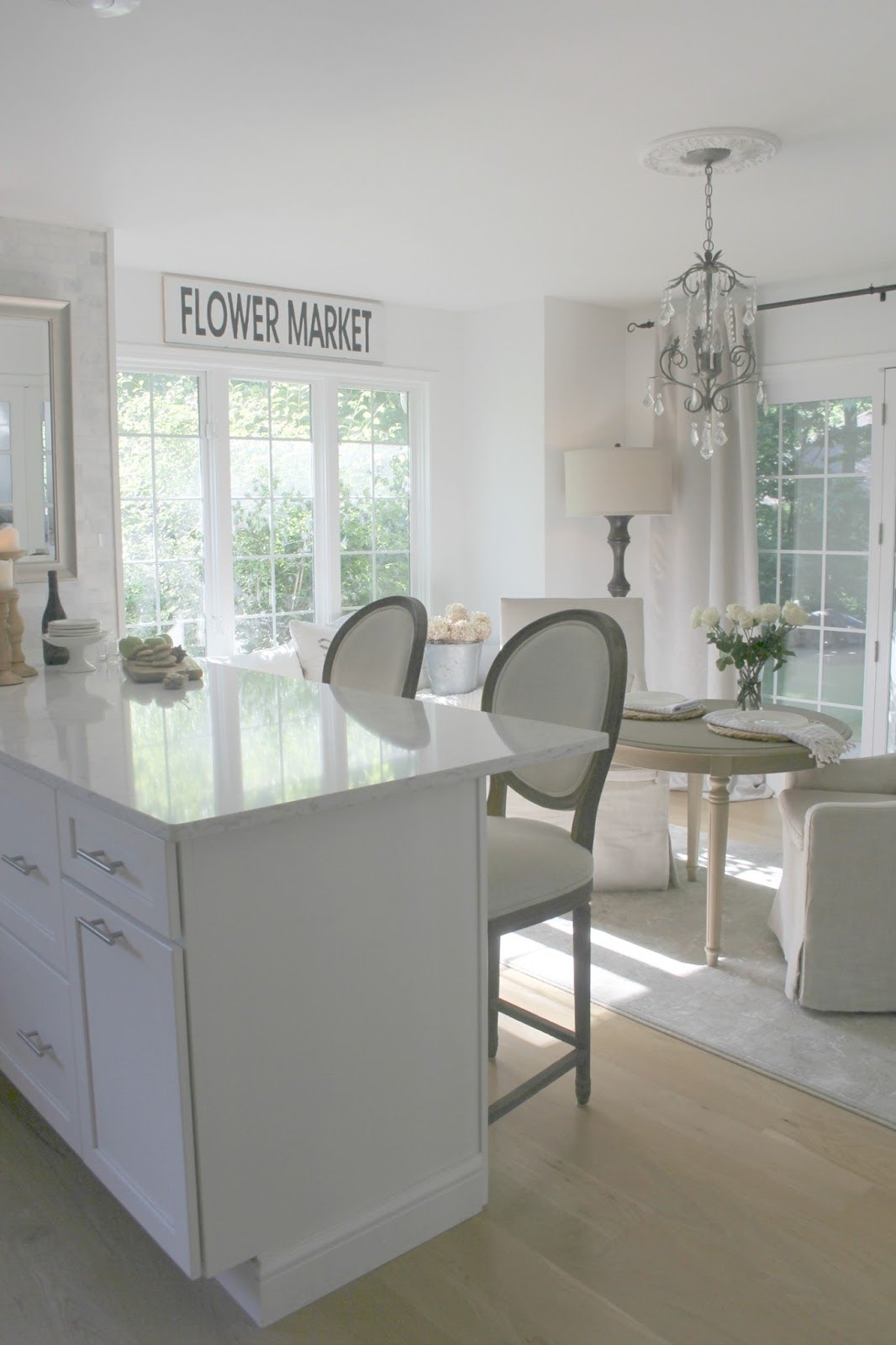 If you have more than one, have you considered swapping dining tables you like equally in your home? It's a small thing, but it may completely change the mood and function of your space.
The bonus of the huge farm table in our not so huge kitchen is I am now able to use it for crafts and even folding laundry.
Small Investment, Big Return
Another small change in the kitchen with a big impact?
Last summer, I shared the story of how a little vintage industrial steel cart I scored for $10 was transformed into a hardworking kitchen cart with paint, leftover quartz, and salvaged wood from the old kitchen floor.
In fact, I was so excited to share the finished wonky trolley cart with you that I didn't even take the time to style it pretty!
Live With Less Visual Noise
You guys are always so gracious with me about such forgetfulness. The truth is, while I know my way around styling, I prefer showing you how we actually live everyday.
Since we like things extra tidy, living without clutter and fussy rugs/accessories/adornments makes it possible to keep it that way. Slow living (or slower living) in a serene atmosphere suits us well.
Here's the cart looking a bit friendlier and still serene:
Prioritize Pieces That Function
If you live in a smallish kitchen then you know what I'm saying about keeping things clutter-free for day to day living.
We actually NEED the worktop of this cart for prep and a hundred other things so it can't solely be a decor object.
French farmhouse and European country kitchens always have lessons to teach us about function first, and this kitchen has taught me a few more.
Surfaces that are easy to keep clean and not demanding when it comes to maintenance are also consistent with simple, slow, serene living.
I find the wood floors perfect, not because their condition remains looking perfect, but because the wood seems to improve with age. The planks collect character and scratches as they are used and enjoyed.
Because the countertops are not natural stone, we don't have to worry about stains or maintenance.
Know When a Big Change Will Pay Off
Four years later, I am still hearing from folks who decided to incorporate Viatera Minuet quartz into their kitchen design after reading about my experience with it…that makes me so happy!
Changing or upgrading your kitchen countertops hardly qualifies as a "small" decor change, but it is one of my favorite ways to transform a kitchen since it's not a DIY job!!! There are plenty of DIY projects…I love one that demands professional installation!
I independently selected products in this post—if you buy from one of my links, I may earn a commission.
Small Decor Ideas & Kitchen Essentials
Here are a few small things in the kitchen consistent with a slow living vibe.
My Before & After Kitchen Cart
BEFORE: Here is how my $10 find looked right after we hosed off the grime.
But how would that salvaged piece of FREE leftover quartz fit the top?
AFTER: Not too shabby!
Since orange is my least favorite color, and I had no desire to strip the paint with chemicals, I chose to transform the cart with paint. (Annie Sloan Paris Grey).
HERE is a similar and cost conscious chalk paint I have used if you care to give an "aged French grey" chalk paint a whirl.
Small & Simple Cart Transformation
Before I painted it, we power-washed the cart and added planks of maple (salvaged from the original kitchen's floor) to the bottom shelf.
Our kitchen had beautiful hardwood flooring when we bought the place but water damage destroyed a large section of it. We ripped it all up and saved every possible maple plank to reuse.
The little steel cart has dents, history, and character…just like me. An aged appearance can appear beautiful to the evolved eye.
A Stainless Kitchen Cart Option
Slow Living Kitchen Favorite
This beautiful sink has got to be my favorite feature in the kitchen, and I don't care about whether it's trending at the moment, safe or not safe for resale, or "just sooooooo five minutes ago, darling." I love its depth, its color, how it functions, and how it is aging. To be honest, I have never minded doing dishes by hand, and this sink beautifully enhances the experience.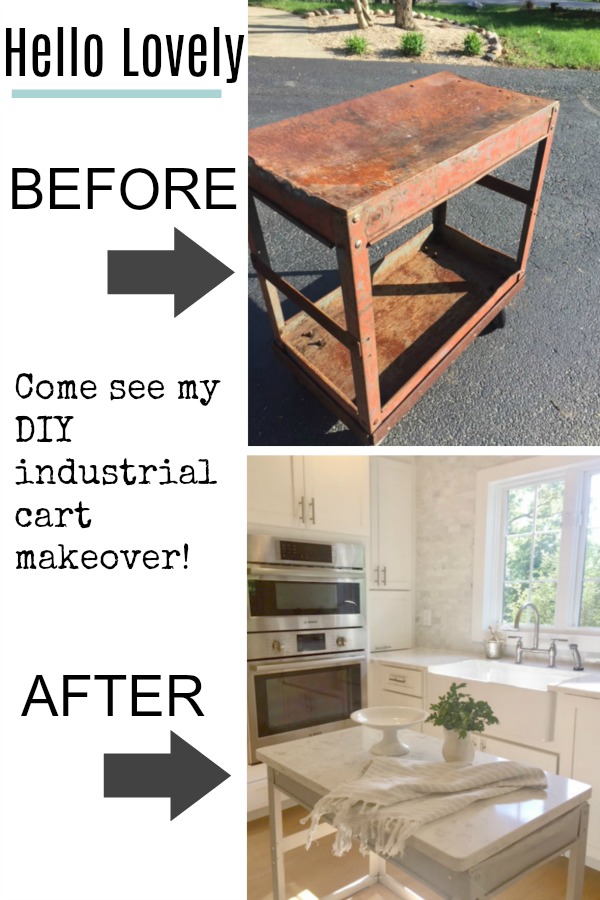 Speaking of simple and small…um, can you imagine living in a 70 square foot apartment? Because this tour of a NY pad was eye opening, and you are NOT going to believe what the rent is…
Small Decor Changes
I use little ironstone pitchers around the house to hold sprigs of boxwood, greenery, and even bare twigs.
Vintage galvanized buckets also make sweet receptacles for whatever grows in your garden.
A little wood stool is a simple little piece of functional decor.
How I'm a Slow Decorator
I have a special talent for being a slowwwww decorator when it comes to our home and can be awfully patient.
A year ago, I mentioned that I would like to add a pretty French bench under the windows in the dining room…
Well, I finally got around to placing a bench there, but I stole it from another room so I STILL haven't committed to a new one yet!
White Paint Color
White paint is maybe one of the easier strategies to bring serenity to a space.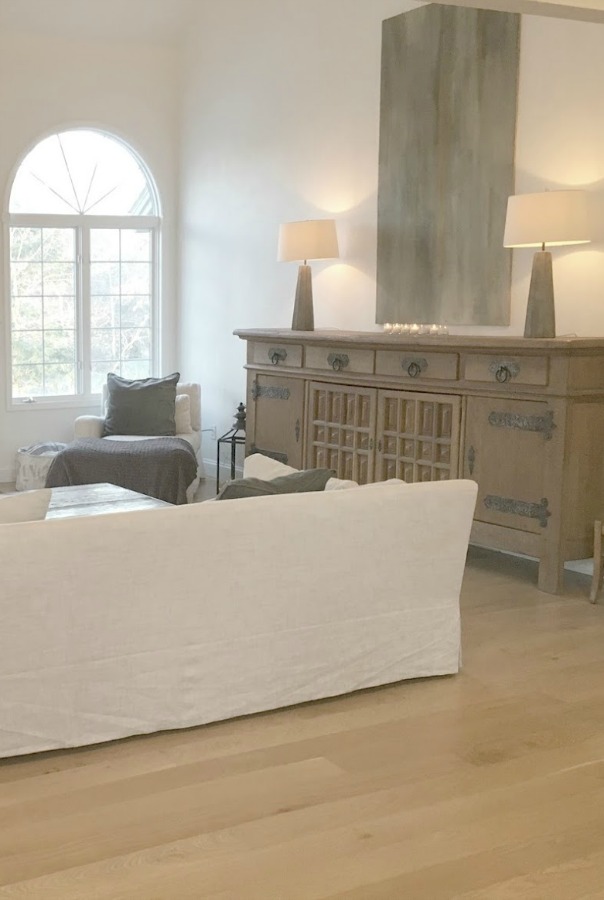 Most of the walls in our home are painted BENJAMIN MOORE White. It's a base white without any of the pigments added for their other whites. We needed a strong white to counter the strength of the yellow natural light.
Here are other Benjamin Moore whites to try…White Dove has been used so often by so many interior designers that it deserves some sort of award!
Small Decor Changes: Texture & Softness
I recently added a linen cushion to the window seat which was just fine before, but is now so much better.
Before:
and AFTER:
Small Decor Change Idea: Signage
My handpainted FLOWER MARKET sign above the windowseat was found at Urban Farmgirl's brick and mortar shop in Rockford, IL. Here is a possibility if you have a place for it:
This handpainted PATISSERIE sign (English translation: shop where French pastries/cakes are sold) would also do the trick.
The pillows and throw are all vintage RH.
See more of my home here, and find more sources for the decor here.
I independently selected products in this post—if you buy from one of my links, I may earn a commission.
Please vote Hello Lovely for Best Written Blog right HERE – thanks so much!
Peace to you right where you are.
-michele
Shop for items you already intended to buy on Amazon RIGHT HERE, and also find home decor here to keep decor inspiration flowing on Hello Lovely!
Hello Lovely is a participant in the Amazon Services LLC Associates Program, an affiliate advertising program designed to provide a means for sites to earn fees by linking to Amazon.com and affiliated sites.