Magnolia Table restaurant in Waco, Texas, is the latest exciting venture and addition to all things Fixer Upper and Magnolia for Chip and Joanna Gaines, and I was able to visit even before its grand opening!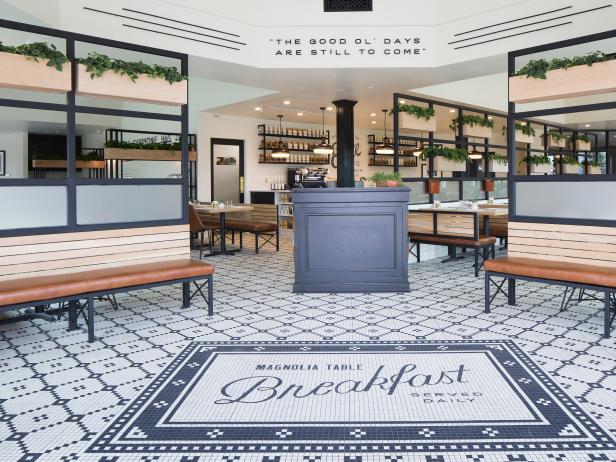 Today is the day the reveal of this renovated restaurant will air on HGTV's Fixer Upper, and now that I have been in the finished space, I can't wait to see all the steps leading up to its transformation.
Magnolia Table Restaurant: 12 BEST Insider TIPS!
Earlier this month, my husband and I traveled to Texas (business for him, fun for me!) and made time for a visit to Waco to explore Magnolia Market at the Silos, the Silos Bakery, and so much more in Fixer Upper Land including the brand new Magnolia Table restaurant.
FIVE is a significant number currently for our favorite celebrity renovators…not only is it the final fifth season of their wildly popular Fixer Upper series, but Chip and Joanna Gaines are expecting their fifth child. Apparently, Chip Gaines has always dreamed of having a restaurant, and with all the success of Magnolia's other businesses, it's hard to see anything with their names on it as less than promising.
Magnolia Table restaurant started out as Elite Cafe, a popular restaurant Chip Gaines and his family enjoyed, and the Fixer Upper stars were excited "to get the opportunity to restore a Waco treasure into something new" (via Magnolia Market blog, June 2017).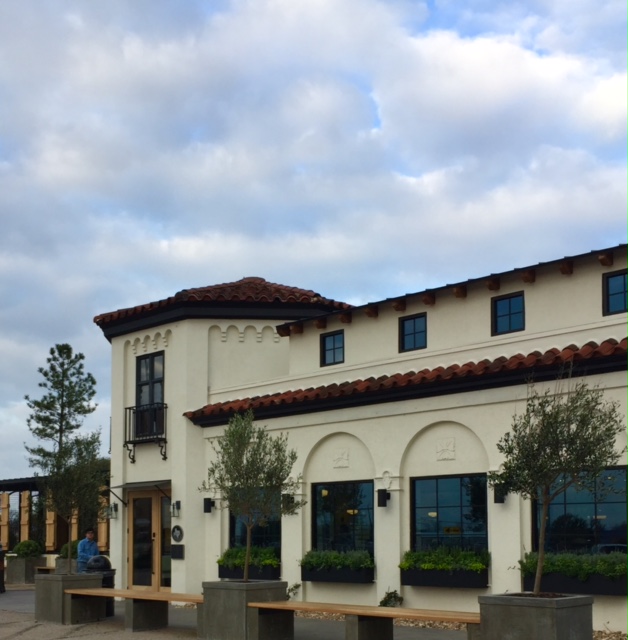 1. Have an Early Breakfast at Magnolia Table Restaurant
Breakfast is the focus on Magnolia Table's menu, and since there are no reservations, think about dining there early on a weekday when there is a less likely chance you'll get stuck in a long line.
On our first visit to Magnolia Table, we arrived mid-morning on a Saturday, and the line was daunting so we hung out on the patio where you can order coffee. The restaurant seats 210 guests, and I'm guessing the out-of-towners especially like to linger inside this pretty place. Our second visit was 7-ish on a Monday morning, when we were seated immediately.
Curious about the menu at Magnolia Table?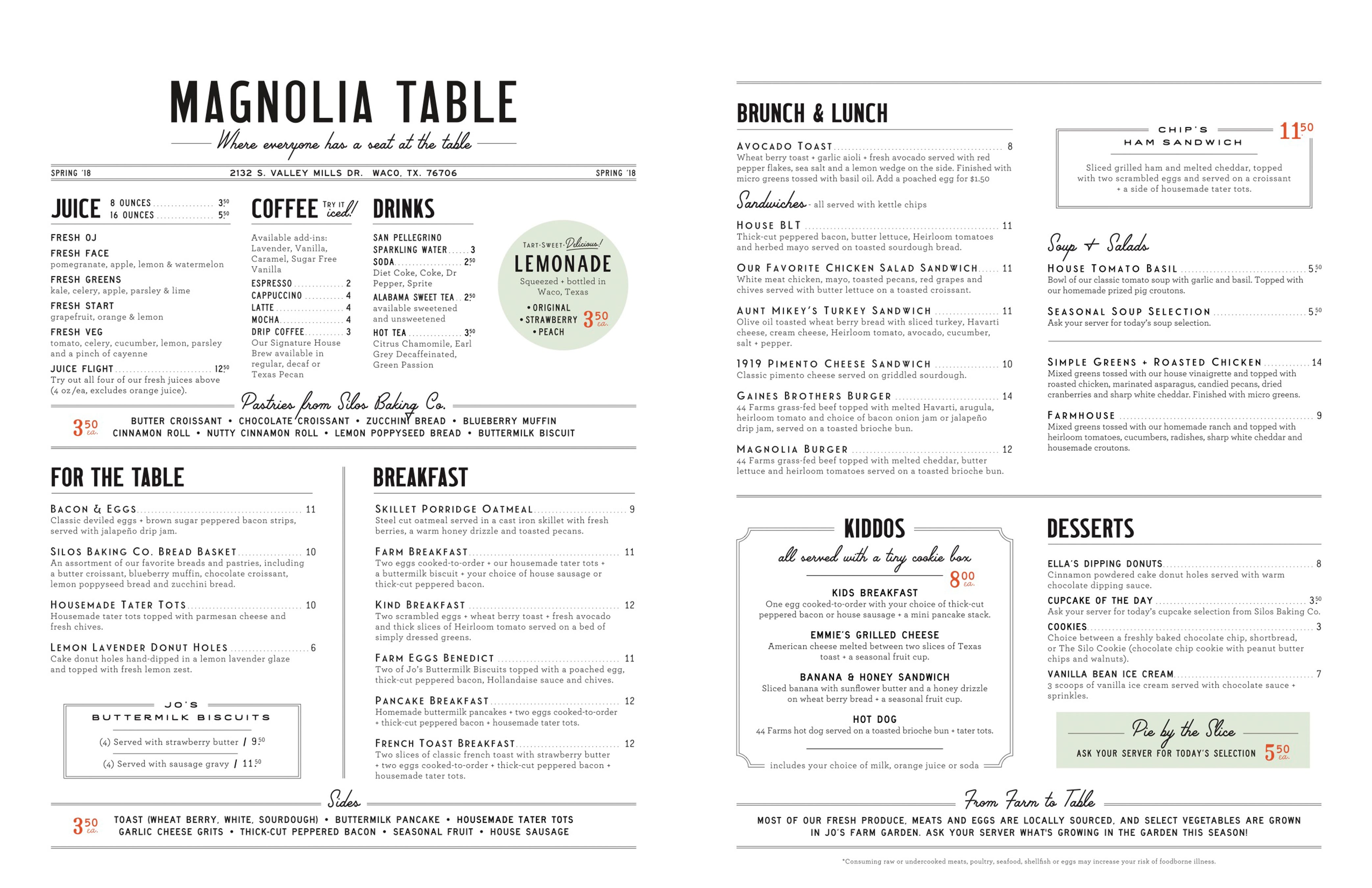 Isn't this a loving, inclusive bold message to visitors?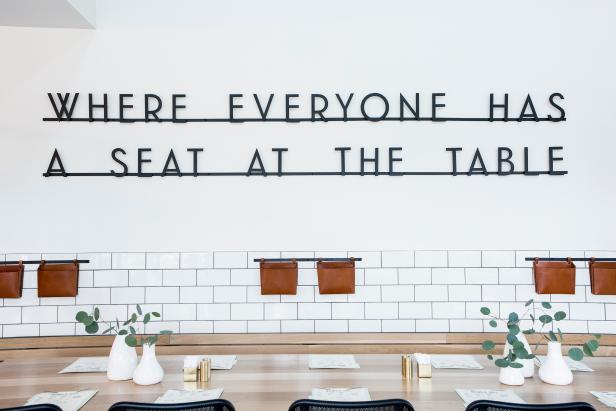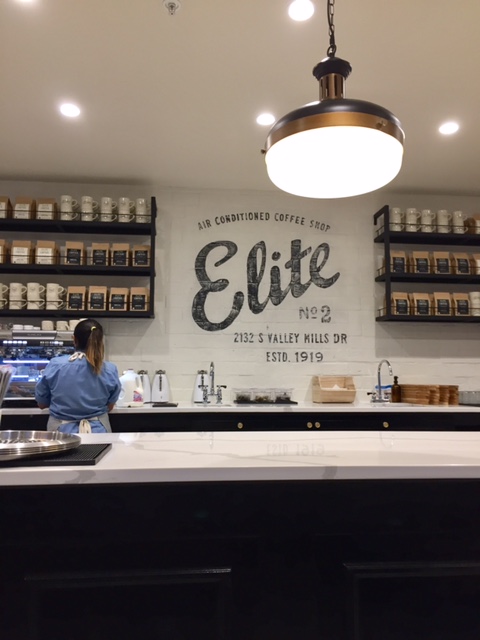 2. Magnolia Table is not located at Magnolia Market at the Silos
Instead, you'll have to travel 7 minutes to a traffic circle at 2132 S. Valley Mills Drive.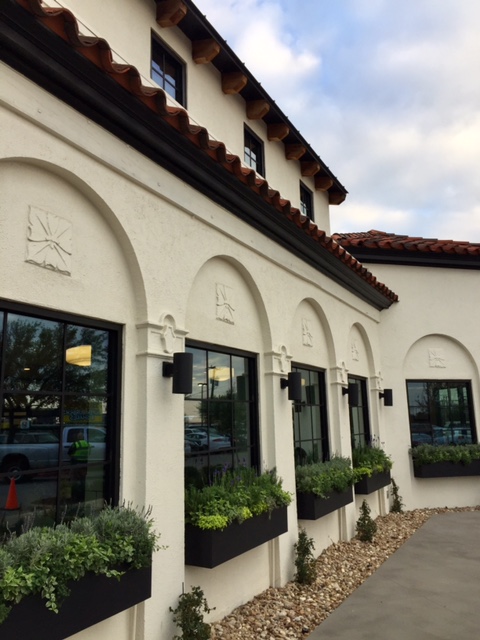 I loved the message below on the sign board when we visited Magnolia Table!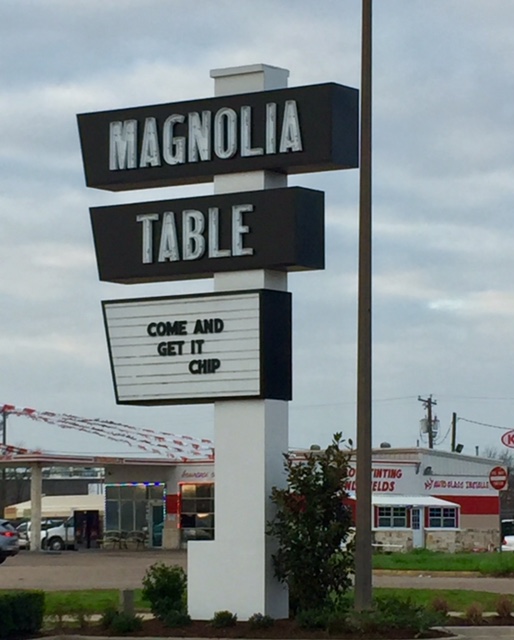 3. Get Ready to Be Loved on by Magnolia Table Staff.
Magnolia Table is a tourist destination for lovers of HGTV's Fixer Upper show, and the crowds mean servers and employees here have their plates full!
It was refreshing to be greeted and served by such wonderful folks working at Magnolia Table. We actually had the opportunity to chat with the manager of the restaurant both days we visited, and our servers went out of their way to make sure all of our needs were met. I can't say enough about how friendly and accommodating the folks working here rolled with the demands of this booming business.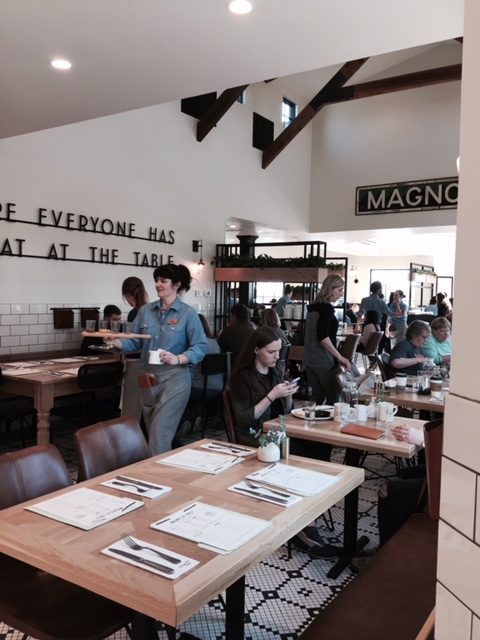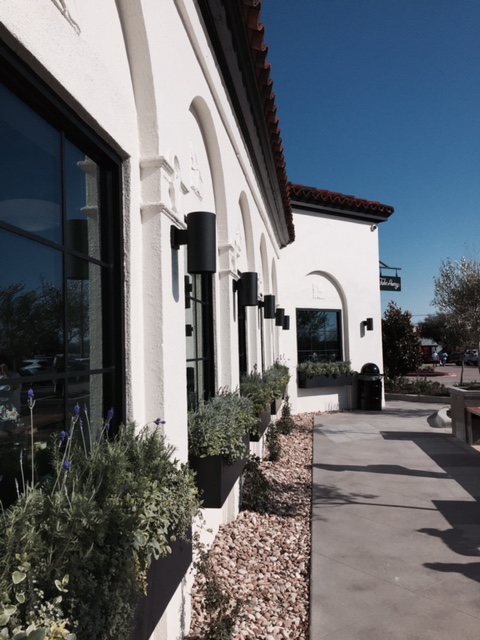 4. Sing Hallelujah if You Are a Coffee Lover
Coffee lovers will have no problem caffeinating here since there are two coffee bars.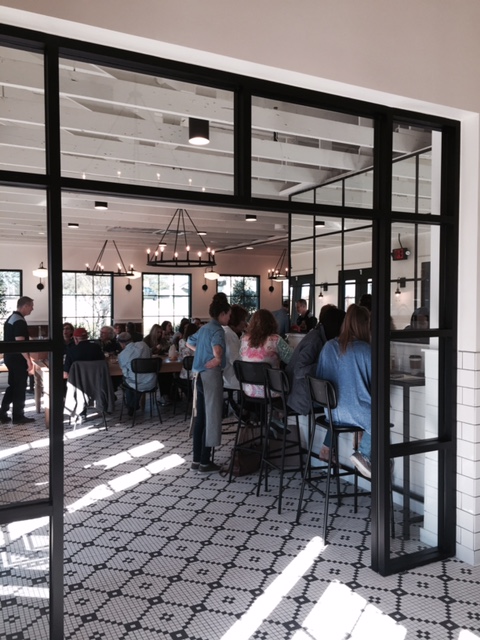 5. Prepare to Enter Magnolia Biscuit Heaven
Joanna's favorite thing about Magnolia Table restaurant and the book of the same name releasing April 24? The biscuits, baby.
Even though biscuits are not a staple in my typical daily diet, I knew I would have to sample the country-style ones made with the recipe Joanna worked so hard for a year to perfect. They are definitely worth ordering! Joanna highly recommends pairing them with strawberry butter as an answer to a lot of life's problems…
While the biscuits are heavenly, don't pass up the blueberry muffins…here's mine before it went to my hips.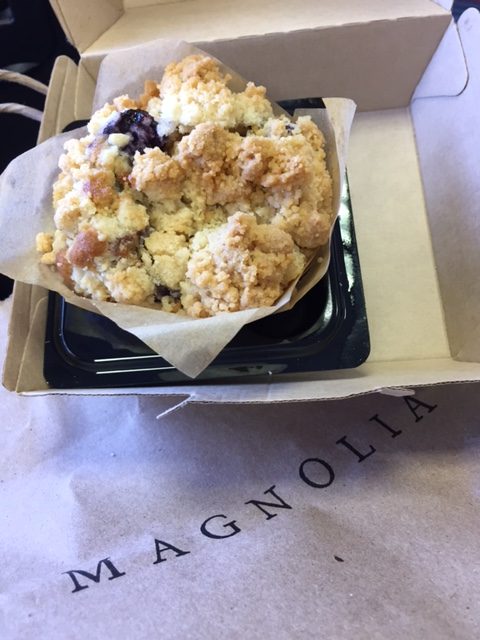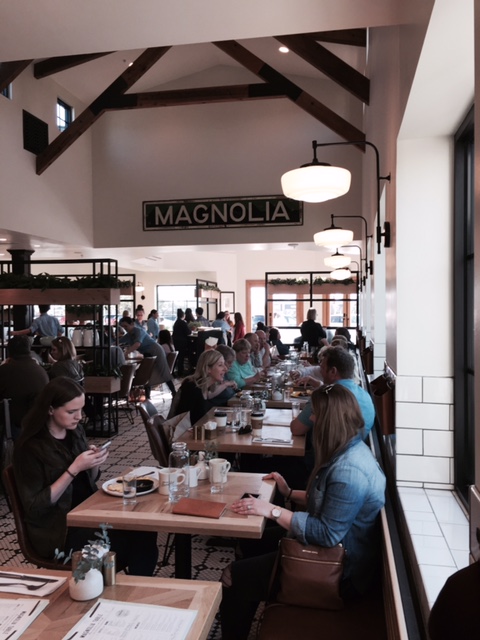 6. This Cool Restaurant Has a Rich History
Magnolia Table is actually a renovated old one: Waco's historic Elite Cafe.
"It had been a Waco icon for nearly 100 years," Joanna said about the old cafe. "We couldn't let a place with such a rich history be forgotten. I'm convinced that this place holds at least one memory for nearly everyone in Waco, Texas." (via People magazine)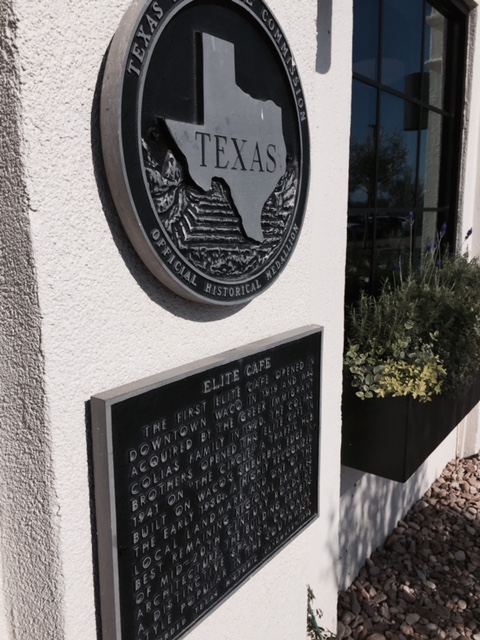 The renovations to transform Elite Cafe into Magnolia Table reportedly cost $2 million (via Country Living).
The Elite Cafe was part of Waco's history for nearly 100 years. From Magnolia's site:
"Its original location on Austin Avenue, which opened in 1919, was the place to be back when it opened. The original menu featured a diner-style menu, and the restaurant was the first place in Waco to install "refrigerated air" (which we now, of course, call air conditioning), which people waited for hours just to experience. The original location became so popular that the owners opened this second location on the Waco Traffic Circle in 1941. It's even rumored that Elvis Presley shared a meal with friends here on his way to Fort Hood. The renovation and menu development took about one year to complete, and the whole process from demo to design will be featured on season 5 of Fixer Upper."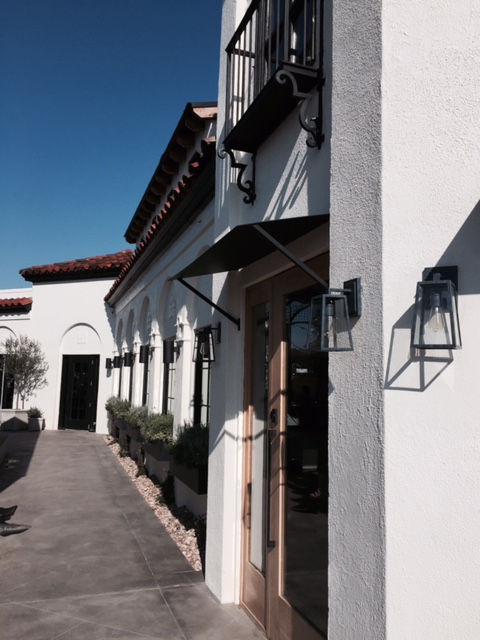 7. Don't Bring a Pet If You Plan to Dine Inside
While no pets are allowed inside Magnolia Table restaurant, they are welcome on the patio.
We didn't see a single pet on the two days we visited the restaurant.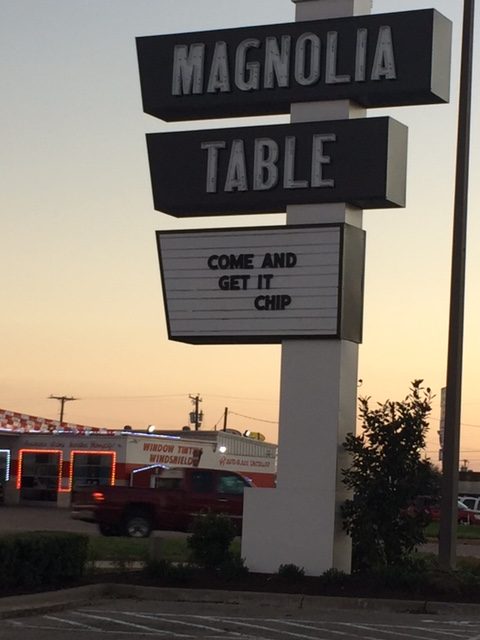 8. You'll Likely Eat Homegrown Ingredients from Joanna's own garden at Magnolia Farms!
Joanna Gaines grows vegetables for Magnolia Table in her garden, and her chickens provide some of the restaurant's eggs!
Magnolia Table specializes in fresh, homegrown ingredients and good old fashioned cooking. There is something on their menu for everyone, including children, vegetarians, vegans, and followers of a gluten free diet.
Much of the produce used in dishes at Magnolia Table is grown locally at Joanna's farm garden, and many of their eggs derive from her chickens. The restaurant also relies on local vendors for menu staples like grass-fed hamburger patties and freshly-squeezed lemonade.
9. You Can Skip the Lines and Still Sample Deliciousness
There's a takeaway market at Magnolia Table, serving baked goods and gifts.
A few fresh Magnolia Table favorites are available for take away. These items are already prepackaged and ready for you to drop in and carry out for lunch on-the-go. You'll also be able to order coffee and espresso, and you can purchase a wide assortment of Magnolia Table gifts such as t-shirts, hats, mugs, olive oil and jams.
Aren't these living wall panels on the outside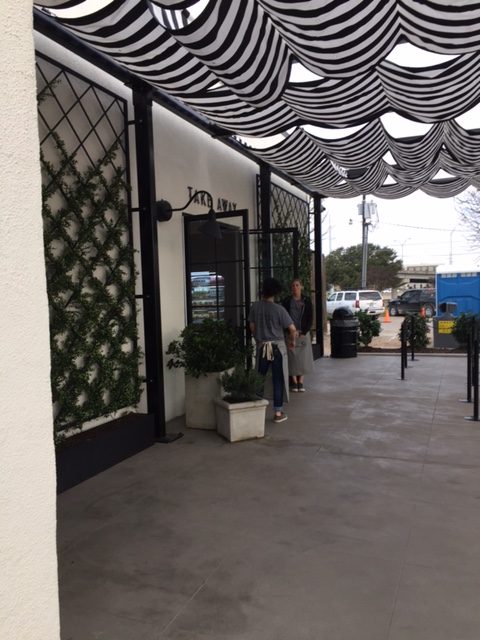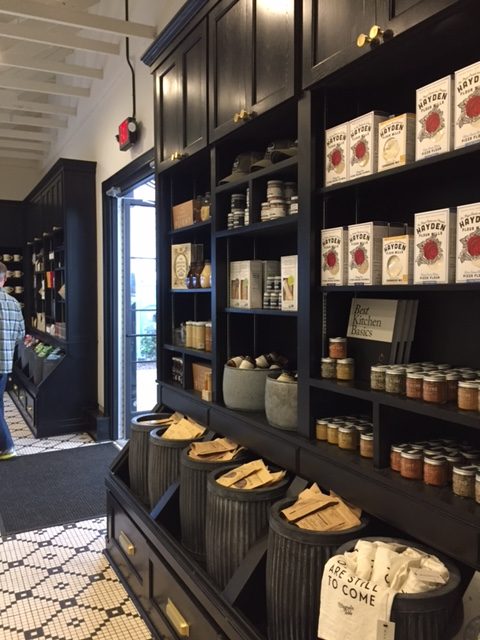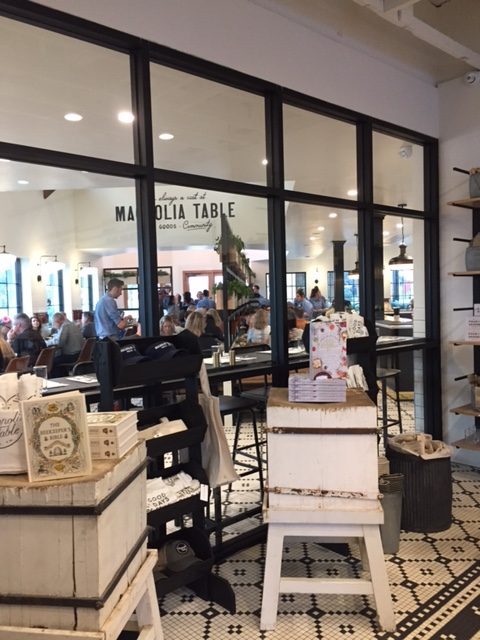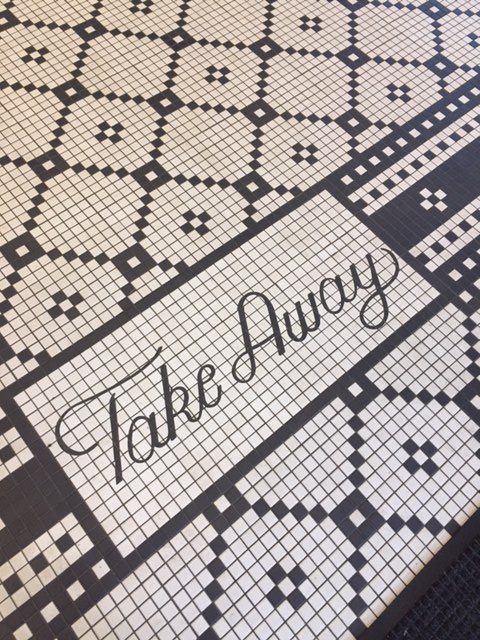 10. If Parking is a Pain, Hop on a Free Shuttle
Since parking at Magnolia Table is limited, you can catch a free shuttle which runs every 20 minutes at Gander Mountain. Don't try to walk to the restaurant.
The Waco Transit System provides a free shuttle that picks up at Gander Mountain and drops off at Magnolia Table approximately every 20 minutes. Please be advised that there are other stops along this route. We kindly ask that, for your safety, you do not attempt to cross Interstate 35 on foot.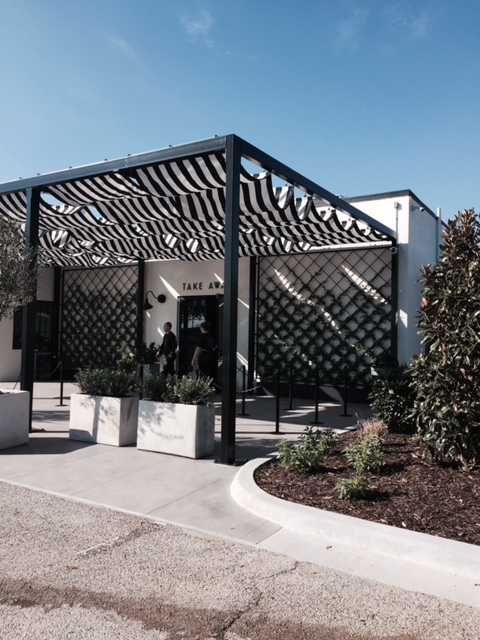 11. Allow the Decor to Inspire your Decorating Schemes!
There are so many great decor ideas to score from Magnolia Table's interiors.
If you love modern farmhouse decor and the designs you see from Joanna Gaines on Fixer Upper, you'll love the design in here. Vaulted Ceilings, redwood beams, custom black and white floor tiles, white subway tile, black trim, barn style lighting, huge windows which allow abundant natural light, simple clean lines, natural wood surfaces, fresh greenery, and vintage style accents.
Even the bathroom has inspiring details. Want an insider peek from my visit?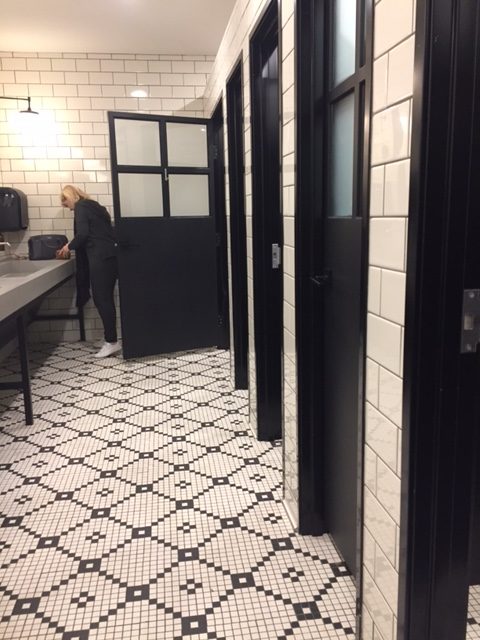 I love the tile floors, and the dark grout for wall and floor tiles is both forgiving and attractive. And aren't teh doors to each stall a nice touch?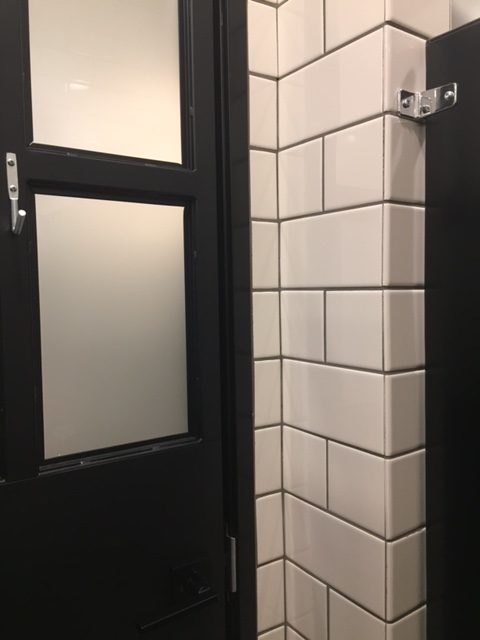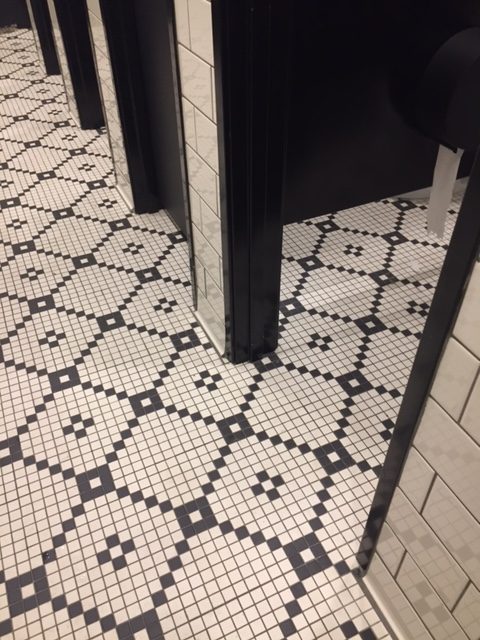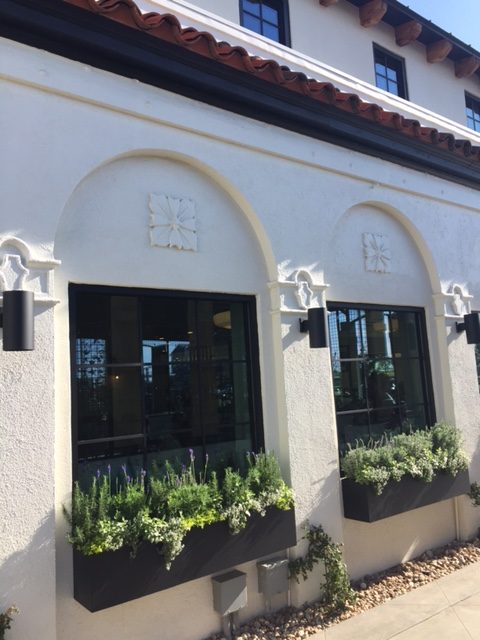 A black and white decor scheme inside and out feels so classic and crisp.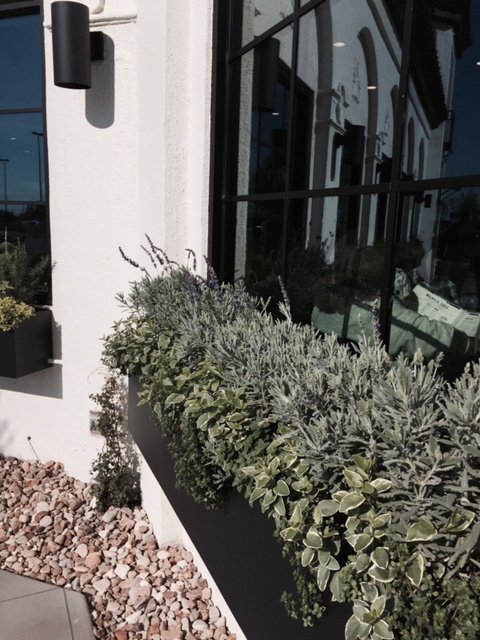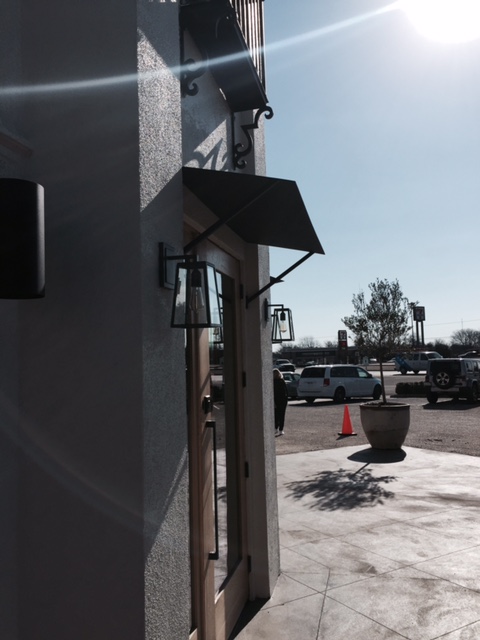 12. Use Those Leather Pouches You See at the Table
Leather pouches at Magnolia Table tables are meant for more than menus…
While wall-mounted leather pouches at each table hold menus, they are also meant to be a receptacle for cell phones to encourage unplugged, face to face, real conversation and intimacy like what was enjoyed in days gone by.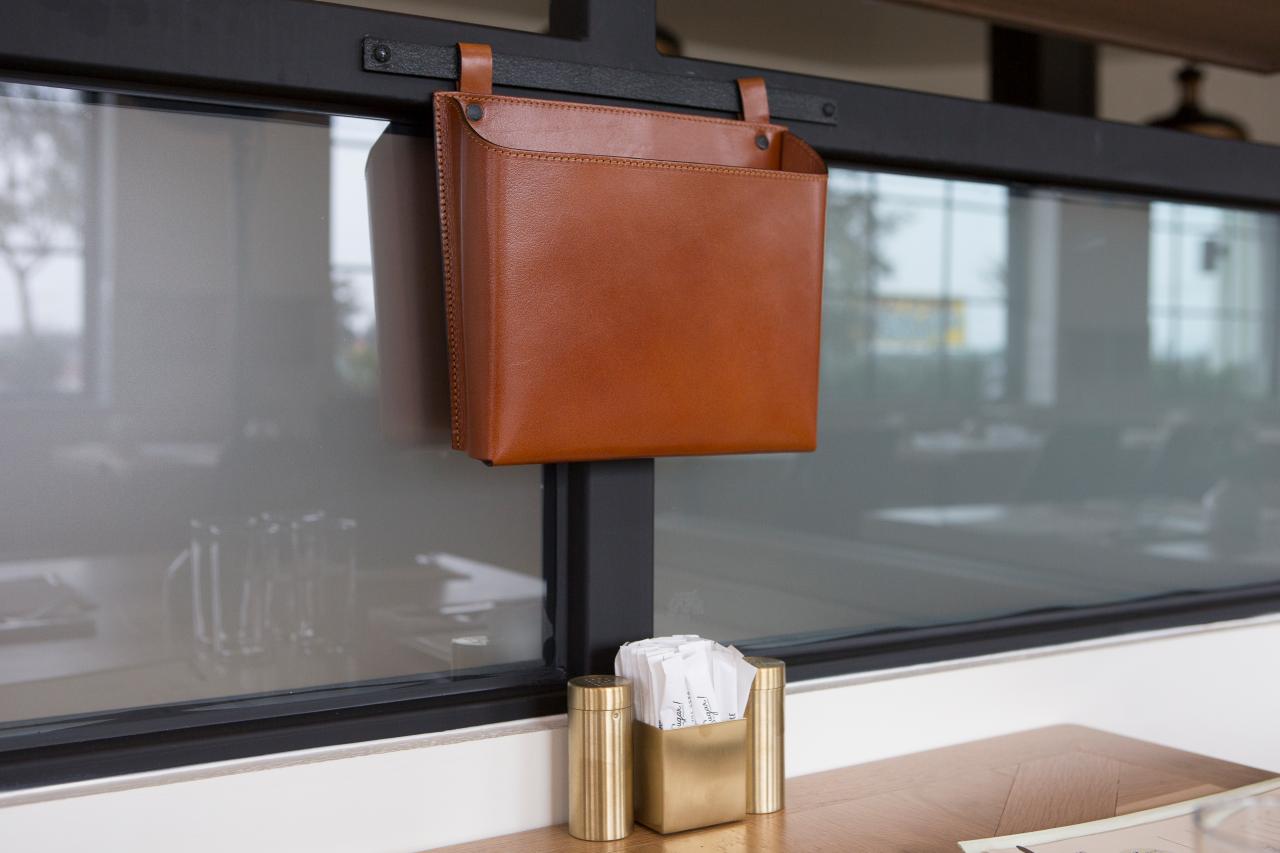 Bonus Reminder: Magnolia Table is NOT OPEN ON SUNDAYS!
Hours of operation? Monday-Saturday, 6 a.m. to 3 p.m.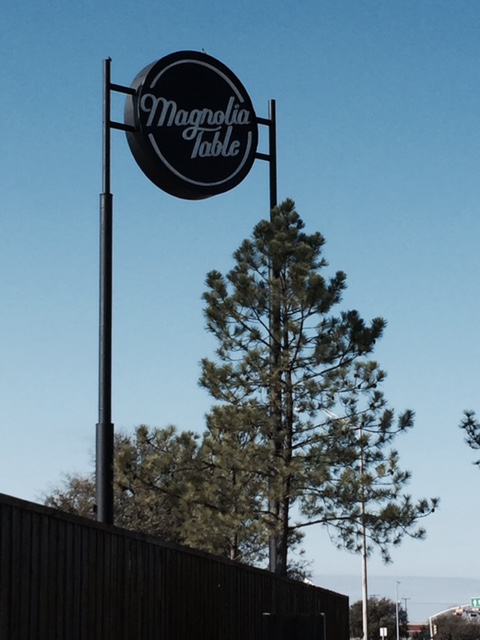 HOURS
Monday – Saturday
6:00am – 3:00pm
ADDRESS
2132 S. Valley Mills Dr
Waco, TX 76706
Have you ever visited Waco or do you plan to?
For more Fixer Upper decor goodness, visit this recent renovation story and this one!
I independently selected products in this post—if you buy from one of my links, I may earn a commission.
Peace to you right where you are.
-michele
Shop for items you already intended to buy on Amazon RIGHT HERE, and also find home decor here to keep decor inspiration flowing on Hello Lovely!
Hello Lovely is a participant in the Amazon Services LLC Associates Program, an affiliate advertising program designed to provide a means for sites to earn fees by linking to Amazon.com and affiliated sites.